---
Picture of the Day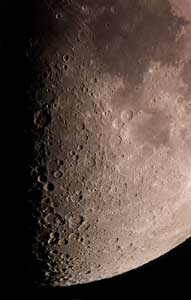 The Moon, December 30, 2003
©2004 Pierre-Paul Feyte
The airline chaos continues as the US forces more flight cancellations and investigations. The US is playing the terrorism card for all it is worth, terrorizing passengers, flailing about in an attempt to convince the susceptible that Arabs hijacked the planes that flew into the WTC. This tactic also creates the fear that it could happen at any moment, so you had better turn over those freedoms now. NORAD and the FBI decide to get busy, in a very expensive propaganda coup, even though they could not be bothered to do anything on 9/11. Or perhaps they were busy - busy hijacking those planes from the ground, or at the very least making sure nobody hindered the flights on the way to their desired destinations.
The verdicts in America's first terrorist trial have been called into question amid accusations of torture and withholding evidence. Dick Cheney threatened Paul Wellstone eleven days before he was assassinated. Korea is allowing tours of their nuclear facilities. As Iraq disastrously proved, opening the door to US inspections means they will still blow you away when they feel like it. China and Korea are upset when the Japanese PM visits a shrine to the Japanese war dead, including those condemned as war criminals.
King George tells Iran that the earthquake won't change anything in the relations between Tehran and Washington, even though Iran is the only country in the Middle East to have signed the Non-Proliferation Treaty. And Israel?
In Iraq, some families are claiming that US forces detained and tortured innocent people while erroneously announcing to the world that they had captured former members of Saddam's regime. The US is accused of thwarting an attempt by Iraqis to overthrow Saddam and another helicopter is shot down near Falluja.
In an interesting twist, Brazil has ordered all US citizens entering the South American country to be fingerprinted. It seems there is at least one country that will not just stand around while its citizens are treated like criminals by the Land of the Free. In the end, it is always the rank and file that pay the heaviest price for the aggression of their leaders. We present a flashback regarding the actions of the US during WWII as a salient reminder to the American people, and as an indicator of the true nature of their government.
The Pope calls for a nicer, friendlier new world order, led by the UN and the Vatican (supposedly), yet a quick review of these two institutions leaves us with serious reservations.
The US has always taken a firm stand against importing cattle from countries after a supposed outbreak of "Mad Cow" disease. Now that the shoe is on the other hoof, the US is asking for leniency.
Earthquakes shake Bali and Mexico, Vancouver is hit by rare winter weather, Freedom Fries are detained in several countries, the Dutch prepare to ban smoking in public places and scientists claim there may be "ET zones" in the milky way.
Fri 2 January, 2004 15:48
TEHRAN (Reuters) - A meteorite has hit northern Iran causing minor damage to property but there were no immediate reports of casualties, state radio has said.
It said the impact sent locals in panic onto the streets in the northern town of Babol in Mazandaran province.
"A meteorite which hit Babol on Friday morning caused only some minor damage to residential units," radio said, without giving further details or citing any source.
It said the impact was felt up to one kilometre away. [...]
Second Aeromexico flight to Los Angeles canceled
Fri Jan 2,12:42 AM ET

MEXICO CITY (AFP) - Aeromexico Flight 490 to Los Angeles was canceled for the second day in a row, in a joint decision by the United States and Mexico, the US embassy said in a statement.
"On the basis of credible intelligence information, the US and Mexican governments decided that it was in the interest of both our countries to cancel Aeromexico Flight 490 from Mexico City to Los Angeles on December 31 and January 1," the statement said. [...]
The same Aeromexico flight from Mexico City to Los Angeles was also canceled on New Year's Eve. The US Transportation Safety Administration (TSA) gave no reason although they asked for a passenger manifest.
"Really, we are still waiting for concrete reasons for the cancelation," a Mexican official said. [...]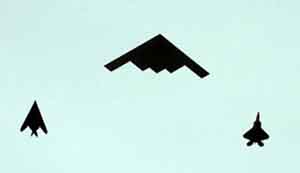 The above is becoming a common sight as the Air Force fulfills its obligations in the most recent psyop maneuver on the US population.

Mistaken identity grounded flights

Friday 02 January 2004, 13:08 Makka Time, 10:08 GMT

Faulty US intelligence led to the cancellation of six Air France flights last month, with one of the suspects named by the FBI turning out to be a child, the French interior ministry said.

The Federal Bureau of Investigation (FBI) had based its information on passenger lists containing names similar to the names of suspected members of the al-Qaida network, a ministry spokesman said.

"A check was carried out in each case and in each case it turned out to be negative," the spokesman said.

"The FBI worked with family names and some family names sound alike," he added.

He noted that some of the names had been transliterated from Arabic, which uses a different alphabet from French and English.

"The difficulty is compounded when you have no first name or date of birth," the spokesman said.

The Wall Street Journal reported on Friday that one of the suspects named by the FBI was a child whose name happened to be the same as a wanted 'terrorist' from Tunisia.

The others on the list were an elderly Chinese lady who had at one time run a restaurant in Paris, an insurance salesman from Wales and three French nationals, the paper said.

[...] A French police spokesman said that "not the slightest physical or personal evidence" was uncovered as a result of the FBI's information into the Air France flights.

"No one was detained, no one was questioned and nothing was seized," he said.

The cancellations had come amid heightened fears of a 'terror' attack over the Christmas period.

The US on 21 December stepped up its national security alert to Code Orange which warns of a "high risk of terrorist attacks".

On Thursday, British Airways cancelled one of its three daily flights from London to Washington.

Aeromexico's daily flight from Mexico City to Los Angeles was cancelled for a second day in a row because of security concerns.

Washington has also called for armed sky marshals to be deployed on foreign flights thought to be at risk.

Comment: Increasingly, US Intelligence antics resemble the follies of the Keystone Cops. The more the Bush Reich attempts to show its force, to instill fear, and to break its own population (because, let's be clear, most of this media frenzy about the terrorist threat is aimed at Americans) the more antic-filled stories of botched identification and false alarms arise from the morass. Unfortunately, even if the alarms are phony, the suffering of the victims is real. As it is said, it may be a game to throw rocks at frogs, but the suffering of the frogs is real.

Is it any wonder that at the time of Orange Alert (another attempt to cow the American population) we see an outbreak of Mad Cow disease? Or that the attempts to stifle travel are accompanied by an intense "flu" season? Are these clues, symbols that the universe is giving to us to help us see how sick American society really is?

The United States is making it more and more difficult and unpleasant to travel, either to visit this great bastion of democracy or to escape from it. Does the US want to isolate its population from the rest of the world? Most Americans are already ignorant of what goes on beyond their borders. The Bush Reich wants to keep it this way. How long will it be before the Bush Reich cuts Americans off from news sources from outside, closing down the Internet to further isolate them?

Have no doubts, The US has a more than competent intelligence (read terrorism) system in place. These stories are misdirection.

At Year's End, Signs Of Dictatorship Abound In Washington

By Wayne Madsen
Prison Planet.com
© 2002-2003 Alex Jones All rights reserved.
12-31-3

As 2003 winds to a close, it is perhaps timely to assess the state of affairs in the nation's capital. As a long time resident of Washington, DC, it is striking how this city has changed-and not for the better.

The telltale signs of dictatorship and fascism abound in this city on the Potomac. Some of the signs-concrete barricades and 8-foot walls around monuments-are apparent. Others, like video cameras, although more subtle, are every bit as ubiquitous. For those who have never visited Washington, DC, or who traveled here during better times, the city that is suppose to represent the aspirations of the American people is now a hollow shell of its former self.

The White House Ellipse is now a security bivouac. The grassy area that once played host to Frisbee games between dogs and their owners, touch football scrimmages, and throngs of tourists marveling at the south façade of the White House are largely gone. They have been replaced by chain link fences, concrete Jersey barriers, menacing black Secret Service SUVs, squad cars, and security "men in black" armed to the teeth. Sitting in the midst of this security encampment is the National Christmas Tree. Once surrounded by rosy-cheeked youngsters who marveled at its thousands of ornaments and lights up close, the tree is now viewed after dark from afar-its future as endangered as its rooted relatives in the Rocky Mountain and Alaska National Forest and Wilderness areas. [...]

World urged to reopen borders quickly after mad cow case
Stance contrasts with treatment of Canada, other countries

Jan. 2, 2004. 06:10 AM

WASHINGTON—The United States wants the world to start buying its beef again, after discovery of its first case of mad cow in late December, an uncommonly quick resumption of trade for nations wary of the disease.

Two dozen countries have banned U.S. beef because of mad cow, pushing cattle prices down by nearly 20 per cent. Ordinarily, 10 per cent of American beef is sold overseas. The exports are worth $3.2 billion (U.S.) a year.

[...] In the past, nations could expect lengthy cut-offs in trade once mad cow disease was discovered. When Canada announced a case last May, the U.S. blocked all trade in Canadian beef and beef products.

The move devastated the Canadian beef industry, particularly in the West. The United States is Canada's largest beef export market.

In August, the United States announced an easing of restrictions, saying boneless beef from cattle under 30 months would be accepted, along with boneless veal from calves, cattle livers and pet products. Still pending is an American decision whether to allow import of cattle from Canada, which used to ship 1 million head a year for slaughter at U.S. plants.

[...] U.S. officials acknowledge they are asking for more flexibility from trading partners than the United States showed in the past. They say international standards have evolved as scientists learn more about BSE and how to control it.

"So, in fact, while we may have been part of the problem in the past, we have taken a very active role in terms of trying to change that standard," Ron DeHaven, the U.S. agriculture department's chief veterinary officer, said Wednesday.

Comment: The double standard. This is an integral part of US foreign policy, a view they share with Israel. One measure for the "Chosen People", another for the rest of the world.

U.S. Halts Alaska Oil Shipments

Thu Jan 1, 9:35 PM ET

WASHINGTON (Reuters) - The United States suspended oil shipments for two days from Alaska's major port of Valdez as a security precaution amid a heightened terror alert, officials said on Thursday.

The halt of oil transfers onto tankers began on Tuesday and was lifted on Thursday. It was part of "a continuing effort to ensure the security of our homeland," consistent with Code Orange, the second-highest alert level the United States has been at since Dec. 21, said Russ Knocke, a Department of Homeland Security spokesman. [...]

voxnews: UNDISPUTED PROOF THAT US INTELLIGENCE IS BEHIND GLOBAL TERRORISM

CIA AGENT MICHAEL MEIRING BLEW HIS OWN LEGS OFF WHILE PLANTING A TERRORIST BOMB

US secretly helped Saddam stay in power

Al Bawaba – December 20, 2003

The daughter of a prominent Iraqi opposition leader, who was assassinated in Beirut by Saddam Hussein's secret service in 1994 said she would sue the ousted Iraqi president before three international courts, charging that the U.S. was a virtual accomplice in her father's murder.

Nora al Tamimi, daughter of slain Iraqi opposition activist Taleb al Suhail al Tamimi, said from Beirut in a newspaper interview published Saturday that her father had planned a coup d'etat to overthrow Saddam in 1993, operating from Beirut and Amman.

"Zero hour was set for a certain June day in 1993 to stage the coup when Saddam would have been sponsoring an official event in Baghdad," Nora told the London-based Asharq Al Awsat newspaper in an interview conducted at the family house in Beirut.

"But the Americans, who did not want the coup to succeed possibly because they were certain my father would not go along with their polices, tipped off Saddam about the impending putsch by my father and gave the names of his top aides," Nora said. "All of them died in Saddam's torture chambers."

Sheik Taleb Al Tamimi, who led a million-member Central Iraqi tribe called the Bani Tamim, was shot dead April 12, 1994 at his apartment in Beirut's Ein El Tineh district in an assassination officially blamed by the Lebanese authorities on four Iraqi embassy diplomats, who were detained and then released on the grounds they enjoyed diplomatic immunity, Nora recalled. [...]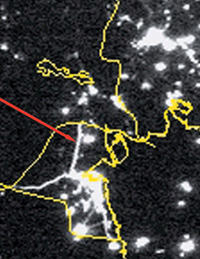 Arrows point to progress of construction in Kuwait from May 25. Brandli says soft-glowing areas represent burning gas from oilwells. Sharp-edged areas indicate lighting. Yellow lines are borders.
The appearance of a line of light stretching the length of an inaccessible area of Kuwait has stumped both military and petroleum industry experts. The images were spotted by Hank Brandli, a retired Air Force meteorological officer, who picked them up from a nonclassified military weather satellite.
Civilian oil industry experts tell POPULAR MECHANICS that the location of the lights, which extend to the Iraqi border, does not correspond with known pipelines. A spokesman for U.S. Central Command, which had a presence in the region from fall 2002 through (at the time of this writing) fall 2003, said it was unaware of any pipeline construction.
Brandli, an expert on satellite image analysis, thinks it is a major pipeline project. "Maybe all they're doing is building a highway. But I think we're pumping oil out of Iraq to pay for this war."
U.S. Baghdad embassy will be biggest
Friday January 2, 05:16 AM
WASHINGTON (Reuters) - In preparation for ending its occupation of Iraq, the United States is making plans to create the largest U.S. diplomatic mission in the world in Baghdad, with a staff of more than 3,000, according to The Washington Post.
The transition would mark the hand-over of responsibility for dealing with Iraq from the Pentagon to the State Department, which will then help oversee the next steps in creating Iraq's first freely elected democratic government.
"The real challenge for the new embassy, so to speak, or the new presence will be helping the Iraqi people get ready for their full elections and full constitution the following year," Secretary of State Colin L. Powell told The Post in an interview this week. "That's going to be a major effort on our part." [...]
US has got wrong men, Iraqi families claim
Americans accused of letting many real culprits of Saddam's regime go free, while 'most wanted' were tortured
Luke Harding in Baghdad
The Guardian
Thursday January 1, 2004
The families of senior Iraqis captured by the US since the fall of Saddam complained last night that their relatives had been wrongly identified as important members of the regime and that some had been tortured while in custody. [...]
Mr Izzat, who has been contacted by Saddam's daughters to discuss their father's defence, said none of the "most wanted" had been allowed access to a lawyer.
He had raised the issue with Paul Bremer, the Bush administration's top official in Iraq, but failed to get a reply.
"This kind of justice isn't very different from Iraqi justice under Saddam," the lawyer complained. [...]
U.S. soldier killed in helicopter crash
Friday January 2, 12:33 PM
FALLUJA, Iraq (Reuters) - One U.S. soldier has been killed and one wounded in a helicopter crash near the Iraqi town of Falluja, and a policeman who witnessed the crash says the aircraft was shot down.
"We were in a joint patrol with U.S. troops to remove landmines and I saw a helicopter hovering in the sky which was hit by a missile," policeman Mohammad Abdul Aziz said.
"It was split into two and went down in flames." [...]
UN hands Iraqi funds to occupying force.
Friday 02 January 2004, 0:42 Makka Time, 21:42 GMT
The United Nations has effectively handed over control of Iraqi funds it administered to the US-led occupation force.
The world body has transferred $2.6 billion to the Fund for the Development of Iraq, which is managed by the US-British coalition that spearheaded the war on Iraq last year and today occupies the country, an official UN source said on Thursday.
The fund is an evolution of the seven-year-old UN oil-for-food program, whose functions were transferred to the coalition by a UN Security Council resolution last May 22.
The $2.6 billion transfer, done in the closing hours of 2003, was the fourth and largest to the fund. One billion was transferred on May 24, a second billion in October and a third in November.
Ethnic violence threatens northern Iraq
Friday 02 January 2004, 3:38 Makka Time, 0:38 GMT
Two Kurds have been found stabbed to death in Kirkuk while another Iraqi was killed in Mosul as tensions boiled over in the northern Iraqi cities.
[...] Tensions have been simmering between Kurds, Arabs and Turkmens in this city of almost one million people since the collapse of former Iraqi president Saddam Hussein's regime in April.
Survivors Show Gratitude to Foreign Rescue Workers
BAM, Iran (Mehr News Agency)–The survivors of the devastating earthquake on Wednesday thanked the foreign rescue and relief workers by giving them small bouquets of roses on the eve of New Year.
The rescue teams, some of whom are already leaving Bam, were also given symbolic gifts such as sweets, pistachio nuts and small engravings.
Bush: No change in policy towards Iran
02-01-2004,07 :29
President Bush said U.S. humanitarian aid to Iranian quake victims does not signify an easing of relations with Tehran, and he demanded the Islamic Republic's leaders hand over captured al Qaeda operatives and "abandon their nuclear weapons program."
Bush added the easing of restrictions was not a sign of a change in policy, but rather a means to show Iranians that the "American people care and we've got great compassion for human suffering."
"I eased restrictions in order to be able to get humanitarian aid into the country," Bush said. "It's right to take care of people when they hurt."
He added: "The Iranian government must listen to the voices of those who long for freedom, (they) must turn over al Qaeda that are in their custody, and must abandon their nuclear weapons program."
Iran Only Middle Eastern Country to Sign All Non-Proliferation Treaties
TEHRAN, Dec. 31 (Mehr News Agency) — Hasan Rowhani, the secretary of Iran's Supreme National Security Council (SNSC), met with Jacques Barrot, the president of the UMP faction in the French Assembly, on Wednesday.
During the meeting, Rowhani said that weapons of mass destruction have no place in Iran's defense policy, adding that Iran is the only country in the Middle East that has signed all the treaties on non-proliferation of weapons of mass destruction.
Comment: So, the Iranians are the only country in the Middle East to have signed the NPT as well as the subsequent protocols (which the Americans have not signed themselves), yet Bush continues to maintain his line that they should "abandon their nuclear weapons program."
And what about Israel? Israel has not signed the Non-Profileration Treaty, and has no intention to do so. Have you ever heard the US make any mention of the Israeli nuclear program? Of course not.
Israel is trying to find ways of keeping Mordechai Vanunu silent after he leaves prison. This is the man Mossad kidnapped and illegally brought back to Israel after making public statements about Israel's nuclear program.
Once more we see the double standard. This double standard means that there are groups, in this case the Americans and the Israelis, who do not feel bound by the laws that apply to the rest of us. They believe they are superior and need not honour any such agreements, regardless of the consequences for themselves or for others.
Israelis urge nuclear disarmament
Thursday 01 January 2004, 18:10 Makka Time, 15:10 GMT
One in four Israelis believe their country should give up its nuclear arsenal to rid the Middle East of weapons of mass-destruction.
ISRAELI NUCLEAR POLL
- 77.4% believe Israel has nuclear weapons
- 56.1% opposed to nuclear disarmament
- 25.2% in favour of nuclear disarmament
Israel continues assassination policy
By Laila El-Haddad in Gaza
Thursday 01 January 2004, 17:53 Makka Time, 14:53 GMT
345 Palestinians have so far been killed in ''assassination operations''
In what appears to be a continuation of the Israeli policy of extra-judicial killings, Israeli helicopter gunships fired two missiles at a car carrying Hamas activist Jamal al-Jarah in Gaza city. Ten Palestinian bystanders were injured.
The attack on Tuesday marked the first such attempt to assassinate a senior figure from Hamas, the Islamic Resistance Movement, in over two months.
Israeli security officials had recently indicated they would refrain from targeting Hamas activists after the Israeli army Chief of Staff Moshe Ya'alon said the group appeared to have halted attacks inside Israel.
Ya'lon stated Israel would target militants of Palestinian movements such as the PFLP and the Islamic Jihad, but had excluded Hamas from his threats.
[...] Targeted or political assassinations are deliberate killings, carried out by order of, or with the acquiescence of a government, outside any judicial framework. Extrajudicial executions are unlawful even in an armed conflict.
In a 1998 report, the United Nations Special Rapporteur on extrajudicial, summary or arbitrary executions noted, "extrajudicial executions can never be justified under any circumstances, not even in times of war".
So far, 345 Palestinians have been killed in ''assassination operations'' conducted by the Israel occupation army, including 122 bystanders, 39 of them children.
Syria-Israel War May Trigger a Middle East Apocalypse
Israel's top military strategist says Syria's chances to wage a surprise offensive against the Jewish state are zero because the Israeli army is capable of reaching Damascus with the same speed the Americans had reached Baghdad. But his contention is characterized as farfetched.
"The Syrians are aware of this reality and therefore their chances to mount a surprise onslaught against Israel are nil, zero," senior-most Israeli army strategist Gen. Gelaadi said in an interview published by the Tel Aviv daily Haaretz on Wednesday.
He noted that the presence of a massive American army in Syria's main Arab neighbor, Iraq, has placed Syria in an inescapable U.S.-Israeli military pincer.
But Arab and western military experts disagree. They contend that the U.S. would remain heavily preoccupied in coping with Iraq's insurgency for months to come, which would render American forces incapable of moving troops and armor en masse to the Syrian border.
They also recalled that a survey by specialized U.S. strategists lodged with Congress a few months ago conceded that Syria possessed enough military might on the ground to stall an Israeli army offensive on Damascus either from the Golan heights or via Lebanon for months.
"During this period, the Syrians will be able to unleash medium-range Scud missile barrages on several Israeli population centers that will take a heavy casualty toll before the Israeli air force is capable of destroying the well-camouflaged missile launching bases in Syria," the report had said.
It further warned both Syria and Israel alike that a war by either of them against the other could escalate into an apocalypse for the Middle East altogether.
Friday 02 January 2004, 14:07 Makka Time, 11:07 GMT
Israel has dropped its expulsion order against a Swedish MP who was arrested during a protest against the West Bank separation wall.
Gustav Fridolin was due to be expelled on Thursday night but was allowed to stay after he lodged an appeal with the Supreme Court and promised to leave anyway on Sunday, a spokesman for the International Solidarity Movement said on Friday.
The young Swedish lawmaker, who claimed he was beaten during his arrest on Wednesday, is accused of having penetrated a closed military zone.
Expulsion orders were also handed to three other foreign peace activists arrested in the village of Budrus on Wednesday-another Swede and two Americans- who decided to use their right to appeal the order.
France Calls On Israel to Refrain From Golan Settlements Expansion
PARIS (AFP) - France on Wednesday urged Israel to immediately abandon its plans to extend Jewish settlements in the occupied Golan Heights, saying such a move could compromise the Middle East peace process.
"The approval by an Israeli interministerial commission of the extension of Jewish settlements in the Golan Heights can only complicate" the resumption of talks between Israel and Syria, said foreign ministry spokesman Herve Ladsous.
"France thus immediately calls on Israel not to implement these plans and not to take any other decisions that could compromise the peace process," Ladsous told reporters.
Pope urges UN role in new global order

Michael Settle, Chief Political Correspondent
Herald & Times
January 02 2004

THE Pope launched a thinly-veiled attack on the war strategy against Iraq of Tony Blair and George W Bush yesterday when he called for a "new international order" underpinned by the authority of the United Nations.
Celebrating his traditional new year's mass in St Peter's basilica, the frail-looking 83-year-old issued a forceful call for peace and a new, fairer world order.
"Because peace is possible . . . it is necessary," he declared, insisting: "More than ever we need a new international order which draws on the experience and results of the United Nations." [...]
Comment: Noble words indeed, unfortunately in this case actions speak louder than words...
Flashback: Holy smoke lifts to reveal Vatican crime wave
By Peter Popham in Rome
10 January 2003
A bid by the Vatican to expose some of its workings to public scrutiny backfired yesterday when La Stampa, a respected Italian daily, concluded that "the population of the Vatican would appear to be the most criminal and litigious in the world."
World peace: Is there a Vatican conspiracy?

Agozino Emmanuel
[...] Amid this frustrating struggle to bring some form of hope and unity for world peace strode a personage and power offering a solution to the troubled world. In October of 1978, an unknown Polish Archbishop, Karol Wojtyla, was elected as both religious head of the Catholic and civil head of the Vatican City. This ageing Pope is apparently utilising his dual role of leadership in an effort to implement his conviction that he is the Pope who will return to the throne the Popes were forced to vacate in 1798 at the end of French revolution.
Through the Pope's crusading zeal all over the world, the Vatican is successfully extending her influence more than has ever been seen in this century, kings and Presidents quake in their boots over her. By going along with the ecumenical movement Christians are strengthening Rome's hand, bringing her closer to the day when she could repeat the atrocities that she was known for.
There are those who say "that was all in the dark ages." But the recent atrocities like the creation of the Croatian Fasiat Ustaehi and Vatican support for Hitler happened not in the dark ages. Rome, when in minority, is a gentle lamb, when an equal is as clever as a fox, when in majority is as fierce as a tiger, willing to kill and maim to extend her reach.
The subtitle to the recently published book The Key of This Blood announced a series of overt plan destined to change the world forever. The book pointed the main players in this event and their ultimate goal. The subtitlte of the book read thus: "Pope John Paul II versus Russia and the West for the control of the New World Order." The author, Malachi Martins a Jesuit and Vatican insider, takes a pro-Papal view of this battle for control of the world. [...]
Flashback: Vatican 'ordered abuse cover-up'
Sunday, 17 August, 2003

A secret Vatican document, outlining procedures for handling allegations of sex abuse by priests, has been published in the US and UK.
Lawyers acting for alleged victims of abuse say the document proves that for decades the Vatican has systematically obstructed the course of justice in order to protect Catholic priests.
Church lawyers, on the other hand, argue that the document referred only to church law and did not order bishops to engage in criminal cover-ups.
But the US lawyer who uncovered the document told a British newspaper the archive material is a smoking gun.
The lawyer, Daniel Shea, told The Observer newspaper the 1962 Vatican instruction was "a devious attempt to conceal criminal conduct".
It "is a blueprint for deception and concealment", the Sunday newspaper quotes him as saying.
Flashback: At least 40 percent of nuns sexually abused

Bill Smith
St. Louis Post Dispatch
Jan 5, 2003
Already shaken by a yearlong sex scandal involving priests and minors, the Roman Catholic Church has yet to face another critical challenge: how to help thousands of nuns who say they have been sexually victimized.
A national survey, completed in 1996 but intentionally never publicized, estimates that a "minimum" of 34,000 Catholic nuns, or about 40 percent of all nuns in the United States, have suffered some form of sexual trauma.
Some of that sexual abuse, exploitation or harassment has come at the hands of priests and other nuns, the report said. The survey was done by researchers at St. Louis University and paid for, in part, by several orders of nuns. [...]
Flashback: U.N. Finally Forced to Probe Its Pedophilia Scandal

NewsMax.com
Tuesday, May 7, 2002

GENEVA, Switzerland – The United Nations' massive pedophilia scandal has not received 1 percent of the media attention given to the Catholic Church's homosexual priest scandal. Finally some attention is being paid, now that the U.N.'s cover is blown.
As world leaders converge on New York for the controversial conference on children this week, U.N. investigators and relief agencies say they are finally trying to stop recurrence of sexual abuse against West African refugee children by U.N. "peacekeepers" and aid workers.
Bush says Pakistan nukes are "secure"
Fri Jan 2, 1:57 AM ET

CRAWFORD, United States (AFP) - US President George W. Bush said that Pakistan's nuclear arsenal was "secure" following two failed assassination attempts on President Pervez Musharraf in the last three weeks.
Bush also said he emerged from a recent telephone conversation with Musharraf convinced that the "friend of the United States" and ally in the global war on terrorism had the situation under control.
"Obviously terrorists are after him and he sounded very confident that his security forces would be able to deal with the threat," Bush said. "He sounded confident and therefore I feel confident about his security situation." [...]
Comment: The FBI's strong presence in Pakistan probably adds to Bush's confidence regarding the country's nukes.
Brazil judge orders US citizens fingerprinted
Reuters
Wednesday, December 31, 2003. 12:51pm (AEDT)
A Brazilian judge, furious at US plans to fingerprint and photograph Brazilians entering the United States, has ordered Brazil to do the same to US citizens.
The order, set to go into effect on January 1, came after a Government office filed a complaint in federal court over the US measure aimed at millions of foreign travellers. [...]
"I consider the act absolutely brutal, threatening human rights, violating human dignity, xenophobic and worthy of the worst horrors committed by the Nazis," said Federal Judge Julier Sebastiao da Silva in the court order released on Tuesday. [...]
Comment: Americans traveling to Brazil will now be treated as terrorists as a result of the "anti-terror" measures instituted by the Bush Reich. It behooves all Americans to remember what happened to many Germans after the defeat of the Nazis in WWII.
Eisenhower's Holocaust - His Slaughter Of 1.7 Million Germans

12-28-03
"God, I hate the Germans..." (Dwight David Eisenhower in a letter to his wife in September, 1944)

First, I want you to picture something in your mind. You are a German soldier who survived through the battles of World II. You were not really politically involved, and your parents were also indifferent to politics, but suddenly your education was interrupted and you were drafted into the German army and told where to fight. Now, in the Spring of 1945, you see that your country has been demolished by the Allies, your cities lie in ruins, and half of your family has been killed or is missing. Now, your unit is being surrounded, and it is finally time to surrender. The fact is, there is no other choice.

It has been a long, cold winter. The German army rations have not been all that good, but you managed to survive. Spring came late that year, with weeks of cold rainy weather in demolished Europe. Your boots are tattered, your uniform is falling apart, and the stress of surrender and the confusion that lies ahead for you has your guts being torn out. Now, it is over, you must surrender or be shot. This is war and the real world.

You are taken as a German Prisoner of War into American hands. The Americans had 200 such Prisoner of War camps scattered across Germany. You are marched to a compound surrounded with barbed wire fences as far as the eye can see. Thousands upon thousands of your fellow German soldiers are already in this make-shift corral. You see no evidence of a latrine and after three hours of marching through the mud of the spring rain, the comfort of a latrine is upper-most in your mind. You are driven through the heavily guarded gate and find yourself free to move about, and you begin the futile search for the latrine. Finally, you ask for directions, and are informed that no such luxury exists.

No more time. You find a place and squat. First you were exhausted, then hungry, then fearful, and now; dirty. Hundreds more German prisoners are behind you, pushing you on, jamming you together and every one of them searching for the latrine as soon as they could do so. Now, late in the day, there is no space to even squat, much less sit down to rest your weary legs. None of the prisoners, you quickly learn, have had any food that day, in fact there was no food while in the American hands that any surviving prisoner can testify to. No one has eaten any food for weeks, and they are slowly starving and dying. But, they can't do this to us! There are the Geneva Convention rules for the treatment of Prisoners of War. There must be some mistake! Hope continues through the night, with no shelter from the cold, biting rain.

Your uniform is sopping wet, and formerly brave soldiers are weeping all around you, as buddy after buddy dies from the lack of food, water, sleep and shelter from the weather. After weeks of this, your own hope bleeds off into despair, and finally you actually begin to envy those who, having surrendered first manhood and then dignity, now also surrender life itself. More hopeless weeks go by. Finally, the last thing you remember is falling, unable to get up, and lying face down in the mud mixed with the excrement of those who have gone before.

Your body will be picked up long after it is cold, and taken to a special tent where your clothing is stripped off. So that you will be quickly forgotten, and never again identified, your dog-tag is snipped in half and your body along with those of your fellow soldiers are covered with chemicals for rapid decomposition and buried. You were not one of the exceptions, for more than one million seven hundred thousand German Prisoners of War died from a deliberate policy of extermination by starvation, exposure, and disease, under direct orders of the General Dwight David Eisenhower. [...]
In 'Eisenhower's Death Camps': A U.S. Prison Guard's Story

By Martin Brech
In October, 1944, at age eighteen, I was drafted into the U.S. army. Largely because of the "Battle of the Bulge," my training was cut short. My furlough was halved, and I was sent overseas immediately. Upon arrival in Le Havre, France, we were quickly loaded into box cars and shipped to the front. When we got there, I was suffering increasingly severe symptoms of mononucleosis, and was sent to a hospital in Belgium. Since mononucleosis was then known as the "kissing disease," I mailed a letter of thanks to my girlfriend.
By the time I left the hospital, the outfit I had trained with in Spartanburg, South Carolina was deep inside Germany, so, despite my protests, I was placed in a "repo depot"(replacement depot). I lost interest in the units to which I was assigned and don't recall all of them: non-combat units were ridiculed at that time. My separation qualification record states I was mostly with Company C, 14th Infantry Regiment, during my seventeen-month stay in Germany, but I remember being transferred to other outfits also.
In late March or early April, 1945, I was sent to guard a POW camp near Andernach along the Rhine. I had four years of high school German, so I was able to talk to the prisoners, although this was forbidden. Gradually, however, I was used as an interpreter and asked to ferret out members of the S.S. (I found none.)
In Andernach about 50,000 prisoners of all ages were held in an open field surrounded by barbed wire. The women were kept in a separate enclosure I did not see until later. The men I guarded had no shelter and no blankets; many had no coats. They slept in the mud, wet and cold, with inadequate slit trenches for excrement. It was a cold, wet spring and their misery from exposure alone was evident.
Even more shocking was to see the prisoners throwing grass and weeds into a tin can containing a thin soup. They told me they did this to help ease their hunger pains. Quickly, they grew emaciated. Dysentery raged, and soon they were sleeping in their own excrement, too weak and crowded to reach the slit trenches. Many were begging for food, sickening and dying before our eyes. We had ample food and supplies, but did nothing to help them, including no medical assistance.
Outraged, I protested to my officers and was met with hostility or bland indifference. When pressed, they explained they were under strict orders from "higher up." No officer would dare do this to 50,000 men if he felt that it was "out of line," leaving him open to charges. Realizing my protests were useless, I asked a friend working in the kitchen if he could slip me some extra food for the prisoners. He too said they were under strict orders to severely ration the prisoners' food and that these orders came from "higher up." But he said they had more food than they knew what to do with and would sneak me some.
When I threw this food over the barbed wire to the prisoners, I was caught and threatened with imprisonment. I repeated the "offense," and one officer angrily threatened to shoot me. I assumed this was a bluff until I encountered a captain on a hill above the Rhine shooting down at a group of German civilian women with his .45 caliber pistol. When I asked, Why?," he mumbled, "Target practice," and fired until his pistol was empty. I saw the women running for cover, but, at that distance, couldn't tell if any had been hit. [...]
Russia to forgive Mongolia debt
By Kevin Morrison in London
Published: January 1 2004
Russia has agreed to forgive a substantial part of the 11.4bn convertible roubles in debt owed to it by Mongolia, a move that unshackles the central Asian nation from almost 80 years of debt accumulated during the Soviet era.
This also marks the largest debt forgiveness by Russia of loans provided by the former Soviet Union. Mongolia was third behind Cuba and Syria in debt obligations to Russia.
Libya appeals to US to lift sanctions
PTI FRIDAY, JANUARY 02, 2004
NEW YORK: Libyan Prime Minister has appealed to the United States to lift sanctions on his country by May 12, the deadline for Tripoli to make compensation payments to the families of the victims of the Lockerbie disaster.
Prime Minister Shukri Ghanim, in an interview published on Friday in the New York Times , said the US should act quickly in the matter keeping in view Libya's recent decision to dismantle its secret weapons programme.
Georgia's coming presidential poll closely watched
www.chinaview.cn 2004-01-02 13:07:30
TBILISI, Jan. 2 (Xinhuanet) -- Georgia's Jan. 4 presidential election has been put in the spotlight after a mass protest which culminated in the step-down of former President Eduard Shevardnadze in November and an autonomous province reversed its pledge to boycott the poll.
Georgia, situated in the western part of the Caucasus mountains,borders Russia in the north. A 2.7-billion-US-dollar pipeline, which is to take Caspian oil across Georgia's territory to Westernmarkets, has increased the significance of the country on the geopolitical map.
Adzharia, a restive region whose population accounts for about one-tenth of the nation, has refused to acknowledge the interim authorities and is cold-shouldering the poll. Aslan Abashidze, leader of the province, however revoked the threatened boycott just days ahead of the election.
Under the current law, no fewer than half of Georgia's eligiblevoters must cast their ballots to make the election valid. Abashidze enjoys strong popularity in Adzharia and his lukewarm attitude could make it more difficult for Georgia to achieve the required voter turnout.
Although Abashidze had called on his Revival party not to cast ballots, he finally agreed to join the election under pressure from the European Union and the United States.
With all the provinces promising to participate in the poll, the interim government has now to deal with a shortage of funds for the election. Once the breadbasket of the Soviet Union, Georgia's coffers are empty after years of bad economic performance.
Showing much interest in the region, the EU and the United States have extended a helping hand, donating millions of US dollars for the election.
Fencing not attempt to settle Kashmir unilaterally: PM
PTI[ FRIDAY, JANUARY 02, 2004 11:22:05 AM ]
ISLAMABAD: Rejecting Pakistan's objections to India building fencing along the Line of Control in Jammu and Kashmir, Prime Minister Atal Bihari Vajpayee said the step was an "operational requirement" to stop infiltration of militants and not part of any attempts by India to unilaterally settle the issue.
"There was no question of India trying to settle the issue of Jammu and Kashmir by building a fence along the Line of Control," Vajpayee said in an interview to Pakistan daily Dawn on Friday, ahead of his visit to Islamabad on Saturday to take part in the Saarc summit.
Comment: Vajpayee sounds like Sharon. No wonder India and Israel are getting along so well these days.
Prodi says two-speed Europe might be inevitable
www.chinaview.cn 2004-01-02 18:36:18
ROME, Jan. 2 (Xinhuanet) -- A two-speed Europe might be inevitable if the leaders of the Europe Union (EU) members can not hammer out an agreement on the bloc's new constitution in 2004, European Commission President Romano Prodi said Friday.
In an interview with La Republica daily released in the day, Prodi said "It is clear that if the situation does not unblock in 2004 then some (countries) could, and perhaps should take the initiative to go forward."
Dutch clamp down on public smoking
Dutch smokers have begun the New Year with severe restrictions placed on where and when they can light up.
Laws which came into effect at midnight ban smoking in many public places including railway stations, trains, toilets and offices.
At work, staff will only be able to smoke in special rooms fitted with extractor fans.
Employers are under no obligation to provide a room. They risk being fined if they allow staff to go on smoking.
Hotels, bars and restaurant have won a temporary reprieve, but only on condition that they find a compromise by 2005.
COVERED BY SMOKING BAN
Buses
Trains
Taxis
Stations, including partially-covered train and bus platforms
Places of work, including stairs and hallways
Koizumi visits controversial shrine
Last Updated Thu, 01 Jan 2004 14:06:15
TOKYO - Prime Minister Junichiro Koizumi visited a shrine that honours Japan's war dead Thursday morning, a move that drew protests from China and South Korea.
It was Koizumi's fourth annual visit to Tokyo's Yasukuni Shrine since taking office in April 2001 and his first on New Year's Day, when millions of Japanese make their first visits of the year to Shinto shrines and Buddhist temples.
The Shinto shrine is seen as a symbol of Japan's early 20th century colonialism and military aggression.
Yasukuni is where the souls of more than 2½ million Japanese who have died in foreign wars since 1853 are said to be enshrined, including Class-A war criminals from the Second World War.
In Beijing, China's Vice-Foreign Minister Wang Yi lodged a strong diplomatic protest. He called the visit an act of broken faith and said the Chinese people will never tolerate it. The reaction is seen as dimming the chances of an anticipated trip to China by Koizumi or for China's president to travel to Japan any time soon.
In Seoul, South Korea's Foreign Ministry said it deeply regrets the prime minister paying homage to war criminals who inflicted intolerable damage and pain on the Korean people.
At the shrine, Koizumi, anticipating the foreign protests, said, essentially, Asian neighbours should get used to it.
The prime minister told reporters that each nation has its own history and tradition and other countries should be able to understand that.
Japanese PM's shrine visit a perfidious act
www.chinaview.cn 2004-01-02 14:25:51
BEIJING, Jan. 2 (Xinhuanet) -- Junichiro Koizumi paid a fourth visit to Tokyo's Yasukuni Shrine on New Year's Day in his capacity as Japan's prime minister. It was a perfidious act yet again performed by Koizumi regardless of opposition in Japan and from other Asian countries, and has undermined the political basis for Sino-Japanese ties.
The Yasukuni Shrine honors Class-A war criminals whose hands were stained with the blood of the people of China and other Asian countries.
Koizumi's repeated visits to the shrine ran counter to the commitment made by the Japanese government and himself to reflect on Japan's war past and will surely provoke fierce opposition and indignation of the people of China and other Asian countries.
The Yasukuni Shrine issue embodies the very essence of the question of whether the Japanese government and its leaders can adopt an acceptable attitude towards Japan's history of aggression.
China to launch 3 satellites in 2004: official
www.chinaview.cn 2003-12-31 20:23:46
BEIJING, Dec. 31 (Xinhuanet) -- China plans to launch three satellites in 2004, while starting its lunar landing program and working for technological breakthroughs in space docking and walking, a senior space official said here Wednesday.
Afghan constitutional convention paralysed by deep ethnic split
04:49 PM EST Jan 01
KABUL (AP) - Afghanistan's marathon constitutional convention has been adjourned until Saturday in a desperate bid to reach a consensus amid a boycott by opponents of U.S.-backed President Hamid Karzai.
The decision, taken Thursday after scores of delegates refused to take part in a vote on several amendments to the draft charter, was the latest setback for the historic gathering, which has already been marred by acrimony and a dangerous ethnic rift.
Opponents were particularly angry over Karzai's insistence on the creation of a strong presidency, which they say could shut minorities out of the halls of power.
Officials said more than half of the 502 members of the loya jirga cast their ballots in voting Thursday - enough to make the results binding. But after hours of behind-the-scenes wrangling, the meeting was called off until Saturday to allow more time to seek a compromise.
Karzai insists a simple majority of those voting is enough to pass the charter, but most observers recognize that a constitution that doesn't win wide-ranging support will hamstring the country as it seeks to put two decades of devastating conflict behind it.
Islamic conference attracts 7,000
NECO COCKBURN
STAFF REPORTER
Jan. 2, 2004. 06:23 AM
Thousands of Muslims from across North America are expected to attend a conference that begins today in Toronto with the aim of promoting understanding and developing an increasingly active citizenry.
Organizers of Reviving the Islamic Spirit, which runs until Sunday, would like to "develop a certain amount of discussion and dialogue around the issues of Canadian Muslim identity," said Jeewan Chanicka, 29, the event's media relations director.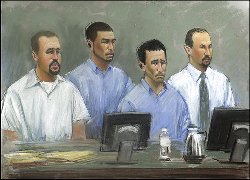 Terrorism Case Thrown Into Turmoil
Factors Judge Is Considering Include Evidence Withheld From Defense
By Robert E. Pierre
Washington Post Staff Writer
Wednesday, December 31, 2003; Page A05
DETROIT -- The verdict in the nation's first terrorist trial after the Sept. 11, 2001, attacks left both sides claiming victory: two men guilty of terrorism charges and two others cleared of them.
But several recent developments -- including revelations that prosecutors may have withheld key exonerating evidence -- have thrown the case into turmoil. U.S. District Judge Gerald E. Rosen is considering throwing out the convictions and starting over.
Federal prosecutors acknowledged this month that they did not turn over at least two key pieces of evidence that defense lawyers said would have helped their cause. Rosen issued a rare public rebuke of Attorney General John D. Ashcroft for violating his gag order and exhibiting "a distressing lack of care" in his public statements about the case. The two chief prosecutors, unceremoniously removed from the "sleeper cell" case, have entered into a public spat with their bosses.
In addition, Sen. Charles E. Grassley (R-Iowa) has charged that the two prosecutors were removed because one of them -- against the wishes of senior officials at the Justice Department -- testified before the Senate Finance Committee, which Grassley chairs, about how terrorists sell false documents and identities to pay for their activities.
"It looks pretty bad for the government," said David A. Moran, an assistant professor of law at Wayne State University in Detroit. "It's clear that Judge Rosen, who tends to be on the government's side, is disturbed by what happened. What he has to decide now is whether there would have been a reasonable probability of a different outcome." [...]
Chicago Topped Nation in 2003 Homicides
Latest government report on Wellstone 'accident' finds its scapegoats, many questions remain
By: Jackson Thoreau
Shortly before he died in a mysterious airplane crash 11 days prior to the 2002 elections, Minnesota Sen. Paul Wellstone met with Vice President Dick Cheney, probably the Bush administration's most evil public face.
Cheney was rounding up Senate support for the October 2002 vote on giving the administration carte blanche to invade Iraq, with or without blessing from the United Nations. Cheney strong-armed opposing politicians like the most vindictive of mafioso leaders, and opponents usually gave in.
But not Wellstone. Whatever you thought of his progressive brand of politics, he wasn't a wimp. And that's what made him more than dangerous in the eyes of people like Cheney.
At a meeting full of war veterans in Willmar, Minn., days before his death, Wellstone told attendees that Cheney told him, "If you vote against the war in Iraq, the Bush administration will do whatever is necessary to get you. There will be severe ramifications for you and the state of Minnesota."
Wellstone cast his vote for his conscience and against the Iraq measure, the lone Democrat involved in a tough 2002 election campaign to do so. And a few weeks later on Oct. 25, as he appeared to be winning his re-election bid, Wellstone, his wife, Sheila, his daughter, Marcia Markuson, three campaign staffers, and two pilots died in a plane crash in Minnesota.
Talk about "severe ramifications."
My first hunch upon hearing about the tragedy was that the Beech King Air A-100 was tampered with by right wingers, possibly the CIA, either directly or through electromagnetic rays or some psychic mind games.
And nothing I have heard or read since then has made me drift from that hunch.
I'm not alone. [...]
Comment: This article does an excellent job of pulling the research together:
Ruppert also interviewed two Democratic Congress representatives who said they believed Wellstone was murdered. One said, "I don't think there's anyone on the Hill who doesn't suspect it. It's too convenient, too coincidental, too damned obvious. My guess is that some of the less courageous members of the party are thinking about becoming Republicans right now."
Michael C. Ruppert: 2004 -- The Year of the Law and of Living Dangerously
Seemingly Unsolvable Legal Traps Face an Administration Running Out of Wiggle Room
Something "Big" Will Prevent Saddam from Coming to Trial
N. Korea OKs U.S. visit to complex
By Barbara Slavin
USA TODAY
North Korea has agreed to allow a U.S. delegation that includes a top nuclear scientist to visit its nuclear complex at Yongbyon next week ahead of likely negotiations with its neighbors and the United States. The delegation would be the first to see the site since North Korea expelled foreign weapons inspectors a year ago. [...]
By Pav Jordan
Friday January 2, 05:59 AM
MEXICO CITY (Reuters) - A strong earthquake off the Mexican Pacific coast near Acapulco has sent scared residents as far away as Mexico City fleeing from their homes and offices although there have been no immediate report of casualties or serious damage.
The 6.3-magnitude quake, hit at 5:32 p.m. (11.32 p.m. British time), the National Seismological Service said on Thursday.
The epicentre was some 60 miles off the coast of the fishing village of Zihuatanejo, about 100 miles from Acapulco in the Pacific Coast state of Guerrero and some 250 miles from Mexico City. [...]
By Tommy Soetjipto
Friday January 2, 04:52 AM
Bali, Indonesia (Reuters) - At least nine people have been injured after an earthquake and aftershocks shook tourists and residents from their beds on the Indonesian resort island of Bali. [...]
Officials said there were no immediate reports of any deaths as a result of the quake measuring 6.1 on the Richter scale, which hit at around 5.00 am on Friday (9.00 p.m. British time on Thursday) off the Bali coast, lasting about five seconds. [...]
Vancouverites swap umbrellas for shovels
CBC News
Thu, 01 Jan 2004 16:04:00
VANCOUVER - Snow has carpeted Vancouver for the first time in more than a year, snarling traffic and delaying flights.
Vancouver is used to mild winters; last year it hardly snowed at all. [...]
Frozen French Fries Prefried In Beef Tallow Sit In Limbo
local6.com
12:11 AM EST January 2, 2004
KENNEWICK, Wash. -- Fallout from the mad cow scare in Washington state has hit the potato industry, with more than $500,000 worth of frozen French fries -- prefried in beef tallow -- held in limbo at ports.
The delay raises concerns that other exports containing beef products could be affected by the bans countries have imposed on U.S. beef because of mad cow disease. [...]
There is no evidence that beef tallow can transmit mad cow disease to humans, Boss said, but that doesn't matter if customers don't think it is safe. [...]
TEEN ARRESTED FOR ALLEGEDLY ATTEMPTING TO POISON HER MOTHER (San Diego)
A 14-year-old East County girl suspected of giving her mother a beverage laced with bleach was under arrest Wednesday, a police lieutenant said. [...]
Bush Brother Makes Big One-Day Profit
PETE YOST
Associated Press Writer
[...] Bush's returns, as well as records that have come to light in Bush's divorce case with his wife, Sharon, show that since his controversial tenure with the failed Silverado Banking, Savings and Loan Association of Denver, more than a decade ago, he has become a globe-trotting businessman with a variety of consulting deals. [...]
Comment: From Bush Family Values, we find a little more information on Neil:
He cost American taxpayers $1 billion after some shady loans he made caused the Silverado Savings and Loan to go under in 1988. Now he's making millions selling software to Florida schools. Now he's divorcing his wife and leaving her broke
Moscow police haul in 'Bin Laden'
A man who told police officers he was top terror suspect Osama Bin Laden has been arrested on the Moscow metro.
But far from being bundled off to Guantanamo Bay on a US jet, the New Year's Eve detainee was handed over to the tender mercies of psychiatrists. [...]
Paleontologists discover 55 million year old monkey fossil
www.chinaview.cn 2004-01-02 07:15:48
BEIJING, Jan.1 (Xinhuanet) -- Chinese archaeologists have discovered a 55 million-year-old fossil that they believe provides important information about the evolution of monkeys and humans.
Relics point to American ancestors
PAUL RECER
ASSOCIATED PRESS
Jan. 2, 2004. 06:20 AM
WASHINGTON—A people who may have been ancestors of the first Americans lived in Arctic Siberia, enduring one of the most unforgiving environments on earth at the height of the Ice Age, researchers say.
The Russian scientists, who discovered the oldest evidence yet of humans living near the frigid gateway to the New World, uncovered a 30,000-year-old site where ancient hunters lived on the Yana River in Siberia.
That's some 500 kilometres north of the Arctic Circle and not far from the Bering land bridge that then connected Asia with North America.
"Although a direct connection remains tenuous, the Yana ... site indicates that humans extended deep into the Arctic during colder (Ice Age) times," the authors wrote in a study appearing this week in the journal Science.
The researchers found stone tools, ivory weapons and the butchered bones of mammoths, bison, and bears, all animals that would have been available to hunters during that Ice Age period.
Using a dating technique that measures the ratios of carbon, the researchers determined the artefacts were deposited at the site about 30,000 years before the present.
That would be about twice as old as Monte Verde in Chile, the most ancient human life known in the American continents.
Archaeologists unearth 4,000-year-old tomb
AP in Cairo
Thursday January 1, 2004
The Guardian
Polish and Egyptian archaeologists have unearthed a necropolis containing the 4,000-year-old stone tomb of a royal official, Egypt's supreme council of antiquities announced yesterday.
The culture minister, Farouk Hosni, said that the necropolis, near the pyramids of Saqqara, 15 miles south of Cairo, held the tomb of a man called Ny-Ankh-Nefetem, identified in hieroglyphic writing as the god's servant of the pyramids of the kings Unas and Teti, who ruled successively from 2375BC to 2291BC. [...]
Team says Milky Way may have ET zones
A tenth of the stars in the Milky Way may have planets that support advanced life, Australian scientists have said.
Astronomers have plotted a ring-shaped region of the galaxy where there might be Earth-like worlds old enough for life to have reached a high level of evolution.
The sun exists in this "Galactic Habitable Zone", which contains about 10 per cent of all the Milky Way's stars.
Stars within the band have enough heavy elements to form Earth-like planets, are a safe distance from catastrophic supernova explosions, and have existed for at least four billion years. [...]
Space probe sweeps up comet dust

02/01/2004
An American space probe has entered the shimmering tail of a comet and is collecting hundreds of dust particles which will be returned to Earth for analysis.
The National Aeronautics and Space Administration says its Stardust spacecraft will pass within 186 miles of the comet Wild 2 as it flies through the gossamer cloud that envelops the dirty ball of ice and rock. [...]
Top Paranormal Events of 2003 from About.com
---
Remember, we need your help to collect information on what is going on in your part of the world!
We also need help to keep the Signs of the Times online.
---

Check out the Signs of the Times Archives

Send your comments and article suggestions to us

---
Fair Use Policy
Contact Webmaster at signs-of-the-times.org
Cassiopaean materials Copyright ©1994-2014 Arkadiusz Jadczyk and Laura Knight-Jadczyk. All rights reserved. "Cassiopaea, Cassiopaean, Cassiopaeans," is a registered trademark of Arkadiusz Jadczyk and Laura Knight-Jadczyk.
Letters addressed to Cassiopaea, Quantum Future School, Ark or Laura, become the property of Arkadiusz Jadczyk and Laura Knight-Jadczyk
Republication and re-dissemination of our copyrighted material in any manner is expressly prohibited without prior written consent.
.