---
It is hard to take in the deaths of 25,000 people. A few moments of rumbling, trembling, shaking, and your world is changed forever. Our thoughts are with the people of Bam today as they try and rescue those who remain alive, and bury their loved ones who are not.
Those reports of "credible threats" keep coming in. The Vatican and Israel follow hard on the heels of the Air France scam.
We present a look at corruption in Israel. Just how deep does it go? An Israeli company has banned Chinese workers from having sexual relations with Israeli employees. There's nothing like a bit of racial discrimination to stimulate productivity.
US forces are creating a new list of bad guys to replace the aging Saddam regime deck of cards.
Mohamed ElBaradei is off to Tripoli to begin his investigations of the Libyan nuclear program. The US continues its hunt for Osama.
After having supported the US in the creation of the Guantanamo prison camp, Cuba now declares that the facility is a concentration camp.
More on the effects of mad cow disease in the US, Green Card lotto entries plummet, and a heart-warming holiday story about thoughtful French thieves.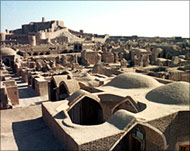 Iran earthquake toll climbs to 25,000
Saturday 27 December 2003, 9:19 Makka Time, 6:19 GMT
The toll from the devastating earthquake in the historic Iranian city of Bam has reached 25,000, officials have said.
Around 20,000 people are still buried under the rubble, Iraj Sharifi, rector of the faculty of medicine in Kerman, said on Saturday.
"Five thousand people were killed on the spot in the quake and there are 20,000 people trapped under the rubble" after Friday's disaster, Sharifi said.
[...] The pre-dawn quake on Friday also injured about 50,000 people, government officials said, as rescuers tore at rubble for anyone buried alive.
The quake measured 6.3 on the Richter scale and struck when many people were still asleep in their homes.
About 70 per cent of Bam, a popular tourist spot some 1000km southeast of the capital Tehran with an historic citadel and other centuries-old buildings, was levelled.
The US is not serious about helping Middle East democracy
Despite the stated desire of US President George W. Bush's administration to democratize occupied Iraq and other nations in the Middle East, a long-term commitment to transforming the political perspectives of the region and introducing democracy have never been a pillar of US foreign policy, and it is hard to imagine they will become one.
Aside from the fact that democracy has almost never been imposed from outside, the Bush administration does not seek democracy in the Middle East, but rather agreement with its policies. There is a large gap between the rhetoric of democratization to justify American policies and actual US behavior directed at supporting authoritarian regimes. Washington prefers dealing with ruling figures, families or tribes in the region, and the predictability they represent, to getting involved in the domestic and foreign policy complexities inherent in democratic government. One recalls how the US spluttered when Turkey's Parliament voted to deny American soldiers access to Iraq before the war there.
The irrelevant Muslim-Western dialogue
At the end of a recent conference held to debate the role of Islamic groups in the political process in the Arab world, a leading American participant confided to me that he had been bitterly disappointed by the outcome of what was supposed to be a Muslim-American dialogue on this and related issues. "I cannot say that I have found anyone I could talk to here," he said.
My interlocutor tried to expound on the point, explaining he was a moderate who opposed the current US administration and was sympathetic to Arab concerns. But he regretted that Arabs and Palestinians had missed many opportunities to impress the Americans and accept the favorable deals offered to them. Just then, another participant who was standing nearby and had overheard our conversation joined in and said to my friend how completely mistaken he was about every point. As the futile exchange heated up, I slipped quietly away. It is sometimes good to know when to abandon a dialogue that is really a series of monologues.
Another kind of terror: Israel grapples with murderous gang wars and corruption
BEIRUT: Three Israelis were killed and more than 30 wounded on Dec. 11 by a lunchtime bomb explosion at a moneychanger's office in a seedy district of south Tel Aviv notorious for its prostitutes and illegal gambling dens. But it wasn't an attack by Palestinian militants. For ordinary Israelis, this was another kind of terror ­ a war in the streets of unprecedented ferocity between the country's organized crime families who commentators say now control much of the political system.
With Prime Minister Ariel Sharon and his two sons currently under suspicion of involvement in illegal financial transactions, including under-the-table funding for political purposes, the degree to which criminal organizations have penetrated Israel's body politic amid what many see as a worrying deterioration in public morality is becoming a national scandal.
High-profile corruption cases involving political figures such as Sharon ­ who could conceivably be pushed out of office by the graft charges ­ and the broad daylight mayhem on the streets of Tel Aviv, Ashkelon, Haifa, Eilat, Hadera and other cities is drawing demands for greater scrutiny and more effective police action.
The underworld's gang wars, with Israeli killing Israeli, has jolted a nation already traumatized by suicide bombings, forcing Ariel Sharon's Cabinet to address the problem. But the gangland mayhem appears to be endemic of a deepening malaise in Israeli society on various levels. After monitoring the Israeli press, and the barrage of reports about official corruption and intifada-induced road rage among citizens of all classes and background in recent weeks, one could be forgiven for thinking that Israel was on the verge of social disintegration.
That would, of course, be an exaggeration. But the fault lines in Israeli society, between orthodox and secular, Ashkenazi and Sephardi, left and right, Jewish and non-Jewish (including 1 million Arabs and a large proportion of 1 million Russian immigrants) are being widened by the severe strains of the intifada, the state's worst economic crisis and mounting international opprobrium. Old values, embodied by the pioneers who built the state, are eroding. Even the revered kibbutz movement, a pillar of Israeli unity, is falling apart in a globalizing world these days. The younger generation is more materialistic and no longer considers military service a duty, as their fathers did. [...]
Israeli troops fire on wall protesters
Saturday 27 December 2003, 8:27 Makka Time, 5:27 GMT
An Israeli pacifist and an American woman protesting against the apartheid wall on the West Bank have been wounded after Israeli troops opened fire.
Some 400 Palestinians and 150 foreign activists, including Israeli pacifists, took part in the protest on Friday in the village of Masha, southeast of the northern West Bank town of Qalqiliya.
Israeli troops threw teargas and then opened fire at the crowd which was tearing down a metal gate built into the wall, witnesses and security sources said.
Live bullets were used against the protesters and two of them were wounded as a result, Israeli military sources confirmed.
Israel invades Nablus following blast
Friday 26 December 2003, 10:34 Makka Time, 7:34 GMT
Israeli occupation forces have launched an invasion into the West Bank city of Nablus, Aljazeera's correspondent has reported.
Coming from different directions, a huge numbers of Israeli tanks entered the city on early Friday, added the correspondent.
A Palestinian youngster was injured by Israeli fire during the invasion in Beit Forik village, east Nablus. The forces have also demolished the house of Said Hanani, the human bomber of the Tel Aviv blast on Thursday, and launched search operations in the city.
Israeli forces have also carried out arrest operations in the Old city and al-Ein refugee camp, near Nablus.
Israel promises to target militants
Last Updated Fri, 26 Dec 2003 18:53:39
TEL AVIV - The border between Israel and the West Bank and Gaza Strip was closed Friday morning. Israeli troops sealed border crossings following Thursday's deadly suicide bombing near Tel Aviv.
"Israel has specific information that an Islamic Jihad attack was imminent. It underlines the fact that groups like Islamic Jihad are still clinging to terrorism as a military option to strike at the people of Israel," said Dore Gold, Israeli government spokesman.
Vatican was terror target on Christmas: Berlusconi
Italian Prime Minister Silvio Berlusconi said in an interview published on Saturday that he had information before Christmas about a "precise" threat of a terrorist attack on Rome and the Vatican planned for Christmas Day.
Comment: Remember prior to September 11, 2001? There were few terror threats, no "precise" threats to disturb the Vatican or Air France. Now it is a regular occurrence. Funny, isn't it? The great and heroic permanent war on terror has made the threat "real." We are being programmed to live "in terror." The "terrorists" are all around us. They could be anywhere, anyone.
Threat made against DIA flights
By Associated Press
December 27, 2003
MINNEAPOLIS - A Frontier Airlines jetliner arriving from Denver was unloaded away from the main terminal and was searched for explosives Friday after Denver International Airport received an unspecified threat against all flights from DIA to Minneapolis. [...]
US seeks bin Laden here, there and everywhere
By Mark Huband and Mohsen Asgari
Published: December 26 2003 18:43 | Last Updated: December 26 2003 18:43
Much of the story behind Saddam Hussein's eight months on the run has yet to be made public. But US military and intelligence officials say the Iraqi dictator never wandered far from the banks of the Tigris. Remaining within the Sunni heartland, he scrambled from one farmhouse to the next, sometimes by car or van, sometimes by boat.
By contrast, Osama bin Laden, leader of the al-Qaeda terrorist group, appears to have become far more adept at evading the manhunt.
Chinese workers in Israel sign no-sex contract
Conal Urquhart in Tel Aviv
Wednesday December 24, 2003
The Guardian
Chinese workers at a company in Israel have been forced to agree not to have sex with or marry Israelis as a condition of getting a job.
According to a contact they are required to sign, male workers may not have any contact with Israeli women - including prostitutes, a police spokesman, Rafi Yaffe, said.
News SARS case suspected in China
Last Updated Fri, 26 Dec 2003 23:53:16
BEIJING - China may have its first new case of SARS, the respiratory illness, in more than six months.
U.S. seeks Air France passengers who didn't show for flights
Last Updated Fri, 26 Dec 2003 19:07:14
WASHINGTON - U.S. investigators were looking for a number of people on Friday who didn't show up at the Paris airport for booked flights to Los Angeles that were cancelled because of a perceived terrorist threat.
Chief UN nuke inspector heads to Libya
The head of the United Nations' nuclear watchdog said on Saturday Libya, which this month opened its nuclear facilities to international inspection, did not appear to have been close to building an atomic bomb.
International Atomic Energy Agency (IAEA) director-general Mohamed ElBaradei, flying to Tripoli from IAEA headquarters in Vienna, said there were no signs Libya had enriched uranium - a step that, were it taken, could be the first move to a bomb.
"From the look of it, they were not close to a weapon, but we need to go and see it and discuss the details with them," he said in an interview with Reuters.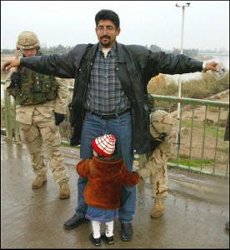 U.S. Forces Pursue New Iraq Enemy Lists
By JIM KRANE, Associated Press Writer
Fri Dec 26,11:27 PM ET
BAGHDAD, Iraq - Thirteen fugitives remain from the original "deck of cards" of top Saddam Hussein regime members, but U.S. forces are increasingly focusing on new lists of individuals thought to be taking a more active role in the anti-U.S. insurgency, military intelligence sources say.
To create these lists, U.S. military units and their coalition allies have developed computer databases, which they have updated with information on every bomb blast, firefight, suspect detained and tip provided by a local resident. [...]
20 Coalition Casualties in Iraq Blasts
AP
December 27, 2003
BAGHDAD, Iraq - Iraqi insurgents launched several attacks in the southern city of Karbala on Saturday, and there were 20 coalition casualties, a military spokesman said.
The attackers struck with a car bomb, mortars and machine guns in separate places in Karbala, said U.S. Maj. Ralph Manos, a spokesman for the Polish-led multinational force responsible for security in the area.
"There were different types of attacks at different places," he said. The attackers targeted two military coalition camps at the city's university and at a police station, as well as the mayor's office. [...]
Army Thin-Skinned Over Homemade Armor
Transportation Unit Headed for Iraq Sought Extra Protection for Non-Combat Vehicles
By David A. Lieb
Associated Press
[...] The 72 vehicles operated by the 428th are not designed for battle. They have thin metal floorboards and, in some cases, a canvas covering for doors. Iraqi guerrilla groups have been targeting all types of military vehicles with homemade bombs and small-caliber weapons. [...]
Cuba Says Guantanamo Prison a Concentration Camp
Fri Dec 26, 1:01 PM ET

HAVANA (Reuters) - Cuba has charged the United States with running a concentration camp at the Guantanamo base on the eastern tip of the island, in the government's first attack on use of the facility to hold terror suspects.
"In the territory illegally occupied by the Guantanamo naval base, hundreds of foreign prisoners are subjected to indescribable abuses," said a statement passed by parliament earlier this week and broadcast by the state-run media on Friday.
Communist-run Cuba's National Assembly said prisoners were isolated and denied the right to communicate with their families or to prepare an adequate defense.
"Some of the few freed have spoken of the horrors of this concentration camp," said the statement, appealing to lawmakers throughout the Americas to halt U.S. human rights violations related to the war on terror.
President Fidel Castro's government surprised observers when after the Sept. 11, 2001 attacks on New York and Washington it offered logistical support to Washington as it transformed the base at Guantanamo into a prison for suspected Taliban soldiers from Afghanistan. [...]
A spokesman for the Labour and Social Affairs Ministry did not return calls requesting comment.
Inside the Ring: Anthrax Terror
By Bill Gertz and Rowan Scarborough
THE WASHINGTON TIMES
December 26, 2003
The CIA has been quietly building a case that the anthrax attacks of 2001 were in fact the result of an international terrorist plot.
U.S. officials with access to intelligence reports tell us the information showing a terrorist link to the anthrax-filled letters sent by mail in the weeks after the September 11 terrorist attacks is not conclusive. But it is persuasive.
Asked to comment, a U.S. official said, "There is no evidence at this point to suggest a foreign terrorist link or connection. But the matter is still under investigation and we're not ruling anything out." [...]
Comment: An international terrorist plot using a US strain of weapons-grade anthrax? The fact that the CIA has no evidence to back their claim is irrelevant. The suggestion has been made, and apparently that's as good as the truth, for a frightening majority of Americans.
Fewer Green Card Lotto Entries Reported
AP
December 27, 2003
NEW YORK - There have been less than half the usual number of entries for the green card lottery this year, and immigrants' advocates blame a new rule requiring hopefuls to apply by computer.
As the Dec. 30 deadline nears, the government has received 5 million applications, compared with as many as 13 million in previous years, The New York Times reported Saturday. [...]
Britain's security services and journalists: the secret story
David Leigh
British Journalism Review
Vol. 11, No. 2, 2000, pages 21-26
British journalists – and British journals – are being manipulated by the secret intelligence agencies, and I think we ought to try and put a stop to it.
The manipulation takes three forms. The first is the attempt to recruit journalists to spy on other people, or for spies to go themselves under journalistic "cover". This occurs today and it has gone on for years. It is dangerous, not only for the journalist concerned, but for other journalists who get tarred with the espionage brush. Farzad Bazoft was a colleague of mine on the London Observer when he was executed by Saddam Hussein for espionage. It did not, in a sense, matter whether he was really a spy or not. Either way, he ended up dead.
The second form of manipulation that worries me is when intelligence officers are allowed to pose as journalists in order to write tendentious articles under false names. Evidence of this only rarely comes to light, but two examples have surfaced recently – mainly because of the whistleblowing activities of a couple of renegade officers – David Shayler from MI5 and Richard Tomlinson from MI6.
The third sort of manipulation is the most insidious – when intelligence agency propaganda stories are planted on willing journalists, who disguise their origin from their readers. There is – or has been until recently – a very active programme by the secret agencies to colour what appears in the British press, called, if publications by various defectors can be believed, "I/Ops". That is an abbreviation for Information Operations, and I am – unusually – in a position to provide some information about it. [...]
Comment: It is interesting that the British Journalism Review's Corporate Sponsors include several of the news sources they are supposed to be criticizing, including the BBC.
Cops defend use of 'spy' tactics (Colorado)
Protesters cry foul, claim their actions were nonviolent
By Berny Morson
Rocky Mountain News
December 27, 2003
Six people were arrested during an anti-war sit-in at U.S. Sen. Wayne Allard's office on April 14, but only five were charged.
The sixth protester, the one who wasn't arrested, was a man who called himself "Chris Taylor." He was in fact an undercover officer planted by the Arapahoe County Sheriff's Office. [...]
The protesters who were taken in by Christensen say they are angry at the deceit and at being monitored covertly. [...]
Mars probe fails again to contact mothership
The British-built space probe Beagle 2 missed another chance to make contact with NASA's Mars Odyssey orbiter on Saturday, the project's organisers said in a press conference posted on the Internet.
Beagle 2 missed the communication opportunity which opened up between 0617 and 0737 GMT, scientists said.
The fate of the so-called lander, which was to look for signs of life past or present on the Red Planet, remains unknown two days after it headed for the Martian surface after piggy-backing a ride on the European Space Agency's (ESA's) orbiter Mars Express.
Opposition To Military Cuts Grows

The Defense Ministry wants to cut the Bundeswehr by 30,000 soldiers by 2010, but critics say it will be difficult for the country to fulfill its international defense obligations with a pared down military.
[...] Social Democratic Defense Minister Peter Struck (photo) had to acknowledge earlier this year that the defense budget would be capped at around €24 billion until 2006. That's less than 1.5 percent of the German Defense Minister Peter Struck national budget. It also goes against calls by Washington and NATO for members of the military alliance to increase future joint military operations, especially in fighting against international terrorism.
Favoured few in Siberian field alliance
By Arkady Ostrovsky in Moscow
Published: December 27 2003 4:00 | Last Updated: December 27 2003 4:00
Russia's three state-owned or state-favoured energy companies have formed an alliance to develop vast untapped reserves in eastern Siberia - a move which represents a growing influence of the state in the country's energy sector.
The region is of strategic importance to Yukos, the embattled oil company, and to TNK-BP, which has the huge Kovykta field in eastern Siberia. Analysts said the creation of the consortium testified to the changing dynamic in Russian oil sector.
The consortium, which comprises Gazprom, the state-owned gas monopoly, the state-owned Rosneft oil group and Surgutneftegaz, is aiming to "develop oil and gas and implement schemes of unified gas supply systems in the territory", a statement said.
Surgutneftegaz is seen as the country's most nationalistically "politically correct" oil company in that it has shunned foreign participation, in contrast to Yukos and TNK.
Disappointing Christmas for US retailers
By Neil Buckley in New York
Published: December 26 2003 20:18 | Last Updated: December 26 2003 20:18
US retailers are relying on a post-Christmas surge to hit their holiday sales targets after the pre-Christmas period fell short of expectations.
Forecasters and retailers had looked forward to a sharp rebound this year, fuelled by a recovering economy, after a holiday season last year that was by some measures the worst for 30 years.
But while higher-income shoppers have opened their wallets, bolstering upmarket retailers' sales, lower-income shoppers have remained cautious.
USDA struggles to trace mad-cow origin
By Guy Dinmore in Washington and Neil Buckley in New York
Published: December 26 2003 19:41 | Last Updated: December 26 2003 22:12
US authorities tackling their first known case of "mad cow disease" on Friday admitted they had run into a "tangled web" in trying to trace the origin of the infected animal and its contaminated food source.
Lobby groups and consumer protection associations said the difficulties in tracing the herd of origin and the low level of testing for bovine spongiform encephalopathy (BSE) reflected relatively lax standards in the US compared with Europe and Japan.
Responding to those concerns, the US Department of Agriculture said it was considering increasing the number of cattle it tests for BSE, and introducing an electronic animal identification system - as used in the UK - to keep track of all cattle.
A US trade delegation leaves this weekend for talks in Japan, the biggest overseas market for US beef and one of more than 30 countries to have banned imports from the US.
The American consumer was also told not to worry, as the industry, which earned nearly $4bn (€3.2bn, £2.3bn) in exports last year, focused attention on the big-eating domestic market.
"We emphasise that the US consumer has every reason to remain confident in the safety of US beef," Ron DeHaven, the agriculture department's chief veterinarian, told reporters.
But he admitted there was "a tangled web of different possibilities" in finding the origin of the Holstein dairy cow from Washington state, which tested positive. It might have come from a local livestock market or from another dairy farm, he said. But he did not rule out Canada, which recorded its first case of mad cow disease last May, as a possible source.
Meanwhile authorities placed under quarantine a bull calf "feeding operation" which had taken a calf from the infected cow.
Comment: Of course, when the beef from one of the US competitors has BSE, whoa! This happened for Canada several months ago. The US clamped down its borders immediately.
Mad Cow Issue Hits U.S. Beef Exports
By EMILY GERSEMA, Associated Press Writer
Sat Dec 27, 2:04 AM ET
WASHINGTON - Just days after discovering the nation's first case of mad cow disease, the United States has lost nearly all of its beef exports as more than a dozen countries stopped buying American beef as insurance against potential infection.
Gregg Doud, an economist for the Denver-based National Cattlemen's Beef Association, said Friday that the United States, at today's market level, stands to lose at least $6 billion a year in exports and falling domestic prices because of the sick cow.
"We've lost roughly 90 percent of our export market just in the last three days," Doud said. [...]
US to send team to Japan to still mad cow fears
Clones can combat mad-cow disease
SEOUL, South Korea, Dec. 11 (UPI) -- South Korean researchers announced Wednesday they have genetically modifed cows and pigs to be resistant to diseases.
Hwang Woo-suk and his 120-member research team unveiled genetically modified calves designed to resist mad cow disease, or bovine spongiform encephalopathy, as well as gnotobiotic piglets that could possibly be used for human organ transplants. [...]
4 N.H. Teens Hospitalized With Meningitis
Scientists begin measuring pollution in human bodies
By PAUL ELIAS, AP Biotechnology Writer
4:16 p.m. PST Friday, December 26, 2003
SAN FRANCISCO (AP) - Davis Baltz shops for organic food and otherwise tries to live as healthy as he can.
So he was shocked to learn that the pollutants collecting inside his body sounded much like a Superfund cleanup site: pesticides, flame retardants and other nasty, man-made chemicals turned up in a recent test. [...]
Few of the estimated 75,000 chemicals found in the United States have been tested for their health effects, Baltz and other biomonitoring proponents say.
But several studies have been completed:
- In March, California researchers reported that San Francisco-area women have three to 10 times as much chemical flame retardant in their breast tissue as European or Japanese women.
- Indiana University researchers reported at the same time that levels in Indiana and California women and infants were 20 times higher than those in Sweden and Norway, which recently banned flame retardant. [...]
US gets first faith-based prison
Thursday 25 December 2003, 15:31 Makka Time, 12:31 GMT
Governor Jeb Bush has dedicated what he called the nation's first faith-based prison, telling its nearly 800 inmates that religion can help keep them from landing in jail again.
In addition to regular prayer sessions, the Lawtey Correctional Institution will offer religious studies, choir practice, religious
counselling and other spiritual activities seven days a week.
Participation is voluntary and inmates are free to transfer out.
Bush lauded the inmates from 26 faiths for committing themselves "to a higher authority."
"This is not just fluffy policy, this is serious policy," he told the crowd on Wednesday. "For the people who are sceptical about this initiative, I am proud that Florida is the home to the first faith-based prison in the United States."
Bush said it was the first of its kind, meaning a prison focused on encouraging the spirituality of inmates of all faiths.
Comment: Religion is a funny thing. There are people the world over who feel within themselves a connection to something divine. They understand that this world is the world of illusion, so they go searching for some way to live this in their daily lives. What do they find? They find preachers and other "men of god" ready to prey upon them. So the searcher continues to look, moving from church to church or faith to faith. He or she may end up moving to the margins where the saviours of the New Age and Alternative movements await, promising the same redemption, but under a different cover.
By and large, however, it is but another wolf preying upon the sheep, exchanging old dogma for new dogma, but never fundamentally changing the structure of the answer. Rituals, chanting, meditation, methods of raising one's "FRV". The smorgasbord is vast and varied, but no matter the choice, the seeker is left with a bad case of indigestion.
In spite of deception upon deception, that inner certainty of the true seeker remains, that knowledge that there is more to this life than material success, than the evening news, than the proclamations of vain politicians, gurus, self-help artists, pop psychologists and the like.
Many members of the Quantum Future School have been through this process, have tasted at the table of Christianity, of Buddhism, Yoga, Tao, Zen, Reiki, the Kaballah, and numerous variations on the basic recipe of the New Age. They have learned that there are no quick fixes or easy ways out. It is work, day in and day out.
The first step is to understand how little we really know and to accept that fact. Then begins a long process of looking at yourself, at all the ideas, desires, broken promises, rejections, and hurt that have crystallized within you, deforming your ability to see clearly, that is, to see without the lenses formed by these crystallized remnants of our past.
This work of dissolution can only be done within a group of like-minded seekers, a group of people who watch each other's back, who help one another to eliminate these filters. We are blind to our own filters, or, to use computer terminology, to our own programs. How often do we begin a conversation with someone, and, once begun, it plays out like a computer program, or a recorded message. You know when you start what will be said. This is easy to see.
But there are other responses that are equally programmed and mechanical but which we do not have the objectivity to see. They are shared by everyone around us, they are the water within which we swim. To recognize and unplug these programs, we need the help of others who are able to see our programming more clearly, often because they become the victims of it.
In many ways, this is a much simpler process than the rituals, chanting, or visualizations that are so commonplace in the solutions marketed by our religious "leaders", by the shysters on the New Age circuit. It doesn't promise out of the body experiences, the development of telepathy, the opening of your heart chakra, the formation of a diamond, crystal imperishable body, and the other brass rings offered on the New Age Merry-Go-Round.
Although a simple idea, this process of dissolving the filters is extremely difficult to actually carry out. You must work every moment you are awake. There is no one who can do it for you. There is no guru to place his hands upon you, to give you an energy boost as an offer of "proof".
Nor is there any protection that can be had, other than the support of the network. No way to ward off evil thoughts or the unpleasant aspects of reality through the construction of protective spheres or the intervention of the Holy Ghost.
This mixture of simplicity with the need for real work is what makes it so unattractive to people who are looking for a quick fix. Because it is not wrapped up in magic chants, psychedelic experiences, out of body voyages, and other, seemingly "other worldly" activities, these seekers of "experience" over truth dismiss it. They prefer to become entangled in a feedback loop of chemical rushes. The immediate feel-good response to these activities is accepted as confirmation of their own spiritual progress. The experience becomes proof of the system. They do not understand they are caught in a trap. They believe that if it becomes more and more easy for them to "leave their body," then they must be making progress. If they begin to hear voices in their heads, voices that claim to be the representatives of some higher power, their own personal "Guides," this, too, is taken as proof of their progress.
Yet, in the end, they are but creating more and more filters, allowing more and more things to crystallize in their consciousness, lenses that deform their perceptions of the world.
The real work is to SEE the world for what it is: the world of Illusion that takes the Real for Illusory. This is the work of this page, to help those who want the truth to learn to see it for themselves. What greater gift can we offer the Creator than seeing the world as he created it, in all its glory and horror, to acknowledge this world and its place in existence. This is real knowledge, the knowledge of what is, unfiltered by wishful thinking, the thinking of someone who would take the Creator's place and reshape the world according to his or her own desire.
In this mad world, there is hope, but this hope is founded upon truth, the truth of what is, not what we would like it to be.
Male DNA from JonBenet Ramsey's underwear submitted to FBI investigators
06:52 AM EST Dec 27
DENVER (AP) - A sample of male DNA found on JonBenet Ramsey's underwear has been submitted to FBI investigators seven years after the six-year-old was slain in her parents' home, the family lawyer said Friday.
"The Ramseys have a lot of hope that the DNA will solve the case," said their lawyer, Lin Wood.
The DNA sample was taken from two drops of blood on the garment, which has been in storage with authorities since the investigation began into the child's murder.
JonBenet, a competitor in child beauty contests, was found beaten and strangled in the basement of her parents' Boulder home on Dec. 26, 1996.
Earlier DNA tests on the blood indicated it was from a male who was not a member of the Ramsey family. At the time, the DNA sample wasn't of a high enough quality to compare against a national databank of DNA, the lawyer said.
Slide Threat Will Persist, Experts Warn (California)
This week's tragedy could be the start of five years of dangerous debris flows caused by the recent wildfires, scientists say. [...]
Search Called Off in Utah Avalanche
SALT LAKE CITY (AP) - Hampered by heavy snows and avalanche danger, rescuers were uncertain when they would be able to resume searching for at least three snowboarders swept down a Utah canyon by an avalanche and feared dead. [...]
Leopards spread fear in Bombay
Residents in parts of India's business capital, Bombay (Mumbai), are living in fear of an unusual foe - leopards.
The big cats have been entering busy residential areas and attacking humans. [...]
Loose Screw Halts Nuclear Power Station
MADRID (Reuters) - A Spanish nuclear power station has been shut indefinitely because of a small missing screw weighing just four to five grams that fell off a machine during refueling, nuclear officials say. [...]
French Thieves Drive Victim Home for Christmas Eve
Fri Dec 26, 8:05 AM ET

PARIS (Reuters) - A pair of thieves who seized a van loaded with pricey designer goods on Wednesday took a two-hour detour so they could drive the owner home for his Christmas Eve dinner, before fleeing with the loot.
Posing as police, the two men tricked the van driver into pulling over at a motorway intersection on the edge of Paris by chasing him in a car fitted with a flashing blue light, a siren and a "police" sign, local media reported on Friday.
Despite being armed with guns and wearing balaclavas, the thieves showed some seasonal goodwill when they asked their victim where he lived, explaining "we don't want you to have too far to walk," according to police sources.
They then drove the man around 300 km (185 miles) to his home in Saint Soupplets in eastern France, so he could arrive in time for the traditional Christmas meal which in France is eaten on the evening of December 24.
Showing that Christmas spirit only goes so far, the man, whose van was loaded with clothes from labels like Gucci and Yves Saint Laurent, has filed a complaint with police.
AND FINALLY...
A year's worth of fightin' words
Frances Polack in Hampshire, England, had a tattoo carved across the front of her chest, reading "DO NOT RESUSCITATE," set around a red heart with a line through it.
"I am not afraid of dying," the 85-year-old former nurse explained. "I am afraid of living when I should be dead."
[...] With such an excess of riches, the award for awe-inspiring gall is a tough call this year, but choose we must:
Second runner-up is Wesley Fitzpatrick, who got a Kansas City court to grant him a restraining order against a woman he said was stalking him. The court didn't find out until later that the woman was Fitzpatrick's parole officer.
[...] But the winner is one Angelika Wedberg, who placed this job ad in a Stockholm newspaper: "I want a well-paid job. I have no imagination. I am anti-social, uncreative and untalented." Yes, of course, she was swamped with job offers the next day, and rightly so.
---
Remember, we need your help to collect information on what is going on in your part of the world!
We also need help to keep the Signs of the Times online.
---

Check out the Signs of the Times Archives

Send your comments and article suggestions to us

---
Fair Use Policy
Contact Webmaster at signs-of-the-times.org
Cassiopaean materials Copyright ©1994-2014 Arkadiusz Jadczyk and Laura Knight-Jadczyk. All rights reserved. "Cassiopaea, Cassiopaean, Cassiopaeans," is a registered trademark of Arkadiusz Jadczyk and Laura Knight-Jadczyk.
Letters addressed to Cassiopaea, Quantum Future School, Ark or Laura, become the property of Arkadiusz Jadczyk and Laura Knight-Jadczyk
Republication and re-dissemination of our copyrighted material in any manner is expressly prohibited without prior written consent.
.