---
Ah, the Holiday Season.
It brings out something special in everyone, doesn't it? Orange alerts in the US based upon "specific threats." Then the holiday cheer spreads and Japan, and today, Britain, decide to share in the spirit by upping their alerts even without an specific threats. Now even the cattle are immune to the spreading cheer as the US reports its first case of Mad Cow disease. This is not good news for the Iraqis, as one analyst believes "The Americans consider the Iraqi people as cattle, exactly like Saddam did."
Was there more to this week's attack on Egyptian Foreign Minister Ahmad Maher than meets the eye? There is certainly more to Gaddafi's announcement than meets the eye. While he is busy throwing out WMD, the US gets busy and increases their stock.
The second 9/11 suspect is released due to no connection. When are they going to arrest the right people? Probably never, as there is more than likely a fall guy that is being set up as we speak. Condi is refusing to give testimony under oath. She can't possibly have anything to hide, right?
The missing money in the Italian "Enron" scandal, Parmalat, went from 4 billion euros to 10 billion overnight. the California earthquake rang the planet like a bell.
Legionella is found in a Calgary hospital's water supply, three more die in Ontario from the flu, and Princess Anne's pitbull gets mean with one of the Queen's corgis. Can the monarchy survive?
"Incompetence on top of deception."
Clare Short was international development secretary in Tony Blair's cabinet before she resigned on May 12, 2003, over the Iraq War. In an extraordinary interview with journalist Bill Cameron, on the terrace of the British House of Commons, she painted a picture of life inside the British cabinet, and of a prime minister who seemed increasingly uncertain and under stress...
[...] The prime minister kept giving assurances to me personally, to the Cabinet, to the parliamentary Labour party, to the country, that we were operating through the UN and that there would have to be a second resolution.
Do you believe he believed that at the time?
I think he committed himself to go with America. He did it in either June or September. He made it clear that it was preferable to go through the UN, but I think he committed so strongly [to America] that he lost any leverage for Britain to say, "We'll come with you if we do this right." The people of Iraq were suffering terribly and the UN was being defied and ignored, its authority flouted. Personally, I was always willing to contemplate the possible use of force to back up the authority of the UN, if we exhausted all other means. I think the tragedy for Tony Blair and for our country is that he pre-committed us. We didn't have any leverage. We didn't actually have the courage to say to America, "On certain conditions we're with you, but if not, not."
It was really important to the American people in all the polling that they didn't go alone. Britain's position was very important symbolically for Bush. The prime minister, having committed us, went through this very kind of tense time. You see the pictures of him losing weight and looking pretty gaunt.... I think he was squeezed between the promise he had given to Bush and the promise he'd given to Britain: the second UN resolution. So they tried to get a second resolution, to tick the box of the promise of the second resolution. But they were just trying to get the UN to authorize the military action they had already agreed to take by this date. Tony Blair kept saying that he tried his hardest to get a second resolution, but it was for the date they wanted, whereas [Hans] Blix was saying, "I need another month or so."
The big thing for us is that Blair absolutely fixed himself onto Chirac's threat of a veto, and kept saying Chirac would veto any second resolution. It's now clear to many people who have drawn the record to my attention that Chirac said, on television, in France, on the tenth of March, "We must go with Blix. Blix needs more time. But if Blix then comes to the Security Council and says he cannot achieve disarmament through inspection, then the Security Council would have to authorize action. But in my view, war would become inevitable." So the suggestion that the French made action through the UN impossible is completely untrue. All that vilification of France was a smokescreen.... They'd only made a second resolution impossible for that preordained date before Blix had had enough time.
Tony Blair was lying to you and to other people as part of this process?
Well, I think there was a series of half-truths, exaggerations, and deceptions to get us to war by a particular date. I think he misled me personally, and the House of Commons, and the Cabinet. [...]
Follow my lead, Gaddafi urges 'rogue' states
By David Rennie in Washington
The Telegraph
24/12/2003
Col Muammar Gaddafi, the Libyan leader, called yesterday on other "rogue states" to follow his dramatic example, by admitting involvement in banned weapons programmes, if they were to prevent "tragedy" from striking their nations.
He sidestepped direct questions about whether the war in Iraq had influenced his decision to scrap nuclear, biological and chemical research , saying his motives were "not important".
But his stark warning to other "rogue" states appeared to offer endorsement of Washington's and London's policy of diplomacy backed by pre-emptive strikes.
Comment: Lets see ... more than 10,000 dead in Iraq, radioactivity for the next 4.5 billion years, continued fighting in Iraq and Afghanistan, drug trade starting up in Afghanistan, hundreds of maimed US soldiers, increased terrorism threats in the US and one leader giving in endorses the Bush Doctrine?
Asked if he had a message for other leaders, especially the heads of Syria, Iran and North Korea, he replied: "They should follow the steps of Libya, or take an example from Libya, so that they prevent any tragedy being inflicted upon their own peoples."
He went on to accuse Israel of harbouring illicit weapons, saying a wholesale disarmament in the Muslim world "would tighten the rope or the noose around the Israelis, so they would expose their programmes and their weapons of mass destruction" [...]
Comment: We doubt this will be allowed to happen. Unless this is part of the Bush Reich plan in setting up Israel ...
Col Gaddafi has not lost all his fiery rhetoric, telling critics of his weapons programmes: "You exercise terrorist policy against the Libyan people by accusing us."
But he repeated his vow that international inspectors would be allowed to conduct snap visits to the formerly closed North African nation, saying they would learn "we don't have anything to hide". [...]
Comment: It didn't help Iraq. The US still invaded despite not finding any WMD. Bush just has to say they have not been cooperative. Or find some phony document.
US oil companies were leading players in the Libyan oil industry until 1986, when they were ordered out of the country by President Ronald Reagan. Marathon, Amerada Hess and ConocoPhillips jointly hold permits to develop the huge Waha field.
Most of those permits expire in 2005, raising fears among US oil executives that their rights could be transferred to European firms.
Comment: Ah, it is becoming clearer. Perhaps Gaddafi has been paid ...
Col Gaddafi said that he had told Mr Blair that pictures of a dishevelled and disorientated Saddam "made everybody sympathise with him".
Comment: One can easily come to the conclusion that the Saddam psyops has several levels: a Christmas present to those who do things like hold up signs at rallys that say, "Trust Jesus, support Bush."; a message to shut-up dissent; a message to scare leaders like Gaddafi, "We will do this to you!"; and the best reason - a deliberate incitement and rallying point to increase terrorism which will help Bush to bring on tighter controls and wage perpetual war.
Observers Fault U.S. for Pursuing Mini-Nukes
By Douglas Frantz
LA Times Staff Writer
VIENNA — Research on a new generation of precision atomic weapons by the Bush administration threatens to undermine international efforts to stop the spread of nuclear arms and to tarnish recent successes, according to diplomats and nonproliferation experts. [...]
U.S. Officials Face Array of Possible Plots
By Josh Meyer and Greg Krikorian
Los Angeles Times
WASHINGTON — Al Qaeda operatives may be plotting several unrelated attacks in the United States, targeting not only major cities but also remote bulwarks of the "critical infrastructure" in an effort to cause mass casualties and major economic damage throughout the nation, U.S. officials said Monday.
Senior U.S. counter-terrorism officials said they have been unable to nail down specifics about a time or place for any potential attacks, despite a mad scramble to do so since receiving an alarming cache of corroborated intelligence beginning Thursday and Friday. [...]
One senior federal law enforcement official said the FBI and other authorities are alarmed and frustrated because the intelligence varies so widely according to potential targets and methods of attack, as well as by its degree of specificity and corroboration. Of particular concern, he said, are vague references to coming attacks on "major metropolitan areas and events that we're looking at … bowl games, New Year's events, that kind of thing."
"There is no one specific threat here. There is no place or time to tie to this," said the senior federal law enforcement official. "So we have to take all this information and do analysis." [...]
Roger Cressey, a former senior Bush administration counter-terrorism official, said the current intercepts have officials so concerned because they so closely mirror the conversations picked up before the Sept. 11 attacks. [...]
"It's the volume and the quality of the intelligence that is wigging everybody out and the fact that they just don't know" where or when an attack may occur.
POLICE CHIEF'S UK TERROR WARNING
By Andy Rudd
Dec 24 2003
PEOPLE should be on guard against terrorism over Christmas, Metropolitan Police Commissioner Sir John Stevens said yesterday.
He said: "The threat is different in terms of suicide attacks. The activity and the actual threat has taken a quantum leap since September 11. Everyone needs to know that."
The security services had prevented terrorist incidents over the last year and "the hard work has been successful but we must not be complacent. We really must be vigilant."
Sir John told BBC Radio 4's Today programme he had not received warnings like those highlighted by US Homeland Security Director Tom Ridge, who warned that terrorists were planning attacks on the scale of September 11. But he said the security level in this country was raised six weeks ago "for good reason.. the necessary actions were taken, we have raised our level.
Air Patrols Increased to Counter New Threats
New York Times
[...] "They may see additional air patrols over select cities and facilities, an increase in the air-defense posture here in Washington, D.C., and combat aircraft could be put on a higher alert at different air bases throughout the country," the chairman of the Joint Chiefs of Staff, Gen. Richard B. Myers, said at a Pentagon briefing. [...]
Intelligence: Bin Laden behind new terror threat
U.S. ferreting out plot in significant detail, officials tell NBC News
Al-Qaida may have dirty bomb
Comment: That Bin Laden sure gets around.
Terror police use body scanner
A hi-tech device that can detect suicide bombers was used on the streets of London during President Bush's visit last month. [...]
Fear Factor...Homeland Security Christmas Special
Mad Cow in U.S.? Food supply safe, officials say
She also said the case "is not terrorism related."
U.S. Battles Worldwide Fallout from Mad Cow Case
By Randy Fabi
WASHINGTON (Reuters) - The United States battled the fallout on Wednesday from its first case of mad cow disease as the world's leading importers slapped bans on American beef and nervous investors punished fast-food giant McDonald's.
In a huge blow for the $27 billion U.S. cattle industry, Japan and South Korea, the top two buyers of U.S. beef, swiftly halted imports along with Singapore, Malaysia, Hong Kong, Taiwan, Russia, Ukraine and South Africa. [...]
Comment: By the way, they still sent the diseased cow for meat processing, the diseased parts were just cut out. Feel any safer?
Suicide blast kills four in Iraq
A truck bomb blast has killed at least four people and injured 20 in the northern Iraqi Kurdish city of Irbil, Iraqi officials say.
The bomb exploded outside interior ministry offices, killing a suicide bomber, two policemen guarding the building and a passer-by.
Explosions Rock Southern Baghdad - Witnesses
Tue Dec 23, 6:17 PM ET
BAGHDAD (Reuters) - Explosions and machinegun fire rocked a neighborhood in south Baghdad Tuesday where U.S. forces involved in Operation Iron Justice encountered gunmen, witnesses said.
Helicopters and explosions could be heard from the south of the city several kilometers away in central Baghdad.
"We don't see any flashes of impact, we're just hearing sounds," a Reuters witness said from the center of the city.
The blasts were the most sustained in some time in the Iraqi capital. [...]
Residents reported some bombing from U.S. aircraft. [...]
What Are The Iraqis Going To Be Drawn To, Liberation Or Occupation?
Raghida Dergham Al-Hayat 2003/12/23
[...] The end of Saddam is that of any tyrant, so, no need to set him as a national hero and a symbol for challenging Israeli and American hegemony.
The humiliation he was subject to is not the humiliation of the Arab individual or pride. It is time that Arab citizens started blaming their officials for the misery they are living in and stop linking Arab pride to their leaders, especially those who oppressed them and violated their rights to subdue them.
It is right to oppose the American arrogance. Questioning the real reasons behind the American war on Iraq is justified, for it was not launched to save the Iraqi people from tyranny or establish democracy. We all know it wasn't. If the U.S. administration wants the Iraqi people to become its ally, it has to review its entire policy and methods.
The capture of Saddam Hussein represents a great reward for the American public opinion only, especially with the imminent elections. It is true that his capture is crucial to Iraq, as it removes the fear and turns the page on an era of revenge, which had prevailed in Iraqis' lives under Saddam's rule. But today, Iraqis are experiencing an occupation that considers them as the testing ground for the war on terror, with the end of keeping it away from American cities.
[...] The Americans consider the Iraqi people as cattle, exactly like Saddam did. They might be taken by surprise. The capture of Saddam might not be such a positive step after all if the U.S. administration doesn't change its policy.
US issues Bahrain terror alert to citizens
Tuesday 23 December 2003, 21:13 Makka Time, 18:13 GMT
The United States government has issued a "specific " threat warning of a possible terror attack to all its nationals in Bahrain.
In a statement, issued by the US embassy in the Gulf kingdom's capital, Manama, the alert "encourages all American citizens to avoid places where Westerners are known to congregate and to reduce unnecessary travel".
Ayoon wa Azan (Sorry, Ahmad Maher)
Jihad Al Khazen Al-Hayat 2003/12/24
With all the love, modesty and shame…
Speaking as an Arab citizen…
I apologize to the Egyptian people, to the Egyptian President, and to Egypt's Minister of Foreign Affairs.
Ahmad Maher does not deserve to be assaulted at the Al-Aqsa mosque and be humiliated.
As a human being, he is an Arab patriot, and as a Foreign Affairs Minister, he is even more patriotic.
And he is my friend because he is all this.
Husni Mubarak sent him on a mission to help the Palestinians, and this is a sufficient guarantee.
Who are these people who attacked Ahmad Maher at the Al-Aqsa Mosque? I read that they were from the Tahrir Party? Is it the same party that whose leader was arrested at the Lebanese borders at Masnaa' in the early 1950s, carrying a check of 100,000 US Dollars signed by the American Embassy? This story is well known.
All the polls conducted show that the majority of Palestinians have always been in favor of peace.
However despite this, there is a small section that is trying to lead everyone to their downfall.
Is it a section or a flock of sheep?
Those in the darkness can remain there, but provided they don't dray the majority with them.
Are those who attacked Ahmad Maher the same people who demonstrated in support of Saddam Hussein, then cried for him when he was arrested?
I am not surprised that the land is still invaded, since it has such sick minds.
Ahmad Maher is my friend, I know him very well and based on this old and continuous relationship, I challenge those who attacked him to find one statement he said or one position he took that does not strongly defend the Palestinian cause.
Over and above all this, Ahmad Maher did not go to negotiate representing himself, but as a representative of Egypt and President Hosni Mubarak, since Palestine has always been the primary cause for both the people and its Presidents.
With all my respect to every Arab people, from Baghdad to Rabat, and all those between them, the Egyptian people have always been the first to support the Palestinian cause.
And there is Hosni Mubarak, my trust in his patriotism, his loyalty, and love is greater than my trust in myself. This trust even brings to prefer having him and his Minister as the negotiators for Palestine, rather than some of those who either negotiated or refused to do so.
What would remain of Palestine and its cause without Egypt? Will that ignorant man, who violated the sanctity of Al-Aqsa Mosque by assaulting a believer and a peaceful man at its gates, be the one to liberate it?
I was watching the aggression on television and feeling both angry and sad, even disbelief, when my neighbor in London, who is a prominent Palestinian personality, called me to ask me if I was watching what he was watching. I told him that I was seeing the assault, and he begged me to condemn this event in his name as well as mine. Later I was at a dinner with some friends, and 12 men and a woman agreed on condemning the assault because we were all of one opinion.
The angriest and most ashamed person among us was a Palestinian woman who said that she refused to live in Palestine with citizens of such kind.
I am aware that the assault drew global condemnations, both official and public in each and every Arab country. And clear Palestinian condemnations, which is the minimum required, were registered.
Despite all this, it is not enough. I saw Ariel Sharon's face of bad luck and wickedness speaking on the phone with Ahmad Maher showing compassion, and later his Foreign Affairs Minister Sylvan Shalom taking this opportunity to cry over peace, which the Likud government itself killed.
Can there be anything more embarrassing than this? Prayers at Al-Aqsa Mosque attack Ahmad Maher, while the Israelis defend him, or at least claim to do so.
Words, including my own, are not enough. If it were up to me, I would have given the foreign affairs minister the highest Palestinian medal, and then I would stop giving it, and in response to the attack, I would have assigned Ahmad Maher personally to negotiate on behalf of Palestine.
He can safeguard national Palestinian and Arab interests.
He is my friend. I am proud of him and the people he belongs to. I am proud of the president who assigned him to this mission, just as much as I am ashamed of those who attacked him.
I apologize my friend, since this is all I can do.
Comment: Coincidence? We think not.
9/11 suspect to remain free - court
Posted Tue, 23 Dec 2003
A German high-security court confirmed on Tuesday that a Moroccan man charged over the September 11 attacks in 2001 could remain free because he was no longer a key suspect.
Abdelghani Mzoudi (31) has been on trial for four months in the northern city of Hamburg charged with membership of a terrorist organisation and more than 3000 counts of accessory to murder in the suicide hijackings.
But on December 11, the court ordered Mzoudi's immediate release after receiving surprising new evidence but did not lift the charges against him. [...]
The BKA has cast doubt over the veracity of the evidence which it believes is "disinformation" designed to protect possible plotters.
The evidence would also exclude another Moroccan, Mounir El Motassadeq, the only man convicted over the attacks. [...]
Comment: No word exactly what that evidence may be.
National Security Adviser Condoleezza Rice is apparently not keen on going under oath for the Kean 9/11 commission.
Bush-Linked Company Handled Security for the WTC, Dulles and United
SECRECY SURROUNDS A BUSH BROTHER'S ROLE IN 9/11 SECURITY
Palestinian Officials warn of humanitarian disaster in Rafah
www.chinaview.cn 2003-12-23 23:51:34
GAZA, Dec. 23 (Xinhua) -- Palestinian officials on Tuesday accused Israel of executing an expulsion plan on thousands of Palestinians in a refugee camp in the southern Gaza Strip town ofRafah.
Ziad Sarafandi, a member of the emergencies' committee in Rafah, told reporters that the Israeli military operation carried out Tuesday in Rafah is aimed at expelling the refugees residing in the camp, which is located near the border with Egypt.
"Rafah is facing a humanitarian disaster, where the Israeli army demolished a large number of Palestinians' houses and rendered many families homeless," Sarafandi said.
He added that most of the eight Palestinians killed during the Israeli army raid are civilians, adding that the Israeli military bulldozers razed some houses in Rafah even without giving evacuation notice or warnings.
Palestine's neglected treasure trove
By Laila El-Haddad in the Gaza Strip
Monday 22 December 2003, 3:06 Makka Time, 0:06 GMT
As home to the earliest known human settlements and the world's holiest cities, historical Palestine is literally a treasure chest of antiquities.
Remnants of Canaanite temples and towns, Byzantine mosaics and monasteries and Mamluk and Ottoman mosques all stand witness to the region's long and colourful past.
Many of the most important archaeological and historical sites are located in the occupied West Bank and Gaza Strip. But years of conflict have left Palestinian antiquities in a sad state and in many cases out of Palestinian control.
[...] Wadi Gaza, with its wetlands, fertile soil, and potable water, for example, is thought to be home to an ancient Canaanite city in the early Bronze Period dating back to 3200 BC.
The site, known as Tal al-Sakan, was discovered in 1999 when three buildings were being erected in the area. The buildings were destroyed by Israeli occupation troops early last month.
According to the Moain Sadaq, Gaza's leading archaeology authority and Director General of the Department of Antiquities of Gaza, Tal al-Sakan is the largest walled in Canaanite city to be discovered in Palestine so far.
But a joint French-Palestinian excavation of the site was shut down by Israeli authorities last year, citing "security concerns" and its close proximity to the Jewish settlement of Netzarim.
[...] And Israel's apartheid wall, which is literally tearing the West Bank apart, has had a devastating effect on Palestinian archaeological sites.
Ancient ruins in cities like Tulkaram have been destroyed, damaged, or annexed altogether by Israel as the concrete barrier made its way through the area.
An ancient Christian archaeological site discovered in the Palestinian town of Abu Dis earlier this year was also damaged during construction of the wall, according to the Israeli Antiquities Authority.
Chilean judge wants Pinochet put on trial
Last Updated Tue, 23 Dec 2003 22:49:43
SANTIAGO - A judge in Chile is requesting that Augusto Pinochet, the country's former dictator, be put on trial for his involvement in a South American campaign against leftists.
Judge Juan Guzman Tapia asked an Appeals Court in Santiago to strip Pinochet of his immunity, so he can be tried for the atrocities committed during his years in power.
Djindjic Murder Trial Overshadows Serbian Elections

As the trial of 36 suspects in the murder of Serbian Prime Minister Zoran Djindjic continued on Tuesday, Serbian opposition leaders accused the government of trying to sway public opinion in Sunday's general election.
No 'quick in and out' for Afghanistan: Martin
Last Updated Wed, 24 Dec 2003 4:41:45
MONTREAL - Prime Minister Paul Martin says Canadians shouldn't "fool ourselves" that the nation's role in safeguarding and rebuilding Afghanistan will be brief.
[...] "We all knew that, in fact, that kind of reconstruction takes a long time, and I don't think we should fool ourselves," said Martin in the interview taped in Montreal. "I mean, the developing countries, the Western world, the rest of us have got to be there for a long time.
"I think that if we're going to take this kind of thing seriously, then we shouldn't think that it's a quick in and out."
Comment: For those who would like more information about Canada's new Prime Minister, we point you to the new website Paul Martin Time.
Alberta border reopened after suitcase scare
Last Updated Tue, 23 Dec 2003 18:29:37
COUTTS, ALTA. - An abandoned suitcase forced the closure of the busiest border crossing between Alberta and the United States on Tuesday morning. It has since been reopened to traffic.
Parmalat 'missing up to €10bn'
By Fred Kapner in Milan
Published: December 23 2003 20:42 | Last Updated: December 23 2003 21:57
Up to €10bn has disappeared from Parmalat's accounts through a worldwide series of false billings and statements that have been made over many years, investigating magistrates believe.
Investigators have found "a whole set-up for falsifying" documents. They believe executives of the Italian food multinational invented numerous transactions at headquarters and at subsidiaries in countries including Singapore and the Cayman Islands, people familiar with the investigation have told the FT.
"It appears they would invent contracts, commercial and financial, which they would then show to banks to raise fresh cash," one said.
Putin warns oligarchs of hard line
By Arkady Ostrovsky in Moscow
Published: December 23 2003 21:10 | Last Updated: December 23 2003 21:10
President Vladimir Putin issued a stark warning to Russia's oligarchs on Tuesday, as a Moscow court extended by three months a pre-trial detention of Mikhail Khodorkovsky, the largest shareholder in Yukos, the oil company.
Speaking before the Russian Chamber of Commerce and Industry, Mr Putin qualified his earlier promise not to review the results of the country's privatisations, saying this did not apply to "people who did not follow the law" when they took place.
Dissecting Siloviki's Pyramid Of Power
By Anatoly Medetsky
Staff Writer
Wednesday, Dec. 24, 2003. Page 1
After quietly installing loyalists in a number of senior federal and regional posts, the Kremlin's siloviki clan has built a formidable pyramid of power that is reshaping the face of politics, political analysts said.
"The strength of the clan is in its pyramid-like structure. It is a very powerful hierarchy," said Nikolai Petrov, an analyst with the Carnegie Moscow Center.
The former and active officers of military, security and law enforcement agencies started building and expanding their clan long before the Russian and Western media started referring to them as the siloviki in their coverage of the ongoing crackdown on Yukos.
At the top of the pyramid are Igor Sechin and Viktor Ivanov, deputy heads of the presidential administration, according to Petrov and Vladimir Pribylovsky, head of the Panorama Information and Research Center.
Comment: A long and detailed look at the former KGB members who are finding important posts in the Russian power structure.
Two Severed Heads Found in Two Days
By Anna Dolgov
Special to The Moscow Times
Two severed male heads have been found over the past two days in a residential block in Moscow's eastern outskirts, one wrapped in a plastic bag and left on an outdoor table and the other in a garbage container, police said Tuesday.
[...] The two men remain unidentified, but they appear to be of Caucasus origin aged between 30 and 40, police said.
[...] Investigators refused to speculate on possible motives for the killings. Business and criminal disputes account for scores of violent crimes in the country, while hate crimes against Caucasus natives are also common.
3 more suspected flu deaths in Ontario
Last Updated Tue, 23 Dec 2003 19:00:14
TORONTO - Ontario authorities say three more people have died of the flu in the province. The latest deaths were in Southwestern Ontario.
Legionella found in Calgary hospital's water
Last Updated Tue, 23 Dec 2003 21:47:34
CALGARY - Officials at Rockyview General Hospital in Calgary are providing bottled water to patients after legionella bacteria were found in the hospital's water supply.
Alberta's provincial laboratory detected low counts of the organism in water tested from four taps at the hospital's intensive care unit, health region officials confirmed at a news conference Tuesday.
Legionella bacteria can cause legionnaires' disease, which usually occurs as a single, isolated case. It can be spread when people breathe mists that come from a water source contaminated with the bacteria, such as a shower or air conditioning.
Anne's dog 'kills Queen's corgi'
One of the Queen's corgis has been bitten so badly by an English bull terrier owned by Princess Anne it has had to be put down, it is reported.
[...] Princess Anne became the first Royal Family member to be convicted of a criminal offence when Dotty attacked two children last year.
She was fined £500 and ordered to keep the animal on a lead in public places.
Mars 'bull's-eye' for Beagle 2
PETER CALAMAI
SCIENCE REPORTER
OTTAWA — Beagle 2 is now streaking toward an even more precise Mars landing on Christmas Eve.
[...] Beagle 2 is scheduled to land on Mars on Christmas Eve at 9:54 p.m. our time (Christmas Day at 2.54 a.m. GMT). The craft is expected to last in the harsh Martian environment no more than six months. The Mars Express mother ship, mapping the surface and scanning with radar for signs of ice or water below ground, will probably operate until November.
China breaks Microsoft office software monopoly
www.chinaview.cn 2003-12-24 09:01:48
NANJING, Dec. 24 (Xinhuanet) -- A Chinese IT company has made a minor landmark success in breaking Microsoft's monopoly of the office software market by signing a contract with a Japanese IT product dealer, Internet Telephone, to sell its Yongzhong Office software in Japan. [...]
Calif. Earthquake Rang Planet 'Like a Bell'
By Peter Henderson
LOS ANGELES (Reuters) - California's largest earthquake in four years struck on Monday, causing Planet Earth to ring "like a bell" and mountains to grow a foot taller, geologists said on Monday. [...]
"For an earthquake this size, every single sand grain on the planet dances to the music of those seismic waves," the Geological Survey spokesman Ross Stein said at a news conference.
"You may not be able to feel them, but the entire planet is rung like a bell." [...]
"The crust is getting mangled over a zone," she said. "As the plates move they are sort of grinding California into ribbons," she said. [...]
From a geological perspective, the area has looked about the same for 5 million years, Hough told Reuters.
"We are not falling into the ocean," she said.
George Elliott, Who Warned of Planes Nearing Pearl Harbor, Dead at 85
UFO testing in Burnett, Wisconsin?
Some see image of Virgin Mary as Christmas gift
And Finally...
Reindeer Tackles NBC Reporter in Alaska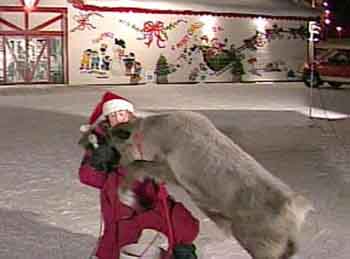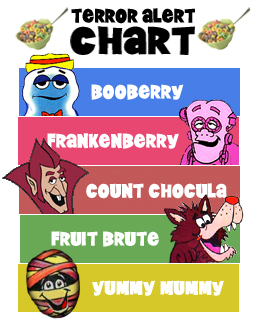 ---
Remember, we need your help to collect information on what is going on in your part of the world!
We also need help to keep the Signs of the Times online.
---

Check out the Signs of the Times Archives

Send your comments and article suggestions to us

---
Fair Use Policy
Contact Webmaster at signs-of-the-times.org
Cassiopaean materials Copyright ©1994-2014 Arkadiusz Jadczyk and Laura Knight-Jadczyk. All rights reserved. "Cassiopaea, Cassiopaean, Cassiopaeans," is a registered trademark of Arkadiusz Jadczyk and Laura Knight-Jadczyk.
Letters addressed to Cassiopaea, Quantum Future School, Ark or Laura, become the property of Arkadiusz Jadczyk and Laura Knight-Jadczyk
Republication and re-dissemination of our copyrighted material in any manner is expressly prohibited without prior written consent.
.