---
The big story today, As the World Burns, is the California earthquake. The good news is that it was not as bad as it could have been, and our thoughts are with all those who are affected as the aftershocks continue. Not to be left out, Japan also had yet another quake.
Israel continues to be swarming in violence, as the body count rises steadily from repeated invasions. Egypt's Foreign Minister is attacked by angry Palestinians when he visits Jerusalem. Are the Palestinians fed up with the lack of real support for their cause from the Arab world as Sharon is tightening the noose around them? According to an analysis below, he is planning to pull it tight enough to cut off the air just months prior to the election, knowing no US politician would stand up to Israel before the votes are counted.
Some of the families of victims of 9/11 are taking the government to court to get some answers. They have refused the government's offer of hush money.
An "Iraqi Patriotic Site", that is, one that supports Saddam Hussein, offers their version of Saddam's capture. Needless to say, it has nothing in common with any of the other reports that are circulating. Russia has agreed to write-off 65% of the money owed by Iraq. And in other financial news, we hear that those opposed to the Iraq invasion and occupation are using the same tactics against the US that the US used against the Soviet Union: bleed it to death economically. By forcing the US to overspend, countries such as China, Russia, France, and Germany are hoping they will be able to reign in the raging beast.
Mandatory anthrax shots are nixed by court order, unless Bush does something about it. More invasive tactics at airports. Updates on just what kind of people work for Diebold. More reports on US torture of POW's. Nuclear secrets spilling out everywhere.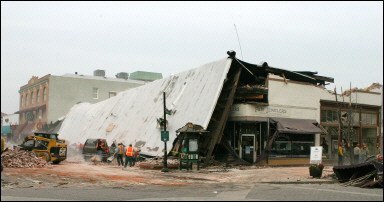 Two killed as deadly 6.5 earthquake hits California
Tue Dec 23, 2:08 AM ET

LOS ANGELES (AFP) - At least two people were killed when a severe earthquake measuring 6.5 on the Richter scale shook central California, destroying one building and damaging scores of others.
The most serious temblor to hit the state since a 6.7 quake wreaked havoc on Los Angeles in 1994, struck at 11:15:56 am (almost 1916 GMT) about 11 kilometers (seven miles) northeast of the coastal town of San Simeon.
The quake was felt as far away as Los Angeles, 250 kilometers (150 miles) to the south and in the northern city of San Francisco, and did significant damage to the historic town of Paso Robles.
A two-storey building that boasted a landmark old clock tower collapsed in the town, about 57 kilometers (36 miles) east of the epicentre, killing two, police said. [...]
Earthquake changes landscape along the coast
Offices swayed like ships at sea
'No one should be surprised,' geologists say of 6.5 shaker
By Andrea Widener
CONTRA COSTA TIMES
[...] As aftershocks continue to rock the area, a team of scientists from the U.S. Geological Survey in Menlo Park have been sent to the area to find out which the specific fault ruptured in a wide swath of earthquake activity called the Hosgri system. This complicated series of faults runs along the water's edge from south of San Luis Obispo north into the Bay Area. [...]
Floods displace 2,000 people in northern Tanzania
Blizzards wreak havoc in Denmark, Finland, Sweden
Mon Dec 22,10:32 AM ET

STOCKHOLM (AFP) - Snow blizzards wreaked havoc in Denmark, Finland and Sweden, leaving at least two dead, 100,000 households without power and causing major delays in air, road and rail traffic. [...]
UPDATE: 37 rescued, more than 300 dead or missing in Philippines disasters
On This Day in 1972: Earthquake wreaks devastation in Nicaragua
Ten thousand people are feared dead after a two-hour earthquake ripped through the Nicaraguan capital of Managua.
Initial reports suggest whole communities have been wiped out as an estimated 80% of buildings have been flattened with little hope of finding survivors. [...]
M4.6 earthquake hits northeast Japan
www.chinaview.cn
TOKYO, Dec. 22 (Xinhuanet) -- An earthquake measuring 4.6 on the Richter scale jolted northeast Japan's Niigata Prefecture on Monday evening. [...]
On Monday afternoon, an earthquake registering a preliminary magnitude of 5.8 on the Richter scale hit eastern Hokkaido, north Japan. [...]
By Shaista Aziz
Alhazeera.net
Tuesday 23 December 2003
Three Palestinians have been wounded, one seriously, during a major Israeli military invasion of Jenin on Monday.
The occupation troops entered the northern West Bank town on Monday with 20 military jeeps and tanks, backed by two Apache helicopters which opened fire, witnesses said.
A local man who only wanted to be identified by his first name for fear of reprisals from the Israeli military, told Aljazeera.net that tanks and the Apaches entered Jenin in the morning and opened fire on the house of a 29 year-old-man in Halimah al-Sadaya, eastern Jenin.
"Apache helicopters were used to target the house of Aysar Abu Srur, his pregnant wife and two children were in the house when the army started shooting from above. No warning was given to the family, so that they could leave the house", said Yusuf. [...]
8 Palestinians Killed in Gaza Strip Raid
[...] Eight Palestinians — five militants and three civilians — were killed and at least 41 other people, including nine children, were wounded by Israeli gunfire, hospital officials said. The violence marked the bloodiest day in Gaza in two months. [...]
Sharon's Speech: Decoded Version
Uri Avnery
22.12.03
He read out the written text of his speech, word for word, without raising his eyes from the page.
It was vital for him to stick to the exact wording, since it was an encoded text. It is impossible to decipher it without breaking the code. And it is impossible to break the code without knowing Ariel Sharon very well indeed.
So it is no surprise that the flood of interpretations in Israel and abroad was ridiculous. The commentators just did not understand what they had heard. That's why they wrote things like "He did not say anything new", "He has no plan", "He is marking time", "He is old and tired". And the usual Washington reaction: "A positive step, but..."
Nonsense. In his speech, Sharon outlined a whole, detailed - and extremely dangerous - plan. Those who did not understand - Israelis, Palestinians and foreign diplomats - will be unable to react effectively.
Here is the deciphered text of Sharon's "Herzliyah speech":
The name of the game is Hitnatkut ("cutting ourselves off"). Meaning: most of the West Bank area will become de facto a part of Israeli, and the rest we shall leave to the Palestinians, who will be enclosed in isolated enclaves. From these enclaves, the settlements will be removed.
Stage One: In order to do this, we need time - about half a year. We are talking about a large-scale and complicated military operation. The army will have to occupy and fortify new lines, while "relocating" dozens of isolated settlements. This will require detailed planning, which has not yet even started. The necessary forces and instruments will have to be prepared. Half a year is the minimum.
During this period we shall not be idle. On the contrary, we shall finish the "separation fence", and it will play a major part in the new deployment. We shall develop the "settlement blocs", to which we shall transfer the settlers who will be relocated.
The execution of the plan in half a year is perfectly timed. At exactly that time the American election campaign will reach its climax. No American politician will dare to utter a word against Israel. The Democrats need the Jewish votes and money. The Republicans also need the votes and the money of the 60 million Christian fundamentalists, who support the most extreme elements in Israel.
While we quietly prepare the big operation, we shall continue to flatter President Bush and praise his idiotic Road Map, without, of course, fulfilling any of our obligations under the Map. But we shall blame the Palestinians for violating it.
At the same time we shall pretend to seek negotiations with the Palestinians. We shall try to meet with Abu-Ala as many times as possible and play the game to the end. When we are ready to go, we shall terminate the contacts, declare the Road Map dead and state sorrowfully that all our efforts to start peace negotiations have failed because of Arafat.
Stage two: By then, the "separation wall" will be ready. The Palestinian territories (Areas A and B under Oslo) will be surrounded on all sides. In practice there will be about a dozen isolated pockets. In order to fulfil our promise about Palestinian "contiguity" we shall connect the enclaves by special roads, bridges and tunnels, which we shall be able to cut at a moment's notice.
The army will withdraw gradually to the separation barrier and redeploy in the territories that will be annexed to Israel, including, inter alia, the settlement blocs of Karney Shomron, Elkana, Ariel and Kedumim; the Modi'in Road and the territory south of it up to the Green Line, all the Greater Jerusalem area already annexed in 1967; the new neighborhoods around Jerusalem up to Maaleh Adumim and perhaps further; the Jewish settlement in Hebron and Kiryat Arba and the settlements in the Hebron area; all the Dead Sea shore; all the Jordan valley, including about 15 km of the banks. Altogether, more than half the West Bank.
These areas will not be annexed officially, but we shall annex them as rapidly as possible in practice. We shall fill them with settlements (also using the settlers from the "relocated" settlements), industrial parks, roads, public institutions and army installations, so that they will become indistinguishable from parts of Israel proper.
At the same time, we shall evacuate the settlements beyond the barrier, including those in the Gaza Strip (with or without the Katif bloc.)
In line with the American proposal, we shall call the Palestinian enclaves "a Palestinian State with Temporary Borders". That will give the Palestinians the illusion that they will be able to negotiate the "permanent" borders. But, of course, the "separation fence" will be the final border.
The terror will not stop completely, but the Palestinian enclaves will be at our mercy and we shall be able to cut each of them off at any time, prevent movement from one to another and make life in them intolerable. It will not be worthwhile for them to conduct violent acts.
Officially, the Palestinians will have free access to the border crossings to Egypt and Jordan, but in practice we shall maintain an effective military presence, enabling us to stop movement there at any time.
At first the world will scream, but faced with a fait accompli they will quieten down. Even if Bush remains in the White House, he will be paralysed until after the elections at the end of 2004. If a Democrat is elected president, he will need some months to settle down. By then everything will be finished, and we shall be able to generously agree to some minor adjustments.
This is the Plan. Can it be realized?
It is quite possible that Sharon will convince Israeli public opinion. The great majority of the public is united around two points: (a) the longing for peace and security, and (b) the distrust of Arabs and the unwillingness to deal with them. (Some weeks ago, a satirical supplement published a slogan: "YES to peace, NO to Palestinians".)
Sharon's plan promises both. It promises peace and security, and it is entirely "unilateral". No negotiations with Palestinians are required, it does not depend on the will of the Arabs, who can be ignored entirely.
In this respect, Sharon's plan has a great advantage over the Geneva Initiative, which is entirely based on the assumption that "there is a partner" and that we must negotiate with the Palestinians and make peace with them. Long years of brainwashing, led by Ehud Barak and most of the other leaders of the "Zionist Left", have convinced the Israeli public that there is no partner, that the Arabs are cheating, that Arafat has broken every single agreement he has signed, etc. The Sharon plan conforms to all these myths, while the Geneva Initiative clashes with them.
But beneath the road to the implementation of the Sharon Plan there lie two big landmines: the settlers and the Palestinians.
The inhabitants of the settlements that are supposed to be "relocated" include some of the most extreme elements of the settlement movement. There is no chance that these will go away peacefully. They will have to be removed by force.
That will require a huge military effort. While many moderate settlers will remove themselves voluntarily if given fat compensation, many others will resist. According to an informed estimate, some 5000 soldiers and policemen will be needed to remove just one small "outpost": Migron, near Ramallah, which Sharon was supposed to have removed long ago according to the Road Map. When dozens of bigger and more established settlements have to be removed, it will need a giant, quasi war-like operation, requiring a general call up of reserves, with all the political implications.
The army cannot just leave these territories with the settlements remaining behind. As long as the settlements are there, the army will be there. In other words, the implementation of the plan will not be quick and tidy, like the last night in south Lebanon, but a process of many months, perhaps years.
While the deployment in the areas thawill be de facto annexed to Israel will be quick and effective, the transfer of the territories that will be turned over to the Palestinians will be very slow.
It is a complete illusion to believe that all this time the Palestinians will quietly look on. They will see the execution of a plan that they believe, quite rightly, to be a device for the destruction of the national aims of the Palestinian people. Clearly there will be no place in the Palestinian enclaves for returning refugees (not to mention any return of refugees to Israel itself). To call this structure a "Palestinian State" is a joke in bad taste.
If Sharon succeeds in executing his plan, a new chapter in the 100-year old Israeli-Palestinian conflict will be opened. The Palestinians will be crowded into territories that will constitute about 10% of the original territory of Palestine before 1948. They will have no chance of enlarging this territory. On the contrary: they will be afraid of Sharon and his successors trying to remove them from what is left, completing the ethnic cleansing of Eretz Israel.
Therefore, the Palestinians will fight against this plan, and their struggle will intensify the more it progresses. All possible means will be employed: firing missiles and mortar shells over the separation barrier, sending suicide bombers into Israel, and so on. Probably, the violent fight will spill over into many other countries around the world, both on the ground and in the air. There will be no peace, no security.
In the end, the basic factors will be decisive: the endurance of the two peoples, their readiness to continue the bloody fight, with all its economic and social implications, as well as the willingness of the world to look on passively.
The idea of "unilateral peace" is strikingly original. "Peace without the other side" is a contradiction in terms. Learned people will call it an oxymoron, a Greek term meaning, literally, a sharp folly.
Eventually, the fate of this plan will be the same as the fate of all the other grandiose plans put forward by Sharon it in his long career. One need only think of the Lebanon war and its price.
Palestinian FM denies Bush's statement on getting rid of Arafat
www.chinaview.cn 2003-12-22 21:35:26
GAZA, Dec. 22 (Xinhuanet) -- Palestinian Foreign Minister Nabil Shaath on Monday denied Israeli reports that US president George W.Bush said Palestinian leader Yasser Arafat should be eliminated.
"Many US sources said these statements are incorrect and President Arafat has received many telephone calls asserting that these statements are not true," Shaath told the Jerusalem-based Al-Quds daily.
Comment: Ah, Bush lets the cat out of the bag, and now someone has to do damage control. If we were President Arafat, we wouldn't go flying in any small planes...not that he has even been able to leave his embattled and surrounded compound for years.
Video and Audio from Iraq: Scenes you won't see on the Nightly News
Another proud moment in U.S. Military History.
Special Report: From the scene of the capture of Iraqi President
This report was sent to us by a reader. The link goes to an article in Arabic. We have not yet been able to verify that the two texts are the same. We have already seen that there are many questions about the events leading to the capture of Saddam Hussein. The Kurds have claimed they did it. Other reports say it happened days, if not weeks or months, before it was announced.
An exclusive report from the patriotic Iraqi website.
Iraqi residents of the area of ad-Duwar where Iraqi President Saddam Hussein was captured by aggressor troops late Saturday evening report that a ferocious battle raged in their farming area between Iraqi Resistance Fighters led by President Saddam Hussein and American aggressor troops backed by aircraft who resorted to all sorts of weapons, including those under international ban.
Lawyer Isma'il 'Abd ar-Rahman said that the courageous Iraqi Resistance led by Saddam Hussein lost more than 150 men martyrs in the heroic engagement. He said that the US aggressor forces lost more than 250 men, however, in killed and injured during the combat, and dozens of American vehicles were destroyed.
He added that American Apache helicopters and airplanes were constantly in the skies of the area throughout the entire duration of the battle that raged for more than 30 hours during which the US occupation forces were unable to break the will and defiance of the heroic Resistance fighters.
Dr. Muhammad Ibrahim ad-Duri for his part said that the American forces, frustrated by the Resistance fighters' stubbornness, began to fire shells that contained types of narcotic gas, taking advantage of their technological superiority. At that point the aggressor forces had no information, Dr. ad-Duri said, indicating that the Iraqi President was in the area. They simply wanted to silence the guns of the Resistance fighters that had inflicted heavy losses on the Americans.
He said that the gas spread quickly in the air and affected the ability of the Resistance fighters to do battle, causing them to lose consciousness. This allowed the American aggressor forces to arrest them while they were unconscious. Among them was the Iraqi President Saddam Hussein. He said that this is what all fair-minded people who witnessed the farcical lie that the American forces showed on television at noon on Sunday, 14 December.
Dr. ad-Duri added that the nature of the combat that took place in that farming area full of date palms puts the lie to the naïve American account. It shows that President Saddam Hussein led the battle, demonstrating outstanding courage in defying the occupation forces. These are the praiseworthy characteristics that Iraqis know to be his.
A leading member of the Arab Socialist Baath Party said that the Iraqi President is a Baathist leader before he is an office holder, and therefore his arrest or assassination was always something that was possible, and the President and his comrade fighters knew this. The disappearance of President Saddam Hussein from the spectacle of the political arena in Iraq today will not affect the cohesion of the Party nor the leadership by the Party of the heroic Iraqi Resistance. The Baath Party, he said, is a revolutionary, insurrectionist party.
The leading Baath Party member stressed that the Resistance would not retreat. The agenda of the Resistance will escalate in retribution for the loss of freedom and dignity of the President who represents the freedom and dignity of the people and the Arab Nation.
He noted that the Iraqi Resistance retains its military, organizational, and informational apparatus, it knows all its members are ready for martyrdom at any time and place, and he pledged that qualitative Resistance operations aimed at the occupation forces and their collaborators would continue because it is the Resistance that represents the Iraqi soul.
Meanwhile Iraqi farmer 'Abbud Mustafa who owns a chicken farm in the area said that several thousand of is chickens, which are his source of livelihood, had suddenly died with no prior warning. He said that veterinarian doctors told him that they had died as a result of the gas which the American forces had released in the area during their attempt to capture President Saddam Hussein.
Al-Hajjah Siham Jabbar spoke about the same thing, affirming that two of the sheep her family owns on their rural farmstead had died because of the effects of the gas released by the American forces in the region.
Commenting on the way that the Americans released the story about the arrest of President Saddam Hussein, Dr. Mani' Mahdi, professor of psychology at the University of Tikrit said that the American Administration wants to humiliate not only President Saddam Hussein but also the masses of the people and the Arab Nation who pinned their hopes on the personality of President Saddam, regarding him as an Arab Nationalist hero and a valiant knight of the Arab Nation. The American Administration, Dr. Mahdi said, wants to deprive us of our political and historical symbols and personalities so that we might pay homage to defeated leaders who live under in the shade of the Americans. President Saddam Hussein is the one who said "No!" to the American Administration. It was he who struck the very depths of the Zionist entity. It was he who built an industrial base and brought together an army of scientists in Iraq. It was he who made Iraq's national resources secure from the encroachments of the enemies of the Arab nation. Because of all that the Americans brought together all the intelligence people and psychologists in the Administration to put together a show of humiliation of this historic personality who represents the present and future of the Arab nation.
Now Maher knows how angry the Palestinians are
The harsh treatment accorded Egyptian Foreign Minister Ahmed Maher in Jerusalem on Monday should be interpreted as a warning. The people who assaulted Maher and his entourage may have been extremists, and their behavior was entirely inappropriate, but the anger they expressed is one that permeates Palestinian society. At all levels and in every town, village and refugee camp of the Occupied Territories, Palestinians are increasingly resentful of their fellow Arabs: They feel abandoned in their hour of need, a perception that carries no small amount of truth.
Canadian's trial in Israel delayed
Last Updated Mon, 22 Dec 2003 19:21:27
JERUSALEM - An Israeli military court has delayed making a decision on its authority to try a Gaza-born Canadian citizen charged with conspiracy to commit murder and with illegal military training.
The decision to defer was made at the second pre-trial hearing, at an Israeli military base on Monday.
Defence lawyer Jamil Khatib challenged the court's authority to try Jamal Akkal.
France, stung by Libyan WMD deal, admits US policies showing results

PARIS (AFP) Dec 22, 2003
France on Monday expressed unease at being kept out of the loop on US-British negotiations that led to Libya foresaking illegal weapons programmes, with many politicians and newspapers seeing that as further proof that Paris was systematically being frozen out by Washington. [...]
"These talks were secret, as the three countries involved have said, and France, along with everybody else, was not informed," President Jacques Chirac's spokeswoman, Catherine Colonna, said. [...]
The media, which have long criticised the US war and invasion of Iraq, grudgingly allowed that that conquest had borne fruit in terms of putting pressure on other countries Washington considers "rogue states" or part of an "axis of evil".
But they warned that the dividends gained by throwing US military might around the globe were short-term and may be undermined by the long-term consequences.
"An era has truly come to an end in the Middle East," the newspaper Le Monde said in an editorial taking in Iraq, the recent decision by Iran to allow inspections of its nuclear programme, and the Libya deal.
"The fall of Saddam Hussein probably counted in (Libyan leader Moamer) Kadhafi's about-face," it said, but added that the diplomatic breakthrough showed that "more than ever, the danger posed by Saddam Hussein did not justify a unilateral war without UN backing." [...]
Other observers tallied up current Franco-US disputes -- the exclusion of anti-war countries from Iraq's reconstruction, bitter wrangling to settle a lawsuit over a French bank's illegal purchase of US insurer Executive Life, the decision to put off an announcement on whether to build an international nuclear fusion reactor in France or Japan -- to say that Washington was clearly seeking to punish Paris wherever and whenever it can. [...]
U.S. Says al-Qaida Studying Aviation Net
US troops 'tortured' man with rap music
Reuters
Lebanese Mohammed Jaber said he went to Iraq on a pilgrimage to Muslim holy sites, he ended up being "tortured" with loud rap music by US troops suspicious he might be a foreign fighter against Americans.
Jaber said an Iraqi taxi driver handed him and three friends over to US troops for $100 each in April apiece as fighters for ousted president Saddam Hussain.
"They asked us why we were there and if we came to fight them. But we said we came only to visit the holy sites in Karbala," he said. "They didn't torture us physically but they did psychologically by raising the volume of rap music all day until it became unbearable and by withholding food," he said. [...]
Editorial
The Washington Post
Wednesday, December 17, 2003; Page A42
"The District of Columbia, through [assistant police chief Alfred Broadbent] seems to be admitting that it maintains widespread, extensive spying operations on the activities and operations of political advocacy organizations, such as Plaintiffs [International Action Center, et al.], on the basis of their political philosophies and conduct protected under the First Amendment. Moreover, Chief Broadbent admitted in his testimony that such operations are carried on even in the absence of allegations of criminal activities by the organizations being spied upon."
-- U.S. District Judge Gladys Kessler
JUDGE KESSLER made that disturbing observation in denying the city's motion to reconsider a court order of Aug. 30, 2002, requiring the police to disclose the identities of D.C. undercover officers who had infiltrated organizations that were exercising their right to free speech and assembly. The intelligence-gathering activities of the D.C. police department, heretofore only a topic of speculation, are one subject of a two-day investigation to be launched this morning by the D.C. Council's Judiciary Committee, chaired by Kathy Patterson (D-Ward 3). The committee's probe, which concentrates on the department's handling of demonstrations in the nation's capital, should be followed closely by residents and visitors alike.
Families sue U.S., reject 9/11 `bribe'
Ignore deadline for compensation
Payouts average $1.8 million
TIM HARPER
WASHINGTON BUREAU
Dec. 23, 2003. 06:16 AM
WASHINGTON—For some, it's blood money, a repugnant payoff they feel they have no choice but to accept.
For a handful of others, the process of claiming compensation is too painful: they find themselves paralyzed by grief and unable to reopen emotional wounds barely healed from the deaths of their loved ones in the Sept. 11, 2001, terrorist attacks.
But as many as 73 families see the process of U.S. government compensation as an attempt to protect those who should be held accountable for what they believe was mass murder.
They ignored a midnight deadline last night, their last chance to apply for government cash.
And today, they begin a new stage in an arduous odyssey and will sue their government, airlines and state and local authorities.
"This may be uncharted waters, but I was thrown in a pool on Sept. 11, 2001 and had to learn to swim," said Monica Gabrielle, who lost her husband Richard in the World Trade Center attack.
"I am doing this for my husband. He was a gentle man, and he was alive, trying to get out of that building that day. The dead. The dying. The smoke. The terror. No one should have suffered like that. I want accountability. I need answers."
The compensation fund has been controversial since President George W. Bush signed it into law 13 days after the attacks. For those who lost family members, it was always about protecting airlines, federal, state and local authorities from billions of dollars of lawsuits.
To receive the federal money, recipients must sign a waiver giving up their right to sue anyone involved in the worst terrorist attacks in U.S. history.
[...] Yet Gabrielle says it is a bribe by the government so victims can be coerced into washing their hands of the affair.
She is also resentful that the government is determining the worth of loved ones.
"This is about mass murder," she said. "I want to know who was responsible.
"No one has been fired. No one has been demoted. The same people who are guarding us today on an elevated security alert are the same people who were working that day."
Comment: Isn't it curious that Bush and his cronies have been doing their best to stonewall any investigation whatsoever into the events of 9/11? Wouldn't you think that they would be interested in having the truth known, the facts brought to light, the evidence presented, if indeed it were true that a handful of "Islamic terrorists" were responsible for the attacks?
If you have had an injustice committed against you, naturally you want to get justice. You want to know who did it. Why, then, has the Bush Reich never given us any concrete evidence that al-Qaeda was involved? Within 24 hours they identified al-Qaeda as the culprit. That is pretty darn fast. Luckily they found Atta's passport sitting on top of the debris.
But why are they not doing their utmost to help the investigators?
Could it be that they do not want the real facts known?
The cover story floating in the press is that "they could have stopped it." Very convenient. Let's create the image that the problem is that someone slipped up and precautions weren't taken. In this way, a little bit of "guilt" avoids the larger questions of whether or not the entire scenario was elaborated by someone in the secret government of the US.
Airports to Fingerprint Foreign Visitors
By PENNY COCKERELL, Associated Press Writer
December 23, 2003
DALLAS - Foreigners entering U.S. airports and seaports — except those from Western Europe and a handful of other countries — will soon have their fingerprints scanned and their photographs snapped as part of a new program designed to enhance border security.
The program, to be up and running on Jan. 5 at all 115 airports that handle international flights and 14 major seaports, will let Customs officials instantly check an immigrant or visitor's criminal background.
The program, called US-VISIT, or U.S. Visitor and Immigrant Status Indicator Technology, will check an estimated 24 million foreigners each year, though some will be repeat visitors. [...]
S. Korea to Send 3,000 Troops to Iraq
By JAE-SUK YOO, Associated Press Writer
December 23, 2003
SEOUL, South Korea - South Korea plans to send 3,000 troops, possibly including special operations forces and combat-ready marines, to the northern Iraqi oil town of Kirkuk as early as April to help U.S. forces rebuild the war-shattered nation, the military said Tuesday.
The dispatch makes South Korea the biggest contributor to coalition forces in Iraq after the United States and Britain. President Bush praised the mission in a personal phone call overnight to South Korean President Roh Moo-hyun. [...]
Monday 22 December 2003, 12:32 Makka Time, 9:32 GMT
Thousands of Iraqi Kurds gathered in Kirkuk on Monday to demand inclusion of the northern oil centre in a future autonomous Kurdish region.
"Kirkuk, Kirkuk, heart of Kurdistan," they chanted in the city centre. "We demand federalism for Kurdistan".
It was the biggest demonstration in Kirkuk, 300 kilometres north of Baghdad, since the Baath regime fell on 9 April.
Kirkuk lies south of the three provinces ruled by Kurdish rebel factions in defiance of Saddam Hussein and is populated with Arabs and Turkmen as well as Kurds.
Russia to write-off 65% of Iraq's debts
Monday 22 December 2003, 20:43 Makka Time, 17:43 GMT
Russia has offered to write-off 65% of Iraq's $8 billion debt after Baghdad signalled that Moscow was in a good position to revive pre-war oil contracts.
A member of the Iraqi Governing Council, Samir Sumaidy, said Russia made the proposal at a meeting between President Vladimir Putin and the head of the US-backed Iraqi Governing Council Abd al-Aziz al-Hakim at the Kremlin on Monday.
"Putin has made an offer of Russia exempting Iraq from 65% of their debts. That is a decision made by Russia to be confirmed within the Paris Club," Sumaidy told reporters after attending the meeting.
Georgian leader on her upcoming talks with Putin
RosBusinessConsulting. Tuesday, Dec. 23, 2003, 2:46 PM Moscow Time
Acting Georgian President Nino Burdzhanadze told reporters about her confidence that her upcoming talks with Russian President Vladimir Putting would prove to be constructive. Burdzhanadze noted she did not expect the talks to become a turning point in Russian-Georgian relations, "as there are enough problems and misunderstanding between the two countries". As reported earlier, on December 25 Burdzhanadze will meet Putin in Moscow. According to the Georgian leader, the essential point at this stage is to restore credibility between Georgia and Russia, which will create positive prerequisites for developing relations between the two countries.
'Bleeding Strategy' Comes Home
By Nicholas Berry
Tuesday, Dec. 23, 2003. Page 10
Back in the days of the "Evil Empire," the United States pursued what was called the "bleeding strategy" toward the Soviet Union.
Reacting to the 1979 Soviet invasion of Afghanistan, the Reagan administration, like the Carter administration before it, decided to bankrupt Moscow as the best way to win the Cold War.
The Soviet Union would be financially bled.
[...] Now, the shoe is on the other foot.
Conversations with Russian, EU and Chinese officials strongly suggest that the bleeding strategy is now being used against Bush's America.
It is no secret that the leaders of these major players view Bush's preemptive use of force, his pre-occupation on the war on terrorism and on challenging axis-of-evil regimes, his disdain for the UN and international law, and his highly threatening military buildup, including the U.S. missile defense system, as contrary to their interests. Presidents Vladimir Putin, Hu Jintao, Jacques Chirac, and others favor multipolarity, not American unipolarity.
Finding it difficult to re-direct Bush to a wider, more internationalist orientation, these leaders are taking advantage of what they see as an opportunity to blunt and eventually change the direction of U.S. foreign policy. They appear to have adopted three ways to do it.
First, Bush's narrow focus allows them to appease the United States by joining the war on terrorism and to step back by tacitly approving the Iraq war.
Bush then is free to pursue his narrow agenda. And that leaves the rest of the world free to pursue their agendas without much U.S. interference. Russia moves to reestablish its sphere of influence and rejoin Europe. China advances its economy and regional influence in its pursuit of great power status. The EU concentrates on expansion, unity and even military cooperation.
Second, major powers in Europe and Asia see Bush's grand strategy as weakening American power almost daily -- power that they see as misguided and harmful. This weakening is good.
Noting that the United States employed a bleeding strategy to debilitate and fracture the Soviet Union, major powers are now content to let the United States bleed itself. Little help is given to the expensive occupation of Iraq.
Objections to Bush's costly (and dubiously effective) missile defense system are muted and it proceeds. China, EU countries, Russia and Japan are lending money to the United States to the tune of $2 billion daily, thus aiding and abetting huge budget deficits that will eventually squeeze Washington's financial ability to maintain its imperium. Interest payments overseas mount. The dollar weakens.
This bleeding makes the United States less able to engage in militarism elsewhere, such as toward North Korea or Iran. It burdens the United States, thereby lessening its international economic clout. It reduces Bush's opportunities to interfere in their domestic affairs, whether on human rights, elections or economic restructuring, thereby giving them wide policy latitude.
Third, because Bush's strategy is unsustainable because of its enormous costs, its failure to deal with a wide variety of important issues and its dramatic denigration of diplomatic influence, major powers know that Bush's grand unipolar design cannot last long.
Eventually, either Bush changes or he and his policies will be repudiated at the polls. Bushism, like Bonapartism, is not forever. The United States will eventually return to normal diplomacy, military moderation, multilateral operations, and to support for international law and organizations.
There is no need to advertise the bleeding. Bush is doing the bleeding pretty well all by himself.
How to Say "Enron" in Italian

Casting new doubt on European corporate governance, leading Italian food group Parmalat announced last week the firm had a €4-billion discrepancy in its books. The accounting scandal is already being compared to Enron.
Parmalat, one of the world's biggest dairy companies and a key part of corporate Italy, shocked the country on Friday by admitting €3.95 billion ($4.89 billion) supposedly held by its Bonlat financing unit in the Cayman Islands did not exist.
With reports circulating on Monday that the actual sum missing could be much higher, the scandal will easily overtake the €1 billion bookkeeping shenanigans at Dutch retailer Ahold. That would add credence to analogies that Parmalat has become "Europe's Enron," a reference to the failed U.S. energy giant which has become the leading example of bad accounting par excellence.
Peacekeepers will have to become pursuers, says top Canadian soldier
Last Updated Tue, 23 Dec 2003 6:15:34
KABUL - The role of international troops in Afghanistan is about change from patrolling streets to hunting down insurgents, Canada's top soldier in the region says.
In a pre-Christmas address to the troops Tuesday, Maj.-Gen. Andrew Leslie told Canadian Forces soldiers at Camp Julien that many of them will be fanning out from the Afghan capital, Kabul, to smaller, less secure towns across the war-torn country.
"The bottom line is the security situation in the south is not good but in the rest of the country, it's certainly a hell of a lot better than it was."
The deputy commander of all international peacekeepers said soldiers may have to shift their focus from keeping peace and patrolling streets.
He said troops will have to become more aggressive by hunting down Taliban and al-Qaeda forces attempting to cause disorder.
Leslie also said he believes NATO will have to stay in Afghanistan for at least five to ten years before it's secure.
Comment: Former Canadian PM Jean Chretien has not been out of office for long, but already the new government is starting to change its policy. Slowly, the Canadian forces will be brought into combat roles in defense of the US empire.
Russia oil tycoon back in court
Russian tycoon Mikhail Khodorkovsky has arrived in court for the second day of a hearing which will decide whether he should be bailed.
Mr Khodorkovsky's appearance at the opening day of the case on Monday marked the first time he had been seen in public since his arrest in October.
[...] Mr Khodorkovsky has been charged with economic crimes totalling more than $1bn.
His supporters say Mr Khodorkovsky has been singled out for punishment because he had been openly financing political parties opposed to the Kremlin.
Now, prosecutors have applied to extend his term in jail, pending trial, for another three months.
That would keep Mr Khodorkovsky locked up until after Russia's presidential elections in March.
Monday 22 December 2003, 16:00 Makka Time, 13:00 GMT
A key North African summit due in Algiers on Tuesday and Wednesday has been postponed due to regional disagreements.
Algerian Foreign Minister Abd al-Aziz Bilkhadim said on Monday the much-awaited five-nation Arab Maghreb Union (AMU) summit, the first to be held since 1994, was postponed at the formal request of Libya.

A senior Arab diplomat earlier told Reuters the summit had been indefinitely shelved due to the long-running dispute between neighbours Algeria and Morocco over the mineral-rich territory of Western Sahara.
Thousands at risk of death in Britain as temperatures drop, experts say
06:40 AM EST Dec 23
LONDON (AP) - More than 2,500 people are likely to die in England and Wales in the week before Christmas because of unseasonably cold weather, public health experts said Tuesday.
Diana was pregnant when she died: French police
www.chinaview.cn 2003-12-23 09:51:27
BEIJING, Dec. 23 (Xinhuanet) -- Princess Diana was pregnant when she died in a Paris car crash in 1997 with her lover Dodi Fayed at her side, a "senior French police source" told the Independent on Sunday.
"I can tell you that she was pregnant," the broadsheet quoted the source as saying Sunday.
Judge Halts Forced Military Anthrax Shots

By PAULINE JELINEK
Dec 22, 1:24 PM (ET)
WASHINGTON (AP) - The Pentagon must stop forcing servicemen and women to take the anthrax vaccination against their will, unless President Bush signs a special order, a judge ruled Monday.
Millions of shots have been given and hundreds of service members have been punished for refusing them since the mandatory vaccinations started in 1998.
The judge ruled that the anthrax vaccinations fell under a 1998 law prohibiting the use of certain experimental drugs unless people being given the drug consent or the president waives the consent requirement.
Congress passed the law following fears that the use of such drugs may have led to unexplained illnesses among veterans of the 1991 Persian Gulf War that have come to be known as Gulf War Syndrome. [...]
By DAN K. THOMASSON
Dec 21, 2003, 21:25
Will Rogers said that all he knew is what he read in the newspapers. That certainly is not true of George W. Bush, who verified what has been suspected for some time. He doesn't read them, even though he gets to his office pretty early in the morning and chances are a news summary is one of the things on his desk when he arrives.
That somewhat startling revelation was about the only news to emerge from a highly touted one-hour interview with ABC's Diane Sawyer. It was a curious mixture of defiance, anger, boredom and strained humor that seemed to reflect Bush's true nature somewhat better than the rehearsed appearances that are the usual way Americans see him.
The defiance and anger emerged when Sawyer, a former aide to Richard Nixon, insisted on trying to win a concession from the president that his justification for the war - Iraq's alleged possession of weapons of mass destruction - was simply wrong. The president's explanation (that the verdict on WMD still was out and that his decision was based on intelligence believed credible - not only by him but by his predecessor - and that anyway the world was a safer place without Saddam Hussein) didn't prevent Sawyer from hammering away until the situation became obviously uncomfortable.
The entire scene was in sharp contrast, with the relaxed atmosphere of the president's press conference the day before and his easy handling of questions in the wake of the capture of Saddam, whom (he made clear both then and in the television interview) he would like to see treated as they did old-time horse thieves in his home state of Texas - given a fair trial and then hanged.
The question of Bush's reading habits came up in a session in which Laura Bush joined him and he candidly conceded that he doesn't read the newspapers, an admission that may be the first of its kind by a chief executive. His answer was that he wasn't interested in the opinions of the press and that he got his news from his aides and advisers and Cabinet members first hand. Mrs. Bush, however, a former librarian, said that she did read the newspapers and some columnists, at least those who aren't known Bush-bashers.
The relationship of the presidency and the press always has been strained, and that is as it should be if both are to do their jobs properly. One would like to manage the news to fit his purposes and the other is intent on seeing that doesn't happen. It is what makes the system work.
Comment: The system doesn't "work". All the major news outlets are controlled by a handful of institutions with ties to Bush or one of his pals. It doesn't take much effort to confirm this fact. This then begs the question: Why was Sawyer "allowed" to grill Bush?
Few White Houses in modern memory have been as tightly managed as the current one - even Lyndon Johnson's, where a leak about even a minor appointment could cause the president to change his mind. But no president most of us old-timers can remember would be foolish enough not to peruse the day's happenings in the newspapers, where there still is a whole lot more hard news detail than on television and, contrary to popular opinion, most of it isn't biased.
A president's depending solely on what aides tell him can lead to serious problems. Their slant isn't always what the president should be hearing.
Even Bush's father still reads the newspapers and particularly the columns. I know because he took sharp exception to one of mine that ran in his hometown paper, The Houston Chronicle. His reaction came in one of those "from the office of" letters he obviously authorized or dictated, and was not going to give me the satisfaction of signing himself. His chief of staff got that privilege. Under the circumstances, I didn't reply. But at least he was paying attention.
As for commentary and editorials, how does a president tell the good guys from the bad guys (from his point of view) if he doesn't bother to read them? How does he know the difference between those who will give him a fair hearing or support a position and those who won't, no matter what he does? There is even the possibility that he can learn something important from those who are the most critical of him. A wise leader listens to his detractors as well as his friends. I'm sure someone said that once.
This is a nation where youngsters more and more learn to read and then don't. It would be nice to have a role model who didn't do the same thing. Then I'm shouting into the wind, aren't I, since there doesn't seem to be much chance of the president's reading this.
Luck Needed to Solve Highway Shootings
By JONATHAN DREW, Associated Press Writer
December 23, 2003
COLUMBUS, Ohio - Seven years ago, the Rev. Craig Forwalter's quiet morning drive along a tree-lined highway was shattered when a bullet smashed into his car, striking his wife's head. [...]
The 1996 attack on Forwalter's car on a Missouri highway echoes a string of 18 recent shootings on a stretch of Columbus highway, including one that killed a 62-year-old woman in November. [...]
While authorities arrested the people believed responsible in six of the 10 cases, investigators and crime experts say catching someone doing highway shootings often can be a matter of luck.
Lacking well-defined crime scenes, investigators often cannot collect physical evidence, said James Alan Fox, a criminal justice professor at Northeastern University in Boston. And since the victims aren't acquainted with their attacker, it's much harder to determine a motive. [...]
Comment: Sounds like a good way to instill fear in the population...
By Jim Hu and Evan Hansen
Staff Writer, CNET News.com
December 22, 2003, 4:00 AM PST
America Online is quietly laying the groundwork to hire software engineers in Bangalore, India--a decision that's sparking some pointed criticism but also is becoming de rigueur among technology companies. [...]
More than eight in 10 software companies are exporting their work offshore this year or next, according to a July study by research firm Sand Hill Group. [...]
Retailers Still Looking for a Big Finish
By Emily Kaiser
Mon Dec 22, 6:54 PM ET
CHICAGO (Reuters) - The biggest shopping weekend of the year did little to ease fears of another lackluster holiday season, as Wal-Mart Stores Inc. said on Monday it still expects December sales to reach only the low end of its forecast. [...]
Analysts said on Monday they saw no reason to change their assessment of the holiday shopping season, which has not delivered on expectations for a strong rebound from last year's disappointing performance. [...]
Comment: Yup. The capture of Saddam, or his double, came just in time for the holiday shopping. Coincidence? We think not.
Inquiry Suggests Pakistanis Sold Nuclear Secrets
By WILLIAM J. BROAD, DAVID ROHDE and DAVID E. SANGER
New York Times
WASHINGTON, Dec. 21 — A lengthy investigation of the father of Pakistan's atomic bomb, Abdul Qadeer Khan, by American and European intelligence agencies and international nuclear inspectors has forced Pakistani officials to question his aides and openly confront evidence that the country was the source of crucial technology to enrich uranium for Iran, North Korea and possibly other nations. [...]
Embezzler Programmed System To Connect Ballots To Voter
Bev Harris
An embezzler who specialized in sophisticated alteration of records of computerized systems was programming our voting system, and also had access to the printing of the ballots, and ties to the private company that sorts King County absentee ballots. [...]
U.S. Rarely Seeks Charges for Deaths in Workplace
By DAVID BARSTOW
New York Tiimes
Every one of their deaths was a potential crime. Workers decapitated on assembly lines, shredded in machinery, burned beyond recognition, electrocuted, buried alive — all of them killed, investigators concluded, because their employers willfully violated workplace safety laws. [...]
What is more, having avoided prosecution once, at least 70 employers willfully violated safety laws again, resulting in scores of additional deaths. Even these repeat violators were rarely prosecuted. [...]
Human Waste' Cloud Forces Residents Inside
WINTER GARDEN, Fla. -- Hazardous material crews are still monitoring a giant, smoldering pile of human waste that spontaneously caught fire at a fertilizer plant this weekend, according to Local 6 News. [...]
Killer disease hits south Sudan
Doctors working in Sudan say they are concerned a deadly disease is sweeping through the population in the south.
The medical emergency relief charity, Medecins Sans Frontieres, say thousands of people could already be suffering
Between 1985 and 1993, a similar epidemic in southern Sudan killed an estimated 100,000 people.
Kala-azar is a parasitic disease that weakens the immune system and is transmitted by the bite of the sandfly. It is fatal if untreated.
Most people die from common infections the immune system can no longer handle, like pneumonia, diarrhoea and tuberculosis.
The spread of the disease has been exacerbated by the civil war, chronic food shortages and mass population movement.
Alberta archeologists racing to save ancient artifacts
Last Updated Mon, 22 Dec 2003 13:31:43
CALGARY - A team of archeologists from Calgary is heading to Sudan over the holidays, where they'll be racing to save the remnants of an ancient African civilization.
Archeology and anthropology professors John Robertson and Rebecca Bradley of Mount Royal College will try to find and save artifacts of the Kush, a little-known people who lived about 2,000 years ago along the banks of the Upper Nile in what is now Sudan.
"They were astronomers, mathematicians, they had writing, they had the sciences," said Robertson. "The pottery is just exquisite."
Though the Kush empire once stretched from the Nile to the Euphrates and briefly ruled ancient Egypt, the civilization mysteriously disappeared, remaining undiscovered until about 50 years ago.
But just as researchers are beginning to learn more about the long-lost Kush, a 200-kilometre stretch of land in the heart of their ancient territory is about to be buried under water from a new dam, that's scheduled for completion by 2006.
Grave of Attila the Hun becomes healing site
Bizarre accidents injure thousands
Thousands of Britons ended up in hospital this year after bizarre accidents, official figures reveal. [...]
And Finally...
Letter From a Reader:

It is so easy to pass on criticisms but we often overlook to pass on compliments. Therefore the purpose of this email is simply to thank you and to let you know that your hard work is appreciated.

I first printed out and read the "Wave" series in March 2001. Of course I also printed out and read Amazing Grace and most of the other "Articles". Hell its a huge pile of paper when all printed out. After my first reading I honestly didn't know what to make of it all but, as is my nature with such things, I prefer to take things in with an open mind and leave judgment to the elapse of time. Over time I find that all things judge themselves if I simply hold them at the back of my mind and allow intuition to work on them.

That first reading of the Wave and your other "Articles" fired me off to read and research all of the "Ra" books; all "Ramala" books; plus scores of other volumes and series too numerous to mention. From all of of this research there was much that converged and also much "static". I found that many information sources were in fact STS in "drag" and many were well-crafted sources of disinformation.

Now, near the end of 2003, I have chosen to read the Wave series through a second time. This second reading is nearly complete (I am up to Part XIII). After I finish the second reading I will start on the "Adventures" series.

Clearly the Cassiopeans have survived my "time and intuition" test. I can confirm that they are "right on".

So, once again, thank you. Thanks to Ark as well. Your combined efforts have brought many difficulties to yourselves. I know that you didn't do this to get thanked but, nevertheless, you should know that your seeds do grow and flower. Keep planting!

Kind regards
DC
New Zealand.
---
Remember, we need your help to collect information on what is going on in your part of the world!
We also need help to keep the Signs of the Times online.
---

Check out the Signs of the Times Archives

Send your comments and article suggestions to us

---
Fair Use Policy
Contact Webmaster at signs-of-the-times.org
Cassiopaean materials Copyright ©1994-2014 Arkadiusz Jadczyk and Laura Knight-Jadczyk. All rights reserved. "Cassiopaea, Cassiopaean, Cassiopaeans," is a registered trademark of Arkadiusz Jadczyk and Laura Knight-Jadczyk.
Letters addressed to Cassiopaea, Quantum Future School, Ark or Laura, become the property of Arkadiusz Jadczyk and Laura Knight-Jadczyk
Republication and re-dissemination of our copyrighted material in any manner is expressly prohibited without prior written consent.
.