---
Two days ago Bush gave his last press conference of 2003. Hidden deep within the puerile questions of the fawning reporters, there is a comment that defines the President's entire tenure to date, a tenure that has been typified by deceit and lies on a scale that boggles the mind.
Elsewhere in the news, that same man, the mean-spirited and arrogant tin pot would-be dictator, wants Saddam, or his double, dead. Probably before Saddam, or his double, spills the beans on his longtime association with Poppy and the CIA. But the capture comes just in time to boost Christmas sales prior to the winter blowout of the US economy.
A US senator reveals that he was told Iraq had missiles that could hit the east coast.
The EU agrees to a slightly watered down version of the US plan to share personal information on air travelers.
A cold spell in Iran, weather-related car accidents plague Germany, the Milky Way has a new arm, Malaysia proposes the 'wonderful' idea of mass circumcision for Muslims as the UFOs hover overhead (perhaps supervising the affair, wasn't it their (YHWHs) idea in the first place anyway?)
Bush's Final Press Conference of 2003 - Dec 15
Q: I know you said there will be a time for politics. But you've also said you wanted to change the tone in Washington. Howard Dean recently seemed to muse aloud whether you had advance knowledge of 9/11. Do you agree or disagree with the RNC that this kind of rhetoric borders on political hate speech?
The President: There's time for politics. There's time for politics, and I -- it's an absurd insinuation.
Comment: Firstly there is the worrying suggestion from the media lackey and the RNC that any dissent about 9/11 might constitute "hate speech". Apparently now a simple desire to know the truth is synonymous with hate. For anyone who doubts that the US is indeed a totalitarian regime, this will surely put those doubts to rest. When it is declared (as it seems it will be soon) that to question the integrity of the president or the sitting government is tantamount to "hate speech", we must take stock of the dire situation we are in. Yet from Bush's point of view this has some semblance of truth, albeit perverted and twisted beyond recognition, for people of this nature, truth is hateful and they hate all those that stand up or speak out in its name. The stage is set and the lines are drawn.
Secondly in the above, we see the interesting response from Bush to the question about prior knowledge to the attacks on 9/11. He states it is "an absurd insinuation". We say 'interesting' because it directly contradicts facts admitted to by the White House itself - so who is lying here?..
Flashback: Report Warned Of Suicide Hijackings
Washington, May 17, 2002

(CBS) Two years before the Sept. 11 attacks, an analysis prepared for U.S. intelligence warned that Osama bin Laden's terrorists could hijack an airliner and fly it into government buildings like the Pentagon.
"Suicide bomber(s) belonging to al Qaeda's Martyrdom Battalion could crash-land an aircraft packed with high explosives (C-4 and semtex) into the Pentagon, the headquarters of the Central Intelligence Agency (CIA), or the White House," the September 1999 report said.
The Bush administration has asserted that no one in government had envisioned a suicide hijacking before it happened.
"Had I know that the enemy was going to use airplanes to kill on that fateful morning, I would have done everything in my power to protect the American people," Mr. Bush told U.S. Air Force Academy football team members who were visiting the White House on Friday. It was his first public comment on revelations this week that he was told Aug. 6 that bin Laden wanted to hijack planes.
CBS Senior White House Correspondent Bob Schieffer reports that other top officials were less forthcoming. The usually talkative Attorney General John Ashcroft just stared when reporters asked him about the terror warnings. FBI Chief Robert Mueller also refused to comment. [...]
Former CIA Deputy Director John Gannon, who was chairman of the National Intelligence Council when the report was written, said officials long have known a suicide hijacking was a threat.
"If you ask anybody could terrorists convert a plane into a missile, nobody would have ruled that out," he said.
Meanwhile, court transcripts reviewed by The Associated Press show the government had other warning signs between 1999 and 2001 that bin Laden was sending members of his network to be trained as pilots and was considering airlines as a possible target. [...]
Bush administration officials have repeatedly said no one in government had imagined such an attack.
"I don't think anybody could have predicted that ... they would try to use an airplane as a missile, a hijacked airplane as a missile," National Security Adviser Condoleezza Rice said Thursday.
The report was written by the Federal Research Division, an arm of the Library of Congress that provides research for federal agencies.
"This information was out there, certainly to those who study the in-depth subject of terrorism and al-Qaeda," said Robert L. Worden, the agency's chief.
"We knew it was an insightful report," he said. "Then after Sept. 11 we said, 'My gosh, that was in there.'"
Gannon said the 1999 report was part of a broader effort by his council to identify the full range of attack options of U.S. enemies.
Vice president Cheney has repeatedly asked Congress not to investigate the intelligence failures. But with the new commotion, the White House now says it will cooperate with an investigationif it's done the right way.
Comment: Consider the words of the FBI report again:
"Suicide bomber(s) belonging to al Qaeda's Martyrdom Battalion could crash-land an aircraft packed with high explosives (C-4 and semtex) into the Pentagon, the headquarters of the Central Intelligence Agency (CIA), or the White House"
Then consider the words of National Security Advisor Condoleeza Rice:
"I don't think anybody could have predicted that ... they would try to use an airplane as a missile, a hijacked airplane as a missile,"
Now tell us, just who is lying here? And if the Bush administration is lying about this, what else are they lying about? Does this not blow the whole case wide open? These are the facts, dear readers. This is not a game, this is no conspiracy theory. We accept that we are unlikely to ever get a smoking gun, but do we need one? For what are we given powers of deductive reasoning? If the above scenario where reflected in "normal" life, most people would have no qualms about coming to the conclusion that a lie was probably being told, yet simply because it is the president and the 9/11 attacks that are the subject matter, there appears to be a block in the normal logical reasoning. People are extremely reluctant to call a spade a spade in this case. Why? Because for people to accept the truth, that the US government murdered 3,000 of its own citizens on September 11th 2001, would mean the collapse of their entire world view, a view that is wholly illusory and in truth never really existed.
Flashback: Bush Was Warned of Hijackings Before 9/11
ABC News
May 16, 2002
White House officials acknowledged that U.S. intelligence officials informed President Bush weeks before the Sept. 11 attacks that bin Laden's terrorist network might try to hijack American planes, and that information prompted administration officials to issue a private warning to transportation officials and national security agencies.
In a press briefing, National Security Adviser Condoleezza Rice said the threats were very general and did not mention a specific time, place or mode of terrorist attack.
Comment: At the risk of laboring the point let's look again at the wording of the FBI report delivered to the White House intelligence committee.
"Suicide bomber(s) belonging to al Qaeda's Martyrdom Battalion could crash-land an aircraft packed with high explosives (C-4 and semtex) into the Pentagon, the headquarters of the Central Intelligence Agency (CIA), or the White House"
Ignored Warning Signs
The revelation came as legislators were already demanding an explanation following the emergence of an FBI memo alluding to ignored warning signs about Sept. 11. Two months before the hijackings, FBI agents in Phoenix reported their suspicions about Arab students at a Phoenix flight school, and directly referred to the possibility of a connection to bin Laden.
"There should have been bells and whistles going off," Sen. John Edwards, D-N.C., said today on ABCNEWS' Good Morning America.
There were "three huge warning signs," Edwards said, referring to a memo from the FBI about al Qaeda members training in flight schools in Arizona; the arrest of suspected terrorist Zacarias Moussaoui — the alleged "20th hijacker" — in Minnesota; and the warning given to Bush in August while he was vacationing at his ranch.
In the memo from the Phoenix FBI office to headquarters, the agents recommended an urgent nationwide review of flight schools "for any information that supports Phoenix's suspicions" of a terrorist connection. The memo reportedly cited bin Laden by name.
The memo's existence apparently has been known for months, but until recently, lawmakers and congressional staff had not gained full access to it and the direct reference to bin Laden had not been revealed.
Ashcroft takes attack warnings seriously
CBS News
July 26, 2001

(CBS) Fishing rod in hand, Attorney General John Ashcroft left on a weekend trip to Missouri Thursday afternoon aboard a chartered government jet, reports CBS News Correspondent Jim Stewart.
In response to inquiries from CBS News over why Ashcroft was traveling exclusively by leased jet aircraft instead of commercial airlines, the Justice Department cited what it called a "threat assessment" by the FBI, and said Ashcroft has been advised to travel only by private jet for the remainder of his term.
"There was a threat assessment and there are guidelines. He is acting under the guidelines," an FBI spokesman said. Neither the FBI nor the Justice Department, however, would identify what the threat was, when it was detected or who made it.
A senior official at the CIA said he was unaware of specific threats against any Cabinet member, and Ashcroft himself, in a speech in California, seemed unsure of the nature of the threat.
"I don't do threat assessments myself and I rely on those whose responsibility it is in the law enforcement community, particularly the FBI. And I try to stay within the guidelines that they've suggested I should stay within for those purposes," Ashcroft said.
Asked if he knew anything about the threat or who might have made it, the attorney general replied, "Frankly, I don't. That's the answer."
Earlier this week, the Justice Department leased a NASA-owned G-3 Gulfstream for a 6-day trip to Western states. Such aircraft cost the government more than $1,600 an hour to fly. When asked whether Ashcroft was paying for any portion of the trips devoted to personal business, a Justice Department spokeswoman declined to respond.
The Justice Department insists that it wasn't Ashcroft who wanted to fly leased aircraft. That idea, they said, came strictly from Ashcroft's FBI security detail. The FBI had no further comment.
Comment: So according to Condi, the attacks were so nondescript that there was absolutely no reason to take any action or warn the public, YET, for others, the warning was taken so seriously that as a result, Ashcroft gets a leased private Jet from NASA for all of his travel, official and personal.
So again we ask, what is the most likely conclusion? If a similar set of circumstances occurred in "normal" life, what would you think? The answer is clear. It serves here to recap a little on other pieces of damning evidence that show the clear evidence that there was complicity in the 9/11 attacks at the highest levels of the Bush administration.
US Senate Intelligence committee's breakfast with Terrorism
The Bush Administration through Dick Cheney, cut off any possibility of public inquiry when he initiated the Fear and Disinformation campaign with the following words: "I think that the prospects of a future attack on the U.S. are almost a certainty. [...] It could happen tomorrow, it could happen next week, it could happen next year..." And he should know... Because, as we will see, Islamic Terrorists are not just a creation of the CIA back in "old times" who got out of control - they are an active, current, "intelligence asset." And if there are going to be more "attacks," the CIA will be "the first to know."
The 9-11 Terrorists did not act in a vacuum. They were instruments in a carefully planned intelligence operation supported by Pakistan's ISI, which owes its allegiance and existence to the CIA.
The purported 9-11 ringleader - Mohammed Atta - according to ABC news, was financed by "unnamed sources in Pakistan." According to Agence France Presse and the Times of India, an official Indian intelligence report informs us that the 9-11 attacks were funded by money wired to Mohammed Atta from Pakistan, by Ahmad Umar Sheikh, under orders from Pakistani intelligence chief General Mahmoud Ahmad. The report said: "The evidence we have supplied to the U.S. is of a much wider range and depth than just one piece of paper linking a rogue general to some misplaced act of terrorism."
Guess what? General Mahmoud Ahmad was in the U.S. on September 11.
Where was General Mahmoud on the morning of September 11, while Dubya was in Florida reading upside down books?
Why, the good general just happened to be having breakfast with Florida's senator, Bob Graham -our esteemed chairman of the Senate Intelligence Committee. Also present at breakfast was Pakistan's ambassador to the U.S. Maleeha Lodhi. There were other members of the Senate and House Intelligence committees present.
''Capture of Saddam Provides Domestic Boost to Bush Administration''

Erich Marquardt
December 17, 2003
The capture of former Iraqi president Saddam Hussein on Saturday provided a much-needed domestic popularity boost to the Bush administration's operations in Iraq. The failure of the U.S. military to capture or kill Saddam in the opening days of the war has ironically played out in the administration's favor. Because the American public was largely supportive of the U.S.-led invasion of Iraq during the spring and early summer, the killing or capturing of Saddam would have had little political value then. By capturing Saddam at a time when Americans are losing patience with U.S. operations in Iraq, the Bush administration has increased its domestic support and has acquired some breathing room from an increasingly skeptical public. Additionally, campaign strategists in the administration have managed to successfully portray the primary U.S. objectives in Iraq as revolving around the fate of Saddam Hussein.
Early in the war, the Bush administration assured that Saddam would be out of the picture fairly early. In the opening salvo of the invasion, a series of "decapitation strikes" were launched with the intent of quickly eliminating Saddam and other members of the Ba'athist leadership. After the attacks failed, and U.S. forces took control of Baghdad, the American people and the administration expected to either capture or kill Saddam in the coming weeks. Instead, Saddam managed to elude U.S.-led coalition forces even though the rest of the former leadership was captured or killed, including Saddam's two sons, Uday and Qusay.
As the war progressed, the failure to find the large stockpiles of weapons of mass destruction that the Bush administration alleged existed -- the main justification for the U.S.-led invasion -- damaged the administration's credibility. The fact that the administration told falsehoods to the American people by arguing that they knew exactly where the weapons were began to create a growing rift between the American people and the administration. For instance, Secretary of Defense Donald Rumsfeld claimed on March 30, 2003 that he knew where Baghdad's weapons of mass destruction were located, asserting, "We know where they are. They're in the area around Tikrit and Baghdad and east, west, south and north somewhat." The administration was forced to admit that their claims were not completely correct, and, in some cases, "overstated."
In addition to the failure to find the alleged quantities of weapons of mass destruction, the administration also backtracked on their continuous attempts to link Saddam Hussein's Ba'athist government with al-Qaeda. The decision to distance themselves from this claim came when the Democratic Party started to use the administration's unsupported arguments about this connection against the administration. Indeed, it caused President Bush to state in mid-September that, "We've had no evidence that Saddam Hussein was involved with September 11."
To compound these two disconnects, an insurgency in Iraq slowly developed, causing many unexpected casualties for U.S. troops. Insurgents engaged in sniper and rocket propelled grenade attacks, planned and executed roadside and car bombings, and were successful in shooting down U.S. helicopters, inflicting significant casualties.
These three developments caused the administration's popularity to sink among the American people. Not only did the administration's reasons for going to war prove to be, at best, unfounded, and, at worst, contrived, but U.S. troops were now facing a mounting insurgency that was invoking the specter of U.S. involvement in Vietnam.
With the insurgency continuing, and the failure of the American public to feel that the U.S. accomplished its mission in Iraq, the administration's political future was looking bleak. Thankfully for the administration, the U.S. military managed to capture Saddam on Saturday, delivering an important political victory that, with the right direction from the White House, rewrote the reasons as to why the war was initially waged.
The capture of Saddam Hussein has made many Americans feel that the mission in Iraq has been completed and that Washington has largely achieved its objectives there. After having the initial motives for the war proved false, the Bush administration and much of the American populace are now arguing that the capture of Saddam was the primary mission. For instance, after his capture the White House put tremendous effort into trumping up Saddam's many human rights abuses; while these abuses are true, they never were before used as one of the sole reasons to institute "regime change" in Baghdad.
Comment: Do we for even one minute think that the capture of Saddam was a coincidence? Is anyone naive enough to think that this was not orchestrated? While the planners in the White house and Pentagon are without doubt unscrupulous men, they are certainly not stupid. Look at the benefits that they derive from the timing of "Saddam's" capture and you realise that this was a carefully planned and timed spectacle.
"In politics, nothing happens by accident, if it happens, you can be sure it was planned that way." - attributed to FDR
by Stephen R. Shalom
December 15, 2003
Saddam Hussein is one of the world's great monsters. Nothing would be more welcome than to have him put on trial, a trial which could offer Iraqis and the world an honest accounting of his many crimes. However, as so often happens, when a trial is organized by those who are themselves guilty of serious crimes, truth is not the goal. Instead the historical record is falsified to make the one monster seem uniquely blameworthy and the ones running the show above criticism. [...]
Comment: This is an important point which details yet another benefit to the US government from the well timed capture of "Saddam". It gives Bush and Co. the opportunity to proclaim all of his inhumane crimes (real and contrived) and in the process give the impression that they themselves would never commit such atrocities. This is one of the subtle forms of manipulation that all humans are so prone to and which serves only to further seal their fate at the hands of a regime that holds them all in utter contempt.
Experts hope Saddam's arrest will spur shoppers
By Anne D'innocenzio
The Associated Press
It was a mixed weekend for businesses eager to hear cash registers jingle, with snow hampering shoppers in the Northeast even as retailers hoped the capture of Saddam Hussein might bolster consumer confidence.
[...] "Ultimately, in the long run, this is going to put people in better spirits, and we are definitely excited that this has come during the holiday season," Ellen Tolley, a spokeswoman at the Washington-based National Retail Federation, said Sunday.
Comment: Excuse us while we puke.
We Finally Got Our Frankenstein... and He Was In a Spider Hole!
by Michael Moore
December 14th, 2003
Thank God Saddam is finally back in American hands! He must have really missed us. Man, he sure looked bad! But, at least he got a free dental exam today. That's something most Americans can't get.
America used to like Saddam. We LOVED Saddam. We funded him. We armed him. We helped him gas Iranian troops.
But then he screwed up. He invaded the dictatorship of Kuwait and, in doing so, did the worst thing imaginable -- he threatened an even BETTER friend of ours: the dictatorship of Saudi Arabia, and its vast oil reserves. The Bushes and the Saudi royal family were and are close business partners, and Saddam, back in 1990, committed a royal blunder by getting a little too close to their wealthy holdings. Things went downhill for Saddam from there.
But it wasn't always that way. Saddam was our good friend and ally. We supported his regime. It wasn't the first time we had helped a murderer. We liked playing Dr. Frankenstein. We created a lot of monsters -- the Shah of Iran, Somoza of Nicaragua, Pinochet of Chile -- and then we expressed ignorance or shock when they ran amok and massacred people. We liked Saddam because he was willing to fight the Ayatollah. So we made sure that he got billions of dollars to purchase weapons. Weapons of mass destruction. That's right, he had them. We should know -- we gave them to him!
We allowed and encouraged American corporations to do business with Saddam in the 1980s. That's how he got chemical and biological agents so he could use them in chemical and biological weapons. Here's the list of some of the stuff we sent him (according to a 1994 U.S. Senate report):
* Bacillus Anthracis, cause of anthrax.
* Clostridium Botulinum, a source of botulinum toxin.
* Histoplasma Capsulatam, cause of a disease attacking lungs, brain, spinal cord, and heart.
* Brucella Melitensis, a bacteria that can damage major organs.
* Clostridium Perfringens, a highly toxic bacteria causing systemic illness.
* Clostridium tetani, a highly toxigenic substance.
Blair: US has found secret Iraq labs
Wednesday 17 December 2003, 12:59 Makka Time, 9:59 GMT
British Prime Minister Tony Blair has said US-led teams had found massive evidence of a huge system of clandestine laboratories and plans to develop long-range ballistic missiles in Iraq.
Blair did not go into detail, but a spokesman for the prime minister on Tuesday said the findings were part of an interim report produced several months ago by the Iraq Survey Group, which is hunting for weapons of mass destruction.
"The Iraq Survey Group has already found massive evidence of huge system of clandestine laboratories, workings by scientists, plans to develop long range ballistic missiles", Blair said in an interview with the British Forces Broadcasting Service.
Comment: So, after over 8 months of the US and British occupation, the liars and schemers who brought you the war have had time to build Saddam's "secret labs". How convenient after the arrest of Saddam, or his double. And just in time for Christmas, too!
Bush calls for Saddam execution
US President George W Bush has said that the captured former Iraqi leader Saddam Hussein should pay the "ultimate penalty" for his crimes.
"This is a disgusting tyrant who deserves... the ultimate justice," he said in a US television interview.
His comments put the US sharply at odds with the United Nations and European allies who oppose the death penalty.
Earlier, US Defence Secretary Donald Rumsfeld announced the CIA would take charge of interrogating Saddam Hussein.
Comment: Perhaps they could broadcast the execution worldwide. They could sell tickets to the rich and famous who sponsored this war. In the front row, Tony Blair, Bush, and Ariel Sharon screaming for blood.
Wednesday 17 December 2003, 12:48 Makka Time, 9:48 GMT
US President George Bush said the former Iraqi president Saddam Hussein should face the death penalty.
As the Central Intelligence Agency took charge of interrogating the ousted Iraqi leader, Bush suggested Hussein should receive "the ultimate penalty".

Even though execution may reopen divisions with the United Nations and even some allies who oppose execution, Bush justified his wish on ABC television.

"He is a torturer, a murderer, and they had rape rooms, and this is a disgusting tyrant who deserves justice, the ultimate justice," Bush went on.

Interrogaton and intelligence
US Defence Secretary Donald Rumsfeld said the CIA has been put in charge of questioning the former president to get information on how to end the growing resistance in the country.

Hussein will remain in US military custody at a secret location and CIA director George Tenet will manage the former Iraqi leader's interrogation.
Although he could not say what crimes had been committed against Americans, Bush said he had no desire for a personal encounter with the former president.
"I've seen enough of him. I saw him getting deloused and after having been pulled out of a rat hole."

UN unimpressed
No details have been announced about how Hussein will be tried, but the president of the US-installed interim Iraqi Governing Council Abd al-Aziz al-Hakim has said Saddam could face the death penalty if convicted in an Iraqi court.

UN Secretary General Kofi Annan has already come out strongly against capital punishment however.

"This should be done through open trials in properly established courts of law which will respect basic international norms and standards, including respect for international humanitarian law," Annan said on Monday.

"The UN does not support the death penalty and all the courts we've set up have not included the death penalty. So as secretary general and the UN as an organisation are not going to now turn around and support the death penalty."

Death penalty objections
Emilio Vianno, an expert on international law, said Bush knows a death penalty will cause international controversy.
"He prefers to leave it to the Iraqis to take responsibility for the trial because he is certain that the Iraqis will not hesitate to execute him," Vianno said.
Comment: What a foul and brutal little man is this President. What an arrogant beast. How is he any different from the brute he wishes to see dead? If there is a difference, it is that Bush lets others do his dirty work for him, hiding behind mental gymnastics to convince himself that what he does, he does following "God's" will.
Trial could give Saddam powerful platform
By Alan Elsner
Tuesday December 16, 08:31 PM
WASHINGTON (Reuters) - Saddam Hussein could use a war crimes trial as an opportunity to send an anti-American message to the Arab world and to embarrass the United States by bringing up its past support for his government, legal experts say.
Michael Scharf, who heads an office of war crimes research at Case Western Reserve University in Cleveland, said Saddam was likely to copy the strategy of former Yugoslav leader Slobodan Milosevic, whose war crimes trial in The Hague has already lasted for almost two years.
"Saddam could represent himself and spend years blasting anti-American rhetoric to the Middle East," said Scharf, author of a book on the Milosevic trial.
"He could also try to ensure that the trial turns into a big embarrassment for the United States. He'd try and call all kinds of dignitaries as witnesses, including people like Donald Rumsfeld," Scharf said.
Rumsfeld, now U.S. defence secretary, visited Iraq and met with Saddam 20 years ago as a special envoy from then-President Ronald Reagan, promoting a close military and commercial relationship that only ended when Iraq invaded Kuwait in 1990.
Washington helped Saddam obtain intelligence and military equipment and, according to a U.S. Centres for Disease Control Document placed in the Senate record last year, Iraq also obtained from the United States biological agents that could have been turned into weapons.
The United States at the time was supporting Iraq in its war against the old U.S. nemesis Iran, and Washington stood mutely by when Saddam used chemical weapons both against Iranian forces and against Kurdish people inside Iraq. [...]
Comment: So there you have it, straight from Reuters, a "mainstream" news outlet. Apparently these minor details of who armed Saddam and who gave him materials for WMD's are of little importance to the American public. We wouldn't be surprised if Bush gets on TV and declares outright that he knows Saddam has biological weapons because America gave them to Iraq. And the American sheeple will stare blankly and continue munching on grass...
At least 17 dead in Baghdad blast
By Reuters December 17 07:34
BAGHDAD (Reuters) - A bomb by a fuel truck has set off a huge fireball in which at least 17 people were killed in Baghdad, as violence gripped Iraq in the wake of the capture of Saddam Hussein.
Iraq Loyalists Given Chance to Surrender
By PAULINE JELINEK, Associated Press Writer
Tue Dec 16, 5:48 PM ET
WASHINGTON - After Saddam Hussein's capture, the U.S. military temporarily eased up on certain types of raids against the ousted Iraqi president's loyalists to give them a chance to surrender, a top Pentagon general said Tuesday.
"There was a period of time that Central Command determined that it was best to not do specific types of raids, to give those who were potentially close to Saddam an opportunity to digest the information ... and perhaps turn themselves in," said Marine Gen. Peter Pace, vice chairman of the Joint Chiefs of Staff.
None had surrendered, to his knowledge, Pace said at a Pentagon news conference with Defense Secretary Donald H. Rumsfeld. [...]
Comment: You don't say! Perhaps none of the guerillas turned themselves in because they don't give a hoot about Saddam and were never loyal to him in the first place.
By John Diamond and Judy Keen, USA TODAY
WASHINGTON — Saddam Hussein is being shown videotapes of anti-Saddam protests in Iraq, the unearthing of mass graves and the torture and execution of prisoners during his reign, two U.S. officials who are receiving reports on his interrogation said Tuesday.
The goal is to provoke him into making unguarded statements by confronting him with evidence that could be used in a war-crimes trial, according to the two officials, one in the administration and one in an intelligence agency. [...]
Pentagon postpones Iraq bidders conference
Senators were told Iraqi weapons could hit U.S.
By John McCarthy
12/15/03: (FLORIDA TODAY) U.S. Sen. Bill Nelson said Monday the Bush administration last year told him and other senators that Iraq not only had weapons of mass destruction, but they had the means to deliver them to East Coast cities.
Nelson, D-Tallahassee, said about 75 senators got that news during a classified briefing before last October's congressional vote authorizing the use of force to remove Saddam Hussein from power. Nelson voted in favor of using military force.
Nelson said he couldn't reveal who in the administration gave the briefing.
The White House directed questions about the matter to the Department of Defense. Defense officials had no comment on Nelson's claim.
Nelson said the senators were told Iraq had both biological and chemical weapons, notably anthrax, and it could deliver them to cities along the Eastern seaboard via unmanned aerial vehicles, commonly known as drones.
"They have not found anything that resembles an UAV that has that capability," Nelson said. [...]
Head of Jordan's Bar Association demands defense panel for Saddam, says Bush, Blair should be tried
16-12-2003,20 :32
Hussein Mujalli, head of the Jordan Bar Association, has demanded a defense panel for ousted Iraqi leader Saddam Hussein. According to Mujalli, he will be building his case around the illegality of trying him in Iraq or internationally as laid out by the present Iraqi constitution. He is also demanding that both American president Bush and British PM Blair be put on trial for their 'unlawful' occupation of Iraq.
Earlier Tuesday, Mujalli told Al Bawaba that "Iraq's constitution forbids bringing to trial the president of Iraq regardless of the nature of his crimes."
Iran's supreme leader: Bush, Sharon ought to suffer same destiny as Saddam
16-12-2003,12 :52
Iran's supreme leader said Tuesday that all Iranians were "pleased" at the arrest of former Iraqi leader Saddam Hussein, but said U.S. President George W. Bush and Israel's Prime Minister Ariel Sharon should also go.
"The Iranian nation is very pleased with his [Saddam's]arrest," Ayatollah Ali Khamenei said in a speech in the city of Qazvin carried live on state television.
He described the ousted Iraqi leader as a "wild animal", a "corrupt being" and a "bloodthirsty wolf", sparking chants from the crowd of "Death to Saddam", "Death to Israel" and "Death to America".
However, the leader also blamed Saddam's captors of hypocrisy, citing their support of Iraq during its1980 - 88war against the Islamic republic of Iran that cost the lives of hundreds of thousands of Iranians.
"The same Americans who are now happy over his arrest were at the time shaking his hand. The current U.S. defence minister [Donald Rumsfeld] met with Saddam in Baghdad, promised to help him and helped him in order to put Islamic Iran under pressure," Khamenei declared.
"I heard the U.S. president told Saddam that 'the world is a better place without you'. I want to tell the U.S. president that he should know the world would be an even better place without Bush and Sharon," Khamenei said.
Israel denies Qatari report saying Sharon secretly met Saddam in Baghdad following arrest
17-12-2003,08 :45
Israel's Prime Minister Ariel Sharon paid a brief visit Sunday to Baghdad to secretly meet former Iraqi President Saddam Hussein, a Qatari newspaper reported Tuesday.
Al-Raya, citing Nasser Mahmoud – a top Iraqi politician with close links to the interim council, reported that "Sharon, accompanied by intelligence officers, landed at around20 : 00at the Baghdad airport."
According to the report, top civil administrator Paul L. Bremer received the Israeli leader and accompanied him during the meeting with Saddam Hussein.
CIA report: Mid-East peace agreement unlikely before 2020
17-12-2003,09 :46
A report released this week by the US intelligence predicts that the demise of Palestinian leader Yasser Arafat would set in place a series of events that could end up in an Israeli-Palestinian peace agreement.
The intelligence estimate casts doubt on the likelihood of a full peace settlement materializing in the years before 2020 ; nonetheless, should an Israel-Palestinian agreement for a "cold peace" win support among a majority of Palestinians, it would constitute the most significant development in the Middle East region since the establishment of the State of Israel in1948 , the report added.
It would improve the Arab world's attitude toward the US, and "eliminate a pretext used by Arab countries which are reluctant to implement political reforms," the American assessment claims. Israel, the evaluation says, will not relinquish nuclear weapons it possesses.
The evaluation was formulated by the National Intelligence Council (NIC), which operates under the guidance of CIA director, George Tenet.
The Intelligence Council, which is responsible for providing strategic assessments to the US government, recently conducted reviews of likely developments in regions of the world up to the year 2020 .
The Middle East section of this global assessment warns about the possibility of a war between Israel and Syria, or some other Arab country.
In such a future war, according to the report, it is possible that unconventional biological, chemical or even nuclear weapons could be used, warns the National Intelligence Council. Such a war would eradicate the softening of Arab attitudes toward the US, and also derail efforts to revive progress on the Israel-Palestinian peace front. Another rout of an Arab army by the Israeli army would cause Arab populations to reconsider the viability of their political regimes.
In the meantime, the American intelligence specialists express concern about possible political unrest and upheaval in Egypt or the oil-rich Saudi kingdom.
Among other negative effects, the establishment of a radical regime in Egypt would upset that country's relations with Israel.
"In the Israel-Arab conflict there have been pleasant surprises," says the Intelligence Council evaluation, "but the dispute has almost always reverted back to spheres of hostility and suspicion. Sadat's visit to Jerusalem did not blaze a trail, because only Jordan followed Egypt's lead ... The Oslo Accords collapsed not on account of unpleasant surprises or new problems, but rather due to ongoing animosity and suspicion."
Regarding Iran, they say, the Islaimc Republic will change significantly during years leading up to2020 , and become more "liberal and democratic".
The use of "terrorism" is likely to become directed increasingly toward internal targets in Arab countries, claims the National Intelligence Council. "Part of the deal worked out between Arab regimes and peoples today is that violence is directed toward the outside, against Israel and Westerners. International pressure against these regimes, demanding that the export of terror be stopped, will direct the violence inward, toward internal targets in the Arab countries themselves," claim the US intelligence authorities.
"SHARON MAY NOW ATTEMPT TO DO TO ARAFAT AND YASSIN WHAT HAS BEEN DONE TO SADDAM"
" 'Unilateral steps': There will be no peace agreement with the Palestinians.
"They will be imprisoned behind the walls and the fences, a continuation of the occupation by other means. The peace plan of Sharon and Olmert proclaims the continuation of the war against the Palestinian people. It is a provocation to the United States and world public opinion."
[...] But the real man of the hour is again Ariel Sharon. And this week Sharon will come forth with some more political tricks of his own that could have lasting historical importance far beyond his days as Israeli Prime Minister. And this is a man, whatever one thinks of his policies and war-criminal-like past, whose credibility when it comes to looking ahead and manipulating the future is quite high. Indeed, this is the man who has probably had more impact on the evolution of the Israeli-Palestinian crisis; and less directly on the entire course of the Middle East; than any other Israeli since David Ben-Gurion. Terribly tragic...but sadly true.
Sharon has been writing the speech he is expected to give on Thursday for some weeks now. It's been billed for days now as a 'major policy address' which is going to be broadcast live and on the Internet. He sent his Foreign Minister to meet with VIP on-the-take Palestinian 'Foreign Minister' Nabil Shaath in Rome (they like to hold the really important meetings far away from the Middle East) and then on to Washington to prepare the way.
Sharon has been preparing the groundwork for this 'major policy address' for many years, even decades.
And no doubt since Sunday Sharon and his entourage have been busy rewriting and replanning. For the capture of Saddam, especially in such a disgraceful manner, may just push Sharon to do what he has wanted to for so long now...treat Arafat and the real leaders of the Palestinians in the same way as payback not only the Intifada but for such brazen definance of the Israeli Empire for so long.
Avneri has known Sharon for a very long time now. And this recent column is full of important insights as Sharon prepares to publicly orate in a few days about what he is now going to do having here-to-fore masterminded the settlements, the coming to power of the Likud, his own rise to the pinnacle of power, and most recently his sparking of Intifada II, his consolidation of Zionist Apartheid, and his building of the 'Wall'.
And now, on Thursday, carefully timed and sanitized glimpses into the real policy behind it all....
Balloons By Uri Avnery Tel Aviv - 12-13-03:

He is at it again, and again it is working. He is launching colorful balloons, and the whole world is looking on with rapture and wonderment.

Ariel Sharon needs to divert attention. His popularity has dropped in recent opinion polls. The Geneva initiative has captured the national and international agenda. The police investigations into his corruption affairs have reappeared in the headlines. Army and Security Services officers have criticized him publicly. He has been accused of immobility, foot- dragging, the lack of >a plan. So he is launching balloons: "Unilateral steps". Sensation! "In the future we shall not be in all the places we are now". Shock! "We shall be moving settlements". Uproar!

He has sent Ehud Olmert to exercise his jaw on every talk-show, warning against the terrible danger of a "bi-national state". His plan, Olmert declares, will ensure the existence of a "Jewish state", 80% of whose population will be Jewish. Since already more than 78% of Israel's citizens are Jewish, this must mean that densely populated Palestinian territories would not be annexed. Sharon's office has leaked reports that Olmert is echoing Sharon's own view, and that Sharon himself will make a sensational statement to this effect next week in Herzlia. General turmoil! The Geneva Initiative is almost forgotten. All the pundits are busy with wild speculation: What is Sharon up to? What does he mean? What is he going to do? Is Bush compelling him to change his spots?

Olmert's conversion from screeching hawk to cooing dove has been all the more convincing because at the same time, quite by accident, he has been forced to accede to an European demand to mark the "place of origin" on all Israeli exports to Europe. This is meant to block preferential customs treatment for the products of the settlements. The settlers have started a furious campaign against him. They have plastered the walls of Jerusalem with posters showing Olmert stamping settlement products with a Nazi-style yellow star of David, with the word "Jude" on it. (For good measure, they have put my picture on the poster as well, just to show who is pulling the strings.)

So now it is clear: Olmert is a dove, a reincarnation of the Prophet Elijah, announcing (according to Jewish tradition) the coming of Sharon, the Messiah. The leaders of the Labor Party are already taking the nylon covers off their ministerial suits. Any moment now, they believe, Sharon will call on them to take the places of the extreme right-wing ministers in his government. Shimon Peres is about to fulfil his dream and become a minister again. Who would have believed it! Sharon is the Israeli de Gaulle, after all! Peace is on the way! All this confirms the old American adage: A sucker is born every minute. I have already warned a dozen times: Don't pay attention to what Sharon says, pay attention to what Sharon does. His pronouncements can be ignored, they serve only to fulfil the tactical requirements of the moment. But his actions are very, very important. And his actions are quite clear: The Wall is being extended at a frenzied pace. In the Sharon tradition, it is creating "Facts on the Ground." The Palestinian territory is being cut into ribbons. Before our eyes, isolated Palestinian enclaves are appearing, each of them an open air prison. And while the army is removing one uninhabited mobile home in one "illegal" hilltop outpost, the government is pushing the enlargement of the settlements by all available means.

This is a vigorous campaign, employing all arms of the government. Only a person completely cut off from what's happening in the occupied territories can claim that things are "frozen". Only a person living in the virtual world of the media could believe that Sharon has no plan. He does have a plan, the same one that he has been following for decades. His and Olmert's statements do not contradict it, quite the contrary. Here are its basic principles:

- "Unilateral steps": There will be no peace agreement with the Palestinians. They will be imprisoned behind the walls and the fences, a continuation of the occupation by other means.

- "A state with an 80% Jewish majority": All sparsely populated Palestinian territories will be annexed. That will include half the West Bank (the former Area C), all the major highways, the entire Jordan valley, many of the olive groves and fields of the Palestinian villages (but not the villages themselves.) - "Painful concessions": Israel will give up the Palestinian population centers, towns and blocs of Palestinian villages (the former Areas A and B) and most of the Gaza Strip. All the enclaves together will amount to some 45% of the West Bank. Together with the Gaza Strip, they will constitute only some 10-12% of the original territory of Palestine before 1948. - "A Palestinian state": Sharon is ready - indeed, keen - to have these enclaves called "a Palestinian state". This will free Israel from taking any responsibility for the population. If they starve or decide to move elsewhere - so much the better.

- "Moving settlements": The dozens of small settlements built in the Palestinian population centers will be transferred to the areas that will be annexed to Israel, enlarging the Jewish component.

- "The terrorism will continue": This will not end the war. Indeed, Sharon and his people have no interest in ending it. As far as they are concerned, it can go on forever. The Palestinians will always be blamed. The redeployment will make life much easier for the army, since there will no longer be a need to devote substantial forces to the defense of isolated settlements. This is the opposite of the Geneva Initiative, which is based on the belief that an agreement with the Palestinians can be achieved. It is also the opposite of the Road Map, to which both sides still pay lip service, while treating it as a whim of President Bush that has been forsaken by Bush himself. Sharon "accepted" it at the time - with 14 reservations that emptied it of all meaning. In practice, he did not take even the first step along this road (any more than the Palestinians did). The peace plan of Sharon and Olmert proclaims the continuation of the war against the Palestinian people. It is a provocation to the United States and world public opinion.

How will it affect opinion in Israel? Perhaps it will divert into another channel the growing longing for peace, which found some expression in the Geneva Initiative. Sharon and Olmert play upon two powerful tendencies in the Israeli subconscious: (a) racist attitudes towards Arabs, which undermine belief >in the possibility of peace with them, and (b) the desire for a Jewish state, without Goyim (non-Jews) in general and Arabs in particular. Some say that the Sharon initiative is nothing but media spin. Just another of Sharon's utterances that have little to do with reality. But anyone who sees the walls and fences that are now going up, will recognize the new reality that is being created.
Italy PM 'fury' at media law veto
Italian Prime Minister Silvio Berlusconi is said to be reeling from his president's refusal to sign a bill that relaxes limits on media ownership.
Critics say the bill would allow Mr Berlusconi, who owns three TV stations, to strengthen his hold on the media.
President Carlo Azeglio Ciampi asked parliament to re-examine the bill passed earlier this month.
Mr Berlusconi has said he is open to what he described as "intelligent" changes to the bill.
The European human rights organisation, the OSCE, welcomed the president's decision as it believes the bill undermines the independence of the media.
Berlusconi in Europe's Hot Seat

Following the collapse of the EU summit last weekend, Italy's Silvio Berlusconi has been criticized for not securing a deal on a new constitution. On Tuesday he had to defend his EU presidency to the European Parliament.
Measured against EU presidencies past, Italy's handling of its six-month term at the helm of the European Council was less than ideal.
Prime Minister Silvio Berlusconi began his country's presidency by comparing a German member of the European Parliament to a concentration camp guard. A few months later, the national interests of some EU members inflicted serious blows to the Economic Stability and Growth Pact. Over the past weekend, the same happened to the draft of the EU's first constitution.
After Constitution Split, EU Widens Dispute to Budget

Six EU countries, including Germany, France and Britain, proposed a cap on the EU budget that would harm member states Spain and Poland. The move came two days after the latter two blocked a deal on a new constitution.
Retribution, it seems, comes quick in the European Union.
Though not many were saying it on Monday, a letter by six EU nations proposing a cap on the EU's €100 billion ($123.4 billion) budget beginning in 2007 seemed to take direct aim at Spain and Poland, who many blame for the failure of a weekend summit to agree on a new constitution.
"They know it," German Foreign Minister Joschka Fischer said at a news conference, according to the Wall Street Journal. "It shouldn't be necessary to say it."
Unrepentant Poland will not bow to EU 'threats'
By Jan Cienski in Warsaw
Published: December 16 2003 21:51 | Last Updated: December 16 2003 21:51
Poland on Tuesday said it would not bow to "threats" and soften its opposition to a new EU constitution that significantly weakens its voting power.
Leszek Miller, Polish prime minister, dismissed suggestions his country could be financially punished by net contributors to the EU budget, including Germany and France.
And he poured cold water on plans by Paris for the creation of a two-speed Europe, with the Franco-German motor at its core, claiming it was hard to see how it would work in practice.
EU to Help U.S. to Fight Terrorism
By Lisa Jucca
Tue December 16, 2003 01:49 PM ET
BRUSSELS (Reuters) - The European Commission said on Tuesday it was ready to share data about airline passengers with the United States to help in the fight against terrorism after Washington offered "adequate" privacy safeguards.
The decision ends months of tense talks as the European Union had reacted angrily to the initial demands by the U.S., saying they would breach the privacy rights of its citizens. [...]
"In the end, the United States has made a number of important concessions," he said in Strasbourg, France.
Bolkestein said the United States had agreed to bring down the number of personal data that may be subject to 34 from 39 and had agreed to delete all sensitive data, such as information about a passenger's health.
He said that the United States had also agreed to limit to 3-1/2 years the storage time of the data, down from an initial request for 50 years.
After 3-1/2 years the EU and the United States would jointly review the system and readdress it if necessary, Bolkestein said.
In addition, the United States agreed to use the data only for the fight of terrorism and related crimes and not for ordinary crimes as initially requested.
Arrests lead Yukos and Sibneft to drop merger
By Arkady Ostrovsky in Moscow and Carola Hoyos in London
Published: December 16 2003 19:41 | Last Updated: December 16 2003 19:41
Yukos and Sibneft, Russia's two leading oil companies, have formally agreed to call off their merger, which would have created the country's largest company, in the wake of the arrest in October of Mikhail Khodorkovsky, Yukos' former chief executive and largest shareholder.
The two companies signed a framework agreement to split in London over the weekend, people close to negotiations said. However, they still needed to work out terms of their separation, which could take at least two to three months.
Under a broad agreement, Roman Abramovich, Sibneft's largest shareholder, would pay back $3bn he has received as part of the merger with Yukos and receive 92 per cent of his company.
Chinese missile tests could prompt Taiwan split
By Victor Mallet and Kathrin Hille in Taipei
Financial Times
December 16 2003 18:09

Chen Shui-bian, Taiwan's president, has warned China that he could move further towards independence if Beijing continues to menace the island with military aggression. [...]
Malaysia moots cross-cultural circumcision

By Jonathan Kent
BBC, Kuala Lumpur
Dec 17 2003
Malaysia is to consider using mass circumcision ceremonies to promote racial harmony.
Circumcision is a rite of passage for young Muslim boys, and in Malaysia it is common for the ceremony to become an event with dozens, or even hundreds of boys being circumcised together.
Now the prime minister's religious affairs adviser has suggested that circumcision can bring Malaysians of all races and religions together.
Dr Abdul Hamid Othman said that with the growing popularity of circumcision among the country's non-Muslim minorities - who see it as good hygienic practice - they too could be invited to join in the celebrations with their Muslim friends.
He believes the idea could promote better race relations and he wants to see a nationwide circumcision ceremony organised.
Just over half of Malaysia's population is Muslim, mainly members of the ethnic Malay community, while the country's Chinese, Tamil and tribal peoples follow a variety of other faiths.
The government has been exploring ways of stopping the different groups from drifting apart, including the introduction of a national service scheme which begins in February.
Comment: This is a brutal, twisted world. What kind of world do we live in where people willingly mutilate their own children in the name of religion and god? What destiny can be expected for a race such as ours? What can any of us do about it?..

Malaysian villagers claim sighting of UFO
Tue Dec 16
KUALA LUMPUR, (AFP) - An unidentified flying object was sighted hovering over a quiet village in northern Kedah state near the Thai border, the second such sighting there in two years, a report says.
A nine-year-old boy saw a slow-moving disc-like object about the size of a car emitting a greenish light spinning in the air over Banggol Cicar village near the town of Baling for about four minutes before it disappeared, the New Straits Times said.
Mohamad Amirul Syafiq said at first he thought it was a plane about to crash. "I then called my friends to look at the object which was hovering just over the top of a coconut tree behind my house," he was quoted as saying.
Mohamad Faiz Alias, 12, said he thought Mohamad Amirul was joking.
"But we saw clearly the object in the air, emitting a bright light," Mohamad Faiz said. Kamaruddin Othman, 12, said he realised the object was not a plane because it was silent.
His father, Othman Ahmad, 54, said he also caught sight of the UFO before it disappeared.
Two years ago, a villager said he saw a UFO hovering in the air while on his way to the mosque for pre-dawn prayers, the paper said.
Forty homeless die as freezing weather hits Tehran
Wed Dec 10, 8:43 AM ET

TEHRAN (AFP) - Forty homeless people froze to death in a single night in the Iranian capital Tehran, a report said, adding that officials also blamed drugs for some of the deaths. [...]
Snow, ice take heavy road toll on German roads
Tue Dec 16,10:32 AM ET

BERLIN (AFP) - At least one person was killed and 17 injured as snow falls and icy roads caused numerous traffic accidents across Germany, police said. [...]
Police reported at least 100 road accidents in the southern states of Bavaria and Baden-Wurttemberg amid transport chaos caused by snow and ice. [...]
Northeast Asian countries join forces to tackle sandstorm menace
Tue Dec 16, 1:27 AM ET

BEIJING, (AFP) - China, Mongolia, Japan, and the two Koreas have vowed to tackle annual dust and sandstorms together as deserts continue their march across the region.
Every year from March to May strong cold winds from Siberia blow up huge volumes of yellow dust from the Gobi desert in Kazakhstan, Mongolia and north China, sending it as far as the Korean peninsula and Japan.
The storms, which hit capitals like Beijing and Seoul, can be so severe that they disrupt air flights and force schools to cancel classes while clinics are often crowded with people complaining of eye and respiratory illnesses. [...]
Chinese statistics show that dust storms have got worse in recent years due to continuous droughts in northwest China and Mongolia. In 2000, the storms hit 12 times, surging to 32 in 2001. [...]
New arm of Milky Way galaxy discovered
Tuesday, December 16, 2003 Posted: 10:51 AM EST
CANBERRA, Australia (Reuters) -- Australian astronomers have discovered an extra cosmic arm in the Milky Way that they believe wraps around the outskirts of the vast galaxy like a thick gas border. [...]
Sex abuse case judge accused - of sex abuse
Father Christmas protester causes travel chaos
Ananova.com
09:08 Wednesday 17th December 2003
A protester dressed as Father Christmas caused travel chaos after he climbed over a busy road to demonstrate about fathers' rights.
The man scaled a gantry sign above the A40 near Wood Lane in north London at about 4am, creating long tailbacks for commuters heading in and out of the capital. [...]
The protester is supporting direct action group Fathers 4 Justice which has held a series of stunts in recent months to protest at the treatment of fathers in the family courts. [...]
Deer Wanders Through D.C.-Area Subway Station
Unmanned 'ghost' train travels 45km
Ananova.com
14:43 Tuesday 16th December 2003
Indonesians are blaming ghosts or black magic after a commuter train apparently travelled 45km completely unmanned.
The electric train, parked in a Bogor rail siding, mysteriously came to life last week and began travelling out of the Java hills into Jakarta's suburbs at about 65kph.
An railway employee climbed aboard one of the carriages and tried to stop the train but was unable to enter the driver's compartment.
The train eventually stopped on a hill in the city centre. No-one was injured in the incident, reports the Herald Sun. [...]
Pranksters target gnome lovers
Ananova.com
17:05 Tuesday 16th December 2003
Garden gnome lovers have been targeted by official-looking letters that threaten prosecution if they do not remove their outdoor ornaments.
Pranksters have sent the bogus notes to householders in Derbyshire, who were told their gnomes contravene planning regulations. [...]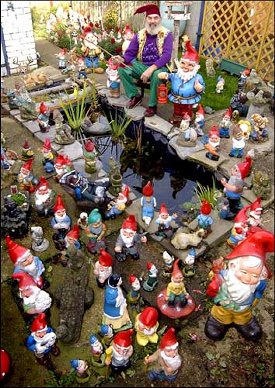 And finally: a recent word from your lucid, highly articulate and intelligent president. Ladies and Gentlemen, we give you GWB:
Sawyer: Many people have said, "Saddam Hussein. All right. What about Osama bin Laden?"
President Bush: Well, he's — he's — we're on his trail, too. He's---
Sawyer: Close?
President Bush: Well, I don't know. It's — it's — you know, had you and I conducted this interview the day before we captured Saddam, you'd have said, "Are we close to Saddam?" And I would have said, "You know, I really don't know." And I knew that we have a strategy to find him, but I didn't know how close we were. And I don't think you know how close you are on finding somebody like this until you actually find them. I mean, this is a person hidden in a hole and in a country the size of California. And bin Laden's on the run. I mean, he's — all I can say, he's certainly not leading any parades these days. And, you know, he's probably in a hole somewhere hiding from justice. We'll get him.
Verbatim from Dec 16 interview with ABC News...believe it or not. Read the whole interview for a tragi-comedic experience.
---
Remember, we need your help to collect information on what is going on in your part of the world!
We also need help to keep the Signs of the Times online.
---

Check out the Signs of the Times Archives

Send your comments and article suggestions to us

---
Fair Use Policy
Contact Webmaster at signs-of-the-times.org
Cassiopaean materials Copyright ©1994-2014 Arkadiusz Jadczyk and Laura Knight-Jadczyk. All rights reserved. "Cassiopaea, Cassiopaean, Cassiopaeans," is a registered trademark of Arkadiusz Jadczyk and Laura Knight-Jadczyk.
Letters addressed to Cassiopaea, Quantum Future School, Ark or Laura, become the property of Arkadiusz Jadczyk and Laura Knight-Jadczyk
Republication and re-dissemination of our copyrighted material in any manner is expressly prohibited without prior written consent.
.