---
Could the war on terror make a sudden and unexpected U-turn? Who are the real "terrorists"? Doesn't the patriot act need "traitors" to realise its full potential? Just where did the US get the new "al-Qaeda" 9/11 video? The current spin just doesn't add up, but there are other possibilities. "Operation Avalanche" is launched in Afghanistan, that just happens to coincide with a bumper crop of poppies. The UN is, however, worried that Afghanistan is on the verge of chaos.
While the Palestinians seek donors in Rome for their budget, Israel scoffs at the Palestinian-initiated UN resolution on the security fence, and sends it's best trained killers to share the Arab killing techniques with the brave protectors of "freedom and democracy" - the US military.
The American administration, another bastion of "freedom and democracy", expresses concern over the legality of the Russian elections, and admittedly they should know just what is and what is not legal in terms of electing a President. Another US supported torturer is "embarrassing" the current US administration. We doubt that boiling people alive causes George Bush to flinch.
The blackout on the US east coast a few months back was due to a "military test" according to AFP.
Japan approves sending 500 soldiers to Iraq along with a ridiculous arsenal of fancy weaponry to protect the troops against suicide bombers. We're not sure why Japan thinks all these toys will protect its forces when US troops, who have the most military hardware of any country, continue to be slaughtered every day. Although, the US has withheld plenty of hardware from US troops such as flak jackets and night vision goggles.
A bomb blast in Moscow, citizens' support for the EU drops, the dollar continues to drop, and UK citizens are worried about their current and future financial stability, and scientists worry about the domino effect.
And we welcome our newest contributor, Dean Swift, who offers us "A Modest Proposal" for dealing with that perennial problem of starving children.
CBS 11 Investigates Poison Gas Plot
Nov 26, 2003 Dallas/Fort Worth
Robert Riggs
Federal authorities this year mounted one of the most extensive investigations of domestic terrorism since the Oklahoma City bombing, CBS 11 has learned.
Three people linked to white supremacist and anti-government groups are in custody. At least one weapon of mass destruction - a sodium cyanide bomb capable of delivering a deadly gas cloud - has been seized in the Tyler area.
Investigators have seized at least 100 other bombs, bomb components, machine guns, 500,000 rounds of ammunition and chemical agents. But the government also found some chilling personal documents indicating that unknown co-conspirators may still be free to carry out what appeared to be an advanced plot. And, authorities familiar with the case say more potentially deadly cyanide bombs may be in circulation.
Since arresting the three people in May, federal agents have served hundreds of subpoenas across the country in a domestic terror investigation that made it onto President Bush's daily intelligence briefings and set off national security alarms among the country's most senior counter-terror officials.
William J. Krar, originally from New Hampshire, last week pleaded guilty in Tyler federal court to possession of a chemical weapon near the East Texas town of Noonday. He faces up to ten years in prison. His common-law wife, Judith Bruey, pleaded guilty to lesser weapons charges and faces up to five years in prison.
Also arrested this past Spring was Newark, New Jersey resident Edward Feltus. The New Jersey Militia member has pleaded guilty to attempting to purchase fake United Nations and Department of Defense identity cards from Krar.
All three have steadfastly maintained their silence, even though talking could reduce their prison sentences, and the investigation has stalled for now. Evidence seized and the fact that none of the defendants will talk has given rise to speculation that unknown conspirators may be still be involved in a broader plot to use Krar's home-built chemical weapons, government officials say.
"One would certainly have to question why an individual would feel compelled to stockpile sodium cyanide, hydrochloric acid, nitric acid, acetic acid, unless they had some bad intent," said Assistant U.S. Attorney Wes Rivers, who is prosecuting the case. "They certainly had the capacity to be extremely dangerous."
Terrorism investigators suspect that Krar, who has paid no federal income taxes since 1988, made his living as a traveling arms salesman who pedaled illicit bomb components and other weapons to violent underground anti-government groups across the country.
Sources familiar with the investigation say authorities especially fear that Krar may have manufactured more than one sodium cyanide bomb and sold them. After a traffic stop earlier this year while Krar was traveling through Tennessee, state troopers seized sodium cyanide among other weapons, one government source confirmed.
During the same stop, troopers found notes in Krar's car.
One of the notes titled "Trip" recommends, "You will need cash, pre-charged phone card, spare gas can and all planning in place."
Another note titled "Procedure" appears to represent instructions for carrying out some kind of covert operation. It lists code words for cities where meetings can take place at motels. Other codes appear to be warnings about how close police might be to catching the plotters. "Lots of light storms are predicted," for instance, means "Move fast before they look any harder. We have a limited window remaining."
The same note goes on to recommend ways to divert pursuers and suggests, "We want all looking in the wrong direction."
Since the attacks of September 11, 2001, counter-terrorism agencies have been consumed by national efforts to ferret out U.S.-based foreign terrorist cells whose members hail from the Middle East. Federal investigators were not looking for white supremacist groups when they stumbled across Krar by accident.
He drew the FBI's attention when he sent a package of counterfeit ID's for the United Nations and Defense Intelligence Agency to Feltus' New Jersey home earlier this year. The package was mistakenly delivered to a Staten Island man, who opened it and called police.
A note found inside and signed by Krar stated, "Hope this package gets to you O.K. We would hate to have this fall into the wrong hands."
The discovery led to surveillance operations in and around Tyler, and then search warrants that turned up the Sodium cyanide bomb and other illegal weapons at locations controlled by Krar.
Little is known about Krar and Bruey. [...]
This was not the first time that Krar has drawn the attention of federal investigators. In 1995, the ATF investigated Krar and another man on weapons charges. The other suspect told authorities at the time that he and Krar shared an abiding hatred of the federal government and had been planning to bomb government facilities, court records show. But the suspect later recanted the story about plotting terror attacks with Krar. Krar denied the allegation and was not arrested, according to records.
According to a more recent FBI affidavit, on the day of the 9-11 terrorist attacks, Krar raised suspicion at a New Hampshire storage unit he was renting. An employee called the FBI that day and reported that Krar was "wicked anti-American."
While authorities work for a new break in the case, some counter-terrorism experts question whether the government might be overlooking dangers closer to home while fighting the War on Terror in the Middle East. [...]
"It's scary when you look at their capabilities," he said. "Look at the vulnerabilities of our society. We don't have to concern ourselves only with foreign terrorists, but we need to concern ourselves with domestic terrorists too. And these guys are very dangerous."
Comment: With the White House lauding the success of their "homeland secuirty" measures in securing the "homeland", it is perhaps less and less feasible for them to stage another bogus attack on American soil and blame it on the "Arab terrorists" that they claim to have contained so well. Fear not, however, there is always a contingency plan.
Coming out of left field, the American public would be caught totally unawares - American terrorists?? Yet what better way to implement the full force of Ashcroft's misanthropic broodings, as detailed in the ill-named "Patriot Act", and at the same time usher in General Frank's martial law, than to create the pretext that will allow the battle to be taken to those that have always been considered the real enemy - the American people.
While the enemy is "over there", it is still possible for Americans to openly oppose the warmongering of their government, yet if it were to become "apparent" that the enemy was "in here", then any dissent would be clear evidence of "terrorism", incuring the treatment which up until now has been reserved for Arabs in camp X-Ray, Guantanamo, Cuba.
SHOCK VIDEO: WHO SHOT NEW 9/11 TAPES?
Did Al Qaeda shoot recently released footage of 9/11 WTC attack – or was it someone else?
by Justin Raimondo
I shivered, a little, as I watched Lisa Meyers' report on NBC the other night :
"New and threatening messages have been received from Al Qaeda. There's a videotape aimed at American and Saudi Arabian rulers and another that includes what appears to be well-produced footage of the 9/11 attacks – raising still other questions."
This new 9/11 footage sure does raise a lot of other questions, first and foremost: who shot the video? It was posted on what is described as "a known Al-Qaeda website" last Wednesday, although it was taken down after a few days. Aside from the usual militaristic gymnastics by jihadi commandos, Meyers reports:
"The tape also contains what U.S. counterterror experts say may be never-before-broadcast video of the Sept. 11, 2001, attacks on New York's World Trade Center shot from across the East River in Brooklyn. The FBI says it is familiar with the video, which was provided by a friendly bystander. But that raises the question – how did a tape that was not widely circulated end up on a known Al Qaeda site?"
It's sinister to contemplate. Video believed to have been in U.S. government hands somehow pops up on a website alleged to be an Al Qaeda mouthpiece, and U.S. government officials hold it up as a reason to cower in fear before the threat of another major terrorist attack on American soil. Meanwhile, the President avers that Iraq is the central arena in his "war on terrorism," and his supporters claim that we're battling them in the streets of Baghdad so we don't have to fight them in the streets of Boise – or whatever alliterative cliche first comes to mind .
The idea that Al Qaeda had additional agents in the area, who knew the attack was coming, would certainly explain the unflinching steadiness of the camera's eye as it recorded the terror of that moment. But instead of inventing additional elements and players, it's always best to stick with what we already know. So who else just happened to be videotaping the World Trade Center attack that day?
Hours after the terrorists struck, five people were arrested in New Jersey as they taped the WTC from their vantage point across the Hudson River in New Jersey. A witness identified only as "Maria" by ABC News said she saw:
"Three young men kneeling on the roof of a white van in the parking lot of her apartment building. 'They seemed to be taking a movie,' Maria said. The men were taking video or photos of themselves with the World Trade Center burning in the background, she said.
"What struck Maria were the expressions on the men's faces. 'They were like happy, you know … They didn't look shocked to me. I thought it was very strange,' she said."
Even stranger – it turned out the five were Israelis . When law enforcement swooped down on this crew, they found them in possession of $4,700 in cash, box cutters, and multiple foreign passports. Police dogs reacted as if the presence of explosives was indicated, and, as the Bergen County Record reported:
"Sources close to the investigation said they found other evidence linking the men to the bombing plot. 'There are maps of the city in the car with certain places highlighted,' the source said. 'It looked like they're hooked in with this. It looked like they knew what was going to happen when they were at Liberty State Park.'" [...]
Israeli intelligence: Bin Laden is dead, heir has been chosen

SPECIAL TO WORLD TRIBUNE.COM
Wednesday, October 16, 2002

TEL AVIV — Osama Bin Laden appears to be dead but his colleagues have decided that Al Qaida and its insurgency campaign against the United States will continue, Israeli intelligence sources said.
Al Qaida terrorists have launched a new campaign of economic warfare and are targeting shipping in the Middle East, according to U.S. intelligence officials.
The Israeli sources said Israel and the United States assess that Bin Laden probably died in the U.S. military campaign in Afghanistan in December. They said the emergence of new messages by Bin Laden are probably fabrications, Middle East Newsline reported.
But Bin Laden's heir has been chosen and his colleagues have decided to resume Al Qaida's offensive against the United States and Western allies, the sources said.
Top Secret Advisor To 4 Presidents Dies 'Violently' In DC

From 'DC' Dave Martin
12-8-3
Gus W. Weiss, 72, adviser to four presidents on top secret policy matters, died violently in Washington, DC, on November 25, 2003, but his death was not reported by The Washington Post until December 7, 2003, in the obitiuary section at the bottom of page C12. His home town newspaper, The Nashville Tennessean, was only a week late in reporting his death, but at that late date all they could say was, "The circumstances surrounding his death could not be confirmed last night."

Readers of The Tennessean might have had their suspicions aroused not only by the delay in the reporting of this important man's death, but also by the very next sentence in the article: "Friends of Mr. Weiss expressed shock at his death."

But the article is not at all clear as to why that might have been the case. The man was already two years past our allotted three score years and ten, after all. Subsequent passages in the article only heighten the mystery:

"Driven by an insatiable intellectual curiosity and a desire to solve foreign policy problems, Mr. Weiss devoted his life to his career, friends recalled. He served as assistant to the secretary of defense for space policy and on the Pentagon Defense Science Board and the U.S. Intelligence Board under President Carter. Mr. Weiss was a foreign affairs officer and member of the National Security Council under Presidents Nixon, Ford and Reagan."

"Mr. Weiss...was involved in numerous intelligence projects, and friends said there were many aspects of his career he could never discuss with them."

'''He was wired into the intelligence community, and there were a lot of mystical secrets we weren't privy to,' said Harris Gilbert, a Nashville attorney who had been friends with Mr. Weiss since childhood. 'He was very interested in diplomatic strategy and was VERY, VERY OPPOSED TO THE IRAQ WAR. It was the first military action he ever opposed, but he believed we shouldn't go to war in the Middle East without knowing what we were getting into.''' (emphasis added)

Might it not appear that if one is sufficiently connected to power, strong opposition to our ongoing naked aggression in the fertile crescent could well be fatal?

The Post's belated obituary states:

"Gus W. Weiss, 72, a former White House policy adviser on technology, intelligence, and economic affairs, died Nov. 25 of a fall from the Watergate East residential building in the District. The D.C. medical examiner ruled his death a suicide." [...]
Comment: Ah yes, the old "suicide". Another in the growing list of important people who knew important things that suddenly decide to kill themselves for no obvious reason, shocking everyone except the government and the "suicide artists" that it employed to do its dirty work.
U.S.: We have no argument with fence, only with route

By Haaretz Service
09/12/2003 10:50

U.S. Ambassador to Israel Daniel Kurtzer said in remarks broadcast Tuesday that the Bush administration "has no argument" with the West bank fence as a security tool, but added that the closer that the route of the barrier follows the pre-1967 Green Line border, the less Israel "will hear from Washington" regarding the barrier."

Of late, Bush administration officials have been critical of the fence project, criticizing it as a unilateral step and implying a link to settlement construction, which Washington has long condemned as an obstacle to peace.
The United Nations General Assembly approved Monday a Palestinian-initiated resolution asking the International Court of Justice to issue an advisory opinion on the legal consequences of Israel's construction of the separation fence. Ninety nations voted in favor of the draft, eight opposed and 74 countries abstained.
Israel condemned the resolution, but said it would cooperate with the court. Prime Minister Ariel Sharon's spokesman Ra'anan Gissin said, "This is an attempt... to delegitimize the right of the Jewish people to have a Jewish state that they can defend." [...]
Comment: Horse hockey. The resolution is an attempt to illustrate that building a concentration camp around the Palestinians is not a road that will lead to peace. The Jewish people are not the only ones who have the right to their own state.
Palestinians to Seek $1.2 Billion in Aid in Rome
By Diala Saadeh
December 9, 2003
RAMALLAH, West Bank (Reuters) - Palestinian officials will be shopping around in Rome this week for countries willing to donate $1.2 billion dollars to the Palestinian Authority's 2004 budget to stave off an economic crisis.
The donors conference in Rome which officially kicks off on Wednesday is seen as crucial to helping keep the devastated Palestinian economy afloat and to tackling a humanitarian crisis in the West Bank and Gaza Strip.
"We want clear commitments from the donors to fund the $1.2 billion in urgent needs for next year's budget and we want to urge them to ask Israel to lift the restrictions on goods and materials...in Israeli harbors and ports," said Foreign Minister Nabil Shaath, who will head the Palestinian delegation with reform-minded Finance Minister Salam Fayyad. [...]
Israel Building Nuclear-Proof Bunker
By JONATHAN M. KATZ, Associated Press Writer
Mon Dec 8, 3:50 PM ET
JERUSALEM - Israel is building a wartime command center under the hills outside Jerusalem that will be able to withstand nuclear, biological or chemical attacks, officials said Monday.
The compound would enable the Israeli prime minister and Cabinet to conduct state affairs during an all-out attack. Israel has been warning of a concerted Iranian effort to acquire nuclear weapons. [...]
Bulldozers began excavating tunnels outside Jerusalem last year, security officials said, speaking on condition of anonymity. [...]
"With the Iranian threat becoming more urgent, I think it's more important for Israel to have this type of bunker that will be not vulnerable to that kind of attack," said Efraim Inbar, director of the Begin-Sadat Center for Strategic Studies at Bar-Illan University near Tel Aviv. [...]
Comment: Last time we checked, it was Israel who was threatening Iran, not the other way around. It is the Iranians who should be building bunkers to protect themselves against the likes of Sharon and Bush.
Israel trains US assassination squads in Iraq
Julian Borger in Washington
Tuesday December 9, 2003
The Guardian
Israeli advisers are helping train US special forces in aggressive counter-insurgency operations in Iraq, including the use of assassination squads against guerrilla leaders, US intelligence and military sources said yesterday.
The Israeli Defence Force (IDF) has sent urban warfare specialists to Fort Bragg in North Carolina, the home of US special forces, and according to two sources, Israeli military "consultants" have also visited Iraq.
US forces in Iraq's Sunni triangle have already begun to use tactics that echo Israeli operations in the occupied territories, sealing off centres of resistance with razor wire and razing buildings from where attacks have been launched against US troops.
But the secret war in Iraq is about to get much tougher, in the hope of suppressing the Ba'athist-led insurgency ahead of next November's presidential elections.
US special forces teams are already behind the lines inside Syria attempting to kill foreign jihadists before they cross the border, and a group focused on the "neutralisation" of guerrilla leaders is being set up, according to sources familiar with the operations.
"This is basically an assassination programme. That is what is being conceptualised here. This is a hunter-killer team," said a former senior US intelligence official, who added that he feared the new tactics and enhanced cooperation with Israel would only inflame a volatile situation in the Middle East.
"It is bonkers, insane. Here we are - we're already being compared to Sharon in the Arab world, and we've just confirmed it by bringing in the Israelis and setting up assassination teams."
"They are being trained by Israelis in Fort Bragg," a well-informed intelligence source in Washington said.
"Some Israelis went to Iraq as well, not to do training, but for providing consultations."
The consultants' visit to Iraq was confirmed by another US source who was in contact with American officials there.
The Pentagon did not return calls seeking comment, but a military planner, Brigadier General Michael Vane, mentioned the cooperation with Israel in a letter to Army magazine in July about the Iraq counter-insurgency campaign.
"We recently travelled to Israel to glean lessons learned from their counterterrorist operations in urban areas," wrote General Vane, deputy chief of staff at the army's training and doctrine command.
An Israeli official said the IDF regularly shared its experience in the West Bank and Gaza with the US armed forces, but said he could not comment about cooperation in Iraq.
"When we do activities, the US military attaches in Tel Aviv are interested. I assume it's the same as the British. That's the way allies work. The special forces come to our people and say, do debrief on an operation we have done," the official said.
"Does it affect Iraq? It's not in our interest or the American interest or in anyone's interest to go into that. It would just fit in with jihadist prejudices."
Colonel Ralph Peters, a former army intelligence officer and a critic of Pentagon policy in Iraq, said yesterday there was nothing wrong with learning lessons wherever possible.
"When we turn to anyone for insights, it doesn't mean we blindly accept it," Col Peters said. "But I think what you're seeing is a new realism. The American tendency is to try to win all the hearts and minds. In Iraq, there are just some hearts and minds you can't win. Within the bounds of human rights,if you do make an example of certain villages it gets the attention of the others, and attacks have gone down in the area."
The new counter-insurgency unit made up of elite troops being put together in the Pentagon is called Task Force 121, New Yorker magazine reported in yesterday's edition.
One of the planners behind the offensive is a highly controversial figure, whose role is likely to inflame Muslim opinion: Lieutenant General William "Jerry" Boykin.
In October, there were calls for his resignation after he told a church congregation in Oregon that the US was at war with Satan, who "wants to destroy us as a Christian army".
Comment: So "winning hearts and minds" for the US military amounts to blowing up villages and their civilian inhabitants in order to deter those that seek to protect them. From this we see what the US administration really thinks about Israeli aggression towards Palestinians. Far from requiring condemnation, it is to be applauded it seems, leaving us in no doubt that any criticism of Israel by the US is merely a charade for the benefit of the press and the public. In reality the US war against "terrorism" is a war against "Satan" of biblical proportions, with people like Rumsfeld rubbing their hands with glee at the prospect of "armageddon" that the US is determined to create.
Sharon: Hebron enclave ours forever
Sunday 07 December 2003, 21:26 Makka Time, 18:26 GMT
Israel will never evacuate the small Jewish colony in the heart of the Arab West Bank city of Hebron, Ariel Sharon has pledged.
The Israeli prime minister was referring on Sunday to an illegal settlement of up to 500 Jewish colonists living in heavily fortified compounds among the city's 180,000 Palestinians.
Known as al-Khalil to its majority population, the city is host to Tomb of the Patriarchs, religiously significant to both Muslims and Jews, which Sharon also vowed never to abandon.
"Even if one gives Hebron to the Palestinians, Israel will continue to guard the Tomb of the Patriarchs and the Jewish quarter of the town," Sharon said on Sunday during his weekly cabinet meeting, according to a source close to the premier.
Sharon added Israel would keep control of a corridor linking the area to the major Jewish settlement of Kiryat Arba to ensure "territorial continuity".
All Israeli settlements in the occupied West Bank and Gaza are illegal under international law, though Tel Aviv disputes this.
[...] Under the terms of a 1997 accord, Israel pulled out of 80% of Hebron, but about 1200 Israeli soldiers and policemen still guard the Zionist enclave.
Comment: Notice that there are 1200 Israeli soldiers and police needed to guard the 500 settlers.
You'll remember that we had an article on "Terror Tourists" a few days ago, describing five American tourists who traveled to Hebron to learn what it was like living under "terror." The "tour" was organised by two illegal settlers living in this settlement.
Israelis better at manipulating media
By Dr Toine Van Teeffele
Monday 08 December 2003, 19:07 Makka Time, 16:07 GMT
As a guide and consultant living in Bethlehem, Palestine, I have regularly coordinated visits for groups of Westerners coming to see Palestinian reality with their own eyes.
Almost always those visitors felt afterwards that what they saw did not correspond with the image of Palestine they had before. Somehow the impact and scope of occupation were never really understood except after experiencing it first hand.
Why? Lots of causes are at play here, but perhaps none is so important as the influence of the media. I think three main factors have to be considered to understand the impact of the western media on the popular image of occupied Palestine (the West Bank, East Jerusalem and the Gaza Strip):
* The work situation and cultural background of Western journalists working in Palestine and Israel
* The presentation of the news about the region, and
* The boundaries of the debate within the media.
Israel confirms Canadian in custody
Last Updated Mon, 08 Dec 2003 23:06:07
OTTAWA - The government of Israel confirmed Monday that it is holding a 23-year-old from Windsor, Ont., for suspected terrorist links.
Jamal Akkal has been held in an Israeli prison since sometime in November. He has not been charged with any crime.
Israel agrees to co-operate with UN court's investigation of security barrier
05:20 AM EST Dec 09
RAVI NESSMAN
JERUSALEM (AP) - Israeli Prime Minister Ariel Sharon agreed Monday to co-operate with an international court's expected investigation of a contentious West Bank security barrier.
Israel says the snaking line of trenches, walls, fences and razor wire is needed to keep out suicide bombers, who have killed hundreds of Israelis over the past three years of violence. Palestinians say the planned barrier route, which cuts deep into West Bank land they claim for a future state, amounts to an Israeli land grab.
[...] Israel would tell the court the barrier was needed for self-defence, he said.
"We'll discuss it and present our case in the court," Gissin said. "It will be a discussion of the right of Israel to exist, because the fence is meant to protect our existence."
[...] That new section in the south would isolate 274,000 Palestinians in tiny enclaves and block 400,000 others from their fields, jobs, schools and hospitals, according to a recent UN report. The final planned route could gobble up almost half the West Bank.
The General Assembly passed a resolution in October calling on Israel to halt construction of the barrier and dismantle the completed section. Israel has ignored the resolution.
With the approval of the new UN resolution Monday, the question of the wall's legality will be sent to the court at The Hague for an advisory opinion. Such cases usually take between four and 15 months, said Ruth Lapidoth, a professor of international law at Jerusalem's Hebrew University.
The court's opinion would not be binding, she said.
"It is an advisory opinion . . . it is only a question of public relations," she said.
Comment: As usual, Israel will only abide by the decision if it goes in their favour. If it does not, we'll hear lots of whining about how "anti-Semitic" the rest of the world is becoming.
Car Bomb Injures 31 U.S. Troops in Iraq
Tue Dec 9, 2:06 AM ET
MOSUL, Iraq - A car bomb attack on a barracks near the northern city of Mosul early Tuesday wounded 31 American soldiers, mainly with flying debris, the military said. The injuries were not life-threatening.
The attack occurred when a car drove to the gate of the base of the 3rd Brigade of 101 Airborne division in the town of Talafar, 30 miles west of Mosul, spokesman Maj. Trey Cate said. Guards opened fire on the vehicle and it blew up, he said. [...]
Iraq car bomb wounds 41 troops
Forty-one American soldiers have been injured in northern Iraq in a suicide car bomb explosion outside a US army base, the army says.
Japan Approves Disputed Troops-For-Iraq Plan

By George Nishiyama
December 9, 2003
TOKYO (Reuters) - Japan's cabinet approved a plan on Tuesday to dispatch troops to Iraq, a landmark decision setting the stage for what is likely to be the nation's biggest and most dangerous overseas military mission since World War II.
Prime Minister Junichiro Koizumi convened a special meeting of his cabinet to approve the controversial plan, which critics have said is ill-conceived and violates Japan's pacifist constitution. [...]
The plan to be approved on Tuesday will allow troops to be sent during a one-year period starting December 15, but will not set a specific date for the dispatch or the size of the mission, media said. The bulk of the forces are expected to go next year.
Tokyo intends to eventually send 500 to 700 soldiers to southern Iraq, where it believes the security situation is stable, but equip them with the heaviest artillery they have ever taken overseas, according to media reports.
The army will have portable anti-tank rocket launchers and recoilless guns to protect against possible suicide bomb attacks, the reports said.
Seven or eight planes from the air force as well as three transport vessels and three destroyers from the navy are also expected to be sent to Iraq. [...]
US refuses to hand over Iraq arms report
Tuesday 09 December 2003, 12:22 Makka Time, 9:22 GMT
UN Security Council members have complained that the United States and Britain refused to give UN weapons inspectors the results of their hunt for Iraq's unconventional arms.
UN inspectors withdrew from Iraq in March, shortly before the American-led invasion of the country.
After the war, the US deployed its own experts and refused to allow the inspectors to return.
At a closed council meeting on a recent quarterly report from the UN inspection commission, about a dozen countries said the expertise of the unit was being wasted after dealing with Iraq's weapons of mass destruction since 1991, participants reported.
[...] In response, US representative Josiah Rosenblatt said the Kaye report had sensitive operational details, but that the United States was willing to share classified information "at an appropriate time."
[...] Demetris Perricos, the current head of UNMOVIC, said he doubted that Saddam Hussein had large stocks of weapons of mass destruction.
But his report also pointed to unanswered questions in accounting for materials like anthrax, which Iraq said it had destroyed without giving proof.
But Perricos in the report said pointedly that most of Kaye's findings reported in the media "relate to complex subjects familiar to UNMOVIC, through declarations and semi-annual reports provided by Iraq".
Jihad Al Khazen Al-Hayat 2003/12/9
I decided to take weeks worth information about the treatment of prisoners in Guantanamo Bay on my trip. I realized that I was carrying 4kg of Congressional studies and testimonies and newspaper articles, since the employee in the travel agency insisted on weighting the bag in which I put these documents.
The flight from London to Beirut takes around five hours, which I deemed sufficient for me to review these records and choose what to include when writing about the subject. After around an hour, I noticed that the man sitting next to me was reading a magazine with more interest than I was.
The publication was about motorcycles. As soon as he finished it, he took out another, filled with colorful pictures; in the center was a folded picture of a beautiful motorcycle, which equates with the Playboy centerfold.
I admit that I felt angry, as I was busy reading life ruining material, and this passenger was happy with motorcycles and protected from what could run in the mind of an Arab like me, since the worst he could face was a motorcycle accident.
US unleashes 'Avalanche' in Afghanistan
The United States military says it has launched its biggest-ever ground offensive in Afghanistan.
It involves 2,000 troops as well as soldiers from the Afghan army. [...]
Comment: The current poppy crop needs to be protected...
By Sudha Ramachandran
Asia Times Online
BANGALORE - The spurt in violence in Afghanistan in recent months has generally been attributed to the resurgence of the Taliban and al-Qaeda. However, aid workers in Afghanistan are saying that it is warlords with connections to the production and trade of narcotics who are behind many of the attacks.
The sharp rise in killings, say aid workers, coincides with the autumn harvest of the poppy crop. Diane Johnston, country director for Mercy Corps, told Associated Press "security is worse in places where people are growing poppies". Late last month, the European Union's envoy in Afghanistan, Francesc Vendrell, warned that laboratories for producing heroin that had been closed down by the Taliban were being set up again.
The heightened narcotics-related activity in Afghanistan is worrying not only because of the surge in flow of heroin into markets abroad, but also because of its implications for security in Afghanistan. "There is a palpable risk that Afghanistan will again turn into a failed state, this time in the hands of drug cartels and narco-terrorists," wrote Antonio Maria Costa, executive director of the UN anti-narcotics program. If "energetic interdiction measures" are not undertaken now, the country's drug cancer will "metastasize into corruption, violence and terrorism", he pointed out. This year's bumper poppy crop in Afghanistan seems to be financing a fresh proliferation of weapons among the warlords. [...]
Comment: The US has been involved in poppy crops in Afghanistan for a long time now. The Taliban took power and stopped production, and the US had to do something to keep the funds flowing. A few excerpts from Cocaine Politics, by Peter Dale Scott and Jonathan Marshall, University of California Press, 1991:
pvii
[...] In country after country, from Mexico and Honduras to Panama and Peru, the CIA helped set up or consolidate intelligence agencies that became forces of repression, and whose intelligence connections to other countries greased the way for illicit drug shipments. [...]

pxv
[...] The drug traffic should be visualized, not as a horizontal line between producers and consumers, but as a triangle. At its apex sit governments whose civilian and military intelligence agencies recurringly afford defacto protection to drug kingpins beneath them. In the United States as elsewhere, this vertical dimension of protected trafficking has created windows of opportunity for importing narcotics by the ton.

Our conclusion remains that the first target of an effective drug strategy should be Washington itself, and specifically its own connections with corrupt, drug-linked forces in other parts of the world. We argued that Washington's covert operations overseas had been a major factor in generating changes in the overall pattern of drug flows into the United States, and cited the Vietnam-generated heroin epidemic of the 1960s and the Afghan-generated heroin epidemic of the 1980s as analogues of the central concern of this book: the explosion of cocaine trafficking through Central America in the Reagan years, made possible by the administration's covert operation to overthrow the Nicaraguan Sandinistas.

Recent indictments, congressional hearings, and news investigations into the shadowy Bank of Credit and Commerce International indicate that the parallel we drew between Afghanistan and Central America is even tighter than we dared suggest. In both regions, BCCI appears to have gone out of its way to attract drug money, facilitate arms transactions, and cater to the CIA, all the while enjoying an extraordinary, if still unexplained, degree of immunity from prosecution. [...]
UN warns of failure in Afghanistan
Tuesday 09 December 2003, 11:22 Makka Time, 8:22 GMT
Afghanistan's security has eroded to the point that global efforts to rescue it after two decades of war could fail unless nations expand their role there, a UN report has revealed.
Introducing the document, Jean-Marie Guehenno, the UN undersecretary-general for peacekeeping, said the next 12 months were critical if the peace process to set up a democratic government is to succeed.
The process began in Bonn two years ago.
"Unchecked criminality, outbreaks of factional fighting and activities surrounding the illegal narcotics trade have all had a negative impact on the Bonn process," said the report from UN Secretary-General Kofi Annan.
At Least Five Dead in Moscow Blast
December 9, 2003
MOSCOW (Reuters) - An explosion killed at least five people in the heart of Moscow on Tuesday, just two days after President Vladimir Putin's allies won parliamentary elections. One report said a woman suicide bomber could be responsible.
A police spokeswoman said at least five people had died in the blast just a few hundred yards from the Kremlin. Ten people were injured, three in serious condition.
Reuters reporter Oliver Bullough said bodies lay unattended on the pavement outside the National Hotel, on Tverskaya Street. The severed head of a woman lay on the pavement next to a briefcase. [...]
The Duma of a New Political Era
By Catherine Belton and Lyuba Pronina
Staff Writers
The nation is facing a starkly new kind of parliament after election results came in Monday that for the first time in post-Soviet history gave pro-Kremlin and nationalist parties a landslide majority, trounced the Communists and pushed liberal Yabloko and the Union of Right Forces into the political wilderness.
[...] Analysts said the results of Sunday's poll come as the culmination of President Vladimir Putin's drive to consolidate his power. That bid began with moves to rein in the power of regional governors shortly after he took over the presidency in 2000 and sped up this year with the arrest of Russia's richest man, Mikhail Khodorkovsky, in a $1 billion fraud case that many have called an attempt to flatten the oil magnate's political ambitions. Khodorkovsky had been seen as trying to lock in a loyal faction in the Duma in a possible attempt to become president.
"Putin's bureaucratic consolidation has ended with these elections. It is farewell to the Yeltsin era," said Lilia Shevtsova, a senior political analyst at the Carnegie Moscow Center.
"What type of democracy can there be if there are no democratic parties in the Duma?" she said.
Comment: A remark that some have posed in reagrds to the Congress.
Even a deputy head of the presidential administration, Vladislav Surkov, said the election results marked the end of an era.
"Today, after the elections, we are living in a new Russia," said Surkov, the Kremlin's chief election strategist. "Before the elections it was not clear to many, but now the electorate has shown that the old political system based on Marxist dogmas of the left and right is finished."
[...] Analysts said the strong showing by pro-Putin forces came as a result of blanket coverage on state-controlled national television channels for the parties in its favor, a mud-slinging campaign directed against the Communists, who were left unable to respond, and the intimidation and muzzling of alternative voices such as Khodorkovsky's.
Comment: Russia is decidedly becoming more and more like the US. When was the last time Chomsky had access to the major networks in the US?
"Putin has now defeated the elite of the '90s," said Stanislav Belkovsky, the head of the Council for National Strategy, a think tank that published a controversial report this summer alleging the oligarchs were mounting "a creeping coup."
He said the loss of the liberal factions in the Duma was a clear death knell for Yeltsin-era forces. "Putin now has carte blanche to change the system of power," he said.
Analysts said the overwhelming majority that Putin now appears to have in the Duma should let him pursue any economic reforms he chooses. For now, investors are giving Putin the benefit of the doubt and believe he intends to use that mandate to continue pushing for liberal reforms.
But the strong showing by parties like Rodina, which ran on a populist ticket of returning the nation's riches to the people, is raising fears that the political weight of a hard-line Kremlin clan known as the siloviki might grow further and strengthen momentum toward greater state control over the strategic sectors of the economy.
[...] Other observers are even more perturbed by some of the nationalist rhetoric coming from Rodina and said the party's campaign to redistribute wealth combined with a nationalist agenda raises the specter of a new national-socialist force creeping into parliament.
Speaking to journalists early Monday, Rodina co-leader Rogozin rejected those concerns. He said his bloc had done well because of the chord it had struck with the national mood. "This is a natural response to bandit capitalism, to the impoverishment of the people, to the humiliation of the people," he said.
"It sums up the bankruptcy of the politics of barbarian capitalism in Russia," he said.
Belkovsky, who is seen by many as being backed by the siloviki, said Rodina could be the inspiration for a national revival for Russia and the reawakening of its influence over the republics of the former Soviet Union.
"The elections reflected a general trend toward nationalist and imperialist ideas," he said. "The revival of the Russian empire will be a special subject of Putin's second term."
He said the United States' invasion of Iraq and its attempts to dominate global politics was provoking a backlash in Russia. "National humiliation is a basic problem for the Russian people and it cannot be ignored. Now we want Russia to be successful regardless of what Washington, Brussels and London thinks."
By Pavel Felgenhauer
Tuesday, Dec. 9, 2003. Page 11
The parliamentary elections -- marred by accusations of fraud and by large numbers of disgruntled citizens voting "against all" -- have decisively changed the face of Russian politics. The new Duma will be dominated by pro-fascist nationalist factions and by United Russia, a party of "statists" and bureaucrats who use nationalistic slogans.
Nationalism in Russia is always linked with a desire to build (or rebuild) a "Great Russia" with a powerful military that resembles the force that terrified the West for decades. Nationalistic, "statist" rhetoric has clearly helped win this election and will certainly be extensively used to re-elect Vladimir Putin as president in March.
But all this pro-militaristic electioneering will not seriously change the miserable state of our military. The basic problem of having too many men and armaments, and too little money to keep them happy and functioning, will not go away.
By Nikolai Petrov
Tuesday, Dec. 9, 2003. Page 10
The good news about the electoral process in Russia is that everything bad that could have happened already has. Things can only get better. So let's try to look on the bright side.
The most important result of Sunday's parliamentary elections is the downfall of certain parliamentary political parties and the Yeltsin-era party system as a whole. The system could not survive the passing of the Yeltsin regime and is now following it into history. Rather than lament its demise, however, we should analyze the new political situation in the country and draw a few lessons for the future.
[...] Rodina is routinely included in a potential two-thirds pro-Kremlin majority in the next Duma, but this is somewhat unfair. In its current form, Rodina is not only internally diverse, it is also unmanageable. On the one hand, it is unlikely that Glazyev and fellow party leader Dmitry Rogozin will be able to control the authoritative bankers, such as Viktor Gerashchenko, and the KGB generals in their ranks. On the other hand, the Kremlin's control over Glazyev himself should not be exaggerated, especially now that Rodina has made it into the Duma on its own. For Glazyev, the temptation to run against Vladimir Putin as the consensus candidate from the left next year will be strong.
White House concern over Russian elections

08/12/2003
The United States tonight joined European human rights officials in expressing concern about Russian parliamentary elections on Sunday that delivered big victories to allies of President Vladimir Putin.
The elections give Putin a stronger hand as he works on strategy for seeking a second term next March.
Putin praised the outcome as "strengthening Russia's democracy."
But the Organisation for Security and Cooperation in Europe (OSCE), a human rights and democracy watchdog group, said the election process represented a regression from democratic reforms Russia adopted after the collapse of the Soviet Union.
White House spokesman Scott McClellan said tonight: "It was the OSCE which monitored the elections, and they expressed concerns about the fairness of the election campaign. We share those concerns.
"We support Russia's continued efforts to press ahead with both political and economic reform, building those institutions of democracy that are important to free and democratic states, such as a free press, political parties, respect for the rule of law," McClellan said.
He said he hoped Russian politicians would now "press ahead on a reform agenda and support the United States-Russia partnership."
Concerns over the election process "underlines the importance of Russian legislators dedicating themselves to pushing through the political and economic reform agenda," McClellan said.
Comment: Apparently irony is lost on the occupants of the White House, and the American people. It is a testimony to the utter lack of conscience among the fascists in the Bush administration that they feel justified in criticising the Russian elections when the 2000 elections in the US were such a blatant fraud. Perhaps we misunderstand however. It is possible that McClelland's criticism is for the fact that the Russians were unable to carry off electoral fraud without getting caught. Interesting also is McClelland's advice in the last paragraph on what to do to remedy the situation. Simply get the "reforms" in place so that it doesn't happen again - i.e. don't get caught next time.
Uzbek Leader Becoming Embarassment to West
Jim Lobe
OneWorld US
WASHINGTON, D.C., Dec 8 (OneWorld) -- President Bush's recent vows to pursue a ''forward strategy of freedom" in the Islamic world are in the spotlight as a close ally, Uzbekistan President Islam Karimov, comes under attack by human rights groups.
Despite Western pressure, Karimov has outlawed opposition parties, harassed and imprisoned dissidents, and, despite his own promises, failed to take meaningful steps to stop the routine use of torture against perceived opponents. Scores of dissidents have been executed after sham trials. [...]
From a Member of the QFS: Thoughts on Zimbabwe
Zimbabwe now, is the nightmare that many ZanuPF fighters prayed would not happen. After 15 years of guerilla warfare, the "terms of the peace" were, as usual, the stumbling block. True to the blue-print of Colonialism, the Lancaster House agreement (brokered by Britain) set up a scenario where economic power would stay exactly as it was, with huge economically crippling "debt" agreements, no industrial/manufacturing infrastructure to build on, plus the "plan" for the "gradual" handing over of land to the diposessed people of Zimbabwe.

From what I read of him and have heard from others, Mugabe is a hard-line Marxist of the old-fashioned school. In 1980, I hoped against history's patterns that there could be a way for Zimbabwe to be an inspirational beacon of light for true freedom. With a rumbling anti-apartheid revolution on the cards, just next door in South Africa, that was not going to be allowed. So Zimbabwe was economically hog-tied, with the deal signed in London, under the care of Lord Carrington I think it was. And it was guaranteed to protect the top players, US, Britain and Israel's interests in the region.

By the late 80s, the promise and zeal of "freedom" was a pale shadow of the infectious joy and inspiration we had seen all over Zimbabwe, just 7 years before.There were highly inflated prices, the lack of variety of goods on the shop shelves, and the growing disatissfaction with Mugabe's increasingly dictatorial leadership. There were rumours that maybe he had tertiary syphillis (ie brain damage), because many did not recognise him as the leader who had promised so much so eloquently in his election victory speeches. By the way, the tertiary syphillis rumour was very much to the fore during the horrific reign of Idi Amin.

Perhaps when he had the audacity to change the colonially tinged constitution and make himself executive president, that was the death knell and the economic screws tightened even more, with the next decade just confirming the carefully orchestrated perception that this is what happens when Marxists and Socialists get into power.

With the psychopathic political "voices of reason" singing from the same song book, Mugabe is left foaming at the mouth trying to explain that it was always a done "neo-colonial" deal, and that Zimbabweans would never get to use their land to grow food under the terms of the Lancaster agreement. To make matters worse, he was still using that old-fashioned Socialist speak, which had been thoroughly sullied by the experience of the "Cold War" with the USSR. So the news media had a field day, and comparisons with Idi Amin were constantly referred to. Meanwhile many Africans admire Mugabe for trying to address the colonial imbalances head on. But all the country'seconomic cards are held outside Zimbabwe, so while he rails about the neo-colonial set up he is trying to expose, the propaganda war to discredit this explication of the truth continues

Another decade passes, and by the late 90s Zimbabwe is in critical condition. Economic meltdown, riots in the streets, so time to create an "opposition", and in comes the Movement For Democratic change in 1998. Mugabe re-acts to this by seizing white-owned land. Now how long ago was the Lancaster agreement? On the eve of the Millenium, a Land re-distribution agreement that was brokered almost 20 years before still hadn't delivered. Many old soldiers from the guerilla warfare were angry at a betrayal of their trust in the process of "negotions", people are starving and leaving in droves. The first to go being the landed Whites who choose New Zealand, Canada, and that other Settler-Colony, South Africa, as a safer spot to land on for now.... Meantime, South Africa's very open borders draw thousands of Zimbabweans, pressing on the fledgling "New South African" economic structure "post-Apartheid." As if Mandela and Co didn't have enough on their plate!

In the past 3 years the EU have imposed sanctions, the Commonwealth is bringing pressure to bear and the man is sounding like a delusional nut case, talking of creating a link with China which could challenge the "uni-polar" domination of the USA and UK. The sad facts of the matter are that inflation is over 500%, strikes are crippling the country, there is no freedom of expression, newspapers are closed down and the population is starving and ravaged by HIV/Aids. I wouldn't be surprised if Tony and George suggested an "African inspired" peace-keeping invasion to save the people of Zimbabwe.

South Africa, his staunchest supporter, can't maintain this stance for long, then the way is paved for a resculpting of the Cecil Rhodes inspired Cape to Cairo conquest that will keep Africa the economic slave she has been for so many centuries. As for the fuss this past week, well, Africa lost out there, as nothing much else got discussed. But Tony got a lot of coverage beating the drum to get Africa's support for London's bid to host the Olympics!. Not that any other Commonwealth discussions have borne any real fruit in the past either mind you. Someone is having a laugh, and its not the people of Zimbabwe.
A Death For a Song and the Triumph of Impunity
Rafael Marques
December 4, 2003
allAfrica.com
Angolan writer and human rights activist Rafael Marques wrote this account of the late-November killing of a member of the public by presidential guards.
"The wolf's guards killed my son," Inês Sebastião kept screaming as she mourned the death of her son, Arsénio Sebastião, killed in a ritual of torture by President José Eduardo dos Santos' guards, in November 22, 2003.
Arsénio Sebastião, a.k.a Cherokee, was a car washer in Mussulo's Quay, a few hundred meters from one of the presidential palaces, Futungo de Belas, outside the capital, Luanda. As he waited for clients, he cheered himself up by singing a very critical rap, by an Angolan group MCK. The rap led to his death. Ironically, the song stresses that those who speak the truth end up in a coffin.
[...] A group of four presidential guards, identified by armbands with the distinctive UGP [Presidential Guard Unit], heard the song and, guns at ready, manhandled Cherokee and started to kick and slap him all over the body. As people tried to stop the beating, one of the guards called in for reinforcements. A few minutes later, 45 UGP members jumped out of a military truck (number plate: FAA - 61-55).
A sergeant, who arrived with the troops, learnt about the song and ordered the youth to be taken to the beach, just a few meters away. According to local witnesses, a foreigner tried to offer US$ 100 as a "reward" for the release of Cherokee, while a beer vendor bid 1,500 kwanzas (US$20). But as the beer venddor Maria João recalled, the guards said that "the youth was a bandit, who spoke ill of the president and thus had to be killed."
"...you have no shelter/ for centuries you have been searching for a job/ yet you remain loyal to the system. You are locked by a remote control frequency of the great invisibles/ they decided your future while you were in your mother's womb/ you don't know how to complain about your daily suffering/ the guns have gone silent but your stomach remains at war..."
As reported by the Angolan weekly newspaper A Capital, drawing on first-hand witnesses' accounts, Cherokee was dragged to the water, where the soldiers stabbed him to further weaken him and tied his hands with a soldier's boot laces. Eduardo Semedo, the victim's friend, said tearfully that the soldiers pushed Cherokee's head into and out of the water for minutes, three times. Cherokee's last words before he was drowned were "I am going, my friends."
To ensure the successful completion of their mission, the soldiers held their guns at the ready to prevent anyone from rescuing Cherokee. Eduardo Semedo alleged that the soldiers threatened that "anyone who dared to save him would have the same fate."
Encounter: I Could Have Sustained South-African Apartheid Regime, by W.F. De-Klerk
INTERVIEW
December 7, 2003
MCPHILIPS NWACHUKWU
".... It was as a result of us facing up the reality that we have failed to bring justice to all the people of South Africa through the best process of nation state because what I supported when I was a young man was exactly what the whole world now supports for Israel and Palestine..."
Comment: Yada yada yada. If there hadn't been the unceasing resistance of the South African people to apartheid, De-Klerk and his ilk would never had budged. Another joke in this article is the presence of Simon Peres, great "friend" of De-Klerk. But, no, the current situation of the Palestinians has absolutely nothing whatsoever to do with apartheid, right Mr. Peres?
OPINION: Where Man Eats Man With Relish

Betty Caplan
The Nation (Nairobi)
December 8, 2003
On an ordinary day last week, I came across several different references to cannibals. In my philosophy, this heralded more than serendipity - it meant something significant.
We know that our ancestors engaged in such behaviour without thinking it in the slightest bit odd, and that as recently as 30 years ago, the natives of Papua New Guinea greatly fancied human flesh.
How do we distinguish between one kind of human cruelty and another? Is it kinder to put prisoners to death by lethal injection, as they do in many states of America, or to shoot them by firing squad, as used to be the case?
In a world where billions are hungry, we happily torture and kill animals for our food, yet we baulk at the very idea of consuming one another.
What put me in mind of this was a report of a bizarre trial that is presently taking place in Germany. A 42-year-old computer expert called Armin Meiwes who lived in the town of Rotenburg advertised on the Internet in March 2001 for a "young well-built man who wanted to be eaten".
[...] But the idea of cannibalism as a measure for curing various social ills is central to what is perhaps the greatest piece of irony in the English language - Jonathan Swift's A Modest Proposal, far less well-known than his Gulliver's Travels.
Published in 1729, it suggested cannibalism as a way of "preventing the children of poor people in Ireland from being a burden on their parent country and for making them beneficial to the public".
[...] The Ireland of his time was literally being "swallowed up" by English absentee landlords who bled the country with the tacit agreement of Parliament. Peasants were so impoverished that they emigrated to the West Indies and other British colonies in America. At the age of one year, having taken sufficient milk from their mothers' breasts, Swift recommended that children could best be sold as food. Instead of being a burden on the state, "they shall, on the contrary, contribute to the feeding and the clothing of many thousands".
He didn't stop there; as if foreseeing the plight of modern-day pregnant schoolgirls, he continued that the scheme would "prevent those voluntary abortions and horrid practice of women murdering their bastard children, alas! Too frequent among us".
But to return to the here and now, I have to confess to being mesmerised by this weird tale, one of the many dishes of horrors that we are treated to nightly for supper as "international news". Films, too, such as The Silence of the Lambs treat this issue; Anthony Hopkins portrayed the chilling, methodical cannibal, Hannibal Lecter, in a movie so popular that a sequel had to be made.
Where will the search for the ultimate grotesque end? For people like Mr Meiwes, there is no line between fantasy and reality. Instead of dismissing him as purely evil, I see a being who has been tortured by grief and loneliness. His father had walked out on the family, and he had fantasised, even as a child, about swallowing somebody. When his mother died in 1999, the desire became even stronger.
For him, eating someone became quite normal - indeed, he claimed it made him feel much better and "more stable". His victim spoke good English, he said, and since eating him, he found that his own English had greatly improved.
What is classical psychopathy is the apparent absence of feeling: he sat and read Star Trek while his victim was bleeding to death, and videotaped the whole event, thereby providing useful evidence for the trial.
A MODEST PROPOSAL
FOR PREVENTING THE CHILDREN OF POOR PEOPLE IN IRELAND FROM BEING ABURDEN TO THEIR PARENTS OR COUNTRY, AND FOR MAKING THEM BENEFICIAL TO THE PUBLIC
by Jonathan Swift
1729
[...] I have been assured by a very knowing American of my acquaintance in London, that a young healthy child well nursed is at a year old a most delicious, nourishing, and wholesome food, whether stewed, roasted, baked, or boiled; and I make no doubt that it will equally serve in a fricassee or a ragout.
I do therefore humbly offer it to public consideration that of the hundred and twenty thousand children already computed, twenty thousand may be reserved for breed, whereof only one-fourth part to be males; which is more than we allow to sheep, black cattle or swine; and my reason is, that these children are seldom the fruits of marriage, a circumstance not much regarded by our savages, therefore one male will be sufficient to serve four females. That the remaining hundred thousand may, at a year old, be offered in the sale to the persons of quality and fortune through the kingdom; always advising the mother to let them suck plentifully in the last month, so as to render them plump and fat for a good table. A child will make two dishes at an entertainment for friends; and when the family dines alone, the fore or hind quarter will make a reasonable dish, and seasoned with a little pepper or salt will be very good boiled on the fourth day, especially in winter.
I have reckoned upon a medium that a child just born will weigh 12 pounds, and in a solar year, if tolerably nursed, increaseth to 28 pounds.
I grant this food will be somewhat dear, and therefore very proper for landlords, who, as they have already devoured most of the parents, seem to have the best title to the children. [...]
Robert Dreyfuss
TomPaine.com
Dec 08 2003
Calling all spooks and spies. If you want to help Congress get to the bottom of the scandal over Iraq intelligence, now's your chance. Later this week, a key member of Congress will issue an all-points call for intelligence analysts to blow the whistle on President Bush, Vice President Cheney and others in the Bush administration who may have distorted, exaggerated, manipulated or lied about intelligence on Iraq in the run up to war.
By creating a "tip line" on his official Web site, Democratic congressman from California Henry Waxman is encouraging current and former U.S. national security officials to come forward and disclose how the administration played with intelligence on Iraq's alleged weapons of mass destruction and ties to Al Qaeda. A ranking member on the House Committee on Government Reform, Rep. Waxman is making it possible for officials to go on the record or remain anonymous, according to one of his aides.
The announcement that Rep. Waxman intends to ask whistleblowers from the Pentagon, the Central Intelligence Agency and other agencies to come forward will be included in a letter to Rep. Tom Davis, the Virginia Republican who chairs the committee. The letter will also ask Davis to begin an official investigation of how the name of former U.S. Ambassador Joseph Wilson's wife, Valerie Plame, was leaked to the media. Wilson, a retired diplomat, helped quash forged documents that Iraq sought to buy uranium for bomb-making in Niger, and subsequently Plame, who was an undercover CIA officer, was outed by anonymous U.S. officials.
Waxman's effort, which is sure to be controversial, is a sign that the simmering scandal about U.S. intelligence on Iraq won't go away during 2004.
The Senate intel committee is locked in a partisan dispute over Republican efforts to stonewall an inquiry into the Bush administration's use of intelligence to justify war, including the Pentagon's Office of Special Plans (OSP) and its subordinate intelligence unit.

Yet there are signs that more and more disgruntled officials, including CIA officers, may come forward in the weeks to come. [...]
Joint Task Force Told Face to Face, Blackout was a Military Test
Oliver J. Midelson
At an under publicized public comment meeting, which was publicly 'announced' by a Department of Energy news release, Michael Kane outlined his report, published at Global Free Press, stating that the August 14th blackout was part and parcel to a multi-faceted military test. The Task Force was very attentive, attempting to take notes as fast as Michael spoke.
His comments can be heard in Windows Media player format (now playing). They were the last comments made to the panel.
It was a snowy Friday afternoon in Manhattan and very few people showed up. Both Forbes and the Akron Beacon Journal left out Michael's comments in their "coverage" of the New York pubic comment meeting. Once again the mainstream media completely fails the public, and Global Free Press is the only publication brave enough to run the real coverage of this so-called 'public' comment meeting. How public can it be if no one reports it? The "New Media" such as GFP, FTW, INN, SGTV, and many more are proving to be our only salvation.
Michael made the only interesting comments given the entire day with the exception of Carole Dortch-Wright, who spoke on behalf of New Jersey Governor James McGreevey. The NY Times, who had a reporter present at this meeting, seem to have provided no coverage in their Saturday edition. For the record, I personally saw Michael's report handed to the NY Times reporter. Hopefully they are saving it for their Sunday edition, but I won't hold my breath.
Very few people showed up to the public comment meeting in Cleveland, Ohio on December 4th, prompting Rep. Dennis Kucinich and four other members of Congress to accuse the D.O.E. of failing to adequately notify the public, according to the Akron Beacon Journal
The first point Michael made was that the Task Force Interim Report failed to address the possibility of Electro Magnetic Pulses causing the blackout. He noted that it is known HAARP was turned on at 4pm on August 14th, just 11 minutes before the blackout occurred. He stated the Air Force should be contacted and required to turn over all documentation pertaining to what HAARP was used for on that day.
Michael detailed the aerial aerosol spray operation he witnessed the night of the blackout, as well as referencing the proximity of the Determined Promise '03 national military drills announced just one day after the blackout. He also mentioned he received a report that the Canadian border was militarized at 1pm on August 14th, just three hours before the blackout, in the Mohawk River Valley region. Why?
Dr. Nawal Kamel appeared to be pleased to hear Mr. Kane's comments, as he was the only person who appealed to the Task Force as a citizen void of any special interest. In addition to this, Senior Policy Advisor James Glotfelty was nodding his head up and down as Michael began to speak of PD-16.
Wayne Madsen has revealed National Security Presidential Directive 16 (PD-16) gave the president authority to wage cyber-warfare against other countries, including bringing down their power grids. Michael pointed out we do not know if any elements of PD-16 pertain to North America.
He continued by referencing Tommy Franks' recent comments in Cigar Aficionado. General Franks' stated if another terrorist attack occurs in America, the Constitution would be scrapped for a military government. Visibly upset by this outrageous statement, Michael put down his prepared statement and made a much-needed comparison to the current 'independent' commission to investigate 9-11.
He noted how the victims family members were terribly disappointed with the 9-11 Commission, and that it is clear the commission will not withstand historical scrutiny. He ended by warning this Task Force the only way for them to avoid the same destiny is to address the questions outlined in his report. He then offered to hand his report to any one interested in reviewing it.
At this point, Alison Silverstein, co-chair of the Electric System Working Group (ESWG) threw both her hands out, prompting Michael to personally hand his report to all nine Task Force members.
I asked Michael what he thought of the Task Force's response:
"I wanted to appeal to their hearts as well as their minds," said Michael in the Park Central Hotel Lobby, "…I think I may have touched one or two hearts in there today."
Less than half show support for EU
By Ambrose Evans-Pritchard in Brussels
The Telegraph
09/12/2003
Less than half the population in the European Union's member states now support the EU project, according to polling results yesterday.
The latest Eurobarometer to be released this week found that just 48 per cent of EU citizens viewed membership as a "good thing", down from 54 per cent last spring.
Britain was by far the most negative state, with positive feelings tumbling to 28 per cent, but even the French were below half for the first time after months of battles with Brussels over tax cuts and illegal aid to ailing firms. [...]
France split by proposal to ban Islamic headscarves and crucifixes in schools
By John Lichfield in Paris
The Independent
09 December 2003
President Jacques Chirac must make a potentially explosive decision in the next few days whether to demand a new law banning Islamic headscarves and other religious symbols from French state schools.
The issue has been causing strong debate for weeks, splintering French society far from the usual left-right lines.
All Christian churches in France issued a joint statement yesterday urging M. Chirac to resist pressure from "militant secular" forces for an outright ban on headscarves in state schools, which would also mean a ban on crucifixes and kippas.
The women's magazine Elle published a petition, signed by leading French feminists and actresses, attacking the Islamic headscarf as "an intolerable discrimination against women" and calling for a law to reinforce the principle of a "lay" republic but also the principle of equality between the sexes. [...]
Dollar Hits New Record Low Vs Euro
By Christina Fincher
December 9, 2003
LONDON (Reuters) - The dollar hit a record low against the euro for an eighth consecutive session on Tuesday as investors bet a U.S. central bank meeting later in the day would do little to halt the greenback's slide. [...]
Dollar continues slide ahead of Fed meeting
By Alan Beattie in Washington
Published: December 8 2003 22:21 | Last Updated: December 8 2003 22:21
The dollar continued its steady slide on Monday after the Bank for International Settlements said oil producing countries and China's banks were increasingly repatriating money rather than keeping it in the US currency.
The dollar hit a new low against the euro and approached its lowest level against sterling for a decade. Analysts said there was little chance of it recovering in the near term given the absence of official resistance.
A report from BIS, the central bankers' central bank, said current trends were "implying that the surplus of funds placed in the international banking system by the Chinese banking sector, that has been available for the funding of foreign government deficits, is shrinking".
Chinese purchases of the dollar have slowed its fall. But the US administration has been putting pressure on Beijing to float its exchange rate.
[...] US officials have largely declined comment, giving the impression they are content with the fall.
Marc Chandler, currency strategist at HSBC in New York, said the combination of a benign outcome in asset markets and lack of official concern about the dollar's slide made further falls probable. "The falling dollar is the closest thing to a free lunch the US has had in years," he said.
China urges US to export more to balance trade
www.chinaview.cn 2003-12-09 10:43:09
BEIJING, Dec. 9 (Xinhuanet) -- Senior Chinese economic and trade officials have said that the United States should increase exports of electro-machinery products to China in order to better balance the bilateral trade situation.
Anxious middle classes fear for the future under Labour (UK)
By George Jones and Alice Thomson
The Telegraph
Six years of Labour government have left middle-class voters fearful about the future and increasingly financially insecure, according to a poll today.
Inadequate pensions, paying for nursing care in old age and a fall in the value of savings are the main worries, according to the YouGov poll for the Telegraph. [...]
Comment: This state of fear was not created by accident:
[I]nverted totalitarianism has its own means of promoting generalized fear; not only by sudden "alerts" and periodic announcements about recently discovered terrorist cells or the arrest of shadowy figures or the publicized heavy-handed treatment of aliens and the Devil's Island that is Guantánamo Bay or the sudden fascination with interrogation methods that employ or border on torture, but by a pervasive atmosphere of fear abetted by a corporate economy of ruthless downsizing, withdrawal or reduction of pension and health benefits; a corporate political system that relentlessly threatens to privatize Social Security and the modest health benefits available, especially to the poor. With such instrumentalities for promoting uncertainty and dependence, it is almost overkill for inverted totalitarianism to employ a system of criminal justice that is punitive in the extreme, relishes the death penalty and is consistently biased against the powerless. [...][ Inverted Totalitarianism, Sheldon Wolin, The Nation, May 1, 2003]
The strategy: Keep everyone so worried about their own shrinking world, then they cannot pay attention to what is going on the world stage even though it will affect them directly, and all their descendents.
Gore to endorse Dean for Democratic presidential nomination, sources say
05:20 AM EST Dec 09
RON FOURNIER
NEW YORK (AP) - Former vice-president Al Gore will endorse Howard Dean for the Democratic presidential nomination Tuesday, sources said, a dramatic move that could tighten Dean's grip on the front-runner's position and usher more support from wary party elite
Gore, who won the popular vote but lost the electoral vote in the disputed 2000 election, has agreed to appear with Dean in New York City's Harlem neighbourhood and then travel with the former Vermont governor to Iowa for a formal endorsement, several Democratic sources, including one close to Gore, said Monday.
The coveted endorsement is a breathtaking victory for a candidate whose antiwar, anti-establishment candidacy has given pause to party leaders and key constituencies, several Democratic strategists said.
"What this says is that all these Washington insiders who have been gnashing their teeth, wringing their hands and clinging to their cocktail cups can relax now. Dean's been knighted by the ultimate insider," said Democratic consultant Dean Strother of Washington. "It's game, set and match. It's over."
Supreme Court to Weigh Miranda Mandate
By GINA HOLLAND, Associated Press Writer
December 9, 2003
WASHINGTON - The Supreme Court is taking another look at its 37-year-old mandate that police officers give suspects the familiar warning that begins "You have the right to remain silent ..." before starting interrogations.
The landmark Miranda v. Arizona ruling has been criticized harshly over the years, and some people believe the court could roll back some of its protections.
Justices were starting the review Tuesday by hearing arguments in two Miranda cases. The eventual rulings, in those two cases and two others that will follow, will clarify rules for police questioning and let courts know when they must bar confessions or evidence from trials.
At issue in the first of the cases is what happens when police fail to read suspects their rights before seizing evidence they plan to use at trial and whether authorities can question suspects intentionally before telling them their rights, to get information to use in a second, "official" interrogation. [...]
Comment: Perhaps the list should just be shortened to: "You have no rights."
New Oklahoma City Federal Building Opens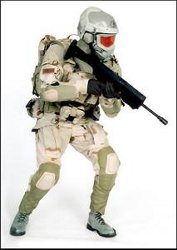 US military works on better uniforms
Sun Dec 7, 4:43 PM ET

WASHINGTON (AFP) - The US Defense Department is working on new field uniforms for US soldiers in order to make them lighter and more adaptable to changing environmental condition, the American Forces Information Service reported.
"Our challenge is to provide greater protections and capabilities, but with less weight and bulk," Robert Kinney, director of the Individual Protection Directorate at the US Army Soldier Systems Center, is quoted as saying.
According to the report, uniforms of the future will have built-in chemical and biological protection, electric wires and fiber optics that soldiers will be able to use on the battlefield.
They will also be waterproof and flame-resistant, have built-in insect repellent, antibacterial agents that help stop open injuries from getting infected, and even antimicrobial agents that keep odor in check, the report said.
New synthetic materials being explored will make the uniforms warmer in cold environments and cooler in hot ones, the service said.
In addition, uniforms of the future will be able to change color like chameleons to reflect the surrounding environment.
Boots will come with snap-on soles for different terrains and removable liners that can be replaced when they get wet, the information service said.
Comment: Perhaps the Commander-in-Chief will also get his own high-tech Darth Vader suit...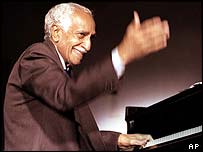 Buena Vista pianist Gonzalez dies
By Stephen Gibbs
BBC correspondent in Havana
The Cuban pianist Ruben Gonzalez, one of the leading members of the musicians that formed the Buena Vista Social Club, has died aged 84.
Gonzalez reached world stardom in the late 1990s but his career began in the 1940s at Havana's Tropicana cabaret.
Buena Vista founder and musician Ry Cooder described him as "the greatest piano soloist I have ever heard".
His death follows that earlier this year of another key member of the Buena Vista Social Club, Compay Segundo.
Humans 'could survive Mars visit'

By Richard Black
BBC science correspondent, in San Francisco
Tuesday, 9 December, 2003, 06:56 GMT
Scientists say measurements taken by the US space agency's Mars Odyssey craft prove that a human mission could survive on the Martian surface.
Instrument data show radiation around the Red Planet might cause some health problems but is unlikely to be fatal. [...]
Mars: More Magnetic than Thought
By Larry O'Hanlon
Discovery News
Dec. 8, 2003 — Unprecedented mapping of the magnetism of Mars' surface is revealing surprises and new mysteries about the Red Planet.
The first surprise is that Mars' crust is in some places ten times more magnetized than Earth's crust. That's despite the fact that Mars' has virtually no global magnetic field today, said space scientist Jack Connerney of NASA's Goddard Space Flight Center. [...]
09dec03
AN earthquake measuring 5.0 on the Richter scale jolted Taiwan Tuesday, seismologists said, but there were no reports of damage or casualties. [...]
'Domino' Earthquakes Could Be Deadly
Scientific American
California is known for surf, sun and sand. Less desirable are the earthquake faults that lie beneath the coastal state. Scientists have long been working to understand the complex fault zone in an effort to prepare the region's inhabitants for deadly tremors. [...]
Researchers gained new insight into how earthquakes can interact from a magnitude 7.9 quake along Alaska's Denali Fault in November 2002 that involved a chain reaction of fault shaking. [...]
Teen generation will be 'world's sickest adults'
By Celia Hall, Medical Editor
09/12/2003
The present generation of children and teenagers will turn into the most obese and infertile adults in the history of mankind, doctors warned yesterday.
The drinking, eating, sexual, drug-taking and smoking habits of adolescents were creating a public health timebomb, they said.
A report, Adolescent Health, published yesterday by the British Medical Association, said that one in 10 teenage girls aged 16-19 had the sexually transmitted disease, chlamydia, which can make women infertile.
A quarter of 15- and 16-year-olds smoked, at least one in five 13- to 16-year-olds was overweight or obese and 11 per cent of 11- to 15-year-olds had used drugs in the previous month.
The BMA called on the Government to target the special needs of teenagers, a group that "missed out", being neither children nor adults.
"Young people in Britain are increasingly likely to be overweight, indulge in binge drinking, have a sexually transmitted infection and suffer mental health problems," said Dr Vivienne Nathanson, the head of science and ethics at the BMA.
"It is high time we provided education and health care services that target the specific needs of young people.
"We need to ensure that young people do not fall in the gap between services for children and those designed for adults."
Dr Nathanson said teenagers' behaviour posed "an extraordinary threat to an entire generation".
"It is also a threat to all of us. How can the NHS be funded to deal with that kind of health crisis?
"We can't expect young people to think that far into the future. We have to do some of the thinking for them."
Lawyer's act of revenge draws government's ire
By Guillermo Contreras
San Antonio Express-News
It seemed like a simple payback: an angry government lawyer retaliating against a co-worker by dousing office equipment with urine.
But the federal government said those actions amount to a crime, and authorities are prosecuting Gregory L. Fronimos, 49, for "malicious mischief" to government property. [...]
City cop charged in road rage shooting
By Michelle K. Massie
Pittsburgh Post-Gazette
An off-duty Pittsburgh police officer was arrested yesterday and charged with firing several gunshots at a truck in an apparent road-rage incident Wednesday on the Parkway West. [...]
Priest blames celibacy for assault
A CATHOLIC priest who indecently assaulted a 15-year-old boy told police celibacy was to blame for the sexual abuse of minors, a court heard yesterday.
Father John Barry Gwillim, 71, of Coburg, yesterday pleaded guilty in the County Court to five counts of indecent assault and four counts of gross indecency between October 1979 and February 1981.
A fellow priest described Gwillim's repeated abuse of the teenager as "an occupational hazard". [...]
Rights group accuses Israeli post office of opening God's mail
Woman 'hasn't slept for eight years'
Ananova.com
11:07 Monday 8th December 2003
Doctors in Romania say they are baffled after examining a woman who claims she has not slept a wink for eight years.
Maria Stelica, 54, started going to see doctors at her home in Budeasa after developing insomnia when her mother died eight years ago.
She said: "At first I couldn't sleep even though I tried because I was frightened I would dream about my mother, but after a while I did not need it anymore, and not even sleeping pills can put me to sleep now."
Doctors, who have run clinical tests, confirmed her story appeared genuine but could offer no medical explanation for her condition.
One told newspaper Curierul National: "We cannot understand why she cannot sleep. We cannot explain this phenomenon."

---
Remember, we need your help to collect information on what is going on in your part of the world!
We also need help to keep the Signs of the Times online.
---

Check out the Signs of the Times Archives

Send your comments and article suggestions to us

---
Fair Use Policy
Contact Webmaster at signs-of-the-times.org
Cassiopaean materials Copyright ©1994-2014 Arkadiusz Jadczyk and Laura Knight-Jadczyk. All rights reserved. "Cassiopaea, Cassiopaean, Cassiopaeans," is a registered trademark of Arkadiusz Jadczyk and Laura Knight-Jadczyk.
Letters addressed to Cassiopaea, Quantum Future School, Ark or Laura, become the property of Arkadiusz Jadczyk and Laura Knight-Jadczyk
Republication and re-dissemination of our copyrighted material in any manner is expressly prohibited without prior written consent.
.