---
Putin continues tightening the screws in Russia. It looks as if his supporters will control the Duma.
A new study says few people have actually been convicted of terrorism in the US in spite of the growing repression. So could that mean that the "war on terror" is a lie?... How unpatriotic of us! A much more sensible argument is that it is because the government has "prevented" many attacks. Of course, this cannot really be proved or disproved, and the government likes it that way, as do most of the population - it means they don't have to think. Just be scared. Be very scared. That Arabic-looking man next to you is obviously preparing an evil act. Speaking of terrorism, false memories are far easier to create than you may think.
The dollar continues to drop on Friday's bad news economic report. Bahrain is trying to build an Islamic-law-friendly bond market.
The arrival of TVs and refrigerators into Iraq isn't stopping the fighting. A US general admits not even the death of Saddam himself will do that. Tired of the propagandist US media, some antiwar parents of American soldiers are getting their news by traveling to Iraq and witnessing events firsthand. As the quagmire gets worse, the US is depending more and more upon Israeli experience in its genocide of the Palestinians. Could this be the reason for the public spats with Sharon? A phony distancing during the election year?
Prescription drugs don't really work, but hey, don't let that stop you from taking them. Also revealed, how pharmaceutical companies con medical journals and doctors into endorsing their poison. Truth in our reality never matches outward, superficial appearances.
No sign of a resolution of the disagreements over the constitution and mutual defense accord in the EU. As auto sales increase in Chinese, Chinese youth are learning about steamy windows.
More on the blizzard that hit the northeastern US, France freezes after the floods, and Thai sugarcane trucks are hit by a new type of terrorist: elephants. John Lennon and Albert Einstein had at least one thing in common: COINTELPRO stalking.
U.S. convicts few terrorism suspects: study
Last Updated Sun, 07 Dec 2003 23:23:04
WASHINGTON - Since the 9/11 attacks, more people have been arrested as potential terrorists in the U.S. yet almost none have been convicted of serious terrorism-related charges, accused a report released Sunday by the Syracuse University's Transactional Records Access Clearinghouse (TRAC).
The study shows that of the 6,400 people facing prosecution, charges were filed against 2,001.
Of the 879 people convicted, 373 went to prison and from that group, 250 got less than a year in jail. Twenty three were sentenced to five years or more and five people were sentenced to 20 years or more.
[...] Some Justice Department and FBI officials criticized the study for ignoring the U.S. government's success at "deterring and disrupting potential terrorist acts."
"The whole point is to disrupt terrorism at an early stage instead of letting the conspiracy fully hatch," said a former official with the U.S. Justice Department.
"We cannot take the risk of the conspiracy taking place. What you get is shorter sentences but greater prevention."
Comment: It is easy to claim that you have prevented something from happening when nothing happens. If they come to take you away, and you resist arrest, you might find yourself in jail for under a year, as did 250 of those convicted. Black men in the US know something about being harassed simply because they are black. Now it is the turn of the Arabs.
Terrorism cases fizzling out in US courts: study
By Richard Schmitt, in Washington
December 9, 2003
A new study of terrorism prosecutions in the United States since the September 11, 2001 attacks shows that while 184 people have been convicted of crimes deemed to involve "international terrorism", defendants were sentenced to a median prison term of just 14 days and, in many cases, received no jail sentence at all.
This is among the conclusions of a provocative study by researchers at Syracuse University who examined the US Government's terrorist prosecution data.
In its two-year war on terrorism, the US Justice Department has trumpeted a number of high-profile convictions and lengthy jail terms won against alleged terrorist sympathisers and supporters in federal courtrooms across the country.
But the study determined that, in the most serious cases, sentences were in fact dropping.
The number of defendants sentenced to five years or more in prison for terrorism-related crimes declined in the two years after the attacks compared with the previous two years, the authors found.
"It raises questions about how the Government is targeting its investigative work in this area," said David Burnham, a former journalist who works with the Transactional Records Access Clearinghouse, a data-gathering firm affiliated with Syracuse University.
"Terrorism enforcement is a very serious business," he said.
"There are people in the world who really want to do us harm. It is also essential the Government work as smartly and as effectively as possible."
An FBI spokeswoman, Cassandra Chandler, called the report misleading, saying it ignored the fact that a growing number of referrals to prosecutors related to intelligence gathered about terrorist threats, which are not necessarily likely to result in prosecution.
Justice officials said the authors failed to appreciate the reality of law enforcement since September 11. It ignored "the value of early disruption of potential terrorist acts by proactive prosecution of terrorism-related targets on less serious charges", said Mark Corallo, a Justice Department spokesman.
The study's authors admitted some shortcomings in their analysis. Over half the terrorism-related cases referred to US attorneys for possible prosecution in the two years since the attacks had not yet been acted on or were pending.
Some of the most serious charges, the authors admitted, might still be working their way through the system and their resolution would probably increase the total of people who received lengthy sentences [...]
Comment: Sure, whatever. The old "war on terrorism" is looking more and more bogus (if that's even possible at this stage). Y'all just keep believing that black is white and war is peace and return to the munching of the grass and let the psychopaths in charge deal with all the issues, one of which is your very existence.
'We can implant entirely false memories'
You were abducted by aliens, you saw Bugs Bunny at Disneyland, and then you went up in a balloon. Didn't you? Laura Spinney on our remembrance of things past
The Guardian
Thursday December 4, 2003
Alan Alda had nothing against hard-boiled eggs until last spring. Then the actor, better known as Hawkeye from M*A*S*H, paid a visit to the University of California, Irvine. In his new guise as host of a science series on American TV, he was exploring the subject of memory. The researchers showed him round, and afterwards took him for a picnic in the park. By the time he came to leave, he had developed a dislike of hard-boiled eggs based on a memory of having made himself sick on them as a child - something that never happened.
Alda was the unwitting guinea pig of Elizabeth Loftus, a UCI psychologist who has been obsessed with the subject of memory and its unreliability since Richard Nixon was sworn in as president. Early on in her research, she would invite people into her lab, show them simulated traffic accidents, feed them false information and leading questions, and find that they subsequently recalled details of the scene differently - a finding that has since been replicated hundreds of times.
More recently, she has come to believe that lab studies may underestimate people's suggestibility because, among other things, real life tends to be more emotionally arousing than simulations of it. So these days she takes her investigations outside the lab.
In a study soon to be published, she and colleagues describe how a little misinformation led witnesses of a terrorist attack in Moscow in 1999 to recall seeing wounded animals nearby. Later, they were informed that there had been no animals. But before the debriefing, they even embellished the false memory with make-believe details, in one case testifying to seeing a bleeding cat lying in the dust.
"We can easily distort memories for the details of an event that you did experience," says Loftus. "And we can also go so far as to plant entirely false memories - we call them rich false memories because they are so detailed and so big."
Comment: So detailed and so big... Remember the 9/11 witnesses who clearly remembered seeing a 757 fly into the Pentagon?
She has persuaded people to adopt false but plausible memories - for instance, that at the age of five or six they had the distressing experience of being lost in a shopping mall - as well as implausible ones: memories of witnessing demonic possession, or an encounter with Bugs Bunny at Disneyland. Bugs Bunny is a Warner Brothers character, and as the Los Angeles Times put it earlier this year, "The wascally Warner Bros. Wabbit would be awwested on sight", at Disney.
Elizabeth Loftus' research has obvious implications for the reliability of eyewitness testimony. And it was as a result of her findings that in 1994 she co-wrote her book, The Myth of Repressed Memory, and took a strong stand in the recovered memory debate of the 90s, for which she was reviled by those who claimed to have uncovered repressed memories of abuse - alien, sexual or otherwise. [...]
To try to tease apart these complex relationships, the psychologist Daniel Wright and his colleagues at the University of Sussex have been looking into what it is that makes some people more susceptible to false memories than others. On average, studies show that around a third of those subjected to the "misinformation effect" wholly or partially adopt a false memory, but it seems to depend on both the person and the memory. Alan Alda swallowed the hard-boiled egg story, to the extent that he declined to eat one at the UCI picnic, but he wasn't taken in by Bugs Bunny in Disneyland.
In one study published last year, 50% of volunteers were persuaded they had taken a ride in a hot-air balloon when they had not. But when Kathy Pezdek of the Claremont Graduate University, California, tried to make people believe they had received a rectal enema, she met with almost universal resistance. [...]
Comment: With all of us so easily duped, there is almost no need for such patented technologies like Mind Control With Silent Sound.
Dollar drops to record low against euro
By Ivar Simensen in London
Published: December 8 2003 11:15 | Last Updated: December 8 2003 11:15
The dollar slumped to a record low against the euro for a seventh consecutive session on Monday as investors were left disappointed by Friday's US employment report, which showed the economy creating fewer new jobs than the market had expected.
The dollar hit a record low of $1.2191 against the single currency in early European trade, as well as fresh lows against the yen, sterling and Swiss francs. The dollar index dropped below 89 for the first time in more than seven years, hitting 88.93 as confidence in the greenback remained minimal.
Although recent economic news has showed the US economy growing at a breathtaking pace, the data have failed to support the currency.
However, last Friday's jobs data gave investors a scare as the recovering US economy only managed to create 57,000 new jobs in November, against expectations for about 150,000. The data sent the dollar to fresh lows against most of its major trading partners and that pattern continued on Monday.
Islamically structured bonds growing in importance
Investor interest in Islamically structured debt instruments, commonly known as sukuk, has been on the rise recently, and demand for these instruments will continue to surge. The list of sovereign issuers of these bonds has grown to include Bahrain, Qatar, Lebanon, Turkey and Malaysia in addition to the Saudi-based Islamic Development Bank. Corporate issuers have also started to tap this market, with Emaar Properties and Tabreed, both of the UAE, issuing sukuks of $50 million and $100 million respectively. Not only Islamic Financial Institutions are seeking to invest in the Sharia-compliant bonds, but also the investment community at large is showing interest.
[...] The government of Bahrain wants to reinforce the country's role as a global Islamic finance hub. Serious attempts are being made to establish the Bahrain Stock Exchange as the core market for listing and trading of sukuks.
The main reason for the success of Islamic bonds is they offer a solution to one of the main problems that have slowed the growth of Islamic finance, that of liquidity management.
US TV dump charges not just a biz spat
www.chinaview.cn 2003-12-07 17:39:18
BEIJING, Dec. 7 (Xinhuanet) -- What lies behind the recent trade spat involving four Chinese TV makers and their US counterparts is not a simple business brawl which can be solved by simply sending a purchasing delegation.
Rather, it reflects more complicated problems and has to be dealt with by taking the interests of all into account, experts say.
Saddam's capture would not halt attacks, top American general warns
05:47 AM EST Dec 08
JIM KRANE
[...] The top commander in Iraq, Lt.-Gen. Ricardo Sanchez, said attacks could surge ahead of a July 1 deadline for a transfer of authority from the U.S.-led coalition to a transitional Iraqi government.
"We expect to see an increase in violence as we move forward toward sovereignty at the end of June," Sanchez said.
"The killing or capturing of Saddam Hussein will have an impact on the level of violence, but it will not end it," he said. "It won't be the end-all solution."
"It's a needle in a haystack," he said of the hunt for the ousted Iraqi leader. "Clearly we haven't found the right haystack . . . We are moving under the assumption that he is still in the country, that he is still operating."
[...] After a daylong trip to Iraq on Saturday, U.S. Defence Secretary Donald Rumsfeld said he wants senior commanders in Iraq to consider whether the Pentagon underestimated how many U.S.-trained Iraqi security forces would be needed before a sovereign Iraqi government takes over next summer.
Rumsfeld said he alone has raised doubts about whether the current goal of about 220,000 Iraqi security forces would be adequate, but he asked commanders to review their estimates. He was interviewed on the flight to Washington, arriving early Sunday after a weeklong trip that also included a stop in Afghanistan.
Scholars warn of Iraq becoming dictatorship
By Haitham Haddadin
Reuters
12/8/2003
KUWAIT -- Iraq could slide into dictatorship if US efforts to transfer control to local authorities fail and regional powers like Iran increase their influence in the fractured country, scholars meeting in Kuwait said yesterday.
ADVERTISEMENT
"The regional powers, they enter [Iraq] on a private agenda and not for political reform," Iraqi Islamic scholar Mohammad AbdulJabar said at a three-day conference on the role of Islamic groups in the political reform process in the Middle East.
"Iran has a big role in Iraq," he said. "It sends money, men, and I don't know if it also sends weapons."
Mohammad al-Jassem, editor in chief of the Kuwait daily al-Watan, said some Iraqi Islamic groups were effectively Iran's Trojan Horse. They could tip Iraq and Gulf states toward Tehran-style Islamic states if Washington failed to establish an Iraqi system under its control, Jassem added.
"The expected result will be the return of dictatorship," Jassem said. "That's not necessarily by the return of Saddam Hussein, but by any religious party or group."
But Ibrahim al-Jaafari, a member of Iraq's Governing Council and head of the Islamic Da'wa Party, dismissed the idea, saying that Shi'ite groups in Iraq will not seek to dominate other religious groups or minorities.
"The notion that Islamic groups introduce democracy and then turn it into a dictatorship is a really weird one," he said.
In a major policy shift amid rising US casualties from guerrilla attacks, Washington has dropped its insistence that a constitution be written and elections held before power is transferred to the Iraqis. Iraq's US-appointed Governing Council and the US-run Coalition Provisional Administration signed an agreement stating a new transitional government is to take over in June.
Jassem warned against a quick handover of power to Iraqi political parties that lack experience in state administration.
Marina Ottaway of US-based Carnegie Endowment for International Peace said that in addition to the political problems, there were technical factors standing in the way of a smooth transition, including registering voters in the nation of 24 million people, putting together an election law, and setting up the polling stations.
"The problem of the transition is you can't have early elections until you have a constitution, and you can't have a constitution until you have an elected body," she said. "This is the vicious circle that exists" in Iraq.
Ottaway said the agreement between the Governing Council and the Provisional Administration is on the verge of collapse.
"The issue has been reopened on whether or not this transitional assembly should be elected or selected," she said. "The second element, why it is on the verge of collapse, is the growing evidence that the United States is trying to make this interim constitution into a permanent constitution."
Rumsfeld admits Iraq security problems
Monday 08 December 2003, 13:39 Makka Time, 10:39 GMT
US Defense Secretary Donald Rumsfeld, has announced plans to accelerate the deployment of Iraqi security forces across the country even though many are being employed without the necessary training.
[...] Rumsfeld admitted that some security staff would not receive adequate training because of the immediate need to have a visible police presence in towns and cities.
[...] "Experts say it should take eight weeks to train a policeman. We put some out on the street after four, with the understanding that we needed them on the street and life isn't perfect."
Protection
US forces and allies are training Iraqi police, border patrol agents, civil defence corps members, site-protection guards and soldiers in a new national army. Rumsfeld admitted that at least 107 Iraqi security staff had been killed whilst doing their job in the past few months.
As part of a policy known in some quarters as "Iraqification," the US has trained about 145,000 Iraqis to serve in security forces. The Pentagon has planned to train a further 220,000 next year, but this number may increase.
Rumsfeld told reporters that the US government might have to ask congress to dig deeper into federal reserves to raise funds for the training.
Anti-war parents of American soldiers brave hostility at home to see the real story in Iraq
By Phil Reeves in Baghdad
The Independent
08 December 2003
It must be strange to be Anthony Lopercio of the US Army's 82nd Airborne Division.
The 23-year-old private has been dispatched to Fallujah to stand in the front line on what is, for any American, one of the most hostile places in the world. Yet, as he gazes across the dreary Iraqi landscape, feeling the sullen resentment of its population towards foreign occupation, he will not only be wondering about the guerrillas out there. He will also be watching for the portly frame of his father.
Not long ago, Michael Lopercio, a 51-year-old restaurateur from Tempe, Arizona, decided that he was not happy with the quality of the news he was receiving about the war into which his son had been drawn. He also realised that if the conflict dragged on, so would the amount of time that his boy would have to remain in Iraq, where hundreds of young Americans have already died. So he packed his bags and set off to Baghdad to find out for himself what was happening, and to see if there was anything he could do about it.
"We haven't been getting the full story in the US," he said. "The media is covering events - shootings and bombings - but not the issues. They are not covering what is really happening to Iraqi people and to the Iraqi infrastructure and how this affects our chances of success here. It's very important to understand the frustration of the average Iraqi and how unhappy they are with their progress over the last eight months."
The news that his father was coming to join him in the conflict zone was a surprise for Private Lopercio. "He was utterly shocked when I called him," said Mr Lopercio. He has yet to gain permission to see his son but hopes it will come before he returns to the United States this weekend.
"It took five minutes to convince him I wasn't playing a practical joke. But he was pretty excited for me. I thought he might be disapproving, but he said he thought it would be an incredible experience for me." His son was right. Mr Lopercio has found it incredible. Incredible that, eight months after the invasion and occupation began, children are still dying in Iraqi hospitals through a lack of antibiotics. Incredible that schools have no lights, no heating, no books.
And incredible that, while he has been in Iraq this week, the occupation authorities have staged an expensive public relations stunt by removing the monolithic stone busts of Saddam Hussein that stood on the top of the palace in which Paul Bremer, the chief US administrator, has his headquarters.
"Why the hell are they wasting money taking down those heads of Saddam from the coalition authority's palace when they could be spending it on something more meaningful, like bringing heat and light and medicine to Iraqi hospitals?" asks Mr Lopercio. His mission required courage, not only because of the dangers of being an American in Iraq: his willingness to challenge his country's reasons for going to war, and its disastrous handling of the aftermath of the invasion, has not gone down particularly well in Arizona.
He says conservative radio talk shows have begun attacking his wife, a social worker, after she gave interviews to the newspapers about his trip. "They have been reading out the interviews on the air, and giving her a hard time. She's a little scared, and out of her element, to be sure." He is one of a delegation of nine family members of US soldiers and army veterans who have come to Iraq, led by the San Francisco-based human rights group Global Exchange. Most of the group oppose the occupation, while others say they simply want to see the situation for themselves. [...]
Making a killing in the new Iraq as cars, TVs, food and fridges flood in
Rory McCarthy in Abu Flus, where lack of taxes and tariffs means business, legal and illegal, is booming
Monday December 8, 2003
The Guardian
All day long, televisions, fridges and crates of food are heaved by crane from the ship's overflowing hold to be packed into trucks waiting to race north to the markets of Basra, Baghdad and the northern Kurdish cities. Further along the dockside, a line of cars newly arrived from Dubai rolls off another ship.
Dozens of ships crowd the docks each day at Abu Flus, on the Shatt al-Arab waterway of southern Iraq, and offload vast cargos of food and consumer goods from the Gulf. There are no taxes, no tariffs and only the most cursory customs checks but for now this is quite legal in the new open market of Iraq. Fortunes are there to be made.
By night the docks open for their clandestine customers. Bribes silence the policemen and unlock the gates to allow en terprising young men to deliver tanker-loads of Iraqi fuel which are loaded on to rusting hulks to be smuggled back out to the Gulf. Thousands of dollars exchange hands every trip.
Abdulwahab Badrakhan Al-Hayat 2003/12/8
[...] Before the war, the word was for any "peace of information" that would support the war, especially pertaining to the Iraqi weapons of mass destruction. Probably in all its history, the U.S. never spent as much money on the Iraqi 'nothingness' as far as weapons. After the war, the word is now for money, and this money determines the decisions and choices in Washington. Accordingly, Baker who is known for his proficient management skills, diplomatic wisdom, not to mention his past with the Bush family, was assigned to administer the financial matters of Iraq. Following the 2000 presidential elections, during which the Florida votes stirred a major legal quandary in the U.S., both parties resorted to arbiters, and Baker was among those appointed by Bush father and son, to solve the problem.
Baker's new mission in Iraq is not far from the previous one, as it falls in the context of President Bush's re-election campaign.
West Bank East: Americans in Iraq make war the Israeli way
BEIRUT: If the US military's escalating war against insurgent forces in Iraq is starting to look more and more like Israel's campaign to crush the intifada and the Palestinians' hope of an independent state it's probably because the Americans have been increasingly turning to their Israeli allies for advice on how to conduct just such a conflict.
Now that the United States has become an occupying power, like Israel, (although the Israelis still like to kid themselves they're not really) it has found itself having to grapple with a growing insurgency that is showing every sign of escalating and expanding. The contacts between the two allies is largely classified, mainly because the Americans would find it massively embarrassing if they were seen to be taking lessons in crushing Arab resistance from Israelis. The Americans' insistence that they "liberated" Iraq from the tyranny of Saddam Hussein's grotesque regime would suffer greatly from comparison to the internationally condemned Israeli occupation of the West Bank and the Gaza Strip.
[...] Pentagon officials scoff at any comparison with the West Bank or Gaza, and indeed George W. Bush cannot afford to have the US occupation seen in that light. Maybe that's why he's trying to distance himself from Ariel Sharon so much these days.
Israeli commentator Akiva Eldar noted in Haaretz a few days ago that US and Israeli officials met recently during which there was "an exchange of views and tips on how to deal with terrorism and occupation. The Israelis gave the Americans advice on how to keep the war against terrorism separate from innocent civilians."
Eldar did not explain how the Israeli military had supposedly mastered that technique without anyone noticing, and went on: "Now it has become harder for the Americans to criticize Israel. They are paralyzed, actually. Their hands are tied. Sharon now has a free ride, because the Americans are doing exactly what Israel is doing, in such policies as putting restrictions on the movement of civilians. Civilians have already been hurt and now the Americans are starting to use air strikes."
Comment: This is a long article with many examples of the collaboration between the Bushists and the Sharon government.
Europe owes former colonies a tougher stand on democracy
[...] Europe has come a long way since its colonialist past, but it has yet to develop a coherent strategy for interacting with the peoples over whom it formerly held sway. It has been even less successful with regard to their governments, especially in the Arab world. This failure constitutes a missed opportunity of gargantuan proportions, particularly in light of the inevitable imbalances engendered by America's unconditional backing for Israel and bizarre relationships with all of the Jewish state's neighbors.
Every Arab regime has been bested on the battlefield, battered by sanctions and/or coerced into accepting Israel as a fact of life in the Middle East. All of these governments remain unrepresentative, unresponsive and undemocratic, which is why they are so ill-equipped to resist pressure. What has been missing is a friendly voice willing to say the things that no dictator likes to hear: Europe should be that voice, but it remains silent.
Remedying this failure would not be pure altruism on the part of the European Union: For some of its member countries, the extent and effect of immigration from the Arab world makes foreign policy a very domestic issue.
Zayed, Lula explore ways to boost trade, economic cooperation
Abu Dhabi |WAM | 08-12-2003
President His Highness Sheikh Zayed bin Sultan Al Nahyan received yesterday President Luiz Inacio Lula da Silva of Brazil, who is on an official visit to the UAE.
During the meeting which was attended by His Highness Sheikh Khalifa bin Zayed Al Nahyan, Crown Prince of Abu Dhabi and Deputy Supreme Commander of the UAE Armed Forces, the two leaders explored ways of boosting bilateral cooperation between the UAE and Brazil, particularly in trade and economy.
Zimbabwe's President Robert Mugabe says he is pulling his country out of the Commonwealth with immediate effect.
He said he did not accept the decision made at the Abuja summit, to maintain Zimbabwe's suspension indefinitely.
The issue has split Commonwealth leaders, with South Africa, Mozambique, Namibia and Zambia extremely upset at the move.
The summit will come to an end amidst acrimony and division later on Monday, say correspondents.
China PM warns Taiwan over vote
The Chinese prime minister has again warned Taiwan not to use democratic aspirations as a cover for separatism.
[...] Mr Wen, who is due to see President Bush on Tuesday, wants an unequivocal statement from the US of its opposition to Taiwanese independence.
The trip comes at an awkward time in Sino-US relations, with not only Taiwan but trade and North Korea key issues.
The BBC's Adam Brookes in Washington says the recent pronouncements of the Taiwanese President Chen Shui-bian have rattled both Beijing and Washington.
President Chen says he is going to hold a referendum in March to ask the Taiwanese people whether or not they feel threatened by China's military posture.
Beijing sees such a referendum as provocative while Washington worries that Mr Chen is undermining the security status quo in order to gain votes.
Comment: When things start to heat up, political leaders may well find it is the time to start making their own demands. If Bush is preoccupied with Iraq, they assume he won't want to get embroiled in other problems. North Korea is pushing things with their nuclear program. Now the referendum in Taiwan. The trouble is, things could quickly get out of hand in any one of these spots.
Poll finds Washington to be a focus of Chinese fear

BEIJING (AFP) Dec 07, 2003
A quarter of the population believes the US to be the biggest threat to world peace, a survey in China found Sunday, posing a potential headache for premier Wen Jiabao as he left for a visit to Washington. [...]
Nicaragua's former leader jailed
Former Nicaraguan President Arnoldo Aleman has been sentenced to 20 years in prison for corruption.
Aleman was found guilty on charges including money-laundering, fraud, embezzlement and electoral crimes, judicial officials said.
The former Nicaraguan leader, who ruled the nation from 1997 to 2002, was arrested in December last year.
He was accused of helping to divert nearly $100m of state funds into his party's election campaign.
[...] Aleman, known as El Gordo or the Fat Man for his huge physical bulk and vast wealth, once spent $10,000 on two nights in Paris, bought Egyptian carpets worth more than $22,000 and spent thousands on jewellery, hotels and bar bills.
Poor nation
He became leader of Nicaragua's National Assembly in 2002 when his presidential term finished, a post which guaranteed him immunity from prosecution.
But when state auditors found millions of dollars of stolen state assets in bank accounts around the world, a wave of public revulsion led to the parliament lifting his immunity.
He was arrested along with several members of his family and a number of former ministers.
As well as the jail sentence, he was fined $10m and forbidden from standing for office for the length of his sentence.
Nicaragua is one of Latin America's poorest countries, with around half the population living on less than a dollar a day.
Comment: Aleman is another of the wonderful "democratic leaders" in Latin American that owe their time in power to the US. After the Sandanista's overthrew the dictatorship of Somosa, the US mined the harbors of Manegua, the Nicaraguan capital. They were condemned by the World Court. That hasn't changed their behaviour. A large campaign including illegal funding, guns for hostages in Iran, Oliver North, the Contras operating out of Honduras, and the active participation of the current US ambassador to the UN, John Negroponte, led to the eventual replacement of the Sandanistas with US controlled puppets. The agrarian reform started by the Sandanistas was reversed, and the country remains, as the article says, "one of Latin America's poorest countries, with around half the population living on less than a dollar a day. "
Nicaragua: Nearly Gone & Almost Forgotten
By Genevieve Howe
[...] The Nicaraguan revolution had accomplished small miracles for the mass of poor citizens oppressed by 45 years of the Somoza family dictatorship. Literacy had increased from 25 percent to 80 percent. Free education and health care had become state priorities. Land reform had benefited thousands in the cities and countryside. Countless projects had been completed with the help of international donations, including construction of schools, hospitals, and clinics, establishment of drinking water supplies and waste water disposal, agricultural irrigation, and environmental protection. The Sandinista government continued to prioritize needs of the majority while the country suffered from the crippling blows of the U.S.-funded counter-revolutionary war and the U.S. economic blockade. The United Nations World Court had ruled that the U.S. owed Nicaragua $17 billion in damages from the U.S. economic and military war on this small, poor country. The U.S. has never paid any of it.
U.S. military and economic intervention brought an end to the Sandinista government at the ballot box in 1990. Violeta Barrios de Chamorro was inaugurated as president in April 1990.
Comment: This article details the fraud in the elections that brought Aleman to power. Chomsky speaks of Nicaragua in What Uncle Sam Really Wants.
Pro-Putin party triumphs in poll
The party backing President Putin is heading for a convincing victory in Russia's parliamentary elections.
With more than 90% of the votes counted, the pro-Kremlin United Russia Party leads with almost 37%.
The ultra-nationalist party of Vladimir Zhirinovsky and the Communists are vying for second place.
It seems likely that two liberal, pro-free market parties will fail to get the 5% of votes needed to win party list seats in the State Duma.
Experts say Mr Putin now seems assured of gaining a second term in presidential elections next March.
If United Russia and its allies gain a two-thirds majority, they would be able to amend the Russian constitution, potentially paving the way for Mr Putin to stand for a third term as president.
Liberals cry foul in Russia poll
Monday 08 December 2003, 11:51 Makka Time, 8:51 GMT
Russian liberal parties have been ousted from parliament for the first time in the post-Soviet era, poll results show with almost 91% of ballots counted.
Both of the nation's top liberal parties, Union of Right Forces (SPS) and Yabloko, failed to scrape by the crucial 5% barrier needed to get proportional seats in the State Duma or lower chamber, the results showed on Monday.

Both parties still managed to scrape a handful of seats by winning single-mandate districts, which make up half of the Duma's 450-member chamber.
The results meant that liberal parties would not be a significant presence in Russia's law-making body for the first time since the Soviet Union collapsed in 1991.
SPS is made up of pro-business economic reformers, many of whom were responsible for post-Soviet changes to the nation's economy.
Yabloko was the only party to come out against the second war in Chechnya in 1999.
Putin leads
Such results mean the political party supporting President Vladimir Putin, United Russia, has surged into the lead in Russia's parliamentary elections.
A Mandate to Lead, But to Where?
Editorial
Moscow Times
Monday, Dec. 8, 2003. Page 10
United Russia appears to have won an overwhelming victory in Sunday's election. If it were a proper political party, it could be expected to set the tone and agenda in the next State Duma.
We all know it is not.
To start with, it has no proper leaders. The men who made up the party's federal list and who were the face of the party throughout the campaign -- Boris Gryzlov, Sergei Shoigu, Yury Luzhkov and Mintimer Shaimiyev -- all have better things to do than sit in parliament.
Nor does it have much of a program to speak of, aside from its slavish devotion to a president who often takes months to publicly comment on burning issues of the day. United Russia ran an issue-less campaign and refused to engage in televised debates. It also refused to accredit journalists to its campaign headquarters on election night, save for TV crews from national networks already under Kremlin control.
Yet fully one-third of voters chose President Vladimir Putin's "non-party," according to our exit poll. If this figure is added to the roughly 20 percent that voted for LDPR and Homeland, two puppet parties created to out-communist the Communists, and the additional seats all three will likely pick up in the single-mandate contests, Putin will come close to having the two-thirds majority needed to change the Constitution (something many say he secretly desires to do).
Unlike the drab United Russia, however, LDPR and Homeland are sideshow attractions for the nationalistic and hateful, whose leaders have virtually nothing of substance to show for their many years of lawmaking.
But there they are, two extremist parties who now have what looks like a full quarter of the new Duma. Add their hyperbole to the painfully uninteresting and woefully ineloquent United Russia and what we have is an unimaginative parliament that has moved decidedly to the right. Let us hope that Putin is enlightened, and that he has a plan to keep bottled the dark and dangerous populist urgings that Vladimir Zhirinovsky of the LDPR and Dmitry Rogozin of Homeland have spent their careers exploiting. If the last four years are any indication, LDPR and Homeland will rubber stamp whatever agenda Putin puts before them, acting the "bad cop" to Putin's "good cop" to counter criticisms of his policies -- whatever those are.
If anything can be learned from Sunday's elections, it is that Putin and his entourage have successfully accomplished two of their major objectives. The first is the electoral gutting of the Communist Party, while the second is the enshrinement of the "power vertical." Although the first may be far overdue, the second is plainly dangerous.
Communists' Demise, Nationalism on the Rise
Monday, Dec. 8, 2003. Page 11
The main drama in these elections is not the success of United Russia, which was guaranteed by the joint organizational efforts of the Kremlin, the elections committees and regional governors.
The key event in these elections, which will most likely influence the development of politics in the near future, is the demise of the Communist Party. Of course, the Communists will blame everything on hostile media coverage and electoral fraud -- and they will be right to do so. But neither of these factors is new. In fact, in previous elections they have done much better, even in circumstances that were objectively worse.
There has always been anti-Communist propaganda in the media, but the difference this time was that quite a few KPRF voters actually believed it; and they did so because the negative coverage in the media confirmed their own experience with the party.
[...] Of course, the outcome of this election is a defeat for the democratic process in Russia, but it also has a positive aspect because our political system has never really been democratic. Today, the authoritarian character of the political system has simply been exposed. In the long run, it will probably have an illuminating and invigorating effect on civil society and society as a whole -- spurring people to action and self-organization.
Road to U.S. Is Paved With Humiliations
By Matt Bivens
Monday, Dec. 8, 2003. Page 10
A few years ago, my Ukrainian-born wife and I were killing time in a waiting room in the U.S. Embassy in Moscow. We sat in plastic chairs, which lined three of the walls; the fourth was a row of consular officials behind glass, and while you meekly awaited their summons you couldn't help but listen to everyone else's interviews.
The consular officials acted like this was utterly routine and banal (which for them it was); the applicants, like all of their hopes and dreams were at stake (which they were).
An older couple came scurrying obsequiously up and shoved their paperwork through the hole in the window. The consular official began asking bored-sounding questions, to which the couple gave eager-to-please answers.
It says here there's supposed to be a Baba Klava as well, the young official asked -- where's Baba Klava?
Baba Klava, the couple answered with apologetic grins, is in a wheelchair, and since they couldn't get her inside they left her out front.
A collective gasp shot through the room, as we all realized that some poor babushka had been left in a wheelchair on the sidewalk for perhaps a couple of hours. All eyes focused on the young consular official, who was starting to look angry -- the suspense mounted; would we finally witness a human emotion on the other side of the glass?
The young official sighed petulantly. "Is it still raining?" he asked -- and again a collective gasp shot through the room, as many of us suddenly remembered it had been pouring rain and probably was still.
Oh, yes, said the obsequious couple, with all of their eager-to-please enthusiasm, yes! Still raining!
"Damn!" said the consular official. The suspense peaked, as he glared accusingly at the older couple before him. "Damn! Now I have to go get my coat."
He didn't care about an elderly woman left in a wheelchair in the rain for two hours; he cared about himself, a young guy in his 20s, having to go out in the rain for two minutes to talk with her.
I, at least, am finally free of that particular circle of hell. My wife at last got her U.S. citizenship this year -- after 11 years of marriage. She would have gotten it years sooner but our time working abroad for the Dutch-Russian-owned Moscow Times counted against us. As one U.S. immigration official put it to us, I should have been working for "an American company like the World Bank -- you know, a company that carries American ideology abroad."
By John Zaracostas
SPECIAL TO THE WASHINGTON TIMES
December 8, 2003
GENEVA — The United States, backed by the European Union, Japan and Canada, has turned back a bid by developing nations to place the Internet under the control of the United Nations or its member governments.
But governments, the private sector and others will be asked to establish a mechanism under U.N. auspices to study the governance of the Internet and make recommendations by 2005. [...]
Poland backs idea of US bases on its territory: prime minister
Democrats Promise Revenge in Florida
Sat December 6, 2003
John Whitesides, Political Correspondent

ORLANDO, Fla. (Reuters) - The Democratic presidential contenders vowed on Saturday to win the battleground state of Florida in 2004 and avenge the bitter 36-day vote recount that landed President Bush in the White House.
At a convention of 4,000 Florida party activists, Democrats alternated harsh criticism of Bush's leadership with promises to remember the disputed 2000 election and make it a rallying cry for next year, when Florida will again play a crucial role.
"None of us are ever going to forget," Sen. John Kerry of Massachusetts said of the ballot chaos, which ended when the Supreme Court stopped the recount with Bush beating Democrat Al Gore by 537 votes. "We are going to be energized. This state remains crucial, but most importantly it is winnable."
Missouri Rep. Richard Gephardt said anger over the recount and four years of Bush made Florida and its 27 electoral votes ripe for a Democratic victory.
"I really believe we're going to win in Florida in 2004," Gephardt said. "I have never seen Democrats this motivated to win an election."
He cautioned, however, that the party could not dwell on the past and needed an optimistic vision for the future. "You can't win elections by looking through the rear view mirror," he said.
Public opinion polls show all of the Democrats battling for the right to challenge Bush in 2004 will face a tough task in Florida, where Bush leads by double digits. Bush's brother, Florida Gov. Jeb Bush, was re-elected comfortably in 2002 despite Democratic efforts to make the recount an issue.
But Democrats predicted Florida would be another intense battleground in 2004, and North Carolina Sen. John Edwards said Democrats would win "the old-fashioned way -- by counting every vote."
OBJECTS TO INTERNET VOTING
"We are never going to let the United States Supreme Court decide the president of the United States again," he said.
Edwards criticized a Michigan Democratic Party plan to allow Internet voting in its Feb. 7 presidential primary, saying it would reduce the influence of poor and minority voters.
EU constitution summit 'may fail'
Germany and Italy have warned that a European Union summit next week may not agree a new EU constitution.
Speaking in Berlin, Italy's Prime Minister - and current EU president - Silvio Berlusconi said he was "55% optimistic" a deal would be reached.
His host, German Chancellor Gerhard Schroeder, said both men did not rule out failure in Brussels on Friday.
The biggest disagreement has been over voting powers among nations when the EU expands to take in 10 new members.
Unchanged position
Germany and France, which together account for one-third of the bloc's population want the voting system to reflect their size.
But Spain and Poland fear domination by the bigger countries and have been fighting a fierce battle to hold on to a voting system agreed three years ago at the Nice summit.
[...] Among the other issues that have yet to be discussed is the question of whether God and the EU Christian heritage should be mentioned in the text.
This is something Malta, Spain and Poland are keen to include and something which would make France, a country with a strong separation of state and church, very unhappy.
Neutral countries challenge EU defence plans
By Judy Dempsey in Brussels
Published: December 7 2003 21:58 | Last Updated: December 7 2003 21:58
The four neutral countries of the European Union have joined forces to challenge attempts by Britain, France and Germany to include a mutual defence clause in the EU's new constitutional treaty.
The proposed clause, similar to Nato's article five, states that if a member state is attacked other member states are automatically obliged to provide assistance in accordance with the United Nations charter.
Austria, Finland, Ireland and Sweden say this clause undermines their neutrality.
Greek court convicts guerrilla leader
By Reuters Mon 8 December, 2003 08:00
A Greek court has convicted two men of being the chief assassin and mastermind of the November 17 guerrilla group, which killed prominent Greeks as well as British, Turkish and U.S. diplomats in a 27-year reign of fear.
The three-judge court delivered the verdict on Monday at the end of a marathon trial involving 19 accused members of November 17. The conviction of the November 17 leaders removes a major security threat to next summer's Olympic games in Athens.
Palestinian full truce talks fail
Palestinian factions meeting in Egypt have failed to agree a full ceasefire on attacking Israeli targets.
The groups were even unable to overcome differences over whether to stop suicide attacks against civilians inside Israel, officials said.
This was a personal blow for the Palestinian Prime Minister, Ahmed Qurei, who had gone to Cairo to join the talks, says the BBC's Paul Wood.
Israel had rejected any truce deal that excluded Israeli military targets.
Quraya strives to break truce deadlock
Monday 08 December 2003, 13:41 Makka Time, 10:41 GMT
Palestinian officials are seeking ceasefire talks with resistance groups after Egyptian-brokered efforts to secure a comprehensive ceasefire stumbled.
[...] But on Monday members of Palestinian President Yasir Arafat's Fatah faction said they will try to persuade resistance movements to change their stance.
"The dialogue with the factions will continue inside the occupied territories and the Palestinian cabinet will pursue its peace efforts despite the collapse of the Cairo talks," said senior Fatah official Ahmed Ghneim in Egypt.
[...] Even as Palestinians met to find a way to peace, Israel continued its invasions.
Occupation forces, backed by 20 military vehicles, launched an invasion at dawn on Monday in the occupied West Bank city of Jenin, reported our correspondent.
Fighters from the al-Aqsa Martyrs Brigades, an armed offshoot of Fatah, and Islamic Jihad's al-Quds Brigades clashed with Israeli forces, who raided homes under the pretext of searching for wanted activists.
Israeli government approves first private prison
www.chinaview.cn 2003-12-08 19:39:10
JERUSALEM, Dec. 8 (Xinhuanet) -- The Israeli government has approved the establishment of the country's first privately run jail, which is expected to be up and running in 2007, Israeli newspaper Haaretz Daily reported Monday.
After gaining the cabinet's approval, Israeli Minister for Public Security Tzachi Hanegbi will submit a bill to the parliament to get necessary legislative changes to allow for privately run jails.
Plans to privatize jails stem from a lack of prison cells that has caused a crisis in holding the growing number of criminals, particularly those held for security offenses, the report said. "Privatized jail operation is a lever for the opportunity to operate additional services privately in the prison sector and treatment of prisoners," Hanegbi was quoted as saying. "Putting this into practice will improve conditions, often unbearable, that have been created due to the shortage of prison places," he added.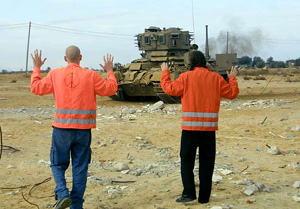 International Solidarity Movement members raise their hands in front of an Israeli army tank as they approach the body of 16-year-old Palestinian Jihad Mussa al-Akhras after he was shot dead by Israeli soldiers in Rafah in the southern Gaza Strip.
Ayoon wa Azan (Next Stop Hell)
Jihad Al Khazen Al-Hayat 2003/12/7
The subject of my column today started three years ago when the great Egyptian novelist Ahdaf Soueif visited the Palestinian territories, and returned to write about it in a special supplement for The Guardian. Before this, I used to admire Ahdaf for her literary skills, but after that, I started admiring for her boldness as well.
Ahdaf Soueif returned to the Palestinian territories two months ago, and wrote of her experience there in the supplement for The Guardian. And between the first and the second accounts, I was collecting all supplements of British newspapers and magazines related to the Palestinians and the occupation. And since the collection is too large to fit in the space I have, I finally selected only two newspapers, The Guardian and The Independent, and will try to end with a small variety. I find these reports important for two reasons: first because they are confirmations of the brutality of the occupation from a Western perspective, and second as an appreciation of the efforts made by these two newspapers, which reports were sometimes even better than those of Arab newspapers.
The new article by Ahdaf Soueif published in the Guardian talked throughout the first page about Israel's attempt to empty the West Bank of its people. The Egyptian novelist said that she thought the situation critical three years ago, but she returned recently to find it much worse; the security wall separating the farmer from his land, the refugee from his place of living, leaving villages such as Qalqilya totally isolated, thus placing its residents in one large prison. Only weeks before Christmas, she saw a secluded Bethlehem, as most tourist shops were closed, and no tourists or pelerines visited Christ's Church of Nativity. Daphne Golan, a human rights teacher at the Hebrew University, told her that she takes her students on field trips around the West Bank, and that they avoid settlers, although they are Jews, and see how these settlers frighten Palestinian children on their way school. I had also read about settlers who complained that other settlers were cutting the trees of the Palestinians.
Ahdaf Soueif writes with her heart and mind, and despite that, what moved me most was one of the pictures accompanying the feature, in which an Israeli soldier is searching a veiled Palestinian woman, and has his hands around her chest. Did the woman yell: "where are you, my protector?" She is the wife, mother and sister of each one of us.
Ahdaf Soueif's feature was published on November 24. As for the November 10 special report, it had a cover representing a map of Palestine, which means Israel, with an arrow pointing at a place in the center called "Israel's Guantanamo."
The author, Chris McGreal, reports that the prison - which does not appear on any map - is located between Khodeira and A'faoula, and was originally a prison built by the British in the 30s, and is now being used by the Israelis for the interrogation of Palestinian prisoners, and sometimes of kidnapped Lebanese and others, who are driven to the prison blindfolded, and without telling them where they are; they undergo investigations away from any kind of legal protection, and there are stories about the torture of prisoners.
The writer mentions the names of many who were taken to this secret prison, known as Facility 1391, among them is Sheikh Abdul Karim Obeid and Mustafa al-Dirani. He also reports former head of Israeli intelligence Ami Yaalon saying that there can be no prison like this one in a country that claims to be democratic.
Walid Choucair Al-Hayat 2003/12/7
[...] Every Arab state, and each according to its own circumstances, is trying to weather the American storm, which aims at demolishing each country's stability.
The Geneva Accord falls in this context, in addition to the fact that it represents a message to the American public opinion, to the effect that there are other people than Sharon ready to make peace. The interview of Syrian President Bashar Al Assad to the New York Times, in which he invited Washington to pursue the peace negotiations, including the Syrian track, also falls in this context, not to mention that he must have addressed the American public opinion to convince it that what the Israeli lobby has been accusing Damascus of is not true. We could see other Arab initiatives of such kind, until the American presidential elections take place in less than a year. The goal is to avoid additional American evil, which expansion, rather than its contraction, the European leaders still fear.
Iran says it will sign nuclear protocol
www.chinaview.cn 2003-12-08
BEIJING, Dec. 8 (Xinhuanet) -- Iran insisted Sunday that it remained committed to an agreement allowing unfettered inspection of its nuclear facilities but gave no date for when it will sign the deal, despite mounting Western pressure.
Mohamed El Baradei, director-general of the International Atomic Energy Agency, said last week he expected Iran to sign a protocol to the Nuclear Non-Proliferation Treaty "shortly."
A Western diplomat in Vienna, where the IAEA is based, suggested Tehran was stalling, and said the United States and other countries were impatient "for Iran to keep its promises and sign."
"From our point of view, it's definite. We have announced to the IAEA that we have agreed to sign," Foreign Ministry spokesman Hamid Reza Asefi told reporters at a weekly press conference.
On this day in 1980
John Lennon was assassinated.
"Laurel and Hardy, that's John and Yoko. And we stand a better chance under that guise because all the serious people like Martin Luther King and Kennedy and Gandhi got shot." -- John Lennon

"Listen, if anything happens to Yoko and me, it was not an accident." -- John Lennon
A few days ago we posted a link to the one page comic, Dead Silence in the Brain: The CIA Assassination of John Lennon, that summarizes the research behind the assassination, and includes links for further research into the topic, including a link to excerpts from Fenton Bresler's book Who Killed John Lennon? Surprise, Lennon's assassination, just like JFK's assassination, takes us right to today's stolen Oval Office. To this day, Lennon is still considered a threat. His song Imagine was put on a "do not play" list for all Clear Channel owned radio stations after the Iraq Invasion. Clear Channel has a virtual monopoly over the radio waves in the US. COINTELPRO has always stalked anyone with a conscience and a potential public influence...
Why the FBI went after the "Person of the Century," and how the same mistakes are being repeated
ALBERT HUEBNER
Toward Freedom
In his book The Einstein File, Fred Jerome explains why and how J. Edgar Hoover's FBI put together an 1800-page dossier on the greatest scientist of the time. Nominally about the past, his account contains important lessons for everyone living in the US today, and for many people elsewhere. First of all, Einstein advocated antimilitarism, internationalism, and socialism, causes that Hoover considered repugnant. But the scientist didn't just harbor "unpopular" opinions; he actively and openly supported the causes he believed in. For example, he served as Honorary Chairman of the War Resisters League, was on the National Committee of the Friends of the Abraham Lincoln Brigade, and vigorously backed Henry Wallace's 1948 Progressive Party presidential campaign.
Above all, Einstein passionately supported civil rights and opposed racism. Even before moving to the US he had joined the campaign to save the Scottsboro Boys (nine Black youths accused of raping two white girls and convicted on flimsy evidence by an all-White jury), and spent years after settling in Princeton, NJ vigorously supporting efforts to end lynching. This included co-chairing the American Crusade to End Lynching with Paul Robeson, and led to a close friendship with Robeson, as well as with W.E.B. Dubois.
These associations convinced the FBI director that the scientist was a dangerous subversive. Worse yet for Hoover, Einstein was hugely popular at that time and his intellect was widely respected. If the professor was allowed to express such views, others might follow. Hoover's response was to launch an intensive probe, sometimes bordering on the lunatic, designed to discredit and deport Einstein.
An enormous amount of time and money was spent on pointless investigations that, predictably, went nowhere. Some of these antics might have been amusing in a Hollywood screwball comedy, but not when affecting the lives of real people. The document that begins the FBI's file provides an example: a memo from the Woman Patriot Corporation calls for the scientist's deportation, charging him with every variety of political subversiveness, along with belittling his theory of relativity. For good measure, they added that he "apparently cannot talk English."
Some of the FBI's inquiries were similarly divorced from reality. The Bureau spent years searching for Einstein's son, Albert Jr., since agents claimed he was being held as a hostage in Russia. The search was made more difficult, Jerome explains, "by the fact that no such person existed." Another goal of the FBI probe was to establish a connection between Einstein and the British atomic spy Klaus Fuchs, in the face of overwhelming evidence to the contrary.
Years later this "intelligence," although thoroughly discredited by the Bureau's own investigators, was still being distributed by Hoover to other agencies. Using the Freedom of Information Act, Jerome has chronicled the massive malfeasance, which included wiretapping, the interception of mail, and information from unreliable sources, including Hoover's pals in Nazi Germany. Taken together, it's enough to make a civil libertarian cringe.
The political climate today is no less disturbing. Chinese-American nuclear scientist Wen Ho Lee, more vulnerable than Einstein, was imprisoned, shackled, locked in solitary confinement for nine months and denied bail, all based on FBI testimony that an agent later admitted was untrue. The rumor that Lee had flunked a lie detector test also proved false. When Lee was finally released, a federal judge apologized for the government misconduct, a small consolation after the scientist's life was shattered.
In a less publicized, and therefore perhaps more ominous case, the government tried to silence physicist Theodore Postel for his multiple transgressions. Following the Gulf War, Postel publicly exposed as fake many of the Pentagon's widely televised claims that its Patriot missiles shot down many Iraqi Scud missiles. After the current Bush Administration took office, Postel criticized its push to step up the national missile defense program, distributing an unclassified document over the Internet. The document revealed that Pentagon claims of successful antimissile tests were based on doctored data. In response, on grounds that national security was at risk, the Pentagon threatened to withdraw lucrative contracts from MIT unless the university muzzled Postel.
This violation of civil liberties occurred before 9/11. After that attack, of course, the war on terrorism supplanted the "communist conspiracy" as a pretext for repression, while measures like the US Patriot Act and Operation TIPS replaced similar repressive actions that date back to Hoover's long tyranny. The Palmer raids, organized by Hoover, led to the arrest of thousands of "suspected" communists, many severely beaten by police or paraded through the streets in chains. Most of them, including US citizens arrested "by mistake," were eventually released, except for about 500 who were deported - with little protest from the rest of the country. Similarly, the Patriot Act has given the government vast new powers to spy on and harass immigrants and citizens alike. More than a thousand people have been detained, their civil rights ignored. Again, protest from the rest of the country has been minimal.
For several years the American Legion ran a Contact Program, designed to help the FBI monitor "persons of foreign extraction or possible un-American sympathies." TIPS, Attorney-General John Ashcroft's current version, aims at domestic spying on a broader scale. It was conceived originally to include postal workers and utility employees, as well as truckers and transit workers. But Ashcroft knew the blow TIPS would deliver to civil liberties. During a TV interview shortly after 9/11, Senator John Warner instructed viewers: "You must think of yourself as an agent, not to spy on your neighbors, but to judiciously report anything that looks suspicious." Within two weeks, nearly half a million people called the FBI to inform on their neighbors, especially if they were - or perhaps only looked like - Arabs.
Although Hoover's campaign to brand Einstein a communist and have him deported basically failed, it did succeed in one important way. The director's concern was that Einstein's views might become widely known, and influence others. That didn't happen.
As he wrote in 1949, Einstein understood that it is difficult for the individual to make intelligent use of his political rights because power is concentrated in a few hands that "inevitably control, directly or indirectly, the main sources of information (press, radio, education)." Einstein certainly attempted to make his political views public. Yet he is renowned for theories people don't understand, while his political beliefs remain little known to this day. The mass media, uncorrected by fellow-scientists or historians, have successfully sterilized his image. Chosen as "Person of the Century" by Time, he was described as a "kindly, absentminded professor...wild halo of hair, piercing eyes." According to a Nova special, "Einstein Revealed," he was an "other-worldly genius."
Most mainstream media don't even acknowledge that Einstein had a political life. But Jerome properly describes it. Einstein, he writes, was "a man who never stops trying, never stops working to bring about liberty, equality, and fraternity for everyone, not just those who can afford to pay." If exposure of Hoover's once-secret files, perhaps abetted by a growing alternative media movement open to progressive ideas, creates a new awareness of Einstein's political convictions and courageous activism, that could certainly be called poetic justice.
Reopening the inquiry into the 'suicide' of 'God's banker' has exposed links with the mafia, masons and Vatican fraud, writes Nick Mathiason in the Observer.
Edmonton airport check uncovers explosives
Last Updated Sun, 07 Dec 2003 20:23:28
EDMONTON - Police in Edmonton have arrested a woman who allegedly tried to bring two pipe bombs and about 100 firecrackers onto an airplane.
The woman was going through airport security late Saturday when officials found the explosives in carry-on luggage, police said.
She was planning to take a Westjet flight from Edmonton to Vancouver when she was stopped. Police said it's unclear what she was doing with the explosives.
Separatists bring antics to Overton, Texas
By EVAN MOORE
Houston Chronicle
[...] Overton has been home to the Republic of Texas, or "R.O.T." as its adherents sometimes call it. Formed in the mid-1990s by a coalition of tax-protesting separatists in Victoria and Bulverde, the group adopted the Republic of Texas Constitution of 1836 and declared its independence from the United States. [...]
Its intentions [...] are clear. While maintaining that Texas was never properly annexed into the United States, the group wants to claim the state at its size before the Compromise of 1850 and declare it an independent nation. That nation would include all of Texas, a good bit of New Mexico, parts of Colorado and Wyoming and a strip of northern Mexico. [...]
Four Found Dead in Rural N.C. Include Boy
Monday, December 08, 2003 4:59 a.m. ET
AVENTON, N.C. (AP) -- Four people were found dead at a dilapidated rural house on Sunday, including a 10-year-old boy whose body was discovered in the front yard, authorities said.
"At this time, we're investigating it as a homicide," said Nash County Sheriff Jimmy Grimes. [...]
All were members of the Haliwa-Saponi tribe of American Indians, Joyner said. [...]
NY Man Slashes Wife to Death With Sword
Monday, December 08, 2003 4:29 a.m. ET
NEW YORK (AP) -- A man slashed his wife to death with a sword in their apartment and charged police screaming "I'm God! Kill me!" when they came to investigate, officials said. [...]
Riot in Sierra Leone Over Midget No-Show
Storm tears across Atlantic Canada
Last Updated Sun, 07 Dec 2003 22:22:13
HALIFAX - A snowstorm pounded Atlantic Canada Sunday, toppling power lines, grounding planes and turning some roads into ice rinks.
New Brunswick bore the brunt of the storm. In some places, a half metre of snow blanketed streets and buried cars. No major accidents were reported, despite whiteout conditions on many highways.
About 3,000 people lost their power, mostly in the Bouctouche to Shediac area. It'll likely be Monday before everyone gets their electricity back, NB Power said.
Environment Canada said by the time the snow tapers off in Moncton Monday, the city could receive between 60 and 70 centimetres of snow.
Winds of up to 100 km/hr whipped southern New Brunswick. Gusts of 85 km/hr were reported in Prince Edward Island, strong enough to prompt Northumberland ferries to suspend their runs for the day.
Snow blankets northeastern United States, Boston airport briefly closed

WASHINGTON (AFP) Dec 07, 2003
The northeastern United States on Sunday dug out from under a storm that dumped massive amounts of snow on several states, killing at least eight, closing airports and snarling traffic.
Boston's Logan Airport closed temporarily after a snowstorm clogged runways and caused major delays, but reopened after 10:00 am (1500 GMT). Flight delays and cancellations were reported Saturday at the three New York-area airports.
New York and other major northeastern cities such as Philadelphia, Pennsylvania, and Baltimore, Maryland, received a significant amount of snowfall. [...]
Freezing weather follows floods in France

ARLES, France (AFP) Dec 07, 2003
Freezing weather and winds settled over much of France Sunday, hitting rescue and mop up efforts in the wake of devastating floods that killed seven people over the past week.
Although waters had receded in many of the southern and southeastern regions inundated since Monday, operations were continuing in the town of Arles, between Marseille and Montpellier, to evacuate residents, and rain-swelled rivers endangered towns in the centre of the country. [...]
Earthquake hits northern Japan
TOKYO (AFP) - An earthquake registering 4.9 on the Richter scale hit northern Japan Monday, the Japan Meteorological Agency said, but there were no immediate reports of damage or casualties. [...]
The four degrees: How Europe's hottest summer shows global warming is transforming our world

By Michael McCarthy, Environment Editor
08 December 2003
It was the summer, scientists now realise, when global warming at last made itself unmistakably felt.
We knew that summer 2003 was remarkable: Britain experienced its record high temperature and continental Europe saw forest fires raging out of control, great rivers drying to a trickle and thousands of heat-related deaths. But just how remarkable is only now becoming clear.
The three months of June, July and August were the warmest ever recorded in western and central Europe, with record national highs in Portugal, Germany and Switzerland as well as in Britain. And they were the warmest by a very long way.
Over a great rectangular block of the earth stretching from west of Paris to northern Italy, taking in Switzerland and southern Germany, the average temperature for the summer months was 3.78C above the long-term norm, said the Climatic Research Unit (CRU) of the University of East Anglia in Norwich, which is one of the world's leading institutions for the monitoring and analysis of temperature records.
That excess might not seem a lot until you are aware of the context - but then you realise it is enormous. There is nothing like this in previous data, anywhere.
It is considered so exceptional that Professor Phil Jones, the CRU's director, is prepared to say openly - in a way few scientists have done before - that the 2003 extreme may be directly attributed, not to natural climate variability, but to global warming caused by human actions. Meteorologists have hitherto contented themselves with the formula that recent high temperatures are "consistent with predictions" of climate change. [...]
Over a large swath of the western part of the European continent, records were broken in all three months, not just monthly averages, but for daily extremes and the lengths of spells above thresholds. New national records were set in at least four countries. Britain experienced its record high on 10 August when the mercury registered 38.5 C(101.3F) at Faversham in Kent - the first time the British Isles had recorded a three-figure Fahrenheit temperature.
Germany had a new record of 40.8C (105.4), Switzerland one of 41.5C (106.7F) - Swiss data show the summer as the hottest since at least 1500 - and Portugal a quite astonishing 47.3C (117.1F).
Although France did not see a new national record - that still stands at the 44C (111.2F) registered at Toulouse on 8 August 1923 - the country suffered severely from La Canicule, the heat wave, which was headline news for most of the late summer. In southern and eastern France, according to Professor Jones, 29 sites recorded temperatures exceeding 40C (104F) during August, with the record being 42.6C (108.7F) at Orange in the Rhône valley. [...]
Continental Europe in summer 2003 had a taste of what global warming will really be like: unpleasant and dangerous.
Comment: We suggest that there were and are other "unseen" factors that manifested themselves in the heat wave this summer. These of course will not be discussed simply because there is nothing anyone can do about them, being as they are a part of the natural cycle, and their revelation would be far to dangerous for the "powers that be" and their death grip on the mind of humanity. Much easier is the option to simply blame it on man made global warming, giving us a sense of control over our environment and subtly suggesting that this is really what is important. If we all just reduce our "emissions" we can stave off disaster, restoring our planet to its pristine "original" state and then spend the rest of eternity happily gamboling through the fields...apparently.
Once again, world leaders meet to hear of new threats posed by global warming. Once again, they appear unable to act. George Marshall and Mark Lynas explain why.
[...] First, let us remind ourselves of the magnitude of the threat. Global warming is already well under way: even if all greenhouse gas emissions stopped tomorrow, we would see a rise in planetary temperatures of 1.1 degrees C, twice the warming experienced over the past century, and enough to wipe out most of the world's tropical coral reefs as well as a good proportion of mountain glaciers. Bad as that is, it is still an unrealistically optimistic scenario. It is projected that greenhouse gas emissions will go on rising for decades; the IPCC predicts a global temperature rise of between 1.4 degrees and 5.8 degrees by 2100. At the lower end of this scale, large areas of agriculturally productive land will be destroyed; entire countries will disappear through rapid sea-level rise; and entire regions in the arid subtropics will become uninhabitable. [...]
Yet as if in a parallel universe, plans continue to be made for business as usual, with rapid economic growth projected to continue unabated, still largely driven by fossil-fuel energy: oil consumption will increase by 50 per cent over the next two decades. Some calculations show emissions of countries from the south alone breaking through the safe "corridor" (within which we could avoid major climate impacts) in as little as a decade.
These dangerous trends continue almost unchallenged. Why? Because we appear to be experiencing a disastrous form of collective denial, more typically found among societies suffering major institutional human rights abuses - such as apartheid South Africa or Nazi Germany - where individuals may understand the reality of the problems, but refuse to accept the implications. In his book States of Denial, the sociologist Stanley Cohen terms this condition "implicatory denial" and identifies it as a natural defence that humans tend to adopt when faced with a morally unthinkable situation. It has resulted in, to borrow another term from psychology, "cognitive dissonance" among opinion-formers and the public. Nearly everyone professes to care about global warming while simultaneously continuing with set patterns of behaviour that make the problem worse. [...]
Comment: The article concludes with a who's who among the climate-change deniers, which includes their links to nefarious "think" tanks and multinational corporations. Also see Disappearing Ice Sends A Warning For Climate.
Hungry Thai elephants raid villages, hijack sugarcane trucks: report

BANGKOK (AFP) Dec 07, 2003
Hungry elephants have gone on the rampage in eastern Thailand, ransacking villagers' plantations and forcing sugarcane trucks to stop so they can raid their goods, a report said Sunday.
Dry-season shortages have forced the 130 elephants from Ang Lue Nai wildlife sanctuary, which sprawls over five provinces, to seek food and water in nearby settlements, the sanctuary's chief Yoo Senatham told the Bangkok Post.
Yoo said the elephants had learned to pick up sugarcane dropped by drivers who took pity on them, but that the practice had taught them dangerous new habits.
He told the daily of incidents where the leader of the herd had stood in the road to block the vehicle while the others unloaded the produce with their trunks. [...]
Japanese official on chemical weapons cleanup in China
www.chinaview.cn 2003-12-08 09:42:34
BEIJING, Dec. 8 (Xinhuanet) -- Chinese and Japanese working teams have recently completed sealing up 724 pieces of chemical weapons along with five barrels of mustard gas that had killed one person and injured 43 others after workers began excavating a construction site on August 4. The weapons were left by Japanese troops at the end of the World War II (WWII) in Qiqihar City of Heilongjiang Province.
[...] A total of 36,000 chemical weapons including bombs, poisonous fume pipes and iron barrels containing chemical preparations have been retrieved and put under temporary safekeeping. To be specific, the weapons were first dug up from the soil and then, as some of them had aged, rusted or been leaking chemical reparations, and some others had explosive attachments or engines with them, they were washed, detoxified of outer covering or had their engines removed. Following safety treatment they were examined with X-rays to see whether they were left over by Japanese troops or not. The identified Japanese chemical weapons were to be sealed up and placed in temporary storage.
[...] Oriental Outlook: How many Japanese-abandoned chemical weapons did the Japanese government retrieve and dispose of in the past number of years?
S: 360,000.
[...] Oriental Outlook: Opinions vary on the exact number of Japanese-abandoned chemical weapons in China. Chinese scholars say there are at least 2 million pieces, whereas Japan says the number should be about 700,000. How do you view the disagreement?
S: Now Japan believes that the number of the abandoned Japanese chemical weapons is about 700,000. The result of investigations in the Ha'erba Ridge area tells that 670,000 chemical weapons were dumped there. And we, in light of various information offered by China, made a summing-up that another 30,000 chemical weapons were dumped in other places in China.
Glaxo chief: Our drugs do not work on most patients

By Steve Connor, Science Editor
08 December 2003
A senior executive with Britain's biggest drugs company has admitted that most prescription medicines do not work on most people who take them.
Allen Roses, worldwide vice-president of genetics at GlaxoSmithKline (GSK), said fewer than half of the patients prescribed some of the most expensive drugs actually derived any benefit from them.
It is an open secret within the drugs industry that most of its products are ineffective in most patients but this is the first time that such a senior drugs boss has gone public. His comments come days after it emerged that the NHS drugs bill has soared by nearly 50 per cent in three years, rising by £2.3bn a year to an annual cost to the taxpayer of £7.2bn. GSK announced last week that it had 20 or more new drugs under development that could each earn the company up to $1bn (£600m) a year.
Dr Roses, an academic geneticist from Duke University in North Carolina, spoke at a recent scientific meeting in London where he cited figures on how well different classes of drugs work in real patients.
Drugs for Alzheimer's disease work in fewer than one in three patients, whereas those for cancer are only effective in a quarter of patients. Drugs for migraines, for osteoporosis, and arthritis work in about half the patients, Dr Roses said. Most drugs work in fewer than one in two patients mainly because the recipients carry genes that interfere in some way with the medicine, he said.
"The vast majority of drugs - more than 90 per cent - only work in 30 or 50 per cent of the people," Dr Roses said. "I wouldn't say that most drugs don't work. I would say that most drugs work in 30 to 50 per cent of people. Drugs out there on the market work, but they don't work in everybody." [...]
Comment: With jaw-dropping disbelief we take another step down the rabbit hole. Incredible as it is, we remind ourselves that the unveiling of the nature of our planet is taking place, and it ain't a pretty picture. Hold onto your seats, there are many more sacred cows to be mercilessly gunned down before the show is over...
Revealed: how drug firms 'hoodwink' medical journals
Pharmaceutical giants hire ghostwriters to produce articles - then put doctors' names on them
Antony Barnett, public affairs editor
Sunday December 7, 2003
The Observer
Hundreds of articles in medical journals claiming to be written by academics or doctors have been penned by ghostwriters in the pay of drug companies, an Observer inquiry reveals.
The journals, bibles of the profession, have huge influence on which drugs doctors prescribe and the treatment hospitals provide. But The Observer has uncovered evidence that many articles written by so-called independent academics may have been penned by writers working for agencies which receive huge sums from drug companies to plug their products.
Estimates suggest that almost half of all articles published in journals are by ghostwriters. While doctors who have put their names to the papers can be paid handsomely for 'lending' their reputations, the ghostwriters remain hidden. They, and the involvement of the pharmaceutical firms, are rarely revealed. [...]
by Rick Salutin
December 5, 2003
"Why Celebrities Go Bad" was the head on Maclean's Michael Jackson story and it seems to me exactly wrong, like a Dog Bites Man story.
Celebrities don't go bad, they are bad. It's the job description.
[...] Most commentators assumed that division between our world and the bad one of Michael Jackson ("allowing us to seem pretty normal by comparison"), though Tina Brown fretted in The Washington Post about things changing so that, "The world is now as surreal as he is."
My disagreement is that I think it's the "normal" world inhabited by most people that is surreal, and that seems weirder by comparison. It is striking how much of what could be called perversion and delusion fills the lives of "ordinary" people, from the harmlessness of, say, cross-dressing through obsession to profound cruelty.
Take a current hearing into charges of sexual abuse in Toronto: The apparently bizarre acts of both doctor and patient don't sound to me far beyond the potential of most people, or just barely. Take the economic realm we all enter at work each day. It's driven by greed, terror of failure and job loss, and disdain by those at the top for competition (despite rhetoric to the contrary). What is the cost of coping with such realities while being barraged by a whole opposed set of professions? There is vast rage, frustration, bitterness, self-hate etc. out there. That most people can function "normally," even lovingly, in such circumstances just makes it weirder!
That's why I say it is the normal world that is surreal. A celebrity like Michael Jackson is deemed — owing to fame, genius, whatever — to have acquired the ability to inhabit this surreal world overtly, rather than repressively or only in fantasy. He gets a licence to do so, issued, in effect, by the many who cannot. Maybe in return they get to identify, like Lynn Crosbie in The Globe ("I, nihilistically, love all celebrities who live outside the law and laugh at all of us"). Maybe they feel relief at seeing the real explode from the surreal. Maybe sighting the craziness out there in Neverland calms the craziness within. (Of course it is in the nature of licensed activities, that sometimes a licence will be withdrawn, without ever challenging the basic system of licensing.)
French supermarket tycoon Halley dies in plane crash
LONDON (AP) — Billionaire French businessman Paul-Louis Halley, whose family is the largest shareholder in giant French retail chain Carrefour SA, was named by police Sunday as one of three people killed in a plane crash in central England.
Halley, 69, died Saturday along with his wife, Annik Jacqueline Halley, 63, and their Belgian pilot when their single-engine propeller plane crashed into a field as it attempted to land at Kidlington Airport near Oxford, Thames Valley Police said.
Halley and his family ranked 104th in a list of the world's richest people compiled by Forbes magazine, with a worth of $3.2 billion US. He co-founded supermarket group Promodes SA, which in 1999 merged with Paris-based Carrefour to form the second-largest retailer in the world behind Wal-Mart Stores Inc. of the United States.
Four Found Dead in Rural N.C. Include Boy
AP
December 8, 2003

AVENTON, N.C. - Four people were found dead at a dilapidated rural house on Sunday, including a 10-year-old boy whose body was discovered in the front yard, authorities said.
"At this time, we're investigating it as a homicide," said Nash County Sheriff Jimmy Grimes. [...]
Sex in private cars raises concern
www.chinaview.cn 2003-12-08 09:01:52
BEIJING, Dec. 8 (Xinhuanet) -- The sexual behavior of some young people in parking lots in parks such as Guangzhou's Mt. Baiyunshan Park is causing public concern, according to recent media reports in Guangzhou, South China's Guangdong Province.
With more young people owning cars, some drive their cars to parks or scenic spots in the evenings and have sex in their cars in the parking lots.
Baiyunshan police say sexual activity does happen in parking lots in the park, but when patrolmen discover it, they can do nothing but ask those involved to leave the park.
Gan Mingyong, lawyer and director, Guangdong Chenggong Law Office, says:
"This is an interesting new phenomenon in our society.
"We may raise this topic for wider and deeper discussion in public, but it is hard for us to say from a legal viewpoint that this sexual activity is illegal.
"A private car provides a specific private space for its owner to exercise his or her own human rights. If the owner's behavior brings no jeopardy to other people's rights, we cannot force him or her to stop it.
"[...] Put another way, we can say this sexual activity is not elegant but we cannot say it is illegal."
Bad publicity sends Hitler wine sales soaring
Ananova.com
10:24 Monday 8th December 2003
Christmas sales of Adolf Hitler wine have reached a record high thanks to publicity generated by attempts to ban it in both Brussels and Berlin. [...]
Lunardelli rejects any allegations that he is promoting fascism and Nazism and points out he also offers bottles with pictures of Marx, Stalin, Lenin and Che Guevara.
"It's strange that Stalin murdered 15 million people, but there is no fuss about the bottle. And for the labels with Hitler and Mussolini I ended up in court," said 41-year-old Lunardelli.
Kiwi does bungee plunge without rope

07/12/2003
A New Zealand man went bungee jumping today – without the rope, police said.
The 30-year-old man, whose name was not released, leapt off a platform into the Waikato River on New Zealand's central North Island after staff at the bungee had refused to let him jump, said Constable Tracey Haggart of Taupo police.
He then barged past the staff and dived 47 metres (154 feet) into the river.
The impact knocked him unconscious and he was rescued by the bungee jump staff before being flown to nearby Taupo hospital, Haggart said in a statement.
His condition was not immediately available.
Taupo is a tourist town 375 kilometres (233 miles) north of the capital, Wellington.
Haggart said police had no plans to charge the man, who had consumed "a small amount of alcohol."
Also on this day
in 1733, one of the earliest British sightings of a metallic disc-shaped object occurred. James Cracker of Fleet in Dorset reported his daylight sighting of the object with these words:
"Something in the sky which appeared in the north but vanished from my sight, as it was intercepted by trees, from my vision. I was standing in a valley. The weather was warm, the sun shone brightly. On a sudden it re-appeared, darting in and out of my sight with an amazing coruscation. The colour of this phenomenon was like burnished, or new-washed silver. It shot with speed like a star falling in the night. But it had a body much larger and a train longer than any shooting star I have seen." [ More Pre-1947 Cases, Chris Aubeck]
---
Remember, we need your help to collect information on what is going on in your part of the world!
We also need help to keep the Signs of the Times online.
---

Check out the Signs of the Times Archives

Send your comments and article suggestions to us

---
Fair Use Policy
Contact Webmaster at signs-of-the-times.org
Cassiopaean materials Copyright ©1994-2014 Arkadiusz Jadczyk and Laura Knight-Jadczyk. All rights reserved. "Cassiopaea, Cassiopaean, Cassiopaeans," is a registered trademark of Arkadiusz Jadczyk and Laura Knight-Jadczyk.
Letters addressed to Cassiopaea, Quantum Future School, Ark or Laura, become the property of Arkadiusz Jadczyk and Laura Knight-Jadczyk
Republication and re-dissemination of our copyrighted material in any manner is expressly prohibited without prior written consent.
.