---
While the Yanks claim 54 dead at Samarra, mostly "terrorists", the Iraqis say it was much fewer and only civilians - including two elderly Iranian visitors and a child. But 54 dead "terrorists" plays well in the US media.
A newspaper editor from Bangladesh is arrested for spying for Israel. The Sharonists continue their campaign against the Geneva accords. An Arab member of the Knesset escapes a car bombing after he makes a public point, in the Knesset itself, about Israel's "secret" nuke and WMD program. The Israeli army continues to shoot, kidnap and torture children.
The official story about 9/11 is a lie and more people are becoming aware of the terrifying implications of their research, writes John Kaminski. He starts his interesting article with a review of a documentary about US "space war" plans. A few years ago perhaps we all would have scoffed at such "sci-fi" sounding accusations, but not anymore. Meanwhile, we report on more terrorism threats on the US, but the explosives apparently belonged to US citizens. Are they real terrorists, or like the Oklahoma bombing, are they just the front? The solution, more than likely, will be to take away more freedom, allowing the terrorists (US government or other parties) to win.
An American soldier who married an Iraqi doctor will be discharged. The average Iraqi's anger towards the US occupation forces approaches the boiling point.
The Communist Party in Russia is running capitalists on its ticket for the upcoming elections. The merger between Yukos and Sibneft looks dead. In the US, the economy continues to tank.
German Chancellor Shröder is snuggling up to China, something is afoot, but what is one to make of the current disarray in Europe over the Finance Pact and the Constitution?
The Cincinnati police kill another black man, once more on video, People for the Ethical Treatment of Animals launch a campaign in the US comparing vegetarians with the Virgin Mary, a Canadian airport launches an iris-recognition security system, a Daylight UFO sighting during rush hour traffic causes fender benders, and weird weather continues.
Samarra clash toll still a mystery
Tuesday 02 December 2003, 13:15 Makka Time, 10:15 GMT
The US military has vowed to continue aggressive tactics after saying it killed 54 Iraqis following an ambush, but commanders admitted they had no proof to back up their claims.
The only corpses at Samarra's hospital were those of civilians, including two elderly Iranian visitors and a child.
A top military commander acknowledged on Monday that the toll was based entirely on estimates gleaned from troop debriefings and that US soldiers had not recovered a single body from the scene of Sunday's clashes.
Brigadier General Mark Kimmitt estimated the number of dead in Samarra at 54, along with 22 wounded, saying they were all resistance fighters. He also said one person was detained.
He admitted that the one resistance fighter now confirmed in custody was a sharp reduction on the 11 claimed captured by the commanding colonel in Samarra earlier.
"Some of those earlier reports might have been a bit off," Kimmitt said.
U.S., Iraqi police dispute death toll in ambushes
Iraqi police in Samarra said they could confirm only eight deaths, including an elderly Iranian man believed to have been on a pilgrimage to a shrine in the town. The Iraqis said at least 50 people were wounded.
The general said the discrepancy could be because "the enemy probably would have pulled the bodies back and taken them to wherever his initial locations were, but that's only a speculation."
Comment: So if the bodies of all alleged "54 Feyaddin" were taken away by their comrades how did the esteemed General know how many there were? It seems that the truth of this case is that US troops came under small arms fire and opened up, missing the few attackers that were involved, and killed instead 8 civilians, including 2 Iranians on a civilian bus. Immediately afterwards a story was made up to cover up the fact that the courageous young soldiers are cold-blooded murderers of innocent women and children. My Lai anyone?
UN security guard found dead at headquarters in apparent suicide

AFP
Tuesday December 2, 4:05 AM
A UN security guard was found shot dead at United Nations headquarters in what appeared to be a suicide after the long Thanksgiving holiday weekend.
The name of the man was not being released until his family have been notified and New York police, who confirmed the death, said they could not release any details.
The body was found at 11:30 am on the third floor of the main UN headquarters building, which houses thousands of staff and is subject to strict security measures, UN sources said.
They told AFP that no suicide note was found but that there did not appear to be any initial evidence of foul play.
A guard would have been one of the only people able to get a gun into the complex, which has been unusually concerned about security since a suicide attack on the UN's headquarters in Baghdad in August killed 22 people.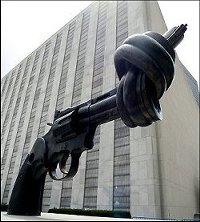 Al-Qaeda working on chemical-biological attack, UN says

AFP
Tuesday December 2, 10:56 AM
The only thing stopping al-Qaeda from carrying out a deadly chemical or biological attack is a lack of technical know-how, a new UN experts report said.
The report also paints a bleak picture of international efforts to clamp down on Osama bin Laden's al-Qaeda network, which it said is attracting young Muslims worldwide who are finding an "ideal battle ground" in Iraq.
"They have already taken the decision to use chemical and bio-weapons in forthcoming attacks," the report said. "The only restraint they are facing is the technical complexity to operate them properly and effectively."
The report, issued by an expert group set up by the UN Security Council, said sanctions against al-Qaeda and Afghanistan's ousted Taliban regime are proving difficult to fully implement. [...]
The panel concluded that many nations are not taking the steps needed to crack down on terror groups and called on the UN Security Council to pass a new resolution that would compel nations to comply. [...]
Comment: So let's see if we have this straight: The only thing stopping al-Qaeda from carrying out a deadly chemical or biological attack is the fact that they don't know how to carry out a deadly chemical or biological attack. It's a good thing the UN experts are around to tell us these things.
Palestine peace plan branded treacherous
Tuesday 02 December 2003, 11:46 Makka Time, 8:46 GMT
Israel's opposition politicians and prominent Palestinians have launched an alternative peace plan amid accusations of treason from both sides.
A former Israeli justice minister and co-author of the so-called Geneva Accord, Yossi Beilin, warned on Monday that time for settling the Arab-Israeli conflict peacefully was running out.
"The opportunity to have pragmatic partners belonging to the mainstream of our two societies is not open-ended," said Beilin before he shook hands with Yasir Abd Rabbu, his Palestinian counterpart in the peace effort.
It has been rejected outright by Israeli Prime Minister Ariel Sharon and has won only half-hearted support from the Palestinian Authority.
The initiative has also been rejected by the main Palestinian factions with groups such as Hamas particularly angered by its implicit renunciation of the right of return for Palestinian refugees.
ISM: Report on War Crimes Committed by the Israeli Army
Report on the murder of two children on Nov. 8th, 2003 in Burqeen village, shot by Israeli soldiers shortly after 12:00pm. The Israeli Army also injured 6 others in the attack.
The army arrived into town just after the noon prayer was heard from the mosque. The children were all on there way home from school. At first, an armored personnel carrier (APC) drove into the centre of town and began crushing cars. Then two army jeeps followed. The soldiers exited their vehicles and right away opened fire at everyone on the street. [...]
Moataz Wasif (age 16), was shot by an Israeli soldier, and died immediately.
Laith Mazen (age 15), was shot by an Israeli soldier, and died from his injuries on Nov. 12 in the hospital.
Naseem, Male Child (age 16) & Majdee, Male Child (age 15) & Mussab, Adult Male (age 20): All three were beaten with M-16 guns and kicked by the Israeli Military, tied up & blindfolded, and taken to a military base, threatened that they would be killed at gunpoint, force fed grass and water during fasting for Ramadan, then abandoned in Jabriette forest, out side Jenin.
Ryad, Adult Male (age 35), was injured by a gunshot wound in the abdomen.
Rawdah, Adult Female (age 55), was injured by shrapnel in the hand, and lost parts of two fingers.
Abdallah, Male Child (age 14), was hit with four pieces of shrapnel, logged into his chest. [...]
Boy, age 15, kidnapped and injured from being beaten and kicked by the soldiers.
"I was in the square when the soldiers came. Some kids were throwing rocks, but I tried to run away. Two soldiers chased me, caught me, and dragged me by the arms to the jeep, and tied up my hands behind my back. A soldier hit me with his M-16. He put his foot on my neck and threatened me that he will shoot me in the head. They took us (him and two others) to Arabi (military base 17 km away). At the base, one of the soldiers put a gun to my head and said: "I will count to three then kill you." After two, another soldier said: "he's too young to shoot him". They spoke to us in Hebrew. We were blindfolded the whole time and they took pictures of us. They forced us to eat grass and drink water. Then they drove us to Jabriette forest and left us there, after 5-6 hours."
Comment: Many more eyewitness reports like the one above are located at the link. These do not sound like the actions of someone who wants peace, but more likely deliberate actions to incite violence and hatred.
Israeli Barrier Cuts Into Palestinian Olive Harvest
[...] "They kill our trees to kill the hope of our people. I am ruined," said Fauzi Hussein, surveyeing the remains of 255 olive trees which he said had been destroyed by settlers from a new outpost overlooking his village in the central West Bank. [...]
Comment: Nothing beats down morale like poverty, other than having your children shot down in front of you. Is Israel deliberately putting the Palestinians in a situation where they have nothing to lose?
Israel slams Powell over invitation to Geneva Accord authors
www.chinaview.cn 2003-12-02 19:39:57
JERUSALEM, Dec. 2 (Xinhuanet) -- Israel on Tuesday criticized US Secretary of State Colin Powell for his plans to meet Yossi Beilin and Yasser Abed Rabbo, principal architects of the non-official Geneva Accord peace initiative.
Powell "is making a mistake," said Deputy Prime Minister Ehud Olmert, who often enunciates policies for Prime Minister Ariel Sharon. "I think that he is not being useful to the process."
"This is an incorrect step by a senior representative of the American administration," Olmert told Israel Radio. "I am certain of his friendship (toward Israel), but I would cast doubt on his judgement in this matter."
Sources in Washington, speaking after the accord was formally launched in gala ceremonies in Geneva on Monday, said that Powell's office was making preparations for a meeting between the three on Friday.
Israeli raid kills 4; construction begins on disputed Jerusalem neighbourhood
07:03 AM EST Dec 02
JERUSALEM (AP) - Israel's military carried out a raid Monday against suspected militants in the West Bank, killing three men and a boy, and an Israeli developer began construction of a Jewish neighbourhood in the section of Jerusalem claimed by the Palestinians.
The Israeli actions came at a delicate moment, as Palestinian officials and militants prepared to weigh a ceasefire with Israel, a model peace treaty was unveiled in Geneva and a U.S. envoy arrived in hopes of restarting peace talks.
[...] The housing project drew criticism from the United Nations, the United States and Palestinian officials.
Despite the concerns, bulldozers pushed ahead Monday morning with road construction for the neighbourhood of Nof Zahav, or Golden View. The development will abut a Palestinian village in the area Israel annexed after capturing the Arab section of Jerusalem in the 1967 war.
Yehuda Levy, a Nof Zahav sponsor, said the private project is going up for commercial, not ideological reasons. He said the neighbourhood would include 550 housing units, a hotel and schools.
Israeli court convicts Jewish terrorists who plotted attacks against Palestinains of ''weapons-related crimes''
02-12-2003,12 :22
Two Jewish terrorists, Yitzhak Pas of Hebron and his brother-in-law Mattitiyahu Shvu of the illegal Maon Farm settlement, caught in July en route for Jerusalem in a car carrying 40 kilograms of explosives, were convicted Tuesday of weapons-related crimes under a plea bargain.
Under the plea bargain, the two men were not charged with passing the explosives to a third suspected terrorist, Shachar Dvir.
[...] It should be stressed that the two Jewish terrorists were convicted only for "weapons-related crimes". One of the suspicions under which the two terrorists were originally investigated, that they were on their way to carry out an attack against Palestinians, was not included in the indictment.
Mustapha Karkouti: US featherweight pressure makes no difference to Israel
| Special to Gulf News | 02-12-2003
Writing recently in the London Spectator magazine, Labour Member of Parliament, Gerald Kaufman, suggests Israel is eligible for invasion, and he called on the United States to take this responsibility.
Kaufman, a prominent Jewish leader in his Manchester constituency, was Labour foreign affairs spokesman for many years under Neil Kinock leadership of the party. His views on Israel's illegal occupation of Arab land is well documented.
But of course, we all know Kaufman's call on US Administration to carry its foreign policy forward and "invade Israel", is too drastic an action. But why will the international community not apply even minimal pressure on Israel to comply with international law and Security Council resolutions?
Boycott of Israeli goods in Belgium
SyriaTimes
30-11-2003
The southern parts of Belgium and the capital, Brussels, witnessed yesterday a boycott campaign on the Israeli products on the World Day of Solidarity with the Palestinian People?s Legitimate Rights.
Nadia Farah, spokeswoman for the Palestinian-Belgian Association, said that several groups are working in the capital and the southern parts of the country to tell the Belgian citizens about the origin of the fruits coming from Israel under the name of Jaffa and al-Karmel.
She pointed out that they want to tell consumers that exporting products produced by Israeli settlements under the phrase Made in Israel constitutes a violation by Israel of the partnership agreement signed with the European Union.
Hush, hush about Israel's bomb
A recent attack on a Knesset member underscores the country's hostility towards calls for transparency in Israel's weapons of mass destruction programme, Jonathan Cook reports
At midday on Friday, 24 October, Issam Makhoul, an Arab member of the Israeli parliament, and his wife Suad got into their two cars outside their home in the centre of Haifa. Issam Makhoul reversed his Knesset-supplied Ford out of the driveway as his wife started the engine of the family Honda to collect their twin children from school.
Seconds later an explosion flooded Suad Makhoul's car with flames. She leapt from the vehicle moments before the fire could engulf her.
[...] So what thrust the white-haired, mild- mannered Makhoul into a situation in which he was specially targeted for assassination?
According to Israeli Army Radio, Knesset security officials are working on the assumption that criminal elements within the Arab minority were responsible for the attack. That seems far less probable than that the would-be assassins selected Makhoul because he has been an almost solitary critic of Israel's most sensitive -- if widely known -- secret: that it has stockpiles of weapons of mass destruction (WMDs), including nuclear arms.
For decades Israel has refused to confirm the now well-documented fact that it has a significant arsenal of nuclear warheads -- the only country in the Middle East known to have successfully developed such a programme. Estimates suggest it has as many as 300 warheads, some of which, if the latest reports are to be believed, have been fitted to cruise missiles aboard Dolphin submarines, putting every Arab state within range of an Israeli strike.
With the connivance of the West -- in particular the US, Britain, France, Germany and South Africa -- Israel has been allowed to do all this unchecked at its nuclear weapons factory at Dimona in the Negev, and without signing the Non-Proliferation Treaty. Today it is believed to have nuclear weapons bases at Haifa, Kfar Zechariah, and Eilaboun and Yodfat in the Galilee.
Israel also has an advanced biological weapons programme based at Nes Tsiona, south of Tel Aviv, where it is reported to have been working on new toxins, including a nerve agent that can attack genes found only in Arabs.
[...] The attack also follows a campaign of widespread incitement against Makhoul, which the authorities, including the attorney-general, have done nothing to curb.
Typical was an interview of Makhoul on a Tel Aviv radio talk show with a former right-wing Knesset member, Shmuel Platto Sharon, two weeks after the assassination attempt and close to the anniversary of Yitzhak Rabin's assassination by right-wing extremists.
Although ostensibly there to talk about Israel's nuclear policies, Makhoul is interrupted by Sharon who barks at him with the question, "Why do you hate us?", and the statement, "You are dangerous". Later Sharon again interrupts to say, "You have no business being here [in Israel] -- you should go to Palestine." He then adds: "I know your game. You eat Jews. People like you shouldn't stay in this country."
Friends of Makhoul fear that the climate of hatred against him is receiving official sanction. Some of the continuing official hostility towards Makhoul may derive from his determination to create an anti-nuclear campaign inside Israel. He observes: "Israel is the only nuclear state in the world that hasn't developed a 'ban the bomb' movement, either within the peace camp or the green movement. Here uniquely, it seems, the Israeli bomb is seen as a peaceful bomb. Those who call themselves peace activists are really apologists for Israel's continuing nuclear policy."
Comment: For more on Israel's ethnic specific weapons, check out our Signs Supplement.
Ayoon wa Azan (The Saudi Arabia Accountability Act)
Jihad Al Khazen Al-Hayat 2003/12/2
After the Syria Accountability Act, the American Congress introduces us to the Saudi Arabia Accountability Act.
Syria is a republic and Saudi Arabia is a kingdom. Syria is a secular state and Saudi Arabia's rule is based on the Qur'an. Syria's economy is socialist or directed, while Saudi Arabia's economy is liberal. What is it that unites these two countries, different in form and content, according to the American Congress?
What unites them is their common stance towards Israel. Both acts originating from the U.S. Congress are in fact totally Israeli, and were prepared by agents or apologists of Sharon's criminal government, as most points in both acts are Israeli.
[...] The Saudi Arabia Accountability Act is of the same kind, but with a difference in the details: there are 11 "findings" that address Saudi Arabia's financial support to Palestinian "terrorist" organizations and its funding of religious associations that promote hatred and intolerance. Probably the most insolent part of this act is its reference to the services of Memri translation company, knowing that this association was founded by a former Israeli intelligence official during Benjamin Netanyahu's term, to sow the seeds of plotting and intrigue. As for the Congress "policy statement," it calls upon Saudi Arabia to immediately and unconditionally cooperate with the United States in fighting terrorism, to close down those charity organizations that encourage, train or promote terrorism, and the act ends with suggested sanctions.
What I have understood from these acts is that the Syrians (and Lebanese) are asked to recognize Israel, even as it still occupies the Golan and the Shebaa farms, and that the Saudis convert to Protestantism.
I would like to suggest an America Accountability Act, and since we don't have one Arab parliament that will take it to its government, I suggest that the Arab League Secretary General suggest this bill during the next Arab summit.
This is what I suggest:
A Bill:
To ban the United States from supporting Israeli terrorism through money and armament, from using its veto at the Security Council, from stealing Iraq's oil, and to withdraw the American armed forces from Iraq and from the entire Middle East.
Section1. Subtitle
This Act is called the America Accountability Act of 2003
Section 2: Findings.
1- The United States supports Israel by way of money and armament, and is responsible for every killing and destruction occurring in the Palestinian territories.
2- The American government ignited a war in Iraq without the consent of the United Nations Security Council.
3 - The American government claimed that Iraq possesses weapons of mass destruction, which was proven wrong, thus Iraq does not form a threat to regional or global security.
4- The American government is violating international law by holding prisoners in Guantanamo Bay. And one of the most prominent judges of its British ally announced that these prisoners where treated in a hideous and monstrous way.
5- The American government refuses to join the international War Crimes Tribunal, because it knows that American soldiers and generals would be sent to trial.
6- The American government cancelled the anti-ballistic missiles treaty, and is threatening Syria and Iran over the issue of weapons, while it is encouraging Israel to possess and develop these same weapons.
Section 3. The position of the Arab League is:
1- The Arab League invites the United Sates to immediately and unconditionally cease its financial and military support of Israel.
2- It demands that the United States give Palestinians the $25.4 billion of military aid that it provides yearly to Israel, to be spent on the reconstruction of their country, which was destroyed by American weapons.
3- The Palestinians maintain the right to ask the United States for additional compensation in the future, considering the losses in lives and properties it has caused them.
4- The American military forces must immediately withdraw from Iraq, with appreciation for their role in overthrowing Saddam Hussein.
5- All Christian Zionist organizations seeking the world's destruction over seven years before the coming of their savior must be immediately dismantled; their preachers must be banned from spreading their extremist messages on televisions, and their money must be confiscated.
6- A compulsory timetable must be set for the American forces to leave the entire region.
7- The Middle East must be declared a zone free of nuclear and any other mass destruction weapons, and the United States is responsible for disarming Israel.
Section 4: Policy Statement
1,2,3 and 4- The United States encouraged Israel to violate the UN resolutions; it has itself violated international resolutions on the cause of Iraq. It must immediately and unconditionally change its policy, and send all those who sponsored the Syria and Saudi Arabia Accountability Acts, as well as the neo-conservatives in and around the administration to Guantanamo Bay, and sue them for betraying their country and the entire humanity.
Section 5: Sanctions and Authorizations
1- The American military presence in all Arab countries will be ended.
2- American companies, especially oil companies, will be expulsed from all Arab countries, and a trade ban will be imposed on the United States.
This is all I have to say concerning the United States. But concerning the summit, my mouth is filled with water, all the water in the Tigris, the Euphrates, the Nile and the Yarmouk.
Assad: If peace talks succeed, Syria to have ''full, normal relations with Israel''
01-12-2003,07 :56
Syria's President Bashar al-Assad has called for Washington to use its influence to revive negotiations between his country and Israel, portraying their absence as a gaping hole in the Bush administration's strategy for the Middle East.
Assad, in an interview published Monday in The New York Times, said the details of returning the Golan Heights to Syria in exchange for security guarantees to Israel were 80 percent complete a few months before he succeeded his late father as Syria's president. But the Bush administration, preoccupied by Iraq and the Palestinian issue, has shown little interest in this strand of diplomacy, the Syrian leader said.
"There can be no peace in the region without Syria," he said. "And Syria is important for the future stability in Iraq due to its credibility and its being a neighbor to Iraq."
The president added neglecting the Syrian-Israel dispute was a prime example of the Bush administration's preaching of visionary change to the Middle East without adopting practical measures to attain it.
Report: Bangladesh arrests top newspaper editor en route to Tel Aviv for allegedly spying for Israel
30-11-2003
Bangladesh security authorities have arrested a senior Bangladeshi journalist on Saturday, just before boarding a flight bound for Singapore for alleged espionage in favor of Israel against Bangladesh and other Muslim countries, according to the Bangladesh Observer.
In its Sunday edition, the newspaper said Salah Uddin Shoaib Choudhury, editor of Blitz magazine and a former high official of Inqilab Television was detained by security forces at Zia International Airport (ZIA) on Saturday.
The paper added, citing reliable sources, that he was arrested on charges of espionage against the country in favor of Israel.
Pakistan dismisses report on IAEA probe
Islamabad |By Shahid Hussain, Correspondent | 02-12-2003
Pakistan yesterday dismissed as "baseless" a US newspaper report that the International Atomic Energy Agency was conducting a probe on potential nuclear links between Pakistan and Iran.
"This a baseless story," Foreign Office spokesman Masood Khan said, adding that no investigation on Pakistan-Iran nuclear links was going on right now at the IAEA.
The Reemergence Of Iraqi Questions
Ghassan Charbel Al-Hayat 2003/11/30
These days, the U.S. administration is bidding farewell to all the rosy dreams it had in Iraq, which are really no more than illusions. Over the past months, facts on the ground have revealed that the American army toppling a dictator in the Arab and Islamic world does not necessarily mean that those people liberated from the dictatorship will fall in love with those who eliminated it. The removal of the one-party regime, which oppressed Iraqi citizens for over 35 years, does not mean that the Iraqi scene is ready to welcome and live under a democratic, Western-like regime. The fall of Saddam Hussein's regime is the easiest chapter in the U.S.' involvement in Iraq. Creating an alternative regime or encouraging one requires the U.S. administration to address the existing demographic composition, its realities and variables, not to mention its old and recent fears.
Top Saddam Deputy Possibly Caught, Politician Says
December 2, 2003
BAGHDAD (Reuters) - Izzat Ibrahim, a top lieutenant of Saddam Hussein and one of the most wanted men in Iraq, may have been killed or captured in a U.S. raid in the city of Kirkuk, a member of the Governing Council said Tuesday.
"There was a major action against a highly suspicious objective last night in Kirkuk and it is very possible that Izzat Ibrahim has been captured or killed," Mowaffaq al-Rubaie said, adding that he had been in contact with U.S. forces.
There was no immediate comment from the U.S. Army.
The U.S. military said last month that Ibrahim was directly involved in attacks on U.S. troops, and put a $10 million price on his head. U.S. forces said they detained Ibrahim's wife and daughter in the town of Samarra. [...]
Unmoved by Bush's visit, Iraqis blame the U.S. for civilian deaths, missing detainees and razed homes
By BRIAN BENNETT; VIVIENNE WALT/BAGHDAD
Time Magazine
From the Monday, Dec. 08, 2003 Issue
Mohammed Ali Karam wants to kill a U.S. soldier. He doesn't love Saddam Hussein, and he was happy in April when U.S. Marines rolled through his Baghdad neighborhood on their way to liberate the capital. But he turned against the Americans the night he saw his brother Hussein, 27, take two bullets in the neck. At 10:30 p.m. on Nov. 17, Karam says, he and three of his brothers were driving to a neighborhood where the pumps were working in order to get water for their home. Hussein, in the passenger seat, talked excitedly about having his new suit tailored for his upcoming wedding.
That's when 82nd Airborne paratroopers, crouched in an observation post across the street, opened fire — after rounds struck their position, they say. Three of the brothers ran to the safety of a creek bed, but Hussein didn't make it. In the car, said Karam, the soldiers found Hussein — gurgling blood through his throat — but no weapons. Hussein died on the way to the hospital — three days before his wedding.
U.S. troops face a difficult task in trying to root out the violent insurgents who want to drive them out of Iraq. But in pursuing this deadly enemy, the Americans are frequently guilty of excesses that are turning ordinary Iraqis into foes. Bush's Thanksgiving visit meant little to Iraqis, who cite three areas of concern: the killing of innocents, the "disappearance" of countrymen detained by U.S. forces, and the destruction of buildings, including family homes. The last tactic, justified by U.S. commanders as legitimate demolition of military targets, is criticized by human-rights groups like Amnesty International as smacking of collective punishment.
As U.S. forces employ more aggressive tactics to take on the resistance, these grievances are only getting worse, setting back the effort to win over local hearts and minds. "Before the Americans came, we heard a lot about their respect for human rights," says Khalid Mustafa Akbar, at a mourning tent for his three brothers who were shot dead while driving their pickup by a U.S. patrol outside Tikrit last week. "But then we found it is only talk." [...]
The widespread arrests and detentions are no less troubling to Iraqis. U.S. officials last week said they are holding roughly 5,000 "suspected terrorists" in custody in Iraq, including 300 with foreign passports. But the officials aren't always able to say where the detainees are, frustrating Iraqis desperately looking for friends or family members who have disappeared. [...]
A U.S. intelligence official in Iraq says even he has trouble locating detainees he wants to talk to or get released. "There's no accurate list," he told Time. "It's a big problem." It may also be a violation of the Geneva Conventions. "There is a responsibility to at least notify families that someone is arrested," says Florian Westphal, a spokesman for the International Committee of the Red Cross in Geneva, which monitors the conventions worldwide. [...]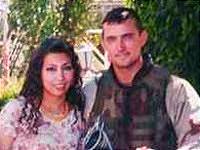 Soldier Who Married Iraqi To Be Discharged
Local6.com
10:58 p.m. EST December 1, 2003
PENSACOLA, Fla. -- An American soldier has been reprimanded and will be discharged for taking a break from a foot patrol in Baghdad to marry an Iraqi woman, his lawyer said Monday.
Sgt. Sean Blackwell, 27, is being punished for divulging the time and location of the patrol to his bride and the Iraqi judge who married them, his attorney said. The Florida National Guardsman avoided a possible court-martial for dereliction of duty and disobeying orders.
Blackwell received a written reprimand in advance of the discharge, attorney Richard Alvoid said.
"The more they punish him, the more negative publicity the military likely will receive," he said. "He is guilty of falling in love."
Florida Guard spokesman Lt. Col. Ron Tittle said he had no word on disciplinary action against Blackwell or a second Florida guardsman, Cpl. Brett Dagen, 37, who married another Iraqi woman in a double ceremony during a break on the same patrol Aug. 17. Both women are physicians.
The soldiers, attached to the 1st Armored Division, have been in Iraq since April. Both were Christians who converted to Islam before they married. [...]
Comment: It seems the Army can't quite get its story straight. First, the article says the soldier is being discharged because he took a break from his patrol. Then the justification is that he divulged information about the patrol, and that the double ceremony actually took place during a break. Just bad reporting? Possibly. But it would also be awfully difficult to marry someone if you had no idea where they were going to be on the wedding day.
'Cage' confines infiltrators on Iraq border with Syria
By Philip Smucker
THE WASHINGTON TIMES
TIGER BASE, Iraq-Syria border — Fighters in the 3rd Armored Cavalry Regiment refer to it simply as "the Cage." It is a barbed-wire detention center for suspected foreign infiltrators consisting of a circular pen lined with rigid metal containers.
Inside, the prisoners — some of them "high-value targets" with foreign identity cards — quietly await their interrogations. Several genuflect to God, while others simply run their fingers through the brown sand that stretches for miles in all directions.
U.S. soldiers jokingly call the enclosure, designed to hold up to 2,000 prisoners, the "Super Bowl of Jihads." But it is seldom clear who sent the detainees across the border from Syria, and even their captors say most are probably not members of any organized movement.
"What we are trying to get ... are the foreign fighters that might come across," said Maj. Gen. Charles H. Swannack Jr., commanding general of the 82nd Airborne Division out of Ft. Bragg, N.C., during a recent visit to the camp. [...]
But the terror organizations deliberately have chosen not to send large numbers of foreign fighters into Iraq, said Charles Heyman, editor of Jane's World Armies. [...]
Georgia seeks end to Russian "big brother" meddling
www.chinaview.cn 2003-12-02 10:36:33
BEIJING, Dec. 2 (Xinhuanet) -- Georgia's interim President Nino Burdzhanadze said on Monday her country wanted to repair relations with Russia but warned Moscow against interfering in domestic politics, according to an AP report.
Burdzhanadze, an opposition leader appointed after Eduard Shevardnadze quit following unrest from Georgians who accused him of vote-rigging in parliamentary elections last month, said Georgia wanted to mend relations with Russia but not at the cost of its sovereignty.
Burdzhanadze was speaking at a meeting of the Organization for Security and Cooperation in Europe -- a 55-member human rights and democracy body, where she also met Russian Foreign Minister Igor Ivanov.
"Russia is not ready yet to begin new relations with Georgia," she told a news conference. "They want their military bases to remain in Russian territory. They want to have Georgia not as a friend but as a dependent partner."
Oil firms 'fuelling Sudan war'
By Shaista Aziz
Tuesday 02 December 2003, 11:31 Makka Time, 8:31 GMT
Foreign oil companies have been complicit in the displacement and deaths of civilians in Sudan's civil war, according to a leading human rights organisation.
Jemera Rone, Sudan researcher for Human Rights Watch, told Aljazeera.net the oil industry had had a devastating impact on the lives of many Sudanese.
"Oil development in southern Sudan should have been the cause of rejoicing for Sudan's people, instead it has brought nothing but woe."
[...] The 754-page report says the government has used roads, bridges and oilfields built by the oil companies, to launch attacks on civilians in the southern oil region of the Western Upper Nile.
"Oil companies operating in Sudan were aware of the killing, bombing and looting that took place in the south, all in the name of opening up the oilfields," said Rone.
The Human Rights Watch report, names and shames Canadian, Swedish, Malaysian and Chinese oil companies it says have been responsible for lowering standards of living for people in the south.
US eases control on Mideast visitors
Tuesday 02 December 2003, 11:56 Makka Time, 8:56 GMT
The US government has said it was scrapping a controversial control on foreign visitors, mainly men from the Middle East, introduced after the 11 September, 2001 attacks.
The Department of Homeland Security said resources could be better used in the "war on terrorism".
With immediate effect, men from 25 nations, who will still be photographed and fingerprinted on arrival, will no longer have to re-register after 30 days and then one year after entering America.
Asa Hutchinson, Homeland Security's undersecretary for border and transportation security, said the move freed up resources to target more effectively potential terrorists based on individual and not geographic factors.
"It was a significant resource commitment to handle these re-registrations," Hutchinson told reporters. "The resources can be better used in individual targeting."
Levels Of The Game: The Deeper You Go, The Darker It Gets
By John Kaminski
Did you know there's a war game played by Air Force types that posits a situation where the United States in the year 2017 conducts a preemptive first strike on China by using a next-generation space shuttle, which swoops down and annihilates strategic targets before booking back up to the Space Station? This is followed by the total destruction of China by a spaced-based laser, which the Pentagon humorously calls the Death Star.
I learned of this gut-wrenching scenario by watching a video titled "Arsenal of Hypocrisy," a frightening array of future probabilities compiled by Gainesville, Florida filmmaker Randy Atkins detailing a shocking portrait of America's militarization of space. This film features the commentary of anti-nuke legend Bruce Gagnon, social critic Noam Chomsky, and former astronaut Edgar Mitchell, as well as former president Dwight Eisenhower, and provides such a chilling view of the future that it simply blew all the current news right out of my brain as my jaw dropped open and stayed that way for a few hours.[...]
"Whoever controls space will win all the wars on the earth," says Gagnon in the film. "There is no challenger on this earth able to stand against us.
Gagnon, coordinator of the Global Network Against Nuclear Power and Weapons in Space and organizer of many demonstrations at the Kennedy Space Center, goes on: "We have 7500 nuclear missiles, China has 20. We are going to manage China."
He explains that the deployment of U.S. forces in Central Asia are principally about encircling China, including "deploying theater missile defense systems off the coast of China."
He concludes: "They don't want the American people to understand the depth of the plans for moving the arms race into the heavens ... we shouldn't have any illusions anymore about our country ... our democracy is under the control of corporations."
At least watching the film took my mind off the depressing load of e-mails I face every day. These e-mails are certainly just as enlightening as Atkins' film, and one from my pal Hazel the other day got me thinking that even the brightest among the people I have come to know and respect on the Internet are still pretty much in the dark as to what is really going on.
The story, now widely circulated, involved a fellow named Michael Meiring, who happened to blow his legs off last year while constructing a bomb in the Philippines. The theory is that Meiring, operating under the cover of being a "treasure hunter" (a common CIA occupation), was instantly whisked out the country by American agents to presumably a secure and secret location.
Hazel reported he was "a CIA operative and had spent 10 years on assignment associating with Islamic groups, Abu Sayef, MNLF, Moro Islamic Liberation Front, and other Philippine based Islamic groups, supplying them with US counterfeit notes (courtesy of US intelligence) and bomb making materials so that they may create terrorist mayhem within the Philippines, giving the US a pretext to move in and "help," just like in Indonesia — just like nearly everywhere else these Mafia-like thugs can plant their terror and, "protection" racket."
The story set off alarm bells with me. I have long insisted that al-Qaeda is nothing more than a CIA/Mossad strategem, useful in creating havoc when the U.S. military wants to respond to a threat. Got a place you want to invade? Have al-Qaeda blow something up, and we'll respond. It's a policy very much on the order of the Israeli formula, which creates terror to respond to whenever it wants to instill its repression of those whose land it wants to steal.
So now that everytime I hear about al-Qaeda doing some dastardly deed, I simply assume it is U.S.-Israeli operatives committing some "false-flag" operation in order to achieve some other, devilish purpose, just as we saw in Istanbul, Turkey the other day.
I wrote about this earlier in a piece called " The perfect enemy" which was widely circulated. The point being, an enemy under your complete control which you can deploy at your own whim is the perfect vehicle to keep the war machine making money, and Meiring is one of the best examples of that formula.
The so-called Muslim insurgency in the Philippines (and in a gaggle of other countries) is nothing more than a false-flag operation provoked by the CIA/Mossad construction named al-Qaeda in order to provide a justification for further military action and expenditures on armaments, not to mention that new cash cow, rebuilding countries the U.S. has destroyed, using American corporations with close ties to the Bush Administration. That's really the growth industry you should be investing in, if you're a murderous pig with absolutely no conscience about who you kill and what you destroy.
Istanbul was the most recent example of one of these false flag operations, as was Riyadh in Saudi Arabia, and, a little while back, the explosion in Bali, meant to exascerbate tensions and repression against Muslims in Indonesia.
Of course the granddaddy of all these provocations was 9/11, where the money men blasted the most famous American corporate landmark, made billions on savvy stock transactions and insurance claims, and created for themselves the perfect pretext to spread their population-reducing and profit-producing mayhem all around the globe, not to mention put all the American people in prison by means of Patriot Act and other repressive legislation.
And speaking of 9/11, I have been involved in the most fascinating round-robin conversation among absolutely the best, most conscientious researchers in the world. I would like to share some of this debate (but not all) with you, to maybe get your opinions on an apparent schism among the group, and also alert you to some very portentous developments.
This debate was essentially triggered by the curious revelations of Mike Ruppert, certainly the most well-known (and deservedly so) of those proposing an alternative view of what happened on 9/11. I term the revelations curious because what should have been page 1 news among the 9/11 research community was buried near the bottom of an otherwise pedestrian column about old JFK news and the issue of when the world's oil supplies will run out.
Ruppert admitted as a person that he believed the WTC towers were not brought down by the jetliners that crashed into them, that he believed the buildings were destroyed by demolition charges. He also said he believed no airliner hit the Pentagon, and that something else was responsible for the death and damage there.
This was a change in his basic policy of reporting, and the curious part of it was that he published his admission so unobtrusively. The admission, however, sent shockwaves through the 9/11 research community, and opened up whole new areas for renewed debate.
Because ... if the so-called top 9/11 researcher anywhere had revised his opinion, and now believed that the towers in New York were NOT felled by airliners, and that the Pentagon was NOT really hit by an airliner, it not only gives all those websites and researchers who have been insisting these very things all along a lot more credibility in the public eye, but it also astronomically increases the chances that the general public will begin to believe that George W. Bush's official version of what happened on 9/11 is an absolute lie, and that our country and the world are in much bigger trouble than most people have been willing to believe.
Ruppert's admission significantly increases the likelihood, in the public mind, that 9/11 was an inside job, meant to create a police state atmosphere within the United States, and also meant to create a pretext for bombing any country Bush says is harboring the terrorists who did 9/11.
BUT ... if the Twin Towers were demolished, and the Pentagon was hit by something other than a hijacked airliner ... well, you have to ask: how could Arabs in a cave in Afghanistan have pulled that off? Hmm? Wouldn't you agree?
And if Arabs in a cave in Afghanistan didn't do the dirty deed, who did?
Of course, the shocking part of contemplating that question is that it can't help but shatter the whole world view of whomever has the courage to confront it. I mean, we're talking about the president of the United States condoning the killing of American citizens, a lot of them, right in the middle of America's biggest city.
It's not an easy assertion to consider, for any of us. Because it means that everything this country has stood for, and been built upon, has been a lie, or at least is now a lie. It means that our leaders were willing to sacrifice thousands of its own citizens simply to facilitate a more aggressive and lucrative geopolitical agenda.
It is perfectly understandable to all how the mind of a loyal American would recoil at that idea, declare it preposterous, and consign advocates of such a theory to the loony bin.
And yet one of the top researchers of 9/11 in the world, Mike Ruppert, has admitted that he has been convinced of the truth that the WTC towers were demolished, and that the Pentagon was not hit by an airliner.
And now the choices are clear for every American. You can either hide your head in the sand, and continue to believe that the government of the good old USA would never do such a thing to its own people, or you can confront the evidence. I think now the choice has come down to confronting the evidence or not taking care of your own life.[...]
Comment: More and more people are questioning the official story of 9/11. The Bush Reich is probably planning something big to counter these revelations, because to many people seeing the truth would hinder this beast of a Fourth Reich. Of course, they may over play their hand, and expose the machine to millions. But will it be too late? You can find more articles from John Kaminski here.
CBS 11 Investigates Poison Gas Plot
By Robert Riggs
With Investigative Producer Todd Bensman
Federal authorities this year mounted one of the most extensive investigations of domestic terrorism since the Oklahoma City bombing, CBS 11 has learned.
Three people linked to white supremacist and anti-government groups are in custody. At least one weapon of mass destruction - a sodium cyanide bomb capable of delivering a deadly gas cloud - has been seized in the Tyler area.
Investigators have seized at least 100 other bombs, bomb components, machine guns, 500,000 rounds of ammunition and chemical agents. But the government also found some chilling personal documents indicating that unknown co-conspirators may still be free to carry out what appeared to be an advanced plot. And, authorities familiar with the case say more potentially deadly cyanide bombs may be in circulation. [...]
Sheriff shocked by ease of stealing explosives
Bernalillo County Sheriff Darren White said this morning he was amazed at how easily thieves seemed to have pilfered 350 pounds of high explosives stored west of Albuquerque. [...]
Four arrested under Terror Act (UK)
Ananova.com
10:53 Tuesday 2nd December 2003
Four men have been arrested under the Terrorism Act after raids were carried out across London.
Just after 5am, anti-terrorist police officers raided six houses and three business addresses in south west London.
A police spokeswoman said: "Four men, aged 28, 29, 29 and 32 have been arrested under Section 41 of the Terrorism Act 2000 on suspicion of involvement in the commission, preparation or instigation of acts of terrorism." [...]
President details missile threat (Taiwan)
Taipei Times
Tuesday, Dec 02, 2003
President Chen Shui-bian has detailed the arsenal of Chinese missiles targeting Taiwan in his latest move to build a case for a contentious sovereignty vote next year.
Chen said late Sunday it was the first time he had specified the location of bases within 600km holding 496 ballistic missiles pointed at Taiwan. The move is likely to inflame already tense relations with Beijing.
His latest comments, at an election rally, have already prompted criticism from the opposition camp, which claimed he had leaked military secrets.
His speech is seen as part of a plan to rally support for a referendum on unspecified sovereignty issues to run alongside the presidential elections on March 20. [...]
Halifax International Airport launches CANPASS – Air
Halifax, December 1, 2003
The CANPASS - Air program at Halifax International Airport (HIA) was officially launched today.
Halifax is only the second international airport in Canada to implement the iris-recognition technology used in CANPASS – Air. The CANPASS – Air program allows the Canada Customs and Revenue Agency (CCRA) to manage risk effectively. This program permits pre-approved travellers to clear customs and immigration quickly and securely. It is a clear example of how the CCRA and Citizenship and Immigration are working collaboratively to strengthen our border and to protect the safety and security of Canadian citizens. [...]
Making Nuclear Proliferation Fun Again!
Germany and ECB argue over pact's collapse
By George Parker in Brussels
Published: December 1 2003 19:50 | Last Updated: December 1 2003 19:50
The European Central Bank was on Monday embroiled in a harsh exchange with Germany, the eurozone's biggest economy, over the collapse of the European Union's fiscal rules.
Jean-Claude Trichet, ECB president, warned that the suspension of the stability and growth pact could undermine confidence and hold back Europe's recovery. "I don't think the spirit or the letter of the pact should be amended," he said.
But Germany, which engineered the suspension of the pact last week, said the single currency interest rates set by the ECB were hurting its economy.
Hans Eichel, German finance minister, speaking in Frankfurt, said: "Its [the ECB's] monetary policy leads to Germany having the highest real interest rates in the eurozone, which is not enhancing growth."
Europe is still feeling the aftershocks of the decision by EU finance ministers to put the pact into abeyance to spare France and Germany taking economic instructions from Brussels.
Russia wants to create free trade zone with EU
Tuesday, Dec. 2, 2003, 3:58 PM Moscow Time
Russian President Vladimir Putin has confirmed that the European Union's "tough" demands concerning energy issues at the negotiations of Russia's accession to the WTO were acceptable for Russia. He made a corresponding statement at a meeting with Russian and EU industrialists in the Kremlin today, Rossiya (Russia) television reported. At the same time, Putin admitted that Russia did not have considerable "disagreements with the EU concerning the introduction of free market principles in the Russian fuel and energy sector. These disagreements are about the pace of concrete reforms," the president added. According to Putin, Russian state authorities desire to create a zone of free trade with the EU amid deep cooperation in the energy, transport, science, ecology and telecommunication sectors. At the same time, Putin expressed concerns that the upcoming enlargement of the European Union might negatively affect Russia's economic interests in Europe.
By Valeria Korchagina
Staff Writer
Tuesday, Dec. 2, 2003. Page 1
Monday came and went without word from either Yukos or Sibneft on the fate of their stalled merger, leading analysts to conclude that a deal to create the world's No. 4 oil producer is now dead.
"There is no return from the current situation," said Steven Dashevsky, head of research at the Aton brokerage. "There are no longer grounds to forge a partnership."
Sibneft shocked the market Friday by pulling out of what would have been a historic $35 billion tie-up just minutes before the two companies were to hold their first joint board meeting to enshrine the new company's charter and approve its new name, YukosSibneft.
The main shareholder of the much-smaller Sibneft, Roman Abramovich, reportedly with the Kremlin's blessing, demanded that Sibneft CEO Eugene Shvidler be given operational control of the new company and that former presidential chief of staff Alexander Voloshin be named board chairman.
Capitalists Signing Up as Communists
By Francesca Mereu
Staff Writer
Tuesday, Dec. 2, 2003. Page 1
Editor's note: This is the third in a series of stories based on extensive analysis by The Moscow Times of the business presence on the federal and regional lists of candidates put forward by the major political parties for Sunday's parliamentary elections.
The Communists, who have always positioned themselves as the workers' party fighting the evils of capitalism, have filled about a quarter of their party list with businessmen, some of them millionaires.
An analysis of the 257 candidates on the Communists' list for the State Duma elections found that about 19 percent represent big national companies -- including five candidates linked to Yukos -- and about 5 percent represent regional businesses. This only includes those candidates vying for the 225 spots allocated on the basis of party lists, not those running in the 225 single-mandate districts.
All of the major parties have attracted representatives of business, who want to have their own voice in the Duma to help shape, or block, legislation that affects the interests of their industry.
Since companies want to put their people on the lists of parties with a high chance of getting candidates into the Duma, the Communist Party is a logical choice for business.
For the Communists, however, accepting high-profile capitalists into their ranks has made them vulnerable to attack and required them to do some explaining to their traditional electorate.
US opposes any referendum toward Taiwan independence
www.chinaview.cn 2003-12-02 19:53:13
WASHINGTON, Dec. 2 (Xinhuanet) -- The United States opposes any referendum designed to change Taiwan's status or move it towards independence, US State Department spokesman Richard Boucher said Monday.
Boucher was commenting on Chen Shuibian's latest proposal to hold a "defensive referendum" in March 2004 in Taiwan.
"We would be opposed to any referenda that would change Taiwan's status or move towards independence," Boucher said at the State Department's regular news briefing.
Supreme Court to Consider Gov't Reach
By GINA HOLLAND, Associated Press Writer
Mon Dec 1, 4:44 PM ET
WASHINGTON - The Supreme Court agreed Monday to decide if people working for the U.S. government can covertly arrest suspects in other countries, a case the Bush administration said was a key test of America's terror-fighting powers. [...]
For example, he said, federal agents could not bring Osama bin Laden to America from his presumed hideout near the Pakistan-Afghanistan frontier to face charges in the Sept. 11 attacks. [...]
It is the second time the case has been reviewed by the Supreme Court. The first time, the justices ruled in 1992 that the U.S. government may kidnap people from foreign countries and prosecute them over that nation's objection without violating an extradition treaty.
Now justices will decide if Alvarez-Machain can seek damages, under several federal laws, on his claim that the government and the Mexican nationals violated international law. The Bush administration also asked the court to clarify when federal officers have the power to arrest someone in a foreign country. [...]
The IRS Claims New Patriot Act Type Powers to Punish Political Dissenters
by Robert R. Raymond
November 28,2003
In a precendent-setting case, the IRS wielded new power to punish the political speech of those who "espouse views" the government considers "inconsistent" with government-held beliefs. In a hearing originally closed to the public in a secret tribunal on a military island, but moved to a public location after protests from the press and the public, the IRS wants to wield this power against a former IRS whistleblower, who was forced to resign upon his discovery of fraud in the agency.
After monitoring and taping the whisteblower's appearances on Sixty Minutes, talk radio shows, and political publications where he rebroadcast his findings of IRS fraud, the IRS initiated this inquisition against their former whistelblower. This new power may find new political targets soon enough.
The IRS, through the small office of "Director of Practice," claims the authority to wield carte blanche authority over all the other powers of government -- the authority to monitor, surveil, and eavesdrop on political dissenters, the authority to pry into the private financial records of banks, businesses, and taxpayers, the authority to conduct secret investigations under a criminal grand jury, and the authority to censure political dissenters by branding on them a badge of infamy and stripping them of governmentally- protected licenses. In short, under the guise of a "practice" investigation, the IRS claims the right to wield all intrusive and invasive powers of government available. [...]
Special Ed Students Skew Test Results
By JULIA SILVERMAN, Associated Press Writer
Mon Dec 1, 3:08 PM ET
EAGLE POINT, Ore. - The kids in Michelle Harper's special education class have their own small victories every day — a temper tantrum stifled, two words rhymed.
When it comes time to take the standardized tests that the federal government uses to measure public schools, many of Harper's students at White Mountain Middle School merely pick answers at random, not realizing the potentially severe consequences for their school.
Across the country this year, thousands of schools were deemed "failing" because of the test performance of special ed students.
The results have provoked feelings of fury, helplessness and amusement in teachers like Harper, who say that because of some of their students' disabilities, there is no realistic way to ever meet the expectations of a new federal law backed by the Bush administration that requires that 99 percent of all children be performing at or above grade level by 2014.
If schools fail to meet those targets, they risk being taken over by the state or private companies; teachers can lose their jobs. [...]
The law mandates that schools bring all groups of students up to grade level on standardized reading and math tests, including special ed students and those who do not speak English. If even one of those groups fails to meet progress targets for two years in a row, an entire school can be listed as failing and face an escalating list of sanctions. [...]
Comment: This is the new policy that Bush thinks will improve education in the US. Obviously, the policy will only result in an increasing educational gap between the "haves" and the "have nots". But don't worry, the students of "failed" schools will easily be funneled into the military and turned into more cannon fodder for the elite's future crusades.
By Chris Floyd
Moscow Times
Friday, Nov. 28, 2003

Don't kid yourself -- and don't let them kid you. When they come at you with that pious sugar, telling you how they're going to protect you, secure you, keep you free, you better run and check the back door – because that's where their goons will be breaking in.
Last week, the U.S. Congress approved an expansion of FBI powers that will allow Attorney General John Ashcroft's federal police to arbitrarily seize records from a range of private businesses without bothering a judge or grand jury with any silly-billy nonsense about evidence or even suspicion of criminal intent. All Ashcroft's boys have to do is say, "Boo! Terrorism!" and they can take whatever they want. [...]
EU warned against duplicating, competing with NATO

AFP
Tuesday December 2, 2:57 AM
US Defense Secretary Donald Rumsfeld expressed confidence that an EU bid to do its own military planning will be worked out in a way that will neither compete with NATO nor duplicate its capabilities.
European defense ministers gave strong assurances here that nothing they do will undermine the Atlantic alliance, and both Rumsfeld and NATO Secretary General George Robertson said that the EU had not yet firmly agreed on a course of action.
"I am confident and hopeful that things will sort through in a way that we end up with an arrangement that is not duplicative or competitive," he told reporters here after meeting with NATO defense ministers.
Rumsfeld's restrained response to the EU initiative contrasted with Washington's past public opposition to such a move. [...]
Schröder Calls For End To Arms Embargo Against China

German Chancellor Gerhard Schröder has called for lifting the EU's arms embargo against China. The embargo is the last one that was imposed after the bloody suppression of student revolts at Tiananmen Square in 1989.
"The new China is no longer the Tiananmen-China," dpa quoted a delegation member travelling with Schröder on a three-day trip to China. While the People's Republic apparently has not asked for arms deliveries, Chinese leaders consider the embargo "discrimination," German government representatives told the news service.
They added that China had proven itself as a responsible partner in the United Nations as well as by acting as a mediator in the North Korea nuclear crisis. France has already suggested lifting the embargo.
China eyeing German plutonium plant
While China might not be directly looking for arms, Chinese Premier Wen Jiabao told Schröder that he would like to buy a plutonium plant near Frankfurt and bring it to China. Siemens completed the €700 million ($837 million) plant in 1991, but it never began producing fuel elements.
German leader vows one-China policy

MICHAEL FISCHER - AP
Seattle Post-Intelligencer Dec 1, 2003
German Chancellor Gerhard Schroeder, left, and Chinese Premier Wen Jiabao applaud during a signing ceremony in Beijing's Great Hall of the People Monday Dec. 1, 2003. Schroeder is on a visit to expand economic ties and is also expected to discuss North Korea and Iraq with Chinese leaders.
BEIJING -- Citing his country's own turbulent history, German Chancellor Gerhard Schroeder affirmed his support Tuesday for the Beijing leadership's most frequently touted diplomatic principle - the "one-China policy" that insists Taiwan is part of the mainland
Schroeder, touring China on a state visit, made the comments while meeting with Chinese and German business leaders in Beijing.
"We have experiences with what it means when a country is divided," he said. "We come to that position largely through our own history."
Germany was divided into east and west after Hitler's defeat in World War II and functioned as two separate nations - one backed by the United States, the other by the Soviet Union - until they reunified in 1990 as communism collapsed across Eastern Europe.
Taiwan and mainland China separated in 1949 amid a civil war. Since then, although the island functions as a sovereign nation, the communist leadership in Beijing has claimed it as part of China and says it could go to war if Taiwan moves toward formal independence.
Schroeder also said his position means that Germany will not send "sensitive goods" like weapons to Taiwan, whose main military supplier is the United States - a nation that nonetheless has formal diplomatic ties with China.
China insists that its diplomatic partners renounce Taiwan sovereignty and trumpet their support of the "one-China policy."
Comment: "They [the Soviets] intend to induce the Americans to adopt their own 'restructuring' and convergence of the Soviet and American systems using to this end the fear of nuclear conflict. Convergence will be accompanied by blood baths and political re-education camps in Western Europe and the United States. The Soviet strategists are counting on an economic depression in the United States and intend to introduce their reformed model of socialism with a human face as an alternative to the American system during the depression." - Anatoliy Golitsyn The Perestroika Deception 1990
Flashback: Vice President Hu Jintao meets with German Chancellor Gerhard Schroeder
Dec 2002

Hu highly appreciated the German government's adherence to the One China policy, stressing that China attaches importance to the significant role and influence Germany has played and exerted in promoting European integration and in safeguarding world peace and stability. [...]
Flashback: Communist party takes back power in Berlin
Dec 2002

TWELVE years after Berliners thought they had seen the last of Communist rule, the successor to the former East German Marxist party took power in the capital amid angry protests yesterday. Capping an extraordinary survival act that owes much to the nostalgia many easterners' feel for the days of the Berlin Wall, the Party of Democratic Socialists (PDS) took their seats in a so-called "Red-Red" coalition with the Social Democrats (SPD).
Flashback: Schroder in row over plan to woo communists
15/07/2001

A CONTROVERSIAL plan by Chancellor Gerhard Schroder to consider communists as possible coalition partners in the German government has sparked a bitter row that threatens to split his ruling Social Democratic Party (SPD). The Party for Democratic Socialism (PDS) is the political successor to the old Communist Party which ruled in East Germany until after the Berlin Wall fell in 1989.
Lithuanian president faces impeachment

AFP
Tuesday December 2, 3:50 AM

Lithuanian President Rolandas Paksas faced an almost certain impeachment procedure, but refused to resign after a damning report said he posed a threat to state security over mafia links in his office. [...]
DuPont to Cut Jobs, Eliminate Products
By David Brinkerhoff
Mon Dec 1, 6:10 PM ET
NEW YORK (Reuters) - DuPont Co. on Monday said it would cut its work force, eliminate some products and take other steps to reduce costs by $900 million as it grapples with high raw material prices and the sale of its key clothing and carpet fiber business.
The moves follow grousing by Wall Street analysts that the No. 2 U.S. chemicals maker has lagged rival Dow Chemical Co. in cost cutting. DuPont shares rose 3 percent.
DuPont said it would give more details on job cuts when it announces first-quarter results on April 27, 2004. It said half the costs cuts would come in 2004 and the rest in 2005.
Rival Dow, the largest U.S. chemical company, turned around its results during the past year by cutting 4,000 jobs, 8 percent of its work force. [...]
Pepsi to Cut 750 Jobs in Restructuring
December 2, 2003
NEW YORK (Reuters) - PepsiCo Inc. on Tuesday said it would cut about 750 jobs as it reorganizes its North American soft drink business and international operations and closes a Frito-Lay plant in the United States as it moves to cut costs. [...]
Snowballing Debt Awaits Tomorrow's Taxpayers

Ronald Brownstein
LA Times
December 1, 2003
Seniors with big prescription drug bills, health maintenance organizations awaiting lucrative new subsidies, upper-middle-class families anticipating a fat tax refund, and Iraqi cities expecting new schools or hospitals all have reason to be thankful about President Bush's extraordinary success at pushing his agenda through the Republican-controlled Congress this year.
There may be less celebration among the young people who will inherit the tab for these initiatives. Bush is funding every penny of every one of these goodies by increasing the national debt. Which is another way of saying that he's sticking the bill to the next generation.
The scale of the transfer is dizzying.
In just the last few months, Congress, at Bush's request, has doled out $87 billion to rebuild and secure Iraq and Afghanistan; approved a $401-billion defense appropriation bill, the largest ever; completed a $1-trillion tax cut on top of the $1.35-trillion reduction the president won in 2001; and approved a Medicare prescription drug benefit that will cost at least $400 billion over the next decade, probably more. If the energy bill is revived next year, add to the list at least another $26 billion in tax cuts for energy companies.
All of this, it's worth remembering, comes when the federal government already faces its largest deficit ever — some $374 billion last year, $84 billion more than the previous record held by Bush's father, George H.W. Bush.
Several reliable analysts project the federal deficit will soar past $500 billion this year — and then remain near that unprecedented level for the indefinite future, even if the economy recovers. It's an understatement to conclude, as the Goldman Sachs investment bank did in a recent report, that the budget process in Washington is "out of control." [...]
Gold Over $400 an Ounce on Currency Moves
Mon Dec 1, 1:22 PM ET

LONDON (Reuters) - Gold jumped to its highest in more than 7-1/2-years above $400 an ounce in Europe on Monday as fund buyers took advantage of a strong euro/dollar rate and also dragged silver to a near-four-year high above $5.50.
The euro hit a lifetime high of $1.2041 against the battered dollar earlier on Monday and also rose to its highest in more than two months against the yen following the death of two Japanese diplomats in Iraq. [...]
Shell director killed in Brazil
Gareth Chetwynd in Rio de Janeiro
Tuesday December 2, 2003
The Guardian
Brazilian police admitted yesterday that they were baffled by the apparently motiveless killing of a Shell executive found battered to death in bed beside his severely injured wife.
Todd Staheli, 36, Shell's director for gas and power in the Southern Cone region, was found by the couple's 10-year-old son on Sunday morning in a high-security housing condominium in Rio de Janeiro, according to a police spokesman, Ricardo Linck.
Mr Staheli, from the US, had suffered blows to the face and head and was pronounced dead on arrival at hospital. His American wife, Michelle, 34, also suffered severe head injuries, and underwent emergency brain surgery after falling into a coma. Her condition was critical yesterday.
Preliminary investigations suggested that the injuries may have been inflicted with a hammer or a blunt axe. The couple lived with their four children, aged three, eight, 10 and 13, in the wealthy beachside neighbourhood of Barra de Tijuca.
"What is baffling the police is the apparent lack of motive. There were no signs of a break-in, no signs of robbery and no signs of a struggle," said Mr Linck.
Preliminary investigations showed that the condominium's sophisticated surveillance system was breached. The couple's belongings, including jewellery, money and a laptop computer, however were ignored.
Foreign executives are accustomed to living under high security in South American countries where multinationals are sometimes targeted for kidnapping and robbery. The precautions mean the highly-paid foreigners rarely fall victim to Rio's high rates of crime.
Mr Staheli had been working in Brazil less than four months. He had been transferred to Rio after working on a $1.5bn (£870m) gas pipeline project in the Ukraine.
Comment: Staheli had been responsible for Shell's Ukrainian operation before his posting to S. America. Perhaps he stumbled on some sensitive information, or perhaps he was not in agreement with some of Shell's more aggressive policies. Whatever the reason, it sounds like he was "taken out" - no sign of break in, nothing stolen. Time and again we see people meeting with accidents who simply do not believe the depth of depravity of those who have been corrupted by power. Interestingly, Shell is partly owned by the Rothschilds.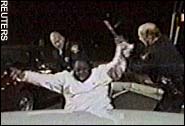 28st man dies after police beating

Marcus Warren in New York
02/12/2003
Six police officers in Cincinnati have been suspended from duty after they were caught on video using metal truncheons to beat a 28st (392lbs) black man who later died in hospital.
In footage shot by a camera in a police car, Nathaniel Jones is shown throwing a punch at a policeman and violently resisting arrest. Two police officers were injured in the melee but the police are also seen beating the 41-year-old man.
In 2001 the shooting of an unarmed black man by a white police officer provoked three nights of rioting in Cincinnati. Black activists, who boycotted the Ohio city after the incident two years ago, described Mr Jones as "defenceless" and blamed Sunday's death on police brutality.
However, Charlie Luken, the city's mayor, said: "There is nothing on those tapes to suggest that police did anything wrong. What I saw was a 400lb man violently attacking a police officer in a manner that put the lives of police officers at risk."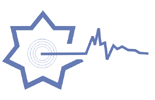 Southern Siberia rocked by second earthquake
December 02 2003
AFP
Moscow - A violent earthquake measuring up to 6.5 on the open-ended Richter scale rocked the Russian region of Buryatia in southern Siberia early on Tuesday, the Itar-Tass news agency reported.[...]
It was the second such earthquake in Buryatia over the past week, with tremors measuring up to 5.9 on the Richter scale registered in the region last Thursday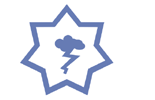 More Atlantic Hurricanes Than Normal as Season Ends
NEW YORK (Reuters) - This year's Atlantic hurricane season, which ended on Sunday, exceeded the norm and produced 14 named tropical storms, specialists from the nation's hurricane monitoring group said on Monday. [...]

FLASHBACK: Hyperactive U.S. East Cost hurricane seasons expected for next 10 years
[...] Government officials, emergency managers, and residents of the Atlantic hurricane basin should be aware of the apparent shift in climate and evaluate preparedness and mitigation efforts in order to respond appropriately in a regime where the hurricane threat is much greater than it was in the 1970s through early 1990s. [...]
FLASHBACK: Storm Surge
Was Isabel the first of a new wave of big, bad Atlantic hurricanes?
[A] growing number of scientists believe that conditions favorable for brewing more and even bigger hurricanes in the Atlantic locked into place about eight years ago and will probably persist for at least a decade and maybe longer. "We're not talking about a minor little increase," says Stanley Goldenberg, a hurricane expert with the National Oceanic and Atmospheric Administration, "but an overall doubling of major hurricane activity." [...]
Freak hail storm hits Melbourne
December 2, 2003
A freak hailstorm caused extensive damage to cars and houses as it swept through Lilydale, in Melbourne's east.
Locals said the 20-minute storm hit the suburb about 4pm (AEDT) with hailstones the size of golf balls smashing windscreens, denting cars and damaging skylights. [...]
"There could be as many as 1,000 cars in the town that have been damaged," he said.
Mr Donohue said the storm was "totally bizarre". [...]
A State Emergency Service (SES) spokeswoman said they received more 30 calls for help, most of them in Lilydale.
Bureau of Meteorology senior forecaster Ward Ronney said reports of hail up to 3cm in diameter had been recorded, with the majority reported in Lilydale.
"When hail is that large it tends to be concentrated in one area," he said. [...]
Secret ingredient in Stradivari may be heaven sent
Two-thirds of Great Wall not there
Tuesday 02 December 2003, 14:00 Makka Time, 11:00 GMT
Only about one third is left of China's 2000-year-old Great Wall, with the rest in various stages of decay.
Chinese media reported on Monday that one-third of the structure can still be characterised as a wall, one-third is merely made up of piles of rock and bricks and one-third has entirely disappeared.
The Beijing Daily said much of the destruction had been caused by humans, as generations of farmers had torn out pieces of wall to get raw material when they built new homes, stables or repaired fences.
The state of the Great Wall is such that the World Monuments Fund has put it on a watchlist of the planet's 100 most endangered structures, according to the newspaper.
This is the second recent blow to the Great Wall after China's first astronaut Yang Liwei said in October that he could not see it from space, contrary to the belief of many Chinese.
Cholera outbreak claims 12 lives in Zimbabwe
www.chinaview.cn 2003-12-02 14:14:51
HARARE, Dec. 2 (Xinhuanet) -- Zimbabwean Minister of Health and Child Welfare David Parirenyatwa has said that 12 people died of cholera in Kariba district in the northern part of the country last week and 413 were affected and are receiving treatment, localmedia reported on Tuesday.
Parirenyatwa was quoted as saying on Monday the 12 did not receive treatment while the 413 cases were detected when the people sought treatment.
Man dies after police beating taped by camera in cruiser
JOHN NOLAN
ASSOCIATED PRESS
Dec. 2, 2003. 01:00 AM
CINCINNATI—A 350-pound black man died after being clubbed repeatedly by police in a videotaped beating that stoked racial tensions in Cincinnati nearly three years after the city was rocked by riots.
The mayor said yesterday the tape showed baton-wielding officers defending themselves.
The cause of Nathaniel Jones' death Sunday is under investigation. Preliminary autopsy results found the 41-year-old had an enlarged heart, and his blood contained cocaine and PCP, or "angel dust," both of which can cause bizarre or aggressive behaviour, Hamilton County Coroner Carl Parrott said.
Black activists said Jones' death was another example of brutality by Cincinnati police. The fatal shooting of an unarmed black man by a white officer in April, 2001, set off three nights of rioting.
"How many of our people have to die before the city decides to do something about it?" said Nathaniel Livingston of the Coalition for a Just Cincinnati.
The videotape from a police cruiser's camera showed two white officers landing at least a dozen blows with nightsticks on Jones and tackling him, while shouting at him to put his hands behind his back. But the tape also showed Jones lunging at one officer.
Police release 'central figure' in Vancouver school beating death
Last Updated Tue, 02 Dec 2003 5:29:31
VANCOUVER - Vancouver police questioned and released a 17-year-old described as a "central figure" in the beating death of a Filipino teenager outside a high school.
Const. Anne Drennan said the youth was brought in Sunday evening and released on Monday afternoon "without charge at this time." The teenager has a history of violence and has been expelled from two schools, she said.
[...] Police acknowledge racial slurs played a role in the confrontation, though Drenan won't call it a racially-motivated attack.
She says the police have received tremendous support from the community. Three Vancouver homicide teams are involved in the investigation.
Disabled children kept in cage: report
Disabled children were kept in a cage as punishment at a Queensland facility, a report has claimed.
Wednesday's edition of The Bulletin magazine said mentally and physically disabled people were locked in cages and threatened with broom handles. [...]
Comment: A video game based on a real life refugee detention center in Australia. The designers were given a grant to draw attention to the situation. See here to read about dark tales from inside the detention center.
Clubgoers accuse Oregon police of racism
[...] "This is the kind of thing you expect to see in the South, like a Confederate flag. They might as well paint their faces black with white lips," said Mello Cee. [...]
Comment: Can you see me now? Gorilla case highlights cell phone vigilantism discusses the issue further.
Be on time or be fined (California)
[...] That's the tardiness policy being implemented at Whittier High School, where students who arrive on campus after the 8 a.m. bell more than twice without being accompanied by a parent will now receive $165 tickets from the Whittier Police Department. [...]
Shopping Brawl: Louisiana Purchases Create Chaos (USA)
BOSSIER CITY, La. -- Holiday cheer? Not with a bargain on the line. [...]
Two women, who said they had been waiting in line for several hours, tried to stop a woman they claimed had just arrived and was cutting in line.
The argument began as a verbal altercation, but turned physical when two of the women began shoving each other and one of them grabbed the other by the neck. [...]
MPs press to impeach president linked with gangsters
By Julius Strauss in Moscow
The Telegraph
Lithuania, one of the east European states joining the European Union in six months , has a president tied to Russian mobsters and spies, the country's parliament said yesterday. [...]
Comment: If only Congress would speak up about the gangsters in the US..
Rumsfeld Ramble Wins 'Foot in Mouth' Award
LONDON (Reuters) - Defense Secretary Donald Rumsfeld's curious statement at a press briefing was named on Monday as the year's most baffling comment by a public figure.
"Reports that say something hasn't happened are interesting to me, because as we know, there are known unknowns; there things we know we know," Rumsfeld told the briefing.
We also know there are known unknowns; that is to say we know there are some things we do not know. But there are also unknown unknowns -- the ones we don't know we don't know."
John Lister, spokesman for the campaign which strives to have public information delivered in clear, straightforward English, said: "We think we know what he means. But we don't know if we really know." [...]
Dean draws fire for sealing some records
By Susan Page
USA TODAY
WASHINGTON — Former Vermont governor Howard Dean, who has criticized President Bush for too much secrecy in government, is facing criticism himself for sealing some of his gubernatorial records for the next 10 years. [...]
Judicial Watch says that about 40% of Dean's records have been sealed. [...]
PETA links vegetarianism with virginity
Last Updated Mon, 01 Dec 2003 23:48:21
PROVIDENCE, R.I. - In an attempt to push people away from eating meat, PETA, People for the Ethical Treatment of Animals, has used religious icons to associate vegetarianism with virginity.
The billboard shows the Madonna cradling a chicken in her arms and below reads a caption, "Go Vegetarian-It's an Immaculate Conception."
Scientist cleared of smuggling plague bacteria
Last Updated Mon, 01 Dec 2003 21:50:47
LUBBOCK, TEXAS - A jury acquitted a U.S. scientist Monday of illegally importing, exporting and transporting the bacteria that can cause bubonic plague and of lying to federal police.
On January 14, Thomas Butler told police that 30 vials of plague bacteria were missing from his Texas Tech University lab causing a bioterrorism scare.
He later said that the vials had been accidentally destroyed although during the trail he said he had no recollection of destroying the samples.
The jury found Butler guilty of 44 theft, embezzlement and fraud charges and of making a false statement on a Fed Ex package that contained plague samples he sent to Tanzania. Butler had marked "laboratory materials" on the package.
Butler faces up to 240 years in prison on the convictions.
Babies in Siberian space scare
Toxic fuel dropped on parts of Siberia during space launches may be poisoning unborn children, Russian TV reports.
Secret Energy Haunts Coral Castle
If you thought the sun was made of hydrogen, you may be wrong
Robert Matthews
Our supposedly middle-aged sun has been behaving like an adolescent of late, hurling huge clouds of particles at us after its face broke out in spots. Its celestial hissy fit has damaged satellites, sent the occupants of the International Space Station scurrying for cover, and forced aircraft to change routes to avoid excessive cosmic radiation.
The sun's outburst has also produced some spectacular displays in the heavens, yet the weirdest Earth-bound manifestation to date takes the form of a scientific paper, written by an American physicist. Oliver Manuel, a professor of nuclear chemistry at the University of Missouri-Rolla, says the recent solar storms are symptomatic of the sun being made chiefly out of iron.
At first glance, this seems about as plausible as arguing that the moon is made from cheese. Yet Manuel has published several papers that, he claims, raise serious doubts over the textbook view of the sun as being a giant ball of hydrogen and helium. [...]
UFO is spotted over Kingsgate Retail Park during morning rush-hour
By Judith Tonner
THE appearance of a UFO in the sky above Kingsgate Retail Park last week caused spooked drivers to bump their cars.
Several people reported seeing a huge silver object in the area as they drove past at around 8.45am last Wednesday.
Drivers were so distracted by the bizarre sighting that at least two minor bumps were reported, as the attention of motorists wandered from the more mundane forms of transport before them on the road.
A local woman, who did not wish to be named, contacted the News to describe the experience of a friend who was driving towards the retail park at that time.
She said: "My friend saw something hovering, which was silver in appearance and looked like the dishes you see on the side of television transmitters.
"It was huge, and it was pulsating - he wasn't the only one who saw it, as you couldn't have missed it.
"He saw it and just thought: 'Good God', and was really quite shaken by the whole thing.
"Then the object just suddenly disappeared - it was so strange.
"My friend thinks the accidents at Kingsgate were a result of other people seeing this thing as well."
The sighting has also intrigued East Kilbride UFO Club, whose members were warned in advance that they might be about to spot something strange in the sky.
Colleagues in Cumbernauld had seen a similar object around half an hour previously, and alerted their South Lanarkshire counterparts that it appeared to be heading in their direction.
Lee Close, of the Anglo-Scottish UFO Research Agency, has been investigating last week's events in tandem with the local UFO club.
He said: "This is the first time I've come across a UFO causing a car crash, although I'm aware of it having happened in America before.
"People in Scotland tend to think: 'oh, there's something in the sky' and just carry on, so the fact that it's caused two fender benders is quite unusual.
"The fact that it's in daylight interests us immensely too - previously 95 per cent of sightings were at night, although they're now almost equal between day and night-time." [...]
Anderson man, arrested 400 times, sentenced to 17 years
The Associated Press
December 1, 2003

ANDERSON, IND. -- A 74-year-old man who has been arrested at least 400 times was sentenced Monday to 17 years in prison on drunken driving charges.
Virldeen Redmon of Anderson was arrested in July while driving even though his license had been suspended for life following scores of alcohol-related offenses.
Redmon's latest conviction was on charges of driving while intoxicated, endangering a person and driving while suspended.
Police have been arresting him since 1947, including three times since June. Redmon has had his driver's license suspended for life five times.
In 1996, a judge sentenced him to 9-1/2 years in prison for driving under a lifetime suspension and public intoxication. The judge reduced the sentence in 2001 and released him after a doctor testified that Redmon suffered from health problems.
Man changes name to Bubba Bubba Bubba
Ananova.com
14:26 Monday 1st December 2003
An Illinois man has changed his name from Raymond Allen Gray Jr to Bubba Bubba Bubba.
He said he got the idea of changing his name in full from banter at work. A female colleague referred to him as Bubba, Bubba, Bubba and another colleague believed that was his real name.
"That's kind of what started me thinking: Well, let's just have it all the way through - Bubba Bubba Bubba - first, middle and last," said Mr Bubba. [...]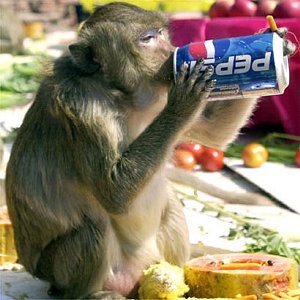 Nine-course feast laid on for 3,000 monkeys
Ananova.com
17:52 Monday 1st December 2003
A Thai town has laid on a nine-course gourmet extravaganza for 3,000 monkeys .
Lopburi's 15th annual Chinese Banquet for Monkeys 2003 has been held at the Phra Prang, Sam Yod and Pra Karn buddhist shrines.
The festival was started in 1989 by a local businessman who believes the monkeys were behind his family's good fortune.
This year, the banquet, set for two rounds at 10am and 2pm, has concentrated on the vegetables and fruits which monkeys prefer. A total of 4,400 pounds of fruits were offered to the monkeys roaming the area.
It is estimated that over 3,000 monkeys naturally live in the town and organisers say most of them have come to the feast.
On the 96-metre long feast table, nine courses including monkey hors d'oeuvres, sunflower salad, rainbow jelly, hengjia eggs and fried rice monkey were displayed. The monkeys were also given cola to drink.

---
Remember, we need your help to collect information on what is going on in your part of the world!
We also need help to keep the Signs of the Times online.
---

Check out the Signs of the Times Archives

Send your comments and article suggestions to us

---
Fair Use Policy
Contact Webmaster at signs-of-the-times.org
Cassiopaean materials Copyright ©1994-2014 Arkadiusz Jadczyk and Laura Knight-Jadczyk. All rights reserved. "Cassiopaea, Cassiopaean, Cassiopaeans," is a registered trademark of Arkadiusz Jadczyk and Laura Knight-Jadczyk.
Letters addressed to Cassiopaea, Quantum Future School, Ark or Laura, become the property of Arkadiusz Jadczyk and Laura Knight-Jadczyk
Republication and re-dissemination of our copyrighted material in any manner is expressly prohibited without prior written consent.
.