---
New travelogue: Flamenco in Paris - Ark and Laura travel to Paris for TV interview
Ariel Sharon is under pressure it seems, yet we do not doubt for a second that the man is capable of any action he deems necessary to ensure that he achieves his fanatical goals. So as Sharon labels a "traitor" anyone that supports the 'Geneva Peace Plan', he threatens to attack Syria, expel Palestinians, and encourages Israeli troops to continue to commit atrocities - the whole world is evil according to Sharon - and he is the only peacemaker and never wrong. How can he be so sure? Why, Yahweh told him so, of course!
The Pentagon announces it is considering the creation of a 30,000-strong "rebuilding" force to keep the peace and reconstruct countries that the US decides to invade in the future. The new force has apparently been included in the latest war game scenarios that Rummy and his military pals invent.
US forces in Iraq kill 54, including civilians. Iran expresses its disgust over the slaughtering of its countrymen in the firefight. Meanwhile, a report is released indicating that up to 70% of what is reported to Americans regarding Operation Iraqi Fascism is blatantly wrong. US hired mercenaries are testing new weapons on Iraqis.
Now the Bush Gang is claiming that Saddam Hussein tried to buy a missile assembly line from North Korea, and that the finished product was to be shipped through - you guessed it - Syria! We are also certain that Osama bin Laden and the ghosts of Genghis Khan and Hitler were also involved somehow.
In Cuba, over 140 captives will be released from the Guantanamo prison camp. While another inmate "confesses" after a bit of torture.
Bush drops the steel tariffs as the euro once again soars to an all-time high versus the dollar.
French diplomats strike, the snow cannon is unveiled, UFO's scream, DNA labs for the children on your Christmas list, an Iraqi cat travels by tank for a UK vacation and we continue with our "On this day" series.
From a reader:
May I suggest a signs supplement page on the articles relating to the flu epidemic? Your coverage has been the best not only for seeing the big picture, but for gaining some insight on how to protect my family. By the way...even after working my way through all the seriously disturbing articles in today's Signs, and feeling like I was handling it, I suddenly found myself almost having a panic attack when I read about the German cannibals. There was something about that article!!! Maybe it was like the straw that almost broke the camel's back. Understand, I'm not complaining.....the shocks are good for me. (Emphasis ours)
Top Israeli general warns Sharon to stop preparing for "short, sharp offensive against Syria"
by Gordon Thomas
Israel's former head of military intelligence, Major-General Shlomo Gazit, has broken ranks and taken the unprecedented step of warning Ariel Sharon to stop threatening Syria.
Gazit, now a respected elder of the Israeli intelligence community, spoke publicly in Tel Aviv last weekend. He accused Sharon of running an "orchestrated campaign to incite and humiliate Damascus. It is only going to be a matter of time until the Syrians are unable to hold back and then the big blaze will begin".
He cited as an example of the "jab, jab policy" of Sharon, the recent incident when Israeli fighter planes buzzed the palace of Basha al-Assad, the Syrian president.
Gazit's blunt warning has sent a shock wave through Israel's military command structure. Sharon's cabinet office has dismissed Gazit as "someone out of touch with reality".
"But the reality is that Sharon IS preparing for a short, sharp offensive against Syria", insisted Gazit.
Support for this came only last Sunday when General Moshe Yaalon, chief of staff of the IDF, Israeli armed forces, also hinted at "further action" against Syria.
"If Damascus continues to ignore the message that Israel and other countries have sent to Syria, then it may be necessary to send messages of a different kind", said Yaalon in an address to the faculty of Tel Aviv university.
The reference to "other countries" was intended to convey that Washington would support an attack on Syria", Yaalon later admitted. An hour after he had spoken, eight Israeli F-15 jets crossed the international border with Lebanon and flew over Beirut. There are 25,000 heavily armed Syrian troops in and around the city.
This was the latest incursion to deepen the crisis with Syria. Last month, F-15 jets dropped satellite-guided bombs on an empty Palestinian training base near Damascus. It was the first assault on the country's soil in 30 years.
Damascus promised to retaliate. It has not done so yet.
But Syrian vice-president Abd al-Halim joined in the war of words this week. He accused Sharon of "staging psychological warfare" against Syria. Next day, more Israeli jets swept over Syria's forces in Lebanon.
Sources close to Sharon have said he was now convinced by hawkish generals like Yaalon that Israel should next strike at Syria's missile sites hidden in Lebanon.
But Gazit, once a renowned hawk, has predicted such an attack could have deadly consequences.
"It would be wrong for Israel to underestimate Syria's military strength. Damascus could retaliate with a ferocity that would surprise us.
"The Syrians possess hundreds of ballistic missiles with conventional, maybe also chemical, warheads which are targeted on all of Israel", he said.
Bush's tacit support for an attack on Syria – together with his signalled readiness to introduce the Syrian Accountability Act in Congress – shows how closely Israel has veered towards war with Syria
The Accountability Act calls for sanctions against Syria until Washington "decides" if Syria has stopped supporting terrorism, has withdrawn all its troops from Lebanon, has ceased the manufacture of weapons of mass destruction and is ready to enter into "serious unconditional peace talks with Israel".
The Act is the handiwork of the neo-conservatives around Bush, led by Paul Wolfowitz.
It is welcomed by Sharon as the first move for a "regime change" in Syria.
But men like Gazit now see the "Israelisation" of America as a dangerous ingredient in the already poisonous Middle East brew. With the situation in Iraq increasingly eating away at Bush's prospects of election for a second term, he will be more accommodating than ever to Israel. In turn, the powerful Jewish American lobby will pressurise the White House to allow Sharon a free hand in dealing with Syria.
For strategists like Gazit, one thing is clear: if America cannot quickly extricate itself from Iraq, for Washington to remain an Israeli partner in this most counter-productive of alliances in the Middle East will be a high price to pay for Bush.
Comment: Consider these facts. Israel has 5.8 million people and a land mass of 12,887 sq. miles. Syria has a population of 15 million with 71,000 sq. miles of landmass. Logically one would not assume that Israel would be in any position to threaten a country the size of Syria. Yet this is exactly what is happening, and it would not be possible without the support of the White house funneling US taxpayers money into the coffers of the megalomaniac Sharon, allowing him to arm and equip the Israeli forces beyond all reasonable or rational levels. Below we see some horrific examples of exactly how the Israeli defense forces make use of this military superiority.
Alternative Mideast plan to be signed
Monday 01 December 2003
Prominent Palestinian and Israeli opposition politicians are gearing up to sign a Middle East peace effort dubbed the Geneva Initiative, despite powerful opposition to their attempt.
The initiative is being formally unveiled on Monday in Geneva. It contains a detailed blueprint aimed at resolving some of the most contentious issues in the Palestinian-Israeli conflict.
Washington's top envoy William Burns, meanwhile, met senior Israeli officials on Sunday.
He is in the region meeting leaders in an effort to kickstart the "road map".
In another development, Hamas said on Monday it would participate in talks with other Palestinian factions in Egypt. It accused Israel of blocking representatives from the occupied Palestinian territories from flying to the Egyptian capital for talks scheduled on Tuesday.
The delegation will be headed by Musa Abu Marzuk, deputy president of the Hamas politburo.
Egypt is hosting 12 Palestinian factions, including Hamas and Islamic Jihad which are spearheading the Intifada, to encourage them to halt resistance attacks on Israel.
Initiative criticised
The chief driving forces behind the Geneva plan are former Palestinian information minister Yasir Abd Rabbu and former Israeli justice minister Yossi Beilin.
Israeli Prime Minister Ariel Sharon's government has sharply criticised the initiative for bypassing official channels, claiming it will harm the US-backed "road map" aimed at ending the Palestinian-Israeli conflict.
But the "road map" is floundering as Israel has defiantly vowed to continue constructing its apartheid wall slicing off some of the most fertile parts of the occupied West Bank and separating Palestinian farmers from their land.
Israel has warned the international community not to throw its support behind the initiative, which has no official backing. However, it has already drawn European support and encouragement from Washington.
Issues
Palestinian factions have also voiced their opposition to the plan since it renounces the automatic right of return to 3.8 million Palestinian refugees.
The plan calls for the creation of a Palestinian state on 97.5% of the West Bank and Gaza Strip with shared sovereignty over Jerusalem.
Comment: Sharon maintains that the Palestinians do not want peace; however, this is patently false. The psychopath will accuse others of what they themselves are guilty of. This is true for Sharon, and anyone who cannot see that he is simply a man of war is not seeing what IS. Sharon's goal, it seems, is to subdue all of Israel's neighbours by force, commanding and demanding that they respect him and the Jews as the "chosen people", a concept foisted upon most Jews by their religious leaders from an early age. Sharon, it seems, cannot bear the disparity of the great things and "special place" that have been promised to him as a Jew by the vengeful god yahweh, and the current pathetic state of Israel, a tiny piece of virtually worthless real estate, that depends almost entirely on US handouts to maintain its existence.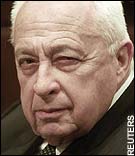 Israel warns US, world against supporting Geneva Initiative

JERUSALEM (AFP) Nov 30, 2003

Angered and alarmed by the momentum gained by the so-called Geneva Initiative, the Israeli government is warning the international community and its US ally not be coaxed into supporting a peace blueprint which has no official backing.
A high-ranking official close to Israeli Prime Minister Ariel Sharon on Sunday equated support for the unofficial peace plan, due to be signed in Geneva on Monday, to abetting terror and undermining the internationally-backed "roadmap" plan.
"It should be clear that meeting with those who are going to dance around the golden calf in Geneva are making a mistake, because it is encouraging terrorists and harming the 'roadmap' which the international community and especially the United States have sponsored," he told AFP on condition of anonymity.
Israel had remained unmoved by Europe's open support for the initiative, seen by some commentators as an attempt by Brussels to retake the lead in the Israeli-Palestinian peace process [...]
Comment: So tell us again, who is it that does not want peace?
'Rattled' Sharon under pressure
By Inigo Gilmore in Jerusalem
01/12/2003
On the eve of a controversial ceremony to sign an informal peace "agreement" between Israeli opposition leaders and Palestinian figures, Israel's prime minister, Ariel Sharon, came under pressure from all sides yesterday.
Israel's justice minister, Yosef Lapid, criticised the government for failing to keep its promise to dismantle unofficial settlements in the West Bank.
"We are losing the battle for world public opinion," he said. "There is even a rift between us and the United States."
The US state department envoy, William Burns, said settler outposts should be removed and pressure should be put on Palestinians to clamp down on militant groups.
Mr Sharon has threatened to take "unilateral" steps if he cannot revive peace talks with the new Palestinian prime minister, Ahmad Queraia.
These steps are believed to include the removal of isolated (Palestinian) settlements in the Gaza Strip.
But the Hebrew daily Haaretz yesterday reported that the army chief of staff, Lt-Gen Moshe Yaalon, has warned him that such a move would encourage terrorists.
Instead, the army has proposed that troops withdraw from West Bank cities and that roadblocks be removed.
Mr Sharon has also been rattled by the unofficial "peace agreement" negotiated by Yossi Beilin, a key architect of the now-defunct Oslo peace accords, and Yasser Abed Rabbo, one of Yasser Arafat's closest aides.
Mr Sharon has described the deal, due to be signed in Geneva today, as "traitorous".
Lieberman: Failure in Iraq could prompt global religious war
Monday, December 1, 2003
WASHINGTON (AP) -- Iraq is the testing ground that will determine whether fanatical Muslims go to war against other religions, including moderate Islam, Democratic presidential candidate Joe Lieberman said Sunday. [...]
Comment: As Lieberman mutters under his breath, "Hopefully." Actually, we are putting words in his mouth. What he says to the press is, "There is no substitute for victory here. We must pull together across party lines, here in the United States, and we have to pull together with the rest of the world in a way that President Bush has not been able to accomplish yet." Which means expanding the war beyond what Bush has presently been able to do, and we all should learn to love it.
The idea of religious war goes a long way in explaining Mossad's involvement in intelligence gathering for Iraq, Mossad's involvement in the recent Turkey bombings, Mossad's involvement in the bombing of mosques in Iraq, and Mossad's involvement in pushing for war in Iran. You are supposed to sacrifice your children and freedoms, participate in this religious war and call it patriotism. One day, just like any other, a crime is committed, and the world is changed forever. See Laura's article Mahmoud Ahmad and The Secret Cult of 9/11.
Three Palestinians killed in Israeli raid
Monday 01 December 2003
Israeli soldiers regularly arrest Palestinians during invasions

Israeli occupation soldiers have shot and killed three Palestinians and arrested 30 others in a pre-dawn invasion of the West Bank city of Ram Allah.
Two of the dead are members of the Hamas resistance group, according to Palestinian security sources on Monday.
The identity of the third person was not immediately known.
An Israeli army spokesman said troops killed two gunmen during clashes near al-Amari refugee camp in the city and a third resistance fighter who fired and threw grenades at occupation soldiers in another district.
More than 60 tanks, jeeps and armoured personnel carriers stormed the city and searched homes, Palestinian security sources said.

Palestinian witnesses said dozens of people were arrested in the raids, including a Hamas leader, Ghassan Abassi.
Israeli military officials confirmed "a number" of arrests. They claimed to have uncovered an explosives laboratory, which the army had destroyed.
An Aljazeera correspondent in Palestine reported that units from the Israeli occupation forces also raided the city of Bira and besieged a number of houses in the districts of al-Tirah, Irsaal, Ram Allah al-Tahtah and Shurfah.
Surveillance planes were seen flying overhead.
Palestinian witnesses said soldiers also destroyed a house and an internet cafe.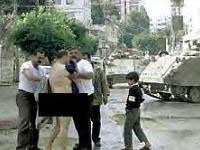 Palestinians rush to help a young man from Nablus, forced, by Israeli troops to strip naked and "crawl in the mud like an animal"
Israeli Soldier's Book Stirs Controversy
Sunday, November 30 2003
"I remember how we humiliated a dwarf who came to the checkpoint every day on his wagon..."
OCCUPIED JERUSALEM - A former Israeli soldier who served three years in the Gaza Strip has described Israeli treatment of Palestinian civilians as befitting 'animals, criminals, and thieves'.
Staff Sergeant Liaran Ron Furer has written a book on his experience as an Israeli soldier manning roadblocks throughout the Gaza Strip.
The book, titled "Checkpoints-Twilight Zone" contains personal testimonies and often-brash accounts of the daily harassment and humiliation inflicted by young Israeli soldiers on Palestinian civilians.
Major publishers in Israel, including the famous Steimatzky bookstore chain refused to publish the book apparently because of its scathing criticism of Israeli army behavior.
"You can adopt the most hard-line political positions, but no parent would agree to his son becoming a thief, a criminal or a violent person. The boy himself doesn't portray himself this way to his family when he returns from the territories. On the contrary, he is received as a hero, as someone who is doing the important work of being a soldier," says Furer in his book.
Furer describes several types of 'sadistic' behaviors by Israeli soldiers including beating Palestinians and then taking souvenir pictures with them. "I remember how we humiliated a dwarf who came to the checkpoint every day on his wagon. They forced him to have his picture taken on the horse, hit him and degraded for a good half hour."
Among the accounts narrated by Furer are stories of soldiers having souvenir pictures with Palestinians they had beaten up, soldiers urinating on the head of a Palestinian because the man had the nerve to smile at a soldier and how one soldier, nicknamed Dado, forced a Palestinian to stand on four legs and bark like a dog.
One of Furer`s most chilling confessions related to his abuse of a 16-year old mentally retarded boy.
Furer stresses that behaviors as such are by no means isolated but rampant in the Israeli army.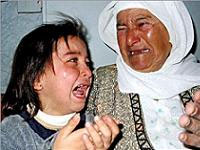 Palestinian children remain the ultimate victim of Israeli occupation
Palestinians on Verge of Humanitarian Catastrophe
"Over 9% of Palestinian children under 5 suffer irreversible brain damage due to Israeli policies"
Saturday, November 29 2003
By Genevieve Cora Fraser
Last May, as part of the Road Map to Peace, the Bush Administration pushed hard and Israel capitulated in an effort to stay on President Bush's good side. So in July, Israel welcomed a UN sponsored mission to investigate conditions in the Palestinian Territories occupied by Israel since 1967. The United Nations has now released a summary of "The Right to Food, a Report by the Special UN Rapporteur Jean Ziegler," one of the world's foremost specialists in the field.
For openers, Ziegler reports that the Occupied Palestinian Territory is "on the verge of humanitarian catastrophe, as the result of extremely harsh military measures that the occupying Israeli military forces have imposed in response to the outbreak of the second intifada in September 2000."
Over 22% of Palestinian children less than five years old are suffering from either acute or chronic malnutrition; of these 9.3% now suffer from irreversible brain damage due to the starvation conditions brought on by Israeli policies. Food consumption has fallen 30 per cent on average per person and 60 per cent of Palestinian households now live in acute poverty. Half of them depend on international food aid, which is increasingly in short supply. Zeigler finds these conditions absurd considering that Palestine was formerly a middle-class economy.
The extensive imposition of closures, curfews and permit systems constitutes a violation of the obligation to respect the right to food, Ziegler states. It threatens the physical and economic access to food, as well as food availability. While acknowledging that Israelis live under the threat of suicide attacks by Palestinians bombers, Palestinians also live in fear, the report states. "Women and children are often killed in their homes or on crowed streets by Israeli military operations targeting Palestinian leaders."
"The Israeli government has the right and obligation to assure the security of its citizens," Ziegler said. "As any other sensible human being, I deeply regret the violence that has cost the lives of over 800 Israelis and 2,700 Palestinians in the past three years."
"But the widespread denial of adequate food and water to people living under occupation constitutes an act of collective punishment prohibited under international law," he said.
Water shortages in the Occupied Palestinian Territory are very serious, the report states. "Closures have also caused water shortages," according to Zeigler. "With the system of checkpoints and road closures in place, water tankers cannot always reach villages or are not permitted to cross checkpoints, leaving communities without water for days at a time."
Communities outside of Nablus such as Burin have no independent water supply. They are therefore completely dependent on water deliveries, which are severely disrupted by closures. The village of Beit Furik was deliberately prevented from receiving water for at least nine consecutive days since no water tankers were allowed in the village, the report asserts.
Approximately 280 rural communities have no access to wells or running water. These communities are completely dependent on water deliveries by municipal and private water tankers whose main supply of water is from an Israeli water company. The price for this water, which is substandard and frequently contaminated with water borne diseases, has been raised by 80% in the last three years as a result of the transport costs due to the closures.
According to the World Bank, Israel has caused about $140 million dollars worth of damage to Palestine's water and wastewater infrastructure. Damage inflicted on agriculture has reached $217 million. Between September 2000 and May 2003, the occupying forces uprooted hundreds of thousands of olive, citrus and other fruit trees. They also destroyed 806 wells and 296 agricultural warehouses, tore up 2,000 roads and blocked thousands of others with concrete and dirt mounds.
The Palestinian Hydrology Group reports that in the nine months between June 2002 and February 2003, there were 42 water tankers and 9,128 Palestinian roof top water tanks destroyed by Israel. And in the Bethlehem area, the occupying army severed the water connections by destroying the pipes. [...]
Along the Gaza strip, there are 6,429 Israeli settlers occupying 45% of the land, while 1 million Palestinians live on the remainder. This results in a population density for the Palestinians that is one of the highest in the world, and almost 100 times greater than that of the Israelis. Meanwhile, statistics suggest that Israelis receive and use five times more water than Palestinians.
Under international law, as the occupying Power, the State of Israel bears an obligation to facilitate and ensure access to food and water to the civilian Palestinian population as well as to facilitate access for impartial organizations providing emergency assistance. A year ago last December, the occupying armyexploded a warehouse containing 537 tons of food aide largely funded by the European Union.
RAMALLAH (Reuters)
December 1 2003 10:08
Israeli forces have arrested over 30 Palestinians in a major West Bank raid as a senior U.S. envoy seeks to revive a "road map" peace plan by pushing for an Israeli-Palestinian summit.
The Israeli army sweep into the Palestinian political centre of Ramallah unfolded on Monday shortly before a symbolic peace deal conceived by Israeli left-wing opposition figures and senior Palestinian politicians was to be launched in Geneva.
It also occurred a day before Palestinian factions including militant leaders were to meet in Cairo to discuss a ceasefire which new moderate Palestinian Prime Minister Ahmed Qurie wants to present to Israel for its agreement. [...]
Comment: Typical Sharonian timing.
By Gideon Levy
Quietly,far from the public eye, Israeli soldiers continue killing Palestinians. Hardly a day goes by without casualties, some innocent civilians, and the stories of their violent deaths never reach the Israeli consciousness or awareness. If there is one consistent piece of data in the current intifada, it is the number of Palestinian casualties: dozens a month, unceasingly.
There were 30 in November, 57 in October, 33 in September. In May and June, the number of casualties reached 60 a month (all data supplied by B'Tselem). While Palestinian terror shocks us with its brutality, the daily killing of innocent Palestinians in far greater numbers is ignored - unless it is a case of an army operation as in Nusseirat refugee camp in October.
Here's a list of victims from the last month, taken from the margins of the daily newspaper chronicles: A 32-year-old motorcyclist shot to death in the chest after soldiers said he tried to escape a checkpoint near Iskar refugee camp; a 10-year-old boy from Sejaya in Gaza who was bird hunting with a slingshot near the separation fence around Gaza, killed by a tank shell fired at him; an eighth-grader from Barukin, near Jenin, who threw stones at soldiers, shot dead; a youth shot to death during "disturbances" after the funeral of his friend in Jenin; a taxi driver and father of six shot to death in Tul Karm by soldiers who thought he was trying to get away; a 15-year-old killed in Yata during some arrests; a nine-year-old killed by IDF fire in Rafah; and three Palestinians who were on their way to the holiday dinner last Wednesday in Gaza, killed by soldiers who claimed they thought the three were an armed cell.
The IDF admitted the next day that they were "accidentally" killed. But a day later, Brigadier General Gad Shamni, commander of the Gaza forces in the Strip hurried to say the soldiers actually behaved correctly. Even though three innocent people were killed, he didn't even think it was a mistake.
Life in the killing fields of Rafah, for example, is as cheap as the hundreds of houses that have been demolished there for various, strange reasons. Just a few days ago, the IDF demolished the home of someone in their custody whom the army claimed was responsible for the smuggling tunnels. There's no need for blood on the hands to justify demolishing a person's house in the current intifada. Only someone who has lately visited Rafah can understand how cheap life has become in this remote place, where there's practically no building that has not been damaged. [...]
Sharon rejects Palestinian condition for talks
www.chinaview.cn 2003-12-01 10:59:08
BEIJING, Dec. 1 (Xinhuanet) -- Israeli Prime Minister Ariel Sharon on Sunday rejected his Palestinian counterpart's demand that Israel stop building a separation barrier through the West Bank as a condition for peace talks. [...]
Amnesty International: The Case of a Rape Foretold
Saturday, November 29 2003
"A careful reading of any Amnesty International statement referring to possible Israeli war crimes reveals curious bias"
By PAUL de ROOIJ
Amnesty International is primarily motivated not by human rights but by publicity. Second comes money. Third comes getting more members. Fourth, internal turf battles. And then finally, human rights, genuine human rights concerns. -- Francis Boyle, Prof. of International Law and former board member of Amnesty International.
Human Rights organizations used to play an important role raising awareness of human rights abuses, scoring an occasional point with one state or another, and were instrumental in releasing a handful of hapless prisoners. However, they have increasingly abdicated their role as modern-day paladins of justice, to become politically manipulated organizations that are more concerned with fundraising or appearing on TV. Several authors have described how human rights organizations have played a role in priming the propaganda pump prior to war; these accounts make sobering reading, and they dispel preconceptions about some of these organizations.
A recent UN report confirmed that the situation for the Palestinians is desperate and has reached crisis proportions. The report goes so far as to state: "a UN committee monitoring human rights abuses of Palestinians [for the last 35 years] has concluded that the situation in the Israeli-occupied territories of Gaza and the West Bank was the worst ever last year." This situation is chronic, and indeed, mass abuses of human rights have been going on for decades. Anyone concerned with justice for the Palestinian people must wonder what position human rights organizations have taken on the issue and what they have reported. In the case of Amnesty International, it is a sorry and dubious record. This article presents an in-depth look at AI's poor record in monitoring the plight of the Palestinians during the second intifada.
This article is a follow-up to: "AI: Say It Isn't So" (CounterPunch, Oct. 31, 2002).
1. Insult to injury
The first sentence in AI's Oct. 13th press release appeared promising: "[AI] condemns in the strongest terms the large-scale destruction by the Israeli army of Palestinian homes in a refugee camp in the southern Gaza Strip town of Rafah, which made homeless hundreds of people". It then mentions war crimes but, more specifically, says that Israeli actions "constitute war crimes." This is better than its previous ambivalent accusations. Some of AI's previous reports yielded only generic references to war crimes, leaving it unclear whether the perpetrators were Israelis or Palestinians; by any measure such references to war crimes were less than useful. Furthermore, in its latest press release AI used the phrase "strongly condemned" when referring to Israeli actions -- this reproach had been thus far usually reserved for Palestinian violence. So far, so good.
However, the remainder of the press release raises many questions. Here is the final sentence: "[AI] condemns the deliberate killings of Israeli civilians by Palestinian armed groups as a crime against humanity." The reaction of Francis Boyle, a professor of Law, puts this into perspective: "What a joke and a fraud. So those living under the boot of Israel's genocidal regime are the bigger criminals under international law. Every expert knows that crimes against humanity are far more serious than war crimes, and the precursor to genocide." Furthermore, it is very odd that AI deemed fit to add this last sentence to a press release dealing with crimes against Palestinians. And finally, while during the second intifada the Palestinians have been smeared with "crimes against humanity" several times now, AI has not leveled a clear accusation of this crime against Israel -- although it would be rather apropos [...]
U.S. abandons democratic values in Iraq
By TOM BRODBECK
Winnipeg Sun
November 30, 2003
U.S. President George W. Bush and his advisors are going to have to come up with a new story pretty fast on why they invaded Iraq. Because what's left of their only remaining rationale for killing thousands of Iraqis and maiming thousands more is crumbling so fast, it's going to be unrecognizable by the New Year.
The first argument, that the U.S. had to invade Iraq because former president Saddam Hussein had weapons of mass destruction he refused to give up, fell apart within weeks of the start of the occupation. There were no WMD, and we found out the Bush administration lied about its claims.
So they focused quickly on the next one: Iraq was an imminent threat to the world and Saddam had to be stopped. That one barely got off the launch pad. There was no evidence to support what was a ridiculous claim and practically the entire world, save Great Britain, balked at the assertion.
The Sept. 11 card was played during that time, too. Somehow Iraq was tied to the terrorist attacks in New York, the Bush administration suggested. That was a cheap one. And it didn't work because most military and terrorist experts ridiculed the claim. There was no tie.
Several months into the occupation, the only thing left on the list was liberation. It was an add-on invasion explanation in the event the first three or four didn't pan out.
The Bush administration invaded Iraq because it wanted to bring the Iraqi people democracy. They wanted to rid them of a dictator and show them how to live the American dream. Sure.
The Bush administration has a strange way of liberating a country and bringing it democracy.
Iraqis have little or no electricity, food is scarce, people don't have jobs and the level of anarchy in Iraq is so high, it's a miracle the Iraqi people are not rebelling more than they have.
But the most striking aspect of Bush's supposed quest for democracy and justice in Iraq is the increasing number of aggressive and arbitrary raids U.S. soldiers have been ordered to carry out on innocent Iraqis in their homes.
One night last week, U.S. soldiers busted down the doors of 1,400 Iraqi homes, scared the living daylights out of children and interrogated their parents, often kicking them around and arresting them arbitrarily.
They call it Operation Iron Hammer. Sounds like Bush's foreign policy.
We're not talking about search warrants here.
These are raids conducted on homes based on some thin, speculative shred of information obtained from God knows who.
If the Bush administration is trying to teach the Iraqi people the basic tenets of democracy, such as due process, human rights and basic fairness, they're doing an atrocious job.
What they're demonstrating to the Iraqi people is that it's acceptable to engage in thuggery and arbitrary detention. The Bush administration is doing whatever the hell it wants in Iraq and human rights observers -- or what's left of them -- are standing on the sidelines in utter disgust.
Everything America is supposed to stand for has been abandoned in Iraq. It's basically state-sanctioned terrorism. [...]
Does al-Qaeda exist?

by Brendan O'Neill
28 November 2003
'Al-Qaeda bombing foiled' says the front page of today's UK Sun, reporting the arrest yesterday of 24-year-old student Sajid Badat in Gloucester, England, on suspicion of involvement in terrorist activity. Other reports have referred to Badat as 'having links with al-Qaeda' and being a potential 'suicide bomber'.
Also this week, media reports claim that al-Qaeda may have developed 'car-bomb capability' in the USA, and that al-Qaeda has compiled a 'kidnappers' manual' and is plotting to snatch American troops from Iraq and other parts of the Middle East. Every day since the 9/11 attacks of 2001 there have been media reports about al-Qaeda - its leaders, members, capabilities, bank accounts, reach and threat. What is this al-Qaeda? Does such a group even exist?
Some terrorism experts doubt it. Adam Dolnik and Kimberly McCloud reckon it's time we 'defused the widespread image of al-Qaeda as a ubiquitous, super-organised terror network and call it as it is: a loose collection of groups and individuals that doesn't even refer to itself as al-Qaeda'. Dolnik and McCloud - who first started studying terrorism at the prestigious Monterey Institute of International Studies in California - claim it was Western officials who imposed the name 'al-Qaeda' on to disparate radical Islamic groups and who blew Osama bin Laden's power and reach 'out of proportion'. Both are concerned about the threat of terror, but argue that we should 'debunk the myth of al-Qaeda'.
There is a 'rooted public perception of what al-Qaeda is', says Dolnik, who is currently carrying out research on the Terrorism and Political Violence Programme at the Institute of Defence and Strategic Studies in Singapore; but, he says, such perceptions are far from accurate. [...]
WHERE IS THE PROOF THAT AL-QUAEDA REALLY EXISTS?
Saturday, 29 November 2003
I have yet to see "facts" showing that Al-Quada really exists, and/or that Al-Queda is what the mass-media has claimed it to be
Until there are some facts or proof presented i will think of "Al-Quaeda" as an intelligence-agency fiction and/or an excuse for militarization of the United States and the curtailment of traditional liberties including the threatened suspension of the US Constitution.
What PROOF exists that Osama bin Laden is really the author of the present terror bombing wave?
What PROOF exists that there were really Muslim extremists involved in the 911 attacks (DNA evidence for example)?
What PROOF exists that this entire Al-Quaeda operation is NOT a false-flag terror project designed to justify military intervention in Iraq, Afganistan, Iran, etcetera?
My mind is open - I just want to see some PROOF - please! Is that TOO MUCH to ask? - just some PROOF that this is real.
Two years after the 911 attacks and NO PROOF has been offered, only cover-ups and of course the Cheney government has been caught in all kinds of egregious LIES - so WHY trust Cheney Co? some self-interested gangsters who tell brazen lie after brazen lie in support of policy that is leading the nation to disaster!
Either the story of "Osama bin Laden and the radical Islamic fundamentalist bomber network" is TRUE, or else this is all ERROR and that Americans are being led by the nose to the police state.
Unless the folks can separate ERROR from the TRUTH in the matter of the 911 attacks and the very suspicious "Al Quaeda" operation, their nation will converge more and more upon fascist solutions.
I respectfully submit that these terror bombings are too-much similar to the false-flag terrorism specialized in by Ariel Sharon and the Likud going back to the Lavon Affair of the 1950s
I respectfully submit that Americans are being taken for a ride because they are actually uninformed and innocent of synthetic terror techniques and practices of synarchist political forces.
I respectfully submit that Osama bin Laden and AlQuaeda are both intelligence-agencies "works of art" and that they were created to provide an excuse for imposing the Patriot Act on the U.S.A.
I respectfully submit that the tower of Angloamerican financial greed and the whole IMF neoliberal model is crashing as we speak. 911 is flight-forward response of what are likely to be white men
I respectfully submit that the Angloamerican mass-media has been lying its head off since the Warren Commission and is lying now, that Osama bin Laden is A PATSY, a latter-day Lee Harvey Oswald.
The Tavistock Institute did some interesting research after WW2, showing that conditions of stress were conducive to operations attempting to change belief-structures or world-view of society.
I respectfully submit that this entire War on Terror is a fraud, and that the relative simplicity and provincial mentality of the American people has been egregiously and shamelessly imposed upon
Alex Massie
The Scotsman
Sun 30 Nov 2003
HAVING discovered in Iraq that it can be harder to win the peace than the war, America is taking steps to ensure future conquests do not turn sour.
Senior Pentagon officials are currently considering plans to set up two 15,000-strong divisions that would be dedicated to overseeing the reconstruction of countries in the aftermath of future military campaigns.
And while the units could be used for peace-keeping operations anywhere in the world, it is understood their use has been included in Pentagon wargaming of potential invasions of countries such as Iran, Syria and even North Korea.
As part of its ongoing "transformation" project, the Pentagon has recently been updating wargame scenarios for these areas and concluded the United States can win battles faster and with fewer troops than previously been thought possible.
As a result, a thorough overhaul of US troop deployment around the world is under way, with an emphasis on a smarter, leaner army able to deploy anywhere in the world at a moment's notice. [...]
Comment: Obviously, the Pentagon wouldn't have created a force of 30,000 troops if there were no plans for further invasions.
Inaccurate News from Iraq; A Report from the Uranium Medical Research Centre
Unobserver
2003-11-28
The following is an excerpt from Abu Khasib to Al Ah'qaf: Iraq Gulf War II Field Investigations Report (MS Word format), © Uranium Medical Research Centre, November 2003.
Order of Battle CentCom reports and "embedded reporters" coverage was found to be about 70% unreliable when compared to the situation and evidence on the ground. Differences were noted in the geographic locations (place names) and reported to be the scene of head-to-head combat. Press coverage exaggerated the scale and stubbornness of the Iraqi armoured forces and organised military defences.
Witnesses, whose reports were corroborated by observations of active battlefields, show that Iraqi organised defences quickly deteriorated to low-intensity guerrilla fighting much earlier than reported - within the first 4 or 5 days of battle. Observers report that ground force engagements, characterised by the embedded reporters as "stiff resistance", rarely persisted beyond a few minutes to hours. Many Iraqi tanks were defeated while in retreat.
Anti-aircraft and artillery defences were helpless against stand-off infrared, heat and radar seeking rockets. There were little to no substantive infantry defences. Pentagon pre-conflict assertions of Iraqi armed forces strength and inventories of battle-ready equipment were not substantiated by local reports, witnesses to the battles and interviews of retired Iraqi military personnel and civilian leaders.
The majority of Iraqi armoured assets were too old to withstand US and British modern ordnance; many of these assets were placed in the field as decoys and tactical facades. Serviceable heavy-armoured Iraqi assets were placed in fixed, immobile defensive positions behind sand-berms – rarely taking the offensive. According to witnesses, serviceable tanks, armoured vehicles and anti-aircraft emplacements surviving standoff rocketing and precision artillery fire were abandoned at the first sight of advancing air-cavalry and mechanised infantry. The few major tank-to-tank engagements evidenced by the conditions and size of the battlefields were short in duration – a matter of minutes. The main prolonged armoured engagements were reported as being in Al Basra, An Nasiriyah, the southern approach to Baghdad and the International Airport. The reports generally correspond to the larger battlefields identified by the team. [...]
Saddam Hussein sought missile assembly line from North Korea

AFP
Monday December 1, 3:05 PM
Iraqi leader Saddam Hussein was trying to obtain an entire missile production line from North Korea prior to the US-led invasion of Iraq, with Syria offering a transit route for delivery of the goods, the New York Times reported.
North Korea never delivered on its side of the deal, fleecing Saddam Hussein of a 10-million-dollar down payment, the newspaper said. [...]
Investigators have been searching for something "far more nefarious" such as an ongoing nuclear program or an attempt to amass biological or chemical weapons, but "so far, there's really not much in that arena," an official told the daily. [...]
Asked about the matter Sunday, Syrian President Bashar al-Assad told the Times: "This is the first time I have heard this story."
Saddam Hussein "was never able to trust Syria and he never tried and we never tried to make any relation between him and any other country because he did not trust us in the first place," the Syrian leader was quoted as saying.
"I told the Americans if you have any evidence that there is smuggling of weapons into Iraq, please let us know."
Comment: Same song, different verse...
US troops kill 54, including civilians, in Samarra carnage
Monday 01 December 2003
An unnamed military spokesman on Monday did not specify if those killed were resistance fighters or civilians.
Earlier, spokesman Lieutenant Colonel Bill MacDonald claimed that 46 people had been killed when troops fought off multiple attacks on military convoys on Sunday.
But local residents said US troops killed innocent bystanders when they opened fire on anything that moved around midday.
A hospital in the town said it received the bodies of eight civilians, including a woman and a child. Also, more than 60 people wounded by gunfire and shrapnel from US rounds are being treated at the hospital.
Workers at a nearby pharmaceutical plant said at least two colleagues were killed and many wounded as they walked out of the factory gates at the end of their shift. A US tank was shooting randomly in all directions, they said.
At 13:45 (10:45 GMT),just as staff at the State Enterprise for the Manufacture of Drugs and Medical Equipment finished their shift, a second tank arrived and opened up with machine guns, employees said.
US kills 54 Iraqis in occupation's worst weekend of violence

AFP
Monday December 1, 6:58 PM
American troops killed 54 suspected Iraqi insurgents, which Iraqi medics say included eight civilians, capping the worst weekend of violence in seven months of occupation which saw the deaths of seven Spaniards, two Koreans, two Japanese, two US soldiers and a Colombian.
US commanders previously said they killed 46 Iraqis, all of them insurgents, in the clashes on Sunday afternoon and evening, which they described as the heaviest faced in Iraq by the 4th Infantry Division (4ID) which patrols the region.
On Monday, they upped the death toll to 54, without specifying whether the additional dead were insurgents or civilians. [...]
Hospital director Abed Tawfiq told AFP "more than 60 people wounded by gunfire and shrapnel from US rounds are being treated at the hospital."
He said there were so many casualties from US fire during the intense clashes with insurgents who ambushed American convoys in the town Sunday afternoon and evening that they had had to be treated in the hospital's corridors. [...]
The town's police chief Colonel Ismail Mahmud Mohammed said around 20 of the wounded sustained their injuries while worshipping at a mosque during sunset prayers.
He said the insurgents who had attacked US forces had already withdrawn when the Americans returned fire, and charged that the troops had done so indiscriminately with all weapons in their arsenal. [...]
Testing New Weapons on Live Targets in Iraq
John G. Roos
Army Times
[...] He hit the man in the buttocks, a wound that typically is not fatal. But this round appeared to kill the assailant instantly.
"It entered his butt and completely destroyed everything in the lower left section of his stomach ... everything was torn apart," Thomas said.
Thomas, a security consultant with a private company contracted by the government, recorded the first known enemy kill using a new — and controversial — bullet.
The bullet is so controversial that if Thomas, a former SEAL, had been on active duty, he would have been court-martialed for using it. The ammunition is "nonstandard" and hasn't passed the military's approval process.
"The way I explain what happened to people who weren't there is … this stuff was like hitting somebody with a miniature explosive round," he said, even though the ammo does not have an explosive tip. "Nobody believed that this guy died from a butt shot."
The bullet Thomas fired was an armor-piercing, limited-penetration round manufactured by RBCD of San Antonio.
APLP ammo is manufactured using a so-called "blended-metal" process, said Stan Bulmer, president of sales and manufacturing for Le Mas Ltd. of Little Rock, Ark. Le Mas is the distributor of RBCD ammo. [...]
Doubts cast over US claims in Samarra
Monday 01 December 2003, 14:40 Makka Time, 11:40 GMT
[...] AFP correspondents saw a civilian bus completely burned out, 30 metres from the main entrance to the town's hospital.
The correspondents were shown two Iranian passports said to belong to pilgrims killed in the vehicle. Nine others, also Iranian pilgrims, were wounded, said the police guard outside the hospital.
Tehran concern
Iranian officials expressed concern over the incident and called for an immediate investigation into the attack.
Reda Yosofyan, a member of the Iranian parliament's national security and foreign policy commission, said Washington is directly responsible for the Iranians' death.
"This event will evoke even more distrust between Iran and the US," he added. Yosofyan also called on the US-appointed Iraqi Governing Council to investigate the incident and report results to Tehran.
Iraqi Police May Have Coordinated Attacks
By JIM KRANE
Associated Press Writer
BAGHDAD, Iraq (AP)--There is no evidence that al-Qaida terrorists have taken part in the long string of attacks on U.S. or Iraqi targets, but some U.S.-trained Iraqi police appear to have coordinated some of those assaults, the top U.S. military official in Iraq said Saturday.
U.S. military officials are concerned that some attacks on Americans have been coordinated by a few of the numerous Iraqi civilians hired by the U.S. military, who may glean intelligence on troop movements and travels of high-ranking officers, Lt. Gen. Ricardo Sanchez told reporters at the Baghdad Convention Center.
"Clearly those are concerns we have. We try to do the vetting (of Iraqi employees) as close as we can,'' he said. "There have been instances when police were coordinating attacks against the coalition and against the people.''
Reservist accused of insubordination after questioning waiver
Associated Press
November 28, 2003
ROCHESTER, N.Y. — An Army reserve officer faces insubordination charges after he questioned the legality of a waiver that his battalion was asked to sign allowing their third deployment to a war zone since January 2002.
Capt. Steve McAlpin of 401st Civil Affairs Battalion was notified in a memorandum Wednesday that he was being removed from the unit's battle roster. Members of the 401st will be deployed for duty overseas on Dec. 3.
McAlpin said he could face other punishment, including court-martial and demotion in rank, over the charges.
In the memorandum, Lt. Col. Phillip Carey, commander of the 401st, charges McAlpin with having a "negative attitude" toward the 401st and with being "insubordinate towards the leadership" of the unit.
McAlpin, 44, said he questioned the waiver last Saturday during a teleconference with Col. Guy Sands, commander of the McAlpin's parent unit, the 360th Civil Affairs Brigade. McAlpin asked whether the battalion may be violating federal law by not allowing combat troops a required 12-month "stabilization period" at home.
A spokesman for the 401st, Capt. Brian Earley, said Friday that McAlpin's questioning of the waiver was one reason why he was being disciplined. Individual members of the 401st are allowed to refuse to sign the waiver, but Earley said McAlpin was "butting in" for other soldiers.
Comment: So the guy wanted a little more time at home with his family and this is the response.
Female U.S. Soldier Alleges Rape in Kuwait
AP
Sun Nov 30, 2:06 PM ET

TACOMA, Wash. - A female soldier reported she was raped at a desert post in Kuwait where her unit was preparing for its mission in Iraq, a military official said Sunday.
Maj. Vic Harris, a spokesman for the U.S. military in Kuwait, confirmed that the female soldier was with the Stryker battalion at Camp Udairi, where the rape allegedly occurred Saturday. [...]
US to release 140 detainees from Guantanamo: report
AFP
Monday December 1, 3:18 AM
The United States plans to release 140 detainees from its naval base in Cuba, where captured al-Qaeda and Taliban fighters from 42 countries have been kept in secret, a US news magazine reported.
A US military official told Time Magazine that the detainees slated for release are "the easiest 20 percent" of the estimated 660 people kept at Guantanamo Bay, which the United States has leased from Cuba since 1903.
US officials said that some of the detainees had been captured by Afghan warlords and sold for the bounty offered by Washington for al-Qaeda and Taliban fighters.
"Many would not have been detained under the normal rules of engagement," the source told the weekly.
"We're dealing with some very, very dangerous people, but the pendulum is swinging too far in the wrong direction." [...]
Bush plans new nuclear weapons
'Bunker-buster' bombs set to end 10-year research ban
Paul Harris in New York
Sunday November 30, 2003
The Observer
The United States is embarking on a multimillion-dollar expansion of its nuclear arsenal, prompting fears it may lead the world into a new arms race.
The Bush administration is pushing ahead with the development of a new generation of weapons, dubbed 'mini-nukes', that use nuclear warheads to penetrate underground bunkers.
Last week, it gave a quiet yet final go-ahead to a controversial research project into the bunker-buster. The move effectively ends a 10-year ban on research into 'low-yield' nuclear weapons. Critics fear it may lead other countries to push ahead with developing such weapons. It also comes at a highly sensitive time diplomatically, with the US lobbying countries such as Iran and North Korea to abandon their nuclear plans.
'The United States is spurring a new global arms race with our own development of a new generation of nuclear weapons,' said Democrat Ellen Tauscher, who led an unsuccessful bid in Congress to have the programme scrapped.
The new warheads are designed to use shockwaves to destroy deep bunkers even if the bomb does not reach them. Experience in Afghanistan and Iraq has shown army planners that bunkers are being built deeper and more securely. 'We have to be able to match our capability to our potential targets,' one White House official said.
But critics say the weapons won't work and doubt claims that the radiation will remain underground.
The US Army plans to convert two existing nuclear bombs - the B61 and B83. The B61 can be dropped by B-52 bombers or F-16 jets. The larger B83 has explosive yields of one to two megatons. Research will focus on hardening the bomb casings so they can penetrate layers of steel, rock and concrete.
Anti-nuclear campaigners say the B83's large size makes its classification as a 'mini-nuke' debatable. 'The powers that be describe them as low-yield weapons. But that is far from the case,' said Jay Coghlan, director of Nukewatch.
Critics also question the wisdom of developing such weapons and say America's willingness to deploy them will blur the distinction between nuclear war and conventional conflict. Bob Schaeffer, of the Anti-Nuclear Alliance, said: 'It is dangerous and provocative. It is like a drunk preaching temperance to everyone else at the bar, while ordering another round.' [...]
'The administration's actions are having the opposite effect by erasing the taboo on the use of nuclear weapons. Russia has already indicated that it will develop new "tactical" weapons in response and no one doubts our enemies will follow suit.' [...]
In April, the Los Alamos military laboratory in New Mexico produced the first 'plutonium pit' in America for more than a decade. Plutonium pits are triggers vital to the production of nuclear weapons and officials are pushing to get funding to build an entire new facility.
Concern also surrounds plans to cut the time needed to bring American underground nuclear testing sites back into working condition. Currently the time needed would be 24 months, but the administration has pushed for funds to reduce that to 18 months. While officials insist the US has no plans to resume nuclear testing - which would breach an international ban - critics say the enhanced preparations for a resumption are worrying.
'Why are they even talking about this now, unless something is planned? It makes no sense to us. America has the largest nuclear arsenal in the world, but it did not stop 9/11,' said Schaeffer.
Comment: Indeed it did not, the truth is that 9/11 simply gave the US the excuse to ligitimise the use of weapons of mass destruction while claiming that everyone else has them.
Law chief attacks Blunkett on terror outburst
FRASER NELSON AND DAN MCDOUGALL
Mon 1 Dec 2003
DAVID Blunkett was yesterday criticised by a Cabinet colleague for linking a man arrested by anti-terrorist officers to al-Qaeda, and saying he was a "very real threat to our life and liberty".
Lord Falconer of Thoroton - the Lord Chancellor and a close ally of the Prime Minister - distanced himself from the Home Secretary's comments about Sajid Badat.
Mr Badat was arrested in Gloucester by anti-terrorism officers last Thursday and was still in custody last night. He had allegedly boasted of his links to al-Qaeda after returning from Pakistan.
But, as experts warned of a genuine threat to the UK from al-Qaeda bombers in the run-up to Christmas, and six more [...]
Lord Falconer spoke out following the unusual leaking of a memo, also critical of Mr Blunkett, by Alistair Darling, the Transport Secretary and Scotland Secretary. In it, he criticised the Home Secretary's plans to weed out illegal immigrants.
The next Criminal Justice Bill would force all those flying to the UK to photocopy their travel documents and hand them to airline staff - regardless of destination. This proposal, raised in the Queen's Speech last week, would target bogus asylum seekers who destroy their passports so they can falsely claim to be fleeing oppressive regimes.
Mr Darling's memo, which appeared in the Sunday press, said this would cause havoc as the policy would affect all of the 160,000 travellers who arrive at British airports every day. Each would have to hand in photocopies of their passport and ticket.
Comment: Now Blunkett is mouthing the same nauseating BS that we have been subjected to by Bush and Blair for the last 2 years. Is there a law against inflammatory hate speech? Someone please arrest this man.
British prisoner 'confesses' plot to poison-bomb Parliament
By Severin Carrell
The Independent
30 November 2003
A Briton held in Guantanamo Bay has claimed that he took part in an al-Qa'ida plot to attack the House of Commons with anthrax in an attempt to kill Tony Blair.
The confession by Moazzam Begg, 35, one of nine Britons being held at the US base in Cuba, was disclosed to The Independent on Sunday by his lawyer, who says it was obtained under duress and is completely implausible. Clive Stafford Smith, a British lawyer based in New Orleans, Louisiana, said his client's admission was secured after months of interrogation and segregation in Camp Delta at Guantanamo Bay.
Mr Stafford Smith said Mr Begg, who now faces prosecution by a US military tribunal, was put under intense pressure to plead guilty because the White House wants to stage quick and successful trials in the run-up to next year's presidential elections.
"Moazzam has agreed to plead guilty to this absurd story that allegedly he was part of an al-Qa'ida plot to get a drone - an unmanned aircraft - and fly it from Suffolk over London to drop anthrax over the House of Commons," said the lawyer. "The Americans must think we're incredibly stupid."
The plot was "laughable" because unmanned aircraft sophisticated enough for such an attack were tightly controlled by the armed forces, and cost at least $5m each. Getting hold of anthrax capable of being dropped from an aircraft was even less feasible. [...]
On this day in 1934
Stalin had Sergei Kirov assassinated which
[...] set off a chain of events that culminated in the Great Terror of the 1930s. Kirov was a full member of the ruling Politburo, leader of the Leningrad party apparatus, and an influential member of the ruling elite. His concern for the welfare of the workers in Leningrad and his skill as an orator had earned him considerable popularity. Some party members had even approached him secretly with the proposal that he take over as general secretary.

It is doubtful that Kirov represented an immediate threat to Stalin's predominance, but he did disagree with some of Stalin's policies, and Stalin had begun to doubt the loyalty of members of the Leningrad apparatus. In need of a pretext for launching a broad purge, Stalin evidently decided that murdering Kirov would be expedient. The murder was carried out by a young assassin named Leonid Nikolaev. Recent evidence has indicated that Stalin and the NKVD planned the crime.

Stalin then used the murder as an excuse for introducing draconian laws against political crime and for conducting a witch-hunt for alleged conspirators against Kirov. Over the next four-and-a-half years, millions of innocent party members and others were arrested -- many of them for complicity in the vast plot that supposedly lay behind the killing of Kirov. From the Soviet point of view, his murder was probably the crime of the century because it paved the way for the Great Terror. [...] [ Repression and Terror: Kirov Murder and Purges]
An age old tactic. Do the crime, blame someone else, and push forward totalitarian policies saying they are necessary because such crimes happen. Remind anyone of what is going on now?
[...] Never before in history were hundreds of thousands of people torn away from their apartments, thrown into prison, subjected to torture, made to confess to crimes, and then either exterminated or sent to concentration camps. It is no surprise that today, even 60 years after the Great Terror, it is difficult for many people to address these questions calmly. [...] [ Stalins Great Terror: Origins and Consequences]
Despite the fact that this world has seen so many atrocities, very little is understood about the psychopaths who have brought forth such reigns of terror. Lacking such knowledge has brought about much destruction once again.
[...] To say that in the 1930s Stalin snuffed out twenty million of his citizens hardly begins to describe the essential evil of his rule, which caused indescribable suffering for countless millions more, not to mention plunged the world into war for decades.

Its easily forgotten that the October 1917 coup by which the Bolshevik intellegentsia came to power lacked popular support and by 1921 had lost any semblance of representing the proletariat. From its inception, the party of Lenin and Trotsky embraced deceit, violence, and willingness to sacrifice others as a means to power, bringing Hitler later to say that unlike Social Democrats "he could always turn a Communist into a Nazi." Stalin merely took the context of intolerance to its logical extreme, plotting the decimation of his opposition into ever smaller groups, assisted by the very ones that would themselves successively be destroyed by it: Trotskyites, then Rightists, Bukharinites, Zinovievites, and finally the Stalinists themselves. The 1937 Plenum already marked the complete transformation into autocracy.

Key to Stalins success were his patience and that he never revealed (or tested) the limits of his ruthlessness. Rivals continually underestimated him: Trotskyites supported the disastrous 1930 agricultural collectivisation, miscalculating that he wouldnt dare another repression and the peasants would revolt-- but Stalin did impose an even worse famine two years later, starving an unimaginable 10 million Russians and Ukrainians. Supporters and opponents alike never held him personally responsible: even the Terror itself was called the Yezhovschina. Victims could be persuaded that the Terror was in the interest of Communism not Stalin, and it is to this day unknown whether Stalin himself believed it. His capriciousness and promises of leniency induced even high officials to produce confessions and denunciations, hoping that perhaps one more obscenity committed in his service might restore them to favour. [...][ The Great Terror: A Reassessment Customer Reviews]
One day, just like any other, a crime is committed and the whole world is changed forever. We now hear tales of those who are kidnapped, tortured, and forced to confess, yet most fail to see historical parallels dooming us to repeat this time loop. See Laura's article Born from the Ashes and Blood, "In order to understand the forces at work today, first we have to know the forces that shaped Poland.." Britain and the US both catered to the psychopathic tyrant Stalin, behind the scenes, away from the eyes of the public. Who are Britain and the UK catering to today, behind the scenes, away from the eyes of the general public who do not want to see the truth?
Clark Says Bush Iraq Trip Does Not Change Anything
Sun Nov 30, 1:48 PM ET
WASHINGTON (Reuters) - Democratic presidential hopeful Wesley Clark on Sunday praised President Bush for spending Thanksgiving with U.S. troops in Iraq but said the surprise trip did not make up for "a failed strategy" there.
The retired four-star general, who has criticized Bush for the U.S.-led invasion of Iraq and its aftermath, told CNN the president did "absolutely the right thing" by sharing his Thanksgiving dinner last Thursday with U.S. soldiers in Baghdad. [...]
Politics: Linking Clark to Waco?
NEWSWEEK
Oct. 27 issue
Right-wing critics of Democratic presidential hopeful Wesley Clark allege he may have played a big role in the fiery 1993 destruction of the Branch Davidian compound near Waco, Texas.
INTERNET POSTINGS AND a recent article in Insight Magazine, published by the Washington Times, claim that the retired general was a senior Army commander at nearby Fort Hood during the Waco operation and had to have been involved in planning for the final assault, which involved the use of military hardware, including Army tanks. [...]
Comment: Yahoo! itself links to the above flashback, which makes us suspicious. Even when you do dirty deeds for the state, the state will use those same deeds to eliminate you when you are no longer of use: notice the body count at Bush Body Count. The same could be said for Bush. Bush and his family are so dirty that he could easily be removed at the whim of those who control the press, and perhaps that is why they are in power now. None the less, it is apparent the democrats will provide no savior. See The Psychopathology of Politics.
Don't forget that Democrats participated in quietly committing this crime:
[...] Congress approved a bill on Friday that expands the reach of the Patriot Act, reduces oversight of the FBI and intelligence agencies and, according to critics shifts the balance of power away from the legislature and the courts.

A provision of an intelligence spending bill will expand the power of the FBI to subpoena business documents and transactions from a broader range of business -- everything from libraries to travel agencies to eBay -- without first seeking approval from a judge. [...]
Business world yet to recognise AIDS threat
Monday 01 December 2003
Business leaders around the globe have failed to recognise the gravity of the threat posed by the AIDS epidemic to their companies' future, says the Geneva-based World Economic Forum (WEF).
Citing results of an opinion survey among executives, the WEF said on Monday it showed business was not yet playing a significant role in fighting the disease.
The survey was released to coincide with World AIDS Day.
Even company chiefs who expressed concern about the present and future impact of AIDS on their businesses and the communities they serve, have generally failed to implement measures to counter the menace, it added.
The WEF organises an annual gathering of top businessmen and political figures in the Swiss mountain resort of Davos.
According to estimates from the United Nations Programme on HIV/AIDS (UNAIDS), 40 million adults are living with HIV/AIDS all over the world, of whom an estimated 26.6 million are in sub-Saharan Africa. It says five million new victims have been infected with HIV this year.
"WEF survey results highlight the urgent need for businesses, particularly in Asia, to take action now"

Of nearly 8000 firms surveyed in 103 countries, the WEF said, only 21% felt that HIV/AIDS would have a severe impact on their business, while 47% felt it would have "some impact". [...]
Hope dies for Africa's lost generation
Gethin Chamberlain
CAROL Singwoma is weaving her way through the crowd, the eyes of the men on her dirty white knitted turtle-neck top and the little skirt covering her thin legs. Her skin is a deep black, her eyes big and open, her features attractive, if not quite pretty. She is giggling, her arms folded across her small breasts, aware of the attention of the men swigging from bottles of beer and swaying to the sound of the African dance music as they spill out of the open-air bar into a darkened side street on the edge of the Zambian crossroads town of Kapiri Mposhi.
In a little while, Carol will let one of the men buy her a beer and maybe dance with her for a while. Then they will leave and head off into the night towards a guest house she knows where they can hire a room. He will give her maybe 20,000 kwacha, a little less than £3. If she can fit in another couple of men during the day, she will have earned enough to settle the bill for the room and to buy herself a little food. It is not good money, even by Zambian standards, but for a 13-year-old orphaned by AIDS, with nowhere to live and no-one to pay for her schooling, it is the best she can hope for. Carol has been doing this since she was 11.
Across sub-Saharan Africa, AIDS has cut a swathe through an entire generation. It happened slowly, without anyone noticing for a while. By the time anyone realised the scale of the problem, it was already out of control. Whole families have gone, young parents contracting the disease and passing it on to their children. There are grandparents, those too old to be caught, trying to care for grandchildren whose parents are long dead.
AIDS may have slipped from the headlines in those parts of the world where people can afford medical treatment and where mass media campaigns have hammered home the safe sex message, but in rural Africa, where poverty is endemic and traditional beliefs and superstition hinder attempts to change the way people live, it has not gone away.
Zambia, like much of southern Africa, clings to traditional beliefs. When people began to die, some blamed it on witchcraft. They said the dead had been bewitched because they had a new cow or a new job, or a house that was newly thatched. Some of the truck drivers whose routes criss-cross the continent believe sleeping with a young girl brings good luck. They could not have been more wrong; along the truck routes, the disease spread.
Some husbands took second and third wives, polygamy being accepted in parts of Zambian society. Wives sometimes chose the new wife, to free them from the burden of childbirth. When a husband dies from the disease, many still believe the only way to purge his ghost is to sleep with his brother. And so the disease enters a new family, and the cycle starts again.
Zambia is also a very religious country. The intolerance of some religions towards contraception has hindered the safe-sex message, and a fatalism based on fervent belief in the will of God has done nothing to persuade AIDS victims to seek medical help. Across sub-Saharan Africa, it is estimated that 25 million children will lose one or both their parents by 2010. This part of the continent accounts for 70 per cent of the global figure for AIDS infections. [...]
10 killed in China earthquake

01/12/2003
At least 10 people died and hundreds of homes collapsed when a strong earthquake rumbled through western China's mountainous Xinjiang region near the border with Kazakhstan today.
More than 40 people were injured and 700 houses fell, the official Xinhua News Agency said.
The 6.1-magnitude quake, in the sparsely populated Ili Kazakh Autonomous Prefecture, hit at 9:38 a.m. (0138 GMT) and the quake was felt many miles away.
The Russian news agency ITAR-Tass said the tremor was felt in Almaty, the capital of Kazakhstan, about 100 miles west. It said there were no damage or injuries there.
At least 10 people were confirmed dead in Xinjiang, Xinhua said.
"Houses that were built in the 1960s and 1970s all collapsed," said an official at the Xinjiang Seismological Bureau.[...]
Small earthquake causes no damage in Ojai (California)
December 1, 2003
A minor earthquake hit east of Ojai on Sunday morning, but no injuries or damages were reported, authorities said.
The 3.1-magnitude quake hit about 7:30 a.m. with a center four miles from Ojai, according to the U.S. Geological Survey Web site. [...]
Saudi Interrogators Try Gentler Approach
By JOHN SOLOMON, Associated Press Writer
Sun Nov 30, 2:01 PM ET
WASHINGTON - Saudi Arabia, known for harsh criminal penalties such as beheadings, is trying a gentler approach to get information from some al-Qaida captives.
Saudi interrogators often bring clerics and a Quran to their prison interviews to establish a religious connection, a technique that has proved successful in eliciting information from terrorist suspects and reorienting them to less violent religious beliefs.
The tactic, similar to the way cult deprogrammers work in the United States, has impressed American counterparts enough that Saudi intelligence was permitted to use some of the principles on their citizens being held at the U.S. detention camp at Guantanamo Bay, Cuba, Saudi officials said. [...]
The religious reorientation is markedly different from some hard-core interrogation tactics that can use sleep deprivation, alternate rewards and punishment and other methods to elicit information. [...]
Jazeera journalist wins peace prize
Monday 01 December 2003, 2:59 Makka Time, 23:59 GMT
Aljazeera journalist Taysir Aluni, who is defending himself against charges of belonging to an al-Qaida cell, was awarded a peace prize by a Spanish peace group on Sunday.
Best known for interviewing Usama bin Ladin shortly after the 11 September 2001 attacks on the United States, Aluni was arrested in September on the orders of Spanish judge Baltasar Garzon.
Aluni was accused of providing money and information to al-Qaida operatives and recruiting fighters for the group.
His detention sparked outrage among Arab human rights groups, journalists and colleagues at Qatar-based Aljazeera, who called it an attack on press freedom. [...]
North Korea says it would rather 'die' than live under U.S. 'slavery'
07:30 AM EST Dec 01
HANS GREIMEL
SEOUL (AP) - North Korea rejected a key U.S. demand Monday that the communist country first renounce its nuclear programs before winning any security guarantees from Washington, saying that such conditions amounted to "slavery" and that the country would first "rather die."
"The U.S. demand that the DPRK drop 'the nuclear program first' means that the DPRK should lay down arms and work for the U.S. as a servant. The DPRK can never accept it. It would rather die than having peace in exchange for slavery," North Korea said in a commentary carried by the official news agency, KCNA. [...]
New surveillance guidelines fuel debate in California
Concerns raised on civil liberties
By Bobby Caina Calvan
Globe Correspondent
11/30/2003
SACRAMENTO -- Federal authorities may now have broad powers under the USA Patriot Act to monitor the public in its fight against terrorism, but guidelines distributed last month by the California attorney general's office contradict the surveillance methods used by federal agencies -- and advise local police to observe stricter state limits when it comes to spying on the public.
"Put bluntly, it is a mistake of constitutional dimension to gather information for a criminal intelligence file where there is no reasonable suspicion" of criminal activity, the guidelines state.
The guidelines, entitled "Criminal Intelligence Systems: A California Perspective," were prompted by concerns over law enforcement responses to antiwar protests.
In Fresno, a sheriff's deputy serving on an antiterrorist detail posed as a peace activist -- a fact unknown until after his death, when a photo accompanying his obituary caught the attention of Peace Fresno, the antiwar group he had joined.
"For six months, he participated in our meetings and events. He used a false name, lied about his occupation, and pretended to be sympathetic to our views. We gave him our trust," the group said during an Oct. 5 press conference at the steps of the sheriff's department. [...]
President To Drop Tariffs On Steel
Bush Seeks to Avoid A Trade War and Its Political Fallout
By Mike Allen
Washington Post Staff Writer
Monday, December 1, 2003; Page A01
The Bush administration has decided to repeal most of its 20-month-old tariffs on imported steel to head off a trade war that would have included foreign retaliation against products exported from politically crucial states, administration and industry sources said yesterday.
The officials would not say when President Bush will announce the decision but said it is likely to be this week. The officials said they had to allow for the possibility that he would make some change in the plan, but a source close to the White House said it was "all but set in stone." [...]
Global optimism lifts European markets
By Gordon Smith
Financial Times
December 1 2003 10:29
European markets maintained their upbeat start to the new trading month by mid-morning on Monday as momentum from the Asian session outweighed the negative effects of a stronger euro.
Advertisement
The single currency hit another record high in Asian trade of $1.2040 after peaking at $1.2015 in Europe on Friday. But it was hopes for the global recovery that drove investors as the end of the year draws near. [...]
Comment: In what world are these confident investors living?
Hopes rise for deal on European constitution
By George Parker in Naples and Judy Dempsey in Brussels
Financial Times
November 30 2003 17:56
Hopes were rising in European capitals on Sunday that a deal could be struck this month on a new EU constitution, after breakthrough deals were outlined in the field of defence, foreign affairs and remodelled EU institutions.
Franco Frattini, Italian chair of weekend treaty negotiations in Naples, said foreign ministers had "exceeded expectations" in clearing the ground for a deal.
Most ministers left the talks in buoyant mood, and were especially relieved that a deal had been done on bolstering the EU's flyweight military capability.
The plan will come under scrutiny at a meeting of Nato ministers in Brussels on Monday, with Donald Rumsfeld, US defence secretary, expected to give his views on suspicions that it might undermine the North Atlantic alliance. [...]
Hopes Fade as Constitution Talks Hit More Obstacles

Just as it looked like one major problem had been solved at the EU constitution talks in Naples on Friday, even more surfaced on Saturday to leave discussions deadlocked once again.
Despite moves by the European Union's Italian presidency to unlock the door to the EU's first constitution by proposing a delay in the voting rights discussion that has dogged the talks, Saturday's discussions in Naples failed to offer any further hope of a breakthrough. [...]
French diplomats in worldwide strike
Sunday 30 November 2003, 23:26 Makka Time, 20:26 GMT
French embassies and consulates around the world face closure on Monday as diplomats stage a one-day strike to protest against budget cuts that recently saw the foreign ministry in Paris run out of paper.
The six unions organising the stoppage - the first ever worldwide strike by French diplomats - predicted a strong turnout from the ministry's 22,000 permanent and local employees, and though senior staff are likely to keep premises open many foreign missions will be unable to function as normal.
"According to the soundings we're getting, it's going well - there's a lot of support," said Danielle Vazeille of the CGT union. [...]
The Asteroid Tugboat

To prevent an asteroid from hitting Earth, a space tug equipped with plasma engines could give it a push

By Russell L. Schweickart, Edward T. Lu, Piet Hut and Clark R. Chapman
On an average night, more than 100 million pieces of interplanetary debris enter Earth's atmosphere. Luckily, most of these bits of asteroids and comets are no bigger than small pebbles; the total weight of the 100 million objects is only a few tons. And our planet's atmosphere is thick enough to vaporize the vast majority of these intruders. So the debris usually streaks harmlessly overhead, leaving the bright trails popularly known as shooting stars.
When bigger objects slam into the atmosphere, however, they explode rather than vaporize. In January 2000, for example, a rock about two to three meters wide exploded over Canada's Yukon Territory with a force equivalent to four or five kilotons of TNT. This kind of event occurs once a year, on average. Less frequently, larger rocks produce even more powerful explosions.
In June 1908 a huge fireball was seen descending over the Tunguska region of Siberia. It was followed by an enormous blast that flattened more than 2,000 square kilometers of forest. The consensus among scientists today is that a rocky asteroid about 60 meters in diameter exploded some six kilometers above the ground with a force of about 10 megatons of TNT. The blast wave devastated an area approximately the size of metropolitan New York City
Dusty disc may mean other Earths
By Dr David Whitehouse
BBC News Online science editor
Astronomers say they have evidence for Earth-like planets orbiting a nearby star, making it more like our own Solar System than any yet discovered.
It is three times larger than our Sun and, at 350 million years old, much younger as well.
Vega has a disc of dust circling it, and at least one large planet which could sweep debris aside allowing smaller worlds like Earth to exist. [...]
Kyoto Set to Dominate Milan Climate Talks

Experts from 180 countries meeting in Milan on Monday for a new round of U.N. climate talks will thrash out the finer details of the crucial Kyoto Protocol amid new evidence that global warming is on the rise.
Government representatives and environmental experts from 180 countries will meet in Milan from December 1-12 for an annual review of U.N. efforts to tackle climate change.
The overarching issue for the 12-day meeting is expected to be the U.N.'s groundbreaking 1997 Kyoto Protocol on global warming, which suffered a serious setback in September after Russian President Vladimir Putin shied away from promises that Moscow would ratify the key environmental treaty soon. [...]
'Ninja Killers' Resurface in East Java
Laksamana.Net
Two kyai religious leaders affiliated to the party of former president Abdurrahman Wahid were murdered last week in East Java. Wahid maintains the killings are politically motivated and mark a resurgence in the so-called 'ninja killings' that swept across the province in 1998. [...]
Snow snuffs Kashmir's war fires
With battlefields iced over, India and Pakistan stick to a cease-fire and discuss a travel thaw Monday. [...]
Web sites vanish so fast scientific papers just can't keep up
[...] "I think of it like the library burning in Alexandria," Dellavalle said, referring to the 48 B.C. sacking of the ancient world's greatest repository of knowledge. "We've had all these hundreds of years of stuff available by interlibrary loan, but now things just a few years old are disappearing right under our noses really quickly." [...]
"The average lifespan of a Web page today is 100 days. This is no way to run a culture." [...]
Comment: Hopefully no one starts asking the US government to "solve" this problem.
Lincoln Wasn't As Quotable As Some Think
By JOHN O'CONNOR
Associated Press Writer
Sun Nov 30,12:59 PM ET
SPRINGFIELD, Ill. - When it comes to Abraham Lincoln, some of the people are fooled all of the time.
Remarks attributed to the quotable 16th president have popped up in everything from television commercials to speeches by famous generals, presidents and even recent anti-war protesters. Too often, they are phrases that Lincoln never uttered, experts at the Illinois Historic Preservation Agency say. [...]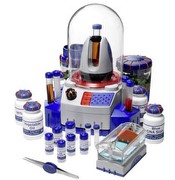 Discovery Kids Ultimate Labs DNA Explorer Discovery
James Watson was only 24 when he discovered the helical structure of DNA, but this kit from Discovery Kids--the first to feature a bona fide centrifuge and electrophoresis chamber--will turn your kid on to the intricacies of genetics at an even younger age. Realistic lab equipment transforms the kitchen into a forensics lab, where your breakfast-bar biologist can extract clumps of real DNA from fruits and vegetables or solve "crimes" by revealing DNA "fingerprints"--telltale blue protein stripes in a gel mixture. $80
Comment: No mention if it teaches kids about the dangers of ethnic specific weapons. Nor do they mention if they educate children on some of Watson's, shall we say, less than ethical views about world domination:
Carl Zimmer
Discover
September 2003

A review of War Against the Weak: Eugenics and America's Campaign to Create a Master Race by Edwin Black

James Watson, the codiscoverer of DNA's double helix, thinks the world would be a better place if there were fewer stupid people. "If you really are stupid, I would call that a disease," Watson said on the documentary DNA, which aired in Britain in March. "The lower 10 percent who really have difficulty, even in elementary school, what's the cause of it? A lot of people would like to say, 'Well, poverty, things like that.' It probably isn't. So I'd like to get rid of that, to help the lower 10 percent." His solution: engineering the genes that influence intelligence in order to eliminate stupidity in future generations. It would be foolish for parents not to use this technology, he added, because genetically enhanced children "are going to be the ones who dominate the world."

Watson, whose own son has a learning disability, may have had the best of intentions when he uttered these words. Yet they carry sinister echoes of one of the most shameful chapters in the history of science. Ironically, that chapter unfolded at the very institute that Watson now heads: Cold Spring Harbor Laboratory in New York. Now a world-renowned genetics institute, it was from 1904 to 1939 the home of the Eugenics Record Office, the headquarters for a national movement to improve the human race through selective breeding. The Cold Spring eugenicists believed that the unfit had to be prevented from passing on their defective genes for blindness, criminality, insanity, and—of course—stupidity. Time and again, they spoke of sterilizing the "submerged tenth"—the most unfit 10 percent of the population.

Echoes of this crusade reverberate not just in Watson's remarks but throughout the current debate on human genetic engineering. [...]

Perhaps most chilling, though, were the ways in which American eugenicists influenced their German counterparts. "I have studied with great interest the laws of several American states concerning the prevention of reproduction by people whose progeny would, in all probability, be of no value or be injurious to the racial stock," Adolf Hitler told a Nazi confidant. The Rockefeller Foundation and other philanthropic institutions in the United States funded the research of American-trained German eugenicists even after the Nazi Party had made its genocidal intentions clear. That research played a major role in the subsequent mass murder of millions of Jews, Gypsies, homosexuals, the mentally disabled, and others deemed a threat to the purity of the so-called Aryan race. [...]
Screaming sounds firmly linked to UFO sighting
Kenny Young
LOCATION: Morehead, Kentucky (Rowan County)
DATE: Friday, November 21, 2003
TIME: Between 9 and 10:00 p.m.
SUMMARY
In effort to further explore the report of 'unidentified lights' and screaming sounds alleged in Morehead, Kentucky, an internet search was conducted to retrieve the address and phone numbers of residents of Adams Lane (law officer earlier contacted had advised of the search taking place near this location). [...]
The call was received by Dr. Virgil Davis, a U.K. college professor. [...]
While driving, they all spotted a soundless aerial object over a nearby open field that was described as an oval-shaped, white-colored light source as big as a pea held at arms length which moved 'like a hummingbird would move.' [...]
After driving the short distance to their house, they went to a second floor bedroom and looked out the window to the northwest where they continued to watch the object. It descended lower toward the ground and seemed to be settling in a nearby field where its color had shifted from a white to an orange. As the object got lower and lower to the ground, it became bigger and its color changed to a reddish light. [...]
"Right after that my 2-sons went back outside and heard the screaming. It was a female voice. They got in the car and within minutes had called from their cell phone to say that they had been hearing screaming sounds in the field where this thing came down," he said.
Dr. Davis paused from our conversation to check with one of his sons, asking if he could recount the nature of the screaming sounds. He said it was a desperate, blood curdling scream of a female voice that kept saying: "Help me, oh my God, help me!"
"Apparently several people had heard the screaming, I don't know how long it lasted," he said. [...]
Dr. Davis, who teaches psychology for the Ashland, Kentucky Community College branch of the University of Kentucky, also said that he had previously seen a UFO when he was in his Freshman year in college at Morehead State University in 1976. He said the object was similar to what he saw on Friday, November 21, 2003. [...]
Domestic snow cannon guarantees white Xmas
Baghdad cat makes six week trip to UK in tank
Ananova.com
09:20 Monday 1st December 2003
A kitten has been found in a British Army tank after it arrived back in the UK from Iraq.
The black and white kitten, named Gracie, is believed to have crept into the tank near Baghdad.
Her journey to the UK took six weeks and she survived the ordeal by eating bugs and lapping up condensation from the vehicle's walls.
Troops who found her at Southampton docks took her to a cattery where she's been put in quarantine until January, says The Sun.
Gracie's handler Faith Grant, said: "She was just skin and bone when she arrived. It's amazing that she survived at all, being so young. She was so tiny and we had to feed her milk through a syringe."
Gracie is called "the kitten of mass destruction" because she is so lively.
---
Remember, we need your help to collect information on what is going on in your part of the world!
We also need help to keep the Signs of the Times online.
---

Check out the Signs of the Times Archives

Send your comments and article suggestions to us

---
Fair Use Policy
Contact Webmaster at signs-of-the-times.org
Cassiopaean materials Copyright ©1994-2014 Arkadiusz Jadczyk and Laura Knight-Jadczyk. All rights reserved. "Cassiopaea, Cassiopaean, Cassiopaeans," is a registered trademark of Arkadiusz Jadczyk and Laura Knight-Jadczyk.
Letters addressed to Cassiopaea, Quantum Future School, Ark or Laura, become the property of Arkadiusz Jadczyk and Laura Knight-Jadczyk
Republication and re-dissemination of our copyrighted material in any manner is expressly prohibited without prior written consent.
.