---
New travelogue: Flamenco in Paris - Ark and Laura travel to Paris for TV interview
While the world sleeps, the war hawks in the US administration move inexorably towards their plans of a world subdued through force. US military analysts feel free to state it clearly, as do ex-Canadian intelligence chiefs. Perhaps they have realised that they can relieve their consciences without fear that it will spark any kind of awakening among the docile public. Even Israel barely bats an eyelid when it is revealed that they created the fictional al-Qaeda. Who cares? No one apparently.
In that case, the Bush Reich has chosen to ramp up the fear factor. A counter terrorism official hints that al-Qaeda is planning one big attack on the US instead of multiple smaller attacks. If a second 9/11-type event occurs, and it appears to be only a matter of time, the curtain will fall on the constitution. In Ohio, one or more snipers are taking shots at vehicles on a stretch of a major highway. UK police suggest they may have foiled another shoe-bomber amidst talk of high tech al-Qaeda bombs in carryon luggage and shoes.
Italy, Germany, and Britain join in the merry terror dance and conduct "anti-terror" operations against Muslims. The EU military alliance takes another step forward, but Tony Blair says he may have to back down a bit if his Texan master disapproves.
As the CIA finances further secret OP's from the stolen heroin trade in Afghanistan, the UK keeps the citizenry dazzled with a farcical show trial, and N. Ireland remains at standstill, elections or not.
George Soros is forecasting doom for the dollar while at the same time pumping billions into the effort to eject George Bush from office, but who has he in mind as his successor? A savior perhaps? Japan's attempt to spy on North Korea goes up in flames, there are more beached whales in Australia, male infertility is on the rise, and a woman is knocked unconscious by lunatic shoppers in a Florida Wal-Mart store.
The world is a farce it seems, nothing is natural, nothing happens by chance, save the unnatural cravings of the few that control the events that effect us all. Perhaps it's time we all woke up and realised it.
"Militarily, their statements are almost absurd" Top Military Strategist Says of Bush and Cheney "fear-mongering"
White House assertion of terror network in Iraq may undermine own case for war
11.28.2003
Ft. Worth TX.- Vice President Dick Cheney, speaking at fund-raisers on Monday, offered his rationale for the American presence in Iraq. "Iraq has now become the central front in the war on terror," he said at a Bush-Cheney fund-raiser in Cleveland and at a fund-raising reception for Rep. Anne Northrup in Louisville, Ky. "We are aggressively striking the terrorists in Iraq, defeating them there, so we do not have to face them on the streets of our own cities."
It's a line that generates applause. It's also a line that makes several military and intelligence analysts cringe. They say it gives the impression that those carrying out terrorists acts against United States and allied forces are internationally organized with the power and reach to wage war on America's shores.
As Cheney and President Bush use the rhetoric, some experts say the White House is giving Americans a false impression of who the terrorists in Iraq are and their reasons for conducting deadly attacks. "Militarily, their statements are almost absurd," said Anthony Cordesman, a national security and military intelligence expert for the Center for Strategic and International Studies. "There is no evidence of activity … by extremist terrorist groups affiliated with al-Qaida." [...]
Israeli intelligence behind al-Qaeda

By Danny Rubinstein

PA unveils Israeli intelligence scheme, denies Gaza links to bin Laden
Early last week, Rashi Abu Sba, head of the preventive security apparatus in Gaza, the equivalent of the Shin Bet, accused the Israeli security service of tricking young Palestinians into conducting missions in the name of Al-Qaida. Last Tuesday, a young man named Ibrahim was presented to reporters in Gaza. Ibrahim hid his face behind a mask, and told what happened to him.
He said that a year ago he sent in a personal, with his photo and phone number, to East Jerusalem's Posta, a cultural-entertainment weekly with a personals section. Three months later, the Gazan received a phone call from an older man, who introduced himself as a merchant named Ahmed, who told Ibrahim that his photo reminded him of his son. They spoke on the phone a number of times, with Ahmed asking Ibrahim about the situation - and if he was a devout Muslim.
During one of the conversations, Ahmed told Ibrahim that he wanted to help Gazans in economic distress and began sending money - cash in dollars and Jordanian dinars - through the Nablus branch of the Cairo-Amman bank. Ibrahim told Ahmed that he had never been arrested nor involved in any political organization. Then, in one of the conversations, Ahmed said he was working for Osama bin Laden's Al-Qaida organization, and Ibrahim was meant to be one of its organizers in northern Gaza since the group already had an infrastructure in the south. Ahmed gave Ibrahim a list of people, mostly Hamas activists, and was told to collect information about them and follow them so they could also be drafted for the Al-Qaida cause.
The two never met, but at a certain point during their telephone contact, Ibrahim became suspicious. He contacted a preventive security officer in Gaza and told him the whole story. The officer looked into the matter and told Ibrahim that Ahmed was an Israeli Shin Bet agent, and Ibrahim should immediately cut off any contacts with him.
Palestinian sources said last week that the case was not unusual, and they reported it, as well as similar cases, during a security meeting with top-level U.S. security officials. [...]
Comment: "Even today I am willing to volunteer to do the dirty work for Israel, to kill as many Arabs as necessary, to deport them, to expel and burn them, to have everyone hate us, to pull the rug from underneath the feet of the Diaspora Jews, so that they will be forced to run to us crying. Even if it means blowing up one or two synagogues here and there, I don't care." Ariel Sharon in a 1982 interview with Amos Oz
Al-Qaeda simply does not exist in the form that the US and Israeli government would have us believe. It is a creation of these same governments. Osama bin Laden is an asset of the US government rather than an enemy. All that is required is to review the attacks attributed to al-Qaeda and look at who benefited from them. In every case the attacks provided fuel for the US argument for a perpetual war. When no enemy exists and you want a war, you must create one. Why is this so hard for people to accept? It is the most intelligent, logical and rational thing to do in such a scenario.
Friday 28 November 2003, 23:18 Makka Time, 20:18 GMT
UN Secretary General Kofi Annan has said Israel's controversial West Bank barrier is a setback for the peace process and is seriously harming the Palestinian people.
In a 12-page report released on Friday, one day after Israel said it would speed up the building of the barrier, Annan said that he recognised Israel's "right and duty" to protect its people.
"However that duty should not be carried out in a way that is in contradiction to international law," he said, saying that its construction was a blow to hopes for a two-state peace plan being pushed by the United Nations.
"When each party should be making good-faith confidence-building gestures, the barrier's construction in the West Bank cannot... be seen as anything but a deeply couterproductive act."
The Israeli cabinet last year approved the globally condemned "apartheid wall", which the Palestinians claim is intended to redetermine the borders of any independent state they obtain in the future.
Official: Al-Qaeda plans something big
By Kevin Johnson, USA TODAY
11/27/2003 10:37 PM
WASHINGTON — A top counterterrorism official says al-Qaeda operatives dropped plans this year for several small attacks in the USA to focus on plotting a "more spectacular" assault comparable to the Sept. 11 attacks.
The U.S. counterterrorism official, who has access to all intelligence on the terrorist group, told USA TODAY this week that officials have no specific evidence to indicate how or when al-Qaeda might try to launch a massive strike on U.S. soil.
But, the official said, interviews with al-Qaeda detainees, intercepts of communications from suspected operatives and other sources have yielded evidence that Osama bin Laden's network still has a command structure and a determination to launch an attack that might rival the suicide hijackings. [...]
Comment: The only groups able to carry out 9/11 and anything bigger are the US and Israeli secret services.
Nov 29 2003
AL-QAEDA has dropped plans for a series of strikes on the US earlier this year to concentrate on one September 11-type hit, an expert claimed yesterday.
The official told a US newspaper: "It's clear that al-Qaeda want to strike here" and with a "catastrophic attack".
He said the plan is revealed in interviews with detainees and intercepted message.
Some al-Qaeda chiefs see a chemical or biological blitz as more effective than the September 11 massacre. But intelligence reports suggest car bombs or suicide attacks are the biggest threat. And al-Qaeda is still fascinated with using hijacked aircraft.
Some terrorism experts believe that the two bombings in Turkey last week may signal the start of a new wave of attacks.
By IAN HEPBURN Crime Reporter and JOHN COLES
The Sun Online
November 29, 2003
POLICE fear terrorist suspect Sajid Badat may have been planning a suicide attack using a shoe bomb — like the one used to target a transatlantic jet.
The horrific theory emerged when a trainer discovered at his family home was found to have been "tampered with".
A small amount of explosive, seized when Badat was arrested, could have been packed into the shoe to cause a spectacular atrocity.
It is feared al-Qa'ida are close to perfecting a sophisticated bomb that can be moulded into hand luggage or shoes. [...]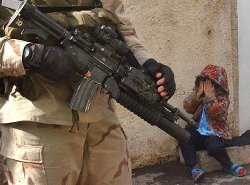 U.S. Is Worried Foe Is Tracking Targets in Iraq
By THOM SHANKER
The New York Times
November 29, 2003
WASHINGTON, Nov. 28 — Bush administration officials are increasingly concerned that anti-American forces in Iraq are using simple but effective means to monitor activities and coordinate attacks against the American military, civilian administrators and visiting dignitaries.
As evidence, Pentagon and military officials cite a recent raid by troops of the 101st Airborne Division during which they broke up an apparent plot to assassinate an American colonel. The would-be assailants, they said, had observed and charted the Army officer's daily routine — including his jogging route and schedule of public appearances — to plan their attack. [...]
American troops already vary their routes and routines, officials said, and are being encouraged to do it more. But Baghdad's infrastructure of roads and secure places to stay is limited, making it difficult to obscure actions that might allow an observant resistance to plan attacks.
"It does not require a very robust intelligence capability to pick up from time to time the presence of 'high value' American officials," said a Bush administration official with access to intelligence reports from Iraq. "It is hard to shield the large security presence that identifies senior officials in Iraq." [...]
A Prisoner Of Panic After 9/11
Algerian-Born Detainee Seen as Victim of Excess
By Michael Powell
Washington Post Staff Writer
Saturday, November 29, 2003
BATAVIA, N.Y. -- Benamar Benatta sits in a whitewashed cell, lost in a post-Sept. 11 world.
Jailed the night of the attacks on the World Trade Center and Pentagon, the Algerian air force lieutenant with an expired visa has spent the past 26 months in federal prisons, much of that time in solitary confinement -- even though the FBI formally concluded in November 2001 that he had no connection to terrorism.
Since the government first took Benatta into custody, the United States has apprehended and released about 760 domestic detainees. More than 80 prisoners have been released from the military jail where alleged al Qaeda and Taliban fighters are held in Guantanamo Bay, Cuba. It appears that no detainee has been locked up as long as Benatta, although it is impossible to know because of secrecy surrounding some material witnesses who may still be in government custody.
He remains behind bars, awaiting a deportation hearing, unable to post a $25,000 bond. [...]
Ex-CSIS head sounds the alarm - no one listens
Friday, November 28, 2003
Editorial - When someone like the former director of the Canadian Security Intelligence Service says civil liberties have been put at risk in the pursuit of terrorism, those who make the rules should sit up and take notice.
Reid Morden, who is now a consultant on security and public policy issues, says Canadian anti-terrorism legislation passed following the Sept. 11, 2001 terrorist attacks in the U.S. gives the government "virtually unreviewable" power to label organizations and activities as terrorists.
"The overall effect is to lengthen the long reach of the criminal law in manner that is complex, unclear and unrestrained," the man who headed CSIS from 1987 to 1991.
The legislation is more far reaching than similar laws in the U.S. and Britain.
Canadian police have the power to make "preventative" arrests of people suspected in planning terrorist attacks and gives the government the power to brand organizations as terrorist groups, imposing penalties for participating in their activities or groups.
When the concern is raised by someone who was responsible for an agency that works largely behind the scenes and in secret, it's serious.
Who acts as a check for who or what group is determined a terrorist?
Can the government or police prosecute someone labelled as a terrorist just because of the colour of their skin or their political persuasion?
In a democracy, everyone is presumed innocent until proven guilty. That same presumption needs to hold true for those suspected of terrorism.
We've headed down a slippery slope when the state has the power to strip away the civil liberties of people without proving its case first.
FBI Surveillance Plans Spur Opposition

by Jim Lobe

WASHINGTON -- A classified FBI intelligence memorandum, leaked to the New York Times last weekend, has raised concern among some civil-rights groups and lawmakers who worry that it reflects a growing tendency on the part of the Bush administration to promote security measures at the expense of key freedoms in the name of fighting terrorism.
Among other things the Oct. 15 memorandum calls for local law enforcement officials to report any suspicious activities at protests to its counter-terrorism squads. The Times described it as "the first corroboration of a coordinated, nationwide effort to collect intelligence regarding demonstrations."
"Attorney General (John) Ashcroft has dismissed critics of the Justice Department's tactics as 'hysterical' and has even said that such criticism aids the terrorists," said Anthony Romero, executive director off the American Civil Liberties Union (ACLU).
"But this bulletin confirms that the federal government is targeting innocent Americans engaged in nothing more than lawful protest and dissent," he said, adding that citizens "deserve an explanation for what is clearly a return to the days of (former FBI director) J. Edgar Hoover's spying tactics."
The Center for Constitutional Rights (CCR) raised similar questions and also called for an investigation of what the FBI and other intelligence agencies were planning. CCR is calling on Attorney General John Ashcroft to resign.
"Routine spying on dissidents is a sign of a police state, and unless we stop this administration's cavalier attitude towards fundamental rights we face a serious threat to our democracy," said Michael Ratner, president of CCR.
According to a front-page story in Sunday's Times, the memorandum was circulated last month to local law enforcement agencies across the country in advance of anticipated anti-war rallies in Washington, D.C. and San Francisco.
Anti-Terror Raids Target Islamists Across Europe
By Emilio Parodi and Mark Trevelyan, Security Correspondent
Fri Nov 28,11:28 AM ET
MILAN/BERLIN (Reuters) - Police hunting Islamic militants across Europe capped a dramatic series of anti-terror raids in three countries with the arrest of a suspected Algerian extremist in the German port of Hamburg on Friday.
Abderrazak Mahdjoub, 29, was held at the request of Italian authorities investigating an alleged network involved in recruiting Islamists to carry out suicide attacks in Iraq (news - web sites).
A copy of an arrest warrant, obtained by Reuters, showed that one of the recruits was suspected of complicity in an October rocket attack on a Baghdad hotel where U.S. Deputy Defense Secretary Paul Wolfowitz was staying.
Separately, British police were questioning a suspected would-be suicide bomber arrested in southwest England on Thursday. The government has said the 24-year-old Muslim man may have links with al Qaeda. [...]
Telling the truth won't set you free
By ROBERT FISK
In Iraq, they are just numbers, bloodstains on a road. But in the little town of Madison, Wis., last week, they were all too real on the front page of the local paper, the Capital Times. Sgt. Warren Hansen, Spc. Eugene Uhl and 2nd Lt. Jeremy Wolfe of the 101st Airborne Division were all on their way home for the last time.
Hansen's father had died in the military. Uhl would have been 22 at Thanksgiving but had written home to say he had a "bad feeling." His father had fought in Vietnam, his grandfather in World War II and Korea. Two of the three men were killed in the Black Hawk helicopter crash over Tikrit.
But of course, President Bush, our hero in the "war on terror," won't be attending their funerals. The man who declined to serve his nation in Vietnam but has sent 146,000 young Americans into the biggest rat's nest in the Middle East doesn't do funerals.
Nor do journalists, of course. The U.S. television networks have feebly accepted the new Pentagon ruling that they can't show the coffins of America's young men returning from Iraq. The dead may come home, but they do so in virtual secrecy.
Things are changing. At a lecture I gave in Madison last week, there was a roar of applause from the more than 1,000-strong audience when I suggested that the Iraq war could yet doom George W. Bush's election chances next year. A young man in the audience stood up to say that his brother was in the military in Iraq, that he had written home to say that the war was a mess, that Americans shouldn't be dying in Iraq.
After the lecture, he showed me his brother's picture -- a tall 82nd Airborne officer in shades and holding an M-16 -- and passed on a message that the soldier wanted to meet me in Baghdad next month.
But I'd better make sure I don't reveal his name because those in the United States who want to keep the people in the dark are still at work.
Take the case of Drew Plummer from North Carolina who enlisted during his last year in high school, just three months before 9/11.
Home on leave, he joined his father, Lou, at a "bring our troops home" vigil. Lou Plummer is a former member of the U.S. 2nd Armored Division whose father, unlike Bush, served his country in Vietnam. Asked for his opinion on Iraq by an Associated Press reporter, Drew Plummer replied, "I just don't agree with what we're doing right now. I don't think our guys should be dying in Iraq. But I'm not a pacifist. I'll do my part."
But free speech has a price for the military in the United States these days. The U.S. Navy charged Drew Plummer with violating Article 134 of the Uniform Code of Military Justice: disloyal statements. At his official hearing, he was asked if he "sympathizes" with the enemy or was considering "acts of sabotage." He was convicted and demoted.
Yet still the U.S. media turn their backs on this. How revealing, for example, to find that the number of seriously wounded U.S. soldiers brought home from Iraq is approaching 2,200, many of whom have lost limbs or suffered facial wounds. In all, there have been nearly 7,000 medical evacuations of soldiers from Iraq, many with psychological problems.
All this was disclosed by the Pentagon to a group of French diplomats in Washington. The French press carried the story. Not so the papers of small-town America, where anyone trying to tell the truth about Iraq will be attacked.
And while the Pentagon is now planning to have 100,000 GIs in Iraq until 2006, the journalistic heavyweights are stoking the fires of patriotism with a new and even more chilling propaganda line. One of the most vicious has just been published in The New York Times. Claiming that Saddam's torturers are attacking U.S. troops -- some of his intelligence men are working for the occupying army, but that's another matter -- columnist David Brooks writes that "history shows that Americans are willing to make sacrifices. The real doubts come when we see ourselves inflicting them. What will happen to the national mood when the news programs start broadcasting images of the brutal measures our own troops will have to adopt?
"Inevitably there will be atrocities that will cause many good- hearted people to defect from the cause ... somehow ... the Bush administration is going to have to remind us again and again that Iraq is the Battle of Midway in the war on terror ..."
What is one to make of this vile nonsense? Why is The New York Times providing space for the advocacy of war crimes by U.S. soldiers? I doubt the U.S. channels will broadcast any images of "brutal measures" -- they've already had the chance to do so and have declined. But atrocities?
Iraq transfer of power plan hits snag
Saturday 29 November 2003, 13:50 Makka Time, 10:50 GMT
The interim leadership in Iraq is holding talks to find a way out after a senior Shia cleric rejected plans for indirect selection of a caretaker government and demanded immediate elections.
The US coalition's plans to hand over power to Iraqis by June next year has run into rough weather after Grand Ayat Allah al-Sistani questioned the plan to hand power to a government designated by a transitional assembly chosen by caucuses of selected notables.
"We're going to discuss Ayat Allah Sistani's proposal and Governing Council president Jalal Talabani will inform him of the results of our discussions," council member Rajaa Khuzai, said before the meeting on Saturday.
The US-led coalition said it considered the complaint significant enough for a major overhaul of the November 15 agreement signed with Talabani.
US officials have maintained that they are discussing the Shia demands with the interim leadership as part of a "healthy" debate.
Army Reservist Accused of Insubordination
By BEN DOBBIN, Associated Press Writer
Fri Nov 28, 9:14 PM ET
ROCHESTER, N.Y. - Capt. Steve McAlpin, a 25-year Army reservist, spent most of last year deployed in Afghanistan and just returned home in January. Now his unit is about to ship out again, and he's facing insubordination charges for criticizing the quick turnaround.
McAlpin questioned the legality of a waiver that his battalion was asked to sign that would put his unit back in a combat zone after just 11 months at home. Under federal law, he pointed out, troops are allowed a 12-month "stabilization period."
On Wednesday, members of his 401st Civil Affairs Battalion are being deployed for duty overseas, but McAlpin likely won't be among them. A memorandum this week notified him that he was being removed from the 401st's battle roster, and he said he could also face other punishment, including a court martial and losing rank.
The commander, Lt. Col. Phillip Carey, charges in the memo that McAlpin had a "negative attitude" and was being "insubordinate towards the leadership" of the 401st. [...]
About a dozen other officers refused to sign the waiver, as well as four enlisted soldiers called to redeploy, McAlpin said. [...]
Japan to send troops to Iraq in Feb.-March
www.chinaview.cn 2003-11-29 11:53:28
TOKYO, Nov. 29 (Xinhuanet) -- Japan will dispatch some 550 ground troops to southern Iraq in four waves starting in early February and ending in late March, Kyodo News reported Saturday.
Fri Nov 28
WASHINGTON (AFP) - The amount of heroin poppies growing in Afghanistan more than doubled over the past year, the White House announced.

"Poppy cultivation in Afghanistan is a major and growing problem," drug 'czar' John Walters said in a statement.
Some 61,000 hectares (acres) were under cultivation in 2003, compared with 30,750 hectares (acres) in 2002, the statement said.
That represents a 50.4 percent increase in poppy cultivation.
Afghanistan grew enough poppies in 2003 to make 2,865 tonnes of opium. That is an increase of 1,587 tonnes over the 2002 level, the statement said.
"Drug cultivation and trafficking are undermining the rule of law and putting money in the pocket of terrorists," Walters said.
"The drug trade is hindering the ability of the Afghan people to rebuild their country and rejoin the international community."
A month ago, a joint survey by the UN Office on Drugs and Crime and the Afghan government found opium poppy cultivation had risen a "moderate" eight percent nationwide and had decreased dramatically in the south, but was skyrocketing in the north.
The UN reported that opium-growing families were making an average 3,900 dollars a year against the gross domestic product (GDP (news - web sites)) per capita of 184 dollars, based on 2002 estimates.
However in the north it was only around 1,700 dollars while the south commanded an average 6,800 dollars.
Opium traffickers made 1.3 billion dollars in 2003. Their income combined with farmers was equal to more than 50 percent of Afghanistan's estimated GDP.
Comment: "The CIA recruited as allies people we now call drug lords for their operation against communist China in northeastern Burma in 1950, then from 1965 to 1975 [during the Vietnam war] their operation in northern Laos and throughout the decade of the 1980's, the Afghan operation against Soviet forces in Afghanistan. Powerful, upland political figures control the societies and economies in these regions and part of that panoply of power is the opium trade. The CIA extended the mantle of their alliance to these drug lords and in every case the drug lords used it to expand a small local trade in opium into a major source of supply for the world markets and the United States.
While they were allied with the United States these drug lords were absolutely immune to any kind of investigation. If you're involved in any kind of illicit commodity trade, organized crime activity like drug trafficking, there is only one requisite for success, immunity, and the CIA gave them that. As long as they were allied with the CIA, the local police and then the DEA stayed away from the drug lords." - Alfred McCoy, author of "The Politics of Heroin; CIA Complicity In The Global Drug Trade"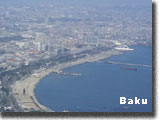 U.S. to step up military assistance to Azerbaijan
The United States intends to provide military assistance to Azerbaijan soon, according to General Charles Wald, Deputy Commander of the Headquarters of the U.S. European Command in Stuttgart, Germany. General Wald made the statement in a meeting with President Ilham Aliyev on Friday.
He was in Baku for a two-day visit last week to discuss prospects for expanding bilateral relations, the U.S. embassy in Baku told Azernews. After congratulating Aliyev on his election as President on behalf of himself and General Johnson, General Wald noted the joint participation of the two countries' military in peacekeeping operations in the Balkans, Afghanistan and Iraq. "We wish to achieve the highest level of military cooperation between our countries …" He underlined that the military assistance would be of regional importance and serve to improve security of the Caspian basin. [...]
Comment: The sun never sets on the US military. Now why would the the US increase military assistance and send its troops to die in such far away places?
The axis of oil: how a plan for the world's biggest pipeline threatens to wreak havoc

By Philip Thornton and Charles Arthur
28 October 2003
The Independent

It is a story of empire-building, intrigue, espionage, double-dealing and arm-twisting that Rudyard Kipling would have been proud to write.

Kipling popularised the phrase "The Great Game" to describe the secret battle to dominate central Asia fought between the British Empire, Russia and France.

But even he would have blanched at plans by the United States - with the help of the oil giant BP and British taxpayers - to establish a hegemony across an area stretching from the Russian borders to the Mediterranean Sea.

Inevitably, the need for oil is at the heart of the story. Two former Soviet states, Azerbaijan and Kazakhstan, between them have oil reserves three times the size of America's. The "game" is to find the safest way to get that black gold into the petrol tanks of American cars.

The US has been pushing for a new pipeline since Bill Clinton was in office. At first, companies were reluctant, but the rising price of oil, allied to threats in the Persian Gulf and the likelihood of huge reserves of oil and gas worth as much as $4 trillion under the Caspian, has made them increasingly bullish. The US Environment Department estimates that by 2010, the Caspian region could produce 3.7 million barrels per day. This could fill a large hole in world supplies as world oil demand is expected to grow from 76 million a day, in 2000, to 118.9 million by 2020.

By this time, the Middle Eastern members of OPEC would be looking to supply half of that need.

The geopolictical stakes are high - the pipeline would be able to pump as much as 4.2 million barrels per year, easing the US's reliance on the unstable Gulf states for oil.

The answer is the world's longest export pipeline, a 1,090-mile, 42-inch wide pipe snaking its way within a 500-metre corridor from the Caspian Sea port of Baku, in Azerbaijan, to Ceyhan, in Turkey, via some of the world's most unstable and conflict-ridden nations. [...]
The US remains consistent in supporting murderous tyrants around the world to further its own interests:
Torture 'widespread' in parts of Europe

By Bethany Bell
BBC, Vienna

The European security body, the OSCE, says the continued use of torture in some OSCE states is a matter of great concern. The OSCE is currently holding a conference, at its headquarters in Vienna, aimed at preventing the use of torture.

Security services are often under pressure to produce results The report for the OSCE by a leading human rights group, the International Helsinki Federation, says torture remains systematic in several countries, including Uzbekistan, Azerbaijan, Kyrgyzstan, Turkey and Russia. [...]
This is what happens when you join the US military: your primary duties are to protect corporate profits, maintain murderous regimes, and keep drugs flowing for black OP's funding. Dagestan, a predominantly Muslim region, just happens to border Azerbaijan to the south. Perhaps the crusade will continue from there.
Note, that as the first order of business, Wald congratulated Aliyev on his "election".
Riots Erupt in Azerbaijan After Election

By BURT HERMAN
Associated Press Writer

BAKU, Azerbaijan - Rioting protesters clashed with police in the Azerbaijani capital Thursday after Ilham Aliev was elected to succeed his father as president. Observers said the vote was marred by fraud.

Thousands of opposition supporters marched through Baku, smashing cars and shop windows. Government forces beat protesters and journalists with rubber truncheons. [...]
As an interesting aside, it is claimed that Baku is a UFO "hotspot": UFO's Found to Be Active over the Caspian Sea, and:
21/05/2003 02:11
Baku Today
UFO was observed in various parts of capital approximately from 5 pm to 7pm (Baku time). In the cloudless sky the large light stain similar to an extended "drop of milk" has appeared.
The object was not similar to a cloud, aboard the plane or the helicopter, as moved on a complex trajectory, Ekho newspaper report says. At 18:35 "drop" suddenly started quickly to leave, was not dissolved yet in the sky. The abnormal object has caused interest not only the people of Baku, but also Azerbaijani experts.
Professor Elchin Khalilov, chief of a commission on the abnormal phenomena at presidium of Academy of Sciences, shot the UFO on amateur. Mr. Khalilov has noted that they had already started to study the video.
"With similar UFO we face for the first time," he told to reporters. "It is already unequivocally clear, that the fixed object is not the plane, helicopter or other flying means. The UFO represents enough, slightly extended form. Thus is abundantly clear, that it is object of a technical origin."...
As Baku Today reported early this year, an UFO appeared on Baku on January 2. Some scientists claim that UFOs were also observed before and warned about natural disaster. Mr. Gasimov stated that UFOs hinder the prediction of earthquakes and researches carried out in this field.
"They don't want mankind reveal their secret. But there are some facts stating that UFOs keep in touch with the scientists. Though most approach these unserious, objects keep in touch with selected persons by the means of Morse alphabet or telepathy signals and transmit information related to the future," he told to journalists in January of this year. It seems UFO will become "normal guest" for Baku inhabitants soon.
Comment: If you read UFOs and the National Security State Volume One: 1941 to 1973 by Richard M. Dolan you discover that the US military has a habit of showing up in so called "hot spots". Could be mere coincidence, and we mention it mostly as an item of interest.
Russia's biggest corporate deal in jeopardy
By Andrew Jack and Arkady Ostrovsky in Moscow
Published: November 28 2003 10:36 | Last Updated: November 28 2003 20:36
Roman Abramovich, the Russian billionaire, on Friday called a halt to the country's biggest corporate deal. The merger between his Sibneft oil company and its rival, Yukos, would have created the world's fourth-largest oil producer, valued at $35bn.
The companies said the decision to suspend the merger was "mutual" but individuals close to the talks indicated that Mr Abramovich, the oligarch behind Sibneft - and owner of Britain's Chelsea Football Club - had taken the initiative after disagreements, including his wish to impose Eugene Shvidler, the Sibneft chief executive, as head of the combined group.
If the merger fails Mr Abramovich may be forced to pay back $3bn in cash he has has received as well as a $1bn penalty clause. The transaction, technically completed in October, has given him 26 per cent of the combined group.
DPRK demands US compensation for suspension of reactor work
www.chinaview.cn 2003-11-29 14:09:33
PYONGYANG, Nov. 29 (Xinhuanet) -- The Democratic People's Republic of Korea (DPRK) on Saturday denounced the United States for intentionally breaching the Geneva framework, and demanded compensation for a US-led move to suspend construction of two nuclear power plants in the country.
Venezuelan opposition begins signature collection for recall referendum
www.chinaview.cn 2003-11-29 10:03:16
CARACAS, Nov. 28 (Xinhuanet) -- Venezuela's opposition started on Friday collecting signatures needed to call a referendum to revoke the rule of President Hugo Chavez and 35 ruling-party legislators.
The process started without incidents except in Caracas where there were delays in the delivery of signature collecting materials by the National Electoral Council (CNE) and the Republic Plan.
About 60,000 troops, including 12,000 reservists, guarded the 2,700 signature collecting centers around the country, in which 5,360 national and international observers are monitoring the process, according to local press.
Venezuela's constitution states that in order to call a referendum of this sort, 20 percent of those who voted for the elected official must sign up for a referendum. In the case of Chavez, 2.4 million signatures are required.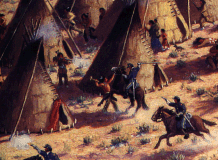 On this day in 1864
The US Army sent soldiers into an Indian encampment, slaughtering 300 Indians, which came to be known as The Sand Creek Massacre. The Cheyenne and Arapaho had been given an American flag to prevent such an event from occurring, but an army colonel chose to disregard it:
[...] Black Kettle was a peace-seeking chief of a band of some 600 Southern Cheyennes and Arapahos that followed the buffalo along the Arkansas River of Colorado and Kansas. They reported to Fort Lyon and then camped on Sand Creek about 40 miles north.

Shortly afterward, Chivington led a force of about 700 men into Fort Lyon, and gave the garrison notice of his plans for an attack on the Indian encampment. Although he was informed that Black Kettle has already surrendered, Chivington pressed on with what he considered the perfect opportunity to further the cause for Indian extinction. On the morning of November 29, he led his troops, many of them drinking heavily, to Sand Creek and positioned them, along with their four howitzers, around the Indian village.

Black Kettle ever trusting raised both an American and a white flag of peace over his tepee. In response, Chivington raised his arm for the attack. Chivington wanted a victory, not prisoners, and so men, women and children were hunted down and shot.

With cannons and rifles pounding them, the Indians scattered in panic. Then the crazed soldiers charged and killed anything that moved. A few warriors managed to fight back to allow some of the tribe to escape across the stream, including Black Kettle.

The colonel was as thourough as he was heartless. An interpreter living in the village testified, "THEY WERE SCALPED, THEIR BRAINS KNOCKED OUT; THE MEN USED THEIR KNIVES, RIPPED OPEN WOMEN, CLUBBED LITTLE CHILDREN, KNOCKED THEM IN THE HEAD WITH THEIR RIFLE BUTTS, BEAT THEIR BRAINS OUT, MUTILATED THEIR BODIES IN EVERY SENSE OF THE WORD." By the end of the one-sided battle as many as 200 Indians, more than half women and children, had been killed and mutilated.

While the Sand Creek Massacre outraged easterners, it seemed to please many people in Colorado Territory. Chivington later appeared on a Denver stage where he regaled delighted audiences with his war stories and displayed 100 Indian scalps, including the pubic hairs of women. [...] [ Native American Attrocities - The Sand Creek Massacre]
We see a rather disheartening and frightening consistency in US military attrocities. For Further Research: Documents on the Sand Creek Massacre, Northern Cheyenne Sand Creek Massacre Project, Quotes regarding the Sand Creek Massacre.
Story told by Huntley to mother on jail visit (UK)
Steven Morris
Saturday November 29, 2003
The Guardian
Ian Huntley claimed in prison that he had mental "shutdowns" which prevented him remembering what happened the day Holly Wells and Jessica Chapman vanished, the Old Bailey heard yesterday.
But he also told his mother, when she visited him more than two months later, that he had suddenly remembered. He recalled, he said, that they had entered his house because one had a nosebleed. He said, he clearly remembered them leaving, the court was told.
He suggested someone must have been following the 10-year-olds, had abducted them, and planted evidence at the school to implicate him as the school caretaker.
Mr Huntley denies murdering the children. The jury was told he had spoken to his mother, Lynda Huntley, at Woodhill prison in Milton Keynes in October last year. The conversation was secretly recorded.
Mr Huntley, 29, told her he had "remembered everything" about Sunday, August 4 when the girls disappeared. His mother told him: "It's the police that need to know."
Mr Huntley insisted he would "love to speak to them", but a doctor had said he was not fit to do so; the day before her visit he "just shut down".
Mr Huntley said: "I couldn't stop it. You have no idea what that feels like to have no control over what you do, to be so scared that you find yourself huddled up next to a toilet on the floor."
Comment: It seems clear that Huntley is the victim of mind control of some sort (we will let the reader come to their own conclusions about how it might have been administered). See Jow Vialls investigation of the case here. - N.B. Other information on the Vialls website does not necessarily relfect the views of the authors of this page.
North Korea urges EU to keep Bush at bay
Jonathan Watts in Pyongyang
Saturday November 29, 2003
The Guardian
North Korea called on Europe to prevent the peninsula from becoming a "second Iraq" yesterday, as Pyongyang's scepticism grows about the credibility of six-party talks aimed at resolving its year-long nuclear standoff with the US.
In a rare interview with the overseas media, the foreign ministry spokesman, So Chol, expressed doubts to the Guardian about Pyongyang's participation in a round of negotiations scheduled for next month. He said US officials viewed the North as an "evil" country which must disarm without precondition.
He was referring to a speech in Seoul this month by the US defence secretary, Donald Rumsfeld, who called Kim Jong-il a military dictator who ran an evil regime which starved its people. The North Korean media responded by calling Mr Rumsfeld a "political pygmy" who was worse than Adolf Hitler.
Mr So said the comments went beyond name-calling. "If these speeches show the official stance of the United States, I'm worried about whether the six-party talks will reopen again," he said. [...]
Ohio Police Link Two Highway Shootings
By JOHN McCARTHY, Associated Press Writer
November 29, 2003
COLUMBUS, Ohio - It's a nightmare scenario: someone taking potshots at drivers going by a five-mile stretch of highway. One woman is dead, and Mary Hammond isn't risking it.
The 46-year-old and her husband are using back roads to get to work. "I've got two kids to raise," she explained.
Authorities said for the first time Friday they had linked the Nov. 25 death of Gail Knisley to at least one of 10 other reports of shots fired at vehicles along the same highway — and they said the shooting was not an accident. Police won't use the term "sniper," but they say more of the shootings could be connected. [...]
Media Behind Push For "Gay Marriage"

By Cliff Kincaid on 11/28/03
In a long article on November 23, David Von Drehle of the Washington Post claimed to have discovered why the idea of "gay marriage" has entered "the American consciousness." He attributed the "success" to the determined legal maneuvers of homosexual activists in the courts. He ignored how the major media have acted as a virtual house organ of the homosexual movement, promoting and embracing "domestic partner" benefits for homosexuals and running announcements of homosexual "weddings" and unions. The "gay rights" movement would not have achieved this "progress" without the support of powerful news organizations like the Washington Post.
Comment: And almost all of the major press in the US is Jewish-owned. Draw your own conclusions.
Britain in secret EU army deal
By Ambrose Evans-Pritchard in Naples
29/11/2003
Britain has taken a dramatic step towards a fully-fledged European army, signing up to Franco-German proposals for a planning headquarters outside Nato, it emerged yesterday.
The deal reached by British, German and French officials in secret talks in Berlin this week establishes an "operational" command in Brussels, allowing the EU to run day-to-day battlefield missions for the first time.
Risking a major clash with Washington, it points to a definitive break with British defence doctrine of the last half century. But British officials hinted last night that Tony Blair would re-write the agreement if America was adamantly opposed.
Jack Straw, the Foreign Secretary, was caught flat-footed yesterday at a summit of EU foreign ministers in Naples when the deal leaked in the French press before Britain had a chance to seek approval from Washington.
The British had expected to notify President George W Bush on Thursday but the plans were thrown out by his surprise trip to Baghdad.
In September, the Americans were stunned when they learned that Britain had agreed in general terms to an EU operational command, fearing that it would lead to a rival military structure and ultimately destroy Nato.
The Government appeared to row back on the commitment after intense pressure from Washington, but the latest deal suggests that No 10 is still inclined to cast its lot with the Europeans in defence.
The French newspaper Le Monde quoted chunks of the deal yesterday, reporting that it would start as a skeleton body and would also handle humanitarian missions. It said the unit would be "a European military headquarters in all but name".
Blair deal on EU defence may offend Bush
By Ben Hall in London, George Parker in Naples and Judy Dempsey in Brussels
Published: November 28 2003 20:57 | Last Updated: November 28 2003 20:57
Tony Blair, Britain's prime minister, risks a rift with Washington by making a crucial concession to Jacques Chirac, the French president, on European Union defence co-operation.
Britain, France and Germany have hammered out a ground-breaking defence deal that includes European military planners operating outside Nato.
In return, Mr Blair has ensured that the EU's new constitution will not contain a mutual defence clause and that defence decisions will remain subject to national veto. Closer defence co-operation among a vanguard group will require the support of all member states.
The agreement draws a line under a dispute between Europe's three principal military powers ahead of next month's summit in Brussels intended to finalise a new constitution.
The prospect of the EU acquiring its own capability to plan and conduct military operations will raise concerns in Washington about competition with Nato.
'Big three' win EU over to military planning wing: Belgium

AFP
Saturday November 29, 4:56 PM
Plans by Britain, France and Germany to give the European Union its own military planning facility independent of NATO have been well received by the rest of the EU, Belgium's government said.
Foreign Minister Louis Michel, whose country has been at the forefront of plans for a separate EU military headquarters, said the proposal by the "big three" won general backing at dinner talks among foreign ministers late Friday.
"We can say that the embryo of a European defence is underway and that it's an irreversible process," he told reporters after the dinner. [...]
Speculation Mounts Bush May Give Way on Steel
By Richard Waddington
Fri Nov 28
GENEVA (Reuters) - Speculation mounted on Friday that Washington will scrap or roll back controversial steel tariffs after it sought and obtained an effective delay in retaliatory sanctions by countries opposed to them. [...]
Officially, Washington wanted the delay because it had not been expecting the meeting to take place before Dec. 10, the legal deadline for WTO states to ratify the court decision. [...]
But the delay comes amid increasing signs that President Bush's administration is considering ditching the duties, initially for up to 30 percent, which it imposed in 2002 to help defend the country's struggling steel industry against cheap imports.
Ending the tariffs 16 months ahead of schedule could spark a political backlash against Bush in next year's presidential election in the pivotal steel-producing states of Ohio, Pennsylvania and West Virginia.
But key Bush advisers have concluded the tariffs are causing more harm than good and that lifting them would boost Bush's standing with steel consuming industry, another important constituency, political sources say. [...]
Comment: It seems the Bush administration cares nothing about the economic impact that continuing the sanctions might have on the American people.
Victory for Paisley threatens peace hope (N. Ireland)
By Thomas Harding, Ireland Correspondent
29/11/2003
The Good Friday Agreement, designed to bring lasting peace to Northern Ireland, was in danger of collapse last night with the victory of Ian Paisley's Democratic Unionist Party in elections to the province's suspended assembly.
The leader of the Democratic Unionists, Ian Paisley
The position of David Trimble, the Ulster Unionist leader, was also in doubt after his party fell three seats behind the DUP and won a smaller percentage of the vote than Sinn Fein.
With Mr Paisley refusing to negotiate with Sinn Fein, the likelihood of restoring power sharing, which collapsed a year ago over allegations of IRA spying in Stormont, remained a distant prospect.
Tony Blair and Bertie Ahern, the Irish Prime Minister, pledged to open dialogue with all parties, but the likelihood remains that direct rule will continue from Westminster for a long time.
Sinn Fein devastated the moderate SDLP, seizing at least six of its seats, making it the dominant political voice of nationalists for the first time. With a huge mandate of 24 seats, Gerry Adams will not want to remain out of power for long.
He said: "If anyone thinks for one moment that we are going to roll over because the DUP is in the ascendancy then they are clearly living in cloud cuckoo land."
Comment: Since the creation of the statelet in 1920 Northern Ireland has been a personal mini war theatre for a number of high level "civil servants" in London. The ordinary citizen is kept in the dark by perpetuating the illusion that the conflict is about religion, land and politics, however, at the level where decisions are made, it is about game theory and demographic manipulation. By ensuring that the issues are always brought to the level of the emotional, the Westminster elite are sure that they stay one step ahead. God forbid that any of the warring parties in N. Ireland might wake up and realise that they are little more than microbes in a petrie dish under the watchful eye of the "scientist" - but then that could be said about the entire planet also.
Billionaire Soros stakes fortune on 'matter of life and death' - defeating George Bush

By Andrew Gumbel in Los Angeles
29 November 2003
George Soros has donated almost $5bn (£3bn) over the years to help emerging democracies in Eastern Europe recover from the shadow of tyranny. Now he is applying the same principles, and a large chunk of his fortune, to the United States, where he believes the defeat of George Bush in next year's presidential election is "a matter of life and death".
So far, he has spent more than $15m: two-thirds of it going to a liberal-leaning group called America Coming Together, which intends to mobilise voters in battleground states next November; $3m of it going to a new Washington think-tank run by Bill Clinton's former chief of staff, John Podesta; and $2.5m to the passionately anti-Bush internet lobbying group MoveOn.org, to help pay for television advertisements attacking the President.
Political donations on this scale have precedents. On the right, figures such as Richard Mellon Scaife and Howard Ahmanson have given hundreds of millions of dollars over several decades on political projects both high (setting up the Heritage Foundation think-tank, the driving engine of the Reagan presidency) and low (bankrolling investigations into President Clinton's sexual indiscretions and the suicide of the White House insider Vincent Foster).
But on the left it is almost unheard of. Mr Soros has given money to political campaigns before - $122,000 in the 2000 elections alone. This, though, is very different. In recent interviews he has likened the with-us-or-against-us rhetoric of the Bush administration to the political language of Nazi Germany. And in a forthcoming book, The Bubble of American Supremacy, he argues that the destructive arrogance of the White House, in Iraq and elsewhere, is like an overheating of the stock market that must and will be corrected.
The Hungarian born financier and philanthropist describes the Bush administration's policies as a crude form of social Darwinism. "I call it crude because it ignores the role of co-operation in the survival of the fittest, and puts all the emphasis on competition." And he explains why the current administration is so much at odds with the driving ideology of his worldwide Open Society Institute. "The supremacist ideology of the Bush Administration stands in opposition to the principles of an open society, which recognise that people have different views and that nobody is in possession of the ultimate truth," he writes. "When President Bush says, as he does frequently, that freedom will prevail, he means that America will prevail. In a free and open society, people are supposed to decide for themselves what they mean by freedom and democracy, and not simply follow America's lead ... A chasm has opened between America and the rest of the world."
Unlike other critics who have made casual comparisons between the Bush White House and the Nazis, Mr Soros speaks with some authority - he survived the German occupation of Budapest as a boy.
That has not deterred prominent Republicans from hooting with indignation, or from accusing him of hypocrisy because Mr Soros has been a champion of campaign finance reform intended to keep big-money donations out of politics. "It's incredibly ironic that George Soros is trying to create a more open society by using an unregulated, under-the-radar-screen, shadowy, soft-money group to do it," the Republican National Committee spokeswoman Christine Iverson said recently. The Washington Post has similar reservations, writing in a recent editorial: "Wasn't the whole point of the new campaign finance law to get big checks of this kind out of politics? Are these huge donations healthy for small-d democracy, not just big-D Democrats?" Mr Soros's response seems to be: I will do whatever it takes, if the result is defeat for President Bush
Soros 'speculating against dollar'

Pound surges to five-year high against US currency. Buffett also said to be betting against greenback

By Philip Thornton and Michael Jivkov
28 November 2003
The pound surged against the dollar yesterday amid speculation that Warren Buffett and George Soros, the world's most famous speculators, are betting the US currency will plummet.
Sterling powered to a five-year high against the dollar for a second day as concerns over the US current account deficit continued to outweigh evidence of a rebounding economy.
Traders believe selling the dollar is a one-way bet, and some latched on to rumours that speculators were building "short" positions on the dollar - betting it will tumble in the coming months.
One hedge fund manager, who asked not to be named, said: "I have heard that both Soros and Buffett are shorting the dollar. There's a growing belief on Wall Street that the dollar is looking like a one-way bet downwards."
A spokesman for Mr Soros, who famously "broke" the Bank of England when the pound crashed out of the exchange rate mechanism a decade ago, said he never commented on speculation. Mr Buffett was unavailable for comment.
Euro Tramples Dollar, Hits New High
By John Parry
Fri Nov 28, 2:37 PM ET
NEW YORK (Reuters) - The euro barged to a record high above $1.20 in thin trade on Friday, as investors sold the dollar, which failed to rally on strong U.S. economic data earlier this week.
Although the dollar trimmed losses in late trade, it remained markedly lower against most other major currencies.
Geopolitical worries and persistent concerns that the United States may be shifting toward a more protectionist stance on trade policy also lent a negative undertone to the greenback's performance.
Now that the single European currency has convincingly broken into a new range, the next target up for the euro is around $1.22, some analysts said. [...]
In midafternoon New York trade, the euro was up 0.8 percent against the dollar at $1.1992 , after soaring to a record high of $1.2015. Against the yen, the euro earlier rose to about 131.50 yen, its highest level in over two months, before trading at 131.36 yen , up 1.1 percent on the day. [...]
How Aspartame Became Legal - The Timeline

From Rich Murray
rmforall@att.net
12-24-2

In 1985 Monsanto purchased G.D. Searle, the chemical company that held the patent to aspartame, the active ingredient in NutraSweet. Monsanto was apparently untroubled by aspartame's clouded past, including a 1980 FDA Board of Inquiry, comprised of three independent scientists, which confirmed that it "might induce brain tumors."

The FDA had actually banned aspartame based on this finding, only to have Searle Chairman Donald Rumsfeld (currently the Secretary of Defense) vow to "call in his markers," to get it approved.

On January 21, 1981, the day after Ronald Reagan's inauguration, Searle re-applied to the FDA for approval to use aspartame in food sweetener, and Reagan's new FDA commissioner, Arthur Hayes Hull, Jr., appointed a 5-person Scientific Commission to review the board of inquiry's decision.

It soon became clear that the panel would uphold the ban by a 3-2 decision, but Hull then installed a sixth member on the commission, and the vote became deadlocked. He then personally broke the tie in aspartame's favor. Hull later left the FDA under allegations of impropriety, served briefly as Provost at New York Medical College, and then took a position with Burston-Marsteller, the chief public relations firm for both Monsanto and GD Searle. Since that time he has never spoken publicly about aspartame. [...]
Japanese papers reveal huge quake

Scientists say old Japanese papers show a huge magnitude nine earthquake struck north-western America 300 years ago.
The writings report damage from a five-metre-high tsunami that washed on to the Japan coast on 26 January, 1700.
Computer modelling allowed Kenji Satake of the Geological Survey of Japan and colleagues to model the size and source of the quake that created the wave.
A magnitude nine event would, in a few minutes, release about as much energy as the US now consumes in a month.
The simulations show the earthquake probably ruptured the full length of a fault, known as the Cascadia subduction zone, which extends more than 1,000 kilometres [600 miles] along the Pacific coast from southern British Columbia to northern California.
Changed codes
Until fairly recently, this fault was thought to be benign by most scientists. But then a number of discoveries in North America revealed the fault can produce earthquakes of magnitude eight or larger at irregular intervals, averaging about 500 years.
The most recent of the earthquakes, dated by radiocarbon methods, occurred between 1680 and 1720. It was the Japanese documentation that tied the date specifically to 26 January, 1700.
Satake's team, which includes Kelin Wang of the Geological Survey of Canada, and Brian Atwater of the United States Geological Survey, reports its work in the Journal of Geophysical Research-Solid Earth, published by the American Geophysical Union.
Their findings are likely to affect the Pacific region's precautions against future earthquakes and tsunamis.
"At issue for North Americans," said Atwater, "is how to adjust building codes and tsunami evacuation plans to reduce losses of life and property in the event of a future magnitude nine earthquake in southern British Columbia, Washington, Oregon and northern California."
Rare events
Wang also noted that the giant fault responsible for this earthquake is currently "locked," accumulating energy for a future destructive event.
Wildfires set state record for most acreage burned, buildings destroyed
LOS ANGELES (AP) - Last month's wildfires burned more acreage and damaged more buildings than any others in California history, state officials said. [...]
Destruction of the Amazon rainforest is opening the door to malaria-bearing mosquitoes, researchers are warning. They hope to highlight how environmental damage is fuelling human disease. [...]
Accelerated Global Warming From Nutrient Shortages For Trees And Soils
Stanford, California - "We should not count on carbon storage by land ecosystems to make a massive contribution to slowing climate change," said Dr. Christopher Field, director of the Department of Global Ecology at the Carnegie Institution. "And lower storage of carbon in these ecosystems results in a faster increase in atmospheric carbon dioxide, leading to more rapid global warming." [...]
Snowy Days On The Decline During Christmas Season (USA)
It's looking and feeling a lot less like Christmas in many parts of the country as higher temperatures and fewer snowfalls are becoming the norm from Thanksgiving to Christmas Eve. [...]
Climate changes to have more negative effects on mankind
www.chinaview.cn 2003-11-25 21:43:47
BEIJING, Nov. 25 (Xinhuanet) -- Climate changes featuring global warming will have more negative effects on human society, according to experts at an ongoing seminar on climate changes and ecological environment here.
In addition, the average global temperature will increase by 1.4 to 5.8 degrees Celsius by 2100 up from 1990, and the average sealevel worldwide will increase by 0.09 to 0.88 m, according to the third assessment report issued in 2001 by the Intergovernmental Panel on Climate Changes.
Based on this report, the experts predicted the output changes of global wheat, corn and rice in years 2020, 2050 and 2080, only to find that crop output in most developing countries will shrink,while that in developed countries in the northern hemisphere will increase.
Owing to global warming, China's crop output will shrink, while farming costs will increase, said Qin Dahe, director of the China Meteorological Administration (CMA).
Climate changes will also affect river routes, the frequency of droughts and floods, and the quality of underground water, plunging many countries into water supply difficulties.
Global warming will also exacerbate the incidence of some infectious diseases carried by insects, food or water in less-developed areas.
However, some experts claimed that the expected climate changesmay result in increased agricultural output in the middle- and high-latitude areas, a reduced death rate from cold, increased wood output and less energy consumption.
Space Station's crew hear 'impact'
28.11.2003
HOUSTON - Crew members on the International Space Station yesterday reported hearing a brief, metallic crunching noise as if something struck the outside of the outpost, but checks turned up no damage.
Astronaut Mike Foale told Nasa's mission control that it sounded as if something hit the rear of the station's Russian module that houses the crew sleeping quarter, kitchen and toilet.
"It sounded like a metal tin can kind of being expanded and compressed," Foale told mission control. "It was a noise that lasted about a second. It sounded like an impact or something."
News reports last month said some Nasa experts had warned that environmental monitoring and health maintenance systems on the station had deteriorated to the point that it was unsafe for astronauts.
Japan fails in spy satellite launch

AFP
Saturday November 29, 4:13 PM

Japan has aborted the launch of a second pair of spy satellites to monitor North Korea shortly after take-off in a bitter blow to its efforts to enhance space and security programmes.
"Shortly after the launch, we sent a destroy order to the rocket as we concluded that the mission cannot fulfill the purpose," said Shoko Yamamoto, a spokesman for the satellite launch project. [...]
According to the agency, one of the two rocket boosters failed to separate from the fuselage in the second phase of the flight. [...]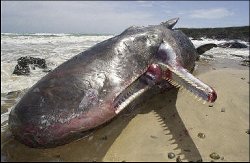 Second mass whale beaching in Australia in a week

HOBART, Australia (AFP) Nov 29, 2003
Australian wildlife officers said Saturday that a sperm whale which was the sole survivor of the second mass whale beaching in Australia in a week appeared unharmed by the ordeal.
Officers from the Tasmania state Nature Conservation Branch arrived on Flinders Island late Friday and found nine sperm whales dead and one alive but stranded on a sandbank. [...]
"Now it's in deeper water and it's resting," Brennan said. "It's upright and it's breathing freely, so we're hoping it'll eventually swim away." [...]
Blood could generate body repair kit

New Scientist
19:00 26 November 03

A small company in London, UK, claims to have developed a technique that overturns scientific dogma and could revolutionise medicine. It says it can turn ordinary blood into cells capable of regenerating damaged or diseased tissues. This could transform the treatment of everything from heart disease to Parkinson's.
If the company, TriStem, really can do what it says, there would be no need to bother with conventional stem cells, currently one of the hottest fields of research. But its astounding claims have been met with bemusement and disbelief by mainstream researchers.
TriStem has been claiming for years that it can take a half a litre of anyone's blood, extract the white blood cells and make them revert to a "stem-cell-like" state within hours. The cells can be turned into beating heart cells for mending hearts, nerve cells for restoring brains and so on.
The company has now finally provided proof that at least some of its claims might be true. In collaboration with independent researchers in the US, the company has used its technique to turn white blood cells into the blood-generating stem cells found in bone marrow.
When injected into mice, these cells migrated to the bone marrow and generated nearly all the different types of human blood cells, the team will report in the January edition of Current Medical Research and Opinion (vol 20, p 87), a peer-reviewed journal. [...]
Pensioners 'have better sperm than men of 20'
Ananova.com
12:50 Friday 28th November 2003
Twenty-year-old men have worse sperm quality than men of 60, according to a new Danish report. [...]
In a study of 1,000 men of all ages, Professor Bonde and his team found that, on average, younger men had lower quality sperm.
The average 20-year-old had half as many sperm as the average 60-year-old, and many of the younger men were close to infertile, he said.
Professor Bonde told the Expressen newspaper: "One explanation is that more and more woman are heavy smokers. We need more and better studies of how the foetus is affected during pregnancy."
Comment: Yes indeed, smoking is the problem. It couldn't possibly have anything to do with the multitude of poisons found in the air we breath, the water we drink, or the food we eat.
Pope meets Dalai Lama, very quietly
smh.com.au
November 29 2003
Pope John Paul met the Dalai Lama on Thursday but the Vatican, which has very thorny relations with China, gave the visit a low profile.
The name of the exiled spiritual leader of Tibet did not appear on the list of people received by the Pope in the Vatican's daily bulletin. [...]
US military expresses condolences for victim of hit-and-run by US soldier

SEOUL (AFP) Nov 29, 2003
The commander of US troops stationed in South Korea expressed condolences Saturday to the family of a South Korean woman who was killed in a hit-and-run road accident involving a US soldier.
A sedan driven by the US soldier ran into the side of a mini-car driven by a South Korean woman at an intersection in Osan, about 60 kilometersmiles) south of Seoul on Friday, Yonhap news agency said, quoting eye-witnesses.
Kee Kyeong-Sun, 22, died on the spot and four others in her car were injured.
The alleged driver in the other car, Sergeant Jerry Olken, assigned to the US air base in Osan, ran away shortly after the accident with two fellow US soldiers who were his passengers. [...]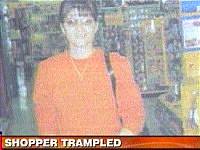 Woman Knocked Unconscious By Wal-Mart Shoppers
Witnesses: Shoppers Stepped Over Woman Having Seizure
Local6.com
November 28, 2003
ORANGE CITY, Fla. -- A 41-year-old woman was knocked unconscious and then trampled by a mob of shoppers who continued to step over her as she suffered a seizure during a Friday sale at Wal-Mart in Orange City, Fla., according to Local 6 News.
Authorities said that Patricia Van Lester arrived at Wal-Mart at 3 a.m. for an early sale on a DVD player for her mother. When the store's doors opened at 6 a.m., Van Lester grabbed the DVD player but was quickly overcome by hundreds of shoppers rushing into the store.
The woman was knocked to the ground, slammed her head on the ground and suffered at least one seizure, according to Local 6 News.
Her sister watched the incident and tried to stop the crowd as they made their way to the merchandise.
"I screamed, 'Stop, don't step on her, my sister is on the ground,' and nobody would listen," the woman's sister, Linda Ellzey said. "I've never seen so many people in a store at one time -- in one area. If there was a fire, nobody could've gotten out of there."
When paramedics arrived at the scene, they found the woman lying on top of the DVD player among shoppers who seemed to not even notice the unconscious woman on the floor, according to a witness. [...]
Comment: It's a good thing that Ms. Van Lester was laying on top of the DVD player. Otherwise, the crazed hoard of shoppers probably would have swiped it and ran to the checkout line. God bless America.
Dust-Up Over E-Vote Paper Trail
SAN FRANCISCO -- California election officials who oppose a paper trail for electronic voting machines appear to be gearing up for a fight with the state.
Angered by California Secretary of State Kevin Shelley's announcement Friday that all e-voting machines in the state must produce a voter-verifiable paper audit trail, the election officials released their own statement on the same day saying Shelley had "overstepped his bounds" and acted unilaterally by not consulting with county election officials. [...]
Comment: One would think they would be happy about any additional safe guards to protect democracy, unless of course that is not their main interest.
'Bloodvertising' to hit UK streets
Ananova
Advertisements in bus shelters for a new video game called Gladiator: Sword of Vengeance, will seep 'blood'.
The company behind the so-called Bloodvertising say the adverts will be put up around the country in two weeks time.
Acclaim Entertainment say the game, set in the year 106AD, is the bloodiest ever.
In the adverts, cartridges of red dye will be placed behind clear sheets of film and released over a six-day period. The 'blood' will slowly appear to spill out on the streets and drip onto the pavements. The adverts will remain for a week.
The company say they have been cleared to erect the posters and have employed cleaners to clean the dye off the footpaths at the end of the week.
Shaun White, Communications Manager at Acclaim, said: "The concept of 'Bloodvertising' ties in with our marketing strategy and sticks to the theme of blood and carnage which is consistent throughout the Gladiator video game."
Man jailed for 'sadistic' attacks (New Zealand)
A Morrinsville man, who at one stage kept his flatmate on a leash during a five-month "sadistic ordeal", has been jailed for seven years.
In April 2002, Major Wilson, 35, took an 18-year-old man in as a boarder to work on his Morrinsville farm but then subjected him to months of cruelty, which Judge Robert Spear described as close to torture. [...]
Lansing, Indiana police seek photos in case of AMBER Alerts
BY PHIL ROCKROHR
Times Staff Writer
[...] "We're asking schools for a CD of photos of all their children," McDevitt said, explaining the program to parents at the District 215 board meeting. "That way we don't have to wait until we contact you or you get home from work (in the event of an emergency)."
District 215 attorneys said the program is legal, if parents agree to allow the district to provide the photographs, Superintendent Robert Wilhite said.
District 215 will likely ask parents to participate during school registration, he said.
McDevitt emphasized that supplying the photos will not be mandatory.
"This is not a Big Brother program," he said. "Lansing Police Department is not maintaining dossiers of your kids. We realize some parents, for whatever reason -- and I'm sure there are very legitimate reasons -- don't want us to have photos of their kids." [...]
Inside Job: Senate Computers Hacked
The Senate sergeant-at-arms has opened an investigation into Republicans obtaining and publicizing internal memos from the computer and network resources of two Democrats on the Senate Judiciary Committee. [...]
Hired guns bolstering CIA effort on terror
By Associated Press
WASHINGTON - The recent deaths of two paramilitary operatives tracking terrorists in Afghanistan opened a small window into one of the CIA's secret methods in fighting the war on terror: using guns-for-hire.
The agency has turned more frequently to contractors, often retired Green Berets or Navy SEALs, as it has worked to rapidly expand its covert paramilitary force, boosted by a big increase in funding in the two years since the Sept. 11 attacks. [...]
Children pegged as witches suffer at families' hands
By Sudarsan Raghavan
Knight Ridder News Service
BUKAVU, Democratic Republic of the Congo -After her mother married for a second time, Aline Kabila felt her life would be better. But in this war-ravaged nation, where poverty and superstitions are plentiful, her stepfamily saw her as a curse: another mouth to feed, another body to clothe.
So they branded the 11-year-old girl a witch. They starved her. They beat her. And when Aline's half-brother fell deathly ill, the family said she had cast a spell on him. [...]
Bringing the sun down to Earth: that's power
By Tim Radford in London
November 29, 2003
Europe's scientists hope to mimic the power of the sun and create limitless energy on Earth with the help of a $A14 billion experiment in southern France.
Ministers in Brussels have given the go-ahead for Iter, the world's biggest and most ambitious fusion reactor, at Cadarache near Aix-en-Provence.
It will be 10 years in the making and, in its 20-year operating life, researchers will experiment with a kind of slow hydrogen bomb in the hope of extracting vast amounts of clean energy from tiny amounts of heavy water.
Iter will replace Jet, the current joint European fusion research project, north-west of London. [...]
Biggest Star In Our Galaxy Sits Within A Rugby-ball Shaped Cocoon
Ever since 1841, when the until then inconspicuous southern star Eta Carinae underwent a spectacular outburst, astronomers have wondered what exactly is going on in this unstable giant star. However, due to its considerable distance - 7,500 light-years - details of the star itself were beyond observation.
This star is known to be surrounded by the Homunculus Nebula, two mushroom-shaped clouds ejected by the star, each of which is hundreds of times larger than our solar system. [...]
Ananova.com
14:45 Friday 28th November 2003
A remote tribe in the Brazilian jungle are now online after a charity gave them five battery-powered computers.
The Guarani tribe who live deep in the Atlantic jungle, near Angra dos Reis, have even come up with their own word for the internet.
The word they created, in their Tupi language, translates as "where you can put words, documents and knowledge".
The natives learnt how to use the computers in a week long course run by the charity which gave them the computers.
Volunteer Lucas Benite told Jornal Hoje: "Through the internet they can connect with other tribes and learn about the world. That is very important to them."
Tribe chief Veramirim, 92, commented: "I have always told my people to learn how to write but I also want to see them value our culture."
Genghis Khan's portrait found on ox horns
A craftsman in north China's Inner Mongolia Autonomous Region claims to have found mysterious portraits of the great ruler Genghis Khan ingrained in ox horns. [...]
---
Remember, we need your help to collect information on what is going on in your part of the world!
We also need help to keep the Signs of the Times online.
---

Check out the Signs of the Times Archives

Send your comments and article suggestions to us

---
Fair Use Policy
Contact Webmaster at signs-of-the-times.org
Cassiopaean materials Copyright ©1994-2014 Arkadiusz Jadczyk and Laura Knight-Jadczyk. All rights reserved. "Cassiopaea, Cassiopaean, Cassiopaeans," is a registered trademark of Arkadiusz Jadczyk and Laura Knight-Jadczyk.
Letters addressed to Cassiopaea, Quantum Future School, Ark or Laura, become the property of Arkadiusz Jadczyk and Laura Knight-Jadczyk
Republication and re-dissemination of our copyrighted material in any manner is expressly prohibited without prior written consent.
.