---
All is not well in Jewish religious circles it seems. The "spiritual leader" of the Sephardic Jews is calling the the "Aryan" Ashkenazi Jews (can we say "Zionists"?) the "root of all evil", although he has said in the past that all Arabs should go to hell aswell. As regards his comment on the Ashkenazi Jews, perhaps he is correct, but we would like to include a few others also, for example: ALL organised religion, the entire US administration (seen and unseen), Augusto Pinochet, and all other so called "leaders" that have sought to kill the truth and those that stood up for it.
Israel's policies were always based on violence, today we have historical proof to back it up, in spite of this Israel continues to insist on violence to solve the Iranian "problem" and US taxpayers just keep on shelling out money to make it happen.
Everybody loves a charade, or so you would think, as thick as propaganda is spread in the US. The truth is there, you just have to work your way through the spin. Why do so many journalists have a vested interest in maintaining the party line? For that matter, why do so many individuals have a vested interest in not examining their own beliefs? Planet earth is truly a strange place. Soon to be made even stranger by Tony Blair's upcoming "party political broadcast".
The US releases some Guantanamo detainees, and then fills up the empty cells with new prisoners from "an undisclosed location". A UK judge speaks out against the US prison camp in Cuba, calling it a "monstrous failure of justice". In Iraq, the America reveals that it has paid over $1.5 million to Iraqi families for wrongful death claims. Sounds like soldiers "liberated" too many civilians...
More on the Miami protest arrests. The FBI claims it isn't spying on dissenters, at least not for political reasons. Elderly protesters are telling their stories of abuse at the hands of the Police State. The Signs team is beginning to wonder if a day can go by, without some press release about new Police State technology. Today's reports concern monitoring patches applied with lasers, and genetically engineered, human organism patents.
Meanwhile, another al-Qaeda threat against the US emerges - this time it's poison gas in subways. Scared yet? If not ask a Turk, if you remember, the CIA and/or Mossad staged two terror attacks there last week, and now another is "imminent" according to the British foreign office - and let's face it, they should know.
A new UK study proves that everyone has been poisoned, and if that doesn't get you then the parasites will. The Sun has a thanksgiving special in store, "strange shapes" sighted for years in Alabama, and the "unexplained" sighted in Idaho.
US immigration is up, AIDS spreads, and world hunger is rampant, apart from one Indian fakir who gave up eating and drinking years ago.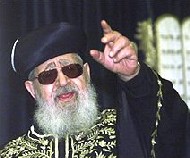 Jewish tensions boil over
Wednesday 26 November 2003
Attacks on two synagogues and a school have caused various Jewish groups around the world to start blaming each other for deteriorating security.
The spiritual leder of Israel's ultra-Orthodox Shas party for Sephardic Jews has accused Ashkenazi Jews of being the source of all evil, according to the Maariv daily on Wednesday.
Rabbi Ovadia Yosef said during a lecture on the Torah in Jerusalem that "all evil stems from the Ashkenazis".

The 80-year-old rabbi is not a representative of some fringe movement - Shas has 11 MPs in the 120-member Israeli parliament.
The party claims to represent Sephardic Jews from the Mediterranean and Middle East and Rabbi Yosef is considered a leading expert on the Torah.
Fire and brimestone
The religious scholar has previously caused controversy with a speech in which he called for Arabs to go to hell.

But this time he targeted Israel's Ashkenazi Jews – who migrated from central and eastern Europe following World War II.

"You the Jewish Ashkenazis, you have been in the West, in hell. Why did you come here? What you say or do is of little importance," he said.
Internationally, tensions are just as high.
Scores of self-styled "Torah True Jews" based in the United States have criticised Israel's continuing attempt to refer to itself as 'the Jewish State'.
Jewish anti-Zionists
In a high profile email campaign last Wednesday, thousands of people received a stark warning of "the danger Zionists were placing on Jews worldwide".
Rabbi Dovid Feldman told Aljazeera.net that a silent majority of Jews opposed the Zionist ideology which led to the creation of modern Israel.

Feldman claims there are many more rabbis and others who sincerely practice their faith that hold similar opinions all round the world.
The message urged would-be-emigrants not to believe that events in Istanbul or France "make it necessary for Jews to leave their native countries and move to the most dangerous place on Earth for the Jewish People." [...]
Comment: It would seem that at least one of the reasons for Sharon falsely claiming that "a wave of anti-Semitism is sweeping Europe" is to scare European Jews back to Israel. While we believe that all organised religion essentially constitutes the "opium of the masses", we feel it necessary to highlight the fact that contrary to what Sharon and the "Zionists" might say, they do not in fact speak for the ordinary Jew. See here for a list of web sites opposed to current Israeli policy.
U.S. to trim Israeli loan package over settlements, fence
Nathan Guttman, Haaretz Correspondent
26/11/2003
The Bush administration has announced that it will trim $289.5 million from a $9 billion package of loan guarantees for Israel, penalizing Israel for its settlement activities in the territories.
In talks held Tuesday morning between Prime Minister Ariel Sharon's bureau chief Dov Weisglass, U.S. National Security Advisor Condoleezza Rice and Israel's ambassador to the U.S. Danny Ayalon, it was agreed that the cut would also set off Israel's investments in several segments of the West Bank security fence, but these investments would be defined in a separate clause of the U.S. decision.
Responding to the loan guarantee decision, Likud cabinet minister Tzipi Livne said Wednesday that in talks with U.S. officials, Israel should offer a "package deal," in which Israel would insist on a fence route incorporating as many settlers as possible, while showing more willingness to remove illegal outposts.
The loan guarantee calculation includes the sums that the Israeli government has spent in the West Bank and Gaza Strip both on infrastructure and on the security fence, but does not include investments defined as "security investments."
Ayalon told The Associated Press on Tuesday he was satisfied that an agreement had been reached and "this will enable Israel to go ahead and raise the rest of the loan guarantees." He said the resolution "proves again the closeness of the relationship and the mechanism of close dialogue."
National Security Council spokesman Sean McCormack said the agreement "acknowledges U.S. policy concerns and U.S. law regarding activities in the West Bank and Gaza and is a reflection of close and continuing consultations between our two governments."
Comment: As punishment for its continued breaches of international law and the Geneva Convention, the US "shaves" (and it really is a close shave) just 3.22% off the "loan" of US$9 billion to Israel, and then proceeds to snuggle up to the brutal Israeli regime. Takes one to know one after all.
Israel's Self-Defeating Policy of Oppression
Mr. Shlaim is a Fellow of St Antony's College and Professor of International Relations at the University of Oxford. He is author of The Iron Wall: Israel and the Arabs (Penguin, 2000), and co-editor, with Eugene Rogan, of The War for Palestine: Rewriting the History of 1948 (Cambridge University Press, 2001).
In 1923 Ze'ev Jabotinsky, the founder of Revisionist Zionism, published an article entitled "On the Iron Wall." He argued that Arab nationalists were bound to oppose the establishment of a Jewish state in Palestine. Consequently, a voluntary agreement between the two sides was unattainable. The only way to realize the Zionist project was behind an iron wall of Jewish military strength. In other words, the Zionist project could only be implemented unilaterally and by military force.
The crux of Jabotinsky's strategy was to enable the Zionist movement to deal with its local opponents from a position of unassailable strength.
The iron wall was not an end in itself but a means to an end. It was intended to compel the Arabs to abandon any hope of destroying the Jewish state. This was to be followed by a second stage: negotiations with the Arabs about their status and national rights in Palestine. In other words, Jewish military strength was to pave the way to a political settlement with the Palestinian national movement which laid a claim to the whole of Palestine.
The history of the State of Israel is a vindication of the strategy of the iron wall. The Arabs -- first the Egyptians, then the Palestinians, then the Jordanians -- learned the hard way that Israel could not be defeated on the battlefield and were compelled to negotiate with her from a position of palpable weakness. The 1993 Oslo accord between Israel and the PLO was a major turning-point in the 100-year old history of the conflict over Palestine. It marked the transition from the first to the second stage of iron wall strategy, the transition from deterrence to negotiations and compromise. By signing the Oslo accord, Israel and the PLO agreed to two things: they agreed to the territorial partition of Palestine, and to settle their outstanding differences by peaceful means.
The Palestinians believed that by giving up their claim to 78 percent of pre-1948 Palestine, they would gradually gain an independent state stretching over most of the West Bank and stood to gain the Gaza Strip with a capital in East Jerusalem. Seven years on, the Palestinians are bitterly disappointed with the results of the historic compromise which they struck on the lawn of the White House with the leaders of the Jewish state.
The Oslo peace process has broken down essentially because Israel reneged on its side of the bargain. The most blatant transgression against the spirit, if not the letter, of the Oslo accord has been the expansion of the illegal Jewish settlements on the West Bank and the construction of more and more roads to connect them with Israel. These settlements are a symbol of the hated occupation, a constant source of friction, and a threat to the territorial contiguity of a future Palestinian state. They demonstrate that Israel has not been negotiating in good faith and that its real intention is to repackage rather than to end the occupation.
With the election of Ariel Sharon Israel regressed to the first stage of the iron wall strategy with a vengeance. [...]
Comment: Historically, we can see that Zionist plans always centered around violence. Now, the US is going around on a leash beating Arabic countries into submission. Both US and Israel are probably thinking they are using each other for their own ends. Who will win out in the end? We are all being set up: Jews, Arabs and all the other ethnicities that grace the earth, and we are all likely to be caught in the crossfire as various factions fight out for the top spot in the pyramid hierarchy. How many Individuals will begin to SEE what is going on? Just examine all the resources being expended to fool you. What you see must be important.
Iran slams Israeli efforts against nuke program
TEHRAN, Nov 25 (AFP) - Iran on Tuesday slammed Israel's campaign to convince the world that the Islamic republic is intent on acquiring a nuclear weapon.
"The falsification of the facts and negative propaganda about Iran's civilian nuclear activities are totally motivated by the hostility of the Zionist regime," foreign ministry spokesman Hamid Reza Assefi told the student news agency ISNA.
"The Zionist regime is seeking, via political tactics and false statements, to disturb the atmosphere of the board of governors' meeting," he said, referring to a session Wednesday of the 35-member board of the Vienna-based International Atomic Energy Agency (IAEA) on Iran's nuclear activities. [...]
Earlier this month, Mossad chief Meir Dagan told MPs that Iran's nuclear programme posed the biggest threat to Israel's existence since the country was created in 1948.
Youths wounded in Israeli raids
Wednesday 26 November 2003
Israeli forces have made several arrests in the Hebron area

Two Palestinian youths have been wounded by Israeli occupation soldiers who invaded the Hebron district of Yata.
According to an Aljazeera correspondent in the town, Israeli forces on Tuesday besieged a house and opened fire.
A youth, Muhammad Abu Aram, reportedly wanted by the Fatah movement, was wounded and later arrested.
Another Palestinian teenager was also wounded in the town during a confrontation with the army.
Earlier, Israeli forces launched a similiar attack in eastern Jenin city, opening heavy fire randomly.
The forces surrounded a group of Palestinian houses in the area and searched them. They claimed they were looking for "wanted Jenin activists", eyewitnesses told Aljazeera's correspondent in Jenin. [...]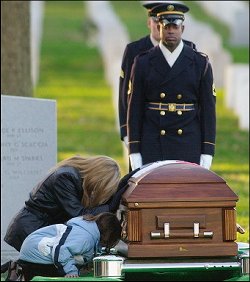 U.S. Seen Making Mistakes of Past Colonizers

By Andrew Hammond
Tue November 25, 2003 06:54 AM ET
BAGHDAD (Reuters) - U.S. efforts to give Iraqi Sunni Muslims more involvement in running the country in a bid to quell resistance in Sunni areas may just deepen resentment toward the occupying powers, analysts say.
"The main trick of any colonial power in the world is divide and rule. We know it: they are trying to divide us," said Wamid Nazmy, a politics professor at Baghdad University. [...]
Political analyst Saad Jawad said history was repeating itself. "When the British came to Iraq in the First World War they made the mistake of giving power to the Sunni community," he said, noting the British soon faced rebellion. [...]
"The majority of people in Iraq don't accept the leadership of people coming from abroad, even if they are good people," Jawad said. "The people who lived here suffered the wars and sanctions, unlike exiles who were all the time outside and 99 percent of whom are seen as American stooges." [...]
US pays up for fatal Iraq blunders
Over 10,000 claims but families must waive rights
Rory McCarthy in Baghdad
The Guardian
Wednesday November 26, 2003
The US military has paid out $1.5m (£907,000) to Iraqi civilians in response to a wave of negligence and wrongful death claims filed against American soldiers, the Guardian has learned.
Families have come forward with accounts of how American soldiers shot dead or seriously wounded unarmed Iraqi civilians with no apparent cause. In many cases their stories are confirmed by Iraqi police investigations.
Yesterday the US military in Baghdad admitted a total of $1,540,050 has been paid out up to November 12 for personal injury, death or damage to property. A total of 10,402 claims had been filed, the military said in a brief statement to the Guardian. There were no figures given for how many claims had been accepted. [...]
BAGHDAD, Iraq - A major pipeline linking oilfields in northern Iraq to the country's biggest refinery was ablaze Wednesday, witnesses said.
Sheets of flame and thick black smoke were shooting from the damaged line next to the desert highway near the village of Sharqat, about 30 miles north of Beiji, the site of Iraq's largest oil refinery, witnesses said.
From correspondents in Washington
The Australian
November 26, 2003
US Defence Secretary Donald Rumsfeld and his top military adviser today said they had evidence the Arab television news organisations Al-Jazeera and Al-Arabiya cooperated with Iraqi insurgents to witness and videotape attacks on American troops.
Rumsfeld said the effort fit a pattern of psychological warfare used by remnants of the Baathist government, who want to create the impression that no amount of US firepower can end the insurgency. [...]
Pressed for details, Rumsfeld and General Richard Myers, chairman of the Joint Chiefs of Staff, both indicated that US forces in Iraq had collected more than just circumstantial evidence that one or both of the Arab news organisations might have cooperated with the attackers. [...]
Neither Rumsfeld nor Myers provided details of any evidence. [...]
Yesterday, the US-appointed Iraqi Governing Council in Baghdad raided the offices of Al-Arabiya television, banned its broadcasts from Iraq and threatened to imprison its journalists.
Media groups said the action called into question the future of a free press in the country. [...]
Comment: This sounds like propaganda to us. If it were true that these television stations knew when attacks would occur, why wouldn't the US infiltrate or bug the stations to gather intelligence? Furthermore, if US forces are firmly in control in Iraq, why does some TV station know more about what's going on than US commanders? Then again, perhaps Rummy just needed a reason to seize control of the rest of the Iraqi media.
U.S. soldier accused of beating Iraqi prisoners says, 'It is war'
11/25/2003 1:33 PM
PHILADELPHIA (AP) — One of four American MPs charged with beating prisoners of war at a detention camp in Iraq said Tuesday: "We were doing our jobs. ... It is war. It is not back home where everybody is safe."
Shawna Edmondson, a 24-year-old Army reservist, accepted a demotion and a discharge rather than face a court martial, and returned to her hometown in northeastern Pennsylvania last week.
Three other members of Edmondson's Military Police unit refused to accept a plea bargain and are on restricted duty in Kuwait. They could go to jail if convicted of abuse and misconduct.
Fellow soldiers testified that the four Pennsylvania reservists punched and kicked prisoners who were being brought to an American camp in southern Iraq on May 12. One prisoner suffered a broken nose.
One soldier said that during the attack, a beaten prisoner was "screaming for his life." Another testified that Edmondson told her that the attack was to "teach the prisoner a lesson on how to treat women."
The reservists have said they were acting in self-defense. [...]
US releases 20 held at Cuban base
AP in Washington
The Guardian
Tuesday November 25, 2003
The US has returned 20 people held at Guantanamo bay in Cuba to their countries of origin - only to bring in 20 new prisoners from an undisclosed location.
This means the US naval base still holds some 660 people suspected of terrorism, many seized two years ago in Afghanistan and Pakistan. So far 84 have been released in their countries, and four have been transferred to Saudi prisons.
The defence department had decided the 20 "either no longer posed a threat to US security or no longer required detention", said a Pentagon statement yesterday. [...]
UK judge condemns U.S. over Guantanamo
Tue 25 November, 2003 22:20

LONDON (Reuters) - One of Britain's most senior judges has condemned the United States for its "monstrous failure of justice" in holding prisoners at the U.S. base at Guantanamo Bay in Cuba.
Law Lord Johan Steyn will say in a speech in London, released to Channel 4 news, that the prisoners are being held illegally.
"The purpose of holding the prisoners at Guantanamo Bay was and is to put them beyond the rule of law, beyond the protection of any courts, and at the mercy of victors," Steyn will say. [...]
"The procedural rules do not prohibit the use of force to coerce prisoners to confess," Steyn's speech said.
"The blanket presidential order deprives them all of any rights whatsoever. As a lawyer brought up to admire the ideals of American democracy and justice, I would have to say that I regard this as a monstrous failure of justice." [...]
A U.S. federal judge has ruled that foreign detainees are not entitled to appeal in U.S. courts against their detention without trial or charges because the base is not U.S. territory, although the U.S. Supreme Court is to hear an appeal on this.
Comment: Coincidence? We think not.
Guantanamo chaplain charged with porn offences
Ananova.com
21:43 Tuesday 25th November 2003
A Muslim chaplain who served at the US prison camp in Guantanamo Bay has been charged with adultery and storing pornography on a government computer. [...]
Adultery is a crime under the uniform code of military justice. [...]
Protesters Say Miami Police Abused Them
By RACHEL LA CORTE, Associated Press Writer
Tue Nov 25,11:56 PM ET
MIAMI - Civil rights groups complained Tuesday that police at last week's trade talks abused protesters — some senior citizens — by arresting them without cause and denying them restrooms, water and phones.
Meanwhile, the national steelworkers union called for a congressional investigation and the removal of Miami police Chief John Timoney over the treatment of its members during the protests, and several groups said they will sue the city.
"Police failed. The City of Miami failed," said Deborah Dion, the AFL-CIO's campaign coordinator. [...]
Elderly protesters allege abuse at hands of police
RACHEL LA CORTE
Associated Press
MIAMI -Civil rights groups complained Tuesday that police abused demonstrators during last week's trade talks, arrested them without cause and denied them restrooms, water and phones.
Meanwhile, the national steelworkers union called for a congressional investigation and the removal of Miami police chief John Timoney over the treatment of its members during the protests, and several groups said they will sue the city. [...]
Comment: One person is quoted in the above article as saying, "The way I was treated, you would expect it in a third world country, not in this country," perhaps ignorant of the fact that the US created those conditions in the so called third world. From the article, Top cop on the front lines, we discover that:
Civil liberties groups and unions complained of unlawful arrests and violations of their constitutional rights. But almost as soon as the pepper spray settled over downtown this week, local leaders declared a major law-enforcement victory.

They claimed that Miami authorities set a standard for how to deal with the kind of volatile protests that have scarred cities such as Seattle, Washington, Philadelphia and Cancún.
Great, look for concussion grenades, taser guns, rubber bullets and tear gas to become the norm. We will never know for sure who are the COINTELPRO agents and who are the protestors. On June 11, 2002 the jury in a federal civil rights lawsuit against four FBI agents and three Oakland police officers awarded the plaintiffs, Earth First! activists Darryl Cherney and the late Judi Bari, $4.4 million for violation of the activists' constitutional rights. AMERICA'S SECRET POLICE: FBI COINTELPRO in the 1990s:
[O]n May 24, 1990, a shrapnel-wrapped car bomb went off under noted Earth First! activist Judi Bari's car seat, nearly killing her and injuring fellow organizer Darryl Cherney. Even more frightening to Bari, as she woke up in the hospital intensive care unit under armed guard, was the realization that a major FBI "counterintelligence" operation against Earth First! was underway.

Within minutes of their arrival on the scene of the blast, the FBI was falsely characterizing nonviolent environmental organizers Bari and Cherney as "terrorists". Within hours, the Oakland Police Department had arrested and detained them for transporting explosives. It was not enough that the two leaders had been physically blown up; the FBI immediately began to orchestrate a disinformation campaign designed to discredit and imprison these activists and destroy Earth First!
Guess who placed the car bomb? No one can say for sure except the bombers, but COINTELPRO was attempting to associate the environmentalists with explosives and terrorism.
Fragments of the Future: The FTAA in Miami

November 25, 2003
TomDispatch.com
by Rebecca Solnit

The future was being modeled on both sides of the massive steel fence erected around the Intercontinental Hotel in downtown Miami last Thursday. Inside, delegates from every nation in the western hemisphere but Cuba watered down some portions of the Free Trade Area of the Americas (FTAA) agreement and postponed deciding on others in an attempt to prevent a failure as stark as that of the World Trade Organization ministerial in Cancun two months before. Outside, an army of 2,500 police in full armor used a broad arsenal of weapons against thousands of demonstrators and their constitutional rights."Not every day do you get tear-gassed, pepper-sprayed, and hit in the face," said Starhawk, a prominent figure in the global anticapitalism movement, who experienced all three Thursday.
Since the Seattle surprise of 1999, it has become standard procedure to erect a miniature police state around globalization summits, and it's hard not to read these rights-free zones as prefigurations of what full-blown corporate globalization might bring. After all, this form of globalization would essentially suspend local, regional, and national rights of self-determination over labor, environmental, and agricultural conditions in the name of the dubious benefits of the free market, benefits that would be enforced by unaccountable transnational authorities acting primarily to protect the rights of capital. At a labor forum held the day before the major actions, Dave Bevard, a laid-off union metalworker, referred to this new world order as "government of the corporations, by the corporations, for the corporations."
The corporate agenda of NAFTA and related globalization treaties is demonstrated most famously by the case of MTBE, a gasoline additive that causes severe damage to human health and the environment. When California phased it out, the Canadian corporation Methanex filed a lawsuit demanding nearly a billion dollars in compensation from the US government for profit lost because of the ban. Under NAFTA rules, corporations have an absolute right to profit with which local laws must not interfere. Poisoning the well is no longer a crime; stopping the free flow of poison is. [...]
FBI Publicly Denies Spying on Protesters
By CURT ANDERSON, Associated Press Writer
Wed Nov 26,12:01 AM ET
WASHINGTON - Senior FBI officials took the unusual step Tuesday of publicly declaring that agents are not using the war against terrorism as a cover to collect information on people who demonstrate against the government.
John Pistole, assistant FBI director for counterterrorism, told The Associated Press in an interview that recent allegations by civil liberties groups and some members of Congress about such an intelligence effort are "flat-out wrong."
"We have to have some type of predicate, some foundation, some basis for saying, 'This person poses some type of threat,'" Pistole said. "The endgame is not to collect intelligence for political purposes. The endgame is to prevent terrorism or criminal activity." [...]
Comment: Mr. Pistole conveniently neglects to discuss the real concern of civil liberties groups. The real concern is that due to the Patriot Act, ANY group or person can be labeled a terrorist and be locked away - or much worse. These "terrorists" can be investigated by the FBI without a warrant due to recent upgrades to the Patriot Act.
25 Arrested in JFK Airport Drug Case

AP
November 25, 2003, 3:35 PM EST
A network of Kennedy Airport baggage handlers smuggled tens of millions of dollars worth of cocaine and marijuana into the United States by exploiting its access to airplanes and cargo, federal officials charged Tuesday.
Twenty-five people, nearly all current or former employees at Kennedy, were arrested and faced arraignment at federal court in Brooklyn on Tuesday afternoon on charges of conspiring to import controlled substances, prosecutors said. [...]
"A network of corrupt airport employees, motivated by greed, might just as well have been collaborating with terrorists," the investigator, Michael J. Garcia, acting assistant secretary of the Bureau of Immigration and Customs Enforcement, said in a statement. [...]
Net immigration rises by millions
By Jerry Seper
THE WASHINGTON TIMES
November 26, 2003
Net immigration to the United States rose dramatically by 1.4 million in each of the past two years, about half a million of whom were listed as illegal aliens, a report said yesterday. [...]
Protests mark Bush's first visit to Las Vegas as president
Al-Qaida terrorists to gas U.S. subways?
Homeland Security memo warns of device that uses cyanide to asphyxiate its victims
By Paul Sperry
WorldNetDaily.com
November 25, 2003 9:00 p.m. Eastern
WASHINGTON – Al-Qaida terrorists have developed a crude device designed to spread deadly cyanide gas through the ventilation systems of crowded indoor facilities such as subways, according to a closely held security directive issued to law enforcement by the U.S. Department of Homeland Security and obtained exclusively by WorldNetDaily.
"Al-Qaida remains intent on using chemical or biological agents in attacks on the homeland," says the internal warning. "Terrorists have designed a crude chemical dispersal device fabricated from commonly available materials, which is designed to asphyxiate its victims."
Marked "For Official Use Only," the five-page memo issued Friday says the device produces cyanogen chloride gas and hydrogen cyanide gas, and can be placed near air intakes or ventilation systems in crowded open spaces or enclosed spaces. [...]
Terrorist attacks in Turkey 'imminent' says UK foreign Office

By Danielle Demetriou
26 November 2003
Further terrorist attacks in Turkey were described yesterday as "imminent" by the Foreign Office as Britons were urged to avoid travelling to major cities in the country.
The warning came as nine people appeared in court in Istanbul in connection with the twin suicide attacks on British targets which killed 30 and injured more than 450.
The suspects, who were detained as suspected accomplices to the suicide bombers, were charged with membership of an illegal organisation which carries up to five years in prison. As authorities continued their investigations, the Foreign Office said that intelligence had been received suggesting further terrorist attacks in Turkey. Travel advice to Britons was revised to warn against all but the most essential travel to major Turkish cities. "We have information to suggest that further attacks may be imminent in Istanbul and Ankara," it read
Threat of nuclear war blows in the wind as Rumsfeld calls for mini-nukes
by Gordon Thomas
There is no description like it:
"In the first milli-second, a pinprick of purplish-red light expanded to a growing fireball hundreds of feet wide. The temperature at its core was 50,000,000 degrees centigrade. The flash heat started fires a mile away and burned skin two miles distant. Stone columns were rammed straight down into the ground. People were vaporised. Sixty-two thousand other buildings, out of a total of 90,000, were destroyed. All utilities and transportation services were wrecked. One hundred and eighty of the city's 200 doctors and 1,564 of its 1,780 nurses were dead or dying. Eighty thousand other people were killed instantly. "Almost all this happened in the time it took me to blink behind the goggles. Below, on the ground, granite was melting and the shockwave had created fireballs and screaming hailstorms. A seething mass of red and purple began to rise into the sky. The column was sucking into its base super-heated air which set fire to everything combustible. Beside me, my co-pilot, Bob Lewis, was saying 'my God what have we done'."
The words are those of Colonel Pat Tibbets, the pilot of the aircraft Enola Gay which dropped the first atomic bomb on August 6, 1945. This week, they are a stark warning as Donald Rumsfeld pushed for mini-nukes to be added to America's arsenal of nuclear weapons to fight terrorists and "rogue states" like North Korea and Iran.
But Pentagon strategists say it might only take a faulty computer chip to register a missile launch by North Korea and the consequences would be all-out nuclear war. "The country has still some way to go to perfect its nuclear capability," said Donald Rumsfeld in Japan this week. The one mechanism that, until now, prevented a nuclear holocaust was the "hot-line" set up in 1963 between the White House and the Kremlin. It is now in cold storage. A risk not initially anticipated by the US and Soviet commanders had been that of a false alarm – an early warning system detecting a missile launch that has not occurred. When it happened several times, and before it was established to be untrue, each side had nervously watched the other's nuclear readiness and mobilised their forces. In the early days of the nuclear arms race, a quickly accelerating situation often led Washington or Moscow to considering a pre-emptive strike as the only way to deal with the threat it believed it faced. [...]
This week, R V Ramsana, an Indian nuclear physicist, has also reminded us of a doomsday scenario if Pakistan was to release a 12 kiloton warhead – the same power as the one Tibbets released over Hiroshima – and explode it over Bombay. Ransana postulates: "Up to 860,000 will die from a single missile strike. They would mostly be vaporised in one flash. Depending on wind direction and the location of the blast, millions more could be exposed to fatal radiation. Apart from the human casualties, the environmental consequences would be of the utmost gravity. Radiation would rise into the stratosphere to 30,000 feet. It could be carried for 2,000 miles. The impact on the world economy would be far, far greater than in the aftermath of September 11.""There's a lot of potential for this idea of Rumsfeld's spiralling out of control," warned David Alberton, a leading nuclear expert, "enough mini-nukes could create the same catastrophe". He is not alone in believing that. A nuclear conflagration would, according to M V Ransana's 57-page study of the likely effects of his envisioned nuclear attack, could cost 12 million lives. Mr Rumsfeld should read the report. And ponder. It's high time he did.
Comment: It is more likely that Rumsfeld already read the report and responded by rubbing his hands with glee.
By Paul Edwards
t r u t h o u t | Perspective
Tuesday 25 November 2003
President Bush, as the world and many Americans have long known, is a fraud and a liar. Sadly, that's no big surprise. American presidents have a long tradition of mendacity that has ranged from the quirky and trivial to the unpardonable and even treasonous.
Some Presidential lies have been simply personally disgraceful and ridiculous, as was Clinton's brazen denial of sex at the office; others have been of such monstrous gravity that they have shaken the presidency and jeopardized the nation.
Nixon's lies in the Watergate crime were of that profoundly damaging kind. He authorized a burglary of political opponents' offices, his thugs were caught, and he used the full power of his Presidency to attempt to hide his guilt. These were the brazen tactics of a power-addled dictator. Legally thwarted and exposed, he resigned to avoid certain impeachment.
The Reagan-Bush Iran/Contra crime was comparable. Reagan knowingly broke the law in arming Contra mercenaries in Nicaragua and was exposed by Ollie North's blundering attempt at bribing hostile Iran. Reagan stonewalled and let underlings take the fall, and a cowardly, corrupt Congress preferred to let our constitution sustain a massive insult rather than to punish a simple-minded, dangerous, and criminal President.
We Americans are now confronted with the monstrous lies of George W. Bush and we must decide what has to be done about them. It is not as if there had been only one. The Bush presidency has been built and sustained on a basis of outrageous falsehoods and cynical deceptions in every area of public policy.
He lied to the nation about his fiscally insane Tax Cuts For Tycoons. Struggling working families get chump change as the top 1% of the super-wealthy reaps huge windfalls.
He lied in affecting support for working people when his labor policy is calculated to emasculate unions and to abuse, exploit and impoverish the working middle class.
He lied in claiming energy independence must come from raping our last wild lands for gas and oil, spurning solid viable technologies that could end fossil fuel addiction now.
He lied about supporting our soldiers, crafting an $87 billion boondoggle for his giant corporate backers to "rebuild" the Iraq he ordered our troops to fight and die to destroy.
He lied about fires in his Stealthy Forest Act, exploiting public fear to promote high-grading of our last old growth rather than protecting the urban-wildland interface.
He lied about supporting fairness and equity on the Federal courts while he has fought fiercely to pack them with ignorant, blatant racists and rabid, sexist zealots.
He lied about domestic security to pass the egregious Patriot Act that has blasted our Bill of Rights, eroded civil freedoms, invaded our privacy, and made us all potential suspects.
So many lies... but the lie that was far the most cynical, most despicable, most criminal of all, is the lie that caused America to break two hundred years of honorable tradition to invade, without provocation or cause, a small, weak, devastated and tyrannized country.
Bush told us Saddam had Weapons of Mass Destruction and was threatening to attack America. This was the paramount, indeed, the single solid justification for his war.
While the world implored him to give U.N. inspectors time to find the WMDs he swore were there, Bush refused on the grounds that an attack by Saddam on America was not only likely, but imminent. He implied, and led Americans to believe, that Saddam and Osama bin Laden were allies when they were, and always had been, bitter enemies.
After the bludgeoning of an already prostrate Iraq, the world waited for evidence, for the discovery that was to have justified this brutal blitzkrieg. It never came. And it never will, because there were no WMDs and never had been. Bush lied to goad Americans to a climax of fear and fury so as to launch a baseless, shameful assault for which we will answer to our consciences, our children, and the world, for as long as our country exists.
The Constitution cites "high crimes and misdemeanors" against the state as grounds for impeachment. Could there be any higher crime against the American people than to have knowingly deceived us in order to stampede us into an act of barbarism that has betrayed our finest ideals, our highest ethical standards, our national honor, and our whole history?
Now, as the web of lies that created the Iraq disaster collapses in the light of bitter, incontrovertible truth, and the unending cortege of our dead and wounded young people continues to come home to hospitals and graveyards, we are asked to forget Bush's lies. We are told by cynics and moral defectives that his monstrous lie about WMDs didn't matter. We are told that eliminating its dictator was reason enough to bludgeon Iraq and to kill, maim and brutalize its stunned and powerless people.
Facing a furiously rising national rebellion and clear evidence that we are justly blamed, hated, and seen as the enemy by the Iraqi people, we are asked to swallow the horror of this deception, to accept what has been inflicted on Iraq and on us, with all its bloody, bankrupting consequences, and to authorize, by our silence, cowardice and quiescence, the continuation of this grisly nightmare, and of our sociopathic appointed figurehead's odious misrule.
I submit that Bush has committed the vilest, most cynically depraved act of betrayal of the American people in the history of the Presidency.
Nothing less than impeachment, with the conviction that must inexorably follow, can begin to address the damage and redress the harm this President and his amoral handlers have inflicted on America.
God help us as a country if we allow this cancer of mendacity to continue to consume us.
Senate Committee sidelines staffer accused of stealing files from Democrats

AFP
Wednesday November 26, 2:41 PM

The chairman of the Senate Judicary Committee said at a press conference that a Republican staff member has been placed on administrative leave without pay in connection with a probe into how memos written by Democratic aides were leaked to two US newspapers.
"It is with deep regret I must report today the interviews conducted to date have revealed that at least one current member of the Judiciary Committee majority staff had improperly accessed at least some of the documents referenced in the media reports and which have been posted on the Internet," Hatch said. [...]
His comments came as the investigation by the Senate's Sergeant-at-Arms, the body's chief law enforcement office, continued Tuesday into how the memos were improperly accessed and circulated.
The memos written by staffers working for several senior Democrats on the Judiciary Committee, detailed Democrats' strategy to block confirmation of several White House judicial nominees. [...]
Blair will use broadcast to seek support for reforms
Ben Russell and Marie Woolf
26 November 2003
Tony Blair will make a direct appeal to voters today to back his controversial legislative programme at the start of his most bruising year in power.
The Prime Minister's highly contentious Bills, to be outlined in the Queen's Speech, ranging from university top-up fees to House of Lords reform and sweeping anti-terrorist powers, are likely to fuel dissent among Labour MPs, opposition from the Tories and unrest in the House of Lords. Ministers are also likely to face problems over legislation to crack down on failed asylum-seekers and plans to form a supreme court and abolish the 1,400-year-old post of Lord Chancellor.
Mr Blair will use a party political broadcast to promote his policy agenda and will appeal directly to the public to take part in a national consultation on the direction of policy, to be launched on Friday.
"Britain is changing for the better. The economy is strong, schools and hospitals are improving. Crime is falling,"he will say. "But I know we can do even better. So we want to begin a conversation with you about how ... we can make the future fair ... for everyone." It will feature a 12-year-old girl asking questions on issues such as crime, schools and hospitals.
She then meets the Prime Minister and asks him: "Well Mr Blair, what are you going to do to make our future better?" He replies: "Well, you can come and sit down and we'll have a talk about it."
Mr Blair will also face fury from MPs and peers over a Bill to remove the remaining 92 hereditary peers from the House of Lords, essentially forming an all-appointed upper chamber, despite widespread calls among reforming MPs for a strong elected element.
Six of the 12 law lords have also expressed their concerns at separate constitutional reform proposals to remove them from the House of Lords and found a supreme court.
Comment: A "party political broadcast" in the UK is a 10-15 minute television production by political parties, usually featuring the party leader talking about how wonderful the party is and all the things it can do for the people and country. Labour's upcoming broadcast as mentioned above appears to sink to new lows of manipulation and mind control. Blair begins by making sweeping general statements about the state of British society which are wholly untrue, it matters not to him however, he realises that all he needs to do is state these things and the message is subtly implanted in the fawning population.
He then moves on to some visual programming with a cute little girl with a concerned look on her face asking "what are you going to do to make our future better". Blair need not even respond since the NLP has already been delivered to the public, who due to the girl's question, the public already associate "making the future better" with Blair. However just to be sure and to complete the deception, Blair, in the almost biblical images of the benevolent father suggests that they "sit down and have a nice talk about it. How lovely...well actually, how sick...
Euro zone in crisis after deficit deal
Financial Review
2003/11/26
The European Union was plunged into bitter recrimination on Tuesday after finance ministers let France and Germany off the hook for repeatedly breaking the euro zone's strict budget rules. [...]
The accord, endorsed by ministers from all 15 EU nations, suspended "for the time being" disciplinary measures against Paris and Berlin for failing to get their public deficits under 3.0 per cent of gross domestic product (GDP). [...]
Reuters in Miami
Wednesday November 26, 2003
The Guardian
Augusto Pinochet, Chile's former dictator under whose rule 3,000 suspected communists died and thousands more were imprisoned and tortured, said yesterday that he had always been a democrat and had no regrets.
Miami's Spanish language television channel, WDLP-22, said the frail former general also asserted in a rare interview that he was "an angel" who had always acted for love of his country.
"I never aspired to be a dictator because I considered that to be a dictator would end badly," Gen Pinochet, 87, said from his home in Santiago. "I always acted in a democratic way."
Gen Pinochet came to power in a US-backed military coup in 1973 and ruled with an iron fist until Chileans rejected him in 1990.
His rule was marked by human rights abuses, deaths and disappearances.
Asked if he had any regrets, he said no. He also refused to apologise to opponents of his government.
"Who shall I ask to be pardoned by? They say I should ask for forgiveness - what shall I ask to be forgiven for?" he said. If anyone should ask for forgiveness it was the "Marxists, communists", who he said had tried to assassinate him.
Comment: Pinochet was a murdering psychopath that is beyond dispute by all except for Pinochet himself it seems. It is interesting however to get the above glimpse into the complete lack of conscience and empathy that such a psychopath can display. This should be kept in mind when considering the morality or lack thereof of people like Bush and Blair. The point is, they couldn't care less about death and suffering, they enjoy it, and will say whatever they have to to ensure that they can continue their psychopathic rampages.
Neil Bush deals detailed in divorce records
Reuters News Service
Neil Bush, younger brother of President Bush, detailed lucrative business deals and admitted to engaging in sex romps with women in Asia in a deposition taken in March as part of his divorce from now ex-wife Sharon Bush. According to legal documents disclosed today, Sharon Bush's lawyers questioned Neil Bush closely about the deals, especially a contract with Grace Semiconductor Manufacturing Corp., a firm backed by Jiang Mianheng, the son of former Chinese President Jiang Zemin, that would pay him $2 million in stock over five years.
Marshall Davis Brown, lawyer for Sharon Bush, expressed bewilderment at why Grace would want Bush and at such a high price since he knew little about the semiconductor business.
"You have absolutely no educational background in semiconductors do you?" asked Brown in the March 4 deposition, which was seen by Reuters.
"That's correct," Bush, 48, responded.
"And you have absolutely over the last 10, 15, 20 years not a lot of demonstrable business experience that would bring about a company investing $2 million in you?"
"I personally would object to the assumption that they're investing $2 million in me," said Bush, who went on to explain that he knew a lot about business and had been working in Asia for years.
Bush, who inked the Grace deal in August 2002, said he had not yet received any stock from the company, which built a plant in Shanghai that began production in September. He is supposed to consult for the company and be on the board of directors, he said.
He said he joined the Grace board at the request of Winston Wong, a co-founder of the company and the son of Wang Yung-ching, the chairman of Taiwan's largest business group, Formosa Plastics Corp. Bush never mentioned Jiang Mianheng in the deposition.
Wong, he said, also is an investor in his latest venture, Ignite!, an Austin, Texas, educational software firm.
Brown questioned Bush about numerous other business ventures that paid him well to be a consultant and fundraiser, and, in at least one case, for little work.
Bush said he was co-chairman of Crest Investment Corporation, but worked only an average of three to four hours a week. For that, he received $15,000 every three months.
Bush said he provided Crest "miscellaneous consulting services."
"Such as?" asked Brown.
"Such as answering phone calls when Jamail Daniel, the other co-chairman, called and asked for advice," Bush said.
"Well, you're not an economist are you?"
"Part of my degree is in international economics, but I wouldn't consider myself an economist, no," Bush told him.
Bush did not return calls to his Ignite! office and his divorce lawyer, Rick Flowers, was not available for comment.
KNOCKS ON THE DOOR
The Bush divorce, completed in April, was prompted in part by Bush's relationship with another woman. He admitted in the deposition that he previously had sex with several other women while on trips to Thailand and Hong Kong at least five years ago.
The women, he said, simply knocked on the door of his hotel room, entered and engaged in sex with him. He said he did not know if they were prostitutes because they never asked for money and he did not pay them.
"Mr Bush, you have to admit it's a pretty remarkable thing for a man just to go to a hotel room door and open it and have a woman standing there and have sex with her," Brown said.
"It was very unusual," Bush said.
Even though the Bush divorce is final, legal problems continue.
Sharon Bush has been sued by Robert Andrews, the former husband of Neil Bush's girlfriend, Maria Andrews, for allegedly charging that the Andrews' 2-year-old son, was fathered by Bush, not Andrews.
Bush this week gave a DNA sample at the request of his ex-wife, but it is not clear when it will be tested, her lawyer, David Berg, said today.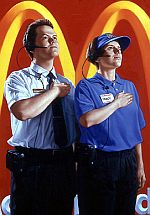 What is American culture?

24.11.2003
How do Americans look at the world? Is there a characteristic American way of thinking, an American culture? Through what filter does information reach their brain, and by what mechanism do they respond to it? Last week's essay (Why America is losing the intelligence war) blamed deep-seated characteristics of American culture for the failure of American intelligence. That begs the question of whether American culture can be characterized in any general way (apart from the well-worn bon mot that American culture is an oxymoron).
Writing of English culture, the poet and critic T S Eliot famously described it as follows: "The reader must remind himself as the author has constantly to do, of how much is here embraced by the term culture. It includes all the characteristic activities and interests of a people: Derby Day, Henley Regatta, Cowes, the twelfth of August [the start of the grouse shooting season], a cup final, the dog races, the pin table, the dart board, Wensleydale cheese, boiled cabbage cut into sections, beetroot in vinegar, 19th century Gothic churches and the music of Elgar."
After the fashion of Eliot, I have complied my own list of characteristic features of American culture.
1. Driving slowly in the fast lane. Americans consider it their privilege to amble along in the fast (left-hand) lane, while swifter drivers overtake in the near-side lane (for which European policemen would arrest them straightaway). Clumps of slower drivers impede traffic and set the stage for pileups. This is the sad result of misguided egalitarianism. Americans believe that they should be able to drive wherever they wish, whereas class privilege rules the road in Europe. Faster cars belong in the fast lane and nudge slower-moving vehicles out of the way.
2. Burnt coffee at exorbitant prices. The most popular cafe chain, whose name decent people do not pronounce, burns its coffee beans to produce what Americans mistakenly believe is an authentic European taste. Proper coffee, by which of course I mean Italian coffee, is bittersweet, not burned. Americans evidently hate the wretched stuff because they drown its flavor in a flood of milk, in the so-called "latte", something I never have observed an Italian request during many years of travel in that country. By contrast, Italians drink cappuccino, mixing a small amount of milk into the coffee and leaving a cap of foam. If Americans do not like it, why do they buy it at exorbitant prices? They do so precisely because the high price makes it a luxury, but an affordable one for secretaries and shopgirls.
3. Dishwater masquerading as tea. Order tea from an American, and you will receive a cup of lukewarm water and a tea-bag. No beverage on earth is more revolting than this. This and the previous item bring to mind a riposte attributed to Abraham Lincoln: "Waiter, if this is coffee, then bring me tea. But if this is tea, then bring me coffee."
4. Wood-flavored wine. Americans know as little about wine as they do about coffee. California winemakers throw oak chips into vats of fermenting chardonnay in order to simulate the effect of aging in oak barrels. That is true only for the cheaper wines, but the dearer ones taste just as woody. The American idea of a "big wine" is to suffuse cabernet sauvignon (properly used to produce a delicate wine) with the taste of oak. At best, American wines offer a soporific sort of smoothness, but never achieve the quirkiness, eccentricity and character which make European vineyards an enchanted realm.
5. Shopping-mall architecture. Most middle-sized American cities have disappeared into a suburban morass, while shopping malls have replaced the old town centers. Americans in most parts of the US have no other place to congregate. Even churches are relocating to shopping malls in order to accommodate the habits of their congregations. Unlike European cities (and older American ones) the public aspect of cities is entirely absent: churches, public buildings, monuments and so forth. The omnipresence of purely commercial architecture depresses the mind; Europeans accustomed to viewing well-proportioned buildings in their daily perambulations find it difficult to spend more than a day or two in such places.
6. A consensus national restaurant menu (Mexican-Italian-seafood-podge). A generation ago, one could be sure of obtaining sawdust sausages, Scotch eggs and pork pies in any British pub (and often a ploughman's lunch with Wensleydale cheese). Today, one can count on finding pizza, tacos, fried shrimp, Caesar salad and cheeseburgers in any American restaurant, as the American melting pot transforms various national cuisines into indistinguishable blobs of grease and dough. Unification of American cuisine is not much of a loss, as the local cuisine was wretched to begin with, but the result is nonetheless disheartening. Anti-globalists have made a target of the purveyors of fast food, but the chains have homogenized other cuisines, such as seafood, Italian, Mexican, steak and so forth. In the place of texture and flavor Americans receive grease and quantity, which helps explain why they are so podgy.
7. Chewing tobacco. What more can one say? Heinrich Heine, the greatest poet of mid-19th century Germany, wrote, "Sometimes I think of emigrating to America, but I am frightened by a country where human beings chew tobacco."
8. Hand-me-down high culture. Not to possess a high culture is no shame; the Pilgrim Fathers of New England rejected Western high culture as they found it in favor of a radical return to ancient Israel. Like Moliere's bourgeois gentleman, the Americans of the 19th century decided that a high culture suited their new respectability. Americans who would not recognize an allegory if it ate them alive by inches, and cannot read a line of Dante Alighieri or Johann Wolfgang von Goethe, gush over Herman Melville's confused and overwrought Moby Dick. American scholars who have not heard of the 16th century Lazarillo de Tormes claim that Mark Twain's Huckleberry Finn is a work of originality. Harold Bloom, the defender of the "Western Canon" against the barbarian hordes of deconstructionism, enthuses over Walt Whitman's onanistic (in the literal sense of the term) excuse for verse. Bloom dismisses the critics of the left as "resentniks", but is resentment not the other side of the coin of pretension? In any case, these are the embarrassing pretensions of two generations past, the putative classics beloved of American conservatives. University students today are more likely to wade through the works of black and feminist writers as a counterweight to the "elitist" high culture of Melville and Whitman, that is, if they are not occupied with courses on film and comic books.
9. Gullibility. If Americans will buy chardonnay saturated with oak chips to the point of resembling turpentine, burnt coffee disguised by sweet hot milk, chain-restaurant parodies of Italian food, and hand-me-down literary classics, what will they not buy? Itinerant European academics turn up on their shores in emulation of the gypsy Melchiades in Gabriel Garcia Marquez's One Hundred Years of Solitude, from Paul de Man on the left to Leo Strauss on the right.
Man thinks with his entire being, not with mere abstract powers of ratiocination. Tactile, gustatory, olfactory and sentimental habits bear on our view of the world more than the philosophers we might have read in school. Culture is the glue that holds generations together; paradoxically, American culture makes a virtue of the ephemeral. Americans in consequence cannot imagine the frame of mind of those for whom a cultural connection to the past has become a matter of life and death. This sometimes charming, usually harmless trait of American culture turns into a tragic flaw in the context of America's encounter with Islam.
Christians sent to Chinese labour camps
ABC News Austrailia - Nov 25, 2003
Villagers in southern China's Guangxi province accused local police on Tuesday of arresting Bible owners and sentencing them to labour camps as part as a campaign to weed out "illegal religious organisations."
Written testimony supplied to AFP by villagers in Xilin county accused up to 40 policemen of descending on Christian villages in the middle of the night and ransacking homes in search of Bibles and other religious materials.
Official arrest documents also show that following their detention three people from Weishan and Tianbao villages were sentenced without trial to 18 months in a labor camp run by the Nanning Glass Factory in the provincial capital.
The three were taken away on the night of April 27, but it was only on September 26 that Xilin county police told villagers the three Bible owners, identified as Li Hualiang, Wu Zhengxin and Wu Xinhua, had been sent to the labor camp, one villager said.
After repeated efforts, relatives of the men were finally allowed to visit them on October 21.
"This is really astonishing. A person is not a cow or a horse," the villager said in his written testimony of the events.
"Even if they had committed some evil act, if they were to be executed, or if they were to be sentenced, wouldn't you have to inform their families?"
Police began suspecting illegal religious activities at the villages in the late 1990s and despite levying fines of up to 500 yuan per villager, renewed efforts to wipe out "illegal religious organisations" again this year.
Officials in Hebei, Jiangsu and Zhejiang provinces have told AFP that similar crackdowns implemented after the political transition to a new leadership led by President Hu Jintao was completed in March were also ongoing.
The Hong Kong-based Information Centre for Human Rights and Democracy said last week that the nationwide campaign to wipe out "illegal religious organisations" could affect up to 50 million Chinese Christians worship.
Strong earthquake hits Papua New Guinea
SYDNEY, Australia (AP) - A powerful earthquake rocked a remote region of the Pacific nation of Papua New Guinea early Wednesday, local and Australian seismic agencies said.
The Vietnam War Crimes You Never Heard Of
On October 19, 2003, the Ohio-based newspaper the Toledo Blade launched a four-day series of investigative reports exposing a string of atrocities by an elite, volunteer, 45-man "Tiger Force" unit of the U.S. Army's 101st Airborne Division over the course of seven months in 1967. [...]
The Toledo Blade articles represent some of the best reporting on a Vietnam War crime by any newspaper, during or since the end of the conflict. Unfortunately, the articles tell a story that was all too common. [...]As such, the true scope of U.S.-perpetrated atrocities is never fully addressed in the articles. [...]
New Patch Nixes the Liquid Lunch
Wired News
[...] The wireless patch is placed over four tiny holes made in the employee's skin, through which small samples of fluid are continuously tested. The test results are then transmitted to a receiver. If the monitor picks up a whiff of alcohol, the transmission is altered to alert officials manning the receivers...
For the monitor to work, employees first have to have four microscopic holes -- about the size of a human hair -- burnt into the outer layer of their skin by a handheld laser. A small amount of dye, designed specifically to react with the laser, is placed on the skin. [...]
The oval patch houses a miniature vacuum pump that sucks out interstitial fluid, a clear, water-like fluid that surrounds cells in the body. [...]
Comment: For some reason, we don't like the idea of employers using hand-held lasers on our skin for the purpose of monitoring us. Ever notice how much "scifi" technology is being developed for the police state, but very little that actually improves quality of life?
Europe puts France up for reactor

By Dr David Whitehouse
BBC News Online science editor
26 November, 2003
The European Union has chosen France as its preferred location for a nuclear reactor that scientists hope will revolutionise world power production.
It will cost billions to build the fusion machine which releases energy in a similar way to the Sun's furnaces.
Scientists say the new reactor will be the first such prototype to give out a lot more power than it consumes.
International partners in the immense engineering project include the US, China, Japan, Russia and Korea.
Last minute lobbying
Diplomatic lobbying had been intense as the EU prepared to decide which site is to be put forward against Japan for the construction of Iter (International Thermonuclear Energy Reactor).
Two European sites were in contention: Cadarache in southern France and Vandellos in north-east Spain.
In advance of Thursday's EU meeting in Brussels, Spain has said it intends to double its investment to 900 million Euros if Vandellos is chosen.
Clearly making a last-minute initiative to garner support, on Tuesday Spanish Foreign Minister Ana Palacio flew to Rome to meet Italian Prime Minister Silvio Berlusconi to press their case.
Spain's minister of science and technology flew to Denmark on the same day, and then went on to Sweden.
And Spanish Prime Minister Jose Maria Aznar met British Prime Minister Tony Blair on Monday, but it was to no avail.
In a brief discussion the EU research ministers decided that Cadarache would be the European site.
Lawmakers Weigh Human Organism Patent Ban
By JIM ABRAMS
Associated Press Writer
WASHINGTON - The U.S. Patent Office would be barred from issuing patents on human organisms, such as genetically engineered embryos, under an agreement reached by lawmakers Monday. [...]
Army Quietly Opens JetBlue Probe
Wired News
[...] However, civil liberties advocates, such as the director of the ACLU's technology and liberty program, Barry Steinhardt, were not trumpeting the quiet announcement.
"If the Army was really serious about public oversight, they would respond to our Freedom of Information request," Steinhardt said. "We'd like to think people want to know what the actual purpose was of getting JetBlue's logs." [...]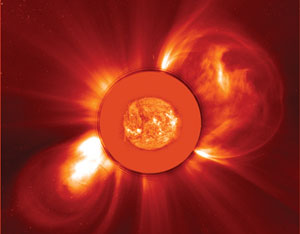 Thanksgiving Forecast: Potential Fireworks on the Sun

By ANAHAD O'CONNOR
November 25, 2003

BOULDER, Colo.— Snapping like rubber bands pulled too tightly, tangled magnetic fields on the surface of the Sun have been spewing waves of radiation and superheated particles at Earth.
So far, the damage has been relatively minor in comparison with significant communications disruptions three years ago. The culprits this year are three volatile sunspots that began erupting last month and set off blackouts in Sweden, damaged satellites and forced some airlines to divert flights from polar routes to escape extra radiation.

And now, after a three-week lull while the Sun's rotation spun them out of view, the sunspots are back within striking distance. The one with the potential to produce the most fireworks, Region 507, is expected to fix its sights squarely on Earth just as Thanksgiving arrives. While all three have decayed a bit, 507 is still roughly eight times the size of Earth.
Predicting the level of havoc that can be wrought by 507 or any other exploding sunspot is a minute-to-minute science. The erratic nature of exploding sunspots leaves researchers with as little as 30 minutes to warn of radiation storms or as much as 17 hours to prepare for speeding clouds of plasma. [...]
By John Revill
Birmingham Post
[A] wave of strange shapes and lights have been seen in the region this year, according to UFO expert Michael Soper.
Contact International, an organisation which records and researches unexplained sightings, has already logged almost 50 separate sightings in the region this year.
A particular busy time came at the end of May, and then in early August when ten "objects" were seen. [...]
Sightings in Salmon-Challis area (Idaho, USA)
SALMON — The truth is out there, according to two longtime Salmon residents who say that unexplained lights have periodically flashed across the sky over the vast and remote Salmon-Challis National Forest.
UFO lore has hovered on Salmon´s horizon for decades, with the majority of sightings occurring in the unpopulated backcountry.
Chester Rackham, 79, who manned half a dozen fire lookouts in the Salmon-Challis for more than three decades, recalls seeing what he described as "fuzzy blue lights." He never received a plausible explanation. [...]
Strange Scene over Hawaii from Space.com
Comment: Cloud created from a mountain wave or something else? Probably, it is what they say it is, (strangely enough the front page includes an artist rendering of a theoretical, man-made flying saucer) but we should always keep our options open.
World AIDS Deaths, Infections at New Highs

By Patricia Reaney
Nov 25, 9:55 AM (ET)
LONDON (Reuters) - Deaths and new cases of HIV/AIDS reached unprecedented highs in 2003 and are set to rise still further as the epidemic keeps a stranglehold on sub-Saharan Africa and advances across Eastern Europe and Central Asia.
New global estimates released Tuesday based on improved data show about 40 million people worldwide are living with HIV/AIDS, including an estimated 2.5 million children under 15 years old. About five million people were infected in 2003 and more than three million died. [...]
Aljazeera.net
Tuesday 25 November 2003, 21:35 Makka Time, 18:35 GMT

Hundreds of millions of people are starving across the world and the number is set to rise, warns a new UN report. [...]
Diouf went on to say that there was enough food to eradicate hunger. "The problem is not so much the lack of food but the absence of a real political will."
The FAO report puts the number of global hungry at 842 million people, citing the most recent available figures, from 1999-2001. It said 10 million were in industrialised countries, 34 million in countries in transition and 798 million in developing countries. [...]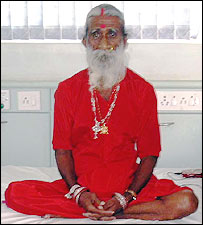 Fasting fakir flummoxes physicians

By Rajeev Khanna
BBC correspondent in Ahmedabad
25 November, 2003
Doctors and experts are baffled by an Indian hermit who claims not to have eaten or drunk anything for several decades - but is still in perfect health.
Prahlad Jani, a holy man, or fakir, who is over 70 years old, has just spent 10 days under constant observation in Sterling Hospital, in the western Indian city of Ahmedabad.
During that time, he did not consume anything and "neither did he pass urine or stool", according to the hospital's deputy superintendent, Dr Dinesh Desai.
Yet he is in fine mental and physical fettle, say doctors.
Most people can live without food for several weeks, with the body drawing on its fat and protein stores. But the average human can survive for only three to four days without water.
Followers of Indian holy men and ascetics have often ascribed extraordinary powers to them, but such powers are seldom subject to scientific inspection.
"A series of tests conducted on him show his body mechanism is that of a normal person," said Dr Desai.
Mr Jani spends most of his time in a cave near the Ambaji temple in Gujarat state.
He spent his 10 days in hospital in a specially prepared room, with a sealed-off toilet and constant video surveillance.
To help the doctors verify his claims, Mr Jani agreed to avoid bathing for his time in hospital.
The only fluid he was allowed was a small amount of water, to use as mouthwash.
One hundred millilitres of water were given to him, and then collected and measured in a beaker when he spat it out, to make sure none had been drunk. [...]
Study reveals chemical cocktail in every person
NewScientist.com
A cocktail of potentially harmful man-made chemicals has been found in the blood of every person tested in a new UK study.
The 155 volunteers, including EU environment commissioner Margot Wallström, were tested for gender-bending PCBs, flame retardants and organophosphates.
The study, commissioned by the environmental group WWF, focussed on 77 chemicals known to be "very persistent" in the environment and to accumulate in people's bodies. It is one of the most comprehensive studies to date. [...]
Tuesday, 25 November, 2003
When Tanya Andrews returned from a recent family holiday in Costa Rica, she had no idea she had brought back a gruesome souvenir. A month later she developed an extremely painful lump on her head.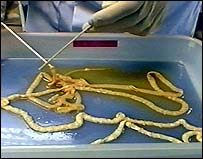 Tape worms help us to understand the nature of the planet we live on, we can see this aspect embodied by people like Donald Rumsfeld and Dick Cheney
At first, she thought she had an abscess, but then it wriggled.
At the Hospital for Tropical Diseases they recognised the problem straight away - it was the living maggot larva of a botfly.
While Tanya was enjoying her holiday a mosquito had delivered a tiny botfly egg onto the surface of her scalp.
The egg hatched into a maggot and burrowed deep inside. Incredibly, this happens to thousands of people every year.
As we travel to ever more exotic holiday destinations, we are at the mercy of a whole range of bizarre parasites just waiting to colonise us.
Strange nosebleeds
Soon after travel writer, Broughton Coburn, returned from Nepal he began to experience regular, inexplicable nosebleeds.
They continued for three weeks until an embarrassing encounter in a teashop made him realise that something was seriously wrong.
As he was being served, the waiter took one look at him and fled in horror.
Broughton chased him down the street urging him to tell him what was wrong. But the boy would only point, wordlessly, at his nose.
Broughton returned home and sat in trepidation in front of a mirror.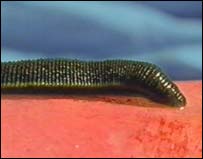 Many leeches also inhabit the White house and the US Congress
His patience was rewarded when a brown worm-like creature emerged from his right nostril and looked around.
"I swear it had two beady eyes on it. And it came out two or three inches, looked around and then retracted. I thought it was a dream, a vision of some sort."
In shock, Broughton rushed off to his doctor who tried to remove the mysterious creature.
But it wasn't going to give up its home easily.
"He had this thing pulled out eight or ten inches and I'm looking at it cross-eyed down the end of my nose, and he's looking at it, he has a look of absolute horror on his face. And the thing came off. And there was this leech."
Broughton had been invaded by an aquatic leech. It made its move while he was drinking from a mountain stream.
These thirsty bloodsuckers can drink three times their bodyweight at each feed and inject an anaesthetic so their victim feels nothing.
Welcome visitor
But not all parasites are unwanted and uninvited.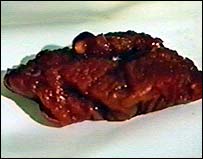 The tapeworm cyst that Dr Leahy ate
As part of a University of Salford experiment to develop a diagnostic test for beef tapeworm, biologist Mike Leahy volunteered to grow this gruesome parasite inside his own gut.
Mike swallowed the immature tapeworm cyst with a glass of red wine and the worm subsequently grew at an astonishing four centimetres a week.
Twelve weeks later he had to call a halt to the unusual experiment because he was getting married!
After a dose of anti-worm pill Mike passed out an intact, six foot long tapeworm.
Disgusted? Well according to Dr Val Curtis, an expert on hygiene, this reaction is a natural survival mechanism.
"In the same way that you have an immune system which helps to protect you from parasites we also have a behavioural system.
"When you feel the emotion of disgust it is a driver of your behaviour to make you keep away from or drop the thing that might be about to make you sick."
And, it seems, we need all the protection we can get. Every living thing has at least one parasite and many creatures, including humans, have far more.
In fact, parasites make up the majority of species on Earth.
Comment: Many things about our planet can be learned from the nature of the beings that inhabit it, not all are happy lessons, and we ignore them at our peril. As a wise person once said: "There is no free lunch in the universe, if you think there is...you are lunch."
Men jailed after boy band fantasy
Ananova.com
09:54 Wednesday 26th November 2003
Two men who pretended to be members of a US boy band have been jailed for fraud in Las Vegas.
Michael Veskovic and Patrick Ward both pretended to be members of New Kids On The Block.
The Las Vegas Review-Journal reports that Veskovic was given six months in prison and Patrick Ward 18 months.
Ward admitted to filing a false police report in October 2002, claiming he was Jonathan Knight of New Kids On The Block and that his wallet was stolen.
He provided police with Knight's Social Security number and was able to get a Nevada driver's licence, a new Social Security card and a credit card in Knight's name.
Veskovic admitted to the same scheme, claiming to be Danny Wood of New Kids and later claiming to be Kevin Richardson of the Backstreet Boys.
---
Remember, we need your help to collect information on what is going on in your part of the world!
We also need help to keep the Signs of the Times online.
---

Check out the Signs of the Times Archives

Send your comments and article suggestions to us

---
Fair Use Policy
Contact Webmaster at signs-of-the-times.org
Cassiopaean materials Copyright ©1994-2014 Arkadiusz Jadczyk and Laura Knight-Jadczyk. All rights reserved. "Cassiopaea, Cassiopaean, Cassiopaeans," is a registered trademark of Arkadiusz Jadczyk and Laura Knight-Jadczyk.
Letters addressed to Cassiopaea, Quantum Future School, Ark or Laura, become the property of Arkadiusz Jadczyk and Laura Knight-Jadczyk
Republication and re-dissemination of our copyrighted material in any manner is expressly prohibited without prior written consent.
.