---
The US Army admits that 17 soldiers have committed suicide in Iraq. We suspect the figure is much higher than that. Paul Bremer claims that the guerillas forces in Iraq are terrorizing the Iraqi people. Apparently, Mr. Bremer forgot that the increasing attacks are against US troops, not ordinary Iraqis. Another story surfaces about the theft of radioactive material from an Iraqi facility. For a country that was so worried about Iraq's WMDs, the US was peculiarly uninterested in securing sites that contained the materials to build them.
Remember the recent story about two US soldiers who were beaten with rocks and had their throats slit? Well don't worry, the top brass say it never happened. Please roll over and go back to sleep.
Some see hope in the "Velvet Revolution" in Georgia. Looks to us like it is just another move on the chessboard of global politics.
In Iraq, after the recent crisis visit to see George in Washington, henchman Bremmer is making it very clear the US is staying until THEY see the need to leave. Isn't it wonderful how the spin doctors can play out visits like that to Washington and make it sound as if something fundamental is changing while it remains business as usual?
King George visits the troops. Again. Makes bellicose statements. Again. Dresses up in his army jacket. Again. Promises to track down someone. Again. Is he some mechanical wind-up toy or what?
Israel embraces an Italian neo-fascist, who happens to be a great friend of the war criminal, Ariel Sharon. Once more Zionist politics ignore the Jews. Many Jewish people are becoming increasingly upset regarding their governments lies, and just like Americans they are faced by a government hell-bent on violence which leads to more violence towards the citizens the governments are supposed to be protecting.
The US and the Euro 3 agree to a new resolution on Iran.
A small town in southern Kansas is requiring all residents to have a gun. The town just shot to the top of John Ashcroft's "Evil Terrorist Traitors" list.
America deports a Nazi, beached whales in Tasmania, Thanksgiving solar flares, Canada's Mars probe is "out of control", and Wonder Woman saves the day.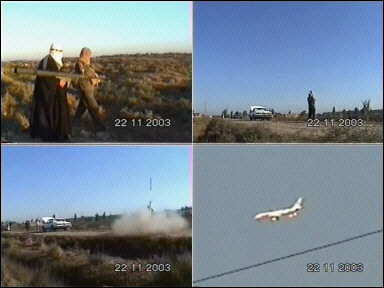 A combo of TV footage taken from a videotape given to a French journalist shows masked militants firing a missile that hit a DHL cargo jet over Baghdad setting its engine ablaze and forcing it to an emergency landing. The six-minute-long footage received by Sara Daniel, correspondent of the French weekly Le Nouvel Observateur, shows a total of 10 militants, with their faces concealed. (AFP/Le Nouvel Observateur)
US forces will leave once Iraqis can guarantee own security
AFP
Tuesday November 25, 4:27 PM
The head of the US Central Command, General John Abizaid, said America's military presence "will no longer be needed" once the future Iraqi government can guarantee the country's security.
"The American military presence in Iraq will no longer be needed at the point where the Iraqi government assumes responsibility for its external and internal security ... that will happen faster and faster," Abizaid told a Baghdad press conference.
He was answering a question by a reporter regarding the possibility of the US military retaining bases in Iraq even after a political and security handover to Iraqis.
A new timetable endorsed by Washington and the US-installed Iraqi Governing Council says elections for a new government will be held in end-December 2005. [...]
His comments came as the US civilian administrator in Iraq, Paul Bremer, said Saddam Hussein loyalists were trying to "terrorise" Iraqis in a switch of tactics.
"The security situation has changed," Bremer told a press conference. [...]
"They will not succeed," Bremer vowed.
"I do not believe the Iraqi people will give in to terrorism." [...]
Comment: Who are the real terrorists here? The US invades Iraq, condemning innocent Iraqis to starvation, rape, mutilation, and death. When the Iraqis fight the occupation, we are told that it is old Saddam loyalists who are trying to terrorize their own people. Isn't it far more likely that the guerilla forces are comprised of numerous elements and groups from the "old" Iraq who are sick and tired of American imperialism?
"Attack on Italian Troops Part of Strategy to Isolate Washington"

Erich Marquardt on November 25, 2003
On August 07, a truck bomb exploded outside the Jordanian Embassy compound in Baghdad, killing over 10 people. On August 19, a truck bomb devastated the U.N. headquarters in Baghdad, in the worst attack ever committed on a U.N. civilian complex in the history of the United Nations; more than twenty people were killed. A little over one month later, on September 22, a suicide bomber exploded at a car park next to the U.N. headquarters in Baghdad, killing only one, but adding to the general instability near the U.N. headquarters.
On October 12, a handful of people were killed in a blast outside the Baghdad Hotel, in the center of the city. Two days later, a car bomb exploded outside the Turkish Embassy in Baghdad, killing 17 people. On October 27, a series of bombs exploded in Baghdad killing 35 people and wounding over 200; these attacks were partly aimed at the international Red Cross building. Finally, on November 12, insurgents in Iraq used a truck bomb to make a devastating strike on the Italian Carabinieri base in the southern city of Nasiriyah, killing 19 Italians.
All of the preceding attacks are part of a simple strategy aimed at isolating the United States in its occupation of Iraq. By striking devastating blows against countries supporting the U.S. occupation of Iraq, insurgents believe that they will be able to limit the support that other countries and organizations supply to Washington. Judging by the reaction from victims of these attacks, the insurgents are correct.
After the attack on the U.N. headquarters in Baghdad, the U.N. greatly scaled back its operations in Iraq. Suffering from the attacks on October 27, the Red Cross also decided to scale back operations in Iraq, citing too much instability. But perhaps more startling to the U.S. administration was the reaction within the coalition to Wednesday's attack on the Italian Carabinieri compound.
On November 13, one day after the deadly attack, Japan withdrew an earlier pledge to send troops to Iraq by the end of the year. Pointing to the instability in the country, Prime Minister Junichiro Koizumi's administration said that any such deployment would probably have to wait until next year, giving Tokyo time to monitor developments in the war-torn country.
South Korea, too, altered their plans to send troops to Iraq following Wednesday's attack. Seoul planned on sending 5,000 troops to Iraq to join the coalition fighting forces, but due to the increased instability in the country, President Roh Moo-Hyun decided to limit their commitment to 3,000 troops. Deputy Foreign Minister Lee Soo-Hyuk stated, "South Korea believed that the dispatch of some 3,000 troops is appropriate, but the United States expected the deployment of a bigger contingent."
Other countries planning on sending more troops, such as the Netherlands, also have said they would rethink their deployment of troops to Iraq.
Furthermore, in Italy, opposition parties and critics of Premier Silvio Berlusconi's administration have already called for a review of Rome's commitments to the coalition in Iraq. The attack on November 12 has shaken Italy, a country that hasn't experienced a military attack of this magnitude since World War II and one where the population has always been against U.S. involvement in Iraq and Italy's commitment to that occupation.
If attacks such as these continue on supporters of the U.S. occupation, the chance of support for the U.S. dwindling is high. While the U.S. population largely supported the war in Iraq, the populations of nearly every country supporting the U.S. occupation were always starkly against the U.S. invasion; it will take a lot longer for the U.S. population to demand a troop pullout than it will for the populations of other troop committing countries.
The reaction to these attacks could not be clearer. Guerrillas will continue to target supporters of Washington. If the guerrillas can make coalition involvement in Iraq become more politically costly, there is a serious possibility that the coalition could begin to unravel, leaving Washington further isolated. In order to prevent this scenario from developing, Washington would have to greatly reduce the current lawlessness and instability in the country which is allowing anti-U.S. militants to operate freely and effectively in the largely anarchic country.
At least 17 US troops have committed suicide in Iraq; Army seeks answers
AP
NEW YORK Nov 24 - Rebecca Suell wants answers, and not the ones the US Army is giving her.
Why does the Army keep calling the last letter her husband sent to her, the one he mailed from Iraq on June 15, a suicide note? Can taking a bottle of Tylenol really kill you? And how did he get his hands on a bottle of Tylenol in the middle of the desert anyway?
The questions may differ, but experts say the desperate search for answers - and the denial - are usually the same.
Since April, the military says, at least 17 Americans - 15 Army soldiers and two Marines - have taken their own lives in Iraq. The true number is almost certainly higher. At least two dozen non-combat deaths, some of them possible suicides, are under investigation according to an AP review of Army casualty reports. [...]
Military officials: no evidence U.S. bodies mutilated
11/24/2003 7:45 PM
MOSUL, Iraq (AP) -- U.S. military officials now say there's no sign the bodies of the two Americans killed yesterday in northern Iraq were mutilated.
Military sources say there's no sign the men were beaten with rocks or their throats slashed. [...]
US probes looting of radioactive cobalt in Iraq

AFP
Tuesday November 25, 4:17 PM
The US army is investigating the looting of two capsules of radioactive cobalt from a testing site outside Baghdad that was in use under former dictator Saddam Hussein, The New York Times said.
The capsules, the size of soda cans with small amounts of cobalt-60 -- used in X-ray machines and other medical and industrial applications, were stolen in September and found two weeks later in nearby villages, the daily said quoting US officials.
A 30-year-old Iraqi man and a four-year-old boy were found to have symptoms of radiation sickness in one of the villages, the official said, adding that more villagers could still become ill. One of the capsules was discovered less than five meters (yards) from where a family had their clay oven to bake bread. [...]
The site had been under surveillance by the International Atomic Energy Agency since before the first US-led invasion of Iraq in 1991.
The US military commander in Iraq, Lieutenant General Ricardo Sanchez, has ordered an investigation into the case, in which US Defense Secretary Donald Rumsfeld has taken a personal interest, the daily said. [...]
Comment: If it was known for over a decade that this site had radioactive material, why wasn't it secured by US forces?
Big fish set to swallow most spoils of Iraq war
By Joshua Chaffin
November 24 2003

David Nash, head of the new Iraq Infrastructure Reconstruction Office (IIRO), appealed to businesses' patriotism last week at a conference designed to enlist them in the effort to rebuild the war-torn country.
But Mr Nash, a retired rear admiral, must have felt as if he had walked into hostile fire when it came to question time. One by one, small businessmen aired concerns that they would be cut out of the process.
Sylvester Myers, an independent construction supervisor, appeared to sum up the mood when he asked Mr Nash whether Halliburton, the Houston oil-services giant, had an information booth at the conference.
"These are the guys who are going to be running the show," Mr Myers said warily. "I know how it works."
Many procurement experts agree with that assessment - although they do not believe a conspiracy is to blame. The scale of the rebuilding effort is so vast, they say, and the timetable so ambitious that it seems all but guaranteed that the government will call on large, familiar companies such as Halliburton. [...]
US sees shift in resistance strategy
Tuesday 25 November 2003, 13:54 Makka Time, 10:54 GMT
US occupation administrator Paul Bremer has claimed that the Iraqi fighters are shifting their target of attack from occupation troops to Iraqis working with them.
"The security situation has changed," Bremer said on Tuesday at a press conference in Baghdad.
"In the past, attacks against the coalition were predominant. Now attacks against Iraqis are regular." He claimed that the attackers started targeting "innocent Iraqis" after they "failed to intimidate the coalition."
"But they will not succeed," he added.
Iraqi council sends timetable to UN

Iraq's U.S.-appointed Governing Council has submitted a timetable for self-rule to the UN Security Council. The Governing Council said by May 31st next year it would select a "provisional" legislature, which, in turn, would pick an interim government by late-June.
Iraqi leaders ban Arab TV network
Iraq's US-appointed interim leadership has banned an Arabic television station, accusing it of inciting violence against the coalition.
Dubai-based Al-Arabiya confirmed its Baghdad bureau had been forcibly shut.
"Al-Arabiya incites murder because it's calling for killings through the voice of Saddam Hussein," said the current head of Iraq's Governing Council.
On 16 November the channel broadcast a recorded message said to be from Saddam which called for new "resistance".
Al-Arabiya regrets this surprising measure and rejects the violence incitement charge
Al-Arabiya statement
The speaker on the audio recording also described Iraqis co-operating with the US-led coalition as "scabby dogs that accompany or follow the caravan".
[...] In September, the IGC introduced a law banning the media from inciting violence.
It banned Al-Arabiya and Al-Jazeera television stations from reporting on government activities for two weeks after they broadcast earlier messages purported to be from the ousted Iraqi president.
'Violently anti-coalition'
The media rules were criticised by Western-based media watchdogs but praised by the US Government.
Resolve won't be shaken: Bush: Vows to avenge soldiers' slayings
TIM HARPER
WASHINGTON BUREAU
Nov. 25, 2003. 06:32 AM
WASHINGTON—U.S. President George W. Bush yesterday offered private condolences, then a bellicose public vow of retribution at a military base which has lost 27 soldiers to the war in Iraq.
The president, who has been criticized for apparent indifference to families shattered by the mounting casualties from Iraq, met close to 100 relatives of victims at Fort Carson, Colo.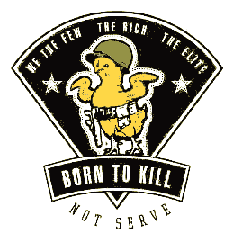 Then Bush, who wore a U.S. Army jacket over his blue shirt and dark tie, drew whoops of delight from assembled soldiers when he vowed revenge against those who have slain Americans.
"Anyone who seeks to harm our soldiers knows that our great soldiers are hunting for them." He again said U.S. resolve would not be shaken and a stable democracy would be forged in Iraq "because the United States of America will not be intimidated by a bunch of thugs."
Comment: Bush knows a thing or two about thugs. And, of course, the troops were cheering because they believe Bush, the man who said he made the same vow to hunt down Osama remember me bin Laden. So once more Bush gets dressed up in his army jacket and puts on a show. How many of these soldiers know that Bush was AWOL the second year of his reserve service during the Vietnam War? Or that he, as so many of the chickenhawks, were able to avoid being drafted and sent overseas?
Veteran death linked to Gulf War
The death of an army veteran in 2001 was linked to his service in the 1991 Gulf War, a coroner has ruled.
Major Ian Hill died after a decade of ill health which he said was caused by Gulf War Syndrome, a disputed condition the government has never agreed exists. [...]
U.S., Europeans Agree on Iran Nuclear Resolution
By Louis Charbonneau
Mon Nov 24,10:32 PM ET
VIENNA (Reuters) - Washington struck a deal on Monday with France, Germany and Britain on a U.N. nuclear resolution that condemns Iran for hiding its atomic program in the past but encourages its new policy of honesty.
The compromise draft resolution of the International Atomic Energy Agency's (IAEA) Board of Governors falls short of what Washington had originally hoped for -- to send Iran to the U.N. Security Council for breaches of the nuclear Non-Proliferation Treaty (NPT), which could have led to economic sanctions. [...]
The latest draft, obtained in full by Reuters, calls for the IAEA's governing board to "meet immediately to consider all options at its disposal" if any further violations of Tehran's international non-proliferation obligations are uncovered. [...]
Nine charged over Istanbul bombings
Arafat Rejects Israeli Hints as Sign of Bad Faith
By Wafa Amr
November 25, 2003
RAMALLAH, West Bank (Reuters) - Palestinian President Yasser Arafat dismissed Israeli hints of unilateral moves if a peace plan failed as a sign that Israel was not committed to the U.S.-backed "road map" in the first place.
Israeli media have said Prime Minister Ariel Sharon could uproot some isolated Jewish settlements and then draw borders of a truncated Palestinian state along the lines of a controversial barrier being built through the West Bank.
"This means they don't want to make peace. It is against the road map," Arafat told Reuters on Monday night at his half-demolished headquarters in the West Bank city of Ramallah. [...]
Cabinet minister Uzi Landau told Sharon that instead of dismantling settlements, he should topple the Palestinian Authority, said the source, who is close to Likud lawmakers.
He said Sharon replied that Israel does "not want to take responsibility" for feeding 3.5 million Palestinians in the West Bank and Gaza Strip, which it would have to do if Palestinian government set up under 1993 interim deals collapsed. [...]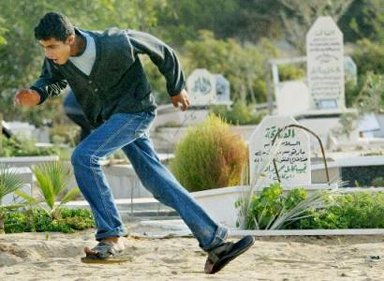 A Palestinian youth runs for cover from Israeli Army gunfire in the area, while visiting a relatives grave at the Martyr's Cemetery in Gaza City, Tuesday, Nov. 25, 2003. Muslims' are celebrating the holiday of Eid al-Fitr, during which people wear new clothes and visit the grave of loved ones who have died. (AP Photo/Kevin Frayer)
Israel embraces Italian neo-fascist
By Khalid Amayreh in the West Bank
Monday 24 November 2003, 19:15 Makka Time, 16:15 GMT
Israeli government officials and opposition leaders have met the leader of Italy's neo-fascist National Alliance party, Gianfranco Fini.
Fini, who is also Italy's deputy prime minister, arrived on an official visit to Israel on Sunday night. The visit has drawn harsh criticism from leftist politicians and Palestinians.
On Monday, he met with Israeli President Moshe Katsav, Prime Minister Ariel Sharon, Foreign Minister Silvan Shalom as well as opposition leader Shimon Peres.
Fini's visit to Israel at the Sharon government's invitation drew angry reactions from leaders of the leftist opposition. Yossi Beilin, a former minister of Justice and one-time deputy-foreign minister, called the visit a "disgrace to Israel".
"It is only because he (Fini) supports the fence that he is receiving a red carpet here."
Meretz leader Yossi Sarid also criticised the visit, calling it "opportunistic" and "a concordance of interests".
"It's a shame, a real shame," he said. "The battle against anti-Semitism has to be waged from a firm base of values and principles. If the world senses that it is a political, cynical and opportunist Israeli fight, its foundations will be shaken and it will completely lose its moral validity."
Supporter of Israel
Israeli spokespeople contacted by Aljazeera.net refused to explain why Israel decided to invite the Italian fascist leader despite the fact that Jews suffered tremendously at the hands of the fascists in Europe in the past century.
One Israeli spokesman, who asked for anonymity, argued that "Fini has been reformed".
However, when asked whether Fini was still sympathetic to the legacy of Italian fascistic movement, the Israeli spokesperson remarked that "the important thing is that he supports Israel. We can't reject or rebuff foreign leaders as long as they support our country. Other aspects of their ideology is none of our business".
This view, however, is rare among Israeli intellectuals and public opinion leaders.
Roni Shakid, a prominent writer in Israel's popular paper, Yediot Aharanot, suggested that opportunism is the driver of this visit.
"They are courting him (Fini) because he supports the security wall and the settlements and because he is deputy prime minister and could become Prime Minister one day," Shakid told Aljazeera.net.
"You know (Israeli Prime Minister Ariel) Sharon is a close friend of (Italian Prime Minister Silvio) Berlusconi, and he can't refuse to receive his deputy in Israel," he added.
Sharon was on a three-day visit to Italy last week, ostensibly to thank Italy for its support for Israel and opposition to frequent EU criticism of Israeli policies.
The Israeli newspaper Haaretz quoted foreign ministry sources as citing three main reasons for the Israeli decision to court Fini, who is known for his anti-immigrant and anti-Muslim views.
These include Fini's objection to anti-Semitism, the fact that the US and other countries have recognised him and the position of the Italian Jewish community which supported the visit.
Fini is a supporter of Israel's apartheid wall
However, another reason for the Israeli government's embrace of Fini seems to lie in his anti-Arab, especially anti-Palestinian, stance, as well his support for Israel's repressive measures against Palestinians and territorial expansion in the West Bank.
Fini, who once called Italy's wartime dictator Benito Mussolini "the greatest politician of the 20th century", repeatedly voiced his support for Sharon's repressive policies against Palestinians, including the destruction of Palestinian homes, farms and infrastructure.
Fini has also backed the apartheid wall Israel is building in the West Bank, which, according to Amiram Barkat, a correspondent for the Haaretz newspaper, makes him the most prominent supporter of Sharon's policies in contemporary Europe.
Birds of a feather
Fini's visit to Israel has also drawn the ire of some of the leaders of the Arab community in Israel.
Arab Knesset member Talab al-Sanie described the visit as a "classical example of similar birds flocking together."
"I am not surprised at all. We have to remind ourselves and others that this Israeli government is fascist to the hilt. If you examine its policies, ideology and especially its actions, you will reach this conclusion. So this is a fascist government receiving a fellow fascist leaders. Similar birds flock together."
Al-Sanie lashed out at Zionism, calling it a "movement bereft of moral principles".
"This visit underscores the huge difference between Zionism and the Jewish people. For Zionism, even fascists and Nazis can be good friends as long as they support Israel and stand against its victims," he said.
Al-Sanie said that Israel's embrace of Fini and the Italian fascist camp is consistent with the long-standing Israeli policies of supporting fascist and right-wing repressive regimes throughout the world.
"Have we forgotten Israel's strong relations with the defunct apartheid regime in South Africa, the (Augusto) Pinochet regime in Chile, and other fascist juntas in Latin America?" he asked.
Comment: Anyone who confuses Zionism with defending the interests of Jewish indiviudals hasn't looked at history.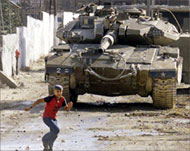 Israeli tank pursues dangerous Arab terrorist.
Israeli forces have launched a fresh attack in eastern Jenin city, opening heavy fire randomly.
The forces surrounded a group of Palestinian houses in the area and searched them. They claimed they were looking for "wanted Jenin activists", eyewitnesses told our correspondent in Jenin.
Armed al-Aqsa Martyrs Brigades resistance fighters had attacked Qadeem settlement, near the eastern area of Jenin a few hours before the Israeli attack.
Geneva initiative
Meanwhile, in Washington, United States officials say the promoters of an unofficial Israeli-Palestinian peace plan known as the Geneva initiative are doing a commendable job.
But the officials proffered no formal support, and still stand by their own "road map" to peace.
"We are always pleased that people speak to each other," said a US State Department official who wished to remain unnamed, commenting on the plan.
However the United States is "certainly not endorsing this particular plan or its particular details," the official said. "Ultimately these issues would have to be discussed by the two parties," the official added.
The plan will be formally unveiled December 1 in Geneva. Former US president and Nobel peace prize winner Jimmy Carter supports the plan, and will be in Geneva for the official unveiling.
The initiative "is a culmination of all previous accords that have been passed," Carter said in an interview.
Under the Geneva Initiative, drafted by leading Palestinian and Israeli opposition figures, the Palestinians will waive the right of return for some 3.8 million refugees. Sovereignty over Jerusalem will be shared and virtually all of the West bank will be handed over to the Palestinians.
Palestinian leader Yasir Arafat has unofficially lent his support to the plan. Israeli Prime Minister Ariel Sharon actively opposes it, and has said he will only follow the US-backed "road map".
Sharon may dismantle settlements
Last Updated Mon, 24 Nov 2003 10:39:59
JERUSALEM - Israeli Prime Minister Ariel Sharon may take "unilateral steps" to protect Israeli interests, which include the dismantling of some settlements, reports say.
Comment: Yeah, right. This is the kind of article that gets planted in the Western press by supporters of Israel to show that Sharon is willing to compromise, only he can't because of the evil Palestinian terrorists.
The occupation corrupts from above
By Akiva Eldar
Haaretz
The lie we were told about the Air Force's bombing of the Nusseirat refugee camp has very long tentacles. These tentacles start from the very highest echelons and do not skip over any sector of Israeli society. Their roots are planted deep in the territories, fed by the poison of the occupation.
Without lies, it would be impossible to talk about peace with the Palestinians for 36 years while at the same time seizing more and more Palestinian land. Without lies, it would be impossible to claim that there is no partner for the road map, while at the same time injecting more and more money into outposts that the road map calls for dismantling. Without lies, it would be impossible to promise "painful concessions" in exchange for peace, while at the same time terming people who concluded such an agreement "traitors."
Politicians who lie for the sake of ideology or political interests are nothing out of the ordinary. Yitzhak Shamir declared openly that "it is permissible to lie for the sake of the Land of Israel." When George W. Bush began his war on Iraq, he and the politicians who surround him flooded the American public with falsehoods. The problem is that in Israel, lying has become the norm among the working levels of the army, the legal establishment and the diplomatic corps. Lying has become a way of life for commanders and soldiers, lawyers and clerks, most of whom are far from having right-wing views and many of whom loathe the occupation.
While the politicians lie in order to perpetuate the occupation, the workers learn to lie in order to justify it. Israel Defense Forces soldiers have become used to seeing settlers prepare a road to yet another outpost in the morning, and then hearing on the radio in the evening that the defense minister and the prime minister "vehemently deny" the existence of any new outposts. So what do they do? They say (perhaps even to themselves) that this is a "security road." [...]
Comment: For an example of a few of these lies see Sarid: "Israeli Occupying Army Uses Illicit Weapons Against Palestinians":
Former Israeli Minister of Education and current Knesset member, Yossi Sarid, warned Tuesday of publishing confidential information on the missiles used by Israeli warplanes while perpetrating extrajudicial executions of Palestinian resistance activists in the Nusseirat refugee camp, middle of Gaza Strip, three weeks ago.

Sarid, the leader of the "Merez" leftist party, was quoted by the Israeli radio service as saying that the Israeli army used illicit and deadly weapons in the Nusseirat strike, leading to the killing of 14 Palestinians. [...]

Israeli military helicopters fired two missiles on a Palestinain civilian car three weeks ago in the Nusseirat refugee camp, middle of Gaza Strip, killing 14 Palestinians, including a physician, and wounding dozens others.
Summit in doubt as Palestinian, Israeli leaders trade tough statements
06:44 AM EST Nov 25
MARK LAVIE
JERUSALEM (AP) - Palestinian Prime Minister Ahmed Qureia said Monday he was ready for a summit with Ariel Sharon, but only if the Israeli prime minister agreed to move on some tough Palestinian demands, including halting the construction of a West Bank security barrier.
Sharon said he would not accept preconditions for a summit, and the dispute threatened hopes for a decisive effort to end three years of violence and jump-start the stalled "road map" peace plan.
Momentum seemed to be building in recent days toward such a push after the main Palestinian militant groups agreed to a meeting in Cairo in early December to discuss a ceasefire with Israel.
Hawks circle as Sharon eyes new peace moves
Israeli PM insists any unilateral plan won't be giveaway Prominent U.S. rabbi warns of `apartheid' as Arab numbers grow
MITCH POTTER
MIDDLE EAST BUREAU
Nov. 25, 2003. 01:00 AM
JERUSALEM—Israeli Prime Minister Ariel Sharon faced down the anger of his own party hawks yesterday, assuring them any steps he may take toward ending the Israeli-Palestinian conflict unilaterally will leave the Palestinians with less than they might achieve by negotiating a settlement.
Working to assuage fears sparked by weekend reports the Israeli leadership is considering unilateral withdrawal of some isolated Jewish settlements in the West Bank and Gaza as a way to break the impasse, Sharon told a heated meeting of his hardline Likud party legislators any such moves will entail less than the "painful concessions" he has often said he is prepared to offer in exchange for a negotiated peace.
"Don't be impressed by press reports," Sharon told the closed meeting, the minutes of which were leaked to the Jerusalem Post Web site. "We will not wait for (the Palestinians) forever, nor will we wait for repeated cabinet changes. If there is no progress, we will take unilateral steps."
Sharon warned such steps might cost the Palestinians more than they might win through negotiations. "What they didn't receive today, they won't necessarily receive tomorrow. Unilateral steps mean non-negotiable steps. And these won't always be to their benefit."
[...] Commentators from all sectors of the Israeli media described the initiative as a trial balloon designed to restore Sharon's image as a leader open to non-military solutions. The prime minister has been hemorrhaging support in recent months, many noted, amid growing public frustration over the lack of a diplomatic horizon.
The frustrations of the war-weary have been heightened by repeated warnings from prominent Israeli security officials over the growing demographic threat posed by high birth rates in the Palestinian West Bank and Gaza. Barring a two-state peace, some have warned, Israel could face the prospect of apartheid by the end of the decade, in which a Jewish minority would effectively control an Arab majority between the Jordan River and the Mediterranean.
In a weekend interview with the Israeli daily Haaretz, one of America's most prominent rabbinical leaders broke silence to join the chorus of concern over that demographic threat, arguing the United States must increase pressure to save Israel from itself.
"My fear is that very soon it is going to be too late. Israel will need to choose between a democratic state with an Arab majority or an apartheid state, and this is not what Zionism is about," said Rabbi Eric Yoffie, head of the mainstream Union for Reform Judaism.
Yoffie called on American Jewish leaders to exert influence on Washington to prompt Israel to freeze settlements in the West Bank and Gaza while a two-state solution remains possible.
"We didn't dream of Zion for 2000 years in order to be a minority in somebody else's state," Yoffie told Haaretz.
Court quashes Georgia poll results
Tuesday 25 November 2003, 12:29 Makka Time, 9:29 GMT
The highest court in Georgia has quashed most of the results of the parliamentary vote held under deposed president Eduard Shevardnadze, paving the way for fresh elections.
In a televised statement on Tuesday, a Supreme Court judge said that the election of 150 deputies were found invalid. The election of the other 85 deputies will stand.
Large-scale protests alleging rigging in the November election had led to the downfall of Shevardnadze, who had been in power for 11 years.
A fresh parliamentary poll, along with a separate presidential vote, will be held within 45 days, parliamentary speaker Nino Burdzhanadze, who is serving as acting president, said.
Appearing on television, Burdzhanadze said that the country was facing difficult times and appealed to the people to remain calm.
"It's important to maintain order and have the country work as usual," she said. "We must hold elections without any excesses. The country is in a difficult situation. The economy is in crisis."
[...] Georgia, which sits astride a planned oil pipeline between the Caspian Sea and Western customers and is wedged between NATO-member Turkey and Russia, is of strategic interest to both Washington and Moscow.
Georgia's opposition leader urges local officials to maintain order
06:44 AM EST Nov 25
TBILISI, Georgia (CP) - The leader of protests that peacefully ousted President Eduard Shevardnadze warned local administrators Monday to keep residents from taking up arms in a country with a long history of political bloodshed.
A state of emergency that Shevardnadze had declared Saturday was being lifted, and Georgia's new leaders pledged to hold elections within 45 days as life in Tbilisi appeared to be returning to normal after weeks of turmoil. Opposition leader Mikhail Saakashvili, the popular, U.S.-educated lawyer who is seen as a likely candidate to succeed Shevardnadze, said there was still a potential for violence.
"We are calling on all local administrators to go back and assume their responsibilities and functions to prevent any kind of armed movement on our territory," Saakashvili told reporters. "I don't expect that, but it could always happen, given our history."
[...] Burdzhanadze said Georgia would do the utmost to maintain friendly relations with its neighbours, including Russia. She also reaffirmed the nation's pro-western course pursued by Shevardnadze, who often said Georgia would one day seek NATO membership.
Georgia's new leaders are to appeal for urgent international financial assistance as the outgoing parliament is to set a date for presidential elections after the ousting of president Eduard Shevardnadze.
Interim President Nino Burjanadze, to whom Mr Shevardnadze handed over power after weeks of opposition protests, has warned that Georgia is on the verge of economic collapse and intended to ask for international financial aid.
[...] Ms Burjanadze's plea for help came after the United States, a key ally of Georgia, said it was prepared to help ease the political transition in the former Soviet republic, leaving the door open to financial assistance.
"We stand ready to help the Georgian people as they prepare for new presidential elections," a White House spokeswoman said.
But Russia has taken a sour note, saying it is "concerned" that "the change of power in Georgia happened against the background of a heavy pressure".
"Those who organise and encourage such actions take upon themselves an enormous responsibility before the people," President Vladimir Putin said in his first public reaction since the dramatic opposition takeover in Tbilisi.
Russia, which has army bases in Georgia, has kept a watchful eye on developments there, concerned that the United States may be seeking to bolster its influence in the country, which lies on a transit route for oil from the new fields of the Caspian Sea to the West.
Kremlin Hopes for Friendlier Georgia
By Simon Saradzhyan
Staff Writer
Tuesday, Nov. 25, 2003. Page 1
President Vladimir Putin came out swinging hard at ousted Georgian leader Eduard Shevardnadze on Monday, accusing him of driving Georgia to the brink of collapse and urging the triumphant opposition to improve the country's strained relations with Russia.
"The change of power in Georgia is the logical result of a series of systemic mistakes by the previous leadership of the country in its domestic, foreign and economic polices," Putin said at a Cabinet meeting.
Those policies have left Georgia with a foreign debt of $2 billion, or 60 percent of the country's gross domestic product, he said.
Georgians "stopped seeing light at the end of this long tunnel," he said, stressing that Shevardnadze had failed to eradicate corruption.
[...] Putin said Shevardnadze was "no dictator" and that his resignation "came as no surprise" to the Kremlin.
However, he said, Russia is concerned that the hand over of power was occurring "against a background of strong, forceful pressure" and cautioned the Georgian opposition to be careful.
"Those who organize and encourage these actions are assuming a responsibility before the Georgian people," he said.
Putin made it clear that no one in the Kremlin was shedding any tears over the ouster of Shevardnadze, whose attempts to play Russia and the West off each other and anchor Georgia to NATO has angered Moscow.
Tbilisi pursued a foreign policy that didn't "take into account geopolitical realities," Putin said. "We have had many mutual grievances. Russia had enough of those against the former leadership of Georgia."
Putin warned the new leadership not to continue to antagonize Russia.
[...] Russia played an instrumental role in arranging the bloodless change of the Georgian regime. In an 11th-hour mission, Foreign Minister Igor Ivanov flew to Tbilisi over the weekend and engaged in shuttle diplomacy between Shevardnadze and the opposition that resulted in the resignation.
Ivanov said Monday that he considers the prevention of any violence to be the biggest success of his trip. "Russia's goal boiled down to preventing violence, to ensure that ... there would be no excesses that undermined the stability, political system and territorial integrity" of Georgia, he told Interfax.
Since his 1992 rise to power, Shevardnadze has pursued a largely anti-Russian policy, trying to position Georgia in the eyes of Western policymakers as a deterrent against Russia's imperialist ambitions in the region. That policy found support among parts of the Georgian population, given the role that Russia played in encouraging and supporting separatism in Georgia's provinces of Abkhazia and South Ossetia. The Kremlin responded by threatening to bomb Georgian territory over the alleged presence of Chechen rebels and periodically cutting energy supplies.
Shevardnadze's departure offers Russia and Georgia an opportunity to set aside past grievances and build a new and more constructive relationship, political analysts said.
Whither the New 'Velvet Revolution'?
Editorial
Tuesday, Nov. 25, 2003. Page 10
The epithet may stick, but once the euphoria dies down will Tbilisi's "Velvet Revolution" do the same thing for Georgia as Czechoslovakia's has done for the Czech Republic and Slovakia since 1989? Or will the comparisons end there?
Unfortunately, the Georgia that Eduard Shevardnadze bequeathes to a new, elected leader early next year, with its crushing poverty, crumbling infrastructure and organized crime, looks all too similar to the war-ravaged Serbia that overthrew Slobodan Milosevic in October 2000.
Both Shevardnadze and Slobodan Milosevic were forced out of office by peaceful crowds after attempting to rig elections.
Perhaps with crucial significance for subsequent developments, security and police forces in both countries jumped ship, cutting a deal with the opposition once they realized that the incumbent's days were numbered. What assurances may or may not have been given to the Georgian "power ministries" (and indeed to other vested interests such as Shevardnadze's business cronies) remain to be seen.
What is clear, however, is that whoever emerges as the country's new leadership will have to fight an uphill battle.
Georgia Seen Gaining From Ouster
Combined Reports
Tuesday, Nov. 25, 2003. Page 7
TBILISI, Georgia -- Georgia's economy will likely improve with President Eduard Shevardnadze's resignation Sunday, and the political turmoil that drove him from power is not likely to affect key international infrastructure projects in the Caucasian country, analysts said.
[...] "I think with Saakashvili or Burdzhanadze in control, relations with the U.S. are likely to get much better -- we have had some problems recently," said Lekso Liparteliani, head of research at Galt and Taggard, a Georgian investment bank.
Georgia plays the United States and Russia off against each other to defend the nation of 5 million people from dominance. Developments are being watched closely by both sides. Western powers want political stability to avoid problems with a pipeline being built through the territory to take Caspian oil to the Mediterranean Sea.
Oil majors BP and Statoil said the power change would not threaten their plans to build the pipeline, which, when finished in the fourth quarter of next year, will be the first major oil pipeline from the Caspian region that bypasses Russia. The $3.6 billion link will stretch 1,700 kilometers from the Caspian Sea oil fields near the Azerbaijani capital Baku through Georgia before terminating at the Turkish port of Ceyhan.
Oil pipeline consortium leader BP will also push ahead with plans to build a natural gas pipeline that is routed across Georgia, said Tamam Bayatly, the spokesman for the Baku-Ceyhan oil pipeline operator.
India, Pakistan to implement ceasefire
India and Pakistan will implement a ceasefire along their borders in disputed Kashmir from midnight tonight local time.
Pakistani Prime Minister Zafarullah Jamali announced a unilateral ceasefire starting from the Muslim Eid al Fitr festival, which marks the end of the holy fasting month of Ramadan.
India welcomed the announcement on Monday, saying it would respond positively.
US agrees with Europe on Iran nuclear draft
Tuesday 25 November 2003, 8:27 Makka Time, 5:27 GMT
The US has agreed along with France, Germany and Britain on a United Nations resolution that both condemns Iran for concealing its atomic programme in the past while encouraging its new policy of transparency.
The compromise draft falls short of what Washington originally hoped for – censuring Iran for breaches of the nuclear Non-Proliferation Treaty (NPT), which in turn could have led to economic sanctions being levied against the Islamic Republic.
UK 'could veto EU constitution'
Britain might not reach an agreement with its European Union partners about a new constitution, the government has indicated.
It signalled it was ready to veto the idea unless it gets its way on issues like tax, defence and social security.
A senior government source said that while the constitution was "highly desirable" it was not essential.
The suggestion was made as EU foreign ministers prepared to meet for talks in Brussels later this week.
Comment: Britain has consistently been a force within the EC, now the EU, for sowing discord among members. When it takes a step forward, be prepared that it mask the preparations for a future retreat.
Blair and Chirac pledge to work for EU force
By James Blitz and Robert Graham in London
Published: November 24 2003 16:55 | Last Updated: November 24 2003 20:01
Tony Blair and Jacques Chirac yesterday declared their determination to create a European Union defence force that did not undermine the Nato alliance.
Their commitment, at a one-day summit in London, to reach agreement on the issue, was intended to signal a sharp improvement in the bilateral relationship ahead of next year's centenary of the entente cordiale.
Despite US concerns that the creation of an EU military headquarters could seriously undermine the transatlantic alliance, the British prime minister and the French president said a European defence policy with its own military capability was perfectly compatible with Nato.
Budget compromise attracts EU ire
Germany and France look set to escape with a slap on the wrist for breaching the European Union's tight budget deficit pact three years in a row.
A meeting of eurozone finance ministers stretched into the night, seeking a compromise to satisfy both countries and the European Commission.
Germany and France won the day, arguing that deep cutbacks would harm Europe's fragile recovery.
But the Commission said it was deeply unhappy with the outcome.
Australian government seeks stronger terror laws after Brigitte affair
Australia's top lawmaker outlined plans to give spies stronger counter-terrorism powers after claiming a suspected al-Qaeda member had to be deported to France to be properly interrogated.
A government spokesman said Attorney-General Philip Ruddock briefed fellow politicians on plans to give more power to Australia's main spy agency, the Australian Security Intelligence Organisation (ASIO). [...]
N. Ireland elections set for close finish
By John Murray Brown
Published: November 25 2003 11:21 | Last Updated: November 25 2003 11:21
Northern Ireland goes to the polls on Wednesday to elect members of a new assembly. The result, which looks set to be very close, will determine whether it is possible to restore the province's power sharing executive.
Advertisement
Each of the four main parties - the Ulster Unionists, their hardline rivals the Democratic Unionists, the nationalist Social Democratic and Labour party, and Sinn Féin, the Irish Republican Army's political wing - will all win between 22 and 30 members. But most experts believe the race is too close to call with any conviction.
The final distribution of seats in the 108-member assembly, which will determine whether there is the necessary cross community consensus to appoint a new first and deputy first minister, could turn on the result in the sixth or last seat in a handful of the 18 constituencies.
US imposes duties on Chinese televisions
The United States has imposed import duties on Chinese television makers after making a preliminary ruling that they are dumping their products on the US market.
The Commerce Department said four Chinese manufacturers were pricing color televisions in the US at less than fair value.
It announced anti-dumping duties of 28 to 46 per cent on the imported televisions.
The ruling follows last week's decision by the US to set new quotas on Chinese textiles next year.
China warned that the duties imposed by the US on Chinese products risk damaging bilateral ties.
North Korea exporting excess electricity to China

BEIJING (AFP) Nov 25, 2003
Energy-starved North Korea was able to export 19.88 million kilowatt hours of electricity to China's northeastern border city of Dandong in the first 10 months of the year, 143 percent more than the same period in 2002, state press reported Tuesday.
"The sharp increase was attributed to the stable power supply by the DPRK (North Korea), which is helpful for the normal operation of Chinese factories," Xinhua news agency said.
The ability to export excess electricity comes despite the United States suspending shipments of heavy fuel oil to North Korea last October after it asserted that Pyongyang violated a 1994 agreement when it restarted a covert nuclear weapons program.
The fuel was seen as producing a large part of North Korea's energy needs.
China has been North Korea's major benefactor, supplying both coal and fuel for energy as well as millions of tons of food aid since economic hardship and famine struck the Stalinist nation following the collapse of the former Soviet Union in the early 1990s. [...]
Two US men sentenced to 18 years in plot to help Taliban

AFP
Tuesday November 25, 2:44 PM
Two admitted conspirators got 18-year prison terms for plotting to help Afghanistan's Taliban wage war against the United States, justice officials told AFP.
Judge Robert Jones, sitting in the northwest US city of Portland, Oregon, branded Jeffrey Battle, 33, and Patrice Lumumba Ford, 32, "first class traitors" after they admitted to conspiring to help the Taliban fight US forces, prosecutors said. [...]
The pleas by the pair, both Muslims and US citizens, brought to six the number of members of the so-called Portland terror cell who have confessed to charges in connection with helping the fundamentalist Taliban and al-Qaeda. [...]
The United States, under its new Patriot Act, launched a major crackdown on terror suspects inside the country after the 2001 terror strikes on New York and Washington, which resulted in thousands of arrests and several trials.
Comment: If thousands were arrested, and only a few trials resulted, then something must have happened to the remaining thousands of prisoners. If they were all released, that means US law enforcement agencies have no idea what they are doing - perhaps they just decided to arrest anyone who looked like a terrorist. On the other hand, if the "detainees" were not released, where are they? Why aren't they allowed legal representation or trials?
USWA Calls for Congressional Investigation into Police-State Assaults in Miami
Miami reporter unclear why she was arrested at FTAA protest
The Associated Press
November 25, 2003
MIAMI -- A reporter for an alternative weekly newspaper said Monday that she doesn't understand why she was arrested during last week's protests outside the Free Trade Area of the Americas meeting.
Miami New Times reporter Celesete Fraser Delgado, 36, said she was interviewing protesters opposed to the proposed 34-nation free-trade pact Thursday when a Miami-Dade County police cruiser pulled up and an officer yelled at the group to get on the ground. [...]
But Delgado said she and the others complied peacefully. She said she was handcuffed and put into a police van even though she told officers she was a reporter.
"I kept asking them 'What am I being detained for?' but they wouldn't say. In the paddy wagon we could hear the police officers arguing about what they were going to charge us with," Delgado said.
Delgado was charged with two misdemeanors, failure to obey a legal command and resisting arrest without violence. The charges were dropped Friday and she was released. [...]
US deports Nazi Death's Head Battalion guard
Ananova.com
08:50 Tuesday 25th November 2003
A judge has ruled that a former Nazi concentration camp guard who was found hiding behind a panel under some basement stairs in the US will be deported.
Judge Larry Dean granted the government's request to deport Johann Leprich in a written ruling issued on Friday.
The 78-year-old retired machinist will be deported to his native Romania or possibly Germany or Hungary,
Leprich moved to the US in 1952 and became a citizen in 1958. But the Justice Department later discovered his Nazi past and moved to revoke his citizenship in 1986.
Leprich acknowledged serving during the Second World War in the Death's Head Battalion, a branch of the SS that supplied guards to concentration camps. He worked as a guard at Nazi-ruled Austria's Mauthausen concentration camp, where 119,000 people were executed or worked to death in 1938-45. [...]
Some want federal police investigation (Youngstown, Ohio, USA)
[...] Atty. Richard Olivito, who filed five lawsuits on behalf of citizens who believe the city police violated their constitutional rights, has included in his suits a request to have a federal judge order the justice department to investigate. "They are needed to look at that department," Olivito said. He noted that so far no judge has asked the department to investigate. [...]
"An internal report revealed that illegal strip-searches were taking place. That report was released in July, and it's November and no one has been disciplined," he added. Pugh noted that since June, there have been half a dozen people who have complained about excessive force by the police department, including Lyndal Kimble. Kimble's June arrest was videotaped by a neighbor. The videotape has been shown on national and local television. [...]
"This really needs to be looked into by an outside agency because we have the United State Constitution that says we can't do these things," said Fred Harris, the city's safety-service director. "Just how many people have had their civil rights violated?" [...]
Comment: Depending on Federal help shows an ignorance of current and past Federal tactics.
Own a gun or pay a fine, townsfolk told (USA)
By David Usborne in New York
25 November 2003
The folk of Geuda Springs, a tiny town in southern Kansas, are taking gun control very seriously. But their approach is not what you might expect. The local council has just passed an ordinance requiring all households, with some exemptions, to keep guns and a stash of ammunition.
There is no saloon in Geuda Springs, no brothel and people drive cars rather than ride horses. But here, at least, the mentality of the Wild West is not quite dead. Housewives and doctors can still be gunslingers. Indeed, under this new regulation, it seems that they are required to be.
The council ruling, approved in a three-two vote earlier this month, decreed that any household failing to have a gun would face fines of $10 (£6) apiece. Only homes with paupers, the physically or mentally handicapped or owned by people who are conscientious objectors to firearms will be exempt. [...]
Czech warns Europe of 'dream world' woes
By Arnaud de Borchgrave
THE WASHINGTON TIMES
November 25, 2003

Czech President Vaclav Klaus said Europeans are living in a "dream world" of welfare and long vacations and have yet to realize "they are not moving toward some sort of nirvana."
The Czech Republic is a candidate for European Union membership, but Mr. Klaus, who was elected president in February, made clear in an interview his distaste for the organization.
However, he conceded during a visit to Washington last week that "the political unification of Europe" is now in "an accelerated process ... in all aspects and in all respects."
Mr. Klaus said the movement toward a single political entity of 25 European nations "will not change until people start thinking and realizing they are not moving toward some sort of nirvana."
The Czech president remains convinced that "you cannot have democratic accountability in anything bigger than a nation state." [...]
Mr. Klaus dismissed anti-Americanism in Europe, which he sees as "more a reflection of American anti-Europeanism than European anti-Americanism." [...]
French juror barred for headscarf
Tuesday, 25 November, 2003

French Justice Minister Dominique Perben has barred a woman from a court jury for wearing a headscarf.
Mr Perben said the Muslim scarf, worn by the juror at a trial in Bobigny, north-east of Paris, was contrary to the principle of impartiality.
He said he did not want open signs of religious commitment in French courts.
The French Government has been split on whether to ban headscarves in public institutions because of its policy of strict secularism.
A heated debate is continuing over whether the scarves worn by many Muslim women are acceptable in schools, courts and government departments.
In recent months, several girls have been suspended from French schools for wearing them.
Comment: Bush's bogus "war on terror" has created an environment where religious tolerance the world over is at an all time low. It would appear that he was not joking when he claimed that he was embarking on a new "crusade".
Norway PM's bomb proof car too heavy for roads
Norway's Prime Minister cannot use his new bomb proof car, despite a threat of attack by Al Qaeda, because Norway's state road authority says it is too heavy.
The vehicle has been parked unused in a garage in Oslo since mid-October.
Weighing in at around four tonnes because of armour plating and thick bullet proof windows, the car is twice as heavy as a standard BMW 760 model and 40 kilograms over the limit for registration by Norway's road authorities, a spokesman for Prime Minister Kjell Magne Bondevik said.
Comment: A short article on an absurd subject that shines light on the dire situation facing us all. How many people are engaged in work like this: designing and building armoured cars or similar non-productive jobs. The arms industry. The auto industry (as opposed to mass transit and trains). The list goes on. Just look at the work we have built...
Execution method left to Muhammad
ROSIE DIMANNO
Nov. 25, 2003. 06:33 AM
CHESAPEAKE, VA.—Death times two. And John Allen Muhammad gets to choose his method of execution: Lethal injection or the electric chair.
It will be the final call for the Beltway Sniper — just as he made the call as "spotter," court has heard, on every victim targeted in the shooting spree last fall.
He was the "captain" of the sniper team; a roster of two that cold-bloodedly picked off 13 victims, complete strangers, during three weeks of terror inflicted on the public, killing 10 and severely wounding three others.
The "master-mind," even if he never actually pulled the trigger himself. And prosecutors presented no evidence that Muhammad personally killed anyone — at least not in the Washington, D.C., area, where the Beltway Snipers staked their claim to monstrosity.
Typhoon hits remote Pacific atoll
Residents of a remote Pacific atoll are bearing the brunt of a powerful typhoon.
Typhoon Lupit has struck the Micronesian atoll Ulithi, which is no more than five metres above sea level, generating huge seas with waves of up to 10 metres high.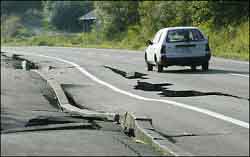 Quake shakes northern Japan
Mon Nov 24
TOKYO (AFP) - An earthquake measuring 4.8 on the Richter scale struck northern Japan. [...]
The quake occurred at 6:48 pm (0948 GMT), with its focus located 60 kilometers (37 miles) underground in Hokkaido, Japan's northern most main island, some 1,300 kilometers (800 miles) north of Tokyo, the agency said.
There is no danger of tsunami tidal waves, it said.
Birds 'facing rape seed hunger' (UK)
The failure of the winter oilseed rape crop may force some of the country's best-loved birds and bees to starve.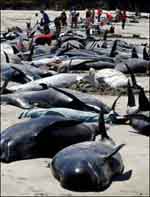 Scientists baffled as 110 whales found dead on beach
Ananova.com
09:37 Tuesday 25th November 2003
More than 100 whales and 10 dolphins have been found dead on a remote beach on Tasmania's west coast.
The long-finned pilot whales and bottle-nosed dolphins were washed up at Point Hibbs, south of the fishing town of Strahan.
David Pemberton, curator at the Tasmanian Museum, was among scientists who flew over the remote spot in a helicopter. He said the mammals had probably been dead for several days.
Scientists are baffled as to why whales become stranded. "When it's a mixed stranding like this, you start to get suspicious about external factors," Pemberton said. [...]
Painkillers 'cause kidney damage'
Taking too many painkillers can damage some people's kidneys permanently, scientists claim.
Bugs crawling back into Canadian beds
Last Updated Mon, 24 Nov 2003 22:28:27
TORONTO - Canadian bed bug infestations have increased as much as 600 per cent in the past decade.
The small, flat insects, which feed on human blood, have been re-appearing in hotels, hostels, shelters, public housing and private homes across the country.
Bed bugs were all but wiped out after the Second World War thanks to strong pesticides.
But they have been crawling back into beds across the country due, in part, to international travel.
Comment: Read the curious subtext of this article and the one below. Bugs are back because of ecologists and foreigners....
Infection Tainting America's Blood Supply?
FDA Concerned About Parasite Entering States
SAN DIEGO -- Is America's blood supply at risk? That is the question the Food and Drug Administration is asking after Chagas disease -- an infection from Latin America -- showed up in the United States in higher numbers. [...]
Boeing Fires CFO, Air Force Reacts
By Kathy Fieweger
Mon Nov 24, 4:12 PM ET
CHICAGO (Reuters) - Boeing Co. on Monday dismissed its chief financial officer for unethical conduct in the aerospace company's hiring of a senior Air Force procurement official.
The No. 2 U.S. military contractor said Chief Financial Officer Michael Sears violated company policies by talking to Darleen Druyun about future employment at Boeing while she was still acting in her government capacity as a procurement officer. [...]
Intel's Tiny Hope for the Future
The microprocessor giant is thinking even smaller: tiny sensor chips that network with each other - inside everything on earth.
By Brendan I. Koerner
As a department head at the Defense Advanced Research Projects Agency, the Pentagon's R&D arm, David Tennenhouse spent the late 1990s approving or denying funding for hundreds of far-out military programs. One proposal he reviewed, from a research team at UC Berkeley, outlined a concept called smart dust - fleck-sized wireless sensors intelligent enough to organize themselves into autonomous networks. Dropped from a passing helicopter, the sensors could spy on enemy movements or detect a hidden stash of mustard gas. Tennenhouse was intrigued enough to authorize several hundred thousand dollars in funding. Then he moved on to the next bizarre proposal.
Tennenhouse left Darpa in 1999 to found Intel Research, the semiconductor giant's stab at offbeat R&D. Charged with finding up-and-coming growth technologies, he gave little thought to smart dust. A neat plaything for the Pentagon folks maybe, "but not all that relevant to my new role at Intel," he recalls thinking. A network of minuscule sensors, each containing only a few dollars' worth of circuitry, just didn't seem like a moneymaker.
That is, until August 2000, when Tennenhouse was invited to Berkeley to check out a student-designed mote - the housing that contains a sensor assembly and a radio antenna to allow it to communicate with other motes. While examining the circuit board, something clicked. If motes could get significantly smaller - say, small enough to fit inside pill-bottle caps - they'd be unobtrusive enough to go anywhere. And that, Tennenhouse thought, would mean a windfall to the company providing the processors. Intel could dominate the high-volume sensor market just as it has ruled the high-powered chip scene with Pentiums.
This time, Tennenhouse threw millions at sensor research. He set up an Intel facility at UC Berkeley and told his researchers to use their imagination to develop new configurations and applications. Three years after that landmark trip to the East Bay, Intel's sensor investment remains trivial compared to the billions it has plunged into, say, the new Centrino wireless chip or its Flash memory business. The entire annual Berkeley lab budget is about $5 million. But in this case, Intel is acting more like an angel investor - one with $15 billion in the bank - feeling around in the dark for something that's not only different, but transformative. "It's not a high-end computer play or a low-end mote play," says Intel CEO Craig Barrett. "We're looking for growth opportunities outside our core competency."
Intel is hoping for a two-tiered payout. If sensor networks take off, that will create a need for more silicon. But the networks will also generate a huge amount of data, driving demand for more high-end PCs to process it all. The company now foresees networks consisting of thousands of motes, located wherever there's a need for data collection, streaming real-time data to one another and to central servers. Intel imagines the day when every assembly line, soybean field, and nursing home on the planet will be peppered with motes, prodding factory foremen to replace faulty machines, farmers to water fields, and nurses to check on something unusual in room E214.
Barrett's CTO, the perpetually caffeinated Patrick Gelsinger, can't contain his excitement about the sensor play. Like Tennenhouse, he was converted from skeptic to devotee after a single demo. "Intellectually, it probably felt like Gordon Moore's experience after he first saw the microprocessor and started envisioning all sorts of uses for it," says Gelsinger. "I was a believer." Now he hopes to produce "tens of billions of units" by the end of the decade.
Total ban urged on public smoking (UK)
Mark Oliver
Tuesday November 25, 2003
The Guardian
Medical leaders have asked for a total ban on smoking in public places including restaurants, pubs and all other workplaces, it emerged last night.
The leaders from the 13 royal colleges of medicine have formed an alliance to call for a ban. Their move follows a report earlier this year by the chief medical officer, Sir Liam Donaldson, in which he said he would like to see smoking in public spaces banned to protect non-smokers from passive smoking.
In the past, the government has said it does not plan to introduce a public smoking ban but the chief medical officer is an important voice.
In a letter to the Times today, the leaders cite Sir Liam's position and say: "As doctors seeing the daily consequences of smoking and passive smoking, we... call on the government to introduce legislation at the earliest possible opportunity."
The letter says that many workplaces are already smoke-free but that in the hospitality industry "smoke exposure is still very high... self-regulation has failed to protect the majority of staff or customers."
Comment: First Ireland bans smoking in public places, now the UK seems set to follow. The simplistic argument that "smoking kills" (everyone supposedly) is not reflected in reality. Government agencies have made much noise for many years about the perils of smoking tobacco. Not everyone smokes, but everyone eats, yet almost nothing has been said about the poison that is present in our food. In fact, the government seems determined to ply us with as much chemically and genetically modified food as possible, while forbidding us to smoke... we wonder why...
Thanksgiving Forecast: Potential Fireworks on the Sun
By ANAHAD O'CONNOR
The New York Times
November 25, 2003
BOULDER, Colo., Nov. 22 — Snapping like rubber bands pulled too tightly, tangled magnetic fields on the surface of the Sun have been spewing waves of radiation and superheated particles at Earth.
So far, the damage has been relatively minor in comparison with significant communications disruptions three years ago. The culprits this year are three volatile sunspots that began erupting last month and set off blackouts in Sweden, damaged satellites and forced some airlines to divert flights from polar routes to escape extra radiation.
And now, after a three-week lull while the Sun's rotation spun them out of view, the sunspots are back within striking distance. The one with the potential to produce the most fireworks, Region 507, is expected to fix its sights squarely on Earth just as Thanksgiving arrives. While all three have decayed a bit, 507 is still roughly eight times the size of Earth. [...]
Canada's first space probe may miss its target -- Mars

Tom Spears
Canwest News Service
Monday, November 24, 2003

OTTAWA -- Canada's first space mission to another planet -- a science instrument riding on a Japanese probe heading to Mars -- is likely doomed as the Nozomi spacecraft is escaping control and may miss Mars completely.
Nozomi has been flying for five years and has already missed Mars once. It carries a Canadian-built instrument that would measure the gases in Mars' thin atmosphere. Nozomi is designed to orbit Mars.
But Japan acknowledges it can barely control Nozomi, and the spacecraft may crash on Mars within a few weeks, or miss the planet and drift aimlessly around the sun forever. [...]
Boy trapped by car wheels is freed by 'Wonder Woman'
Ananova.com
07:33 Tuesday 25th November 2003
[...] Lisa Hodgkinson has been dubbed Wonder Woman by Jean-Luc Archer after she freed him from under the car's back wheel.
The boy had been knocked down by a BMW after running into the road and was trapped by his pelvis, says The Sun.
Lisa, who weighs just over 9st and is 5ft 7in tall, managed to push the car forward even though the driver was so traumatised he still had his foot on the brake. [...]
The youngster, who suffered multiple injuries, was unconscious for four days but is now recovering in Booth Hall Hospital. [...]
Robber writes note on back of his own cheque
Ananova.com
10:00 Tuesday 25th November 2003
Authorities in the US are looking for a man who held up a bank after writing a demand note on the back of a personal cheque.
The FBI in Pittsburgh, Pennsylvania is searching for Mike Mikitka in connection with several recent bank robberies. [...]
Death orgasms - yours for $34.95 (AUS)
By Valerie Lawson
November 24, 2003

In the past four days 12,000 Sydneysiders have gone in search of themselves. Brushing past angel wings, checking their auras and queuing for clairvoyants, the seekers of wisdom streamed through the Mind Body Spirit festival.
More than 200 exhibitors spruiked their wares in the four-day event, transforming the Sydney Exhibition Centre into a marketplace of love, flowers, and peace, where the tie-dyed colours of the 1970s and the jargon of the Age of Aquarius were not out of place.
For those besotted by crystal mandalas, oral spray vitamins and inner energy balancing, this was the place to be. Exhibitors at the festival, now in its 15th year in Sydney, know their watchwords - fear, stress, anger, procrastination, insomnia and self-sabotage, all of which they promise to banish with an array of therapies, from detox foot patches to thought field therapy.
Other wonders included "reiki empowerment" ($10 for five minutes), a book titled Death, the Ultimate Orgasm (yours for $34.95) and "ki energy treatment" ($30 for 20 minutes), where the therapist works on energy blockages while making a noise like a hyperventilating bird.
But the big drawcards, said the festival's founder, Graham Wilson, were the self-help workshops, which offered "effective psychic protection techniques" and "circles of forgiveness". [...]
Comment: The "new age" - the new millennium's way to tune in, turn on, and cop out. Channeling the burgeoning awareness of the masses into what amounts to mostly BS. CoIntelPro at its finest. Proceed with extreme caution and a questioning mind.

---
Remember, we need your help to collect information on what is going on in your part of the world!
We also need help to keep the Signs of the Times online.
---

Check out the Signs of the Times Archives

Send your comments and article suggestions to us

---
Fair Use Policy
Contact Webmaster at signs-of-the-times.org
Cassiopaean materials Copyright ©1994-2014 Arkadiusz Jadczyk and Laura Knight-Jadczyk. All rights reserved. "Cassiopaea, Cassiopaean, Cassiopaeans," is a registered trademark of Arkadiusz Jadczyk and Laura Knight-Jadczyk.
Letters addressed to Cassiopaea, Quantum Future School, Ark or Laura, become the property of Arkadiusz Jadczyk and Laura Knight-Jadczyk
Republication and re-dissemination of our copyrighted material in any manner is expressly prohibited without prior written consent.
.