---
The British consulate and London based bank HSBC were bombed in Turkey today. The question is, why bomb London's interests in Turkey of all places? Perhaps it has something to do with Turkey's refusal to support the US in Iraq? Perhaps, but consider the fact that the British Consul-General was among those killed in the attack which happened on the same day that 150,000 protestors are due to clog the streets of London to voice their opposition to Bush and Blair and their warmongering. Coincidence? You'd have to be mad (or asleep) to think so. Don't worry though, if the Turkish attack doesn't sway the sheeple, Mossad has a "spectacular" planned...
In the UK, Bush scolds Europe for being too reasonable and peaceful. In Iraq, the US warns potential contractors to bring their own security. A suicide bomber hits Kirkuk. Israel's tentacles reach far and wide, even back into history to cover up the truth of the part played by Zionists in everything from the Russian revolution to the Jewish Holocaust.
Back in the US, the White House is evacuated while the FBI gains the authority to conduct "terrorist investigations" without the approval of the courts. The move towards a police state is almost complete. It appears the process began long ago, and included eugenics programs in California that were a direct precursor of hideous Nazi experiments and a wink from LBJ that says it all.
Storms in the eastern US, deadly military vaccinations, sun spots are rounding on the earth once more and a new species of whale is discovered.
The HSBC bank building towers over a busy shopping area
Thursday, 20 November
Bomb attacks on the British consulate and the HSBC bank headquarters in Istanbul have left at least 25 dead and up to 400 injured.
British Consul-General Roger Short was among at least 14 people killed in the attack on the consulate, its chaplain Ian Sherwood said.
Both attacks are believed to have been carried out by suicide bombers. Witnesses reported seeing a van driving straight at the consulate building before the explosion.
The explosions follow last Saturday's suicide bomb attacks against two synagogues in Istanbul that killed 23 people.
Responding to news of the blasts, UK Prime Minister Tony Blair said there could be "no holding back" in confronting the "menace" of global terrorism. US President George Bush said the bombers had shown "utter contempt" for human life.
Comment: Do we really think that this attack has no relation to the fact that Bush is snuggling up to his lapdog Blair as they both attempt to convince the world that "war is peace"? For god's sake, the British Consulate was attacked! Is this a mere coincidence? It is ridiculously obvious that this was carried out by a group sympathetic to the Bush/Blair agenda, this was designed to quell dissent among the British public through what essentially amounts to emotional manipulation of the most murderous kind. There are 3 individuals who, according to their publicly stated agendas gain everything from this attack. They are: George Bush, Tony Blair and Ariel Sharon. The Arab people and any *real* Arab militant groups gain absolutely NOTHING.
Bush and Blair talk of "utter contempt for human life" - frankly they should know well what that is. It is they who have shown "utter contempt for human life" in their brutal war on Iraq and its civilians, wage merely to satisfy their power cravings. Now again they show the disdain with which they view the human race by allowing their respective intelligence agencies and Mossad to carry out this new "terror attack" in order to further their murderous agenda.
This is not "conspiracy theory" this is the nature of our so-called "leaders" who blight the planet on which we live. It is for each to choose to see it as it is, or deny it. Those that choose the latter will also be unable to recognise the truth when the psychopathic gaze of the "powers that be" is turned on them, as it surely must.
Qaeda Steps Up Frequency, Defies Bush
By Mark Trevelyan, Security Correspondent
November 20, 2003
PULLACH, Germany (Reuters) - It has committed deadlier attacks, on September 11 and in Bali, but never before has al Qaeda struck three times in such quick succession.
Intelligence chiefs were quick to point to Osama bin Laden's network as the likeliest suspect behind twin bombings that killed at least 25 people in Istanbul on Thursday. [...]
With three suspected attacks in less than two weeks, the group that President Bush vowed to "smoke out," hunt down and bring to justice now appears to be in the middle of its most sustained burst of activity since the hijacked airliner attacks on the World Trade Center and the Pentagon.
It has also reaffirmed its ability to strike at the time of its choosing: while Bush was on a high-profile visit to London, standing side-by-side with his closest ally Tony Blair and proclaiming their joint determination to win the war on terror. [...]
Terror fight dominates conference
By Nick Assinder
BBC News Online political correspondent
Thursday, 20 November, 2003
For Tony Blair and George Bush, there could have been no greater justification for their controversial alliance than the latest terrorist atrocity in Istanbul.

The attacks hung over their joint press conference as a chilling reminder of the character of the enemy they believe they are fighting together on a daily basis.
For the peace protesters outside, however, the Istanbul attacks were probably seen as further evidence supporting their view that it is precisely this alliance and the men's foreign policies that are escalating the terror.
That case was put bluntly to Mr Blair when he was asked if he believed the deaths and injuries in Istanbul were a direct result of him standing shoulder to shoulder with the president.
The prime minister did not waver. No, these attacks were the sole responsibility of the terrorists who will use any and all means, and shed any amount of blood to further their anti-democratic, freedom-hating cause. [...]
Comment: May we scream in disbelief? Are we to believe that "Arab terrorists" are now in the business of providing "justification" for Tony and George's "War on Terror"? Rather unlikely you will agree. However we do know of another kind of terrorist that happily provides such justification, taking their orders, as they do, from the very same George and Tony or their controllers.
The above article is depressing. It is depressing to see the depth of the slumber into which the population have fallen, so deep that the screamingly obvious fails to awaken them. Can it be true that not a hint of suspicion arises in the mind of the author or the people that read the above article?? It would seem so. Faced with such a chronic lack of awareness of what is happening around them, humanity is surely doomed to whatever fate their leaders deem appropriate for them.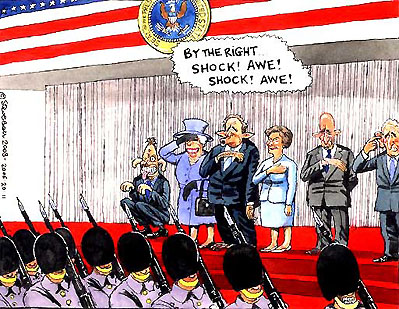 Blair and Bush 'united against terrorism'

By PA News Reporters
20 November 2003
Prime Minister Tony Blair and President George Bush today re-affirmed that they would not hold back in confronting the "menace of terrrorism".
Speaking at a joint press conference with President Bush at the Foreign Office in London, Mr Blair said the bomb attacks in Istanbul demonstrated "the evil these terrorists pose to innocent people everywhere".
Mr Blair said: "Once again we must affirm that in the face of this terrorism there must be no holding back, no compromise, no hesitation in confronting this menace, in attacking it wherever and whenever we can and in defeating it utterly."
President Bush told reporters: "The nature of the terrorists is evidenced once again - we see their utter contempt for innocent life. They hate freedom, they hate free nations."
Mr Blair said that blasts in Istanbul would not lessen Britain's commitment to Iraq.
"On the contrary, it shows how important it is to carry on until terrorism is defeated there as well," he said.
"Because it is in a free, democratic and stable Iraq, but not just the violence but the wretched and backward philosophy of these terrorists will be destroyed."
He said that the "fanatics of terror" who had carried out the attacks had shown themselves to be "callous brutal murders of the innocent". [...]
Comment: Bush and Blair are also "callous brutal murderers of the innocent". If they wish to stamp out "terrorism" they should stop perpetrating it and rein in their secret terrorist agencies like those responsible for the murderous attacks in Istanbul today. Bush and Blair are waging war on humanity. It is our collective responsibility to stop them.
Blair meets Bush ahead of rally
George Bush is holding talks with Tony Blair as demonstrators opposed to the US president's visit prepare for a march and rally in central London.
The leaders are due to discuss a range of issues including the Iraq war, Guantanamo Bay detainees and trade issues including steel tariffs.
Organisers expect more than 100,000 at the march, which police have warned may be hijacked by "trouble-makers".
Earlier Mr Bush met relatives of UK troops killed in Iraq.
The private meeting came on a visit to Westminster Abbey, where the president also laid a wreath at the Tomb of the Unknown Warrior.
[...] In his speech Wednesday, Bush - in what seemed to be a crack at France and Germany, which opposed his Iraq campaign - told the world's democracies to stop tolerating tyrants and join America in spreading freedom around the globe.
Royal security breach for Bush visit: Buckingham Palace footman was reporter
08:18 AM EST Nov 20
LONDON (AP) - The new footman at Buckingham Palace boasted he rode on royal carriages, served tea to the Queen and had free rein in the royal residence. It turns out he was a tabloid reporter who obtained his royal job using a false reference.
With U.S. President George W. Bush staying at the palace, the story was a huge embarrassment to the British government and its elaborate efforts to guarantee their guests' security. Palace, police and government officials scrambled Wednesday to investigate how the Daily Mirror reporter was hired and assigned duties that reportedly included delivering chocolates to the guest quarters of Bush and his wife Laura.
Bush, in London, Defends Iraq War and Chides Europe
By Randall Mikkelsen and Jeremy Lovell
Wed Nov 19, 4:52 PM ET
LONDON (Reuters) - President Bush chided his critics in Europe Wednesday and said the United Nations risked extinction unless it showed the sort of Anglo-American backbone that toppled Saddam Hussein.
During a high-profile state visit to Britain rich in pageantry and protest, Bush used a keynote speech to justify his divisive Iraq policy and his staunch alliance with Prime Minister Tony Blair.
In an apparent nod to Blair -- who has long urged him to push for Middle East peace alongside war in Iraq -- Bush warned Israel not to undermine peace efforts with a security barrier it is building in Palestinian territory, or settlement expansion. [...]
Bush also told powers in continental Europe they had a responsibility to help ensure global security, despite their opposition to the U.S.-British war and the occupation of Iraq.
"Because European countries now resolve differences through negotiation and consensus, there's sometimes an assumption that the entire world functions in the same way," Bush said.
"Beyond Europe's borders, in a world where oppression and violence are very real, liberation is still a moral goal and freedom and security still need defenders." [...]
Comment: You can say that again. Psychopaths always project their own reality onto others.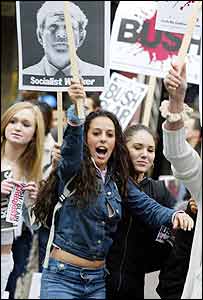 150,000 protest Bush visit in London
20/11/2003
Organisers of today's huge demonstration in London against the controversial visit of President George Bush say that up to 150,000 people joined the protest.
The numbers taking part in a march and others waiting in Trafalgar Square for a rally were a record for any weekday protest in the UK, it was claimed.
Stop The War Coalition said 130,000 people were on the march, which started close to Euston Station and was passing the House of Commons and Whitehall before ending at Trafalgar Square.
Around 15,000 people lined the route of the march, waiting to join in, while thousands more waited in Trafalgar Square. "This phenomenal response shows the depth of feeling of the British public towards this visit," said a spokesman.
The Most Revealing Wink Of The 20th Century

9-21-3
Congressman Albert Thomas winks back at a quickly-smiling LBJ as he is being sworn in to be the next President of the United States on Air Force One while the grief-stricken Jackie Kennedy stands next to him.
Comment: This is the "nature of the beast" that calls itself "the greatest democracy on earth"-- heartless and cold-blooded. Johnson was just one in a long line of US presidents that faithfully followed and continue to follow the lead of the ruling elite on our planet as they relentlessly seek ultimate power and control. Whatever needs to be done to ensure that their power-lust is satiated is done without remorse.
Today we see the continuation of this tradition with the ignorant "Dubya", the idiotic emperor, the perfect patsy, being used to promote the warped logic of the "ruling class" - "war is peace" they say, and the sheeple faithfully bleat, bow their heads and munch grass, right up to the day of their annihilation.
For more details on the Kennedy assassination see our JFK supplement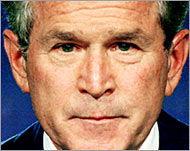 Hollow words from a "hollow" human facsimile...
Stop humiliating Palestinians - Bush

Thursday 20 November 2003

George Bush has called on Israel to rethink its controversial policy of building the apartheid wall across the West Bank.
The US president has also urged Israeli Prime Minister Ariel Sharon to bring an end to the humiliation of the Palestinian people.
Delivering a key note speech to an invited audience at London's Banqueting House, Bush urged Israel to ''not prejudice peace talks with walls and fences.''
He also took a strong stand against the building of settlements, seen as a major stumbling block to any future peace agreement between Israel and the Palestinians.
"Israel should freeze settlement construction, dismantle unauthorised outposts, end the daily humiliation of the
Palestinian people and not prejudice final negotiations with the placement of walls and fences'', said the president.
He went on to say that Palestinians should adopt ''peaceful means in their dealings with Israel'' and urged Arab states to end anti-Israeli incitement in their media and cut off funding for terrorism.
Comment: Palestinian actions are not "terrorism." It is the Palestinians' right to defend themselves against brutal Israeli aggression. Bush voices hollow words of condemnation for Israel while continuing to supply the Israeli army with advanced weapons to continue the slaughter. "Official" Jewish history is replete with such deception, yet so few are aware or "allowed" to investigate, threatened as they are with the damning slur "anti-Semite". It is in the face of this attempted control and deceit that each must decide what they will do and with which side they align.
Early in 1935, a passenger ship bound for Haifa in Palestine left the German port of Bremerhaven. Its stern bore the Hebrew letters for its name, "Tel Aviv," while a swastika banner fluttered from the mast. And although the ship was Zionist-owned, its captain was a National Socialist Party member. Many years later a traveler aboard the ship recalled this symbolic combination as a "metaphysical absurdity."1 Absurd or not, this is but one vignette from a little-known chapter of history: The wide-ranging collaboration between Zionism and Hitler's Third Reich.
Comment: See "51 Documents: Zionist Collaboration with the Nazis" for more FACTS on the truth of Zionist activity during WWII
The Myth of Tiny, Little Israel: Zionist Tentacles Everywhere
Sam Hamod, Ph.D.
This article pertains to those who are zionists who support the brutal tactics of Sharon and his predecessors in Palestine and in the U.S.; it is this group that has infiltrated American politics, media and military policy ( and the policies of other nations as well) through secret agents, those who carry dual citizenship but are more loyal to Israel than to the US or other nations, through the Mossad agents that have been hired for security reasons in various nations who then branch out to recruit others who then become agents for Israel, and through the academics whose political connections and media connections that make them overnight "authorities" so as to be an asset to Israel (Daniel Pipes, Frank Gaffney, Richard Perle, Bernard Lewis to name but a few).
Too few people in the world realize that this "little nation" of Israel has its tentacles throughout the world, in terms of its political action committees, appointees and elected officials in governments and the hiring out of its active or retired Mossad agents. I write this article to awaken people to the reality of what is actually going on, so that they may wipe away the myths spread by the Israeli propaganda machine that has mainline access to American media (newspapers, TV, radio and film) and enormous influence on the politics and economies of many nations, among them, America, Britain, Venezuela, Germany and and others. [...]
Comment: Indeed, Israel's tentacles spread far and wide. The American people may be interested to realise just how far Israel would go to ensure that America and its people remain in complete subservience to them. The truth is only available however, to those that have the strength and courage to open their eyes and accept the facts.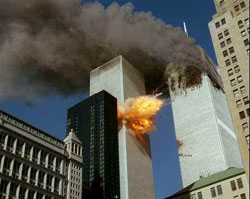 Just how far would, or did, Israel go to ensure the achievement of its goals?
Stranger than Fiction an Independent Investigation of 9-11 and the "War on Terrorism"
Ladies and gentlemen of the jury, we have established that the political force of Zionism is a dangerous supremacist movement, and that its leaders have always placed the interests of International Zionism ahead of the interests of their respective nations. We have demonstrated that this Zionist Mafia will send unsuspecting Americans to war to fight for their interests. We have seen how Germany and Great Britain were selfishly used for their purposes. We have demonstrated the role played by Zionism in helping bring about some of the 20th centuries greatest disasters; such as World Wars I and II and the Treaty of Versailles.
We have learned about Zionist massacres of unarmed Arab civilians and Zionist terrorism designed to frame Arabs and poison relations between the US and Israel's Arab enemies. We learned about the awesome Zionist power structure that exists in America, covering the Congress, the pentagon, the mass media and more.
We have established that the Zionists, through their media monopoly, have the ability to cover up and conceal some of the most amazing stories of both the past and present. We have established a primary motive - to turn the US into a nation of Arab haters and Israel lovers eager to go to war against Zionism's Arab enemies. We have established a secondary motive - to brutally crush the Palestinian resistance under the cover of a major US war on terrorism.
Sharon's tanks were unleashed on September 12 in a major escalation of the Israeli-Palestinian conflict. Because of the 9-11 attacks, few noticed and still fewer even cared.
We have established numerous precedents for these type of "false-flag" operations as well as cases of Israeli agents impersonating Arab terrorists (Lavon Affair, USS Liberty, Mossad agents caught with Arab passports, Muslim impersonators caught in India etc.)
We have established that the Zionists have the logistical capability and the opportunity to orchestrate such an operation - (best intelligence service in the world, key positions of power at the Pentagon and in US intelligence, experts with explosives, access to WTC, access to Logan Airport and US Air and American Air, unlimited supply of money, able to thwart investigators with phony wire translations and US moles, etc)
We have established that the Zionist controlled media has the ability to cover-up the facts contained in this paper, even after the stories had initially penetrated their own media screens. We have established that the Zionists have the power to ruin the careers of US Congressmen, Senators, presidents, law enforcement officials, and journalists. Conversely, they also have the power to advance the careers of those who serve their interests.
We have seen that they have the ability to block investigations as well misdirect and thwart existing investigations. We have established that the Zionists were the beneficiaries of the 9-11 attacks whereas the Arabs have been hurt greatly by the 9-11 attacks.
We have exposed numerous lies linking Arabs to 9-11. We have established how evidence against Arabs was planted and contrived in order to misdirect investigators (wording of anthrax letters, phony passports, stolen passports, Korans and Arab flight manuals left conveniently behind for FBI filed agents to find in cars and "forgotten" suitcases, Atta`a passport surviving the blast and floating down to earth, etc). We have established that 7 of the 19 hijackers are alive and well. We have established that a small army of Mossad agents was caught planning terror acts in America and Mexico. We have seen how anxious the Zionists are to use 9-11 as a pretext to crush the Palestinian resistance and to have the US attack Iraq and other nations. We have established all of this and so much more.
In addition, there is a plethora of even more damning facts which, in the interests of time and space, weren't even included in this paper!
The only logical conclusion that a reasonable person can arrive at is this: The 9-11 attacks, the anthrax murders, and numerous other foiled terror plots, were planned, orchestrated, financed, carried out, and covered up by the forces of international Zionism.
What other logical explanation can there be?
As incredible as this may seem, what other conclusion is there that can so neatly tie up all of the "loose ends" and mysteries related to 9-11?
This is the only scenario into which the many pieces of the 9-11 jig-saw puzzle snap snugly together to reveal a clear image.
Now compare this to the official explanation of 9-11, which requires us to force, bend, recreate, and manipulate puzzle pieces.
Even in the face of this mountain of facts, there will still be those who will go into denial and casually dismiss this whole case as just another silly "conspiracy theory".
But the funniest "conspiracy theory" of all is the theory that some Saudi caveman and his "network" of Arab students managed to elude US investigators and pull off the most sophisticated intelligence operation in world history.
You can continue to believe that fairy tale if it makes you sleep better at night (and if your sense of credulity can stand the burden!) Or, you can muster the moral and intellectual courage to free your mind from Zionist bondage and face the ugly truth for what it is. You can join the "extremists" and make a commitment to share the horrible truth with others, or, you can smirk, roll your eyes, and "pooh-pooh" everything you've just read.
Go back to your controlled TV news, pretend this problem doesn't exist, and let Messrs. Rather, Brokaw, and Jennings do your thinking for you while the world goes to hell in a Zionist hand-basket..
The choice is yours. History and posterity will judge your actions accordingly. To borrow a line from the Maximus, hero of the film Gladiator: "What we do in life, echoes in eternity."
His New Career

Israel Shamir
The reckless words of the Malaysian PM sent waves around the globe and caused some quite unexpected consequences. For sure, the US Congress objected to the unheard-of idea of Jewish influence, and approved a multibillion loan to Israel. JINSA rejected Dr M's saying the Jews promote wars, for the wars promoted by the Jews are called 'democratisation', or at least, 'the war to end all wars'.
Only the French President Jacques Chirac delayed his response, and found himself on the line of fire. The oh, so non-existent 'Jewish influence' could cause his political demise, as it did to Charles de Gaulle after his ill-calculated weapon embargo on Israel in 1967 (the great general lasted just one year). Jacques Chirac took the first flight to Canossa and eventually sent a letter of condemnation to the old Dr M. Like Emperor Henry IV, he preferred to submit to the power that replaced Papacy in the minds of Europeans and Americans.
Still, he was attacked by the Maariv, an Israeli tabloid. This rag did not care much for a far-away Malaysia, but had printed grotesquely distorted face of Jacques Chirac above the caption, Antisemitic Mug of France. Hysterical comparisons of Chirac with Marshal Petain were made by Amnon Dankner, the Maariv chief editor. His editorial and other articles, notably by Nahum Barnea (he called Chirac 'the collaborator'), were aiming at the French Jews, pouring inflammatory venom in order to set them against their non-Jewish neighbours and against France.
However, the Jews of France (predominantly Sephardi descendents of Maghreb immigrants) could consider the personality of Amnon Dankner, the chief editor of Maariv, before following his orders. A few years ago this fighter for the Jewish cause published a long essay called I've Got No Sister (Ein Li Achot) , where he described the Sephardis as 'baboons' and 'barbarians from the periphery of the degraded French culture'. Do you recognise yourself, Derrida? Is it your portrait, Albert Memmi?
In the time of tension between Maghrebis ('Arab Jews') of Israel and the Ashkenazi elite, Dankner wrote: "There is no chance for a fratricidal war (between Ashkenazim and Sephardim), for I do not consider these baboons my brothers". He expressed the gut feeling of the Ashkenazi elite, of the people who now try to bring the French Jews to their side: the Sephardim are at the bottom of the Israeli society, they are hardly represented in the universities and the media, while their party is out of power, their leaders are ostracised and their culture destroyed.
Dankner and Barnea of the Maariv dared to speak of 'the collaborationist [with Nazis] past of France'. Well, they should know everything about the Nazis. A few days ago, when Maariv was engaged in ferocious witch-hunt of the Air Force pilots refusing to fly assassination missions, a long article appeared in one of the newspaper supplements. Ostensibly condemning the pilots, an unknown patriot wrote:
"Those who want to live, let them fight, and those who do not want to fight in this world of eternal struggle do not deserve to live.
What we must fight for is to safeguard the existence of our people, the sustenance of our children and the freedom and independence of our country, so that our people may fulfil the mission allotted it by the Creator.
The war against our enemies cannot be conducted in a knightly fashion. This struggle is one of different attitudes to life, and will have to be conducted with unprecedented, unmerciful and unrelenting harshness. It must be thoroughly understood that the land will never be won by solemn appeals to God, nor by hopes in any United Nations, but only by the force of arms.
A single blow must destroy the enemy, without regard of losses. A gigantic all-destroying blow. Our message does not have multiple shadings; it has a positive and a negative; love or hate, right or wrong, truth or lie, never half this way and half that way. Lord God, let us never hesitate or play the coward. If we are forced to send the flower of the nation into the hell of war without the smallest fear, then surely we have the right to remove millions of another race that breeds like vermin. For we are fighting not for ourselves but for the whole world."
The article attracted very little attention, for it was an exact match to the rest of the write-up produced by Messrs Dankner and Barnea. Only a few days later, a sharp-eyed retiree paid notice to the by-line: the article in question was signed A. Schickelgruber, a real-life name of Adolf Hitler, and every single sentence was taken from Hitler's speeches and books.
This new posthumous career of the Nazi leader as a Zionist columnist served a sterling proof of advanced Nazification of Israeli society. The Zionist sympathisers affect their indignation whenever their black deeds are compared with those of Nazis, but publication of Hitler's article and following lack of response by the Israeli public staged a convincing experiment: the Israeli discourse fully inverted and appropriated the Nazi propaganda. This discovery could act as sobering cold shower to the hot heads of Zionist fanatics, but it did not. Instead of tearing their tailor-made dress shirts and pouring ashes on their balding heads, Dankner and his henchman Barnea fired the brave journalist Yehuda Nuriel who composed the article in question and brought the mirror up to the ugly face of Israel.
But here is a good sign: the Sephardi intellectuals (www.kedma.co.il/), rebelled against their Ashkenazi Zionist mentors and supported Nuriel. Could it be the beginning of Sephardi awakening? Maybe. From Haim Baram in Jerusalem to David Shasha in New York, the Sephardis look for their own way. Let them serve as a guiding light for their brethren in France, and as the bridge of peace between the communities of Palestine.
Comment: The above comments hint at what we have been saying here on the Signs page for quite some time. The rank and file Jewish population are being set up by the Zionists. Judaism and "specialness" is being used to corral and manipulate the Jewish population in such a way as to lead to their utter destruction.
Israelis leave their land, forced out by a battered economy and years of violence

By Justin Huggler in Jerusalem
20 November 2003
Jean Max emigrated from Britain to Israel in 1970 as a committed Zionist. Her three children were born and grew up in Israel. But since they reached adulthood, all three have left for new lives in the United States.
And Ms Max, now divorced, is planning to follow them. Her American visa has arrived, she is going to Boston, where her daughter lives, to look for work. If she finds it, she is leaving Israel after 33 years.
Ms Max and her family are part of a growing phenomenon that has the Israeli political establishment worried. New figures from the Immigration and Absorption Ministry stunned the establishment. Those figures show 760,000 Israeli citizens now live abroad. The ministry says its figures are an informal estimate, based on research by Israeli embassies around the world.
Even so, for a country of just 6,600,000, it is a large number. But the big surprise was the growth in the number of Israelis living abroad: in 2000, it was 550,000. That increase has undoubtedly been fuelled by the suicide bombings and other attacks by Palestinian militants over the past three years, and by the severe recession into which the Israeli economy has been plunged.
But in few countries in the world are immigration and emigration so politically charged as in Israel. At a recent conference of American-Jewish supporters of Israel in Jerusalem, Ariel Sharon made a speech that has become familiar during his three years as Prime Minister. "We need you," he told the American delegates, urging them to emigrate to Israel. He made the same appeal to visitors from the British-Jewish community last year, and he has made it repeatedly.
Israel is now said to be as crowded as India: those 6,600,000 people live in a small country. But the Israeli government continues to encourage Jewish immigration, offering generous financial incentives to new arrivals. The reason is that Israelis fear they are sitting on a demographic time bomb.
The results of a recent study by Israeli academics unnerved even the right-wing supporters of Mr Sharon. The study found that by the year 2020, in just 17 years, Palestinians will be the majority in the whole area of Israel and the occupied West Bank and Gaza Strip. That raises the possibility of the Israeli right's worst nightmare: that Palestinians might stop demanding a state of their own and start asking for the vote. That could spell the end of Israel's identity as a Jewish state, something most Israelis want to keep. [...]
Israeli army admits lying over air raid
Thursday 20 November 2003
The Israeli army has acknowledged in a rare admission of guilt that it lied over an air raid that left 12 Palestinians dead.
Contrary to earlier claims that it had only used Hellfire missile in a raid at the crowded Nusseirat refugee camp in Gaza, the Israeli army on Wednesday finally admitted using far deadlier weapons in the raid on 20 October.
"Perhaps due to the operation and security sensitivity before our eyes, we erred in the way in which we chose to describe the means of operation," a military spokesman said.
But he still did not specify the weapon that was used.
The Israelis initially said they had used Hellfire missile. But the high casualties led to accusations that the army was lying over the weapon they used.
Heavy-handed
Palestinians say that Israel's army cares little about casualties when it strikes into their cities.
Flashback: Many dead, scores hurt in Israeli air raids
Tuesday 21 October 2003

The Israeli army has launched a further two missile strikes on targets in the Gaza Strip, killing at least eight Palestinians and wounding scores more.
The latest attack, the day's fifth, was aimed at an unknown target. The fourth - minutes earlier - struck a car in Nusayrat refugee camp.
The vehicle took a direct hit from what witnesses said was a missile fired by an Apache helicopter, killing its two occupants.
Another missile was fired into a crowd of people gathered round the destroyed vehicle, causing at least 70 more casualties including at least six fatalities, according to Aljazeera quoting Palestinian medical sources.
Residents said one of the dead was a doctor who was treating victims when the second missile struck. The identity of the other victims was not immediately known, and the military did not comment.
Hundreds of camp residents charred carried pieces of the vehicle aloft and chanted, "Revenge, revenge."
Israel's Channel 10 TV said that none of the dead were "militants", characterising the refugee camp strike as a "mistake."
Israel defiant of UN resolution
Thursday 20 November 2003, 15:42 Makka Time, 12:42 GMT
Israel has reacted defiantly to a UN Security Council's unanimous resolution on the internationally backed "road map" for peace.
Deputy Prime Minister Ehud Olmert told Israeli public radio: "Israel does not feel that it is bound by the resolution."
However, Olmert added it was still possible for the government to hold talks with the new Palestinian government on the basis of the road map.
Despite serious lobbying and initial opposition from the US, the council voted unanimously for the Russian-backed resolution that puts a stamp of approval on a plan which envisages a Palestinian state by 2005.
[...] US President George Bush also demonstrated growing exasperation with Tel Aviv.
In a keynote speech, Bush called on Sharon's government on Wednesday "to freeze settlement construction, dismantle unauthorised outposts, end the daily humiliation of the Palestinian people and not prejudice final negotiations with the placement of walls and fences."

His criticism comes after Israel's infrastructure ministry invited tenders for the building of 323 new apartments in the occupied West Bank.

Daily humiliation
Scores of heavily armed Israeli soldiers and military vehicles surrounded a Palestinian refugee camp in a fruitless search for resistance fighters just hours after Bush's speech.
Meanwhile 4,000 miles away in Guantanamo Bay, 660 prisoners have no idea when they will be freed

By Andrew Buncombe in Washington
19 November 2003
The Guantanamo Bay prison camp - established after the terror attacks of 11 September and the war in Afghanistan - was meant to be a temporary detention centre, somewhere to hold the "worst of the worst".
Almost two years later, the camp has been transformed into a de facto permanent facility where 660 adults and three children are kept in a legal black hole, cut off from the outside world and with no idea whether they will ever be charged with a crime or released. Critics claim the prison, which operates with hardly any independent scrutiny, has become a live experiment in long-term interrogation where experts constantly seek to hone and improve their techniques.
"It's like it has become a cold storage facility," said Richard Bourke, a lawyer in Louisiana representing two Australian citizens who are among the prisoners. "You hear comments from the camp commander about how they are constantly improving their interrogation techniques. They are just experimenting in areas that interest them." [...]
Comment: Prisoners at Guantanamo have died from their treatment at the hands of the representatives of "the greatest democracy on earth". The US is without doubt the biggest single contributor to the enormous levels of pain, suffering, and death currently being experienced on the planet. This is how deep the deception goes. You choose to see it and accept it or close your eyes and deny that it exists.
Bush and His 'Enemies of The People'
By Matt Bivens
As a legal concept, can someone explain the difference between President George W. Bush's "enemy combatant" and Josef Stalin's "enemy of the people"?
I don't think there is one. [...]
Letter from a Reader: Résumé of a Thug
Subject: Résumé
EDUCATION AND EXPERIENCE:

LAW ENFORCEMENT:
I was arrested in Kennebunkport, Maine in 1976 for driving under the influence of alcohol. I pled guilty, paid a fine, and had my driver's license suspended for 30 days. My Texas driving record has been "lost" and is not available.
MILITARY:
I joined the Texas Air National Guard and went AWOL. I refused to take a drug test or answer any questions about my drug use. By joining the Texas Air National Guard, I was able to avoid combat duty in Vietnam.
COLLEGE:
I graduated from Yale University. I was a cheerleader.
PAST WORK EXPERIENCE:
I ran for U.S. Congress and lost. I began my career in the oil business in Midland, Texas in 1975. I bought an oil company, but couldn't find any oil in Texas. The company went bankrupt shortly after I sold all my stock.
I bought the Texas Rangers baseball team in a sweetheart deal that took land using taxpayer money. With the help of my father and our right-wing friends in the oil industry (including Enron CEO Ken Lay), I was elected Governor of Texas.
ACCOMPLISHMENTS AS GOVERNOR:
I changed Texas pollution laws to favor power and oil companies, making Texas the most polluted state in the Union. During my tenure, Houston replaced Los Angeles as the most smog-ridden city in America. I cut taxes and bankrupted the Texas treasury to the tune of billions in borrowed money.
I set the record for the most executions by any Governor in American history.
With the help of my brother, the Governor of Florida, and my father's appointments to the Supreme Court, I became President after losing by over 500,000 votes.
ACCOMPLISHMENTS AS PRESIDENT:
I invaded and occupied two countries at a continuing cost of over one billion dollars per week. I spent the U.S. surplus and effectively bankrupted the U.S. Treasury.
I shattered the record for the largest annual deficit in U.S. history. I set an economic record for most private bankruptcies filed in any 12-month period.
I set the all-time record for the biggest drop in the history of the U.S. stock market.
I am the first president in U.S. history to enter office with a criminal record.
I set the all-time record for most days on vacation in any one year period. After taking-off the entire month of August, I presided over the worst security failure in U.S. history.
I am supporting development of a nuclear "Tactical Bunker Buster," a WMD.
In my State Of The Union Address, I lied about our reasons for attacking Iraq, then blamed the lies on our British friends.
In my first year in office over 2-million Americans lost their jobs and that trend continues every month. I set the all-time record for most foreclosures in a 12-month period.
I appointed more convicted criminals to administration than any president in U.S. history.
I set the record for least amount of press conferences than any president since the advent of television.
I presided over the biggest energy crisis in U.S. history and refused to intervene when corruption involving the oil industry was revealed.
I presided over the highest gasoline prices in U.S. history.
I have cut health care benefits for war veterans and support a cut in duty benefits for active duty troops and their families -- in war time.
I have set the all-time record for most people worldwide to simultaneously protest me in public venues (15 million people)shattering the record for protest against any person in the history of mankind.
I've broken more international treaties than any president in U.S. history.
I'm proud that the members of my cabinet are the richest of any
administration in U.S. history.
My "poorest millionaire," Condoleeza Rice, has a Chevron oil tanker named after her.
I am the first president in U.S. history to order an unprovoked, preemptive attack and the military occupation of a sovereign nation. I did so against the will of the United Nations, the majority of U.S. citizens, and the world community.
I created the Ministry of Homeland Security, the largest bureaucracy in the history of the United States government.
I am the first president in U.S. history to have the United Nations remove the U.S. from the Human Rights Commission.
I withdrew the U.S. from the World Court of Law.
I refused to allow inspectors access to U.S. "prisoners of war" (detainees) and thereby have refused to abide by the Geneva Convention.
I am the first president in history to refuse United Nations election inspectors(during the 2002 U.S. election).
I am the all-time U.S. and world record-holder for receiving the most corporate campaign donations. My largest lifetime campaign contributor, and one of my best friends, Kenneth Lay, presided over the largest corporate bankruptcy fraud in U.S. history.
My political party used the Enron private jets and corporate attorneys to assure my success with the U.S. Supreme Court during my election decision.
I have protected my friends at Enron and Halliburton against investigation or prosecution. More time and money was spent investigating the Monica Lewinsky affair than has been spent investigating one of the biggest corporate rip-offs in history.
I garnered the most sympathy for the U.S. after the World Trade Center attacks and less than a year later made the U.S. the most hated country in the world, the largest failure of diplomacy in world history.
I am first president in history to have a majority of Europeans (71%) view my presidency as the biggest threat to world peace and security.
I changed the U.S. policy to allow convicted criminals to be awarded government contracts.
I have so far failed to fulfill my pledge to bring Osama Bin Laden and Saddam Hussein to justice.
RECORDS AND REFERENCES:
All records of my tenure as Governor of Texas are now in my father's library, sealed, and unavailable for public view.
All records of SEC investigations into my insider trading and my bankrupt companies are sealed in secrecy and unavailable for public view.
All records or minutes from meetings that I, or my Vice-president, attended regarding public energy policy are sealed in secrecy and unavailable for public review.
Please consider my experience when voting in 2004.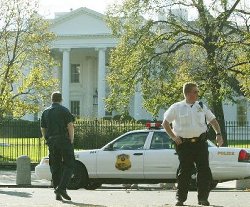 Bad Radar Prompts White House Evacuation
AP
November 20, 2003
WASHINGTON - At least part of the White House was evacuated Thursday after a false radar reading mistakenly indicated that a plane flew within five miles of restricted airspace around the complex, officials said.
"It's a false radar target," said William Shumann, Federal Aviation Administration spokesman. "When the NORAD fighters got to the location of the alleged violation, they found nothing." [...]
Shumann said flocks of birds or atmospheric disturbances can cause false radar returns. "It's one of those electronic gremlins that pops up, but there was no aircraft there." [...]
Comment: Flocks of birds, swamp gas, the planet Venus...
U.S. to Contractors: Bring Own Security to Iraq
By Jim Wolf
Wed Nov 19, 3:29 PM ET
ARLINGTON, Va. (Reuters) - The U.S-led interim rulers in Baghdad on Wednesday told companies seeking $18.7 billion in Iraq reconstruction contracts they should bring their own armed security guards to guard against escalating guerrilla attacks.
"Make no mistake about it: We are operating in a war zone," U.S. Air Force Captain Sam Dickson of the U.S.-led Coalition Provisional Authority warned would-be contractors at a conference outlining plans for a new, accelerated stage of rebuilding involving up to 25 prime awards.
The approximately 130,000 U.S. forces in Iraq would not be the first line of defense for contractors in most cases, and the companies' security guards would need more than pistols against the threat of rocket-propelled grenades and roadside bombs, he said. [...]
Comment: It sounds like things are not going well, even though the Bush Reich would have everyone believe otherwise. Perhaps there is a reason why European countries like to resort to negotiation and consensus instead of raw firepower.
Three Killed in Suicide Blast in Northern Iraq
November 20, 2003
KIRKUK, Iraq (Reuters) - A suicide car bomber killed three people and wounded at least seven in an attack outside the offices of a leading Kurdish party in the northern Iraqi city of Kirkuk on Thursday, witnesses said. [...]
CIA will examine raw data on Iraq
By John Diamond, USA TODAY
11/19/2003 11:25 PM
WASHINGTON — CIA Director George Tenet has ordered investigators to substantially widen their internal probe of Iraq intelligence to consider whether the agency missed telltale signs that Iraq had gotten rid of its weapons of mass destruction before the U.S.-led invasion last March. [...]
Eugenics and the Nazis -- the California connection
Edwin Black
The San Francisco Chronicle
Sunday, November 9, 2003
Hitler and his henchmen victimized an entire continent and exterminated millions in his quest for a so-called Master Race.
But the concept of a white, blond-haired, blue-eyed master Nordic race didn't originate with Hitler. The idea was created in the United States, and cultivated in California, decades before Hitler came to power. California eugenicists played an important, although little-known, role in the American eugenics movement's campaign for ethnic cleansing.
Eugenics was the pseudoscience aimed at "improving" the human race. In its extreme, racist form, this meant wiping away all human beings deemed "unfit," preserving only those who conformed to a Nordic stereotype. Elements of the philosophy were enshrined as national policy by forced sterilization and segregation laws, as well as marriage restrictions, enacted in 27 states. In 1909, California became the third state to adopt such laws.
Ultimately, eugenics practitioners coercively sterilized some 60,000 Americans, barred the marriage of thousands, forcibly segregated thousands in "colonies," and persecuted untold numbers in ways we are just learning. Before World War II, nearly half of coercive sterilizations were done in California, and even after the war, the state accounted for a third of all such surgeries.
California was considered an epicenter of the American eugenics movement. During the 20th century's first decades, California's eugenicists included potent but little-known race scientists, such as Army venereal disease specialist Dr. Paul Popenoe, citrus magnate Paul Gosney, Sacramento banker Charles Goethe, as well as members of the California state Board of Charities and Corrections and the University of California Board of Regents.
Eugenics would have been so much bizarre parlor talk had it not been for extensive financing by corporate philanthropies, specifically the Carnegie Institution, the Rockefeller Foundation and the Harriman railroad fortune. They were all in league with some of America's most respected scientists from such prestigious universities as Stanford, Yale, Harvard and Princeton. These academicians espoused race theory and race science, and then faked and twisted data to serve eugenics' racist aims.
Stanford President David Starr Jordan originated the notion of "race and blood" in his 1902 racial epistle "Blood of a Nation," in which the university scholar declared that human qualities and conditions such as talent and poverty were passed through the blood.
In 1904, the Carnegie Institution established a laboratory complex at Cold Spring Harbor on Long Island that stockpiled millions of index cards on ordinary Americans, as researchers carefully plotted the removal of families, bloodlines and whole peoples. From Cold Spring Harbor, eugenics advocates agitated in the legislatures of America, as well as the nation's social service agencies and associations.
The Harriman railroad fortune paid local charities, such as the New York Bureau of Industries and Immigration, to seek out Jewish, Italian and other immigrants in New York and other crowded cities and subject them to deportation, confinement or forced sterilization. The Rockefeller Foundation helped found the German eugenics program and even funded the program that Josef Mengele worked in before he went to Auschwitz.
Much of the spiritual guidance and political agitation for the American eugenics movement came from California's quasi-autonomous eugenic societies, such as Pasadena's Human Betterment Foundation and the California branch of the American Eugenics Society, which coordinated much of their activity with the Eugenics Research Society in Long Island. These organizations -- which functioned as part of a closely-knit network -- published racist eugenic newsletters and pseudoscientific journals, such as Eugenical News and Eugenics, and propagandized for the Nazis. [...]
Even the U.S. Supreme Court endorsed aspects of eugenics. In its infamous 1927 decision, Supreme Court Justice Oliver Wendell Holmes wrote, "It is better for all the world, if instead of waiting to execute degenerate offspring for crime, or to let them starve for their imbecility, society can prevent those who are manifestly unfit from continuing their kind . . . Three generations of imbeciles are enough." This decision opened the floodgates for thousands to be coercively sterilized or otherwise persecuted as subhuman. Years later, the Nazis at the Nuremberg trials quoted Holmes' words in their own defense.
Only after eugenics became entrenched in the United States was the campaign transplanted into Germany, in no small measure through the efforts of California eugenicists, who published booklets idealizing sterilization and circulated them to German officials and scientists.
Hitler studied American eugenics laws. He tried to legitimize his anti- Semitism by medicalizing it, and wrapping it in the more palatable pseudoscientific facade of eugenics. Hitler was able to recruit more followers among reasonable Germans by claiming that science was on his side. Hitler's race hatred sprung from his own mind, but the intellectual outlines of the eugenics Hitler adopted in 1924 were made in America.
During the '20s, Carnegie Institution eugenic scientists cultivated deep personal and professional relationships with Germany's fascist eugenicists. In "Mein Kampf," published in 1924, Hitler quoted American eugenic ideology and openly displayed a thorough knowledge of American eugenics. "There is today one state," wrote Hitler, "in which at least weak beginnings toward a better conception (of immigration) are noticeable. Of course, it is not our model German Republic, but the United States."
Hitler proudly told his comrades just how closely he followed the progress of the American eugenics movement. "I have studied with great interest," he told a fellow Nazi, "the laws of several American states concerning prevention of reproduction by people whose progeny would, in all probability, be of no value or be injurious to the racial stock." Hitler even wrote a fan letter to American eugenics leader Madison Grant, calling his race-based eugenics book, "The Passing of the Great Race," his "bible." [...]
In 1934, as Germany's sterilizations were accelerating beyond 5,000 per month, the California eugenics leader C. M. Goethe, upon returning from Germany, ebulliently bragged to a colleague, "You will be interested to know that your work has played a powerful part in shaping the opinions of the group of intellectuals who are behind Hitler in this epoch-making program. Everywhere I sensed that their opinions have been tremendously stimulated by American thought . . . I want you, my dear friend, to carry this thought with you for the rest of your life, that you have really jolted into action a great government of 60 million people."
That same year, 10 years after Virginia passed its sterilization act, Joseph DeJarnette, superintendent of Virginia's Western State Hospital, observed in the Richmond Times-Dispatch, "The Germans are beating us at our own game."
More than just providing the scientific roadmap, America funded Germany's eugenic institutions. By 1926, Rockefeller had donated some $410,000 -- almost $4 million in today's money -- to hundreds of German researchers. In May 1926, Rockefeller awarded $250,000 toward creation of the Kaiser Wilhelm Institute for Psychiatry. [...]
Rockefeller executives never knew of Mengele. With few exceptions, the foundation had ceased all eugenics studies in Nazi-occupied Europe before the war erupted in 1939. But by that time the die had been cast. The talented men Rockefeller and Carnegie financed, the great institutions they helped found, and the science they helped create took on a scientific momentum of their own.
After the war, eugenics was declared a crime against humanity -- an act of genocide. Germans were tried and they cited the California statutes in their defense -- to no avail. They were found guilty. [...]
Lawmakers Approve Expansion of F.B.I.'s Antiterrorism Powers
By ERIC LICHTBLAU
The New York Times
November 20, 2003
WASHINGTON, Nov. 19 — Congressional negotiators approved a measure on Wednesday to expand the F.B.I.'s counterterrorism powers, despite concerns from some lawmakers who said that the measure gave the government too much authority and that the public had been shut out of the debate.
The measure gives the Federal Bureau of Investigation greater authority to demand records from businesses in terrorism cases without the approval of a judge or a grand jury. While banks, credit unions and other financial institutions are currently subject to such demands, the measure expands the list to include car dealers, pawnbrokers, travel agents, casinos and other businesses.
The expansion, included in the 2004 authorization bill for intelligence agencies, has already been approved by both the House and the Senate, and lawmakers from both chambers approved the provision as part of the larger bill in a private session late Wednesday, officials said. Law enforcement officials said the F.B.I. would gain greater speed and flexibility in tracing suspected terrorist money. Senator Richard J. Durbin, Democrat of Illinois, introduced a motion to limit the life of the new law, but it was defeated on a party-line vote. [...]
Vaccinations May Have Killed Army Medic
By PAULINE JELINEK, Associated Press Writer
Wed Nov 19, 3:10 PM ET
WASHINGTON - Vaccinations may have caused the death of an Army medic by triggering a flare-up in a disease she was unaware she had, the Pentagon said Wednesday.
Two study panels found no evidence that the military screening program could have prevented the death of 22-year-old Army reservist Spc. Rachael A. Lacy, though officials will review the practice of giving simultaneous vaccinations, the Defense Department said.
Lacy received vaccinations for anthrax, smallpox, typhoid, hepatitis B and measles-mumps-rubella on March 2 at Fort McCoy, Wis., as she mobilized for active duty overseas. It is common both inside and outside the military to give simultaneous shots, though most people don't get the smallpox and anthrax vaccines.
The suburban Chicago woman died a month later with symptoms like those found in patients with lupus, an autoimmune disease, the Pentagon said in a statement. [...]
The two panels of civilian doctors and academics — drawn from advisory committees that existed before Lacy's death — studied Lacy's case and those of three other defense employees who fell ill.
The panels concluded that the other people's illnesses were unrelated to the vaccinations.
But in Lacy's case, they found the vaccinations "may have triggered" a flare in lupus, which neither she nor her doctors knew she had, the Pentagon said. She had never shown symptoms, but a later analysis of blood samples stored in the military's repository found she had some markers or abnormalities associated with the disease, a defense official said.
Among the vaccines she received, the one for smallpox immediately drew suspicion in the health community because some lupus patients suffer side affects from vaccines made of live virus, as smallpox is. However, officials said that because Lacy had the combination of shots, they were unable to establish or reject any role smallpox might have played in her death.
The two panels were convened at the Pentagon's request under the Health and Human Services Department. One reported last week that it tended to think, but couldn't conclusively prove, the vaccinations caused Lacy's death. [...]
Comment: It seems far more likely that the poor woman's immune system simply couldn't handle the onslaught of "safe" vaccinations.
UN nuclear panel meets on Iran
The UN nuclear agency's board of governors is meeting to consider its response to a report on Iran's controversial nuclear programme.
The report by the International Atomic Energy Agency (IAEA) details 18 years of failure by Iran to inform the agency of all its nuclear activities.
IAEA head Mohamed ElBaradei said the agency was "on the right track" and hoped for a strong resolution.
The agency's board is split over how far to go in criticising Iran.
The United States, which says Tehran is trying to develop nuclear weapons, wants Iran to be referred to the UN Security Council which can impose sanctions.
However, European states, including Britain, want to stop short of such strong condemnation.
Canada supplied information used against Arar, says solicitor general
Last Updated Wed, 19 Nov 2003 22:07:39
TORONTO - Canada's solicitor general acknowledged for the first time Wednesday that U.S. officials used Canadian-supplied information when they deported Maher Arar to Syria. Solicitor General Wayne Easter held talks with U.S. Attorney General John Ashcroft Wednesday in Washington.
Arar was stopped in New York in October 2002, while switching flights on his way back to Canada. A citizen of both Syria and Canada, Arar was briefly detained in the U.S. before being deported to Syria, where he was held for a year.
China to Raise Tariffs on U.S. Goods
By Scott Hillis
November 20, 2003
BEIJING (Reuters) - China will raise tariffs on some American imports, the Commerce Ministry said on Thursday, in a step that comes just days after a fresh trade spat sparked by a U.S. move to cap imports of selected Chinese textiles. [...]
Schröder heads to U.S. as Trade War Looms
Let's do business: Schröder is in New York to meet with top U.S. managers.
German Chancellor Gerhard Schröder embarked on a two-day trip to New York on Thursday to strengthen U.S.-German business ties. But the soaring euro and a looming trade war threaten to overshadow his visit.
Deutsche Bank may Close Retail Branches
Deutsche Bank may reduce the number of its branch outlets. The retail banking sector has the "greatest need for consolidation," company CEO Josef Ackermann told the Frankfurter Allgemeine Zeitung. "We still have too many branch offices. Our costs are too high, and profits too low." The bank expects to earn a billion pretax euros a year in the retail sector, but that isn't enough, Ackermann said. He denies that there will be further personnel cuts, however. "We have no plans for notable personnel reductions and no big plans for restructuring. That phase is behind us. Now, we need to work on profits," he said.
Euro hits Record High against Dollar
The euro's value is riding high, which is bad news for companies like Mercedes.

Trade disputes pushed the euro to a record high against the U.S. dollar on Tuesday. Some fear the euro's strength could begin to hurt Germany's stock market and its nascent economic recovery.
The head of Germany's main industry association said the euro's new high meant the German companies were already having trouble coping.
"It really hurts," Michael Rogowski, head of the BDI, told reporters after the dollar-euro currency rate closed in on $1.20 Wednesday. "The pain threshold has been passed."
Bad news for German stock market, recovery
Listed German companies, already suffering because the strong euro has increased the price of their products abroad, are likely to take a hit on the stock market this week.
"The Euro is flying high, and that's not a good omen for the stock market," a German trader told the Reuters news agency.
That, in turn, could worsen the outlook for Germany's economic recovery. Third-quarter growth of 0.2 percent was heavily reliant on a revived demand for German exports in the United States and other key overseas markets. Should the export sector falter, Europe's largest economy cannot rely on still weak domestic demand to pick up the slack.
Rogowski downplayed those fears, saying he was confident Germany could stick to what analysts expect will be a 1.5 to 2 percent increase in their GDP next year.
"I believe in a turn-around despite the weak dollar," he said.
Beijing denounces US limits on imports
By Mure Dickie in Beijing and Edward Alden in Washington
Published: November 19 2003 20:14 | Last Updated: November 19 2003 20:14
Beijing on Wednesday denounced Washington's decision to limit imports of Chinese-made dressing gowns, bras and knitted fabrics as a betrayal of World Trade Organisation principles that threatened overall China-US trade relations.
In a gesture that appeared to underline its displeasure, China also cancelled plans to send two official delegations to the US to buy agricultural products.
China to be the world's 2nd largest oil importer
www.chinaview.cn 2003-11-20 20:40:22
BEIJING, Nov. 20 (Xinhuanet) -- China's consumption of crude oil has seen rapid growth in recent years, and China will surpass Japan to become the second largest crude oil importing country in the coming year, said Wang Jiming, president of China Petroleum and Chemical Corporation (CPCC).
Cuba signs accord of understanding with US port city of Manatee
www.chinaview.cn 2003-11-20 11:29:26
HAVANA, Nov. 19 (Xinhuanet) -- An agreement of understanding was signed here on Wednesday between a Cuban company and the authorities of the southern US port city of Manatee.
"The goal is increasing the volume of cargo through Manatee," Pedro Alvarez, director of Cuba's food-importing firm Alimport, said after signing the document with David McDonald, executive director of the Manatee port, located on the coast of the southernUS state of Florida.
Acknowledging that only 30 hours of navigation separates Manatee from Havana, Alvarez said he is currently working to increase the Cuban purchases of livestock from the United States, mainly from Florida.
With the signing of the agreement, Manatee joined 17 other US harbors, five of them in Florida, in maintaining links with Cuba, in spite of the blockade imposed by the US government on the Caribbean country four decades ago.
EU values - united in diversity?

19 November, 2003
The codename Enduring Freedom could only have been dreamt up by the Pentagon - but if the EU went in for such things it would be an apt tag for its forthcoming expansion into Central Europe.
The aim is to consolidate peace and democracy in the region, in the wake of the Cold War.
The method - to re-make the former eastern bloc states in Western Europe's image, grafting on to them a set of EU values and a new system of government.
"It's regime change," says Fraser Cameron, a senior European Commission official seconded to a Brussels think-tank, the European Policy Centre.
"The US and Europe are both engaged in regime change. The Americans drop bombs from 30,000 feet. We have a more subtle way.
"We change the social, economic and legal systems, which involves root and branch upheaval of all parts of society."
Unlike al-Qaeda and the Taleban - the objects of the US-led operation Enduring Freedom in Afghanistan - the eight Central European states joining the union next year (along with Cyprus and Malta) have mostly lapped up the EU's message.
They largely see it as a return to their own Central European heritage.
But the attempt to spell out what EU values are has highlighted differences between some existing member states - while the task of spreading these values to the new members has not been a 100% success. [...]
Brain scans can reveal how you think and feel, and even how you might behave. No wonder the CIA and big business are interested.
Ian Sample and David Adam
Thursday November 20, 2003
The Guardian
Earlier this year, a group of American students volunteered their brains for a cutting edge neuroscience project at Baylor College of Medicine in Houston. The research used a technique that could watch their brains at work as they made decisions. At first glance, this seems nothing extraordinary: brain-imaging tools have been used routinely for years to assess damage caused by stroke, to hunt for brain tumours, and even identify the grey matter associated with language, love and memories. But this study was different. As each volunteer took their turn to slide into the coffin-like cylinder of the scanner, sticky fluids were squirted into their mouths. As unlikely as it sounds, the students were using multimillion pound medical equipment to take the Pepsi challenge.
Read Montague, the neuroscientist behind the Baylor experiment, is not alone in pushing the boundaries of neuroscience beyond the clinical. In recent years, a growing number of researchers have used brain-imaging equipment to try to reveal our innermost thoughts and feelings in less conventional "social neuroscience" experiments. As well as brand loyalty and consumer choice, neuroscientists are probing violent tendencies, moral reasoning, feelings of love and trust, and notions of justice. Just this week, researchers claimed to have used a technique called functional magnetic resonance imaging (fMRI) to identify brain activity associated with racial prejudice.
While standard MRI machines like those still found in many hospitals take a snapshot of the brain, functional MRI is newer and more powerful because it takes lots of these snapshots one after the other, revealing how thoughts unfold over time. But the trend for using fMRI to probe social and behavioural issues is prompting some scientists to ask big questions about where this may all lead. Could it only be a matter of time before neuroscientists have techniques that can reveal secrets we would rather keep tucked under our skulls? According to some leading scientists, this isn't a paranoid over-reaction. "The CIA has been interested in fMRI for years as a means of doing lie-detection tests," says Bob Turner, an fMRI expert at University College London. After all, he says: "The brain can't lie." [...]
Suicide rate called crisis for rural, young people
www.chinaview.cn 2003-11-20 08:47:04
[...] Every year, an average of 18 people out of 100,000 take their own lives. Internationally, around 15 people out of 100,000 commit suicide, according to World Report on Violence and Health released in 2002.
Debate on Stem Cell Research Enters New Phase
Stem cell research could hold the answers to curing certain diseases Stem cell research could hold the answers to curing certain diseases

In a controversial vote, the European Parliament has voted in favor of granting EU money for the use of stem cell research. The ballot could clear the way for the artificial fertilization of embryos for research.
US breadmakers hold crisis talks over impact of Atkins diet
The growing craze for high protein, low carbohydrate slimming regimes such as the Atkins diet is threatening the market for one of the staple foods of the West - bread. [...]
Studies lend weight to Atkins diet plan
[...] The research, in today's New England Journal of Medicine, found that people on the high-protein, high-fat, low-carbohydrate Atkins diet lose twice as much weight over six months as those on the standard low-fat diet recommended by most major health organizations. [...]
Since the first Atkins diet books were published in 1972, doctors branded the method foolish and dangerous, warning that the large amounts of beef and fat would lead to sky-high cholesterol levels. In both studies, the Atkins dieters generally had better levels of "good" cholesterol and triglycerides, or fats in the blood. There was no difference in "bad" cholesterol or blood pressure.
Comment: "According to certain Sufi teachings, wheat was the forbidden food which Adam ate in paradise." [The Conference of the Birds by Farid Ud-Din Attar]
Could it be that this was what was meant when Cain's "grain offering" was "rejected by God?"
Giant sunspots 486 and 488, which caused so much intense space weather last month, have been transiting the farside of the sun since Nov. 4th. Now they're back. The pair are emerging over the sun's eastern limb where they can once again direct explosions toward Earth. Meanwhile, sunspot 484 near the middle of the solar disk has developed a complex magnetic field that harbors energy for X-class solar flares.
AURORA WATCH: A coronal mass ejection (CME) is heading toward Earth; it was hurled into space by an M-class explosion near sunspot 484 on Nov. 18th (0800 UT). Sky watchers at all latitudes should be alert for auroras when the CME arrives after nightfall on Nov. 19th or 20th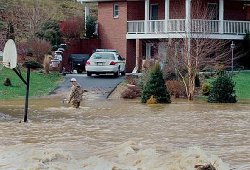 Storms cause scattered flooding; 2 dead
CNN
Thursday, November 20, 2003 Posted: 12:34 AM EST (0534 GMT)
CHARLESTON, West Virginia (AP) -- A storm system plowed through the central Appalachians and drenched the Eastern Seaboard on Wednesday, causing flooding that killed at least two people, left dozens stranded and forced others to flee their homes.
In Maryland, a boy drowned in a rain-swollen creek and three construction workers were caught in floodwaters while working on a storm drain, killing at least one, authorities said. Another was missing and presumed dead.
Schools were closed in parts of West Virginia and North Carolina, but more than 250 students became stranded by high water at three West Virginia schools and prepared to bed down there for the night. Thousands of people lost power.
"It's huge, it's turning creeks into rivers and fields into ponds and lakes," said Jessica Perrine of Red Sulphur Springs, West Virginia. [...]
FirstEnergy Blamed for August Blackout
By Chris Baltimore
Wed Nov 19, 5:28 PM ET
WASHINGTON (Reuters) - A massive power blackout last August that eventually left 50 million people in the dark began when overgrown trees shorted out three major transmission lines owned by Ohio-based FirstEnergy Corp., U.S. and Canadian investigators said on Wednesday.
In addition to failing to keep trees trimmed, FirstEnergy is largely to blame for the Aug. 14 outage because it did not have adequate alarms or computer equipment to flag the growing drain on its grid, investigators said in a report. [...]
Events leading up to the blackout began at lunchtime on Aug. 14 and eventually forced U.S. utilities to shut down over 100 power plants -- about 62,000 megawatts of capacity -- including 22 of the nation's 103 nuclear power plants. [...]
Blackout report blames Ohio utility
Last Updated Wed, 19 Nov 2003 22:06:13
WASHINGTON - Employee and equipment failures in Ohio, along with inadequate monitoring of the electricity grid, caused North America's largest blackout, an interim report concluded Wednesday.
The three-month, joint U.S.-Canada investigation laid almost all of the blame on Ohio's FirstEnergy Corp.
"The initiation of the Aug. 14, 2003 blackout was caused by deficiencies in specific practices, equipment and human decisions that coincided that afternoon," the report said.
The blackout cut electricity to 50 million people in Canada and the eastern United States.
Last Updated Wed, 19 Nov 2003 18:46:56
CHARLOTTESVILLE, VA. - Tropical volcano eruptions may double the chances of El Nino climate fluctuations, a new study suggests.
Since the tropical Pacific drives atmospheric circulation, El Nino can trigger global effects, such as snowfall in the Andes, a weak hurricane season in the Atlantic and drought in southern Africa.
Scientists have proposed a link between volcanic eruptions and El Nino events, but it has been difficult to show conclusively.
Brad Adams of the University of Virginia and colleagues used extensive climate records to build a more reliable statistical comparison.
They used historical records of geological climate indicators such as tree rings, coral growth and ice cores, and an index of volcano eruptions.
The statistical results suggest a tropical volcano eruption may double the likelihood of an El Nino event the following winter, according to the study, which appears in Thursday's issue of the journal Nature.
"Adams et al. conclude that volcanic eruptions do not trigger all El Nino events but that they help to drive the ocean and atmosphere towards a state in which El Nino-like conditions (warming) are favoured," wrote Shanaka de Silva in a commentary.
De Silva is in the space studies department at the University of North Dakota.
Researchers don't know how volcanoes make a difference to El Nino. They say the dust and greenhouse gases spewed by volcanoes may reflect sunlight, changing the amount of heat reaching the Earth.
Vodka-drinking contest winner pays with life
Julius Strauss in Moscow
20/11/2003
The winner of a drinking competition in Russia died after downing several pints of vodka.
All five other contestants were taken to hospital and are receiving emergency treatment for severe alcohol poisoning, the Itar-Tass news agency said yesterday. The competition was held in a bar in the Volgodonsk region and the prize for the winner was 10 bottles of vodka. Yesterday authorities announced that they were charging the organisers with involuntary manslaughter.
During the event each man knocked back several pint glasses of vodka, which were topped up from buckets filled to the brim. They were allowed under the rules of the contest to accompany the vodka with black bread, sausage and mustard.
Last year 40,000 Russians died of alcohol related illnesses. Many Russians frequently down a litre of vodka at a sitting.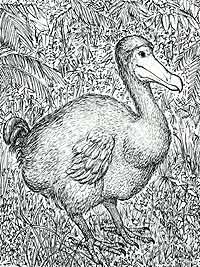 Dodo's swan song later than thought
Last Updated Wed, 19 Nov 2003 20:55:24
WOODS HOLE, MASS. - The dodo bird probably survived for 30 years after its last reliable sighting, researchers say.
The flightless bird has come to be synonymous with extinction since it died out about 300 years ago. Fully grown dodos weighed about 23 kilograms or 50 pounds.
Dodos were hunted by humans for their attractive grey-blue feathers. The bird also fell prey to cats, rats and pigs, which were introduced to its home of Mauritius and surrounding islands.
The last confirmed sighting of a flightless dodo was in 1662 on Mauritius.
It is difficult to peg the date of demise for a species since rare individuals may survive undetected after what is thought to be the last sighting.
Scientists Find New Species of Whale
US stroke victim came to with British accent
Ananova.com
10:31 Thursday 20th November 2003
A Florida woman who suffered a stroke found she had a British accent when she recovered the power of speech.
Experts have diagnosed Judi Roberts as suffering from "foreign accent syndrome". Roberts' case is one of fewer than 20 reported worldwide since 1919, says the Sarasota Herald Tribune.
The 57-year-old suffered the stroke while doing a crossword puzzle. She lost the strength to write with her right hand. Her right side was temporarily paralysed and she was left unable to talk.
After months of therapy, she recovered physically and could make guttural sounds. But when her speaking voice finally returned, it wasn't her normal accent. Instead she spoke with what sounded like a higher-pitched, British accent. She had no idea where the voice came from.
"I thought I was losing my mind," Ms Roberts said.
Experts say the condition, which usually results from a stroke or head injury, causes patients to change their pronunciation to sound like non-native speakers.
Hapless bank robber still gets the job done
Ananova.com
11:13 Thursday 20th November 2003
A bank robber in Modesto, California, forgot to cut holes in his mask. Witnesses said he held up the bottom of it so he could see but even then he had to walk with a shuffle.
Police say he still managed to escape with cash and was last seen driving away with an accomplice.
He is described as wearing a pink shirt, large white gardening gloves and tight jeans, reports the Modesto Bee.
Detective Thomas Blake said: "As he rushed to leave the building he forgot which side the door hinges were on, walked into the steel door frame, banged his head and knocked his hat off."
From the "Strange but True?" desk:
The Roots of Evil in Jerusalem
This report will shock and upset some; it is one I have put off for over 4 years. After struggling with it I have decided now is the time to write it. Knowing it could be misunderstood as anti-Semitic. God forbid that I a Jew should ever say or do anything that would be remotely considered as such, but I must admit this report does not come easy for me. The fact still remains that an evil force has been put into place in Jerusalem and has spread throughout Israel, in preparations for the end time and the seat of the anti-Christ. [...] there are those who call themselves Jews but who are of the house of Satan. And many have found their way into the Israeli Knesset. [...]
---
Remember, we need your help to collect information on what is going on in your part of the world!
We also need help to keep the Signs of the Times online.
---

Check out the Signs of the Times Archives

Send your comments and article suggestions to us

---
Fair Use Policy
Contact Webmaster at signs-of-the-times.org
Cassiopaean materials Copyright ©1994-2014 Arkadiusz Jadczyk and Laura Knight-Jadczyk. All rights reserved. "Cassiopaea, Cassiopaean, Cassiopaeans," is a registered trademark of Arkadiusz Jadczyk and Laura Knight-Jadczyk.
Letters addressed to Cassiopaea, Quantum Future School, Ark or Laura, become the property of Arkadiusz Jadczyk and Laura Knight-Jadczyk
Republication and re-dissemination of our copyrighted material in any manner is expressly prohibited without prior written consent.
.