---
Who are the real terrorists? Where is the largest terrorist training camp in the world? US citizens may be surprised to realise it is closer to home than they think. The US resurrects the "glories" of the Nazi party by recycling names for invasions. Not surprising since Bush comes from a long line of Nazis. In the latest military action in Iraq, US air forces hammered "guerilla" hideouts (AKA empty buildings) with 105mm ammunition, finding no satisfaction there, they opted for "Israeli style" tactics, giving civilians 5 minutes before demolishing their homes. A US military spokesman stated that the events were a show of US might. Sounds like a desperate attempt to scare the Iraqis into submission.
In the future, the US Congress may elect itself if a terrorist strike occurs. Meanwhile Congress approves nuke research spending, turns more benefits over to corporations, and takes more away from the people as fast as they can. They must really break a sweat, nodding in agreement with all those lobbyists.
More Israeli soldiers denounce army tactics, and Israeli propaganda continues to shout slurs at the rest of the world in an attempt, it seems, to whip the Jewish population to new heights of religious fervor - but to what end?
Bush officially arrives in the UK today (having actually touched down yesterday afternoon). 41 gun salute, red carpet, pomp and fanfare, all for a quasi-illiterate, bible thumping cretin from Texas. The Queen looks none too pleased however. What has the world come to...?
Also in the news today are micro-bots, psychopaths, mystery particles, Wall Street frauds, violent storms, earthquakes, suicides, and a global food crisis, as gold breaks US$400 an ounce for the first time in 7 years.
Nov. 18, 2003
Leah C. Wells, CommonDreams.org
Not long after the "terrorist" attacks on September 11, 2001, George Monbiot wrote in the Guardian/UK that the United States Government itself sponsors terrorist training - at the U.S. Army School of the Americas in Ft. Benning, GA.
A documentary by director John Smihula says that these horrific stories have been 'Hidden In Plain Sight', and culpability is strangely obscured despite a trail of evidence linking U.S. foreign policy to the bloodstained history of Latin America in the 20th Century. 'Hidden' gives interviews of both SOA supporters and critics, and shows flinchworthy footage of soldiers and victims. This film has debuted in more than 40 U.S. cities and has featured a national and international film festivals - including the Istanbul and Amnesty International film festivals. This month, 'Hidden' will screen at the International Documentary Festival in Amsterdam.
Noam Chomsky, Michael Parenti and Eduardo Galeano all give equally damning testimonies for ways in which U.S. imperialism and military intervention have worked against the Latin American poor, the workers and the indigenous, and benefited the large corporations who have taken advantage of cheap labor and compliance from regional leadership.
Christopher Hitchens distributes the blame and much more widely: "I think that the SOA reminds people in a very blunt way that Americans too can be collectively responsible for torture, for murder for dictatorship and not just for defending these things or for covering them up, or being complicit with them, but actually teaching people how to do them, which is more than complicity, it is direct responsibility."
Is it a stretch to say that U.S. taxpayers keep the school open? Is it feasible that through our oil dependency and consumptive behavior we give an implicit nod to U.S. foreign policy, consenting to whatever means are necessary to keep gas prices low? Silence is acceptance, and ignorance is no excuse. [...]
U.S.'s 'Iron Hammer' Code Name 1st Used by Nazis
WASHINGTON (Reuters) - The U.S. military's code name for a crackdown on resistance in Iraq was also used by the Nazis for an aborted operation to damage the Soviet power grid during World War II. Reuters Photo AP

"Operation Iron Hammer" this week launched the 1st Armored Division's 3rd Brigade into the roughest parts of Baghdad to ferret out the attackers who have killed scores of U.S. troops since Iraqi leader Saddam Hussein was ousted in April.
A Pentagon official said the name was chosen because of the "Old Ironsides" nickname of the 1st Armored Division. He was unaware of any connection to any Nazi operation.
"Eisenhammer," the German for "iron hammer," was a Luftwaffe code name for a plan to destroy Soviet generating plants in the Moscow and Gorky areas in 1943, according to Universal Lexikon on the www.infobitte.de Web site.
A researcher at Britain's Imperial War Museum confirmed the existence of Eisenhammer.
The Nazi's long-range bombing operation was repeatedly postponed and was finally scrapped after an allied air assault destroyed many of the German planes on the ground in 1945, shortly before the defeat of Germany.
After it declared war on terrorism, U.S. officials changed the code name for its impending attack on Afghanistan to Operation Enduring Freedom.
The original name, Operation Infinite Justice, was jettisoned amid fears that the Muslim world, already leery of U.S. intentions, would object on the basis of Koranic teachings that only God can provide infinite justice.
Comment: Coincidence? We think not.
US calls in air support in central Baghdad for first time since invasion
AFP
Wednesday November 19, 2:38 PM
The US-led coalition called in air support against targets in central Baghdad for the first time since its spring invasion, deafening the capital with repeated salvoes of aerial cannon fire as it pressed its new get-tough message.
In one of a spate of barrages that punctured the evening festivities that normally characterise the Muslim fasting month of Ramadan, nearly 40 separate rounds were audible across the city.
A US military spokesman said five separate locations from which mortar or rocket attacks had been launched on the coalition's sprawling, heavily fortified city centre administrative compound were targeted in the evening's raids.
"These targets were struck using an aerial platform with 105 mm cannon fire and 40 mm gunfire," the spokesman said without specifying whether the aircraft were fixed-wing or helicopters.
"These locations may be abandoned buildings, they may be overgrown." [...]
Comment: American tax dollars at work.
"Every gun that is made, every warship launched, every rocket fired, signifies in the final sense a theft from those who hunger and are not fed, those who are cold and are not clothed." --President Dwight D. Eisenhower, April 16, 1953
Check here for an updated cost of the war in Iraq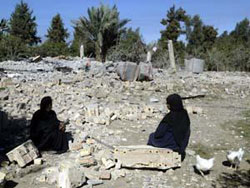 Iraqi women sit next to a pile of rubble which was one of three homes that US forces destroyed overnight.
Jeff Wilkinson Knight-Ridder Newspapers
November 18, 2003

TIKRIT, Iraq - In a tactic reminiscent of Israeli crackdowns in the West Bank and Gaza, the U.S. military has begun destroying the homes of suspected guerrilla fighters in Iraq's Sunni Triangle, evacuating women and children, then leveling their houses with heavy weaponry.

At least 15 homes have been destroyed in Tikrit as part of what has been dubbed Operation Ivy Cyclone II, including four leveled on Sunday by tanks and Apache helicopters that allegedly belonged to suspects in the Nov. 7 downing of a Black Hawk helicopter that killed six Americans.
Family members at one of the houses, in the village of al Haweda, said they were given five minutes to evacuate before soldiers opened fire.
The destruction of the homes is part of a sharp crackdown on insurgents in the so-called Sunni Triangle where guerrillas have downed at least two U.S. helicopters, one a Chinook in Fallujah on Nov. 2, killing 16 U.S. soldiers, and the other the Nov. 7 downing of the Black Hawk. On Saturday, two more helicopters crashed, after one of them may have been fired upon, killing 17. [...]
Officials at the Department of Defense referred questions to Central Command in Tampa, which oversees all military operations in Iraq. Spokesmen there declined to comment.
On Monday, angry residents of al Haweda, where three of the destroyed homes were, said the tactic will spawn more guerrilla fighters and perhaps spark an Iraqi uprising similar to the Palestinian intifada in the West Bank and Gaza.
"This is something Sharon would do," said 41-year-old farmer Jamel Shahab, referring to the Israeli prime minister, Ariel Sharon. "What's happening in Iraq is just like Palestine."
Shahab stood amidst the rubble of the former home of 55-year-old farmer Omar Khalil, who was arrested shortly before the home was destroyed. The military said Khalil's son, who escaped, is one of the suspects in the downing of the Black Hawk.
Khalil's wife, Kafey, sat wailing near her wrecked house. "I have no son. I have no husband. I have no home. I will be a beggar."
Kafey Khalil said military officials first visited the house two days ago, demanding that her husband turn in her son. He refused.
Then at about 10 p.m. Sunday, the military returned, she said.
"They started shouting at us, '"Get up! Get out!''' she said. "They brought a big truck for us. It was so cold we felt like we were dying. After five minutes they started shooting. We didn't have time to get anything but blankets. They brought in the tanks and the helicopters and started bombing."
After the shooting stopped, the women and children were released and were left at the scene, they said. They were sifting through the wreckage on Monday, attempting to salvage what few items remained.
Two other homes nearby were also in shambles. What walls remained were pierced by tank rounds. A small boy held up what was left of the family's TV set.
In the backyard of one home, a cow lay dead, its stomach split open by a large caliber round, its unborn calf half-exposed. A dog limped nearby, a piece of shrapnel protruding from its body.
Tank tracks had churned up the sandy earth. Spent 5-inch-long shell casings littered the ground. Boys collected them and displayed handfuls to journalists.
The Israeli military's practice of demolishing the homes of families of convicted or suspected terrorists has brought widespread condemnation from human rights and other governments - including the United States.
The State Department's 2002 human rights report, released in March, said such policies "left hundreds of Palestinians not involved in terror attacks homeless." In September, department spokesman Richard Boucher criticized Israel for destroying a seven-story apartment building in Gaza during a raid on a suspected Hamas militant.
There was no official reaction in Washington. [...]
Fear Grows Among Iraqis in U.S. Employ
By Daniel Williams
Washington Post Foreign Service
Tuesday, November 18, 2003
MOSUL, Iraq, Nov. 17 -- At city hall, the Iraqis who interpret for the Americans were silent, and other employees who cooperate with the United States refused to identify themselves to a reporter on Monday.
Even the media relations official who usually speaks to the Iraqi press gave his name only reluctantly. "I guess a media representative who doesn't represent himself isn't doing his job," Yaarub Ghanem said. "But you have to understand. We are all scared. We are under threat. Our families are in danger. It's easy to kill us."
Two days ago, gunmen killed Khalid Victor Paul, an interpreter, and his teenage son, Leith, as they were driving to a school. It was the third time since Oct. 29 that Iraqis supporting the occupation had been killed in Mosul, about 215 miles north of Baghdad. A journalist and a judge investigating human rights abuses under deposed president Saddam Hussein were previously gunned down.
A week ago, assassins tried to kill a manager in charge of distributing fuel products throughout northern Iraq while he was driving his college-age son to school. The manager escaped death but his son was killed.
Iraqis under the pay of U.S.-led occupation authorities are deeply worried. Some interpreters have quit, Ghanem said, and others are thinking about it. "I consider it myself all the time. I feel I am being watched," he said. "Of course, I would try to find a replacement first, to keep things running smoothly." [...]
Comment: If Iraqis employed by the US are being shot and killed, things are not running smoothly. Furthermore, when the job description goes something like, "Interpreter for US occupation forces. Good pay. Excellent chance of being killed", how does one go about finding a replacement?
US Congress approves funds to study new generation of nukes

WASHINGTON (AFP) Nov 19, 2003
The US Congress late Tuesday allocated millions of dollars for research into new types of nuclear weapons and bolstering readiness at the Nevada nuclear test site, but, bowing to critics, trimmed the administration's program.
By a vote of 387-36, the House of Representatives passed a spending bill for energy and water programs that contains 7.5 million dollars to study the feasibility of the so-called Robust Nuclear Earth Penetrator, which one Energy Department official insisted "would enhance the nation's ability to hold hard and deeply buried targets at risk."
The Senate approved the measure by voice vote later Tuesday night. It will now go to President George W. Bush for his signature. [...]
An additional six million dollars have been earmarked to study low-yield nuclear weapons that some experts believe could be useful in high-precision strikes. Experts say that a five-kilotonne or smaller nuclear explosive detonated, for example, right on a missile silo door will vaporize the door as well as the missile inside. [...]
The bill also contains 24.9 million dollars to heighten readiness at the Nevada test site to enable it to conduct a nuclear test 24 months after the White House decides to do so. The administration had been insisting on an 18-month readiness window, down from the current 36 months.
Overall, Congress allocated 6.3 billion dollars for nuclear weapon activities in fiscal 2004 -- 303 million dollars more than last year, but 94 million below Bush's request. [...]
"Congress and the Bush administration have made a mistake by opening the door to a new wave of global nuclear weapons competition" Daryl Kimball, executive director of the Arms Control Association, said in a statement. "This sends a dangerous message that will hamper US efforts to prevent other nations from developing nuclear weapons."
Comment: Let's just cut to the chase: America's hypocrisy knows no bounds.
U.S. Congress proposes Amendment to be able to elect its own members
underreported.com
[F]or now , Congress is giving election/appointment authority to the states. But the Amendment wording opens the door to a bait-and-switch as it gives ultimate authority to Congress itself -- to appoint its own members. It's a new type of democracy.
Comment: Democracy in America is dead. Soon, you won't even have to participate in a farce election using "vote controlled" electronic ballot machines. There will be no voting at all. Another "terrorist" attack, and all pretense of democracy can be dispensed with. Not that there is any real democracy, as we see from the next article.
House of Representatives approves 32-billion-dollar energy bill
WASHINGTON (AFP) - The House of Representatives approved a 32-billion-dollar energy bill, which Republican leaders said would help update an outmoded power grid and reduce US dependency on foreign oil.
By a largely party-line vote of 246-180, lawmakers approved the legislation containing tens of billions of dollars in tax cuts and other benefits for the oil, gas, coal, ethanol and nuclear industries.
The bill, which would mark the biggest reform of US energy policy in 10 years, was expected to be taken up by the US Senate Wednesday.
US President George W. Bush hailed the vote. [...]
A Readers Commentary.
Information Clearing House
11/18/03
5th Amendment to U.S. Constitution
No person shall be held to answer for a capital, or otherwise infamous crime, unless on a presentment or indictment of a Grand Jury, except in cases arising in the land or naval forces, or in the Militia, when in actual service in time of War or public danger; nor shall any person be subject for the same offence to be twice put in jeopardy of life or limb; nor shall be compelled in any criminal case to be a witness against himself, nor be deprived of life, liberty, or property, without due process of law; nor shall private property be taken for public use, without just compensation.
What the following news story fails to mention is -- that JOSE PADILLA IS AN AMERICAN CITIZEN.
An American citizen who - on the whim of our esteemed moronic leader, who is know far and wide for his brilliant ability to weigh evidence and Intelligence information in the most incisive manner - has been jailed, incommunicado, for a year and a half, with no legal recourse, and no charges filed against him.
The American Revolution was fought precisely against this - the English were arresting people - with no charges or evidence, and jailing them incommunicado for years.
We have been invaded. There has been a Regime Change in the US. If this is OK with you, then do nothing.
Appeals Court Weighs Case of Enemy Combatant

Judges Question Executive Branch Powers in Patriot Act

By Michelle Garcia
Special to The Washington Post
Tuesday, November 18, 2003; Page A03

NEW YORK, Nov. 17 -- Two federal appeals judges sharply questioned whether the president alone had the power to designate a U.S. citizen as an enemy combatant, and one of them noted that the Sept. 11, 2001, terrorist attacks "didn't repeal the Constitution."

A three-member appeals court panel peppered a government lawyer with questions as it considered the case of Jose Padilla, who is suspected of conspiring with al Qaeda to explode a radiological "dirty bomb." The government never formally charged Padilla, 33, who has been locked for 18 months in a naval brig in South Carolina, without access to family, friends or a lawyer. [...]
All of a sudden the Patriot Act isn't just about terrorists anymore
By Clarence Page
Chicago Tribune
WASHINGTON -- In our latest episode of continuing adventures with the USA Patriot Act, FBI agents say they have used the new anti-terrorism law to prosecute a political bribery case centered on the owner of some Las Vegas strip clubs.
What do topless dancers in Vegas have to do with terrorism, you may ask? Nothing, everyone agrees, unless perhaps you count the violence that some of the ladies inflict on the wallets of their mostly male clientele.
Nevertheless, the FBI now confirms local Las Vegas newspaper reports that the agency used the Patriot Act's provisions to subpoena financial information about four local politicians and one local businessman, Michael Galardi, the owner of the Jaguars topless dance clubs in southern Nevada and Cheetah's clubs in Las Vegas and San Diego.
The Patriot Act, passed in the panicky weeks after the Sept. 11, 2001, terrorist attacks, allows the government to peak into the personal affairs of many people, not just suspected terrorists. The law's powers only begin with suspected terrorists. We have yet to learn how far it extends. [...]
American ignorance is security risk
Wednesday 19 November 2003
Prominent US politicians have decried American ignorance of the outside world, arguing the country's reluctance to study foreign civilisations could become a threat to national security.
The scathing report produced by the Strategic Task Force on Education Abroad questions US citizen's ability to fully grasp the meaning of events abroad.

The task force is headed by former education secretary Richard Riley and former US senator Paul Simon.
"We strongly believe that the events of 11 September 2001 constituted a wake-up call - a warning that America's ignorance of the world is now a national liability," they said in a joint statement.
11 September evidence
The report points out that the gap separating Americans from the rest of the world became particularly evident on the day of the attacks.
Most Americans were forced to ask themselves some soul-searching questions: "Where did this come from?" and "Why us?"

Task force members insist the answer is that Americans are largely ignorant about the Middle East and suffer from "a pervasive lack of knowledge" about the world at large.

America's Achilles heel
They decried the fact that some US citizens had made speaking only English "a point of national pride instead of disgrace."

"We are unnecessarily putting ourselves at risk because of our stubborn monolingualism and ignorance of the world," the task force went on to say. [...]
Comment: Ain't that the truth! However, what the report does not mention is the fact that the deplorable state of the average American's awareness of where exactly the rest of the world is, has been actively promoted by successive US administrations for years.
An ignorant population is bliss, not for the people, but for those who control them. The dumbing down of America has yielded rich rewards for the government: a population that will gladly swallow blatant lies and deceit when asked to. This has allowed the present government to act with impunity, staging faked terror attacks, stealing elections, illegally invading other Sovereign nations and generally dragging the American nation down the road to destruction. The question is, do you want to be a part of it?..
Israeli Army Engaged in Fight Over Its Soul
Doubts, Criticism of Tactics Increasingly Coming From Within
By Molly Moore
Washington Post Foreign Service
JERUSALEM -- The hunt for suspected militants sent Sgt. Lirom Hakkak bashing his way through a wall into a Palestinian family's threadbare living room, his slender frame sweating under nearly 35 pounds of body armor and combat gear, his M-16 rifle ready.
He noticed the grandmother first, her creased face so blanched with terror that she appeared on the verge of collapse. A middle-aged couple huddled close by, trembling.
"They could be my parents," Hakkak, the 22-year-old son of an Israeli poet, recalled thinking. In that split second of recognition, he said, "you really feel disgusting. You see these people and you know the majority of them are innocent and you're taking away their rights. You also know you must do it."
With the Israel Defense Forces in the fourth year of battle with the Palestinians, the most dominant institution in Israeli society is also embroiled in a struggle over its own character, according to dozens of interviews with soldiers, officers, reservists and some of the nation's preeminent military analysts.
Officers and soldiers have begun publicly criticizing specific tactics that they consider dehumanizing to both their own troops and Palestinians. And while they do not question the need to prevent terrorist acts against Israelis, military officials and soldiers are speaking out with increasing frequency against a strategy that they say has forsaken negotiation and relied almost exclusively on military force to address the conflict. [...]
Comment: We have posted a link to this video before, but if you missed it, this is what the army is sick of doing: What Israel didn't want you to see. Also, many Israelis are sick over their government's policies. Another link with video we have posted before: Israeli Committee Against House Demolitions. Anyone who disagrees with Israeli policies is labeled anti-Semitic, and usually Israeli dissenters are ignored by the mainstream media.
Gunman Wounds Five at Israel-Jordan Border
By Doron Berti
November 19, 2003
EILAT, Israel (Reuters) - A gunman from Jordan wounded five tourists at a usually quiet border crossing between Israel and Jordan on Wednesday before being shot dead, officials said.
Security sources said the attacker was killed almost instantly after opening fire at the crossing near the southern Israeli resort of Eilat. Hospital officials said the wounded were all tourists from South America. One woman was critically hurt. [...]
Israel placed in top five weapons exporting countries
By The Associated Press
With an arsenal ranging from the Uzi to attack drones and airborne early warning systems, Israel has quietly transformed itself into one of the world's top defense exporters.
Defense News has ranked Israel as No. 3 based on 2002 contracts, and an Israeli expert told The Associated Press the country was now considered to be in the top five. Growing sales to Turkey and India, two major new markets for Israel, have driven the surge. [...]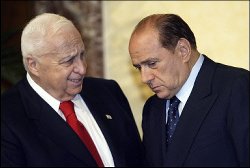 Sharon, Berlusconi discuss coordinated action on terror
AFP
Wednesday November 19, 2:37 PM
Israeli Prime Ministers Ariel Sharon and his Italian counterpart Silvio Berlusconi discussed coordinating measures against terrorism during a meeting here, with Sharon raising concerns about anti-Semitism in Europe, officials on both sides said.
The two leaders met at Berlusconi's office in the Palazzo Chigi and continued discussions through a working dinner.
A news conference scheduled for after the talks was called off in respect for a national day of mourning marked by the funeral of the 19 Italian victims of the Nasiriyah bombing in Iraq. [...]
The two leaders agreed to boost bilateral trade, which has reached 2.7 billion dollars annually. [...]
Sharon also called on the Italian government to endorse a parliamentary agreement reached in June to reinforce strategic cooperation between the two countries, notably on arms sales, aviation and the fight against terrorism, the source said.
Sharon's concern about anti-Semitism in Europe has risen sharply with the twin suicide bombing of synagogues in Istanbul at the weekend and the arson attack on a Jewish school in the Paris suburbs. [...]
Haaretz
A new wave of anti-Semitism is sweeping Europe. In Britain, Anglo-Jewry's dream world has been jolted twice over: once by the intifada, and then by September 11. The left-liberal media are scathing in their criticism of Israel. Spokesman for Britain's two million-strong Muslim community are virulent in their attacks on the Jewish state and on its supporters. London's chattering classes are reportedly making uninhibitedly anti-Semitic remarks at dinner parties.
Across the Channel, meanwhile, a wave of Jew-hatred seems to be inundating France, eliciting grave concern in the 600,000-strong Jewish community there. Synagogues have been fire-bombed, schools have been attacked and individuals have been cursed and harassed on the street. [...]
Comment: The Signs staff deplores anti-Semitism, or any racially or otherwise biased hate. For too long, people have been manipulated by their own ignorance and prejudices, essentially giving up their free will. We are also amazed at the hyperbolic content of the above clip. A few, very few, people rightly speak up regarding the Israeli government's deplorable policies, and a whole continent is labeled and slurred as anti-semitic. A rather obvious tactic to get the people behind their government tactics by rousing fear, and playing on the horror of the tragic and terrible crimes of the past, which is real anti-Semitism. It also shouts down all discussion of the truth. Rather convenient. The rest of the page consists of links to articles that supposedly prove the above claims, and a link to the above page is included on every page on Haaretz.
A lot of the above language is slanderous. Considering France's tough laws on anti-Semitism, with shouting like that, it will be more difficult to see real anti-Semitism if it arises again, which it might, due to the Israeli government's crimes. Most Europeans, who are not Jewish, pay little attention one way or the other.
The September 11th quip is rather cryptic. It would appear that world wide, 9/11 has put the Arabic and Islamic peoples in a rather bad situation, not the Jewish. Iraq has been invaded, with Iran and Syria on the chopping block. Meanwhile funding for Israel has not slowed down in the least, despite a little song and dance from the Bush Reich about the apartheid fence.
The US uses a similar policy against anyone who speaks out against the US government policies by accusing them of being against America, unpatriotic, or unAmerican. The manipulation is ever so blatant for those who have eyes to see. We are all being set up.
Seven million died in the 'forgotten' holocaust

Eric Margolis – Toronto Sun November 16, 2003
Five years ago, I wrote about the unknown Holocaust in Ukraine. I was shocked to receive a flood of mail from young Americans and Canadians of Ukrainian descent telling me that until they read my column, they knew nothing of the 1932-33 genocide in which Josef Stalin's Soviet regime murdered seven million Ukrainians and sent two million more to concentration camps.
How, I wondered, could such historical amnesia afflict so many? For Jews and Armenians, the genocides their people suffered are vivid, living memories that influence their daily lives. Yet today, on the 70th anniversary of the destruction of a quarter of Ukraine's population,this titanic crime has almost vanished into history's black hole.
So has the extermination of the Don Cossacks by the communists in the 1920s, the Volga Germans in 1941 and mass executions and deportations to concentration camps of Lithuanians, Latvians, Estonians and Poles. At the end of World War II, Stalin's gulag held 5.5 million prisoners, 23% of them Ukrainians and 6% Baltic peoples.
Almost unknown is the genocide of two million of the USSR's Muslim peoples: Chechens, Ingush, Crimean Tatars, Tajiks, Bashkirs and Kazaks. The Chechen independence fighters who today are branded as "terrorists" by the U.S. and Russia are the grandchildren of survivors of Soviet concentration camps.
Add to this list of forgotten atrocities the murder in Eastern Europe from 1945-47 of at least two million ethnic Germans, mostly women and children, and the violent expulsion of 15 million more Germans, during which two million German girls and women were raped.
Among these monstrous crimes, Ukraine stands out as the worst in terms of numbers. Stalin declared war on his own people in 1932, sending Commissars V. Molotov and Lazar Kaganovitch and NKVD secret police chief Genrikh Yagoda to crush the resistance of Ukrainian farmers to forced collectivization.
Ukraine was sealed off. All food supplies and livestock were confiscated. NKVD death squads executed "anti-party elements." Furious that insufficient Ukrainians were being shot, Kaganovitch - virtually the Soviet Union's Adolf Eichmann - set a quota of 10,000 executions a week. Eighty percent of Ukrainian intellectuals were shot.
During the bitter winter of 1932-33, 25,000 Ukrainians per day were being shot or died of starvation and cold. Cannibalism became common. Ukraine, writes historian Robert Conquest, looked like a giant version of the future Bergen-Belsen death camp.
The mass murder of seven million Ukrainians, three million of them children, and deportation to the gulag of two million more (where most died) was hidden by Soviet propaganda. Pro-communist westerners, like The New York Times' Walter Duranty, British writers Sidney and Beatrice Webb and French Prime Minister Edouard Herriot, toured Ukraine, denied reports of genocide, and applauded what they called Soviet "agrarian reform." Those who spoke out against the genocide were branded "fascist agents."
The U.S., British, and Canadian governments, however, were well aware of the genocide, but closed their eyes, even blocking aid groups from going to Ukraine.
The only European leaders to raise a cry over Soviet industrialized murder were, ironically and for their own cynical and self-serving reasons, Hitler and Italian dictator Benito Mussolini.
Because Kaganovitch, Yagoda and some other senior Communist party and NKVD officials were Jewish, Hitler's absurd claim that communism was a Jewish plot to destroy Christian civilization became widely believed across a fearful Europe.
When war came, U.S. President Franklin D. Roosevelt and British PM Winston Churchill allied themselves closely to Stalin, though they were well aware his regime had murdered at least 30 million people long before Hitler's extermination of Jews and gypsies began. Yet in the strange moral calculus of mass murder, only Germans were guilty. Though Stalin murdered three times more people than Hitler, to Roosevelt he remained "Uncle Joe."
The British-U.S. alliance with Stalin made them his partners in crime. Roosevelt and Churchill helped preserve history's most murderous regime, to which they handed over half of Europe in 1945. After the war, the left tried to cover up Soviet genocide. Jean-Paul Sartre denied the gulag even existed.
For the western Allies, Nazism was the only evil; they could not admit being allied to mass murderers. For the Soviets, promoting the Jewish Holocaust perpetuated anti-fascism and masked their own crimes. The Jewish people, understandably, saw their Holocaust as a unique event. It was Israel's raison d'etre. Raising other genocides at that time would, they feared, diminish their own. This was only human nature. While today, academia, the media and Hollywood rightly keep attention focused on the Jewish Holocaust, they mostly ignore Ukraine. We still hunt Nazi killers, but not communist killers. There are few photos of the Ukraine genocide or Stalin's gulag, and fewer living survivors. Dead men tell no tales.
Russia never prosecuted any of its mass murderers, as Germany did. We know all about the crimes of Nazis Adolf Eichmann and Heinrich Himmler; about Babi Yar and Auschwitz.
But who remembers Soviet mass murderers Dzerzhinsky, Kaganovitch, Yagoda, Yezhov and Beria? Were it not for writer Alexander Solzhenitsyn, we might never know of Soviet death camps like Magadan, Kolyma and Vorkuta. Movie after movie appears about Nazi evil, while the evil of the Soviet era vanishes from view or dissolves into nostalgia. The souls of Stalin's millions of victims still cry out for justice.
Comments: To the Jewish leaders however, the above tragedy is insignificant compared to the Jewish suffering. Furthermore, there is much historical evidence to suggest that Zionists played a major role not only in facilitating the Jewish holocaust but also the rise of Communism and the resulting deaths of millions of Jews and non-Jews alike. It is clear that the Zionists leaders NEED the holocaust, it is also clear that they need anti-Semitism, it is an integral part of Israel's "raison d'etre" and the key to the "specialness" that Jewish leaders seem determined to foist upon the unsuspecting rank and file Jews.
"Jews are special, their specialness proven by the fact that the world hates them", this is the psychopathic logic used. It is for this reason that today we see Sharon and his "advisors" vocally branding all of Europe "anti-Semitic". Their goal, it would seem, is to never let the memory of Jewish suffering die, not as it is claimed, to prevent a repeat of the Jewish holocaust, but to actually precipitate one, in order that the fanatical, eschatological dogma contained within the Jewish religious texts be realised. Our chief concern is for the Jewish people, to expose the psychological stranglehold that their "leaders" hold them in and to prevent the fulfillment of the Zionists' megalomaniacal goals.
Fire Destroys Indiana Holocaust Museum
AP
Tue Nov 18, 5:36 PM ET
TERRE HAUTE, Ind. - A fire destroyed a museum founded by a Holocaust survivor early Tuesday and arson is suspected, a museum official said. [...]
"The police said there was a brick that had broken the main glass door, and they threw something in there that was an accelerant," said Mary Wright, the museum's education director. "Even the display cases were practically burned down to the ground."
Someone also wrote "Remember Timmy McVeigh" on a wall. McVeigh, the Oklahoma City bomber, was executed at a federal prison outside Terre Haute in 2001. [...]
CANDLES stands for Children of Auschwitz Nazi Deadly Experiments Survivors. The museum was founded in 1995 by Holocaust survivor Eva Kor. It houses artifacts from Auschwitz and documents relating to Dr. Josef Mengele. [...]
Italy Deports Africans in Islamic Groups
ROME - Italy ordered the deportations Tuesday of seven North Africans, launching a crackdown on militant Islamic groups following the deadly attack on Italian soldiers in Iraq. [...]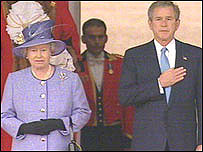 The Queen looks on in delight as the US anthem is played to celebrate the arrival of Dubya at Buckingham Palace.

Smiles and pomp as Queen welcomes Bush

19/11/2003

US President George Bush was formally welcomed to the United Kingdom by the Queen today amid tight security at Buckingham Palace.

Pomp and ceremony, including a 41-gun salute, was laid on for start of the state visit.

Peculiarly, the President and Mrs Bush stayed overnight at the palace before the official welcome ceremony.

After breakfast, they boarded a presidential motorcade to drive the 100 yards or so from the palatial Belgian Suite to the palace forecourt.

There they were greeted by the royals, who were also driven from the palace to the ceremonial stand, Tony Blair, military top brass, the Metropolitan Police Commissioner and civic dignitaries.

US Secretary of State Colin Powell, among the American VIPs at the ceremony used his own pocket camera to take pictures.

Later today, the president is expected to use an address at the Banqueting House in Whitehall to mount an impassioned defence of the invasion of Iraq.

As the ceremony proceeded, royal officials and police were launching an urgent inquiry into how an undercover reporter from the Daily Mirror posed as a footman at Buckingham Palace, working there for two months during the build up to the President's visit.

Wednesday, 19 November, 2003

An undercover reporter has exposed flaws in royal security by gaining a job as a footman at Buckingham Palace by using a false reference.

The Daily Mirror said Ryan Parry worked for two months at the Palace despite unprecedented security for the visit of US President George Bush.

Buckingham Palace and police said a "vigorous" investigation into the alleged breach had begun.

Home Secretary David Blunkett is due to address the Commons about the incident. [...]

Protesters attempt to interrupt Bush arrival

19/11/2003

Protesters standing behind barriers attempted to interrupt George W Bush's official arrival ceremony today with one man using a loud speaker to chant his objections at the US President's controversial visit to the UK.

However, protester efforts were drowned out when the band of the Grenadier Guards and the Corps of the Drums of the Battalion trumpeted out the Star Spangled Banner. [...]

China warns Taiwan that it risks war

Wednesday 19 November 2003

China has warned Taiwan that it risks triggering war if the island's leaders pushed ahead with their drive for independence.

Wang Zaixi, vice minister of the Taiwan Affairs Office, said China's Taiwan policy was based on the one-nation theory and any move in the other direction would invite war, the China Daily reported.

Wang was reacting to the aggressive stance taken by Taiwan's President, Chen Shui-bian, who has kicked off his campaign for next year's presidential elections with a pledge to amend the constitution.

"If the Taiwan authorities collude with all splittist forces to openly engage in pro-independence activities and challenge the mainland and the one-China principle, the use of force may become unavoidable," Wang said. [...]

Mag editor threw tantrum, claim US customs

November 18, 2003

Australian magazine editor Sue Smethurst was verbally abusive and threw a sandwich against a wall after she was detained at Los Angeles international airport, a United States customs spokesman said today.

Smethurst has said she was body-searched and "groped beyond belief" by US authorities during her 12 hour-plus detainment at the airport last week.

US Customs and Border Protection responded today, defending its treatment of the 30-year-old editor of New Idea.

"Every effort was made to be professional with her, but she was irate and threw a tantrum and was pretty verbally abusive and threateningly abusive as far as her verbal conduct," US Customs and Border Protection spokesman Michael Fleming told AAP.

"She was offered a meal, threw a sandwich against a wall and threw the juice in the trash can."

Smethurst flew to LA for an exclusive interview with Australian singer-actress Olivia Newton-John.

But her trip turned into a nightmare soon after her plane landed and she attended the customs and immigration area inside LA airport with other passengers.

Fleming said Smethurst was refused entry to the US because she did not have the correct documentation to enter the country as a working journalist.

Smethurst said she would lodge a formal complaint with US authorities over her 15-hour ordeal, during which she said she was interrogated, fingerprinted, had mugshots taken, was refused access to a lawyer and was finally deported.

"I was marched through the airport with my hands handcuffed behind my back," she said. "I was body searched, I've had every part of me groped beyond belief.

"(I was) shocked more than anything, disbelief, total sense of disbelief, humiliated."

Principal Found Bleeding In Bathroom Stabbed Himself Blamed Students (NY, USA)

Man Kills Puppy With Ax As Children Beg Him To Stop (Georgia, USA)

Girl wearing Halloween mask kills brother

A Danish girl, age 14, murdered her 18-year-old brother in their family home by stabbing him to death with a bread knife. The police believe she was inspired by horror movies. [...]

Chinese shock at serial killings

By PAUL KRUGMAN
New York Times

You're selling your house, and your real estate agent claims that he's representing your interests. But he sells the property at less than fair value to a friend, who resells it at a substantial profit, on which the agent receives a kickback. You complain to the county attorney. But he gets big campaign contributions from the agent, so he pays no attention.

That, in essence, is the story of the growing mutual fund scandal. On any given day, the losses to each individual investor were small — which is why the scandal took so long to become visible. But if you steal a little bit of money every day from 95 million investors, the sums add up. [...]

FBI foreign exchange sting nets 48 arrests

By Hugh Bronstein and Greg Cresci

NEW YORK (Reuters) - FBI agents have arrested about 48 Wall Street foreign exchange professionals in a sting targeting several top firms thought to have defrauded small retail investors of millions of dollars. [...]

Man stuffs nine rattlesnakes in mouth in world record stunt

WHISKEY FLATS, Texas (AP) - A man stuffed the tails of nine live rattlesnakes in his mouth Tuesday, besting his record of eight. [...]

Gold breaks $400/oz for first time since 1996

SINGAPORE, Nov 19 - Gold broke above $400 an ounce on Wednesday for the first time since March 1996 on a weakening U.S. dollar and global security worries.

The spot price (XAU=) rose as high as $400.25 an ounce before retreating to just below the milestone mark, getting its latest lift from the dollar's slide to all-time lows against the euro and to near three-year troughs versus the yen.

"I think if we get through $401, we can rally quite quickly to $405," said Martin Mayne, associate director at NM Rothschild in Sydney. "If it doesn't, it will pull back." [...]

Middle East futures market returns

NEW YORK (CNN/Money) - A shelved Pentagon plan to create a market allowing traders to bet on the likelihood of events in the Middle East has been revived by the private firm that helped develop it. [...]

Schwarzenegger Proposes More Workers' Comp Cuts

[...] The governor's plan could bring significant relief to California's businesses, but critics warned that such deep cuts probably would come at the expense of injured workers. [...]

Comment: He didn't wait very long before full fledged bowing to his corporate string pullers began.

Dollar falls to fresh low against euro

By Jennifer Hughes in London and Jenny Wiggins in New York
Financial Times
November 18 2003 21:38

The dollar fell to a record low against the euro on Tuesday as data showing sharply weaker capital flows prompted new fears over the funding of the US current account deficit.

Talks begin on giving pill that could prevent 80% of heart attacks to all over-55s

Colleges Expand Mental Health Services

By STEVE GIEGERICH, AP Education Writer
Tue Nov 18, 2:17 PM ET

Devastated by their son's suicide during his sophomore year in college, Donna and Phillip Satow channeled their grief into reaching other students who have contemplated taking their own lives. Now, three years later, the Jed Foundation is working with 120 colleges and universities around the country, providing resources that include Ulifeline, a free Web site linking students to mental health centers and confidential help. [...]

Second only to automobile accidents, suicide is the leading killer of college students — claiming the lives of an estimated 1,100 each year, according to the Jed Foundation. The American Association of Suicidology reports on its Web site that the suicide rate for 15-to-25 year olds is 300 percent higher than it was in the 1950s. [...]

Desperate for care: the final hours of suicide girls

By Cahal Milmo
The Independent
19 November 2003

When Danielle Waddington emerged from her shift at the Wimpy burger bar on the beachfront at Southend-on-Sea late on Saturday night she was cursing with frustration at abuse she had suffered from unsavoury customers.

Sam Nicholls, one of her closest friends, said yesterday: "Danielle was not the sort of girl who took any crap. But ... she wanted to make a go of this job after all her problems. This was her chance to get back on track." For the 16-year-old, her first seven-hour shift waiting at tables was a step forward after years of mental health problems and dealing with the aftermath of a fractured family life.

Less than five hours after walking on to the seafront at the Essex resort, Danielle was dead. Her shattered body was found early on Sunday alongside that of Lisa Utton, 18, another victim of a broken home. The pair, who first met only days earlier, had fallen 120ft from a stairway window on the top floor of a block of flats, the apparent victims of what police believe was a spur-of-the-moment suicide pact. [...]

China's rising grain prices could signal global food crisis

BEIJING (AFP) Nov 19, 2003

US environmentalist Lester Brown warned Wednesday that sudden food price hikes in China could be the sign of a coming world food crisis brought on by global warming and increasingly scarce water supplies among major grain producers.

"I view the price rises as an indication, as the warning tremors before the earthquake," Brown, director of the Washington-based Earth Policy Institute, told an audience of Chinese environmental non-governmental organizations.

"World grain harvests have fallen for four consecutive years and world grain stocks are at the lowest level in 30 years. If farmers can't raise production by (late next year) we may see soaring grain and food prices worldwide." [...]

India's hidden Aids epidemic: virus to infect 25m by 2010

Campaigners say a combination of ignorance and huge inequalities between the sexes is allowing HIV to spread quickly

By Maxine Frith in Madras
The Independent
19 November 2003

When she was 21, Kousalya Periasamy was forced into marriage with a man she did not like.

She was told she had to marry him because his family owned land that supplied water to her father's factory. What Kousalya wasn't told was that her husband was HIV positive.

"He knew he was positive and his family knew too. I think my father suspected because he knew what my husband was like, but the marriage was all to do with money," Kousalya said.

"I knew nothing. I didn't like my husband but he forced me to have sex with him and his family said it was my duty. I became ill and my husband's family said I should go for tests, and that is when I found out I was HIV positive." Kousalya's story is tragically common in India, and goes to the heart of its burgeoning Aids epidemic.

While the country is becoming increasingly wealthy from foreign investment, and the growth of call centres and its hi-tech industry, the status of women has remained hugely unequal. Women have few rights to property, or control over whom they marry. Rape within marriage is legal, and domestic violence is condoned rather than condemned.

Low-caste women are often forced into prostitution, and even those who are better off can find it difficult to receive health care because they are put under pressure not to leave the house alone.

Campaigners say the inequalities are adding to the rapid spread of HIV and Aids. A report by the British charity Voluntary Service Overseas, to be published this week, will warn that unless women's rights are improved India could face disaster.

The Indian government insists that only 4 million people have HIV or Aids - about 0.4 per cent of the population. But most aid agencies say the real figure is much higher. The Centre for Strategic and International Studies in Washington has estimated India will have 25 million cases by 2010. [...]

Strong earthquake jolts central Philippines

MANILA, Philippines, Nov. 18 — A strong earthquake jolted the central Philippines early Wednesday, killing a child and collapsing several small buildings, officials said.

The 6.6-magnitude quake struck at 1:14 a.m. and was centered offshore, about 45 miles northeast of the town of Borogan in Eastern Samar Province, officials said. It was felt in Surigao City, about 185 miles away. [...]

Violent storms push across Mississippi

JACKSON, Mississippi (AP) -- An apparent tornado damaged more than a dozen homes in rural Mississippi on Tuesday as violent storms pushed through the state and parts of Louisiana and Texas. No injuries were reported. [...]

Geologists test area land for earthquake impact (USA)

Evansville, IN November 18 -- An earthquake can be both damaging and frightening. But some scientists think the midwest could actually be prone to more earthquake damage than other parts of the country.

We all know the tri-state is close to New Madrid fault line. That, mixed with silty and loose soil in this area, experts fear is a terrible combination if a big one hits. [...]

Yellowstone scientists studying mysterious underwater dome.

By David Kelly
Times Staff Writer

YELLOWSTONE NATIONAL PARK, Wyo. — Far below the blue waters of Yellowstone Lake, a mysterious dome 2,100 feet across and 100 feet high is causing concern among scientists and citizens who don't know whether it's a harmless curiosity or a hazard on the verge of exploding. [...]

Epson invents tiny flying micro-robot
By INQUIRER staff
JAPANESE FIRM Seiko Epson is to show off the µFR – a micro flying robot – at the International Robot Exhibition in Tokyo later this week. [...]
Scientists find mystery particle
By Dr David Whitehouse
BBC News Online science editor
Scientists have found a sub-atomic particle they cannot explain using current theories of energy and matter.
The discovery was made by researchers based at the High Energy Accelerator Research Organisation in Tsukuba.
Classified as X(3872), the particle was seen fleetingly in an atom smasher and has been dubbed the "mystery meson". [...]
---
Remember, we need your help to collect information on what is going on in your part of the world!
We also need help to keep the Signs of the Times online.
---

Check out the Signs of the Times Archives

Send your comments and article suggestions to us

---
Fair Use Policy
Contact Webmaster at signs-of-the-times.org
Cassiopaean materials Copyright ©1994-2014 Arkadiusz Jadczyk and Laura Knight-Jadczyk. All rights reserved. "Cassiopaea, Cassiopaean, Cassiopaeans," is a registered trademark of Arkadiusz Jadczyk and Laura Knight-Jadczyk.
Letters addressed to Cassiopaea, Quantum Future School, Ark or Laura, become the property of Arkadiusz Jadczyk and Laura Knight-Jadczyk
Republication and re-dissemination of our copyrighted material in any manner is expressly prohibited without prior written consent.
.