---
In the news today: The mayor of London declares Bush the greatest threat to life in the planet. England beefs up security to 16,000 police officers, with 14,000 for London alone. It seems that a police state follows the "Leader of the Free World" wherever he travels. Meanwhile, Bush's home state of Texas is pummeled by storms, tornadoes and flooding.
Rumsfeld liked the Korean Conflict so much that he wants to duplicate it in Iraq. Rummy also threatens N. Korea with nukes, and blasts the country for being an "evil regime" that is more concerned with military hardware that with the basic needs of its people. Hmm, what other country do we know of that fits that description? Seems there is no limit to US hypocrisy.
More volcanoes and earthquakes, from Alaska to Altai. If you thought the Sun's recent activity was strange "you ain't seen nothing yet". Europe's "barbarians" were a lot more civilised than historians and archeologists would have us think. Whistling, false memories, tsunamis, caribou, Tennessee UFO's and much more in today's news.
UPDATE: We have been following the "Bombing of Jewish Synagogues in Istanbul" story this week. As you will recall, in spite of the fact that the vast majority of victims in the bombings were Muslims, the bombing is being portrayed as a "Jewish" event. Mossad was on site very quickly to begin its investigations, even though the six Jewish deaths (out of 30 people killed) were Turks. By this action, Israel asserts its right as the defender of Jews everywhere, regardless of citizenship. Of course, Orthodox Jews around the world can obtain Israeli citizenship just by asking for it.
Through these types of actions, the Zionist state works to construct the notion of Jewish identity that is intimately linked to the state of Israel. Jewishness itself is equated to Israel, and the consequence is the absurd notion that any criticism of the state of Israel is an attack on Jews and is therefore "anti-Semitic." Thus, the recent poll conducted in the European Union that showed that Israel was viewed as the greatest threat to peace, rather than indicating that at least in Europe a good number of people are able to see the world scene clearly, is twisted by the apologists for Israeli genocide into a demonstration of increasing "anti-Semitism" in Europe.
Any attempts by those who are oppressed and murdered by Israel to defend themselves is also viewed as "anti-Semitism."
This mindset is the consequence of the Second World War. Six million Jews perished. While this was going on, the Zionists were collaborating with the Nazis to fill Palestine with European Jews. Those who were willing to move were saved; the others were left to their fate. The Zionists themselves saw nothing sacred about Jewish life if it did not serve the Zionist cause. Given that the Zionists were willing to sacrifice other Jews during the war, one can ask whether or not this might not continue to be the case. The actions of Sharon this summer in sabotaging the cease-fire, leading to more Jewish deaths, as well as recalling that it was Sharon's visit to the Temple Mount in the fall of 2000 that brought on the latest intifada, are evidence that the willingness to sacrifice other Jews to further their aims is still part of the Zionist arsenal.
With this in mind, read the following articles on the bombing in Istanbul, see what elements are in place, and how they are being used to further advance the Zionist cause.
Report says synagogue bombers were Turks, including 1 with training in Iran
05:51 AM EST Nov 18
FRANCES D'EMILIO
ISTANBUL (AP) - A brief, blurry image of a pickup driver's face, taken before a security camera went dead. A bit of flesh stuck to a steering wheel. Apparent connections between Turks and underground Islamic groups.
Investigators scrutinized these and other clues Monday to determine if al-Qaida was behind the near-simultaneous suicide truck bombings at two Istanbul synagogues Saturday that killed 22 worshippers and passers-by and wounded more than 300.
In an interview with The Associated Press, Interior Minister Abdulkadir Aksu said the drivers were not identified - although investigators appeared to be closing in. An unconfirmed TV report said the attackers were two Turks, one with extensive bomb training in Iran.
"We may have an announcement tomorrow," Aksu said when asked about the report by the private Turkish station NTV.
Prime Minister Recep Tayyip Erdogan told reporters that DNA test results on the suspected drivers, which could establish identities or at least help establish ethnic backgrounds, were expected Tuesday.
With the retrieval of a body Monday in one of the synagogues, the death toll in the two attacks rose to 24, including the two suicide drivers, authorities said. Six Jews were killed, and Israelis were among foreign intelligence experts helping with the investigation.
A surveillance camera on one of the synagogues filmed one of the suicide attackers driving a Isuzu pickup packed with hundreds of kilograms of explosives.
Aksu said the image was badly blurred.
"We are taking into consideration every possibility, including the possibility that the local groups might have links with international groups, al-Qaida, or they might have used 'subcontractors,' " to carry out the attacks, the interior minister said.
In Washington, U.S. Secretary of State Colin Powell also said the truck bombings "certainly has all the fingerprints that we would expect of an al-Qaida operation." But he added that the State Department also did not have enough information to connect the attacks with Osama bin Laden's network.
The timing of the twin attacks, two minutes apart, and the large amount of explosives used have led authorities to suspect an international hand in at least the planning of the bombings, if not the execution.
Turkish news reports said police were questioning a Turk believed to be the brother of one of the drivers. The man was brought to Istanbul from southeastern Turkey for questioning because one of the pickups was purchased using documentation belonging to him.
Without citing sources, the TV report said DNA tests on the driver's remains and on the brother helped to identify the driver as a Turk.
The NTV report said the driver travelled six times to Iran for bomb training. Both drivers are suspected of having had links with al-Qaida.
Sources in Turkey's southeast, a heavily Kurdish region, said the two men cited in the NTV report came from Bingol province, a hotbed of activity by Hezbollah, a Turkish extremist group that has carried out numerous killings in its drive to establish an Islamic state.
In a separate report, NTV said police found pieces of Turkish and Pakistani passports believed to belong to the attackers, but it did not explain why one of the Turks would have Pakistani documents.
Two Arabic-language newspapers received separate statements Sunday claiming al-Qaida was responsible for the bombings, but there was no immediate way to authenticate those claims.
The blasts went off during crowded Sabbath services, one marking a bar mitzvah, the coming of age of a young man. Most of the victims were Muslims passers-by or neighbours, as the trucks exploded in the narrow streets outside the Neve Shalom and Beth Israel synagogues, five kilometres apart. All the dead and most of the wounded had been at Beth Israel.
Funerals for at least seven of the Muslim victims were held Monday. Several hundred protesters marched to one of the synagogues to promote the tolerance that had long marked predominantly Muslim Turkey's relationship with its tiny community of Sephardic Jews.
Funerals for the six Jewish victims were scheduled for Tuesday.
Picking through the rubble at one of the synagogues, searchers Monday found the remains of an 85-year-old Jewish woman, whose eight-year-old granddaughter also was killed in the blast.
Some analysts believe Saturday's attacks were meant as a warning to Turkey's Islamic-rooted government against continuing close relations with Israel and the West.
Turkey, a predominantly Muslim country and NATO member, has close relations with Israel, including joint military exercises. Israeli has also helped modernize Turkey's military equipment.
"If they're thinking this might change (Turkey's) policy toward the United States and Israel, they are gravely mistaken," said Sami Kohen, a newspaper columnist and prominent member of Istanbul's 25,000-member Jewish community.
Turkey says Afghan link to bombings
(Reuters) - November 18 2003 10:34
ANKARA (Reuters) - Turkey says it has established a link to Afghanistan in the weekend suicide bombings of two Istanbul synagogues.
[...] Turkish Foreign Minister Abdullah Gul was asked by reporters whether the attacks, which shook world markets, were linked to al Qaeda.
"It has emerged that there is a link (in the Istanbul suicide attacks) with an organisation in Afghanistan in terms of belief and understanding," Gul told reporters.
He gave no details.
"The emerging evidence demonstrates that the security services have been very successful in their work," he said. "A trail has been found and relationships have emerged."
He did not say whether Turkish security services, who are being helped by Israeli authorities, were moving towards any arrests.
Turkish media name bomb suspects
By Daren Butler
(Reuters) - November 18 2003 9:47
ISTANBUL (Reuters) - Turkish media has named and published photos of four foreign-trained Turkish Islamic militants they say are involved in the suicide bombings of two Istanbul synagogues that killed at least 25 people.
[...) The Turkish media described all four as radical Islamists who had received weapons and other training on visits to other world hotspots where Islamic militants were active.
[...] Three of the four received training in Pakistan and Iran while the background of the fourth man was still emerging but he was believed to have made trips abroad too, media reports said.
One of the four had also fought in Chechnya against Russian forces and joined Turkish Hizbullah in the late 1980s.
Comment: As the stories dribble out, the links are becoming obvious: Afghanistan, Pakistan, and Iran of course. The Mossad agents in Istanbul are making certain the newsboys are focused on the Axis of Evil. But what it is also demonstrating for those who scratch of little deeper is that "Hail! Hail!, the gang's all here!" The old CIA-sponsored network of Muslim "freedom-fighters" is still at work. The same groups that were supported by the CIA in Afghanistan, then in Chechnya, via the middleman Pakistan, are at work in Turkey.
Next we have an article from Al-Jazeera about Palestinian collaborators with the Zionist regime. We'll leave it to you, the Reader, to draw your own conclusions.
Palestinians who help Israeli attacks
By Khalid Amayreh in the West Bank
Sunday 28 September 2003, 5:08 Makka Time, 2:08 GMT
Israel's recent successes against Palestinian resistance groups have once again brought up the question of fifth columnists.
In fact, there is a striking unanimity among Palestinians that the Israeli army could not have killed so many political leaders and resistance fighters had it not been for the "services" of collaborators.
Many in Gaza and the West Bank talk of a bloated army of traitors implanted in every Palestinian town, village and neighbourhood.
Israel's continued occupation and tight control of all aspects of Palestinian life has greatly facilitated the task of recruiting collaborators.
[...] The Shin Beth, Israel's domestic intelligence apparatus, uses a variety of tactics to recruit collaborators.
Recruitment often begins with an innocuous summons to the local Shin Beth officer who would evaluate the prospective agent's "vulnerability" and "susceptibility" and accordingly decide whether to pursue or quit the attempt.
In many cases, the Shin Beth officer would use blackmail to recruit collaborators even in the face of initial stiff resistance.
[...] Ahmad Salim is a former and presumably repentant collaborator from the Hebron region.
He explains how the Shin Beth gets a person implicated in this "filthy business".
"At the beginning, they (Shin Beth) wouldn't ask you to inform on anybody or do something serious. They would just ask you to do something very petty like counting the number of telephone poles in your street," he says.
Eventually, counting the number of the telephone poles evolves into something more serious, like monitoring the movement of certain people in the collaborator's respective area.
By the time the informer becomes deeply involved in "collaboration", it would be too embarrassing and dangerous for him or her to quit. He or she would feel as if they have no choice but to become an obedient tool to their handler.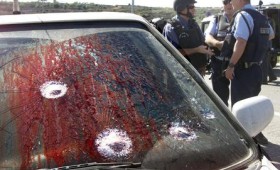 Two Dead in Tunnels Highway Terrorist Attack

Nov 18, '03
A fatal terrorist attack on the Tunnels Highway between Gush Etzion and Jerusalem this morning has claimed two lives. Around 6 AM, Palestinian terrorists opened fire from very close range at an approaching Israeli car, murdering one passenger on the spot and seriously wounding another. A doctor and a Magen David Adom medical crew that both happened to arrive on the scene from different directions administered emergency treatment, and accompanied him to a hospital, but he died within an hour of the attack.
Security forces closed off the highway as they combed the area for the murderers. By 8:30 this morning, they had already managed to open and re-close it, after a device that appeared to contain explosives was found.
Other passengers in the targeted car said that the terrorist who approached the car did not arouse suspicion, but then removed a Kalachnikov rifle from under a blanket he was carrying and began spraying fire. He apparently escaped from the area by foot.
Mossad receives 40 attack alerts against Jewish targets worldwide
www.chinaview.cn 2003-11-18 17:35:31
JERUSALEM, Nov. 18 (Xinhuanet) -- The Israeli intelligence agency Mossad has received some 40 alerts of terror attacks planned against Jewish and Israeli targets in various places in the world, Tuesday's Haaretz Daily cited Mossad chief Meir Dagan as reporting.
[...] Refusing to give the names of possible terrorist targets, Dagan said that authorized bodies like the Foreign Ministry and the prime minister's advisor for terror affairs would issue warnings to the public on the basis of intelligence tips, when necessary.
Dagan also briefed the lawmakers on the twin suicide attacks on Istanbul synagogues that killed 24 people on Saturday, telling them that contrary to news reports, Israel had received no specific intelligence warnings before the attacks.
Dagan also warned that if any of the world terror groups obtains chemical or biological weapons they will not hesitate to use them.
Danes tighten curbs on Israeli goods
Monday 17 November 2003, 21:13 Makka Time, 18:13 GMT
Denmark will tighten controls to ensure that items produced in Jewish settlements in occupied Palestinian territories do not benefit from favourable trade conditions from the European Union.
Customs officials made the announcement on Monday.
Copenhagen tightened controls following a request from the EU, as a reminder that the settlements in the occupied Palestinian territories are not recognised by the EU and are not accepted as a part of Israel.
All settlements on the occupied West Bank and Gaza Strip are illegal under international law, a stance not recognised by Israel.
Israel backtracks over EU envoy
Tuesday 18 November 2003, 4:36 Makka Time, 1:36 GMT
Israel has restored limited diplomatic access to the European Union's Middle East peace envoy, as clashes in the West Bank killed one Palestinian and injured four others.
The Israeli foreign minister on Monday said the EU envoy, Marc Otte, would be allowed to meet a senior official at his ministry.
But the gesture was not enough to placate the 15-state EU, whose foreign policy chief demanded he be given full access to officials in the region.
Israeli Foreign Minister Silvan Shalom held talks on Monday with his EU counterparts that were described by one diplomat as "full of frank, plain and candid speaking".
'Contaminated'
Israeli Prime Minister Ariel Sharon and other senior officials have refused to meet Otte since he held talks with Arafat in September. Israel accuses Arafat of fomenting Palestinian violence, a charge he denies.
Israeli Premier Ariel Sharon has
refused to meet the EU official
Although Israel regards Otte as "contaminated", Shalom told Reuters the EU ambassador would no longer be entirely cold-shouldered.
Classing Otte as an "ambassador" rather than a "political figure", Israel has agreed to allow him access to the director-general of its foreign ministry.
But EU foreign policy chief Javier Solana made it clear that this was not enough.
"We can't allow Israel to dictate who ... we can see," said Solana as he sat with Otte on his right and Shalom on his left at a news conference. "I don't see who can be a more political figure than Marc Otte. So we will stick to our position."
Two Israelis Shot Dead in West Bank - Army
1ST AD SOLDIER DIES FROM NON-HOSTILE GUNSHOT WOUND
U.S. CENTCOM
November 17, 2003
BAGHDAD, Iraq – A 1st Armored Division soldier died from a non-hostile gunshot wound at approximately 10:20 a.m. Nov. 17.
The soldier's name is being withheld pending next-of-kin notification.
The incident is under investigation.
US agrees to international control of its troops in Iraq
By Leonard Doyle and Stephen Castle in Brussels
The Independent
17 November 2003
The United States accepts that to avoid humiliating failure in Iraq it needs to bring its forces quickly under international control and speed the handover of power, Javier Solana, the European Union foreign policy chief, has said. Decisions along these lines will be made in the "coming days", Mr Solana told The Independent.
The comments, signalling a major policy shift by the US, precede President George Bush's state visit this week to London, during which he and Tony Blair will discuss an exit strategy for forces in Iraq. [...]
Comment: This is not a very surprising development. Bush and his gang need someone else to take control of Iraq since they can't clean up their own mess and since they have decided to focus on North Korea and Iran. In any case, US control of international organizations such as NATO and the UN will probably ensure that except on paper, not much will change in Iraq.
US troops err in civilian killings
Tuesday 18 November 2003
Three Iraqis - including a child - have been shot dead by US troops in the capital while two occupation soldiers were killed in attacks north of Baghdad.
The three Iraqis were killed on Monday at Baghdad's gun market when US soldiers mistook gunfire of customers testing weapons for an attack.
According to Iraqi police, the dead included an 11-year-old boy, while four others were also wounded.
Comment:
"We should not march into Baghdad. To occupy Iraq would instantly shatter our coalition, turning the whole Arab world against us making a broken tyrant into a latter-day Arab hero. Assigning young soldiers to a fruitless search for a securely entrenched dictator and condemning them to fight in what would be an unwinable urban guerilla war, it could only plunge that part of the world into ever greater instability - George H W Bush in his 1998 book "A world transformed"
Given the above, no one can say that the US government was not aware of what they were doing when plans for invading Iraq were drawn up, in fact it was around the time of the above comment that folks at PNAC were doing just that - coincidence?. The conclusion then must be that the above situation as described by Bush Snr was exactly what the warmongers wanted, any pleas of ignorance or regret at the continuing deaths of US soldiers or Iraqi civilians should be understood for the lies and hypocrisy that they are.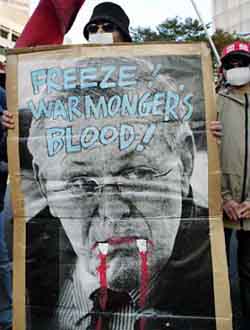 Rumsfeld Likens Iraq Campaign to U.S. Role in Korea
By Charles Aldinger
OSAN AIR BASE, South Korea (Reuters) - Defense Secretary Donald Rumsfeld said on Tuesday the "enormous success story" South Korea achieved with U.S. help would be repeated in Iraq and prove America was right to wage war there. Reuters Photo
Rumsfeld said he was asked by a journalist from South Korea, which is still weighing a U.S. request to deploy combat troops to Iraq, why Seoul should send young people half-way around the world to the war-torn country.
"It's a fair question, and I said: 'I suppose for the exact same reasons that the American people sent their young men and women to Korea 50 years ago,"' he told U.S. troops at this air base south of Seoul at the end of a week-long trip to Asia.
The 1950-53 Korean War, in which the United States lost 33,000 troops fighting Chinese and North Korean forces, "was not easy and the enemy did not collapse within days," he said. [...]
Comment: Lets get the facts straight. The US sent military force into Korea in 1894-96, Marines were kept in Seoul during war; 1904-05, Marines landed in Russo-Japanese War; and finally 1951-53. Then the US never left! The Korean Conflict, as it was euphemistically called, ended in a stalemate after four million Koreans were killed, over 54,000 US troops were killed, along with over 103,000 non-mortal woundings of US troops. MacArthur was itching to drop some A-bombs in 1950, so the conflict could expand to China.
This is what Rumsfeld considers a success. Back in 1987, Colonel Harry G. Summers, Jr., prophetically announced that, "The Korean War will be the model for America's future wars."
Rumsfeld brands N Korea 'evil'
Tuesday, 18 November, 2003

US Defence Secretary Donald Rumsfeld has described North Korea as an "evil regime", a comment which is likely to worsen already tense relations.
Mr Rumsfeld, visiting US troops on the Korean border, said Pyongyang spent money on weapons while people starved.
Mr Rumsfeld said that 50 years after the end of the 1950-53 Korean War, the divide between the communist North and capitalist South was now "so great the people in the North, repressed people to be sure, watch their children waste away, eat (tree) bark, as that evil regime spends huge sums on weapons.
"When you live and work as you do on the border between freedom and slavery, between democracy and communism, between prosperity and poverty... I am sure you have a clear sense of your mission," Mr Rumsfeld told troops at Osan Air Base, home to the 51st Fighter Wing.
His comments are likely to prompt a reaction from Pyongyang, which is still smarting from being included in President George W Bush's "axis of evil" in 2002.
The last time Mr Rumsfeld publicly criticised North Korea, in September, the country's official news agency called him a "dictatorial psychopath".
Pyongyang called Mr Rumsfeld's colleague, top arms official John Bolton, "human scum" and said it would no longer deal with him after he criticised the North reclusive leader Kim Jong-il. [...]
Comment: Well fancy that! good 'ol "kill 'em all and let god sort 'em out" Rumsfeld feels he is in a position to criticise other countries over their spending on defence while the US spends astronomical sums to kill and maim people the world over. Not happy to leave it there, Rummy brands North Korea "evil" while ramping up the crass and simplistic rhetoric to US troops with talk of "democracy Vs communism" "freedom Vs slavery". Rummy wins our "hypocrisy of the millennium" award for his comments, and in general for being the most disgusting, repulsive human being we have ever come across.
FLASHBACK!
Long queue at drive-in soup kitchen

George Bush's America, the wealthiest nation in history, faces a growing poverty crisis. In the first of a three-part series Julian Borger takes the pulse of the US with elections just a year away

Julian Borger
Monday November 3, 2003
The Guardian

The free food is handed out at nine, but the queue starts forming hours earlier. By dawn, there is a line of cars stretching half a mile back. In Logan, it is what passes for rush hour - a traffic jam driven by poverty and hunger.

The cars come out of the Ohio hills in all shapes and sizes, from the old jalopies of the chronically poor, to the newer, sleeker models of the new members of the club, who only months ago considered themselves middle class, before jobs and their retirement funds evaporated.

Dan Larkin is sitting in his middle-of-the-range pick-up truck. Since the glassware company he worked for closed its doors this time last year, he has found it hard to pay his bills. His unemployment benefits ran out six months ago and his groceries bill is the only part of his budget that has some give. He and his wife sometimes skip meals or eat less to make sure their six-year-old daughter has enough.

"I would have a real problem putting food on the table if it wasn't for this," Mr Larkin said, his car inching towards Logan's church-run food pantry. As the queue rolled forward, he reflected on the ironies of being a citizen of the world's sole superpower.

"They're sending $87bn to the second richest oil nation in the world but can't afford to feed their own here in the States."

George Bush's America is the wealthiest and most powerful nation the world has ever known, but at home it is being gnawed away from the inside by persistent and rising poverty. The three million Americans who have lost their jobs since Mr Bush took office in January 2001 have yet to find new work in a largely jobless recovery, and they are finding that the safety net they assumed was beneath them has long since unravelled. There is not much left to stop them falling.

Last year alone, another 1.7 million Americans slipped below the poverty line, bringing the total to 34.6 million, one in eight of the population. Over 13 million of them are children. In fact, the US has the worst child poverty rate and the worst life expectancy of all the world's industrialised countries, and the plight of its poor is worsening.
Comment: If Rummy's statements about North Korea aren't an example of the pot calling the kettle black, we don't know what is. For example, below is the US defence spending for 2002 in billions of dollars compared with other countries. Notice that the US spends more than all others combined.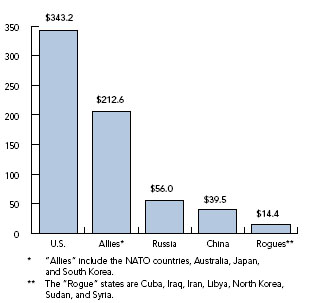 US Soldiers dying in Iraq. Not sure exactly why? Click for a Flash animation that puts it plainly.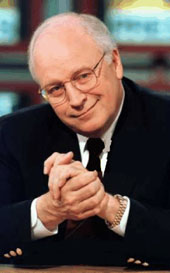 300 Protest at Cheney Luncheon

by Jim Memmott

ROCHESTER, NY -- While Vice President Dick Cheney spoke to supporters inside the Riverside Convention Center in downtown Rochester today, more than 300 sign-carrying, chanting protesters rallied outside the center, expressing their opposition to the U.S. presence in Iraq.
"I feel absolute anger over what's happening in Iraq," said Jessie Nimeh of Webster, who was at the protest with her two young sons. "Cheney is here at $1,000-a-plate while soldiers are dying."
Khury Peterson-Smith, 21, of Rochester chants with the crowd in front of Rochester Riverside Convention Center today, in a protest against Vice President Dick Cheney. Cheney was in town for a $1,000-a-plate re-election campaign fundraiser. (Photo/DANESE KENON)

Most of the protesters had gathered first at Washington Square Park to walk the three blocks to the convention center on a gray, raw day. As they walked they chanted, "Bush and Cheney have to go. We won't fight for Texaco," and other anti-administration slogans. [...]
By Bill Gertz
THE WASHINGTON TIMES
November 18, 2003
SEOUL — The United States is committed to defending South Korea from an attack by the North and would use nuclear forces if needed, Defense Secretary Donald H. Rumsfeld told the government here yesterday.
Mr. Rumsfeld, who finishes his first official visit to Asia today, said the U.S. commitment to South Korea includes "the continued provision of a nuclear umbrella" for South Korea, according to a statement issued after joint security talks. [...]
US to exorcise Vietnam War demons with warship visit

AFP
Tuesday November 18, 4:19 PM
After nearly three decades of recriminations, self-analysis and regret, the United States will turn the page on a bloody chapter in its military history Wednesday when a US Navy frigate docks here in the first visit since the end of the Vietnam War.
The four-day port call by the USS Vandergrift in the former South Vietnamese capital of Saigon, now called Ho Chi Minh City, comes a week after Vietnamese Defence Minister Pham Van Tra made a landmark trip to Washington.
It was the first visit by the head of the communist nation's armed forces since the United States was forced into a humiliating scramble out of Vietnam on April 30, 1975 when the US-backed Saigon regime crumbled. [...]
Tears of a president leads mourning for Italy's dead

AFP
Tuesday November 18, 2:59 AM
The tears of Italy's President Carlo Azeglio Ciampi set the tone for a nation's mourning as thousands of Italians shuffled silently past the coffins of 19 of their countrymen killed in the Nasiriyah bombing. [...]
The 82-year-old president wept profusely as he embraced a sobbing Alfonso Trincone, the father of one of the Carabinieri police officers killed in the truck bombing of the Italian contingent's base in southern Iraq. The two men held each other for around a minute.
In a massive outpouring of public grieving, many ordinary Italians wept and made the sign of the cross as they filed past the coffins, which were wrapped in the Italian tricolour. [...]
Blair to push for fresh plan for peace in Iraq
By Ben Hall and James Blitz in London
Published: November 17 2003 20:52 | Last Updated: November 18 2003 4:56
Tony Blair is pressing for the US and UK to adopt a fresh strategy to bring peace to Iraq, with greater involvement for Iraqis in their political future and more proactive diplomacy with the country's neighbours.
Advertisement
As Mr Blair prepares to greet George W. Bush on Tuesday at the start of a three-day state visit to London, Downing Street said it wants the US president's trip to spell out how the coalition is fleshing out a strategy for Iraq that goes beyond military operations.
[...] But in London, Sir Jeremy Greenstock, the prime minister's special envoy to Iraq, spelled out London's concerns that the coalition strategy must now go beyond military logistics, embracing a more concerted political, economic and diplomatic approach.
"In this part of the world you have to show strength," Sir Jeremy told reporters. But he said the coalition needed a strategy of "political outreach" to the Iraqi people, economic regeneration, "good diplomacy" with Iraq's neighbours, greater control of Iraqi arms dumps and the acceleration of efforts to establish Iraqi civil defence.
Comment: Don't you love it? "In this part of the world you have to show strength." What makes "this part of the world" so special? Other than there are two countries that have been invaded by the Western barbarians, and another country that for over fifty years has been a cancer eating at the region's health?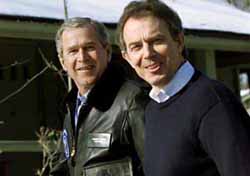 So Much More Than Colgate Now Binds Bush and Blair
By Peter Graff
LONDON (Reuters) - It's so much more than toothpaste now.
When George W. Bush and Tony Blair first met at the U.S. presidential retreat at Camp David, the folksy right-leaning Texas rancher and the sophisticated left-leaning London lawyer seemed like the oddest couple ever to head up the transatlantic special relationship.
Asked what they had in common, Bush quipped that they both used Colgate.
But two years and two wars later, the fates of the U.S. and British leaders, who meet in London this week, are as tightly coiled as those of any since Franklin Roosevelt and Winston Churchill during World War II.
So far, the benefits seem to have gone only one way. [...]
Comment: Perhaps it is time for a Bush/Blair love duet
Livingstone says Bush is 'greatest threat to life on planet'
By Nigel Morris, Home Affairs Correspondent
The Independent
18 November 2003
Ken Livingstone, the Mayor of London, launched a stinging attack on President George Bush last night, denouncing him as the "greatest threat to life on this planet that we've most probably ever seen". [...]
Mr Livingstone recalled a visit at Easter to California, where he was denounced for an attack he had made on what he called "the most corrupt and racist American administration in over 80 years". He said: "Some US journalist came up to me and said: 'How can you say this about President Bush?' Well, I think what I said then was quite mild. I actually think that Bush is the greatest threat to life on this planet that we've most probably ever seen. The policies he is initiating will doom us to extinction."
Mr Livingstone, who is holding a "peace party" for anti-war groups in City Hall tomorrow, added: "I don't formally recognise George Bush because he was not officially elected. So we are organising an alternative reception for everybody who is not George Bush." [...]
The Rev Martin King, rector of Sedgefield: "A lot of people here are very angry with the way the US administration is putting itself above the law. One person in my congregation said if President Bush wanted to look around the church, he would be welcome because it is a place for sinners, but he hoped his henchmen would leave their ironware at the door. His policies are very unwelcome in the region - I have not heard anyone voicing support for him." [...]
Bush flies in to storm of protest
Tue 18 Nov 2003
Jason Beattie Chief Political Correspondent
THE feverish atmosphere surrounding George Bush's state visit intensified yesterday, as a peace protester scaled the gates of Buckingham Palace and the Metropolitan Police revealed that the number of officers on duty for the trip had risen from 5,000 to 14,000.
Lindis Percy, 61, a veteran campaigner, was arrested last night after climbing the gates to the palace, where the president of the United States and his wife, Laura, will stay during the three-day visit, and unfurling an upside-down US flag - a symbol of distress - bearing the message: "He's not welcome".
But there was good news for Mr Bush when an ICM poll found a majority of voters - including more than half (51 per cent) of Labour supporters - approved of his visit.
Preparations for the arrival today continued during Percy's protest as Scotland Yard defended the decision to increase the police presence almost threefold, saying the president's trip coincided with a "high level" security alert. About 250 armed US agents will also be in central London.
Police cordoned off the area in front of the palace around the Queen Victoria Monument after last night's security breach. Tens of thousands of anti-war protesters are planning to converge on the capital, already under high alert for a potential attack by al-Qaeda.
Such is the worry of an attack that the stock markets in Wall Street and elsewhere fell sharply, with the Dow Jones dropping 130 points at one stage and the FTSE 100 down 58.1 at 4338.9.
Attempts to win Britons round to the visit have been hampered by the estimated £8 million cost and the enormous disruption caused by the security operation.
Protesters hailed a significant victory last night when the Metropolitan Police agreed to allow demonstrators to march along Whitehall on Thursday to coincide with the president's talks with Tony Blair, the Prime Minister, in Downing Street.
Ghada Razuki, of the Stop the War Coalition, said police knew "how big this demo is going to be, and they knew how angry people were going to be if they weren't given this route".
Both the White House and Downing Street last night insisted the off-stage noises would not detract from the planned celebration of the special relationship.
The ICM poll, for today's Guardian, found 43 per cent of those questioned said Mr Bush should come to the UK, against 36 per cent who said they would prefer he did not.
The survey contrasted with a poll published last week in which 59 per cent of respondents said the US's standing in the world had diminished under Mr Bush's presidency, while 60 per cent disapproved of his performance in Iraq.
However, in the new poll, 62 per cent agreed the US was "generally speaking, a force for good", with 15 per cent thinking it was "an evil empire".
Comment: What an amazing swing in public opinion in less than a week! How strange! Of course, polls are never manipulated, they just wouldn't do that, right? See below for the original poll results.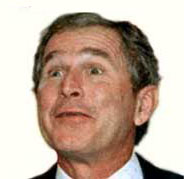 1 in 3 Brits call Bush 'stupid'
Poll: Majority consider U.S. leader threat to world peace
November 17, 2003
As reported by Agence France-Presse:
60 percent of those surveyed thought Bush was a threat to world peace while only seven percent said he was a good world leader.
A majority of 53 percent to 41 percent supported demonstrations planned for Bush's three-day stay.
45 percent to 43 percent said Britain and the U.S. were wrong to go to war with Iraq.
73 percent expect the security situation in Iraq to get worse over the next few months.
37 percent called the U.S. president "stupid," while only 6 percent described him as articulate and 10 percent as intelligent.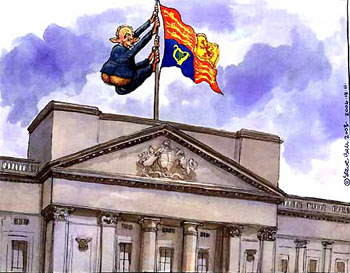 BUSH VISIT TO UK

by Gordon Thomas
President Bush's visit to London – designed to launch his election year-long campaign as the conqueror of Saddam – is already an unprecedented public relations disaster, uniting all shades of British public opinion against the visit.
Royalists are upset that the President's neo-conservative religious advisers have cautioned Bush to minimise any photo opportunities with the embattled Prince Charles after the huge publicity about his private life in America.
"Bush and Charles looking buddy-buddy in public won't play well in the Baptist Southern States where Bush needs crucial votes to get re-elected. It would also do him no favours with the largely conservative Catholic and Jewish block votes in the United States," said an assistant to one of the President's key aides, Condoleeza Rice.
Born in once racially segregated Birmingham, Alabama, Rice is now Bush's national security adviser.
For her the "bible is my pillar of my Baptist faith. I pray every day to follow the Word of the Lord. And adultery and homosexuality are not approved of in the Good Book," she once said.
She attends the President's regular prayer meetings in the White House. Bush has never shaken off his own Bible Belt roots.
His other key aides, Vice President Dick Cheney and Secretary of Defence Donald Rumsfeld are also experts at quoting Scripture.
Both have also advised him he should avoid any formal meeting with Charles and Camilla Parker-Bowles.
" Given the huge popularity that Princess Diana still commands in this country, Camilla is seen as very much the marriage breaker," said the Rice aide.
While Buckingham Palace insisted "we never comment on either matters of security or the requests of the Queen's personal guests," informed Royal insiders say that the monarch is "understandably furious" at the attitude of the President's advisers.
In his wallet, the President carries a biblical passage evangelist Billy Graham gave him after 9/11. It is the words of the prophet Ezekiel to the Philistines: "And ye shall know that I am the Lord when I shall lay my vengeance upon you".
He may well feel that he needs the prophet's protection as he faces the wrath of Britain's anti-war demonstrators.
Taxpayers are outraged that the visit is costing $8 million – all to be paid out of public funding which is badly needed to refurbish the country's failing Health Service and public transport and road system.
It is also the most expensive State visit in Britain's history.
Over 5,000 London police officers will guard the closed-off centre of London that houses some of Britain's biggest tourist attractions: Buckingham Palace, Big Ben, the House of Parliament, Whitehall, Downing Street, the Mall and the Cenotaph.
London hospitals and their surgeons and medical staff – whose skills are among the best in the world – are astonished that Bush is bringing his own operating table and team (based on Air Force One). One surgeon is a specialist in gunshot wounds. Another is equipped to deal with a biological hazard. [...]
Bush talks to "low-brow" UK tabloid - feels right at home
November 16, 2003
LONDON (Reuters) - The United States would wage war again, and alone if necessary, to ensure the long-term safety of the world, President Bush said in an interview published Monday.
Bush told Britain's leading tabloid newspaper, the Sun, on the eve of a state visit that he felt compelled to act following the September 11, 2001 attacks in New York and Washington.
"I was at Ground Zero after the attacks," he said. "I remember this haze and the smells and the death and destruction. I'll always remember that.
"I made up my mind right then. We were at war and we were going to win the war. And I still feel that determination today." [...]
The mass-selling Sun newspaper, best known for its semi-naked Page Three girls, is owned by tycoon Rupert Murdoch's News Corp., the most influential media empire in Britain.
Bush's choice to grant it an interview raised eyebrows among American journalists, who questioned its suitability for a president who has publicly embraced evangelical Protestantism.
"After coming to office with a vow to restore dignity to the White House, the president... granted an exclusive interview to a British tabloid that features daily photographs of nude women," the Washington Post said in an article on its Web site.
The Post said the president had gone "down market" and pointed out that he had not given an exclusive interview to many of the U.S. national newspapers this year.
Comment: If you have the stomach for it, listen to this recent interview (requires Real media player) between Bush and David Frost, presenter of the UK morning chat show "Breakfast with Frost". Observing the often incoherent discombobulated and nonsensical way in which he responds to questions, it is surprising that even a tabloid would entertain his blathering.
President will be protected by 16,000 police officers
By Jason Bennetto, Crime Correspondent
The Independent
18 November 2003
One in nine police officers in England and Wales will be protecting George Bush on his state visit to Britain, which begins today.
Ten thousand more police officers have been drafted in amid rising concerns about the threat from terrorists and the scale of anti-war demonstrations. That brings to 16,000 the number of policemen and women who will be deployed during the four-day trip.
The bill will run to at least £7m, and the British taxpayer will pay for it.
The Metropolitan Police announced that it was boosting the numbers of officers on duty in London from 5,000 to 14,000. [...]
Grandmother arrested after Palace demo
This is London
17 November 2003
A grandmother and veteran peace campaigner climbed 20ft high gates at Buckingham Palace today to protest at US president George Bush's state visit.
Lindis Percy, 61, scaled the metal gates at the front entrance of the palace, where the US president will be staying.
Mrs Percy, a co-ordinator of the Campaign for the Accountability of American Bases (CAAB) UK, spent two-and-a-quarter hours clinging to the gates before coming down voluntarily.
She was greeted by waiting police who promptly arrested her on suspicion of causing criminal damage and breach of the peace before taking her to Charing Cross police station. [...]
Last of 'terrorist' suspects leaves jail; no charges laid
Last Updated Mon, 17 Nov 2003 19:55:10
TORONTO - An advocacy organization wants a public inquiry into the situation of 21 men arrested in Toronto in the summer on suspicion of being terrorists.
None of them were ever charged with terrorism-related offences, even though Immigration Canada officials said at the time that they might pose a threat to national security.
The last of the 21, Manzoor Joyia, left jail Monday and was deported to his native Pakistan. Like the others, he was deported because he lied to get a visa.
Iran has been honest with IAEA: EU security chief
www.chinaview.cn 2003-11-18 12:46:33
BRUSSELS, Nov. 17 (Xinhuanet) -- Javier Solana, the European Union's High Representative for the Common Foreign and Security Policy,said here Monday that Iran has been honest with the International Atomic Energy Agency (IAEA) and should not be reported to the UN Security Council for potential sanctions.
"They have been honest. Let's see if they continue this all the way to the end," he told reporters before talks with Hassan Rohani,head of the Iranian Supreme National Security.
Gov't. Orders Airlines to Inspect Cargo
By LESLIE MILLER, Associated Press Writer
Mon Nov 17, 7:44 PM ET
WASHINGTON - The government told cargo and passenger airlines on Monday that they must randomly inspect a certain amount of freight before it is loaded on planes as part of an effort to close security gaps.
Brian Turmail, a spokesman for the Transportation Security Administration, said the agency won't disclose publicly what percentage of cargo must be inspected because of security concerns.
Checks of air freight have been spotty, with some airlines conducting limited inspections and others doing little or nothing. Critics contend that leaves open the possibility terrorists could use packages to sneak explosives or even hijackers aboard planes. [...]
Court to Rule on 'Enemy Combatant' Label
By LARRY NEUMEISTER, Associated Press Writer
November 18, 2003
NEW YORK - A panel of federal judges waded into the question of whether the president has the power alone to declare a U.S. citizen an enemy combatant, an issue the Bush administration considers vital in its war on terror.
Three judges from the 2nd U.S. Circuit Court of Appeals suggested Monday that President Bush needs Congressional authorization to indefinitely hold 33-year-old Jose Padilla, accused in a dirty bomb plot and designated an enemy combatant.
Giving such power exclusively to the executive branch with only limited review by the courts, said Judge Barrington D. Parker Jr., would be "a sea change in the constitutional life of this country and ... unprecedented in civilized society." [...]
Mexican UN ambassador removed after criticizing US

AFP
Tuesday November 18, 3:38 PM
The Mexican envoy to the United Nations, who has complained that the United States viewed his country as "a backyard," will be removed from his job, the government announced.
Foreign Minister Luis Ernesto Derbez said Ambassador Aguilar Zinser will leave his post at the beginning of next year, when Mexico's membership in the UN Security Council ends. [...]
The announcement followed intense 10-hour consultations at the Foreign Ministry where Zinser was summoned following a recent speech, which drew sharp rebukes from US Secretary of State Colin Powell and Mexican President Vicente Fox.
According to the Mexican news agency Notimex and some newspapers, Zinser told a university audience that the United States wanted a "relationship of convenience and subordination" with Mexico. [...]
Comment: It is interesting that the two countries in the world that cannot be criticized - if one wishes to remain employed - are Israel and the US.
Fears of terrorism drive stocks lower
NEW YORK - Shares slid on Wall Street on Monday as markets around the world declined on fears of terrorism. [...]
Cameras Trace Students' Every Move
BILOXI, Miss., Nov. 17, 2003
[...] Walk into any classroom in Biloxi and your every move is being watched. In fact, in all of America this school system may be unique. There's a camera in every classroom. [...]
US may face severe flu season this year
www.chinaview.cn 2003-11-18 12:40:46
WASHINGTON, Nov. 17 (Xinhuanet) -- The United States may be in for a more severe flu season this year, top US health officials said Monday.
"Early indications are that we may be in for a more severe season than in the previous three years," said Tommy G. Thompson, health and human services secretary.
"Each year in the United States 36,000 people die from complications related to the flu," he said. Assuring there is plenty of vaccine to meet the demand, Thompson urged people, particularly those at high risk of serious complications from influenza, to get their flu shot as soon as possible.
Comment: Yes, indeedy, folks. Step right up and get your shot. This here wonderment is guaranteed to cure all your ills, from cancer to whooping cough to lumbago. I'll only be in town another hour or so, so do it now or miss your chance!
Poland reports new mad cow case
www.chinaview.cn 2003-11-18 12:44:04
WARSAW, Nov. 17 (Xinhuanet) -- A new case of mad cow disease was confirmed, bringing the total number of cattle infected with the disease in Poland to nine, Poland's chief veterinarian Piotr Kolodziej said on Monday.
Endangered species list swells to over 12,000
Another 2,000 species have been added to the list of the world's most endangered animals and plants.
[...] Several monkey species face extinction...
Galapagos Islands 'face barren future'
By Graham Tibbetts
The Telegraph
The Galapagos Islands, which provided the inspiration for Charles Darwin's theory of natural selection, are in grave danger of becoming "ecologically and aesthetically barren", according to a new report. [...]
Louisiana Struggles to Aid Dying Coast
15,000 caribou stop the traffic in Labrador
Migration by highway
Anne Marie Owens
National Post
The world's largest herd of caribou is using a major highway for its annual migration this year, causing unprecedented traffic tie-ups in Labrador that may last well into next spring.
The George River herd, which numbers about 800,000 free-roaming caribou, migrates from the northernmost reaches of Quebec to the Labrador Sea at this time each year, but the final stretch of this year's trek has been dramatically altered by a stretch of unseasonably warm weather. [...]
Strong earthquake jolts Buryatia, no casualties
17.11.2003
By Alexey Subbotin
UILAN UDE, November 17 (Itar-Tass) - An earthquake that registered 5.9 points on the open-ended Richter scale happened at 01:30 local time in the Kurumkan district, Republic of Buryatia [in Southern Siberia].
Its epicenter was located five kilometers from the settlement of Ulyunkhan. In the settlement itself the tremors that measured four points on the Richter scale caused no destruction of fatalities, a source in the republic's committee for emergency situations told ITAR-TASS.
It was the second quake in Buryatia since Sunday morning. The first one struck at about 10:00 local time on Sunday. Its epicenter was located 75 kilometers southwest of the settlement of Vydrino on the southern shore of Lake Baikal.
At the epicenter the tremors measured 4.9 points, but the Vydrino settlement residents felt nothing.
Earthquake jolts southern Altai, no casualties reported
17.11.2003
By Sergey Temeyev
GORN-ALTAISK, November 17 (Itar-Tass) - Yet another earthquake rocked the mountains in the south of the Republic of Altai in South Siberia at 07:35 local time on Monday.
The epicenter of the earthquake that registered 4.6 points on the open-ended Richter scale was located 27 kilometers southeast of the settlement of Aktash, Ulagan district, according to Saule Chichinova, a duty officer at the Aktash seismic station.
[...] Two other quakes were registered last night, measuring 2.7 and 2.6 points on the Richter scale respectively.
Since a devastating, 8-point earthquake rocked the region on September 27, seismologists have registered over 300 underground jolts in the south of the Republic of Altai. They measured between two and 5.5 points on the Richter scale.
Quake shakes Iran's town of Sabzevar again
11/14/03
An earthquake measuring 4 degrees on the open-ended Richter scale jolted the town of Sabzevar in the northeastern province of Khorassan on Friday, IRNA reported from Mashhad.
[...] Another earthquake measuring 3.4 degrees on the Richter scale shook the town of Sabzevar early on Thursday.
Earthquake measuring 7.5 hits Alaskan Islands
Agence France-Presse
Strasbourg, France, November 17
An earthquake measuring 7.5 on the Richter scale hit the Aleutian islands region off the coast of the US state of Alaska, the Strasbourg Earth Sciences Observatory said on Monday.
The epicentre of the quake, which struck at 6:42 pm (1212 IST) on Monday, was located at 49.67 degrees north latitude and 176.6 degrees east longitude, the observatory said in a statement.
The temblor was the strongest to hit the region since 2000, according to the observatory.
UCSC seismologist prepares for tsunami
November 16, 2003
By AMY COOMBS
Sentinel correspondent
SANTA CRUZ — Imagine a tsunami that could wipe out Santa Cruz. Steven Ward has.
Ward, Ph.D., a seismologist at the UC Santa Cruz Institute of Geophysics and Planetary Physics, and his colleagues have developed computer-simulation programs to model the potential impact of an asteroid crashing into the ocean, resulting in 300-foot high waves.
[...] Ward's models suggest that the impact, if an asteroid like the ones that have previously hit Earth slams into the Atlantic Ocean, could create waves that travel at more than 500 miles an hour.
The results of Ward's computer modeling appeared in the June issue of the "Geophysical Journal International."
Ward says that if a collision were to occur in the Pacific Ocean, coastal towns like Santa Cruz could be completely submerged.
[...] Ward says that Santa Cruz has earthquakes big enough to cause a tsunami every 50 years or so, which could cause large waves to head ashore.
There was a tsunami associated with the 1989 earthquake. However, it was small and barely noticeable.
Ward thinks that an earthquake of a magnitude 7.5 could cause a 15-foot tsunami to reach the Santa Cruz shoreline in a matter of minutes under certain conditions.
[...] In 1965, an earthquake with a magnitude of 9.5 — the largest earthquake ever recorded — occurred off the coast of Chili, breaking nearly 600 miles of coastline. The quake caused 20 feet of uplift and sent 10-foot high tsunamis towards Japan.
Tuesday 18th November 2003
Intense light and heat 300 meters above the crater of the Klyuchevsky volcano in Kamchatka has been observed on 17th November. Powerful ash, gas and vapor eruptions reaching the heights of up to 1,500 meters were observed. The ash cloud stretched for over 20 kilometers to the northeast. Seismological stations in the area of the volcano recorded a large number of surface earthquakes and an uninterrupted spasmodic volcanic vibration.
Experts said the Klyuchevsky volcano "entered a long eruption phase." Its activity is gradually intensifying.
Sunday 16th November 2003
Eruptions continue at Dukono Volcano. An ash plume was visible yesterday extending 40 nm NE of the summit. Reports from Dukono are rare, but there has been regular ash emissions from the volcano in 2003.
... Eruptive activity at the Puu Oo vent of Kilauea Volcano continued unabated during the past week. Surface flows are confined mainly within Puu Oo crater and the area immediately outside of the crater in the vicinity of the West Gap section of the cone.
Leaks from rootless shields near the top of the Mother's Day tube system feed short flows.
Occasional breakouts from the Kohola arm of the Mother's Day flow occur at the top of Pulama pali. The east side of the Mother's Day flow, and the coastal flat below Paliuli, continue to be dark. No lava is entering the ocean.
One earthquake was reported in the week ending Nov. 13. A resident of Ocean View Estates subdivision reported an earthquake at 5:10 p.m. on Friday, Nov. 7. The earthquake responsible was a magnitude 3.1 event located 24.5 miles south of Kalapana at a depth of 31.2 miles...
Eruption Science: Volcanoes as Labs
By JAMES GLANZ
New York Times
[S]ome half a billion people worldwide live within 60 miles of historically active volcanoes, according to the Cascade Volcano Observatory of the United States Geological Survey. On the slopes of Vesuvius alone, which erupted as recently as 1944, 2.5 million people are now living in what is now Naples ..
Comment: Worth going to the link for the photo of Redoubt Volcano blowing its top in April 1990. On page two of this report it discusses one theory that:
[...] The implication is that the potentially explosive bubbles may begin to form much deeper in the crust than previously thought, as far down as 20 miles, and play an important role in determining the type of eruption much earlier in the process.

"There's growing evidence that these gases start to come out of solution at much greater depth that had been believed," said Dr. Paul Wallace, a volcanologist at the University of Oregon. [...]
Which makes us think of all that activity going on at Yellowstone.
Vietnam works to restore food, housing after floods
17/11/2003
ABC Radio Australia News
Vietnam's authorities are trying to restore food supplies and re-house hundreds of thousands of people left homeless by the floods that killed 58.
[...] Last week's rains fell just before the rice harvest, destroying crucial crops as well as devastating shrimp farms, leaving thousands without food.
Calm expected today after Monday of flooding, destruction
By RAD SALLEE and MIKE TOLSON
Nov. 18, 2003, 1:17AM
The Houston Chronicle
What started as just another gloomy Monday, overcast and drizzly, turned into a nightmare of torrential rains, tornadoes and monstrous traffic jams as a freakish storm swept across Southeast Texas.
The good news is that skies should clear later today. It will remain warm and perhaps partly cloudy, but for those who were injured by flying debris, spent hours trapped in their cars or lost the roofs over their homes, a few clouds never looked so good. [...]
The devastation was particularly severe in Sugar Land, where four office buildings were hit by a midday tornado, which broke scores of windows and tore off roofing.
Throughout Sugar Land, several dozen vehicles were damaged by flying debris and 16 people were injured, though none seriously. Eight were taken to nearby hospitals for treatment, a police spokesman said.
One of those was the driver of a tractor-trailer that was tossed onto its side on West Airport near Industrial Boulevard in the city's business park / industrial area. [...]
As the afternoon wore on, traffic snarls abounded. Floodwaters shut down the main lanes of the Katy Freeway at Washington, Silber, Fry and Barker-Cypress. High water also plagued motorists on the Eastex Freeway at FM 1960, and for a time blocked Texas 288 -- a major ambulance route to the Texas Medical Center. [...]
Flooded streets also hampered emergency services. A firefighter had to wade to a flood victim in northwest Houston when no vehicle could be found that would pass through the high water. An ambulance crew could not reach a patient in the Inwood Forest area at Antoine and Victory. That person's condition was not life-threatening. [...]
Huge rock-ice body circles Sun

By Dr David Whitehouse
BBC News Online science editor
Monday, 17 November, 2003
Astronomers have found a large object orbiting the Sun near Neptune's orbit. It was discovered on Friday by an automated sky survey project designed to search for threatening asteroids that may be on an Earth impact course.
The object is about 570 km across, making it one of the largest bodies of its kind found in modern times.
The new body, made of rock and ice, is designated 2003 VS2. Re-examining past records, astronomers have found it in images taken as far back as 1998.
The object is one of the largest yet found in the Kuiper Belt, a region of space littered with small rocky worlds orbiting the Sun.
It was discovered by the automated Near Earth Asteroid Tracking (Neat) project using a large telescope at Mount Palomar in California, US.
Such orbits are stable as they allow the object to approach Neptune's orbit without any possibility of collision. Pluto, currently the most distant true planet, is in such an orbit.
Because of the similarity, 2003 VS2 has been dubbed "Plutino", or "little Pluto".
Since the first Kuiper Belt Object was discovered in 1992, several hundred have been found, and many of them are in the Neptune resonance condition, too.
Sun just getting warmed up for Thanksgiving Special
NOVEMBER 17, 2003
DENVER: Glowing steadily for more than 4 billion years and rising unfailingly every morning, even astronomers can take the sun for granted. Among the 100 billion stars in the Milky Way, ours is rather lackluster.
But the sun certainly is demanding everyone's attention now, three weeks into perhaps the most dramatic and unexpected chain of eruptions ever observed venting from its seething, bubbling surface.
There have been as many as 11 salvos since Oct. 19. And the fireworks could reach a new crescendo by Thanksgiving, the busiest holiday in the United States for air travel, just one of the things that can be disrupted.
"There's been nothing quite like this,'' said Bill Murtagh, a space weather forecaster for the National Oceanic and Space Administration in Boulder, Colo. "Another big blow is not what anyone needs.'' [...]
Original PBS Broadcast Date: November 18, 2003

Like the plot of a sci-fi B movie, something weird is happening deep underground where the constant spin of Earth's liquid metallic core generates an invisible magnetic force field that shields our planet from harmful radiation in space. Gradually, the field is growing weaker. Could we be heading for a demagnetized doomsday that will leave us defenseless against the lethal effects of solar wind and cosmic rays? "Magnetic Storm" looks into our potentially unsettling magnetic future.
Scientists studying the problem are looking everywhere from Mars, which suffered a magnetic crisis four billion years ago and has been devoid of a magnetic field, an appreciable atmosphere, and possibly life ever since, to a laboratory at the University of Maryland, where a team headed by physicist Dan Lathrop has re-created the molten iron dynamo at Earth's core by using 240 pounds of highly explosive molten sodium. The most visible signs of Earth's magnetic field are auroras, which are caused by charged particles from space interacting with the atmosphere as they flow into the north and south magnetic poles.
But the warning signs of a declining field are subtler -- though they are evident in every clay dish that was ever fired. During high-temperature baking, iron minerals in clay record the exact state of Earth's magnetic field at that precise moment. By examining pots from prehistory to modern times, geologist John Shaw of the University of Liverpool in England has discovered just how dramatically the field has changed. "When we plot the results from the ceramics," he notes, "we see a rapid fall as we come toward the present day. The rate of change is higher over the last 300 years than it has been for any time in the past 5,000 years. It's going from a strong field down to a weak field, and it's doing so very quickly."
At the present rate, Earth's magnetic field could be gone within a few centuries, exposing the planet to the relentless blast of charged particles from space with unpredictable consequences for the atmosphere and life. Other possibilities: the field could stop weakening and begin to strengthen, or it could weaken to the point that it suddenly flips polarity -- that is, compasses begin to point to the South Magnetic Pole. [...]
Such a reversal of polarity seems to happen every 250,000 years on average, making us long overdue for another swap between the north and south magnetic poles. [...]
Some researchers believe we are already in the transition phase, with growing areas of magnetic anomaly -- where field lines are moving the wrong way -- signaling an ever weaker and chaotic state for our protective shield. [...]
Natural Disasters Illuminated by B-Movie Clips
EARTH OBSERVATION
Seattle - Nov 05, 2003
Movie clips, town meetings, debates and backgrounders for public affairs departments do not seem like assignments for a course on natural hazards, but in Penn State's "Earth 101 - Natural Disasters: Hollywood vs. Reality" class, these exercises out-distance and out-pace lectures.
[...] Each semester the class covers five of the possible topics, which include volcanos, earthquakes, floods, and impacts from outer space, tornados, hurricanes and tsunamis. Each topic uses a different learning approach, but all include movie clips. The objective of the class, which is for non-science majors, is to teach critical thinking, how science works and how to make decisions on science-based topics.
"It is much better to have people learn critical thinking on something they do not already have an opinion on," Furlong told attendees today (Nov. 4) at the annual meeting of the Geological Society of America in Seattle. "No one has religious or political opinions on hurricanes."
The students can begin to understand the issues surrounding observation versus interpretation. They can learn how to determine the specific information needed to understand something and also how to get that information.
"Why use movie clips?" Asks Furlong. "Because while students will laugh at a movie clip that is obviously and patently scientifically wrong, they would not laugh at a newspaper article that contained incorrect information."
Ancient Scots no barabarians

STEPHEN STEWART November 17 2003

ANCIENT Scots may have enjoyed sophisticated economic, social and cultural links with the builders of one of the world's most mysterious ancient monuments, according to new research.
Experts have revealed a previously unknown link between the elite of ancient Scots society and Stonehenge, dispelling the myth that Scotland's Bronze Age tribes were uncultivated barbarians.
Research into the discovery of a series of enigmatic axe carvings at the Wiltshire site and one in Argyll has hinted that the country's ancient magnates were proto-capitalists who ruled a powerful monopolistic dynasty.
Dr Alison Sheridan, assistant keeper of archaeology at the National Museums of Scotland, said there was also evidence that the people around Stonehenge must have been in contact with Scotland.
She said: "These people were very sophisticated with wide-ranging links. It is nonsense to say these people were barbarians. They were very savvy.
Barbarians Get Sophisticated

Andrew Curry
BERLIN--For something so small, the "sky disk" has made quite an impact here. Not even a foot across, the 5-pound bronze disk is embossed in gold leaf with intricate images of the sun, moon, and 32 stars. In the plate's center is a representation of the star cluster Pleiades, which appears in the sky around the autumnal equinox and signaled the arrival of harvest season.
What's most amazing is its age. More than 3,500 years old, the sky disk may well be the most important Bronze Age find in decades. Treasure hunters found it first in 2000 near the eastern German town of Nebra; police in Switzerland had to use an elaborate sting operation to get it safely into the hands of archaeologists. Its recovery was front-page news, and the find inspired headlines like "Culture of the Star Wizards" from the weekly Der Spiegel. "It's an absolutely key find--this is the first accurate picture of the cosmos in human history," says Harald Meller, head of the Halle Institute for Archaeological Research, where the object is being studied. "It's astonishing to people that this was found in Central Europe and not Egypt or Mesopotamia."
Nebra's sky disk isn't the only artifact that has people here buzzing. When Berlin's Museum for Pre- and Early History reopens fully next spring, its centerpiece will be an elaborately decorated gold "hat," 29 inches tall and made out of over a pound of thinly beaten gold. Museum director Wilfried Menghin says that the object, dating from around 1000 B.C. and acquired recently from a private collection, was worn by Bronze Age astronomer-priests and that the decorations are actually an extremely complex solar-lunar conversion calendar. Many scholars are skeptical: The artifact is almost unique, they say, and it's impossible to prove the theory conclusively. What's more, while experts suspect it's from the Nuremberg area, no one really knows its origins. But if true, the achievement would beat the Greek discovery of a similar mathematical system by more than five centuries.
Such debates are part of a mini-renaissance in how Central Europe's early cultures are viewed. For centuries, archaeologists and the public have focused on the people of the Mediterranean and Mesopotamia as the only ancient societies worth studying--a perception the ancient Greeks and Romans, who considered anything outside their culture contemptible, reinforced in their written histories. [...]
In the past decade, German archaeology itself has undergone a sea change. The former East Germany is now open to aerial photography and surveying, which were banned under the Communist regime. Dozens of earth mounds and structures like the one in which the sky disk was found have been discovered, promising to keep archaeologists busy for years to come. And a younger generation of scholars, more willing to risk controversial analyses, has emerged. Says Menghin, whose theory on the gold "hat" may be the riskiest yet: "We have to go forward again to show Middle Europe wasn't as barbaric as people think."
EARTH OBSERVATION
Madison - Nov 05, 2003
Since October 8, UW­Madison's lidar group has helped NASA test its ICEsat, the Ice, Cloud and land Elevation Satellite that is studying changes in polar ice thickness and extent. UW's High Spectral Resolution Lidar measures the same atmospheric quantities measured by the Geoscience Laser Altimeter System (GLAS) on the satellite and when ICEsat is directly overhead about every eight days, the two laser beams can meet to calibrate the GLAS. The UW instrument operates at the same wavelength as NASA's instrument.
The two instruments both measure the heights of clouds and aerosols, such as haze and particles in smoke, in the atmosphere from precise measurements of the travel time of the laser pulses and, in the satellite's case, calculated against its orbit and instrument orientation.
[...] The Arctic High Spectral Resolution Lidar will take measurements in the Arctic ice near Barrow, Alaska starting in 2005. The lidar is being tested in the top story of the building, beamed through a skylight. Images like the one below are now available on the Web where you can see how the lidar viewed the atmosphere on any day since the beginning of October.
Cryosat – A Satellite On An Icy Mission
EARTH OBSERVATION
Friedrichshafen - Nov 11, 2003
[...] CryoSat is the next European environmental and climate satellite. Placed in a polar orbit it will measure changes in the thickness of ice sheets and polar ocean sea-ice cover for at least three years with unprecedented accuracy. The satellite will provide climate researchers with previously unavailable data from these uninhabited regions. The industrial contract amounts to some 70 million euros.
The evidence of climate warming can be ignored no longer. As reported by the Intergovernmental Panel on Climate Change (an international board of climate experts), the average global surface temperature rose by 0.6 degrees in the 20th century. Climate data indicate that the 20th century was the warmest in the last thousand years.
At the same time, since 1750, the concentration of greenhouse gases in the atmosphere, such as carbon dioxide and methane, has grown by 30 and 150 percent respectively as a result of human activities.
[...] Polar ice reflects a large portion of the sunlight, and the amount of the absorbed and reflected light is balanced with the climate. If the polar ice begins to melt, less sunlight is reflected and therefore the polar region warms up. Consequently, more ice begins to melt and the reflective capabilities are thus further reduced. Due to this positive feedback effect, a self-accelerating warming ensues.
In the night, open water radiates a large heat output of about 90 Watts per square metre. A snow-covered sea-ice slab floating upon the ocean beneath has a negative effect on this. To a certain extent, it acts as a thermal blanket and therefore plays a significant part in regulating the heat balance of the Earth. This effect is reduced as soon as the ice thins or decreases in extent.
Ocean currents have a special influence on the climate. They act as heat pumps, as they disseminate the energy stored in the oceans around the entire globe. The most well known example is the Gulf Stream, which transports warm water from the tropics diagonally over the Atlantic to North Europe and provides Great Britain with a mild climate and ice-free ports up to North Scandinavia.
If the ice sheets and the outer sea ice cover melt, the relatively larger quantities of fresh water could disrupt or even change these ocean currents – with unforeseeable effects for the climate.
Mitsubishi Electric unveils biggest telescope in Japan
The Japan Times
Nov. 15, 2003
OSAKA (Kyodo) Mitsubishi Electric Corp. on Friday unveiled a new high-powered telescope with a mirror 2 meters in diameter, which the firm claims is the largest in Japan.
[...] The telescope is the world's largest among those that may be used by the public, it said.
Sky News
November 18, 2003
A Japanese train broke its own world speed record when engineers sent it hurtling 347mph down a test track west of Tokyo.
The magnetically levitated (maglev) MLX01 raced to its new record with nobody on board. [...]
November 15, 2003
It's not hard to get people to believe they've seen something they haven't, study says
An Ohio State University study says people can easily be persuaded that they've seen something they never actually witnessed.
[...] "This suggests that visual false memories can be induced pretty easily," lead author David Beversdorf, an assistant professor of neurology, says in a prepared statement.
"People are susceptible to verbal false memories, whether it's something that was actually said or an object they have a mental description of. We wanted to know if the ability to induce false memories extends beyond the language system -- if it also affects the visual system, even when the images aren't easily verbalized. It appears the ability to create false memories does extend beyond language," Beversdorf says.
Comment: Now, remember: They hate us because of our freedoms. They hate us because of our freedoms. They hate us because of our freedoms...
Reports from East Tennessee postedby the National UFO Reporting Center
November 17, 2003
KnoxNews.com
KINGSPORT, OCT. 18, 2003: At first we thought it was a hot air balloon but it moved too quickly for that and changed shapes too much for that. It was too big to be some kind of glider or kite or something. It looked like a 50-yard tarp blowing around in the clouds. I said that it looked like a dragon flying around. [...]
Comment: Five other strange sightings reported.
Mobile phone started ringing inside coffin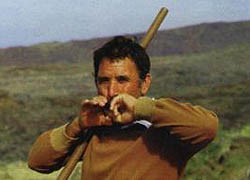 Near Extinct 'Whistling Language' Returns
SAN SEBASTIAN, Canary Islands (AP) -- Juan Cabello takes pride in not using a cell phone or the Internet to communicate. Instead, he puckers up and whistles.
Cabello is a "silbador," until recently a dying breed on tiny, mountainous La Gomera, one of Spain's Canary Islands off West Africa. Like his father and grandfather before him, Cabello, 50, knows "Silbo Gomero," a language that's whistled, not spoken, and can be heard more than two miles away.
This chirpy brand of chatter is thought to have come over with early African settlers 2,500 years ago. Now, educators are working hard to save it from extinction by making schoolchildren study it up to age 14. [...]
---
Remember, we need your help to collect information on what is going on in your part of the world!
We also need help to keep the Signs of the Times online.
---

Check out the Signs of the Times Archives

Send your comments and article suggestions to us

---
Fair Use Policy
Contact Webmaster at signs-of-the-times.org
Cassiopaean materials Copyright ©1994-2014 Arkadiusz Jadczyk and Laura Knight-Jadczyk. All rights reserved. "Cassiopaea, Cassiopaean, Cassiopaeans," is a registered trademark of Arkadiusz Jadczyk and Laura Knight-Jadczyk.
Letters addressed to Cassiopaea, Quantum Future School, Ark or Laura, become the property of Arkadiusz Jadczyk and Laura Knight-Jadczyk
Republication and re-dissemination of our copyrighted material in any manner is expressly prohibited without prior written consent.
.