---
In the news today: Just where was Osama bin Laden hiding on September 11, 2001? At a Pakistani military hospital. One with close connections to the CIA.
The death and wounded toll in Turkey continues to rise. And it continues to be the Muslims who are most affected. In Iraq, months after Bush intoned that the major fighting was over, major fighting goes on in Tikrit. But then George doesn't read the papers, so how was he to know?
Bush wouldn't know that some how, some troops aren't getting paid. Nor would he care.
Bush arrives in Britain tomorrow and the troops and media are out in force. Laura Bush is thrilled to be staying at the Palace. The Queen's mum about it all.
In the US, Tom DeLay has found a way to continue partying: he is using donations to charity. An Australian reporter in California to interview Olivia Newton-John is detained and humiliated by Customs officials. Miami suspends the constitution. Wal-Mart in cover up over subliminal toys. A Florida company manufactures weather control powder.
And what is that odor coming from the room in back? Don't ask.
Bush Administration knew the Whereabouts of Osama
by Michel Chossudovsky
www.globalresearch.ca
16 November 2003 (revised 17 November 2003)
If the CBS report by Dan Rather is accurate and Osama had indeed been admitted to the Pakistani military hospital on September 10, 2001, courtesy of America's ally, he was in all likelihood still in hospital in Rawalpindi on the 11th of September, when the attacks occurred. In all probability, his whereabouts were known to US officials on the morning of September 12, when Secretary of State Colin Powell initiated negotiations with Pakistan, with a view to arresting and extraditing bin Laden.
Who Will Be The Next Victims Of Bush's "Freedom Strategy?"
Patrick Seale Al-Hayat 2003/11/16
President George W. Bush's 'democracy' speech of 6 November is still reverberating round the world. It has aroused as much puzzlement as hostility. What can he possibly mean by saying that 'the United States has adopted a new policy, a forward strategy of freedom in the Middle East'? Is the U.S. preparing to administer a dose of its Iraqi medicine to other states in the area? Has the neo-con agenda of softening up the area to make it comply with U.S. and Israeli demands been given a new lease of life? Should Damascus and Tehran, the butt of Bush's particular insults, now fear attack?
Or, as many suspect, was Bush's speech mere empty rhetoric, simply the latest illustration of his own mediocrity and of the moral and political bankruptcy of his Administration?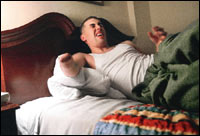 GAO report: Some Army troops unpaid for weeks, denied medical care
By Sandra Jontz
Stars and Stripes
WASHINGTON — Army National Guard soldiers activated to fight in Iraq and Afghanistan are plagued with pay-and-benefits problems and even denial of medical care to those wounded, auditors reported.
Investigators from the General Accounting Office, Congress' investigative arm, tracked Guardsmen who weren't paid in months, were told to repay debts they hadn't incurred or told they didn't qualify for medical care, according to a report released Thursday titled "Military Pay: Army National Guard Personnel Mobilized to Active Duty Experienced Significant Pay Problems."
"This is not just a 'significant' rate of error; it's a virtual system meltdown of a critical support function," Rep. Christopher Shays, R-Conn., vice chairman of House Government Reform Committee said during a news conference, held in lieu of a congressional hearing, he said. [...]
Comment: Let's put this bit of news next to the fact that U.S. casualties from Iraq war top 9,000 and Injured soldiers in Iraq are often surviving with missing limbs. As a favor to Rupert Murdoch for his support, Bush gave an interview to the UK tabloid The Sun. The last line is, "I set big goals. And I know what we're doing is going to have a positive effect on this world."
UPDATE Death toll rises in Turkish bombings
Last Updated Sun, 16 Nov 2003 17:01:21
ISTANBUL, TURKEY - The death toll in twin bombings of synagogues in Turkey rose Sunday as Israeli and Turkish investigators searching the wreckage found three more bodies.
Twenty-three people were killed and more than 300 injured when explosives-packed cars blew up outside two synagogues in Istanbul during Saturday morning prayers.
[...] Most of the victims were Muslims passing through the areas. Six Jews were killed and about 80 injured.
Turkey, Israel investigate Istanbul synagogue bombings claimed by al-Qaida
08:22 AM EST Nov 17
ISTANBUL (AP) - Two Arabic-language newspapers received separate statements Sunday claiming that the al-Qaida terrorist network carried out Saturday's car bombings outside two Istanbul synagogues - attacks that killed 23 people. The bombings are being investigated by Turkish and Israeli teams.
[...] There was no way to independently confirm the authenticity of either claim of responsibility.
Sharon accuses Europe of anti-Semitism (again)
17/11/2003
A perceived increase in European anti-Semitism is to be the focus of talks between Israeli Prime Minister Ariel Sharon and Italian leaders during Sharon's three-day visit to Rome, an Israeli official said.
A recent EU poll showed that more than half the Europeans questioned believed Israel is a threat to world peace, contributing to the Israeli conclusion that anti-Semitism there is on the rise, said Sharon adviser Raanan Gissin.
The weekend bombings targeting two synagogues in Istanbul, Turkey, killing 23 people and wounding more than 300, have added to the perception.
The Israeli government has been highly critical of European policy during the three-year Middle East conflict, charging that many European governments take a pro-Palestinian and anti-Israeli line.
Comment: In the above we get a good insight into what exactly constitutes anti-Semitism in the mind of Sharon and others like him. Recently, more than 50% of Europeans expressed the opinion that, based on what they have observed, the Israeli government is pursuing an aggressive and dangerous policy which is a threat to us all. One might think that this is a fair comment and one that needs to be made.
Sharon and the Zionists disagree however. For them publicly expressing the reality and truth about what Israel is doing in the Middle East is no different than "anti-Semitism". In fact it is becoming increasingly clear that "anti-Semitism" can be applied to any thing or person that in any way criticises Israel. Interestingly, "Semitism" for Sharon and the Zionists must be defined as any act carried out by the Israeli government. For example, the massacre of refugees in Sabra and Shatilia camps, the bombing of the USS Liberty, the targeting and murder of Palestinian children, the illegal annexing of Palestinian land and the building of an apartheid wall cutting Palestinian people off from vital resources. A "Semite" logically then, according to Sharon, must be anyone involved in these activities.
As a result we are now in a position to answer the question we posed yesterday: For Israel the truth IS anti-Semitic.
Mossad chief: Iran nuclear threat worst ever for Israel
17-11-2003,12 :40
Mossad chief Meir Degan said Monday that the specter of nuclear weaponry in Iran was the greatest threat that Israel has faced since its founding in1948 . Degan said Iranian nuclear arms posed a "threat to the mere existence of the state of Israel".
Israel warns Syria of possible further attacks
www.chinaview.cn 2003-11-17 09:28:25
JERUSALEM, Nov. 16 (Xinhuanet) -- Chief of Staff of Israeli Defense Forces Moshe Ya'alon on Sunday warned Syria against supporting Palestinian radical organizations and Hezbollah, and hinted that Israel might again attack targets in Syria if Damascus continues to provide such support.
Egypt's Intelligence head meets Arafat, Qurei to promote new truce as Israeli soldiers kill Hamas activist in Tulkarem
17-11-2003,11 :28
Egypt's intelligence head, General Omar Suleiman, arrived in the West Bank city of Ramallah Monday for talks with Palestinian president Yasser Arafat and newly elected Prime Minister Ahmed Qurei, also known as Abu Ala.
According to Palestinian sources, Suleiman held a meeting with Mossad chief Meir Degan before his planned meeting with Arafat in Ramallah.
Report: US officials blast Sharon government policies in occupied territories
17-11-2003,08 :38
Ties between Washington and Israel were approaching a crisis due to the policy of Prime Minister Ariel Sharon's government, Israeli army radio Monday quoted senior US officials.
According to the sources, Sharon is not evacuating "unauthorized settler outposts" in the West Bank, is expanding settlements and is continuing with construction of the so-called "separation fence" along a route that is not logical.
Furthermore, the Israeli Premier isn't acting as a "friend," isn't keeping promises and is ignoring the Bush administration's difficult situation in Iraq and the criticism of the president, they added.
Moreover, Sharon is ignoring a series of messages and
expression of administration officials, including the publicly stated support of the Geneva Accord, the radio report added.
On its part, commenting on this report, the U.S. embassy in Israel said that there is no crisis in U.S.-Israel relations.
US launches 'massive' attacks on Tikrit targets
By FT reporters
Published: November 16 2003 20:10 | Last Updated: November 17 2003 8:11
The US fired satellite-guided missiles for the first time since the end of major combat during attacks on targets around Tikrit, as troops were told they were likely to remain in the country long after an interim government assumed power in the summer.
French FM: US plan for Iraq ''too slow''
17-11-2003,09 :15
France said the deadline of June30 , 2004 for the United States to hand over power to an Iraqi government is too late, calling instead for a transitional body to take control by the end of the year.
"My feeling that it is too late," French Foreign Minister Dominique De Villepin told the French Catholic daily La Croix in its Monday edition.
"We have to move faster. We are in a situation of great urgency. We must take on board the concerns and preoccupations of the people in that region," De Villepin said.
Top Iraqi scientist flees to Iran as U.S. tries to keep tabs on key people
08:22 AM EST Nov 17
DAFNA LINZER
(AP) - The Iraqi scientist who headed Saddam Hussein's long-range missile program has fled to neighbouring Iran, a country identified as a state sponsor of terrorism with a successful missile program and nuclear ambitions, U.S. officers involved in the weapons hunt have told The Associated Press.
Bundestag Approves Mandate for Anti-Terror Operation
Germany's parliament approved a one-year extension of the armed forces' involvement in "Enduring Freedom" on Friday. The mandate, which will expire in mid-December 2004, was reduced by 800 soldiers. A maximum of 3,100 troops will take part in the U.S.-led mission. The numbers were pared down, since it is no longer expected that troops equipped to detect chemical and biological attacks -- some of which had been stationed in Kuwait -- will be needed. So far the Bundeswehr's mandate has not been used to its fullest extent. Only 300 German soldiers are currently stationed abroad under the aegis of the operation in Kenya and in the waters around the Horn of Africa. A year ago 1,200 troops were deployed in the mission.
Comment: As Noam Chomsky pointed out, the name "Enduring Freedom" is particularly apt for this operation. Just look at what the people's involved are having to endure.
A president should read a newspaper
By JAMES HOWARD GIBBONS
Copyright 2003 Houston Chronicle
Throughout his presidential campaign and first years in office, President Bush has had to combat the impression that he is an intellectually lazy, incurious, ill-read, semi-empty vessel. Recently he all but confirmed the suspicion when he told a television interviewer that he never reads a newspaper beyond the occasional headline.
Bush claims he gets all he knows and needs from his aides, principally chief of staff Andrew Card and national security adviser Condoleezza Rice. But even if the two aides jabbered stereophonically in Bush's ears all day long, they could only impart a few pages of useful, retainable information.
[...] During his recent travels abroad, the president confessed amazement after learning that a couple of billion Asians and Europeans and Muslims throughout the world resent his foreign policies and are beginning to think less of the United States. Condi must have forgotten to tell him.
[...] Bush says he avoids newspapers because they might contain opinion. A person afraid of critical opinion must be insecure in his own.
Media tycoon Black resigns post
Conrad Black is to step down as chief executive of a global media empire that includes the UK's Daily and Sunday Telegraph newspapers.
The announcement came as the company, Hollinger International, said it was considering putting itself up for sale.
The move follows an internal inquiry which found that Lord Black and other executives had received more than $32m (£19m) in unauthorised payments.
The group's other assets include the Chicago Sun-Times and Jerusalem Post.
Support grows for anti-Bush demo

16/11/2003
Support for a huge demonstration against President George Bush's visit to the UK was growing tonight on the eve of last ditch talks aimed at agreeing a route for the march.
Organisers of the demo, due to be held in central London on Thursday, will meet Scotland Yard officers tomorrow to try to end deadlock over which roads can be included on the protest march.
The Stop The War Coalition said it remained hopeful of reaching an agreement but was insisting that the protest should be allowed to go down Whitehall and close to the Houses of Parliament. An official said today that there could be huge problems if no agreement was made before the march which is expected to attract tens of thousands of people opposed to the war with Iraq. [...]
The Stop The War Coalition has been inundated with requests for information about the protest in the past few days despite warnings about the security threat during President Bush's time in the UK.
Some reports have even suggested that supporters of terrorist group Al-Qaeda could be threatening an attack. Stop The War Coalition officials said they believed some of the warnings could just be propaganda aimed at stopping people attending the protest.
An official from the group said: "It appears to be a lot of smoke signals at the moment but I wonder if these are the same intelligence people who warned about weapons of mass destruction in Iraq.
"Our office has been incredibly busy over the weekend. People are booking coaches from all over the city and we get the feeling that this is going to be a substantial demonstration."
Some of the officials said attendance at the protest on Thursday could be over 100,000.
BUSH PULLS OUT OF SPEECH TO PARLIAMENT
By Bob Roberts, Political Correspondent
Nov 17 2003
GEORGE Bush was last night branded chicken for scrapping his speech to Parliament because he feared being heckled by anti-war MPs.
The US president planned to give a joint address to the Commons and Lords during his state visit to Britain.
But senior White House adviser Dr Harlan Ullman said: "They would have loved to do it because it would have been a great photo-opportunity.
"But they were fearful it would to turn into a spectacle with Labour backbenchers walking out.
The decision to abandon the speech came as extraordinary security measures costing £19million placed London under a state of virtual siege ahead of Mr Bush's arrival tomorrow.
Roads in Whitehall were closed with concrete blockades. Overhead, a no-fly zone has been established with the RAF on standby to shoot down unidentified planes. All police leave is cancelled.
Blair on defensive over Bush and economy
By Emmeline Ravilious
Published: November 17 2003 13:02 | Last Updated: November 17 2003 13:02
Tony Blair, UK prime minister, on Monday insisted the time was right for President George W. Bush to visit the UK.
The prime minister said the continuing violence against coalition troops made unity and determination imperative.
"Now is not the time to waver, now is the time to see it through."
Mr Blair told the Confederation of British Industry (CBI) annual conference that ties with the US were key to Britain's status: "the alliance with America and our position in Europe has given us unprecedented purchase in international affairs for a country of our size."
It was a good idea at the time
What ought to have been a celebratory visit to Britain by President Bush has become fraught with tension and paranoia. Julian Coman in Washington, Colin Brown and Tim Walker report on the anti-Bush circus ahead
Last week, as suicide bombers continued to terrorise Iraq, and anti-war protesters plotted to terrorise George W Bush during his state visit to the United Kingdom, the President and his officials were preparing for what they regard as a seriously tough assignment: selling him to the British.
Laura Bush defends husband's decision for war
United States First Lady Laura Bush has defended her husband for the "wrenching" decision to wage war on Iraq saying he did it to ensure the security of the US and for the sake of world peace.
In an interview broadcast the day before she arrives in London with President George W Bush, she says the decision over Iraq was the toughest he had made.
"It is by far the most difficult decision and it's a wrenching decision," she said in a television interview with ITV.
"To hear of the injuries and the deaths of American soldiers or any allied soldiers is wrenching,"
She said it was a "great thrill" for her and her husband to stay at Queen Elizabeth's Buckingham Palace.
Comment: Dontcha just love the seque from "injuries and the deaths of American soldiers" to the "great thrill" of staying at the Palace?
Sunday, November 16, 2003; Page B06
IF THERE'S ANYONE who knows how to throw a good convention party, it's House Majority Leader Tom DeLay (R-Tex.). At the 2000 GOP convention in Philadelphia, Mr. DeLay served as concierge par excellence, providing chauffeured cars to take lawmakers from party to party and vintage rail cars outside the convention center that offered a convenient escape from the throngs. There were breakfasts and cocktail parties, golf tournaments and rock concerts, all underwritten by corporations with an interest in keeping Mr. DeLay and his colleagues well disposed. But the McCain-Feingold campaign finance law threatened to put a crimp in such partying by prohibiting lawmakers from soliciting the soft money needed to bankroll their fun.
Leave it to Mr. DeLay to find the loophole -- and a particularly repulsive one. With soft money off limits, Mr. DeLay has turned to charitable dollars instead, as Roll Call reported last week. From the donors' point of view, this approach has its benefits. They won't have their names disclosed, even as they curry favor. They get tax deductions, which isn't true of political contributions. And, for writing checks to "Celebrations for Children," they will get invitations to late-night parties, Broadway shows, a golf tournament and a luxury suite to watch President Bush's acceptance speech at the New York City convention. A $500,000 "Upper East Side" package entitles donors to a private dinner with Mr. DeLay before and after the convention, a yacht cruise with Mr. DeLay and other perks. The proceeds will go to charities for abused and neglected children, including Mr. DeLay's own foundation; his office says the charity aims to keep expenses to 25 percent and to net at least $1 million.
New Idea editor deported from US
The Herald Sun
16 nov 03
AN exclusive interview with pop diva Olivia Newton-John turned into a humiliating story for New Idea magazine editor Sue Smethurst, who was handcuffed and body searched by Los Angeles airport security staff.
Ms Smethurst says she will lodge a formal complaint with US authorities after she was treated as a threat to national security and deported back to Australia after more than 12 hours of interrogation and detainment.
"I was marched through the airport with my hands handcuffed behind my back," she told Channel Nine news.
"I was body searched, I've had every part of me groped beyond belief.
"(I was) shocked more than anything, disbelief, total sense of disbelief, humiliated."
Ms Smethurst was expecting to interview Ms Newton-John about breast cancer. She said she had a visa she had used on eight other occasions.
But security staff withheld clearance and kept her for four hours and took her fingerprints and mug shots before leaving her in detention for a further 11 hours. She was even accompanied by an armed guard when she went to the toilet. She was released after the Australian consul intervened and helped win her freedom.
"I'm going to take it up with the American embassy for a start, they've picked the wrong one this time, I'm not going to go quietly," she said.
Husband Ralph Horowitz said Ms Smethurst's treatment came in stark contrast to the warm relations US President George W Bush spoke of in Canberra last month.
"You tend to laugh a bit about George Bush being in Australia a month ago, saying how we're such good friends," Mr Horowitz told Channel Nine. [...]
Okinawa urges Rumsfeld to trim US bases as anti-US rallies staged

AFP
Monday November 17, 4:33 AM

US Defense Secretary Donald Rumsfeld received a blunt request to downscale US bases in Okinawa during talks with the chief of the southern Japanese island.
Several hundred demonstrators staged rallies near US bases in protest at Rumsfeld's first visit to the strategically important island since he was appointed the US defense chief.
Okinawa governor Keiishi Inamine handed a petition calling for the reduction of US bases in Okinawa to Rumsfeld, who later flew to South Korea as he concluded a three-day visit to Japan.
"We understand that the US bases in Japan play a crucial role within the framework of the bilateral security alliance to maintain peace and security in the Far East and Japan," Inamine said in a statement.
"However, it is also the fact that Okinawa prefecture still faces the immense and dense US facilities after 58 years since the end of World War II," Inamine said.
"People of Okinawa, who have been shouldering the excessive burden of US bases over long years, have been firmly calling for resolution of base-related issues," Inamine said. [...]
Scientists warn CIA on next generation of bio-weapons
AFP
November 17, 2003
A group of US scientists has warned the Central Intelligence Agency that recent advances in biotechnology could give life to "designer" biological weapons able to target selected groups of people, act with a delay and turn deadly in reaction to medicine, according to a CIA document made public here.
The warning came during a closed-door seminar organised at the request of the CIA by the National Academy of Sciences to devise strategies for dealing with the dangerous by-products of the so-called genomic revolution. [...]
"The effects of some of these engineered biological agents could be worse that any disease known to man," the CIA report warned. [...]
This could make weapons that currently exist only in science fiction novels real over the next decade. [...]
Other "designer" biological weapons could be taught to resist antibiotics, evade an immune response and permanently wreck a person's genetic make-up, the panellists told the CIA.
Oligarchs Bow to Putin's New Deal
By Alla Startseva and Catherine Belton
Staff Writers
President Vladimir Putin on Friday offered the nation's leading executives a new deal that few are likely to refuse: share your wealth or risk losing it.
The state, Putin told nearly 800 business leaders from across the nation, will work to strengthen property rights and reduce bureaucracy, but businesses must "fully recognize their social duties" by sharing their wealth and helping to reduce poverty.
Monologue Dressed Up As Dialogue
Editorial
All one has to do is look back three weeks to the RSPP's reaction to Mikhail Khodorkovsky's arrest to see how big business since then has been cowed.
On Oct. 25, the day of the arrest, the RSPP demanded that Putin clarify his position immediately. "The business community's trust in the authorities is ruined, and the dialogue [between business and the Kremlin] has de facto collapsed," the RSPP said.
The threat to Putin, the RSPP implied, was that big business would stop investing in Russia. Anatoly Chubais warned that the conflict could cause business to unite against the president.
But Putin never blinked. He refused to discuss Khodorkovsky's arrest with the RSPP, saying there would be "no meetings or bargaining" over the prosecutors' actions.
20 Masked Attackers Storm Soros Institute
By Denis Maternovsky
Staff Writer
About 20 masked men carrying clubs swooped down on the disputed headquarters of George Soros' Open Society Institute on Friday night in an attack that injured 10, including the building's owner.
The raid was a failed attempt to retake the building and organized by the Open Society Institute's lawyers in New York, a source close to the institute said Sunday.
Institute employees were kicked out of their headquarters Nov. 6 when a group of about 50 gunmen acting on orders from building owner Kantemir Karamzin seized the building in a rent dispute.
Wal-Mart covering up 'I hate you' baby toy?
Mystery remains over 'subliminal message' heard by parents
WorldNetDaily.com
Wal-Mart has yanked a baby-crib accessory from its shelves after parents all across the country complained it disseminates a subliminal message of hate, but you wouldn't know it unless you called the major retailer.
"We felt it was an item that wasn't up to our quality of standards," Wal-Mart spokesperson Karen Burk told WorldNetDaily in explanation of why the toys were removed from stores' shelves nationwide earlier this year.
The toy has not been recalled, however, and no mention of its removal from shelves or concerns raised about it have been posted on the company's website.[...]
The toy appears to be a Wal-Mart version of a similar "Ocean Wonders Aquarium" toy made by Fisher-Price and sold by Wal-Mart. Wal-Mart's website ranked the Fisher-Price toy as its third best-selling product among toys for infants age 0 to 6 months. [...]
Detective quits race crime job over Nazi shrine
By Daniel Foggo and Fiona Govan
The Telegraph
A detective responsible for investigating race-hate crime, who was exposed by the Telegraph as being married to a British National Party member and living in a shrine to Hitler, has resigned from her post.
Dc Linda Daniels, who worked for the community safety unit in Notting Hill, west London, lives in a house in Essex festooned with Nazi regalia and has a dummy in an SS uniform in her hallway.
The couple's dog is named Blondi after Hitler's pet alsatian and they used to keep a bust of the dictator next to a picture of Dc Daniels in police uniform. Her husband of 10 years, Keith Beaumont, is a member of the far-Right BNP and believes that the facts of the Holocaust have been "exaggerated". [...]
On This Day in 1992
Dateline NBC falsifies an investigation that includes a GM truck exploding on impact. Howard Rosenberg of the Los Angeles Times called it, "an unprecedented disaster in the annals of network news, and perhaps the biggest TV scam since the Quiz Scandals." Not quite, they just happened to get caught. Nearly every time one of those talking heads opens their mouth, half truths and misleading innuendo spills out. Source: It Didn't Start With Dateline NBC, By Walter Olson, National Review, June 21, 1993
Toil: America's salaried workers are spending more and more hours on the job, and many find that is detracting from the quality of their lives.
Speedy trial guarantees to be suspended in Miami for trade talks
Associated Press
TALLAHASSEE -- The Florida Supreme Court's chief justice ordered Thursday that guarantees for speedy trials and court hearings will be suspended temporarily in Miami-Dade County because of next week's free trade meetings. [...]
State courts in the county had already decided to curtail most of their operations, such as jury trials, during the meetings because of the threat of violent protests. Federal courts in Miami will close next week. [...]
Comment: Suspend the Constitution in case people get upset that the robber barons are in town. Violence solves nothing, the problem is discerning who started the violence, since just like the 1960's, COINTELPRO has surely infiltrated all protest groups. If you are part of a group that organizes protests, you may want to read these guidelines for coping with infiltration: COINTELPRO: THE DANGER WE FACE.
Rising crime 'a threat to life in shires' (UK)
By John Steele, Crime Correspondent and Sandra Laville
The Telegraph
Burglaries in the countryside have trebled since 1983 - rising by 5.7 per cent last year alone - while offences in towns and cities have fallen to the level of the mid-1980s, according to Home Office research. [...]
Children abuse steroids 'to look good'
Schoolchildren as young as 14 are using anabolic steroids to enhance their appearance, the head teacher of a Rhondda Cynon Taff school has revealed.
Comment: Occasionally readers send us links to his articles, and we have avoided posting them since there was to much unverified material, and we don't particularly appreciate his writing style. This is an article from Rense, and pulls some clues together as to just who this man is. It appears he may be yet another COINTELPRO outlet.
Euro Disney hit by decline in visitors
By Martin Arnold in Paris
Published: November 17 2003 11:41 | Last Updated: November 17 2003 11:41
Euro Disney, France's biggest tourist attraction, slid to a net loss of €56m in the year to September as visitor numbers shrank and operating costs were swelled by the launch of a new theme park.
Expelled German MP gets Offer to Join Schill Party
Martin Hohmann, the conservative German politician expelled on Friday from the Christian Democrats' parliamentary group for anti-Jewish remarks, has received an offer to join the right-wing party founded by Hamburg judge Ronald Schill.
Govt brushes off new Al Qaeda threat
Federal Attorney-General Philip Ruddock says Australia will not be increasing its terrorism alert level, despite an apparent new threat from Al Qaeda.
Montreal transit workers on strike
Last Updated Mon, 17 Nov 2003 8:03:31
MONTREAL - Montreal transit commuters will face delays Monday as more than 2,000 maintenance workers have gone on strike.
The service on bus and subway routes will be limited during peak hours, and there will be no service on weekends.
Fire destroys Montreal police complex
Last Updated Sun, 16 Nov 2003 13:47:47
MONTREAL - Fire destroyed a complex used by Quebec's provincial police force Sunday morning.
Located on Montreal's south shore, the Sûreté du Quebec's tactical squad used the facility.
[...] Fire officials believe a propane leak caused an explosion, which started the fire.
Pan-African parliament expected to work soon
www.chinaview.cn 2003-11-17 21:44:46
ADDIS ABABA, Nov. 17 (Xinhuanet) -- The African Union Pan-African Parliament will come into force soon following the deposit by Senegal of instrument of ratification on the protocol on the establishment of Pan-African Parliament.
According to an AU press release here Monday, Senegal has become the 24th AU member state to deposit the ratification, and the simple majority of ratification required for the operation of the parliament has been met.
The protocol shall enter into force 30 days after the deposit of the 24th instrument of ratification.
The Pan-African Parliament will evolve into an institution withfull legislative powers, whose members will be elected by universal adult suffrage.
However, in its first five years of existence, it will have consultative and advisory powers only, according to the release.
Last Updated Mon, 17 Nov 2003 7:49:47
TORONTO - An influenza outbreak first detected in western Canada a few weeks ago has made its way to Ontario, leaving hundreds ill and thousands rushing to get immunized.
An especially virulent strain known as A Panama has caused lineups at some clinics and emergency wards.
"It's very early, and it's hit very hard," says Dr. John Morse of the Stanton Regional Health Board in Yellowknife.
"I think it's because we didn't get much of a flu season last year, so the immunity of the public at large is down."
Flu season in Canada normally runs between November and March, with two peaks: late December and late February.
In Toronto, vaccinations are up about 20 per cent.
Solar eclipse to be seen by just a few
Next Monday, for the first time in nearly a year, one of the eeriest sights in the natural world will entertain a few lucky individuals on the frozen southern tip of our planet: a total solar eclipse.
Thrills for this small club of eclipse junkies are almost guaranteed, for the only place where "totality" can be enjoyed is in part of Antarctica, its iceshelf and the waters just north of it - the wilderness of the midnight Sun.
US makes 'weather control powder'
By BBC Science's Julian Siddle
A company in the United States claims it has invented a powder that can be used to remove clouds from the sky and even stop the development of hurricanes.
They say the new product could help many areas of the world that are subject to extreme weather conditions. The powder absorbs water from storm clouds.
The Florida based company, Dyn-o-mat, used a military aircraft to drop four tonnes of its powder on to a developing storm cloud.
The cloud disappeared from radar screens, which were monitoring the experiment. [...]
Corpse in house possibly years
Windows in Welland home never open
Elderly woman not seen since 1995
TORSTAR NEWS SERVICES
WELLAND, Ont.—The decomposed body of an elderly woman found here in a room sealed off with towels may have been there for as long as nine years, according to police reports.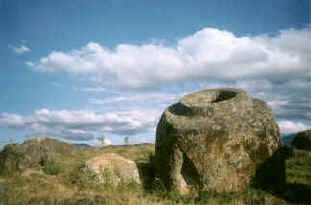 Mystery shrouds jars in Laos
Attracts tourists, foils archeologists
By Richard C. Paddock
Los Angeles Times
THONG HAI HIN, Laos -- The first time Sousath Phetrasy saw the huge stone jars scattered in a grassy field, he was entranced. Carefully avoiding old unexploded bombs in the ground, the Laotian businessman walked among hundreds of the ancient, lichen-covered containers, each one large enough to hold a person. The biggest weighed more than 6 tons. [...]
Perhaps 2,000 years old, the relics on the plateau known as the Plain of Jars are one of the oldest -- and unexplained -- archeological wonders of Southeast Asia. They have survived looters, the elements, and American bombs, but for decades were largely forgotten in the chaos and conflict that swept Laos. [...]
---
Remember, we need your help to collect information on what is going on in your part of the world!
We also need help to keep the Signs of the Times online.
---

Check out the Signs of the Times Archives

Send your comments and article suggestions to us

---
Fair Use Policy
Contact Webmaster at signs-of-the-times.org
Cassiopaean materials Copyright ©1994-2014 Arkadiusz Jadczyk and Laura Knight-Jadczyk. All rights reserved. "Cassiopaea, Cassiopaean, Cassiopaeans," is a registered trademark of Arkadiusz Jadczyk and Laura Knight-Jadczyk.
Letters addressed to Cassiopaea, Quantum Future School, Ark or Laura, become the property of Arkadiusz Jadczyk and Laura Knight-Jadczyk
Republication and re-dissemination of our copyrighted material in any manner is expressly prohibited without prior written consent.
.