---
You may have noticed that Bush's favorite word these days is "freedom" - He continually reminds the people of western nations how lucky they are to live in "free countries", his speeches often containing multiple incidences of the word. But what exactly is Bush talking about when he talks of freedom? Is it freedom of speech? Is it freedom of movement and action? It seems that in western countries freedom has become (or perhaps has always been) a relative concept, it is relative to the lack of freedom in other countries. Today, if we want to check up on the status of our precious freedoms we do not take them out for a "test drive" so to speak, rather we simply take a look at the newspapers or TV and see what it is that constitutes lack of freedom, we then compare this to our present personal state and get a good estimation of our "personal freedom status".
In has been said by a Russian defector that over the years US government propaganda directed towards its own citizens outstripped by a mile anything that Soviet era Russian governments were able to do. He stated that propaganda in Russia was so crass that the people could spot it a mile away, they knew they were living in a dictatorship, and they accepted it. In the US, on the other hand, the propaganda was so subtle and manipulative that while US governments acted in much the same way as Russian dictators, the people were convinced that they were living in a real democracy and that they were so much better off than Russians.
Essentially it comes down to population control, and finding the best way to do it most effectively.
It is historical fact that over the years the US government, operating through its secret agencies like the CIA, funded brutal military dictators around the world. Can we discount that one of the benefits of such action was to provide the required contrast to convince US citizens of how lucky they were to be so comparatively "free"?
Imagine a prisoner wrongly convicted. His initial despair could be turned into thankfulness and a feeling of privilege, simply by subjecting his cell mate to harsh treatment while sparing him. He may not be free but "it could be worse". It would seem that this manipulated thought process forms the basis of the belief among US citizens that they are living in the "greatest democracy on earth". In truth it seems that Americans are suffering a severe case of Stockholm syndrome.
As a result then of the mixture of reality and lies about other countries' positions on the "freedom index", (fed directly into American homes) combined with a strong natural desire to believe that they really are free, the US population remains convinced that their jailers are in fact the cause of their liberty, and that is all important from the jailer's point of view. The reality is of course very different, but then reality never really caught on here on the BBM, although we hear that it may soon be making a comeback. If and when it does, you may want to avoid being like the sentry who fell asleep on his watch - he didn't even feel the cold steel as it pierced his heart.
In The News Today: al-Qaeda threats coming from American University in UAE - imagine that! The journalistic spin on the bombings yesterday in Turkey take a familiar turn.
The Brits tell Bush that the Tube will run during his visit and that US security forces will not be given diplomatic immunity if they start killing demonstrators. But the Queen still won't be getting her soaps.
Across the channel, France and Germany get closer than ever with plans to continue the marriage.
Another 17 US soldiers are killed as two more helicopters crash in Iraq. The Bush Reich also announces that the Pentagon will seize control of news broadcasting in Iraq to provide "balanced" coverage of the continuing liberation of the Iraqi people.
North Korea again offers to stop nuclear program, but only if the US stops threatening activity. The Bush Reich has begun yet another arms race.
Japan ponders imposing its own duties on US-made goods in response to US steel tariffs. If the new tariffs being threatened by the EU and Japan aren't enough, a new energy bill, a new prescription drug deal, and a lack of temporary jobs in the US all are bad news for the American economy. UK home office plans to tag released prisoners, just one step away from doing the same to the general public.
Over 8,500 US residents have been scared into getting Hepatitis A vaccinations after three die after eating at Chi-Chi's.
Over 200 police officers from the British countryside come forward and admit widespread UFO activity.
---
Our sources in the Middle East tell us the following:
"Things really seem to be getting curiouser and curiouser over here.
1. Introduction of RFID technology smart cards Jan 2004
2. New $120 million US military base scheduled for next year
3. Rumours that the Sultan has cancer.
4. Citibank giving it's customers 2 weeks notice to withdraw their money because the bank is getting out of Oman on 30th November
5. Tanks and soldiers from the UAE positioned at the border. Never been there before. They first appeared when the IMF?World Bank was in Dubai but they haven't left their positiions yet.
6. Road passes and permission to travel to the UAE by road blocked.
7. This report below states that a computer at the American University of Sharjah is being used to send the latest Al Qaeda threats.
American University of Sharjah Behind Al Qaeda Attack Threats (United Arab Emirates)
November 10, 2003
MND NEWSWIRE
Warnings continue to circulate on the internet calling on Muslims to flee New York, Washington and Los Angeles in advance of threatened major al Qaeda attacks in those cities.
Titled "This is the Second Warning ..."the following message appeared on a Yahoo! Groups message board Saturday.
"We fight asking for God's heavens and Almoshrekeen fight asking for the Devals (sic) money and wealth. We fight with God's promise and they fight with Bush's promise. Oh God the most powerful in your hands we fight. This is the second call for Muslims in the USA to start leavinbg soon from L.A., the East side and New York. (sic)Alaaah Akbaar, Allah Akbaar to Bush and his Black House gang. You will hear from the (sic) Mojahideen very soon." (Signed) Alaah Akbaar, Daleel_ Almojahid.
This warning followed the posting of a message a week ago by the Jeddah-based al Qaeda-linked Al-Islah (Reform) society calling on Muslims to flee New York, Washington and Los Angeles in advance of threatened major al Qaeda attacks in those cities.
That warning was reported by www.debka.com, a self-described "Internet publication devoted to independent, investigative reporting and forward analysis in the fields of international terrorism, intelligence, international conflict, Islam, military affairs, security and politics."
A similar message also appeared last week on a Yahoo! Group bulletin board. This message is now missing in the group's archives. (see site for links)
Posted by an individual calling himself Daleel Almojahid, it read "This is the last call for Muslims in New York, the east side and Los Angeles to start leaving. The mojahideen (sic) are now ready to teach the US a lesson it will never forget."
A similar message was received by this reporter when initially under the guise of being a Moslem sympathetic to the cause he wrote to Almojahid that he wanted to help. "I have funds to buy what you need to kill the kaffir. I need bank account, wiring instructions and location..."
The first response received from Almojahid by this reporter read , "We are more than thankful for the sweet words you wrote, but we have everything ready and set thank you so much and please make your plans to move out if you are in the cities of LA, NY or the east side. Go north as much as possible as you know this is a war. May God protect you and protect all our brothers and sisters."
Almojahid posted a subsequent message on his Yahoo! Group account. Headlined "You have to understand this is a war your government had started," it read in part:
"I know that a lot of innocent people and Muslims are within these cities but you have to understand that this is a war your government had started. They have killed more than 2,000,000 Muslims in the past 12 years alone, 500,000 kids died in Iraq since 1990! What would you do if 2,000,000 Americans died from Muslims who are just attacking for money and oil and more wealth to their country! A lot of people asked me how much more time is there. I can only tell you get out as soon as you can. This is a war."
Almojahid also deals with violence against America in general on his Yahoo! Groups site, writing in one post:
"For us America and Israel have became one that's why America is now on the line of fire from our mojahideen, America has became our biggest enemy and destroying its economy means destroying and dismantling Israel's power and dream of controlling the word. For that America will be attacked for the sole reason of cutting the heart of the Israeli state."
However, it seems that Almojahid is not who he claims. Information obtained from his e-mails indicates that his real (or other) name is Salaah Aldeen, and he is using a computer at the American University of Sharjah in the United Arab Emirates (www.aus.ac.ae) to send his threatening messages.
While the search engine for the university web site produced no results for either name, Almojahid did respond to an e-mail asking who Aldeen is and why he was apparently using the computers at the University of Sharjah.
He wrote (sic) "I am salaah aldeen...knowing that i am using the american university of sharjah network is something you should know why with out asking ! there are 4,000 students here..;O)...enjoy."
In an additional e-mail received by this reporter, Almojahid/Aldeen wrote, apparently referring to the threatened al Qaeda attacks, (sic) "By the well of god and the hands of the mojahideen, the coming hit wont be stopable at all. you think years of well planing will be stoppable!!! you still dont know the mojahideen. and i will keep reminding you that you still dont know the mojahideen..but you will see thier light and hear there loud bang very very soon when everything becomes black smoke.[...]
Comment: We find it very interesting that the author of the messages is posting from the American University in the UAE. Is it really likely that an "Arab terrorist" would send public emails detailing the location of the attacks? The scenario is very similar to events prior to the 9/11 attack when similar message board postings were made.
Considered objectively it would appear that someone wants to manufacture evidence before the event so that immediately afterward the finger can be pointed at Arabs. Ask yourself, if Arabs were really planning an attack would they do such a thing? Then ask yourself, if the CIA or Mossad were planning a faked "terror" attack and wanted to blame Muslims for it, would they do such a thing?
Remember, in the natural state of human affairs, considering man's tendency to want more and more power and wealth, it makes sense that people of like mind would work together to enrich themselves as a group. As G.K. Chesterton wrote:
[...] if there is no conspriacy, why is there no conspiracy? Why should nature abhor all vacuums except this particular vacuum? If the means of controlling the lives and destinies of mankind exists, as undoubtedly they do exist, why should use of them go by default? It is not as if there was any shortage of unscrupulous manipulators."
Synagogue blasts rock Istanbul
By Jonathan Gorvett in Istanbul and Shaista Aziz
Sunday 16 November 2003, 9:14 Makka Time, 6:14 GMT
Explosions at two Jewish sites in Istanbul have reportedly left at least 20 people dead and two hundred injured as car bombs rocked the heart of the Turkish city.
[...] Gorvett says many of the dead and injured are believed to be Muslims.
''The districts where both bombs went off are predominately Muslim areas. The Galata area is made up of lamp and furniture-making workshops, all owned by Muslims.
"Most of the shops have been damaged by the explosion and the street is covered in glass.''
[...] A Turkish group called the Great Eastern Islamic Raiders Front (IBDA-C) has claimed responsibility for the bombings.
[...] But Gorvett says that the Turkish police are not convinced that the IBA-C are responsible for the attacks.
''The security department in Istanbul has told me it doesn't believe the IBDA is responsible for the bombings. It is pointing the finger of blame at al-Qaida. The simultaneous bombings of targets is a classic al-Qaida tactic.''
Comment: When they say an attack is carried out by "al-Qaeda", this is shorthand for saying it was the work of the same people that brought down the WTC. And we have a good idea who that was, don't we?
Curious, once more, the spin given the bombings, yes? Although the media claim the targets were two synagogues, most of the actual victims appear to have been Muslims. See the next article.
Istanbul bombings - suspects arrested?

In the wake of Saturday's bombings of two synagogues in Istanbul, Turkish media have claimed that police have arrested three suspects, two of them women. Police, however, declined to confirm this.
The toll from the car bombs rose overnight to 22 killed, police said, and included Muslim passersby. Israel's consul said six Jewish Turkish citizens were among the dead.
Turkish police put the number of wounded at 242. An Israeli forensic team has arrived to join Turkish detectives, followed by Israeli Foreign Minister Sylvan Shalom. Turkish Foreign Minister Abdullah Gul said he assumed an international terror group like al Qaeda was behind the attacks. On Saturday, Turkish police largely ruled out a claim of responsibility from a radical Turkish group. The latest to add to worldwide condemnation have been Iran and the Palestinian Authority.
Comment: So the latest figures show that only six out of the 22 killed were Jewish. We are obviously against any loss of human life; even one would be too many. However, we find the media spin put on the bombing to be despicable. Sixteen Muslims lost their lives, and yet this is being turned into a uniquely "Jewish" event. Look at the Associated Press story by James C. Helicke, 20 dead, hundreds hurt in synagogue bombings. It makes no mention that the victims were mostly Muslim. The lead-in says:
ISTANBUL — Car bombs exploded outside two synagogues in Istanbul at almost the same time today, killing at least 20 and injuring more than 257, top Turkish ministers said.
This, along with the headline, certainly creates in the reader's mind the image that all of the victims were Jewish.
A Rueter's article notes that Mossad agents were on-site very shortly after the blasts, undoubtedly making sure that no incriminating evidence was left behind. That gives the phrase "a uniquely Jewish event" an entirely different meaning.
Turkish, Israeli Officials Probe Synagogue Blasts
ISTANBUL (Reuters) - [...] Israeli Mossad secret service teams were on hand, sources said. [...]
Comment: Coincidence? We think not.
Turkey: Bombings may be work of foreign terrorists
Saturday, November 15, 2003
ISTANBUL, Turkey (CNN) -- Turkey's foreign minister says blasts close to two Istanbul synagogues that killed at least 20 people and wounded more than 300 others appear to be a coordinated terror attack with "international links."
Authorities speculate the attacks -- which rocked the synagogues as Jewish worshippers prayed at weekly Sabbath services -- were carried out by terrorists from outside the country, possibly al Qaeda.
Foreign Minister Abdullah Gul said "it looks as if this is a terror attack which has international links." Turkish Interior Minister Abdulkadir Aksu told reporters that "no organization has claimed responsibility yet" and investigators are "considering every possibility. Any organization could be behind this."
Comment: We recommend that the Turkish minister look in the direction of Israeli and US "intelligence agencies" for the people behind the attack.
Greek composer sez -"Jews the root of all evil"
Haaretz and AP
12/11/2003
Israel has complained to the Greek government about comments by composer Mikis Theodorakis, who called Jews "the root of evil" and dismissed key Biblical figures as mere "shadows," a diplomatic source said Wednesday. [See Who Wrote the Bible]
The source, who requested anonymity, said the Israeli Embassy in Athens pointed out the "gravity" of the remarks by Theodorakis, who is best known for the score of the 1964 film "Zorba the Greek."
The Foreign Ministry issued a statement denouncing the comments as "anti-Semitic" and expressing "sorrow that such remarks were made by a personality of his stature."
Meanwhile, the Foreign Ministry has also found that Israel is perceived as a provocative, unreliable country whose agenda is controlled by a handful of settlers, Army Radio reported Wednesday.
The findings were contained in a draft document on Israel's image in the world, which also indicated rising international criticism against Israeli policies, the radio reported.
Sympathy for the Palestinians is high in Greece and protests are often held to criticize Israel's actions in the Palestinian territories.
"We are two nations without brothers in the world, us and the Jews, but they have fanaticism and are forceful," Theodorakis said at a November 4 news conference to promote his book "Where Can I Find My Soul." The event was attended by some senior government officials.
"Today we can say that this small nation is the root of evil, not of good, which means that too much self importance and too much stubbornness is evil," he told the audience of journalists and officials, including Cultural Minister Evangelos Venizelos and Education Minister Petros Efthimiou.
According to the daily Apogevmatini, Theodorakis said Greece "did not turn aggressive like them" because of its rich history.
"They only had Abraham and Jacob, shadows... We had the great Pericles here," Theodorakis was quoted as saying.
Theodorakis often grabs headlines with his blunt remarks, particularly against the U.S. government. After the U.S.-led attacks on Iraq, he described Americans as "disgusting, cruel and cowardly murderers."
Israeli and Jewish leaders have expressed fears of a resurgence in anti-Semitism in Europe. European and EU leaders have also condemned the results of a recent Eurobarometer poll, indicating that 59 percent of the EU's citizens consider Israel the main threat to peace, closely followed by the United States, Iran and North Korea, each with 53 percent
Comment: Theodorakis explains his definition of evil in relation to the Jews and Israel as, "too much self importance and stubbornness". He further states that key Jewish biblical figures are "mere shadows". We are not disposed to argue with this point. The Greek foreign ministry found that Israel was perceived as an "unreliable and provocative country". We find Mr. Theodorakis' comments to be insightful and historically accurate, yet they are immediately branded by Israel as "anti-semitic".
Why is it that when anyone attempts to state the truth about the actions of Israel and the fanatical nature of Judaism, both of which are clear for all to see, there is an immediate rush by Israel and Israeli lobby groups to condemn and cover up? Just what is it that these Jewish leaders want so desperately to hide?
Again we ask: Is the truth anti-Semitic??
Sunday 16 November 2003
The European Union will hold talks with Israel to protest at Tel Aviv's continuing boycott of its envoy and other officials who "dare" to meet the Palestinian president.
The 15-member bloc will also press Israel on Monday over its erection of a huge wall along the West Bank, which Brussels says is "unacceptable".

For Israel, the Association Council is usually part of regular talks aimed at increasing its cooperation with the EU.
But Israeli Foreign Minister Silvan Shalom is set to hear some frank comments from the EU foreign policy chief Javier Solana and external relations commissioner Chris Patten in Brussels.
Both senior officials are on the record as describing the Israeli ban on Yasir Arafat as regrettable and have criticised "the apartheid wall" as an obstacle to a two-state solution.
Israeli troops kill two Palestinians
Ananova.com
10:10 Sunday 16th November 2003
Israeli troops killed two Palestinians, one of them a 55-year-old civilian, during an operation to arrest a known arms smuggler in a Gaza refugee camp.
Israeli forces surrounded the house of Bassam Abu Libdeh, well-known in the Rafah refugee camp as a weapons runner.
The troops called on him and his family to leave the house. Abu Libdeh's wife and children left the house, but he stayed inside and a gun battle erupted, the residents said.
During the fighting, two Apache helicopter gunships fired heavy machine-guns and Hassan Abu Khatleh, 55, was killed by a high-calibre bullet wound to the chest, hospital officials said.
At the end of the operation, the forces demolished Abu Libdeh's house. There were reports that Abu Libdeh was arrested.
Meanwhile, military sources said they surrounded the home of a known arms dealer in the Rafah refugee camp - not far from the Gaza-Egypt border. The smuggler, whose name the army would not confirm, fled the house with two other men, one of them armed.
Forces chased the men and killed one, the sources said. The two others, including the fugitive smuggler, were arrested, they added. The sources said they demolished the arms smuggler's home.
The Israeli army often enters the Rafah refugee camp to blow up tunnels used by Palestinian arms dealers to smuggle weapons from Egypt into the Gaza Strip. However, it is rare for the army to attempt to arrest an arms dealer.
Israel demolishes the homes of Palestinian militants and fugitives in an attempt to deter Palestinians from attacking Israelis. Palestinians condemn the policy as a violation of human rights.
Israelis, Palestinians pour over alternative peace plan

JERUSALEM (AFP) Nov 16, 2003
The Israeli and Palestinian public were pouring over the text of an alternative Middle East blueprint Sunday after copies were mailed out to households and the entire document was published in newspapers.
Former justice minister Yossi Beilin, the driving force behind the so-called Geneva Initiative on the Israeli side, tried to hand over a copy at Prime Minister Ariel Sharon's residence here. But officials said they could not accept the text as the supporters had not followed proper procedures for delivering documents to the premier.
Sharon has poured scorn on the agreement drawn up by opposition politicians and leading Palestinian figures, calling it an illusion and insisting that the internationally-backed "roadmap" for peace is the only way to secure peace in the region. [...]
Comment: Would this be the same roadmap for peace that Sharon seems to be sabotaging every chance he gets?
Hold On to Your Humanity: An Open Letter to GIs in Iraq
By STAN GOFF (US Army Retired)
Counterpunch.org
November 14, 2003
Dear American serviceperson in Iraq,
I am a retired veteran of the army, and my own son is among you, a paratrooper like I was. The changes that are happening to every one of you--some more extreme than others--are changes I know very well. So I'm going to say some things to you straight up in the language to which you are accustomed.
In 1970, I was assigned to the 173rd Airborne Brigade, then based in northern Binh Dinh Province in what was then the Republic of Vietnam. When I went there, I had my head full of shit: shit from the news media, shit from movies, shit about what it supposedly mean to be a man, and shit from a lot of my know-nothing neighbors who would tell you plenty about Vietnam even though they'd never been there, or to war at all.
The essence of all this shit was that we had to "stay the course in Vietnam," and that we were on some mission to save good Vietnamese from bad Vietnamese, and to keep the bad Vietnamese from hitting beachheads outside of Oakland. We stayed the course until 58,000 Americans were dead and lots more maimed for life, and 3,000,000 Southeast Asians were dead. Ex-military people and even many on active duty played a big part in finally bringing that crime to a halt.
When I started hearing about weapons of mass destruction that threatened the United States from Iraq, a shattered country that had endured almost a decade of trench war followed by an invasion and twelve years of sanctions, my first question was how in the hell can anyone believe that this suffering country presents a threat to the United States? But then I remembered how many people had believed Vietnam threatened the United States. Including me.
When that bullshit story about weapons came apart like a two-dollar shirt, the politicians who cooked up this war told everyone, including you, that you would be greeted like great liberators. They told us that we were in Vietnam to make sure everyone there could vote.
What they didn't tell me was that before I got there in 1970, the American armed forces had been burning villages, killing livestock, poisoning farmlands and forests, killing civilians for sport, bombing whole villages, and commiting rapes and massacres, and the people who were grieving and raging over that weren't in a position to figure out the difference between me--just in country--and the people who had done those things to them.
What they didn't tell you is that over a million and a half Iraqis died between 1991 and 2003 from malnutrition, medical neglect, and bad sanitation. Over half a million of those who died were the weakest: the children, especially very young children.
My son who is over there now has a baby. We visit with our grandson every chance we get. He is eleven months old now. Lots of you have children, so you know how easy it is to really love them, and love them so hard you just know your entire world would collapse if anything happened to them. Iraqis feel that way about their babies, too. And they are not going to forget that the United States government was largely responsible for the deaths of half a million kids.
So the lie that you would be welcomed as liberators was just that. A lie. A lie for people in the United States to get them to open their purse for this obscenity, and a lie for you to pump you up for a fight.
And when you put this into perspective, you know that if you were an Iraqi, you probably wouldn't be crazy about American soldiers taking over your towns and cities either. This is the tough reality I faced in Vietnam. I knew while I was there that if I were Vietnamese, I would have been one of the Vietcong.
But there we were, ordered into someone else's country, playing the role of occupier when we didn't know the people, their language, or their culture, with our head full of bullshit our so-called leaders had told us during training and in preparation for deployment, and even when we got there. There we were, facing people we were ordered to dominate, but any one of whom might be pumping mortars at us or firing AKs at us later that night. The question we started to ask is who put us in this position?
In our process of fighting to stay alive, and in their process of trying to expel an invader that violated their dignity, destroyed their property, and killed their innocents, we were faced off against each other by people who made these decisions in $5,000 suits, who laughed and slapped each other on the back in Washington DC with their fat fucking asses stuffed full of cordon bleu and caviar.
They chumped us. Anyone can be chumped.
That's you now. Just fewer trees and less water.
We haven't figured out how to stop the pasty-faced, oil-hungry backslappers in DC yet, and it looks like you all might be stuck there for a little longer. So I want to tell you the rest of the story.
I changed over there in Vietnam and they were not nice changes either. I started getting pulled into something--something that craved other peole's pain. Just to make sure I wasn't regarded as a "fucking missionary" or a possible rat, I learned how to fit myself into that group that was untouchable, people too crazy to fuck with, people who desired the rush of omnipotence that comes with setting someone's house on fire just for the pure hell of it, or who could kill anyone, man, woman, or child, with hardly a second thought. People who had the power of life and death--because they could.
The anger helps. It's easy to hate everyone you can't trust because of your circumstances, and to rage about what you've seen, what has happened to you, and what you have done and can't take back.
It was all an act for me, a cover-up for deeper fears I couldn't name, and the reason I know that is that we had to dehumanize our victims before we did the things we did. We knew deep down that what we were doing was wrong. So they became dinks or gooks, just like Iraqis are now being transformed into ragheads or hajjis. People had to be reduced to "niggers" here before they could be lynched. No difference. We convinced ourselves we had to kill them to survive, even when that wasn't true, but something inside us told us that so long as they were human beings, with the same intrinsic value we had as human beings, we were not allowed to burn their homes and barns, kill their animals, and sometimes even kill them. So we used these words, these new names, to reduce them, to strip them of their essential humanity, and then we could do things like adjust artillery fire onto the cries of a baby.
Until that baby was silenced, though, and here's the important thing to understand, that baby never surrendered her humanity. I did. We did. That's the thing you might not get until it's too late. When you take away the humanity of another, you kill your own humanity. You attack your own soul because it is standing in the way.
So we finish our tour, and go back to our families, who can see that even though we function, we are empty and incapable of truly connecting to people any more, and maybe we can go for months or even years before we fill that void where we surrendered our humanity, with chemical anesthetics--drugs, alcohol, until we realize that the void can never be filled and we shoot ourselves, or head off into the street where we can disappear with the flotsam of society, or we hurt others, esepcially those who try to love us, and end up as another incarceration statistic or a mental patient.
You can ever escape that you became a racist because you made the excuse that you needed that to survive, that you took things away from people that you can never give back, or that you killed a piece of yourself that you may never get back.
Some of us do. We get lucky and someone gives a damn enough to emotionally resuscitate us and bring us back to life. Many do not.
I live with the rage every day of my life, even when no one else sees it. You might hear it in my words. I hate being chumped.
So here is my message to you. You will do what you have to do to survive, however you define survival, while we do what we have to do to stop this thing. But don't surrender your humanity. Not to fit in. Not to prove yourself. Not for an adrenaline rush. Not to lash out when you are angry and frustrated. Not for some ticket-punching fucking military careerist to make his bones on. Especially not for the Bush-Cheney Gas & Oil Consortium.
The big bosses are trying to gain control of the world's energy supplies to twist the arms of future economic competitors. That's what's going on, and you need to understand it, then do what you need to do to hold on to your humanity. The system does that; tells you you are some kind of hero action figures, but uses you as gunmen. They chump you.
Your so-called civilian leadership sees you as an expendable commodity. They don't care about your nightmares, about the DU that you are breathing, about the lonliness, the doubts, the pain, or about how you humanity is stripped away a piece at a time. They will cut your benefits, deny your illnesses, and hide your wounded and dead from the public. They already are.
They don't care. So you have to. And to preserve your own humanity, you must recognize the humanity of the people whose nation you now occupy and know that both you and they are victims of the filthy rich bastards who are calling the shots.
They are your enemies--The Suits--and they are the enemies of peace, and the enemies of your families, especially if they are Black families, or immigrant families, or poor families. They are thieves and bullies who take and never give, and they say they will "never run" in Iraq, but you and I know that they will never have to run, because they fucking aren't there. You are.
They'll skin and grin while they are getting what they want from you, and throw you away like a used condom when they are done. Ask the vets who are having their benefits slashed out from under them now. Bushfeld and their cronies are parasites, and they are the sole beneficiaries of the chaos you are learning to live in. They get the money. You get the prosthetic devices, the nightmares, and the mysterious illnesses.
So if your rage needs a target, there they are, responsible for your being there, and responsible for keeping you there. I can't tell you to disobey. That would probably run me afoul of the law. That will be a decision you will have to take when and if the circumstances and your own conscience dictate. But it's perfectly legal for you to refuse illegal orders, and orders to abuse or attack civilians are illegal. Ordering you to keep silent about these crimes is also illegal.
I can tell you, without fear of legal consequence, that you are never under any obligation to hate Iraqis, you are never under any obligation to give yourself over to racism and nihilism and the thirst to kill for the sake of killing, and you are never under any obligation to let them drive out the last vestiges of your capacity to see and tell the truth to yourself and to the world. You do not owe them your souls.
Come home safe, and come home sane. The people who love you and who have loved you all your lives are waiting here, and we want you to come back and be able to look us in the face. Don't leave your souls in the dust there like another corpse.
Hold on to your humanity.
Stan Goff
US Army (Ret.)
17 U.S. Soldiers Die in Iraq Copter Crash
AP
Sat Nov 15
BAGHDAD, Iraq - The U.S. military said 17 soldiers were killed in the crash of two Black Hawk helicopters in the northern city of Mosul, five were injured and one remained unaccounted for.
The death toll from the two Black Hawks surpassed that of the Nov. 2 crash of a Chinook helicopter, which was shot down near Fallujah. Sixteen died in the Chinook crash.
A statement by the U.S. command said one helicopter was carrying a quick reaction force and the other ferried soldiers on a transport mission in northern Iraq (news - web sites).
The statement did not give the cause of the crash, although some soldiers at the scene said at least one of the Black Hawks may have been hit by ground fire. Witnesses said the two Black Hawks collided in mid-air and came down in a residential area of western Mosul. [...]
Bush: US did great favor to Iraqi people by removing Saddam
16-11-2003
President Bush, said in an interview to be broadcast Sunday that attacks on U.S. forces in Iraq are partly the work of "mujaheddin types" and fighters seeking "revenge for getting whipped in Afghanistan."
[...] Bush told the BBC he was not sure whether Saddam was personally behind the attacks. "We did the Iraqi people a great favor by removing him, and so I wouldn't be surprised that any kind of violence is promoted by him," he said. "But I don't know. I don't know. All I know is we're after him."
US troops to stay in self-ruling Iraq
Sunday 16 November 2003
The military occupation of Iraq will continue despite plans to speed up the handing over of political authority to a transitional government, the US defence secretary says.
Speaking from the southern Japanese island of Okinawa, Donald Rumsfeld said a transitional government would have no bearing on the US military presence in the country.

"This has nothing to do with coalition troops in Iraq," Rumsfeld told reporters. "The timetable... relates to the governance aspect of the country and not the security aspect, which run on a separate track," he added.
[...] Critics of Washington's policy towards Iraq said before the US-led invasion in April the Bush administration intended to maintain a long term military presence in the oil-rich country.
At the time, Rumsfeld dismissed such suspicions as "inaccurate and unfortunate".
Shaky situation
Rumsfeld's comments come as he attempts to drum up support for shaky US-led occupation forces in Iraq and has been trying to sound upbeat about the situation there.

"The coalition is not shaken. We have 33 countries with forces on the ground in Iraq. Think of that. Thirty three nations have forces on the ground in Iraq. It's a very broad coalition and it's doing very well," he said.
Pentagon to beam 24-hour news channel from Baghdad

WASHINGTON (AFP) Nov 15, 2003
The Pentagon plans to launch a 24-hour satellite channel from Baghdad hoping local US television stations will use its footage to present "a more comprehensive picture" of events in Iraq.
The channel will offer uncut images of government briefings and military ceremonies, and local stations will be notified when an event or interview occurs that is relevant to their geographic area, the Washington Post reported.
Officials with President George W. Bush's administration say national networks have focused unfairly on violence and setbacks in Iraq.
The new hook-up "would have the effect of cutting the broadcast networks out" as providers of news and angles to smaller stations, the Post said.
"We want the stations to show not just the shocking picture, but the whole picture," a senior administration official told the daily. "Car bombs are news, but there's a journalistic responsibility to paint a more comprehensive picture."
The channel will debut "in a week or two" amid increasing guerrilla-style attacks on US forces in Iraq and a US plan to accelerate the transfer of sovereignty to a provisional Iraqi governing body.
Comment: Let's see if we have this straight: The Bush administration has decided that the Bush-controlled media is focusing too much on the negative aspects of the Iraq invasion. As a result, a Pentagon station will now broadcast "balanced" news that includes more government briefings and military ceremonies. In other words, the American people and the world will get less actual news and more BS.
Allies split over Iraq pull-out
BRIAN BRADY WESTMINSTER EDITOR
CRISIS talks will be held between Tony Blair and George Bush this week amid fears the US could "cut and run" from Iraq, leaving a political and humanitarian disaster in its wake.
Following unprecedented tension between the Prime Minister and the US President, it was revealed last night that a deal had been struck which will officially end the occupation next year and see coalition troops leave Iraq by 2006.
The agreement will be sealed this week when Blair meets Bush for talks in London during the President's state visit to Britain.
Despite the attempt to preserve a united front, the issue of military withdrawal from Iraq remained deeply confused last night. It emerged that key figures within the British government remain concerned at the Americans' sudden push for an accelerated timetable for leaving the country.
Ministry of Defence officials fear the announcement could trigger a substantial reduction in American forces in the region and heighten the dangers that post-Saddam Iraq could descend into a political and humanitarian catastrophe.
Cheney ignored war chaos alert
Kamal Ahmed, political editor
Sunday November 16, 2003
The Observer
British warnings that America was failing before the war to prepare properly for a crumbling security situation in Iraq after Saddam Hussein was ousted were ignored by Vice President Dick Cheney and the Pentagon.
In some of the first direct evidence of serious divisions between the key allies in the run-up to the conflict, the former British Ambassador to Washington, Sir Christopher Meyer, said the US had failed to focus on what might happen after Saddam had been overthrown.
His admission raises serious questions that a lack of planning by US forces is at least partly to blame for Iraq's present security problems.
Abdulwahab Badrakhan Al-Hayat 2003/11/15
The decision to turn back to the UN came as an American retraction and a change in the hawkish conservative approach that was adopted during the preparation, planning and waging of the war on Iraq. The recognition of the need to speed the transfer process of authority to Iraqis can also be viewed as another retraction. As for the new French official tone and its readiness to help "the American friends," it marks a change that could be viewed as encouraging Washington to be more rational and realistic.
Moreover, Britain's participation in the European efforts to convince Tehran of positively dealing with the IAEA was also an indication of London's willingness to alleviate the American agitation and abstain from getting into a new military adventure. As for President Bush's speech on democracy, which was based on Donald Rumsfeld's assessment of the limited results of the war on terror, also signaled a change in U.S. policy, even if the features of this change are not yet clear…
There are many signs, and the list keeps growing, but one must wary of deceiving appearances. Over the past two years, this sole superpower never hesitated once in sending signals in a particular direction, while it was really working in another direction.
Bush cagey about Iraq's weapons ahead of British visit

LONDON (AFP) Nov 16, 2003
US President George W. Bush has insisted intelligence on Iraq's weapons of mass destruction was "sound", while refusing to explicitly back British government claims that Baghdad could have unleashed them inside 45 minutes. [...]
However Bush, who arrives in London on Tuesday night for a state visit to Britain, refused to be drawn on the 45-minute claim, a key part of British Prime Minister Tony Blair's arguments for his country to help the United States in the war.
"I think our intelligence was sound and I know the British intelligence was sound. It's the same intelligence that caused the United Nations to pass resolution after resolution after resolution," Bush said.
The US president was asked by interviewer David Frost whether he believed that Saddam had weapons of mass destruction that could be used within 45 minutes.
"I believed he was a dangerous man," was the answer.
Pressed on the point, Bush, who was speaking at the White House on Wednesday, again refused to be drawn.
"And, well, I believed a lot of things, but I know he was a dangerous man, and I know that for the sake of security he needed to be dealt with," he said.
Bush added: "Nobody could say that Saddam Hussein wasn't a danger. I mean, not only was he a danger to the free world... and that's what the world said. The world said it consistently." [...]
Comment: So there you have it. We have gone from "Saddam definitely has WMD that he will use soon" to "Saddam has WMD but he hid them" to "Saddam had WMD but may have destroyed them or moved them to another evil country" to "Saddam at least had parts to build WMD" to "Saddam at least had plans to build WMD" to, at long last, "Saddam is a dangerous man."
Unfortunately, it appears that these increasingly simplistic and infantile explanations for the invasion of Iraq are exactly what is needed to convince the American public that the U.S. needs to stay in Iraq. Forget that the Bush Reich's story changes every few weeks. Forget about evidence, logic, or reason - just say that Saddam's mustache makes him look scary and that he is a bad man who needed to be stopped before he hurt anyone or stole their toys.
FLASHBACK!
Frost's wife in hospital after pill 'overdose'

By Nicola Woolcock and John Crowley
The Telegraph
November 15, 2003

Sir David Frost's wife was recovering in an intensive care unit last night after taking a suspected drugs overdose. Lady Carina Frost, 50, was thought to have confused the dosage of tablets prescribed to her after a stomach operation she underwent on Monday while Sir David was in America.

The Sun reported that he discovered her unconscious on the floor of their home in Chelsea when he returned on Thursday from interviewing President George W Bush. The television interviewer called emergency services who took Lady Carina to the nearby Chelsea and Westminster Hospital, where her stomach was said to have been pumped. [...]
Letter from a Reader
I keep coming back to Cassiopaea to read the fruits of Laura's continuing researches (can't understand most of Ark's fruits).
I keep coming back to Signs, because of the editorial selection: Laura's experience with the Cs and learning to pursue her own researches has attuned her eye and ear for information more or less uniquely, and reading her work has accomplished similar -albeit likely diluted -attunements in her readers. So I keep coming back for the headline scan: Signs collects good information that other subversive and or alternate news blogs and integrators miss, or don't put in context. And Signs often links related articles effectively.
Editorially, your connecting of the dots is united by the overall posture you describe. For those 'old' readers of Laura and Ark's work, that's why we're here, that sensitization to the wave-- as singularity upon singularity ploughs into the human race. And to break the mold of the gestalt presented by American and cable media, and mainstream media the world over, and to escape from the stridency and the schaudenfreude of the liberal media, united by the paint by the numbers within the frame that Ark and Laura and the Cs have stretched out.
Of course our duty is not just to swallow Ark and Cass's frame, but, assuming the Cs are us in the future, our duty is to learn to orient ourselves toward questioning the authority that presents us with spun and framed information in geopolitical (or commercial, or anthropological, or economic, or entertainment etc) contexts, and seeking to validate ourselves -- the information that we rely on and construct our own world views, securely, accordingly...so that we can survive or ascend or become en-souled or enlightened and ultimately become the Cs.
That's what the internet makes uniquely possible, I think, like the Cs said. But it also makes a whole bunch of noise of people with the right ideas going off half cocked, and people with the right ideas using them for commercial and cultic gain instead of for right, and people with the right ideas incapable of expressing them coherently, and people with the wrong ideas deliberately putting them forth, and people with the wrong ideas beautifully expressed and people with the wrong ideas rabidly horribly expressed, and any and all other combinations. Very tiring to comb the information and try to get a sense for the range of views, much less figure out which, if any, is right.
I also come looking sometimes out of curiosity to see how Signs treats a headline, or what source Signs links to, and what editorial comment there should be appended.
I do not come to read Laura's defenses against critics among her communities, but do recognize that learning to recognize and cope with the boorish flamers her eclectic subject matter attracts is built into her mission to some extent. I, for one, think she is above telling 'the choir' that she's not a cult leader, and explaining why some know-it-all who wrote a nasty e-mail is psychotic. But I don't come across her critics anywhere else of my own volition, so find it unnecessary defense.
That's more answer than your rhetorical question asked. keep up the good dot-connecting. thanx.
M
Terrorism, Violent Protests May Mar Bush's London Visit
Extreme Security in Place for Meeting With Blair
Whether it be terrorism or massive, violent protests, President Bush's highly anticipated visit to London in mid-November is expected to be newsy.
Exclusive to American Free Press
By Gordon Thomas
The British government and the White House view a terrorist attack as a "real and present danger" during President George W. Bush's state visit to London on Nov. 19. In addition, hundreds of thousands of anti-war protesters are expected to demonstrate in London and across the country against Bush. Prime Minister Tony Blair has admitted recently that the stopover has serious problems in terms of security.
"We are examining the possibility of a suicide bomber using a biological weapon," confirmed a senior member of the American security task force that has arrived in London.
Experts in countering biological warfare from Porton Down, Britain's bio-warfare defense establishment on Salisbury Plain, will be in London. They will be stationed at the Ministry of Defense during the Bush visit.
GCHQ, Britain's "invisible eye in the sky," at Cheltenham, will focus its thousands of computers and listening devices to pick up "a whisper in the wind" of any threat to the president.
At Menwith Hill in the north of England, where America's National Security Agency (NSA) has its European facility, Echelon, NSA's most sensitive and still ultra-secret surveillance system, will be specially programmed to keep track of any threat to Bush.
The global electronic network called Echelon is of truly astounding proportions. It links satellites to a series of high-speed parallel computers. The system enables every electronic communication in the world to be intercepted—in real time. Searching for key words, Echelon can identify and segregate 500,000 "messages of interest" a second.
By the end of the week, hundreds of U.S. Secret Service men, FBI agents and anti-terrorist teams from the CIA will be in London. Joining them will be every available officer from MI5 and MI6. All police leave has been canceled. With them will come the CIA chief, George Tenet, and the FBI director, Robert Mueller, who will accompany the president.
Surveillance will be intensified on all radical Islamic groups.
The CIA and the FBI plan to pay special attention to Abu Hamza al-Masri. The one-eyed cleric is well known for his radical Islamic views. American intelligence chiefs want Hamza to be extradited to the United States to face terrorist charges. The issue is likely to be discussed in talks between Blair and Bush. The FBI contends that documents discovered in Denver, on how to poison a city's water supply, have been traced to Hamza.
TURF WAR
The threat to Bush has triggered a turf war between Britain's security services and platoons of Americans.
MI5 and the Special Branch feel Washington's security policy of "you do it our way" is dangerous. They point to the fact that the FBI wants to conduct a search of the president's suite in Buckingham Palace, where he and Mrs. Bush will stay during his three-day visit.
"If the queen went to stay in the White House, we wouldn't expect to run a metal detector over her guest suite," said an MI5 source.
This coming weekend, the U.S. security team will check the ancient sewers under Whitehall, where a terrorist could place a bomb. The sewers serve Buckingham Palace.
After the search, all manhole covers will be sealed—as they are in all American cities prior to a presidential visit.
Security men will also check all the food the president will be served.
"The plate containing his own meal will be selected at the last moment from several identical plates before it is served to the president," confirmed a U.S. security official.
Original plans for the president to ride in a horse-drawn coach down the Mall to Buckingham Palace have been scrapped. Instead, Bush's custom-made limousine will take him everywhere in public.
The car's defenses have added 2,000 pounds to its original weight. An armored internal partition and windshield have been integrated into the body shell. The doors and roof are similarly protected.
The titanium-ceramic armor has been tested to withstand a 155-mm. shell bursting overhead, or a five-pound mine detonating under the chassis. All the windows are proofed against 50-caliber armor piercing bullets.
Built into the passenger compartment are an oxygen mask and fire suppression system, a global positioning indicator accurate to within one foot and a jam-resistant miniature communications switchboard, which can connect the president to the Pentagon or the White House.
A touch-button facility can also link him to Air Force One. Programmed into the switchboard for his London visit will be all the key security numbers he will need—plus the queen's direct line.
In the event of the limousine's tires being shot out, the car is able to maintain a speed of 60 mph on the steel rims of its wheels.
The CIA trained chauffeur has passed the most demanding driving course in the world. By his right knee, within instant reach, is a compartment containing a pump action shotgun.[...]
As the volume of protest grows—led by London's mayor, Ken Livingstone—the U.S. agents are turning the center of the capital into a potential battle zone.
• Fifty sniper agents will be positioned overlooking every place where Bush will be publicly visible when he steps, however briefly, from his armored limo.
• Sixty bomb-sniffing dogs will be withdrawn from normal duty at Britain's airports to hunt for drugs or explosives and roam ceaselessly among the public onlookers.
• An outer security perimeter will extend to the Channel Tunnel and to all access ports from Ireland.
• An even wider net will extend deep into Europe. French, German and Italian security services will be constantly tracking the movements of anyone suspected of links to al Qaeda.
• Air Force One will be escorted into London by U.S. fighter jets based in Britain. They will be fitted with missiles to shoot down any threatening aircraft.
This decision follows the Pentagon's warning last week that al Qaeda is planning to use cargo planes as terrorist weapons.
Comment: It's truly stunning that the "leader of the free world" is so hated that these extreme security measures must be taken to protect him from all the "free" people that he supposedly protects.
In spite of the requirement to turn London into a battle zone, Bush claims that people are "lucky to live in a country where they are free to say anything they want". Freedom and democracy now amount to merely being allowed to say whatever you want, provided that you do it when and where you are told to do it. It is true that a prisoner serving life in jail is free to speak his mind, yet this does not make him free, neither does freedom of speech constitute real freedom for the average citizen, mainly because what they say is irrelevant to those entrusted with the power to act on it.
So it is with Bush and Blair's brand of "freedom". Now more so than ever in our recent history, people the world over are being programmed to believe a very specific definition of "freedom". We looked it up in a very specific dictionary and the entry stated: "see slavery"
Bush shrugs off UK Iraq protests

16 November, 2003

US President George Bush says protests planned during his visit to the UK this week do not worry him.
He told BBC One's Breakfast with Frost programme that protesters were "lucky" to live in a country "where people are free to say anything".
He talked of his "partner" Tony Blair, who like himself "would not be shaken" as they battled to rebuild Iraq.
Mr Blair has defended Mr Bush's controversial state visit to Britain as a chance to reaffirm shared values.
He told the News of the World the visit was an ideal time to celebrate freedom, security and a "better, more prosperous and peaceful future" for Iraq.
Anti-war campaigners have been fiercely critical of next week's visit by the US president, as violence in Iraq continues.
Aren't you lucky to be in a country that encourages people to speak their mind?
In his interview with Sir David recorded ahead of his visit, President Bush said he had "learned the lessons of September 11", but that war was not his "first choice".
"Terrorists declared war on the United States of America and war on people that love freedom, and I intend to lead our nation, along with others, like our close friends in Great Britain to win this war on terror."
And he appeared unperturbed about the expected protests due to accompany his visits by those against US involvement in Iraq.
"Aren't you lucky to be in a country that encourages people to speak their mind?" he said.
"I value going to a country where people are free to say anything they want to say."
The Sunday newspapers were full of concerns about terror threats related to the visit.
A senior intelligence official said: "We have received information that suggests some terrorist suspects are on the move," according to the Sunday Times
The Queen has rejected a request from Mr Bush's security advisers to bolster palace defences amid fears of an air attack, according to the Sunday Telegraph
Home Secretary David Blunkett has refused calls to grant diplomatic immunity to armed US agents protecting Mr Bush, said the Observer
Intelligence agents have been combing London for a "dirty" nuclear bomb timed for Mr Bush's arrival on Tuesday, reported the News of the World.
Britain is so unprepared for a terror attack during President Bush's visit that security firms such as Group 4 will be called in to protect the public in the event of an atrocity, believes the Sunday Express.
Martin Bright, home affairs editor
Sunday November 16, 2003
The Observer
Home Secretary David Blunkett has refused to grant diplomatic immunity to armed American special agents and snipers travelling to Britain as part of President Bush's entourage this week.
In the case of the accidental shooting of a protester, the Americans in Bush's protection squad will face justice in a British court as would any other visitor, the Home Office has confirmed.
The issue of immunity is one of a series of extraordinary US demands turned down by Ministers and Downing Street during preparations for the Bush visit.
These included the closure of the Tube network, the use of US air force planes and helicopters and the shipping in of battlefield weaponry to use against rioters.
In return, the British authorities agreed numerous concessions, including the creation of a 'sterile zone' around the President with a series of road closures in central London and a security cordon keeping the public away from his cavalcade.
[...] The Americans had also wanted to travel with a piece of military hardware called a 'mini-gun', which usually forms part of the mobile armoury in the presidential cavalcade. It is fired from a tank and can kill dozens of people. One manufacturer's description reads: 'Due to the small calibre of the round, the mini-gun can be used practically anywhere. This is especially helpful during peacekeeping deployments.'
War relative's message for Bush
Friday, 14 November, 2003

A grieving father whose son died in Iraq said he would walk to London from north Wales just to tell US president George Bush what he thinks of his war effort.
During his visit to the UK, Bush wants to offer his prayers and tell the bereaved families their loved ones did not die in vain.
But Reg Keys, who lost his 20-year-old son Tom in June 2002, said he holds Bush and Tony Blair responsible for his death.
They didn't die for a noble cause, they died for Bush's political reasons, they were just sacrificial lambs
"I don't know how the man (Bush) has the nerve to show his face in his country after costing the lives of 53 British servicemen," said Mr Keys, of Llanuwchllyn, near Bala.
Tom Keys died days before his 21st birthday.
He was one of six military policemen shot dead in Al Majar al-Kabir last June.
Mr Keys said: "I haven't had an invitation for an interview with Mr Bush, if I did I would literally walk from Wales to London to meet the man, look him in the eye and tell what I think of him.
"They didn't die for a noble cause, they died for Bush's political reasons, they were just sacrificial lambs." [...]
Stronger and more deadly, the terror of the Taliban is back
Close to Kandahar is a little village they call the cradle of the Taliban. Now, two years after the collapse of Mullah Omar's feared regime, the fundamentalist movement is once again on the march. In this disturbing report, Jason Burke in Sangesar tracks a resurgent menace
Sunday November 16, 2003
The Observer
Sweeping the tail of his black turban over a shoulder, the young priest kneels in the dust and fiddles with the bare wires connecting an ancient amplifier to a car battery. Moments later, the call to noon prayer crackles out over the small village of Sangesar, birthplace of the Taliban.
A scatter of mud-walled houses amid dusty fields and brown-leaved plane trees 10 miles south-west of the city of Kandahar, Sangesar is indistinguishable from thousands of other such settlements scattered across the desiccated plains of south-eastern Afghanistan. It was here, nine years ago, that a one-eyed cleric named Mohammed Omar called together a few local men, told them to get their guns and led them out to end the anarchy that had gripped the region since the end of the war against the Soviet Union.
It was the core of the hardline Islamic militia movement that became known as the Taliban. Within two years, they had swept to power. Now it is 25-year-old Mullah Akhtar's turn to use Sangesar's only mosque's only microphone. 'The Taliban are good men trying to do good things for our country,' he says.
He is right to use the present tense. On the northern horizon, jagged hills are just visible. They are the stronghold of men loyal to Mullah Omar. Despite two years of effort by the US-led coalition, the cleric remains free. Indeed, he is more than just free. The hi-tech onslaught that followed the 11 September attacks in America appeared to have consigned the Taliban to the overfull dustbin of Afghan history. But in recent months they have crawled out again. The Taliban are back. And if for the moment they are confined to a few isolated, inaccessible, lawless mountain valleys, their power, military and political, is growing. [...]
Comment: What happened to "liberation"? What happened to "freedom"? American foreign policy, like its present administration, is nothing more than a sick joke.
Japan May Hit Back at U.S. Steel Tariffs
Sat Nov 15,10:21 PM ET
TOKYO (Reuters) - Japan is considering raising duties on at least five products in retaliation against import tariffs protecting the U.S. steel industry, the daily Nihon Keizai Shimbun said on Sunday.
Quoting Trade Ministry sources, the Nikkei said the products Japan was considering as targets for the retaliatory tariffs included coal, chemicals, steel, textiles and electrical machinery.
If introduced, the tariffs would cost U.S. exporters $91.9 million a year, the Nikkei said. The U.S. imposed the duties on steel in March 2002. [...]
The European Union has threatened sanctions against $2.2 billion worth of U.S. exports, including citrus products from Florida, where President Bush's brother is governor and which was a key state in the president's 2000 election victory. [...]
Shell, Total Sign Landmark Saudi Gas Deal
By Dominic Evans
Sat Nov 15, 6:56 PM ET
RIYADH (Reuters) - Oil majors Royal Dutch/Shell and Total signed a landmark deal on Saturday to find and pump gas in Saudi Arabia, becoming the first Western oil companies in decades to win rights to the Gulf state's huge energy reserves. The deal could see up to $2 billion invested to develop a 80,000 square mile block in the southern part Saudi Arabia's vast Empty Quarter desert. [...]
Republicans Say Energy Bill Will Boost Economy
By Tom Doggett and Chris Baltimore
Sat Nov 15,10:54 PM ET
WASHINGTON (Reuters) - Republican lawmakers unveiled on Saturday a massive energy bill loaded with some $20 billion in tax breaks they said would create U.S. jobs while boosting oil, natural gas, coal and nuclear production.
The legislation, mostly written in secret by Republicans, carries a higher price tag than the $16 billion in energy industry benefits proposed in an earlier version.
Republicans acknowledged the cost was higher, but said it was a small price to pay for an energy package that would create nearly 1 million American jobs. [...]
"First the Republican Congress and White House gave workers a jobless recovery, and now they want to give us a jobless energy package," said James Hoffa, the union president. [...]
Bill Seeks 1 Bln Barrel Oil Reserve
By Tom Doggett
Sat Nov 15,11:10 PM ET
WASHINGTON (Reuters) - A broad U.S. energy bill released by congressional Republicans on Saturday would order the government to expand the nation's emergency oil stockpile to 1 billion barrels, and if necessary buy crude from private oil companies to fill the reserve. [...]
America's Moloch: The Federal Reserve
Do the bankers and the politicians need $87 billion for the war, or do they need the war to get $87 billion?
Exclusive to American Free Press
By W. A. Carto
Few in authority will admit that the American economy requires a constantly expanding injection of Federal Reserve* heroin to survive. When the Federal Reserve was established by Congress in 1913 it was the successful culmination of a bankers' conspiracy that began shortly after—even before—the conclusion of the Revolutionary War. It has been fueled by careful long-term planning and unlimited financial reserves by unbelievably wealthy men.
Names such as Nelson Aldrich, J. P. Morgan, Paul Warburg, Jacob Schiff, Bernard Baruch, Samuel Untermyer and Rothschild—the most powerful political manipulators in the world then—and their successors now—were the players and politicians. Woodrow Wilson, indebted to them for his election, carried out the plan.
Both parties were involved. The conspirators knew that the public did not want a central bank—something that was anathema to Americans ever since the country's founding. From Washington through Jackson and to Wilson the idea of a central bank, which would inevitably come to shape public policy and invite corruption, was opposed.
The plotters knew that any plan originated by Republicans would automatically be suspect so in the election of 1912, it took very little cajoling to convince Teddy Roosevelt to run as a third party candidate. This split the Republicans, assuring the defeat of William Howard Taft and the shoo-in of Wilson, the Democrat, little more than their puppet.
Wilson was programmed to preside over the creation of the Federal Reserve—the creature of the most corrupt and criminal class in the world—the international bankers.
Since then, the Fed has directed the transfer of uncounted trillions in assets, such as real property, natural resources and businesses into the greedy hands of the bankers, leaving their victims—including the United States of America and all of its people bankrupt and in hopeless debt to them. And this has been the purpose of this enterprise from its conspiratorial beginning.
WAR, WAR, WAR
The fundamental dynamic of the American economy is war. It requires a constant expenditure of Federal Re serve interest-bearing credit to survive, and the best way to accomplish this requirement is war. The taxpayers can always be inspired to support war. It may be said that the public loves war almost as much as the bankers and their office-holding puppets. And if a sizable segment of the public is opposed to a given war, the news media can work them up to a blessed blood lust within hours. Yes, hours.
Forty years ago, populist analyst/ philosopher Lawrence Dennis described it thusly: "There's not a peace cloud in the war boom sky."
American politicians have always responded to this by effortlessly finding "public enemies" to fit the hallowed image of foreign devil. And today, with the terror of 9-11 engraved on the consciousness of the public, exhorting them to follow our leaders in the search for terrorists is so simple that even an intellectually deprived president can easily follow the script. Thus, flinging interest-bearing Federal Reserve credit at our presumed enemies is a simple ritual with precedents without number.
Critics of President Bush's Iraq aggression are right in that it obviously serves no American interest except the political need to placate the implacable demands of Israel but the even more insistent requirement of feeding the Federal Reserve Moloch with the bodies of young Americans makes war spending a sacred duty.
Lawmakers Reach Prescription Drug Deal
By MARK SHERMAN, Associated Press Writer
November 16, 2003
WASHINGTON - Republican congressional leaders said they sealed a tentative agreement Saturday on a new prescription drug benefit for the nation's seniors, which would be the largest expansion in Medicare's history.
Talks that lasted most of the day smoothed over the last remaining wrinkles in the bill, including a proposal to have traditional Medicare compete directly with new private insurance plans and a plan to encourage employers to maintain drug coverage for retirees, officials said. [...]
But the agreement ends months of negotiations over the drug benefit and a broad reworking of the Medicare program to give private insurers a new large role in health care for 40 million older and disabled Americans. [...]
"We've not seen all the details, but it sounds like a bad deal for seniors and a good deal for the big drug companies and HMOs," added Senate Minority Leader Tom Daschle, D-S.D. [...]
Lawmakers also have agreed essentially to maintain a ban on importing cheaper prescription drugs from abroad, despite the growing popularity of such imports across the country and in Congress. [...]
Bells Yet to Jingle for Holiday Jobs
By Anupama Chandrasekaran
Sat Nov 15, 3:49 PM ET
NEW YORK (Reuters) - Staffing companies warn that temporary job seekers are unlikely to experience much joy this holiday season.
Despite recent indications of a growing economy and an improved jobs picture, both Adecco and Manpower Inc., the Nos. 1 and 2 staffing companies in the world, say demand for temporary labor this holiday season is about the same as last year -- poor.
"You sit there tapping your fingernails saying, 'There's got to be jobs sooner or later, right?"' said Banc of America securities analyst Marta Nichols. "But we now have a pervasive culture of cost cutting and cost control in corporate America and companies are consistently trying to do more with less." [...]
United Parcel Service Inc. used to hire about 1,000 temporary helpers to sort parcels at its air hub in Louisville, Kentucky, but in the past two years, automation has eliminated that need. [...]
JOBLESS RECOVERY?
While recent government data showed that demand for temporary labor has increased year-to-year for the past four months, staffing companies say the uptick in revenue they saw last quarter is still nowhere near the spurt in demand witnessed after downturns in the 1980s or 1990s.
"We haven't seen the sustained and rapid increase that is typical when the recovery takes hold," said John Bowmer, chairman of Adecco, the world's biggest staffing company.
"Although the current growth is encouraging at 4 percent it is not 27 percent," he said, comparing Adecco's revenue growth in the 2003 third quarter to the 27 percent to 30 percent increase in the temporary job market in 1993-94 after a major recession. [...]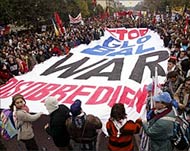 Leftist protests jam Paris streets
By Arthur Neslen in Paris
Sunday 16 November 2003, 10:41 Makka Time, 7:41 GMT
The streets of Paris were brought to a halt in a blaze of colour, music and optimism as 100,000 people demonstrated against capitalist globalisation at the end of the second European Social Forum.
"The message of our protest is that we want a Europe that has rights for all its citizens in a world without war," Pierre Khalfa, a march organiser told Aljazeera.net on Saturday.
Germany's French Affair Could Get Serious

If a French newspaper is right, German-French ties could go from its current love affair status to downright marriage in the future, with foreign, defense and economic policy being merged.
Already united in their opposition to the Iraq war, their miserable economies and desire to keep power in the European Union in the hands of the big players, France and Germany might have even more in store.
The French newspaper Le Figaro reported this week that the governments in Paris and Berlin are thinking about merging important policy fields as well. Nothing concrete has been planned, but government representatives are reportedly considering tightly aligning their foreign, defense and economic policies.
The report is hardly surprising considering the two countries have become so close that French President Jacques Chirac recently represented Chancellor Gerhard Schöder at an important EU summit. But the alliance has caused increasing uneasiness in the rest of Europe and Thursday's report is not likely to help things.
Musharraf: No room for foreigners here
Islamabad |By Shahid Hussain, Correspondent | 16-11-2003
Pakistan yesterday outlawed three religious groups in a new crackdown aimed at foiling attempts by previously banned extremist outfits to resurface under different names, officials said.
A high-level five-hour meeting co-chaired by President Pervez Musharraf and Prime Minister Zafarullah Khan Jamali imposed the ban on Millat-e-Islamia Pakistan (MIP), Islami Tehrik Pakistan (ITP) and Khudam-e-Islam (KI).
Rumsfeld heads for sensitive talks in South Korea
US Defense Secretary Donald Rumsfeld will take part in annual security talks in Seoul on Monday that will focus on Iraq, North Korea, and plans to realign US forces in South Korea.
North Korea Offers U.S. 'Deal' on Nuclear Development
North Korea today said it is willing to abandon nuclear development as soon as the United States discontinues what it called a hostile policy and eliminates "threats" against the communist country, according to South Korean news agency reported. [...]
US-made air-to-air missiles delivered to Taiwan: report

TAIPEI (AFP) Nov 15, 2003
The United States has shipped advanced air-to-air missiles to Taiwan after China acquired similar Russian-built technology, it was reported here Saturday. [...]
Ashcroft Says Patriot Act Aids War on Terror
Saturday, November 15, 2003
WASHINGTON — With the government's anti-terrorism legal strategy under increasing scrutiny, Attorney General John Ashcroft tried to assure lawyers Saturday that the Bush administration welcomes oversight and is using new powers to make "quiet steady progress" in the terrorism fight.[...]
ID cards may cut queues but learn lessons of history, warn Europeans

Campaigners urge caution in face of new technology
Amelia Gentleman in Paris
Saturday November 15, 2003
The Guardian
The words "papers please" have terrible echoes of Europe's most repressive history. The rounding up of Jews, the oppression of migrant workers, and the removal of political undesirables have all been made easier by efficient identity controls.
But in modern Europe, the reality has recently been less highly charged. There is little sinister about the daily use of ID cards in railway stations and post offices. If anything, they make the queues move faster; most view them with benign indifference.
But with David Blunkett's announcement this week that Britain is to start introducing a national identity card scheme, the debate over the erosion of civil liberties was reactivated.
Mr Blunkett says an ID card system would help tackle crime, illegal employment, immigration abuse, ID fraud, and terrorism. His opponents warn of bureaucratic chaos and a creeping infringement of traditional freedoms.
One by one over the last century, the governments of most EU member states have already had these arguments and taken the decision to introduce the cards. Twelve countries - but not the UK, Ireland and Denmark - have already adopted some form of ID card scheme.
Austria, Finland, France, Italy, Luxembourg, the Netherlands, Portugal and Sweden have made ID cards voluntary; Belgium, Germany, Greece and Spain require citizens to carry the ID with them at all times.
For the Home Office, the largely sanguine approach of most EU citizens may offer some encouragement; but in other areas the picture is less reassuring.
Repression
There is little hard evidence of the card helping in the fight against crime, illegal immigration and fraud. Furthermore, many countries report that it has become associated with police abuses and repression of minority groups. There is also growing concern about the increasing sophistication of the cards, as governments update what was once a simple paper document into an electronic collection of personal information and biometric data - eye and fingerprint scans.
ID cards have been around in Belgium since 1919, and are an uncontroversial part of life for anyone over 12. "For me it's normal to carry a card. We have it in our wallets like money," says Marleen De Keyser, a receptionist.
Since their introduction in Greece during the 1940s, most have viewed them as an integral part of their national identity - even though the police have the right to demand them, and do so frequently.
French identity cards have been present in some form since the 19th century. About 51% of the population uses them, and an official at the human rights group the Ligue des Droits de l'Homme says the debate over their existence is "a polemic which is now obsolete".
Their popularity is perhaps even greater in Italy, with the cards welcomed as a counter to the country's labyrinthine bureaucracy. Although not compulsory, they allow their carriers to travel across EU borders, identify themselves at police checkpoints, receive state health services, qualify for elections and prove their age. "There are few things in Italy that seem to work," said one Italian diplomat, Giuseppe Mistretta, earlier this year. "But our citizens seem satisfied with the ID card - which is rarer than sex with an elephant."
British opponents of the scheme say biometrics and database technology are not yet foolproof, and errors could lead to dangerous confusions of identities.
But such moves have already begun on the continent, relatively smoothly. Italy began to experiment with electronic cards in 2001, and their mass introduction is due to begin in May next year.
There has been little complaint in Italy, or in Spain, which has also announced the introduction of microchips in cards.
Even so, civil liberties campaigners are uncomfortable. Statewatch, a European civil liberties monitoring group, fears that data may one day be gathered into one huge database - similar to the Schengen information system in Strasbourg, which holds files on 1.3 million individuals, mainly for immigration purposes.
The organisation also points to several initiatives, such as the EU health card - due to be introduced as early as 2005 - as possible precursors to an EU-wide ID system. This card will give the holder access to free medical treatment anywhere in the EU, but also looks likely to store a wealth of biometric and personal data.
Each European country will be free to choose whether to include records of treatment received, photographs, and biometric data. Campaigners say it may eventually become an all-in-one ID card, passport, national insurance card, bank card and driver's licence. [...]
German officials also believe that the recent inclusion of biometric data - approved by MPs in response to the September 11 attacks - has increased national security. "It's safer, quicker, and more foolproof," one senior official said.
Wolf-Dieter Narr, one of Germany's leading human rights activists, counters that the real purpose of the cards is more sinister, and has uneasy echoes of the past - to keep certain groups out of Europe.
"As a guy who grew up in Nazi Germany, I think it is very important we don't discriminate against any kind of people," he says. "They are trying to use it to strengthen the European castle against all kinds of foreigners." [...]
THOUSANDS of offenders will be tagged on their release from jail under plans being considered by ministers to reduce reoffending rates.
The scheme will see as many as 16,000 criminals who are allowed out of jail each year before the end of their sentences kept under electronic surveillance to enforce curfews and limits on travelling.
However, opposition MSPs last night accused the Executive of failing to deal with the root of the problem and demanded that offenders should serve the full term of their sentences.
The scheme will be mainly targeted at offenders who serve six months or less in jail, but will apply in theory to all prisoners who are paroled. [...]
Comment: Is this the beta test for the future tagging of ALL??
Ian Mather
Scotland on Sunday
FALKLAND islanders have demanded much stronger support following a series of aggressive diplomatic moves by Argentina designed to raise the stakes in its age-old battle to gain control of the islands.
President Nestor Kirchner, emboldened by his country's emergence from economic crisis, is conducting a renewed campaign to open talks about sovereignty of the South Atlantic islands with the British government.
He has recently raised Argentina's claim to the Falklands with both Prime Minister Tony Blair and the United Nations and has cut off all communication with the island's representatives claiming they have no legal standing.
Kirchner has made it plain that Argentina rejects any plans for military action but is explicit in his wish to see the Falklands become part of his country. In a speech to the leaders of the armed forces he recently said that "diplomacy must be the path for recovering that soil sprinkled with Argentina's blood in the hope of seeing our flag waving over those islands". [...]
Dozens injured in Bogota nightclub blasts
Ananova.com
10:04 Sunday 16th November 2003
An unnamed assailant threw explosives at two crowded bars in a popular Bogota nightclub district, injuring dozens of people, authorities said.
At least 42 people were injured in the blasts, which took place in at least two bars in the Zona Rosa district.
The district is filled with dance clubs, bars and restaurants.
A suspect was captured by police, Fernando Ramirez Cortez, the director of disaster prevention for Bogota, told reporters.
3 security men killed, 10 injured in Maoist violence
PTI
NOVEMBER 16, 2003
KATHMANDU : Three security men were killed and 10 others injured in two separate incidents when they were attacked by suspected Maoist rebels.
Three policemen were killed when a group of armed Maoists opened indiscriminate fire at the cops on duty at a busy market area in B P Chowk in Nepalgunj of Banke district on Saturday evening, state run Radio Nepal said. [...]
China arrests alleged mass killer
BEIJING, China (Reuters) -- Chinese police have arrested a man accused of knifing 65 people to death in one of the most horrifying cases of serial slayings in China's recent history. [...]
Toll in Queen Mary II disaster rises to 15 in France
AFP
Sunday November 16, 5:39 PM
The death toll in the collapse of a walkway on the Queen Mary II rose to 15, officials said.
About 30 others were injured on Saturday, seven critically, when the walkway collapsed on the Queen Mary II, the newly-built ship which has been dubbed the largest passenger liner in the world, officials said. [...]
Hundreds of thousands still without power in Midwest, East
Saturday, November 15, 2003 Posted: 4:40 PM EST (2140 GMT)
(AP) -- Utility companies continued working to restore power to hundreds of thousands of customers Friday night after heavy wind and rain hit the East and Midwest. The powerful gusts were expected to calm by Saturday.
At least eight people have died in the storms since Wednesday, including three motorists hit by falling trees.
More than 1.4 million customers lost power, and by Friday evening, lights were still out for about 260,000, including nearly 79,000 in Pennsylvania.
UPDATE 3 die, over 500 sickened in hepatitis A outbreak in US
www.chinaview.cn 2003-11-16 10:40:36
WASHINGTON, Nov. 15 (Xinhuanet) -- Three people died and more than 500 others have been infected in a hepatitis A outbreak reportedly linked to a restaurant in the US state of Pennsylvania, health officials said Saturday.
UPDATE Hepatitis outbreak spreads fear
Saturday, November 15, 2003 Posted: 6:40 PM EST (2340 GMT)
PITTSBURGH, Pennsylvania (AP) -- The nation's biggest known outbreak of hepatitis A is causing such a panic that people are lining up by the thousands for antibody shots and no longer eating out.
[...] About 8,500 people have received the shots at a gymnasium near the restaurant and at surrounding health centers since the cases began appearing at the start of the month.
Disease Outbreak Town 'Safe to Visit' (UK)
By Owen Fairclough
PA News
Health officials tonight insisted it was safe to visit Hereford after an outbreak of Legionnaires' disease in the city claimed another seven victims, bringing the total to 22.
The number of new cases was the biggest in one day since Herefordshire Primary Care Trust revealed more than a week ago that the disease – which has killed one man – had struck. [...]
Legionnaires' disease is contracted by breathing in contaminated water vapour, usually from industrial cooling towers or air-conditioning systems. [...]
Comment: We find out who caused the breakout in this story: Plastics Firm Sold after Killer Disease Outbreak
A plastics company which was fined £70,000 for failing to maintain its water cooling system leading to an outbreak of Legionnaires disease which killed three people has been sold in last minute talks, it emerged today.
Nice to know that we have managed to give the power of life and death to industrialists, who, more than likely, are psychopaths. We are living in the real dark ages.
World Bracing for Yet Another Mosquito-Borne Health Threat
Ironically, the rise of globalism, which has increased contact among the world's populations, could eventually be responsible for bringing about its downfall, too.
Exclusive to American Free Press
By Jack Phillips
Besides malaria and West Nile virus, dengue fever is another mosquito-borne threat to the world's people. With as many as 50 million cases worldwide, 2.5 billion people are at risk.
Dengue fever used to be considered a benign disease of visitors to the tropics. The first recorded epidemic occurred in 1879, over 200 years ago. Impeded by slow transportation, sailing ships, there were 10- to 40-year intervals between major epidemics. But the situation changed when a global pandemic originated in Southeast Asia after World War II. Today, the Centers for Disease Control considers it to be the most important viral disease.
Four different dengue virus serotypes, isolated from one another, infested the tropics for a long time.
However, the geographical distribution of these four viruses and their mosquito vectors has expanded. And more frequent exposure to multiple serotypes resulted in concomitant outbreaks of both dengue and a frequently fatal complication called dengue hemorrhagic fever (DHF).
The first DHF epidemic occurred in Southeastern Asia in 1950. By 1975 it was a leading cause of hospitalization and death for children in many countries in that region.
Those who survive infection from a single serotype of the dengue virus are immune for life to that type and protected, for a short time, against the other three.
When only one type was present in an area, one infection meant that there were no further worries about the disease. Now a subsequent infection, by a different type of virus, opens up the possibility of DHF. If not properly treated, death rates from DHF can reach 50 percent. In addition, genetic variants of the four serotypes are working their way around the world.
The expanding geographical distribution of aedes aegypti mosquitoes, and the rapid rise in urban populations, are causing increasing numbers of people to be exposed to the disease. At the present time mosquito control is the only method available for countering these diseases. There is no virus-specific treatment. There are no vaccines, and there are not likely to be any for five to 10 years.
There is hope that a vaccine capable of countering all four dengue serotypes can be generated by a process called DNA breeding. This can be likened to directed evolution. Willem Stemmer invented this and co-founded Maxygen, Inc. to develop the technology.
Candidate vaccines have been successfully tested on mice, and trials with primates are following.
Before 1970 when use of DDT for mosquito control was widespread, only nine countries had experienced dengue epidemics. Now the disease is endemic in more than 100 countries.
With no new mosquito control technology available, the Public Health Department emphasis on disease prevention and community reduction of larval breeding areas is unlikely to have much of an impact.
After successfully eradicating mosquitoes from the United States and most of Central and South America with DDT our government chose to ban the insecticide, which had been keeping diseases like yellow fever, malaria and dengue under control. The mosquitoes must be rejoicing, because, by 1997, they were more widely distributed throughout the world than before the eradication program began.
A reevaluation of the decision to ban DDT ought to be seriously considered.
While there is only a small risk of a dengue outbreak in Texas and the Southeastern United States, northern Mexico and South and Central America have experienced epidemics of this disease. There were, for example, 390,000 cases in Brazil in 2001 including 670 of DHF.
With 40 percent of the world's population at risk of acquiring a progressively more dangerous disease, refusing to act would be morally unacceptable.
Disease, war trample Indians from Amazon
Injuries up, death toll revised in southwest China quake
The death toll in an earthquake that jolted southwestern China's Yunnan province has been revised to four dead, as the number of injured rose to 65.
The earthquake, measuring 5.1 on the Richter scale, struck the poverty stricken Zhaotong region early Saturday morning -- the third such quake in the area this year.
A strong earthquake shook western Greece today but there were no reports of any damage or injuries.
The quake, with a preliminary magnitude of 5.3, occurred at 9:23 a.m.(0723 GMT), the Athens Geodynamic Institute said. It said the epicentre was 290 kilometres (175 miles) west of Athens in the seabed near the Ionian Sea island of Cephalonia. [...]
Death toll from Vietnam floods climbs to 58
The death toll from flash floods and landslides in Vietnam's central provinces has climbed to 58.
Another person is still missing after severe floods hit nine provinces cutting off several villages and burying sleeping people alive.
An official said tens of thousands houses were submerged and over 3,000 collapsed or were completely destroyed.
12 tonne sperm whales die after stranding on New Zealand beach

AUCKLAND (AFP) Nov 16, 2003
A pod of 12 sperm whales, some 10 metres long and weighing up to 12 tonnes, have beached themselves on Auckland's west coast and died.
The whales, thought to be mostly females with a young calf, were stranded over a five kilometre (three mile) stretch of beach at the mouth of Manukau Harbour, drawing a crowd of about 1,500 curious onlookers Sunday.
It was not clear why the animals became marooned but it was "a significant stranding event" of sperm whales, the like of which had not been seen for 20 to 30 years, Department of Conservation (DOC) officer Karl McLeod. [...]
THE BOYS IN BLUE AND THEIR LITTLE GREEN MEN (UK)
Western Daily Press
[...] There seem to be rather a lot of spaceships hovering in the West's night skies. More than 200 police officers have come forward to say they have seen UFOs flying over the British countryside, a detective revealed yesterday.
And according to the bobbies' X-files experiences, for the past 50 years the West has been a buzzing hotspot for extra-terrestrial activity. [...]
Donald R. Griffin, 88, Who Argued Animals Can Think, Dies
By CAROL KAESUK YOON
New York Times
Donald R. Griffin, who was considered the founder of the modern field involving the study of animal thinking and consciousness, and who early in his career helped unravel the secret of bats' navigation system, died last Friday in Lexington, Mass. He was 88.
An emeritus professor of animal behavior at Rockefeller University, Dr. Griffin gave birth to the field known as cognitive ethology in 1978 when he broke a scientific taboo by suggesting that animals might have the capacity to think and reason, and that scientists should study these mental processes. [...]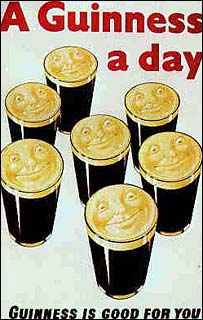 Guinness good for you - official
Thursday, 13 November, 2003

The old advertising slogan "Guinness is Good for You" may be true after all, according to researchers.
A pint of the black stuff a day may work as well as an aspirin to prevent heart clots that raise the risk of heart attacks.
Drinking lager does not yield the same benefits, experts from Wisconsin University told a conference in the US.
Guinness were told to stop using the slogan decades ago - and the firm still makes no health claims for the drink.
Spokesman, Brewing Research International
They believe that "antioxidant compounds" in the Guinness, similar to those found in certain fruits and vegetables, are responsible for the health benefits because they slow down the deposit of harmful cholesterol on the artery walls. [...]
The original campaign in the 1920s stemmed from market research - when people told the company that they felt good after their pint, the slogan was born.
In England, post-operative patients used to be given Guinness, as were blood donors, because of its high iron content. This practice continues in Ireland.
Pregnant women and nursing mothers were at one stage advised to drink Guinness - the present advice is against this.
---
Remember, we need your help to collect information on what is going on in your part of the world!
We also need help to keep the Signs of the Times online.
---

Check out the Signs of the Times Archives

Send your comments and article suggestions to us

---
Fair Use Policy
Contact Webmaster at signs-of-the-times.org
Cassiopaean materials Copyright ©1994-2014 Arkadiusz Jadczyk and Laura Knight-Jadczyk. All rights reserved. "Cassiopaea, Cassiopaean, Cassiopaeans," is a registered trademark of Arkadiusz Jadczyk and Laura Knight-Jadczyk.
Letters addressed to Cassiopaea, Quantum Future School, Ark or Laura, become the property of Arkadiusz Jadczyk and Laura Knight-Jadczyk
Republication and re-dissemination of our copyrighted material in any manner is expressly prohibited without prior written consent.
.