---
A rhetorical question for our readers:
Why do you read the Signs page? What keeps you coming back? Is it the interesting juxtaposition of articles? The witty and insightful commentary? Perhaps you come just to get a run-down of the daily news in a concise format.
While any of these reasons for visiting the page are valid, none of them are consistent with the reason we sit down every day to "ply our trade", after all, there are many alternative and mainstream news sites that provide a similar service, and we do not wish to simply add to the "noise". We take the time and effort to chart the daily unfolding of world events because it has become clear that the planet and everyone on it is heading in a very definite, and by now glaringly obvious, direction. This headlong dash is not occurring by chance, but rather as a result of the deliberate machinations of certain individuals. While these individuals remain unseen, their will is being carried out through the actions of our very public political and financial world leaders.
It is with the goal that you, the reader, might begin to really See the reality of this and the serious predicament that it represents for us all, that we present this page every day. Often we are bemused and even a little frustrated that we must take cold, hard facts which clearly reflect the reality of this state of affairs and almost plead with our readers that they be recognised as such, but then we remind ourselves that it was not so long ago that we knew little of what we now accept as reality. In an ideal world facts would speak for themselves and all would see and admit the truth. Unfortunately for some, we already have an "ideal world".
We could use many analogies to describe the situation, but perhaps the most apt is that of a runaway steam train with the driver(s) piling ever more coal onto the furnace, the passengers lying sleeping in their carriages or wistfully gazing out the windows, dreaming of what never was.
In the absence then of any real hope that things can be different, our only hope is that you the reader might begin to See the truth and be one more to take the first steps to throwing off the cloak of lies and deceit that has shrouded and imprisoned humanity for so long. We offer no salvation, no redemption, no free lunches, yet we offer something infinitely more valuable: for the first time in a long time the chance to determine your own destiny through objective investigation and acceptance of the true nature of our world and the part we may be destined to play in it.
---
In the news today: Korea Times announces that a North Korean warhead was found in Alaska! The CIA warns the Asian country could hit inside mainland US, and announces a "dark bio weapons future." Homeland Security quietly installed germ detection systems in thirty-one cities.
Britain announces yet another al-Qaeda attack warning, be afraid, be very afraid, just don't wonder why "Arab terrorists" who bombed two synagogues in Turkey killed Muslims, and not Jews. Meanwhile al-Qaeda, speaking for itself this time, warns of another 9/11 style attack with 100,000 infidel deaths. Luckily they left the date open, giving Mossad and the CIA plenty of time to make it look like they had nothing to do with it.
Drug addicts in the White House. Bush's "flying circus" lands in Britain with nauseating fanfare and automatic weapons. The British government continues locking down the country and preparing for massive protests. Meanwhile, a UK TV journalist returns home after interviewing Dubya to find that his wife has "overdosed" on her medication.
Canada's Prime Minister in waiting looks to be itching to make the Bush-Blair relationship a menage-à-trois. No wonder Canadians are overmedicated.
In Iraq news today: Newsweek looks at the role of Dick Cheney, finding him to be "sincere", new bulletproof vests decrease the number of dead while increasing the number of soldiers who are badly wounded. the US promises Iraq independence by summer 2004 as US KIA passes the 400 mark and three GI's are accused of beating POWs. Paul Bremer and company continue their new path of transferring apparent power to the Iraqis and US generals continue their bombing raids.
An Israeli delegation to the US takes receipt of cutting-edge fighter jets, with a nod and a wink to the US taxpayer. Back in the mother land ex-Israeli security chiefs see the writing on the wall, Sharon however, does not - perhaps if he were spend a few days in "facility 1391" he could be persuaded otherwise?
The usual reports on police state technology, with lots of new intrusive gadgets at airports. Hmm, are terrorist alerts and invasive technology reports linked? We think we are starting to see a pattern here.
Other news includes more Raelian claims, more news on the Pennsylvania Hepatitis outbreak, remote controlled donkey days are numbered and...
A jailed vampire in Britain says, "Just because I drink blood people automatically think I'm a bad person, but that's not the case."
'NK Missile Warhead Found in Alaska'
By Ryu Jin
The Korea Times
The warhead of a long-range missile test-fired by North Korea was found in the U.S. state of Alaska, a report to the National Assembly revealed yesterday.
"According to a U.S. document, the last piece of a missile warhead fired by North Korea was found in Alaska," former Japanese foreign minister Taro Nakayama was quoted as saying in the report. "Washington, as well as Tokyo, has so far underrated Pyongyang's missile capabilities."
The report was the culmination of monthlong activities of the Assembly's overseas delegation to five countries over the North Korean nuclear crisis. The Assembly dispatched groups of lawmakers to the United States, Japan, China, Russia and European Union last month to collect information and opinions on the international issue. [...]
CIA sounds new warning on North Korea missile that could hit US

WASHINGTON (AFP) Nov 14, 2003
The CIA is sounding a new alarm that North Korea may be ready to flight test a nuclear capable multi-stage missile capable of reaching parts of the United States.
The assessment in an unclassified report to Congress gels with another recent analysis of Pyongyang's missile programs by the Defense Intelligence Agency, made public last week, and will fuel fears the Stalinist state may end its missile test moratorium.
"The multiple-stage Taepo Dong-2 capable of reaching parts of the United States with a nuclear weapon-sized payload may be ready for flight-testing," the Central Intelligence Agency said in the report, which analyses weapons of mass destruction production for the first six months of 2003. [...]
CIA Says Experts See 'Darker Bioweapons Future'
Fri Nov 14, 5:11 PM ET
WASHINGTON (Reuters) - A panel of outside experts told the CIA that advances in technology due to genomic research could produce the worst known diseases and the "most frightening" biological weapons, a CIA report said on Friday.
"The effects of some of these engineered biological agents could be worse than any disease known to man," the panel told the CIA.
The unclassified two-page CIA report dated Nov. 3, 2003, and titled "The Darker Bioweapons Future," was posted on the Federation of American Scientists Web site at http:/www.fas.org/irp/cia/product/bw1103.pdf.
It summed up a January workshop of a panel of non-government science experts who discussed with the CIA the potential threat from new biological weapons.
Growth in biotechnology and a knowledge explosion due to the genomic revolution which provided an understanding of genes and how they work could be used in unpredictable ways, the panel warned. [...]
U.S. Germ Detection System Active in 31 Cities
Fri Nov 14, 3:38 PM ET
WASHINGTON (Reuters) - The U.S. government has set up a $60 million network to help detect a biological attack in 31 cities across the country, Homeland Security officials said on Friday.
The BioWatch system collects air samples at about a dozen sites in each of the cities. The samples are then checked for potentially deadly diseases that could be used in a biological attack. [...]
Washington Post
[...] "So do you use sleeping tablets to organize yourself?" Al-Rashed asked.
"Yes. Well, I wouldn't call them that," Powell said. "They're a wonderful medication -- not medication. How would you call it? They're called Ambien, which is very good. You don't use Ambien? Everybody here uses Ambien."
Really? Some folks across the river may conclude that explains a lot. [...]
Comment: The most common side affects according to the Ambien web site are, "daytime drowsiness in 2%, dizziness 1%, and diarrhea 1%. You should not drive or operate heavy machinery..." We think "running" the country and commanding armies classifies as operating "heavy machinery."
Thought Crime News
"On Thursday's live edition of BBC's This Week programme, Clare Short, former International Development Secretary, revealed that Prime Minister Tony Blair lied.
He didn't just lie though, he made something up, invented something that he knew people would want to hear. Ever the man of the people, honest Tony always wanted to feel a part of everyone's family, to be loved by everyone. To this end, he has always tried to please the audience by tailoring his material to suit. Thus his system of values is determined not by any true firm principles of belief, but rather by what he can get away with and how he can spin it. [...]
It seems that Clare Short's mood is ripe for dropping her old boss in it and a slight smile was discernable when she revealed that Blair's apparent discussion in Downing Street in 1999 with Chinese President Jiang Zemin about human rights never happened. She knows, she says, because she was present at the meeting. [...]
This one lie indicates the level to which politics has descended into lies of such proportions that the fairy tale world which it portrays in public is actually believed by so many people. [...]
Comment: So many people still fall for the charming psychopath, even if he drops the mask now and then. They cannot even imagine such a beast exists. They have placed limits on reality, and feel they have a pretty good idea how the universe works. Pretty crazy when you think about it: how we little humans can go around pretending we have the whole universe figured out. There seems to be a default option for human beings. Many have managed to become megalomaniacs in their own personal subjective universe, ignoring reality and then attempt to force that perspective on everyone within shouting distance. A rather lonely option, if you ask us.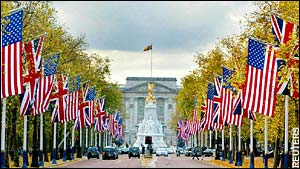 Bush's flying circus leaves out only the kitchen sink
By Alec Russell in Washington
The Telegraph
Presidents of the United States are not noted for travelling light. And George W Bush will prove no exception when he becomes the first incumbent of the White House to make a state visit to Britain.
Mr Bush will be accompanied by a retinue consisting of 250 members of the Secret Service, 150 advisers from the National Security Department, 200 representatives of other government departments and 50 political aides.
There will also be approximately 100 journalists travelling with him. There are also his personal chef, personal assistants, four cooks, medics and the presidential 15-strong sniffer dog team.
One person who always travels with Mr Bush is the military aide who carries his "nuclear briefcase". The aide, an army colonel, will have his own room at Buckingham Palace.
It is not revealed if Mr or Mrs Bush will have stylists with them, although the First Lady may be well-advised to do so, having become the butt of uncharming remarks in America about her fashion sense. But they will both bring extensive wardrobes with them ready for a state banquet or a trip around Sedgefield. [...]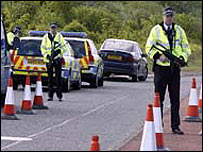 'Unprecedented' security for Bush visit
Press Association
Friday November 14, 2003
[...] The announcement came as Muslim groups, environmentalists and peace activists announced plans for huge national protests.
Protests will begin on Sunday, when Vietnam war veteran Ron Kovic introduces a special screening of the Oliver Stone film Born on the Fourth of July in central London. [...]
On Tuesday - when Mr Bush and his wife arrive in London - a Stop Bush rally will be held near Euston Station. It will be attended by veteran campaigner Tony Benn, Harold Pinter, the former Labour MP George Galloway, and Kate Hudson, chairwoman of Campaign for Nuclear Disarmament.
On Wednesday, when the president is due to arrive at Buckingham Palace, there will be an alternative state procession, complete with horse-drawn open carriage, bike riders and a Big Red Peace Bus.
An evening of "poetry, protest and song" will also be held on Wednesday, with comedian Mark Steel among those taking part.
The mayor of London, Ken Livingstone, will hold a peace party at City Hall on Wednesday, which will be attended by many groups opposed to the war in Iraq.
The biggest event of the week will be on Thursday, when up to 100,000 people are expected to march through central London to a rally in Trafalgar Square. Muslims will urge other anti-war protesters to join them in a fast.
Protests will also be held outside the US embassy in central London, including one on Friday highlighting the continued detention of prisoners at Guantánamo Bay.
Environmental campaigners will also stage protests against Mr Bush, including a march in London on Tuesday.
CND is calling on its members to take part in non-violent action across the UK on Wednesday. Banners accusing President Bush of being a war criminal, and a weapon of mass destruction, have been produced by CND for next week's events.
Reassure me Ian didn't die in vain, Mr Bush. Come up with the proof of WMD
Exclusive By Lorraine Fisher, Brendon Williams And Geoff Lakeman
Nov 15 2003
THE widow of a British soldier killed in Iraq called yesterday for George Bush to tell her he did not die in vain - by proving Saddam Hussein had weapons of mass destruction.
Lianne Seymour, whose 28-year-old husband Ian was one of eight Marines killed when their US helicopter crashed, is among relatives invited to meet Mr Bush on his state visit next week.
[...] Lianne, 27, of Poole, Dorset, who has a three-year-old son Beck, said: "If he wants to reassure me Ian did not die in vain he'll come up with the proof of weapons of mass destruction. I don't want him to say, 'Yes, it was worth it' because anyone can say that. I want him to mean it and back it up."
UK on second highest terror alert
Britain's security services have been put on their second highest state of alert amid intelligence of an al-Qaeda attack, the BBC has learned.
The internal "severe general" alert is said to be unconnected to US President Bush's forthcoming UK visit.
It follows warnings about plans by al-Qaeda supporters from North Africa.
The alert means security will be extra tight around potential targets. Sources say no attack is imminent, and there is no intelligence of a specific target.
[...] The UK is officially on high alert, but within this is a tier of internal and usually secret levels - which have gone from "substantial" to "severe general".
BBC home affairs correspondent Margaret Gilmore said it was "rare" to be put on this higher alert, but the public should not necessarily be concerned.
"These are warnings very much for the security services, these are not warnings aimed at the public because there is not a lot the public can do about them.
"They don't want to scaremonger, they don't want people to get worried.
"This is a subtle change. It means they will be more vigilant, but it doesn't mean there is anything the public can do, and it doesn't mean there is a missile incoming or anything like that."
Comment: The warnings aren't aimed at the public, yet they become public, reinforcing the general state of government sponsored fear. Don't be concerned, just be afraid. Very subtle...
By Paul Gilfeather
Nov 15 2003
THE Queen was yesterday warned her telly will be out of action next week because of President Bush's visit.
Her Majesty is set to miss her favourite soap Coronation Street and the horse racing on Channel 4. She has been told Mr Bush's hi-tech private office, being installed at Buckingham Palace, will ruin her TV reception.
This means the Queen will miss crunch episodes of Corrie featuring the arranged marriage of dopey Roy Cropper and scheming Tracy Barlow.
A royal insider said: "This is more of an issue than people might think because Her Majesty is such a big fan of Corrie."
Frost's wife in hospital after pill 'overdose'
By Nicola Woolcock and John Crowley
The Telegraph
November 15, 2003
Sir David Frost's wife was recovering in an intensive care unit last night after taking a suspected drugs overdose. Lady Carina Frost, 50, was thought to have confused the dosage of tablets prescribed to her after a stomach operation she underwent on Monday while Sir David was in America.
The Sun reported that he discovered her unconscious on the floor of their home in Chelsea when he returned on Thursday from interviewing President George W Bush. The television interviewer called emergency services who took Lady Carina to the nearby Chelsea and Westminster Hospital, where her stomach was said to have been pumped. [...]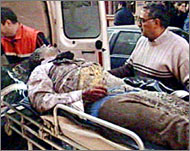 Most casualties are reportedly
Muslim Istanbul residents
Saturday 15 November 2003, 13:46 Makka Time, 10:46 GMT
Explosions at two synagogues in Istanbul have killed 23 people and wounded more than 80 others.
The first blast rocked the Neve Shalom synagogue, in the central Beyoglu district of the city on Saturday morning.
''It was a huge bang, my windows are full of debris. It shook my stomach," said one eyewitness.
Details of the explosion at the Beth Israel synagogue, 5km from the Neve Shalom site are still emerging.
Turkish television has been showing pictures of injured people being carried away from the blast on stretchers. Rescue workers say the death toll is likely to rise.
Police and local residents say a car ladened with explosives caused the blast. The attacker is believed to have died in the explosion.
A Turkish group called the Great Eastern Islamic Raiders Front has claimed responsibility for the car bombing.
Turkish television says many of the injured have inhaled ammonia and are being treated by doctors.
The Israeli Foreign Minister Silvan Shalom has called on the international community to fight against "the forces of evil" following the attacks.
Comment: Did you catch the copy under the photo: "most victims were Muslims." Curious bit of work for "Arab terrorists"...
Al Qaida Commander 'anticipates' 100,000 dead in attack
Special to World Tribune.com
MIDDLE EAST MEDIA RESEARCH INSTITUTE
Thursday, November 13, 2003
Al-Qal'a (The Fortress) an Islamist Internet forum, posted the first of a two-part interview with a person who introduced himself as Abu Salma Al-Hijazi, one of the Al Qaida commanders closest to Osama bin Laden. The interview was conducted in Iraq, south of Faluja. The article notes that Al-Hijazi was surrounded by five masked men carrying missiles as well as personal weapons. The following are excerpts from the interview:
In regard to rumors about a large-scale attack against the U.S. during the month of Ramadan, Al-Hijazi said that "a huge and very courageous strike" will take place and that the number of infidels expected to be killed in this attack, according to primary estimates, exceeds 100,000. He added that he "anticipates, but will not swear, that the attack will happen during Ramadan."
He further stated that the attack will be carried out in a way that will "amaze the world and turn Al Qaida into [an organization that] horrifies the world until the law of Allah is implemented, actually implemented, and not just in words, on His land... You wait and see that the balance of power between Al Qaida and its rivals will change, all of a sudden, Allah willing." [...]
Comment: If and when this happens, without doubt it will constitute "9/11 part 2", planned and carried out by US and Israeli intelligence agencies in order to justify the further corraling and tagging of the human race.
Ayoon wa Azan (Religious Radicalism In And Around The Bush Administration)
Jihad Al Khazen Al-Hayat 2003/11/15
In Arab and Muslim countries exists a fearsome religious radicalism that sometimes comes out in the form of terrorism, as we witnessed in Riyadh as well as other cities. Such radicalism does exist; I do not deny or simplify it, nor am I trying to justify or excuse it.
But today, I have chosen to write about religious radicalism in and around the Bush administration, for there is a Christian radicalism that could frighten any wise person in or outside the U.S. The difference between both forms of radicalism is that the Muslim radical can at best blow up himself and a few innocents. The other radical form on the other hand has its finger on the nuclear button. Even if forget about the nuclear weapon, there still are enough weapons of mass destruction to destroy entire countries, not only a residential compound.
[...] George Bush's faith came to my mind as I was reading two terrifying books that were put on the market this month. I shall start with George Bush's Faith, written by Stephen Mansfield. It is a Christian book that draws a terrifying image about the divine mission the American President thinks he is assigned with to save his country and the world.
In the book, George Bush tells the preacher James Robinson that he feels God wants him to run the presidential elections. He says he can't explain it, but just feels that his country will need him. "Something will happen" he says, adding "I know it won't be easy…for me and my family, but God wants me to do it."
US soldier is 400th Iraq death

15/11/2003
A US soldier who was killed today when his vehicle was struck by a roadside bomb was the 400th US serviceman to die in Iraq since hostilities started on March 20, the military said.
Two other soldiers were wounded when the device exploded next to a two-vehicle patrol, a spokesman said.
The British military has reported 52 deaths so far in Iraq and 16 Italians have died, along with one soldier each from Denmark, Spain, Ukraine and Poland.
Gunships ram home might of US firepower
Rory McCarthy
Saturday November 15, 2003
The Guardian
The US military has begun fresh "offensive operations" in Baghdad in an attempt to take on Iraq's growing guerrilla movement.
Evidence on the ground suggests the attacks are as much a message of superior firepower as about apprehending resistance fighters.
"What you are seeing from the coalition forces are offensive operations that are intended to go out and find the terrorists in their lairs," said Lieutenant Colonel George Krivo, a US military spokesman.
Codenamed "Iron Hammer," the sweep began on Wednesday night when an AC-130 Spectre gunship, equipped with heavy and light-calibre cannon delivering devastating firepower, shot up an empty textile warehouse in south Baghdad [...]
Comment: We feel a little put out by the fact that western politicians and military spokespeople are given a stage by the mainstream media to spout fantastical Hollywood blockbuster-type comments like the above, while we here at Signs of the Times are required always to remain reasoned and balanced in our commentary in order to maintain our audience. In a just world, the above would be understood by the public for the ridiculous, manipulative propaganda that it is, but we forget - a just world?
Iraqis 'to govern by next summer'
The US has proposed that Iraqis should take control of the country by next summer, American media reports say.
Paul Bremer, the top US official in Iraq, is reported to have talked to Iraqi representatives on Friday about speeding up the handover.
Members of the Iraqi Governing Council are said to have reacted positively.
[...] But the new blueprint reportedly calls for a transitional government to be set up, leading to elections for a constitutional assembly.
Only then would a new constitution would be written and finally, once the new law was approved, national elections could be held, reports say.
"This is good for everyone," said council member Ahmed Chalabi, according to the New York Times.
"We will have the US forces here, but they will change from occupiers to a force that is here at the invitation of the Iraqi government," he was quoted as saying after meeting Mr Bremer.
Humbling moment for Bremer in Iraq
By Guy Dinmore in Washington
Published: November 14 2003 20:25 | Last Updated: November 14 2003 20:25
[...] Amid a chorus of accusations, from both Democrats and hardline Republicans, that the US wants to "cut and run", the Bush administration is having to explain how it intends to accelerate self-rule for Iraqis and withdraw over a fifth of US troops from Iraq by next spring, even when the CIA is warning of a worsening insurgency.
"It's got nothing to do with domestic politics," Colin Powell, secretary of state, said, denying the whispers that the US 2004 presidential election is the predominant timetable.
So far, no senior US official has stated in public what is now an open secret - that Paul Bremer (pictured), the senior US administrator in Iraq, on returning to Baghdad from his crisis talks in Washington, will ask the 24 members of the US-appointed Governing Council to consider a timetable for setting up a provisional, sovereign, Iraqi government.
Aides to the council say it will be a humbling moment for Mr Bremer. Iraqi opposition figures now on the council had long called for a provisional government.
Journalists attacked, one kidnapped, in southern Iraq
Last Updated Fri, 14 Nov 2003 18:28:36
BASRA, IRAQ - Gunmen have shot and wounded a Portuguese reporter and kidnapped a second journalist in southern Iraq.
Carlos Raleiras, the kidnapped man, works for a private radio station in Portugal. He managed to call out for help from his cellphone describing his situation as "delicate."
"I've been kidnapped," Raleiras told the Portuguese news agency Lusa. "It's a very confused situation. I can't talk now."
His captors have asked for a $50,000 ransom.
Hospital Front: With the number of amputees and burn victims from Iraq, the military's medical system is waging its own war,
Los Angeles Times, November 9, 2003
By Esther Schrader
[...] The new armored vests that soldiers are wearing in this war protect the human torso and have saved countless lives, but often at a terrible price. One day last week, all but 20 of the 250 beds at the center were taken up with casualties of the war. Fifty of them have lost limbs, often more than one. Dozens more suffer burns and shrapnel wounds that begin where their armored vests ended.
On average, they are 23 years old.
Many would have died except for their Kevlar vests, which stopped rounds from a Kalashnikov rifle, a 9-millimeter handgun or fragments from a grenade. There have been more wounded — and over a longer period — than the hospital expected.
[...] Since April, when the first casualties began arriving, more than 1,875 have been treated at Walter Reed, an average of about 10 a day, 300 a month. On any given day during that time, the hospital has had about 50 inpatients and another 180 outpatients from the war.
The number of amputees and burn patients is still small compared with that during height of the Vietnam War, in which far more soldiers fought for far longer. But in the 1991 Persian Gulf War, just 10 amputees were treated at Walter Reed compared with the 50 in this war.
"The number is big to me now, bigger than anything I've seen since Vietnam," said Jim Mayer, 57, who lost both legs in that war and now volunteers at the hospital several days a week helping amputees. "When we see each other here, me and the other volunteers, our line to each other is, 'They just keep coming and coming.' "
[...] A half hour away, at Andrews Air Force Base, the tennis court and gymnasium of the fitness center have become a medical staging facility for those evacuated from the war zone. More than 7,500 have come through since April.
In addition to the nearly 1,900 who have gone on to Walter Reed, another 1,500 have been sent to the National Naval Medical Center in Bethesda, Md., which treats the injured from the Navy and Marines. Several thousand less seriously wounded soldiers have been sent directly to some of the military's dozens of smaller hospitals and clinics around the country.
3 U.S. GIs Face Charges in POW Abuse Case
AP
Fri Nov 14, 8:03 AM ET
CAIRO, Egypt - U.S. military prosecutors have decided to prosecute three American soldiers from Pennsylvania on charges of abusing Iraqi prisoners of war, a U.S. Army spokesman said Friday. [...]
The charges grew out of an alleged incident May 12 at a U.S. detention facility, Camp Bucca, in southern Iraq. The three soldiers, from the 320th Military Police Battalion, based in Ashley, Pa., are accused of punching and kicking Iraqi POWs while escorting them to Camp Bucca. [...]
The three soldiers, Master Sgt. Lisa Marie Girman, 35; Staff Sgt. Scott A. McKenzie, 38; and Spc. Timothy F. Canjar, 21, are accused of dereliction of duty, cruelty and maltreatment of enemy prisoners of war, filling false official statements, obstruction of justice and conspiracy to obstruct justice. [...]
Comment: We have run numerous stories about the allegations of abuse and torture of Iraqi POWs. The charges against these GI's - for offenses which are tame compared to the reports we have covered - appear to be a bone thrown at the American public.
Facility 1391: Israel's Guatanamo
Chris McGreal
The Guardian November 14, 2003
The men under the black hoods all have the same question once the blindfolds and manacles are off: Where am I? A voice filtering through a narrow slit in the steel door told Sameer Jadala he was "in Honolulu", Raab Bader that he was "in a submarine" and "outside the borders of Israel", Bashar Jadala that he was "on the moon". None of them imagined it at the time, because only a handful of the political and security establishment knew such a thing existed, but they were prisoners in Israel's Guantanamo: Facility 1391. "I was barefoot in my pyjamas when they arrested me and it was really cold," says Sameer Jadala, a Palestinian school bus driver. "When I got to that place, they told me to strip and gave me a blue uniform. Then they gave me a black sack. They told me: 'This is your sack. You need to keep it with you. Any time someone comes to your cell, you must put it on your head. Any time they deliver the food, you must put it on your head. You must never see the soldiers' faces. You do not want to know what will happen if you take it off.' Sometimes I thought I would die in that place and no one would ever know."
Facility 1391 has been airbrushed from Israeli aerial photographs and purged from modern maps. Where once a police station was marked there is now a blank space. Sometimes even the road leading to it has been erased. But Israel's secret prison, inside an army intelligence base close to the main road between Hadera and Afula in northern Israel, is real enough. For 20 years or more it has been housed in a large, imposing, single-storey building designed by a British engineer, Sir Charles Taggart, during the 1930s as one of a series of garrison forts designed to contain growing unrest in Palestine. Today, the thick concrete walls and iron gates are themselves protected by a double fence overseen by watchtowers and patrolled by attack dogs. [...]
Those who have been through its gates know it is no illusion. One former inmate has filed a lawsuit alleging that he was raped twice - once by a man and once with a stick - during questioning. But most of those who emerge say the real torture is the psychological impact of solitary confinement in filthy, blackened cells so poorly lit that inmates can barely see their own hands, and with no idea where they are or, in many cases, why they are there.
"Our main conclusion is that it exists to make torture possible - a particular kind of torture that creates progressive states of dread, dependency, debility," says Manal Hazzan, a human rights lawyer who helped expose the prison's existence. "The law gives the army enough authority already to hide prisoners, so why do they need a secret facility?"
Unlike any other Israeli prison, the International Red Cross, lawyers and members of the Israeli parliament have been refused access. One leftwing MP, Zahava Gal-On, describes Facility 1391 as "one of the signs of totalitarian regimes and of the third world". The Israeli government declines to discuss the secret prison other than to issue a standard response: "Facility 1391 is situated on a secret military base. The base is used by the security services for various classified activities and thus its location is kept confidential." [...]
Raab Bader, a 38-year-old accountant and father of two, was also in the cells, although the two men had no contact. He too had been detained in Nablus, though he was convinced he had nothing to hide. "I was held like a blind mole, except for the prolonged hours that an [intelligence] agent interrogated me," he says.
Bader was variously told that he was on a submarine, in space or outside the borders of Israel. He was pushed into a windowless cell, 6ft square. A fan high in the ceiling drives air into the cell, but inmates say the noise is deafening.
"The cell walls were painted black. I never saw the ceiling. When I looked up, I saw only darkness. Light no stronger than the power of a candle penetrated in a peculiar way from one side of the room," he said in an affidavit.
The bed was a thin, damp mattress on a concrete slab a few inches above the ground. The toilet was a bucket, emptied every few days. Water to the cell came out of a hole in the wall, controlled by the guard. "On the ninth consecutive day in the stench-filled cell, one of the soldiers was supposed to come and take me out. He almost vomited and rushed out of the cell," Bader says. "I spent many days in that solitary confinement cell and in others like it, and hour after hour I would talk to myself and feel that I was going crazy, or find myself laughing to myself." [...]
Mustafa Dirani, the primary target of the abductions, had been the head of security in the Shi'ite movement Amal, and held Arad for about two years, at times driving around with the Israeli colonel in the boot of his car. Dirani was questioned for five weeks around the clock. Freed from Facility 1391 eight years later but locked up in another Israeli prison, he filed a lawsuit in the Israeli courts alleging that he was sodomised by his Israeli interrogators. The legal action names a "Major George" who, Dirani alleges, ordered a soldier to rape him. On another occasion, the Lebanese prisoner accuses the major of thrusting a stick up his rectum. Other former prisoners at 1391 have described how they were stripped naked for interrogation, blindfolded and handcuffed, and a stick was pressed against their buttocks as they were threatened with rape.
In its response to the lawsuit, the Israeli government denied Dirani was raped but it confirmed that prisoners were routinely stripped naked for interrogation. However, the state attorney's office later went further and said that "within the framework of a military police investigation the suspicion arose that an interrogator who questioned the complainant threatened to perform a sexual act on the complainant". [...]
Another Lebanese prisoner, Ahmed Ali Banjek, was convicted of smuggling a surface-to-air missile into the Israeli-controlled zone of southern Lebanon on the basis of a confession made at 1391. He later told a military court that it had been extracted under torture, including being forced to sit on a stick until it penetrated his anus. The court was persuaded that the confession was not reliable, and released Banjek. [...]
Ex-security chiefs condemn Israel
Friday, 14 November, 2003

Four former Israeli security service chiefs have launched a scathing attack on the government's handling of the peace process with the Palestinians.
The men called for Israel to withdraw from the Gaza Strip and dismantle Jewish settlements, or face "disaster".
Their comments follow remarks last month by Israeli Chief of Staff Moshe Yaalon, who said Israeli measures have generated anger among Palestinians.
Israeli government officials called the men's criticisms naive.
Pull-out urged
The former heads of the Shin Bet security service delivered their unprecedented assault in newspaper and radio interviews.
"[Israeli Prime Minister Ariel] Sharon has spoken often about the need for painful compromises, and there are no painful compromises except evacuation of settlements," Yaakov Peri, Shin Bet chief from 1988 to 1995, told the Yediot Ahronoth daily.
"We are heading downhill towards near-catastrophe. If nothing happens and we go on living by the sword, we will continue to wallow in the mud and destroy ourselves," he said. [...]
Avraham Shalom, who headed the service from 1980 to 1986, said Israel was heading for disaster if "we do not recognise once and for all that there is another people which is suffering and towards which we are behaving shamefully".
Ami Ayalon, Shin Bet chief from 1996 to 2000 and co-author of an unofficial peace plan, said that without a peace deal Israel was endangering its existence.
"We are taking sure, steady steps to a place where the State of Israel will no longer be a democracy and a home for the Jewish people," he said.
Comment: The above comments are made by men in a position to know. With Sharon's dismissal of this valuable advice, we have clearer than ever evidence that Sharon's goal is the destruction of Israel and its people. Wake up, before it is too late.
Israel Receives State-of-the-Art Jets
Nov 14 2003
The first of the force's new F-16-I fighter plane will roll off the Lockheed Martin assembly line this afternoon, and an Israeli delegation led by Defense Minister Sha'ul Mofaz will take official possession.
It's a happy day for the Israel Air Force in Fort Worth, Texas. The first of the force's new F-16-I fighter plane will roll off the Lockheed Martin assembly line this afternoon, and an Israeli delegation led by Defense Minister Sha'ul Mofaz will take official possession.
Israel has purchased 102 of the bomber jets, for a record $4.5 billion - paid for with money given Israel by the U.S. in military grants. Israel and Egypt are the two biggest recipients of U.S. aid.
The Israeli defense establishment in 1999 chose Lockheed over Boeing to manufacture the new planes. It was reported at the time, however, that the plane would not be fitted with Israel's advanced ELTA radar, as Israel had requested, but rather with the lesser-quality American-made radar - thus that Arab countries' F-16's will have the same radar systems as Israel.
The new F-16-I, named Sufah (Thunderstorm) in Hebrew, will strengthen the IAF's long reach, enabling it to reach nations such as Iran and Libya. It can fly a round trip of over 1,600 kilometers without refueling. The first of the jets will arrive in Israel next month, and will be stationed - together with the families of the pilots and crews - in the Negev. The plane is different than the United States' F-16's, and no Israeli or American pilots have yet flown them - although IAF pilots have practiced on a Sufah simulator.
Comment: No, your eyes are not deceiving you (in this instance anyway), we can confirm that you have indeed just read that Israel is taking possession of state of the art F-16-I fighter jets, BEFORE the US Air Force has them. Not only that, we can also confirm the incredible news that Israel is actually paying Lockheed Martin for these jets with US taxpayers money. We can also confirm that the average US citizen is probably completely unaware of this and probably couldn't care less.
Rumsfeld Reassures Japan Over Any N.Korea Deal
Fri Nov 14,11:22 PM ET

TOKYO (Reuters) - Defense Secretary Donald Rumsfeld promised the Japanese on Saturday that any security guarantees the United States might give North Korea to end a nuclear crisis would not weaken U.S. commitments to Japan. [...]
Report Finds No Violations at Pentagon by Adviser
By STEPHEN LABATON
The New York Times
November 15, 2003
WASHINGTON, Nov. 14 - The Pentagon's inspector general concluded this week that Richard N. Perle violated no ethics laws or rules when he was leading an influential Pentagon advisory board while at the same timerepresenting two companies in their dealings with the government.
But Mr. Perle has become the focus of an inquiry being conducted by Hollinger International, the media conglomerate, where he serves as a director. That inquiry is examining several transactions, including $2.5 million in payments made by the company to Trireme Partners, a venture capital company in which Mr. Perle is a managing partner. The inquiry is being led by Richard C. Breeden, the former chairman of the Securities and Exchange Commission. [...]
The Hard Sell: He sifted intel. He brooded about threats. And he wanted Saddam gone. The inside story of how Vice President Cheney bought into shady assumptions and helped persuade a nation to invade Iraq
Newsweek, November 17 Issue
By Mark Hosenball, Michael Isikoff and Evan Thomas
Every Thursday, President George W. Bush and Vice President Dick Cheney have lunch together in a small dining room off the Oval Office. They eat alone; no aides are present. They have no fixed agenda, but it's a safe assumption that they often talk about intelligence—about what the United States knows, or doesn't know, about the terrorist threat.
Opposition to USA Patriot Act Swells
By KEN RITTER, Associated Press Writer
Sat Nov 15, 2:13 AM ET
LAS VEGAS - Rebecca Foster couldn't believe it when a bank cited the USA Patriot Act and asked her and fellow homeowners association board members for their Social Security and driver's license numbers.
"They said they had to check us against a terrorist list," said Foster, a grandmother whose five-member board oversees a Las Vegas community. "That seemed kind of preposterous. None of us are terrorists."
A week earlier, the FBI in Las Vegas acknowledged agents used Patriot Act authorization instead of the grand jury to investigate a striptease club owner and several elected officials. [...]
Deal on 9/11 Briefings Lets White House Edit Papers
By PHILIP SHENON
November 14, 2003
WASHINGTON, Nov. 13: The commission investigating the Sept. 11 terror attacks said on Thursday that its deal with the White House for access to highly classified Oval Office intelligence reports would let the White House edit the documents before they were released to the commission's representatives.
The agreement, announced on Wednesday, has led to the first public split on the commission. Two Democrats on the 10-member panel say that the commission should have demanded full access to the intelligence summaries, known as the President's Daily Brief, and that the White House should not be allowed to determine what is relevant to the investigation.
An umbrella group of victims' families joined the criticism, saying the terms of the accord should be public.
While spokesmen for panel refused again to provide the terms, citing the sensitivity of the talks with the White House, its executive director acknowledged that the White House would be able to remove information from the reports unrelated to Al Qaeda and to the attacks on Sept. 11, 2001.
Comment: Democracy: the practice of telling people they are free while "management" acts in a way directly in contrast to the precepts of freedom. If it weren't for a chronic case of "cognitive dissonance" which has plagued the human race for the past 309,000 years it would never have worked.
Moussaoui Loses Right to Represent Self
By LARRY MARGASAK, Associated Press Writer
Sat Nov 15, 2:58 AM ET
ALXEANDRIA, Va. - Al-Qaida defendant Zacarias Moussaoui, who filed one too many pretrial motions that a judge deemed insulting, lost the right to represent himself but gained an experienced defense team. [...]
Ex-Yukos head re-elected as leader of key Russian business association
www.chinaview.cn 2003-11-15 05:50:33
MOSCOW, Nov. 14 (Xinhuanet) -- The jailed Russian oil tycoon Mikhail Khodorkovsky was re-elected as a top executive of a leading Russian business association Friday, a sign of respect by the organization for his innocence, Interfax news agency reported.
Giant Russian gas pipeline to China, South Korea gets green light
(14/11/2003)
MOSCOW (AFP) Russia, China and South Korea unveiled a giant 17-billion-dollar project to supply Siberian gas to energy-hungry Chinese and South Korean markets from one of the world's largest undeveloped gas fields.
Rusia Petroleum, which is 63-percent owned by TNK-BP, signed a feasibility study with its partners the state-run China National Petroleum Corporation and Korea Gas Corporation, giving the initial go-ahead for the project.
The 4,887-kilometre (3,055 mile) pipeline would transport gas from the vast Kovytka gas field near Lake Baikal in eastern Siberia to South Korea through China and the Yellow Sea.
Asia's longest pipeline will tap into estimated reserves of 1.9 trillion cubic metres of gas, "one of the largest undeveloped gas fields in the world," said Harry Griffits, Rusia Petroleum deputy director general, at the signing ceremony in Moscow.
"By the realisation of this huge-scale project, Russia, China and South Korea will receive lots of benefits, raising revenues for Russia and long-term energy diversification for China and Korea," said KOGAS chief executive Oh Kang Hyun.
"Russia is rich in mineral resources. China has a fast-growing economy and South Korea is a country with a stable economy and a high demand for energy," added another KOGAS executive Jae-Hyun Chung.
"Russian gas will be popular in the Chinese market," said CNPC's Miao Chenguu.
Under the 30-year project, Russia will supply 20 billion cubic meters of natural gas a year to China and 10 billion cubic metres to South Korea and sell four billion cubic metres on the domestic Russian market [...]
Georgians protest over Shevardnadze
Saturday 15 November 2003, 0:59 Makka Time, 21:59 GMT
Thousands of Georgians have surrounded the offices of embattled President Eduard Shevardnadze to demand he step down.
Up to 20,000 protesters responded to opposition calls on Friday to take the dispute over a 2 November election result to the streets.
The protesters appeared determined but peaceful, hundreds dancing to an impromptu folk concert outside parliament square.
[...] The protests, the largest in Georgia since the end of a bitter civil war in the early 1990s, were watched anxiously by Western governments and oil firms hoping for a return to stability.
The turmoil has threatened to plunge Georgia into chaos and dash Western hopes of a stable partner in the region to ensure construction of an oil pipeline to cut out Gulf ports.
The United States on Friday renewed calls for the Georgian government and opposition to avoid bloodshed.
"We believe that it is important for all sides to respect the role of peaceful assembly in the political process and to take all steps to prevent violence," deputy State Department spokesman Adam Ereli said.
Martin promises government of change and renewal
Last Updated Fri, 14 Nov 2003 22:58:27
TORONTO - Canada's next prime minister Paul Martin promised he'll lead a government of change and renewal Friday night as he was officially crowned the new leader of the Liberal Party.
[...] Martin talked about improving relations with the United States which critics say have hit an all time low with Prime Minister Jean Chrétien.
"We need a proud partnership based on mutual respect with our closest friend and nearest neighbour. Two nations with many shared values, but each acting independently."
Bush will welcome Martin as PM
Last Updated Fri, 14 Nov 2003 22:22:50
WASHINGTON - Before the results of the Liberal leadership contest were announced Friday night, the White House made it clear that it's pleased Paul Martin is becoming prime minister.
"We wish him well in his new role," said spokesman Scott McClellan.
"The president looks forward to working with him and we look forward to strengthening our relationships with our Canadian friends."
In the past, Martin has repeatedly said that improving relations with the U.S. is a priority. He wants to chair a special cabinet panel and create a Commons committee on unresolved bilateral issues.
Many political observers have noted that his old boss, retiring Prime Minister Jean Chrétien, didn't have the warmest rapport with U.S. President George W. Bush. When Canada refused to back a U.S.-led attack against Saddam Hussein last spring the air became even more chilled, with Bush suddenly cancelling a trip to Ottawa.
Comment: Traditionally, the newly elected US president makes his first foreign visit to Canada. Three years into Bush's reign, he has yet to make a formal state visit to Canada. Unfortunately, rather than rejoicing at this change of events, many Canadians have felt slighted and are looking forward to Martin's making nice with Bush. Martin comes from a very wealthy family that keeps its money in off-shore banks, out of the reach of the Canadian taxman. He should get on famously with Bush.
Consumer group says Canadians over-medicated
Last Updated Fri, 14 Nov 2003 17:37:47
VANCOUVER - A newly formed national consumer advocacy group warns that Canadians are over-medicated and need to know more about the adverse effects of prescription drugs.
Pharmawatch spokesperson Janet Currie said Canadians are naive if they think prescription drugs are completely safe.
She said she believes the big pharmaceutical companies see health disorders as market opportunities.
Personal Bankruptcy Filings Jump 7.8 Pct.

By MARCY GORDON
Nov 14, 2:46 PM (ET)
WASHINGTON (AP) - The record-setting pace of new personal bankruptcies continued in the 12 months ending Sept. 30, with their number rising 7.8 percent, according to data released Friday.
Personal bankruptcies jumped to 1,625,813 from 1,508,578 during the same period a year earlier, Administrative Office of the U.S. Courts data show.
The upward trend had been expected to continue despite signs of recovery in the economy and as effects still linger from the consumer spending binge of the 1990s. The rate of bankruptcies generally lags other economic indicators.
The bankruptcy filings "are being overwhelmingly driven by individuals with household debt," said Samuel Gerdano, executive director of the American Bankruptcy Institute, a group of bankruptcy judges, lawyers and experts. "They do reflect the buildup of heavy consumer debt."
The total number of bankruptcy filings, including both personal and business, has grown by 98 percent, to 1,661,996 in the 12-month period ending Sept. 30, from 837,797 during the same period ending Sept. 30, 1994. [...]
Markets close lower; gold hits new 7-year high
Last Updated Fri, 14 Nov 2003 19:13:54
TORONTO - North American stock markets lost steam Friday as morning gains gave way to afternoon losses – especially in technology stocks – as investors took profits before the weekend.
[...] The TSX gold index rose 1.2 per cent, leading all gainers. Gold futures in New York were up $3.70 US to $398 US an ounce – a new seven-year high for the precious metal.
Crude oil futures rose 47 cents US, pushing a barrel above the $32 US mark to $32.35 US. Natural gas surged 30 cents US to $5.11 US.
Comment: "If the American people ever allow private banks to control the issue of their money, first by inflation and then by deflation, the banks and corporations that will grow up around them (around the banks), will deprive the people of their property until their children will wake up homeless on the continent their fathers conquered." - Thomas Jefferson
$194,000 award for illegal strip-search (Australia)
Tony Keim and David Murray
A WOMAN who was awarded almost $200,000, after she was wrongly arrested and then told to "waddle like a duck" during a strip-search, has called for a review of police procedures. [...]
The future of airport security

By Jonathan Duffy
BBC News Online
Wednesday, 12 November, 2003

It knows your face, your body temperature, your behaviour and can strip you bare without removing your clothes. And the next generation of surveillance technology is coming to an airport near you.
Millions of pounds of additional investment have been ploughed into airport security since the 11 September terror attacks. .
Some of the latest devices are being exhibited this week at a conference dedicated to airport security.
The 'X-ray' machine

Just as luggage is systematically "X-rayed" to see what's inside, so passengers may be in the future. So-called millimetre-wave scanners, which produce an image similar to X-ray, look through clothes to detect concealed weapons.
Unlike metal detectors, these can reveal ceramic knives as well as some plastics. They also forewarn guards what to expect when someone is pulled over for a further search, says Ben White, of the government-run defence firm Qinetiq.
Faster than traditional X-ray machines, they produce a moving 360° image. One drawback, though, is privacy - the machines can reveal rather too much of what's underneath one's clothes.
"It's still in development," says Mr White. "There are solutions we are looking at, such as modesty filters that apply a sort of fig-leaf to the image."
The problem with running scores of CCTV cameras in an airport terminal is someone has to keep a beady eye on the images they produce.
To get around that, new devices are appearing that automatically detect "strange" behaviour. To do this, they learn basic elements of normal human behaviour in a situation, such as people wandering though a terminal building.
If someone starts running or jumping over barriers, the system flags up this "anomalous" behaviour.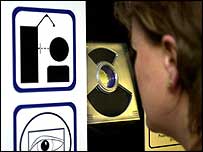 Biometrics is the buzzword of the moment. It means using the unique features of each human body to identify them.
The trick is to get computers to do the recognising. Iris scanning, highlighted in the movie Minority Report, is already in use at Amsterdam's Schipol airport. Fingerprint recognition has also been tested, but proved easy to defeat.
Another option is facial scanning, where computers seek to match up a face caught on camera with one of several thousand suspects in the data bank.
In the past its reliability has been questionable, but Paul Crombie, of the technology firm Novar, says it is improving all the time. The company has had a kit on trial in Dubai airport.
"Our system measures the distance between the eyes and the mouth and then generates 1,700 other points on the face before scanning a database of up to 100,000 images and finding a match - all in one second," says Mr Crombie.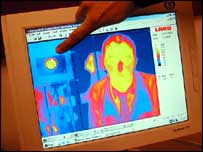 Thermal imaging
One story that knocked war and terror attacks off the front pages earlier this year was Sars - the potentially deadly virus that swept through Hong Kong and struck fear into millions of air passengers.
Within a few weeks of the initial panic, the UK firm Land Instruments sold about 50 of its thermal imaging systems to airports in the Asia and Middle East.
The equipment, which includes a finely tuned infra-red camera, was used to quickly scan passengers and identify any with even the slightest hint of a fever.
The Sars threat has abated, but the cameras are still in use, says Gary Chamberlain, of Land Instruments. "It's a virus and could mutate and return at some point."
This technology could be used in future to pinpoint possible terrorists, who might be sweating before boarding. But Mr Chamberlain admits passengers can be nervous for a number of reasons and there are ethical issues to consider.
Comment: Consider that all of the above (and more) was the original goal, it required a faked terrorist attack on 9/11 to provide the justification. Ask yourself, why and to what end? What plans have our "leaders" in store for us that they would go to such extremes? Possible answers you may come up with will surely seem outrageous, but in the absence of any other logical explanation we are forced to accept what is.
Fashion Propaganda To Help Alleviate Fears of Wearable, Implantable Microchips
PARIS (AFP) - Looking for a soul mate or a business partner, but fed up with going to parties and conventions where you waste your time talking to strangers who induce no excitement, only yawns?
The answer: intelligent tags.
These are wearable computers which compare your personal data with those of others around you, tell you who would make an interesting match, advise you where that individual is located and whether he or she is available for a chat or just wants to swap contact details.
Prototypes of the first tag were tested at a technology convention in New England last month, in which participants wore a small device, about the size of an electronic personal assistant, around their necks, New Scientist reports in next Saturday's issue.
The so-called nTags communicated to each other by infra-red link, comparing employment history, professional interests and personal hobbies, and alerted their wearer whenever a good match was close by. The data was supplied earlier to organisers of the event.
Most of the 488 delegates were impressed with the device, swapping nearly 4,000 "visual business cards" during the event, although they also complained about the weight of the nTag and the constant interruptions it made, and there was also concern about data privacy, New Scientist says.
The device is made by a New York company, nTag Interactive.
Comment: As the headline states, this is a smart way to fool the people into accepting identity tags. Ever wondered what cattle feel like? Many would say that they are blissfully unaware that they are being "numbered" for death when they receive tags on their ears. Of course, this is probably true; what is not clear is whether humans will be any more aware when the same is done to them. This is not alarmist propaganda, it is happening, whether you believe it or not.
Man Fined for Scratching While Driving
MADRID, Spain - Highway police who stopped a driver they believed was using his cell phone erred twice. First, he was just scratching his ear. Second, he was a lawyer.
Tomas Valdivielso showed the two officers that the last call from his phone went out the night before. The duo huddled, then came back and fined him $70 anyway.
The charge: driving while "holding his ear with his right hand in a permanent fashion."[...]
Valdivielso filed a 10-page appeal that El Mundo praised as a work of tongue-in-cheek art.
Hanging Corpse Admired as Sculpture on Campus
BUDAPEST (Reuters) - Police on Friday removed the corpse of a man believed to have hanged himself at least a year ago after builders and students at Budapest's University of Arts had initially mistaken it for a modern sculpture. [...]
Comment: Ah, the subtle pleasures of modern art.
Some Chinese Mete Out Rat Poison Revenge
STEPHANIE HOO
Associated Press
BEIJING -Each story is ghastlier than the last. A shop owner poisons the snacks at a rival's store, and 38 people die. A widow spikes the lunch at her husband's funeral, killing 10. A man seeks vengeance against his married lover by targeting her children.
Across China, aggrieved parties are increasingly turning to an outlawed but easily available weapon: a particularly lethal form of rat poison called "Dushuqiang."
With case after lurid case being described in the state-controlled media, the Chinese government has had enough. [...]
Gunman shot after 2-hour standoff
The Arizona Republic
A man armed with a rifle held police at bay for more than two hours today before he was shot once in the chest in front of a northeast Phoenix home shortly after 5 p.m. [...]
Jury returns $11.9B judgment against Exxon Mobil
By Phillip Rawls
Associated Press
MONTGOMERY — A state jury returned an $11.9 billion judgment against Exxon Mobil Corp. toay in Alabama's suit over disputed natural gas royalties.
The jury awarded $63.6 million in compensatory damages and $11.8 billion in punitive damages, a record in the state.
"We felt Exxon thought they were going to get away with this," said jury foreman Joe King, a Montgomery teacher. "We wanted to send a message that they were not, and that this corporation can't get away with doing wrong." [...]
The state sued Irving, Texas-based Exxon Mobil in 1999, contending the company had violated its leases for natural gas wells in state-owned waters along the Alabama coast. The state accused the company of cheating Alabama out of millions of dollars by intentionally deducting too much in expenses for operating the wells. [...]
Smart statistics keep eye on CCTV
NewScientist.com
CCTV cameras could soon be able to spot any suspicious behaviour, thanks to smart software that automatically detects unusual activity.
The statistical approach used should mean the technology can be used in many more situations than current systems, which are usually designed to detect specific objects or events.
The new system, developed by Roke Manor Research in Hampshire, UK, aims to overcome a common problem with CCTV - having too many cameras and not enough pairs of eyes to watch them all. Roke Manor estimate there are approximately 25 million CCTV cameras in the world. [...]
Teachers in plea for CCTV inside schools
A TEACHERS' union is calling for surveillance cameras outside toilets at North Wales schools to tackle bullies and vandalism.
It may also ask for trials with metal detectors. [...]
Steadicopter's prototype pilotless helicopter stolen
The helicopter was stolen a few days after the completion of its test program and final test flights
Dror Marom
Sources inform Globes that Steadicopter's pilotless helicopter prototype was stolen on Saturday-Sunday night. Unknown parties broke into Steadicopter's Kfar Maccabi plant, and stole the helicopter, but not its computer software or the money in the office.
Steadicopter is collaborating with Israel Aircraft Industries (IAI) on the project. Steadicopter claims its pilotless helicopter is the first of its kind in the world. [...]
Comment: Just what the world needs. More police state technology. Will there be no end to the clever devices created by scientists and engineers who pimp themselves out to the highest bidder?
Nation grapples with reduced crop output
www.chinaview.cn 2003-11-15 14:58:18
ZHENGZHOU, Nov. 15 (Xinhuanet) -- China has been taking precautions to guard against possible problems related to food safety after a drop in domestic crop output for three straight years.
[...] China harvested 450 billion kilograms of crops this year, less than the average 500 billion kilograms output in the past ten-plusyears and prices of some staple grains rose.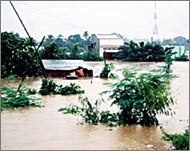 Scores perish in Vietnam floods
Saturday 15 November 2003, 10:28 Makka Time, 7:28 GMT
At least 49 people have been killed and eight others are still missing after severe floods hit central Vietnam, cutting off several villages and burying sleeping people alive.
On Thursday night, 17 people died in Phuoc Thanh commune, Quang Nam province, including 15 gold miners killed when a landslide buried their makeshift huts.
"The workers were swept away when they were sleeping in their makeshift camp. We have not been able to identify the deceased as most of them came from other provinces in the north," said an official from Quang Nam people's Committee on Saturday.
Scientists concerned about dwindling Antarctic sea ice
Disappearing sea ice has scientists concerned about Antarctica's ecosystem.
Glaciologists say the amount of sea ice floating around the continent has decreased by about 20 per cent in the past 50 years.
The total amount of sea ice around Antarctica has dropped by about 500,000 square kilometres.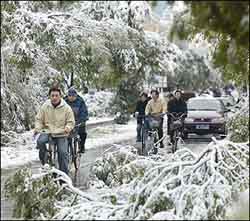 Raging snow storm damaged 13 million trees in Beijing
Fri Nov 14,12:03 PM ET
BEIJING (AFP) - A raging snow storm that hit China's capital Beijing last week damaged a total of 13 million trees, state media reported.
The impact of the unusually early and heavy snowfall on the city's trees alone is expected to leave municipal authorities with a bill of 110 million yuan (13 million dollars), the Beijing Today newspaper said.
Following the November 13 storm, the city's streets were littered with branches and felled trunks, as millions of trees had been stretched to breaking point and beyond because they had yet to shed their leaves. [...]
Earthquake shakes eastern Japan
Nov. 13, 2003
The Japan Times
An earthquake Wednesday with a preliminary magnitude of 6.5 in the Richter scale hit Tokyo and other areas of eastern Japan, but there were no reports of casualties or damage. The Meteorological Agency said there would be no tidal waves from the 5:27 p.m. quake, which shook buildings in the capital.
Its focus was around 390 km below sea level off the Kii Peninsula, the agency said.
Ground movements of intensity 4 on the Japanese seismic scale of 7 were recorded in Utsunomiya, Tochigi Prefecture; Hitachi, Ibaraki Prefecture; and Namie, Fukushima.
Central Tokyo, northern Ibaraki, and parts of Miyagi, Gunma, Saitama, Chiba and Kanagawa prefectures registered intensity 3.
UK as cold as Iceland in 100 years say scientists
BRITAIN could have a climate like Iceland's within the next 100 years, a scientist warns today.
Ironically, the change would come about as a result of global warming.
Speaking on a television programme tonight, scientists will voice their fears about the Gulf Stream being suddenly cut off.
They say the process may have already begun because of changes caused by global warming. The Gulf Stream carries ocean heat past Britainís shores, ensuring that the climate stays mild.
If it was not there, temperatures in the UK would plunge. [...]
Immune memory from smallpox vaccination lasts more 50 years, according to Emory research
Emory University Health Sciences Center
10-Nov-2003
ATLANTA -- Immune memory after smallpox vaccination persists for at least 50 years in immunized individuals, according to research conducted by scientists at the Emory Vaccine Center and Emory University School of Medicine. This is good news, since the findings, published in the Nov. 15 issue of the Journal of Immunology, suggest that individuals vaccinated against smallpox prior to the end of the smallpox vaccination program in 1972 may still retain at least some protection against smallpox. [...]
Pa. Panicking Over Hepatitis a Outbreak
By CHARLES SHEEHAN, Associated Press Writer
Sat Nov 15, 2:08 AM ET
PITTSBURGH - The nation's biggest known outbreak of hepatitis A is causing such a panic that people are lining up by the thousands for antibody shots and no longer eating out.
A third person died Friday and nearly 500 others who ate at a Chi-Chi's Mexican restaurant have fallen ill in the outbreak that has prompted the Centers for Disease Control and Prevention to send assistance. [...]
NEW ORLEANS -- Scientists continue to explore the remarkable protective effect of nicotine the addictive chemical in tobacco on the brain. One recent study has found that one of nicotine's metabolites, cotinine, may improve memory and protect brain cells from diseases such as Alzheimerís and Parkinsonís.
Another new study shows that nicotine can help improve some of the learning and memory problems associated with hypothyroidism. Such studies suggest that nicotine or drugs that mimic nicotine may one day prove beneficial in the treatment of neurological disorders. [...]
Comment: Unfortunately, the media has already given those inclined toward fascism the permission to blame smoking for the world's ills. Meanwhile these fascists climb into their mega-polluting SUV's oblivious to the fact that their government is blowing up Iraqi babies.
Cult finds 'eternal youth' formula
By James Langton, Evening Standard
This is LONDON
14/11/03
The controversial cult which claims to have cloned five babies says it has discovered a way of reversing the ageing process.
The Raelian sect believes it can use stem cells to turn back the clock on any part of the body.
It says it has already carried out experiments which involve shortening ageing human DNA, which stretches over time.
The sect's claims are sure to reignite the controversy surrounding human cloning and the use of stem cells, which are obtained from foetuses. [...]
Vatican accused of skewing conference on food production
John Hooper in Rome
Thursday November 13, 2003
The Guardian
The Vatican looks set to lend its vast moral authority to the cause of genetically modified crops, despite a row over the alleged "packing" with pro-GM delegates of a conference convened to help the Pope's officials make up their minds.
A thumbs-up from the Vatican would have far-reaching repercussions in the developing world, on a par with those generated by its teaching on birth control.[...]
Vatican Ponders Morality of Biotech Foods
By NICOLE WINFIELD
Associated Press Writer
VATICAN CITY (AP) -- Two Jesuits told a Vatican biotech conference Tuesday that tinkering with God's creation by making new plant species went against church teaching, adding a moral voice to a debate dominated by scientific, political and economic interests.[...]
Vatican struggles with whether GM foods are God's work
Dreaming of a red Christmas: European craft on final leg of voyage to Mars
JILL LAWLESS
LONDON (AP) - A British-built craft designed to scour the surface of Mars for signs of life is scheduled to land on the planet on Christmas Day, scientists said Tuesday.[...]
Man Who Jumped Niagara Falls Joins Circus
Anger as smugglers' remote-controlled donkeys bite the dust
Giles Tremlett
Saturday November 15, 2003
The Guardian
The remote-controlled donkeys were, until it all ended in tragedy, a cunning and successful way of fooling border police patrolling the barren, hilly frontier between Algeria and Morocco.
Loaded with illegal goods and with tape recorders strapped to their backs exhorting them to "walk on" in Arabic, the faithful beasts trudged daily backwards and forwards between Bab el-Assa in Algeria and Ahfir, Morocco.
That was until Algerian customs police finally got wise to the ruse and slaughtered 200 of the animals.
Algeria's Al Khabar newspaper has reported the slaying, saying that villagers in Bab el-Assa are up in arms over what they consider to be the police's illegal actions, according to a local BBC correspondent.
The remote-controlled donkeys would set out on tracks from Bab el-Assa laden with goods that reached high prices in Morocco. Once they got close to Ahfir, the donkeys would be met by Moroccan smugglers who turned off the tape machines and unloaded the goods.
They would then load them with Moroccan goods, point them in the opposite direction and turn the tape machines back on.
Al Khabar did not say whether the smugglers always made sure that the tape machines had fresh batteries, or what happened if they ran out halfway along the smugglers' route.
With the border closed for the last decade to prevent armed Islamists from crossing into Morocco, the smugglers were able to make a handsome profit from their donkeys.
The hard-to-patrol borders between countries in north Africa have inspired other ingenious smuggling ruses over the years.
Tunisian and Libyan smugglers are famous for loading up trucks or tractors, tying the steering wheel into position and a stone to the accelerator and letting them travel across the desert border on their own until they run out of petrol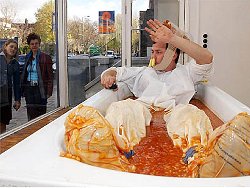 Nut-rolling artist plans breakfast endurance
Ananova.com
Friday 14th November 2003
An artist is sitting in a bath of baked beans for 12 days to show his support for the full English breakfast.
Mark McGowan, 37, will also have two chips up his nose and 48 sausages wrapped around his head for the stunt.
He said: "We don't support our culture enough, so I thought I'd celebrate a part of it by turning myself into a traditional English breakfast." [...]
Mr McGowan first hit the headlines earlier this year when he rolled a monkey nut seven miles through London to 10 Downing Street in a protest against student debt. [...]
US woman admits having 27 husbands
Saturday 15 November 2003
If marriage is bliss, a US woman who has tied the knot 27 times should now be in a state of uncontrollable ecstasy.
Dezerrie Cortes, 40, is awaiting sentencing after pleading guilty to perjury, lying about her marital status when she applied for licenses to marry more than two dozen different men.
According to indictments at her court appearance on Wednesday, Cortes applied for marriage licenses between 1984 and 2002 in several New York City borough offices, court sources said on Friday.
Most of the people she married were foreigners awaiting residency papers. She tied the knot with them in exchange for money.
JAILED VICAR TORMENTOR SPEAKS OUT
Exclusive By Geoffrey Lakeman
Nov 15 2003
A SELF-confessed vampire jailed yesterday for harassing a vicar told how he loves to drink blood...but denied he was evil.
[...] But in an interview before he was jailed for 12 months, Lewis defended his vampire ways.
The hotel porter said: "People have got the wrong idea that vampires are all evil sorts that will leap out at folk and bite their neck but I don't do that kind of thing.
"Just because I drink blood people automatically think I'm a bad person but that's not the case. I'm not a dangerous vampire.
"I like the vampire lifestyle. I like dressing in black and drinking blood and I like the night. Vampires are dark, sexy, mysterious and seem unstoppable.
"They definitely have more going for them than normal people.
"The Bible says that blood is life and I believe drinking it gives me energy.
"I have drunk other people's blood and it's a real rush. When you meet someone who you think is special I think it's romantic to be able to drink their blood and have part of them in you.
"Unfortunately, very few people understand my beliefs and now I feel I am going to prison for them.
"That's why I identify with Jesus who was crucified for his beliefs. It feels like the same thing to me.
"I see being a vampire as a blessing but unfortunately I am also damned, like a fallen angel."
Doctors say Lewis, who claims he attends a spiritualist church and regularly reads the Bible, suffers from an obsessive compulsive disorder.
[...] "People might think that just because I drink blood I want to go and kill others but I have no need for that because I can cut myself. I like the taste and also the look of blood, it's an artistic thing."
[...] After the hearing at Southampton crown court, Gibson said she would stand by her boyfriend.
She added: "I don't share his beliefs but the fact that he's a vampire doesn't infringe on our relationship.
"Ben is the most fascinating and interesting person I have met."
---
Remember, we need your help to collect information on what is going on in your part of the world!
We also need help to keep the Signs of the Times online.
---

Check out the Signs of the Times Archives

Send your comments and article suggestions to us

---
Fair Use Policy
Contact Webmaster at signs-of-the-times.org
Cassiopaean materials Copyright ©1994-2014 Arkadiusz Jadczyk and Laura Knight-Jadczyk. All rights reserved. "Cassiopaea, Cassiopaean, Cassiopaeans," is a registered trademark of Arkadiusz Jadczyk and Laura Knight-Jadczyk.
Letters addressed to Cassiopaea, Quantum Future School, Ark or Laura, become the property of Arkadiusz Jadczyk and Laura Knight-Jadczyk
Republication and re-dissemination of our copyrighted material in any manner is expressly prohibited without prior written consent.
.