---
Not content with having already massacred 10,000 Iraqi civilians America's finest turn their guns on chicken farmers and their chickens, and those ungrateful Iraqis have the gall to "lose faith". Bush claims that extremists are trying to establish a Taliban-style rule of law in Iraq. We're not sure why this is such a big deal, given that the U.S. essentially handed Afghanistan back to the Taliban after "liberating" the country.
Quietly and without media coverage the woman that accused Bush of rape last year has died, apparently a victim of the CIA's favorite method - "suicide".
Australia, not wanting to be left out, has announced they could be struck by terrorists at any moment too. The US is using the propaganda techniques that were so successful before the Iraq invasion to make a case for conquering Syria and Iran. The UN, as anxious as anyone to have the blowing up of Iranian children begin it seems, has announced that Iran had a secret nuclear program; as if keeping secrets from NSA satellites were possible.
Bush's visit to the UK next week gives Blair an opportunity to propagandise about "democracy", all the while planning "protest zones" for demonstrators far from the beady eyes of Bush. A true psychopath at work.
Speaking of secrets, if you live in the US or the UK, forget about having any. Former President Carter is very concerned about human rights in the US. He mentions that tyrannical dictators can now use the US as an example. More police state technology is announced, probably while Carter was speaking.
More scientists speak up and announce things like, "climate could change on a dime," or, "we must have early warning systems in place for NEOs." While they are making their announcements a huge iceberg breaks up, as witnessed by a satellite. Another scientist announces we need to be worried about aliens sending computer viruses from space.
HAARP is to boost its output by 400%, earthquakes, kangaroos, suburbanites beating each other up over green lawns, police raids, towns going mad blamed on full moon, interplanetary lawsuits, desert flooding, another Japan quake, and another child may have died from the virulent UK flu, all this and more provides for very worrying Signs of the Times.
US troops kill five chicken farmers in Iraq
12/11/2003
American troops opened fire on a truck carrying live chickens near the tense town of Fallujah, killing five civilians in the vehicle, including a father and his two sons, relatives said today.
The shooting took place at a roadblock last night, they said.
Fallujah is the site of numerous anti-American attacks and US soldiers in the area have been on a high state of alert. Reporters saw American troops delivering one body from an army ambulance to waiting families.
Comment: There is one word for this: Murder. Let's be honest about this, Iraqi people are human beings like you or I are they not? How can anyone with a conscience condone what is happening in Iraq? Many news sites talk of the illegal invasion of Iraq and the massacring of its civilians, comments like these are not "anti-American" or the purvue only of "conspiracy theorists". They simply reflect fact and reality. It is the Bush administration and the media whores in its service that twist, distort and lie about the reality of what is happening.
Why is it so hard for so many to accept this?
The American public are accomplices to these murderous actions, it is being done in their name, in the name of protecting them and securing their "freedom and democracy", yet it is patently obvious that this is a complete and unadulterated LIE. Through their intransigence and unwillingness to speak out for the truth, the American public are guilty. WAKE UP AND DO SOMETHING!
Iraqis losing faith in US warns CIA
12/11/2003
A new top-secret intelligence report warns that Iraqis are losing faith in US led occupation forces, a development that is increasing support for the resistance, officials said today.
CIA officials refused to confirm the existence of the report, but it comes to light amid high-level meetings on the situation in Iraq. Two other senior US officials said the report paints a worrisome picture of the political and security situation there.
It suggests spiraling violence and a lack of confidence in the US appointed Iraqi Governing Council may be bringing efforts to a turning point, sending more Iraqis over to the side of insurgents fighting occupation troops, said two officials.
Asked about the increase in guerrilla attacks on coalition forces in Iraq, Republican Senator John McCain, said "these are very intelligent moves that the bad people are making ... time is not on our side."
Because the report is classified, the officials talked about it only in general terms and only on grounds they not be publicly identified. They declined to furnish details.
On the subject of the increasing violence, one official noted that American forces already are using more aggressive raids and other tactics to try to fight insurgents, which officials fear could alienate more Iraqis. [...]
Comment: Faith? Truly this is laughable. Who could have faith in a country that has been proven to be the most aggressive and bloodthirsty nation on the face of the planet? The US' foreign policy over the past century has resulted in the death, torture and persecution of countless MILLIONS of innocent people. FAITH??!!
Coalition under rocket fire as Bush admits guerrillas seek power

AFP
Wednesday November 12, 4:36 PM
A compound housing the US-led coalition in Baghdad has come under rocket fire, as US President George W. Bush warned extremists were trying to install a Taliban-style regime in Iraq and US troops shoot several civilians.
Violence also spread to the southern Iraqi port city of Basra where at least four Iraqis were killed in a bomb blast.
In the latest of near nightly attacks on the US-led coalition's Baghdad compound, at least four rockets hit inside the closed-off security zone, but there were no casualties, a senior US military officer told AFP. [...]
Terrorists 'could radiate Sydney'
A secret study is believed to warn that four million people could be contaminated in the event of a successful terror attack on the Lucas Heights nuclear reactor, according to a magazine report. [...]
Iran Had Secret Nuclear Program, U.N. Agency Says
By Joby Warrick and Glenn Kessler
Washington Post Staff Writers
Iran manufactured small amounts of enriched uranium and plutonium as part of a nuclear program that operated in secret for 18 years, according to a confidential report by a U.N. agency. The report harshly criticizes Iran for deliberately hiding evidence of its nuclear program from international inspectors and for numerous "breaches" in its nuclear treaty obligations. [...]
US Syria bill could lead to invasion
Aljazeera.net
Wednesday 12 November 2003, 3:35 GMT
A tough sanctions measure approved by Congress against Syria could lead to a future invasion of the country, a prominent US lawmaker has said.
Senator Robert Byrd, an outspoken critic of US Middle East policy, said on Tuesday that he feared the Syria Accountability and Lebanese Sovereignty Act would be used to justify future military action against Damascus.
"The United States is justified in seeking to apply political and economic pressure on Syria to change its foreign policy," the West Virginia Democrat said.
But he highlighted one particular section of the bill that referred to "hostile actions" by Syria against US-led forces in Iraq.
Preemptive strikes
"I have not seen any evidence that would lead me to believe that it is the government of Syria that is responsible for the attacks against our troops in Iraq."

"Such insinuations can only build the case for military action against Syria, which unfortunately is a very real possibility because of the dangerous doctrine of preemption created by the administration," he said. [...]
Saudi offers Islamist militants the gun or the sword, but no talks

AFP
Wednesday November 12, 4:42 PM
Saudi Arabia will talk to Islamist militants fighting to overthrow the regime with guns or swords, but there will be no dialogue, Interior Minister Nayef bin Abdul Aziz vowed. [...]
wwviews.com
Lets look at the facts. On 25th October 2003 the CIA released statements that warned of 'imminent Al Qaeda' attacks in Saudi Arabia. A few weeks later, BOOM. Either the CIA has infiltrated Al Qaeda so well, that they are able to tell when they will attack, or there is something fishy about this whole incident.
If the CIA did know about it, then clearly the information was coming from a source who would be pretty senior in Al Qaeda's network. Anyone who knows how the organisation works, would know, only those people who are DIRECTLY involved, have any knowledge about what's going to happen. This minimises the possibility of outsiders finding out.
Therefore the CIA's mole, must have been directly involved in the planning or execution of this terrorist act. If so, why didn't the CIA stop it ? [...]
The western media wants us to believe that Al Qaeda has now decided to kill its own, on its own land. [...]
Blair faces Bush security crisis as Livingstone hosts antiwar party
By Toby Helm, Chief Political Correspondent and Chris Boffey
12/11/2003
Tony Blair was struggling last night to prevent antiwar protesters from causing a full-scale security crisis during President George Bush's state visit to London next week.
Those opposed to the war in Iraq have been urged to breach security at Buckingham Palace during the president's three-day stay, during which he will be the guest of the Queen.
Separately, the Stop The War Coalition, which is organising a series of protests, said that, despite police plans to set up an exclusion zone, it would demand the right to march down Whitehall.
The demonstration on Thursday of next week, after Mr Bush has laid a wreath at the tomb of the unknown warrior in Westminster, is expected to attract at least 100,000 people.
The coalition, which is working with CND and the Muslim Association of Britain, said it had heard from police officers that the decision to close parts of London followed calls from the White House for the protesters to be kept away from Mr Bush.
Yesterday Ken Livingstone, the Mayor of London, encouraged the antiwar protests by saying he had arranged a Peace Reception for prominent opponents of the war and subsequent "occupation" of Iraq, next Wednesday midway through the president's stay.
His antiwar party, costing £8,000 of taxpayers' money, has caused consternation at Downing Street.
It has infuriated Mr Blair who has been busy trying to lure the Left-wing Mayor of London - expelled from the Labour Party three years ago for standing as an independent in the mayoral race - back into the Labour fold in a gesture of conciliation to the Left.
An upbeat and unapologetic Mr Livingstone said yesterday that the event would bring prominent peace-minded people together and serve as a powerful antiwar "statement". [...]
Speaking to journalists at Downing Street after talks with the Australian Prime Minister, John Howard, Mr Blair defended the right to protest but said people should recognise the value of Britain's "special relationship" with Washington.
"The great thing about living in a democracy is that people are free to express their view," Mr Blair said. "But I think we in this country should be proud of our alliance with America.
"I think we should be proud of the fact that in the last few years a country like Afghanistan has been rid of the Taliban, that Iraq no longer suffers under the lash of Saddam and his sons."
Comment: According to Blair "the great thing about living in a democracy is that people are free to express their view", how true that is. However, this is not where it ends. In a democracy the people are not only free to express their views but also have their collective majority views implemented by the officials they elected. Blair however seems to have rewritten the democratic rule book.
Now in the UK, democracy is about the people freely expressing their views and having those views completely ignored by their elected officials as was evidenced by the 2 million that marched against the war in Iraq in March this year. Blairs "new democracy" goes even further however.
With Bushs scheduled visit to the UK next week, Blair is authorising US style "protest zones", effectively censoring the "people's freedom to express their views". The conclusion then is that the UK and many other European nations have followed the American example of "democracy" which is based on "freedom" in name only, employing, as Blair does above, distortion and twisting of the truth to fool the people into believing otherwise.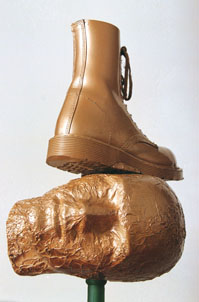 Compulsory ID cards by back door (UK)
By Philip Johnston, Home Affairs Editor
12/11/2003
Compulsory identity cards could be introduced within four years in a backdoor scheme outlined yesterday by David Blunkett, the Home Secretary.
From 2007, people renewing passports would be issued with an ID card and would have to pay £77 at current prices. At present, passports cost £42.
Identity cards may also be combined with driving licences at a cost of £73 instead of £38.
The cards on their own would cost £35, but 16-year-olds would receive them free. The elderly and people on low incomes would pay £10.
The charge would cover the cost of biometric identifiers, such as iris prints, fingerprints or facial recognition, taken from everyone wanting to travel abroad or to drive.
More than 40 million Britons have a passport and about 35 million hold a driving licence. As each comes up for renewal the personal details would be entered on a national identity register and the new document combined with an ID card.
Once about 80 per cent of the population has the cards, a decision would be taken making it compulsory to produce the document to access public services such as the NHS, or to get a job or claim benefits. [...]
Mr Blunkett said the Americans and other EU countries would soon insist that all travel documents contained biometric identifiers and Britain could not be left as "the soft touch".
The cost to the taxpayer for setting up the database would be almost £200 million. [...]
Tony Blair said: "It is important to realise that we live in a quite different world today. There is a real security threat."
Comment: More lies and deception from Blair, employing fear in an attempt to get the population to actually PAY for what amounts to a government surveillance collar around their necks.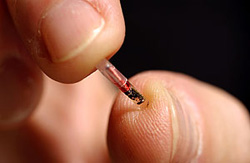 First VeriChips sold in Europe
Palm Beach-based Applied Digital Solutions (Nasdaq: ADSX) said its VeriChip Corp. subsidiary has received a purchase order for 400 VeriChips and 34 handheld scanners from its distributor for Russia and Switzerland - the company's first sales in Europe.
The technology development firm said the distributor agreed to buy a total of 1,000 VeriChips and 100 scanners in 2003, as part of a five-year minimum purchase of 51,000 VeriChips and 2,600 scanners required to maintain its exclusivity.

About the size of a grain of rice, VeriChip is an under-the-skin, radio frequency identification microchip.

The Swiss-Russian distributor, RussGPS, has offices in Moscow and Zurich and operates throughout the former Soviet Union region.

The distributor's initial plans call for using VeriChip for its security-related and emergency identification applications.
Al-Qaeda threat to Bush during Britain trip
Channelnewsasia.com
12 November 2003 1418 hrs
LONDON : Al-Qaeda terrorists using the cover of antiwar protests are a real threat to the safety of US President George W. Bush during his state visit to London next week, Britain's most senior policemen have warned.
"We are not so concerned about some antiwar protester throwing rotten fruit at the president. Our worry now is the more dangerous elements who may be here," said a senior Scotland Yard source quoted in The Times newspaper Wednesday.
The report came the day after antiwar demonstrators accused the government of blocking their right to protest in central London against Bush's visit from November 18 to 21. [...]
"It is an outrage that the most unwelcome guest this country has ever received will be given the freedom of the streets, while a movement that represents majority opinion is denied the right to protest in the area which is the heart of government," said Stop the War Coalition convenor Lindsey German. [...]
A Scotland Yard source quoted Wednesday in The Times described the original demands made by the US Secret Service as "totally unacceptable".
"They wanted to turn London into little Washington by closing roads for miles around, hours before the president's motorcade passes, and that is just not acceptable here," the unnamed source said. [...]
Bush's £5 million policing bill
Press Association
Wednesday November 12, 2003 11:38 AM
The multi-million pound bill for US President George Bush's visit must be met by the Government, the deputy chairman of the Metropolitan Police Authority has said.
A clear line of command must also be set down to ensure that the Commission and not the Americans are ultimately responsible for security, Richard Barnes said.
The estimated bill for policing during Mr Bush's time in London next week is £5 million, according to Mr Barnes. "This should not fall on the ratepayers of London," he told BBC Radio 4's Today programme. This is a national visit. He has been invited by the Government and the Queen. It is the nation that should pay for it, not Londoners." [...]
Europe unveils agency to protect its borders
By Ambrose Evans-Pritchard in Brussels
The Telegraph
November 12, 2003
Plans were unveiled yesterday for a pan-European border agency to help to seal the European Union's new frontier after expansion next year.
The fledgling agency is scheduled to start work in January 2005 with a £4 million budget and a staff of 30.
The Agency for the Management of Operational Cooperation at the External Borders will serve as a headquarters for air, sea, and land surveillance, keeping watch on Poland, Slovakia, and the Baltic states that will soon have the task of patrolling the EU's eastern borders.
Antonio Vitorino, the EU justice commissioner, said the staff would take instructions from an EU minister and would not be able to dictate strategic policy. Britain hopes to join as long as the agency remains no more than a coordinating body.
German state plans headscarf ban
Tuesday, 11 November, 2003

A German state has begun moves to ban Muslims from wearing headscarves in schools. The bill was proposed by the state of Baden-Wuerttemberg following a supreme court ruling in September that allowed a Muslim teacher to wear a headscarf.
The legislation is expected to gain approval from the state parliament early next year.
Civil rights groups say a ban would hamper religious freedom but six other states are planning similar laws.
"The aim of the law is to forbid state teachers from wearing symbols which could be regarded as political," said Erwin Teufel, state premier of Baden-Wuerttemberg.
The region's Education Minister Annette Schavan said the headscarf was "seen as a symbol of cultural division and part of a history of repression of women".
In September's ruling, the federal constitutional court ruled the state could not ban a female Muslim teacher from wearing a headscarf because there was no law against it.
But the court also said German states could ban headscarves in schools if they passed new laws.
The ban will not apply in religious education classes, and Christian and Jewish symbols will not be banned.
Three states - Berlin, Hesse and Saarland - want headscarves banned in all public services.
Comment: The above seems to be designed to further entrench and alienate Arabs and Christians alike. To what end this is being done we can only speculate, but given the already inflamed nature of middle eastern politics (largely due to Israeli and western incitement) we can safely say that reconciliation is not on the agenda - to put it mildly.
Woman who files sexual assault case against Dubya turns up dead
It is certainly not atypical for anyone with the potential to expose the lies of the powers that be to meet with an unfortunate "accident". Take the 4 people who knew the truth of the Jessica Lynch fiasco, all died in bizarre "accidents."
Margie Schoedinger alleged sexual and psychological abuse at the hands of Bush and FBI agents. The original story was surrounded by controversy, yet given Bush's obvious psychopathic nature and the need of the psychopath to periodically "refresh" themselves with a descent into filth, we cannot discount that it may be true. In particular, given her untimely demise (or timely from Bushs point of view) by way of a gunshot wound to the head, and the fact that it was declared "suicide", we are highly suspicious.
So can it be true that America has a psychopathic rapist and mass murderer as their international representative and commander in chief? If so, where does this leave the "American dream"? What of "land of the free and home of the brave"? What of "our freedom and democracy?" What place can these things have in a country ruled by people such as Bush?
The answer is clear: none.
These catch phrases serve only to delude and obfuscate the true nature of the "beast" that is the US military industrial complex. There are some harsh realities that must be faced by many American citizens if they are to avoid becoming the cannon fodder in the approaching American-made "holocaust".
Eight dead as general strike takes violent turn in Dominican Republic
In the midst of war, key family benefits face cuts
By Karen Jowers
Army Times staff writer
Commissaries and the Defense Department's stateside schools are in the crosshairs of Pentagon budget cutters, and military advocates, families and even base commanders are up in arms. [...]
"Betrayal — write that down and put it in your report," said Col. John Kidd, garrison commander of Fort Stewart, Ga., testifying at Tafoya's forum on the need to keep military-run schools on his post. "As a commander, I will fight this tooth and nail. Folks down there are not just militant on this issue. They will march on Washington." [...]
US blocks payout to Gulf war veterans
Julian Borger in Washington
Tuesday November 11, 2003
The Guardian
The Bush administration has blocked compensation for US soldiers captured and tortured during the first Gulf war, arguing that the money was now needed for Iraq's reconstruction, veterans' lawyers said yesterday. [...]
"I remember it so well, the look on my husband's face when he heard the decision, because finally there was a public record," said Cynthia Acree, whose husband, Clifford, a Marine colonel, had his skull fractured and nose broken while in Iraqi detention.
"But now our government wants to act like none of this happened, to throw out the entire case. My husband is an active-duty Marine colonel, and President Bush is his commander-in-chief. But I'm not. And I can say that I feel betrayed."
Navy Remaking Boot Camp for Recruits
American Workers can safely say, Bye, Bye to the Slice of the American Pie
Norma Sherry
11/11/03: (ICH) I'm just going to blurt it out; tell it like it is. In the words of the venerable, Walter Cronkite, "that's the way it is". Here it is folks; outsourcing is tantamount to legalized slave labor.
Of course, it's much more than that to the American worker. Ask anyone who is out of work, out of unemployment, on the verge of losing their home and all that they worked for and thought was their American dream come true. Their jobs by the multi-millions have left the shores of the U.S. for greener, cheaper labor. Slave labor.
A dollar an hour versus twenty-five or fourteen, or even ten, you figure the math, big business, not-so-big business, even the little businesses are moving in droves to lands faraway. The problem with doing so, however, is multi-dimensional.
For the millions of American workers who have lost their jobs, the prospects are very dim.
Jody, who has worked as an IT professional for twenty years, lost her job when her company outsourced its workforce to a foreign land and foreign workers. In five months, she hasn't been interviewed even once despite her very marketable skills. When her unemployment runs out, she fears she'll have no recourse but to sell their home.
Beverly says, "I completed my graduate degree in engineering and truly thought that I was living the American dream." That is until three years ago when she and her coworkers watched as the jobs dwindled down and were shipped first to Mexico and then elsewhere. All the years of bettering herself, securing her future in the finality were measured in her ability to instruct her replacement to do her job. Humiliation and degradation were her reward.
Fern was in healthcare for thirty years. She watched as nursing jobs were given to immigrant nurses rather than American graduates. Sadly, she laments observing sweet, dedicated and idealistic young women she trained become hardened and embittered.
How did this happen. Where were we? Did we have our heads buried in the sand? Or were we preoccupied with the realities of everyday life? Perhaps that's what our policy makers counted on. But I can tell you one thing for certain. It didn't happen overnight. [...]
Time Warner Directors Make Large Stock Sales

By David A. Vise
Washington Post Staff Writer
Wednesday, November 12, 2003
Members of Time Warner Inc.'s board of directors have been heavy sellers of the giant media company's stock this year, with Netscape founder James L. Barksdale and two former America Online executives with ties to former AOL chairman Steve Case joining media maverick Ted Turner in unloading shares.
Four Time Warner board members have sold more than 68 million shares this year, while one director has purchased 1 million shares, according to Securities and Exchange Commission filings compiled by Thomson Financial.
Overall, there have been 52 reported sales and four purchases of Time Warner stock by corporate officers and directors in 2003, records show. [...]
Medicare Stung by Wheelchair Scam
By LARRY MARGASAK, Associated Press Writer
Wed Nov 12, 2:12 AM ET
WASHINGTON - U.S. authorities have launched 50 separate investigations to stop unscrupulous power wheelchair suppliers from defrauding Medicare and causing anxiety to beneficiaries like 85-year-old Euralda Clodomar.
Phony claims seeking reimbursement for the expensive equipment have skyrocketed to the top of Medicare investigators' problems. The agency pays 80 percent of a chair's cost, and its share grew from $22.3 million in 1995 to $663.1 million in 2002, already surpassed this year.
In many cases, the beneficiaries, including Clodomar, had no knowledge that someone stole their Medicare identification numbers and submitted claims. Medicare investigators have identified $167 million in fraudulent claims in more than 20 states, they told The Associated Press. [...]
Carter slams human rights decline
By Doug Gross in Atlanta
PERCEIVED human rights violations by the United States during the war on terrorism could allow dictators in other nations to justify their own abuses, former president Jimmy Carter said.
Opening a conference of international human rights workers, the Nobel Peace Prize winner said an erosion of civil liberties in the US had "given a blank check to nations who are inclined to violate human rights already".
He cited the indefinite detention of hundreds of terrorism suspects from Afghanistan at the US Navy base in Guantanamo and a post-September 11 round up of about 1200 US immigrants - many of whom were held for months without being formally charged with any crime.
"I say this because this is a violation of the basic character of my country and it's very disturbing to me," Carter said. [...]
Spaniard criticizes U.S. over Guantanamo
11/11/2003
MADRID (AP) — In a rare admonishment of the United States, Spain's foreign minister said Tuesday the indefinite detention of terrorism suspects at the U.S. Navy base in Guantanamo Bay was a "major error."
Foreign Minister Ana Palacio told Spanish television channel Telecinco she hoped the U.S. Supreme Court would "open a path" that would remove the prisoners from "legal limbo." Palacio, along with the governing Popular Party, is known for her consistent support of the Bush administration and its war on terror. [...]
F.B.I.'s Reach Into Records Is Set to Grow
By ERIC LICHTBLAU
New York Times
WASHINGTON, Nov. 11 — A little-noticed measure approved by both the House and Senate would significantly expand the F.B.I.'s power to demand financial records, without a judge's approval, from car dealers, travel agents, pawnbrokers and many other businesses, officials said on Tuesday. [...]
Satellite remote control halts truck
NewScientist.com
A petroleum-laden truck has been stopped in its tracks by remote-control signals sent via satellite. The technology is one of a small number of devices being developed to prevent terrorists being able to hijack trucks and use them as weapons. [...]
Since 9/11, the US government has worried about terrorists using trucks transporting flammable or hazardous loads to attack buildings or bridges. The State of California has already drafted legislation that would make "stopping devices" a compulsory addition to all hazardous vehicles by 2005. [...]
Devices that read human thought now possible
Carl T. Hall
Chronicle Science Writer
New Orleans -- Less than a month after a widely heralded experiment showed how thought-reading implants can work in monkeys, scientists presented new findings Sunday suggesting such machines could work in people, too. [...]
Mistaken police raid shakes up family
By S.K. BARDWELL
Houston Chronicle
Rather than netting the suspected killer for whom they were looking, a phalanx of armed sheriff's deputies burst into a northwest Harris County home Saturday, terrifying a sleeping 10-year-old girl and a man cooking gumbo. [...]
TWO neighbours in a Sydney suburban street came to blows yesterday in the city's first reported case of "hose rage" caused by tempers flaring over water conservation.
As Sydney Water revealed thousands of residents are reporting water restriction breaches by neighbours, one pristine front lawn became an urban battlefield for a new suburban phenomenon. [...]
Captured on South Beach, Satan later escaped. His demons and the horrible Bloody Mary are now killing people. God has fled. Avenging angels hide out in the Everglades. And other tales from children in Dade's homeless shelters.
Slew of odd crimes strike municipality
By Robert Airoldi, STAFF WRITER
It's talked about in police stations and hospitals around the world and has been studied at length. Legend has it that the full moon brings out the worst in people.
Whether that occurred in Union City during the weekend is anybody's guess, but many police officers and emergency-room nurses swear the full moon does -- on occasion -- cause an increase in activity.
Police responded Saturday night to an inordinate number of strange and, in some instances, violent crimes.
"We don't track it," Lt. Rod Romano said, "but there certainly seems to be some connection."
Three people were detained on psychiatric holds, three for spousal beatings and one for violating an emergency protective order. One juvenile was reported missing and one woman on a psychiatric hold said she was raped a year ago.
There also were a few more disturbing crimes than usual Friday and Sunday. [...]
Kids taken hostage, three officers shot in standoff
November 12, 2003
DALLAS, Texas (AP) -- Three officers were shot and wounded early Wednesday during a standoff at an apartment, and officials said they feared two people were dead in a bedroom.
Three children remained inside the apartment with a shotgun-wielding man, a police spokesman said. Police said they were able to rescue four other children when they arrived.
The episode began about 3:40 a.m. when police went to the Meadowpark Apartments in southwest Dallas because of reports of gunfire. The officers entered and found seven children unhurt, but were told that the gunman was inside a bedroom, said Sgt. Gil Cerda, a police spokesman. The three officers were shot when officers entered the bedroom, he said.
"There's possibly two deceased persons in the bedroom inside with the shooter," Cerda said.
The officers retreated, and adjacent apartments were evacuated as the standoff continued, Cerda said. Three of the seven children remained in the apartment, and authorities said they could be seen through a window and appeared to be unharmed.
Police negotiators were brought in, Cerda said. About 6 a.m., police fired tear gas in an attempt to reenter the building.
The officers were taken to nearby Methodist Hospital where they were in good condition, said nursing administrator Tom Hall.
A neighbor said the sound of gunfire awakened him.
"I heard three big gunshots. About 10 minutes later, the police came, knocked on doors and said that we had to 'get out, get out now,"' Darrell Davis said.
"When they found the gunman in there, there were about three shots from a big gun and we all ran for cover," he said.
Father tortured "possessed" daughters in basement
Tilrettelagt av Carin Pettersson
A man from Stockholm has been charged for abusing his two daughters and their cousin for several years. The man believed the girls were possessed by evil spirits. [...]
Woman locked husband naked in bathroom for three years
AFP
November 12 2003
A Turkish woman locked her rich industrialist husband naked in the bathroom for three years, claiming he was mentally disturbed, press reports said after the man was released.
Orhan Babutcu, 41, was found naked and traumatised sitting on the shower tiles next to the toilet, with a bowl on the floor for his food, the reports said.
The woman, Kevser Babutcu, said it was obvious her husband was mad because he took three showers a day. She said she was going to seek a divorce after 15 years of marriage, Hurriyet daily reported.
"Her goal was to make me sick so that I'd die and she'd inherit my fortune," Mr Babutcu said. [...]
By Isabel Oakeshott
Evening Standard
Ten British people have put their names forward to become the first in the world to undergo a face transplant.
Arafat: Israel has right to live in peace
12/11/2003
Palestinian leader Yasser Arafat told his MPs today that Israel has a right to live in peace.
"The Israeli government says and spreads lies that we don't want peace," Arafat said in the West Bank town of Ramallah.
"I want to talk here to the Israeli people to say in public and in Arabic that this is not true.
"We do not deny the right of the Israeli people to live in security side-by-side with the Palestinian people that is also living in their own independent state," Arafat said in an address to parliament.
"The time has come for us to get out of this spiral, this destructive war, that will not bring security to you or us."
Arafat began his speech with a scathing attack on Israel.
He harshly criticised the targeted killings of Palestinian militant leaders, Jewish settlements and an Israeli security barrier being built in the West Bank.
"The goal of the Israeli government from behind this war is not hidden from the world," Arafat said.
"It is a dangerous goal of preventing our people from their land, their rights and an independent state."
He said the dozens of Palestinian attacks against Israeli civilians over the past three years were in response to Israeli military aggression against Palestinians.
Nonetheless, the Palestinian leader said the violence must end.
Comment: To our knowledge, Sharon has never uttered words to the effect that the Palestinian people have a right to live in peace. His entire ethos is to exterminate all who he perceives as standing in the way of the fulfillment of his fundamentalist fanatical drive to bring on the old testament prophesy as conveyed by the vengeful Jewish god Yahweh. And HE has the gall to talk about terrorism!
Israel complains to Greece about composer who called Jews 'root of evil'
By Haaretz Service and The Associated Press
Israel has complained to the Greek government about comments by composer Mikis Theodorakis, who called Jews "the root of evil" and dismissed key Biblical figures as mere "shadows," a diplomatic source said Wednesday.
The source, who requested anonymity, said the Israeli Embassy in Athens pointed out the "gravity" of the remarks by Theodorakis, who is best known for the score of the 1964 film "Zorba the Greek."
The Foreign Ministry issued a statement denouncing the comments as "anti-Semitic" and expressing "sorrow that such remarks were made by a personality of his stature."
Meanwhile, the Foreign Ministry has also found that Israel is perceived as a provocative, unreliable country whose agenda is controlled by a handful of settlers, Army Radio reported Wednesday.
The findings were contained in a draft document on Israel's image in the world, which also indicated rising international criticism against Israeli policies, the radio reported.
Sympathy for the Palestinians is high in Greece and protests are often held to criticize Israel's actions in the Palestinian territories.[...]
Monday October 13, 2003
The Guardian
"We have a legend in Turkey that only a hair's breadth separates heaven from hell. And what we are doing is a bit like that - a walk along a high wire off which you could fall any time." Over strong coffee in the back streets of Taksim, Istanbul, on the eve of England's meltdown football fixture, Ertugul Kurcku is describing his innovative but precarious journalistic enterprise in a country where practice of the craft can, if too honest, cost a writer their liberty or life.
A leader of the student movement in the 1960s, Kurkcu is now immersed in what he calls "guerrilla action of a different kind - with words"; he is coordinator of the Independent Communications Network (BIA), fostering a new, unfettered journalism under a government that tolerates little or none.
Turkey is, however, desperate to clean up its human rights image with a view to eventually joining the European Union, and has been forced to allow the opening of political space in which the BIA has cultivated an undergrowth of free speech. The twist, however, is this: Kurcku's project is funded almost entirely by the EU, and the Turkish government - despite its determination to please Brussels - is doing its best to close Kurcku and his colleagues down. [...]
BEEP! You're on Korean Candid Camera
November 12, 2003
SEOUL (Reuters) - Alarmed at the use of camera phones to catch individuals in compromising situations, South Korea has ordered manufacturers to ensure that all new handsets emit a beep whenever a picture is taken. [...]
Crime gangs extort money with hacking threat
By Chris Nuttall in London
November 11 2003
Evidence of a new type of international extortion racket emerged on Tuesday with revelations that blackmailers have been exploiting computer hacking techniques to threaten the ability of companies to conduct business online.
Gangs based in Eastern Europe have been found to have been launching waves of attacks on corporate networks, costing the companies millions of dollars in lost business and exposing them to blackmail.[...]
Wellington rocked by quake (Australia)
Wellington was hit by a 4.4 magnitude earthquake yesterday evening.[...]
Small earthquake strikes near Bishop, California
Posted on Tue, Nov. 11, 2003
Associated Press
BISHOP, Calif. - A small earthquake shook wooded wilderness in northern Inyo County, apparently causing no injuries or property damage, officials said.
The magnitude-3.5 temblor hit at 6:08 p.m. Monday and was centered near Highway 395 about 12 miles west-northwest of Bishop, according to a preliminary report from the U.S. Geological Survey. [...]
Ocean earthquake occurs off Kamchatka coast
10.11.2003
By Alexander Arkhipov
PETROPAVLOVSK-KAMCHATSKY, November 10 (Itar-Tass) - An underground earthquake with an epicenter located at a depth of 12.2 kilometers beneath the seabed has occurred in the Pacific Ocean off the Kamchatka peninsula's coast. The earthquake measured 4.7 points on the Richter scale. [...]
Earthquake Recorded In Azerbaijan
The earthquake occurred today at 12.43 in 12 km far to north-east from the city of Shamakha.
According to the Republic Center on Seismology, under auspices of National Academy of Sciences, 4.5 point (12-?point scale) earthquakes took place whilst in Pirkuli indicator made 4 points and 3.5 point - in Shamakha. Agency "Trend" reports no victims and destruction.
From correspondents in Taipei
12nov03
AN earthquake measuring 5.5 on the Richter scale jolted northern Taiwan today, seismologists said, but there were no immediate reports of damage or casualties. [...]
Moderate earthquake shakes Tokyo
Wed 12 November, 2003 08:53

TOKYO (Reuters) - A moderate earthquake has shaken Tokyo but there are no immediate reports of damage or injuries and national broadcaster NHK says there is no danger of tidal waves.
The earthquake on Wednesday measured 6.5 on the Richter scale and four on the Japanese seismic scale of seven in some areas of Tochigi prefecture, to the north of Tokyo.
NHK said the focus was below the seabed at a depth of 240 miles off the coast of the Kii peninsula in western Japan. [...]
HAARP Facility to Quadruple Power
Oct 31 2003

Technical Specialist Richard Lampe, KL1DA, represented the League at the 2003 High Frequency Active Auroral Research Project ( HAARP) RFI meeting September 24 at the HAARP site near Gakona, Alaska.
"Joint funding through DARPA will allow HAARP to quadruple in size from its current 960 kW output to 3.6 MW," Lampe says. "When completed in 2006, HAARP will then be the premier ionospheric research facility with beam-steering capabilities that other similar arrays worldwide don't have." Under terms of its experimental license, HAARP must transmit on a noninterference basis, and Lampe--who is ARRL liaison to HAARP--says the staff at the control center immediately shut down the transmitters when harmonics were detected on 75/80 meters during experiments last year. "Alaska hams monitor the bands and aid HAARP engineers by reporting RFI issues as soon as they happen," Lampe said.
Comment: Most worrying in the above is the fact that the joint funding is through DARPA. DARPA is made up of the most obsessive and power-mad war mongers on the face of the planet, ploughing vast resources into researching and developing the best and most efficient ways to kill.
USGS Worldwide Earthquake Activity
The following is a list of quakes recorded by the US Geological Survey over the last four days as of November 12 at 01:34:28 UTC.
DATE Magnitude COMMENTS

2003/11/12 5.9 MOLUCCA SEA

2003/11/11 6.1 VOLCANO ISLANDS, JAPAN REGION
2003/11/11 4.7 OFFSHORE CHIAPAS, MEXICO
2003/11/11 5.8 KERMADEC ISLANDS REGION
2003/11/11 5.9 KERMADEC ISLANDS REGION
2003/11/11 3.5 CENTRAL CALIFORNIA

2003/11/10 4.6 RUSSIA-KAZAKHSTAN-XINJIANG BORDER REGION
2003/11/10 5.0 EASTERN UZBEKISTAN
2003/11/10 4.5 FOX ISLANDS, ALEUTIAN ISLANDS, ALASKA
2003/11/10 4.8 NEAR COAST OF GUATEMALA
2003/11/10 4.8 HOKKAIDO, JAPAN REGION

2003/11/09 6.6 CENTRAL MID-ATLANTIC RIDGE
2003/11/09 5.8 HALMAHERA, INDONESIA
2003/11/09 4.8 OFFSHORE CHIAPAS, MEXICO
2003/11/09 4.6 OFF THE EAST COAST OF KAMCHATKA, RUSSIA
Scientists hope to get more accurate Earth history
Mon, Nov. 10, 2003
By ROBERT S. BOYD
Knight Ridder Newspapers
WASHINGTON - Scientists have launched a project to construct a highly accurate calendar of key events in what they call "deep time," the almost unimaginable span since Earth was born 4.5 billion years ago.
Sponsors think a precise prehistoric time scale can help them better interpret what is happening to our planet and predict what may lie ahead as the world gets warmer. For example, they hope the project, called CHRONOS (Greek for "time"), will help settle arguments over the causes and effects of climate change on the evolution and extinction of species.
Project director Bruce Wardlaw, a geologist at the U.S. Geologic Survey in Reston, Va., said the purpose was to "produce a global time scale of Earth's history to solve problems for the benefit of society."[...]
"Climate can change on a dime," said Gerilyn Soreghan, who teaches geology at the University of Oklahoma in Norman.
"We see more and more evidence for abrupt climate change," said Isabel Montanez, a geologist at the University of California in Davis. She said climate records showed that carbon dioxide - a "greenhouse gas," which contributes to global warming - was approaching its highest level in 20 million years, long before human ancestors appeared.[...]
"We are likely to, in a way, relive the past," Ward said.[...]
Satellite Captures Iceburg's Demise
European Space Agency -- ESA's Envisat satellite was witness to the dramatic last days of what was once the world's largest iceberg, as a violent Antarctic storm cracked a 160-km-long floe in two. [...]
47 die of respiratory diseases, diarrhoea in Bangladesh
TERRA.WIRE
DHAKA (AFP)
At least 47 people, mostly children, have died over the past two weeks from respiratory diseases and diarrhoea triggered by pollution and the change of seasons, officials and reports said Saturday.
At least seven people died and 2,900 fell ill in the past day alone from diarrhoea, which can lead to fatal dehydration if not promptly treated, a spokesman for the government's health directorate said.
In the capital Dhaka, 40 children have died of bronchitis and pneumonia in the past two weeks, the mass-circulation daily Janakantha reported.[...]
Girl, 12, may be sixth child flu victim
Ananova.com
12:37 Wednesday 12th November 2003
Post mortem tests are being carried out to check whether a 12-year-old girl has become the sixth child victim of a virulent strain of influenza.
Fern Summers was found dead at her home in West Newton, Norfolk, on Saturday.
Two weeks ago tests showed that an 11-year-old boy from nearby Hunstanton had died from Fujian flu.
Ori Kane Harrison, who died suddenly in late October, was the fifth child in the UK to have died from the Fujian flu strain in recent months. [...]
RIYADH, Saudi Arabia, Nov. 11 (UPI) -- Seven people were killed and 48 others were injured in the Saudi holy city of Mecca due to floods and torrential rain Tuesday.[...]The largely desert kingdom rarely receives any rain at all.
Spanish scientists to assess long-term damage from Prestige oil disaster
TERRA.WIRE
LA CORUNA, Spain (AFP)
The Spanish government has called in scientists to assess the continuing damage to the environment from the oil tanker Prestige, which sank off its northwestern coast one year ago, Spanish media said on Saturday.
The sinking of the Prestige on November 19, 2002, was Spain's worst environmental catastrophe. For the last 12 months the vessel has been leaking thousands of tonnes of toxic heavy fuel oil into the rich fishing waters off Galicia. It has polluted hundreds of pristine beaches along the coasts of Spain, France and Portugal, killing seabirds, fish and corals.[...]
"Ghost fleet" row fuels controversy over global ship-breaking
TERRA.WIRE
LONDON (AFP) Nov 09, 2003
Every year hundreds of ships, many rusting and contaminated with toxic materials, criss-cross the world's oceans to be broken up, but few attract so much interest as the "ghost ships" heading for Britain.
The departure of four decrepit, chemical-laced former US Navy vessels from the US East Coast last month to northeast England has re-ignited the row over the multi-million dollar global ship-breaking industry.[...]
'Paul Revere' scientist suggests unusual asteroid warning system
Just last month, a meteorite slammed into a village in eastern India.
Eleven people were injured and two homes were destroyed by fire.
Perhaps more unsettling, in 1908, a space rock screamed into Earth's atmosphere, exploding in the sky over a remote Siberian forest with a force greater than a 10-megaton nuclear blast.
Fires started, wildlife perished and trees fell for miles in every direction.
These days, efforts underway to detect comets and asteroids on a potential collision course with Earth include an unassuming scientist from Ridgewood, N.J., with an idea for a better method.
William A. Hoffman III doesn't have a company, or investors for his detection system, called "Looking out for you." But he received a patent (U.S. No. 6,452,538), and some distinguished astronomers say his idea is intriguing.
Hoffman wants to place telescopes on the outer-space side of telecommunications satellites where they can continuously scan the heavens, free from cloud cover that often hampers earthbound telescopes, to look for what astronomers call NEOs, or Near Earth Objects.
The data would beam down to a ground station and be sent - for a fee - to schools or institutions or individuals who could use it to pinpoint the rocks' orbit.[...]
Hermes makes its return to Earth
Nov. 10, 2003
BY CAROLE RUTLAND
Special to the Ledger-Enquirer
It is Oct. 28, 1937, and unbeknownst to anyone, a small rocky body is sailing toward Earth in an orbit that comes within 500,000 miles of us. It zooms quickly around the sun and heads back to a place in the great beyond. [...]
We now know that every 777 days, Hermes approaches Earth. Fortunately for us, our planet has always been in another, more distant part of its orbit when Hermes crosses. [...]
Legal Battle Underway For Ownership Of Asteroid Eros
[T]he first interplanetary legal battle has been joined.[...]
Birth bounty as woman claims six sets of triplets
Owen Bowcott
Thursday November 6, 2003
The Guardian
A Turkish woman is reported to be about to give birth to her sixth set of triplets, an act of physical endurance which is intriguing fertility specialists.[...]
Keeping Watch for Interstellar Computer Viruses
By Leonard David
Senior Space Writer
Microsoft may have to fork up big bounty bucks trying to unearth future hackers, particularly when they are light years away on distant worlds.
Add one more worry to the computerized world of the 21 st century. Could a signal from the stars broadcast by an alien intelligence also carry harmful information, in the spirit of a computer virus? Could star folk launch a "disinformation" campaign -- one that covers up aspects of their culture? Perhaps they might even mask the "real" intent of dispatching a message to other civilizations scattered throughout the Cosmos.
These are concerns that deserve attention explains Richard Carrigan, Jr., a physicist at the Fermi National Accelerator Laboratory in Batavia, Illinois. Those engaged in the Search for Extraterrestrial Intelligence (SETI), he contends, should think about decontaminating potential SETI signals.
The so-called "SETI Hacker" hypothesis, Carrigan argues, is an issue of interstellar discourse that should be taken seriously. We should exercise caution when handling SETI downloads, he said [...]
It does not resemble any desert plain in outback Australia, but around 50 kangaroos which escaped a French animal park 30 years ago are happily living wild in a forest west of Paris. [...]
French motorists stunned by kangaroo road signs
Ananova.com
12:31 Wednesday 12th November 2003
French motorists have been startled to see warning signs featuring pictures of kangaroos appearing by the sides of roads near Paris.
The signs are alongside routes surrounding the Rambouillet Forest outside of Paris, reports French TV station TF1. Local residents painted the marsupials on existing notices to warn motorists of the animals jumping across the road.
The Rambouillet Forest is home to antelopes, pink flamingos and ostriches, as well as kangaroos from Australia. Recently kangaroos have been observed on the roads and locals have decided to take matters in their own hands to protect them.
"The kangaroo images have been painted on top of existing road signs," said the Mayor of Emance, Francoise Grangeon.
Cash-strapped abattoir pays workers in dead chickens
Ananova.com
11:37 Wednesday 12th November 2003
A cash-strapped abattoir says it has been forced to pay its workers in dead chickens instead of cash.
Management at the Akvila slaughterhouse in the town of Ajtos, south-eastern Bulgaria, told its workers it had run out of money.
The company has reported tax arrears of £740,000 pounds, local newspaper Sega reported.
Police dog sacked for being too nice
Ananova.com
10:38 Wednesday 12th November 2003
A German police dog has been sacked after catching more rabbits than criminals.
Dog handler Bianca Mauermann, 29, from Dresden said the one-year-old dog, Falk, was just too nice to work for the police. [...]
---
Remember, we need your help to collect information on what is going on in your part of the world!
We also need help to keep the Signs of the Times online.
---

Check out the Signs of the Times Archives

Send your comments and article suggestions to us

---
Fair Use Policy
Contact Webmaster at signs-of-the-times.org
Cassiopaean materials Copyright ©1994-2014 Arkadiusz Jadczyk and Laura Knight-Jadczyk. All rights reserved. "Cassiopaea, Cassiopaean, Cassiopaeans," is a registered trademark of Arkadiusz Jadczyk and Laura Knight-Jadczyk.
Letters addressed to Cassiopaea, Quantum Future School, Ark or Laura, become the property of Arkadiusz Jadczyk and Laura Knight-Jadczyk
Republication and re-dissemination of our copyrighted material in any manner is expressly prohibited without prior written consent.
.