---
"Disasters involve cycles in the human experiential cycle [...] Human cycle mirrors cycle of catastrophe. Earth benefits in form of periodic cleansing. Time to start paying attention to the signs. They are escalating. They can even be 'felt' by you and others, if you pay attention."
New terror alerts regarding the fear of hijacked planes are out. Old "terror experts" with dubious backgrounds are are also on the loose. Don't these terror alerts mean that the war on terror doesn't work? No. It means that there needs to be more war on terror. At least that is the current twisted propaganda, in one of the greatest coups on the human mind of all time. Just look at NORAD, they refuse to release their 9/11 data, and yet no one is asking why!?
You'll be glad to hear that Iraq is making good progress on the whole "freedom and democracy" thing. Already millions of history schoolbooks have been shipped and Iraqi children are now enjoying their very own version of history, one in which there is no mention of Saddam, no Gulf War I, no lies about WMD, no aggressive American policy, no aggressive Americans that murdered their relatives, no "Shock and Awe", no Israel that has designs on their land. But hey, that's what US democracy is all about.
The next terror attack that the Bush Reich concocts will certainly bring the Police State more powers. An entire school in South Carolina was forced at gun point face down on the ground in a police raid. New York City fascist bureaucrats patrol stores, which sometimes means they crawl around on the floor searching for hidden ashtrays. The FBI visits a web site owner with a message for him.
Israel has declared open season on Palestinians. The U.S. says it will dock the cost of the security fence from loan guarantees to Israel, which will undoubtedly have NO effect whatsoever on the plans to build the wall. The CBS show 60 Minutes will report on Sunday that Arafat has $800 million that he stole from Palestinian aid money.
A colorful lunar eclipse tonight, bulletproof cars, U.S. hospitals are deadly, Congress hears about lunar power stations, newly discovered fault zones in Seattle, acoustic megaliths, and the ice age is on the way. Strap yourselves in - today is a particularly rough one.
Israel Begins Random Shooting Policy in Nitzarim
Press Release: Palestinian National Authority
New IOF Rules Allow Shooting Any Palestinian Near "Nitzarim" Settlement
GAZA - A new set of rules was recently released by the Israeli military command, permitting the Israeli occupying troops stationed in the illegitimate Jewish settlement of "Nitzarim" to shoot and kill any Palestinian carrying a binoculars in the vicinity of the settlement.
Israeli sources mentioned that the Israeli southern command has released these new rules after two Palestinians attacked the isolated settlement two weeks ago, killing three soldiers and wounding others. The sources claimed that these rules were released to prevent Palestinians from "observing Israeli military activity", which they say usually comes prior to planning an attack.
These new rules have never been applied in all of the occupied Palestinian territories. [...]
"Before the rules, we were afraid to go out after sunset, because the trigger-happy Israeli soldiers open fire at anybody who moves outside in the dark. After we heard about the new rules, I would be so afraid of letting my kids out to play even in broad daylight, because the soldiers might see them holding something similar to a binoculars and open fire. We can not possibly trust those soldiers, because they are occupiers and psychopaths, and they would not hesitate to shoot anybody, be it a child or an old man," Abu Kmail told IPC correspondent.
In response to these rules, several Israeli human rights organizations and Knesset members sent protest letters to the Israeli government's attorney general and the military advocate general, demanding the immediate cancellation of these rules, as they consider Palestinians who do not even pose a threat as legitimate targets. [...]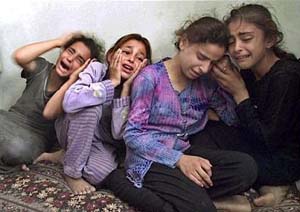 Sisters of the 15 year old Palestinian Muwataz Amudi who was shot dead by Israeli troops.
Mahmud, 10, went looking for songbirds ... and died in hail of bullets
Justin Huggler
Gaza Strip
The Independent
08 November 2003
Mahmud al-Qayed was out doing what he did every Friday - catching songbirds in cages to sell in the markets of Gaza. But yesterday the remote olive groves where the birds nest led him close to the fence separating the Gaza Strip from Israel. Too close for the soldiers guarding the fence.
They shot Mahmud, 10, four times, killing him as he tried to run.
The boy's father, Mohammed, was with him, and, at the funeral, he told how he took the bloodstained sweater from his son's dead body, and buried his face in it. [...]
This was not the first time a birdcatcher has been killed next to the fence here. Mahmud was the fifth to die here since the intifada began in 2000. He was the youngest, but before him a 15-year-old and a 13-year-old had also been killed. [...]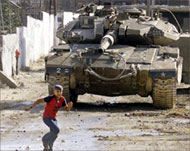 Israelis kill four Palestinians
Saturday 08 November 2003
Four Arabs have been killed and at least four wounded in several clashes with occupying Israeli forces in the West Bank and Gaza Strip.
Two Palestinians were killed by Israeli soldiers early on Saturday near the northern Gaza Strip town of Beit Hanun.
Details are still emerging of the clash, which took place close to the fence separating Gaza from Israel.
Meanwhile, in the West Bank city of Jenin, Israeli troops killed a 19-year-old Palestinian man and wounded two boys, local security and medical sources said.
Muhammad Salah, 19, was hit when soldiers opened fire on a group of young people throwing stones after the curfew had been imposed, the sources said.
They said the confrontation came as Israeli forces imposed a curfew on Jenin and its neighbouring refugee camp and searched homes in the area.
In the third fatal clash of the day another Palestinian, Muwataz Amudi, 15, was killed by Israeli fire in the nearby village of Birkin. Two other Palestinians were wounded as stones were being hurled at Israeli troops, Palestinian security sources and medics sources said.
The latest death brings to 3603 the number of people killed since the September 2000 outbreak of the Intifada, or Palestinian uprising, including 2688 Palestinians and 849 Israelis.
An Israeli army spokesman confirmed an operation was under way in Jenin, a bastion of the Intifada, but had no immediate comment on casualties.
Home dynamited
"More than 20 Israeli military vehicles raided Jenin's refugee camp on Saturday morning at 06:00 GMT," Aljazeera's correspondent at the scene reported.
U.S. to dock Israeli aid for cost of security fence

SPECIAL TO WORLD TRIBUNE.COM
Friday, November 7, 2003
The United States has deemed that Israel's security fence does not protect the Jewish state and plans to impose sanctions in connection with the project.
U.S. officials said a State Department team that examined the fence has dismissed the Israeli argument that the fence is required to protect the country from surface-to-missile attacks against civilian airliners that land and take off from Ben-Gurion Airport. [...]
Officials said the determination of the U.S. team has led to a State Department decision to deduct funds from the $9 billion in loan guarantees approved by the Bush administration. The amount of the funds has not been determined, officials said, but could exceed $1 billion. [...]
Comment: Not to worry, Israel will just fake some more "terror attacks" and the money will continue to flow.
Deal reached on Palestinian cabinet
Saturday 08 November 2003
The central committee of Yasir Arafat's Fatah movement has reached an agreement on the formation of a new government.
"The Fatah central committee reached a compromise that was approved in a vote by the majority of its members," a source close to Arafat said, on condition of anonymity.
The deal, reached late on Friday, was the result of a compromise between Arafat and Prime Minister Ahmad Quraya, who had been at loggerheads over the appointment of a new interior minister.
Quraya has renounced efforts to persuade Arafat to accept his candidate for the post, General Nasser Yussuf, and the post will go to a close associate of Arafat, Hakam Balaawi, the source said.
Limited brief
But Balaawi's responsibilities will be limited to civil issues and the all-important job of security will be handed to the Supreme National Security Council, of which both Arafat and Quraya are members.
Palestinian Authority funds go to militants
Friday, 7 November, 2003

The Palestinian Authority, headed by Yasser Arafat, is paying members of a Palestinian militant organisation which has been responsible for carrying out suicide attacks against Israeli soldiers and civilians, a BBC investigation has found.

Al-Aqsa militants have never been publicly backed by Yasser Arafat's Fatah faction.
A total of up to $50,000 a month is being sent to members of the al-Aqsa Martyrs' Brigades, an armed group that emerged shortly after the outbreak of the current Palestinian intifada, a BBC Correspondent programme reveals.
A former minister in the government led by ex-Prime Minister Mahmoud Abbas (Abu Mazen) says that the money is an attempt to wean the gunmen away from suicide bombings. He says the policy of paying the money was not instigated by Mr Arafat but has been carried out with his knowledge and agreement.
Despite the payments, the al-Aqsa group has not declared a formal ceasefire and Mr Arafat has not asked the group to stop the suicide bombings, according to an al-Aqsa leader interviewed by the programme. The Palestinian leader has publicly condemned recent Palestinian suicide bombings.
'Living expenses'
Abdel Fattah Hamayel, the minister for sports and youth until Abu Mazen resigned in September implemented the policy of paying what he describes as living expenses to the gunmen. He told Correspondent:
"Originally, some people in these groups had been chosen to work for the security services, so they were getting salaries and still are doing so."
He says this summer a decision was taken by the Palestinian Cabinet to pay living expenses to those al-Aqsa members not getting these salaries to help support their families.
He says the money is intended to ensure that al-Aqsa members were not influenced by outside organisations to carry out further suicide bombings. Al-Aqsa has not claimed to have carried out any suicide bombings since May.
When Arafat calls for a ceasefire, we will respect his decision and stop
Asked how the Palestinian Authority could be sure that the money was not spent on weapons, Mr Hamayel replied: "The amount sent to them is very small. At most, it's not more than $250 per person. How can anyone buy weapons with this amount of money?"
In April 2002, Israeli troops stormed Mr Arafat's compound in Ramallah as part of a widespread incursion into the West Bank in response to a number of suicide attacks. Israeli officials claim that they found documents proving that the Palestinian leader was funding Palestinian suicide bombers.
They used this as part of their argument, supported by US President George W Bush, that Mr Arafat could not be trusted and that rather than opposing terrorism, he was, in fact, encouraging it. [...]
Comment: Notice the above bolded paragraph. Then consider this article. Like the US government, it is very likely that, in order to ensure that peace does not "break out", the Israeli government must fight the war on both sides.
US television documentary: Arafat's wife, daughter live in Paris on expense of Palestinian aid money
Albawaba.com
07-11-2003, 07:09

Palestinian president, Yasser Arafat, transfers $100,000 from funds directed to the Palestinian Authority to his wife Suha who lives in Paris along with the couple's daughter, according to an investigative report conducted by CBS television show 60 Minutes, to be aired Sunday accross the United States.
According to the report, Arafat has accumulated in his private accounts more than $800 million from aid originally appropriated to the Palestinian Authority.
Raymonda Tawil, Mrs. Arafat's mother, is apparently also enjoying life in Paris at the expense of the Palestinian taxpayers, the report is to claim. Mrs. Arafat lives in Paris with her eight-year-old daughter, Zahwa.
Comment: Well, if the American media reports it, it MUST be true!
In Remembrance of the September 11th Dead!
By Donald Cassidy
It is foolish to think that a minute desert state and its partisans in America could overthrow the sovereignty of the American government, take control of the Executive, Legislative, and Judicial branches, and such agencies as the Federal Reserve, IMF, CIA, and launch us on a global war against the Arab world. It takes a vast and very rich Conspiracy and a century. The Conspiracy was described exactly more than a century ago in Europe and by President Wilson, long before this evil little state and its partisans were born.
The world is under siege by a European hierarchy of banking families, at the top largely Jewish, the money changers and money lenders of history. They are already the richest people on earth but it is not enough. They have a Faustian Grand Plan. They mean to own or control everything of value on earth. Their weapons: MONEY and DEBT — and Washington.
The rise of the Conspiracy over the last two centuries parallels the rise of Zionism. This is not a coincidence. Early on, the Conspiracy realized that it needed a strong political agency, Zionism, and its own country where it would be free from all governmental oversight and create the murderous rogue state (Israel) that menaces the world today through Washington. (The two were joined at the hip decades ago by the Conspiracy.)
The Conspiracy is invisible. It functions through its network of global and central banks and their many subsidized agents, organizations and fronts around the world. It financed the Morgans and the Harrimans. Even the haughty kingpin of the American Petroleum Cartel, David, is its lackey just like his ancestors. It controls the currency of all the major nations including Russia and China. It "takes" hundreds of billions from the American people every year. It has no regard for human life except as a resource for labor, taxes and armies. It has no god; money is its messiah.
A century ago, the Conspiracy had bankrupt Europe with its many wars (the lifeblood of the Conspiracy). A peaceful America, protected by two oceans, was on the verge of becoming the most powerful and prosperous nation on Earth and the Conspiracy did not "own" it. This was "unacceptable". A naive President Wilson was surrounded by Zionists: Baruch, Untermeyer, Warburg, Schiff, Brandeis, Meyer and House. The Conspiracy wished to take control of American money, "mobilize its credit" to finance World War I and overthrow the Czar (for Russian money). And it needed America to assure victory over Germany (its hated enemy even before WWI). Wilson was pressured into signing the Federal Reserve Act and to declare war on Germany. Later he was to say, "I have involuntarily ruined my government". Ominously, he warned:
Some of the biggest men in the United States...are afraid of something. They know there is a power somewhere so organized, so subtle, so watchful, so interlocked, so complete, so pervasive, that they had better not speak above their breath when they speak in condemnation of it. And it has grown enormously from a century of war. [...]
9/11 Commission to Subpoena NORAD Information
By Tabassum Zakaria
WASHINGTON (Reuters) - The national commission investigating the Sept. 11 hijacked plane attacks decided on Friday to subpoena the military's North American Aerospace Defense Command records for information it promised but did not deliver. [...]
Some members of the commission are interested in the time sequence for notifying the jets that headed to Washington where one of the hijacked planes struck the Pentagon. [...]
Comment: Perhaps it is time to throw in their face the usual charge when people do not like the government invading their privacy, "If you don't have anything to hide, then you don't have anything to fear."
By James Gooder
Wednesday 22 October 2003
The United Nations has charged Arab regimes with taking advantage of the US-led "war on terrorism" to adopt extreme security measures eroding civil and political freedoms.
Restrictions adopted in the United States and other Western countries in the wake of the 11 September 2001 attacks had also hit Arabs particularly hard, said the world body's latest Arab Human Development Report, released on Monday.
"Extreme security measures" adopted in response to the attacks had "exceeded their original goals and led to the erosion of civil and political liberties in many countries in the world, notably the United States", said the report released by UN Development Programme regional director, Rima Khalaf Hunaidi.
Such restrictions had often ended up "diminishing the welfare of Arabs and Muslims living, studying or travelling abroad, interrupting cultural exchanges between the Arab world and the West and cutting off knowledge acquisition opportunities for young Arabs."
The report cited data from a "number of Arab missions" indicating that Arab student numbers in the United States had dropped by an average of 30% between 1999 and 2002.
Arab rights eroded
Inside the Arab world the impact of such "freedom-constraining measures in developed countries" had been even more damaging as they "gave authorities in some Arab countries another excuse to enact new laws limiting civil and political freedoms".
"Governments have mixed the war on terrorism with their own political ends"

"The Arab countries as a group adopted an expanded definition of terrorism, which assumed institutional expression at the regional level in 'The Arab Charter against Terrorism'", the report said.
The report recapitulated criticism of the charter by human rights watchdogs.
"It allows censorship, restricts access to the Internet, and restricts printing and publication," the report said.
Comment: Are we surprised? After all, it was for the specific purpose of clamping down on civil liberties world-wide and "herding of the population to a much finer order of control" that the "war on terror" was created using the staged 9/11 attacks. The bogus "terrorist threat" is essentially a tool used by the US and presented to it's "partner regimes" around the world to usher in the US vision of a "new world".
Saudi shock over 'foiled attack'
By John Simpson
BBC world affairs editor, in Riyadh
Tuesday, 4 November, 2003
Following the Saudi Arabian authorities' announcement that they foiled an Islamic militant attack on Mecca, John Simpson reports on the mood in the country.
The public are shocked by the fact that this terrorist attack would have taken place in Mecca - in the holy city.
But I don't think we can be certain what the motives of these suspected militants were.
It is possible that they were based in Mecca and were going to carry out attacks in other places - perhaps even in Riyadh or in Jeddah where there's a lot of foreigners.
But we shouldn't simply take it at face value that they were planning an attack in Mecca itself - it suits the government to give that impression.
The Saudi authorities get very nervous about these kinds of domestic terror attacks. In May, suicide bombers killed 35 people in attacks in Riyadh.
There is a great anxiety that the continuation of these sort of attacks could destabilise the whole country.
As a result they have arrested, they say, around 600 suspects. [...]
Comment: Notice the above comment in bold print. Why would it suit the Saudi government to give the impression that "Arab terrorists" would attack Mecca? Without doubt it suits the US government to give it's citizens the impression that "Arab terrorists" would do this, in fact it is a testimony to the deplorable level of awareness about the rest of the world among most Americans and many westerners in general that allows the US government to successfully convince them of such an absurd notion. To suggest that Arabs would attack Mecca is like suggesting that the US government would OPENLY bomb the White House in the name of its "war on terror".
Nordic region is a safe haven for terrorists
Carin Pettersson
04.11.03
According to a Danish terror expert, the Scandinavian countries have become a safe haven for extreme Muslim groups like Al Qaeda, due to their liberal immigration laws.
"Denmark has been a safe refuge for several terrorists, and that is a fact," said Ruhan Gunaratna, terror expert, at a conference organized by the Danish Police Security Service (PET) in Copenhagen, Denmark, Monday.
Lars Findsen, head of PET, admits that Denmark is an attractive base for terror networks like Al Qeada, but he is not afraid that the terrorists will make Denmark at target. [...]
Comment: Ah yes, a "terror expert". Lets have a little look at the background of the much vaunted Mr. Gunaratna.
The Australian media and terrorism "expert" Dr Rohan Gunaratna
By Rick Kelly
8 August 2003
Ever since the September 11 terrorist attacks on the United States, the "terrorist expert" has become a ubiquitous presence in the international media. Various academics and authors have risen to prominence on the basis of their alleged high-level intelligence connections and access to information about the plans and activities of terrorist organisations.
One of these is Dr. Rohan Gunaratna, routinely described as a "terrorist expert" and "leading authority" on Al Qaeda and Islamic terrorism. He has been interviewed and quoted by media outlets around the world, including the BBC, CNN, and the New York Times.
Gunaratna has an especially high profile in Australia, where he is invariably quoted whenever a favourable opinion is sought, or new evidence needed, for the Australian government's participation in the "war against terror".
But a review of his background and credentials raises significant questions about his reliability and "expertise".
Gunaratna's unstinting support for the US, British and Australian governments' foreign policy objectives was well rewarded. His contacts in US intelligence and counter-terrorist circles grew and his writings were published in several foreign policy and international security journals. But the biggest coup took place in June 2002: the publication of his book Inside Al Qaeda: Global Network of Terror, by Columbia University Press. Promoted heavily in the media, it went on to become a best seller around the world.
Inside Al Qaeda received universal media acclaim. "A remarkable new study," enthused the Times (London), "Excellent," declared Peter Bergen from the Washington Post, while Thomas Powers, in the New York Review of Books, called it "a careful and methodical account" that "does the work of many tomes".
But it was not long before several of the book's claims were vigorously challenged. The Malaysian government attacked the book's assertions of links between the ruling Barisan Nasional party and the Moro Islamic Liberation Front (MILF) of the Philippines, and through the MILF to Al Qaeda—and threatened legal action. Interviewed on Singapore television about the controversy, Gunaratna backtracked, changing his allegation to a link "between MILF operatives and a few individuals in the Barisan parties".
In one of the book's more sensational accounts, Gunaratna described in detail an Al Qaeda plot to hijack a British Airways plane on September 11, 2001, and crash it into the houses of parliament. Only the grounding of all aircraft after the bombing of the World Trade Centre supposedly prevented the London attack.
The source was an alleged Al Qaeda member, Mohammed Afroz, who had been arrested in Bombay, India in October 2001. Afroz had also allegedly claimed he had planned to fly a plane into Melbourne's Rialto Towers. After his release by an Indian court in April 2002, New Delhi police declared the claims to be a fabrication by the Bombay police force. An investigation by the Australian Security Intelligence Organisation into the alleged Melbourne plan assessed it "to be lacking in credibility."
Inside Al Qaeda also fudged the record of its author. The book claimed he was "principal investigator of the United Nations' Terrorism Prevention Branch", and that after the September 11 attacks, he "was called to address the United Nations, the US Congress and the Australian Parliament".
After the Sunday Age conducted an investigation into his biographical details, Gunaratna apparently admitted that there was, in fact, no such position as "principal investigator" at the UN's Terrorism Prevention Branch, and that he simply "worked there in 2001-02 as a research consultant." According to the July 20 article in the Sunday Age, "He also confirmed that, rather than directly addressing the UN, Congress, and the Australian Parliament, he had actually spoken at a seminar organised by the parliamentary library, given evidence to a congressional hearing on terrorism and delivered a research paper to a conference on terrorism organised by the UN's Department for Disarmament Affairs."
So concerned was the British publisher of Inside Al Qaeda about possible legal repercussions arising out of the unreliability of its assertions, that it published an extraordinary disclaimer under the heading "Publisher's note" advising the reader to treat the book's contents as mere "suggestions". [...]
Comment: We see that these so called "terror experts" are simply an extension of the mass indoctrination into fear that is being conducted by the US government and its "lackeys" around the world.
Alert Warns of Attacks Using Hijacked Cargo Jets
By John Mintz
Washington Post Staff Writer
Saturday, November 8, 2003
The FBI and the Department of Homeland Security warned government and industry officials last night to be on guard against al Qaeda operatives hijacking cargo jets in Canada, Mexico or the Caribbean and then flying them into this country to attack nuclear plants and other critical infrastructure.
The warning is based on information from a single individual, and a U.S. official familiar with his reports said: "We haven't had the opportunity to fully judge his credibility." But intelligence officers deemed the information believable enough to justify the strengthened security warning, the official said. [...]
Intelligence officials say al Qaeda believes jets operating in nations bordering the United States are more vulnerable to being hijacked than those flying here. The officials cite the intense security consciousness at U.S. airports. [...]
Comment: This alert smells like a set up.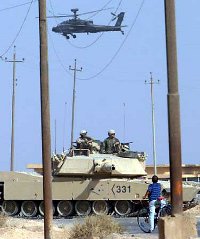 U.S. Warplanes Bomb Targets in Saddam's Hometown
By Sasa Kavic
November 8, 2003
TIKRIT, Iraq (Reuters) - U.S. warplanes and armored vehicles battered suspected guerrilla hideouts in Saddam Hussein's hometown Saturday after six soldiers were killed when a Black Hawk helicopter was shot down.
F-16 fighter planes dropped bombs on targets near Tikrit, 175 km (110 miles) north of Baghdad, and troops backed by Abrams tanks and Bradley fighting vehicles destroyed several houses which the U.S. military believed had been used by insurgents. [...]
A U.S. Army statement said the raids were part of "Operation Ivy Cyclone," a new drive to root out guerrillas in the hostile territory around Tikrit. It said 16 people had been detained in the past 24 hours as part of the operation, and five killed. [...]
Contracts Go to Allies of Iraq's Chalabi
By Paul Richter and Edmund Sanders
LA Times Staff Writers
November 7, 2003
BAGHDAD — Businessmen with close ties to a leading — and controversial — member of Iraq's Governing Council have won large contracts for the country's reconstruction, leading to charges by some council members and other Iraqis that the actions are fueling a cronyism that threatens to sabotage the nation-building effort.
The men are associates of Ahmad Chalabi, an American-trained financier who has close ties to senior Pentagon officials and is a prominent member of the council, the U.S.-appointed interim government in Iraq.
Although it is perfectly legal for entrepreneurs with ties to top government officials to land reconstruction contracts, the perception of favoritism is setting back the rebuilding effort in Iraq by discouraging some foreign companies from seeking contracts, Iraqi and U.S. businessmen and officials said in interviews in Washington and Iraq.
It is further damaging the image of a reconstruction effort already hurt by the granting of huge no-bid awards to the politically connected U.S. firms Halliburton Co. and the Bechtel Group, Iraqis said. [...]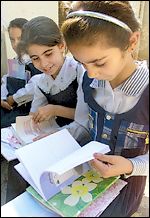 Erased: Iraqi students in their first week of school look through textbooks that now contain no pictures of Saddam Hussein - or any explanation
of his history
Turning the page on Iraq's history
November 04, 2003
By Christina Asquith
As revised history books roll off Iraq's presses this month, some critics charge that they have moved from one-sided to 'no-sided.'
BAGHDAD – For 15 years, high school history teacher Abtsam Jassom has dutifully taught 20th-century history according to the Baath Party. In it, America was the greedy invader, every Iraqi war was justified and victorious, and Zionists were the cause of world suffering.
Now, however, with the ouster of former President Saddam Hussein, US officials say teachers will finally be free to teach a more factual account of historical events. But the question is: Whose account will that be?
The first indicator of what a Saddam-free education will look like is arriving this month, as millions of newly revised textbooks roll off the printing presses to be distributed to Iraq's 5.5 million schoolchildren in 16,000 schools. All 563 texts were heavily edited and revised over the summer by a team of US-appointed Iraqi educators. Every image of Saddam and the Baath Party has been removed.
But so has much more - including most of modern history. Pressured for time, and hoping to avoid political controversy, the Ministry of Education under the US-led coalition government removed any content considered "controversial," including the 1991 Gulf War; the Iran-Iraq war; and all references to Israelis, Americans, or Kurds.
"Entire swaths of 20th-century history have been deleted," says Bill Evers, a US Defense Department employee, and one of three American advisers to the Ministry of Education.
The new downsized versions of textbooks underscore the political challenge facing the primarily US-backed government, and the private, and nonprofit groups charged with everything from rebuilding schools to retraining teachers to rewriting text. While US advisers don't want to be seen as heavy-handed in influencing the way Iraqis interpret history, neither do they want to be in the position of endorsing texts that could be anti-American, anti-Israeli, or radically religious.
As a result, some charge, in a matter of months Iraqi education has gone from one-sided to 'no-sided.'
"We considered anything anti-American to be propaganda and we took it out," says Fuad Hussein, the Iraqi in charge of curriculum for the Ministry of Education. "In some cases, we had to remove entire chapters."
Comment: Of course, this is part of the "freedom and democracy" that the US promised to Iraq. Iraqis must be so excited to see that their country is slowly being transformed into a facsimile of that glorious bastion of freedom, the US of A, complete with censorship of just about everything, dumbing down of the population and a corrupt, greedy, power mad administration in charge.
U.S. Discussing New International Peacekeeping Force
By David Morgan
Fri Nov 7, 9:00 PM ET
CARLISLE, Pa. (Reuters) - The U.S. government has begun internal discussions about the possible creation of a U.S.-led international force capable of taking on peacekeeping duties in world hot-spots such as Iraq and Afghanistan, a senior Army officer said.
"We are having a dialogue with other elements of the government on this," said Col. Michael Dooley, acting director of the U.S. Army Peacekeeping and Stability Operations Institute, a military think-tank charged with studying post-combat operations in war-torn countries.
"At this point, we have only limited capability to assist. But we do have some thoughts on the subject and we're exchanging those thoughts and ideas with other elements of the government," he told Reuters in an interview this week. [...]
Some analysts and sources have suggested the force would be largely trained and supported by the United States and operate outside the purview of the United Nations or NATO. [...]
Comment: So, it is okay for the U.S. to try to form a multi-nation military force outside of existing organizations, but European countries with the same idea are lambasted by the Bush Reich.
Medical checks reveal Lynch's rape hell
By Paul D. Colford and Corky Siemaszko
News.com.au
07nov03
JESSICA Lynch was brutally raped by her Iraqi captors.
That is the shocking revelation in I Am a Soldier, Too, the much-anticipated biography of the former POW.
Best-selling author Rick Bragg tells Lynch's story for her, often using her own words. Thankfully, she has no memory of the rape.
"Jessi lost three hours," Bragg wrote. "She lost them in the snapping bones, in the crash of the Humvee, in the torment her enemies inflicted on her after she was pulled from it."
The scars on Lynch's battered body and the medical records indicate she was anally raped, and "fill in the blanks of what Jessi lived through on the morning of March 23, 2003," Bragg wrote.
"The records do not tell whether her captors assaulted her almost lifeless, broken body after she was lifted from the wreckage, or if they assaulted her and then broke her bones into splinters until she was almost dead." [...]
But while early Pentagon reports suggested the young army private heroically resisted capture, Lynch told Bragg she never fired a shot, because her M-16 jammed. "I didn't kill nobody," she said.
Lynch also denied in the book claims by Iraqi lawyer Mohammed Odeh Al-Rehaief, who said he saw one of former Iraqi strongman Saddam Hussein's black-clad fedayeen slap her as she lay in her hospital bed.
"Unless they hit me while I was asleep – and why do that?" she said.
Lynch described to Bragg how Iraqi doctors were branded traitors by Saddam's henchmen for helping her and how they tried to treat her wounds in a shattered hospital where painkillers were scarce.
She said one nurse tried to ease her agony by singing to her.
Lynch confirmed reports in the book that Iraqi doctors tried to sneak her to safety in an ambulance but turned back when wary US soldiers opened fire. [...]
Comment: There are several possible causes for Lynch's memory loss. Whatever the cause, however, it is blatantly obvious that the Jessica Lynch tale is the Incubator Babies story of Gulf War II. If Lynch denies the allegations the government makes about her ordeal, ordinary Americans will only believe the lies more - they will think the poor woman experienced so much trauma that she has blocked it out of her mind. They must believe the lies, because facing the truth - facing the horror of what is being done in their name and with their money - is too terrifying to even begin to contemplate.
Doctors Dismiss Lynch Bio's Rape Claims
By SCHEHEREZADE FARAMARZI
Associated Press Writer
NASIRIYAH, Iraq - Iraqi doctors who treated former prisoner of war Jessica Lynch dismissed on Friday claims made in her biography that she was raped by her Iraqi captors.
Although Lynch said she has no memory of the sexual assault, medical records cited in "I am a Soldier, Too: The Jessica Lynch Story" indicate that she was raped by her Iraqi captors, according to U.S. media who said they had advance copies. [...]
Dr. Mahdi Khafazji, an orthopedic surgeon at Nasiriyah's main hospital performed surgery on Lynch to repair a fractured femur and said he found no signs that she was raped or sodomized. [...]
Lynch told Sawyer she doesn't remember being slapped or mistreated at the hospital, and she recalled one nurse sang to her.
She also accused the military of using her capture and dramatic nighttime rescue to sway public support for the war in Iraq.
Video of U.S. commandos whisking Lynch to a waiting chopper helped cement Lynch's image as a hero. But in the "Primetime" interview to be aired on Tuesday, Lynch told Sawyer there was no reason for her rescue to be filmed.
"They used me as a way to symbolize all this stuff," Lynch said. "It's wrong." [...]
America's dress-up president won't go near the wounded. But Cher will.
Michelangelo Signorile
New York Press
Have you seen all of that graphic media coverage of the 2000-plus wounded servicemen and -women who served in Iraq, laying in military hospitals with missing limbs? Me neither. I was made more aware of them last week by… Cher. You heard me right. And don't you dare laugh: With the corporate media so hush-hush on the topic and the Bush administration trying to hide images of the dead and wounded, let's be thankful there are still some divas with big mouths left.
A transcript made its way around the web last week of the glitzy entertainer's call in to C-Span's morning show Washington Journal . It was a call that would soon incur the wrath of the right-wing radio hit mob and a tacky gossip columnist or two.
"I would like to say I had the occasion the other day to slend the entire day with troops that had come back from Iraq and had been wounded, and I also visited troops during the Vietnam era," the unidentified caller from Miami Beach told the C-Span moderator Peter Slen, discussing her visit to the Walter Reed Army Hospital.
"But the thing that I was most shocked by as I walked into the hospital, the first person I ran into was a boy about 19 or 20 years old who'd lost both of his arms. And when I walked into the hospital and visited all these boys all day long, everyone had lost either one arm, one limb or two limbs or had lost one limb and there were, there were a lot of legs that seemed to be missing."
Slen: What were you doing at Walter Reed? Are you a volunteer?
Caller: No, I was just asked to come and slend the day. I was working that day in Washington, DC, and...
Slen: What kind of work do you do?
Caller: Um, I'm an entertainer.
Slen: Oh, what kind of entertaining? Are you USO?
Caller: No, I actually was called by the USO but I'm...I'm...I'm just...I'm an entertainer. And I really don't want to go much past that but...um...
Slen: Is this Cher ?
Caller: Yeah.
Cher then went on to ask a pertinent question regarding the men she visited in the hospital: "Why are none of Cheney, Wolfowitz, Bremer, the president, why aren't they taking pictures with all these guys? Because I don't understand why these guys are so hidden… Don't hide them. Let's have some news coverage where people are sitting and talking to these guys and seeing their spirit." [...]
Mystery Illness Causing Major U.S. Casualties in Iraq
The overwhelming majority of soldiers sent home for recovery from the current Persian Gulf War were not injured in combat but probably by a doctor's needle. Were some "shot to death" by vaccinations?
By James P. Tucker Jr
AFP
About 6,000 soldiers have been sent home for recovery since Persian Gulf War II began, but of these, only 1,200 were wounded in combat. Many of the others are suffering illnesses that leave them so physically and emotionally disabled the military has no choice but to discharge them.
Why would healthy young men who have known the rigors of basic training become so ill, so quickly and in such large numbers? This is being intensely debated inside the Pentagon.
A series of anthrax and smallpox vaccinations are blamed by some for leaving soldiers so gravely ill they have difficulty breathing and sleeping and experience loss of memory. Others have been diagnosed with lupus and heart ailments. At least six died shortly after receiving their shots. But the Pentagon has rejected such claims in such a routine and intimidating manner that many GIs say they no longer report the illness. They're told to "suck it up" and move on.
But an outbreak of more than 100 suspected cases of pneumonia among soldiers serving in Iraq and southwestern Asia has caused concern in Congress.
Rep. Christopher Shays (R-Conn.) held eight hearings on the safety of the vaccine while chairman of the House Government Reform subcommittee on National Security, Emerging Threats and International Relations. He issued an angry report that found serious safety and regulatory problems with the vaccine.
The Pentagon reluctantly admitted that two soldiers—Spc. Joshua Neusche, 20, of Montreal, Mo. and Sgt. Michael Tosto, 24, of Apex, N.C.—died from complications arising from pneumonia on July 12 and June 17, respectively. The Army is investigating their deaths. But more have been reported.
Family members of Army Spec. Zeferino Culunga, 20, of Bellville, Tex. and Staff Sgt. Richard Eaton, 37, of Guilford, Conn. told Insight magazine that their sons died in August after being diagnosed with pneumonia. A third death involved Spec. Rachael Lacy of Lynwood, Ill. According to her autopsy, "smallpox and anthrax vaccinations" contributed to her death on April 4 after she had first been diagnosed with pneumonia.
"We as a family are concerned that we are not being told the truth," the family of Neusche wrote Defense Secretary Donald Rumsfeld. They, like other families, asked to see medical records in order to get a second opinion on the cause of death.
But the Pentagon persists in denial. "In 200 years of vaccinations, no vaccine has ever been shown to cause pneumonia, and there are multiple reasons to believe that the vaccines have no role," Col. John Grabenstein, deputy director for clinical operations at the Military Vaccine Agency, told United Press International.
From Arizona to Baghdad: Will Geronimo Ever Surrender?
By Ramzy Baroud
United States military genius has evolved enormously since the nostalgic days of the so-called Indian Wars. The primitive war machinery of the US cavalries at the time merits no more than a pause of reflection, or perhaps pity, when compared to the astounding technological war advancements of the present. But altering the techniques in which enemy forces, in this case 'renegade' Indians, are hunted down and killed, hardly conceals the treacherous strategy adopted by colonial powers: turning a nation against itself to spare the lives of the invader.
"President Bush's desire to speed up the rate at which Iraqis are put on the streets to supplement the 130,000 American troops in Iraq was the dominant subject at a meeting of the National Security Council in the White House Situation Room," reported the New York Times, on October 30. And because the supplementation of US forces is "not happening fast enough," according to a senior official, the Iraqi recruits' training period would be drastically shortened to two weeks, before they are positioned as 'militiamen' on the frontlines "to combat the insurgents."
The notion of hiring "a rogue to catch a rogue" - used against the Apache Indians fighting for their freedom in the late nineteen century while straying in the rugged Tonto Basin in Arizona - is not cited candidly by the National Security Council, and more importantly by Deputy Secretary of Defense, Paul Wolfowitz in his quest to 'revitalize' the Iraqi army. However, Wolfowitz, seen as the 'intellectual architect' of the Iraq War, whether knowingly or not, is assigning himself to become a modern day Colonel George Crook, the man whose ingenious plan to fight his Indian foes in Arizona using members of the same tribe was his winning scheme that, jointly with brute force, victoriously concluded the "Indian wars", or so we are told. [...]
Comment: An estimated 80 million Native Americans were massacred, leaving only around one million survivors. It appears a new target for genocide has been selected.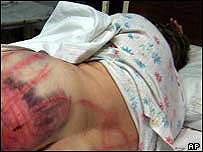 Torture 'widespread' in parts of Europe
By Bethany Bell BBC, Vienna
The European security body, the OSCE, says the continued use of torture in some OSCE states is a matter of great concern. The OSCE is currently holding a conference, at its headquarters in Vienna, aimed at preventing the use of torture.
Security services are often under pressure to produce results The report for the OSCE by a leading human rights group, the International Helsinki Federation, says torture remains systematic in several countries, including Uzbekistan, Azerbaijan, Kyrgyzstan, Turkey and Russia.
It said torture is widely used in detention facilities in Uzbekistan, where at least 10 torture related deaths were recorded between late 2001 and 2003.
The report said one recent victim died after 60% to 70% of his body had suffered burns, apparently from immersion in boiling water.
It said police resort to torture in part because of the authorities' demand for a 100% detection rate.
The director of the International Helsinki Federation, Aaron Rhodes, says despite promises, laws in many OSCE countries still fail to expressly prohibit torture.
Moroccan crackdown 'includes torture'
Friday 07 November 2003

Amnesty International says the practice of torture has widened in Morocco as part of an 'anti-terrorism' campaign.
The London-based rights group found that torture allegations in Morocco resurfaced after the 11 September, 2001 attacks on US targets, when the kingdom began to worry seriously about the possibility of "terrorism" at home.
The allegations prompted Amnesty to send a delegation last month to Morocco, where it studied dozens of cases.
Secret detention
Next week, it will present its findings to the UN Committee against Torture in Geneva. They should make for disturbing reading. Some suspects said they were held for weeks on end in secret detention, Philip Luther, an Amnesty researcher on North Africa, said.
Some told of being strung up and beaten with metal poles or wooden rods to extract confessions. Others were raped with a bottle or club, he said. In some cases, agents told victims that their wives would be raped if they didn't cooperate.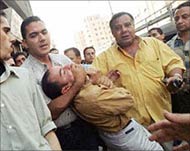 Egypt breached human rights - report
Friday 07 November 2003
Egypt's security forces have used excessive force, including torture, on demonstrators protesting against the US-led war on Iraq, claims a Human Rights Watch report.
The 40-page report, entitled "Security Forces Abuse of Anti-War Demonstrators," which was published on Friday, also urged President Muhammad Husni Mubarak's government to launch an independent investigation into the alleged rights violations.
It said the government had allowed the "excessive use of force in dispersing demonstrators and bystanders on 21 March in violation of the right to freedom of assembly; arbitrary arrest and detention, including of children; beating and mistreatment of persons in detention, in some cases amounting to torture."
The New York-based organisation also criticised Egypt for
failing to "provide medical care to seriously injured detainees." Relating a 21 March anti-war demonstration, two days after the US-led coalition had launched its offensive against Iraq, the report said "uniformed riot police and plainclothes men armed with pipes and clubs assaulted persons (marchers and bystanders) ... beating and injuring many."
Some 800 demonstrators, including at last six children, were nabbed by security officers and often detained in unsuitable places, the report said, adding that although most have been released, some still face possible prosecution. [...]
Report: Katherine Harris Considers Senate Run
local6.com
9:05 a.m. EST November 7, 2003
ORLANDO -- Published reports say Rep. Katherine Harris is "seriously considering" running for the U.S. Senate.
Harris became a Republican darling during the 2000 presidential election problems in Florida. She was Secretary of State at the time, but rode the wave to a seat in Congress.
Harris is still in her first term. But she tells the Orlando Sentinel she and her husband will "seriously consider" a run for the Senate.
Some observers say a decision to enter the race would make Harris the automatic Republican front-runner.
Sen. Bob Graham announced early this week that he would not run for another term, setting up primary dogfights in both parties.
North Korea has test-free nuclear weapons: CIA
Reuters
Saturday, November 8, 2003. 1:23pm (AEDT)
North Korea appears to have built one or two nuclear weapons it could be confident would work even without a test nuclear blast, the US Central Intelligence Agency (CIA) has told Congress.
"We assess that North Korea has produced one or two simple fission-type nuclear weapons and has validated the designs without conducting yield-producing nuclear tests," the CIA said.
The CIA's August 18 statement was made public recently by the Federation of American Scientists.
Some experts have said they expect North Korea to carry out a test blast just as India and Pakistan did in 1998 to show the world they were members of the nuclear club, but the CIA's statement suggests this is not necessary.
"Testing would confirm (the existence of a nuclear capability) but it's not changing what they already believe," said Daniel Pinkston, a North Korea expert at the Centre for Nonproliferation Studies in Monterey, California. [...]
Comment: By releasing this report, the CIA has ensured that proof of North Korea's nuclear capability will not be required if the Bush Reich decides to invade the Asian country. In any case, Iraq has shown that the only thing the American people feel they need to wage war is a suggestion that the enemy country might have big bombs that they might be prepared to use, maybe.
Instability spreads as thousands flee from Zimbabwe
08/11/2003
The effects of Robert Mugabe's regime are forcing thousands of people to seek sanctuary in neighbouring countries - a situation that is threatening to destabalise the whole region, writes Tim Butcher in Gabrone.
Less than a mile from the mirror-panelled banks and high-rise offices of Botswana's richest firms, penniless Zimbabweans gather on dusty street corners begging for work.
Unregistered, unkempt and unlawful in a foreign land, the desperate men whisper "Piece work, piece work" sotto voce, meaning "odd job" to any passer-by.
If you are brave enough to stop your car at what appears to be an empty junction, a mini-stampede erupts as Zimbabweans surge towards the vehicle, hands flapping for car door handles in an unseemly scrum to be first in line.
Malnourished and haggard, the men try anything to convince would-be employers. Some brandish O-level certificates as proof that they passed through Zimbabwe's once respected but now barely functioning education system.
Others show references from employers back in Zimbabwe long closed down or even character references from the country's opposition Movement for Democratic Change, to indicate that they are not tainted by association with President Robert Mugabe's regime. [...]
The problems caused to southern Africa by the Mugabe regime's systematic destruction of the economy and the democratic system are causing worsening trouble.
An estimated three million Zimbabweans are seeking sanctuary in neighbouring South Africa, while 400,000 have gone to Mozambique. Anything from 10 to 20 per cent of the Zimbabwean population have left their homes to seek job security and wages in neighbouring lands.
Trains, buses and lorries have been used by the South African authorities to deport 498,321 since the crisis began in 2000, according to official figures, although it is believed that only one in six illegal immigrants is caught. [...]
With a tiny population of only 1.7 million, Botswana faces being overwhelmed by those fleeing the economic chaos, political violence and spiralling lawlessness of Zimbabwe, which has a population more than eight times greater.
The flood has led inexorably to tension, with Botswanans blaming the arrivals for a surge in petty crime and for stealing jobs. Local police have been accused of beating the arrivals and other human rights abuses.
Ugandan rebels massacre civilians
Saturday 08 November 2003
Ugandan rebels have killed scores of civilians in the country's north in apparent revenge for the killing of one of their commanders.
Lieutenant Chris Magezi, a spokesman for the Ugandan army, said on Saturday the death toll from the massacre in Lira district could exceed 100.
"Scores of civilians were killed at around midnight on 6 November in Alanyi and Awayopiny villages in Lira district," Magezi said.
"Probably more than 100, but this is pending details of the exact death toll," Magezi said, responding to queries what the final toll could be.
Missionaries in the region said villagers were forced to watch as rebels beheaded the corpses of civilians they had just killed.
The guerrillas, led by Joseph Kony, are feared for their brutality and for abducting thousands of children to use as sex slaves and frontline fighters in the east African country's long-running civil war.
"Scores of civilians were killed at around midnight on 6 November in Alanyi and Awayopiny villages in Lira district"
Magezi said the Lords Resistance Army (LRA) appeared to have ordered the attacks in revenge for the army's recent killing of a senior rebel commander.
The Ugandan authorities deployed more than 14,000 troops backed by helicopter gunships and tanks to crush the rebels last year, but the LRA is far from being crushed [...]
Total Lunar Eclipse Saturday Should be Colorful
By Robert Roy Britt
Senior Science Writer, SPACE.com
Astronomers expect a colorful show Saturday night when Earth's shadow falls on the Moon, creating a total lunar eclipse. The event is expected to be much more visually pleasing than a similar eclipse May 15.
"The November eclipse will be dramatically brighter than the May event," says Fred Espenak, a NASA ( news -web sites ) scientist and veteran eclipse watcher.
The easy-to-watch spectacle will air live Saturday evening over most of North and South America, weather permitting, and early Sunday morning for much of Europe and Africa. Observing a lunar eclipse is completely safe and requires no special equipment.
The visible portion of the eclipse will begin in the Americas just after 6 p.m. ET, but only for eastern residents. Along the western coast the eclipse will be underway as the Moon rises above the horizon at sunset. The visible portion of the eclipse will be over before 10:30 p.m. ET.
Europeans will have to stay up late. The eclipse begins there before midnight, and the heart of the event in Europe will occur early Sunday morning. [...]
It's Official: The Biggest Solar X-ray Flare Ever Is Classified As X28
2003-11-07
It has just been announced that the massive solar X-ray flare which occurred on 4 November was, at best estimate, an X28. There is still a small chance this will be revised by a small amount, but it is now official: We have a new number 1 X-ray flare for the record books, the most powerful in recorded observational history. On Tuesday, 4 November 2003, this flare saturated the X-ray detectors on several monitoring satellites. The associated coronal mass ejection (CME) came out of the Sun's surface at about 2300 kilometres per second (8.2 million km/h). Only part of the CME is directed towards Earth, so we expect the Earth will receive only a glancing blow, since the source region is pointing away from us on the right on the limb of the Sun as seen from Earth. How we classify solar flares Scientists classify solar flares according to their brightness in the x-ray wavelengths. There are three categories: X-class flares are big; they are major events that can trigger radio blackouts around the whole world and long-lasting radiation storms in the upper atmosphere.
M-class flares are medium-sized; they generally cause brief radio blackouts that affect Earth's polar regions. Minor radiation storms sometimes follow an M-class flare.
Compared to X- and M-class events, C-class flares are small with few noticeable consequences here on Earth.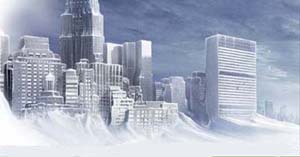 Britain could be heading for an ice age

Thursday 6th November 2003
A Horizon documentary to be shown on BBC2 says global warming could 'switch off' the Gulf Stream.
The Gulf Stream continually warms Britain's coast and scientists say that without it, our climate would be like Alaska's.
Winters like the big freeze in 1962-63 would hit us all the time, we would have to live in minus 22C for months and ice storms would batter the land.
Greenland is said to be melting at a rate of 100 cubic km every year because of the greenhouse effect.
Experts believe the melt water from the ice could effectively switch off the Gulf Stream.
"It would be quick," says Dr Terry Joyce. "Suddenly one decade we are warm, the next decade we're in for the coldest winter we've experienced in 100 years. And we'd be stuck in it for 100 years."
Dr Richard Wood of the Met Office tells Horizon: "You would expect to see sea ice off the south coast for several miles."
'Impossible' temperatures in Norway
07 Nov
Tafjord in Sunnmoere and Sunndalsoera further north both shattered temperature records for Norway in November with a mark of 21.6C (71F) on Thursday, over two degrees above the previous high. Tafjord was reportedly even warmer after an official reading.

"These are extreme temperatures for this time of year," said meteorologist Magnus Anglevik at the Meteorological Institute.
The reason that one had to look as far south as Turkey or the Canary Islands for such heat outside of Norway is a mild and damp wind coming off the Atlantic Ocean. This made Norway unseasonably warm, but also extremely windy in places.
Record early start for winter (Norway)
Several ski resorts opened over the weekend and even some hills in the Oslo area were luring snowboarders and skiers. Record cold temperatures and snow-making machines made it all possible.
It's only October, but some winter sports activists just can't wait any longer. With the weather cooperating, they don't have to.
Slalom ski and snowboarding centers at Filefjell, Faustablikk, Kvitfjell, Uvdal, and Oppdal all opened for business on Saturday. Bjorli at the very northern end of Gudbrandsdalen beat them all, opening October 19.
Geilo is reporting good cross-country conditions, but lifts won't start operating until early November. Dombaas and Beitostoelen are due to open next Saturday and most of the rest of southern Norway's resorts will be operating by November 22 [...]
Geologists monitor activity under Yellowstone Lake
Chris Vanderveen
9NEWS Reporter
YELLOWSTONE NATIONAL PARK, Wyo. - Every 600,000 years or so, a super volcano has erupted in the area we now know as Yellowstone National Park.
It's been 640,000 years since the last major eruption. 9NEWS Reporter Chris Vanderveen and photojournalist Ken Mostek show us, some strange activity at the park now have scientists asking, is the area due. [...]
Morgan says that in the northern section of the lake, a 100-foot bulge, as big as a 10- story building is forming.
The Norris Geyser basin, the most active thermal basin in the park, has also been very active. The Steamboat geyser has erupted six times in the past three years, including three eruptions already this year. Between 1991 and 2000 there were no eruptions. [...]
Despite this recent activity, Morgan said she isn't expecting another major volcanic eruption at this time. She said the last eruption was about 10,000 time greater than the Mount Saint Helens eruption. Another eruption on a similar scale would kill all life within a 600-mile radius, which includes the city of Denver.
"No I don't think an explosion is imminent," said Morgan. She said that the bulge under the lake, at worst, would form a crater the size of a pond.
Morgan said one theory about the latest activity under the lake is that it has been fueled by the drought. Less precipitation has prompted the water underneath the area to heat to abnormally high levels.
Eruptions at Kuirau Park (New Zealand)
07.11.2003 9.00 am
Two eruptions at Kuirau Park yesterday blasted mud, rock and ash 14m into the air as onlookers watched in amazement.
The eruptions, which happened within minutes of each other, were the third significant eruptions at the park within a month and happened just metres from the site of a major blowout in 2001 which left a crater more than 12m wide. [...]
Nov 7 2003
TOFINO, B.C. - An earthquake measuring 4.1 struck an area off the west coast of Vancouver Island Friday morning.[...]
Qamar says quakes are fairly common in the area because of the collision of continental plates.
5 major earthquake faults found in Puget Sound
November 7, 2003
Associated Press
SEATTLE - Recent research has found five major active earthquake faults, stretching from Whidbey Island to Olympia, Wash., each capable of unleashing a major quake in the Puget Sound region, geologists said at the annual meeting of the Geological Society of America here this week.
As of six years ago, geologists weren't aware of any active earthquake faults in the region, they told The Sun newspaper of Bremerton.
A new "wedge" theory has emerged to explain the potent clash of geological forces. [...]
"Between 2,500 years ago and today, we have evidence of a flurry of earthquakes and we may still be in that flurry," Sherrod said. "We don't know."
'Serious Disaster' Feared As Rains Fail in the East
UN Integrated Regional Information Networks
November 7, 2003
Addis Ababa
Critical rains in the drought-stricken Somali region of eastern Ethiopia have failed, prompting fears among humanitarian organisations for already vulnerable families.
The region, already reeling from the severe drought affecting many parts of the country, should have seen rains at the beginning of October. Aid agencies working in the remote lowland region, inhabited mainly by nomads, warn that without them the area is facing a renewed disaster. [...]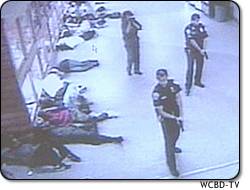 School drug raid causes uproar
GOOSE CREEK, South Carolina, Nov. 7 — Police stormed into Stratford High School early Wednesday and ordered students to the ground as they conducted a search for drugs and weapons. The search came up empty, and now the school's principal is facing questions about whether the show of force was necessary. Click "Play Video" to watch WCBD-TV's report on the raid.
Comment: Welcome to the brave new world of the Police State. Get used to it. It seems there are no shortage of people who like it, and are willing to serve it.
Freeze, punk! Drop the ashtray!
By GERSH KUNTZMAN
New York Post
A Brooklyn video-store owner is facing up to $6,000 in fines after a health inspector caught him with the city's newest controlled substance: an ashtray.
"One (1) ashtray with cigarette butt, and ashes, was seen on the counter of the establishment," inspectors M. Dundas and S. Holloway noted on the ticket that they handed to Marty Arno, owner of Brooklyn Heights Video, last month.
The inspectors also hit Arno with two other violations, one for not having "No Smoking" signs and another for having not posted his company's official nonsmoking policy. The alleged violations carry maximum fines of $2,000 each.
"I'm a tiny video store - it's just me and a girl who comes in part-time," he said. "She knows smoking policy: We don't smoke in the store - it's bad for the videos."
Arno said the illegal ashtray is a case of mistaken identity.
"What happened was that a customer came into the store with a cigarette and rather than make her go all the way back outside, I just let her snuff it out in the ashtray," he said.
Health Department spokesman Andrew Tucker said that the city outlawed ashtrays so that "there is not an invitation to smoke in the establishment."
Arno, whose video store is a favorite of film buffs, took offense at the criminalization of the humble ashtray - in this case, his souvenir from the classic 1984 B-movie, "The Rosebud Beach Hotel."
"How can they take an inanimate object and make it illegal?" he railed. "During Prohibition, alcohol was illegal, but they didn't make the shot glasses illegal. Does anyone even know that this is the law?"
Arno does now. Since receiving his initial summonses, the same inspectors have visited twice. Both times, Arno was in compliance.
"The guy was crawling under the counter looking for the damn ashtray," Arno said. "I said, 'Do you think I'm such a schmuck that I'd leave it out again?' " [...]
Comment: Fascism, it seems, is just a flick of the switch away. Little, petty people, like this inspector, just love this kind of power. This inspector is probably a frequent caller on the TIPS hotline also.
FBI to Website Owner: "We Are Watching You"
By ELAINE CASSEL
Counterpunch.org
November 7, 2003
Cryptome is a web site dedicated to investigating and publishing accounts of government improprieties, particularly as they relate to secrecy and First Amendment violations. On November 4, FBI agents visited the website's New York City office and met with site owner John Young.
Both agents, who are identified on the site and who left their official cards, said that they had information that Cryptome was a source of information that could be used to "harm the United States." Prior investigations by the FBI, the agent admitted, had not found any evidence of criminal wrongdoing, but the FBI was fearful that information on the site would end up in the "wrong" hands. Cryptome was asked to report to the FBI any "gut feeling" they had that its information would be a "threat" to the U.S.
One agent said that visits like these are increasingly common as the government seeks out information on threats to the U.S. The agents said they would "write up" a report on their visit. The agents asked that their names not be published, but Cryptome refused to honor that request. One reason for their request of anonymity is so that information about them cannot be pulled from one of many databases available online. (Funny how government agents don't want to be the source of data mining, but they certainly want to use it against us.) [...]
Violent School Bus Beating Caught On Video
WFTV.com
6:14 p.m. EST November 7, 2003
PALM BAY, Fla. -- This was no typical after school fight. Palm Bay Police say it's one of the worst beatings they've ever seen. A student repeatedly punched a boy on the bus until he was too tired to hit his victim anymore. [...]
Dealers, drivers riding high on SUV tax loophole
Washington Post
[...] "It's a loophole," his ads proclaim, "and this weekend, we can show you how to make that loophole big enough to drive a fleet of trucks and sport utility vehicles through it!" [...]
Bulletproof Deville targets big guns
"It's security in an insecure world," said GM's Al Gagne, head of the armoring project.
By David Bruce
GoErie.com
[...] About 90,000 deaths in 2000 were linked to hospital infections, reported the U.S. Centers for Disease Control and Prevention. It was the fourth leading cause of death in the United States that year. [...]
Comment: In the U.S., going to the hospital is hazardous to your health, and CDC regularly runs propaganda campaigns to scare people about West Nile or SARS.
Scholars say it's time to rethink juvenile death penalty
Friday November 07, 2003
By WILLIAM KATES
Associated Press Writer
ITHACA, N.Y. (AP) Even as Americans focus attention on one of the nation's highest profile teenage murder cases, U.S. law is evolving toward abolishment of the juvenile death penalty, said scholars at a daylong symposium at Cornell University Friday.
The trial of Lee Boyd Malvo, now 18, begins Monday in a Virginia courtroom where he faces a possible death penalty for his role in the sniper shooting spree last year that left 10 people dead.
But it may be one of the last juvenile death penalty prosecutions this country sees, said Victor L. Streib, a professor of law at Ohio Northern University and an attorney specializing in juvenile homicide and the death penalty.
Although federal law sets a minimum age of 18 for death penalty eligibility, rulings by the U.S. Supreme Court in 1988 and 1989 said it was not cruel and unusual punishment to execute 16- and 17-year-olds. Twenty-one states presently sanction the execution of juveniles.[...]
08 November 2003
UNITED NATIONS: In a setback for the Bush administration, a UN committee has derailed a US-led drive for a broad global ban on all forms of human cloning, including medical research on stem cells. [...]
EU considers lifting ban on GM corn
The European Union is considering ending a five-year ban on biotech products. Representatives of the bloc's 15 member states meet on Monday to discuss whether to approve a genetically modified (GM) sweetcorn variety, despite continued consumer scepticism about the controversial technology. If they vote 'yes', the EU's unofficial blockade on new GM imports would end, clearing the way for a range of GM products and pleasing key EU trade partners such as the pro-biotech United States.
High Court orders conviction of GM crop protestors
The High Court in Britain has ordered four GM crop protestors to be convicted of criminal offences after shackling themselves to tractors during a demonstration. [...]
Senate Committee on Commerce, Science, and Transportation
Testimony of Dr. David R. Criswell: Senate Hearing on "Lunar Exploration"
November 06, 2003
Mr. Chairman and Members of the Subcommittee:
I am honored to have this opportunity to introduce a program for the economic and environmental security for Earth, and especially for the United States of America, by meeting Earth's real electrical power needs.
By 2050, approximately 10 billion people will live on Earth demanding ~5 times the power now available. By then, solar power from the Moon could provide everyone clean, affordable, and sustainable electric power. No terrestrial options can provide the needed minimum of 2 kWe/person or at least 20 terawatts globally.
Solar power bases will be built on the Moon that collect a small fraction of the Moon's dependable solar power and convert it into power beams that will dependably deliver lunar solar power to receivers on Earth. On Earth each power beam will be transformed into electricity and distributed, on-demand, through local electric power grids. Each terrestrial receiver can accept power directly from the Moon or indirectly, via relay satellites, when the receiver cannot view the Moon. The intensity of each power beam is restricted to 20%, or less, of the intensity of noontime sunlight. Each power beam can be safely received, for example, in an industrially zoned area.[...]
Ongoing research at Neolithic sites around the UK has revealed striking similarities in their acoustical properties.
Key examples, both in Ireland, are the huge passage tomb of Newgrange and the burial mound known as Cairn L at Loughcrew. These sites contain passageways leading to large circular chambers, and have a resonant frequency (at which sounds naturally echo and reverberate) of about 110hz - the frequency of the male baritone, the second lowest singing voice. Standing waves, whereby sounds are reflected off walls and superimposed on to one another, and other acoustic curiosities, have been observed in these and other sites. Stone circles including Avebury and Stonehenge also appear to reflect sound in distinctive ways. [...]
Depressed, moi? Why the French are driven to drugs
Jon Henley in Paris
The Guardian
Saturday November 8, 2003
Nearly one in four French people are on tranquillisers, antidepressants, antipsychotics or other mood-altering prescription drugs, according to an alarming report published yesterday.
It revealed that an average of 40% of men and women aged over 70 in France were routinely prescribed at least one of this class of dependence-creating drug, as well as some 4% of all children under nine.
"The French now consume between two and four times as many tranquillisers and anti-depressants as the British, Italians and Germans," one medical expert, Martine Perez, said in Le Figaro. "The problem is not new, but this underlines the fact that it is getting worse."
The French are avid consumers of pills and potions of all kinds, to the extent that the health minister, Jean-François Mattei, faced with a budget overrun of €6.1bn (£4.2bn), this summer listed some 900 so-called medicines (out of a total of 4,300 prescribed in France) that would no longer be reimbursed by the health service because they had "little or no recognisable medical effect". [...]
"French doctors have become merchants of false happiness", Prof Zarifian said recently. "They are unable to resist the pressures of either the patients or the big drugs companies. They are the ones who really need educating."
Women's jail prisoner admits he's a man
Ananova.com
14:56 Friday 7th November 2003
A convicted marijuana grower has told prison authorities he is a man - after spending more than eight months locked up with women.
An inquiry has been launched after Billie Jo Hawks told wardens at Kentucky's Correctional Institution for Women that a mistake had been made.
For eight months before that, Hawks, 43, had been held in the women's section of a detention centre having been convicted of growing and trafficking marijuana.
He was then transfered to the jail, and it wasn't until he faced a medical examination that he alerted wardens of the error.
Lisa Lamb, spokeswoman for the Department of Corrections, said all inmates are subject to a thorough strip search as part of the admission process to any state prison.
Lamb was unable to explain how Hawks' slipped through without being noticed. "All we can say for now is that clearly procedures were not followed in the admission of this inmate."
Lamb said corrections officials are investigating the matter for possible disciplinary action against personnel involved in searching and admitting Hawks to the prison, reports the Courier-Journal.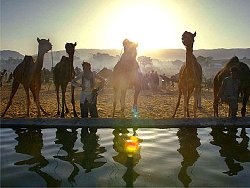 Tourists flock to world's biggest camel fair
Ananova.com
15:07 Friday 7th November 2003
Tens of thousands of tourists are attending the world's biggest camel fair, on the border between India and Pakistan.
About 50,000 of the animals will be sold during the nine day Pushkar Camel fair in Rajasthan, India, reports Sify.com.
The Pushkar Fair is being put in the spotlight by India to try to revive tourism, slowed by Islamic militancy in Kashmir and war tensions with Pakistan.
"This year we have seen a jump in the arrival of tourists here, a figure that is 30 percent higher than last year," said Rajeeva Swaroop, tourism chief of Rajasthan.
"We expect 20,000 international tourists to attend this fair," he said, putting at 500,000 the number of Indians expected at Pushkar.
Temple dancers and snake charmers also flock to the fair to entertain the tourists.
---
Remember, we need your help to collect information on what is going on in your part of the world!
We also need help to keep the Signs of the Times online.
---

Check out the Signs of the Times Archives

Send your comments and article suggestions to us

---
Fair Use Policy
Contact Webmaster at signs-of-the-times.org
Cassiopaean materials Copyright ©1994-2014 Arkadiusz Jadczyk and Laura Knight-Jadczyk. All rights reserved. "Cassiopaea, Cassiopaean, Cassiopaeans," is a registered trademark of Arkadiusz Jadczyk and Laura Knight-Jadczyk.
Letters addressed to Cassiopaea, Quantum Future School, Ark or Laura, become the property of Arkadiusz Jadczyk and Laura Knight-Jadczyk
Republication and re-dissemination of our copyrighted material in any manner is expressly prohibited without prior written consent.
.