---
"Disasters involve cycles in the human experiential cycle [...] Human cycle mirrors cycle of catastrophe. Earth benefits in form of periodic cleansing. Time to start paying attention to the signs. They are escalating. They can even be 'felt' by you and others, if you pay attention."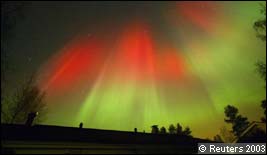 Aurora over Finland
Once we begin to see objective reality our minds begin to become our own. We stop making fools of ourselves. We don't fall for crazy conspiracy theories like lone gunman assassination plots, or Saddam has WMD, or al-Qaida flew planes into the WTC. We don't fall for rabble rousing belief systems such as my-god-is-tougher-than-your-god. These are mere constructs for machines by machines. We stop being passive subjects of manipulation and control. We stop doing a psychopath's bidding. We stop burying our talents, and give back to the universe by becoming an individual. We stop wasting energy on false hopes.
Maintaining the belief systems we are supposed to have, as decided from on high, requires enormous amounts of energy. The truth leaks out, and we become participants in stopping those leaks. We defend the lies and the liars, and therefore we are as much a participant in the mayhem as if we were the actual trigger-pullers. The lies require constant reinforcement in our own brains. Notice when you speak to others about what is going on in the world, how they repeat the current catch phrase over and over. They have to convince themselves as much as you. We can stop spreading the disease. Often before we can learn to do, we have first learn how to not do.
Probably, the majority do not want to look back on their lives and say, "I helped usher in one of the most oppressive and bloodiest regimes of all time." The problem is we have all allowed our brains to be turned to mush by absorbing so many lies, that there is no place for truth to take root. That's where the struggle begins. The battle over our minds is right here, right now. That is one battle we can win. It may be a struggle, and it may appear the odds are stacked against us, but if it wasn't a struggle would it be worth as much? We need to ask ourselves what limit is there on the mind? Where does the mind begin and end? Through our ignorance and fear, have we placed false limits on ourselves?
Today we cover UFO fears, death threats, hunger in America, and peace activists attacks. The world is setting weather records this year, and you get to be a part of it.
If you missed our Halloween Special yesterday - it is not to be missed!
Barbara Bush and Death Threats
[Y]ou can criticize me, but don't criticize my children and don't criticize my daughters-in-law and don't criticize my husband, or you're dead. - Barbara Bush, CNN LARRY KING LIVE, Aired October 22, 2003.
Did Barbara Bush order the hits we covered in yesterday's Signs page from Bush Body Count from the Silenced Voices section? Well, probably not. The quote is out of context. She is really only threatening the Democratic presidential candidates!
Arsonist Burns Peace Activists' Home
Cindy Hunter and her husband, Sam Nickels, opposed Bush's war against Iraq.
"For the last seven months, we've been putting up a sign on our property," says Hunter, a professor of social work at James Madison University in Harrisonburg, Virginia.
At first, the sign expressed the hope that the war could be avoided.
Then, says Hunter, they changed the sign to list the number of casualties, which they periodically updated, and sometimes to list the number of weapons of mass destruction found, which was always zero.
Hunter says the signs provoked a lot of good dialogue. But that's not all.
"People would come by at night every few weeks or so and break our sign up," she says. "And one time last spring we had eggs tossed against our house," which is a few blocks from campus.
To spare the sign, they decided to bring it up on their porch.
"About two months ago, I attached it to a wood column on the porch, thinking it might be less offensive and more out of the way. I calculated badly on that one," says Nickels, who teaches Spanish in a local middle school.
Nickels says the final sign they had on their porch read:
"8,109 Iraqi civilians.
6,000-plus U.S. wounded.
345 U.S. and British soldiers."
At 4:50 a.m. on October 20, Hunter and Nickels were asleep. So were their three children, ages 7, 8, and 11. And so was Adama Sow, a 30-year-old refugee from Mauritania, who was living upstairs.
"Our smoke alarm went off, and my husband I got out of bed and saw smoke and got the kids out and our roommate out," Hunter says. "It was immediately clear to me that the sign had burned because the only fire you could see was on the right front of the house where the sign used to be."
The fire department, from the very beginning, investigated it as a case of arson. "The sign had somewhat of a political message on it," Harrisonburg Fire Chief Larry Shifflett told the Daily News-Record. "It appears somebody may have set that sign on fire."
The fire department has since confirmed this hunch. "We have ruled out the accidental causes of the fire," says Arthur Miller, a captain with the fire department. "We have determined that the sign was intentionally set on fire, and that the fire spread to the living quarters of the house."
Hunter says the fire cost "about $50,000 in damage. The whole upstairs of our house was charred, and the firemen made a hole in the roof."
The family won't be able to return for six months, says Hunter.
"We lost the kinds of things you carry with you your whole life: papers you wrote in school, or clothes my mom saved for me and I've saved for my grandchildren," says Hunter. But she's just grateful her family and roommate got out safely.
The reaction from the campus and the Harrisonburg community has been "fantastic," Hunter says. On the evening after the fire, "70 or 80 people came to our house and held a candlelight vigil to support us and to express the outrage that someone would burn our house and put our lives in danger for a political sign," she says.
Residents have also offered material support to the family, as well. "Students have collected gift certificates, many local restaurants have donated meals, and storage facilities have offered us free space," she says.[...]
Liberty in the balance: Security collides with civil liberties
To our readers: Sept. 11, 2001, changed America. In its wake, Americans demanded bolstered security. The Bush administration responded with new policies and new laws giving the government broad investigative powers in the name of fighting terrorism. Some say the government has gone too far. Over the next four days, The Bee examines how the crackdown on terrorism has come into conflict with the civil liberties that set America apart. - Rick Rodriguez, Executive Editor
Comment: This is the series that Nat Hentoff said deserves a Pulitzer.
Concern mounts over Russia crisis
The US and German governments have raised serious concerns over the way Russia has handled the investigation into alleged tax fraud at the country's largest oil company, Yukos.
They have asked for assurances over the legality of the arrest a week ago of the Yukos chief, Mikhail Khodorkovsky.
A spokesman for German Chancellor Gerhard Schroeder said legal certainty was essential if Russia was to continue its integration into the world economy.
Germany is Russia's largest trading partner and an important source of much needed foreign investment.
Foreign advisers to Yukos had said on Friday that they would be lobbying Western governments on the firm's behalf.
PM 'concerned'
On Thursday, Russian prosecutors froze almost half the shares in Yukos, though the freeze on some of those shares was lifted the following day.
Russia's stock market has lost almost 15% of its value over the past week.
Analysts say Mr Khodorkovsky's funding of opposition groups broke a tacit agreement to stay out of politics in return for avoiding investigation of his financial affairs.
Comment: Khodorkovsky had been negotiating with the US for a merger of Yakos with a US oil company. According to Thierry Meyssan, former Malaysian PM Mahathir is working within the Organization of Islamic Conference to convert the oil market to payment in gold. After long rejecting the move, Saudi Arabia has gotten so fed up with the US that they are now willing. Putin was at the conference last month and is supporting the move.
Over the next year, the OIC will be finalizing the mechanisms for the change to gold. Might the arrest of Khodorkovsky be tied to this? He is Jewish, and we are well aware of the close ties between the oil industry in the US and the neocons and Likud. Putin may be moving in order to secure Russian oil reserves and prevent their coming under control of the US, and therefore the neocons and the new Nazis in Israel.
Armageddon - Zionism's Diabolical Goal
By Grace Halsell
Idaho Observer
10-29-3
I first went to Jerusalem in 1979 to research a book dealing with Christians, Muslims, and Jews. While there I met many third generation Americans, such as Bobby and Linda Brown of Brooklyn, who together with 25 other couples -- half of them from the United States -- moved onto land of the Palestinians and took the land at gunpoint. They staked off 750 acres and put a strong iron fence around it. Israeli soldiers guard this settlement night and day. That is illegal under every international law.

One evening, we sat under the stars looking at the flickering lights of Palestinian villages. Bobby Brown, with a wave of his arm, said: "All the Palestinians have to leave this land. God gave this land to us, the Jews."

This incident made a deep impression on me. I knew Bobby Brown could not use an Uzi and confiscate land at gunpoint in Brooklyn. What made it all right for him to use a gun and take land from Palestinians?

And moreover, why did we, as American taxpayers, give Israel the money to pay for the weapons to confiscate Palestinian land?

Had God deeded the land to Bobby Brown?

Had the Palestinians been living there for 2,000 years, just holding it until Bobby Brown could claim it? [...]
Editor's Note: There is an entire spectrum of issues related to the Holocaust: The creation of Israel, U.S./Israeli relations, Arab/Palestinian/Israeli relations, Christian/Jewish/Muslim relations, the Middle-East "peace" process, Gulf War I and its sequel Gulf War II. They represent layer upon layer of historical/political/social/theological and economic intrigue. To ensure that common people are kept thoroughly in the dark about these issues they have been conditioned to respond emotionally, not logically, when these subjects come up and label those who question the motives of Zionist Jews as "anti-Semites."

The Idaho Observer has refrained from publishing material relative to these subjects, partially because we have plenty of other issues to cover, partially because we attach all responsibility for all behavior, good or bad, to the individual and not the group to which they claim association and, partly, because we publish from north Idaho where the good people from this area have survived the legacy of Richard Butler and his "anti-Semitic" Aryan Nations Church. To understand the historic and contemporary truths behind "Zionism"and its effect on current events the reader must be an objective, insightful student of history; he must overcome the conditioned tendency to lose one's ability to think logically about facts when they are presented.

However, as we watch our world unravel, we no longer have the luxury of sidestepping these issues: Powerful Zionists in the U.S. and Israel have been instrumental in moving the Middle East toward war in a way that benefits Israel and the U.S.
Comment: We strongly recommend reading the above article in full here.
Sharon 'ready' to meet Palestinian PM
Israeli Prime Minister Ariel Sharon has said he is ready to meet the Palestinian prime minister-designate "as soon as he is ready".
His invitation to Mr Qurei reverses a previous decision by Israel not to communicate with him because of his closeness to Palestinian leader Yasser Arafat.
Israel and its key ally the United States refuse to deal with Mr Arafat, describing him as "tainted by terror".
Mr Sharon said the Palestinians had requested a delay in such a meeting to allow Prime Minister Ahmed Qurei - also known as Abu Ala - "to gain strength".
"We are maintaining dialogue with the Palestinians, although not on the level of prime minister," Mr Sharon said.
"We are ready to start negotiations at any time."
Palestinian officials have dismissed Mr Sharon's remarks as a ploy.
The Israeli Haaretz Daily newspaper quoted Jamal al-Shobaki, a Palestinian cabinet minister, as denying a request had been made to delay a Sharon-Qurei meeting.
Mr al-Shobaki accused Mr Sharon of attempting to draw international attention away from criticism over "hardline measures" Israel has taken against Palestinians.
Ayoon wa Azan (Israeli Figures)
Jihad Al Khazen Al-Hayat 2003/10/31
Some Israeli incidents:
Will Self, famous British journalist and author, has a record with drugs, and he was even caught using them aboard the Prime Minister's plane. Then, he married Debra Ore who writes at the Independent and renounced all these things, which made him an entirely different person now.
A few weeks ago, Will Self visited the Palestinian territories and commented on what he saw. He said that Israel was building for Palestinians in the West Bank and Gaza large detention camps, and that the U.S. was supporting Israel's behavior by offering it five billion dollars of assistance every year.
Hence, Will Self was strongly criticized and accused of "hating himself" as he is Jewish. However, he did not take back what he wrote and said that this accusation aimed at hushing critics, denounced the allegations of the radical Zionists and asserted that he did not hate himself or Israel, but rather "the Jews who launch missiles that kill Palestinian civilians, the Jews who sent armed militants to attack both Sabra and Shatila camps, the Jews who practice a sheer racist policy in what they claim to be the home of democracy."
Moreover, he closed an article he wrote in the Evening Standard a few days ago, saying, "Come forward Ariel Sharon, as I really hate you, and frankly the evil persecution (of Palestinians) will not stop until we see that most of the Israelis find the courage in their heart to hate you as well."
I have written many a time, and I write today, that any criticism or attack should only consist of Ariel Sharon and his radical government, as there is a majority of Jews in Israel and around the world who want peace, and they should not be mixed up with the violations of the war criminals in the Israeli government.
I shall add today for the Arab readers that Debra Ore, Will Self's wife, and Jemima Khan, Omran Khan's wife and James Goldsmith's daughter, as well as Bella Freud, a descendent of Sigmund Freud's famous family, were part of a group who visited Southern Lebanon and the Palestinian territories to help Palestinian children.
Howard Jacobson, another liberal Jewish British author, wrote a book on Jews, based on which a televised series was produced, and was banned in the U.S. because it was considered to be offensive for Jews.
He was also exposed to a campaign led by some radical Jews, and he replied to it in the Independent, saying he sympathized with the original Zionist goals but was sad to see the current Israeli government distort these goals. He added that he objected to "the monstrous imposition of settlements, counter anti-Semitism, and realized that the accusation of anti-Semitism sometimes turned into a tool to defend what cannot be defended…"
Tony Judt, former history professor at Oxford University, and President of an institute at the University of New York, has written important books in his field, and surprised Israel and its advocates with an editorial he wrote in the current edition of the powerful New York Review Of Books, in which he suggested a bi-national state joining Jews and Palestinians, as an exit from this circle of escalating violence.
Judt is a Jewish liberal who once supported the idea of two states: Palestine and Israel, but he now believes that the peace process is over, and that a secular state is required to join Palestinians and Israelis. He closed his article saying: "The bitter truth is that Israel's current behavior not only harms America, although it does, and not only harms Israel, although a lot of Israelis admit that, but the bitter truth is that Israel is harming the Jews today."
This honest condemnation of the Israeli government raised the anger of Israel's dogs in the U.S., hence creating a chorus of defenders, most of whom are the lowest kind of conservatives, such as John Podhoretz, who made up excuses to hide the racism of refusing one state, and David From, who formerly wrote President Bush's speeches, considered Judt's campaign to be "a liberal genocide" against Israel.
I shall stop here to say, "I'm satisfied." If a Jewish author and a Jewish reporter and a Jewish university professor are being attacked, then I don't find it peculiar for an Arab writer such as myself to be meanly and violently attacked, for which I couldn't care less, as much as I care for changing or cutting off a part of his work, or even lying about him saying things he didn't say.
I don't think that Israel's apologetics will manage to cover for Sharon government's crimes, although they are spread like cancer. Al-Hayat reader must have followed the story of Professor Andrew Weekly, from Stanford University, who refused to teach an Israeli student for being Israeli. The truth of the matter is that there are more than 2,000 professors in Britain and other places who object to any academic communication with Israel, because of its brutal policy against Palestinians.
There is also Fiona McTaggart, the Home Office Parliamentary Under Secretary in Tony Blair's government, as she said that the Israeli government's work towards Palestinians is as horrible as the Nazi Holocaust against the Jews. McTaggart spoke at the beginning of the month and the month is over, while the Israeli campaign against her is ongoing.
I cannot add to what I have already said about Israelis, but I say that anyone supporting Israel, namely the criminal Nazi government there, is an accomplice in the crime of this government and his hands are stained with the blood of Jews and Palestinians who are victims of permanent violence.
Comment: Indeed.
Our strategy helps the terrorists - army chief warns Sharon
Fierce rebuke exposes rift between military and government
Chris McGreal in Jerusalem
Friday October 31, 2003
The Guardian
Israel's army chief has exposed deep divisions between the military and Ariel Sharon by branding the government's hardline treatment of Palestinian civilians counter-productive and saying that the policy intensifies hatred and strengthens the "terror organisations".
Lieutenant-General Moshe Ya'alon also told Israeli journalists in an off-the-record briefing that the army was opposed to the route of the "security fence" through the West Bank. The government also contributed to the fall of the former Palestinian prime minister, Mahmoud Abbas, by offering only "stingy" support for his attempts to end the conflict, he said.
Gen Ya'alon had apparently hoped his anonymous criticisms would strengthen the army's voice, which has been subordinated to the views of the intelligence services in shaping policy.
But the comments were so devastating that he was swiftly revealed as the source.
The statements - which a close associate characterised to the Israeli press as warning that the country was "on the verge of a catastrophe" - will also reinforce a growing perception among the public that Mr Sharon is unable to deliver the peace with security he promised when he came to office nearly three years ago.
The criticism is made all the more searing because Gen Ya'alon is not known for being soft on the Palestinians. As deputy chief of staff, he called the latest conflict the second stage of Israel's independence war.
The general warned that the continued curfews, reoccupation of towns and severe restrictions on the movement of Palestinians, combined with the economic crisis they have caused, were increasing the threat to Israel's security.
"In our tactical decisions, we are operating contrary to our strategic interest," Gen Ya'alon said. "It increases hatred for Israel and strengthens the terror organisations."
Earlier this week, army commanders in the West Bank told the military administration in the occupied territories that Palestinians had reached new depths of despair, which was fuelling a hatred for Israeli that had little to do with the propaganda so often blamed by the government.
"There is no hope, no expectations for the Palestinians in the Gaza Strip, nor in Bethlehem and Jericho," said Gen Ya'alon.
The commanders warned that the situation was strengthening Hamas, a view the Israeli intelligence services agreed with. But while the army sees the solution as easing most oppressive elements of occupation, the Shin Bet argues that rising support for Islamist groups is a reason to keep the clampdown in place. This is the preferred option of the defence minister and Gen Ya'alon's predecessor as army chief of staff, Shaul Mofaz.
Mr Sharon and Mr Mofaz were reportedly furious at the general's statements and initially demanded that he retract them or resign. But the political establishment apparently decided it would be better to deride Gen Ya'alon.
Anonymous sources in the prime minister's office were quoted in the Israeli press complaining that the army chief was trying to blame the politicians for the military's failures.
But army radio reported yesterday that the foreign minister, Silvan Shalom, agreed that there needs to be a substantial easing of restrictions on the Palestinian population. The deputy prime minister, Ehud Olmert, was also reported to have backed the general's view.
Gen Ya'alon also waded into one of the most contentious issues of the day by saying the army had recommended a less controversial route for the steel and concrete "security fence" through the West Bank.
He said the military had warned that the fence, which digs deep into Palestinian territory, caging some towns and villages and cutting farmers off from their land, will make the lives of some Palestinians "unbearable" and require too many soldiers to guard it.
Further questions were raised yesterday after the chairman of parliament's defence budget committee revealed that the cost of the fence could triple to £1.3bn - or 3% of the national budget - if Mr Sharon fulfils his plan for the fence to run around Jewish settlements and the length of the Jordan valley so that it encircles the bulk of the Palestinian population.
In response to questions about Gen Ya'alon's comments, the army's chief spokeswoman, Brigadier General Ruth Yaron, said they reflected a debate within the military.
"No uniformed officer has expressed criticism of the government. The articles reflect fundamental deliberations within the army, in light of a complex reality," she said.
Israel 'biggest' threat to world peace
Saturday 01 November 2003, 15:36 Makka Time, 12:36 GMT
A European Commission poll has revealed that 60 per cent of Europeans believe that Israel is a greater threat to world peace than North Korea, Iran or Afghanistan.
Around 7,500 people from 15 different European countries were surveyed by the Commission.
They were presented with a list of 15 countries and asked to pick which ones represented a threat to world peace.
Some 59 per cent of respondents said they believed that Israel was a greater threat to world peace than North Korea and Iran.
Both North Korea and Iran have been declared pariah states by the US government, and were named as part of President Bush's 'axis of evil'.
The poll's findings will be released in full this Monday.
'Fantasy'
A right wing American Jewish thinktank has criticised the poll, calling it ''racist and a flight of fantasy''.
The group accused Europeans of falling foul of what it claims is an anti-Israel campaign orchestrated by ''European leaders and the media''.
Comment: Here it comes. As soon as someone opens their mouth against Israel, they are accused of being racist, rather than of seeing with deadly accuracy. Why do people even report the rantings of "right wing American Jewish thinktanks"? If it was a left wing American thinktank for Peace, it would never be mentioned!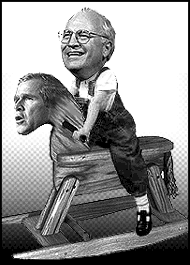 Cheney's grip tight on foreign policy reins

By Jim Lobe
WASHINGTON - The image was not an edifying one: the president of the United States a horse, his vice president, the rider.
But that is the picture Senator Joseph Biden, the ranking member of the Senate Foreign Relations Committee, used to describe the power relationship between US President George W Bush and Vice President Dick Cheney in a recent interview with the National Journal.
Secretary of State Colin Powell, according to Biden's account, sometimes talks Bush into pursuing a more conciliatory foreign policy line, as he has done with North Korea or the United Nations from time to time.
"Like with a horse, Powell is always able to lead Bush to the water. But just as he is about to put his head down, Cheney up in the saddle says, 'Un-uh', and yanks up the reins before Bush can drink the water. That's my image of how it goes," Biden said.
That is also the image which is gaining currency in power circles in Washington. When it comes to foreign policy, Cheney is increasingly seen as holding the reins. [...]
White House fails to meet dossier deadline
Saturday 01 November 2003, 9:09 Makka Time, 6:09 GMT
A US Senate committee deadline to the Bush administration to hand over files relating to intelligence on pre-war Iraq has passed without being fully met.
Investigating the quality of intelligence that was used to justify the war, the Senate Select Committee on Intelligence had given the White House, Pentagon and the State Department till Friday noon to hand over all relevant documents.
But reports suggest that only 11 out of the 15 documents asked for by the committee have been handed over.
Comment: Surprise! Surprise! The White House is hiding documents!
US urges nuclear watchdog to enforce demands for Iran
www.chinaview.cn 2003-11-01 06:54:55
WASHINGTON, Oct. 31 (Xinhuanet) -- The United States on Friday urged the International Atomic Energy Agency (IAEA) to enforce its demands for Iran to prove it is not developing nuclear weapons.
"Iran needs to come clean and fully comply with its international obligations... That is our position and that remainsour position," White House spokesman Scott McClellan told reporters after the Oct. 31 deadline passed for Tehran to meet IAEA demands.
Comment: Curious irony that the deadline the Congress gave the White House is the same that Washington has given to Iran. Looks like Iran has done more to "provide the documents" than Bush has. Maybe Congress should threaten to invade the White House. That's what Bush is planning for Iran.
Jury still out on Iran's nuclear program
IAEA says Tehran's declaration comprehensive
Compiled by Daily Star staff
The UN's nuclear watchdog described Iran's declaration on its atomic program as comprehensive. But cautioned that the jury is still out on its accuracy, as a deadline fell Friday for the Islamic Republic to prove it is not secretly making the bomb.
Mohammed al-Baradei, the International Atomic Energy Agency (IAEA) chief, said in Canada late Thursday that the report Iran filed Oct. 23, a week ahead of the Oct. 31 IAEA deadline for Iran to prove it is not making nuclear weapons, "looks comprehensive." He stressed however that IAEA inspectors were "in Iran now, verifying that declaration."
While Baradei's comment is a positive step for Iran, Tehran still faces the possibility that the IAEA will judge it to be in non-compliance with the nuclear Non-Proliferation Treaty (NPT) and send the issue to the UN Security Council, which could then impose sanctions.
US Senator on Iraq: "Just mow the whole place down"
By Geoff Earle
Senior Republicans have begun raising concerns about the administration's strategy in Iraq amid daily attacks on U.S. forces there.
But congressional Republicans still echo President Bush's overall positive assessment of reconstruction, even as some warn of political trouble unless signs of improvement become clearer fast.
Sen. John McCain (R-Ariz.), who recently compared aspects of the conflict to Vietnam, yesterday said U.S. forces need to be more proactive. [...]
Asked whether he favored any policy changes in Iraq, Sen. Trent Lott (R-Miss.) responded: "We need to have a different mix of troops, is the key. We may need to move some troops around."
Lott suggested moving more troops from the relatively stable south closer to the region around Tikrit, where attacks on U.S. forces have been common. He said there was a need for more trained military police, adding that his comments were not a criticism.
"Honestly, it's a little tougher than I thought it was going to be," Lott said. In a sign of frustration, he offered an unorthodox military solution: "If we have to, we just mow the whole place down, see what happens. You're dealing with insane suicide bombers who are killing our people, and we need to be very aggressive in taking them out."
Hussein may be behind attacks: report
Last Updated Fri, 31 Oct 2003 10:59:27
WASHINGTON - Deposed Iraqi leader Saddam Hussein may be behind many of the attacks against American troops, according to published reports.
White House officials, citing intelligence reports, say Saddam could be playing a significant role in leading the opposition from his hometown in Tikrit, according to The New York Times. [...]
Powell denies Saddam role in Iraq attacks
Saturday 01 November 2003, 4:59 Makka Time, 1:59 GMT
US Secretary of State Colin Powell has said there was no evidence to suggest that Saddam Hussein was coordinating the Iraqi resistance attacks.
Denying a newspaper report that quoted an unnamed senior official as saying the ousted Iraqi president was behind the attacks, Powell insisted there were no evidences to back the claim.
"I speak on the record and I don't know what these sources or who they were saying, but when I saw the story and came in and pulled up all the intelligence I could from my people at the agency, I don't know the basis of those stories," Powell said.
"I don't know where he is or what he is doing, but we really don't have the evidence to put together a claim that he is pulling all the strings among these remnants in Baghdad and other parts of the country that are causing us the difficulty," he added.
Calls to Jihad Are Said to Lure Hundreds of Militants Into Iraq
By DON VAN NATTA Jr. and DESMOND BUTLER
The New York Times
LONDON, Oct. 31 — Across Europe and the Middle East, young militant Muslim men are answering a call issued by Osama bin Laden and other extremists, and leaving home to join the fight against the American-led occupation in Iraq, according to senior counterterrorism officials based in six countries.
The intelligence officials say that since late summer they have detected a growing stream of itinerant Muslim militants headed for Iraq. They estimate that hundreds of young men from an array of countries have now arrived in Iraq by crossing the Syrian or Iranian borders. [...]
A senior British official, who was in Iraq in September, said most of the foreign men captured there were from the Middle East — Syria, Lebanon and Yemen — or North Africa. He described them as "young, angry men" motivated by the "anti-British, anti-American rhetoric that fills their ears every day."
Signs of a movement to Iraq have also been detected in Europe. Jean-Louis Bruguière, France's top investigative judge on terrorism, said dozens of poor and middle-class Muslim men had left France for Iraq since the summer. [...]
A dispute over a marketplace explodes into anti-American fury in Iraq
SAMEER N. YACOUB
ABU GHRAIB, Iraq (AP) - U.S. troops battled Iraqi rioters when a dispute over a marketplace exploded into anti-American fury Friday. Leaflets and rumoured warnings called for a Day of Resistance on Saturday at the start of a three-day general strike to protest U.S. occupation.
Two Iraqis were killed, and 17 others and two U.S. soldiers were reported wounded at the marketplace clashes outside Baghdad, as Iraqi rioters waved portraits of Saddam Hussein and shouted "Allahu Akbar!" which means "God is great!"
A bomb exploded Friday morning near an 82nd U.S. Airborne Division patrol outside Khaldiyah, west of Baghdad, killing one soldier and wounding four others, the U.S. military reported.
In Fallujah, also west of Baghdad and a centre of the anti-U.S. resistance, an explosion and fire struck the office of the mayor, who has co-operated with the U.S. occupation. In a melee that followed, one Iraqi was killed. Later Friday, U.S. troops came under attack at the same spot.
Three or four American soldiers were wounded in the northern city of Mosul late Friday when assailants threw a grenade at them from a speeding car, Iraqi police said. The U.S. military confirmed an attack at the same time but declined to give details.
An Islamic clergymen's association, meanwhile, issued a statement for Friday prayer congregations denouncing as sinful any Muslim's support for the Americans. "Supporting them is apostasy," it said, "... a betrayal of religion."
2 Americans Killed by Iraq Land Mine
By SAMEER N. YACOUB
Saturday November 1, 2003 7:01 AM
ABU GHRAIB, Iraq (AP) - A land mine exploded Saturday on a road in the northern city of Mosul, killing two Americans in passing vehicles and wounding three other people, Iraqi police said, as leaflets called for a "Day of Resistance" to protest the U.S.-led occupation.
The U.S. military did not immediately confirm the attack in Mosul and more details weren't immediately available.
An oil pipeline also was reported on fire early Saturday about 10 miles north of Saddam Hussein's hometown of Tikrit, an area that has seen widespread opposition to the occupation. Witnesses said they suspected sabotage because the blaze was preceded by an explosion during the night. [...]
Iraqi farmer 'killed' by US fire
From correspondents in Baqubah, Iraq
The Courier-Mail
01nov03
Iraqi farmer 'killed' by US firead, today and his brother was detained for attempting to retrieve the body, witnesses told AFP.
The farmer, Ziad Yass Abbas, was watering his crops when US troops, standing about 400 metres away, opened fire on him at around 6am (2pm AEDT), said his nephew, Yass Amer Abbas, who was with him at the time. [...]
It was not clear why the US troops opened fire but another witness, university student Ayman Abbas, said: "I saw the Americans looking at Ziad. They probably thought he was suspicious because he was standing there and watching them, so they fired a rifle at him from their armoured personnel carrier." [...]
Call to drop TV series on Zionism rejected
Friday 31 October 2003, 21:32 Makka Time, 18:32 GMT
Lebanese officials have rejected US calls to intervene with Hizb Allah over a mini-series on Zionism airing on its television station.
Government officials said doing so would be a violation of free speech.
"We will not interfere with an independent television channel," one official told AFP, asking not to be named.
"The United States has a strange conception of freedom of expression. What would they say if we tried to interfere with the way Fox News portrays Arabs, Muslims or Palestinians," he said in reference to the nationalistic US network.
Hizb Allah on the other hand welcomed the US State Department's complaint against its 26-part series "al-Shatat", or "The Diaspora", that began airing on Monday for the Muslim fasting month of Ramadan.
"Let's face it, it's given the programme a lot of free publicity," the movement's number two, Shaikh Naim Kassim, told the rival LBC television, only half tongue-in-cheek.
Burying the hatchet: US, Israel see Sunni-Shiite alliance emerging
BEIRUT: For years, the idea of an Islamic alliance between Sunni and Shiite extremists has been a nightmare scenario for Western intelligence agencies, their allies in the Muslim world and Israel.
Ever since the 1980s, there have been indications that hard-liners from both sects have been setting aside the theological differences that have kept them apart from 14 centuries and possibly even cooperating now and then on particular operations in which the interests of all concerned are advanced.
Latvia installs radar which can peer into Russia

RIGA (AFP) Oct 31, 2003
The Baltic state of Latvia on Friday installed a controversial long-range radar near its border with Russia as part of its preparations to join NATO next year, despite the fears of local residents.
The three-dimensional TPS-117 radar, situated in the town of Audrini, 40 kilometres (25 miles) from Latvia's border with Russia, will be able to peer some 400 kilometres (250 miles) into Russian airspace. [...]
Japan to ratify Geneva Conventions protocols next year: report

TOKYO (AFP) Nov 01, 2003
Japan will next year ratify two additional protocols of the 1949 Geneva Conventions, designed to protect victims of international conflicts, a daily said Saturday. [...]
The government separately plans to submit bills to the ordinary Diet session that would include penalty clauses for inhumane acts during armed conflicts, including the mistreatment of prisoners of war.
More than 150 nations have already signed the additional protocols, but Japan has so far failed in the ratification amid arguments that Tokyo is unlikely to have war victims or POWs because its constitution bans the country from being involved in international disputes. [...]
Number of Hungry Families in U.S. Rising
By EMILY GERSEMA, Associated Press Writer
Sat Nov 1, 2:43 AM ET
WASHINGTON - Despite the nation's struggle with obesity, the Agriculture Department says more and more American families are hungry or unsure whether they can afford to buy food.
Some 12 million families last year worried they didn't have enough money to buy food, and 32 percent of them actually experienced someone going hungry at one time or another, said a USDA report released Friday.
Nearly 3.8 million families were hungry last year to the point where someone in the household skipped meals because they couldn't afford them. That's 8.6 percent more families than in 2001, when 3.5 million were hungry, and a 13 percent increase from 2000. [...]
Most poor families struggling with hunger tried to ensure their children were fed, the report said. Nonetheless, one or more children in an estimated 265,000 families occasionally missed meals last year because the families either couldn't afford to eat or didn't have enough food at home. The report estimated there were 567,000 hungry children in all. [...]
Comment: What does it say about the Bush Reich that countless billions can be spent destroying Iraq, then $87 billion can be spent on fixing up the Arab country, and yet hunger is an increasing problem in America? It is especially nauseating given that during all phases of the military operations in Iraq, the Bush administration and their cronies are raking it in. That's freedom and democracy, American style.
Judge OKs $1.4 Billion Wall St Settlement
By Greg Cresci
Fri Oct 31, 4:50 PM ET
NEW YORK (Reuters) - A U.S. judge on Friday approved a $1.4 billion settlement between financial regulators and 10 Wall Street firms accused of misleading investors with biased stock research. [...]
The settlement came as a result of sweeping investigations into conflicts of interest on Wall Street by a group of regulators led by New York Attorney General Eliot Spitzer, who accused the brokerages of issuing biased research to attract investment banking business.
The scandal was a black eye for well known firms in the securities industry such as Citigroup Inc., Merrill Lynch & Co. and Credit Suisse First Boston. [...]
Other firms included in the settlement are: Morgan Stanley; Goldman Sachs Group Inc.; J.P. Morgan Chase & Co.; Lehman Brothers Holdings Inc.; Bear Stearns Cos.; UBS AG and U.S. Bancorp Piper Jaffray.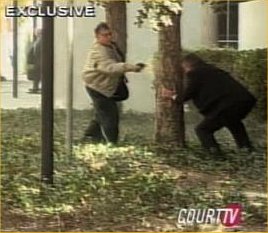 Man Shoots Lawyer As TV Crews Film Attack
By GILLIAN FLACCUS, Associated Press Writer
November 1, 2003
LOS ANGELES - A man who apparently was angry that a lawyer was being paid from his trust fund was captured on videotape shooting the attorney by crews covering actor Robert Blake's murder case.
Police said William Strier, 64, fired a revolver Friday from close range at Gerry Curry on a walkway outside the Van Nuys courthouse.
Dramatic television footage showed Curry, 53, of Simi Valley, trying to hide behind a tree as the man police identified as Strier fired several times. [...]
He was arrested and booked for investigation of attempted murder, and was being held on $500,000 bail. Strier's attorney, Steven Trolard, reached late Friday, would not immediately comment. [...]
Green River Killer suspect 'admits 48 murders'
Ananova.com
08:30 Saturday 1st November 2003
The hunt for one of America's most prolific serial killers looks to have finally ended, with the main suspect agreeing to admit to 48 murders.
The BBC reports that Gary Ridgway, 54, will admit being the Green River Killer when he appears in court next week.
The Green River Killer murdered dozens of women, mostly prostitutes from Seattle, Washington, between 1982 and 1988. [...]
High School Girls Nab Suspected Flasher
PHILADELPHIA - About 20 Catholic school girls chased down a man who had been flashing them near their high school, tackled him to the ground and held him there until police arrived, authorities said. [...]
Bungling scientist is jailed for plotting world's biggest fraud
By Sue Clough, Courts Correspondent
The Telegrah
A former Scotland Yard scientist who tried to perpetrate the world's biggest fraud by authenticating $2.5 trillion worth of fake US Treasury bonds was jailed for six years yesterday.
Graham Halksworth, 69, claimed that the bonds had been secretly issued by the US government in 1934 to help nationalists undermine the Communist revolution in China.
But, he said, the aircraft carrying them had crashed in the Philippines where local tribesmen had discovered the 22 cases stamped with the American golden eagle and kept them for over 60 years. [...]
Pope Weighs in on Italy Crucifix Controversy
By Philip Pullella
Friday, October 31, 2003; 10:36 AM
VATICAN CITY (Reuters) - Pope John Paul Friday forcefully weighed in on a national controversy in Italy over crucifixes in schools, saying it was undemocratic and dangerous to try to erase a country's religious symbols. [...]
For the past week Italy has been caught up in a controversy sparked by a local judge's order that a crucifix be taken off the wall of a school in a small town east of Rome. The ruling, which has dominated the country's media, followed a complaint by Adel Smith, a Muslim rights activist who did not want his children to see crucifixes in their school.
It sparked widespread outrage in the country, which is nominally overwhelmingly Catholic although only some 25 percent of Italians go to church regularly according to some polls. [...]
Comment: The Pope seems to equate democracy with Christianity.
US TV set for 'Jesus wife' storm
BBC
Friday, 31 October, 2003, 10:24 GMT

A leading US TV news reporter has said her network is taking a risk with a news special which asks whether Jesus Christ had a wife.
ABC's Elizabeth Vargas said Jesus, Mary and Da Vinci, to be shown in the US on Monday night, was being made "as respectfully as we can".
But she admitted: "You can't talk about this subject without intriguing people or offending people." [...]
Weather records continue to tumble in year of the sun
By Graham Tibbetts
The Telegraph
Another weather record tumbled yesterday when it was confirmed that January to October was the sunniest period documented.
The Meteorological Office said it was also likely to be the driest 10-month stretch since records began in 1873.
Unparalleled levels of warm sunshine have already earned this year a place in the annals of weather history for the highest temperature, warmest summer nights and the sunniest September.
Previously, the brightest January to October in England and Wales occurred in 1995 - 34 years after these records began - with 1,604.8 hours of sunlight. [...]
The unit predicts that rainfall will increase during winters and decreaseduring summers. "We think there will be more extremes - more frequent summer droughts but possibly more frequent winter flooding," Dr Osborn said.
Comment: The floods have already begun. Some of the recent stories:
First Significant Rain Since May

LOS ANGELES —The first significant rain to hit the Los Angeles area since May caused power outages, freeway accidents and put crimps in Halloween plans tonight, but helped the effort against the Simi Fire.

As 10 p.m. approached, .16 of an inch of rain had fallen on downtown Los Angeles, according to the National Weather Service.

The last significant rain in the area was .48 of an inch on May 3, and .51 of an inch on May 2, according to weather service statistics. The last "rain" in the official Los Angeles gauge was .01 on June 10.

There were power outages in West Hollywood and portions of the San Fernando Valley because of the rain, a Department of Water and Power official said. [...]

NCCo puts flood repairs at $43.3 million (Deleware, USA)

By BETH MILLER
11/01/2003

New Castle County officials Friday said it would take $43.3 million to repair the 218 homes and businesses damaged Sept. 15 in flash floods that forced hundreds to evacuate throughout the Red Clay Creek Valley.

The number does not include damage to public infrastructure such as roads, bridges and some nonprofit agencies. [...]

FLOOD INUNDATES THOUSANDS OF HOUSES IN MEDAN

Saturday, November 01, 2003

Medan - A few thousands of houses at 2nd Lt.Sujono Street and Bandar Selamat area in North Sumatra capital of Medan were inundated by flood on early Saturday after rains showered the city all night long. [...]

Divers Find Infants Drowned In Flood

October 30, 2003

DELHI, N.Y. -- The bodies of twin infants were recovered from a car submerged in a river in New York state Thursday. The car was swept off a flooded road Wednesday night.

Divers found the car in the west branch of the Delaware River Thursday morning, nearly 16 hours after the vehicle disappeared into the fast-flowing water. [...]

Outdoor School seeks flood recovery help (British Columbia, Canada)

Flood causes $250,000 damage

[...] During the recent flooding, the Cheakamus River rose to dangerous levels, forcing a breach in the dyke system on the property that spanned 177 metres. At the Brackendale-Cheakamus gauge, water levels were recorded at 4.2 metres, almost triple the normal level. [...]

Flooding still affecting some roads

Oct 31 2003

FREDERICTON — Four roads in New Brunswick remain closed, even to emergency vehicles, because of flooding.

Power restored in northwestern B.C.

Oct 29 2003

GREENVILLE, B.C. - The lights are back on in the Nass Valley, but road access to the Nisga'a villages of Greenville and Kincolith is still cut off because of flooding. [...]

The resoration of power came too late to save food stockpiled for the winter in freezers and refrigerators. Most of it spoiled during the three-day outage.

In Kincolith, a ferry is on its way to Prince Rupert for a grocery run. And in Greenville two planes were chartered to bring food in to the community.

Phone service has also been restored to the area.

However, it could be days before the Nass Valley communities have their road link restore, as the flooding that washed out the bridge at No Name Creek also took out about 50 metres of roadway. Meanwhile, about 1,000 homes across northern B.C. are still without power after Tuesday's storms.
Washington says cloned meat probably safe
Last Updated Fri, 31 Oct 2003 12:36:05
WASHINGTON - The U.S. government says meat or milk from healthy cloned animals should be safe for people to eat, but it won't approve cloned farm animals just yet.
The U.S. Food and Drug Administration (FDA) says there's no evidence that food derived from cloned animals can harm people.
Last Updated: Friday, 31 October, 2003, 22:56 GMT
Spain's Government says it will oppose in the constitutional court a plan for greater autonomy in the Basque region.
It was responding to a proposal for a referendum in the Basque region on changing its relationship with the rest of Spain to one of "free association".
Justice Minister Jose Maria Michavila said the plan was a deliberate attempt to break with Spain's constitution.
The Basque government has approved the proposal's text and the parliament is due to debate it next week.
Low oxygen may have aided dinosaurs
By Maggie Fox, Health and Science Correspondent
Nov 1 2003
WASHINGTON (Reuters) - Low oxygen levels could have triggered two giant extinctions hundreds of millions of years ago, allowing the dinosaurs to reign supreme over the ancestors of mammals, U.S. researchers say.
Dinosaurs first appeared during a long period of low oxygen and therefore developed highly efficient breathing mechanisms that allowed them to thrive while many other species became extinct.
The researchers arrived at the theory by tying in what is known about the physiology of dinosaurs with recent geological evidence suggesting that from 275 million to 175 million years ago, oxygen levels stayed very low -- comparable to levels found now at altitudes of 14,000 feet (4,200 metres).
Peter Ward, a University of Washington palaeontologist, said he believes low oxygen and hot greenhouse conditions caused by intense volcanic activity may have caused widespread extinctions 250 million years ago, at the boundary between the Permian and Triassic periods, and about 200 million years ago, at the boundary between the Triassic and Jurassic periods.
The Permian-Triassic extinction is believed to have eradicated 90 percent of all species on Earth, including most protomammals, the immediate ancestors of true mammals.
The Triassic-Jurassic extinction killed more than half the species, including many mammals and mammal-like reptiles. But dinosaurs flourished.
China to launch moon probing satellite in 3-5 yrs
www.chinaview.cn 2003-11-01 20:50:58
HONG KONG, Nov. 1 (Xinhuanet) -- China is to launch its first moonprobing satellite in the next three to five years, said Zhang Qingwei, deputy head of the visiting delegation of China's first manned space mission, in an interview with Xinhua on Saturday. [...]
Sri Lanka rebels announce end to boycott
Sri Lanka's Tamil Tiger rebels have announced that they are ending their eight-month boycott of peace talks.
The Liberation Tigers of Tamil Eelam says it has asked mediator Norway to arrange a fresh meeting with the government to discuss their peace plan, publicly unveiled earlier today. [...]
Republicans Concerned at Reagan Movie
www.chinaview.cn 2003-11-01 09:01:00
BEIJING, Nov. 1, (Xinhuanet) -- Worried about how former President Reagan and his wife are portrayed in a CBS TV mini-series "The Reagans," the Republican Party asked the network on Friday to submit the program to historians for review or label it as not historically accurate, according to a Rueters news report.
[...] According to The Times, the movie dwells on Reagan's shortcomings, such as his moments of forgetfulness, painting him as contemptuous of gays and AIDS victims.
Nancy Reagan, meanwhile, is cast as a control freak with considerable sway over White House policies, even setting her husband's schedule according to the advice of astrologers.
CBS has said the film is fair and well-documented, based in part on Reagan's authorized biography, the former first lady's own memoir, and books written by his supporters.
Comments: Sounds accurate to us.
Cairo's mysterious "black cloud" sparks heated governmental debate
CAIRO (AFP) - The Egyptian government is coming under fire in parliament over its failure to deal with a black cloud of pollution of disputed origin which hangs over Cairo every autumn.
The mysterious cloud which chokes the capital's 16 million inhabitants each October "is striking a mortal blow at the government, which is incapable of facing the problem," Zakaria Azmi, a deputy from the ruling National Democratic Party (NDP), said Wednesday during a debate of the parliamentary health committee. [...]
Germans call UFO hotline as sky lights up
BERLIN (Reuters) - An amateur astronomer who monitors reports of UFO sightings says he has been flooded by calls from terrified Germans after a solar flare caused brilliantly coloured skies over Germany this week.
Werner Walter, who runs a call-in service called UFO-FON, said he had disconnected his phone at 3 a.m. after more than 30 calls from people reporting eerie, streaking lights in the sky.
"People were calling from all over Germany," he told Reuters. "They told me of how they were witnessing burning skies, that is the term most people used. Especially elderly people were upset," he said.
An abnormally strong solar flare that erupted this week caused a dazzling display of polar lights, normally seen only in far northern arctic regions, in various parts of Germany.
One couple from the Baltic Sea island of Ruegen reported what they feared was a nuclear explosion in Denmark.
"They stood at the beach, looking out to the sea towards Denmark and told me the entire horizon was deep red with small explosions," he said. "They were terrified. I had to spend nearly 30 minutes trying to calm them."
Comment: Knowledge protects. Do people have a subconscious fear of imminent space invasion?
Crop circles: To be or not to believe
By Nicole Fitzgerald
Crop circles have long captured public attention of both skeptics and believers alike. A new documentary, Star Dreams, coming to MY Place, sheds perspective on the two conflicting sides through an exploration of crop circles from all over the world — including sightings in B.C.
"The focus of Star Dreams is to lift these circles off the field and into the public consciousness," said Robert Nichol, documentary producer and director.
The film will provide 77 minutes of disarming information about crop circles, including eyewitness accounts and interviews with scientists along with footage of breathtaking, awe-inspiring landscapes from all over the world. [...]
World's smallest silicon mechanical devices are made at Cornell
Smallest guitar, about the size of a human blood cell, illustrates new technology for nano-sized electromechanical devices
Comment: With picture from an electron microscope.
based on ESO report
An international team of astronomers led by researchers at the Max-Planck Institute for Extraterrestrial Physics (MPE) in Garching (Germany) has discovered powerful infrared flares from the supermassive black hole at the heart of the Milky Way. [...]
Pensioner dies after egg-throwing incident
Ananova.com
11:30 Saturday 1st November 2003
A pensioner has died after chasing a gang of youths who threw eggs at his home on Halloween.
The 73-year-old was inside his home with his wife on the Hallwood Park estate in Runcorn, Cheshire, last night when the incident happened.
A police spokesman said: "At 7.30pm eggs were thrown at the home address of an elderly couple. A 73-year-old male occupant chased a number of youths from the scene.
"Tragically he collapsed and died in King James' Court.
"His death is being treated as suspicious and three juveniles are currently in custody at Widnes Police Station over the incident."
Maestro owner accused of 480mph speeding
Ananova.com
17:36 Friday 31st October 2003
A woman who drives a G-registration Austin Maestro has told of her shock after receiving a speeding ticket claiming she was travelling at 480mph. [...]
The mother-of-three, who bought the silver-coloured car for £100 in June, said it started to shake when it reached the motorway speed limit of 70mph.
A spokeswoman for the South Wales Safety Camera Partnership said the speed given on the ticket was down to a clerical error and a rectified notice, stating 48mph, had been issued. [...]
Her husband, Kenneth, who carries out mechanical work on the car, said: "I am waiting for Nasa to ring up for the diagram of the engine."
---
Remember, we need your help to collect information on what is going on in your part of the world!
We also need help to keep the Signs of the Times online.
---

Check out the Signs of the Times Archives

Send your comments and article suggestions to us

---
Fair Use Policy
Contact Webmaster at signs-of-the-times.org
Cassiopaean materials Copyright ©1994-2014 Arkadiusz Jadczyk and Laura Knight-Jadczyk. All rights reserved. "Cassiopaea, Cassiopaean, Cassiopaeans," is a registered trademark of Arkadiusz Jadczyk and Laura Knight-Jadczyk.
Letters addressed to Cassiopaea, Quantum Future School, Ark or Laura, become the property of Arkadiusz Jadczyk and Laura Knight-Jadczyk
Republication and re-dissemination of our copyrighted material in any manner is expressly prohibited without prior written consent.
.