---
"Disasters involve cycles in the human experiential cycle [...] Human cycle mirrors cycle of catastrophe. Earth benefits in form of periodic cleansing. Time to start paying attention to the signs. They are escalating. They can even be 'felt' by you and others, if you pay attention."
The Israeli police are talking to Sharon about financial improprieties. Palestinians hold a conference in London to discuss the Right to Return, the Explanatory Memorandum of UN resolution 194 stipulates that the return is to the homes they were expelled from, not just to their homeland. Israel, so fervent in their application of this right to worldwide Jews (any Jew in the world has automatic Israeli citizenship if they so desire), have fought long and hard to deny it to the Palestinians.
The US has hired a new director of spin whose job it is to convince the world that the US is OK, without forcing the US to change the politics that make it so hated. This work of spin-doctoring may also be necessary at home. Noam Chomsky thinks that Bush will create a new "threat" prior to the elections. We think he may even produce a new "attack" within US borders. But then Chomsky still thinks that it was "Arab terrorists" that pulled off 9/11.
Bush outlines how his religion saved him from alcoholism, and how Condi Rice saves him from "sticky" situations.
US commanders on the Iraq/Syrian border contradict their commander-in-chief and say there is no way large numbers of Syrians are crossing the border. In Baghdad, both the Red Cross and the UN are cutting back on their personnel. Even more "rescuers" of Jessica Lynch have died under mysterious circumstances, without a ripple in the press.
Even more wildfires, the CIA and the FBI caught doing what they do best - causing mayhem, courts rule that voter fraud is merely "hypothetical", more solar flare troubles, new archeological finds, and a whistling big bang.
The following image was captured from the Signs office window this afternoon. The locals say that when the Pyrenees come close, stormy weather is near. This is the closest and clearest the Pyrenees have ever been!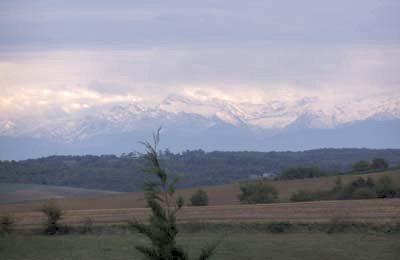 Sharon faces police questioning

By James Reynolds
BBC correspondent in Jerusalem

Israel's Prime Minister, Ariel Sharon, is being questioned by police officers in connection with his family's financial affairs.

Officers from the national fraud squad have gone to question Mr Sharon at his official residence in Jerusalem.

This marks the first time he has been questioned in his time as prime minister.

Reports say Mr Sharon has decided to meet the police alone, without a lawyer.

It is thought that the police questions will focus on two separate issues.

The first is the way in which Ariel Sharon and his two sons, Omri and Gilad, paid back around $1m of illegal campaign contributions dating back to his Likud leadership campaign in 1999.

The second focuses on the nature of the business relationship between Mr Sharon's younger son, Gilad, and an Israeli businessman, David Appel.

Two Palestinians killed as Israel's top officer criticizes Sharon policy towards Palestinians

29-10-2003,21 :19

Palestinians wounded an Israeli man and woman as they drove on a highway in the northern West Bank Wednesday, Israeli police said. The man was in serious condition following the shooting. The woman was very lightly wounded.

Also in the West Bank, a13 -year-old boy was shot and killed by Israeli gunfire in the Balata refugee camp, near Nablus, while Palestinians were throwing rocks, residents said. They added the boy was a distance away from the confrontation and was not involved.

[...] Meanwhile, the mass-circulation Yedioth Ahronoth newspaper reported in its Wednesday's headline that senior Israeli military commanders were severely critical of government policies regarding the Palestinians, saying that Defense Minister, Shaul Mofaz, acceding to strong Shin Bet opposition, last week rejected a direct request by the Israeli Army Chief of Staff Moshe Ya'alon to ease closures and blockades placed on Palestinian population centers.

According to this report, the army's senior command, including Chief of Staff Moshe Ya'alon, believes that "orders of the prime minister to ease the closures have been stopped at (the level of) Defense Minister Shaul Mofaz."

Ya'alon was quoted as saying in reference to easing restrictions on Palestinians, "We acted with stinginess regarding Abu Mazen (former Palestinian prime minister Mahmoud Abbas), and we must not repeat this
mistake with Abu Ala (current Prime Minister Ahmed Qureia)."

Israel's Prime Minister Ariel Sharon expressed his anger at the comments made by Ya'alon. According to Israel's public TV, Sharon told his aides that he should fire Ya'alon.

After the publication, Ya'alon told Mofaz that he did not intend for his comments - made before a forum of senior journalists and commentators on Tuesday night - to be presented as they were. He added that he convened the briefing to explain to reporters the source of the differences of opinion between the military and the government on the issue of easing conditions for the Palestinian population of the West Bank and Gaza Strip.

Right of return is still center stage

It was a dazzling view. Young men wearing university T-shirts. A grand old man in his Arab dress. A woman activist who was buried as a child for three days in the ruins of Tel Zaatar. A veteran fighter from 1948 leaning on his stick. Legislators, writers, camp leaders from Gaza, West Bank, Jordan, Syria and Lebanon. Businessmen from the Gulf and Europe.

They were about 100, except those who were turned back at the border. The invitations reflected the distribution of the Palestinian population in the world. They could have been 1,000, 10,000 or the whole 5,500,000 refugees. They were all eager to come. It was a sight which would please human rights advocates and distress political cynics.

What do they want? They wanted to say again and again what they said for the last 55 years: "We want to return home," a basic and simple demand. They were the inhabitants of 530 primary Palestinian towns and villages, in addition to 662 secondary villages, who were expelled from their homes in the largest well-planned and meticulously executed ethnic cleansing operation in the 20th century. Their land makes up 93 percent of Israel's area. The Jewish immigrants to Palestine could not control more than 7 percent of Israel's area (5 percent of Palestine) under the protection and collusion of the British Mandate government.

To the Palestinian refugees who met in London on Oct. 17 and 18, there is ample proof that the ethnic cleansing they suffered during Al-Nakba of 1948 is still alive and well. Sharon and his likes were the perpetrators of yesterday and are still today in Gaza and the West Bank.

[...] The conferees were well-aware of the many attempts (more than four dozen in the last 55 years) to perpetuate and legalize their ethnic cleansing. They saw the so-called Taba pseudo-agreement, Clinton proposals and now Abed Rabbo-Beilin non-paper as a nicely wrapped package of permanent dispersion and exile. In all these proposals, the offered options are merely different addresses of exile. As one remarked, "changing the address of the camp does not make the refugee a returnee, even if the new address is in Nablus, not Beirut." This interpretation is quite correct legally, as the Explanatory Memorandum of UN resolution 194 stipulates that the return is to the homes they were expelled from, not just to their homeland.

The audience listened attentively to a presentation of facts and figures they knew from experience: 97 percent of the registered refugees live within 100 kilometers of Palestine and half within 40 kilometers; 2 percent of Israeli Jews occupy the refugees' land; this land is now sold to apartment building contractors; the kibbutz is dead; the Palestinians will be a majority at different times and places, no matter what Israel does, short of total extermination of Palestinians in historic Palestine. That still would leave 55 percent of the Palestinians outside Palestine still fighting for their rights.

John Sweeney
The Independent
30 October 2003

James Miller taught my children to surf. Together, the two of us went to Kosovo, Chechnya and Zimbabwe. He was funny, decent to the core, a genius behind the camera lens. Together, we celebrated winning a Royal Television Society gong by having one shandy too many. I fell into an argument with an irritating cove in a penguin suit. James stepped in, threatening to take said cove outside and sort him out. At which point, some PR floozie whispered in my ear: "Do you know who that is?" No. "It's the head of ITV." Don't watch it much anyway. James and I had so much fun and, occasionally, we did the work.

I was in Baghdad when I heard the news. He had been shot in Rafah, at the fag-end of the Gaza Strip, and was dead.

I phoned his widow Sophy immediately, and wept buckets. When the BBC decided to investigate James's killing, they asked me to report for the film. I couldn't say no.

James was not the first international witness to fall silent in Rafah. He was the third. This spring, in less than seven weeks, and within a radius of less than three miles, the American human-shield activist Rachel Corrie was crushed to death by an Israeli bulldozer; the British photographer and peace activist Tom Hurndall was shot in the head and rendered brain-dead; and James Miller was shot dead.

To understand what happened to James, it made sense to investigate the killing of Rachel and the maiming of Tom, whose family are currently discussing with doctors whether or not his life-support machine should be switched off. One day we filmed Tom lying in his hospital bed at the Royal Hospital for Neuro-disability in Putney, south-west London. On the wall was a battery of photographs showing Tom with a whole life ahead of him. The bleep-bleep of the monitor was the only sound. That afternoon, we has travelled to a Devon village to film Sophy Miller, James's widow, and their children, Alexander, three, and Lotte, not yet one.

Making our film, When Killing Is Easy, has been the most harrowing ordeal of my professional life. But it is vital that it is evidential - and that is really tough when the Israeli government and the Israeli Defence Force (IDF) have refused to speak to us. From mid-August we faxed and telephoned the Israelis repeatedly, asking them to explain their actions. All we got was a series of old press releases. [...]

The Israeli Defence Force and the government of Israel chose not to talk to us about James Miller's case. A military investigation continues.

Since the start of the second intifada, 2,200 Palestinians have been killed. Nine Israeli soldiers have been indicted for various offences, but none has been convicted of unlawful killing. But this, from the killing fields of the Occupied Territories, is something new: the killing and maiming of Western journalists and peace activists. And, unlike the Palestinians, the families of the international victims have been able to bring pressure to bear. They have, however, had precious few satisfactory answers.

We showed the APTN film of James's shooting to a serving Israeli soldier. He noted that the television team did not look like Islamic terrorists and concluded: "That's murder."

U.S. Slowly Scaling Back Role in Israel

By KARIN LAUB, Associated Press Writer
October 30, 2003

JERUSALEM - Call us when you're serious about disarming militants — that's the message Palestinians are getting from U.S. mediators who have scaled back their presence in the region.

The apparent disengagement comes amid a deadlock in the U.S.-led "road map" peace plan, Washington's growing troubles in Iraq, and the distractions of the U.S. presidential election campaign.

Israeli and Palestinian critics warn that reduced U.S. involvement will likely lead to more bloodshed, further harm America's image in the Arab world, and in the end bring on another round of U.S. mediation. [...]

US Senate deadline for CIA on Iraq

Thursday 30 October 2003, 9:49 Makka Time, 6:49 GMT

The leaders of the Senate Intelligence Committee have demanded that the CIA should produce documents and schedule interviews for the panel's review of pre-war intelligence on Iraq by noon on Friday.

"It is our desire that the committee's review will serve to validate the good work of the intelligence community and, where necessary, provide corrective suggestions where the intelligence product might have been better," said a joint letter on Wednesday from committee chairman Senator Pat Roberts, a Kansas Republican and senior Democrat Senator John Rockefeller of West Virginia.

"We expect to receive all documents and schedule all interviews by 12pm(1700 GMT) October 31, 2003," the letter to CIA Director George Tenet said. It did not say what would happen if the deadline was not met.

Iraq loan repayment plan rejected

Thursday 30 October 2003, 10:34 Makka Time, 7:34 GMT

US congressional negotiators have rejected a plan which would have required Iraq to repay half of a proposed aid package.

The decision on Wednesday came as a boost for President George Bush, as Congress prepared a final $87 billion bill for Iraq and Afghanistan.

The White House had threatened to veto the entire bill if Congress did not agree to give Iraq nearly $20 billion in reconstruction funds.

Comment: So, let's see how this works. The US taxpayer antes up $87 billion dollars. This is then paid to Bush's cronies at Haliburton to rebuild the country. Along the way a certain percentage is siphoned off to the toadies in power. What does the old song say, "Nice work is you can get it..." Sheeeeeesh!

Chomsky: Bush may invent another 'threat'

Thursday 30 October 2003, 14:33 Makka Time, 11:33 GMT

Leading linguist and commentator Noam Chomsky has said President George Bush will have to "manufacture" another threat to American security to win re-election in 2004 after US failure in occupying Iraq.

Chomsky, attending a Latin American social sciences conference in the Cuban capital Havana, said that since the September 11 attacks the Bush administration had redefined US national security policy to include the use of force abroad, with or without United Nations approval.

"It is a frightened country and it is easy to conjure up an imminent threat," Chomsky said at the launching of a Cuban edition of a book of interviews published by the Mexican newspaper La Jornada, when asked how Bush could get re-elected.

"They have a card that they can play... terrify the population with some invented threat, and that is not very hard to do," he said.

[...] Chomsky said it was reasonable to assume the Bush administration would try to "manufacture a short-term improvement in the economy" by incurring enormous federal government debt and "imposing burdens on future generations."

The Bush administration was a continuation of the Ronald Reagan presidency that declared a national emergency over the threat posed by Nicaragua's leftist government in the 1980s, he said.

"The same people were able to present Grenada as a threat to survival of the United States the last time they were in office," Chomsky said, in reference to the US invasion of the Caribbean island in 1983 to thwart Cuban influence.

Four deaths associated with the rescue of Jessica Lynch:

We have covered Speer who "drove" off the road, and Ung who was killed in a "drive by" shooting. We missed the deaths of two other individuals who participated in the rescue of Jessica Lynch:

David M. Tapper: shot in the back, after being sent to Afghanistan.

Kyle Edward Williams: committed suicide, after he shot someone breaking into his jeep. Didn't leave a note. Was on his way home to see his family.

A bit mysterious. Only one was shot in the line of duty. If there are any other rescuers left, perhaps the best protection is to spread the truth of the rescue far and wide. The Jessica Lynch fan site has no word on these deaths, but they do include a poem from a twelve year old on the front page. Meanwhile, Ms. Lynch snubs Iraqi who helped to free her. Lets not forget that the PR Specialist of Debunked Persian Gulf War Incubator Story Promotes New Book on Lynch "Rescue".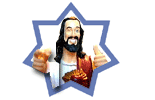 Bush Says Religion Mended His Ways
Dana Milbank
The Washington Post
Thursday, October 30, 2003; Page A04
President Bush, speaking Wednesday night at a Christian youth center in Dallas, gave an unusually candid assessment of religion's role in leading him from his wayward youth.
"You've got to understand that sometimes, and a lot of times, the best way to help the addict, a person who is stuck on drugs and alcohol, is to change their heart," Bush said to a cheering audience at the Oak Cliff Bible Fellowship. "See, if you change their heart, then they change their behavior. I know."
Though Bush often speaks of the importance of religion in his life, aides said it was the first time he tied his discovery of God so directly to his recovery from the heavy drinking and rowdiness that characterized his young adulthood.
Bush received a boisterous and enthusiastic welcome from hundreds of students, most of whom were black. Introduced by his friend Tony Evans, the senior pastor, Bush spoke with banners of the cross over each shoulder, one saying "King of Kings" and the other "Lord of Lords."
Bush stopped at Oak Cliff to promote his "compassion agenda" on his way to his ranch outside Waco, Texas. [...]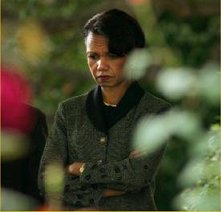 Bush Labels Aide Rice the 'Unsticker'
AP
Wed Oct 29, 8:34 PM ET
WASHINGTON - President Bush gave his national security adviser, Condoleezza Rice (news - web sites), a new job description Tuesday: the White House's "unsticker."
The White House recently set up, under Rice, a new National Security Council oversight group over Iraq (news - web sites).
The move prompted speculation that Defense Secretary Donald Rumsfeld had been sidelined, despite the Pentagon's continuing authority over the U.S. mission in Iraq. It also led to much talk of how Rice, one of Bush's most powerful and trusted advisers, performs her job.
Bush was asked what changed with the creation of Rice's new group. He did not directly answer the question, but suggested her Iraq oversight was a natural outgrowth of her job description.
"The role of the national security adviser is to not only provide good advice to the president, which she does on a regular basis," the president said during a Rose Garden news conference, "... but her job is also to deal inter-agency and to help unstick things that may get stuck. That's the best way to put it. She's an unsticker."
With Rice, arms crossed in front of her chest, watching from the sidelines, Bush added, to laughter: "Is she listening? OK, well, she's doing a fine job."
Ridge: U.S. and E.U. Should Pioneer Biometrics
US team switches from WMD hunt
Thursday 30 October 2003, 12:49 Makka Time, 9:49 GMT
The Pentagon is planning to reassign intelligence staff looking for Iraqi weapons of mass destruction to information gathering on resistance attacks instead.
The change in priorities is seen by critics as a sign the Bush administration has given up on finding any WMDs.
U.S. intel points to mastermind of attacks
Thursday, October 30, 2003 Posted: 7:30 AM EST
WASHINGTON (CNN) -- A former Iraqi general in Saddam Hussein's inner circle is believed to be financing and coordinating attacks against U.S. troops in Iraq, Pentagon sources have told CNN.
Recent intelligence reports point to Izzat Ibrahim al-Duri, the Iraqi military's former northern regional commander, as the key figure behind the attacks, possibly with help from Iraqi regime loyalists and "foreign fighters," according to officials. [...]
Comment: Note the quotation marks around "foreign fighters" in the original article. And where do we think them dang furriners are coming from? Take your time...
US image big challenge for spin doctor
Thursday 30 October 2003, 13:03 Makka Time, 10:03 GMT
The United States' newest spin doctor entrusted with improving the country's image abroad has admitted to having a difficult task at hand.
Margaret Tutwiler, the former State Department spokeswoman nominated to run the department's worldwide "public diplomacy" confessed on Wednesday that she knew the gravity of the problem from "troubling and disturbing" views she heard as ambassador to Morocco.
But Tutwiler said she was confident that US officials could start "digging our country out from this situation that we unfortunately find ourselves in much of the world."
[...] Tutwiler assumes her new responsibility at a time when US image lies in tatters, despite millions of dollars being spent on publicity.
In the aftermath of the Iraq war, much of the world sees the country as a bully. US policy on the Middle East has further sullied its reputation.
Critics of the Bush administration say the problem is with US policies and not with the way they are presented.
Last Updated Thu, 30 Oct 2003 6:55:30
BAGHDAD - Following a similar announcement by the Red Cross, the United Nations said it's temporarily pulling its staff out of Baghdad because of security concerns.
Ayoon wa Azan (If Our Lives Were Worthless)
Jihad Al Khazen Al-Hayat 2003/10/29
The U.S. has achieved a miracle in Iraq: it made people regret the downfall of Saddam's regime.
Contrary to Walid Jumblatt, I was happy that Paul Wolfowitz, Deputy Secretary of Defense, survived the bombing of Al Rashid hotel, as I wish him and the rest of the neo-conservative to live long enough to witness the consequences of the crime they committed against Iraq and its people, under the pretext of overthrowing a criminal regime.
Iraqis tell grim stories of U.S.-run camps
Former Iraqi detainees tell of riots, punishment in the sun, good Americans and pitiless ones
BAGHDAD, Iraq (AP) - In Iraq's American detention camps, forbidden talk can earn a prisoner hours bound and stretched out in the sun, and detainees swinging tent poles rise up regularly against their jailers, according to recently released Iraqis.
In these secretive islands in a scorched landscape, "they don't respect anyone, old or young," Rahad Naif said of his U.S. Army guards.
He and others told of detainees in wheelchairs, and of a man carried into a stifling hot tent in his sickbed. "They humiliate everybody.'' [...]
US troops make arrests in Tikrit; Sources: Saddam deputy coordinating attacks against American forces
30-10-2003,05 :34
US troops carried out pre-dawn raids Thursday in Saddam Hussein's hometown and detained more than a dozen suspects, the U.S. military said.
Under the cover of darkness, troops fanned out across downtown Tikrit, raiding six houses.
U.S. forces had "reliable intelligence" that the suspects were involved in establishing a "new terrorist network in Tikrit and planning terrorist attacks against coalition forces," Lt. Col. Steve Russell told The Associated Press after the operation.
US commanders: Claims about illegal infiltration from Syria to Iraq - ''unfounded''
29-10-2003,15 :02
Commanders of U.S. military forces responsible for monitoring the border between Iraq and Syria told The Washington Post there is no evidence from human intelligence sources or radar surveillance aircraft indicating that significant numbers of foreign fighters are infiltrating into Iraq illegally.
U.S. President, George Bush, on Tuesday blamed foreign fighters for four suicide car bombings in Baghdad on Monday that killed at least 40 people.
Under a project that the U.S. military calls Operation Chamberlain, sophisticated Joint Surveillance Target Attack Radar System (JSTARS) planes are gathering information about vehicle movement and relaying it to ground forces.
Commanders from the101 st Airborne have told the newspaper that neither the aircraft nor human intelligence sources show significant infiltration from Syria. "Concerns about illegal infiltration along the Syrian border appear unfounded," the officers told The Post.
Khodorkovsky for President in 2004?
By Catherine Belton
Staff Writer
As rumors continued to swirl around whether President Vladimir Putin had or had not accepted the resignation of his chief of staff Alexander Voloshin on Wednesday, a new political figure suddenly emerged from the wings in a reminder that strange intrigues never end in Russian politics.
That figure is jailed Yukos CEO Mikhail Khodorkovsky. And, politicians and analysts suggested, he could be used as a third opposition force in the presidential elections to force Putin into a second round and into compromise with big business.
Putin meets top banks amid Yukos crisis
By Arkady Ostrovsky in Moscow and FT reporters
Published: October 29 2003 23:38 | Last Updated: October 30 2003 9:56
Vladimir Putin, Russian president, is set to meet top investment banks on Thursday in an attempt to calm financial markets unnerved by the political crisis over Yukos, the country's largest oil company.
Advertisement
The move comes against a background of falling stock prices and growing nervousness among domestic and foreign investors stemming from the arrest of Mikhail Khodorkovsky, the head of Yukos, who is being accused of fraud and tax evasion.
Russia, Iran say ready to sign protocol on nuclear waste
www.chinaview.cn 2003-10-29 00:26:13
MOSCOW, Oct. 29 (Xinhuanet) -- Russia and Iran reiterated they are ready to sign a protocol on the return of spent nuclear fuel to Russia, Russian media reported Wednesday.
China, DPRK agree to continue six-party talks on nuclear issue
www.chinaview.cn 2003-10-30 20:57:16
PYONGYANG, Oct. 30 (Xinhuanet) -- China and the Democratic People's Republic of Korea (DPRK) agreed here on Thursday in principle tocontinue the six-party talks on the Korean nuclear issue.
Prince Charles meets India's "missile" president
29 October 2003
NEW DELHI - Prince Charles kicked off his visit to India on Wednesday, meeting President Abdul Kalam at the British-built palace where he spent two days 11 years ago with his then wife, the late Princess Diana.
Kalam, the architect of India's ballistic missile programme, and the heir to the British throne held closed-door talks for about 40 minutes before Charles left for another engagement in New Delhi.
Charles and Diana stayed in the palace during their four-day trip to India in February 1992 but it became the root of speculation of their marriage breaking up when sources reported the couple stayed in separate bedrooms. [...]
UN predicts another food crisis for North Korea
United Nations officials predict North Korea will face another food crisis in 2004 despite better harvests.
UN officials say international aid will be needed for some 6.5 million people.
Government of France Will Try to Make French More European
By JOHN TAGLIABUE
October 30, 2003
PARIS, Oct. 29 — The French government presented measures on Wednesday intended to make the French feel more European.
The minister for European affairs, Noëlle Lenoir, said language study would be extended to all primary schools, where pupils would be required to learn at least two European Union languages, including French. At 18, all French youths would receive a handbook explaining their rights as union citizens. The European Union now includes 15 nations but will increase to 25 next year. [...]
Smokers tell Annan to butt out
Thursday, October 30, 2003 Posted: 6:56 AM EST (1156 GMT)
UNITED NATIONS (Reuters) -- Smoking diplomats, especially those from Russia, Mexico and the Czech Republic, balked at a new ban against lighting up in U.N. headquarters and demanded Secretary-General Kofi Annan explain himself.
At a meeting of the General Assembly's committee on budget and administration on Wednesday, several delegates questioned the legal basis for Annan to put out such an order without a vote from member states and demanded a legal ruling.
A U.N. official promised one would be forthcoming after an earlier, similar request had been ignored.
"I will make sure, because I am also a smoker, that we will be given our explanations from the secretariat," said Ambassador Hynek Kmonicek of the Czech Republic, who is chairman of the committee.
US develops lethal new viruses

19:00 29 October 03

A scientist funded by the US government has deliberately created an extremely deadly form of mousepox, a relative of the smallpox virus, through genetic engineering.
The new virus kills all mice even if they have been given antiviral drugs as well as a vaccine that would normally protect them.
The work has not stopped there. The cowpox virus, which infects a range of animals including humans, has been genetically altered in a similar way.
The new virus, which is about to be tested on animals, should be lethal only to mice, Mark Buller of the University of St Louis told New Scientist. He says his work is necessary to explore what bioterrorists might do.
But the research brings closer the prospect of pox viruses that cause only mild infections in humans being turned into diseases lethal even to people who have been vaccinated.
And vaccines are currently our main defence against smallpox and its relatives, such as the monkeypox that reached the US this year. Some researchers think the latest research is risky and unnecessary.
"I have great concern about doing this in a pox virus that can cross species," said Ian Ramshaw of the Australian National University in Canberra on being told of Buller's work.
Ramshaw was a member of the team that accidentally discovered how to make mousepox more deadly (New Scientist, 13 January 2001). But the modified mousepox his team created was not as deadly as Buller's.
No rebound
Since then, Ramshaw told New Scientist, his team has also created more deadly forms of mousepox, and has used the same method to engineer a more deadly rabbitpox virus. [...]
Maximised production
Now Buller has engineered a mousepox strain that kills 100 per cent of vaccinated mice, even when they were also treated with the antiviral drug cidofovir. A monoclonal antibody that mops up IL-4 did save some, however.
His team "optimised" the virus by placing the IL-4 gene in a different part of the viral genome and adding a promoter sequence to maximise production of the IL-4 protein, he told a biosecurity conference in Geneva last week. [...]
Despite the concerns, work on lethal new pox viruses seems likely to continue in the US. When members of the audience in Geneva questioned the need for such experiments, an American voice in the back boomed out: "Nine-eleven". There were murmurs of agreement.
Comment: "Nine-eleven" was only the beginning it seems, for some, it seems, it was the "kick off" and a reason to justify an endless war on humanity.
Ninth Circuit Rejects Constitutional Challenge to Touchscreen Voting
By KENNETH OFGANG
Metropolitan News-Enterprise
The use of touchscreen voting systems that lack a paper trial for audit purposes does not violate the due process or equal protection rights of individual voters, the Ninth U.S. Circuit Court of Appeals ruled yesterday.
The plaintiff, a resident of Riverside County—the first county in the state to hold an election using touchscreen machines in all precincts—"has raised at most a hypothetical concern about the ability to audit and verify election results," Judge Pamela Ann Rymer wrote for the panel. [...]
Court Throws Out Former CIA Officer's Conviction After 20 Years in Prison
The Associated Press
Wednesday, October 29, 2003; 1:03 PM
HOUSTON -- A federal judge threw out the conviction of a former CIA operative who has spent 20 years in prison for selling arms to Libya, saying the government knowingly used false evidence against him.
Edwin P. Wilson, 75, was convicted in 1983 of shipping 20 tons of C-4 plastic explosives to Libya -- something he said he did to ingratiate himself with the Libyan government at the CIA's request.
In a scathing opinion released Tuesday, U.S. Judge Lynn N. Hughes said the federal government failed to correct information about Wilson's service to the CIA that it admitted internally was false. [...]
Wilson, who set up front companies abroad for the CIA and posed as a rich American businessman, is serving a 52-year prison sentence in a federal prison in Allenwood, Pa. [...]
No More Secrets: FBI releases spy files on Puerto Ricans
A Hunter College research center plans to publish on the Internet thousands of pages of FBI documents of spying activities against Puerto Rican activists.
The files cover half a century of surveillance and other covert actions by FBI agents and Puerto Rican police against suspected leftists on the island and in New York [...]
"I expected him to say, 'We can't talk about that.' But to my shock, he said, in effect, 'Those were very difficult times and the bureau did things we can't be proud of to a lot of Americans. So I would be willing to release the documents.'" [...]
FBI confirms another case of bolts yanked from electrical transmission lines in West
Posted: October 29, 2003
WorldNetDaily.com
Another electrical transmission tower in the West has been tampered with, a week after a spate of similar incidents in California and Oregon prompted federal alerts and concerns of terrorism. [...]
It began with a routine drug arrest in downtown Danbury last spring.
It turned into something much bigger when 38-year-old Lee Jupina of New Milford told police that he and another suspect had sold explosives to a Middle Eastern person who worked in a Danbury market. [...]
"I took advantage of 9-11," Jupina said. "I'm 40 and I still act like a kid. I'm sorry. The quality of my life has been terrible since I started to take heroin." [...]
Cats 'can catch and pass on Sars'
Associated Press
18:09 Wednesday 29th October 2003
Medical researchers have found cats can catch Sars and pass it on to other animals.
A team of US scientists at the University of Texas Medical Branch in Galveston say the finding raises the question of whether cats can pass the virus to humans.
Researcher Dr Robert Shope, an expert on emerging diseases, said: "You might want to quarantine the pets as well as the people. If it's been shown that the virus can transmit from cat to cat, it doesn't take much of a leap of faith that it will transmit to humans."
However, other scientists who have studied Sars say pet owners shouldn't overreact. The World Health Organisation's chief Sars scientist, D. Klaus Stohr, said: "These animals in all likelihood did not play a significant role in the spread of Sars to humans." [...]
Comment: Funny how the real story is being kept quiet. The SARS outbreak was caused by leaky plumbing in an old apartment building. Sars is started by exposure to human sewage not Fluffy.
Robots to Gain Eyes in the Back of Their Heads
Emotion Takes Memory On Roller Coaster Ride
By Steven Reinberg
HealthDay Reporter
HealthDayNews -- When you remember an emotional event, your memory of it may be very accurate, but you are likely to forget the events that preceded it, researchers report.
"If an emotional event happens, you remember it better. However, this comes at a cost: The cost is that the things that precede the emotional event tend to be remembered much worse," says lead researcher Ray Dolan, a professor of neurology at University College London.
Dolan and his colleagues asked 10 volunteers to study a list of nouns. Each list contained emotionally aversive words such as "murder" or "scream." The subjects were then asked to recall the words on the list.
The researchers found the volunteers remembered the emotionally charged words much better than the other words. In addition, they had significant trouble remembering the words that came immediately before the emotionally charged words.
They also found that among women the effect of emotion-induced amnesia was twice as large as compared with men, according to their report in this week's issue of the Proceedings of the National Academy of Sciences.
To determine the neurological basis for this finding, Dolan's team repeated the test with 24 subjects who were given either propranolol, a beta blocker drug that can also reduce anxiety, or a placebo.
They also tried the test on an individual who had damage to the part of the brain called the amygdala. The amygdala is involved in producing and responding to nonverbal signs of avoidance, defensiveness and fear.
The team found that "by blocking the emotional arousal associated with these events you can reverse the process," Dolan says.
Among the subjects who received the drug and the subject with the damaged amygdala, there was no improvement in the memory of the emotionally charged words and no emotional amnesia for the words that came directly before. This indicates that both adrenergic hormones and the amygdala influence emotion-induced amnesia.
Dolan says the implication of these findings is that witnesses to emotionally charged events such as accidents or crimes may have totally incorrect memories of what led up to the event. Therefore, their accounts may be poor or unreliable. [...]
Comment: And do we think for a moment that the powers that be are not aware of this aspect of human functioning? Subject a population to emotional trauma and later it is simple to tell them exactly what they experienced.
Greek fish farms raise pollution worries

Wed Oct 29

ATHENS (AFP) - Fish farming, or aquaculture, in Greece has made huge strides in recent years and the country now boasts hundreds of farms -- but experts are warning that the boom may come at a high environmental price.
"We consider aquaculture as an important source of pollution," said Fouad Abousamra, coordinator of the Mediterranean Action Plan (MAP), a UN-backed initiative investigating pollution in the sea that washes the edges of Europe, Africa and Asia.
More than half of Greece's fish production now comes from aquaculture and as one of the leading Mediterranean fish farming nations the country contributes a substantial amount to marine pollution. [...]
Aquaculture can cause environmental damage in several ways: food left uneaten by the fish being reared (up to 30 percent); fish excrement; chemicals used to clean nets; drugs used against marine parasites and diseases.
For every tonne of products it turns out, intensive fish farming spins off large quantities of nitrogen and phosphorus, a MAP report said.[...]
Neolithic nomadic relics site found in Tibet
www.chinaview.cn
2003-10-30
LHASA, Oct. 30 (Xinhuanet) -- Archeologists have discovered a site used by New Stone Age nomadic people at an altitude of 4,234 meters in Tibet.
The site, the first of such discovery at such a high altitude, is located three kilometers to the north of Yangbajain County in Damxung County.
The relics consists of more than 1,000 stone items, pottery pieces and stone balls with drilled holes, said Gengdun, an associate-researcher with Tibet Museum.
Some fossilized charcoal and animal bones were also excavated, but no traces of houses were found, adding more evidence to the conclusion that the site was a temporary a living area frequently used by nomadic tribes, Gengdun said.
The relics, dating back 3,000 to 4,000 years ago, posses distinct features of plateau pasturing culture, comparing with theother Neolithic relics sites in Tibet, experts say.
A total of 16 relics sites belonging to the New Stone Age (10,000 - 4,000 years ago) have been found in Tibet.
Jennifer Viegas
Discovery News
Oct. 28, 2003 — An extinct, ape-like animal that researchers believe was a distant cousin of humans probably evolved in Asia, instead of Africa, according to a recent study.
The finding suggests that anthropoid primates — a suborder including apes, monkeys and humans — evolved in Asia before radiating to Africa, where the earliest humans have been identified.
Researchers made the determination after analyzing an anklebone found in the Southeast Asian country of Myanmar, formerly Burma. The 37-million-year-old bone likely belonged to an anthropoid species known as Amphipithecus, a large animal that leaped and climbed in the trees where it lived.
Findings are published in the current Proceedings of the National Academy of Sciences. [...]
Orbiting astronaut sees mystery lights
Thursday October 30, 2003
The Guardian
Astronaut Ed Lu returned on Monday from a six-month tour as science officer on the international space station with loads of memories and at least one nagging puzzle: what caused the mysterious flashes of light he saw while studying the Earth's aurora from orbit?
Lu, who was a research astrophysicist before becoming an astronaut in 1994, estimates that he spent 100 hours watching the northern and southern lights during half a year in space. The auroral light show, which takes place well below the station's 380km altitude, shimmers and pulses depending on natural variations in incoming solar particles trapped by the Earth's magnetic field.
On three occasions - July 11, September 24 and October 12 - Lu saw something markedly different: flashes as bright as the brightest stars, which lasted only a second then blinked off again. In one instance, he called crew-mate Yuri Malenchenko over to the window to see the bursts. Lu says they appeared very different from the random but harmless retinal flashes that many astronauts experience when heavy cosmic rays hit their eyeballs. [...]
Universe began not with a bang - but a whistle
By David Derbyshire, Science Correspondent
(Filed: 30/10/2003)
The universe may have begun with a whistle rather than a Big Bang, according to a new study of the afterglow of the moment of Creation.
By analysing radiation left over from the Big Bang 14 billion years ago, a physicist has recreated its "sound".
The noise, which can be downloaded from the internet, resembles the hum of a jet plane flying overhead.
Dr John Cramer, from the University of Washington, Seattle, was prompted to carry out the research after an 11-year-old boy wanted to know what the Big Bang sounded like for a school project.
Shortly after the creation of space and time in a massive explosion, vast sound waves rippled through the hot matter that filled the rapidly expanding universe.
The waves squeezed and stretched matter, heating the compressed parts of the universe and cooling the rarefied ones. These waves left their imprint in the afterglow of the Big Bang - radiation known as the cosmic microwave background.
"The sound is rather like a large jet plane flying 100ft above your house in the middle of the night," Dr Cramer told New Scientist magazine. He reproduced the sound using data from Nasa's Wilkinson Microwave Anisotropy Probe. The spacecraft, launched in 2001, has been measuring tiny temperature fluctuations across the sky.
Dr Cramer was able to calculate the frequencies of the sound waves rippling through the universe during its first 760,000 years, a time when it was just 18 million light years across. The sound waves were too low in frequency to be audible and had to be scaled up 100,000 billion times.
During the 100-second recording the frequencies fall because the sound waves get stretched as the universe expands. "It becomes more of a bass instrument," said Dr Cramer.
Magnitude 3.7 earthquake hits near Simi Valley
October 29, 2003
SIMI VALLEY - A 3.7 magnitude earthquake has hit near Simi Valley as wildfires continue to burn in the area.
According to the US Geological Service the quake hit about 3:44 this afternoon about two miles northwest of Simi Valley.
Lance Orozco with KCLU in Thousand Oaks reports the earthquake lasted about five to six seconds.
There were no immediate reports of damages or injuries as a result of the earthquake.
Another small earthquake shook eastern San Bernardino County today about 44 miles southeast of Barstow. That earthquake was a magnitude three-point-one.
Wildfires in the area have knocked out 66 of the region's earthquake monitors. The monitors went down because two key communication hubs were damaged in the fire. A handful of stations also burned in the flames.
There are 360 earthquake stations in the area.
WILDFIRES ERUPT IN COLORADO FOOTHILLS
(Castle Rock-AP) -- Thousands of acres of forest and grassland burned on Colorado's front range, as tinder-dry conditions and a storm front met Wednesday. A fast-moving wildfire forced the evacuation of thousands of upscale homes in rolling grasslands south of Denver Wednesday. And fierce winds are fanning several other devastating blazes along the eastern slopes of the Rockies in Colorado.
The 100-acre Cherokee Ranch fire swept across hills of scattered pine and sent smoke pouring into Denver's far southern suburbs. Evacuation calls relying on the Reverse 9-1-1 Emergency System reached 3,000 homes and businesses, and went out less than three hours after the Cherokee Ranch fire was reported. Authorities say 21 busloads of students were also evacuated from an elementary school north of Castle Rock.
Another blaze exploded to some 4,000 acres northwest of Boulder and has burned an unknown number of structures. One official said it would be ``suicidal'' to fight the blaze head on, and air tankers are grounded by high wind. The so-called "Overland Fire" is believed to have been sparked by a downed powerline.
Elsewhere, a brush fire blew up to between 15-hundred and 2,000 acres near Interstate 76 in Morgan County. It was reportedly 70 percent contained early Wednesday evening. Another fire was reported east of Evergreen along Highway 74 near Idledale, and apparently began inside a building. The Federal Emergency Management Agency approved a request from Governor Owens and the state Forest Service for federal resources to deal with the fires.
Chance discovery in outback may wind back evolutionary clock
South Australia fossil find
Our oldest ancestor? 560 million year old 'tadpole' found in South Australia (South Australian Museum)
When it comes to the prehistory of the planet - which always has its fascinations - the holy grail of palaeontologists is to find the origin of life.
The oldest fossil ever discovered was in China and it proved that animals with backbones - thought to be our forebears - probably lived in that region 530 million years ago.
Now scientists, preoccupied with uncovering the origin of life, may have to re-set their evolutionary clock back a further 25 million years because of a fossil discovered in South Australia's Flinders Ranges.
The tiny fish-like object has been examined by local and international palaeontologists who agree it could be the first link in the chain that ended up - for better or worse - with you and me.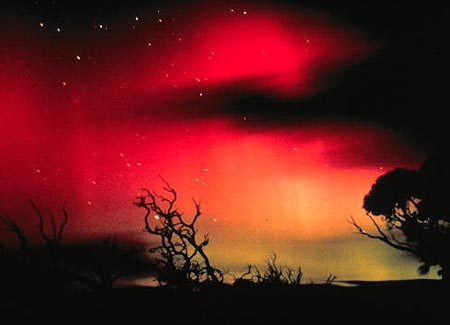 Solar flare brings light show to Perth
A shockwave from the Sun has hit the Earth, causing a rare phenomenon in the southern skies near Perth. Perth Observatory director James Biggs says he observed an aurora, seen as whitish milky light in the sky.
Solar Flares Cut Airplane Radio Contact

By TOM COHEN
Associated Press Writer
October 29, 2003, 10:40 PM EST
TORONTO -- Airplanes flying north of the 57th parallel experienced some disruptions in high frequency radio communications Wednesday due to the geomagnetic storm from solar flares.
Louis Garneau, spokesman for the company that handles Canada's civil aviation navigation service, described the disruptions as an "inconvenience" for air traffic controllers at Canadian stations that handle an average of 300 northern flights daily.
"The solar flares are causing some disruption on our high frequency voice-radio communications," he said. [...]
Second Satellite Lost to Solar Flare Woes
TOKYO - Japanese space agency officials, already forced to temporarily shut down one satellite, said Thursday they had lost contact with a second satellite that may have been affected by an electromagnetic storm caused by the largest solar flare observed in decades. [...]
Hear the sound of Big Bang on the internet
By Charles Arthur, Technology Editor
30 October 2003
The Big Bang wasn't a big bang: it was "rather like a large jet plane flying 100ft above your house in the middle of the night", according to a physicist who has recreated the noise of the universe's first moments.
John Cramer, of the University of Washington in Seattle, was prompted to do the research by an 11-year-old who wanted to know what the Big Bang sounded like 13 billion years ago.
The sounds had to be extracted from the "imprint" they left, in the form of micro-variations in the temperature of outer space. They cover the first 760,000 years of the universe's existence, when it was only 18 million light years across. [...]
Harry Potter 'is giving children migraines' warns Doc
Ananova.com
11:31 Thursday 30th October 2003
A US doctor claims children are getting migraine headaches because the latest Harry Potter book is so long.
Dr Howard Bennett, from Washington, said three children have complained of headaches caused by the stress of reading Order of the Phoenix.
At 870 pages it has nearly three times as many pages as the first Harry Potter book, reports the BBC.
The George Washington University Medical Centre doctor called them "Hogwarts headaches", after the wizard school that the book's hero attends.
In a tongue-in-cheek letter written to the New England Journal of Medicine, Dr Bennett wrote: "The presumed diagnosis for each child was a tension headache brought on by the effort required to plough through an 870-page book.
"The obvious cure for this malady - that is, taking a break from reading - was rejected by two of the patients," he said.
To support his diagnosis, Dr Bennett used a chart showing how the length and weight of each of the Harry Potter books had increased each time, from 300 pages for book one to 870 for book five.
"If this escalation continues as Rowling concludes the saga, there may be an epidemic of Hogwarts headaches in the years to come," he added.
Could you suffer from psychosis? The nose knows
Your nose could provide the first reliable diagnostic tool for predicting a person's likelihood of developing psychosis, new research has found. A University of Melbourne team examined a group of people deemed to be at ultra high risk of developing psychosis and found those that went on to develop schizophrenia, rather than other forms of psychosis, all displayed the inability to identify smells. This deficit was present before the onset of any significant clinical symptoms of psychosis. [...]
UFO photographed above Radio Telescope Westerbork, Netherlands
---
Remember, we need your help to collect information on what is going on in your part of the world!
We also need help to keep the Signs of the Times online.
---

Check out the Signs of the Times Archives

Send your comments and article suggestions to us

---
Fair Use Policy
Contact Webmaster at signs-of-the-times.org
Cassiopaean materials Copyright ©1994-2014 Arkadiusz Jadczyk and Laura Knight-Jadczyk. All rights reserved. "Cassiopaea, Cassiopaean, Cassiopaeans," is a registered trademark of Arkadiusz Jadczyk and Laura Knight-Jadczyk.
Letters addressed to Cassiopaea, Quantum Future School, Ark or Laura, become the property of Arkadiusz Jadczyk and Laura Knight-Jadczyk
Republication and re-dissemination of our copyrighted material in any manner is expressly prohibited without prior written consent.
.