---
"Disasters involve cycles in the human experiential cycle [...] Human cycle mirrors cycle of catastrophe. Earth benefits in form of periodic cleansing. Time to start paying attention to the signs. They are escalating. They can even be 'felt'by you and others, if you pay attention."
ABC begins a "lone gun theory" offensive weeks before the 40th anniversary of the gunning down of JFK. The computer shows that Oswald did it all by himself. And computers can't be wrong, right?
"Durn ferinurs" are making trouble in Iraq. Well, yes they are, aren't they Mr Bush? All those American troops are Iraqi's, right? But Bush says they're going to stick it out. Meanwhile, Powell wants the Red Cross to stay, and it appears the U.S. ignored intelligence regarding the al-Rashid hotel. Where have we heard this story before?
In Israel, illegal settlers beat up a Rabbi who wanted to talk about peace and Sharon's adviser has the gall to accuse Syria of attempting to precipitate a conflict. In the UK, the scandal that might bring down the monarchy. In Africa, famine stalks Kenya and entropy stalks Mugabe.
Back in the U.S., the California fires burn on. The Air Force has also opened a new and improved mortuary to handle the increased load of soldiers sent home in body bags. We wonder what it will take to awaken the inhabitants of that slumbering bastion of "freedom and democracy" known as America?
Bush says documents sought regarding 9/11 are "sensitive". Uh, which is exactly the reason we all would like to take a look at them.
No JFK conspiracy, new analysis shows
October 28, 2003
The United States' ABC television network said today it conducted an exhaustive investigation of the assassination of President John F. Kennedy, complete with a computer-generated reconstruction, which irrefutably confirms that Lee Harvey Oswald acted alone.
A two-hour special on the event is scheduled to air on ABC News in the United States on November 20, two days before the 40th anniversary Kennedy's killing.
"It leaves no room for doubt," said Tom Yellin, executive producer of the special, narrated by Peter Jennings.
He called the results of ABC's study "enormously powerful. It's irrefutable". The conclusion that Oswald alone shot Kennedy during a motorcade in Dallas mirrors that of the Warren Commission, the official government inquiry into the assassination.
Even today, public opinion surveys find that less than half of Americans don't agree with that conclusion, said Gary Mack, curator of the Sixth Floor Museum at Dealey Plaza in Dallas.
But that reservoir of doubt, largely fed by government secrecy and Oliver Stone's movie on the assassination, is important to address, Yellin said.
ABC News worked with an expert who created a computer-generated reconstruction of the shooting based on maps, blueprints, physical measurements, more than 500 photographs, films and autopsy reports, ABC said.
It enables a person to view the scene from any number of perspectives, including what Oswald saw from the sixth floor of the former Texas school book depository, Yellin said.
"When you do that, it's chillingly clear what happened," Yellin said.
He dismisses theories that there was another gunman.
Through interviews and other documentation, ABC News also concludes that Jack Ruby, who later killed Oswald, acted simply out of his love for Kennedy.
The computer-generated technology, only available for the past few years, is now frequently used in criminal investigations, Yellin said.
While Stone's movie raised doubt in many people's minds about the Warren Commission, it also led to the release of many government documents that had previously been kept hidden and fuelled conspiracy theorists, Yellin said.
None of the documents offer significant evidence refuting the conclusion that Oswald acted alone, Yellin said.
Still, much of Americans' cynicism about their government can be traced to November 22, 1963, making further investigation important even 40 years later, he said.
"I think it's very hard for people to accept the fact that the most powerful man in the world can be murdered by a disaffected person whose life had been a series of failures up to that point," Yellin said.
Both Yellin and Mack admit that no matter what evidence ABC News lays out, it's not likely to quiet people who believe otherwise.
"The history of this subject is pretty clear," Mack said.
"No matter what information comes out, people are going to believe what they want."
Comment: Yeah, right. And the moon is made of cheese. They think that by building a computer model, this can give some objective evidence of what happened. Of course, anyone who has ever worked with computers knows that GIGO: Garbage In, Garbage Out. In the Matrix, we watch Neo fly through the air like Superman. Just like real life, right? It looks like the Overseers are trying to anty up the stakes here by presenting another lie for public consumption. After all, we're in the Bush Reich, right, where there are WMD in Iraq, Bush is relentlessly tracking down Osama bin Laden, and the reconstruction of Iraq is going swimmingly.
The Mighty Wurlitzer: the CIA's propaganda machine
from the book The CIAs Greatest Hits
by Mark Zepezauer
Deputy Director Frank Wisner proudly referred to the CIA's worldwide propaganda machine as "the mighty Wurlitzer." And indeed, the agency's skill at murdering people is matched only by its ability to murder the truth.
The CIA has published literally hundreds of books that spread its party line on the Cold War. It was particularly proud of The Penikovsky Papers, supposedly the memoirs of a KGB defector but actually completely ghostwritten by CIA scribes. A bit more embarrassing was Claire Sterling's book which advanced the now-discredited theory that the Russians were behind the 1981 attempt on the life of Pope John Paul II. Even the popular Fodor's Travel Guides started as a CIA front.
The CIA also owns dozens of newspapers and magazines the world over. These not only provide cover for their agents but allow them to plant misinformation that regularly makes it back to the US through the wire services. The CIA has even placed agents on guard at the wire services, to prevent inconvenient facts from being disseminated.
In 1977, famed Watergate journalist Carl Bernstein revealed that over 400 US journalists had been employed by the CIA. These ranged from freelancers who were paid for regular debriefings, to actual CIA officers who worked under deep cover. Nearly every major US news organization has had spooks on the payroll, usually with the cooperation of top management.
The three most valuable media assets the CIA could count on were William Paley's CBS, Arthur Sulzberger's New York Times and Henry Luce's Time/Life empire. All three bent over backwards promoting the picture of Oswald as a lone nut in the JFK assassination.
Among prominent journalists who've worked knowingly with the CIA are National Review founder William F. Buckley, PBS interviewer Bill Moyers, the late columnist Stewart Alsop, former Washington Post editor Ben Bradlee and Ms. magazine founder Gloria Steinem.
Bernstein's landmark article on the CIA and the media told of the agency's frantic efforts to limit Congressional inquiry into the matter, with claims that "some of the biggest names in journalism could get smeared." And while the CIA director at the time, George Bush, made a not-too-convincing show of discontinuing the agency's manipulation of the media, it's clear that the CIA regards the space between your ears as one of its most important battlefields.
Israel violating law says Annan

Tuesday 28 October 2003
Gulf Daily News
UNITED NATIONS: UN Secretary-General Kofi Annan last night accused Israel of violating international law in destroying three Gaza apartment towers and urged it to end actions making a Middle East peace deal harder to reach.
Annan's condemnation came hours after Israeli Prime Minister Ariel Sharon sparked more Palestinian fury by granting "permanent settlement" status to several illegal outposts in the West Bank. [...]
A UN spokesman said: "The secretary-general reminds the Israeli authorities that house demolitions amount to collective punishment, which is a clear violation of international humanitarian law."
"During the past month, more than 200 buildings in the Gaza Strip were destroyed, rendering more than 2,000 people homeless. In this connection, he deplores the destruction by the Israeli military of three 13-storey buildings in the Gaza Strip on Saturday night." [...]
Rabbis attacked by armed settlers
By Shaista Aziz
Tuesday 28 October 2003, 13:46 Makka Time, 10:46 GMT
A group of rabbis from a peace group in Israel have been attacked by armed settlers.
Rabbis, from the peace group Rabbis for Human Rights (RHR), were attacked by five armed settlers. Some of the men had their faces covered when they threatened to attack the rabbis with clubs.
The attack took place near the settler out post of Mitzpeh Yutzahr, which is connected to one of the most hard-line settlements of Yitzahr, near Nablus.
[...] ''They were shouting at us, throwing insults, kicking us and throwing stones. Then I saw one of the men, who looked like he was in his early twenties. He had a large club in his hand which he used to severely beat a member of our group. Later he tried to use it to beat me''.
Education
Rabbi Ascherman describes the settlers at Mitzpeh Yitzar as ''fanatical and violent''.
He told Aljazeera.net that he found it disturbing that the children of the original wave of settlers were more violent and hard-line than their parent's generation.
''They have nothing but contempt for Palestinians and Jews like me''
Rabbai Ascherman,Rabbai's for Human rights
''It's very sad, the fist wave of settlers have brought their children up to hate. They have nothing but contempt for Palestinians and for Jews like me.
"The parents have created monsters that are out of control, in some instances they are even turning on their own parents''.
Palestinians were also beaten by settlers, as the RHR delegation tried to offer them some protection.
Israel to provide services to West Bank outposts in new blow to "road map"
06:35 AM EST Oct 28
MARK LAVIE
JERUSALEM (AP) - Prime Minister Ariel Sharon indicated Monday that Israel likely would not kill Yasser Arafat, while defence officials confirmed plans to begin providing services to eight unauthorized settlement outposts in the West Bank.
The decision on the outposts came despite the government's earlier pledge to remove them as part of a stalled U.S.-backed peace plan. Palestinians complained that Israel is systematically undermining the "road map" peace plan as it continues to grab Arab land.
Dismantling dozens of unauthorized settlement outposts was one of Israel's obligations under the road map, which was launched in June with great fanfare but quickly bogged down over disagreements and violence.
Hezbollah Attack Draws Israeli Airstrikes
By HUSSEIN DAKROUB
Associated Press Writer
Oct 27

BEIRUT, Lebanon (AP) -- Hezbollah guerrillas shelled Israeli positions in southern Lebanon on Monday for the first time in two months, wounding an Israeli soldier and triggering Israeli airstrikes and artillery fire, security officials said.
Lebanese officials said Hezbollah forces fired rockets and mortar shells at the Israeli military outposts of Roueissat el-Alam, al-Samaka and Ramtha inside the disputed Chebaa Farms area.
Hezbollah said in a statement that its guerrillas attacked the Israeli positions with rockets, scoring "direct hits" on the "first day of blessed Ramadan," the Muslim holy month of fasting.
In Jerusalem, the Israeli army said an Israeli soldier was lightly wounded.
Israel responded to the attack with airstrikes and 155 mm artillery fire, targeting suspected guerrilla hideouts near villages close to the Israeli-occupied Chebaa Farms, the officials said on condition of anonymity.

Israeli warplanes fired 10 missiles into valleys and mountainous areas near the villages of Kfar Chouba, Hilta and Rashaya al-Foukhar. There was no immediate word on casualties.
In response to the airstrikes, Hezbollah said its guerrillas attacked the Israeli outpost of Abbassiyeh near the border with Lebanon.
An adviser to Israeli Prime Minister Ariel Sharon blamed Iran and Syria, which back Hezbollah, for Monday's attack.
"Iran and Syria are clearly interested in drawing Israel into an escalation through their Hezbollah proxy," the adviser, Dore Gold, said in a statement. [...]
Comment: As we know, liars and psychopaths often accuse others of what they themselves are doing, in the above case, in the aftermath of Israel attacking an empty Syrian camp a few weeks ago, the hypocrisy of Sharon's adviser in accusing Syria of "drawing Israel into escalation" is palpable.
Israeli intelligence: Syria orders attack on border targets

WORLD TRIBUNE.COM
Monday, October 27, 2003
TEL AVIV — Syria has ordered Hizbullah to launch a major attack along the Israeli border, according to communications intercepts.
Israeli intelligence sources said they have monitored evidence of communications between Syria and Hizbullah that suggests the Iranian-backed Shi'ite movement has been directed to carry out a strike on Israeli positions along the border with Lebanon. The sources said the Hizbullah targets could be either civilian or military.
The Syrian directive was meant to respond to Israeli air attacks on Syria over the last month. In October, Israel F-16 multi-role fighters struck the Ein Saheb insurgency training camp near Damascus and caused heavy damage.
Comment: Mossad's motto is: "By way of deception you shall wage war"

Mossad warns: Hizbullah planning to kidnap Israelis in Africa

By Ellis Shuman October 27, 2003

Israel's Mossad intelligence agency has warned that Hizbullah agents may attempt to kidnap Israeli businessmen and diplomats in Africa in the coming weeks, Yediot Aharonot reported today. Hizbullah leader Sheikh Hassan Nasrallah said this summer that if negotiations on a possible prisoner exchange break down, his organization would work to abduct more Israelis.
The Mossad warning related specifically to Eritrea, Ethiopia, Kenya, Somalia and Tanzania, Yediot Aharonot reported. In these countries, security officials know that al-Qaida and Hizbullah are stepping up their operations, in connection to local Islamic extremist groups, the paper said. [...]

Comment: Mossad's motto is: "By way of deception you shall wage war"

West Bank settlers look to pigs to sniff out attackers
October 29, 2003
Rabbis in Israel have been asked to approve plans to train pigs to guard West Bank settlements in a bid to thwart would-be Palestinian attackers from gaining "martyrdom", the Ma'ariv daily said.
Directors of the Gdud Haivri, an organisation which supplies guard dogs to settlements in the West Bank, believe that pigs' more developed sense of smell would enable them to sniff out militants who hide before launching attacks.
"Pigs' sense of smell is far more developed than that of dogs," the firm's chief executive Yekutiel Ben-Ya'akov told the paper.
"The pigs will also be able to identify weapons from huge distances, and walk in the direction of the terrorist, thereby pointing him out.
"Moreover, this animal is considered to be dangerous by Islam and, according to the Muslim faith, a terrorist who touches a pig is not eligible for the 70 virgins in heaven," he said.
Rabbi Daniel Shilo, chairman of the rabbinical committee of Judea and Samaria (the West Bank) said that, while the raising of pigs - which are banned under Jewish dietary laws - had traditionally been forbidden, the move should be approved in exceptional circumstances.
"Since this is a matter of saving lives, it will be permissible to have the animal," he said.
Comment: The final two paragraphs give an example of the very real influence that the fundamentalist rabbinical teachings have on Jewish thought and action.
Between Bush and Sharon, David Hirst asks which is the tail and which is the dog
[...) The deepening US-Israeli alliance is all too liable to backfire. What the US is permitting Israel to do in Palestine and Syria will further inflame Arab and Muslim hostility to what it is doing in Iraq. The effects of that will be felt at the popular level. As despised Arab regimes look ever more incapable of fulfiling the fundamental duty of any government -- defence against foreign attack and domination -- the militants among their people, like Hanadi Jaradat in Palestine, assume that duty themselves. They become terrorists and suicide bombers wherever motive and opportunity for it most potently coincide. Iraq and Palestine are one and the same. "Those," said Beirut's Daily Star, "who cannot take revenge on Israeli occupation will happily visit it on US troops in Tikrit."
[...] The Israelisation of America, as a key ingredient in the ever more noxious Middle East brew, is not an extravagant term for a relationship in which, typically, Sharon leads and Bush lamely follows. The pattern constantly repeats itself. Bush may have misgivings about what Sharon does; at his military excesses, his relentless settlement drive, his "wall", and now his attack on Syria. He may stammer out mild admonitions. But he always accommodates him in the end.
And with Iraq eating away at his prospects of re-election for a second term Bush will be more accommodating than ever; more deferential to all the "friends of Israel" in America from whom Sharon draws most of his power to lead -- or mislead -- him. With the next suicide bomber will Sharon reply against the offices of "terrorist" organisations in Damascus itself, as he has intimated he might? One thing is sure: if somewhere down such a road lies an American disaster in Iraq, and a monumental mass departure, the Israeli partner in this most extraordinary and counter-productive of alliances will pay a higher price than America itself.
Tuesday 28 October 2003, 13:48 Makka Time, 10:48 GMT
The Malaysian prime minister has rejected Islamic criminal laws introduced by an opposition-ruled state because of their "cruel punishments".
Mahathir Muhammad was quoted by The Star newspaper on Tuesday as saying he did not consider Terengganu's Islamic criminal legislation as true Sharia laws.
His comments came after the state, controlled by the Islamic Party (PAS), announced a Sharia act to criminalise illicit sex, drinking alcohol and the renunciation of Islam.
Sharia punishments include stoning to death for adultery, amputation of limbs for theft, death for robbery, and 40 to 80 lashes of the whip for drinking alcohol.
For those renouncing Islam, offenders have three days to repent, failing which the punishment is death and confiscation of property.
Legal action
"It is PAS's law," said the veteran premier, who retires on Friday after 22 years in office.
"They can implement it but if they do something which is inconsistent with the country's laws, we will take legal action."
Malaysia after Mahathir

Philip Bowring IHT
Tuesday, October 28, 2003
The outsider

KUALA LUMPUR Mahathir bin Mohamad retires this week after 22 years as prime minister of Malaysia. What spurred this remarkable and occasionally outrageous career? And how different will his country be without his leadership?
The answer to both questions is this: Mahathir is an outsider in every way, which has made both him reckless and visionary.
[...] The retirement of this articulate, attention-seeking risk taker will be a loss for a Muslim world in need of modernizing leaders. The gain for Malaysia will be a kinder, gentler regime, and a leader who does not offend foreign friends.
The Sharp Double-Edged Sword Is Drawn
Jamil Matar Al-Hayat 2003/10/27
I was just about to write about Mahathir Mohamad as a "model" when the crisis due to his statements against the Jews started.
[...] Arab intellectual are concerned by the South Asian political culture, especially in Singapore that became a country that produces information technology and Malaysia that became one of the most successful countries at all levels. However, in both cases, the leaders decided to leave the authority willingly and democratically despite their wide popularity.
The Islamic summit was then held. I expected that Mahathir would be assigned to lead an international Islamic movement that gathers all the Islamic moderate leaderships. I expected that this movement would be at least supported by the West, especially the U.S. My expectations were not realized because of the sharp and savage campaign against Mahathir due to his statements against the Jews.
Powell urges Red Cross to stay despite bombing
Ananova.com
07:32 Tuesday 28th October 2003
US Secretary of State Colin Powell has urged the Red Cross and other relief organisations to stay in Iraq following a wave of suicide car bombings in Baghdad that killed around 40 people.
The International Committee of the Red Cross (ICRC) said that it may follow other groups in scaling back aid to the Iraqi people because of the danger.
But Mr Powell urged the Red Cross and other non-government organisations - as well as foreign contractors and the UN - to stay in Iraq.
"They are needed. Their work is needed. And if they are driven out, then the terrorists win," Mr Powell said. [...]
Informant warned of infiltration before hotel blast

IAN BRUCE, Defence Correspondent
The Herald
October 28 2003
US authorities failed to act on a warning from an Iraqi police informant in August that the staff of Baghdad's al-Rashid hotel had been infiltrated by Ba'ath party spies seeking targeting information on the governing coalition's top brass.
The hotel was badly damaged on Sunday by a rocket attack which narrowly missed the floor occupied by Paul Wolfowitz, the US deputy defence secretary. An American colonel was killed and 17 others, including a British treasury official, were wounded.
Security sources confirmed yesterday that the man detailed his suspicions in a letter.
The al-Rashid serves as offices and accommodation for senior coalition officials, military officers as well as local members of the Iraqi governing council.
The document, now in the hands of the intelligence cell of the US 101st airborne division, was "overlooked", but is now to be investigated.
The letter names Muslel Muhammed Farhan al-Dilemi, 53, the manager of the al-Tamoor Trading Company, which provides staff and services to the hotel.
The informant alleges that al-Dilemi "placed" a number of people on the al-Rashid's catering staff, recruited "beautiful secretaries" and arranged sexual liaisons to give them access to high-ranking officials. [...]
Comment: The U.S. seems to have quite a problem with "overlooking" intelligence items.
Ex-POWs fight for right to torture payments
By Miles Benson
Newhouse News Service
10/27/03: WASHINGTON — The Bush administration is quietly piling up victories in a legal battle to block payments to 17 U.S. combat veterans who were captured and tortured in the first Persian Gulf War and won a lawsuit against Iraq for nearly a billion dollars.
The former POWs — whipped, beaten, burned, electrically shocked and starved by their Iraqi captors in 1991 — say they are baffled by the administration's refusal to let them collect any of the Iraqi assets now under U.S. control, and by the Justice Department's efforts to overturn a federal-court decision upholding their claims to compensation.
"I don't understand why they want to see this case go away," said Lt. Col. Dale Storr of Spokane, who today is an airline pilot and serves in the Air National Guard. [...]
'Foreigners' behind Baghdad bombs
There is increasing evidence that foreign fighters are involved in the attacks against Western targets in Iraq, the US and UK have said.
The use of suicide bombers in Monday's devastating series of attacks in Baghdad was a tactic associated with "foreign elements", said the chief British representative in the US-led administration, Jeremy Greenstock.
[...] The BBC's Security Correspondent Frank Gardner says intelligence experts believe al-Qaeda could have been involved.
But he says the question of foreign involvement in the attacks in Iraq is murky and so far inconclusive.
Comment: Did this "intelligence" comes from the same sources who sais there were WMDs in Iraq?
The latest Baghdad bombs targeted police -- and the U.S. claim that law and order would soon be back in Iraqi hands, says analyst GEOFFREY ARONSON
By GEOFFREY ARONSON
Tuesday, October 28, 2003 - Page A21
Indeed, the army that Washington wants to create is meant to make it easier, in U.S. treasure and blood, for Washington to stay and to exercise strategic control over Iraq's destiny, rather than to empower Iraqis. This vision calls for a force that will assume the internal policing duties now being performed by U.S. soldiers -- but with no capacity to mount offensive operations towards the Gulf or Iran, or contribute to a reconstructed Eastern front against Israel.
If U.S. hopes are realized, Iraq will depend on an American military umbrella for its strategic defence. This strategy resembles imperial Rome's: weak local armies, capable of being reinforced at short notice by legions dispatched from the imperial centre.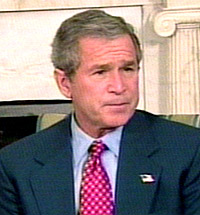 U.S. renews commitment to Iraq in face of terror attacks
Last Updated Mon, 27 Oct 2003 21:26:16
WASHINGTON - U.S. President George W. Bush says the ongoing and escalating violence in Iraq is proof the United States is actually succeeding in its campaign to rebuild the country.
"The Iraqi people understand that there's a handful of people who don't want them to live in freedom, aren't interested in their children going to school, don't really care about the nature of the health care they get, aren't pleased by the fact the electricity is coming back on line, aren't happy about the fact that Iraqis are now selling oil on the world markets and people are finding work, and they'll do whatever it takes to stop this progress and our job is to work with the Iraqis," Bush told reporters in the Oval Office.
Comment: Freedom like they have in the US where the elections are rigged, education like they have in the US where the dumbing down is proceeding at a frightful rate. Health care like they have in the US where there is no government sponsored health care and the HMOs are making a killing.
Tuesday 28 October 2003, 3:55 Makka Time, 0:55 GMT
US President George Bush has talked tough in the face of Monday's deadly blasts in Baghdad, insisting such attacks will not change the US mission in Iraq.
But an opinion poll published the same day suggests his compatriots are losing faith in their president's policies on Iraq.
"The more successful we are on the ground, the more these killers will react. And our job is to find them and bring them to justice," Bush said.
Comment: Didn't Bush use the same phrase when talking about Osama bin Where the heck is he now?
Is Rumsfeld Losing His Mojo?
Facing persistent enemy attacks in Iraq, the Defense Secretary now finds himself fighting battles at home
By MICHAEL DUFFY AND DOUGLAS WALLER
Sunday, Oct. 26, 2003
Defense Secretary Donald Rumsfeld was having one of his irregular chats with Senators last Wednesday, speaking in the secret, soundproof fourth-floor Capitol chamber used for highly classified conversations, when someone interjected the question that was on everyone's mind. "What troop levels do we expect to have in Iraq a year from now?" asked Senator Bill Frist, the Republican leader.
And with that, the Pentagon chief began to tap dance. His reply, according to a Republican Senator in the room, was a classic Rumsfeldian fugue—complete with interesting hand gestures—mentioning reductions and foreign troops and steady progress. Or, as the G.O.P. Senator described it later, "it was a five-minute, total nonanswer, just unbelievably obtuse." Another Republican Senator put it this way to TIME: "Rumsfeld believes in his own magic."
It is increasingly fair to ask: Does anyone else?
[...] You can't understand what Rumsfeld is up to now unless you can picture the wringer he has just been through. Many lawmakers returned from summer vacation lugging complaints from voters about the mess in Iraq. Bush's polls began to fall, and to halt the slide, the White House ran to the U.N., ostensibly to get help with troops and money but really to calm political anxieties at home.
When that effort stalled, the White House tried a different tack: it leaked word to the New York Times that all Iraq policymaking was being centralized at the White House under National Security Council (NSC) adviser Condoleezza Rice, a figure almost as reassuring as Rumsfeld is controversial. The leak was a clear shot at Rumsfeld's war-boss performance, but otherwise the Condi-in-charge move was almost entirely for show.
The Boykin Affair
A long career of marching with the cross
By MARK THOMPSON
Sunday, Oct. 26, 2003
Could the Boykin problem really have been a surprise? The remarks that landed Lieut. General William "Jerry" Boykin in so much trouble last week —his attaching a Christian mission to the war on terrorism—were part of a message he has been delivering in his dress uniform for more than a year.
[...] To understand why Pentagon chief Donald Rumsfeld was so reluctant to condemn him, it helps to know that Boykin is exactly his kind of soldier, a special-operations officer willing to step on a fellow officer's toes if it helps accomplish the mission. Rumsfeld has relied heavily on such commandos in the war on terrorism, giving them critical missions in Afghanistan and Iraq. Promoting such officers - viewed skeptically by more traditional Army officers - is one way Rumsfeld is pushing the Army to become more agile and lethal in the war against terrorism.
Bush says documents sought by Sept. 11 commission "sensitive"
www.chinaview.cn
2003-10-27 02:43:53
WASHINGTON, Oct. 27 (Xinhuanet) -- US President George W. Bush said Monday that the White House documents sought by the federal commission investigating the Sept. 11th terror attacks on the United States were "sensitive."
"Those are very sensitive documents," and White House counsel Alberto Gonzales was working with commission chairman Thomas Kean on the issue, the president said. He did not say whether the White House will turn over the documents to the commission.
The National Commission on Terrorist Attacks Upon the United States acknowledged the documents were sensitive. "They are very sensitive documents. That's why we are having negotiations," said Al Felzenberg, spokesman for the commission.
Comment: Perhaps shrub thinks that the public is only interested in boring documents? The documents are without doubt "sensitive"it is for that very reason that we want to see them! Geez! And this guy is meant to be the President!?
The axis of oil: how a plan for the world's biggest pipeline threatens to wreak havoc

By Philip Thornton and Charles Arthur
28 October 2003
It is a story of empire-building, intrigue, espionage, double-dealing and arm-twisting that Rudyard Kipling would have been proud to write.
Kipling popularised the phrase "The Great Game" to describe the secret battle to dominate central Asia fought between the British Empire, Russia and France.
But even he would have blanched at plans by the United States - with the help of the oil giant BP and British taxpayers - to establish a hegemony across an area stretching from the Russian borders to the Mediterranean Sea.
Inevitably, the need for oil is at the heart of the story. Two former Soviet states, Azerbaijan and Kazakhstan, between them have oil reserves three times the size of America's. The "game" is to find the safest way to get that black gold into the petrol tanks of American cars.
The US has been pushing for a new pipeline since Bill Clinton was in office. At first, companies were reluctant, but the rising price of oil, allied to threats in the Persian Gulf and the likelihood of huge reserves of oil and gas worth as much as $4 trillion under the Caspian, has made them increasingly bullish. The US Environment Department estimates that by 2010, the Caspian region could produce 3.7 million barrels per day. This could fill a large hole in world supplies as world oil demand is expected to grow from 76 million a day, in 2000, to 118.9 million by 2020.
By this time, the Middle Eastern members of OPEC would be looking to supply half of that need.
The geopolictical stakes are high - the pipeline would be able to pump as much as 4.2 million barrels per year, easing the US's reliance on the unstable Gulf states for oil.
The answer is the world's longest export pipeline, a 1,090-mile, 42-inch wide pipe snaking its way within a 500-metre corridor from the Caspian Sea port of Baku, in Azerbaijan, to Ceyhan, in Turkey, via some of the world's most unstable and conflict-ridden nations.
The project will cost up to $4 billion (£2.4bn) and is being built by a consortium of 11 companies led by BP. Almost three quarters of the funding will come in the form of bank loans including some $600 million of taxpayers' money.
The consortium has asked the World Bank and the European Bank for Reconstruction and Development for $300 million each in loans. In addition it has asked government agencies, including Britain's Export Credit Guarantee Department (ECGD), to underwrite the risk of the project being sabotaged by civil war or terrorism.
On Thursday, the project receives its first public test when the International Finance Corporation, an arm of the World Bank, meets to approve its loan.
The decision will be taken on a vote of its 173 country members, although two of the most influential are the US, with almost a quarter of the votes, and the UK, which has 5 per cent of the voting power.
Opponents say if the pipeline is built it will wreak environmental, social and economic havoc along its length.
The Baku Ceyhan Campaign (BCC), which includes Friends of the Earth and the Kurdish Human Rights Project, last week lobbied Hilary Benn, the international development secretary, to vote against it at the IFC.
It handed over a 220-page dossier earlier this month claiming the pipeline would break public lending guidelines on 173 counts.
The Department for International Development steadfastly refused to comment until after the vote, but the opponents are more than happy to fill the vacuum.
They say the environmental threat is two-fold - what happens if the pipeline goes wrong and the destruction it would wreak even if it goes right.
They warn the risk of a serious tanker spillage - on the scale of the Exxon Valdez that polluted miles of coastline when 258,000 tonnes of oil leaked - would be multiplied once the oil starts to flow.
In addition, they say that Turkey lies in an earthquake zone with 17 major shocks in the last 80 years. Since the Baku line will be in place for some 40 years, it says there is a high chance of a major earthquake during its operation.
Environmental groups say that the pipeline poses multiple threats. The potential for havoc begins at the Caspian Sea where the sturgeon fish, whose eggs provide caviar - are already under threat. The Caspian is one of the most polluted bodies of water in the world, and the World Bank estimates that each year a million cubic metres of untreated industrial wastewater is dumped in the sea. Much of this is from oil production, the critics say, and increased production would make it worse at a time when sturgeon numbers are reckoned to be collapsing due to pollution and overfishing.
"The proposed route crosses more than 20 major rivers and several seismic areas. In Azerbaijan, it traverses a desert area that will require at least 10 years for complete habitat recovery," said Carol Welch of Friends of the Earth US.
"In Georgia, the project will clear areas in two dense primary forests, crosses the buffer zone of a protected natural park, and could badly affect several rare and endangered species."
In Turkey there were more than over 500 endemic plant species within the corridor, while a third of the country's globally-threatened vertebrates are to be found within 250 meters of the corridor.
The route crosses two sites protected under national legislation, including a wildlife protection area for the Caucasian grouse, a threatened species. There are two critically endangered plant species and 15 bird species with nesting pairs numbering 500 or less are within the corridor.
But objectors say the impact goes even wider. They claim legal agreements make BP the effective governing power over the corridor, over-riding all environmental, social, human rights or other laws for the next 40 years. [...]
Scheduled to begin working in 2005, the pipeline is expected to bring in more than £65m annually to the regions through which it passes.
But there are doubts about whether the money generated will benefit people and the environment in the area - or simply corrupt officials among the "corridor" governments.
Of course there are alternative routes for a pipeline from the Caspian Sea. The problem, however, is not environmental but geopolictical. Iran has suggested a route along the eastern shore of the Caspian to Turkmenistan and through Iran to the Persian Gulf. It has offered $1.6 billion towards the cost, but this is unlikely to be accepted. Another possibility would be a south-eastern route to post-Taliban Afghanistan. Lastly Russia is lobbying for the oil to be pumped through its network to the Black Sea port of Novorossiisk, but that would put US oil supplies at risk.
Mr Kleveman warns that imperial ambitions in the region will end in the same way they did for the British and the Russians: "The actors may have changed since Kipling's time but its culmination in war and death remains the same and the victims are nearly always innocent civilians," he writes. "They know why oil is called the Devil's tears."

New mortuary to open at Dover AFB
WMDT - TV
October 27, 2003

(Maryland - AP) -- A new 20 million dollar mortuary will open today at Dover Air Force Base.
The base has the largest military mortuary in the country, and the new facility will be twice as big as the old one.
It will offer a state-of-the-art first stop for the remains of casualties of war and civilian incidents abroad. The new mortuary also will have a new boss in Karen Giles, who since August has headed the mortuary. She replaces Michael Tocchetti, who stepped down in June 2002. [...]
Comment: The Bush Reich is not releasing any official tally of U.S. casualties in Iraq, and they just opened a huge, brand new military mortuary in Maryland. Gee, what could it all mean?
UK professor suspended for Israeli ban
Tuesday 28 October 2003, 10:44 Makka Time, 7:44 GMT
One of Britain's most prestigious centres of learning has suspended a professor who rejected an Israeli student's application, reportedly because of the Jewish state's mistreatment of Palestinians.
The University of Oxford on Monday suspended Andrew Wilkie without pay for two months after he told Amit Duvshani there was "no way" he would accept someone who had served in the Israeli army.
It also ordered the pathology professor to undergo equal opportunities training.
UK armed forces in cash crisis
Richard Norton-Taylor
The Guardian
Tuesday October 28, 2003
Britain's armed forces are facing an unprecedented financial crisis, with the prospect of across-the-board cuts that could threaten future military operations.
So serious are the budgetary problems, say military sources, that a freeze on recruitment has been suggested but abandoned - apparently on the grounds it would be too embarrassing and send the wrong message. [...]
The Ministry of Defence admitted yesterday that it was negotiating with the Treasury what it called "adjustments" to this year's £31bn budget.
Officials concede this means cuts, but refuse to say how much or where they will fall. [...]
Massive Famine Stalking Northern Kenya
October 27, 2003
Dauti Kahura
Nairobi
It's now official: A severe famine will hit Northern Kenya in the next few weeks sparking off a food crisis of unprecedented proportions in the region. The disaster is likely to displace thousands and trigger mass migration into urban centres.
The alarm bells are already tolling.
Unless Government and relief organisations step in to forestall the disaster, thousands of livestock will die and hundreds of pastoralist families will stare starvation in the face. Herds people who will not have been weakened by hunger at the time the famine peaks will have walked miles in search of food and water. According to experts, the short rains expected anytime from now are unlikely to reverse the impending catastrophe. [...]

Mugabe 'flown to South Africa after collapse'
By Tim Butcher in Johannesburg
28/10/2003
President Robert Mugabe collapsed yesterday and was flown to South Africa for emergency medical treatment, sources in Zimbabwe said last night. Supporters of Mr Mugabe, 79, were setting up barricades in the capital, Harare, manned by well-armed riot police.
It was reported that senior members of the "Green Bombers", the notorious youth brigades created by Mr Mugabe and responsible for rape, murder and political thuggery, were being flown to the city. [...]
Judges 'regret' hanging of wrongly-convicted man
Teenager 'escapes' killer kidnappers
Associated Press
10:31 Tuesday 28th October 2003
A teenager told today how he escaped from Muslim extremist kidnappers who gunned down five people as they were forced to run along a Philippines beach. [...]
Ten gunmen using a speedboat stormed Malaysia's Borneo Paradise Resort on October 5 in a remote jungle region near the borders with Indonesia and the Philippines, and kidnapped what Malaysian authorities earlier said were three Indonesian and three Filipino employees.
Pediatrician arrested with kiddie porn
October 27, 2003
Thousands of sexually explicit photos of children as young as 8 were discovered on computers belonging to a Chicago pediatrician, federal prosecutors announced Monday. [...]
Group Confesses To Brutal Beating Of Mentally Handicapped Man
(WCPO/WCPO.com)
Julie O'Neill
10/27/03
A mentally handicapped man is recovering from serious injuries after police said a group of people brutally beat him and left him to die. It happened in Hillsboro in Highland County.
Robert Duffy, 29, has done alright despite his mental handicap. He lived by himself in a Hillsboro Apartment but he occasionally kept the company of some folks Highland County's sheriff doesn't think much of.
"I would refer to all four individuals as thugs," said Sheriff Ron Ward.
Ward said 22-year-old Mark Vaught, 26-year-old Jason Poor, 25-year-old Samuel Ross and his 22-year-old sister, Hilda Ross, brutally beat Duffy inside Sam Ross's trailer on Riber Road early Friday morning.
"All for of them threw punches and kicks. There was a period of time where he was stomped by all four and struck about the face and upper torso by all four," said Ward.
Then the sheriff said the four drove Duffy several miles away to a desolate country road, dumped him out of the car next to a corn field, beat him some more, then left him for dead. [...]

Eccentric millionaire can't recall details of cutting up friend
Inside Bohemian Grove: The Story People Magazine Won't Let You Read
N.J. Starving Boys Case Prompts Firings
By TOM BELL, Associated Press Writer
October 28, 2003
COLLINGSWOOD, N.J. - The state's troubled child welfare agency blames the latest horror — four badly malnourished boys found in their adoptive home — on its own incompetent, uncaring or dishonest employees.
A family member maintains the children were not abused, but suffered from medical conditions — including eating disorders — that dated back to their births. [...]
Social workers have claimed they visited the home at least 38 times in the past four years. Child welfare administrators now say they doubt whether those visits took place, with the most recent one said to have occurred Sept. 15. Criminal charges were being considered.
"I had staff that were either incompetent, uncaring or who had falsified records," said Department of Human Services Commissioner Gwendolyn Harris. "I have members of this division who have failed children almost to the cost of their very lives." [...]
Doctors continue antidepressant prescriptions despite warning
CBC News
Mon, 27 Oct 2003 12:14:07
HALIFAX - Last summer's warnings of the dangerous side effects of certain antidepressants on teenagers haven't stopped Canadian doctors from prescribing them.
Health Canada warned in July that Paxil and Effexor should not be prescribed to anyone under 18 years of age because they may increase the risk of suicidal thoughts.
But sales of the drugs have dropped only slightly since then, which suggests that doctors haven't changed how they prescribe the drugs. [...]
I will only tell Diana's secrets to William, says Burrell
By Chris Boffey
The Telegraph
Paul Burrell, the former Royal butler, says he is ready to reveal more secrets about Diana, Princess of Wales, but only to Prince William in a face-to-face meeting. [...]
'Smithgate' could bring down the monarchy
The Scotsman
[...] The real point, as Burrell's book is published worldwide, is that he and Diana between them still have the power to bring down the monarchy.
Yes, I would put it that strongly. Even posthumously, Diana can cause the Windsors at least as much trouble as she did while alive. Why else would the Royals, including her own sons, be so anxious to silence Burrell to the tune, according to the Mail on Sunday, of £5 million? [...]
On the tape, Mr Smith reportedly gives chapter and verse on another allegation already in the public domain: that he had witnessed a Royal in a compromising act with a member of staff. Those in the know about Mr Smith's allegations, myself included, believe the monarchy could not survive their publication. [...]
As if all this were not enough, Paris conspiracy theories are about to resurface en masse. Next Sunday sees Channel 5 broadcast an updated version of David Cohen's documentary, Diana: The Night She Died. Mr Cohen is also finishing a book, containing new revelations, for publication early next year.
Meanwhile, the Surrey and Buckingham Palace coroner, Michael Burgess, cannot much longer delay the inquest into Diana's death - required by British law. [...]
Activists Ask City Of Orlando To Oppose Patriot Act
ORLANDO, Fla. -- A group of political activists has asked Orlando to join a growing list of cities that oppose the Patriot Act. The post-September 11th law was passed to help put terrorists behind bars, but Monday the Orlando City Council heard from people who say America is losing too many rights. [...]
France may allow 'first strikes' on rogue states in policy shift
By John Lichfield in Paris
The Independent
28 October 2003
France is preparing to change its policy on nuclear weapons to include a threat to unleash first strikes against "rogue states", a newspaper reported yesterday.
The Elysée palace issued only a partial denial of the article in Libération. [...]
Libération, quoting senior military sources, said this policy was under review and a new position would be expressed - possibly in a speech by President Chirac - by the start of next year. The new doctrine might raise the possibility of a "first strike" if France felt threatened by weapons of mass destruction (WMD).
The shift may seem strange in the light of France's refusal to approve the US-led invasion of Iraq, which was justified by American and British allegations that Baghdad was developing nuclear, biological and chemical weapons. But Paris said there was no clear proof that Iraq held such weapons and that, in any case, a military invasion would not set a sensible precedent for controlling the proliferation of WMD.
The debate on a shift in policy, also hinted at in a speech this month by Jean-Pierre Raffarin, the Prime Minister, is partly an answer to domestic criticism that M. Chirac has underplayed the dangers of WMD.
It may also be an attempt to silence grumbles within the French military about the cost of France's nuclear deterrent - €3bn (£2bn), or 10 per cent of all defence spending. [...]
French President: Germany, France Must Open Up To Rest of Europe

On the day of Franco-German summit, France's president says Berlin and Paris, which are enjoying their closest bond in years, should invite other EU members to join their political consultations.
German Chancellor Gerhard Schröder met Monday evening with French Prime Minister Jean-Pierre Raffarin in the French town of Poitiers in one of the regular meetings of the French and German governments, which are intended to strengthen the Franco-German alliance.
But in the run up to the summit, Raffarin made the surprise announcement that he believes other European Union member states, including Britain, should be privy to such meetings. He told a German newspaper that while the Franco-German relationship is important, "it's not sufficient anymore."
Putin refuses to intervene in Yukos crisis
By Andrew Jack and Arkady Ostrovsky in Moscow
Published: October 27 2003 12:11 | Last Updated: October 28 2003 8:55
Mr Putin backed the federal prosecutor's decision to launch fraud and tax evasion charges against Mikhail Khodorkovsky, Yukos chief and biggest shareholder, despite claims that the investigation was politically motivated.
Sticky Negotiations over EU Constitution Continue

The EU foreign ministers met in Brussels on Monday to discuss the draft version of the EU constitution. Though sticking points remain, Joscka Fischer thinks they will retain the original.
Ahead of a meeting of EU foreign ministers in Brussels on Monday to discuss a draft version of the European Union constitution, the German foreign minister Joschka Fischer called on Europe's "big three" (Germany, France and Britain) to show solidarity. At the same time, he expressed understanding for smaller member states' concerns about the future distribution of power within the EU.
Calif. Fires Kill 15, Destroy 1,000 Homes
By BRIAN SKOLOFF, Associated Press Writer
October 28, 2003
SIMI VALLEY, Calif. - With wind-driven flames threatening the densely populated San Fernando Valley in Los Angeles, firefighters dug in Tuesday for another brutal day of battling what was developing into the most destructive — and one of the deadliest — wildfire seasons in state history.
At least 1,134 homes had been destroyed and 15 people killed as of Tuesday by five separate blazes scattered around Southern California. Two more people were killed in Mexico.
The flames dotted an area that extended on a 100-mile line from the Mexican border north to the suburbs of Los Angeles.
A handful of other fires that hadn't hit any homes also consumed tens of thousands of acres of brush and forest lands, bringing the total burned to more than 500,000 acres — or about 780 square miles, roughly three-quarters the total area of Rhode Island.
"It's a worst-case scenario. You couldn't have written anything worse than this. You can dream up horror movies, and they wouldn't be this bad," said Gene Zimmerman, supervisor of the San Bernardino National Forest, the area in which two of the most destructive fires began last week. [...]
Comment: See the latest images from the Southern California wildfires, taken by people on the ground with camera phones and digital cameras.
Fear, Frustration Blanket California
By CHELSEA J. CARTER, Associated Press Writer
October 28, 2003
SAN BERNARDINO, Calif. - For every person left crying amid the rubble of a lost home, thousands more suffered a more everyday misery in the cloud of haze, fear and frustration that surrounded California's wildfires.
Few lives were untouched by the fires, which shut down freeways, grounded planes, halted trains and burned power poles. Highways glimmered with an endless stream of headlights at midday with smoke fouling the air. Shoppers grabbed up dust masks and put them on in the store. Parents kept children inside or brought them to work.
Thousands were without power in mountain communities above San Bernardino, prompting a run on electrical generators, which sell for $300 to $800, along with flashlights and batteries. [...]
Bush declares disaster as fires cripple California, threaten more homes
Counties Designated Primary or Contiguous Disaster Areas
(Des Moines-AP) -- Sixty-eight Iowa counties have been designated "primary natural disaster areas'' by the U.S. Department of Agriculture.
Due to crop losses caused by drought conditions that started in July, another 31 counties have been named "contiguous disaster counties.'' [...]
Seeing Double: Astronomers Amazed at Two Huge Sunspots
Fri Oct 24
By Robert Roy Britt
Senior Science Writer, SPACE.com

An unusually active Sun has professional astronomers amazed while amateurs revel in backyard sightings of two Jupiter-sized sunspots. Meanwhile, a heavy dose of space weather buffeted Earth just before Noon ET today, and another storm is on the way.
Forecasters said the stormy weather could disrupt satellite communications and poses a threat to power grids on Earth.
The active Sun also presents a nice opportunity for anyone to view sunspots, though safe viewing techniques must be employed to prevent eye damage.
The first storm of charged particles was unleashed by a dark region on the solar surface called Sunspot 484. The huge spot, about the size of Jupiter's surface, has been growing for several days and has rotated into a position that now points squarely at Earth.
Another giant sunspot is brewing and more storms could be generated.
Odd timing
The stormy space weather comes as the Sun is actually in a declining mode of activity. An 11-year solar cycle peaked during 2001 and 2002. Sunspots are fewer now and activity will ramp down during the next three to four years. But, scientists say, isolated severe space weather can occur at any time.
"Its somewhat unusual to have this much activity when were approximately three-and-a-half years past solar maximum," said Larry Combs, a forecaster with the NOAA Space Environment Centers Space Weather Operations. "In fact, just last week, solar activity was very low with an almost spotless Sun."

Sun fireball causing mobile chaos
By Robin Yapp
Daily Mail
28 October 2003
A giant fireball hurtling towards Earth threatens to bring chaos to mobile phone networks, power grids and aircraft communications.
The vast cloud of gas - which with a temperature of 1.8million degrees fahrenheit is more powerful than a billion hydrogen bombs - will hit our planet's atmosphere some time this morning.
There is no chance of it connecting with the Earth's surface or endangering mankind.
But the effect of it bouncing off our planet's magnetic field will create a 'geomagnetic storm' with the power to disable the National Grid. [...]
Comment from a reader: Wow! Check out SOHO now! Latest LASCO C2, LASCO C3, EIT. The largest flare on record is an X20 in April 2001.
Another Reader Writes: Check this out... NOAA Current Solar Data web site has it classified as a " Mega Flare!". Supposed to be a proton flare (I don't know how significant, if at all, that is). Also, check out all the "stuff" in this C3...
On this day in 1965
HIS HOLINESS POPE PAUL VI released NOSTRA AETATE. Which states in part:
[...] True, the Jewish authorities and those who followed their lead pressed for the death of Christ; still, what happened in His passion cannot be charged against all the Jews, without distinction, then alive, nor against the Jews of today. Although the Church is the new people of God, the Jews should not be presented as rejected or accursed by God, as if this followed from the Holy Scriptures. [...]
Everybody wants to feel special. Usually at the expense of someone else. Also in this week:
...the world was created. To be precise, it was created on Sunday, October 23, 4004 B.C.E. At 9:00 a.m. At least, that was what two separate people came up with back in the mid-1600s. Dr. James Lightfoot of Oxford University (that's in England) came up with that date in 1644, but it wasn't until 1658 that Archbishop James Ussher of Trinity College (that's in Dublin, which is in Ireland) confirmed the date--but not the 9:00 a.m. part. [ This Wacky Week in History]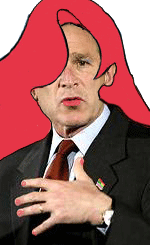 "I'm not bad, I'm just drawn that way."
Scientific survey: "French fries are the most popular vegetable eaten by children 19 to 24 months old"
October 26, 2003

A survey of the eating habits of 3,000 youngsters aged four to 24 months found their diets were surprisingly similar to that of older children -- heavy on soft drinks, sweet candy, and other junk foods, and light on vegetables and fruits.
"French fries are the most popular vegetable eaten by children 19 to 24 months old," researcher Dr. Kathleen Reidy said at an American Dietetic Association conference. "Twenty to 25 percent of these kids did not eat a single healthy vegetable on the day of the survey, and 25 to 30 percent did not eat a single fruit."
Gadget may wreak traffic havoc
By Jodi Upton / The Detroit News
Tired of sitting at endless red lights? Frustrated by lights that turn from green to red too quickly, trapping you in traffic?
Now anyone can breeze through congested intersections just like the police, thanks to a $300 dashboard device that changes traffic lights from red to green, making nasty commutes a thing of the past and leaving other drivers open-mouthed at your ability to manipulate traffic. But what if everyone had one?
That's the fear of traffic control officials, who believe chaos would take over the roads. That's also the potential facing communities from Troy to Washington Township as Internet-marketed knockoffs of the device -- originally intended only for police and fire vehicles -- have become available to the public.
The knockoffs have traffic engineers investigating whether lockout measures will work against the copycats and whether hundreds of thousands of dollars in traffic technology investments will become obsolete.
Police are worried about the possibility of intersection chaos if people duel over control for lights. But even more fundamentally, the dashboard device may be impossible to detect even from a police car right next to it, and it may be perfectly legal anyway.

Pet alligator gets loose aboard airliner
Reptile recaptured in cargo hold without incident
Monday, October 27, 2003
NEWARK, New Jersey (CNN) -- An alligator on its way from Miami, Florida, to Newark on an American Airlines jet escaped from its crate in flight but was recaptured on landing, a spokesman for the airline said Monday.
---
Remember, we need your help to collect information on what is going on in your part of the world!
We also need help to keep the Signs of the Times online.
---

Check out the Signs of the Times Archives

Send your comments and article suggestions to us

---
Fair Use Policy
Contact Webmaster at signs-of-the-times.org
Cassiopaean materials Copyright ©1994-2014 Arkadiusz Jadczyk and Laura Knight-Jadczyk. All rights reserved. "Cassiopaea, Cassiopaean, Cassiopaeans," is a registered trademark of Arkadiusz Jadczyk and Laura Knight-Jadczyk.
Letters addressed to Cassiopaea, Quantum Future School, Ark or Laura, become the property of Arkadiusz Jadczyk and Laura Knight-Jadczyk
Republication and re-dissemination of our copyrighted material in any manner is expressly prohibited without prior written consent.
.