---
"Disasters involve cycles in the human experiential cycle [...] Human cycle mirrors cycle of catastrophe. Earth benefits in form of periodic cleansing. Time to start paying attention to the signs. They are escalating. They can even be 'felt'by you and others, if you pay attention."
Israel continues its bombardment of Palestinian activists and civilians alike. Hamas responds with a mortar barrage. The UN almost unanimously (the US an unsurprising exception) passes a resolution demanding that Israel dismantles its apartheid wall. Israel arrogantly dismisses international opinion and law.
Israel is running game theory scenarios for the death of Arafat. The results all equal bloodshed and violence that may spill out into the entire region. Israel is violating signed obligations in outfitting their subs with nukes, pushing the world to the brink of warfare, cheered on by the Christian Fundies, no doubt. Meanwhile, other countries are getting in the nuclear weapons game. Bush has effectively triggered a worldwide arms race.
Bush was allegedly found face down in the oval office at some form of worship, the question is, was it Yahweh, Jesus or Dick Cheney? The Pope was more of a little Hitler than many realised, following a dogmatic and fundamentalist policy for most of his stay in the Vatican city.
Bush has decided you don't need to see soldiers coming home in caskets since you may lose your taste for war. A thirty year veteran of the Army has never seen such horrible conditions, and has declared the Army has turned on it's own.
Updates on Princess Diana, anti-war protests, big and bright meteorite sightings, mud volcanoes, and methane bubbles. The summer of 2003 was the summer of monster sightings (just in case you didn't know), and the director of the Benfield Hazard Research Centre asks, "why doesn't anybody care," that a super volcano or an asteroid could destroy civilization at any moment.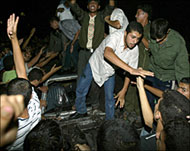 The Israeli helicopter targeted people surrounding the vehicle
Doctor killed as he helps wounded
Tuesday 21 October 2003

Doctor Zain Shahin's first reaction to the Israeli air strike on Monday, near the clinic where he worked, was to rush out to treat the wounded.
It cost him his life.
Witnesses said the Palestinian doctor rushed to help the wounded lying around a car struck by a missile.
But he himself was hit by shrapnel when a second missile slammed into a crowd of people who had also come to see who they could save.

"Doctor Zain rushed to help, and he paid with his life trying to save the lives of others," store owner Hisham Muhammad told Reuters. "He treated a few people on the ground before he... fell among them."

Medical officials said eight people, all civilians, were killed and about 70 wounded in the airstrike, one of five carried out by Israel in the Gaza Strip on Monday.
Hamas barrage follows Israeli raids
Conal Urquhart in Tel Aviv
Wednesday October 22, 2003
The Guardian
Hamas launched a barrage of missiles at targets inside and outside Gaza yesterday in response to the heaviest air raids ever carried out by the Israeli military.
Three homemade Qassam rockets were fired at a town beyond Gaza, one narrowly missing a synagogue, while at least seven mortars were fired at settlements inside the strip.
Monday's air strikes were launched in retaliation for the firing of eight Qassam rockets inside Israel, which left 14 people dead, including 10 civilians. More than 100 people were injured.
An opinion poll published yesterday suggested that the continuing violence and the impasse in peace talks between the Israeli government and the Palestinian Authority had persuaded Palestinians to reaffirm their support for suicide bombings and their president, Yasser Arafat. [...]
The UN General Assembly has overwhelmingly passed a resolution demanding that Israel halt construction of a huge barrier in the West Bank.
The resolution also calls for existing stretches of fence to be removed.
It says the barrier contravenes international law, but falls short of meeting Arab-led demands that the entire matter be referred to the International Court of Justice in the Hague for a legal ruling.
But Israel's Deputy Prime Minister Ehud Olmert said construction of the barrier would continue.
He told Israel Radio: "The fence will continue being built and we will go on taking care of the security of Israel's citizens."
[...] The vote was passed with 144 in favour, 4 opposed and 12 members abstaining.
Comment: The international community is united in its furour against the Israeli wall. But will this change anything? No doubt those who oppose the wall will be accused of "anti-Semitism."
Israel vows to go on with fence, despite UN condemnation
By Aluf Benn, Haaretz Correspondent
22/10/2003
Israel vowed on Wednesday to press on with building a vast barrier in the West Bank despite a U.N. resolution condemning the project as a violation of international law and demanding it be halted.
"The fence will continue being built and we will go on taking care of the security of Israel's citizens," Deputy Prime Minister Ehud Olmert told Israel Radio, reiterating the Jewish state's stance that the barrier is needed to block Palestinian suicide bombers.
Palestinians oppose the network of fences and concrete barricades, planned to eventually loop around settlements, as a land grab that prejudges borders that should be negotiated.
The U.N. General Assembly overwhelmingly passed the resolution late on Tuesday. The vote was carried 144-4, with 12 abstentions, with Israel's key ally the United States voting against the measure. Micronesia and the Marchall Islands also voted against.
A compromise text, negotiated during more than six hours of haggling between European Union and Arab governments, demands that Israel "stop and reverse the construction of the wall in the Occupied Palestinian Territory" and calls the barrier "in contradiction to relevant provisions of international law." [...]
Palestinians, Israelis offer conflicting versions of deadly Gaza air strike
06:36 AM EDT Oct 22
JOSEF FEDERMAN
JERUSALEM (AP) - The Israeli military and Palestinian witnesses on Tuesday offered conflicting versions of a deadly air strike in Gaza, as thousands of mourners called for revenge for the deaths of seven Palestinians purportedly killed in the attack.
Palestinians said the seven dead were civilians killed by an Israeli missile fired into a crowd at the Nusseirat refugee camp, while the army said only militants had been struck and released a video indicating there was no one on the street near the vehicle targeted in the attack.
The air strikes revived debate inside Israel over targeted killings in populated areas, and the Palestinian prime minister, in a rare criticism of Washington, complained that the United States was doing nothing to stop what he said are Israel's "ugly crimes."
In less than 24 hours: Five Palestinians shot dead in West Bank, Gaza Strip
22-10-2003,09 :55
Israeli occupying forces killed late Tuesday and early Wednesday four Palestinians in separate incidents, as a fifth died of his wounds he sustained after being shot. In addition Israeli troops blew up one house in Hebron.
Arafat urges Quartet to end Israeli folly
Tuesday 21 October 2003, 16:09 Makka Time, 13:09 GMT
Palestinian leader Yasir Arafat has urged the international community to bring pressure on Israel to end the "military folly" after a series of deadly air strikes in Gaza.
The Palestinian movement Hamas has vowed to avenge the deaths caused by five separate air strikes across Gaza on Monday.
This latest wave of Israeli violence has deepened the gloom over the prospects of progress in the Middle East "roadmap".
The peace plan, sponsored by the United States, United Nations, European Union and Russia, known as the Quartet, now looks damaged beyond repair.
Arafat to undergo surgery in Ramallah headquarters: newspaper
www.chinaview.cn 2003-10-22 17:08:52
JERUSALEM, Oct. 22 (Xinhuanet) -- Palestinian National Authority (PNA) Chairman Yasser Arafat is expected to undergo surgery at his headquarters in the West Bank town of Ramallah to remove gallstones, the Jerusalem Post reported Wednesday.
Doctors who examined Arafat lately determined that he would require surgery "some time in the near future," the report quoted PNA officials as saying.
But the condition of Arafat is not life-threatening and he will be treated at his headquarters compound, the report said.
Arafat has not left his office for the past two years for fear that Israel would not allow him to return.
Hamas attacks could reach Sharon, Mofaz: Rantisi
www.chinaview.cn 2003-10-22 17:18:40
GAZA, Oct. 22 (Xinhuanet) -- Senior Islamic resistance movement Hamas leader Abdel Aziz Rantisi said Wednesday his group is able to "reach" Israeli Prime Minister Ariel Sharon and Defense Minister Shaul Mofaz and hurt them.
Sharon, Mofaz and the Israeli army are so afraid to confront the Palestinian militants that "they are using their helicopters and warplanes in fighting them," Rantisi said in a statement published on his private website.
"They intensified their airstrikes on Ezzedine Al-Qassam militants because the Zionists are cowards and chickens and they don't have the courage to confront our militants," the statement said.
In a message to Sharon and Mofaz, Rantisi said "escaping from confronting our militants would never prevent our militants to their targets."
Several steps closer to Armageddon
By John Chuckman
Online Journal Contributing Writer
October 20, 2003—The United States apparently has fitted out the Harpoon missiles it previously supplied Israel to accommodate nuclear warheads. These missiles are carried on three German-built submarines, making a reality of Israel's grandiose plan for a nuclear-triad force, a miniature replica of America's land-air-sea nuclear force, in a country with a total population smaller than greater Chicago. Perhaps more pertinent, the missiles' nuclear capability extends a threat towards Iran, bringing home to its leaders the possible consequences of "going nuclear."
A step like this, taken by either side during the Cold War, would have been regarded as a serious escalation in arms, but now it causes barely a ripple in the United States. There are, of course, signed obligations that American-supplied weapons are to be used only for Israel's defense, yet these have been violated many times, most notoriously during the invasion of Lebanon—a bloody, aggressive war led by the very man who now leads Israel. [...]
By Bradley Burston
Haaretz Correspondent
[I]f Prime Minister Ariel Sharon has drawn a cautiously optimistic link between the "removal" of Arafat and fresh chances for peace in the region, the dramatic changes forecast by army planners are anything but hopeful.
In fact, if any one of a range of nightmare scenarios turns out to be true, post-Arafat Israel could be in for a surge of
violence dwarfing anything it has seen in three years of relentless bloodletting. [...]
The post-Arafat forecasts were said to have been mooted last week in simulation war games held with the participation of officials from the IDF's Military Intelligence, the Shin Bet domestic intelligence service and army units operating in the West Bank.
Among the scenarios, outlined in frightening detail on state-owned Israel Radio and in the Yedioth Ahronoth daily newspaper, were the following:
A funeral march by tens of thousands of Palestinians sweeps in a human tidal wave over and past IDF checkpoints and barriers, heading for Jerusalem with a furious determination to bury Arafat where the intifada began, the Temple Mount - sacred to Muslims as the site of the Al Aqsa Mosque and Dome of the Rock, and to Jews as site of the ancient Temple.
Israel would prohibit the burial of Arafat on the site, but would be hard-pressed to stop the multitude without a huge price in Palestinian casualties. [...]
Ayoon wa Azan (I Can Say Whatever I Please)
Jihad Al Khazen Al-Hayat 2003/10/22
[...] When Malaysian Prime Minister, Mahathir Mohamad, said that a few million Jews would not vanquish 3.1 billion Muslims, the Internet was immediately filled with Jewish responses from all around the world.
A Jewish reader is free to voice his opinion, and so am I. But I don't accuse Israel through my articles, but rather condemn it completely, because it stole the Palestinian land and rose by force without any rightful dimension. Today, there is a Nazi government in Israel committing crimes against Palestinians and receiving help from the Bush administration, which covers for it.
Bomb attacks in Baghdad, Fallujah injure six U.S. soldiers as protestors in Khaldiyah demand release of arrested women
22-10-2003,10 :39
Iraq's ambush bombers struck Wednesday in the center of Baghdad and in the Sunni Muslim area west of the capital, rocking U.S. Army convoys with roadside bombs.
The attack in Baghdad inflicted only light casualties, according to a U.S. officer.
Four U.S. soldiers were injured in a bomb attack in the Iraqi city of Fallujah Wednesday morning, according to witnesses.
US soldiers trigger happy in Iraq

By Shaista Aziz
Wednesday 22 October 2003
A leading human rights organisation has accused American soldiers in Iraq of being trigger happy.
Human Rights Watch has published a 72 page report titled Hearts and Minds: Post war civilian deaths in Baghdad caused by US forces.
The report makes uncomfortable reading for US military command which is coming under increasing criticism for the conduct of many American troops in Baghdad.
The author of the report , Fred Abrahams, spent two weeks in Baghdad talking to US military command, American soldiers and Iraqi civilians.
Abrahams wanted to make it clear to Aljazeera.net that his report was objective and that he would stand by his findings in the face of expected criticism from the US military, mass media and sections of the American public.
''I completely reject all claims that this report is anti American, Human Rights Watch has spent a lot of time researching and interviewing individuals. We have been doing the job that the American military should be doing''.[...]
Steven Rosenfeld
TomPaine.com
[...] "I've been in [the military] for 30 1⁄2 years and never thought the Army would turn on its own like this," said First Sgt. Gerry Mosley, of the National Guard's 296th Transportation Company from Brookhaven, Miss. "I am not in a case by myself. They are telling you it's going to be four to six months if you're going through a medical evaluation."
The account given by Mosley and other soldiers at Ft. Stewart is at odds with the support-the-troops rhetoric from top Pentagon and White House officials. Yet it's part of a pattern of lapses in military health policies that have occurred during the course of the Iraq War. [...]
Curtains Ordered for Media Coverage of Returning Coffins
By Dana Milbank
Since the end of the Vietnam War, presidents have worried that their military actions would lose support once the public glimpsed the remains of U.S. soldiers arriving at air bases in flag-draped caskets.
To this problem, the Bush administration has found a simple solution: It has ended the public dissemination of such images by banning news coverage and photography of dead soldiers' homecomings on all military bases. [...]
by Brendan O'Neill
Why don't President Bush and Osama bin Laden just get a room? Judging from events over the weekend, they need each other as much as they despise each other. The latest crackly tape issued by bin Laden (if it's him) confirms that al-Qaeda has no independent programme or war aims, but merely feeds off Western fears. And Bush's response - 'the bin Laden tape [shows] this is still a dangerous world' - suggests that his administration will leap on any squeak from the man on the mountain to justify the war on terror. B&B are more and more like a parasitical double act. [...]
Woman who lost children, sight in Iraq struggles to cope
By Angela Lau
The San Diego Union-Tribune
October 20, 2003
EL CAJON – Majdolin Yonan's eyelids are sunken, the sockets empty. But she can still picture her 2½-year-old daughter, Valantina, who died when bombs hit their apartment building in Mosul, Iraq.
Remembering how her daughter slept and played is an obsession for the 24-year-old, who lost both eyes in the late March war raid.
She cannot see the frightful condition of her own once-beautiful features, although she can feel the haphazard ridges of scars that crisscross her face from the 250 stitches required to repair shrapnel damage.
Majdolin's unborn son, who was to be named David, did not survive an emergency Caesarean section at the Iraqi hospital where doctors saved her life.
When Wardiya Yonan first saw Majdolin's image on the Al-Jazeera television network at midnight on April 1, she didn't recognize her younger sister.
The news broadcast showed a woman with eyes and forehead covered in bandages and her face darkened by black stitches.
"I thought, 'Oh my God! God help this lady,'" said Wardiya, 35, who lives in El Cajon. Then the TV screen showed Majdolin's wedding picture and an image of Valantina.
Wardiya, who arrived in San Diego 2½ years ago, immediately began a quest to help her sister.
With the aid of her congressman, the Red Cross and the International Communities Services Center, she managed to bring her sister to the United States for medical care.
"She is first in my life, and my life is second," Wardiya said of the sacrifices she has made for Majdolin, who now lives with her. "I love her."
While no official estimate of Iraqi civilian casualties exists, an Associated Press analysis concluded that at least 3,240 civilians died during the war.
The Department of Defense has not verified whether the U.S. military mistakenly bombed Majdolin Yonan's residence, as her relatives have claimed. News reports indicated intense bombardments by U.S.-led forces on enemy positions near Mosul that day.
Majdolin hides her short black hair – cut in Iraq to facilitate surgeries – under a black felt hat and hides her eyes behind sunglasses. She walks with uncertainty, even when supported by her sister.
She welcomes any human touch as if it were a rarity, and shows her gratitude with a slight smile that lifts her misshapen lips.
"If anyone had told me I won't see for the rest of my life, I wish I had died," Majdolin said shortly after she and her husband arrived in July on temporary visas to receive medical treatment. Majdolin's husband, Bashar Salloe, 33, lost his left eye in the bombing.
A local team of ophthalmologists, plastic surgeons and ear, nose and throat specialists, a dentist and a gynecologist have volunteered their services.
Although Majdolin recently overheard a doctor's comments in Arabic, suggesting she probably will never see again because she lost her eyeballs, her illusions linger. She hangs onto the hope that the land of medical miracles can produce one for her.
"If Americans can make rockets, they can help me see again," she says as her sister translates.
If she could have just one functioning eye, Majdolin tells her sister, she'd be able to bathe herself, cook her meals and, maybe, have children again.
Majdolin, who is Catholic, once dreamed that the Virgin Mary granted her two eyes in return for her unflagging faith.
But just one would be good enough, she says in mellifluous Chaldean.
The reality is, said Dr. Lawrence Cooper, an ophthalmologist who examined her, that Majdolin will not see again. [...]
Majdolin's husband, who cannot speak English, looks on glumly, if not helplessly. He says he feels as though his life is gone. He cries when he's alone. He wants to return to Iraq to his family, and he wonders why no visible progress has been made in his wife's situation.
Wardiya has lost 20 pounds since her sister's ordeal began on March 31, the day of the bombing. On a recent Sunday, she passed out while on duty at the casino and was taken to an emergency room. She knows it comes from shouldering her sister's troubles.
"What can I do?" she asks. "A lot of people tell me you can't stop your life for your sister."
"I answer: I promised her – if she wants to be with me, I'll be with her all my life. I don't want her to feel I forgot about her because I have a separate life."
Most of the day, Majdolin sits beside her husband in the living room. She doesn't speak or move much. Her family knows she is recalling the life that was and dreading the future.
One moment, she giggles at jokes. Another, she lapses into silence, stroking her forehead with her fingertips.
"I want to know whose fault this is. Is this my fault?" she asks. "Is it my president's fault? Is it Americans' fault?"
White House threatens veto of Iraq aid bill over loans
By Alan Fram
Associated Press
10/21/2003 12:37
WASHINGTON (AP) The Bush administration threatened for the first time Tuesday to veto an $87 billion package for Iraq and Afghanistan if Congress converts any Iraqi rebuilding money into loans.
White House officials issued the warning even though many lawmakers agree that the bill's final version is likely to bow to President Bush and omit any loans. By underscoring Bush's opposition to loans, the administration threat could make it easier for congressional Republican leaders to nail down enough votes to help the president prevail.
The House bill included $18.6 to help Iraq rebuild its water supplies, health clinics and Army, and made the money a grant that country would not have to repay.
The Senate included $18.4 billion but would require Iraq to repay about half unless Saudi Arabia, Russia and other countries forgave 90 percent of the debt Baghdad ran up under Saddam Hussein's regime.
Bush and a host of administration officials had repeatedly expressed their opposition to loans in recent weeks, but had not issued a veto threat before. A letter written Tuesday reiterated White House arguments, but contained the first such veto warning.
"If this provision is not removed, the president's senior advisers would recommend that he veto the bill," wrote White House budget director Joshua Bolten. [...]
Comment: If history is any indicator, it is likely that much of the $87 billion will not go towards rebuilding Iraq or Afghanistan. Rather, it will be dumped into the coffers of Bush-friendly corporations and black projects - and Bush will ensure that American taxpayers (who are still employed) foot the bill.
Rumsfeld casts doubt on Turkish troops for Iraq
By Dave Moniz and Tom Squitieri, USA TODAY
10/22/2003 7:07 AM
WASHINGTON — The United States has no yardstick for measuring progress in the war on terrorism, has not "yet made truly bold moves" in fighting al-Qaeda and other terror groups, and is in for a "long, hard slog" in Iraq and Afghanistan, according to a memo that Defense Secretary Donald Rumsfeld sent to top-ranking Defense officials last week.

Despite upbeat statements by the Bush administration, the memo to Rumsfeld's top staff reveals significant doubts about progress in the struggle against terrorists. Rumsfeld says that "it is not possible" to transform the Pentagon quickly enough to effectively fight the anti-terror war and that a "new institution" might be necessary to do that.
The memo, which diverges sharply from Rumsfeld's mostly positive public comments, offers one of the most candid and sobering assessments to date of how top administration officials view the 2-year-old war on terrorism. It suggests that significant work remains and raises a number of probing questions but few detailed proposals. [...]
Among Rumsfeld's observations in the two-page memo:
The United States is "just getting started" in fighting the Iraq-based terror group Ansar Al-Islam.
The war is hugely expensive. "The cost-benefit ratio is against us! Our cost is billions against the terrorists' cost of millions."
Postwar stabilization efforts are very difficult. "It is pretty clear the coalition can win in Afghanistan and Iraq in one way or another, but it will be a long, hard slog." [...]
Comment: Rumsfeld's memo can be read here.
A Day In Iraq: 43 Attacks On U.S.
By Aparna Kumar
The Herald Sun
22oct03
US anti-war groups are planning their largest demonstrations since the start of the war in Iraq, with thousands expected at rallies on Saturday in Washington and San Francisco.
Protesters were expected from 140 cities in the United States and Canada, organisers said today.
They hope to foment public pressure that will force the withdrawal of US troops. [...]
"Now more than ever it is critical that we stand united in our effort to turn this all around," Leslie Cagan, an organiser for United for Peace and Justice, said. [...]
Antiwar group targets Bush visit to UK
By Shaista Aziz
Wednesday 22 October 2003, 13:27 Makka Time, 10:27 GMT
Antiwar activists are claiming a first round victory over attempts to stop President Bush's first state visit to the UK.
They have wrecked his chances of getting all the VIP treatment which goes along with a state visit to the sovereign state.
President Bush, visiting London in November for three days, was looking forward to meeting the Queen at Buckingham Palace.
This was to have entailed a grand procession along the Mall with all the pomp and ceremony of a state visit, but it has been cancelled over fears that antiwar campaigners would stage a colourful and angry protest to overshadow the event.
The President was also due to address the British Parliament on his three day visit. However, that too has been cancelled.
Peace activists claim that has been dropped over concerns that anti war MPs would boycott the session, causing embarrassment to Tony Blair.
'Islamaphobic' general to be investigated
Wednesday 22 October 2003, 11:30 Makka Time, 8:30 GMT
The US Defence Secretary has agreed to a top general's request for an official review of his remarks casting the war on terrorism as a religious struggle.
Donald Rumsfeld said on Tuesday that Lieutenant General William Boykin's request, which followed a furore over his allegedly "anti-Muslim" comments, was "appropriate".
Comment: There is an inherent dynamic when one identifies with a religion or belief system to consider yourself correct and everyone else to be wrong. If one is living a life based upon the belief that one needs to follow a series of rules in order to be saved, it is the logical conclusion of that belief to to decide that those who do not follow your system will not be "saved" and that their beliefs are therefore wrong. Boykin's belief that the god of Islam is only an "idol" are the logical conclusion of his belief that his own god is the "one and only." Regardless of the White House's official response, this is the belief of Bush himself and the Christians in his administration.
The god of Judaism, the bloodthirsty Yahweh, demands the same obedience. Therefore, the Neocons, believing that the Jews are god's Chosen People, also believe the Christians are wrong. The Christians are trying to set up the Jews to accommodate the Second Coming. The Zionists are using the Christians to attain their homeland, and they are creating a dynamic that will lead to the annihilation of all concerned, as well as those of us on the sidelines watching the endgame of monotheism.
Iran to sign protocol on nuclear checks next week
www.chinaview.cn 2003-10-22 17:19:45
TEHRAN, Oct. 22 (Xinhuanet) -- Iran will sign a draft of the nuclear Non-Proliferation Treaty Additional Protocol next week, Iranian official sources said Wednesday.
'New Species' of Terrorist Threatens Kabul
By AUDRA ANG, Associated Press Writer
October 22, 2003
KABUL, Afghanistan - A "new species" of well-trained terrorist has infiltrated Afghanistan's capital, posing an increasing threat to the already shaky security situation in the country, the head of an international peacekeeping force said.
According to intelligence reports, the militants come from Saudi Arabia, Yemen or the Russian republic of Chechnya, Lt. Gen. Goetz Gliemeroth, commander of the 5,000-strong NATO-led International Security Assistance Force in Kabul, said on Tuesday. [...]
Mahathir delivers one more parting shot to Australia
Malaysian Prime Minister, Mahathir Mohamad, has stepped down from the international stage with a final shot at Australia - accusing it of carrying out genocide against its aboriginal population - and failing to show proper humility. Dr Mahathir leaves his post as Malaysia's leader next week - after 22 years in the position [...]
North Korea rejects US security proposal
North Korea has rejected an American offer of a security guarantee in exchange for Pyongyang ending its nuclear weapons program, calling the idea "laughable".
At the recent meeting of Asia-Pacific leaders in Thailand, the United States' president, George W Bush, declared he was willing to give North Korea an assurance that it would not be attacked.
The US president said he was exploring the idea of a multilateral security guarantee with China, Japan, South Korea and Russia.
North Korea's official Korean Central News Agency has rejected the proposal, saying the idea is "not worth considering".
Pyongyang has repeated its demand for a formal non-aggression treaty with the United States - something Washington has ruled out.
The United States in August joined China, Japan, Russia and South Korea in an inconclusive first round of talks with North Korea on its nuclear ambitions.
A second round has not yet been arranged.
The US and North Korea have been locked in a nuclear stand-off since last October, when Washington accused Pyongyang of restarting a nuclear weapons program in violation of a 1994 agreement.
North Korea Says U.S. Security Offer Laughable
By Martin Nesirky and Kim Kyoung-wha
Wed October 22, 2003 04:33 AM ET
SEOUL (Reuters) - North Korea dismissed as laughable a U.S. offer to provide multilateral security guarantees in exchange for Pyongyang ending its nuclear weapons program, saying it was not worth even considering.
In a commentary published late on Tuesday, the communist North's official KCNA news agency said Pyongyang wanted a bilateral treaty with the United States -- a reference to its desire for a non-aggression pact that Washington has ruled out. [...]
Terror checks for all air passengers
By Tom Allard, Foreign Affairs Reporter in Bangkok
October 22, 2003
An Australian push for an anti-terrorist aviation alert system across the Asia-Pacific region was endorsed yesterday as the APEC summit - dominated by security issues - wound up in Bangkok.
Pacific Rim countries will share a database of all passengers flying between their airports. The details of every passenger will be forwarded to the destination country and a "red flag" will flash whenever a person has a criminal history or any suspected link to terrorism.
The Prime Minister, John Howard, hailed the summit as an "excellent meeting". It also endorsed a new US plan to resolve the crisis on the Korean peninsula. [...]
Horrific fire-bombing images published
By Ray Furlong
BBC Berlin correspondent
A ceremony is being held in the central German town of Kassel on Wednesday, marking the 60th anniversary of an allied bombing raid that claimed more than 10,000 lives in a single night.
The event, at which eye-witnesses will relive the horror of that night, comes just as a new book has been published with shocking photographs of German air raid victims which have never been seen before.
The pictures in Brandstaetten (Places of Fire), are truly gruesome.
Heaps of twisted, charred bodies amid piles of rubble are a visual echo of Holocaust victims - and therefore also a hugely provocative image.
"We've all seen the pictures of Hiroshima and Nagasaki. But these (new) images are not part of the iconography of the war," says historian Joerg Friedrich, who compiled the book.
Mr Friedrich collected the photos from town archives across Germany while touring the country last year presenting a book about the Allied bombing.
That book, The Fire, caused controversy both here and in Britain by suggesting the air campaign may have been a war crime.
[...] Mr Friedrich says the decision to publish the photos was not easy.
In the end, the former German Chancellor Helmut Kohl played a part in convincing him - with the proviso that British, Dutch, Polish and other civilian victims of air warfare also be portrayed.
Goebbels forbade these photos of our victims from the German papers - in a way, we've obeyed his orders until this day
Joerg Friedrich
But he says the British Public Records Office would not release the kind of horrific images that he found of German victims.
"There were 15,000 deaths in southern British cities between September and December 1940. But you won't see any photos of them," he says.
"The Germans admired the endurance of the Londoners in the Tube stations. But this is the heroic story. If you look at the image of the suffocated grandmother cradling her grandchild in a bunker, there is no heroism."
Keeping pictures like that, and the ones in the book, under wraps may be regarded as a sign of sensitivity - maintaining the dignity of the victims. But could it also produce a censored, sanitised version of history?
"Goebbels forbade these photos of our victims from the German papers," says Mr Friedrich. "In a way, we've obeyed his orders until this day."
Comment: War is hell. By censoring the photos of the arocities of war, yes, war is sanitized. The real face is hidden from people, from those who are removed and protected. This barbarism is continuing today in Iraq, in Afghanistan, in the local wars in Africa. Only by staring these images in the face, by confronting man's ability to be cruel in the name of ideology and ideas, can be gather together the inner strength and force necessary to work our way out.
IMF admits it is failing Africa
By Martin Plaut
BBC Africa analyst
The International Monetary Fund (IMF) has admitted that one of its key African initiatives is in trouble.
In a working paper published in Washington, two of the IMF's researchers show that its programme to relieve some of Africa's poorest countries of their debt burden may not produce a sustainable economic situation.
Bush undeterred by Korean rebuff, sees opportunity in Iran on nuclear program
06:36 AM EDT Oct 22
TERENCE HUNT
BALI, Indonesia (AP) - U.S. President George W. Bush on Wednesday brushed off North Korea's rejection of his overtures to end the Korean nuclear crisis, and said he saw progress in Iran's decision to suspend its uranium enrichment program.
[...] The Korean nuclear crisis has shadowed Bush on an Asian tour this week. On Wednesday, Pyongyang branded as "a laughing matter" Bush's offer of a written pledge from five countries not to attack in exchange for the communist country agreeing to scrap its nuclear weapons program.
By Alex Nicholson
Staff Writer
Mikhail Khodorkovsky's business empire was attacked from all sides on Tuesday as prosecutors threatened more criminal charges against senior Yukos managers, called for a probe into the oil major's licensing rights and launched a new raid against Yukos-affiliated Menatep-SPb bank.
A senior prosecutor made a thinly disguised threat that Khodorkovsky might find himself next in line to face a prison term. "I personally don't want Khodorkovsky to be put behind bars," Deputy Prosecutor General Vladimir Kolesnikov said at a news conference. "I want our businessmen to be the best in the world. But there's no need for cheating and stealing -- you have to answer for everything.
BOLIVIA: Anti-neoliberal insurrection
BY ORLANDO ORAMAS LEON -Special for Granma International-
THEY are not an image of terrorism, those weather-beaten faces of Bolivian miners and campesinos creased with premature yet ancient wrinkles who flooded the steep streets of La Paz in their rivers of rebellion.
On the contrary, they are the features and fortunes shared with indigenous Ecuadorans, the Chiapas native Indian population and those on Argentine picket lines.
The popular insurrection in Bolivia that resulted in the resignation of President Gustavo Sánchez de Lozada is not an isolated incident in Latin America, where general causes, as well as logical national differences, are common.
A savage neoliberalism, strictly imposed and applied within the continent, includes amongst its victims thousands who died in Caracazo in 1989 - when a lethal oppression ordered by Carlos Andres Pérez to crush the rage sweeping across the hills surrounding the Venezuelan capital.
The current uprisings in La Paz, El Alto and other settlements in that Andean nation have resulted in more than 70 deaths and 200 injuries. But this time, armed tactics against the people could not contain the demands of diverse sectors of society.
Because this system that privileges the market, bleeding public wealth dry and restricting the state's social responsibilities also digs the graves of its political exponents.
[...] Despite possessing great natural resources, the centuries-long plunder of its minerals has left Bolivia one of the poorest nations in Latin America.
According the World Bank, 62.7% of Bolivians live below the poverty level and 20% of its population has higher infant mortality levels than Haiti or Kenya.
As a continent, Latin America has the worst distribution of wealth, but that situation is emblematic in the Andean nation, where the fifth poorest section receives 4% of the national income and the fifth richest 55%.
The blockade has been extraterritorial from the beginning
• Affirms National Assembly President Ricardo Alarcón
The Cuban foreign minister is to present the resolution against U.S. economic warfare to the UN General Assembly on November 4
THE U.S. blockade of Cuba began on January 1, 1959, the very date of the triumph of the Revolution and not on the officially stated date, affirmed Ricardo Alarcón, president of the National Assembly, during a joint working session of the Economic Affairs and Internal Relations Commissions of that legislative body.
Alarcón called attention to the fact that as early as February 6, 1959, Felipe Pazos, president of the National Bank of Cuba, communicated to Washington that persons connected to the Fulgencio Batista regime had stolen $424 million from the country's reserves, which was deposited in U.S. banks, and not a centavo was returned.
[...] He noted that the number of votes in the General Assembly in favor of the Cuban resolution against the blockade might not grow this year and could even be lower, as not all the 191 countries belonging to the UN have the right to vote or could be absent for various reasons. Last year the result was 173 in favor and just 3 against.
Comment: Once more, the General Assembly is impotent in the face of the US empire.
Indian army launches major plan to enhance firepower
www.chinaview.cn 2003-10-22 19:28:29
NEW DELHI, Oct. 22 (Xinhuanet) -- Indian Army has launched a major plan to enhance the firepower, reconnaissance and surveillance of all infantry units with forces now being equipped with ultra modern light weapons like anti-material rifles, multi-shot grenades and flame throwers.
Lt. Gen. K. Nagaraj, Director General Infantry, told reporters Wednesday that this process would be completed within a time frame of two to three years.
Georgia Won't Join Anti-Terror Database
By Associated Press
October 21, 2003, 7:33 PM EDT
ATLANTA -- Amid cost and privacy concerns, state officials backed away from an anti-terrorism database that officials initially considered joining -- a decision that makes Georgia the sixth state to abandon the Matrix project.
The move also casts doubt on the future of a database that tracks personal details of all citizens, not just those accused of a crime. [...]
Who Does George W. Bush Really Serve?
Rixon Stewart - October 20, 2003
In the yet to be published The Faith of George W. Bush (Tarcher/Penguin), an account of the President's supposed religious awakening, author Stephen Mansfield writes that in the election year 2000, Bush told Texas preacher James Robison:
"I feel like God wants me to run for president. I can't explain it, but I sense my country is going to need me...I know it won't be easy on me or my family, but God wants me to do it."
Mansfield goes on to say that: "Aides found him face down on the floor in prayer in the Oval Office. It became known that he refused to eat sweets while American troops were in Iraq … And he framed America's challenges in nearly biblical language. Saddam Hussein is an evildoer. He has to go." The author concludes: " . . . the Bush administration does deeply reflect its leader, and this means that policy, even in military matters, will be processed in terms of the personal … and in terms of a sense of divine purpose..."
Renouncing sweets is one thing but being found face down in the Oval Office is another matter. So perhaps should we ask just what George W. Bush was paying homage too? Was it the God of the early Christians, who were urged to renounce more than just sweets? Or is it something else? Could it be the same deity as the one served by the Illuminati; who summon him in their pursuit of worldly power and wealth?
Obviously these are not one and the same but two entirely different deities. The one is recognised by Christians the world over as "Our Father", who watches over and guides us as a Shepard leads his flock. While the other is a wrathful entity that seeks to punish "evil doers" and rewards only his own chosen few. It is these latter who will be rewarded on Judgement Day, while the rest of humanity will be consigned to fire and perdition. But this, Bush's Bible thumping advocates tell us, will only come about after a series of calamitous wars in the Middle East.
As others have noted, it is almost as if there are two Gods in the Bible. One, the God of the Old Testament, is a vengeful deity who destroyed cities and demanded bloody sacrifice from his followers. While the God of the New Testament bears little resemblance to this wrathful idol: sending his only begotten son to earth preaching love and forgiveness.
So which God exactly, has chosen George Bush? Or perhaps, more precisely, we should ask ourselves, which God has George Bush chosen to serve? Is it the benign heavenly father or the vengeful deity who rewards his own with earthly power and wealth? [...]
By Kim Zetter
Wired News
A group of students at Swarthmore College in Pennsylvania has launched an "electronic civil disobedience" campaign against voting machine maker Diebold Election Systems.
The students are protesting efforts by Diebold to prevent them and other website owners from linking to some 15,000 internal company memos that reveal the company was aware of security flaws in its e-voting software for years but sold the faulty systems to states anyway. The memos were leaked to voting activists and journalists by a hacker who broke into an insecure Diebold FTP server in March. [...]
Iraqi family on hunger strike in Australia
A family of Iraqi detainees went on hunger strike at an Australian detention centre in a bid to force the government to transfer them to another holding facility, immigration officials said. [...]
By David Morris, AlterNet
October 20, 2003
Last week John Paul II celebrated the 25th anniversary of his pontificate to thunderous applause by many conservatives. The Weekly Standard's David Brooks argues in his new column in the New York Times that the Pope deserved the Nobel Peace Prize. The San Diego Union Tribune gushes that "John Paul II is one of the towering figures of the last century...no one questions the moral force of this pope."
Time magazine's assessment is far more measured and accurate. It describes John Paul II's time in office as an "extraordinary tenure." Extraordinary, to be sure, but certainly not virtuous. John Paul II took an institution just beginning to throw off the chains of centuries of insularity and autocracy and to be plain speaking, reshaped it into what can only be described as a totalitarian institution.
A little history may be in order. In 1958 Pope John XXIII assumed the papacy. Within months he called for an "aggiornamiento," a "bringing up to date" of the church. Church services began to be conducted in native languages. Priests and nuns and laity were given more participation and authority. "Let the layman not imagine that his pastors are always experts," the Vatican declared. "Rather, enlightened by Christian wisdom let the layman take on his own distintive role."
Pope John convened a Vatican Council that ended centuries of what he called "holy isolation" by exhorting the church to participate in humanity's struggle for peace and justice. The Vatican called this new church the "People of God."
Pope John XXIII died shortly after Vatican II. But the reforms he nurtured took root and flowered under his successor. Journalist Gwynne Dyer recently recalled his impressions after visiting Catholic churches around the world in 1978 in preparation for a televised documentary. "In southern Africa, Catholics were playing a leading role in resistance to apartheid. In Latin America, the phenomenon of 'liberation theology' was reconnecting the church with the impoverished peasant millions whom it had long ignored. In Europe and North America, the old hierarchies were all under challenge, but especially the hierarchy of gender. Justice and equality were the themes and the energy was astonishing."
"Twenty-five years later," Dyer sadly observes, "it is all gone."
John Paul II attended the Vatican Council meetings in the 1960s and opposed the changes. Upon taking office he undertook to reverse them. To achieve this goal he dramatically centralized and exercised powers. His interventions roused widespread opposition. In 1989, for example, over 300 eminent European theologians, including a number in Rome itself signed onto the Cologne Declaration, which accused the pope of "overstepping and enforcing in an inadmissible way" his proper competence in field of doctrinal teaching.
It accused him of appointing bishops throughout the world "without respecting the suggestions of the local churches and neglecting their established rights." It described the Vatican's removal of qualified theologians from teaching because it didn't like what they were saying as "a dangerous intrusion into the freedom of research and teaching."
In the 1980s French theologican Marie-Dominique Chenu put it bluntly. John Paul harkens back to the "prototype of the church as an absolute monarchy."
As is usually the case with absolute monarchs, Pope John Paul II refused to listen to the people. He became even more aggressive. The Vatican announced that as of March 1, 1989 all church office holders, be they parish priests or philosophy and theology teachers in seminaries must not only give formal assent to major church dogmas but also assent to doctrine not formerly proclaimed as obligatory, such as the Church's teachings on sex.
John Paul II reasserted and even amplified the doctrine of 'Papal infallibility" and beatified its author, Pope Pius IX. When the world's Catholic bishops gathered in Rome every five years it was not to be involved in a give-and-take discussion but to receive the Word from the pope, and, notes Time, to be "quiz(zed) on instances in which they may have been deemed insufficiently aggressive in defending Church doctrine."
Liberty groups attack plan for EU health ID card
By Ambrose Evans-Pritchard in Brussels
The Telegraph
21/10/2003
The European Union took its first step yesterday towards the creation of an EU-wide health identity card able to store a range of biometric and personal data on a microchip by 2008. Approved by Union ministers in Luxembourg, the plastic disk will slide into the credit-card pouch of a wallet or purse. [...]
Bright lights in tri-county night sky were caused by meteor showers, experts say (South Carolina, USA)
No confirmed reports of fragments hitting, emergency officials say
By Wendy Bigham
The Herald
October 21, 2003
If you saw bright lights in the sky Monday night, it wasn't a UFO or a crashing plane. It was a meteor shower.
The lights in York, Lancaster and Chester county skies were from meteor showers generated from the constellation Orion, said meteorologist Rick Neal with the National Weather Service.
The showers began about 9 p.m. and were expected to continue through the early hours this morning, meteorologists said. Meteorologists predicted 10 to 15 meteors would streak across the sky per hour.
Meteor showers are caused by fragments left over from passing comets that heat up as they fall through the atmosphere.
No one reported any damage from the meteors, emergency officials said.
Sgt. Carson Neely with the York County Sheriff's Office said dispatchers fielded several calls about bright lights. Some thought a plane had crashed, he said.
Many residents also felt their houses shake and some said items fell off shelves in their homes, authorities said.
The Sheriff's Office and the York County Office of Emer-gency Management is working with other agencies to see if something actually hit, said Ralph Merchant, the center's 911 director.
"There have been no solid reports of damage or something hitting the ground," Merchant said. It may not be until sometime today when an airplane can see for sure if a meteor hit the ground, he said.
In Chester, callers reported flashes that made the night appear like daytime for a moment, said a supervisor at Chester County's 911 center. [...]
Comment: Previous reports from the article 6 report UFO in Durham skies:
It flashed across the sky like a shooting star, trailing a tail of green streaks.

But what Durham police Lt. Morris Taylor saw Monday night on Erwin Road was different from any shooting star he had ever seen before.

"It was pretty wild looking," Taylor said of the unidentified flying object. "It looked comparable to the size of the moon in the sky." [...]

O'Briant said the object was moving too fast to discern its color, but its tail had a distinctive greenish-white hue to it, he said.
"It just went across the sky and disappeared as it got toward the horizon area," he said. "It was a lot larger than a shooting star would be. It was almost like a firework going to the ground or something."

Air traffic controllers at Raleigh-Durham International Airport said they hadn't seen the object, but several pilots reported catching glimpses of it Monday night.

Taylor said the object was "humongous" compared to a shooting star. [...]
Mystery Asteroid, Hermes, May Have a Partner
By Robert Roy Britt
Senior Science Writer
Astronomers have apparently discovered an interesting twist to one of the greatest asteroid mysteries of all time. Hermes, a space rock lost to science for 66 years and recently rediscovered, could actually be a pair of orbiting asteroids, new radar observations suggest.
And a strange pair, indeed. ..
By Seattle Times staff
Wednesday, October 22, 2003

Record rain fell on the Seattle area in unrelenting, if not quite biblical sheets yesterday, bringing flood warnings for 10 Washington rivers, closing roads, unleashing a few mudslides — even prompting the distribution of sandbags for Seattle homeowners trying to keep water from seeping into their garages and basements. [...]
Global geophysical events, such as huge tidal waves or volcanic super-eruptions, could devastate the planet - so why doesn't anybody care?
Bill McGuire
Wednesday October 22, 2003
The Guardian
A huge chunk of the Cumbre Vieja volcano, on the Canary Island of La Palma, is on the move. In 1949, this mass of rock - perhaps as large as the Isle of Man - dropped 4 metres seawards and stopped.
Monitoring in the mid-90s suggested that it was continuing to creep downslope, though only at a centimetre or so a year. At some time, however, and we don't have a clue when, the landslide will plunge into the north Atlantic, generating gigantic tsunamis - sea waves likely to be 50 metres high or more - that will devastate the Caribbean and eastern United States, as well as the Canaries themselves, southern Europe and western Africa.
Without evacuation, the destruction will end the lives of tens of millions and bring the global economy to its knees overnight.
You might expect that this landslide would be one of the most closely studied on the planet, but that would be far off the mark. In reality, nobody is monitoring the situation, and the island's authorities are reportedly allowing new building developments to go ahead.
Why does nobody care? In the second half of the 20th century we planned for the nuclear winter that would follow an atomic exchange, but we now give little thought to the similar conditions that would certainly prevail after an asteroid impact or volcanic super-eruption. [...]
Methane Bubbles Could Sink Ships, Scientists Find
By Maggie Fox
WASHINGTON (Reuters) - Methane bubbles from the sea floor could, in theory, sink ships and may explain the odd disappearances of some vessels, Australian researchers reported on Tuesday.
The huge bubbles can erupt from undersea deposits of solid methane, known as gas hydrates. An odorless gas found in swamps and mines, methane becomes solid under the enormous pressures found on deep sea floors. [...]
Ecuadoreans Sue U.S. Oil Firm Over Amazon Pollution
By Amy Taxin
LAGO AGRIO, Ecuador (Reuters) - Ecuadorean Indians wearing feathered headdresses and red face-paint marched outside a jungle courthouse on Tuesday at the start of a case accusing U.S. oil giant ChevronTexaco of polluting the Amazon.
"Before Texaco, we were free. We drank from the river, bathed in the river and everything was peaceful because it wasn't polluted," 67-year-old Secoya Indian Esteban Lusitande said in broken Spanish.
"Now there's nothing. We can't even swim." [...]
Labor Groups Sue for Clean Air in Factories
DETROIT (Reuters) - The United Auto Workers and United Steelworkers of America filed a lawsuit against the Labor Department on Tuesday, seeking to force it to set clean air standards for factories that the unions said could save workers' lives. [...]
Philip's fury as his Diana letters leaked by Burrell
By Caroline Davies
The Telegraph
Buckingham Palace was in turmoil last night as extracts from intimate letters written by Prince Philip to Diana, Princess of Wales during the break-up of her marriage were published by her former butler Paul Burrell.
Prince Philip was said to be "furious" as the Queen's legal advisers held crisis meetings. [...]
PAUL'S DAD: OUR SON WAS INNOCENT
Oct 21 2003
By Andy Rudd
THE parents of chauffeur Henri Paul were still insisting yesterday their son was not responsible for the crash which killed Princess Diana.
They say he was not drunk or speeding and believe that the Paris crash, in which Paul also died with Dodi Fayed, was not an accident.
Paul's parents, who live in Lorient, Brittany, also believe a blood sample taken after the crash which showed the driver was drunk, was not from Paul who worked for Dodi's father Mohamed Al Fayed.
Their lawyer Francois Meyer said: "We believe the blood that was analysed was not Henri Paul's but someone else's.
Mistakes of this kind frequently happen. We want to carry out DNA analyses of the blood and compare it with DNA taken from Henri's body, so there is no doubt. At present, there are serious doubts. [...]
Few Viewers and Network Executives Scratch Their Heads
By BILL CARTER
The New York Times
Published: October 22, 2003
AS the ratings have rolled in for the first three weeks of the new television season, one question has dominated the conversations inside the industry's executive suites: what the heck is going on?
Network executives are baffled by a season unlike any seen before. Returning hit shows like "Friends" and "E.R." are losing significant numbers of viewers from previous years. New shows have performed far worse than almost anyone expected, a result capped off Monday night when the Fox network started two shows that had received huge promotional pushes during the baseball playoffs, "The Next Joe Millionaire" and "Skin," and they posted crushingly disappointing numbers.
And men between 18 and 24 are apparently deserting television in droves. So far this year nearly 20 percent fewer men in that advertiser-friendly demographic are watching television during prime time than during the same period last year.
The drop-off in these viewing figures tabulated by Nielsen Media Research is inexplicable to industry executives. "Frankly what we're seeing strains credulity," said Alan Wurtzel, the president of research for NBC.
Executives are demanding an explanation from Nielsen for these discrepancies, which, if they continue, could leave the networks on the hook for hundreds of millions of dollars in so-called make-goods, free commercials to make up for falling short of guarantees to advertisers. [...]
Human evolution can't cope with fast food, say scientists
Kashmir wedding guests shot dead
BBC
Wednesday, 22 October, 2003, 08:07 GMT

Seven people have been shot dead and a dozen others injured in a shootout at a wedding in Indian-administered Kashmir. [...]
A senior police officer said one of the policemen who attacked the group had apparently wanted to marry the bride. [...]
Canada's newest cardinal gives blessings

Canadian Press
11:02 PM EDT Tuesday, Oct. 21, 2003

Vatican City — Canada's newest cardinal blessed a newlywed couple and even signed autographs Tuesday on his first day on the job as a possible successor to Pope John Paul. [...]
More mud volcanoes found in Xinjiang
www.chinaview.cn 2003-10-22 17:24:41
URUMQI, Oct. 22 (Xinhuanet) -- Chinese geologists recently claimed discovery of a new group of mud volcanoes in northwest China's Xinjiang Uygur Autonomous Region.
The mud volcanoes were found at the Turpan and Hami area in northeastern Xinjiang. Eight volcanoes were spread in an area of one square kilometer. The largest one is five meters high and has a diameter of 10 meters and the smallest is two meters high and has a diameter of four meters.
According to Hu Ting, engineer of the Research Institute of Oilfield in Turpan-Hami Area, these volcanoes were formed one million years ago. Mud, natural gas and petroleum could be seen spewing out of volcano craters when they erupt. At present, all of them are inactive.
Mud volcanoes have been found in the United States, Mexico, New Zealand and Taiwan. China's largest group of mud volcanoes was found in September 2002.
Boy, 10, facing court over water pistol incident
Ananova.com
10:50 Wednesday 22nd October 2003
A 10-year-old boy has been summonsed to appear in court over an allegation of assault with a water pistol.
The boy has received the summons in relation to an allegation that he fired a water pistol at a passer-by in Westbury, Sherborne, Dorset, on April 13.
A police spokesman said: "Dorset Police can confirm that there has been an investigation into an incident in Westbury, Sherborne, involving an allegation of assault with a water pistol. [...]
Scores die on migrant horror ship
Up to 70 people trying to reach Europe illegally from Libya have perished at sea in horrific conditions.
Police are questioning a 39-year-old man after a 10-month-old baby boy died after being stabbed in the neck in a city centre
LOS ANGELES -- A tiny kitten that had its face spray painted was put down after a Monterey County veterinarian decided it couldn't be treated. [...]
World's "oldest" rice found in South Korea -- experts
SEOUL (AFP) - South Korean archeologists said they had found the world's oldest known domesticated rice, pushing back by thousands of years the recordered origins of Asia's staple food.
Radioactive dating of the 59 burnt grains of rice found in central South Korea has pushed back the date for the earliest known cultivation of the plant to somewhere between 14,000 and 15,000 years ago, they said. [...]
Researcher Declares 2003 'Summer Of The Lake Monsters'
PORTLAND, Maine (Wireless Flash) -- You've heard of the "Summer of Love" but this summer was the "Summer Of The Lake Monsters."
That's how cryptozoologists are referring to the Summer of 2003 thanks to the large number of lake monster sightings in places like Loch Ness in Scotland, Lake Champlain in Vermont and also China and Sweden.
Cryptozoologist Loren Coleman says there were about three times the usual number of sightings and figures that warmer, drier conditions made the lake monsters more active and easier to see. [...]
Bucks County
Courier Times
Two years ago, just past dawn in February, Rick Fisher was driving along a lonely stretch of Route 23 near Lancaster when he saw a strange creature.
It was about 5 feet tall, skinny, perhaps 80 pounds. It walked upright as if human.
"At first I thought it was just some guy in the middle of the road," he said. "From a distance it appeared to be a man dressed in black."
As he drew closer, he grew alarmed. [...]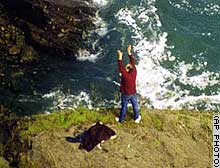 Police to charge man who survived plunge over Niagara Falls

A man who survived a plunge over Niagara Falls with only the clothes on his back will be charged with illegally performing a stunt, Niagara Parks Police said Tuesday. Kirk Jones, 40, of Canton, Michigan, is the first person known to have gone over the Canadian Horseshoe Falls without safety devices and lived. He could be fined $10,000.
Stunned tourists described seeing Jones float by on his back Monday in the swift Niagara River, go headfirst over the churning 180-foot waterfall and then pull himself out of the water onto the rocks below. "He just looked calm. He just was gliding by so fast. I was in shock really that I saw a person go by," Brenda McMullen told WIVB-TV in Buffalo...

---
Remember, we need your help to collect information on what is going on in your part of the world!
We also need help to keep the Signs of the Times online.
---

Check out the Signs of the Times Archives

Send your comments and article suggestions to us

---
Fair Use Policy
Contact Webmaster at signs-of-the-times.org
Cassiopaean materials Copyright ©1994-2014 Arkadiusz Jadczyk and Laura Knight-Jadczyk. All rights reserved. "Cassiopaea, Cassiopaean, Cassiopaeans," is a registered trademark of Arkadiusz Jadczyk and Laura Knight-Jadczyk.
Letters addressed to Cassiopaea, Quantum Future School, Ark or Laura, become the property of Arkadiusz Jadczyk and Laura Knight-Jadczyk
Republication and re-dissemination of our copyrighted material in any manner is expressly prohibited without prior written consent.
.