---
"Disasters involve cycles in the human experiential cycle [...] Human cycle mirrors cycle of catastrophe. Earth benefits in form of periodic cleansing. Time to start paying attention to the signs. They are escalating. They can even be 'felt'by you and others, if you pay attention."
Guess what...Israel really does have nuclear capable submarines, and Condi is worried about it. The nukes are trained on Iran's facilities and are able to strike with "pinpoint accuracy", apparently. I guess we will have to wait and see if that is true. Perhaps Sharon is waiting for the expiration of the UN deadline at the end of this month before "defending Israel" in this most novel of ways.
Meanwhile, from his secret hideaway under the bed of every American, Osama has delivered a startlingly accurate and damning indictment of American culture, threatening more revenge in the style of 9/11. His portrayal of the situation is so accurate in fact, that you would almost think the CIA wrote it...
As we said a few days ago, you really would have to be incredibly naive to think that the bombing of the US convoy in Gaza was carried out by Palestinians. Apart from the fact that Palestinians were blamed within minutes of the attack (marginally quicker than on 9/11) they had absolutely nothing to gain. Israel, on the other hand, had much to gain.
Why is it that no one wants to even contemplate the possibility that fake terror attacks might be part of the so-called "war on terror?" From a military POV it makes complete sense to fake an attack and blame your enemy. Are we supposed to believe that "war is hell", but no dirty tricks are allowed? Please, let's at least be mature about this.
North Korea reiterates "we have nukes" and threatens to show them off, while Syria preps for another Israeli attack. In Iraq, a US-appointed governor wreaks havoc in his town, and a US army officer is killed. Meanwhile, Turkey wavers on its commitment of troops to help the US in Iraq.
Amidst rumors of an assassination plot targeting Putin, Russian police are accused of torture and Bush rolls out his propaganda plans for Iraqi children. No parade for the most hated man in the world, since the UK fears a massive war protest.
The fallout from Malaysian Prime Minister Mahathir's speech to the 10th Organisation of Islamic Conference Summit continues, showing that reasoned debate on the role of the Jewish lobby around the world continues to be impossible. Open your mouth about the injustice the Jewish state commits against others, or even their successes in influencing other governments, and you are "anti-Semitic." Of course, don't count on there being any debate about that either!
Mysterious microburst in Alaska, fish on prozac, a little UFO meets military history, an update on the JetBlue privacy scandal, ecological meltdowns and a giant shower curtain to hide view of slums from Bush.
---
Israeli Subs Have Nukes Aimed at Iranian Sites

Exclusive to American Free Press
By Gordon Thomas
American-made Harpoon missiles, armed with nuclear warheads, are now aimed by Israel's fleet of Dolphin-class submarines against Iran's nuclear facilities.
Following September's exclusive report in American Free Press about Israel's submarine nuclear attack capability, over 100 Harpoon cruise missiles have been secretly airlifted to the remote island of Diego Garcia, a joint UK-U.S. base in the Indian Ocean.
The three Israeli submarines that arrived at the base early this month were each loaded with 24 Harpoon missiles. They then set sail for the Gulf of Oman—bringing Iran's nuclear facilities all within range of the submarines' payloads.
The decision to launch them is entirely in the hands of Israeli Prime Minister Ariel Sharon. Just as Sharon gave Washington only a short warning before he gave the order to attack an alleged terrorist camp deep inside Syria, he has made it clear to Washington that the same rule of engagement will apply if it comes to launching the Harpoons.
Sharon made his position clear in a telephone call to President Bush the day after the attack on Syria.
According to one Israeli source, Bush said he "just wanted to be kept in formed."
Credible intelligence sources say the reality is that Sharon believes he would have the support of Bush if he did launch an attack.
But an indication of the deepening concern that some members of the Bush administration now feel is that National Security Advisor Condoleezza Rice allowed one of her senior aides to confirm AFP's September report to The Los Angeles Times and London's Guardian newspaper.
Both drew heavily on the original American Free Press story. The senior Pentagon and State Department sources for AFP's first story about Israel's Dolphin-class submarines told AFP exclusively that, in the words of one high-level Pentagon source, "matters have now advanced considerably, and for the first time Rice is sounding alarm bells in the Oval Office."
Rice's decision to leak is also the first clear indication of her concerns over Israel—as well as her own direct challenge to the authority of Secretary of Defense Donald Rumsfeld.
Rice is engaged in an internal power struggle with Rumsfeld—and has chosen to use what she sees as his failure in the Middle East to harness Sharon's behavior as her launch pad to have the secretary of state ousted.
"Rice has a long-term strategy to become secretary of state. While Rumsfeld is no supporter of Powell, he knows that having Rice in charge of [the State Department] would give her more power than she even has now. And there is also the ultimate ambition for Condi to be Bush's running mate. Her own inner circle says that she would relish a face-off with Hillary Clinton in 2008. If Condi became vice president, then she is but a step away from becoming the first black woman in the White House. That is what is driving her," said a senior Washington analyst.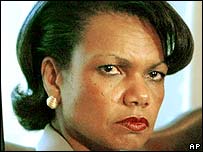 RICE BOILING
Meantime, Rice's concerns have deepened following Sharon's stark warning last Sunday that "states harboring terrorists are legitimate targets."
Aides in Tel Aviv have confirmed to American Free Press that "Iran and Syria are top of that list—with Iran in the top spot."
The revelation comes at a time of rapidly escalating tensions in the region.
Israel's senior Foreign Ministry spokesman, Gideon Meir, insisted "any country that harbors a threat to Israel is a legitimate target for us out of self-defense."
Today, American Free Press can reveal, again for the first time, that a team of U.S. computer specialists flew to Diego Garcia to fit the latest version of the software known as "over the horizon." This would allow a Harpoon to hit Iran's nuclear establishments with pinpoint accuracy.
Originally developed by Inslaw, the Washington-based computer software company, the over-the-horizon capability has been enhanced to handle the sophisticated electronics of the Harpoon missiles.
In the meantime, Sharon has ordered Mossad to put together a specialist team to infiltrate Iran. Their mission is to snatch some of the scientists working in the country's nuclear facilities at Natanz, Arak and Saghand.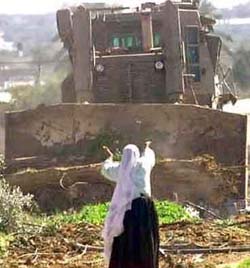 Eyeless in Gaza: Who blew up the US convoy?
By Christopher Bollyn
American Free Press
The bombing of the U.S. diplomatic convoy in Gaza "hurts the Palestinians most of all" and plays directly into the hands of "the extremist elements in Washington" who want to put Palestinian resistance groups in the same camp with Al-Qaida. So, why is the FBI letting the Israelis conduct the investigation?
When a bomb, buried beneath the road, blew up under the first car in a U.S. diplomatic convoy and killed three American security guards entering the Palestinian territory of Gaza, blame was assigned – immediately – to Palestinian militants. While the bombing represents a serious setback for the Palestinian national cause and every known Palestinian group has condemned the attack and denied responsibility, the U.S. government and media were quick to blame the Palestinian authority – before any investigation had even begun.
The bombing occurred on Oct. 15 as a group of American diplomats arrived in the Gaza Strip to conduct interviews with Palestinian students who were competing for Fulbright scholarships in the United States.
The three Americans killed were reported to have been security personnel working for DynCorp, a Virginia-based security firm.
Why any Palestinian group should inflict such a counter-productive blow to the Palestinian national cause was questioned by veteran diplomat Philip Wilcox, former U.S. Consul in Jerusalem, who told CNN, "There is no strategic rationale for this. It hurts the Palestinians most of all."
In an interview with the BBC, Palestinian president Yassir Arafat said the attack was a shameful, dirty and very serious act against friends of the Palestinian people.
Arafat emphasized that this act was completely against the interests of the Palestinian people and that no Palestinian group had claimed responsibility. Without specifically blaming the Israelis, Arafat made it clear he believed the bombing had been done by forces hostile to any improvement in U.S.-Palestinian relations.
All Palestinian groups, including the militant wings of Hamas and Islamic Jihad condemned the bombing and denied any responsibility.
The bombing of the U.S. convoy played into the hands of the "extremist elements in Washington" who want to lump the Palestinian resistance into the same "terrorist" camp with Al-Qaida, Sebastian Usher of the BBC said.
A Palestinian source told American Free Press that the bomb had been buried in a road in front of a filling station about a half-mile from the Eretz checkpoint, one of the Israeli controlled gates in the wall surrounding the Gaza Strip. The source said the Gaza bomb could have been an Israeli act as it occurred in "an open area, which is under the eyes and control of the Israelis… They can check the area from many points," the official source said.
There are several observation points from which the Israelis were able to observe the convoy as it passed the filling station. The bomb was detonated by remote control as the first car passed over.
An FBI team of investigators and forensics experts reportedly arrived in Israel on Thursday to investigate the bombing, however, the FBI agents did not go to Gaza immediately. Instead, the FBI will rely on the Israelis to collect and preserve evidence, with the FBI doing the detailed examinations of what is found, FBI officials in Washington said.
AFP asked the FBI why Israeli police were being allowed to conduct the initial investigation, but there was no response from the FBI by press time. [...]
ISRAELI TACTICS IN IRAQ
U.S. occupation forces are reported to be using bulldozers as they "apply Israeli tactics" in Iraq. U.S. forces have used bulldozers to destroy crops and fruit orchards of farmers, according to Patrick Cockburn of The Independent (UK), writing from Dhuluaya, Iraq.
"U.S. soldiers driving bulldozers, with jazz blaring from loudspeakers, have uprooted ancient groves of date palms as well as orange and lemon trees in central Iraq as part of a new policy of collective punishment of farmers who do not give information about guerrillas attacking US troops," Cockburn wrote. [...]
Children lay down in front of the bulldozer but were dragged away, according to eyewitnesses who did not want to give their names. One American soldier reportedly broke down and cried during the operation.
When a reporter from an Iraqi newspaper tried to take a photograph of the bulldozers at work a soldier grabbed his camera and tried to smash it. The same paper quotes Lt. Col. Jeffrey Springman, a U.S. commander in the region, as saying: "We asked the farmers several times to stop the attacks, or to tell us who was responsible, but the farmers didn't tell us."
Sheikh Hussein Ali Saleh al-Jabouri, a member of a delegation that went to the nearby U.S. base to ask for compensation for the loss of the fruit trees, said American officers said what had happened was "a punishment of local people because 'you know who is in the resistance and do not tell us.'"
Asked how much his lost orchard was worth, farmer Nusayef Jassim said: "It is as if someone cut off my hands and you asked me how much my hands were worth."
What the Israelis had done by way of collective punishment of Palestinians was now happening in Iraq, Sheikh Hussein said. Asked about the bulldozing of crops and orchards in Iraq, Pentagon spokesman Capt. David Romley told AFP, "That is not our policy. We do not use those vehicles [bulldozers] as a means of reprisal."
Syrian military ordered to stand alert to repel any Israeli attack

DAMASCUS (AFP) Oct 18, 2003
Chief of staff General Hassan Turkmani called again Saturday on the Syrian military, especially the air force, to stand "ready to repel" any Israeli attack, the official news agency SANA reported. [...]
Earlier in the day, Israeli Major General Amos Gilad, who heads the defense ministry's political department, threatened Syria with renewed "actions" if it did not put an end to what he charged was its continuous support for terrorist groups, Israeli public radio reported. [...]
Israeli Troops Pull Out of Shantytown
By IBRAHIM BARZAK
Associated Press Writer
GAZA CITY, Gaza Strip - Israeli troops pulled out of a shantytown along the Gaza-Egypt border early Sunday, completing a four-day operation in which they demolished at least 15 homes and killed four militants and four bystanders, witnesses said.
Troops left behind damaged roads, ripped-up water pipes, and severed electric and telephone cables as they left the Brazil neighborhood in Rafah, witnesses said. The army left some troops in the nearby Salem area. [...]
Israel's army calls up five reserve battalions to serve in West Bank, Gaza Strip
Saturday, October 18, 2003
JERUSALEM (AP) -- The Israeli army said Sunday it had called up five reserve battalions -- about 5,000 soldiers -- to replace conscript soldiers serving in the West Bank and Gaza Strip. [...]
Israeli soldiers have been serving under increasingly stressful conditions for the past three years due to ongoing fighting with the Palestinians. Soldiers have complained of exhaustion and burnout.
Israeli men and women are drafted into the army at the age of 18. After they complete their mandatory service -- three years for men, and about two for women -- the men are required to do reserve duty. Women are also sometimes required to serve in the reserves.
Dressed to Kill: Inside the Mind of the Very First Female Palestinian Suicide Bomber
[...] Only when a candidate is on the eve of martyrdom is he or she usually allowed final time with his or her family. In part this is to test whether or not they will weaken in their resolve.
Wafa'a, for example, spent her last two days with her mother. Only when she had taken delivery of her underclothes and bodysuit did she let her mother know what was going to happen.
"We prayed together. For Palestine. For my daughter's safe journey to a better world," said Wasfiya.
She is herself a woman who sees life through the prism of Islamic extremism. Her reading is confined to the Qu'ran: Her hero is Arafat. Her dream is that her daughter has gone to her death to help create a Palestinian homeland.
In some respects Wafa'a did not quite fit the profile of a shaheed. Until she had been enrolled by the Martyrs, she had not shown any strong religious feelings.
"After time with the Martyrs she became a devout follower of all that I had taught her as a child. There was not a day when she did not study the Qu'ran," said Wasfiya.
Her anger against Israel also became a living vibrant force that sustained her during her work as a paramedic.
In the year before her death, she had been injured three times by Israeli soldiers as she had tended to Arabs wounded on the streets of Ramallah.
Her mother said: "At that time my daughter was getting more and more angry. All she was doing was trying to save lives. But the soldiers did not care. Then one day she said to me, 'Mother, I have joined the Martyrs. It is the only way I can serve my people. All those who have died have to be avenged.' I understood her feelings." [...]
Ayoon wa Azan (Where Are The Weapons Of Mass Destruction?)
Jihad Al Khazen Al-Hayat 2003/10/19
On October 2, 2003, the American senior inspector for weapons of mass destruction (WMD) in Iraq, David Kay, issued his report on the work of thousands of inspectors, in a mission that cost thousands of millions of dollars. He said: no weapons found. But that day, President George Bush said that the report corroborated the existence of WMDs in Iraq.
A month or more earlier, U.S. Secretary Defense Donald Rumsfeld visited Iraq and said he was happy with the efforts and achievements of the occupation forces and that the situation was great and Iraqis were welcoming the American soldiers with open arms. However, one, two or three American soldiers are killed every day, along with 20 to 30 Iraqis a day.
This was after the war. Before it, U.S. Secretary of State Colin Powell stated on February 5, 2003 that the danger of the moment was equal to that of Iraq's WMDs towards the world, as this was a fact and represented a danger to the region and to the world, adding that it wasn't an option to leave the WMDs in the hands of Saddam Hussein for additional months or years.
Then on March 27, Paul Wolfowitz, the Deputy Defense Secretary, said that Iraq's revenues from oil would stand at around 50 to 100 billion dollars over the coming two or three years, and that Iraq would be able to finance its reconstruction relatively quickly.
Where are the WMDs then, and why has President Bush asked for 87 billion dollars for the reconstruction of Iraq (and Afghanistan), if it is able to do that itself "relatively quickly."?
This is just an introduction, because the American irrationality could explain how the U.S. occupation forces called upon Syria to protect its borders with Iraq, which are supposed to be protected by the occupation forces, and how the U.S. administration threatened Iran because of its nuclear program, while in Israel there are nuclear weapons and a government of war criminals that cannot be entrusted with a hunting rifle. So how is this administration trying to change the minds and hearts of the Saudis, meaning their religious convictions, before extending to the rest of the Arab and Islamic countries?
Comment: The rest of this article gives the journalist's account of his personal experiences in Syria. While Washington would have us believe that Syria was the site of armed Palestinian training camps, his personal experience was, to the contrary, that Syria refused to permit anyone to carry arms for fear of its own security.
Abdulwahab Badrakhan Al-Hayat 2003/10/18
Any mention of Jews has become anti-Semitism, and any mention of Islam is a sign of terrorism. The Islamic summit in Malaysia did not know that it would face this provoked equation. Yet, the honest speech given by Mahathir Mohamad triggered reactions; the most important of which was that of a U.S. State Department spokesman who considered the speech "insulting" (to whom?), but he forgot to give his opinion about what a new Pentagon official, Lt. General William Boykin, had said.
Mahathir spoke of the "confrontation with Jews" because they are present everywhere that targets the Islamic world, especially on U.S. decision-making level. Boykin talked about the Christian-Jew values struggle with an enemy called Satan, and he means Islam. This man is appointed Deputy Undersecretary of Defense for Intelligence. He seems as brainwashed as the ones to whom he is hostile; he sees the "war on terror" as a religious war. Hence, back to the starting point, when George Bush used, by mistake, the word crusade.
This was not the concept from which the Malaysian premier wished to start, especially that he is not speaking as an intellectual free from responsibility, but as a responsible politician. He harshly criticized violence and extremism, over-criticizing suicide operations. This is why he was angered and hurt that the American campaign on Islam and Muslims began and that it would develop in the same way it is going.
Like any intellectual in the world found that all the misuses of the war on terror wear many implications that do not from American values and principles, but it borrowed many Likudnik and Sharonian behaviors. Do Jews have the right to determine their enemy and Muslims do not? This is not a confrontation between ghosts.
It is obvious that the Putrajaya summit was held on the background of the terror complex, which controls the minds of the American government, which in turn controls world affairs but is controlled by evil Zionists. The neo-Zionists act as persons who overcame the anti-Semitism complex, to practice an opposite anti-Semitism against others, Muslims and non-Muslims. Their interest lies in continuing the war on terror through which to pass essential changes in the international system.
In parallel, Muslim leaders met in order to find a way out of the cycle of terror, which closed on them, but they are aware that their way is not wanted, and that the target is not terror but themselves, their states, their people and their societies. Even non-Muslim states, that are not considered terrorists, are treated as if they were guilty. Governments that deployed every effort in fighting terrorism are treated as if they were in a conspiracy with the terrorism they are fighting. As for the people, their dignity has been looted in the name of security barbarism.
Perhaps, the persons provoked by Mahathir Mohammad's bluntness, whether in the U.S., Israel or anywhere in the West, find in the honesty of Saudi Crown Prince Abdullah bin Abdulaziz, the moderation they are seeking, if they were searching for an understanding with Islam and Muslims. His invitation for an intellectual, economic and political review goes into the direction of understanding the lessons of the terror crisis. There is a huge difference between fighting terror, and using and employing terror.
It is time to give Muslim states the chance to solve their problems - including, whether right or wrong, the alleged producers of terror - instead of pushing them to self-destruction, which will only lead to more terrorism. American pressures, as far as terrorism is concerned, are an exact copy of the Sharonian instructions to destroy Palestinian security institutions of the Palestinian Authority, while asking this same Authority with its defunct institutions to dismantle terror.
Undoubtedly, the greatest failure of the U.S. war on terror is its marriage with Sharon's war for an enduring Israeli occupation of all Palestinian land. It is also facing another failure, if it keeps on understanding the end of terrorism as the acceptance of Israel, with its barbarism, crimes, terrorism, and ambition to rule the Middle East, states and people. Whoever appoints a silly military person as William Boykin in such a position must have a program to revive terrorism and not destroy it. Thus, we would not be facing anti-Semitism, but a programmed hostility against Islam and Muslims… You cannot be hostile towards someone without him being hostile towards you.
Malaysian Defends PM's Statement on Jews
CANBERRA, Australia - Malaysia's foreign minister on Sunday again defended his prime minister against accusations of anti-Semitism after a controversial speech earlier this week in which the prime minister said Jews "rule the world by proxy."
Prime Minister Mahathir Mohamad's comments to a summit of Islamic nations caused a storm of controversy, with the United States, European Union, Germany, Britain and Australia branding the remarks outrageous.
EU leaders concluded a two-day summit with a statement saying Mahathir's comments "have no place in a decent world."
But in an interview with Australian television's Nine Network, Malaysian Foreign Minister Syed Hamid Albar said Mahathir's speech was misunderstood.
"I am confident he has no anti-Jewish feeling," he said.
Mahathir was urging Muslims not to use violence to achieve their aims and used Jews as an example of how to succeed, he said.
"Don't get emotional, overreacting to something and trying to create a storm when there is no storm at all," Syed Hamid said.
"You cannot deny the fact that the Jewish economic power is tremendous, their lobby is tremendous, so what's wrong with saying that?
"You are not saying kill all the Jews, you say take the example of the Jews."
Comment: Following the reaction to Mahathir's speech in the world's press is a fascinating example of how any discussion about the Jews gets twisted and distorted, accusing the speaker of anti-Semitism. An editorial in this weekend's Le Monde denounces Mahathir for anti-Semitism, without looking seriously at what he said. Truth has flown out the window.
We are not allowed to discuss openly the influence of Israel on the US, the power of the Jewish lobby within the US and other countries. The Holocaust has been turned into a uniquely Jewish event when millions of other peoples were killed by the Nazis, not to mention the tens of millions who lost their lives fighting fascism. Without an open discussion of this, how can we ever hope to come to an understanding of what is happening in the world today - where the Israeli genocide of the Palestinians is the motor for all the events in the Middle East?
Full text of Bin Laden message to Americans
Saturday 18 October 2003
Usama bin Ladin has issued a message to the American people
"Oppression will only go against the oppressors.
This is a message from Usama bin Muhammad bin Ladin to the American people regarding your aggression in Iraq. Peace be upon those who follow the righteous path.
"Some have the impression that you are a reasonable people. But the majority of you are vulgar and without sound ethics or good manners. You elect the evil from among you, the greatest liars and the least decent and you are enslaved by your richest and the most influential among you, especially the Jews, who lead you using the lie of democracy to support the Israelis and their schemes and in complete antagonism towards our religion (Islam).
"These schemes are paid for in our blood and land, and your blood and economy. "Nations are nothing without ethics and morals. If these are gone, the nations are gone.
Bush has sent your sons into the lion's den, to slaughter and be slaughtered, claiming that this act was in defense of international peace and America's security, thus concealing the facts.
"On one hand he (Bush) is carrying out the demands of the Zionist lobby that helped him to enter the White House. These demands are to destroy the military strength of Iraq because it is too close to the Jews in occupied Palestine, regardless of the harm that will happen to your people and your economy.
"On the other hand, he (Bush) is concealing his own ambitions and the ambitions of the Zionist lobby and their own desire for oil. He is still following the mentality of his ancestors who killed the Native Americans to take their land and wealth. He thought that this time it would be an easy task and a lie that would not be exposed.
Profit into loss
"But God sent him to Baghdad, the seat of the Caliphate, the homeland of people who prefer death to honey. So they (the Iraqis) turned his profits into losses, his joy into sadness and now he is merely looking for a way back home.
"Thanks be to God Almighty who has exposed the lies of George Bush and made his term as president a term of continual catastrophe.
"To Bush I say, you are begging the world to come to your aid, begging mercenaries from every corner of the world, even from small states. This begging has destroyed your pride and revealed how trivial and weak you are after claiming to defend the whole world.
"Now you are like the knight who was trying to protect people from the Sword of Malik, and ended up begging someone to protect him.
"We reserve the right to retaliate at the appropriate time and place against all countries involved, especially the UK, Spain, Australia, Poland, Japan and Italy, not to exclude those Muslim states that took part, especially the Gulf states, and in particular Kuwait, which has become a beachhead for the crusading forces.
Folly
"And to the American soldiers in Iraq I say, now that all the lies have been exposed and the greatest liar has been revealed, your stay on Iraq's land is compounding the oppression and is a great folly.
"It shows you are selling your lives for the lives of others. And you are spilling your blood to swell the bank accounts of the White House gang and their fellow arms dealers and the proprietors of great companies. And the greatest folly in life is to sell your life for the lives of others.
"In conclusion, I say to the American people we will continue to fight you and continue to conduct martyrdom operations inside and outside the United States until you depart from your oppressive course and abandon your follies and rein in your fools.
"You have to know that we are counting our dead, may God bless them, especially in Palestine, who are killed by your allies the Jews. We are going to take revenge for them from your blood, God willing, as we did on the day of New York. Remember what I said to you on that day about our security and your security. Baghdad the seat of the Caliphate, will not fall to you, God willing, and we will fight you as long as we carry our guns. And if we fall, our sons will take our place.
"And may our mothers become childless if we leave any of you alive on our soil."
Comment: While many of "Osama's" words above are actually very close to the truth, it would be prudent to remember this it is a common tactic of COINTELPro to closely mirror the truth in order to ensure that the lie is swallowed. The above quote, "we are going to take revenge...as we did on the day in New York" is extremely suspect since it is an obvious attempt to perpetuate the myth that it was Arab terrorists that carried out the attacks on 9/11.
We have reported in the past that "Osama bin Laden" is very likely a CIA and/or Mossad asset. The image presented of him as a crusading, fundamentalist Arab bent on the destruction of America because he "hates freedom and democracy" is patently absurd. For the American public however it will undoubtedly confirm their wild imaginings that Osama really is under their beds.
US says bin Ladin tapes underline threat
Sunday 19 October 2003, 14:15 Makka Time, 11:15 GMT
The White House urged the world on Sunday to carry on backing the US-led war on "terrorism" and vowed to take the fight to the enemy after the broadcast of new audio tapes from Usama bin Ladin.
In the tapes aired by AlJazeera on Saturday, bin Ladin vowed more suicide attacks inside and outside the United States and warned all countries backing Washington over Iraq that they too were targets.

"It is a reminder that the global war on terror continues," said White House spokesman Scott McClellan, accompanying President George Bush at an Asia Pacific Economic Cooperation (APEC) summit in Bangkok where counter-terrorism is high on the agenda.
"Terrorists are enemies of the civilised world who seek to spread fear and chaos and have no regard for innocent life. That's why we are taking the fight to the killers and bringing them to justice," McClellan said.

The tapes seemed likely to bolster Bush's planned message to the summit.
Bush told reporters in Manila on Saturday: "The easiest thing to do is to think the war on terror is over with... And I just will remind people that...the United States is still threatened and our friends are threatened, and therefore we must continue to cooperate."
Comment: Yes indeed. How lucky Bush is to have a friend - we mean enemy - like Osama. Look at it this way; how else were the NeoCons in the US and Israel going to convince the world that "perpetual war," was essential? How do you get someone to agree that black is white?
It is commonly known that, with the application of fear, pain and trauma, a person will confess to a crime they did not commit. 9/11 constituted the application of psychological trauma, en masse, to the American public, terrorising them to the point that they were prepared to accept as truth whatever they were told.
Mohamad Ashab Al-Hayat 2003/10/19
That who boasts about invading another country under the pretext of liberating it and of returning sovereignty to its people shouldn't view the Palestinian resistance to the Israeli occupation as "terrorism." As men of law generally say, a judgment is also partly a result of how you view the issue. What encourages Israel to excessively refer to the concept of war on terror is the fact that the U.S. is doing the same.
The American soldiers going to Afghanistan and Iraq under the pretext of self-defense encourages Israel to attack Syria under the same excuse. And the American veto that constantly blocks any intention to condemn Israel is a further source of encouragement. The notion of self-defense, the way it is being used by the U.S. and Israel, simultaneously cancels others' right of self-defense. There is no greater discrimination than this contradiction of the simplest right and rule.
U.S. President George Bush can use religious terms in the war on terror. But Malaysia's Prime Minister Mahathir Mohammad isn't allowed to do the same. Israel's Prime Minister Ariel Sharon can use "the right to follow up" as an excuse to attack potential enemies. The Palestinian Authority on the other hand doesn't even have the right to monitor the sites from where the invasion takes off.
Six Months After The Fall Of Baghdad
Helena Cobban
Al-Hayat 2003/10/19
When Vice-President Dick Cheney and Defense Secretary Donald Rumsfeld persuaded the President to launch this kind of war, in this kind of way, they were evidently hoping that it would send a huge wave of "shock and awe" not just through Iraq's military leadership, not just through the Middle East - but throughout the whole world. The swift and victorious assault against Iraq was designed to be the dramatic opening scene in a broader campaign to persuade the whole world of the sheer unstoppability of the unilateralist, "preventive war" doctrine that the President had outlined in his infamous "National Security Strategy" document of September 2002.
One can recall the thinking behind the design of President Truman's decision to employ not one but two of the U.S.'s brand-new atomic bombs over tightly-populated urban areas in Japan in August 1945. Was a campaign of such terrible and lethal consequences as that one necessary to persuade Japan's emperor to surrender? Probably not.
Ministers to Skip Iraq Donors' Conference

Germany has repeatedly said it will neither donate more money nor troops to Iraqi reconstruction. Berlin won't even send any cabinet members to the international donors' conference for Iraq on Thursday in Madrid.
[...] On Thursday and Friday, Spain will host up to 68 countries, 19 international organizations and 11 aid organizations at the conference, which will focus on collecting financial aid for war-devastated Iraq. The World Bank and the United Nations have estimated that Iraq will need around $35.6 billion (€30.7 billion) for reconstruction until 2007.
More money from Germany after all?
German Development Minister Heidemarie Wieczorek-Zeul will go to the Bundestag instead of to MadridGermany and France have emphasized they will neither send troops to Iraq nor provide more money for reconstruction. The two have ruled out the possibility of contributing soldiers to the multinational force in Iraq as well as limited their financial participation to the €200 million ($234 million) of European Union aid that is going to Iraq, of which Germany is footing around €50 million. Russia too, has rejected dispatching soldiers to Iraq, but has said it would be prepared to help in other ways.
France warns against Iran action
Military intervention would be ridiculous, says foreign minister, denouncing policy of forcible regime change
Simon Tisdall and Ewen MacAskill
Saturday October 18, 2003
The Guardian
The US pursuit of forcible regime change is not a viable or safe policy in the dangerous world that exists after September 11, the French foreign minister, Dominique de Villepin, said in an interview with the Guardian.
In a wide-ranging critique of US policy in the Middle East and beyond, Mr De Villepin said that any military action against Iran over its alleged nuclear weapons would be "absolutely ridiculous".
He also said that, in spite of Thursday's UN security council resolution giving the US-British force in Iraq a mandate, "the conditions for real progress on the reconstruction of Iraq are not complied with today".
"Reconstruction has to have a partner, you have to have real sovereignty in Iraq if you want to have the Iraqi people working with you."
Mr De Villepin declined to commit France to providing reconstruction assistance at next week's donors' conference in Madrid, in spite of urgings to do so from Washington. [...]
Nuclear Iran Defeats Israeli U.S.
Mohamad Sadek Husseini Al-Hayat 2003/10/18
The information available in the competent Iranian authorities state that France, Germany and Russia refuse to support Washington in submitting the Iranian nuclear file to the UN Security Council. On the contrary, they will harshly oppose, in addition to other countries, taking punitive measures against Tehran if the latter succeeds in unveiling the mystery of its nuclear program and convinced the International Agency that its intentions are sound for it is away of any military activity in this regard.
Moreover, the information sate as well that Bush administration intends to provide the adequate hot atmospheres to push the conflict with Iran to the largest extent as long as the latter is not cooperating, according to the American concept.
On another hand, the information mentions that if the Iranian leadership really wants to ease the conflict with Washington, it should follow the Chinese model by coping with the opponent. However, Iran wants to keep on its support the Palestinian and Lebanese forces to the largest extent.
Bush upgrades US-Thai military ties, says no treaty with North Korea
AFP
Sunday October 19, 4:19 PM

President George W. Bush upgraded US military ties with terrorism-war ally Thailand and announced plans for a bilateral free-trade deal as he kicked off a state visit here.
The US president on Sunday also ruled out a non-aggression pact with Pyongyang, but said he would explore other ways to formalize the oft-repeated pledge that "we have no intention of invading North Korea."
"We will not have a treaty, if that's what you're asking. That's off the table," Bush said, rejecting the Stalinist state's demand for such an accord as the price for talks on dismantling its nuclear weapons program.
Bush was to hold a meeting later with Chinese President Hu Jintao during which he was expected to press him to let the yuan float and to take up diplomatic efforts to defuse the North Korea nuclear crisis. [...]
NKorea says it will "prove" it has nukes -- foreign ministry

SEOUL (AFP) Oct 18, 2003

North Korea's foreign ministry reiterated on Saturday the Stalinist state's intention to "prove" its status in regard to nuclear weapons.
"When an appropriate time comes, the DPRK's (North Korea's) increased nuclear deterrent force will be proved in practice," said a foreign ministry statement carried by the official Korean Central News Agency (KCNA). [...]
No palace parade for Bush as Blair gets cold feet
By Tim Walker
The Telegraph
Plans for the Queen and George W Bush to make a triumphant procession along the Mall during the president's state visit next month have been abandoned because of fears of anti-war protests. [...]
UK Police Foil Putin Assassination Plot - Newspaper
Saturday, October 18, 2003; 7:30 PM
LONDON (Reuters) - A British newspaper said on Sunday that anti-terror police thwarted a plot to kill Russian President Vladimir Putin and arrested two would-be assassins but a police source played down the allegations.
The source said two men had been arrested in connection with the claims but had been released without charge and had returned to Russia as scheduled.
The Sunday Times newspaper said the men, one allegedly a former Russian secret service hit man, were hatching a plot for Putin to be shot by a sniper while on a foreign trip.
It said the former Russian agent knew a senior officer in the Federal Security Service (FSB), Russia's state security service and successor to the Soviet KGB, who would provide information about Putin's movements while abroad, allowing assassins to set up a hit.
Details had been given to British police by Alexander Litvinenko, a former FSB officer who defected to Britain three years ago, after he had been contacted by the alleged plotter, the newspaper said.
British police confirmed two men, aged 40 and 36, were held by police last Sunday in connection with the allegation but they were released on Friday after questioning and said no further action would be taken against them.
"If Scotland Yard gets an allegation of this kind it has to investigate if there's any truth in it. It seems like there wasn't in this case," a police source told Reuters.
When Litvinenko defected to Britain, his lawyer said the former spy had made allegations, denied by the FSB, that the Russian security services had planned to assassinate prominent Russian businessman Boris Berezovsky, who became a media mogul under President Boris Yeltsin but then fell out with Putin.
Berezovsky, granted political asylum in Britain last month, also recently claimed that Russian agents were plotting to kill him in London.
Torture now routine for Putin's police
Corrupt force extracts confessions with 'elephant mask' and beatings
Nick Paton Walsh in Kazan
The Observer
Sunday October 19, 2003

Once the policeman's gas mask was sealed tight around his face, Denis, 18, lasted 90 seconds before passing out. After a heavy beating by police fists and batons, Denis had still not confessed to stealing a car radio from a garage near his home. So two officers handcuffed his hands behind his back and clamped the 'elephant mask', as it is called, to his bruised head. They shut its valves and then waited.

'I thought it was all over, that I was going to die,' said Denis, a hardy car mechanic whose experience of police torture has left him unable to walk the streets without a gang of friends by his side.
Once the detainee was unconscious, the militsia, as the Russian police are known, panicked and dumped him in a cell. After he regained consciousness, he had still not signed a confession, so the police gave up and released him.
His friend Artur, who was arrested for the same alleged crime and beaten in the next room, was less resilient. He had heard people can die in police cells and so signed a confession prepared for him by the police after two doses of the 'elephant mask'. [...]
Bush Says New School Textbooks to Help Secure Iraq
Sat October 18, 2003 10:12 AM ET
MANILA, Philippines (Reuters) - As part of efforts to bring security to Iraq, President Bush said on Saturday that his administration was rebuilding the country's schools and providing calculators, pencils and textbooks free of Baathist propaganda to students. [...]
"While (Iraqi President) Saddam (Hussein) supported a massive war machine, Iraqi schoolchildren went without textbooks, and sometimes teachers went unpaid. Saddam used schools for his own purposes: to indoctrinate the youth of Iraq and to teach hatred," Bush said.
"We want young Iraqis to learn skills and to grow and hope, instead of being fed a steady diet of propaganda and hatred. We're making progress, but there is still much work to do."
Comment: Let's see, who is receiving the propaganda? Here is the truth:
[...] Two thirds of all Iraqi children attended secondary school, thousands studied abroad, women actively participated in the workforce. The oil wealth attracted hundreds of thousands of menial laborers from Africa and Asia. It was Saddam Hussein, the country's tyrant, who rattled the moribund and tradition-bound entrenched interests and ratcheted up living standards by imposing land reform, increasing the minimum wage and expanding healthcare.

Even the Iran-Iraq war which decimated tens of thousands of intellectuals and professionals barely dented this existence. Rather, the - mostly Sunni - middle class was done in by the sanctions imposed on Iraq, the aggressor in the first Gulf War, after 1991. [...][Sam Vaknin: Iraq's Middle Class]
Iraq was a secular society, and there was no fundamentalism in power. Unlike Saudi Arabia, which is a US ally and protected by the Bush Reich from a thorough 9/11 investigation. Bush is speaking to those who want to believe, desperately in the face of objective fact, that genocide was the right thing to do and to continue to do. The US and the UN, in a joint venture, largely destroyed Iraq with the sanctions.
Earlier this month, a National Geographic poll of Americans aged 18 to 24 found that, despite a groundswell of American support for obliterating Iraq, at least 80 per cent of respondents couldn't even find Iraq on a map. [ Bush is a moron and he's not alone, Terry Glavin]
Instead of spending money on educating Americans, Bush is spending money on murder. How does he get away with it? The Educational System Was Designed to Keep Us Uneducated and Docile:
How can I make such a bold statement? How do I know why America's public school system was designed the way it was (age-segregated, six to eight 50-minute classes in a row announced by Pavlovian bells, emphasis on rote memorization, lorded over by unquestionable authority figures, etc.)? Because the men who designed, funded, and implemented America's formal educational system in the late 1800s and early 1900s wrote about what they were doing. [...]

In 1888, the Senate Committee on Education was getting jittery about the localized, non-standardized, non-mandatory form of education that was actually teaching children to read at advanced levels, to comprehend history, and, egads, to think for themselves. The committee's report stated, "We believe that education is one of the principal causes of discontent of late years manifesting itself among the laboring classes." [...]

[T] he Rockefeller Education Board—which funded the creation of numerous public schools—issued a statement which read in part:

In our dreams...people yield themselves with perfect docility to our molding hands. The present educational conventions [intellectual and character education] fade from our minds, and unhampered by tradition we work our own good will upon a grateful and responsive folk. We shall not try to make these people or any of their children into philosophers or men of learning or men of science. We have not to raise up from among them authors, educators, poets or men of letters. We shall not search for embryo great artists, painters, musicians, nor lawyers, doctors, preachers, politicians, statesmen, of whom we have ample supply. The task we set before ourselves is very simple...we will organize children...and teach them to do in a perfect way the things their fathers and mothers are doing in an imperfect way.

At the same time, William Torrey Harris, US Commissioner of Education from 1889 to 1906, wrote:

Ninety-nine [students] out of a hundred are automata, careful to walk in prescribed paths, careful to follow the prescribed custom. This is not an accident but the result of substantial education, which, scientifically defined, is the subsumption of the individual. [...]
We are all children of this propaganda machine. It appears that the machine is winning since so many are greedily accepting Bush's lies.
Officer Was Highest Killed in Hostile Fire
AP
Sat Oct 18, 4:50 PM ET
FORT CAMPBELL, Ky. - A military police commander killed this week during a bloody battle outside a cleric's headquarters has become the highest-ranking Army officer killed in hostile fire in Iraq, according to an Army spokesman at the Pentagon.
Lt. Col. Kim S. Orlando was among three soldiers from the 101st Airborne Division, based at Fort Campbell, killed when a joint U.S.-Iraqi patrol confronted gunmen outside a mosque in the Shiite Muslim holy city of Karbala. [...]
Coalition embarrassed as US-appointed governor goes on trial
By Colin Freeman in Baghdad
The Telegraph
19/10/2003
From the day the United States Army freed the Shia holy city of Najaf from Saddam Hussein's grip, Abdul Mun'im seemed to be a man they could do business with.
Yet within weeks of persuading US commanders to appoint him as the first post-war governor of Najaf, the former Iraqi army colonel was running a regime much like the one he helped to oust, earning him the nickname "the Second Saddam".
Between photocalls with US generals and school re-openings, he allegedly masterminded a large scale car-theft ring, tried to empty local banks of public funds, and kidnapped and imprisoned anyone who got in his way.
For almost three months coalition officials ignored complaints from locals about the thuggish behaviour of Mun'im's militia of 100 armed henchmen, led by his brother, a potbellied tough nicknamed "Mohamed the Monster". His arrest came only when US soldiers searching for three kidnapped boys found them imprisoned in his offices - within the walls of their own coalition HQ. [...]
Turkey to give up Iraq deployment plan if troops not welcome: PM

ANKARA (AFP) Oct 18, 2003
Turkish Prime Minister Recep Tayyip Erdogan conceded Saturday for the first time that Ankara would abandon plans to send troops to Iraq if they are not wanted in the war-ravaged country, following harsh objections from Iraq's interim readership.
"Iraq is our neighbor and will continue to be so in the future. We will not undertake anything that may lead to problems. The demands of the Iraqi people are very important for us," Erdogan said. [...]
World's mega cities expand as millions quit the countryside
Peter Beaumont
The Observer
Sunday October 19, 2003
It used to be the stuff of 2000AD, the comic that introduced the world to Judge Dredd and two vast crime-filled cities, Mega City One and East Meg One.
In its dystopian vision, the first mega city around New York began construction in 2030, intended to house three to four million people.
In a sign of how quickly future dystopias age, the new Times Atlas of the World lists the growing club of real mega cities, all of them with predicted populations of more than 10 million - not by 2030, but by 2005.
According to these estimates, Tokyo - the world's largest city - will hit nearly 27m. São Paolo in Brazil will reach just under 20m and Mexico City 19m. Sixteen other cities are expected to exceed the 10m mark, including Bombay (Mumbai) 18m, and Dhaka in Bangladesh, 15m.
Two cities in Africa are expected to go mega - Lagos in Nigeria and Cairo in Egypt. According to the atlas - the 11th edition since it was first published in 1895 - the phenomenon is a mark of a global population in the grips of rapid urbanisation, where close to 50 per cent of the population now lives in cities.
Indeed, the latest estimates predict that urban dwellers will outnumber the rural population for the first time by 2007. [...]
But the mega cities are not the only major human impact noted by the atlas. There has also been a catastrophic impact on the environment. The atlas's authors estimate that 90,000 square kilometres (35,500 sq miles) of forest are being lost each year, the equivalent, since the last edition of the atlas in 1999, of an area the size of the British Isles.
But the greatest impact has come through global warming, with successive editions of the atlas showing shrinking ice fields and evaporating lakes.
It reveals the rapid retreat of the Aral Sea in Kazakhstan and Uzbekistan, once the world's fourth largest lake and now the tenth. Since the 1967 edition of the atlas it has shrunk by 39,994 sq km (15,800 sq m). Since the 1975 edition, the surface of the Dead Sea has dropped by a massive 17 metres.
It is the availability of new digital satellite technology that has made the changes so shockingly apparent.
The atlas's chief cartographer, Sheena Barclay, said: 'We are seeing things that you would not have seen 10 or even 15 years ago, changes that we can see by overlaying versions of our satellite images. And we are seeing a lot of concerning things.'
Perhaps the most compelling evidence of global climate change has come not between editions of the atlas but during the preparation of the present volume when the cartographers had to redraw the coastline of Antarctica after the Larsen ice shelf, which is the size of Luxembourg, disintegrated last year.
Off The Cuff: Thespians make lousy governors
By Alexander Lindsay | 19-10-2003

The great thing about democracy is that the public not only gets the government it wants; by implication it also gets the government it deserves. Welcome to the Corridors of Power, Arnie. We thought the notion of Ronald Reagan becoming president of the US was a joke. Until it happened. Now, Schwarzenegger has been elected king pin in his beloved "Caulifarnia", a state not exactly renowned for level-headedness in matters political or otherwise.
It confirms what I have always suspected, that the bulk of the American public have lost the ability to distinguish between reality and fantasy.
Embarrassed government hits at opposition, denies polls link
The government yesterday tried to overcome the embarrassment generated on Thursday by a brief conversation between Prime Minister Costas Simitis and his British colleague Tony Blair — in which the former appeared to request the return of the British Museum's Elgin, or Parthenon, Marbles for electioneering reasons — by going on the offensive against the opposition.
On Thursday night, opposition New Democracy attacked Simitis about his alleged intention to use the return of the marble sculptures, taken to Britain by Lord Elgin in early 19th century, to attract votes in elections next spring.
North Sea faces collapse of its ecosystem
By Richard Sadler and Geoffrey Lean
The Independent
19 October 2003
The North Sea is undergoing "ecological meltdown" as a result of global warming, according to startling new research. Scientists say that they are witnessing "a collapse in the system", with devastating implications for fisheries and wildlife.
Record sea temperatures are killing off the plankton on which all life in the sea depends, because they underpin the entire marine food chain. Fish stocks and sea bird populations have slumped. [...]
Microburst visits island in the Bush
By TIM MOWRY, Staff Writer
When something strange happens in Bush Alaska, the event often has a way of generating a life of its own.
Such was the case about a month and a half ago in the Yukon River village of Ruby when word--and then a videotape--began circulating about a swath of trees the size of a football field, some with trunks as big as 55-gallon barrels, that had mysteriously snapped off on an island nine miles upstream.
The 150 or so residents in the remote village 200 miles west of Fairbanks immediately began speculating what caused it.
"There were different theories," said local resident Pat McCarty, who inspected the site twice.
While some residents thought it was caused by wind, others suggested that a meteor, or even a UFO, was responsible for the destruction, said McCarty. [...]
Comment: A large photo of microburst damage in a forest [location not noted] can be found here, and another large photo from the Rocky Mountains that may have been from a microburst. NOAA has a brief description of microbursts/downbursts with diagrams. So far we have not turned up information regarding a microburst being responsible for such extensive damage as occurred in Alaska.
Antidepressant traces in creek raise concerns
Fort Worth Star Telegram
Researchers at Baylor University have found traces of a pharmaceutical antidepressant in the livers, muscles and brains of bluegills in a Denton County creek, raising concerns about the welfare of the popular sports fish and people who eat them.
The chemical is fluoxetine -- the primary component in Prozac. It likely came from a city of Denton wastewater treatment plant, which discharges into Pecan Creek and flows into Lake Lewisville in North Texas. Traces of the drug that are not absorbed into the body can flow down the toilet and through wastewater treatment plants, which are not designed to filter out pharmaceuticals. [...]
Comment: You can find our report on fluoxetine here.
By Ryan Singel
Wired News
Three powerful U.S. senators are pressuring the Pentagon to reveal more about its role in the JetBlue privacy scandal, pointedly asking whether a key privacy law was violated when a defense contractor acquired 4.9 million passenger itineraries from the upstart airline for a security study without giving notice to the passengers. [...]
The Pentagon's contractor, Torch Concepts, acquired more than 1 million passenger records from JetBlue and then augmented the data with sensitive information such as Social Security numbers and family size, which it purchased from Acxiom , a mammoth data-aggregation company. Torch then tried to determine if massive amounts of data would allow its technology to distinguish between typical passengers and terrorist profiles. [...]
Death on plane leaves many questions
Saturday, October 18, 2003 Posted: 9:58 AM EDT (1358 GMT)
NEW YORK (AP) -- Alexander Siess was on a recent flight from Mexico City to Paris when, authorities say, he became so unruly the pilot made an emergency landing at Kennedy International Airport.
Minutes after the 767 jet touched down, the 25-year-old Austrian was dead.
The circumstances of the little-noticed death last weekend - which may have involved alcohol and a violent struggle - remain murky. [...]
Mom who drove getaway car gets 15 years
Friday, October 17, 2003 Posted: 7:32 PM EDT (2332 GMT)
TOMS RIVER, New Jersey (AP) -- A woman who drove the getaway car in a bank robbery pulled off by her twin 14-year-old daughters was sentenced to 15 years in prison Friday.
Kathleen Wortman Jones, 35, tearfully apologized for her role in the holdup, which was aimed at saving her home from foreclosure but instead tore her family apart. [...]
Police kill man wielding scissors
Victim shot after lunging at officer, authorities say
For the second time in a week, San Diego police have shot and killed a man during what began as a routine traffic stop, authorities said. [...]
Baby dubbed 'APEC' rescued from rubbish bin

October 19, 2003

An abandoned newborn baby who was nicknamed 'Apec' after being found dumped in a garbage bag near the meeting's venue in city centre Bangkok is fighting for his life, his doctor said yesterday.
The baby boy was discovered by Thai police who heard his cries as they patrolled a motorcade route ahead of the Asia Pacific Economic Cooperation (APEC) summit which begins on Monday.
The police officer who gave him the name said in a television interview that the baby was unconscious when found yesterday amid a pile of rubbish, but was quickly resuscitated and sent to a children's hospital.
However, the hospital director said she would prefer the baby was given another name because his life remained in danger -- and if his health worsened it would bode ill for the high-profile meeting of 21 world leaders.
"I do not want to call him Apec, as it may be unfortunate for the summit," Surapee Ruangsuwan told AFP.
Fraud investigators call for action against senior EU officials
By David Wastell, Diplomatic Correspondent
The Telegraph
European Union fraud investigators have urged that disciplinary action be taken against senior Brussels officials after finding "systematic and flagrant incompetence" within the management of the Committee of the Regions. [...]
BBC
Sunday, 19 October, 2003, 10:49 GMT

Five people are reported to have been injured in the second derailment on London's Tube network within 48 hours. [...]
Graffiti artist sneaks his work onto the wall at Tate Britain
Oct 18 2003
The Western Mail

A RENOWNED graffiti artist managed to slip into one of Britain's best known galleries and stick one of his own works on the wall, it emerged yesterday. [...]
He visited Tate Britain on Wednesday morning in prosthetic make-up to make him look elderly. The artist then took his framed painting out of a bag, a rural scene which had an image of police tape stencilled on to it, and stuck it on the wall unchallenged. A card next to it read: "Banksy 1975. Crimewatch UK Has Ruined The Countryside For All Of Us. 2003. Oil On Canvas." [...]
Silly Shower Curtain Hides Truth
Critics call it a major cover-up: A giant plastic sheet will keep Bush and other visiting world leaders from seeing one of the unsightly slums of Thailand's largest city.
A colossal welcome banner has been strung along Bangkok's Chao Phraya River to hide the eyesore of clothes drying in front of shanties and garbage floating under houses from the honored guests in town for the Asia-Pacific Economic Cooperation summit.
Bush arrived Saturday, and along with other leaders is scheduled for a traditional Royal Barge procession down the river on Monday.
But hanging what is essentially a shower curtain about three stories high and as long as a city block strikes some as silly.
UFO still puzzles 30 years later
Soldiers encountered something strange in 'Coyne Incident'
CLEVELAND -- It was about 11 p.m. on Oct. 18, 1973, when an Army Reserve helicopter came perilously close to colliding with an unidentified flying object.
Arrigo "Rick" Jezzi, 56, who now lives in Cincinnati, was flying the Huey helicopter that night. Three decades later, he is still not sure what happened. [...]
Comment: The link also contains a reprint of the original 1973 article.
Heavenly light has Earthly explanation
By RON TSCHIDA
Chronicle Staff Writer
If you saw a strange light in the sky over Bozeman Tuesday or Thursday night, it's OK to talk about it. You weren't hallucinating.
Researchers at Montana State University are testing a laser, shooting a pulsing beam of light into the heavens. It's called "lidar," an acronym for Light Detection And Ranging, said Kevin Repasky, a research professor of physics at MSU. "This is equivalent to radar, but with lasers," Repasky said. [...]
Net Song-Swappers Get RIAA Letter Before Lawsuit
By Andy Sullivan
Fri Oct 17, 3:59 PM ET
WASHINGTON (Reuters) - Recording industry investigators said on Friday they have begun asking suspected Internet song-swappers to settle copyright-infringement charges before taking them to court.
The Recording Industry Association of America, which is waging a legal campaign against Internet users who copy its songs online, said it had contacted some 204 suspected infringers with settlement offers this week. [...]
The trade group has reached settlements with 64 song-swappers so far. Copyright law provides damages of up to $150,000 per song, but most settlements have been for less than $5,000. [...]
By Andrew Clennell
The Independent
19 October 2003
A US judge used her own rap theme to dismiss a defamation lawsuit against rapper Eminem. In a footnote to her opinion Judge Deborah Servitto added a 10-stanza rhyme which ended: "It is therefore this court's ultimate position that Eminem is entitled to summary disposition." [...]
Hers is not the first rhyming judgment. Last year, the Supreme Court overruled a decision that a prenuptial agreement was void as the husband had misrepresented the engagement ring as a diamond.
Dissenting, Justice Michael Eakin said: "A groom must expect matrimonial pandemonium when his spouse finds he's given her a cubic zirconium, instead of a diamond in her engagement band, the one he said was worth 21 grand."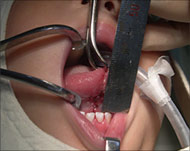 Accent axed with a snip
By Kim Kyoung-wha
Sunday 19 October 2003, 11:04 Makka Time, 8:04 GMT
It's a simple if gruesome procedure ... chop a centimetre or so off your tongue to become a fluent English speaker.
That is the hope that recently drove one mother to take her six-year-old son for surgery aimed at ridding him of his Korean accent when speaking the language of choice in global business.
Driven by a desire to give their kids an edge in an increasingly competitive society, a surprising number of South Koreans have turned to the knife in a seemingly drastic bid to help their offspring perfect their English.
"Those who have a short frenulum (a strap of tissue linking the tongue to the floor of the mouth) can face problems pronouncing some characters due to a disturbance in lateral movements of the tongue," said Bae Jung-ho, an oral surgeon at Seoul's Yonsei Severance Hospital, who operated on the six-year-old last month.
Bae said it takes about five minutes to complete the operation, called a frenotomy, which slices one to 1.5 cm off the frenulum to make the tongue more flexible.
B.C. flooding worsens, evacuation expands
Last Updated Sat, 18 Oct 2003 23:37:19
SQUAMISH, B.C. - More people left their homes in communities north of Vancouver Saturday, after flood waters spilled across roads and officials declared a state of emergency.
About 300 people were removed from the Mount Currie reserve near Squamish in the afternoon – less than 24 hours after about 100 people had fled the town itself.
A few residents who had ignored Friday night's evacuation orders were stranded on their property, Squamish Mayor Ian Sutherland told CBC News.
5.7 QUAKE: Undersea tremor off Kythera
A strong undersea quake, measuring 5.7 on the Richter scale, occurred off the island of Kythera in the Peloponnese at 4 p.m. yesterday but no injuries or damage were reported.
IAU Circular 8223 (October 15, 2003) reported the discover of a comet by Vello Tabur, Australian Capital Territory, on unfiltered CCD images taken with a 140-mm f/2.8 camera lens on Oct 14.4. The reported magnitude is 11.7. The orbital elements reported in IAUC 8225 (October 17, 2003) indicate a perihelion distance of 1.41 AU that will be reached on April 24, 2004. The comet may reach 8th magnitude in the March - June 2004 time period.
Men happy at adult kindergarten
By Inke Berth
Sat Oct 18,11:20 PM ET
HAMBURG, Germany (Reuters) - German men dropped off at an experimental "kindergarten for men" by their wives say they were happy to avoid the tortuous boredom of shopping by spending Saturdays playing with mates instead.
Dozens of men left by their partners at the Nox Bar in the port city of Hamburg told Reuters they loved the "Men's creche", where for 10 euros (7.15 pounds) they got a hot meal, two bottles of beer, a name tag and free games. [...]
To keep the big boys entertained, there were also copies of Penthouse magazine in the bar in the northern city. Another "Maennergarten" or Men's Garden, as they have been called in Germany, has set up in a pub in the western city of Cologne.
"The food is really good and so is the whole concept," Uaubascher added. "People like new ideas and they like to experience new, interesting things. So it's interesting, it's new and it works really well and it's good quality." [...]
"I wanted to shop in peace," said Jeanette Brendel after dropping her husband off, paying the 10 euro fee, collecting a "receipt" for him, and kissing her middle-aged husband goodbye for the afternoon. [...]
"It's the atmosphere that's so great here," he said. "It's the whole set-up: coming in a pub initially and then moving to a lounge-type of thing where you sit back, relax. You can read a little nonsense book, you can get some training with tools or you can chat with friends and meet new people."
Monster of a find on beach stroll
DINOSAUR expert Dave Martill stumbled across a 300-million-year-old marvel as he strolled along a beach.
Stepping over a rock, Dr Martill was stopped in his tracks by what looked like a piece of bone.
On closer inspection, he realised that a skull was contained within an 18in block of ironstone.
The chance find has now been confirmed as the discovery of a new species of giant amphibian that lived in the carboniferous era, before dinosaurs roamed the earth. [...]
---
Remember, we need your help to collect information on what is going on in your part of the world!
We also need help to keep the Signs of the Times online.
---

Check out the Signs of the Times Archives

Send your comments and article suggestions to us

---
Fair Use Policy
Contact Webmaster at signs-of-the-times.org
Cassiopaean materials Copyright ©1994-2014 Arkadiusz Jadczyk and Laura Knight-Jadczyk. All rights reserved. "Cassiopaea, Cassiopaean, Cassiopaeans," is a registered trademark of Arkadiusz Jadczyk and Laura Knight-Jadczyk.
Letters addressed to Cassiopaea, Quantum Future School, Ark or Laura, become the property of Arkadiusz Jadczyk and Laura Knight-Jadczyk
Republication and re-dissemination of our copyrighted material in any manner is expressly prohibited without prior written consent.
.