---
"Disasters involve cycles in the human experiential cycle [...] Human cycle mirrors cycle of catastrophe. Earth benefits in form of periodic cleansing. Time to start paying attention to the signs. They are escalating. They can even be 'felt'by you and others, if you pay attention."
The Signs Team has solved the mystery of the New Zealand muck! Maybe the Chinese astronaut will announce a sighting. Seattle is thumping and the "rational" explanations are flying just like that muck. Ah, cognitive dissonance, where would we be without thee...
Three Americans are killed and one seriously injured in a bombing in the Gaza strip after the US vetoes the Security Council resolution condemning the apartheid wall. Do we sense the invisible hand of Mossad? Meanwhile, Bush takes his case for psychopathy directly to the American public, doing an end run around the better informed Washington press corps. Not that American journalists have shown any courage in confronting the psychopath in chief.
Bush beats the war drum louder than ever, turning his beady gaze toward the so called "second-tier axis of evil". Apparently, enough children have not died from cluster bombs. Back in Washington, a debate rages about revealing the identities of undercover agents that infiltrated an anti-Bush activist group.
The death toll in Iraq mounts as McDonalds aims to ameliorate their suffering (with some "freedom fries" no doubt). Back in Maryland, meanwhile, staff are offering a free side of "Mcassault and Mcbattery" with every ice cream cone. Ah, the land of free and the home of the brave...
---
What's that thumping in west Seattle?
By ARTURO SANTIAGO / KING 5 News
October 12, 2003
SEATTLE - What on earth - or more accurately, what "under" the earth - was causing a strange thumping sound in west Seattle on Saturday night?
The noise was loud enough and had the ground vibrating enough to have people concerned and saying, what is that?
"There's that vibration...you can feel it, it sounds like fireworks reverberating, and then it sounds like a band playing, sometimes rhythmic, sometimes not," said William Chin.
A number of departments - the water department, Seattle city engineers, Puget Sound Energy - tried to figure out what the noise was and where it was coming from.
None would go on camera to offer any kind of an explanation.
"It scared me, and for a long time I wouldn't open the door I didn't know what was going on out there," said Shirley Berry.
"I mean feel it ... this is like bizarre ... I have no idea what it could be," said Patricia Callaway.
It was the talk of the neighborhood Sunday, bringing the curious to 62nd and Alki Avenue.
"I came down here to investigate the thump, they're talking about it down at Tully's, it's big news," said Byron, an Alki resident.
But Byron was disappointed.
"We do not hear the thump … we want to hear the thump … we're here for the thump," he said.
One theory is that a storm drain was clogged and was trying to clear itself out.
Residents said the thumping stopped at about 1 a.m. Sunday.
Comment: You can hear the thumping in this report.
Oct 22 1994
Q: (L) We would like to have comments on the thumping noises reportedly heard off the coast of California?
A: Expansion of base.
Q: (L) What kind of base?
A: It's a transfer center...
Q: (L) And what was the thumping?
A: They are expanding it.
Q: (L) Is it construction work?
A: Yes except that they are using sound waves to disintegrate rock in the crust under the ocean. This disintegration causes the atomic structure of the particles being disintegrated to completely disappear which has something to do with why those sounds are heard in that particular rhythm.
Q: (L) Any other comments?
A: There is some awareness on the part of the U.S. government as to what is going on there. They are suspicious.

Flying emus hitting HB roofs?
14.10.2003 - Hawkes Bay Today
Two more Hawke's Bay properties have been struck by sewage from above - with one victim saying "no way" a duck could have dropped what she reckoned only flying emus could have delivered.
The second victim, who had water-blasted the roof of his Taradale home only a few days earlier, agreed that ducks were unlikely to have been the culprits.
"I've lived here 36 years, been duckshooting many times and know a bit about them - but I have never heard of this happening before," he said.
Both victims wished to remain anonymous, although both had taken photographs of the strikes and contacted environmental officers from the Hawke's Bay Regional Council.
The most recent incident happened last Sunday afternoon as a Durham Drive, Havelock North, woman was entertaining guests in her home.
"I wish I had taken more notice of the time but it would have been between 3 and 4.30pm," she said.
"It came thundering down on the roof ... it did sound like thunder, it was that loud."
Her husband took a small sample of the material while it was fresh and the couple have kept it frozen.
Regional council officers were contacting the couple today.
She described the strong smell as "like human faeces" and said it had rained down in a line.
Five days earlier the Taradale home was struck. "It was scattered over an area about two to three metres wide and about nine metres long. That wasn't birds. It was dark and there were bigger pieces as well as fine spray."
However, Hastings man Bill Liversidge said he had a theory which may be backed up by personal experience.
A couple of years ago, while at the mouth of the Clive River, he saw a four-wheel-vehicle scatter a large group of nesting, migratory terns.
In what he reckoned was some sort of defence mechanism, the flock "let go" while flying off and left his own vehicle spattered with droppings. The terns flew in large groups, often at night and if they were startled they could all go at once.
That theory was close to the mark in terms of how regional council officers were approaching the incidents.
Examination of the Taradale spattering revealed there was too much matter for one or two large birds.
"It would have been a flock," one officer said, adding that the mystery was now confined to just what sort of birds were doing it - and why.
NEWS FLASH! SIGNS OF THE TIMES Staff Solves Muck Mystery!
Here at Signs Central, we don't muck around. Through the intrepid reporting of our team of muckrakers, the Signs staff has been able to solve several mysteries with one wild hypothesis: the muck in New Zealand is clearly and incontestably the effluvia expelled from the self-cleaning sewers in Seattle! As this material flies across the globe towards its targets in New Zealand, it is obviously breaking the sound barrier which accounts for the rise in reports of sonic booms. The increase in sightings of burning objects in the skies must then be pieces of this muck and the methane gas that surely accompanies it igniting as it makes its way towards the southern hemisphere.
It is also possible, although we will need more evidence before confirming it, that the flying Seattle self-cleaning sewer muck is also responsible for the increase in power blackouts around the world. There are also unconfirmed reports that this muck has been found in the software running the touch-screen computer terminals used for voting in the US, that it is the cause of SARS and the mysterious diseases haunting US troops in Iraq, and perhaps it is even part of Saddam's Weapons of Muck Destruction.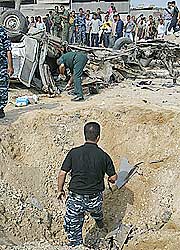 Gaza bomb kills 3 Americans

Wednesday, October 15, 2003

GAZA CITY (CNN) -- At least three Americans were killed and another seriously wounded Wednesday when an explosion hit a U.S. Embassy convoy in northern Gaza near the border with Israel, according to U.S. and Israeli sources.
A senior administration official in Washington confirmed that the four American casualties were employed by the U.S. Embassy to provide security. The official described the Americans as government contractors.
Palestinian police cars were leading the U.S. convoy, when a roadside bomb was triggered, hitting the lead U.S. vehicle, Palestinian sources said.
An Associated Press correspondent at the scene reported seeing a gray wire leading from the bomb crater to a small concrete building nearby. He said an on/off switch was attached to the wire. Video of the scene showed a crater, about three feet deep and eight feet wide.
There was no immediate claim of responsibility.
The three-car convoy was carrying at least 12 Americans and was escorted by Palestinian security, Israeli sources said.
U.S. officials frequently travel through Palestinian territories at the request of the Palestinian Authority to monitor the Mid east peace process, according to Chief Palestinian negotiator Saeb Erakat.
Palestinian Prime Minister Ahmed Qorei strongly condemned the attack, offered his condolences, and promised an investigation.
Erakat also offered his condolences and condemned the attack.
"These people were here to help us," Erakat insisted, saying an attack on what he described as U.S. monitors was not in the interest of the Palestinian people. "I don't think this was a deliberate attack against the Americans [,,,]
Comment: Indeed it is unlikely that this was a deliberate attack by any Palestinian organisation on the Americans, as Erakat says, they would have nothing to gain and much to lose by provoking Washington, and the Palestinian militant groups KNOW it. Israel on the other hand has MUCH to gain through the further demonisation of the Palestinian people as terrorists en masse. Islamic Jihad, Hamas and the PLFP have all denied involvement in this attack.
In a world where evidence of corruption and dirty tricks at every level are everywhere, why is it that the concept is never considered in the mainstream press?...
Police find bomb lab run by Israeli Jew
By Jonathan Lis, Haaretz Correspondent
15/10/2003
Jerusalem police who Tuesday discovered a bomb lab run by an Israeli Jew believe that the explosives were to be sold to criminals, although are still investigating whether he planned to sell to Palestinian militants as well.
Hanan Yadgarov, 29, from Pisgat Ze'ev was arrested two weeks ago after selling a three-kilogram bomb to an undercover police officer for NIS 25,000, said the city police spokesman, Shmulik Ben-Ruby.
Yadgarov was remanded for 10 days.
Police found explosives, ready-to-use bombs, Israeli and Russian army uniforms, police uniforms and bomb detonators in a Jerusalem apartment, Ben-Ruby said.
The undercover police officer asked Yadgarov "if it [the bomb] could also blow up on buses and he said yes," Ben-Ruby said.
He said Yadgarov's motives were still under investigation, although police sources say he was in the business of selling explosives to criminals rather than terrorists.
Comment: Can we say, "Israel-sponsored fake terrorist attacks?"
Gaza raids a 'war crime'

14/10/2003

London - Human rights group Amnesty International on Monday condemned Israeli raids at the weekend on the southern Gaza Strip town of Rafah that killed eight Palestinians, describing the operation as a "war crime".
"The repeated practice by the Israeli army of deliberate and wanton destruction of homes and civilian property is a grave violation of international human rights and humanitarian law... and constitutes a war crime," Amnesty said in a written statement issued in London.
"Amnesty International calls on the Israeli authorities to put an immediate end to the practice of destroying Palestinian homes and other properties, and of using excessive, disproportionate and reckless force against unarmed Palestinians... which frequently result in the killing and injuring of unarmed civilians, including children."
Amnesty also urged Palestinian armed groups to "immediately halt" deliberate killings of Israeli civilians.
Eight Palestinians were killed and about 80 injured during the operation launched on Rafah on Thursday night, which Israel says was aimed at destroying tunnels used to smuggle in weapons from across the border with Egypt.
About 1 500 people were also left homeless in Rafah refugee camp, the UN agency for Palestinian refugees has said.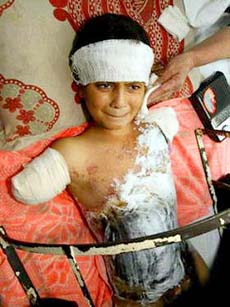 An Iraqi boy waits excitedly for the next
"Mc Arabia" phase of his liberation at
the hands of the US.

McDonald's poised for Iraq invasion

Tom McBride, Evening Standard
14 October 2003

THIS time next year the familiar logo of McDonald's could be popping up on the streets of Baghdad, well-placed commercial and banking sources say.

Among the leading contenders for a franchise of the US hamburger chain is the al-Bunnia family, one of Iraq's wealthiest merchant clans. A source close the al-Bunnias said a deal could be struck in a matter of months.

'McDonald's wants to make a decision but they have yet to visit the country,' he said on the sidelines of a a high-level conference on Iraqi reconstruction being held in London.

The Bunnia family held licences with Nestlé, Danone and United Biscuits before UN sanctions were introduced in the 1990s. Recently the family has worked as a subcontractor for US constructor Bechtel.

A senior banking source familiar with McDonald's' plans said it would be about 12 months before restaurants began to open. 'The management is interested in opening outlets in Iraq and is studying the possibility. But it thinks any such move would be a year away,' the banker said.

'Opening restaurants in Iraq would involve a lot of training. There will be many logistical challenges to cope with as well,' the banker added. Initially, restaurants would be opened in Baghdad only.

Even though McDonald's is an emblem of US cultural expansion and commercial might, the source close to al-Bunnia claimed the American chain's products would go down well with Iraqis.

Brushing aside intensifying anti-American feeling in the country, he said: 'McDonald's will be very popular. It is fashionable.' The US fast food giant's head office in Chicago has been inundated with enquiries about opportunities in the oil-rich state since the end of the conflict.

McDonald's expansion in recent years means it now serves burgers in a host of Middle Eastern countries. It has 34 restaurants in neighbouring Kuwait and recently introduced the 'McArabia' (two grilled chicken patties wrapped in flat bread) in a bid to beat a boycott of US products by Arabs angered by the Iraq conflict.


A Look at U.S. Daily Deaths in Iraq

Tuesday October 14, 2003
By The Associated Press

As of Tuesday, Oct. 14, 332 U.S. service members have died since the beginning of military operations in Iraq, according to the Department of Defense.

The British military has reported 50 deaths; Denmark, one; and Ukraine, one.

On or since May 1, when President Bush declared that major combat operations in Iraq had ended, 194 U.S. soldiers have died in Iraq, according to the latest Defense Department figures.

Since the start of military operations, 1,506 U.S. service members have been injured as a result of hostile action, according to U.S. Central Command. Non-hostile injured numbered 334.

Polish defence official blamed for false Iraq missile claims

15-10-2003

Poland's top military commander has blamed a former defence ministry spokesman for making false allegations that the country's troops found recently manufactured Franco-German missiles in Iraq, daily Gazeta Wyborcza said on Tuesday. In a secret report, which was sent to Prime Minister Leszek Miller the day before, the chief of staff put the blame squarely on the shoulders of the spokesman Eugeniusz Mleczak, who resigned over the matter on October 7.

On October 4 Mleczak, who was in his post for several years, said that Iraqi police had notified the Polish troops of the missiles, and on October 1, expressed that they seized four Roland missiles bearing French markings, made in 2003, in a house near Al-Hillah, south of Baghdad. The announcement sparked a denial from French President Jacques Chirac, talks with Polish Prime Minister Leszek Miller at the EU's Rome summit and an apology from Polish Defence Minister Jerzy Szmajdzinski. ...

Warning: Oil rigs terror targets

By John Kerin
News.com.au
October 15, 2003

OIL and gas platforms in the Timor Sea are vulnerable to attack by terrorists, and Australia's naval and air patrols are failing to protect the area.

This warning is contained in a damning navy think-tank report, which says oil and gas installations in the Joint Petroleum Development Area "are vulnerable to attack". [...]

US vetoes Apartheid Wall resolution

Wednesday 15 October 2003, 10:04 Makka Time, 7:04 GMT

The United States has vetoed a Palestinian-drafted UN Security Council resolution seeking to bar Israel from extending its Aparthied Wall deep into the West Bank.

The resolution, which would also have denounced plans to build 600 new homes in Israeli settlements in the Palestinian territories, won the support of 10 of the council's 15 members.

Meanwhile, four others - Britain, Germany, Bulgaria and Cameroon - abstained.

But the "No" vote from Washington, one of the council's five permanent members with veto power, was enough to kill the resolution.

Earlier US veto

The veto follows by less than a month the US veto of an earlier Palestinian resolution, demanding Israel should back away from a threat to "remove" Palestinian President Yasir Arafat.

Comment: US actions at the UN's Security Council make a joke of the idea that it is the UN that is behind the New World Order. The NWO is the United States itself with its bloodlust brother, Israel. While insisting that other countries respect UN resolutions and obey the Security Council, the United States looks the other way when it comes to Israel and its own actions. The rest of the world recognises this for what it is: hypocrisy.

They don't believe the talk from Bush about freedom and democracy because they can see for themselves that it is nothing more than window dressing for the American people who mostly don't give a damn about what happens anywhere else.

Palestinians Press on with UN Drive to Bar Fence

By Irwin Arieff
Wed Oct 15, 1:35 AM ET

UNITED NATIONS (Reuters) - Seeking to sidestep a fresh U.S. veto in the U.N. Security Council, the Palestinians have vowed to press on with their drive to try to prevent Israel from building a security fence deep into the West Bank.

Palestinian U.N. envoy Nasser al-Kidwa said Arab states would now take his draft resolution to the 191-nation U.N. General Assembly, where the United States, Israel's closest ally, has no veto and the Palestinians enjoy strong support.

While Security Council texts can carry the force of international law, assembly resolutions simply represent the will of the international community.

"We have seen tonight the second U.S. veto in less than a month that again casts a large shadow on the possibility for the United States to exercise the role of a mediator or a broker of the Middle East peace process," said al-Kidwa.

The Palestinians argue Israel's plan to build a second phase of its security wall, already 90 miles long, constitutes a land grab that aims to colonize the Palestinian territories and derail plans for the eventual establishment of a Palestinian state. [...]

Israeli Nukes on German-built Submarines?

14.10.2003

Critics have long questioned Germany's sale of three "Dolphin"-class submarines to Israel in 1999 and 2000. At the time, they demanded to know what the ships would be used for, and criticized Germany for ignoring its potential complicity in the Middle East nuclear-weapons build-up.

But according to the German newsmagazine Der Spiegel, Germany's Economy Ministry has confirmed that Israel has put out feelers about acquiring two further submarines, which could be used for the same purposes. That, in turn, has sparked renewed concern over the submarine sales.

The magazine said German-provided submarines could make possible a pre-emptive attack on Iran, an avowed enemy of Israel, in the case Tehran develops nuclear weapons.

Israel modifies subs

The first three Israeli submarines were modified in German shipyards fur undisclosed reasons. In 1999, the German Defense Ministry responded to inquiries by Green Party politicians Angelika Beer und Winfried Nachtwei by saying: "It is not clear to the government for what reason the Dolphin-class submarine have been fitted out with 650 millimeter artillery pieces that are able to launch submarine harpoon-rockets."

Pak fears joint Indo-Israel strikes

C R JAYACHANDRAN
TIMESOFINDIA.COM

NEW DELHI: Pakistan continues to be concerned about the increased defence cooperation between India and Israel and its latest fear is an Indo-Israel joint strike against Islamabad's nuclear assets. Pakistani intelligence sources, privy to the latest development in the Indo-Israel ties, apprehend that India and Israel might be planning a joint strike against Islamabad's nuclear assets. [...]

Arafat, Peres support unofficial Israeli-Palestinian peace treaty:

RAMIT PLUSHNICK-MASTI, Associated Press Writer

10/14/03: (Associated Press) Yasser Arafat and Israeli opposition leader Shimon Peres lent their qualified support Tuesday to a symbolic peace treaty drawn up by former Israeli and Palestinian government officials and veteran negotiators.

However, there was growing opposition to the 50-page document from Palestinian refugee groups and Israeli government officials. [...]

Israel dismisses peace plan as irresponsible

By Ravi Nessman in Jerusalem
Associated Press
October 15, 2003

[...] Meanwhile, former Israeli peace negotiators and Palestinian officials said on Monday that their new document could be the basis of eventual official negotiations. [...]

Israeli leaders criticised the agreement, saying it damaged the Government's peace efforts. A former Israeli cabinet minister, Yossi Beilin, an architect of Israeli-Palestinian interim accords in the 1990s and a leader of the new initiative, defended the blueprint. "The Israelis are sick and tired of the current situation," he said after the talks in Egypt. "They don't want to be killed; they don't want to kill. Most of the Israelis want to live, and we are giving them the hope to live." [...]

But Israel's Deputy Prime Minister, Ehud Olmert, denounced the Israeli negotiators as an "irresponsible bunch".

Germany, U.S. Sign Joint Terror Investigation Agreement

Germany 15.10.2003

The German and U.S. justice ministers signed an agreement that formalizes an already active cooperation in rooting out suspected terrorists. The contract, signed by German Justice Minister Brigitte Zypries and Attorney General John Ashcroft in Washington on Tuesday, allows law enforcement officials to seize evidence, question prisoners and search for suspects together. Zypries said the agreement made already fluid cooperation between the two countries "even more effective." Police cooperation between the two countries has intensified and deepened since the Sept. 11 terrorist attacks. Justice officials said differences over cooperation in cases where the suspect in the U.S. is facing the death penalty, were respected and left untouched by the new contract.

US eyes second-tier threats in terror war

It signals hardening stance by focusing on Syria, Libya, and Cuba.

By Howard LaFranchi
The Christian Science Monitor

WASHINGTON - The "axis of evil" is back - and in expanded form. Anticipated congressional action against Syria this week is just one sign that the US plans to keep up the pressure on countries it places on the wrong side in the war on terror. [...]

Pentagon official: US may take action against Syria

10/14/03: (ASSOCIATED PRESS) Pentagon adviser Richard Perle said Tuesday that the recent Israeli attack on an alleged training camp for Palestinian militants in Syria was long overdue and that he would not rule out U.S. military action against the Arab state.

Perle, a close adviser to U.S. President George W. Bush and Defense Secretary Donald Rumsfeld, spoke at a Jerusalem conference of conservatives from the United States and Israel.

"President Bush transformed the American approach to terrorism on Sept. 11, 2001, when he said he will not distinguish between terrorists and the states who harbor them," Perle said.

"I was happy to see that Israel has now taken a similar step in responding to acts of terror that originate in Lebanese territory by going to the rulers of Lebanon in Damascus."

Israel has said the training camp it targeted in an Oct. 5 airstrike was used by Islamic Jihad, a Palestinian militant group that had carried out a suicide bombing in the Israeli port city of Haifa two days earlier, killing 20 people.

Israel has accused Syria of allowing Palestinian militant groups to train and operate from its territory. The Israeli air strike was the first attack on Syrian soil in three decades.

Perle said he hoped the air strike reflected a new Israeli policy similar to the Bush doctrine.

"We have problems with the Syrians who continue to support terrorism. We have to find a way to get them to stop," Perle later told The Associated Press.

Asked whether this would include possible U.S. military action against Syria, he said: "Everything's possible."

Perle said it would not be difficult to commit forces to Syria despite heavy U.S. troop commitments to Iraq and the Korean peninsula, along with a continued presence in areas such as the Balkans and Liberia.

"Syria is militarily very weak," he said. [...]

Bush goes 'local' with Iraq pitch, Gives 5 interviews to regional media 'Good News' letter campaign unravels

TIM HARPER
WASHINGTON BUREAU
Oct. 15, 2003. 01:00 AM

WASHINGTON—If the news from Iraq is relentlessly bad, there is only thing left to do.

Change the messenger.

That is the latest gambit from an increasingly frustrated Bush administration which is making no secret of a new strategy of bypassing the national media and eliminating what it is calling the Washington news filter.

It also sent a cabinet cheerleader to Baghdad and allowed a "good news" letter-writing campaign from northern Iraq to distribute 400 identical missives to hometown newspapers, six of them to one paper, the Bakersfield Californian.

U.S. President George W. Bush, as part of a White House public relations offensive, did five interviews with regional broadcasters Monday, telling one that there was a sense "that the people in America are not getting the truth" about his accomplishments in Iraq.

Whether the new strategy will work remains to be seen. It is a method pioneered by former president Richard Nixon, one media analyst said.

"It's not new. Nixon used to do local press conferences," said Stephen Hess, of the Washington-based Brookings Institution. "The sense is that by-and-large you are going to be getting a more comfortable response.

"Local reporters may be less knowledgeable and more civil and that tends to get results."

Comment: Knowledge protects; ignorance endangers. Here we see a good example. The Bush Reichians are going out to speak to reporters at the local level because "Local reporters may be less knowledgeable..." What does that mean? That the Bush Lies won't be questioned. The Lie will win out over the Truth. But, then again, how many Americans want to know the truth? How many Americans are asking for the truth?

Since the assassination of Kennedy, the US population has been brought up on lies. They bought the Warren Commission. They believed Nixon for years. They get upset because Clinton was having affairs and lying about it, but look the other way when Bush lies and invades a country, er, two countries, bombing them back to the stone age. They believe that 9/11 was organised by "Arab terrorists" when it has only benefited the Likudists in the US and Israel. They have accepted the USA Patriot Act. They wait patiently in line at airports to be harassed and searched.

If you are an American reader, we'd like to get your feedback. What is going on around you? Are the people you work with, the members of your family, the local newspapers, starting to put 2+2 together? Are people beginning to ask questions?

D.C. undercover operations blown?

By Sherrie Gossett
WorldNetDaily.com
October 15, 2003 1:00 a.m. Eastern

A long-term undercover intelligence operation hangs in the balance as the District of Columbia appeals a circuit court judge's ruling ordering the Metro Police Department to reveal the identities of all undercover officers who have infiltrated and become active in a controversial anti-Bush group.

As part of an ongoing intelligence operation, D.C. undercover officers had posed as activists and infiltrated the International Action Center, or IAC, and its affiliates. The officers attended the center's meetings, including those held in members' homes.

Some of the officers have been on long-term assignment and continue to operate undercover and provide law-enforcement agencies with intelligence data.

The D.C. Circuit Court's order followed a motion filed by the IAC that sought to discover the identities of any undercover officers who had infiltrated the group or its related organizations.

The motion is part of an ongoing lawsuit filed in 2001, charging the U.S. government, the Bush-Cheney Presidential Inaugural Committee and the District of Columbia with constitutional violations. They include the use of government agents provocateurs who allegedly assaulted protesters lining the inauguration parade route, the discriminatory operation of security checkpoints to deny access to protesters and unconstitutional disruption tactics of the police Civil Disturbance Units.

The plaintiffs allege covert law-enforcement personnel beat, pepper-sprayed, intimidated and terrorized peaceful protesters. They also contend a key checkpoint that was supposed to be manned by either the Secret Service or the Metro Police Department was instead delegated to the control of the Presidential Inaugural Committee, a private corporation, that subsequently detained protesters for hours while allowing Bush supporters to pass. [...]

Specific date forself-rule stressed: Annan criticizes new US draft on Iraq

UNITED NATIONS, Oct 14: UN Secretary-General Kofi Annan criticized on Tuesday the new US-draft resolution on Iraq for making few significant changes as France, Russia and Germany submitted amendments to speed up Iraqi self-rule.

[...] Mr Annan, whose remarks have been crucial in influencing Security Council members, said that as long as the occupation continues "the resistance will grow". He made clear he had no plans to send UN staff back to Iraq immediately and said this was recognized in the draft.

"Obviously, the current resolution does not represent a major shift in the thinking of the coalition," Mr Annan said, adding, however, that some of his suggestions were accepted.

[...] In a gesture to critics, the US-drafted resolution also says the Iraqi Governing Council "will embody the sovereignty of the State of Iraq".

It says the Governing Council has to draw up a timetable for a constitution and elections by Dec 15, without specifying a precise date for a handover of power. However, it still asks the UN Security Council to endorse the occupation.

Asked about this provision, Mr Annan said: "It's a nice phrase but the resolution also says that the occupying power is the authority and is a government."

Comment: The US continues its weasel-wording, trying to find formulas that can mean something different to everyone. The end result, of course, being that the US will still hold the real power in Iraq.

BBC
Wednesday, 15 October, 2003, 08:13 GMT

Japan is giving $1.5bn (£895m) to help pay for the rebuilding of Iraq. The "near-term aid", as the Japanese government described it, will help with power, education, water and jobs.

The Japanese media has speculated that the grants are just the first instalment of what could be as much as $5bn over four years. The commitment comes shortly before the arrival of US President George W Bush in Japan to discuss sending Japanese non-combat troops to Iraq. [...]

By Israel Shamir

The dead and torn body of the fourteen-year-old boy, a grandchild of Saddam Hussein, will haunt Bush whenever he looks at his own children and grandchildren, like Banquo's bloody ghost on Macbeth's feast. Indeed, the Texan killer of Hussein's sons is but a remorseless replica of the Scottish murderer of Macduff's sons.

Comment: While we certainly agree with much that Israel Shamir writes in this article on Bush's murder of the sons of Saddam, we doubt that Bush will be haunted by his crimes. He believes he is performing God's Will.

Bush's War Plan Is Scarier Than He's Saying: The Widening Crusade

by Sydney H. Schanberg

October 15 - 21, 2003: (Village Voice) If some wishful Americans are still hoping President Bush will acknowledge that his imperial foreign policy has stumbled in Iraq and needs fixing or reining in, they should put aside those reveries. He's going all the way — and taking us with him.

The Israeli bombing raid on Syria October 5 was an expansion of the Bush policy, carried out by the Sharon government but with the implicit approval of Washington. The government in Iran, said to be seeking to develop a nuclear weapon, reportedly expects to be the next target.

No one who believes in democracy need feel any empathy toward the governments of Syria and Iran, for they assist the terrorist movement, yet if the Bush White House is going to use its preeminent military force to subdue and neutralize all "evildoers" and adversaries everywhere in the world, the American public should be told now. Such an undertaking would be virtually endless and would require the sacrifice of enormous blood and treasure.

Comment: It is interesting that the author is essentially buying into the lies of the administration that he is trying to criticize.

With no guarantee of success. And no precedent in history for such a crusade having lasting effect.

People close to the president say that his conversion to evangelical Methodism, after a life of aimless carousing, markedly informs his policies, both foreign and domestic. In the soon-to-be-published The Faith of George W. Bush (Tarcher/Penguin), a sympathetic account of this religious journey, author Stephen Mansfield writes (in the advance proofs) that in the election year 2000, Bush told Texas preacher James Robison, one of his spiritual mentors: "I feel like God wants me to run for president. I can't explain it, but I sense my country is going to need me. . . . I know it won't be easy on me or my family, but God wants me to do it."

Mansfield also reports: "Aides found him face down on the floor in prayer in the Oval Office. It became known that he refused to eat sweets while American troops were in Iraq, a partial fast seldom reported of an American president. And he framed America's challenges in nearly biblical language. Saddam Hussein is an evildoer. He has to go." The author concludes: " . . . the Bush administration does deeply reflect its leader, and this means that policy, even in military matters, will be processed in terms of the personal, in terms of the moral, and in terms of a sense of divine purpose that propels the present to meet the challenges of its time."

Some who read this article may choose to view it as the partisan perspective of a political liberal. But I have experienced wars—in India and Indochina—and have measured their results. And most of the men and women who are advocating the Bush Doctrine have not. You will find few generals among them. They are, instead, academics and think-tank people and born-again missionaries. One must not entertain any illusion that they are only opportunists in search of power, for most of them truly believe in their vision of a world crusade under the serious, and they now have power at the top. [...]

Copps wins cultural victory
Way to solve trade disputes nearer

Would affect 'magazine war' issues

GRAHAM FRASER
NATIONAL AFFAIRS WRITER

OTTAWA—Heritage Minister Sheila Copps won a significant victory in Paris on Monday, when the United States withdrew its objections to UNESCO developing a convention on cultural diversity.

"In the long term, it's good news, because in principle (the United States) has embraced a convention on cultural diversity," Copps said in an interview from Paris yesterday.

The convention, which is supposed to be completed in 2005, would settle international disputes over issues involving cultural protection — which are now settled by the World Trade Organization.

[...] The effort took on a particular importance in 1999 when the World Trade Organization ruled that Canada's magazine legislation was contrary to its trade regulations, and Copps worked to establish an International Network on Cultural Policy, bringing together culture ministers from countries concerned about their ability to sustain their own cultural industries in the face of the power of U.S. film, television and popular music.

The goal was to establish a cultural convention that would be an alternative to the World Trade Organization for settling disputes over cultural issues.

[...] When the United States returned to UNESCO 10 days ago after years of boycotting the institution, with First Lady Laura Bush's trip to Paris, the U.S. set out to delay or derail the proposal.

"It was pretty evident (Monday) that countries felt very strongly that we should proceed with a convention," Copps said.

The U.S. asked for and received a formal recognition of the Universal Declaration of Human Rights and an acknowledgment of the right of free speech — presumably so that cultural diversity could not be used as a justification for repressing freedom of speech.

Comment: Canada, with its long common border with the US, with the deep penetration of its country by US media, has long been a laboratory for how to maintain a distinct culture in the face of the beast to the south. Pierre Trudeau compared it to a mouse sleeping with an elephant. You have to be very careful when the elephant rolls over. As the US spread its culture around the world, pushing the "American way of life" with every coke and hamburger sold, other countries have fought back to protect their cultures.

The US has always considered "culture" as an industry like any other, which does indeed say something profound about culture in the 50 states. They have long insisted that culture should come under trade agreements such as those pushing for what is called "free trade", i.e., the right of US corporations to invest where they wish without needing to respect local laws and local governments. The move to form a cultural convention will remove the cultural area from those trade bodies such as the WTO and permit countries to protect their local cultural productions. Until the US figures out how to get around the new convention.

By Alex Nicholson
Staff Writer

American food and agriculture giant Cargill plans to invest $200 million expanding its business in Russia, according to Agriculture Minister Alexei Gordeyev.

Gordeyev, who met in the White House on Monday with David Rogers, the head of Cargill's European division, Cargill International SA, was quoted Tuesday as saying that the Minnesota-based company would invest the money in the construction of new plants and that the funds would begin arriving later this year.

Cargill's Moscow office said late Tuesday that it was awaiting word from its home office in the United States before releasing a statement.

Comment: Cargill is a privately owned company that is one of the main players in the world grain market. For more information on them and how a small number of families control this market, see the book Merchants of Grain by Dan Morgan.

Bank of America sees 31 percent profit jump

Tue Oct 14


CHARLOTTE, North Carolina (AFP) - Bank of America's bottom line was boosted by strong results from mortgage lending and credit cards, with net earnings jumping 31 percent in the third quarter to 2.92 billion dollars.

The company's results, released Tuesday, showed a profit of 1.92 dollars per share, crushing the Wall Street estimate of 1.69 dollars per share.

July-September revenues jumped 14 percent from the same quarter a year ago to 9.92 billion dollars, also ahead of Wall Street estimates.

The big money center bank attributed the better-than-expected results to strong deposit and loan growth, investment banking and trading results and growth in mortgage and credit card revenue.


Comment: We were discussing recently here the apparent increase over the past few years in US banks and lending institutions urging the public to remortgage, refinance, get a loan, etc. If, as many suspect, the US economy is teetering on the brink of collapse, then we are not surprised at the banks' tactics. By encouraging people to get into debt they effectively swap their possibly soon to be worthless dollar reserves for your house, car, boat, etc. And, if and when the dollar tanks, guess who picks up the tab...

Children's charity raised £2.9m - but only £71,000 went to good causes(Scotland)

JOHN ROBERTSON AND JIM MCBETH
Wed 15 Oct 2003

FIVE directors of a children's cancer charity were suspended yesterday and its bank accounts frozen after the Lord Advocate said there had been misconduct or mismanagement within the organisation.

The Court of Session heard the commercial arm of the Moonbeams charity generated £2.9 million over four years, but of a profit of only £185,000, less than half went to charity.

It was revealed the daughter of one director, William Power, booked the charity's villa in Florida, which is meant to be available only to the families of sick children.

Colin Boyd, QC, the Lord Advocate, for the Scottish Charities Office, asked for the directors of the Edinburgh-based charity to be removed, and they were suspended by Lord Clarke. [...]

Commuters in 'daily trauma' (UK)

By Dick Murray, Transport Editor, Evening Standard
15 October 2003

Overcrowding on mainline and Tube trains is now so bad that commuters face a daily "trauma", a damning report from MPs said today.

Many journeys are not only uncomfortable "but positively frightening" - and passengers are warned it is going to get worse.

Rail chiefs are accused today of ignoring the health risks of overcrowding and of "short-changing" London commuters by refusing to admit to the problem.

Prepare for winter blackouts, warns National Grid

By Michael Harrison, Business Editor
15 October 2003

Millions of homes in Britain could be hit by blackouts this winter if there is a prolonged cold snap, a report warned yesterday.

The prediction was made by the National Grid, which revealed that the "safety cushion" between peak electricity demand and generating capacity had fallen to dangerously low levels. It said that the danger of blackouts would be highest in the four weeks either side of Christmas.

The problem stems, in part, from generating companies mothballing power stations because of the slump in wholesale electricity prices that followed a government shake-up of the market. London and the Midlands were hit by blackouts in August and September but in both cases the power cuts were caused by failures in the transmission system.

Franco-Libyan payoff talks break down

Wednesday 15 October 2003, 10:33 Makka Time, 7:33 GMT

Libya has abruptly suspended talks in Paris aimed at settling a compensation deal for families of passengers killed in the 1989 bombing of a French airliner, blamed on Tripoli.

"Our doubts (about the talks) were confirmed when the French foreign ministry tried to wriggle out of the agreement" reached between the two sides on 11 September, the head of the Libyan delegation, Salah Abd al-Salam, said.

"As a result, we will not continue these negotiations. The talks have been suspended," he said on Tuesday.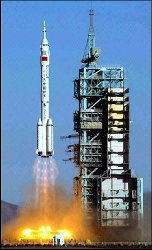 China puts man into orbit and joins elite space club
AFP
Wednesday October 15, 4:39 PM

China launched an astronaut into space aboard the Shenzhou V craft in a historic mission which catapults the country into an elite club alongside Russia and the United States.
The Long March II F rocket carrying the capsule blasted into clear skies from the Gobi desert in north China's Inner Mongolia at 9:00 a.m. (0100 GMT) for a 21-hour flight that will see the craft orbit the Earth 14 times. [...]
People's Liberation Army Lieutenant Colonel Yang Liwei, 38, was at the controls Wednesday and reported 34 minutes into the flight that he "feels good" and that the craft was operating normally.
"I feel good, see you tomorrow," Yang, a fighter pilot with more than 1,300 hours flight time, was quoted as saying from the re-entry module in China's first words from space.
Described as a "warrior" by President Hu Jintao, he was shown three hours into the mission lying on his back resting after a traditional Chinese lunch of diced chicken meat and rice cooked with nuts and dates. [...]
Shenzhou-5 completes orbit shift
www.chinaview.cn
2003-10-15
BEIJING, (Xinhua) -- Shenzhou-5 successfully completed orbit shift at 15:57 (Beijing time) Wednesday and is flying on a circular orbit 343 kilometers from the Earth, according to a report by Astronaut Yang Liwei and the monitoring result.
According to the Beijing Aerospace Command and Control Center, the spacecraft has shifted from the elliptic orbit with a perigee of 200 kilometers and an apogee of 350 kilometers to a circular orbit 343 kilometers away from the Earth.
The orbit shift is crucial to the on-track flight of the spaceship and the precise landing.
Astronaut Yang says "hello" to world people
www.chinaview.cn
2003-10-15
BEIJING, Oct. 15 (Xinhuanet) -- China's first astronaut in outer space Yang Liwei said "hello" to people all over the world from Shenzhou-5 in a live talk with Chinese Defense Minister Cao Gangchuan.
New leadership deeply supported, trusted
www.chinaview.cn
2003-10-15 07
BEIJING, Oct. 14 (Xinhuanet) -- The Communist Party of China (CPC) Central Committee with Hu Jintao as general secretary is deeply supported and trusted by the whole Party and people, according to an editorial by the People's Daily, China's leading newspaper.
The editorial, to be published Wednesday, is titled "A System Guarantee for Building an Affluent Society in a Balanced Way", and marks the conclusion of the Third Plenum of the 16th CPC Central Committee.
Iran Has No Secret Nuclear Facilities: Official
TEHRAN (Compiled From Dispatches) - A senior Iranian official on Tuesday denied claims Iran was hiding a nuclear site from the UN's nuclear watchdog.
"We have certainly not" hidden any facilities from the International Atomic Energy Agency (IAEA), Iran's ambassador to the IAEA, Ali Akbar Salehi, told Reuters.
"This piece of information is absolutely baseless," he said of the allegation by the National Council of Resistance of Iran (NCRI), an exiled Iranian armed opposition group.
APEC leaders say security crucial for global economy

Associated Press
Wednesday, Oct. 15, 2003
Bangkok — Pacific Rim officials explored ways of reviving stalled world trade talks on Wednesday, but acknowledged that the threat of terror must be overcome to ensure stable and solid economic growth. [...]
They considered improved security mechanisms for passenger and cargo transport, among counter-terror measures, a senior Australian official said. [...]
Regional leaders view security and prosperity as inseparable issues, said a senior U.S. delegate to the closed-door talks, speaking on condition she was not identified. [...]
Police fire tear gas to break up Saudi protest
TOKYO (Reuters) - A moderately strong earthquake measuring 5.0 on the open-ended Richter scale has jolted Tokyo and surrounding areas, but there are no immediate reports of damage or injuries and no tsunami warning has been issued.
Roosevelt area gets little help with flood cleanup
Judd Slivka
The Arizona Republic
Oct. 15, 2003
ROOSEVELT -- The concrete steps from a house that stand haphazardly in the bed of Wildcat Wash and the grass sprouting from the two inches of mud on a new bedroom carpet tell only part of the story.
Yes, there was a flood here Sept. 9, when 10 inches of rain fell on a 140-square mile area near Globe in three hours. And yes, when the usually dry Pinto Creek and Campaign and Wildcat washes filled, floodwaters wiped out people's homes.
But the other part of the story is this: Since the flood, very little has been done by the state or federal governments to help the 1,000 people living here. That has residents asking one question: How much does a community need to suffer before governments can help? [...]
Marine Species at Risk as Sea Meadows Destroyed
By Jeremy Lovell
LONDON (Reuters) - Seagrass, a vital but largely overlooked component of the world's oceans, is being destroyed by ignorance and inaction, threatening millions of people and many species of marine animals, according to a new report published on Wednesday.
The vast sub-aquatic meadows that grow on shallow shelves around the continents are in their own way as important to coastal waters as trees are to the above ground environment, says the report from the United Nations Environment Program World Conservation Monitoring Center. [...]
Execution drug 'left prisoners dying in agony'
The Telegraph
A judge's ruling that the "humane" drug cocktail used to execute prisoners may trigger excruciating pain is a boost for opponents, writes David Rennie in Washington [...]
Bill of Rights Defense Movement Converges in D.C. to Launch New Phase
[...] Grassroots activists from across the political spectrum are putting the finishing touches on the "Grassroots America Defends the Bill of Rights" national conference (Oct. 18-19, at the Silver Spring, Md. Hilton). They will bring their demands for restoration of the Bill of Rights directly into the heart of the Capitol in a striking assemblage of ordinary people seeking redress of grievances. [...]
The 2004 U.S. Election Has Already Been Rigged
U.S. Data-Mining of Latin American Citizens
Last April, we wrote about Choice Point, a company hired by the U.S. to collect data on hundreds of millions of citizens of Latin American countries. [...]
The Miami Herald has new details and says the Governments of these countries are not happy with the plan and have opened investigations into the practice:
Prosecutors in Nicaragua, Mexico and elsewhere across Latin America have opened investigations into the business of private information mining after discovering that the U.S. Justice Department hired a Georgia company [Choice Point] to collect personal information on up to 300 million people throughout the region without their knowledge.
....The project is part of the U.S. government's attempt to expand its intelligence sources in the wake of the Sept. 11 terrorist attacks. U.S. officials say the data are being used by the FBI, the Department of Homeland Security and other agencies to verify the identities of foreign-born criminal suspects, illegal immigrants and suspected terrorists. [...]
Strike in Los Angeles Halts Public Buses, Trains
LOS ANGELES (Reuters) -- Los Angeles bus mechanics went on strike early on Tuesday halting the city's public buses in a move that also threatens to cripple rail services and strand up to 500,000 passengers.
DRIVER MISSES SCHOOL CHILDREN; STOPS VEHICLE, GETS OUT AND PUNCHES GUARDS
By Chuck Carroll
Mercury News
Police are looking for a man who they believe punched out a couple of crossing guards in a rage at a San Jose middle school today, leaving one of the men hospitalized with serious injuries.
An irate motorist, driving erratically near August Boeger Middle School on Martin Avenue shortly before 8 a.m., ignored the stop signs the guards held aloft as he approached the intersection, which students were trying to cross, said San Jose police spokesman Catherine Unger.
Purple frog leaps into the species book
Paris - Biologists say they have uncovered a new species of frog, a purple, snub-nosed, hamburger-shaped critter that has been found in India and has an extraordinary genetic past. [...]
HIV man guilty of infecting lovers
BBC
Tuesday, 14 October, 2003, 14:08 GMT

A man diagnosed with HIV has been found guilty of "callously" infecting two women with the virus in a landmark legal case.
The jury at Inner London Crown Court found 37-year-old Mohammed Dica guilty of two counts of "biological" grievous bodily harm on Tuesday. [...]
Woman jailed for rubbing hot chips in boy's face
Ananova.com
Wednesday 15th October 2003
A Maryland woman who rubbed hot chips in a young boy's face in a McDonald's restaurant has been sent to jail for four days. Milikia Hayes, from Rockville, who was nine months pregnant at the time, could have faced up to 10 years, reports The Denver Channel.
The four-year-old boy had accidently spilled ice cream on Hayes' top in a McDonald's restaurant in Gaithersburg. Hayes screamed at him, then chased him around the restaurant before putting him in a headlock and rubbing hot french fries in his face. [...]
Comment: This is the kind of insanity that Iraqis can now look forward to when they dine under the golden arches.


Get sexy at Passion School

By Siobhan Murphy, Metro
15 October 2003

Sex appeal: you've either got it or you haven't. And I'd long ago resigned myself to being a have-not - the only time I get chatted up is when a booze-filled man decides in desperation it's me or the nearest sheep.

But, apparently, I'm wrong: everyone is sexy, you just have to learn to tap into your inner sensuality. Or so says Catman, the table-dancing club supremo and founder of the London School Of Passion.
Described as a Lucy Clayton Meets Sharon Stone Finishing School, his classes are aimed at women who want a fun way to develop self-confidence. It's not, he says, just about learning to seduce men.
It's all about making yourself feel powerful and desirable: a trick that all female icons - from Marilyn Monroe to Kate Moss - learn. Still, I arrive at the Embassy nightclub - temporarily transformed into the Passion Palace - feeling more than a little nervous.
First off, it's a makeover with Isadora, a slightly mad but extremely competent make-up artist, who advises me to emphasise my eyes. 'Three tons of mascara never goes amiss,' she says briskly. I'm terrified to look in the mirror but she's done an impressive job.
Once we're relaxed, it's time for the first revelation: learning to project your sensuality is all about acting. Act confident and you will become confident.
It's down to eye contact, learning about body language, posture and movement, all of which we're given short lessons in, with the help of dancers Pushba and Emma.
Picking something off the bottom shelf in the supermarket will never be the same again after watching Emma, in full showgirl regalia, demonstrate how to do this sexily.
By this stage, the selfconsciousness of my classmates is evaporating and as we practise seductive walking and a variety of hip rolls, bottoms start swinging with abandon.
And I realise this is actually beginning to work. We've tried our showgirl posing, now it's time for the techniques of table dancing.
'I can't do that,' I whimper, but I'm soon crawling across the floor with the rest of them. We're led through a simple erotic dancing routine, then it's more make-up and - oh, the horror - a photo session.

Comment: It is interesting that the first suggested step to self-confidence for women is a complete makeover followed by crawling on the floor. We are so lucky to have such insightful beings to guide us towards happiness...
Rocking to Mother Teresa, the Musical
By James Crawford
Tue Oct 14,11:15 AM ET
ROME (Reuters) - A clapping chorus line of swaying nuns and a rock-and-roll Mother Teresa took Rome by storm this week in a musical to coincide with her beatification, the last step before sainthood. [...]
"I dream, I hope, I pray for you," the sprightly Teresa character sings to dancing members of the chorus representing the sick and destitute in the upbeat production.
To a series of reggae, funk and pop tunes the show focuses on the five decades Mother Teresa spent caring for slum-dwellers in Calcutta, India -- for which she was awarded the Nobel Peace Prize in 1979. [...]
---
Remember, we need your help to collect information on what is going on in your part of the world!
We also need help to keep the Signs of the Times online.
---

Check out the Signs of the Times Archives

Send your comments and article suggestions to us

---
Fair Use Policy
Contact Webmaster at signs-of-the-times.org
Cassiopaean materials Copyright ©1994-2014 Arkadiusz Jadczyk and Laura Knight-Jadczyk. All rights reserved. "Cassiopaea, Cassiopaean, Cassiopaeans," is a registered trademark of Arkadiusz Jadczyk and Laura Knight-Jadczyk.
Letters addressed to Cassiopaea, Quantum Future School, Ark or Laura, become the property of Arkadiusz Jadczyk and Laura Knight-Jadczyk
Republication and re-dissemination of our copyrighted material in any manner is expressly prohibited without prior written consent.
.