---
"Disasters involve cycles in the human experiential cycle [...] Human cycle mirrors cycle of catastrophe. Earth benefits in form of periodic cleansing. Time to start paying attention to the signs. They are escalating. They can even be "felt" by you and others, if you pay attention."
Today as the world burns: International outcry at Israel's unilateral attack on another UN country. "International" nowadays usually excludes the US, it being a world unto itself apparently. Israel claims it attacked a "terrorist training camp", and they should know given that Israeli arms were found there.
The attack on Syria overshadows almost everything else, even though the earth continues it's quaking here and there. Most U.S. citizens are blissfully unaware of the suffering of the Palestinians as well as the consequences that yet another Israeli invasion, with the Bush Reich's approval, might be for them. The infantile behavior of the cheap puppets, Bush and Sharon, could very well cause the whole world to burn, and for right now, it seems like most of earth's citizens don't even notice the heat. Either that, or they think that they are somehow protected by God and no troubles and terror will ever fall on their heads! There are always notable exceptions, and we point out some of those today.
The White House "officially" takes the reigns in an attempt to stabilize Afghanistan and Iraq. Somehow we doubt that the likes of Georgie and Condi will have much more luck with Iraq than Rummy and the Pentagon. Perhaps the White House is setting themselves up or being set up for a fall.
In other news, David Kay whispers that there really isn't any link between Iraq and al-Qaeda, but recent polls of Americans show the damage has already been done - they still think the emperor has new clothes, too.
Speaking of the controlled media, pay no attention to the Mormon-owned NBC station in Salt Lake City or the Catholic-owned NBC station in South Bend, Indiana.
And if all the above gives you the blues, you can play them on an air guitar for sale on e-bay.
Israeli Raid in Syria Alarms Arab World
By JAYSON KEYSER
Associated Press Writer
MAJDAL SHAMS, Golan Heights (AP) -- Israel bombed a target inside Syria that it claimed was an Islamic Jihad training base, striking deep inside its neighbor's territory Sunday for the first time in three decades and widening its pursuit of Palestinian militants.[...]
"Arabs and many people across the globe feel that Israel is above law," Mekdad said.
Israel's Ambassador Dan Gillerman defended the attack. He accused Syria of providing "safe harbor, training facilities, funding, (and) logistical support" to terrorist organizations.
Syria's draft calls for Israel to stop committing acts that could threaten regional security. It was unclear when the council would vote on the resolution or whether the United States would veto it.
Leaders of Islamic Jihad and other militant groups are based in Syria, but Jihad on Sunday denied having any training bases there. Syrian villagers near the targeted site said the camp had been used by Palestinian gunmen in the 1970s but was later abandoned - and was now only used by picnickers and other visitors to its spring and olive groves. [...]
Undated footage said to be from the camp, taken from Iranian TV and released by the Israeli military on Sunday, shows a military officer conducting a tour of the camp. Hundreds of weapons, including grenades with Hebrew markings apparently captured from Israel, were displayed in one room. Underground tunnels were packed with arms and ammunition.
Still, Syrian President Bashar Assad is on the defensive, with the United States accusing him of hosting extremist groups and sponsoring terror. [...]
It seemed unlikely Syria would retaliate. It has 380,000 active duty soldiers, but Israel holds a commanding technological edge. Israel is more worried about Syria's growing missile program and its ability to launch chemical and poison weapons into Israel's cities.[...]
Comment: Notice the above comment about "grenades with Hebrew markings" and then correlate with yesterday's Signs page reports on the evidence for many "Arab terrorists" being FUNDED BY ISRAEL ITSELF. Also note the comment in the last paragraph that Israel has a "commanding technological edge". Again reference yesterday's Signs page and look at the size of Israel compared to the Arab countries around it, then ask yourself: HOW did Israel achieve this "commanding technological edge", that puts it in a position to menace the Arab nations around it.
Next look at the fact that the US refused to condemn Israel's attack on Syria (essentially meaning it supported it) and you begin to get the picture that Israel is actively attempting to provoke a war in the region with the full backing of America, funded largely by US citizens tax dollars.
World community strongly condemns Israeli raid on Syria
Sunday, 05-Oct-2003
Lachlan Carmichael
AFP
World leaders Sunday condemned an Israeli raid on Syria, calling the air strike purportedly aimed at a Palestinian militant training camp an unacceptable aggression which would only further destabilize the Middle East.
German and Egyptian leaders Gerhard Schroeder and Hosni Mubarak were the most outspoken, with the German chancellor saying the violation of the sovereignty of a third country "cannot be accepted," while the Egyptian president slammed the "aggression ... against a brother country."
France condemned the air attack overnight Saturday outside Damascus, the deepest inside Syrian territory since the 1973 Yom Kippur war, as "an unacceptable violation of international law," and the United States urged both sides to show restraint.
Arab League chairman Amr Mussa slammed the raid as "state terrorism" ahead of an emergency meeting by Arab ministers called for later Sunday.
Syria reacted furiously to the air strike, accusing Israel of "flagrantly" violating international law and demanded an immediate meeting of the UN Security Council.
China "shocked" at Israeli raid on Syria

BEIJING (AFP) Oct 06, 2003
China said Monday it was "shocked" at Israel's air strike on a target in Syria, and "strongly condemned" the action.
The Xinhua news agency quoted Foreign Ministry spokesman Kong Quan as saying that China was concerned the already tense situation in the Midle East would be exarcerbated by Israel's actions. [...]
Israel threatens more air strikes against Syria
By David Blair in Jerusalem
The Telegraph
Israel launched its first air raid on Syria in more than 20 years yesterday, flattening what it said was a terrorist training camp 10 miles from Damascus. [...]
Last night, Fred Eckhard, the UN spokesman, said: "The secretary general strongly deplores the Israeli air strike.
"He is especially concerned that this further escalation of an already tense and difficult situation has the potential to broaden the scope of current conflicts in the Middle East, further threatening regional peace and security."
Israeli raid could spark "whirlwind of violence": Arabs

CAIRO (AFP) Oct 05, 2003
[...] "This dangerous aggression is a dangerous escalation that threatens regional and international security and peace ... it could lead to a whirlwind of violence," the 22-member pan-Arab organisation said in a statement after an emergency delegates meeting at its Cairo headquarters on the crisis.
The statement urged the Security Council "to intervene immediately to prevent Israel from carrying on with its provocative policy towards Syria."
The meeting proclaimed Arab "support to Syria and to the measures it takes to face up to this aggression." [...]
Meanwhile, the Egyptian foreign ministry said Cairo had expressed solidarity with Damascus and feared the raid would spread violence in the region. [...]
"Egypt condemns this new attacks which is part of the provocative and aggressive Israeli policies, and it proclaims its solidarity with the Syrian people," it said. [...]
Bush backs Israeli attack on Syria
Washington, Oct 6. (PTI)
US President George W Bush came close to endorsing the Israeli attack on a purported Islamic Jihad camp deep inside Syria when he telephoned Israel's Prime Minister Ariel Sharon after the air strike. [...]
The Washington Post quoted "sources" as saying that Bush did not tell Sharon the attack was a mistake, and publicly the Administration offered no criticism of the strike, which deepened concerns of the Israeli-Palestinian conflict spreading to the neighb ouring countries. [...]
Syria backed by UN, blamed by US
Monday 06 October 2003, 10:30 Makka Time, 7:30 GMT
UN members have lined up in the Security Council to condemn Israel after its deepest air raid into Syria in 30 years, with one predictable exception - the United States.
In an emergency meeting of the 15-nation council, called after Israel attacked what it claimed was a training camp for Palestinian resistance fighters near Damascus, council member Syria called for an immediate vote on a draft resolution condemning the Israeli action.
Syrian Ambassador Faisal Mekdad urged the council to voice "grave concern" at the escalating tensions in the Middle East and condemn the Israeli raid as a violation of international law and the UN Charter.
But Israel insisted that the raid, carried out a day after a Palestinian resistance bombing in Haifa killed 19 people, was carried out in self-defence, as a measure against terrorist attacks.
The United States, Israel's key ally, downplayed the raid instead accusing Damascus of fuelling terrorism.
Al-Shara message to Annan, SC chief: A flagrant defiance of intl conventions, treaties
SyriaTimes
6-10-2003
Foreign Minister Farouk al-Shara has sent a message to UN Secretary-General Kofi Annan and to the US permanent representative and chairman of the UN Security Council for this month. The message calls on the Security Council to convene immediately to discuss the Syrian complaint about the Israeli aggression carried out yesterday morning on the Syrian territories.
Following is the full text:
I like to inform you that the Israeli war planes violated today morning, Sunday, October5 , the Lebanese and Syrian airspace and carried out an aggression with missiles on Syrian territory. The aggression targeted a civilian location in the village of Ein al-Saheb to the north West of the capital, Damascus. The aggression resulted in material damages.
As the Syrian government informs you of Israel?s flagrant violation of the Lebanese and Syrian airspace, and aggression on the Syrian territories as a flagrant defiance of international conventions and treaties and of the principles of the international law, and as a dangerous and new escalation, it calls for the immediate convention of the Security Council to discuss the Israeli aggression on the Syrian territories and consider the measures that must be taken by the Council to deter the Israeli government from pursuing an aggressive provocating policy against Syria.
In its continued aggression against Palestinians and expanding the aggression to include Syria and Lebanon, the current Israeli government reconfirms the fact of being, in practice, a government of war not peace.
Syria is not unable to create a resisting and deterring balance that forces Israel reconsider its calculations. Syria has exercised the highest level of self-restraint, realizing that Israel is trying to manipulate excuses here and there for exerting its internal crises to the whole region and exposing it to more escalation and explosion.
Syria, currently a Security Council member-state, is confident that your honourable Council is the most appropriate framework to confront this dangerous development, condemn, deter and prevent it from occurring again, since it threatens the regional and international security and peace, and exposes the deteriorating situation in the region to grave consequences difficult to control.
Syria: Israel attacked civilian area
Sunday 05 October 2003, 19:36 Makka Time, 16:36 GMT
Syria has said Israeli forces attacked a civilian area near Damascus in a "grave escalation" of tensions in the Middle East.
Damascus is capable of deterring Israel but will practice restraint, Syria's Foreign Minister Faruq al-Shara said in a letter to the United Nations on Sunday.
The Israelis had earlier claimed that it attacked an Islamic Jihad and Hamas training base in the Ain al-Sahab area, about 20km northwest of Damascus.
It did not say whether air or ground forces carried out the strike, but an unnamed security source was quoted as saying that it was an air attack early on Sunday.
Both the Islamic Jihad and Syrian sources have denied that the area housed a training base.
"Jihad has no combatants outside the Palestinian territories," the group's Beirut-based spokesman Abu Imad Rifai told Aljazeera.
Syrian analyst Dr Imad Shuaibi said the attack was aimed at sparking chaos in the region and send a message to Damascus that Israel was willing to take military action.
Shuaibi said the area housed refugees.
Arab world condemns Israel's strike inside Syria
SyriaTimes
6-10-2003
Countries across the Arab world and beyond condemned an Israeli strike in Syria on Sunday and said the raid threatened to plunge the Middle East into an even deeper cycle of violence.
France and Germany said Israel's raid, the first deep inside Syria since the 1973 Middle East war, was unacceptable. There was no immediate comment from Washington -- Israel's key ally.
Syria itself said Israel had targeted a civilian site in what it called a "grave escalation" of tensions in the Middle East. It urged the U.N. Security Council to meet immediately.
Editorial: Sharon on the Rampage
6 October 2003

No one doubted that there would be Israeli reprisals after Saturday's suicide bomb attack in Haifa. But no one in their wildest dreams imagined that the target would be Syria.
[...] This was no message to Islamic Jihad. It was a cold, unambiguous threat to Syria: Either jump to Israel's diktats or else. There can be no question about it. Immediately after the strike, the Israelis then warned Syria there would be more if it did not close down so-called terrorist organizations.
An inevitable conclusion must be that the Israelis were acting on behalf of the US; it is difficult to believe that that they would have struck without the green light from Washington. We know that the Americans have loudly accused Syria of supporting terrorism and warned it to stop. Damascus is further seen by the Americans as a problem in Iraq, providing support to officials of the former regime and allowing Syrian volunteers to cross the border and join in attacks on US troops. The notion that Washington used the Israelis to threaten the Syrians into line makes too much sense to be dismissed.
But whether the Americans were actively behind this attack — and the remote possibility exists that a manic Ariel Sharon acted alone, ordering the attack to ingratiate himself even further with Washington — it is a terrifying development. This could have potentially catastrophic results. It could well end in war. Sharon certainly knows that, even if the Americans do not. He knows that the strike will escalate tension in the Middle East, not diminish it. He knows that the Syrian government will not take this outrage lying down, that it will respond in anger and, far from ending support for organizations which the Israelis and Americans label as terrorist, will strengthen them.
The Israelis have hit at Syria, fully aware that it could lead to war. Is that the real objective? We know Sharon does not want peace with the Palestinians, that he wants rid of them. War would certainly provide him with the opportunity to terrorize them into flight. But so what if he has been shown in his true colors? We have long known that he is a warmonger.
What matters is that, at a stroke, the whole region has been put in immense and immediate danger. Sharon is on the rampage; he must be reined in — fast.
Washington is where Damascus should answer Sharon's challenge
Sunday's Israeli air raid near Damascus was a radical departure from recent policy and practice in more ways than one. The obvious novelty of the strike's having been the most serious on Syrian territory in three decades might be the least important. What matters more is the insight it offers into just how far Ariel Sharon is willing to go in order to protect his own political and diplomatic agenda: His pilots dropped ordnance on a place called Ain al-Saheb, but the message they delivered was addressed to Washington. It is uncertain how various players in the American capital will interpret the missive, but it is essential that the Syrian regime recognizes the opportunities represented by what could otherwise degenerate into a full-blown crisis.
[...] Finally, the neoconservative cabal that determines so much of American policy in the Middle East is sharply divided about how to proceed in their efforts to milk the aftermath of Sept. 11 for all they can. Not satisfied with having engendered the gargantuan snafu in Iraq, some of them are determined to make Iran next; their opponents would prefer Syria. Sharon is reaching out to the latter as a means of restoring his tattered support in the all-important arena of what conservative commentator Pat Buchanan once called the Jewish state's "Amen corner" in the United States.
Sharon's strategy has two chief perils: By exporting the Israeli-Palestinian conflict to another Arab country, it threatens to escalate what is already an appalling bloodbath; and by firing a shot across Bush's bow, he risks alienating a very friendly administration.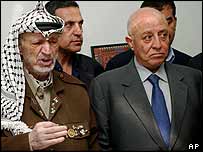 Arafat installs emergency cabinet
BBC
Sunday, 5 October, 2003, 21:31 GMT 22:31 UK
Palestinian leader Yasser Arafat, who is facing new Israeli threats to expel him following a suicide bombing, has appointed an emergency cabinet.
He has also declared a state of emergency in Palestinian areas. [...]
The state of emergency will make little difference to ordinary Palestinians as their lives are largely controlled by the Israelis, our correspondent says. [...]
Arafat declares state of emergency
Monday 06 October 2003, 9:53 Makka Time, 6:53 GMT

Palestinian President Yasir Arafat has declared a state emergency and approved a new cabinet unveiled by new Prime Minister Ahmad Quraya.
Sunday night's announcement aims to reinstate security in Palestinian areas currently controlled by resistance groups.
"The declaration of emergency is meant to bolster the principle of one Palestinian Authority and maintain the rule of law, because our situation is very, very critical," said a senior Palestinian official who asked not to be identified.
But if the past is any indication, Arafat's decree may prove hard to fulfil since Palestinian security services have been seriously damaged after multiple Israeli invasions and blockades.
Arafat Renews Call for Palestinian - Israeli Ceasefire
PNA: Haifa Bombing "Violation of National Consensus"
Palestine Media Center – (PMC)
October5 ,2003
President Yasser Arafat, the Palestinian leadership, the PM-designate and the caretaker premier strongly condemned the "dangerous" bombing of an Arab-owned restaurant in Haifa, in which 20 Arab and Jewish Israelis were killed on Saturday October4 , as a "violation of national consensus endangering the highest interests of the Palestinian people."
Amid the escalating violence, President Arafat renewed his call for an official Palestinian – Israeli ceasefire under international supervision.
[...] President Arafat, the Palestinian leadership, PM-designate Ahmad Qurei (Abu Ala) and caretaker premier Mahmud Abbas (Abu Mazen) strongly condemned the "dangerous" bombing of the restaurant in Haifa as a "violation of national consensus endangering the highest interests of the Palestinian people."
In a statement released by the official news agency WAFA, the PLO executive committee said the bombing: "serves the Israeli policy, which has been waiting for pretexts and opportunities to cover up for the war crimes committed (by the IOF) against the Palestinian people and to divert world attention away from its racist and expansionist plans."
The PLO cited the Apartheid Wall, expansion of illegal Israeli settlements, isolation of Jerusalem and Bethlehem, and violations of the sanctity of Palestinian Christian and Muslim holy places as examples of the Israeli plans.
Hamas vows to hit Israel "in the heart" after Syria strike

GAZA CITY (AFP) Oct 05, 2003
The armed wing of the Islamic group Hamas vowed Sunday it would strike "in the heart of Israel" in retaliation for its air strike on an alleged Palestinian militant group training base in Syria.
The Ezzedine al-Qassam Brigades called on its militants to "quickly respond to this serious escalation and in the heart of Israel," in a statement received here by AFP.
"Any aggression against an Arab or Islamic country is considered as an aggression against the Palestinian people," it said, vowing its response would be "dissuasive." [...]
FLASHBACK: Unholy alliance - Sharon, Hamas work in concert against peace
by Rabbi Michael Lerner
Pacific News Service
December 18, 2001
The strategies of Ariel Sharon and Hamas are far less irrational than portrayed by American media. Each has been cooperating in what amounts to a tacit alliance to achieve a shared goal: the elimination of Yasser Arafat and the Palestinian Authority and its replacement by Hamas. Israel's announcement that it will not deal with the PLO any more is only one part of this process.
Ariel Sharon has never hidden his contempt for the Oslo Accord, precisely because it aimed to create a Palestinian state in the pre-1967 borders of the West Bank and Gaza. When campaigning, he presented himself as the strong military man who could play the role of peacemaker. But he always reassured his own right-wing constituents that he had no intention of ceding any land to Palestinians.
Sharon was the inventor of the strategy of filling the West Bank with settlements in the 1980s to prevent any possibility of Palestinians creating their own state. His fondest dream would be to find the political excuses that could allow Israel to reoccupy the entire West Bank and establish another hundred settlements.
Arafat represented a thorn in his side, because Arafat kept insisting on returning to negotiations and on building the Palestinian state promised in the treaty Israel had signed in the White House garden in 1993. [...]
So it is hard for Hamas to resist the open invitation from Ariel Sharon: Israel will do the dirty work of destroying the Palestinian Authority and rejecting any peace process if Hamas does its part by blowing up innocent Israeli civilians.
Sharon refuses to negotiate unless there is a period of non-violence, thereby signaling to Hamas forces that all they have to do to block negotiations is to escalate their terror. And if the violence gets intense enough, Sharon will find himself "with no alternative" but to kill Arafat and wipe out the Palestinian Authority.
This position, of course, creates an overwhelming incentive for Hamas to engage in acts of terror.
Washington could break this cycle by threatening economic sanctions until Israel ends the Occupation. [...]
Unless we speak out clearly and quickly to reject his unholy, if tacit, alliance with Hamas, the resulting chaos will likely produce ever more frightful bin Ladens in the future -- and they are as likely to strike America as Israel. For those of us who support Israel, this is a moment when our voices of critique may provide the "tough love" it so desperately needs.
FLASHBACK : Sharon's Terror Child
By RAY HANANIA
CounterPunch
Hamas is considered one of Israel's greatest threats, but the Islamic terrorist organization found its beginnings in the misguided Israeli effort to encourage the rise of a religious alternative that would undermine the popularity of the Palestine Liberation Organization and Yasir Arafat.
The strategy resulted in the birth of Hamas which rose from these Islamic roots. Israeli Prime Minister Ariel Sharon was a member of the government when the policy was developed in the late 1970s. [...]
Angered by the suicide bombings, the Israeli public has given Sharon wide latitude to forcefully respond to Hamas violence and the intifada. He has eagerly pursued this mandate as a front to achieve his real political agenda to undermine Arafat and to prevent Israel from accepting a peace accord that results in the establishment of an independent Palestinian State. [...]
Ironically, this is Sharon's second try to destroy Arafat. He led the Israeli army assault on the PLO in Lebanon and Beirut in 1982, but that ended in embarrassment for Israel when the army unilaterally retreated. Sharon left with his reputation tarnished, blamed for the massacre of hundreds of Palestinian civilians at the Sabra and Shatila refugee camps. [...]
Comment: With the recent invasion of Syria, using the excuse of the sucide bombings, it is obvious that Hamas is Sharon's best friend. It appears that Sharon thinks sacrificing a few of his fellow Israeli citizens for the greater "good" is no big deal. Not all Israelis agree with this aphartheid and genocide. Watch this video from The Israeli Committe Against House Demolitions.
Israeli SWAT team eliminates Kibbutz Metzer terrorist
By israelinsider staff October 4, 2003
An Israeli police SWAT team operating in the West Bank city of Tulkarm killed Sirhan Sirhan, the Fatah terrorist responsible for the murder of five people in Kibbutz Metzer in November 2002.
Sirhan, wanted by Israel since the attack, had reportedly been hiding out in the town and, according to Israeli military sources, planning attacks for the Islamic Jihad terror group.
The special police unit, called Yamam, opened fire on Sirhan as he was driving with two bodyguards, who returned fire and managed to escape.
Palestinian sources said that nine-year-old Mohammed Yusuf Amin was killed in the operation. Israeli military sources denied the claim.
Among the victims of the Metzer infiltration and killing were two young children, Noam and Matan Ohayon, murdered in their beds, along with their mother Revital. Her husband, Avi Ohayon, not home at the time of the attack, was interviewed today about his reaction to the elimination of the terrorist.
He praised the unit that killed the Sirhan, saying that they were like "members of his family. While he said that "the air was a bit cleaner" because the terrorist was no longer breathing, he felt no relief or hope that the situation would improve.
But within hours of learning that the killer of his wife and children had been eliminated, he was informed that a close friend had been in the bombing of the Maxim restaurant in Haifa, her husband killed and her son injured.
Vacationing at Arafat's battered HQ in Ramallah
MITCH POTTER
Toronto Star
RAMALLAH, West Bank—As vacations go, they don't get more exclusive than the one Henry Evans-Tenbrinke just began. The Hamilton, Ont., man is spending the month with Yasser Arafat.
The facilities are less than four-star. Evans-Tenbrinke's home away from home is a dormitory-style cot in the east wing of Arafat's partially demolished Mukataa headquarters, where running water and electricity are presently available, but perhaps not for long.
There remains the distinct possibility that at any given moment Israeli Special Forces may drop in to make good on their government's promise to oust the Palestinian leader. Given the abundance of green-fatigued Palestinian gunmen of Arafat's elite Force 17 unit guarding the complex, any such contact could make the Hamilton man's stay an adventure travel to remember.
Such is life in the International Solidarity Movement (ISM), a ragtag, revolving-door assemblage of foreign volunteers whose support of the Palestinian cause involves flying here for their holidays to take part in "direct, non-violent action."
Barely a week ago, Evans-Tenbrinke, 50, was sitting at his desk in the cardiovascular unit of Hamilton General Hospital, where he has worked for 30 years as a business clerk.
Yesterday, he found himself just three seats away from Arafat, who held court at a second-floor boardroom table, regaling in the multi-layered harmonies of a 17-voice choir from Verona, Italy, also here in solidarity.[...]
"The problem is not the Palestinian leadership. That is a distraction. The problem is the Israeli occupation of the West Bank and Gaza, which involves incredible hardship, separating families in tiny enclaves," he explained. "For me, it is reminiscent of a time when North American natives were not allowed to leave the reserves without passes. As a foreigner with a Canadian passport, I can come and go as I please. But the Palestinians are trapped."[...]
International direct-action groups such as the ISM have been a thorn in Israel's side almost since the intifada began, routinely infiltrating hotspots and collecting headline attention. Israeli officials have dismissed them as misguided, naïve pawns to the complexities of the conflict. Either way, the work can be deadly— as was the case with American ISM volunteer Rachel Corrie, who was crushed to death last March by an Israeli bulldozer while trying to protect a Gaza Strip home marked for demolition. [...]
Australian 'human shield' for Arafat
news.com.au
AN Australian woman has joined a group of international peace activists acting as a human shield between the Israeli army and Palestinian leader Yasser Arafat.
Alice Springs-born Elaine Westblade is staying with 11 other activists at the Palestinian presidential compound in Ramallah, in a bid to stop any Israeli attack on the leader. [...]
Ms Westblade described the conditions in the compound as "pleasant" but "surreal".
"The whole place has been wrecked," she said.
"We are surrounded by rubble. Buildings are falling down, there are live wires, and piles and piles of rubble and squashed cars and metal." [...]
By Michael Collins Piper
So-called "leaders" of the Christian evangelical movement have agreed to give up spreading the Gospel of Christ in the Holy Land in order to avoid being jailed under a proposed Israeli law aimed at stamping out Christian missionary work in Israel.
Anti-Christian forces led by a wide-ranging group of high-ranking Israeli officials won a major victory on March 30. Representatives of 50 different international Christian evangelical groups entered into what was described as an "unprecedented" joint statement promising not to carry out Christian missionary work in Israel.
By Nathan Guttman
Haaretz
If America's evangelical Christian coalition really represents 50 million people, as its leaders claim, it is an electoral sector whose strength cannot be ignored and whose demand not to pressure Israel into retreating from the territories must be considered. [...]
Alongside advertisements for cars and traffic signs was a giant billboard that read: "And the Lord said to Jacob ... unto thy offspring will I give this land. Pray that President Bush honors God's covenant with Israel. Call the White House with this message." The billboard provides the telephone number of the White House. [...]
There are 114 such billboards throughout America's Bible Belt ...
The Bible Belt is a hub of activity for Judea, Samaria and the Gaza District and for the settlers: from McAteer's billboards, the sale of small baskets of fruit and fund-raising events for the settlements to demonstrations in front of Bush's Texas ranch.
By BRENDAN BURKE
Star-Tribune staff writer
Monday, October 06, 2003
Rev. Fred Phelps and his Westboro Baptist Church of Topeka, Kan., announced plans Thursday to erect a monument in Casper's City Park.
The monument would be made of marble or granite, stand 5 to 6 feet in height, with a heavy bronze plaque bearing the face of slain University of Wyoming student Matthew Shepard and an inscription reading "MATTHEW SHEPARD, Entered Hell October 12, 1998, in Defiance of God's Warning: 'Thou shalt not lie with mankind as with womankind; it is abomination.' Leviticus 18:22," a letter from the Westboro Baptist Church signed by Phelps sent to the city of Casper states.
The church plans to place the monument in City Park because the park is already home to a Ten Commandments monument donated to the city by the Fraternal Order of the Eagles in 1965. [...]
White House to Overhaul Iraq and Afghan Missions
By DAVID E. SANGER
The New York Times
October 6, 2003
WASHINGTON, Oct. 5 — The White House has ordered a major reorganization of American efforts to quell violence in Iraq and Afghanistan and to speed the reconstruction of both countries, according to senior administration officials.
The new effort includes the creation of an "Iraq Stabilization Group," which will be run by the national security adviser, Condoleezza Rice. The decision to create the new group, five months after Mr. Bush declared the end of active combat in Iraq, appears part of an effort to assert more direct White House control over how Washington coordinates its efforts to fight terrorism, develop political structures and encourage economic development in the two countries. [...]
"This puts accountability right into the White House," a senior administration official said. [...]
Inside the State Department and in some offices in the White House, the decision to create the stabilization group has been interpreted as a direct effort to diminish the authority of the Pentagon and Mr. Rumsfeld in the next phase of the occupation. Senior White House officials denied that was the case, and said in interviews on Sunday that the idea had been created by members of the National Security Council and embraced by Mr. Rumsfeld, who has been a lightning rod for criticism about poor postwar planning. [...]
No al-Qaeda link found to Iraq's WMD program: Kay
AFP
Monday October 6, 7:09 AM

David Kay, the US expert leading the hunt for weapons of mass destruction (WMD) in Iraq, said he has found no evidence linking al-Qaeda to an illicit weapons program there.
Asked by Fox News whether he had found documentary evidence of Iraqi ties to al-Qaeda or other terror groups, Kay told Fox News, "We have not -- with regard to weapons of mass destruction -- and that is really the area I operate in -- no, we have not."
But Kay, the head of the Iraq Survey Group added, "we have discovered documentary evidence that relates to various terrorist connections." [...]
4,000 U.S. non-combat evacuations in Iraq
By Mark Benjamin
Investigations Editor
Published 10/3/2003: WASHINGTON, Oct. 3 (UPI) -- Nearly 4,000 U.S. troops have been medically evacuated from Operation Iraqi Freedom for non-combat reasons -- with more than one in five of those for psychiatric or neurological problems, according to Pentagon data.
A total of 3,915 evacuations from the region have been for non-combat medical problems. A combination of what the Pentagon is calling evacuations for "psychiatric" and "neurological" problems make up 22 percent of the total, with 478 and 387 evacuations, respectively. [...]
A total of 318 soldiers have died in Operation Iraqi Freedom since March 20, according to the Pentagon. Another 1,380 soldiers have been wounded in action as of Oct. 1.
Putin Says U.S. Faces Big Risks in Effort in Iraq
By STEVEN LEE MYERS
The New York Times
October 6, 2003
OSCOW, Monday, Oct. 6 — President Vladimir V. Putin of Russia says the United States now faces in Iraq the possibility of a prolonged, violent and ultimately futile war like the one that mired the Soviet Union in Afghanistan.
In an expansive interview on Saturday evening, Mr. Putin warned that Iraq could "become a new center, a new magnet for all destructive elements." He added, without naming them, that "a great number of members of different terrorist organizations" have been drawn into the country since the fall of Saddam Hussein.
To respond to this emerging threat, he said, the Bush administration must move quickly to restore sovereignty to Iraqis and to secure a new United Nations resolution that would clearly define how long international forces remain there.
"How would the local population treat forces whose official name is the occupying forces?" he asked, suggesting that further hostility to the United States was inevitable unless its occupation received the international legitimacy it now lacks. [...]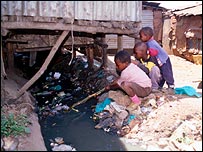 Slum growth 'shames the world'

By Alex Kirby
BBC News Online environment correspondent

The number of people living out their days in the squalor of a slum is almost one billion, the United Nations says - one-sixth of the world's population.
Without radical changes, it believes, that number could double in 30 years.
By 2050, the UN says, there may be 3.5 billion slumdwellers, out of a total urban population of about six billion.
The head of its human settlements programme says the persistence of slums should shame the entire world.
The programme, UN-Habitat, has compiled what it says is the most comprehensive report ever on slums, based on studies of 37 cities across the globe. [...]
France seeks renegotiation of 35-hour week 'to cure economic malaise'
By John Lichfield in Paris
06 October 2003
The French government called yesterday for a renegotiation of the 35-hour working week introduced four years ago by the previous, Socialist-led government to create jobs and reduce unemployment.
The proposal follows a lengthy drum-roll of criticism of the 35-hour week by ministers and supporters of Jean-Pierre Raffarin's centre-right government. They have accused the shorter working week of spawning most of France's economic ills, from lack of growth to the failure, three years in a row, to respect the euroland ceiling on budget deficits.
Left-wing politicians countered that the government was starting a "witch-hunt" to disguise its bad economic and budgetary management. Even independent economists poured scorn on the government's arguments and figures.
They said the impact of the 35-hour week had been positive in some industries and destructive in others. It was too early to give a clear verdict but the government's various estimates on the budgetary cost of the 35-hour week - which have bounced between €7bn and €15bn - were misleading and "simple-minded".
In particular, the economists said the government had failed to take account of the positive effects of the 35-hour week: the creation of an estimated 300,000 jobs and an increase of 5 per cent in the productivity of large firms, which had used the new rules to abolish archaic working practices.
Iranian Woman Faces Execution in Official's Death
By NAZILA FATHI
October 5, 2003
TEHRAN, Oct. 4 — An Iranian woman accused of killing a police chief in southern Iran who she said tried to rape her has been convicted and is to be executed, the Shargh newspaper reported Saturday.
The woman, Afsaneh Noroozi, 32, who has been in jail since 1997, said during her trial that she stabbed the chief of police intelligence on the island of Kish in self-defense when he tried to rape her. The police chief, whose name has not been made public, was a friend of Ms. Noroozi's family, and she was at his house as a guest.
Her lawyer cited in her defense an article in Iran's Islamic penal code that allows citizens to take proportionate action to defend "life, honor, chastity, property, or freedom."
The newspaper reported that the final ruling, confirmed by a high-level court in August, was delivered to Ms. Noroozi in prison in the southern city of Bandar Abbas last week. Sentences are usually carried out a few days after the ruling is delivered.
Human rights workers and advocates for women's rights have condemned the ruling, saying that it is a violation of the right of a woman to defend her honor.
Three women who are members of Parliament recently sent a letter to the chief of the judiciary, Ayatollah Mahmoud Hashemi Shahroudi, asking him to send the case to a different judge.
The only person who can grant clemency now is Iran's supreme religious leader, Ayatollah Ali Khamenei.
Amnesty International has recorded 83 executions this year in Iran.
Dubious intelligence: CIA enraged by cynical White House end-run around its sources
By ERIC MARGOLIS -- Contributing Foreign Editor
October 4, 2003
Behind the scandal over identifying Wilson's wife as a CIA agent, a far more important battle is raging.
The Bush administration plans to spend $1 billion in the fruitless search for unconventional weapons in Iraq.
The non-existence of these weapons, which were the main excuse for the invasion, has badly damaged the White House; eroded the power of Cheney's men Wolfowitz, Feith and Perle -- who jestingly called themselves "the cabal" -- and humiliated the hapless Secretary of State Colin Powell.
Now "the cabal" and some politicians blame the CIA for the failure to find Iraq's non-existent weapons and alleged links to al-Qaida.
But the CIA is fighting back through leaks, accusing the administration of distorting, corrupting and politicizing the conduct of national security.
The CIA does deserve sharp criticism over Iraq. It had a shocking lack of reliable human intelligence there, forcing the agency to rely heavily on dubious defectors and foreign intelligence, rather than its own resources.
Ironically, France had excellent intelligence in Iraq and rightly warned Bush his war would lead to disaster. Bush was too busy listening to the neo-conservatives' hyped intelligence to heed France's excellent and reliable advice.
[...] Real patriots do not start wars to win elections while diverting attention from financial scandals.
Jordan denies US claims that Iraqi WMD moved to its territories
05-10-2003
Jordan on Sunday denied strongly reports that Iraq had moved its arsenal of weapons of mass destruction into its territories and it also denied having an Iraqi ambassador in the kingdom.
In statements published Sunday by the Minister of Information Dr. Nabil Al-Sharif, Amman expressed astonishment on the claims made by the head of the American-British inspection team David Kay on the transportation of Iraqi WMD to Jordan saying those reports are "baseless".
A series of strikes this week will affect major archaeological sites, schools, universities, state hospitals and law courts — as well as taxi and rubbish removal services — while demonstrations planned through the center of Athens are expected to aggravate the capital's chronic traffic problems.
Undeterred by government's insistence that budgetary strictures will allow no major salary increases, unions have embarked on a concerted wave of industrial action, hoping to extract concessions from the ruling Socialists who face national elections by next May.
More details have been emerging about China's ambitious space programme, just days before the country is expected to launch its first manned space flight.
A top defence official, Wang Shuquan, confirmed what has been reported before in Chinese media - that the country is planning lunar landings after it succeeds in putting a man in space.
And the state-run Beijing Youth Daily newspaper has reported that China plans to send a research satellite to orbit the moon within the next three years.
A lunar orbiter would be launched by rocket, spread flight into three stages and reach the moon in eight or nine days, the paper said.
It would circle the moon for a year, gathering information about the moon's geology, soil, environment and natural resources, it added.
By Olga Kryshtanovskaya
Russia's love affair with President Vladimir Putin has lasted for almost four years now. His popularity ratings must be the envy of many a head of state. But what exactly has he done to deserve all this love and popularity? What has he done for the country that it should forgive him for Chechnya, for sinking submarines and terrorist attacks? Why does a majority of the population trust the president, again and again falling under the spell of his charm? Who are Putin's admirers and who are his critics?
As part of its research on the Putin elite, the department for the study of elites of the Institute of Sociology conducted a survey with the aim of finding answers to these questions. The survey was conducted between Sept. 8 and Sept. 24. The sample consisted of 560 people from eight different social or professional categories: state officials, politicians, businessmen, officers, intelligentsia, young people, housewives and pensioners. During the survey, respondents were asked the open-ended question: "What do you think about Putin and his policies?" Of those polled, 58 percent were critical, while 42 percent were supportive.
[...] One politician who took part in the survey said the following: "Putin is neither red nor blue. He is colorless." And that is what so many people like about the president. Being politically amorphous is one of the keys to Putin's success. The moment he ties himself to a concrete ideology, all those who do not share that ideology will cease to support him. As things stand, the president can be all things to all people.
Those who dream of a "strong hand" see in him a second Yury Andropov. Those who want Russia to regain its status as a world power are happy with his achievements in the international arena. For the West, Putin is a democrat and a free-market advocate. To the poor, he is a man who is prepared to take on the oligarchs. For the chekists, he is "their man."
Putin is nobody -- he is the man in the mask. He is a mirror, in which everyone sees a reflection of themselves.
By Matt Bivens
Dick Cheney, you see, used to head an oil-services company called Halliburton. Back when Cheney was secretary of defense, he hired Halliburton for a study that concluded, in essence, that the Pentagon should hire Halliburton more often. As Pentagon money flowed out to Halliburton, Cheney left to take over that company. A few years later, Cheney returned to Washington as vice president -- with a $20 million severance deal in his pocket -- and lo and behold, the Bush administration immediately started feeding monster, secretive, no-bid contracts to Halliburton.
[...] One such secretly brokered contract, for which U.S. taxpayers have shelled out $1.2 billion, could ultimately be worth $7 billion. Cheney also holds stock options in Halliburton -- so he gets richer as the stock floats higher on government money. (His office says his options riches will go "to charity," but it's been saying that for years without details.)
In Kazakhstan, they've drawn the obvious conclusions. The Financial Times reported in June that when President Nursultan Nazarbayev wanted an embarrassing U.S. Justice Department investigation into his doings derailed, his people contacted ... Halliburton. (They were indignantly rebuffed; shocking, shocking, that they had even asked!)
Meanwhile, does anyone doubt the post-Bush era will bring us Two Percent Dick's triumphal return to Halliburton's executive suite?
Three weeks ago, a TV journalist asked Cheney why there weren't open, competitive bids.
"I have no idea," he replied. "Go ask the Corps of Engineers."
Mormons Warned of Entertainment Evils
By PATTY HENETZ, Associated Press Writer
Sun Oct 5, 11:16 PM ET
SALT LAKE CITY - The president and prophet of The Church of Jesus Christ of Latter-day Saints on Sunday told members of the faith that they must "hold back the world" by resisting the everyday evil embodied in popular entertainment and the Internet.
President Gordon B. Hinckley, speaking during the church's 173rd semiannual General Conference, said that while many not of the faith would support their values, "we cannot be arrogant. We cannot be self-righteous."
The church's leader also noted he was pleased that the church-owned NBC affiliate in Salt Lake City had refused to air a program of a "salacious nature," apparently referring to the network's new sitcom, "Coupling," a remake of a BBC show focusing on the sex lives of a group of friends.
The NBC affiliate in South Bend, Ind., owned by the Roman Catholic-affiliated University of Notre Dame, also has refused to air the program. "It is comforting to know that there are others who feel as strongly as we feel and are willing to do something about it," Hinckley said. [...]
Comment: While it appears that television programs in the US are becoming more and more mindless, it is most certainly arrogant and self-righteous for any religious organization to control what the general public watches.
Time to terminate governor - Arnie

06/10/2003
Arnold Schwarzenegger says he senses "an unbelievable momentum," in his bid to become Governor of California despite new allegations of sexual harassment and signs of a tightening race.
A poll released over the weekend found Schwarzenegger's lead among replacement candidates waning with news of harassment claims, but the Republican remained ahead of the pack and voters still favoured removing Governor Gray Davis from office in tomorrow's election. [...]
By Lily Galili
Haaretz
The norm of taking responsibility for actions and decisions seems to have all but disappeared from the nation's public and political life. Meanwhile, the people's demand for accountability on the part of its elected representatives seems to have vanished as well. [...]
Prime Minister Ariel Sharon also embodies this phenomenon. Whoever coined the phrase - following the Kahan commission findings on the massacre at the Sabra and Chatila refugee camps - "Whoever doesn't want him as defense minister will get him as prime minister," was right. Sharon is now a prime minister under investigation for suspected bribery and corruption. This, however, barely makes a dent in his popularity. The notion of retribution or punishment has disappeared from the political and public realm. [...]
Quake-prone Istanbul prepares for "Big One"
October 6, 2003
By Gill Tudor
ISTANBUL (Reuters) - People remember the noise, somewhere between a whistle and a roar from deep in the earth.
"It's a unique sound, really spooky, something you've never heard before," said journalist Humeyra Pamuk, who was asleep in her Istanbul flat when the earthquake struck.
Nearly 18,000 people were killed in that quake, one of the world's worst, which hit the Izmit region of northwestern Turkey on August 17, 1999.
Istanbul, Turkey's historical and economic hub about 100 km (60 miles) to the west, was rattled to its foundations. More than 200 people were killed in the city, although compared to the main quake zone it came off lightly.
Scientists say there could well be worse to come, and four years on the city authorities have drawn up an earthquake action plan they say is the most comprehensive in the world.
"Our aim is not so much to save people from the ruins, but not to have anybody under any ruins in the first place," Istanbul Mayor Ali Mufit Gurtuna told Reuters.
"We have to act before the earthquake happens. We want to manage the risks to cut them to a minimum, even to zero."
Turkey sits at a point where three vast slabs of the earth's crust -- the Eurasian, Arabic and African plates -- grind together, scoring geological fault lines across the country.
One of these, the North Anatolian fault, runs along the northern side of Turkey and through the Sea of Marmara.
Istanbul, on the Marmara coast, has been hit by some 12 earthquakes in the past 1,500 years. Few researchers are prepared to predict when the next might come, but many say another 'Big One' could be due before long. [...]
Thousands flee from Yellow River floods
BEIJING, Oct 5: Heavy rain has forced thousands more people to evacuate their homes in flood-hit areas along China's Yellow River, officials and state media said on Sunday.
This year's fifth flood crest on the Weihe, a major tributary of the Yellow river in northwestern China's Shaanxi province, passed one of the worst-hit areas on Sunday without causing any major damage, local officials said.
The rain also stopped on Sunday after five days, but the water level in the Weihe remained above the danger mark on Sunday evening, an official in Shaanxi's Huaxian county said by telephone.
Flood control officials in Huaxian have now evacuated some 133,000 people since late August, he said, in the worst flooding for 20 years along the river. [...]
Diet and exercise 'do not affect' cholesterol
By Andrew Clennell
The Independent
06 October 2003
Exercise and a healthy diet are almost a waste of time for people with high cholesterol, a leading cardiologist claimed yesterday.
After presenting research that showed even patients who were treated with drugs were struggling to bring their cholesterol levels down, Dr Adrian Brady, a consultant cardiologist, said lifestyle changes were not enough to tackle the problem. He said cholesterol-reducing drugs should be used more regularly and more effectively. [...]
Comment: We have to wonder what industry funded Dr. Brady's research?
Calmer Sun "Could Counteract Global Warming"
Sun 5 Oct 2003
By John von Radowitz, Science Correspondent, PA News
After an angry 100 years the Sun appears to be calming down, a new study has shown. Scientists believe solar activity is about to peak and then drop off over the next century. Sunspot numbers are expected to fall by 60% from around 80 per month to 35.
Geomagnetic storms are predicted to reduce by a similar extent, from an average 40 per year to about 13. This is in marked contrast to the past 100 years, which saw rising numbers of solar flares, sunspots and geomagnetic storms.
The change could go some way towards counteracting the effects of global warming, say the researchers. In the last century the Sun is thought to have contributed between 4% and 20% of global warming. This and the blanketing effect of greenhouse gases raised the Earth's temperature by an average 0.7C.
The British Atlantic Survey research suggests that in years to come the Sun will make less of an impact on climate. Dr Mark Clilverd, who led the study, said: "This work is speculative and relies on the idea that the Sun shows regular cycles of activity on timescales of 10 to 10,000 years, and that its heat output and activity are related.
"But we believe the work is well grounded and the effect of solar activity on Earth's environmental system will not increase in the way it has during the century. [...]
Israel plans to send telescope into space using Indian rocket
19 September 2003
NEW DELHI - Israel plans to send a telescope into space on an Indian rocket in 2005 as part of growing cooperation between the two countries, a report said yesterday.
The Israel Space Agency has already spent $15 million on the telescope, which is to be used to map new galaxies, The Indian Express newspaper said. Israel plans to send it into space on a rocket that India proposes to launch by the end of 2005, the newspaper quoted Israeli officials as saying.
The data from the telescope will be purely scientific and will be shared by the two countries, it said.
Israeli Prime Minister Ariel Sharon said during a visit to India earlier this month that Israel had decided to send a telescope into space on an Indian rocket.
The India-Israeli cooperation in space started 2 1/2 years ago when their scientists met in Austria, and expanded with an agreement signed in India last October.
K. Kasturirangan, then chairman of the Indian Space Research Organisation, visited Israel earlier this year to finalize details of the launch.
India and Israel also appear to be close to finalising a $1 billion sale of an advanced Israeli airborne radar system to India.
During Sharon's visit, India and Israel signed six agreements on broadening educational, medical, cultural and technology ties, as well as an environmental protection pact.
They also agreed to strengthen joint efforts in fighting drug traffickers and terrorists.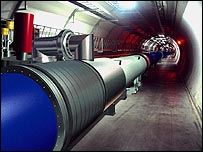 Computing net promises vast power
Sunday, 5 October, 2003

BBC's David Reid goes behind the scenes at the European particle physics laboratory, Cern, to report on how they are working on the next generation of the net.
Its aim is to simulate the Big Bang that created the Universe. When it is ready in 2007, it will run under the Swiss countryside in a huge circle.
The particles fired down its length will generate enough data in a year to fill a pile of CDs the size of the Eiffel Tower.
What to do with that data and how to share it with scientists around the world is the essence of the Grid, the name given to the international network of supercomputers that promises to revolutionise not just the way we use the internet, but computing itself.
For now the Grid is composed of noisy, air-conditioned computer centres dotted around the world, full of PCs all linked together to make a giant super-computer.
Scientists are currently limited in what they can do by their own hardware's memory, software and processing power. Once the Grid is up and running anyone hooked up to it will have all the programs, power and storage they could dream of.
"The idea is that even in a small institute where a physicist may need to have very large computing power for his particular problem, he can go off from his desk, launch the job and get the job done using computer centres all over the world, get the results back and write the publication afterwards," said Wolfgang von Ruden, head of information technology at Cern.
When it is ready, Cern's Large Hadron Collider will be sunk underground, where particles will smash into each other just below the speed of light.
Just as Cern has used contractors to find the tools and talent for the job of putting the collider together, so the Grid will employ a similar agent.
It will use software designed to sniff out where in the world are the computing resources - software, memory, processing power - for a particular task. In short, computing is becoming a utility to be piped into your home or office, like electricity or gas.
"If you understand the web to be a source of information, you have servers which provide the information and you as a user are not aware of where those servers sit, you just go to a link, you click on it and you get the information," said Ian Bird, Grid Deployment Manager.
"You can think of the Grid in the same terms except that it is providing computing services and storage services on your behalf at places that you don't really have to know where they are." [...]
Hooked up to the Grid, and all the software and processing power it promises, the complexity of the projects a firm could take on would be limited only by the architect's ambition and imagination.
If you suspect the claims being made for the Grid are over-blown and exaggerated, you might bear in mind that it was scientists at Cern who invented the World Wide Web.
Supercomputer 'will revolutionise weather forecasting'
Ananova.com
07:23 Monday 6th October 2003
Data from the world's biggest computer could soon bring about a major change in forecasting the world's weather. Researchers expect the giant Earth Simulator to provide the first reliable long-term predictions of major storms, heatwaves and cold snaps. As a result countries will be better prepared for the extreme effects of global warming. [...]
The computer is 40 times faster than any other machine in operation in the world. It will enable scientists to tell years in advance whether storms or droughts can be expected in specific regions of the Earth. [...]
The best supercomputers to date have only been able to predict far off weather trends in regions no smaller than 250 square kilometres. The Earth Simulator takes this resolution down to 10 square kilometres - small enough to encompass individual storm systems.
Comment: It is interesting that such a powerful tool has been created to predict global climate changes when the "official word" is that there's nothing to worry about and that we should all just go back to sleep.
Radio telescope to take in the universe
Mexico-U.S. effort sits atop 15,000-foot volcano
Mary Jordan
Washington Post
Oct. 5, 2003 12:00 AM
PICO DE ORIZABA NATIONAL PARK, Mexico - Nineteen men fainted in the thin air atop this gorgeous mountain during their first days of work in the clouds. Thousands of truckloads of gravel and steel already have made it up mule paths to the top of the Sierra Negra volcano and Mexico's biggest scientific project ever.
After four years of construction, a $100 million radio telescope with an antenna nearly 165 feet in diameter and an aim no less grand than peeking to the end of the universe is taking shape. The joint Mexican-U.S. project is being built in the crater of this inactive volcano 15,000 feet above sea level, the fourth-highest point in the country.
When visitors ascend the mountain, passing boys herding sheep and farmers tending potato and pea fields, the ultrahigh-tech, 16-story-high radio telescope appears from the mist as improbably as a colony of space aliens.
At this rare altitude, where there is only 57 percent of the oxygen available at sea level, dozens of scientists, engineers, welders and crane operators from around the world are at work. When they finish in a year or two, the telescope will explore the nature and evolution of galaxies and allow glimpses of the birth of stars.
"With this project, Mexico enters the big leagues," said Jose Valdes-Galicia, chief of investigations of the Solar and Planetary Department at the National Autonomous University of Mexico. He said there is excitement in the nation's science community at this venture into "First World science."
The University of Massachusetts at Amherst is the joint partner with Mexico's National Institute of Astrophysics, Optics and Electronics. Each country is paying $50 million. Massachusetts, NASA and the Defense Department all have contributed money to building the Large Millimeter Telescope here in the state of Puebla, 110 miles east of Mexico City. When finished, it will be the most powerful of its kind in the world.
One of the main goals for Mexico will be to use the telescope to train its best and brightest in many scientific fields, including astronomy, a special fascination here since the time of the Aztecs.
"There is training and there is dreaming," said Luis Medina, an engineer from the University of Massachusetts who is helping manage the project. "The spark in the eyes of the young has to be done with something spectacular, and I think this project has some of those characteristics."
Emmanuel Mendez, the Mexican program manager, said Mexican scientists are watching the project closely, because its failure would make it hard to get approval for other large projects. He said that in a country where a "very important science project" typically gets a government grant of $150,000, this $50 million investment is unprecedented.
Locating its leading scientific Ph.D.s and tens of millions of dollars of high-tech equipment in this poor rural area where many locals never finished elementary school hasn't been easy. Some local farmers are disappointed that millions of dollars are being spent on exploring outer space without making their lives here on Earth any better. A few are outright suspicious, speculating that the whole project has some secret purpose.
A local mayor led a protest demanding to know the real purpose of the massive telescope, especially after he heard the U.S. Defense Department was involved. [...]
Quake Report Summary for the last three days:
2003/10/05 11:27:27 34.35N 118.74W 8.0 3.0 GREATER LOS ANGELES AREA, CA.
2003/10/04 18:15:54 28.89S 71.22W 29.0 5.2 NEAR COAST OF CENTRAL CHILE
2003/10/04 05:02:28 38.82N 122.81W 5.1 3.4 NORTHERN CALIFORNIA
2003/10/03 23:36:40 52.78N 167.10W 33.0 4.8 FOX ISLANDS, ALEUTIAN ISLANDS
2003/10/03 18:26:43 56.38N 152.53W 20.0 4.5 KODIAK ISLAND REGION, ALASKA
2003/10/03 16:56:34 38.84N 122.81W 3.3 3.9 NORTHERN CALIFORNIA
2003/10/03 16:51:56 62.68N 149.78W 70.0 4.0 CENTRAL ALASKA
2003/10/03 16:28:28 38.83N 122.82W 1.9 3.6 NORTHERN CALIFORNIA
2003/10/03 15:30:26 3.92S 76.40W 106.0 4.8 NORTHERN PERU
2003/10/03 11:54:09 21.78S 68.23W 122.5 4.7 CHILE-BOLIVIA BORDER REGION
2003/10/03 11:29:03 34.30N 116.83W 1.1 2.8 SOUTHERN CALIFORNIA
2003/10/03 07:50:27 16.22N 97.63W 33.0 4.3 OAXACA, MEXICO
2003/10/03 04:45:18 41.92N 143.36E 33.0 4.8 HOKKAIDO, JAPAN REGION
Moderate Earthquake Hits E Japan;No Damage,Injury Reports
Edited by Malcolm Scott
October 05, 2003
TOKYO (AP)--A moderate earthquake with a preliminary magnitude of 4.2 rattled eastern Japan early Monday, the Meteorological Agency said. There were no immediate reports of damage or injuries.
The 8:57 a.m. (23:57 GMT Monday) temblor was centered 70 kilometers (43 miles) beneath the earth's surface in southern Chiba prefecture, about 60 kilometers (37 miles) southeast of Tokyo.
There was no danger of tsunami, powerful ocean waves caused by seismic activity, the agency said.
An earthquake of magnitude 4 or higher can shake buildings and swing hanging items in populated areas.
A powerful quake slammed Hokkaido on Sept. 27, leaving about 756 people injured, mostly with cuts and bruises. Fifty-nine were seriously hurt, and two fishermen were listed as missing and believed to have been swept away by tsunami waves triggered by the undersea quake.
That magnitude-8.0 tremor - the world's strongest seismic jolt since a magnitude-8.4 temblor that killed 74 people in Peru in June 2001 - swayed buildings in Tokyo.
Japan is one of the world's most earthquake-prone countries. It sits atop four tectonic plates, slabs that move across the earth's surface.
Minor Earthquake Shakes Taejon Area

10-05-2003 17:08
TAEJON (Yonhap) A minor earthquake shook the central region of the country early Sunday but there were no reports of casualties or property damage, officials said.
The epicenter of the quake, with a preliminary magnitude of 2.1, was located about 10 kilometers west of Taejon and caused windows to rattle around 5:03 a.m., said officials at the Korea Meteorological Service.
A quake of that magnitude is the smallest generally felt by people.
No major earthquake has occurred in South Korea. Dozens of earthquakes occur each year but most are so small that they cannot be felt.
Earthquake hits capital Baku (Azerbaijan)
05/10/2003
Epicenter of the quake was in the Caspian Sea. Earth tremors felt at 2,6 point in Baku. According to information from National Seismological Service earthquake rocked northern regions of Azerbaijan including Quba, Qusar and Khachmaz regions.
There is no report on human loss and damage.
'Police, clergy' in pedophile ring
By Scott Emerson
October 6, 2003
CHILD abuse campaigner Hetty Johnston warned yesterday there could be a pedophile ring based in the Queensland Families Department as a senior officer was stood aside amid allegations of sexual abuse in a foster-family.
Ms Johnston's warning came as Premier Peter Beattie conceded there needed to be a "cultural change" in the troubled department.
In her submission to be handed today to the Crime and Misconduct Commission, which is examining the abuse allegations, Ms Johnston says the corruption watchdog should investigate the possible existence of a child-sex ring in the department.
"It is quite possible that is going on but we just don't know and that is why we need a royal commission," she said.
"We know a lot of perpetrators are police officers, they are clergy and of course they could also be Family Services workers. It is classic territory for pedophiles and it needs to be looked at very carefully." [...]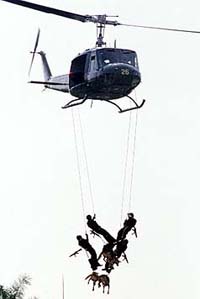 Elite soldiers cut loose to save helicopter
By Matthew Moore, Herald Correspondent in Jakarta
October 6, 2003
A military drill similar to the one that ended in the death of the eight Kopassus troops. Photo: AFP

Eight Indonesian Kopassus special forces soldiers plunged more than 180 metres to their deaths when a crew flying their helicopter cut the rope on which the soldiers were suspended.
Scores of villagers watched the Kopassus troops fall to their deaths on Saturday about 300 metres offshore near the town of Lhokseumawe in Aceh, where they were training for a routine they were to perform in yesterday's annual military celebrations.
An army spokesman in Lhokseumawe, Colonel Yani Basuki, said the soldiers were conducting a final practice for the exercise that involved their being flown to a location while suspended below the helicopter by harnesses attached to a rope. They would then be lowered to the ground.
But during the exercise a blast of wind rocked the Bell helicopter, making it highly unstable, and the crew on board had had no option but to cut the rope to which the men were attached.
He said that cutting the rope was "normal operating procedure" and had been done to save the lives of those on board the chopper, and the aircraft itself.
The four-man crew, and those on the rope, were all trained to conduct the manoeuvre.
Comment: One Bell helicopter - value: more than eight human lives anyway...
Six kidnapped from Borneo resort
KUALA LUMPUR (Reuters) - Gunmen have kidnapped six workers, three Filipinos and three Indonesians, from a beach resort in the eastern Malaysian state of Sabah, police say. [...]
About 10 men armed with modern weapons, some wearing camouflage fatigues, forced the six into a boat and took them away, Inspector-General of Police Norian Mai told a news conference on Monday. [...]
Gunmen kill Colombia candidate
BBC
Police in Colombia say a mayoral candidate, Jorge Roa, has been killed by armed men bringing the number of murdered political candidates to 16 in the run-up to elections later this month. [...]
Mr Roa is the seventh mayoral candidate to be killed during the election campaign.
Eight people running for city councils and one candidate for governor have also been killed. [...]
School lunches 'cheap muck' (UK)
BBC
Primary school lunches have been described as "muck off a truck" by a group seeking higher food standards.
A report from the Soil Association - which promotes organic produce - says the government spends about 60p a head on prison food and 35p on school food. [...]
Salon
Eight million American women -- or one in 12 -- will be a victim of stalking at some point in their lives. So why are law enforcement agencies so inept at handling their cases?
Tiger, Alligator Found in N.Y. Apartment
Sun Oct 5

NEW YORK - A tiger and an alligator found in a Manhattan apartment were sent to an Ohio wildlife preserve Sunday while their owner recovered from bite wounds inflicted by the more than 400-pound cat.
Police said Antoine Yates, 31, would face reckless endangerment charges after he gets out of a hospital in Philadelphia, where he fled. He was listed in good condition.
A team of animal control officers, police and Bronx Zoo workers removed the animals from Yates' fifth-floor apartment in a Harlem housing project on Saturday.
Wes Artope, director of the city's animal shelters, said the tiger, an orange and white Siberian-Bengal mix, had been kept in the apartment since he was a 6-week-old cub. The 20-month-old tiger now weighs at least 425 pounds, Artope said.
"He's huge," Artope said.
The tiger and the 5-foot-long alligator, both in good condition, were taken first to a local shelter, then to a Long Island animal sanctuary and then to Ohio, Artope said. [...]
It appears to have been one of an estimated 10,000 tigers kept by private citizens in America - that is more than remain in the wild.
Comment: Somthing weird is going on with cats this week. First the attack in Las Vegas, now this. Precursors of catastrophe? Some cataclysm? Or a catatonic American public? We'll be doggone if we know...
Three dead in US church shooting
Three people have been killed after a woman armed with a gun burst into a church in Atlanta, Georgia, and opened fire, local police say.
Unconfirmed reports said the shooting was a murder-suicide, with the woman shooting dead the pastor and her mother in the church before killing herself.
Pope John Paul II has been celebrating mass on the steps of St Peter's Basilica in Rome, looking well and alert - in contrast to reports last week that he was near to death.
Although hampered by the effects of Parkinson's disease, the Pontiff was able to lead the congregation in a canonisation service that is part of a month of events marking his 25th year as head of the Roman Catholic Church.
Man kills lover over pocketed 150 euros
A 20-year-old Albanian man knifed his 37-year-old Greek lover to death on Wednesday after accusing her of stealing 150 euros from his trouser pocket, police in Serres said on Saturday.
Tsentian Vila used a butcher's knife with an 18-centimeter blade to stab Sofoula Tambaki, a mother of two, at her home in the village of Strymoniko near Serres during an intense argument after the woman denied the theft, according to police.
EBay air guitar gets bid of £25,000
Ananova.com
08:20 Monday 6th October 2003
An imaginary guitar which was put up for sale as a joke on eBay has attracted a bid of £25,000.
Peter Wells, from Blackburn, posted the ad for the "air guitar".
He claimed it was a 17-year-old non-electric model with some wear to the bodywork, reports The Sun.
Mr Wells, 38, says he was stunned to receive 19 bids including the top offer from a Russian, who he's desperately trying to trace.
He said: "Perhaps he's confused by the language. If he pays up I'll give the cash to charity. Most people have seen the funny side - one contacted me to ask if I'd take an air cheque."
---
Remember, we need your help to collect information on what is going on in your part of the world!
We also need help to keep the Signs of the Times online.
Obviously, there are a lot of folks out there who do NOT like what we are doing - our own special brand of news coverage - and they are working day and night to create almost insurmountable problems for us, designed to grind us down and render our plans to be able to increase our production (which include a weekly radio show that is currently in the implementation stage) impossible to bring to fruition. We are coming under increasing pressure from many directions all at once.
Our need for financial support has never been greater, including support for legal initiatives to halt the madness of several of the para-COINTELPRO activities currently launched against us. These operations are designed to create a platform to justify utilizing police state tactics so as to silence, and even ultimately, destroy us.
Please: We need your help.
The campaign of lies and disinformation would be frightening under normal circumstances; considering the present state of the world and the machinations of the "National Security State," it is terrifying.
Please - if you have been helped by our work -
won't you help us NOW?

---

Check out the Signs of the Times Archives

Send your comments and article suggestions to us

---
Fair Use Policy
Contact Webmaster at signs-of-the-times.org
Cassiopaean materials Copyright ©1994-2014 Arkadiusz Jadczyk and Laura Knight-Jadczyk. All rights reserved. "Cassiopaea, Cassiopaean, Cassiopaeans," is a registered trademark of Arkadiusz Jadczyk and Laura Knight-Jadczyk.
Letters addressed to Cassiopaea, Quantum Future School, Ark or Laura, become the property of Arkadiusz Jadczyk and Laura Knight-Jadczyk
Republication and re-dissemination of our copyrighted material in any manner is expressly prohibited without prior written consent.
.