---
"Disasters involve cycles in the human experiential cycle"
Today as the world burns: Palestinian suicide bomber kills 20, Israel uses the opportunity to temporarily 'invade' Syria - A "Greater Israel" will be had, by hook or by crook. It's official: Blair knowingly lied, but who cares?
Further evidence of Bush's arrested emotional development is afforded by the two poems he wrote for his wife during her visit to Europe. How old are we when we learn "Roses are red/Violets are blue..."? Six, seven years old?
Bush's poems are at about the same level as the remarks by the congressman who blames Moslems for the end of his 50-year marriage. His wife was upset that the women at a Moslem organization across the street from their home wore head scarves. Really scary, right? What's really scary is how the U.S. Army harasses it's own when they marry (Gasp!) Muslims. Can't have cultures building bridges, then no one will want to blow up each other for corporate profits and insane land grabs.
Fortunately, it seems growing numbers of Americans are starting to question Bush. Not for foreign policy, however, rather it is jobs or the lack thereof that have them all "up in arms". The other thing that has the chattering classes upset is that someone in the White House blew the cover of a CIA agent in the political battle over Bush's lies on Iraq. Yet another piece in the recent repainting of the CIA and the US intelligence community as being the "good guys". Just ask Allende, Arbenz, or Lumumba...
Mexico braces for Larry, Newfoundland braces for Kate, and Nova Scotia cleans up after Juan. Apparently, the effects of global warming are visible around the globe, and there is a world traveler committed to telling the sad tale. Elephants are rampaging - are we trying to tell ourselves something??
---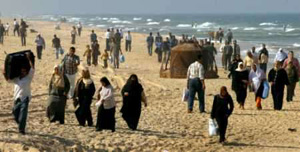 (above) Palestinians walk along the Gaza beach after Israel sealed off the coastal road linking north and central parts of the Gaza Strip, October 5, 2003
Suicide blast kills at least 19; Arafat speculation rivets Israel
By Charles A. Radin and Efrat Dahan THE BOSTON GLOBE
HAIFA, Israel - A Palestinian woman fought her way past the security guard of a popular restaurant co-owned by Jews and Arabs on Saturday, plunged into the seaside eatery and detonated a huge bomb. At least 19 people were killed, and more than 50 were wounded.
The bombing set off intense speculation over whether Israel now would "remove" Palestinian leader Yasser Arafat, as its Cabinet voted to do two weeks ago without specifying whether this meant expulsion or assassination. There was no immediate movement of Israeli forces into Ramallah, where Arafat lives in the ruins of his former West Bank administrative headquarters.
But several hours after the attack, Israeli helicopters launched missiles at a Gaza Strip house belonging to an Islamic Jihad leader in the Boureij refugee camp, witnesses told The Associated Press. There were no immediate reports of casualties. [...]
Eliezer Sandberg, Israel's minister of science and a resident of Haifa, was at the scene minutes after the blast.
"The place was riddled with shrapnel," Sandberg said. "People were scurrying in every direction.
"I live in a reality, in a city, where coexistence is a daily matter, and it works," he said. "When you see the EMS people pulling out bodies, your gut screams revenge, but your head calls for level-headed coolness."
But Sandberg said Arafat "has to be dealt with."
"In Israel and the Palestinian Authority territories, there are 9 million people, and most of them want to live in peace but Arafat won't let them," he said. "As long as he lives, there will be no peace." [...]
Abdel Fattah Hamayel, a member of the Palestinian Legislative Council and minister in the reformist government ousted by Arafat a month ago, said, "For sure, there will be negative repercussions."
"There are Arab and Jewish victims, who live together in Haifa," he said. "This is completely unacceptable. This will give (Prime Minister Ariel) Sharon a green light to carry out revenge and more revenge."
Comment: Indeed it will give Sharon a "green light", the question then must be asked: Is it possible that Sharon and Mossad are in some way connected with these 'suicide bombings'?
Flashback! Sharon's Fingerprints on Latest Suicide Bombing
January 9, 2003 Counterpunch
Since the last suicide bombing on November 21, escalating Israeli military assaults have killed over sixty Palestinian civilians, culminating in the December 26 wave of killing and abductions, in which Israeli occupying forces killed at least nine Palestinians, injured more than 30 and abducted several others. [...]
Any observer with elementary skills in discerning cause and effect could see this latest suicide bombing atrocity coming. In fact, the vast majority of the nearly 100 Palestinian suicide bombings since they began in 1994 have followed an almost predictable sequence: Israeli attacks that cause major Palestinian civilian casualties or Israeli assassinations of important militant leaders are the most common trigger leading to suicide bombing cycles. [...]
Yet this striking pattern has become even more frequent and predictable since Ariel Sharon became Prime Minister in February 2001 and escalated military assaults on Palestinian civilian areas and adopted a systematic assassination campaign of Palestinian militant leaders. The startling fact is that four times as many suicide bombings--around 80--have occurred since Ariel Sharon became Prime Minister than in the seven previous years combined--around 20. [...]
"The escalation of violence by (Israeli Prime Minister Ariel) Sharon is aimed at creating a volatile atmosphere which he believes will serve him in his election campaign," Palestinian Information Minister Yasser Abed Rabbo told Reuters on December 27. "Sharon is inviting retaliation because he wants ... to prevent any possibility of an agreement (between Palestinian factions) on a cease fire," he continued. [...]
Nevertheless, based on the evidence from the past decade of suicide bomb attacks, and Sharon's clear record of inciting these attacks, Israel's actions are of incomparably greater significance for stopping suicide attacks than those of Yasser Arafat and what little remains of his authority and security services. Israel could easily refrain from actions that kill Palestinian civilians and could suspend the assassination campaign of militants. It could also lift the deadly curfews that have created a major humanitarian crisis in many parts of the West Bank and Gaza Strip. [...]
In a scathing August 2, 2002 editorial in Israel's prestigious Ha'aretz newspaper, Doron Rosenblum declared that "In short, any four-year-old child who examined this pattern of events would conclude that this government, whether consciously or not, is simply not interested in the cessation of the terrorist attacks, for they constitute its raison d'etre".
Flashback! Tooth Fairies And Suicide Bombers - The suicide bombers are not what they seem to be. - How thoughtful of the suicide bombers to leave photos behind to be conveniently found by the Zionist-owned press. And what a public service the Zionist-owned press is doing the whole world by publishing these photos. [...]
Typically, stories about suicide bombers tell us that the bomber went to a public place such as a bus stop, market, restaurant, pool hall, etc., and blew himself/herself up along with one, two, or many Israelis. Funny, they rarely hit military targets. I wonder why? [...]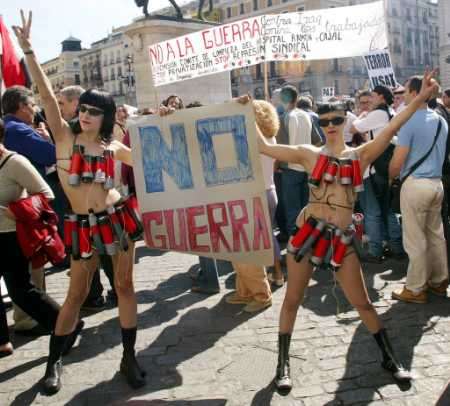 Flashback! Thousands of demonstrators protest Bush in Madrid on Sept. 29, 2002 - dressed as "suicide bombers!" Photo by Andrea Comas/Reuters
Flashback! Palestinian child killed by Israeli fire in Nablus - A teenage Palestinian boy was shot dead by heavy machine-gun fire that hit him in the head as Israeli tanks moved into a refugee camp in the West Bank city of Nablus to re-impose a curfew. A report issued on Monday by Amnesty International said Israel's military and Palestinian militant groups had all shown "utter disregard for the lives of children and other civilians" in two years of bloodshed. - The London-based human rights group said more than 250 Palestinian children had been killed during the Palestinian uprising for statehood. More than 70 Israeli children have died, most of them killed by Palestinian suicide bombers, it said.
Comment: Again we note, the likelihood that MOST "suicide bombings" are set up by the Israeli secret services is extremely high despite their endless efforts to blame it on the Palestinians.
Flashback! Eight people were killed when a suicide bomber exploded a car next to a bus packed with passengers just before the afternoon's rush hour near the city of Hadera in northern Israel. About 45 people were wounded, six or seven of them seriously, said Avi Zohr, director general of the Israeli Red Cross. - Soon after the blast, the Islamic Jihad organization claimed responsibility for the attack, which came soon after a curfew was lifted in the nearby town of Jenin on the West Bank and soon after Israeli tanks had fired into Gaza. -
In Jericho, Chief Palestinian Negotiator Saeb Erakat condemned the attack. "We condemn on behalf of the Palestinian Authority this attack as much as we condemn the killing of civilians, whether they are Israelis or Palestinians. And we reiterate that the only way to break this vicious cycle of violence is to restart a meaningful peace process." -
"We are getting mixed messages from the Palestinian Authority and their leader," said Ra'anan Gissin, an adviser to Prime Minister Ariel Sharon. "On one hand, [they are] calling publicly for peace, but on the other hand continuing to support ... those suicide bombers who conducted the attack today."
Comment: How about this scenario? The "suicide bombings" are "stage managed" to point the finger at the Palestinians. Obviously, they have nothing to gain by such tactics, and would have to be stupid not to realize it. In the end, the question: "Who benefits?" has to be asked, and the only answer is: Israel.
When we realize that they will endanger, and/or kill, their own citizens to push their agenda, then we know that as long as these evil men are in power, none of us are safe.
Flashback! Three Palestinians blew up their explosives-laden car next to a Gaza Strip army post on Sunday, killing themselves and wounding four Israeli soldiers, military sources said. The apparent suicide bombing, in a bloc of Jewish settlements, occurred after news emerged of secret truce talks between Israeli Prime Minister Ariel Sharon and a top Palestinian official. [...]
Israel's president was due to give Sharon a formal nod at 5 p.m. to form a coalition government led by his right-wing Likud party, which crushed rivals in a January 28 election. He will have up to 42 days to build a coalition. [...]
Such deals have collapsed in the past, and Israeli forces reoccupied most of the West Bank in the middle of last year following suicide attacks in Israel. The Palestinian Authority has said the incursions have paralyzed its security forces. [...]
The Sharon-Korei meeting, confirmed by Palestinian officials, represented the first high-level talks between the two sides in nearly a year. Sharon has shunned Palestinian President Yasser Arafat, accusing him of fomenting violence -- an allegation Arafat denies.
Comment: Again, we have to wonder about these "suicide bombers" who keep shooting the Palestinians in the foot. The only ones who benefit from this sort of thing are the Israelis. After all, so far, at least 1,823 Palestinians and only 700 Israelis have been killed since the uprising began in September 2000 after peace talks stalled. Those numbers are a bit lop-sided, don't you think???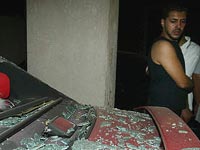 Israel Fires Missiles on Gaza City and Refugee Camp,
AFP Oct. 5
Israeli helicopter gunships fired at least two missiles on Gaza City and the al-Bureij refugee camp in the central Gaza Strip, Agence France-Presse reported, citing unidentified people linked with Palestinian security.
The attacks came hours after a Palestinian suicide bomber killed 19 people at the Maxim restaurant in Haifa, in northern Israel, which was filled with people on the Sabbath ahead of the Yom Kippur holiday.
The Israeli air strikes cut power to the refugee camp, AFP said. The people gave no information of any casualties, the report said. Earlier the helicopters fired on Gaza City, AFP said. A house, which was unoccupied at the time, was hit, the report said. Several people were slightly injured by flying glass, AFP said.
Israel attacks Palestinian target in Syria

By Middle East correspondent Mark Willacy
Israeli warplanes have struck at what they say is a Palestinian training camp deep inside Syria, in a move Syrian sources warn could spark a regional conflict. Israel says the strike is in response to yesterday's suicide bombing in Haifa which killed 19 people.
In a statement, the Israeli army says its warplanes have struck at those behind the Haifa attack, launching missiles at a training camp about 15 kilometres north-west of the Syrian capital Damascus.
Israel says the camp was used by guerrillas from Islamic Jihad, the group which claimed the Haifa bombing. And Israel says it will continue to exercise its right of self-defence.
But Syrian sources warn that Israel is playing with fire, saying the situation could rapidly deteriorate into a regional conflict. Syria says it will complain to the United Nations Security Council about the Israeli air raid.[...]
Comment: Islamic Jihad claimed responsibility for the 'suicide bombing'. They have declared that they have no training camps in Syria. A Syria based group "Popular Front for the Liberation of Palestine" have stated that the refugee camp was one of their disused bases. We see Israel capitalising on the situation attempting to achieve the all out war and the capture of the "greater Israel" that it has for so long sought.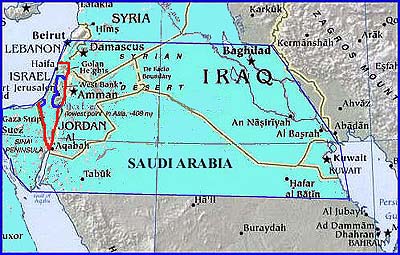 (Above) Map of the Israeli governments idea of what Israel should be (turquoise area). Keep in mind that present day Israel is within the red line, excluding the blue marked areas, ("Gaza strip" on the left, "West bank" on the right), which are the occupied Palestinian territories.
They are termed "occupied" because Israel has established many illegal settlements there and is currently building a 350km wall within the West bank that will illegally annex even more territory, establishing a defacto border.
Ask yourself just how Israel might be planning on achieving this massive "land grab"? What would it have to do to create the right conditions to enable it to realise this dream?...
Israel attacks Islamic Jihad base in Syria
Sunday 05 October 2003, 12:25 Makka Time, 9:25 GMT
[...] Fears for Arafat
Amid fears that the Israelis will use the Haifa bombing to justify assassinating Palestinian President Yasir Arafat, about 30 foreign and Israeli peace activists joined others at his headquarters in the West Bank town of Ram Allah to act as human shields.
The Israeli human shields reportedly include at least one former member of the Israeli parliament. [...]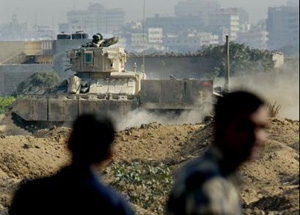 Israeli army divides Gaza Strip into three slices
www.chinaview.cn
2003-10-05
The Israeli army forces divided the Gaza Strip into three slices and redeployed tanks and armored vehicles in part of the area, Palestinian security sources said Sunday.
The Israeli soldiers erected roadblocks in the central and southern Gaza Strip to prevent traffic into and inside the Gaza Strip town and villages, the sources said.
A Palestinian public security spokesman said dozens of tanks were seen closing a main road which links the towns of Rafah and Khan Younis in the southern Gaza Strip.
Israeli soldiers opened fire at Palestinian cars near Rafah, the spokesman said, adding that a 35-year-old Palestinian resident was seriously injured after he was shot in his head.
Israel accused of starving West Bank
New York |By Charles Laurence and Kim Willsher | 05-10-2003
A United Nations report which blames Israel for causing starvation in Gaza and the West Bank has prompted a furious diplomatic row with the Israeli government of Ariel Sharon.
The leaked report by Jean Ziegler, a Swiss sociologist and UN special envoy, blames Israel's security policies for "collective punishment" of the Palestinians.
[...] Furious Israeli officials, however, have denounced the report as "highly political", saying that Ziegler had gone beyond his mandate. With support from American diplomats at the UN, Israel has called for the report to be rejected before it reaches the floor of the Assembly, and asked the UN Human Rights Commission, for whom Ziegler was working as a food rights specialist, to discipline him.
According to newspaper reports in France, Ziegler's report will not now be published until the spring.
[...] In the 25-page report, a copy of which has been seen by The Sunday Telegraph, Mr Ziegler says 22 per cent of Palestinian children under the age of five suffer severe malnutrition, and most families have only one meal a day.
He describes that as "absurd" in a historically fertile land, blaming the "apartheid" security fence, the seizing and destruction of Palestinian farmland, and roadblocks for preventing food from reaching Palestinian communities.
"The Occupied Palestinian Territories is on the verge of humanitarian catastrophe as a result of the extremely harsh military measures imposed by the occupying Israeli military forces since the outbreak of the second Intifada in September 2000," the report warns.
[...] Israel wants the report to be dismissed on technical grounds, claiming that Ziegler breached protocol because the report was leaked to the French newspaper, Liberation, before their government had a chance to lodge a reaction.
Comment: One can imagine that Israel doesn't want a report like this to get out. The American papers might just have to report on it...on page 22 of the want ads. Not that American classifieds have that many jobs on display these days.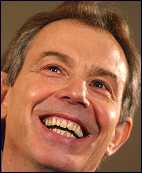 Cook: 'Blair admitted to me that Saddam had no usable WMD'
By Colin Brown, Political Editor
05/10/2003
Tony Blair privately admitted that Saddam Hussein could not attack British or United States troops with chemical or biological weapons two weeks before Britain went to war against Iraq, Robin Cook alleges today.
Mr Cook recalls how he was given an intelligence briefing on Iraq by John Scarlett, the chairman of the Joint Intelligence Committee, who has since given evidence to the Hutton Inquiry.
Mr Cook said: "The presentation was impressive in its integrity and shorn of the political slant with which No 10 encumbers any intelligence assessment.
"My conclusion at the end of an hour is that Saddam probably does not have weapons of mass destruction in the sense of weapons that could be used against large-scale civilian targets."
Two weeks later, on March 5, Mr Cook discussed the Scarlett briefing with Mr Blair. Mr Cook told Mr Blair he doubted Saddam had weapons of mass destruction that could strike strategic cities, but he might have battlefield weapons which could be used against British and US troops. "[Blair replied]: 'Yes, but all the effort he has had to put into concealment makes it difficult for him to assemble them quickly for use.' "
Those remarks appeared to contradict directly the assertion in the September Iraq dossier that Saddam could make his WMD ready for use in 45 minutes - the claim at the centre of the allegations by the BBC that led ultimately to the death of Dr David Kelly, the Government's weapons expert who killed himself shortly after appearing before the Commons foreign affairs select committee.
Mr Cook continues: "There were two distinct elements to this exchange that sent me away deeply troubled. The first was that the timetable to war was plainly not driven by the progress of the UN weapons inspections. Tony made no attempt to pretend that what Hans Blix [the chief UN weapons inspector] might report would make any difference to the countdown to invasion.
"The second troubling element to our conversation was that Tony did not try to argue me out of the view that Saddam did not have real weapons of mass destruction that were designed for strategic use against city populations and capable of being delivered with reliability over long distances."
Mr Cook also discloses that Mr Blair told him the US President George W Bush wanted to go to war in September last year, but was restrained by Mr Blair from doing so.
Comment: The smiling psychopath stikes again. Blair LIED. No question about it, but what can anyone do in what is effectively a dictatorship by consent. You see, you can actually have a 'democratic dictatorship'. All it takes is an unwitting public that WANTS to be fooled and the 'party faithful' to agree that they want the dictator in power.
US knew Iraq had no WMD: Mahathir
Malaysian Prime Minister Mahathir Mohamad on Saturday expressed scepticism over US claims that Iraq had weapons of mass destruction.
"I don't believe that they didn't know. If they suspected that there were (WMD in Iraq), they should have given (former chief United Nations' weapons inspector) Hans Blix a chance to carry out a full investigation," the veteran politician was quoted as saying by the Bernama news agency.
US President George W. Bush`s decision to attack Iraq was hasty and made without sufficient proof, particularly since no weapons of mass destruction have been found in that country until today, Mahathir said.
In the absence of strong proof, Mahathir said it was a lie for the United States to attack Iraq.
State Department spokesman: Lethal bio-toxin 'kills people, it kills people in large quantities'
WorldNetDaily.com
October 4, 2003 1:00 a.m. Eastern
The vial of botulinum bacteria discovered in Iraq by U.S. arms inspectors – which experts call the most poisonous substance known to man – is "a weapon of mass destruction," the State Department's top spokesman announced yesterday.
"Botulinum kills people, it kills people in large quantities. Botulinum is a weapon of mass destruction, yes," said State spokesman Richard Boucher," according to an Agence France-Presse report. "Anything that destroys on a massive scale is a weapon of mass destruction."
The botulinum had been stored in a vial discovered in an Iraqi scientist's refrigerator, where it had been stored for safe keeping since 1993. [...]
Comment: Apparently, we are meant to believe that the botulinum bacteria was distributed in small vials and hidden by Iraqi scientists. In an act of stunning creativity, one scientist takes his vial home and puts it in the fridge, even though the electrical grid in Iraq is still inadequate and unreliable due to damage caused during the invasion.
Couldn't the Bush Reich have come up with a better lie? Then again, since the populace is forever ignorant and compliant, Bush and his cronies have no reason to expend any extra energy to come up with a bigger and flashier lie.
Bush defiant over Iraq as UN support wanes
Sunday 05 October 2003, 12:22 Makka Time, 9:22 GMT
Confronting mounting opposition to the US role in Iraq, President George Bush vowed on Saturday to finish what he started and secure and rebuild the country.
At the United Nations, support was waning for a new US resolution on Iraq's short-term future, which came under fire from France, Russia and UN chief Kofi Annan.
Annan told the 15-member security council he could not accept the terms of the US draft because it did not incorporate his suggestions on how to handle the eventual transfer of political power in Iraq.
Home rule first
Annan said his proposal to let Iraqis form a government first, before writing a constitution and then holding new elections, could help stem the guerrilla-style attacks against the US occupation.
[...] Polish haste
Separately, Poland said on Saturday it regretted earlier allegations that its troops in Iraq had found several Franco-German missiles made this year, after a strong rebuke from Chirac.
Soldiers investigated after marriages to Iraqis
The Associated Press
PACE, Fla. -- Two Florida National Guard soldiers who married Iraqi women against their commander's wishes are being investigated for allegedly defying an order, their families said.
The men, both Christians who converted to Islam so they could be married under Iraqi law, had expected to return to Florida this month, but a new Army policy that requires troops to remain in Iraq for 12 continuous months may keep them there until April.
In the meantime, Sgt. Sean Blackwell, 27, of Pace, and Cpl. Brett Dagen, 37, of Walnut Hill, want to send their wives to the United States because of threats from anti-American Iraqis.
Vickie McKee, Blackwell's mother, said Friday her daughter-in-law has asked that the women not be identified for that reason. Both women are physicians. [...]
Blackwell's wife, now working as an interpreter for an American firm in Baghdad, wrote that the Army has prevented him from contacting her since the double wedding on Aug. 17.
"Is this freedom in U.S.?" she wrote. "Where is the human right? Where is justice?" [...]
Other soldiers, including his company commander, were supportive, but Hill and a sergeant major opposed the marriages, Blackwell wrote. He added that the sergeant major told him "Muslims and Christians just don't jive together." [...]
Comment: Notice that both women are physicians. Not exactly the picture of repression the mass murder media wanted to shove down the American throat is it?
By Kimball Perry
The Cincinnati Post
10-03-2003
More than $100 million was generated in a money laundering scheme that used a dozen convenience stores in Cincinnati's poorest neighborhoods to sell stolen goods, say police and prosecutors, who believe the money then might have been used to fund terrorism around the globe.
In the scheme, police say, organizers paid pennies on the dollar for stolen goods -- such as cigarettes and teeth-whitening strips -- and then re-sold them at a profit in Over-the-Rhine, Northside, Westwood, the West End, Fairmount, Winton Place and South Cumminsville.
Police say they can already prove that $37 million went through the bank accounts of the man they believe is the ringleader, but they estimate that was "only a third" of the total, said Cincinnati Police Chief Thomas Streicher.
Much of the money, the chief added, has been sent back to Middle Eastern countries, often in amounts just under the $10,000 limit that requires the transfer to be reported to the U.S. government.
"We can document that money is being sent to the Middle East," Streicher said, adding there is a "strong suspicion" the money is being used to fund terrorism. He acknowledges, though, "there is nothing concrete -- yet." [...]
By Syed Saleem Shahzad
Asia Times Online
KARACHI - Pakistani forces have killed at least 12 and arrested 12 suspected Taliban and al-Qaeda fighters over the past two days in a major operation at Angoor Adda, a small town on the border with Afghanistan.
The operation is being widely hailed in Pakistan as a demonstration of the country's commitment to the US-led "war on terrorism".
However, this is only a part of the story. The clash was orchestrated by the US Federal Bureau of Investigation (FBI) as a direct result of its deep penetration - and even control - of the Pakistani intelligence establishment.
The roots of this involvement can be directly traced to the fallout from the events of September 11, 2001, which saw Pakistan throw in its lot with the US. This entailed Islamabad withdrawing its long-standing support for the Taliban in Afghanistan, which it had helped propel into power in 1996, and opening its air bases to the US military for operations in Afghanistan.
It also allowed US intelligence to establish a finger-hold in the country, which the FBI has now turned into a vice-like grip through an ever-expanding network that has infiltrated, to various degrees, Pakistan's armed forces, the police and intelligence agencies.
[T]he FBI works autonomously, with its own separate organizational setup. This includes communications to track both mobile and land telephone calls, as well as sophisticated bugging devices. [...]
Now, the FBI has virtually unlimited access and control, including airports, and now it has emerged that it has recently been given access to the bank accounts of Pakistani citizens. [...]
Comment: 9/11 continues to be the best thing to ever happen to the fascist state of the U.S.A. Notice that there is no mention of the FBI controlling another country's army in the AFP write up of the story.
Comment: Scoop is posting new chapters of Bev Harriss' book Black Box Voting every few days. One through four is on the site for downloading now. One way for U.S. citizens to prove that that U.S. "democracy" has become a complete scam is for no one to show up and use these boxes.
Did Rupert Murdoch Have Prior Knowledge of 9/11?

By Christopher Bollyn – American Free Press
Christopher Bollyn is an investigative journalist who has written extensively on the events of September 11, 2001 in the Washington-based American Free Press. He has researched different aspects of the 9/11 attacks and uncovered facts and evidence that challenge the official version of events.
Two organizations, both pro-Israel, the Anti Defamation League (ADL) and the Fox News network, have desperately tried to smear Bollyn as an "anti-Semite" in order to discredit him and diminish the significance of his work. At the helm of both organizations, the ADL and Fox News, is an Australian-born Zionist named Keith Rupert Murdoch.
Murdoch and the ADL are clearly trying to marginalize Bollyn, and other independent researchers like him, who use facts to challenge the government's flawed explanation of what occurred on 9/11.
Rupert Murdoch is said to be television's "most powerful man in the world with the capacity to reach more than 110 million viewers across four continents." Murdoch sits at the helm of News Corp., the parent company of Fox News network, and controls a large part of the mass media in the United States, including The New York Post and the Fox cinema and television network.
Murdoch's international media network owns more than 175 newspapers and magazines on three continents, publishes 40 million papers a week and dominates the newspaper markets in Britain, Australia and New Zealand.
A "close friend" of the accused Israeli war criminal and prime minister Ariel Sharon, Murdoch and his media network are well known for supporting Israel's right-wing Likud Party and the Anglo-American "war on terrorism."
Less well known, however, is the fact that Murdoch produced a television program in 2000, which predicted with uncanny accuracy the attacks of 9/11.
Murdoch also has long-standing relationships with the key individuals who gained possession of the World Trade Center shortly before 9/11 – and who profited from its destruction.
In 2000, Murdoch produced a television program about a terror attack on the World Trade Center, which predicted precisely the kind of attack that occurred on 9/11. He is also closely connected to the two individuals who leased, and then insured the WTC property – and their future earnings – against precisely such an attack.
These connections and circumstances suggest that Murdoch had a considerable degree of prior knowledge of the attacks on the World Trade Center. [...]

Leaks, scandal, war and a floundering economy are rocking the foundations of a once invincible White House. Paul Harris reports from New York on why the Democrats suddenly scent victory
Sunday October 5, 2003
The Observer
[...] Now Plame's career is over and other whistleblowers may think twice about voicing their criticism in public. But the leak has backfired spectacularly. The word inside Washington's gossipy Beltway is of 'Wilsongate'. This was no ordinary piece of spin. A crime has been committed; exposing a spy carries up to 10 years in jail. Somebody will have to pay.
But, more importantly, the scandal has cracked the illusion that the Bush administration is invincible. Deep fissures have been exposed at the highest level of a government that only a year ago appeared certain to secure a second term. A spotlight has been turned on the murky goings-on at the heart of the White House political operation and it has revealed a history of dirty tricks and webs of political patronage that could compromise the investigation. It could not have come at a worse time.
Bush was already in trouble. The daily killing of GIs in Iraq has sapped support for the war. Bush's poll figures are starting to sink alarmingly. Last week's CIA update on the hunt for weapons of mass destruction drew a blank. And - perhaps most importantly of all - America's economy is failing to create the jobs that are desperately needed in key battleground states in next year's elections.
[...] The key question is simply who authorised the leak. Wilson himself has pointed the finger in one direction - Bush's special political adviser, Karl Rove. He described last week how several reporters had told him that Rove had said: 'Joe Wilson's wife is fair game.'
[...] Rove has a murky history. In the 1970s he was investigated for running 'dirty tricks' seminars for Republican activists at the time of Watergate. In 1986, while running a Texas governorship campaign, he announced that a bugging device had been found in his office. The discovery hurt Rove's Democrat opponent, who promptly lost the election. Yet it was never discovered who planted the bug and - despite his denials - it is widely believed that Rove put it in his office himself. [...]
The bare statistics are shocking; employment growth is the lowest for any recovery period since labour statistics were first kept in 1939. More than three million jobs have been lost since Bush took power in 2001, a record not seen since the days of President Herbert Hoover during the Great Depression.
In secular Syria, an Islamic revival
A state with a history of quashing rebellious Islamic groups is seeing an upswing in religious faith
By Nicholas Blanford
The Christian Science Monitor
ALEPPO, SYRIA –Turmoil in the Middle East and the sluggish pace of domestic political reform is fuelling an Islamic resurgence here.
Although the regime is deeply hostile to extremist Islam, analysts and diplomats believe that Islamic groups could play an increasingly influential role if the state's hold on the country weakens. [...]
Comment: Yep, the Bush Reich's war on terror is producing the desired results: more enemies for perpetual war for peace. Feel safer yet?
France Strongly Denies Polish Allegations of Missile Find in Iraq
ROME (AFP) - France Saturday strongly denied Polish allegations that four recently built Franco-German missiles had been found in Iraq, and said that the missiles had not been manufactured for 15 years.
"There cannot be any missiles there in 2003 because the missiles haven't been built for the past 15 years," President Jacques Chirac told a news conference at an EU summit in Rome.
Earlier, the Polish defense ministry said a Polish patrol had found four Roland anti-aircraft missiles south of Baghdad, apparently manufactured this year.
Comment: The Poles have become the American point men. Chirac must be eagerly awaiting their entry into Europe.
Three Iraqis shot dead in last 24 hours
04-10-2003,14 :40
During a protest involving former Iraqi troops in the southern city of Basra, British forces shot and killed at least one person. Capt. Hisham Halawi said the Basra protest broke out when ex-soldiers acted on a false rumor that Saturday was the last day they would receive stipend payments.
"An Iraqi was shot and killed by members of the coalition forces, and the incident is under investigation," Maj. Niall Greenwood said in Basra, according to The AP.
In a similar incident, Dr. Abbas Jafaar from al-Yarmouk Hospital in the capital said one ex-soldier died from a gunshot wound to the head and 25 people were hurt during the Baghdad riot.
U.S. Deaths in the Conquest of Iraq
Iraqis' patience wears thin as America delays handover
As Europe and UN put pressure on Washington, Iraqi leaders say they fear being 'puppets' of US
Rory McCarthy in Baghdad
Sunday October 5, 2003
The Observer
When Paul Bremer, the US civilian administrator in Baghdad, appointed the Iraqi governing council, he held out the promise of a significant Iraqi influence on America's postwar reconstruction.
But nearly three months later, widening differences are emerging between the chosen Iraqi leaders and Bremer's Coalition Provisional Authority (CPA) that threaten American attempts to bring stability and security to Iraq. In a series of interviews with The Observer, several members of the council complained they had only a limited influence over American policies and were deeply frustrated at their lack of control over security and spending plans.
'They want to keep all the control for themselves,' said Mahmoud Othman, an independent Kurdish politician and one of the 24 council members. 'When you are not controlling the budgets, when the security file is not under your control, and when you cannot create jobs, what can you do? It is better to give up.'
'We will be looked at as puppets of the Americans and we will fail. If we fail, they fail.'
Saddam's nuclear arsenal? A scattering of yellow powder
Villagers sell deadly uranium to the US army at $3 a barrel
Patrick Graham in Al Mansia
Sunday October 5, 2003
The Observer
Dhia Ali makes a throwing motion as he tells how he dumped out the blue barrels of powder. The nine-year-old and his brother, Hussein, weren't looking for weapons of mass destruction when they went into the low brown buildings, known to UN weapons inspectors as Location C, near his home last April. They just wanted the blue barrels.
The yellow cake powder they poured out and breathed into their lungs - a form of natural uranium - was part of the nuclear programme which, the Iraq Survey Group's recent report claims, somewhat vaguely, was being restarted before the last war. The report won't do much for Dhia or Hussein - they haven't even been examined by a doctor yet.
'If you inhale even a small amount, it stays in your lungs,' said one of the senior scientists who worked on Iraq's atomic programme. He spoke anonymously because, like many of the country's best researchers, he didn't want any trouble from the Americans.
Even the ducks in the canal in the village of Al Mansia, where they dumped the barrels, later tested for increased radiation. When the US army offered a reward of $3 a barrel, the villagers fished them out and sold them. [...]
Interviewing scientists in Iraq is a tricky business. Through a well-connected intermediary we were turned down by four others. One of them, a leader of a chemical weapons programme we had met shortly after the war, denied ever having heard of us. The last time we talked he said Iraq had failed to stabilise nerve agents to put into warheads and the programme had been abandoned. Now many of the scientists who worked on these programmes have, or want, jobs with the administration and are reluctant to speak openly.
'It was just an excuse to attack,' the nuclear scientist said. 'Now it turns out there is nothing. They talk to everybody, they offer money and still nothing.' [...]
Beaten, abused, chained. This is one Afghan woman's 'liberation'
The Taliban's fall was supposed to bring freedom for women. But for many, life is still a misery - and for one, jail is the safest place to be.
Yola Monakhov in Kandahar
Sunday October 5, 2003
The Observer
Mina rests on the earth floor of a Kandahar jail. Now eight months pregnant by a man she says raped and tortured her for seven years, she is in the Afghan prison for fleeing the marital home.
She is 28 but wears the lined, sad face of an old woman. Wet eyes glimmering through her burqa, she rocks gently as she talks of her coming baby as a bleak and loathsome prospect.
'I was abducted,' she says. 'This man [the father of her unborn child] is not my husband. I have a family and I want to go back to them. But if my parents see I have a new baby, they may kill me.'
Mina's nine-year-old son Jonahmat rests his head on her knees and then runs into the prison yard to play with other children living inside. For now, they are safe with 11 other mothers and stray siblings who have made it to safety behind metal bars and a barbed-wire fence. [...]
Sunday 05 October 2003, 9:45 Makka Time, 6:45 GMT
Omani women failed to expand their share in the advisory council of the Gulf sultanate, barely managing to hold on to two seats in the first ballot open to all citizens.
According to initial results released on Sunday morning, Lujainah Muhsen Darwish and Rahila al-Riyami will continue to represent different districts of Muscat on the elected 83-member Majlis al-Shura council.
None of the 13 other women candidates who vied for seats with 491 men made a breakthrough in or outside the capital, the results released by the interior ministry and reported by official media showed.
Despite government pleas for candidates to be chosen on the basis of merit rather than kinship, most voters appeared to favour relatives or a candidate picked by their tribal chief.
Egypts FM says anti-Syria accusations meaningless
Egypts Foreign Minister Ahmad Maher has stressed that the US accusations against Syria have no meaning, and a state's threats to another state is not the best way of cooperation among countries.
Dr. Khaled M. Batarfi
Whenever you read or hear about a decision taken, or an event discussed, in our media you usually do not find views that dissent from generally accepted opinion.
When the consensus changes the arguments of commentators tend to change their opinion accordingly.
As far as our readers are concerned, they see us change lanes without any warning or explanation.
They see how we use double standards in our attitudes toward similar situations. While, for example, we show our sympathy toward Muslims in Britain or Algerians in France and criticize the Western media because it attributes every problem in these countries to our brethren we, at the same time attribute every failure in our society to the presence of "foreigners".
This is one of many examples that clearly shows media bias and the absence of the opposite opinion.
The Queen is threatened with terrorist attack on Nigeria visit
By Colin Brown and James Robson
The Telegraph
The government has learned that the Queen could be the target of an Al-qa'eda terrorist attack during a visit to Nigeria later this year.
The intelligence warnings, which have been passed to the Foreign Office, indicate that Al-qa'eda operatives hope to exploit weaknesses in Nigeria's security services to strike during the Commonwealth Heads of Government conference in December. [...]
Neocons, Spare the Trees Please!
Amr Mohammed Al-Faisal
Many of my friends have expressed nervousness at the highly belligerent tone emanating from the US toward our brothers and sisters in Syria and Iran.
Even Saudi Arabia, a country known around the world for its peaceful nature, has not been spared accusations and even threats.
Watching US TV and reading US newspapers one could be forgiven if one believed that war was imminent.
In my travels have seen bookstores full of new books warning their readers of the alleged evil of these three countries. Neocon think tanks continue to spew report after report explaining how Iraqi WMDs are now in Syria and how Iran is a nuclear threat to the whole world.
As for us, we are supposedly bankrolling the very people who are blowing up our cities and killing our citizens and therefore the world will be safer when our country is dismembered by the neocons — who are merrily debating whether to divide us up three ways or four.
Dear readers, relax.
Put up your feet and if you are a smoker have a cigar.
Don't worry.
It is highly unlikely given the current international political and economic situation that we will be seeing the "Legions of Freedom" marching anywhere new any time soon.
This is not due to a lack of desire but to a lack of capability.
Especially since the commanders of the US armed forces would prefer to have live scorpions stuffed down their shorts rather than embark on another harebrained neocon "cakewalk".
by Michael Hirsh
NEWSWEEK

Oct. 6 issue — Tommy Thompson, the secretary of Health and Human Services, and Homeland Security Secretary Tom Ridge have one thing in common — they both love to talk about how much better prepared America is for a bioattack like the still-unsolved anthrax letters of two years ago. But a turf fight between the two departments has seriously hindered those preparations, officials say. [...]

Denver Airport Concourse Is Sealed Off After FBI Agent Misplaces Weapon

Up to a dozen flights were delayed and a concourse was sealed off Saturday when an FBI agent reported his weapon and credentials missing. They were found 30 minutes later in a restaurant where he had eaten.
The agent, whose name was not released, apparently lost track of his bag when he left the restaurant to make a phone call, Transportation Security Administration spokesman Mike Fierberg said. All planes at Concourse B gates were held after the agent alerted police, and passengers were not allowed to leave or enter the concourse, Fierberg said. "It had the potential to be something serious. Fortunately it wasn't, except for that poor FBI agent who's going to have some explaining to do," Fierberg said...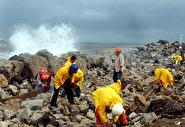 Mexico Coast Braces for Tropical Storm
The Associated Press
VILLAHERMOSA, Mexico Oct. 4
Mexico's Gulf Coast Braces for Tropical Storm Larry; Olaf and Nora Strengthen in Pacific
Mexico rushed relief supplies to the coast and put thousands of relief personnel on alert Saturday as Tropical Storm Larry churned toward land, Nora became a hurricane in the Pacific and Tropical Storm Olaf gathered force south of Acapulco.
With Mexico facing three storms hitting in the coming days, by far the greatest danger was posed by Larry. Mexico extended tropical storm warnings and a hurricane watch for the Gulf coast from Tuxpan to Campeche as residents braced for high tides, punishing rains and heavy floods.
Larry's center was slowly moving toward the coast Saturday and was forecast to make landfall Sunday. The U.S. National Hurricane Center in Miami said that tropical-storm force winds could begin lashing the coast late Saturday.[...]
Meanwhile, Hurricane Kate swirled in the Atlantic far away from land, about 695 miles southeast of Bermuda, packing maximum sustained winds of 115 mph, making it a major Category 3 storm. Kate was forecast to weaken significantly before hitting Newfoundland in eastern Canada sometime Tuesday.
Hurricane Kate to bring heavy rain to Newfoundland
CP
2003-10-05
ST. JOHN'S, NFLD. -- A hurricane rapidly moving up the Atlantic is expected to bring heavy rains to Newfoundland when it brushes past the province early tomorrow. But hurricane Kate isn't expected to make landfall in the province, said the Canadian Hurricane Centre in Dartmouth, N.S.
"It's going to remain over the sea," said meteorologist Mike Campbell in an interview yesterday.
"Our big concern is just rainfall." [...]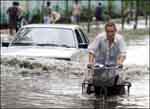 Flooding forces relocation of tens of thousands of people in China
Flooding along China's mighty Yellow River and one of its tributaries has forced 238,000 people to flee their homes in northern China, while another 11,000 people in east China must be relocated, officials said. [...]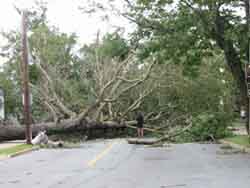 Comment: Seven pages of photos of the aftermath.
Sunday October 5, 2003
The Observer
On an epic, sometimes hazardous, personal mission, Mark Lynas travelled the world for three years in search of climate change. In this powerful journal, he describes a planet where global warming is not a distant prospect - it is here and now.
[...] The big, fan-shaped glacier had vanished completely. The edge of the lake was now marked with bare rock walls, and the lake itself was swollen with extra meltwater. The area was barely recognisable.
It was with a heavy heart that I loaded my new slides into the projector after my return to Wales. As the image came up, my father leaned forwards with a stricken expression. 'Good God, I can't believe it. That was the whole character of the place. It's so sad.' He paused, as if to take it in. 'It's so sad,' he said again. [...]
05.10.2003
11.00am
Aftershocks are continuing from the Fiordland earthquake on August 22nd.
A tremor measuring 4.8 on the Richter scale was recorded just after 4.30am this morning.
It was located 80 kilometres west of Te Anau.
And a magnitude 3.9 quake was recorded in the Wairarapa just after 11 o'clock last night. [...]
4 October 2003
STARTLED residents in central Canberra were shaken by an earth tremor this morning.
There have been no reports of damage or injuries from the tremor which hit at about 8.25am (AEST).
Geoscience Australia said preliminary estimates indicated the tremor measured about 2.2 on the Richter scale.
"It was just a shallow earth tremor," duty seismologist Dr Cretan Sinadinovski said.
Police said residents in the central Canberra suburbs of Forrest and Deakin, near Parliament House, reported hearing what sounded like loud explosions.
"We've had a lot of people reporting loud explosions in the Forrest, Deakin, Manuka area of Canberra, but no reports of damage ... or injuries at this stage," a police spokesman said.
China copes with water shortage for 34 million rural population
www.chinaview.cn
2003-10-05 15:18:41
BEIJING, Oct. 5 (Xinhuanet) -- China has invested 6.9 billion yuan (834.3 million US dollars) in the past five years to cope with the water shortage affecting over 34 million rural residents.
The China International Committee for Natural Disaster (CICND) said tens of millions of rural people in China's central and western areas have suffered from the shortage of drinking water.
www.chinaview.cn
2003-10-05 15:16:20
BEIJING, Oct. 5 (Xinhuanet) -- After a rare heat wave struck many parts of China in the summer of this year and caused severe energy shortages in Shanghai, Zhejiang Province and other places, the Chinese government began to reevaluate the power supply and demand situation and altered its previous rather optimistic attitude.
The State Electricity Regulatory Commission said recently that power supply and demand last year was balanced generally while this year the demand exceeded the supply and some areas faced severe power shortages.
[...] On those scorching days, some blackouts occurred as local residents switched on their fans and air conditioners.
[...] Besides people just wanting to cool off, economic officials attributed the electricity shortage to the higher production by enterprises after the severe acute respiratory syndrome (SARS) outbreak.
Because a drought has continued to affect the Yellow River, power supply is strained in Qinghai and Gansu provinces and the Ningxia Hui Autonomous Region in its valleys. These regions all rely heavily on hydroelectric power.
5 October2003
It is a regular boast of the Israelis that their society is set apart from the Arab world surrounding them by its judicial and democratic systems. The concept of poor, beleaguered little Israel surrounded by millions of fanatic Arabs still resonates well in the United States. It keeps the tills ringing and pens scratching away in checkbooks at Zionist fund-raisers. Every once in a while, the Israelis make a big thing of their impartiality, despite their helplessness in the face of a tidal wave of Arab hatred, and a case comes to court in which one of their own is prosecuted for some crime against civilians.
One such trial is just beginning now. A tank commander is accused of the murder of two children in June 2003 . The children were killed as they walked through the streets of Jenin in defiance of a curfew. The commander is alleged to have ordered the firing of ten cannon rounds into the refugee camp.
One of the shells killed two children, aged six and 13 , who, according to their families, thought the curfew had been lifted, and so left their houses to buy chocolate. The massive tank lumbered after the children as they walked and presumably, on the orders of the commander, fired the fatal shell along with nine others. That day in Jenin, a six-year-old girl and a man of 53 were also killed by Israeli troops.
Israel government sources are already pointing out to their American supporters how evenhanded the Israeli authorities are. What the Israelis will not, however, be reminding their generous American friends is that the murder of those two boys and the barbarity of Israeli soldiers, safe in their massive armored tank, was caught on film and broadcast around the world.
Millions of people saw for themselves how a six-year-old, who went out in search of chocolate, was killed by the crew of a tank. The Israeli authorities simply had no choice but to bring charges against this officer. There are nine other similar cases outstanding against members of the Israeli military and in the majority of them, a major part of the evidence has been provided by news films.
What the Israelis will not underline as they smooth talk their distant supporters is the fact that they are attempting to stop the world's media obtaining such damning evidence in future. The curbs on journalists operating in Gaza and the implicit threat that they could be shot by Israeli troops, unless they have obtained the necessary permission to operate in the area, are supposed to keep the world's media from reporting Israeli repression.
As wealthy dupes write out their fat checks, they may not want to consider that were even a fraction of those restrictions imposed upon a journalist in the US, there would be widespread outrage and speedy court action in which the judges would support the media's right to report.
Commentary: Germany's Middle East Opportunities
German politicians who travel to the Middle East today profit from two conditions: On the one hand, Germany's political superpower ambitions in this region are still very small. And unlike Britain and France, Germany has no history of trying to put its stamp on large parts of the Middle East.
Still, Germany's "special" relationship with Israel has long hindered any intensive relationship in the region.
[...] Such tight integration between business and politics demonstrates that, increasingly, political contacts and relationships with the Arab world are shaped by economic interests. But that by no means negates the idea that an improvement in living standards can also help political relations between the Arab world and Germany.
Chechens vote in presidential election

Voting in a presidential election is under way in Russia's guerrilla-war torn republic of Chechnya. It's the region's first poll since Russian troops re-entered four years ago in pursuit of Chechen separatists. Observers say the Kremlin-backed candidate, Akhmad Kadyrov is likely to to win.
Six other candidates are largely unknown. Among 540,000 eligible voters are Chechen refugees in neighbouring Ingushetia, plus 30,000 Russian troops inside Chechnya. Russian President Vladimir Putin has described the election as a step toward stability. The International Federation of Human Rights Leagues said the poll was a "mascarade" amid human rights abuses. It said summary executions had increased since a referendum in March.
Chechen election called 'a real farce'
By MARK MacKINNON
From Saturday's Globe and Mail
MOSCOW — Like everyone else living in his war-torn republic, Akhmed Kadyrov has no doubt who will be Chechnya's president after an election is held there Sunday.''Let's assume I will be elected. I have no doubts about it. Neither do you,'' he told a laughing audience at a rally yesterday.
Mr. Kadyrov has reason to be confident. The vote tomorrow to choose Chechnya's next leader is a formality.
Mr. Kadyrov's win by a large margin was decided long ago, not by ordinary Chechens, but in Moscow, where this election has been micromanaged from afar by bureaucrats inside the Kremlin.
US urges Pakistan, India to renew talks
By Our Correspondent
WASHINGTON, Oct 4: The United States has urged both India and Pakistan to restrain their nuclear weapons and missile programmes besides stressing on both the countries to renew the stalled peace process.
NEW DELHI, Oct 4: The week-long fifth Indo-US joint naval exercises - Malabar 2003 - would begin on Sunday in the Arabian Sea off Kochi with US nuclear-powered submarine participating in the exercise.
Protesters, police clash as EU summit begins: Rome venue turned into no-go zone
ROME, Oct 4: Italian riot police fired teargas and wielded batons on Saturday to break up a protest by anti-globalization demonstrators outside a summit in Rome , at which European leaders were mulling a new constitution.
As helicopters buzzed overhead, hundreds of officers fought a running battle with protestors along a broad avenue within 300 metres of the summit venue on the outskirts of Rome.
At least one person was injured and 24 arrested as demonstrators smashed shop windows, even before the main rally began outside the high-security venue in Rome's fascist-era EUR district
Organizers claimed over 300,000 demonstrators participated in two separate rallies, including 250,000 in Rome and at least 70,000 near the summit venue, but police said the Rome march only attracted 15,000 people.
Police fear they are losing control of gun-crazy Britain
Tony Thompson, crime correspondent
Sunday October 5, 2003
The Observer
Police demanded new controls last night to combat soaring levels of gun crime, which senior officers described as 'a cancer' spreading across Britain.
The calls for urgent action came as police launched an investigation into the shooting of three men in Berkshire, days after a jeweller was shot dead in Nottingham and hit men sprayed machine-gunfire in a busy street in Hertfordshire.
Gunmen kill mayoral candidate in central Colombia
Saturday, October 4, 2003 Posted: 10:50 PM EDT

BOGOTA, Colombia (AP) -- Gunmen shot and killed a mayoral candidate in a central Colombian town, police said Saturday, bringing to 16 the number of political candidates killed in the run-up to elections later this month. [...]
African touted as Pope's successor
By Richard Owen
The Herald Sun
02 October 2003
THE man tipped to be the first black pope has set out his credentials as the Vatican continues to prepare the public for the death of Pope John Paul II. [...]
Meanwhile, Cardinal Francis Arinze of Nigeria has become the first possible successor to be publicly promoted.
In a book of interviews published this week called God's Invisible Hand, Cardinal Arinze presents himself as a man who has risen from humble origins in a Nigerian village to a senior position in the Vatican, and as a conservative capable of reaching other constituencies. [...]
Tens of thousands gather in New York to rally for immigrants' rights
Donna de la Cruz, Associated Press
October 5, 2003

NEW YORK -- Tens of thousands of immigrants and labor activists rallied Saturday for better treatment of immigrants in the United States, capping a two-week bus tour of the country.
Roman Catholic Cardinal Edward Egan told the largely Hispanic crowd that the millions of undocumented workers in the nation "are all sons and daughters of one father in heaven." [...]
Firefighters save Rothschild country home
Space ship splashes into Pacific
Sunday 05 October 2003, 5:46 Makka Time, 2:46 GMT
An unmanned Russian space ship has splashed into the Pacific as scheduled after taking food and fuel to the orbiting International Space Station.
A Mission Control spokesman said on Friday that the Progress M1-10, which sent to connect to the 16-nation space station, plunged back into water after controllers had initiated its descent.
[...] A new crew is scheduled to blast off in a Soyuz spacecraft from Kazakhstan to the orbiting platform on 18 October to replace the present team who have been in space since April.
Melanie Wells
Forbes
What makes some products irresistible? Neuroscientists are racing to find the answer to that question--and to pass it along to consumer marketers.
[...] Advertising, for the moment, remains more art than science. Brand marketers have tried appealing to people's emotions as well as to their sense of reason. They've tried guilt, anxiety, envy, fear, humor and suspense. There's no guarantee that they'll hit the mark by decoding synaptic firings and measuring fluctuations in blood flow.
But they can try. [...]
Comment: The article is a study of Neuroscientist working at fascist mind control technology. Psychopaths aren't just dumb serial killers, often they are scientists willing to sell their "soul" for a few bucks.
Crematorium owner jailed for selling body parts
Associated Press
French Valley, Calif. — A crematorium owner who removed heads, knees, spines and other parts from dozens of bodies and sold them to medical researchers was sentenced to 20 years in prison.
Laura Bush hosts Book Festival as president writes her a poem
WASHINGTON (AP) — First lady Laura Bush, former librarian and teacher, is playing host to the third annual National Book Festival this weekend.
[...] At the Friday event, the first lady Mrs. Bush recited a poem she said President Bush greeted her with when she returned recently from France, where President Jacques Chirac had kissed her hand twice. It read in part:
"Roses are red/Violets are blue/Oh my, lump in the bed/How I've missed you."
"Roses are redder/Bluer am I/Seeing you kissed by that charming French guy."
Comment: "Your blood is red, my blood is blue, that is why nothing I tell you is true."
Congressman blames Muslims for marital rift
Sunday 05 October 2003, 11:33 Makka Time, 8:33 GMT
A ranking Republican lawmaker has blamed the presence of a Muslim organisation in his neighbourhood for stress that undermined his 50-year marriage.
Cass Ballenger, 76, claimed the proximity of the Council on American-Islamic Relations (CAIR) headquarters to the couple's Washington home "bugged the hell" out of his wife, in an interview with a North Carolina newspaper on Saturday.
"Diagonally across from my house, up goes a sign, CAIR-the fund-raising arm for Hizb Allah," Ballenger was quoted as saying. "I reported them to the FBI and CIA."
Ballenger, who chairs the House of Representatives subcommittee on the western hemisphere, said his wife was nervous about activities at the CAIR headquarters, including people unloading boxes.
She was also worried about women "wearing hoods" or headscarves going in and out of the building.
"That's two and a half blocks from the Capitol," he said. "And they could blow it up."
[...] "Congressman Ballenger's bizarre comments demonstrate the sheer lunacy of his political and religious views," said Arsalan Iftikhar, CAIR's director of legal affairs.
"Ballenger's statements are a perfect example of Islamophobic hysteria at the highest levels of government."
The lawmaker's comments prove he is unsuitable to handle foreign policy issues that could impact the Arab and Muslim world, added Iftikhar.
"To have him continue to serve on the international relations committee would be an insult to the American Muslim community and would further damage America's international image," he stressed.
Controversial figure
Ballenger is no stranger to seeing his words come back to haunt him.
Last December he fired a tirade at outgoing Democratic representative Cynthia McKinney.
She had raised tempers among Republicans for suggesting that US President, George Bush, knew in advance about the possibility of the 11 September 2001 attacks and did not prevent them.
Ballenger said McKinney, who is black, had stirred in him " a little bit of a segregationist feeling."
"I mean, she was such a b*tch," he said.
Daring ride foils suspected voyeur
From back of his truck, woman helps nab convicted rapist she says spied on her.
By John Holl
October 4, 2003
Fed up with a stranger she thought had been spying on her for months, Hannah Arbuckle didn't hesitate when she saw him outside her Kessler Boulevard home.
She chased him, police say, and jumped into the bed of his pickup as he sped away.
Before the chase was over, Arbuckle would end up with bruises and a twisted knee, but she led police Wednesday evening to a convicted rapist who may be behind a series of peeping incidents.
"I was stupid to do it," she said, "but I was aSfraid he would get away, and I would not be able to identify him to police."
While she hung on in the truck, driver Robert Joseph Braun turned down Central Avenue. Arbuckle, 28, used her cell phone to call 911, feeding the operator addresses as the truck kept going.
Then Braun pulled over, police say, and began hitting Arbuckle, trying to get her out of the truck.
That's when police showed up and arrested Braun. Two searches of his Speedway home uncovered videotapes and pictures, at least some of them of Arbuckle, said IPD community liaison Ben Hunter.
It's Rudolph the red-nosed robot
By David Randall
The Independent
05 October 2003
Neiman Marcus, the Chicago store patronised by the very rich, has excelled itself in this year's Christmas gift catalogue - with his 'n' hers robots, a snip at $400,000 (£241,000). The 6ft automatons will answer the door, greet visitors and carry purchases indoors.
Neiman's catalogue is renowned as much for its excitable prose as for its crazy prices. A $10,000 "Mermaid Suit", for instance, is described as a "custom-designed prosthetic suit [that] fits over the hips and envelops the legs, creating an extremely realistic blend of female and fish".
Then there is the $800,000 Laser-Inscribed Diamond Ring, the $50,000 Monogrammed Multicore Five-Piece Luggage Set and the $27,000 Luxury Ice Fishing House "constructed on steel skids for easy transportation" in which family and friends "can drop lines into six fishing holes in the floor and fish in cozy comfort".
There's one other thing you should know about these products: every year people with big pockets and small brains actually buy them.
Scientists develop dwarf vegetables for Japan's singles
Ananova.com
11:34 Friday 3rd October 2003
Swiss scientists have come up with a variety of dwarf vegetables to cater for Japan's growing population of single people.
The Japanese retail giant Aeon will be offering quarter-size cauliflowers and half-size radishes to singles in 270 Jusco stores across the country from November. [...]
Am I on Fire or Is It Just TV?
Fri Oct 3, 7:39 AM ET
BERLIN (Reuters) - A German TV network's regular early morning film of a burning log is playing havoc with night owls and even tricked a woman into calling out the fire brigade.
A spokesman for police in the northern town of Luebeck said on Thursday that the woman woke up thinking her television was on fire, called emergency services and alerted her neighbors.
"Fire services rushed in and extinguished the 'blaze' using the television remote control," the spokesman said.
Sabine Kreft of the Super RTL network said the "burning log" video which runs from three until six in the morning is popular, promotes congeniality, but is distinguishable from a real fire.
"Once I heard an old lady poured water on her TV. But most people should really be able to tell the difference."
Happy images 'make depressed sad'
Rogue elephants kill four Bangladeshis
RANGAMATI, Bangladesh (Reuters) - Rogue elephants have killed at least eight people in southeastern Bangladesh in the past month, including four in the past two days, officials say.
The elephants, straying from nearby forests, damaged at least 50 houses this week. Several villagers were injured in a stampede, police said. [...]
Comment: Mother Nature is "acting up" in the strangest ways lately. We think we would rather face rogue elephants than MUTANT rats that we reported on some time back.
And Finally...
Speaking of Mother Nature acting strange, how about . . .
---
Remember, we need your help to collect information on what is going on in your part of the world!
We also need help to keep the Signs of the Times online.
Obviously, there are a lot of folks out there who do NOT like what we are doing - our own special brand of news coverage - and they are working day and night to create almost insurmountable problems for us, designed to grind us down and render our plans to be able to increase our production (which include a weekly radio show that is currently in the implementation stage) impossible to bring to fruition. We are coming under increasing pressure from many directions all at once.
Our need for financial support has never been greater, including support for legal initiatives to halt the madness of several of the para-COINTELPRO activities currently launched against us. These operations are designed to create a platform to justify utilizing police state tactics so as to silence, and even ultimately, destroy us.
Please: We need your help.
The campaign of lies and disinformation would be frightening under normal circumstances; considering the present state of the world and the machinations of the "National Security State," it is terrifying.
Please - if you have been helped by our work -
won't you help us NOW?

---

Check out the Signs of the Times Archives

Send your comments and article suggestions to us

---
Fair Use Policy
Contact Webmaster at signs-of-the-times.org
Cassiopaean materials Copyright ©1994-2014 Arkadiusz Jadczyk and Laura Knight-Jadczyk. All rights reserved. "Cassiopaea, Cassiopaean, Cassiopaeans," is a registered trademark of Arkadiusz Jadczyk and Laura Knight-Jadczyk.
Letters addressed to Cassiopaea, Quantum Future School, Ark or Laura, become the property of Arkadiusz Jadczyk and Laura Knight-Jadczyk
Republication and re-dissemination of our copyrighted material in any manner is expressly prohibited without prior written consent.
.