---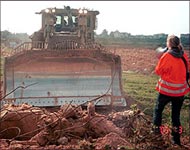 Heroine's last moments ... Rachel Corrie fought hard to stop Israelis demolishing Palestinian homes
Israelis to demolish Rachel Corrie home
By Lawrence Smallman
Thursday 02 October 2003, 9:41 Makka Time, 6:41 GMT
A Palestinian family home that was rebuilt and dedicated to the memory of Rachel Corrie has been hit with a new demolition order.
Rachel Corrie was the heroic Jewish volunteer who was crushed to death in Rafah, Gaza, in March 2003 as she tried to prevent a bulldozer from demolishing a Palestinian home.
Her death brought shame on Israel and international condemnation followed. Her violent end also put a spotlight on the large number of home demolitions carried out by Israeli soldiers.
Now a huge wave of outrage is expected to erupt after a demolition notice was slapped on the property of Bait Arabiya, dedicated to American-born Rachel's memory.
The property is home to Arabiya and Salim Shawamrah and their seven children who have watched Israelis demolish their house four times before.
Last Monday, Israel's military administration in the Occupied Palestinian Territories issued a summons to destroy their home - built on privately-owned land - for a fifth time.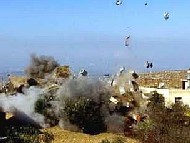 The occupants of this home were given a five minute warning
[...] The official reason for demolition is there was no building permit.
But when contacted by Aljazeera.net, the Israel Defence Force Civil Administration and Central Command refused to comment on why four applications for building permits were all turned down.
[...] Shawamrah applied for a building permit four times to build a home on land he had bought outright but each time he was refused for a different reason.
The Civil Administration ruled that Shawamrah had not filled in the right forms. Then he was told the area was listed as an "agricultural zone". Next the land was "too steep" and finally his plot was deemed "too near" an Israeli highway.
Comment: Corrie was a member of the International Solidarity Movement. The photo above was taken shortly before the bulldozer ran her over, crushing her to death. The Israelis pretend the driver didn't see her, but as you can see from the photo, this is obviously a lie to cover up her murder.
Her parents were recently in Israel to visit the places where their daughter had worked. This is part of a statement they issued at the end of that visit:
PRESS STATEMENT
Given by Craig & Cindy Corrie in Jerusalem

Our daughter Rachel Corrie was killed by an Israeli bulldozer in Rafah in the Gaza Strip on March 16, 2003, while she was trying to prevent the demolition of a Palestinian home. Since that time, as we have grieved for our daughter, we have also worked to learn more about this conflict about which she cared so deeply and in which she lost her life. To find peace for ourselves in the aftermath of Rachel's death and for our own understanding, it was necessary for us to come to this land and walk where Rachel walked, and see what she saw.

We arrived in Tel Aviv on September 12 and have spent the past weeks in Israel and in the Occupied Palestinian Territories. September 15-20, we were in the Gaza Strip, primarily in Rafah. There we were able to meet with many of Rachel's friends: with those she had worked with in ISM, with the families in whose homes she had stayed to try to offer some international protection, with the children she had worked with in the youth parliament, and with the community members she had met as she tried to build connections between Rafah and her hometown of Olympia in the U.S.

In Rafah, we were able to briefly witness some of the violence of the occupation—the nightly machine gunfire from tanks, the fear walking to a home in Rafah after dark, because the family we were to eat dinner with lived on a street exposed to gunfire from Israeli watchtowers, but also the simple and profound dignity of our host walking slowly down the center of that same street to escort us from his home back to the relative safety of our car. We went to the water wells where Rachel and other activists stood watch so municipal water workers could repair them. We saw there in the faces of the workers, concern for our safety and for the safety of the children who followed us. We saw, too, the shrapnel and bullet holes from the Israeli firing of the night before.

We returned a second time to a home along the border where we had lunched with a family on a previous day to find the wall of the room where we had eaten now pushed in and debris piled against the side of the house. We heard how the previous night the IDF soldiers had sent dogs into the house, followed by soldiers that remained for five hours harassing the family. We saw the ditch they had dug in the front yard, destroying a garden, but proving that, indeed, there were no tunnels.

We were able to visit the site of Rachel's death and were threatened there by an Israeli APC and bulldozer.

We saw the high, steel, border wall being constructed from west to east, dividing the land, neighborhoods, and families of Rafah in half. And we witnessed the voracious appetite of the Israeli bulldozers, consuming ever one more block of one community's homes in the name of another community's security.

[...] And so, as we depart, we can only echo our daughter when she wrote to her mother "This has to stop. I think it is a good idea for us all to drop everything and devote our lives to making this stop. I don't think it's an extremist thing to do anymore. I still really want to dance around to Pat Benetar and have boyfriends and make comics for my coworkers. But I also want this to stop."
Editorial: An Affront to Humanity
2 October 2003
By approving the so-called "security wall", the Israeli Cabinet has made it clear to the world that it cares nothing for human rights, international law and accepted norms, and the plight of the Palestinian people in the occupied territories.
It has also made it clear that it has no interest in the long-term security of the Israeli people themselves, be they Jews or Arab Christians and Muslims. For by separating the two peoples in such a crude and contemptible manner, the Cabinet of Ariel Sharon has made a peace deal between Palestinians and the Israelis more unlikely than ever.
The Israelis acknowledge only that it will "cause problems" for the Palestinians, but add that they had "no choice." Of course, "no choice" really means "no choice when looked at from an extremist perspective", when looked at without any kind of consideration for Palestinian suffering, when looked at without even a hint of sympathy for the fact that whole communities will be torn apart. The Palestinians are to be kept out of sight by a wall as though they were animals inhabiting a zoo.
This is an extension of the warped Zionist mentality which has defined Israeli political thinking in the Jewish state since it was created in1948 , to the effect that Israeli society is a little haven of democracy and civilization surrounded by barbarians desperate to destroy it.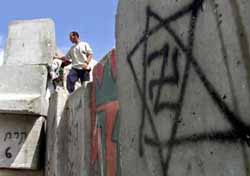 Security Barrier Deepens Israeli-Palestinian Divide
Tue Sep 30, 8:15 AM ET
By Megan Goldin
ABU DIS (Reuters) - For Palestinian and Israeli medical students Taraji al-Qadi and Yael Oren, the journey to lectures at two Jerusalem teaching hospitals is perilous -- but for entirely different reasons.
To get to East Jerusalem's Makkased hospital, Qadi has to scale a concrete wall patrolled by Israeli paramilitary police and scramble for an hour by foot up a hill to the facility. The barrier blocks the road to the hospital, a 10-minute drive away.[...]
Palestinians ask "Quartet" to stop Israeli barrier
By Mohammed Assadi
RAMALLAH, West Bank (Reuters) - The Palestinian Authority appealed on Thursday to world powers steering Middle East peacemaking to stop Israel going ahead with plans for new barriers deep inside the West Bank.
Israel to push ahead with security fence in spite of Palestinian objections
Last Updated Wed, 01 Oct 2003 22:35:39
JERUSALEM - Israel's barrier is only one quarter finished, but already it is over budget, behind schedule and controversial.
The current dilemma facing the government is where to put the rest of it.
There are Jewish settlements deep in the West Bank outside the barrier. Leaving them outside the barriers means risking the wrath of powerful Israeli hardliners.
But if the barrier is built around the settlements, the government risks the wrath of the United States which has threatened to cut loan guarantees if the fence causes too much hardship to Palestinians and takes too much of their land.
The Israeli cabinet has devised what it considers a compromise.
"The security fence has to pass east of Ariel, but in a manner which will not antagonize the population of the territories, which will be in co-ordination with the agreements we have with the U.S. government. What we are trying to do first and foremost is provide security for people who live there," said Israeli Vice-Premier Ehud Olmert.
The plan is to build a new barrier around Ariel, but not to join it to the existing fence to the north. Effectively it means leaving a large gap to allow for some freedom of movement for Palestinians. But the gap will be patrolled by the Israeli army.
Comment: See how considerate they are. They'll leave some of the land open, but then fill it with Israeli soldiers. For an idea of how Israeli soldiers treat Palestinians, see the following reports from Jewish members of the International Solidarity Committee.
Journals and Reports: What's happening in Jenin...and what isn't?
Jenin
Aaron
25 Sep 03
First, what *isn't* happening:
The lockdown continues in Jenin. This means that around 100,000 people don't go out of their houses for an entire week. Maybe 15,000 of these don't go to work (another 15,000 are already unemployed due to the occupation). The average age seems quite low, so let's say that 30,000 don't go to elementary, junior high, and high school. Perhaps 20,000 don't go shopping. Another 5000, or so, don't go to university; of course, the universities are frequently closed, anyway, and nearly impossible to reach when they are open, but what the heck. And to what end is this large town, or small city, paralyzed? Apparently, so that the Israeli army can arrest four wanted men and imprison them without a trial, without public scrutiny of any kind, and for an indefinite period, and quite likely torture them to get information that will help the army do the same to others. There is, of course, the tendency to presume these men guilty, and guilty of unspeakable crimes, but let's consider.
The same Ha'aretz article that announced these arrests also announced the (unrelated) demolition of the house of the family of a suicide bomber who killed seven people at Cafe Hillel in Jerusalem. No such details were concerning the four arrests in Jenin. So, let's assume the unlikely worst, that these four men killed (or, rather, are believed to have killed) six people somewhere in Israel. Would we permit the government to shut down my home town of Ann Arbor, Michigan, and place all of its citizens under house arrest for a week, in order to make such an capture? Would we then deny the people we arrested all access to due process of law, thus guaranteeing that some large number of innocents would receive this treatment, and that the cases when the entire town's population was jailed for nothing would never be known? Would we even find such an idea amusing? You can, doubtless, find your own answers.
Jenin
Aaron
25 Sep 03
Second, a 19 year old boy (about the upper limit for 'shabab' kids) was shot through the neck about a week ago while he was throwing rocks at a tank. He died four days ago, but apparently the family tried to keep the death a secret for fear of demonstrations to which the Israeli army would respond with more killings. I can't imagine how hard it would be to conceal the very fact that my son had been killed, out of fear that the the very vengeance I surely would crave would simply bring more death upon my people. At any rate, the news got out after a couple of days (there are very few secrets in Jenin), and the funeral was held yesterday.
There is a great deal of anger over the boy's death, particularly because he was not a member of the armed resistance. The way one can know this is one of the more bizarre aspects of the conflict. Apparently, there is a great value placed upon not dying as a helpless victim of the occupying forces. Because of this, a huge number of older boys and young men get their pictures taken with rifles, whether they're involved with the armed resistance, or any other kind, or not. Whenever a boy/man is killed, or dies in a suicide bombing, these pictures are used for martyr posters that are put up in various places around Jenin. Basically, this means that, while a picture of a young man with a rifle doesn't necessarily mean he was actually a member of the armed resistance, a picture of a boy *without* a gun virtually guarantees that he wasn't. In this case, there's no gun in the picture, so to speak.
Comment: More reports of what is going on in the occupied territories can be found at the Field Reports page of the International Solidarity Movement's site.
Eight Palestinians injured in Gaza blast as Israel issues more construction tenders for settlements
02-10-2003, 09 :20
Eight Palestinians were lightly to moderately injured Thursday in a blast near the central Gaza Strip town of Dir al-Balah, Palestinian medical sources said.
The explosion took place after an Israeli incursion in the same area, the sources added.
According to Palestinian security sources, Israeli soldiers demolished a house during the operation and razed ten dunams of Palestinian land.
Meanwhile, Israel's "Peace Now" movement claimed Thursday, that contrary to the Quartet's stance on the so-called "Road-Map" for peace, the construction of Jewish settlements in the occupied territories has been on the rise.
According to the Movement, in the past week, tenders have been issued for 530 housing units in the settlement of Beitar Elite,11 units in the Ma'ale Edomim settlement and 24 units in the settlement of Ariel.
In addition, "Peace Now" claimed that in the last week, tenders for 605 housing units in the occupied territories were published, and added that since the beginning of the year – 1,394 tenders for housing units were published.
"The (Israeli) Housing Ministry continues to serve as a building contractor for the Settler's Council", members of the Movement said.
Surviving Voices Of Wisdom In Israel
Helena Cobban
Al-Hayat 2003/09/28
One of the things that happens when tensions rise high in any conflict is that the voices of reason, mutual respect, and constructive problem-solving that would normally be well heard and would contribute to building a climate of peacemaking, instead become shut out and not heard.
[...] One of these, of course, is former Knesset Speaker Avraham Burg, who warned in a recent article in Yedioth Ahronoth that, "The Israeli nation today rests on a scaffolding of corruption, and on foundations of oppression and injustice. As such, the end of the Zionist enterprise is already on our doorstep."
Most Palestinians Support Arafat and Intifada: Poll
BEIT-UL-MOQADDAS (Compiled From Dispatches) - Nearly three-quarters of Palestinians support their leader Yasser Arafat, and more than half favor the continuation of the intifada and suicide attacks, according to a poll published Wednesday.
A total of 73.7 percent said they support Arafat, 32.1 percent said their support for him is moderate, and 41.6 percent reported firmly supporting him, according to results of the poll by the Palestinian Center for Public Opinion (PCPO) based in the West Bank town of Beit Sahur.
UNIVERSITY PROFESSORS CALL FOR EUROPEAN BOYCOTT OF RESEARCH AND CULTURAL LINKS WITH ISRAEL
Despite widespread international condemnation for its policy of violent repression against the Palestinian people in the Occupied Territories, the Israeli government appears impervious to moral appeals from world leaders. The major potential source of effective criticism, the United States, seems reluctant to act.
However there are ways of exerting pressure from within Europe. Odd though it may appear, many national and European cultural and research institutions, including especially those funded from the EU and the European Science Foundation, regard Israel as a European state for the purposes of awarding grants and contracts. (No other Middle Eastern state is so regarded).
Would it not therefore be timely if at both national and European level a moratorium was called upon any further such support unless and until Israel abide by UN resolutions and open serious peace negotiations with the Palestinians, along the lines proposed in many peace plans including most recently that sponsored by the Saudis and the Arab League.
Protest against call for European boycott of academic and cultural ties with Israel
N. Korea Says It Is Making Nuclear Bombs
Thu Oct 2, 2:33 AM ET
By SANG-HUN CHOE
Associated Press Writer
SEOUL, South Korea - North Korea said Thursday it has completed reprocessing its 8,000 spent nuclear fuel rods and is using plutonium extracted from them to make atomic bombs. [...]
Accusing the United States of taking a "hostile policy" toward the North, the statement said that North Korea "made a switchover in the use of plutonium churned out by reprocessing spent fuel rods in the direction increasing its nuclear deterrent force." [...]
Pressure on Iran as nuke talks start
TEHRAN (Reuters) - Officials from the U.N.'s nuclear watchdog have begun talks in Tehran about Iran's atomic ambitions, with pressure mounting on the Islamic republic to come clean about its plans ahead of an October 31 deadline.
The International Atomic Energy Organisation (IAEA) has warned Iran if it fails to dispel suspicions that it is secretly building a nuclear weapons capability it could be reported to the U.N. Security Council for possible sanctions.
"The inspectors arrived last night and this morning at 10 o'clock they held their first meeting with Iranian officials," a spokesman at Iran's Atomic Energy Organisation said on Thursday. [...]
Sampson tells CBC of his torture by Saudi captors
Last Updated Wed, 01 Oct 2003 19:18:15
TORONTO - William Sampson says he continues to work hard to recover mentally and physically from the torture he experienced while in a Saudi Arabian jail.
Comment: Remember, that Saudi Arabia is a U.S. ally.
Saddam 'may have bluffed' on WMDs

Saddam Hussein may have been pretending to possess weapons of mass destruction, the US Congress is expected to be told by the man in charge of the US-led hunt for Iraqi weapons.

No weapons have been found yet
David Kay will tell the intelligence committees of both houses of Congress that Saddam pretended his battlefield commanders had chemical weapons, in order to deter invasion, according to the Washington Post.
At closed briefings on Thursday, he is also widely expected to say that so far no weapons have been found.
The BBC's Justin Webb says that, although the results are only provisional, it is fair to predict that they will not be the findings the Bush administration wanted or expected to see.
Mr Kay, a former UN weapons inspector, heads the Iraq Survey Group, which has been hunting for weapons of mass destruction since the end of the war in Iraq.
The failure of the US-led coalition to make any significant discoveries so far has led to criticism, particularly in the UK, of the decision to invade Iraq.
Little to tell?
Mr Kay's report comes as Congress debates President George W Bush's request for $87bn for spending on Iraq and Afghanistan.
One element of that budget is $600m to pay for further searches for evidence that Saddam Hussein did possess weapons of mass destruction, according to the New York Times.
Comment: EXCUSE US??!! Let's get one thing clear here: The people who "bluffed" on WMD were Bush, Cheney, Rumsfeld, Pearl, Wolfowitz, Rove, Blair etc. This report is a SHAM! And Bush intends to spend a further $600 million of American tax dollars on trying to trump up charges against Saddam and in an attempt to save himself! Is anyone mildly annoyed yet??
Let's have a quick look at this "Iraq Survey Group" that is poised to present it's 'oh so well researched' and 'oh so impartial' evidence to the overlords in Washington.
Iraq Survey Group:
Set up in May
Kay appointed by CIA director George Tenet
1,200 experts from the US, Britain and Australia
Headquarters in Washington, offices in Baghdad and Qatar
Well well, imagine that. The key player in the group was appointed by CIA director Tenet. How Strange! Could it be insinuated that he is therefore perhaps a little less than impartial? Never! We hear you say.
Okay then, what about the fact that the 1,200 investigating 'experts' are all from the three countries that were involved in the invasion of Iraq, the leaders of which are now being accused of lying to the public about that invasion? Any chance they could be less than fair and honest in what they report? How dare we!
Okay we apologise, we are just being paranoid and suspicious, there is no reason to think that the report will be anything but factual. We await the fair and principled findings that will undoubtedly show that we have all got it wrong. It was not Bush and Blair who deceived us over Iraq's WMDs, it was SADDAM HIMSELF! How silly of us! He is such a cunning fox that he played us all for a loop, he even outsmarted US intelligence agencies who sold him the weapons in the first place and have essentially known his every move for the last 30 years... What a guy, eh?
The simple question is this: Do you know bullshit when you see and smell it? What about when you taste it? Well, you should by now, because the White house has been attempting to force feed the public a diet of it for a very long time.
Flashback!
What did the FBI know BEFORE 9/11. Ask yourself this: Why would they seek to shut down almost all US based or administered Muslim sites just DAYS before September 11th? Did they knew previously that the attacks were going to be blamed on "Muslim Terrorists" and seek to silence any refutation of this that might reach American or world readership??
FBI Agents Raid Muslim-Owned Internet Company

WASHINGTON, Sept 6 2001

(IslamOnline & News Agencies) - "Anti-terrorism agents" from the U.S. Federal Bureau of Investigation (FBI), and other federal law enforcement agencies, continued Thursday to search the offices of the Muslim-owned InfoCom Corporation, a Texas-based Internet service provider, after raiding its offices early Wednesday morning without any explanation.

But no additional information on reasons for the investigation was available because a federal judge has sealed the search warrant application, Bailey said.

"We are just waiting for them [the FBI] to tell us what this is about," Bayan Elashi, the owner of InfoCom, said in an article on Iviews.com.

InfoCom hosts more than 500 web sites worldwide, both in the Middle East and in the United States, according to a media advisory from the Council on American-Islamic Relations (CAIR).

FBI Denies Bias in Arabic Site Shutdowns

Sept 7 2001
By Marcus Kabel, Reuters

Agency says it was executing an unspecified federal search warrant.

An 80-strong US terrorism task force raided the Texas-based host of Arabic websites, including that of the Arab world's leading independent news channel, prompting charges on Thursday of an "anti-Muslim witch-hunt."

But the FBI, which took part in the raid on Wednesday at privately held InfoCom in the Dallas suburb of Richardson, denied any anti-Arab bias and said it was executing an unspecified federal search warrant.

The FBI declined to specify the target of the search warrant, which is under seal in a federal court, except to say in a statement that the search was "one aspect of a more than two-year investigation that is ongoing."

InfoCom's owners said the raid resulted in a temporary shut-down of websites it hosts for about 500 customers, including that run by Al-Jazeera television and the newspaper Al-Sharq, both based in the Gulf state of Qatar.

Al-Jazeera is a major regional news source for Arabic speakers. Often dubbed "the Arab CNN," it has emerged as a major force in a region where most broadcasters operate under direct state control.

US pulls the plug on Muslim websites

Islamic groups have condemned a government crackdown on a Texan telecoms company as part of a "witch-hunt", writes Brian Whitaker

Guardian Unlimited
September 10, 2001

Five hundred websites - many of them with an Arab or Muslim connection - crashed last Wednesday when an anti-terrorism taskforce raided InfoCom Corporation in Texas.

The 80-strong taskforce that descended upon the IT company included FBI agents, Secret Service agents, Diplomatic Security agents, tax inspectors, immigration officials, customs officials, department of commerce officials and computer experts.

Three days later, they were still busy inside the building, reportedly copying every hard disc they could find. InfoCom hosts websites for numerous clients in the Middle East, including al-Jazeera (the satellite TV station), al-Sharq (a daily newspaper in Qatar), and Birzeit (the Palestinian university on the West Bank).
All exits from Iraq are blocked
By Hasan Abu Nimah
10/01/03: (Jordan Times) THE SITUATION in Iraq continues to worsen. Already six months into the occupation, the security situation is so grave that the United Nations secretary general is withdrawing UN staff whose presence there is vital for humanitarian work. In addition to the armed robbers who have been roaming the streets of Iraqi cities, terrorising people since the collapse of the old regime, the resistance is acting indiscriminately, targeting, besides the occupying forces, foreign missions, UN installations, Iraqi police, worshipping places, political figures and members of the Governing Council. With every added day to the already delayed and indeed incapable handling of the growing security problem, the outlaws grow stronger and harder to remove.
There are no visible prospects of any change soon. The two main occupiers, the US and the UK, seem to have stretched their military means to the very limit, and their ongoing efforts at the UN to bolster the occupation by involving other nations' men and money seem to be discouraged by the large scale of the risk involved and by the reluctance to join the occupiers, rather than, as a UN force, replace them.
Restoring law and order, and maintaining a reasonable level of security are the prerequisites for any planned reconstruction. Both the prerequisite and what follows require huge amounts of money. The occupiers alone cannot provide this money and the other countries that have been asked to contribute are not convinced of the need to do so. Even if the spoken of occupation cost figures of $4 billion a month, for the American forces in Iraq alone, are correct, this is untenable and unbearable. President George Bush has just requested Congress to allocate over $87 billion for continuing operations in Iraq and Afghanistan. Reports from the United States speak of people and leaders objecting to any further military and financial involvement in nation building when the declared war goals were plainly the elimination of the "invisible" weapons of mass destruction and any other, "unproven", related dangers to American security at home.
But the situation could very well be far worse than that. The chairman of a credible financial firm currently involved in studying the Iraqi situation, the existing industries there and the infrastructure has very recently revealed frightening prospects. He affirmed that there is no infrastructure, no industrial reparable base, and everything has to start from zero. He estimated that the building of the infrastructure alone would cost half a trillion dollars.
If you add to that the Iraqi foreign debt, estimated at $400 billion, the final figure becomes impossible to meet by any standards. The oil revenue, even if production is stretched to its maximum capacity, will not cover more than a tiny portion of this burden. And that can only be achieved after the updating and the upgrading of the oil industry itself, already run down as a result of the prolonged embargo, an operation which also needs money and takes time. [...]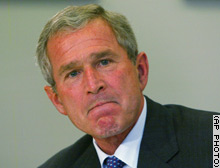 Oil, War And A Growing Sense Of Panic In The US
Don't tell me that America would have invaded Iraq if its chief export was beetroot
Robert Fisk
The Independent
01 October 2003
Oil is slippery stuff but not as slippery as the figures now being peddled by Iraq's American occupiers. Up around Kirkuk, the authorities are keeping the sabotage figures secret - because they can't stop their pipelines to Turkey blowing up. And down in Baghdad, where the men who produce Iraq's oil production figures are beginning to look like the occupants of Plato's cave - drawing conclusions from shadows on their wall - the statistics are being cooked. Paul Bremer, the US proconsul who wears combat boots, is "sexing up" the figures to a point where even the oilmen are shaking their heads.
Take Kirkuk. Only when the television cameras capture a blown pipe, flames billowing, do the occupation powers report sabotage. This they did, for example, on 18 August. But the same Turkish pipeline has been hit before and since. It was blown on 17 September and four times the following day. US patrols and helicopters move along the pipeline but, in the huge ravines and tribal areas through which it passes, long sections are indefensible.
European oilmen in Baghdad realise now that Iraqi officials in the oil ministry - one of only two government institutions that the Americans defended from the looters - knew very well that the sabotage was going to occur. "They told me in June that there would be no oil exports from the north," one of them said to me this week. "They knew it was going to be sabotaged - and it had obviously been planned long before the invasion in March." [...]
But the real irony lies in the nature of America's new power in Iraq. US oil deposits are increasingly depleted and by 2025, its oil imports will account for perhaps 70 per cent of total domestic demand. It needs to control the world's reserves - and don't tell me the US would have invaded Iraq if its chief export was beetroot - and it now has control of perhaps 25 per cent of world reserves.
But it can't make the oil flow. The cost of making it flow could produce an economic crisis in the US. And it is this - rather than the daily killing of young American soldiers - that lies behind the Bush administration's growing panic. Washington has got its hands on the biggest treasure chest in the world - but it can't open the lid. No wonder they are cooking the books in Baghdad.
Two US soldiers killed as Kurdish leader says Saddam was seen in Kirkuk
02-10-2003,06 :59
Two American troops were killed late Wednesday in Iraq. In one incident, a US soldier was shot dead late Wednesday while on patrol in Baghdad's al-Mansour district, the U.S. command said. Another soldier was killed in a grenade attack in Samara, some 100 kilometers north of the capital.
Their deaths brought to 90 the number of American soldiers killed in attacks since US President George W. Bush declared an end to major combat May1 .
Meanwhile, Jalal Talabani, a leading member of Iraq's governing council, was quoted as saying on Wednesday that Saddam Hussein was reportedly seen in the northern Iraqi city of Kirkuk five days ago and is moving in increasingly smaller circles in order to evade capture.
Comment: Indeed. We recently reported a story that Saddam was negotiating his safe passage out of the country. Guess that fell through. The Signs staff has received unconfirmed reports that Saddam is hiding under your bed. For those of you with double or queen-sized beds, it is very likely he is under there with Osama.
Aziz was one of the top players in Saddam regime
By Tareq Dilwani
IOL Correspondent
AMMAN, September 30 (IslamOnline.net) - Former Iraqi deputy premier Tariq Aziz is said to have arrived in Jordan on Monday, September 29, coming from the Netherlands on board a Royal Dutch Airlines (K.L.M.) flight, a Jordanian paper reported Tuesday, September 30.
The piece came as a bombshell in Jordan given that Aziz is believed to be in the U.S. custody in occupied Iraq, said the widely-circulated As-Sbiel weekly, which carried the news.
The U.S. Central Command announced in April that Aziz was in " our possession," giving no further details.
Comment: If the Bush Reich will lie about 9/11 hijackers, who then proceed to announce that they are alive and well, this story is believable. We can't get straight answers about anything, so why is the Reich still in power?
Europe Criticizes Treatment of Prisoners in Guantanamo Bay
dw-world.de
A group of European Parliament members has urged the European Union to step up pressure on the U.S. to ensure fair treatment of Guantanamo Bay prisoners, in particular 20 EU citizens.
The horror of Guantanamo Bay, a U.S. naval base in Cuba converted into a military prison camp for al Qaeda and Taliban suspects, reared its ugly head in the European Parliament in Brussels on Tuesday when a group of parliamentarians heard testimony from relatives and legal representatives of 20 European citizens imprisoned there. [...]
New Iraq to debut at UN as US unveils rejigged resolution
AFP
Thursday October 2, 6:19 PM

Iraq's interim government was to take a major bow on the international stage at the United Nations as the US rallies support for a rejigged resolution to bolster reconstruction efforts.
But the diplomatic flurry has made little or no impression on the violence on the ground in Iraq where Americans and Iraqis continue to die on a daily basis. Three US soldiers were killed in a span of hours Wednesday as the Americans pressed their drive to root out resistance to their nearly six-month-old occupation. [...]
US ambassador John Negroponte released the draft at a meeting with veto-wielding members Britain, China, France and Russia. He also gave it to Germany, a current council member.
"The day when Iraqis govern themselves must come quickly," says the draft, which alters an earlier version that met resistance on the council when presented in September. It underlines that the US occupation is "temporary" and will last "until an internationally recognised, representative government is established by the people of Iraq."
France has said six months should be enough time for the United States to give sovereignty to Iraqis. The United States says that deadline is unrealistic. Instead, the draft says that control in Iraq should be "progressively undertaken" by the US-appointed Iraqi governing council, which should set its own timetable for writing a constitution and then holding elections.
The new draft also appears to expand some UN responsibilities but does not lay out the central role that France, Germany and Russia have been demanding for the world body in Iraq. [...]
British Prime Minister Tony Blair said on Wednesday that a reason for the war against Iraq was to divert international attention to the nuclear programs of Iran and North Korea.
In an interview with BBC Radio Four's Flagship Current Affairs program, he also said that the reason he was taking a lead in putting pressure on Iran was to protect Israel, IRNA reported. Also, during his speech he added: "If we didn't take a stand on Iraq how on earth were we going to get North Korea back into public dialogue and make Iran cooperate with the International Atomic Energy Agency?"
Iran has never been a threat to Israel; rather, it has called for the restoration of Palestinian rights on the basis of the UN resolutions and a return to the 1948 borders by Israel. Iranian officials have frequently said that nuclear weapons have no place in Iranian defense doctrine. Even the supreme leader of the Islamic Revolution has called for a free election in the occupied territories under the auspices of the UN so that that the Palestinian people might be able to decide about their destiny.
Jordan's King Abdullah II and France's Chirac discuss Mideast, Iraq
PARIS (AFP) - Jordan's King Abdullah II on Wednesday described his talks with French President Jacques Chirac on efforts to bring peace to the Middle East and postwar Iraq as "extremely fruitful".
[...] "I can honestly say that in the past four years this has probably been the best visit that we've had in Paris and the best exchange that we've had on many of the problems that concern the Middle East," the king added.
Chirac noted that Paris and Amman had "shared concerns" and a "common approach" to problems in Iraq and Iran, according to his spokeswoman Catherine Colonna.
[..] On the Middle East, Chirac and Abdullah concurred that there is "no alternative to the roadmap," Colonna said, referring to the internationally-backed plan for peace between Israel and the Palestinians.
[...] "At the moment there's nothing the president (George W. Bush) is able to do," the king said. "So we -- Jordanians, Israelis, Palestinians, and part of the international community -- will have to move the process of the roadmap (forward) and give some tangible edge so that the president can step in again."
Oct 2 2003
Duncan Higgitt, The Western Mail

CAMPAIGNING MP Ann Clwyd reduced Labour conference delegates to tears yesterday with an impassioned backing for the war against Iraq.
On a day that saw the Government defeated on its policy for Foundation Hospitals in England, Ms Clwyd, the MP for Cynon Valley, spoke of the torture, oppression and murder of Saddam Hussein's Iraq.
Ms Clwyd said "I never wanted to go to war, anymore than you did."
She detailed decades of torture such as "the torture speciality" of the 1970s called the mangana, a machine which slowly crushes the chest, and the shredder where victims "died faster if they were put in head first".
She spoke of the chemical attacks which killed thousands in the 1988 uprising and how, in 1991, she stood on the mountains to the north of Iraq watching Saddam's helicopter gunships crushing a revolt.
"You never forget when a woman pushes a dead baby into your arms," she said.
"I do not believe we should turn a blind eye to such atrocities that have stirred the Labour movement for over a century."
Afghanistan President Hamid Karzai lent his support to the Prime Minister as he told how liberation of his nation from the brutal Taleban had transformed the country.
But there was only muted applause for Defence Secretary Geoff Hoon. He urged the party to put aside the "differences (which) exist on the question of military intervention".
Comment: When someone can stand up in front of supposedly intelligent people who are elected to represent the citizenry, and so easily manipulate them with one-sided, emotionally charged stories of how terrible Saddam was, and thereby secure their support for the actions of the biggest war criminals of all - Bush, Blair and Co.- then we despair. All is lost.
Oil and gas running out much faster than expected, says study
By Charles Arthur, Technology Editor
The Independent
02 October 2003
World oil and gas supplies are heading for a "production crunch" sometime between 2010 and 2020 when they cannot meet supply, because global reserves are 80 per cent smaller than had been thought, new forecasts suggest. [...]
But Kjell Aleklett, one of a team of geologists that prepared the report, said earlier estimates that the world's entire reserve amounts to 18,000 billion barrels of oil and gas - of which about 1,000 billion has been used up so far - were "completely unrealistic". He, Anders Sivertsson and Colin Campbell told New Scientist magazine that less than 3,500 billion barrels of oil and gas remained in total. [...]
The Gulf countries - Bahrain, Iran, Iraq, Kuwait, Qatar, Saudi Arabia, and the United Arab Emirates - produce about 25 per cent of the world's oil at the moment, and hold 65 per cent of the world's oil reserves. [...]
US Cuts Military Aid to Friendly Nations
by Jim Lobe
Wednesday, October 1, 2003 by OneWorld.net

WASHINGTON -- The Bush administration today cut over $89 million in military aid to 32 friendly countries because they refused to exempt U.S. citizens and soldiers from the jurisdiction of the new International Criminal Court (ICC)--the world's first permanent tribunal to prosecute the perpetrators of war crimes, crimes against humanity and genocide.
The administration's ideological opposition to the ICC is compromising other vital U.S. foreign policy priorities and putting allies and friendly nations in a difficult position. These nations cannot be expected to put U.S. nationals above the law that their own leaders abide and live by.

Among the countries whose aid was cut were a number of new democracies in Central and East Europe--some of which have contributed troops to bolster the U.S.-led occupation in Iraq--as well as Brazil, Costa Rica, Peru, Venezuela, Ecuador, South Africa, and several other Latin American and African countries.
"This is the first sanction in U.S. diplomatic history targeted exclusively at democracies," said Heather Hamilton of the World Federalist Association (WFA), one of hundreds of non-governmental groups around the world that have joined in a global coalition in support of the ICC. [...]
Crews in 28 Cities Prepared for Attacks
By ROBERT GEHRKE, Associated Press Writer
Wed Oct 1, 6:23 PM ET
FAIRFAX, Va. - Search and rescue teams in 28 cities now have the equipment and training to respond to chemical, biological or nuclear attacks as the government takes steps to prepare for potential terrorist strikes. [...]
There are eight crews in California, where the urban search and rescue teams originated as an earthquake response program. Virginia and Florida each have two each and there are teams in Nevada, Utah, New Mexico, Colorado, Arizona, Texas, Nebraska, Missouri, Indiana, Tennessee, Ohio, Pennsylvania, Massachusetts, New York and Maryland.
Spotty knowledge of sea movements hurts anti-terror, WMD efforts: admiral
'We Have Barely Scratched the Surface'
Loretta Napoleoni estimates that the 'new economy of terror' has grown into a $1.5 trillion globe-spanning system. Dismantling it, she warns, will require a lot more resources and time
By Jennifer Barrett
NEWSWEEK WEB EXCLUSIVE
RATHER THAN LOOK at terrorism from a political or religious standpoint, Napoleoni approaches it as an economist, which she was before becoming a writer. By tracing the dollars behind the terror networks, she estimates that the "new economy of terrorism" has now grown to $1.5 trillion or more in both illegal and legal transactions. The business of terrorism is now so large and the financial networks supporting it so complex, she says, that if the flow of money to terrorists were suddenly cut off, the drop in liquidity could have a serious impact on the Western economies. NEWSWEEK's Jennifer Barrett spoke with Napoleoni in New York about how terrorism became such a big business, and how terror funding sources could be blocked without putting other economies at risk.
Comment: The solution? MORE invasive spying like tracking all bank deposits. The article implicates banks in laundering money for terrorists.Let's not forget what Powell said back in February 2001 about Saddam: "He has not developed any significant capability with respect to weapons of mass destruction. He is unable to project conventional power against his neighbors."
Patriot Act kicks in at banks today
By Jeff McKinney
The Cincinnati Enquirer
Beginning today, don't be surprised if you get asked more questions than usual where you bank if you try to open a new account.
That's because Oct. 1 is when commercial banks, savings banks, credit and brokerage firms and other financial providers must comply with rules of the Patriot Act.
The new federal law basically will allow financial institutions to ask more questions about you than previously if the entity thinks that's necessary for background purposes, industry consultants told Bankrate.com.
For example, new questions might involve other accounts that can be linked to the customer; the customer's business and job; tax status; and the customer's investment objectives. For more details, visit Bankrate.com.
Pentagon blimp is 25 times size of Goodyear's
Associated Press
AKRON, Ohio - It's back to the future for the Pentagon.
The latest high-tech weapon might look awfully familiar to a World War I Zeppelin pilot. Lockheed Martin has a contract worth at least $40 million to develop a high-altitude airship for use in homeland defense.
The solar-powered and helium-filled airship would patrol at 65,000 feet and be 25 times larger than the Goodyear blimp.
Lockheed Martin officials say the airship is a great marriage of old and new technologies.
While the view might be great from way up there, no one will get to see it. The high-tech airship will be unmanned and operated from the ground via computer controls.
Comment: This will be used to spy on the American people.
Coke Plans To Track Contest Winners With Satellites
America's obsession with security: a recipe for instability
Conventional wisdom has it that Americans are forever overestimating their country's ability to influence events around the world, an impression of particular importance to the Middle East in light of recent events. There is more than a grain of truth to such suppositions, but today the world's most powerful nation-state is stalked by a far more dangerous misconception: Its leaders fail to recognize just how important America is ­ and that their myopia is a mortal threat to both foreign peoples and their own.
Russophile thinkers once glorified Moscow as the "Third Rome," and many of America's admirers seem to regard Washington as the last one. There is no deranged emperor playing a fiddle on Pennsylvania Avenue, but the city and it environs are indeed home to an exceedingly self-destructive trend. The neoconservatives who run the Defense Department are at war with the traditionalists who hold sway at State; Capitol Hill is only now taking a second look at its acquiescence to the overthrow of Saddam Hussein, and only because a blackout and a hurricane have underscored how much America itself needs the $87 billion that the executive branch wants to spend in Iraq in the coming year; above it all sits a president whose primary responsibility is to protect his people but who has inherited structures and doctrines wholly unsuited to the task in its current form. [...]
Russian prosecutors charge official with trying to sell nuclear waste

MURMANSK, Russia (AFP) Oct 01, 2003
Russian prosecutors on Wednesday charged a senior official with trying to peddle nuclear waste that he collected from the Northern Fleet stationed in this Arctic port.
Alexander Tyulyakov, 52, deputy director of state-owned Atomflot that carries out repair work on Russian nuclear-powered ice-breakers based in Murmansk, tried to sell the radioactive substance in August, officials said.
A regional police spokesman told AFP that Tyulyakov was in possession of some 1.1 kilograms (2.4 pounds) of radioactive uranium and radium waste, material that could theoretically be used to build a so-called "dirty bomb." [...]
National Press Conference on Depleted Uranium with Doug Rokke,Ph.D. (RealAudio required)
Doug Rokke, Ph.D., is former Director of the U.S. Army Depleted Uranium (DU) Project
Dr. Rokke made a number of startling revelations. Over 221,000 veterans from Gulf I are on permanent disability. Now, soldiers are coming back sick. DU is suspected as a cause. He goes into details about how the soldiers who went to the Gulf were ill-trained and ill-equipped to deal with radioactive munitions. These munitions cause a radioactive and highly toxic dust when used.
Euro nears record high against US dollar

By Jennifer Hughes in London and Alan Beattie in Washington
October 1 2003

The dollar reversed its latest slide yesterday after Bank of Japan intervention, conducted through the New York Federal Reserve, lifted the US currency sharply against the yen.

European currencies initially touched three month highs against the dollar, after weak US economic news, but reversed course after the Japanese confirmed for the first time in more than a year that they had intervened in the foreign exchange markets.
The change of tactics after waves of covert yen sales by the Bank of Japan runs counter to the statement last month by the Group of Seven leading industrial nations calling for more flexibility in exchange rates.
The euro, sterling and the Swiss franc all reached three-month highs against the dollar, raising fears that renewed currency strength could choke economic recovery in Europe.
The euro reached $1.1737, just two cents short of the lifetime high it hit in June, a level currency strategists said it could soon match. Lara Rhame, analyst at Brown Brothers Harriman, said: "I don't think the lifetime highs are that far away."
Dubai aims for half the world's gold
New commodities center will focus on production, trade
Ara Alain Arzoumanian
Special to The Daily Star
Dubai is aiming to converge 50 percent of the world's precious metals and stones production and trade at the Dubai Metals and Commodities Center, according to DMCC chairman Tawfic Abdullah.
"The Middle East, with a 26.5 percent market share, is the biggest consumer of gold and diamonds in the world," said Abdullah, during a news conference at the Metropolitan Hotel in Beirut on Tuesday.
[...] Statistics show that Dubai imported some 300 tons of gold in 2002. The emirate has over 6,000 retail gold outlets, with the Dubai Duty Free selling over four tons of gold, worth $4.2 million, in 2002.
SEC Seeks Documents From Ex-Enron Chief
By MARTIN CRUTSINGER
AP Economics Writer
WASHINGTON (AP) -- The Securities and Exchange Commission asked a federal judge Monday to force former Enron Corp. chairman Kenneth L. Lay to turn over documents sought for an SEC investigation of the bankrupt Houston energy company. [...]
Through his attorneys, Lay had refused to produce the documents on the self-incrimination claim. [...]
Comment: Yep, the court system is well adapted to help the psychopath.
7 Charged In Anthrax Stock Scam
(AP) The government has accused seven people of scheming to boost the stock of a company called 2DoTrade Inc. by making false claims that the company had a product to kill anthrax. [...]
Horse-Trading off Chechnya's Back
Fawaz Turki
disinherited@yahoo.com
A lot of horse-trading went on in the talks between Vladimir Putin and George Bush when they met at Camp David last weekend. If you scratch my back, the Russian president effectively convinced his American counterpart, I'll scratch yours — to our mutual benefit.
The US administration has for all intents and purposes given up on multilateral relations, opting instead for a set of bilateral arrangements, with countries bargaining directly with Washington, expecting, as a quid pro quo, to go along with their policies, even where those policies, as in the case of Russia's reprehensible campaign to stomp on Chechnya's struggle for independence, violate international standards.
The Russians think they can scratch Washington's back — and then some. Though not going wholly with Bush's demands for money and troops in Iraq, they nevertheless have presented themselves as America's partners in "curbing the nuclear ambitions of Iran." Moreover, after its recovery from the financial meltdown in1998 , Russia considers itself today to be an "energy giant," a credible alternative to the Middle East as a reliable oil supplier. Above all, to sweeten the pot, and to gladden the hearts of the American president and the neoconservatives in his administration, the Russians are confident about their value as Washington's ardent backers in the war on terrorism.
Russia and the United States have now found so much common ground on the issue that not only does Russia advance, and President Bush accept, the notion that Moscow is waging a "legitimate struggle against terrorism in Chechnya," but the US government has now designated Chechen leader Shamil Basayev "a threat to American interests." In other words, the savageries that Russia's military forces are committing in that sad Muslim republic are now seen on a par with what the United States' own war against Al- Qaeda. Yet consider how it was none other than candidate Bush, in the 2000 presidential campaign, who called for cutting financial assistance to Russia for its brutalities in Chechnya.
Putin, keep in mind, is no less a hypocrite in this regard: On the one hand, he says he is skeptical of US plans for Iraq's political and constitutional reconstruction — insisting that the UN and the Arab states play a role — and on the other he calls for the permanent presence of Russian troops in Chechnya, the writing of the Chechen people's constitution in Moscow, and the selection of a presidential candidate by the Kremlin, one Ahmad Kadyrov, with the mandate to force out of the race other candidates.
Devious virus attacks on the rise
Virus and hacker attacks have shot up by 20% in the first six months of this year, according to security experts.
The CIA Commits Over 100,000 Serious Crimes Per Year
Court: Head attacked pupil with fish
Press Association
A school headmaster attacked an 11-year-old pupil with part of a dead fish after "completely losing it" in a school playground during morning break, it was alleged in court. [...]
Fake FBI site tries to lure victims
Man Kills Son, Jumps in Train's Path
MILLBURN, N.J. (AP) -- An out-of-work Wall Street investment banker who was deeply in debt killed his 8-year-old son before taking his own life by crouching in front of a commuter train, authorities said. [...]
Ex-doc guilty in Mex sex jaunt
An ex-doctor from Brooklyn was convicted yesterday of traveling to Mexico to have sex with boys at a resort that catered to pedophiles.
After three hours of deliberations, the Manhattan Federal Court jury found Stefan Irving, 56, of Sunset Park guilty on five criminal counts, including traveling internationally to have sex with minors and possessing child pornography. [...]
Student, Administrator Shot at School
SACRAMENTO, Calif. (AP) - A shotgun-wielding student took an administrator hostage at a high school Wednesday, and both were wounded after officers confronted the youth, officials said. [...]
Judge: Woman Taking Paxil Killed Mother
The Associated Press
ROANOKE, Va. - A woman who claimed prescription antidepressants made her homicidal was convicted Monday of stomping her mother to death in a bathroom scuffle in the middle of the night. [...]
The forced eviction of thousands of American Indians from their homes in the 1830s was marked by a commemorative ride by 100,000 motorcyclists this week. The ride paid tribute to 13,000 Cherokee who had to travel 1,000 miles in a trek under Chief J. Ross which became known as the 'Trail of Tears' to Oklahoma and Alabama.
4,000 died along the way when the Native Americans in the US Southeast were forcibly moved out of their homelands by the Indian Removal Act. In Oklahoma the Cherokee became one of the Five Civilized Tribes moved west by the passage of the Act, implemented in 1830 by President Andrew Jackson. It called for all Indian tribes east of the Mississippi to be resettled in the western territories; 60,000 were moved in all.
The ride has grown from eight bikers in 1994 to 100,000 this year, setting off from Tennessee to Oklahoma. Ride organiser Bill Cason said any money raised would pay to establish heritage sites and be distributed to American Indians in Tennessee and Alabama who were seeking college scholarships.
Mr Cason stated: "Our main thing is education… They even take it out of history books and we'd like for them to put it back in." Carroll Crowe, the Eastern Cherokee deputy chief, said: "If you look back through the history books, there is probably not a paragraph of any history about any Native American, as far as significant history about the actual Trail of Tears, putting all Cherokee in stockades."
On this day in 1962: Mississippi race riots over first black student
Two people have been killed and at least 75 injured in rioting at the Mississippi State University campus.
Hundreds of extra troops have been brought in to join Federal forces already stationed in the nearby town of Oxford as the violence spread to its streets [...]
Eels sliding towards extinction
Thirty hospitalized after drinking contaminated water in central China
Lehigh facility detects earthquake aftershock (Pennsylvania)
Thursday, October 02, 2003
By JENNA PORTNOY
The Express-Times
A month after an earthquake rattled Hunterdon County, many residents were jolted awake early Wednesday by a less powerful tremor.
The aftershock measured 2.4 on the Richter scale with the epicenter in southern Alexandria Township, three miles east of Milford, according to U.S. Geological Survey data.
The magnitude of the Aug. 26 quake was initially reported as high as 4 and later downgraded to 3.5.
"We've had earthquakes, tornadoes and hurricanes and now I'm waiting for the locusts," said Harry Shepherd, coordinator of the Office of Emergency Management for Hunterdon County. [...]
Small earthquake felt in Baker City
By JIM PARKER
kgw.com
BAKER CITY, Ore. -- A small earthquake with a magnitude of 3.3 was felt Wednesday morning in the Baker City area, according to the Oregon Dept. of Geology. [...]
Experts predict powerful Tokyo earthquake soon
By Japan Bureau Chief
Michiyo Ishida
Another powerful earthquake is expected to hit Japan soon, this time in Tokyo, and experts predict it will be even bigger than the 1923 Great Kanto Earthquake which destroyed much of the city. [...]
Bainbridge, Ohio crop circles report and photo update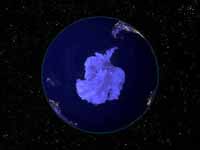 Antarctica deep drilling project gets go ahead
AUCKLAND (AFP) - New Zealand scientists have won approval to drill up to two kilometres (1.3 miles) under Antarctica to study ice sheet movement, New Zealand's the Institute of Geological and Nuclear Sciences (GNS) said. [...]
[...]"We know that Antarctica has undergone significant changes in ice cover and in the style of ice cover, but there is only limited direct knowledge of the role Antarctica has played in global climate change over the past 20 million years," Wilson said. [...]
Lake Reveals Evidence of Pre-Incan Silver Industry
From the depths of a small Andean lake scientists have pulled up evidence of pre-Incan silver smelting that is nearly 1,000 years old. The discovery of metals associated with smelting in Bolivia's Laguna Lobato suggests that people practiced large-scale silver ore mining some 400 years before 15th-century Incans began their silver industry in the area. [...]
GM crops fail key trials in Britain, say scientists
LONDON (AFP) - Two of the three genetically modified (GM) crops being grown experimentally in Britain appear more harmful to the environment than conventional crops and should not be commercially grown, scientists will warn the government next week, a London newspaper reported. [...]
Infant Cereal Linked To Diabetes?
(CBS) There is new evidence that age matters when it comes to introducing cereal to the diet of a baby at risk from type 1 diabetes. [...]
Bones from French cave show Neanderthals, Cro-Magnon hunted same prey
A 50,000-year record of mammals consumed by early humans in southwestern France indicates there was no major difference in the prey hunted by Neanderthal and Cro-Magnon, according to a new study.
The paper, published in the online Journal of Archaeological Science, counters the idea proposed by some scientists that Cro-Magnon, who were physically similar to modern man, supplanted Neanderthals because they were more skilled hunters as a result of some evolutionary physical or mental advantage.
"This study suggests Cro-Magnon were not superior in getting food from the landscape," said lead author Donald Grayson, a University of Washington professor of archaeology. "We could detect no difference in diet, the animals they were hunting and the way they were hunting across this period of time, aside from those caused by climate change.
"So the takeover by Cro-Magnon does not seem to be related to hunting capability."[...]
By Dr David Whitehouse
BBC News Online science editor
Observations of distant supernovae - exploding stars - made by the Hubble telescope give new information on the so-called dark energy of the cosmos. [...]
Schrödinger's cat comes closer
Object big enough to see with microscope could be in two places at once.
1 October 2003
PHILIP BALL
The physicist Erwin Schrödinger famously said that quantum theory would allow the existence of a cat that was simultaneously living and dead.
Now a team of physicists has published the recipe for making a large object - not cat-sized, but certainly bacterium-sized - in such a quantum quandary. A tiny mirror, they propose, can be in two places at once.
Scientists are resigned to atom-sized entities being capable of such feats. But they generally assume that at larger scales a phenomenon called decoherence intervenes, stamping out quantum weirdness and fixing everyday objects to a single, definite location.
William Marshall of the University of Oxford and his coworkers outline a scheme for evading decoherence to achieve a quantum superposition of states in an object with around a hundred trillion atoms. This is about a billion times larger than anything demonstrated previously.
It's not the first proposal for achieving quantum effects in a big system. But unlike others, it is feasible with current technology. For example, mirrors like those Marshall and colleagues invoke can be made just ten thousandths of a millimetre square - about the size of a red blood cell, weighing around five billionths of a gram. [...]
The Sky Isn't Falling, But Pieces Sure Are
By Robert Roy Britt, Senior Science Writer
Space.com
01 October 2003 11:35 am ET
A host of mostly coincidental recent events make Chicken Little sound ever-so-slightly more credible. In the past eight days, stuff falling from space rocked a village in India and a bathroom in Louisiana, while lighting up the skies over the San Francisco Bay area, Europe and Australia.
The most spectacular visitor from beyond was a meteorite initially said to set a village afire in India and injure 20 people this past weekend. Later reports by the BBC and elsewhere put the injuries at three.
The fireball streaking through the sky turned night into day, witnesses said. It was reported visible across a nearly 5,800-square-mile (15,000-square-kilometer) region. Two pieces about 11 pounds each (5 kilograms) were said to be recovered. [...]
Flashback!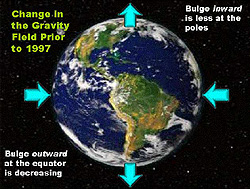 SATELLITES REVEAL A MYSTERY OF LARGE CHANGE IN EARTH'S GRAVITY FIELD
August 01, 2002

Satellite data since 1998 indicates the bulge in the Earth's gravity field at the equator is growing, and scientists think that the ocean may hold the answer to the mystery of how the changes in the trend of Earth's gravity are occurring.
Before 1998, Earth's equatorial bulge in the gravity field was getting smaller because of the post-glacial rebound, or PGR, that occurred as a result of the melting of the ice sheets after the last Ice Age. When the ice sheets melted, land that was underneath the ice started rising. As the ground rebounded in this fashion, the gravity field changed.
"The Earth behaved much like putting your finger into a sponge ball and watching it slowly bounce back," said Christopher Cox, a research scientist supporting the Space Geodesy Branch at NASA's Goddard Space Flight Center, Greenbelt, Md.

Currently, the Earth has a significant upward bulge at the equator, and a downward bulge at the poles. "Observations of the Earth's gravity field show that some phenomena are counteracting the gravitational effects of PGR. Whereas PGR has been decreasing the bulge in the Earth's gravity field at the equator, this recent phenomena is causing the bulge to increase," Cox said. Such changes in the gravity field can be sensed using ultra precise laser tracking of satellites to observe tiny changes in the orbits of those satellites and by tracking changes in the length of day or rotation of the Earth.
Scientists believe movements of mass cause this recent change from the high latitudes to the equator. Such large changes may be caused by climate change, but could also be part of normal long-period climatic variation. "The three areas that can trigger large changes in the Earth's gravitational field are oceans, polar and glacial ice, and atmosphere," Cox said.
Cox and colleague Dr. Benjamin Chao have ruled out the atmosphere as the cause. Instead, they suggest a significant amount of Ice or water must be moving from high latitude regions to the equator, and oceans could be the vehicles of this movement.
Estimates of today's glacier and polar ice melting are too small to explain the recent changes in the gravity field. If melting ice were the cause of the recent changes in the gravitational field, it would require melting a block of ice 10 km (6.2 miles) on each side by 5 km (3.1 miles) high every year since 1997 and pouring it into the oceans.
"The recent reports of large icebergs calving in Antarctica can't explain this, because they were already floating in the ocean," Cox said. Further, radar altimeter observations of the average sea level rise provided by the TOPEX/POSEIDON satellite show no corresponding change in the rate of the global sea level increase. [...]
Comment:
Feb 22 1997:
A: Equator is slightly "wider" than the polar zones. But, this discrepancy is decreasing slowly currently. One change to occur in 21st Century is sudden glacial rebound, over Eurasia first, then North America. Ice ages develop much, much, much faster than thought.
Q: (T) Is the Earth expanding? That's just putting it bluntly, but, is the Earth expanding, how did you put that? (Ark) Yes, that's the theory: the idea is that the continents move away because the Earth is expanding, and this is much faster than you know, than geologists were thinking.
A: Continental "drift" is caused by the continual though variable, propelling of gases from the interior to the surface, mainly at points of magnetic significance.
Q: (J) What causes the change in the axis?
A: By slow down of rotation. Earth alternately heats up and cools down in interior.
Q: (L) Why does it do that? What's the cause of this?
A: Part of cycle related to energy exerted upon surface by the frequency resonance vibrational profile of humans and others.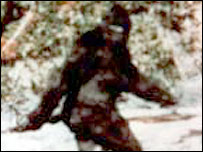 Police expert claims Bigfoot 'proof'
A forensic expert in the US believes he has some of the strongest evidence yet that the Bigfoot, or sasquatch, creature exists.
[...] Investigator Jimmy Chilcutt of the Conroe Police Department in Texas, who specialises in finger and footprints, has said he believes he is certain around six footprints found - claimed to have been made by Bigfoot - are genuine.
He added that one 42 cm (18-inch) print found in Washington in 1987 has convinced him.
"The unique thing about this cast is that it has dermal ridges - and the flow and texture matches the ridge flow texture of one from California," Mr Chilcutt told BBC World Service's Discovery programme.
"The ridges are about twice as thick as in a human being."
Indian judge orders politician to read Gandhi
An Indian judge ordered a politician to spend time in a library reading about Gandhi as a condition of his bail.
B. Ranganathan, who is charged with intimidation in connection with a land deal, was ordered to spend four days in a museum library.
Justice Karpaga Vinayagam of the Madras High Court said the idea was to make Mr Ranganathan "realise his duties" as a legislator. [...]
And Finally ...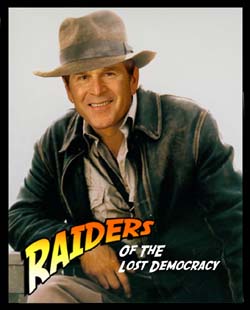 ---
Remember, we need your help to collect information on what is going on in your part of the world!
We also need help to keep the Signs of the Times online.
Obviously, there are a lot of folks out there who do NOT like what we are doing - our own special brand of news coverage - and they are working day and night to create almost insurmountable problems for us, designed to grind us down and render our plans to be able to increase our production (which include a weekly radio show that is currently in the implementation stage) impossible to bring to fruition. We are coming under increasing pressure from many directions all at once.
Our need for financial support has never been greater, including support for legal initiatives to halt the madness of several of the para-COINTELPRO activities currently launched against us. These operations are designed to create a platform to justify utilizing police state tactics so as to silence, and even ultimately, destroy us.
Please: We need your help.
The campaign of lies and disinformation would be frightening under normal circumstances; considering the present state of the world and the machinations of the "National Security State," it is terrifying.
Please - if you have been helped by our work -
won't you help us NOW?

---

Check out the Signs of the Times Archives

Send your comments and article suggestions to us

---
Fair Use Policy
Contact Webmaster at signs-of-the-times.org
Cassiopaean materials Copyright ©1994-2014 Arkadiusz Jadczyk and Laura Knight-Jadczyk. All rights reserved. "Cassiopaea, Cassiopaean, Cassiopaeans," is a registered trademark of Arkadiusz Jadczyk and Laura Knight-Jadczyk.
Letters addressed to Cassiopaea, Quantum Future School, Ark or Laura, become the property of Arkadiusz Jadczyk and Laura Knight-Jadczyk
Republication and re-dissemination of our copyrighted material in any manner is expressly prohibited without prior written consent.
.