---
Arafat breakdown: Feared he had been poisoned
SPECIAL TO WORLD TRIBUNE.COM
Tuesday, September 30, 2003
RAMALLAH — Palestinian Authority Chairman Yasser Arafat appears to have recovered from exhaustion.
Palestinian sources said Arafat was concerned that he had been poisoned as part of an assassination plot by Israel and the United States. They said that Arafat sent for a medical team from Jordan when his own physicians could not determine his ailment.
"He was very tired and alarmed that he had been poisoned," a source said. "After a few days of rest and a thorough examination, he's back at work again. The crisis is over."
Over the weekend, Arafat, 74, complained of nausea and canceled virtually all of his meetings. The exception was a brief session with Prime Minister-designate Ahmed Qurei on Monday, Middle East Newsline reported. [...]
Comment: Apparently, microwave signals can have some strange effects on human physiology. See next article.

3G Mobile Signals Can Cause Nausea, Headache - Study
Tue September 30, 2003 04:03 PM ET
AMSTERDAM (Reuters) - Radio signals for the next generation of mobile phone services can cause headaches and nausea, according to a study conducted by three Dutch ministries.
The study, the first of its kind, compared the impact of radiation from base stations used for the current mobile telephone network with that of base stations for new third generation (3G) networks for fast data transfer, which will enable services such as video conferencing on a mobile device.
A base station, which usually covers a "cell" area of several square kilometers (miles), transmits signals to mobile phones with an electromagnetic field.
"If the test group was exposed to third generation base station signals there was a significant impact ... They felt tingling sensations, got headaches and felt nauseous," a spokeswoman for the Dutch Economics Ministry said.
There was no negative impact from signals for current mobile networks.
However, cognitive functions such as memory and response times were boosted by both 3G signals and the current signals, the study found. It said people became more alert when they were exposed to both. [...]
Previous research did find an impact on cognitive functions, which was also found in the Dutch survey. But TNO noted that earlier studies always measured the impact of cellphones held close to the head, causing high fields of radiation close to the ear and warming of the brain.
TNO's study used lower a dose of radiation to mimic base station signals rather than handsets.
Handsets emit stronger radiation when they are used, while base stations transmit more constant levels of radio signals, exposing everyone within range.
'No Arafat is no solution,' Israel's ex-FM
Kathimerini
Former Israeli Foreign Minister Shlomo Ben-Ami said in Athens late Monday that it would be a mistake to expel Palestinian leader Yasser Arafat, and that a step-by-step approach to Mideast peace should be dumped in favor of a one-off "earthquake" deal.
"Arafat is not that popular. But expelling him or getting rid of him otherwise is not workable," Ben-Ami said. "I don't believe it's a right policy. It's counterproductive."
Comment: He is putting it a bit mildly. Expelling or murdering Arafat would certainly be "counterproductive" to anyone being safe anywhere. He never mentions that stopping daily Israeli raids in Palestinian territory, destroy the wall and give back what has been annexed by the wall might be part of such an "earthquake"to stop the violence. That seems to be asking too much.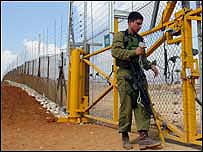 Israel to expand security fence

The Israeli cabinet has approved the next phase of a controversial fence it is building in the West Bank to stop Palestinian suicide bombers.
The new fence will not be immediately connected to the barrier built so far and will not take in the sprawling settlement of Ariel as a concession to Israel's main ally, the US.
The Israeli cabinet decision comes a day after a United Nations report condemned the barrier as illegal and tantamount to "an unlawful act of annexation".
Earlier, the Israeli army detained a leading member of the Palestinian militant group Islamic Jihad in the West Bank.
Bassam Saadi was captured when a large group of soldiers, supported by two helicopter gunships, swept into a Jenin refugee camp without meeting any resistance.
Separately, Palestinian prime minister-designate Ahmed Qurei has said he will present his new cabinet for parliamentary approval on Sunday or Monday.
The next section of the Israeli fence, which will be 45 kilometres long, is being built further east and will be deeper in the West Bank than other sections built so far.
The most contested issue in planning the next segment was whether the barrier would incorporate Ariel, the West Bank's second largest Jewish settlement with 18,000.
The Israeli cabinet has decided to leave gaps in the fence to be patrolled by troops, thereby delaying the decision on whether the barrier will loop around Ariel, 20 km (12 miles) inside the West Bank.

Political sources told the BBC they hope that Israel will fill in the proposed gaps at a later date.
The issue will be discussed with the Americans again in the middle of next year, and only then will a decision be taken on whether to close the gaps and make the final connection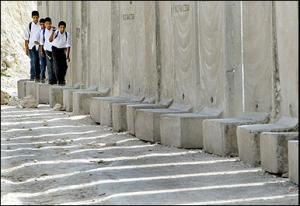 Israeli Wall Slammed by UN Agencies
Arabnews.com
Wednesday, 1, October, 2003

GENEVA, 1 October 2003 — The controversial barrier being built by Israel through the West Bank amounts to the illegal annexation of Palestinian territory and must be condemned by the international community, a UN report said yesterday.
The report by the UN special rapporteur for human rights in the occupied Palestinian territories, John Dugard, was immediately dismissed by Israel as politically biased. Dugard warned that the wall erected in recent months would incorporate "substantial areas" of the West Bank into Israel. "The evidence strongly suggests that Israel is determined to create facts on the ground amounting to de facto annexation," the report said.
"Annexation of this kind, known as conquest in international law, is prohibited by the Charter of the United Nations and the Fourth Geneva Convention," it added. [...]
Associated Press
08:59 Wednesday 1st October 2003
Israeli commandos have arrested a leader of the militant Islamic Jihad group.
He was hiding under a parked car when he was seized in a West Bank refugee camp.
Troops backed by two dozen armoured vehicles and two attack helicopters entered the Jenin refugee camp and arrested Bassam Saadi. [...]
Saadi was a top fugitive, and became the group's spokesman and apparent leader in the West Bank after other senior members of the group were killed or arrested in Israeli raids last year.
Israeli Assassination Bid Against Hamas Leader Thwarted

By Abdul Raheem Ali, IOL Staff
CAIRO, September 30 (IslamOnline.net) - An Arab country has recently arrested a terrorist cell affiliated to the Israeli intelligence (Mossad) which was plotting to liquidate senior Hamas political leaders abroad, including the head of the movement politburo Khaled Mashal, a senior Hamas official confirmed Tuesday, September 30.
In exclusive statements to IslamOnline.net over the phone, Mohammad Nazal, himself a member of Hamas politburo, said officials in the said Arab country, which he declined to name, notified the movement leaders they must take utmost precautionary measures in their movements. [...]
Muslim Leader Arrested in US Over 'Libya Links'
Barbara Ferguson, Arab News Correspondent
Wednesday, 1, October, 2003

WASHINGTON, 1 October 2003 — Abdul Rahman Al-Amoudi, one of the country's leading Islamic activists, has been arrested on criminal charges for illegally accepting money from Libya, a country listed by the US State Department as a sponsor of terrorism.
Al-Amoudi, 51, a naturalized US citizen born in Eritrea, is a former head of the American Muslim Council, who often met with senior Clinton and Bush administration officials. Al-Amoudi was arrested Sunday at Washington Dulles Airport on a return flight from London. Agents for the Department of Homeland Security accuse Al-Amoudi of accepting $340,000 from Libyan officials.
FBI Assistant Director Michael Mason described Al-Amoudi's detention "an important arrest." [...]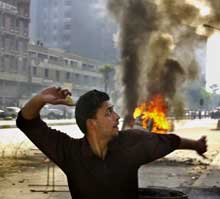 Violence Erupts at Protests by Iraqi Jobless
Wed October 1, 2003 07:48 AM ET
By Andrew Gray
BAGHDAD (Reuters) - Iraqis demanding jobs set cars ablaze and threw stones on Wednesday while local security forces responded with gunfire to disperse protests reflecting frustration at the parlous state of the postwar economy.
Violence erupted at demonstrations in Baghdad and the northern city of Mosul on the day occupying authorities in Iraq sought to launch a new era of normality with the start of the first school year since Saddam Hussein's downfall.
In central Baghdad, several dozen protesters looking for work at a U.S.-backed local security force hurled stones at the building. Flames and black smoke poured from a police car and a civilian vehicle while gunfire echoed around the area.[...]
POLICE FIRE, PROTESTERS TAKE COVER
At the Baghdad protest, near a hotel where Western reporters and other foreign workers are based, police fired automatic rifles and pistols as demonstrators took cover behind buildings.
"We didn't shoot at the beginning. We think this is a democracy and they can express their point of view. But then they started firing," policeman Falah Hassan said at the scene. He said several people were wounded.
Protesters said they had come repeatedly to the office of a force set up to guard state property to look for work.
Iraq's plunge into poverty is also reflected in the state of its schools. The occupying authorities say they have renovated about 1,000 schools but new term began with many still in disrepair and new textbooks yet to arrive. [...]
New al-Qaida threat: 15-ship mystery navy
U.S., Brits fear high-seas terror posed by bin Laden's vessels
Osama bin Laden's al-Qaida network has purchased at least 15 ships in the last two years – creating, perhaps, the first terrorist naval force, reports Joseph Farah's G2 Bulletin.
Lloyds of London has reportedly helped Britain's MI6 and the U.S. CIA trace the sales made through a Greek shipping agent suspected of having direct contacts with bin Laden, the online intelligence newsletter reported.
The ships fly the flags of Yemen and Somalia – where they are registered – and are capable of carrying cargoes of lethal chemicals, a "dirty bomb" or even a nuclear weapon, according to G2 Bulletin's sources. British and U.S. officials worry that one or more of these ships could hit civilian ports on a suicide mission.
The freighters are believed to be somewhere in the Indian or Pacific oceans. When the ships left their home ports in the Horn of Africa weeks ago, some were destined for ports in Asia.
The U.S. Department of State Friday warned citizens overseas that the threat of terror attacks did not end with the passing of the September 11 anniversary – specifically mentioning the threat of maritime terrorism. [...]
Comment: Ahem. Are we really supposed to believe that al-Qaida has the money and resources to have their own navy now? We know who has the resources to make it look like al-Qaida has a navy though. Wasn't this war on terrorism supposed to make everyone safer? Why aren't people calling for King George's impeachment since it isn't working and plenty of Americans have died trying to make it happen under his direction? Who has benefited most from al-Qaida? Certainly not the Arabic peoples.
Government seeks next-generation biosensors
By Ted Agres
Homeland Security Department issues its first request for proposals
The Department of Homeland Security's Advanced Research Project Agency (HSARPA) has issued its first call for proposals to develop next-generation systems for detecting potential biological and chemical attacks. A bidders meeting Monday (September 29) drew a standing room crowd of some 400 university and industry representatives in Washington, D.C., eager to learn how the new agency plans to award upwards of $350 million in contracts this coming year.
"This is our first solicitation," said HSARPA Director David F. Bolka. "We are looking for generational change to meet the threats. We know some of these goals are technically challenging. We want you to give us your best effort."
HSARPA is seeking proposals to develop, field test, and commercialize sensors capable of detecting a wide range of biological and chemical agents in the open air as well as inside buildings. The systems should operate continuously, be fully autonomous, and be able to identify and signal alerts for a minimum of 20 bioterror agents and "a large range" of toxic chemicals. The detectors must also be highly accurate, reliable, low maintenance, modest in size, and affordable.
Three Iranian immigrants arrested at Pilgrim nuclear plant in Plymouth
By Maureen Boyle, ENTERPRISE STAFF WRITER
October 1, 2003
PLYMOUTH — Three men caught with camera equipment on the grounds surrounding the nuclear power plant were arrested and interrogated by federal and local authorities.
The trio, who police say came to the United States as teenagers from Iran, were spotted at the Pilgrim Nuclear Power Station Saturday morning walking along a restricted beach near the plant. They were arrested on trespassing charges. The men told authorities they were hiking. [...]
Fariborz Motamedi, 42, of 23 Panettieri Drive, Lakeville; Amir M. Lashgari, 41, of 2001 Marina Drive, Quincy, and Hamid H. Ahmadi, 49, of 7 Brahman Drive, Norton, were arrested, charged and later released after extensive questioning by authorities. [...]
Twin girls, 14, convicted of terror charges
Associated Press
21:08 Tuesday 30th September 2003
A Moroccan juvenile court has convicted 14-year-old twin Moroccan girls on terrorism-related charges and sentenced them to five years in prison.
The girls were accused of planning to blow up the alcohol aisle in a supermarket in Rabat, the capital.
They confessed their plot to a Muslim religious leader, hoping for his blessing. He turned them in. [...]
Third Man Arrested in Guantanamo Case
By CURT ANDERSON, Associated Press Writer
Wed Oct 1,12:14 AM ET
WASHINGTON - The government on Tuesday announced the arrest of a second translator at the U.S. prison for terror suspects at Guantanamo Bay, Cuba, bringing total detentions there to three and raising new concern about the extent of possible espionage.
The latest man arrested was identified as Egyptian-American Ahmed Fathy Mehalba, 31. He is a civilian who formerly served in the Army and twice started but failed to complete a military intelligence course to become an interrogator, two defense officials said on condition of anonymity. [...]
Some candidates for the translator jobs were found through the Internet, newspaper ads, language associations and word-of-mouth, Williams had said in June 2002. They underwent health checks and extensive criminal record checks, and many underwent additional national security clearances and polygraph exams, he said. [...]
"They've been backed up for years on security clearances ... and it was made worse after Sept. 11, because there was this fast rush to get more analysts and more people who had backgrounds that might be useful," said Dan Smith, a retired Army colonel who specialized in intelligence during his 26 years in service. [...]
US delighted with Jordanian pledge to train Iraqi troops, police

AFP
Wednesday October 1, 2:45 PM

The United States hailed Jordan's pledge this week to train Iraqi soldiers and police, the first such promise for post-war Iraq from an Arab or Muslim state, an "excellent contribution" to stabilization and reconstruction efforts. [...]
On Monday, Jordan's King Abdullah II announced that Amman will train some 30,000 Iraqi police and troops as the United States continued its international appeal for such assistance and cash contributions for Iraq. [...]
Afghanistan planning calls for up to eight more years
By Rick Emert and Sandra Jontz, Stars and Stripes
Wednesday, October 1, 2003
BAGRAM AIR BASE, Afghanistan — U.S. forces could be digging in for a stay of up to eight more years in Afghanistan, where frequent firefights continue on the border with Pakistan nearly two years after major combat ended.
Base operations officials at Bagram and Kandahar bases are operating on long-term plans for improvements to the bases, which include building barracks similar to those found in Kosovo and Bosnia and Herzegovina, among other quality-of-life projects. [...]
At Bagram air base, base operations has devised a five- to eight-year community master plan, in which all U.S. troops will eventually move from the west side of the airfield to the east side, said Lt. Col. Paul Kimbrough, at Bagram base operations. [...]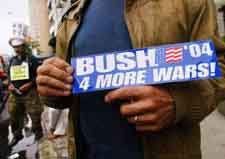 Peace is Not Relative
quotes from Albert Einstein compiled by Imaginal Diffusion
"But could not our situation be compared to one of a menacing epidemic? People are unable to view this situation in its true light, for their eyes are blinded by passion. General fear and anxiety create hatred and aggressiveness. The adaptation to warlike aims and activities has corrupted the mentality of man; as a result, intelligent, objective and humane thinking has hardly any effect and is even suspected and persecuted as unpatriotic."
--Dr. Albert Einstein, The Menace of Mass Destruction
"In our time the military mentality is still more dangerous than formerly because the offensive weapons have become much more powerful than the defensive ones. Therefore, it leads, by necessity, to preventive war. The general insecurity that goes hand in hand with this results in the sacrifice of the citizen's civil rights to the supposed welfare of the state. Political witch-hunting, controls of all sorts (e.g., control of teaching and research, of the press, and so forth) appear inevitable, and for this reason do not encounter that popular resistance, which, were it not for the military mentality, would provide protection. A reappraisal of all values gradually takes place insofar as everything that does not clearly serve the utopian ends is regarded and treated as inferior....
The tendencies we have mentioned are something new for America. They arose when, under the influence of the two World Wars and the consequent concentration of all forces on a military goal, a predominantly military mentality developed, which with the almost sudden victory became even more accentuated. The characteristic feature of this mentality is that people place the importance of what Bertrand Russell so tellingly terms 'naked power' far above all other factors which affect the relations between peoples. The Germans, misled by Bismarck's success in particular, underwent just such a transformation of their mentality--in consequence of which they were entirely ruined in less than a hundred years."
--Dr. Albert Einstein, The Military Mentality
[...]
Conference visitor 'arrested near Blair'
Ananova
A visitor at the Labour Party conference has been arrested after allegedly wanting to make a citizen's arrest over Tony Blair's involvement in the Iraq war.
The 41-year-old, believed to be Ian Brown, from Cardiff, allegedly confronted the Prime Minister and his wife Cherie as they were about to enter the Bournemouth convention centre where Mr Blair was to make his keynote speech.
Police said the man, who was a visitor to the conference at the Bournemouth International Centre, was released without charge.
It is believed he shouted out that he wanted to make a citizen's arrest because of Mr Blair's involvement in the Iraqi conflict. [...]
U.S. Worried About Militants in Philippines
By Dolly Aglay
MANILA (Reuters) - The United States is concerned about the presence of the Jemaah Islamiah militant group in the Philippines but there is no specific threat to President George Bush during his visit to the country this month, a U.S. official said. [...]

Bush asks for more power to fight terrorism
09/30/2003
The Bush Administration is preparing to ask Congress for broader powers to fight terrorism and is refuting critics, including civil liberties groups and some fellow republicans, who say the government has already gone too far.[...]
Civil liberties groups are attacking the law and at least 160 communities have responded by passing resolutions condemning it. But some of the criticism has come from surprising quarters. The republican controlled House voted in July to gut a part of the Patriot Act that allows secret searches of homes or businesses without telling owners until weeks later. [...]
If you have ever wondered to what extent Bush and the Justice Department would go to obtain expanded powers in the name of the terror war, the answer is becoming very clear. The Administration is becoming a master at using the media to condition us to their next power grab.
Steven Rosenfeld is a senior editor for TomPaine.com
The Army and Air Force failed to obey Congress' orders to create baseline medical records for soldiers sent to overseas war zones, in this case Iraq, Congress' General Accounting Office (GAO) concludes in a just-released report.
"The percentage of Army and Air Force service members missing one or both of their pre- and post-deployment health assessments ranged from 38 to 98 percent of our samples," the GAO, Congress' investigative arm, found. "Moreover, when health assessments were conducted, as many as 45 percent of them were not done within the required time frames."
These statistics confirm what veterans of the 1990-91 Persian Gulf War and members of Congress have been saying for months: the Pentagon has been ignoring a law whose primary intention was avoiding a repeat of the military's mistakes surrounding its handling of veteran illnesses that have become known as Gulf War Syndrome. [...]
Soldier must pay for his trip home
A letter to The Spokesman-Review.com
Sunday, September 28, 2003
We are usually quiet individuals, expressing little about world events and politics, etc. However, we have to stand up and say something now.
Our son-in-law is in the Army, serving our country for several months in Iraq. He was recently authorized to return home for two weeks. We are all grateful for this news! However, there is one catch - he has to pay for the journey!
How can the government expect him to pay his own airfare? It seems unfair the government won't foot the bill to send troops home, after they risk their lives for our country. They have had to leave their families struggling emotionally and some financially. Then when they do have the opportunity to come home briefly, they are expected to pay their own way.
This is an atrocity! And, too often, there is no way some of these families can afford the airfare.
Our country is spending a fortune on behalf of another country. But, our fighting forces should be the main priority, including traveling home for a reprieve. We truly believe our armed forces should be rewarded with a paid visit to their loved ones. Don't you?
Randy and Pam Forcier
Spokane, WA
Comment: While it is a shame that the Bush Reich doesn't seem to care about the troops in Iraq, it is a bigger shame that the American people as a whole don't seem to care what Bush and gang are doing to Iraq and the U.S. itself.
November N.Korea 6-Way Talks Possible-Envoy Kelly
Tue Sep 30,11:01 PM ET
By George Nishiyama
TOKYO (Reuters) - The United States and its key Asian allies, Japan and South Korea, hope to persuade North Korea to hold another round of six-way talks on Pyongyang's nuclear arms program in November, U.S. Assistant Secretary of State James Kelly, Washington's pointman on Pyongyang, said on Wednesday. [...]
A storm of firebombs (Greece)
Kathimerini
[...] In a barrage of makeshift bombs, unidentified assailants attacked six targets on Monday and early yesterday. In the most serious incident, the wife and four young children of an opposition member of Parliament had to be rescued from the roof of their burning apartment building. In the other attacks, the targets were a professor who is a friend of the prime minister, a prominent journalist, two branch offices of ruling PASOK and one New Democracy party office.
Senior police sources said it appeared the attacks were aimed at expressing solidarity with defendants in the November 17 terrorism trial, as defense arguments began at the Korydallos Prison court yesterday. The attacks also coincide with a police decision to reassign some 1,000 police officers from protecting likely targets this month. [...]
Hi all, I hope you don't mind me passing on Africa related stories primarily. [...]
Former Rebel Groups Authorised to Function As Political Parties

What are the chances of this this initiative stopping the killings in the Congo? More than 4.5 million dead so far and still counting.

Agencies Call For Quantum Leap of Efforts to Address Spiraling Orphan Crisis

Former Diplomat Says U.S. Has Historical Responsibility for Liberia

Museveni's expensive grandchild (Kenya)

[...] If the money spent on Natasha's single delivery were to be used to buy mosquito nets, the country would purchase up to 19,000 treated nets at a cost of USh9,500 each, according to information from Commercial Marketing Strategies, the distributors of Smartnet. This means that the Germany trip would possibly reduce the figure of death to 60,000.

In northern Uganda, mothers and children live in unhealthy conditions and are exposed to mosquitoes that cause malaria. [...]

HIV/Aids vaccine to be tested in 18 towns

Lets hope this is not another AZT scenario.

Finally, a comment from Kenya's Daily Nation.

Our troops have no business in Iraq

"Cosying up to the US is not the answer to our economic distress. The US has not demonstrated that it cares about its friend, Kenya."
Comment: Thank you V. We appreciate the help in keeping up with what is going on all over the world. The Bush Reich is bribing everyone it seems for more bodies to poison with depleted uranium and to kill innocent civilians: "It is a fact that our Government is in dire need of hard cash to finance its operations and implement its election pledges. The US government may be one source of such funding."
Associated Press
09:04 Wednesday 1st October 2003
US military planes and helicopters carried the last few American ground forces out of Liberia - leaving Liberians dismayed at their silent withdrawal.
The US Marines' departure coincides with the transfer of peacekeeping responsibility from a 3,000-plus West African force to a UN force of up to 15,000. [...]
Comet debris cited as fireball
METEOR SEEN MONDAY OVER THE SOUTH BAY
By Glennda Chui
Mercury News
A bright fireball that streaked over the South Bay on Monday evening may have been debris from a comet, according to an astronomer.
The meteor -- commonly called a shooting star -- traveled east to west at 7:57 p.m. Observers said it flared several times from three to 10 seconds before disappearing over the horizon.
"It's by far the brightest and longest I've ever seen," said Jake Burkart, 29, of San Jose, an amateur astronomer who has been watching shooting stars since he was a child. "It was really amazing."
Meteors are streaks of light left by bits of space dust as they enter the upper atmosphere and evaporate. The dust may come from a rocky asteroid or from a comet, which is a loose conglomeration of rock and ice.
Peter Jenniskens, an astronomer with the SETI Institute at NASA/Ames Research Center, said the meteor's appearance is typical of comet dust, which is more fragile than the dust from an asteroid and more likely to break up and flare.
Five hours earlier, he said, another bright meteor was seen over Europe, where it reportedly glowed green or blue, broke into fragments and left a persistent, shining trail.
"So maybe we have a bit of a shower of bright fireballs going on at the moment, which is interesting," Jenniskens said.
Although showers of meteors periodically light up the skies as the Earth passes through a thick patch of cometary dust, no such shower was expected on Monday night, he said. The next one, called the Draconids shower, is supposed to arrive Oct. 9.
Jenniskens said whatever caused Monday's fireball appears to have landed in the ocean.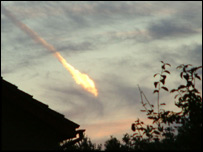 A Daytime Fireball Over South Wales
A schoolboy has impressed experts at American space agency Nasa after capturing a rare picture of a meteor burning out above his home town in south Wales.
Jonathan Burnett, 15, was taking snaps of his friends performing skateboarding stunts near his home in Pencoed near Bridgend when a bright light in the sky caught his attention.
He took two photographs of the fiery ball before it burned out and rushed home to show his parents.
Later, he emailed the picture to Nasa asking for an explanation and was amazed to discover that the space experts were so impressed with his snap they had published it on their website.

Comment: What we find amazing is not that the boy took the photo but rather the fact that most mainstream news sources are NOT CARRYING any of the increasing number of similar events over the past few months.
We have been watching the news for some time regarding these sightings and can't recall so many dramatic displays being reported in such a short span of time.
Orissa villagers stumble upon meteorite debris
October 01, 2003 00:40 IST Orissa villagers, still dazed at the rare sight of a flaming meteor screaming across the night sky of September 27, stumbled upon more debris even as the Geological Survey of India said the rock-like materials found in Kendrapara district were extra-terrestrial objects.
Unusual looking objects were recovered from two villages of the district, Sanamarichapalli under Rajnagar police station and Subarnapur under Pattamundai police station, on Tuesday morning, official sources said.
The objects are solid and rock-hard, have a black exterior while broken pieces are grey in colour. They were found in unmanned areas and the two largest weighed over three kg each.
Villagers of Paschima Suniti and Benakanda villages had found such objects in paddy fields within hours of sighting the fireball shooting across the sky dazzling at least 11 Orissa districts.
Dr K C Sahu, senior GSI scientist who had arrived in Kendrapara on Monday, said the rocks had created deep craters wherever they fell.
The villagers are depositing the debris with the police at Rajnagar and Pattamundai. The latter have been instructed by the district authorities to hand the debris over to the emergency wing of the collectorate.
According to Dr Sahu, the objects would be taken to the GSI's well-equipped laboratory in Bhubaneswar on Wednesday and later to the organisation's headquarters in Kolkata for scientific study.
Sahu revealed that remains of meteorites found elsewhere in the nation were kept in Kolkata's National Museum.
Officials investigating a meteorite that crashed in eastern India say it was part of the most spectacular meteor shower in the country's recent history. [...]
"I have never seen a meteor covering such a large area with a huge fireball and roaring sound," said Basant Kumar Mohanty, senior director of the Geological Survey of India. [...]
[L]ocals in Orissa have been describing what they saw.
"I first mistook it for... a crashing aircraft, when I saw the huge fireball with so much bright light," said Bandita Das, a housewife.
"For about 10 seconds, the evening on Saturday got lighted up. I panicked and took my kids inside the house."
Bishwa Bhushan Harichandan, a minister in Orissa's state government, told the BBC the fireball was seen by people in "seven to eight districts, covering about 14,000 to 15,000 square kilometres". [...]
The people of Orissa are familiar with cyclones and floods, and according to correspondents, they feel Saturday's meteor shower has added a new threat to their lives.
Scientists say, however, the risk of being killed by a falling meteorite is not worth worrying about.
From correspondents in Bhubaneshwar, India
September 29, 2003
HUNDREDS of people fled their homes when a meteor struck their village in eastern India at the weekend, injuring three people and destroying two houses.
The fireball hit the village of Sudusudia in Orissa state on Saturday night local time, said BB Harichandan, the state revenue minister.
"One person has sustained burn injuries and two houses have been burned down. The injured has been hospitalised," the minister said.
Another two were hospitalised after falling unconscious, apparently from shock, local newspaper Dharitri reported. [...]
Swedes discover massive meteorite
STOCKHOLM, Sweden (AP) - Swedish researchers said Tuesday that they've dug up the biggest meteorite ever found in the country.
It took two days to unearth the 158-kilogramme (348-pound) meteorite, one of only nine found in the Scandinavian country of 9 million in the last 100 years.
The meteorite, made up mostly of nickel and ferrous iron, was found nearly 140 kilometres (87 miles) north of the Arctic Circle near the town of Kitkiojarvi, in early September.
It's now in the Swedish Museum of Natural History in the capital, Stockholm, where tests are being conducted on it, museum spokesman Jan-Olof Nystroem told The Associated Press.
The largest meteorite ever found is at the Hoba farm near Grootfontein, Namibia. Discovered in 1920, it weighs more than 50 metric tons (55 tonnes) and has a volume of 9 cubic metres (317 cubic feet). Scientists believe it hit the ground about 80,000 years ago.
Violent quake hits Russia's southwest Siberia

MOSCOW (AFP) Oct 01, 2003

A series of violent tremors rocked Russia's southwest Siberia region early Wednesday, reaching up to 8.0 on the Richter scale, seismologists quoted by the Interfax news agency said.
The strongest shock struck the Altai territory, its epicentre in a mountainous region 350 kilometres (220 miles) south of the regional capital Barnaul, experts said.
Some houses were damaged, there was no report of casualties, but a group of rescuers of the emergency situations ministry were dispatched to the site.
The earthquake, which followed violent tremors that hit the same region on the weekend, was also felt in many cities of Western Siberia including Novosibirsk, Krasnoyarsk and Belokurikha.
Summer forest fires ravage 63,000 hectares in France, worst in 30 years

MARSEILLE, France (AFP) Sep 30, 2003
Deadly forest fires in southern France and on the Mediterranean island of Corsica have ravaged 63,000 hectares (155,600 acres) of brush since the start of the year, the worst total since record-keeping began 30 years ago, official estimates revealed Tuesday. [...]
[...] A mysterious farmer at a secret location somewhere in northeastern Colorado is expected to plant a corn crop that must never be eaten by humans or animals, must never come in contact with other crops, and is so volatile, a 1-mile buffer must surround it to prevent pollen from contaminating other crops. [...]
Hypnotism assaults at library raise safety questions, need for vigilance
By Kristin Barrett
September 30, 2003
Police continue to investigate incidents involving several Northwestern students who allege they were hypnotized and, in at least one case, sexually assaulted in the University Library. [...]
Faith healer stirs up a storm in Fiji with miracle show
AFP
Sunday, Sep 28, 2003
A religious storm has hit Fiji after a faith healer attracted thousands, including the president and the prime minister, to his travelling miracle show.
So fierce is the row that when the Fiji Times questioned the credibility of German born Reverend Reinhard Bonnke, Information Minister Simione Kaitani issued a statement saying the paper was the "anti-Christ" which insulted Christianity and the 100,000 Fijians who had witnessed the miracles here. [...]
Fury over call for selective breeding
By Julian Isherwood in Copenhagen
The Telegraph
01/10/2003
A leading Danish psychologist has caused outrage by calling for the state to encourage the selective reproduction of children from intelligent parents and seek to stop less gifted groups having children.
"Intelligence is hereditary," said Prof Helmuth Nyborg, the dean of the Psychology Institute at Aarhus University. "The 15 to 20 per cent of those at the lower levels of society - those who are not able to manage even the simplest tasks and often not their children - should be dissuaded from having children.
"The fact is that they are having more children and the intelligent ones are having fewer." [...]
Prof Lene Koch, of the Public Health Institute, said genetics scientists around the world had rejected the theory that intelligence was hereditary.
"Less intelligent parents do not always have less intelligent children, and parents with higher intelligence do not always have children with higher intelligence," she said.
Comment: Eugenics is alive and well in the 21st Century. Of course, those espousing such ridiculous tripe always consider themselves at the top of the heap.
Nazis 'killed 200,000 misfits'
NAZI Germany's drive to kill handicapped, mentally ill and other institutional patients whose lives the regime deemed worthless involved hundreds of hospitals and clinics in Germany and neighbouring countries, researchers said overnight.
The catalogue compiled by Germany's Federal Archive is the most comprehensive look yet at the scope of the program that exterminated an estimated 200,000 people, part of Adolf Hitler's effort - as he saw it - to purify the German race.
German Culture Minister Christina Weiss said the three year project was meant mainly to spur historical research but also "to restore some dignity to the victims". [...]
Laura Bush, in Moscow, Scolds Americans
By JENNIFER LOVEN, Associated Press Writer
Tue Sep 30, 3:01 PM ET
MOSCOW - In a Kremlin library thousands of miles from home, Laura Bush chided U.S. parents for letting their children watch too much television and pleaded with them to spend more time reading with and to their kids.
"American children, I'm afraid, are addicted to television," she told the first ladies of Russia, Armenia and Bulgaria on Tuesday, citing studies that place average TV consumption in the United States at several hours a day. [...]
Studies: Don't Believe Homework Hype
By BEN FELLER, AP Education Writer
October 1, 2003
WASHINGTON - The image of students lugging home heavy packs of books may be familiar in many homes, but two new studies offer a different picture: The nation's homework load is light. [...]
Most students have less than an hour of homework a night, according to a Brookings analysis of a broad range of homework research. The report is based on data from the Education Department, international surveys and research by the University of Michigan and the University of California-Los Angeles, among other sources.
For example, when asked how much homework they were assigned the day before, most students age 9, 13 and 17 all reported less than an hour, according to a federal long-term survey in 1999. The share of students assigned more than an hour of homework has dropped for all three age groups since 1984.
Only about one in 10 high school students does a substantial amount of homework — more than two hours a night — according to a separate study co-authored by Brian Gill of the RAND Corp., another research group. The figure has held fairly stable for 50 years. [...]
Comment: The U.S. educational system seems to be designed to produce mindless automatons who are more concerned with who will marry a fake millionaire on TV than with objective reality.
Toddler 'doing well' after nearly 3 weeks alone
JACKSONVILLE, Florida (CNN) -- After spending nearly three weeks alone and surviving on raw pasta, mustard and ketchup, a 2-year-old Jacksonville, Florida, girl was in good spirits Tuesday morning at a hospital, officials told CNN. [...]
Asthma 'may be linked to antibiotics in infancy'
By David Derbyshire, Science Correspondent
The Telegraph
The "epidemic" of asthma and allergies sweeping the West may be linked to the overuse of antibiotics in the first few months of life, new research suggests. [...]
Action demanded over child bride
Ana-Maria's marriage has sparked demands for action to protect her.
Human rights activists and a member of the European Parliament have demanded action over the marriage of a young Roma princess to a 15-year-old bridegroom.
Vicious torture trio are jailed
By The Evening Chronicle
A sadistic gang terrorised a teenager after holding her prisoner and telling her: "It's torture time."
Claire Anderson had been enjoying a night socialising in a Wallsend flat when her nightmare began.
The slightly-built 18-year-old thought she was safe among friends.
But instead the happy mood suddenly soured, Newcastle Crown Court heard.
And when Claire tried to leave she was taken captive, warned she was to be punished, and told: "This isn't a joke. It's torture time." [...]
Couple Held In Alleged Torture Of Teenage Daughter
Indiana Pair Faces More Than 100 Years If Convicted
CHICAGO -- A Gary area couple are being held on charges they tortured the woman's daughter by shocking her with electrical cables.
Drug cop nabbed before police raid (Australia)
By Paul Anderson
AN experienced detective has been savaged by a police dog while allegedly trying to burgle a home before his colleagues raided it. [...]
Judge caught in traffic jam bans public rallies
Associated Press
13:43 Tuesday 30th September 2003
An Indian High Court judge has banned weekday public meetings and rallies in Calcutta after he was delayed by one.
Judge Amitava Lala was two hours late for work after his car was caught up in a traffic jam caused by a political meeting.
He issued the order, asking police to ensure no such rallies are held in the city of 12 million people between 8am and 8pm. [...]
Obese Americans feed on diet of death
Wednesday 01 October 2003

American's are eating themselves to death with one in eight dying every year to the so-called obesity epidemic.
The US is a nation of "seriously overweight" people but even the government's eating recommendations are failing to fight the battle of the bulge.
These are the findings of health experts on nutrition and diet who are urging the Bush administration to overhaul its guidelines for fatties.
Previous government dietary information has resulted in a heavy reliance on carbohydrates and fear of all fats which have left the nation tipping the scales towards obesity.
Americans continue to over-eat resulting in being overweight but even the government's dietary recommendations, as laid out in the so-called food pyramid, are faulty, according to the experts.
"Looking at some of the recommendations from the department of agriculture gives the idea that they've forgotten that we're feeding people, not horses"

Several of them gathered on Tuesday at a hearing of the Senate's Consumer Affairs and Product Safety Subcommittee.
The Department of Agriculture's pyramid oversimplifies the food groups and stresses such food as bread and pasta at the expense of more proteins and unsaturated fats.
"Looking at some of the recommendations from the department of agriculture gives the idea that they've forgotten that we're feeding people, not horses," said Walter Willet, a professor of epidemiology and nutrition at the Harvard School of Public Health.
The obesity epidemic afflicts nearly two out of every three people and has been related to illnesses resulting in the death of one in eight Americans each year, according to the Surgeon General's office.
While the USDA's flawed guidelines are not the only culprits, Willet said, "The pyramid, it hasn't helped. It probably made it more hard for people to control their weight."
The food pyramid, seen in most doctors' offices and schools, outlines the government's version of the healthiest way to eat.
Comment: Sounds strangely like the US government actually wants lots of obese citizens...
Black Hole Airs 'Dirty Laundry'
By Robert Roy Britt
Senior Science Writer, SPACE.com
New observations of the supermassive black hole at the center of the Milky Way Galaxy reveal unexpectedly turbulent conditions in the region where matter is sucked beyond the point of no return.
Almost continual violent eruptions of activity occur where astronomers had thought matter disappeared in an orderly flow.
Because neither matter nor light can escape once inside, a black hole can't be seen. But one signature of their existence is the chaos around them. As gas spirals toward one, compelled by gravity, it is accelerated to nearly light-speed and superheated to a fourth state of matter, called plasma. This creates radiation that can span the spectrum, from radio waves to X-rays. [...]
Beast captured on camera roaming Ulster countryside
Dublin doctor snaps photographic evidence of big cat on the loose...


A strange piece from the Urban Legands Reference Pages:
Claim: Attorney General John Ashcroft believes calico cats are a sign of the devil.
Status: Undetermined. [...]
Malaysia: Graveyard ghosts and vampire sightings
Study into near-death experiences supports theory of a 'sixth sense'
RICHARD SADLER
BRITISH scientists say there is convincing evidence that a significant proportion of the population possess psychic powers.
The British Association for the Advancement of Science was told an increasing number of experiments support the theory of a human "sixth sense" - an ability which may have its roots in our past, when the ability to sense the presence of a predator was a matter of life or death.
The view that people are capable of paranormal feats, such as premonitions, telepathy, and out-of-body experiences, is supported by new research by the Institute of Psychiatry, which suggests the human mind may exist outside the body like an invisible magnetic field. [...]
Other Dimensions? She's in Pursuit
By DENNIS OVERBYE
The New York Times
[...] The C.D.F., as it is called, was perhaps the most exquisite and expensive stopwatch ever built. Dr. Spiropulu was hoping to use it to time not the flight of flapping little cousins, but the flight of particles going right out of this world altogether, disappearing into another dimension, like a billiard ball popping straight up off the table or the phantom voices conjured by 19th-century mediums.
The discovery would confirm some of the boldest and most far-reaching theories in physics, which imply that nature has 10 or 11 dimensions, not the 3 of space and 1 of time that frame our normal experience.
In a control room upstairs, the air was humming with imagined energy of a trillion volts; 50 computer screens were lit up, and one laptop lay open on a desk.
The screens showed the progress three stories below where 36 batches of protons were whirling around a 4-mile racetrack 40,000 times a second. Now, as a disembodied computerized female voice ticked off every step of the process, antiprotons, the antimatter mirror antagonists of protons, were being inserted, batch by batch, into the same racetrack but in opposite directions. [...]
Local experts shine light on history
10th-century manuscript revealed by imaging technology.
By Corydon Ireland
Rochester gets a moment of national fame today.
Two scientists linked to the area are helping to decipher a once-lost manuscript by Greek mathematician Archimedes, who 22 centuries ago was the Einstein of his day. [...]
The 170-page document, now at the Walters Art Museum in Baltimore, includes the only known copy of the Archimedes treatise "Important Method of Mechanical Theorems" .
A palimpsest is a manuscript with an erased text underneath other writing. The 10th-century Archimedes manuscript was erased — and written over — in the 12th century by a monk trying to recycle valuable vellum, a writing substrate made of animal skin.
Seeing the Archimedes text revealed is to mathematicians "like finding the Holy Grail," said William Noel, curator of manuscripts at the Walters museum. [...]
King crabs march towards the Pole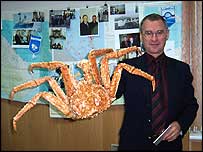 ---
Remember, we need your help to collect information on what is going on in your part of the world!
We also need help to keep the Signs of the Times online.
Obviously, there are a lot of folks out there who do NOT like what we are doing - our own special brand of news coverage - and they are working day and night to create almost insurmountable problems for us, designed to grind us down and render our plans to be able to increase our production (which include a weekly radio show that is currently in the implementation stage) impossible to bring to fruition. We are coming under increasing pressure from many directions all at once.
Our need for financial support has never been greater, including support for legal initiatives to halt the madness of several of the para-COINTELPRO activities currently launched against us. These operations are designed to create a platform to justify utilizing police state tactics so as to silence, and even ultimately, destroy us.
Please: We need your help.
The campaign of lies and disinformation would be frightening under normal circumstances; considering the present state of the world and the machinations of the "National Security State," it is terrifying.
Please - if you have been helped by our work -
won't you help us NOW?

---

Check out the Signs of the Times Archives

Send your comments and article suggestions to us

---
Fair Use Policy
Contact Webmaster at signs-of-the-times.org
Cassiopaean materials Copyright ©1994-2014 Arkadiusz Jadczyk and Laura Knight-Jadczyk. All rights reserved. "Cassiopaea, Cassiopaean, Cassiopaeans," is a registered trademark of Arkadiusz Jadczyk and Laura Knight-Jadczyk.
Letters addressed to Cassiopaea, Quantum Future School, Ark or Laura, become the property of Arkadiusz Jadczyk and Laura Knight-Jadczyk
Republication and re-dissemination of our copyrighted material in any manner is expressly prohibited without prior written consent.
.