At LAST! Laura's popular series on the Holy Grail is BACK! Click here to read
---
U.S. reports climbing poverty rate
FROM ASSOCIATED PRESS
Sep. 26, 2003. 04:15 PM
WASHINGTON — Poverty rose and income levels declined in 2002 for the second straight year as the U.S. economy continued struggling after the first recession in a decade, the Census Bureau reported today.
The poverty rate was 12.1 per cent last year, up from 11.7 per cent in 2001. Nearly 34.6 million people lived in poverty, about 1.7 million more than the previous year.
[...] In 2002, 12.1 million children were in poverty, or 16.7 per cent of all kids, up from 11.7 million, or 16.3 per cent, the previous year. The Census Bureau said the increase was not statistically significant.
[...] For instance, the poverty rate for blacks in 2002 ranged from 23.9 per cent for those who identified themselves as being black and another race, to 24.1 per cent for those who selected only black.
Measured either way, the bureau considered that a significant increase from 2001, when 22.7 per cent of blacks lived in poverty.
Mixed reports cast doubt on US recovery
By John Labate in New York
September 25 2003 18:53

A surprising fall in orders for US manufactured goods in August cast fresh doubts on Thursday about the sustainability of the US economic recovery. [...]
Friday 26 September 2003, 2:44 Makka Time, 23:44 GMT
One day after OPEC's surprise decision to cut oil supplies, US President George Bush pressed Saudi Arabia and other cartel members not to act in ways that threaten the American economy.
The president's highly unusual message to OPEC on Thursday underscored the administration's concerns about the potential impact of higher energy prices on the nation's fragile economic recovery in the run-up to next year's presidential election.
"My reaction is that I would hope our friends in OPEC don't do things that would hurt our economy," Bush told reporters at the White House when asked about OPEC's decision, which could raise fuel costs this winter.
Rumsfeld defends $87bn war request as 'exit strategy'
By Guy Dinmore and Deborah McGregor in Washington
September 26 2003 5:00

Donald Rumsfeld, US defence secretary, last night defended the Bush administration's request to Congress for $87bn (£52bn) to spend on Iraq and Afghanistan, saying the US would not get involved in nation building and that the funds represented an "exit strategy" for American troops.

"We are not in Iraq to engage in nation building," Mr Rumsfeld told a Washington conference co-hosted by the US army and attended by its top officers. "We are there to help Iraqis build their own country." [...]
The White House finds itself in the position of asking for millions of dollars more to provide hospital beds in Baghdad, while arguing that healthcare costs must be contained at home.
Earlier, a spirited exchange between Mr Bremer and David Obey, the leading Democrat on the House appropriations committee, crystallised the debate.
Mr Obey noted the administration was requesting $400m for two new 4,000-bed maximum security prisons in Iraq. "That works out, I think, to $50,000 per bed," said Mr Obey. "How can it possibly cost us that much to build that kind of a prison in Iraq?"
Mr Bremer responded: "I asked the budgeting people about that. They did some cost analysis and the only immediate number they could come up with was a cost of something like $32,000 a bed for a maximum security prison in the US 10 years ago." [...]
SEC tells U.S. markets to draft disaster plans
Fri September 26, 2003 07:11 PM ET
By Laura MacInnis
[...] "With over half of all U.S. households invested in the capital markets, the mechanisms for managing and valuing that wealth -- the trading markets -- must be highly resilient," the agency said in a policy statement. [...]
US judge considers Moussaoui's rights
Friday 26 September 2003, 21:52 Makka Time, 18:52 GMT
A federal judge is mulling whether to drop charges against Zacarias Moussaoui, the only person charged in the US with involvement in the 11 September attacks, though prosecutors remain determined to see him tried.
Moussaoui was charged on 11 December, 2001, and this latest shift comes after the Justice Department decided not to oppose a defence motion to dismiss the case as a sanction for the government's refusal to allow Moussaoui access to witnesses.
The Justice Department reasoning was that a dismissal may be a way to get an appeals court to consider whether access to witnesses deemed enemy combatants by the US should be permitted.
A dismissal of the charges against Moussaoui doesn't mean he'll be freed.
US renews worldwide terror warning

27/09/2003 - 08:56:56
The US State Department reminded Americans today that the risk of a terrorist attack against them was as grave as ever – at home or abroad.
A new worldwide caution supersedes one that was issued on September 10, a day before the anniversary of the September 11 2001 attacks. At the time, the department was concerned that terrorists might observe the second anniversary of the attacks by staging another one.
A State Department official said there was no information to suggest that a terrorist attack was imminent, bus added: "The US government remains deeply concerned about the security of US citizens overseas."
Comment: Click here to see Tony Blair's ex Minister of the environment Michael Meecher interview on America, UK, PNAC and the 'war on terrorism'.
What fear is doing to our freedoms
By Gene E. Franchini
Americans, willingly - and foolishly - are sacrificing their rights in exchange for safety from terrorism, today's writer says. Here is the text of his speech at the New Mexico Foundation for Open Government's annual William S. Dixon First Amendment Awards. [...]
It works like a charm. A fearful people are the easiest to govern. Their freedom and liberty can be taken away, and they can be convinced to believe that it was done for their own good - to give them security. They can be convinced to give up their liberty - voluntarily.
Recently, the passage of the USA Patriot Act and the Homeland Security Act have resulted in the most direct attacks on the Bill of Rights that I have seen in my lifetime. These acts were passed without any meaningful opposition and still have considerable public support.[...]
Map of Local U.S. Governments that have Rejected 'Patriot' Act

Cheney's Halliburton Ties Remain
CBS News
A report by the Congressional Research Service undermines Vice President Dick Cheney's denial of a continuing relationship with Halliburton Co., the energy company he once led, Sen. Frank Lautenberg said Thursday.
The report says a public official's unexercised stock options and deferred salary fall within the definition of "retained ties" to his former company. [...]
A New Weapon in the Doomsday Arsenal
The Strangeloves Win Again
By BRIAN CLOUGHLEY
September 26, 2003
The Nuclear Non-proliferation Treaty (NPT; 1970) is ignored with total impunity by three nuclear-armed countries, India, Israel and Pakistan, none of which have signed it or ever will but nevertheless receive generous military assistance from the United States. No penalties are imposed by the Bush administration for a country's failure to support international arms control agreements, providing these are regarded as a joke by Washington's ultra-right-wing, and the countries concerned are not Iran or North Korea.
So, with the goal of eliminating nuclear weapons at the forefront of its international policy the Bush administration is forging ahead to . . . well . . . , develop more nuclear weapons. According to Senator Wayne Allard (R. Co), however, it isn't really doing that. Not at all, huffs the senator, because ". . . we are not producing new nuclear weapons. We are doing a modification. It is a continuing modification." Ah. So that's all right, then. There's nobody there but us nuclear modifications.
Allard has never met a nuke he didn't like and, as with most of the Senate, was violently opposed to ratifying the Comprehensive Test Ban Treaty (voting against it in 1999), which is still not approved by Washington and never will be for so long as the nuke-happy regime continues. (In 1997 he voted against US ratification of the UN Chemical Weapons' Convention banning production and use of CW. A real humanitarian progressive.) He is a vet, but not a military one. He graduated as a veterinarian in 1968, aged 25 at the height of the Vietnam war, but did not don uniform.
Quartet members urge Palestinians to stop violence as Sharon repeats threat to ''remove'' Arafat
26-09-2003
The Quartet members steering Middle East diplomacy urged the Palestinians on Friday to take immediate, decisive steps to stop violence and told Israel to stop settlement activity.
In the statement, after meeting in New York, the United States, Russia, the European Union and the United Nations recognized Israel's right to self-defense in the face of attacks on its civilians.
"The quartet members condemn the vicious terror attacks of August and September. They call on the Palestinians to take immediate and decisive steps against individuals and groups planning violent attacks," the statement said, according to Reuters.
Also on Friday, Israel's Prime Minister Ariel Sharon was quoted as saying an interview that he is determined to "remove" Yasser Arafat one day, even though the Palestinian leader might get hurt if he is seized by Israeli troops.
Sharon told the Israeli daily Yediot Ahronot that a decision to that effect by Israel's security Cabinet on Sept. 11 canceled his personal promise to President Bush not to harm the Palestinian leader physically.
"You have to keep in mind that it is very difficult to ensure that he (Arafat) won't be harmed if we seize him," Sharon said.
Palestinian Kills Two Israelis on Jewish New Year
By Boaz Paldi
Sat September 27, 2003 07:59 AM ET
JERUSALEM (Reuters) - A Palestinian gunman shot dead a two-month-old baby girl and a man who opened the door to him at a Jewish settlement in the West Bank on Friday as Israelis celebrated the Jewish New Year.
The gunman was later shot dead. He also wounded the baby's mother and father in the attack, launched as Israelis held traditional family meals marking Rosh Hashanah, or New Year. [...]
Pro-Israel PAC Contributions to 2002 Congressional Candidates
Janet McMahon
While much of the attention during the 2002 congressional elections focused on House races, where pro-Israel PACs and individual contributors poured money into the campaigns of vulnerable incumbents Earl Hilliard (D-AL) and Cynthia McKinney (D-GA), resulting in both losing their primary elections to fellow African Americans who undoubtedly know on which side their bread is buttered, the lobby did not fare so well in the Senate. Unsuccessful in their re-election bids were favored incumbents Max Cleland and Jean Carnahan (and her late husband, Mel, who somehow managed to spend all but $3,000 of the $22,500 he received from pro-Israel PACs); New Hampshire Gov. Jeanne Shaheen lost to the dreaded Arab-American Rep. John Sununu; and Sen. Mary Landrieu had to survive a run-off in order to return to the Senate.
Perhaps the American Israel Public Affairs Committee and its trained Stealth PACs are not as invincible as they like to pretend.
France withdraws textbook over content offensive to Jews

By Reuters

PARIS - A book for religion studies teachers in French public schools has been withdrawn from sale because of disputed statements it made about Jews and the Holocaust, education officials said on Friday.
The Education Ministry's publishing section stopped sales of the new book for public school teachers after hearing criticism that some passages could be offensive to Jews, said the officials who asked not to be identified. [...]
Another 15,000 U.S. Troops Told to Prepare for Iraq
By Charles Aldinger
Sat September 27, 2003 01:49 AM ET
WASHINGTON (Reuters) - The United States on Friday activated 10,000 National Guard troops for service in Iraq and put another 5,000 on alert for likely call-up after its appeal for foreign military help met no immediate response.
The 30th Infantry Brigade from North Carolina and the 39th Infantry Brigade from Arkansas, each with 5,000 soldiers, were ordered to join the active duty force on Oct. 1 and Oct. 12 respectively. They will undergo about three months of training before going to Iraq early next year for a full year. [...]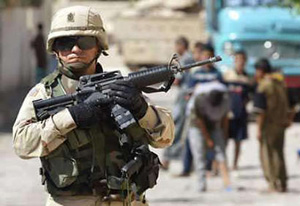 American troops kill 4 Iraqis including woman and child in Fallujah

BAGHDAD (AP) — U.S. troops fired on two cars at a checkpoint in Fallujah, killing four Iraqis and injuring five others, local residents and Arab satellite television reported Saturday.
U.S. military officials could not be reached for comment because their telephone system appeared to be malfunctioning.
However, residents reached by telephone in Fallujah said the incident occurred about 10 p.m. Friday on the eastern edge of Fallujah, where opposition to the American presence runs deep. Al-Jazeera television and local residents said the dead included two men and two women and that one of those wounded was a child. [...]
American troops kill four Iraqis as US agrees to bigger UN role
27-09-2003
Meanwhile, Washington has agreed to give the United Nations a bigger political role in overseeing Iraq's transition to democracy, an American official told The AP on Friday.
The United States is pushing for a new U.N. resolution to try to get more nation to contribute troops and money to Iraq, but faces stiff opposition from France, Germany and several other Security Council members that want Bush administration to relinquish power quickly and give the United Nations more say in the process.
The American official, who requested anonymity, said the United States has agreed to give the international body a bigger role in the election and the political transition to a democracy.
"We've promised to turn that process over to the U.N. So I think you've seen the United States move quite a bit," the U.S. official was quoted as saying.
Dutch 'helped recruit Iraqis' for US invasion

25 September 2003

AMSTERDAM — Despite government denials, the Netherlands was involved in the recruiting of Iraqi volunteers to assist the US military topple Saddam Hussein's regime, it has been claimed.
Two Iraqi male volunteers admitted on the television investigation programme Netwerk on Wednesday night that Dutch public servants with the Ministry of Foreign Affairs were present at their recruitment and selection. They also claim the officials grave a briefing in regards passports and immigration matters.

The claims made by the two Iraqis, who also hold Dutch passports, contradict a statement from Foreign Affairs Minister Jaap de Hoop Scheffer, who denied in March that the Dutch government was involved in the recruitment process.
Report: UK Iraq Expert's Death May Be Probed Again

Fri Sep 26,10:11 PM

LONDON (Reuters) - British Prime Minister Tony Blair (news - web sites), whose leadership has been rocked by an inquiry into the suicide of an Iraq (news - web sites) weapons expert, might have to endure a second inquiry into his death, The Times newspaper said on Saturday.
The Hutton Inquiry into the death of scientist David Kelly has raised questions about the case the government made for invading Iraq. Its report will be delivered by December.

But a coroner in Kelly's home county of Oxfordshire said he might reopen his own inquest, which was adjourned at the start of the Hutton Inquiry, because several witnesses had refused to let judge Lord Hutton see their statements to police.

Oxfordshire Coroner Nicholas Gardiner said at least five witness statements were not seen by Lord Hutton, according to the newspaper.

"Why these individuals concerned do not want their evidence to go forward I do not know," he was quoted as saying. "I shall ask police to show them to me if necessary. It depends on my reading of the (Hutton) report, which does not exist yet."

Police interviewed 500 people, took 300 witness statements and passed the 70 most relevant on to Lord Hutton, but only where the witnesses had given their permission, the paper said.
Comment: Anyone smell witness intimidation?
The Least Of Washington's Worries
Walid Choucair
Al-Hayat 2003/09/26
UN Secretary General Kofi Annan tried to bring the U.S. into a debate on the role of the international organization and the reforms that need to be introduced to its bodies. But U.S. President George Bush ignored Annan's invitation; he even went as far as ignoring what Annan and other world rulers had to say when trying to soothe Americans' obsessions and worries on fighting terrorism. One would even think that this worry has become secondary, only coming after that of establishing unilateral world leadership.
[...] This all means that all what Bush wants from the teamwork he requested from the UN General Assembly is to have a few men from other countries die with his men, and some money, in a bid to limit the American public opinion's objections to his policy… regarding the rising number of American casualties, the growing budget deficit (according to official figures, the deficit will exceed $522 billion in 2004), while the least of Bush's worries is for his country to regain some pluralism. Even when he agrees to the limited UN role in Iraq, such as 'assisting in drafting a constitution and training civil servants,' he gives the impression that he's requesting international help for the latter's own sake.
Hypocrisy, Oil And Impossible Democracy
Salameh Nematt
Al-Hayat 2003/09/26
It is all nice and kind that Arab governments are calling on the U.S. to hand over power to the Iraqi people, just like France and other democratic countries have been doing. But, do they mean holding elections in Iraq to choose a legal leadership representative of the people, according to the French model or to the Arab one? Is it true that Arab governments want to carry out democratic elections in Iraq? Is it in their interest that Iraqis become - under American occupation - the first Arab people to elect their rulers instead of the rulers being imposed on them by means of tanks or genetic heritage?
The Arabs who are making these demands should explain what they mean exactly. If they are claiming that the transfer of power should be done through free democratic elections, then why don't they start doing that themselves? [...]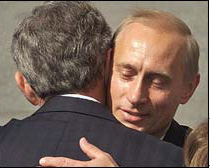 Russia's Vladimir Putin at Camp David for talks with Bush

AFP
Saturday September 27, 7:10 PM

Russian President Vladimir Putin was at the US presidential retreat near Washington for a weekend summit with George W. Bush expected to focus on Iraqi reconstruction, Iran's nuclear program and oil. [...]

In New York Friday, Putin pledged to develop the transport infrastructure that would enable Russia to become a major oil exporter to the United States.

Putin said both countries stood to gain immense benefits from their energy partnership. [...]

US holding '250 foreign fighters' in Iraq

Saturday 27 September 2003, 11:04 Makka Time, 8:04 GMT

US forces in Iraq are holding 19 al-Qaida suspects among 248 foreign fighters captured there, the US occupation administrator has claimed.

And amid continuing reluctance by other countries to send their troops to assist the US-led occupation, Washington has activated 10,000 Army National Guard troops and put 5000 more Army Guard soldiers on alert for probable duty in Iraq.

Iraq council denies foreign ownership move

Wednesday 24 September 2003, 21:35 Makka Time, 18:35 GMT

Iraq's Governing Council has stepped back from a controversial pledge by its finance minister to allow 100% foreign ownership in most economic sectors, saying the matter needs more study.

The US-installed body issued a statement on Wednesday distancing it from a key part of a sweeping economic package presented by interim Finance Minister Kamil al-Kilani at the International Monetary Fund meeting in Dubai on Sunday.

US wants Iraq reparations dropped

Saturday 27 September 2003, 2:23 Makka Time, 23:23 GMT

The United States has urged Kuwait and Saudi Arabia to drop war reparations claims against Iraq for losses suffered during the 1991 Gulf War.

Paul Bremer, the US-occupation administrator in Iraq, told a Pentagon briefing on Friday that Iraqis should not be made to pay for a war most of them opposed.

"Well, I have to say that it is curious to me to have a country whose annual per-capita income GDP is about $800 … pay reparations to countries whose per-capita GDP is a factor of 10 times that, for a war which all of the Iraqis who are now in government opposed," Bremer said.

[...] As living standards in Iraq deteriorated sharply in the 1990s, critics described the multibillion reparations burden as crippling.

But as recently as early 2003, the US was insisting Iraq had to abide by all UN demands, including Resolution 705 (1991) which set up the mechanisms for the payment of reparations.

Bremer said Iraq owed about $200 billion in total debt, with about $98 billion in war reparations claims.

Media: Freedom and Responsibility

Abdul Rahman Al-Rashid

It is contradictory for the Governing Council to promise freedoms and then take them away. But it is also wrong for the Arab press to treat these freedoms as though they give them the right to falsify, incite and transmit death threats. There is a middle ground where the Arab press neither turns into an opposition camp nor into a mouthpiece for the current regime. It is going to have to maintain its credibility without becoming a donkey for murderers.

Karzai says al-Qaida out of Afghanistan but fears radicals may stage comeback

07:44 AM EDT Sep 27
KATHY GANNON

NEW YORK (AP) - Afghan President Hamid Karzai, who believes Osama bin Laden is hiding in the rugged mountain peaks that border Pakistan, said Friday the al-Qaida terrorist network in his country has been wiped out.

But Karzai warned that unless the world steps up its aid and sends more troops, Islamic radicals could regain control in Afghanistan and stage more terror attacks in the West. He called on the United States to press Pakistani President Pervez Musharraf to crack down on religious leaders helping Taliban fighters stage attacks across the border.

Bremer's comments are striking because the US was the key player driving the imposition of the UN sanctions regime in 1991 that demanded reparations from Iraq.

[...] A recent U.S. intelligence report, however, suggests that al-Qaida is still active in Afghanistan.

"Al-Qaida, Taliban and (other) elements have pooled their resources to secure successful strikes against U.S. and coalition forces," the report said. "While each has different motivations, the desired end state is the same: to remove U.S./coalition presence and return control of Afghanistan to a government that is more sympathetic to them."

Afghan child slavery probe

Afghan authorities say they have rescued 85 boys - some as young as four - who had been abducted, possibly for trafficking abroad.

The authorities suspect the boys were destined for religious schools in Pakistan and Iran, although there are concerns they might have been taken for sale as sex slaves. [...]

Unicef has urged the Afghan Interior Minister, Ali Ahmad Jalali, to intervene. [...]

Since the fall of the Taleban, Afghanistan's transitional government has been attempting to rebuild the police force and national army, which disintegrated during two decades of civil war.

The power of Afghan President Hamid Karzai does not extend much beyond Kabul and provinces are ruled by warlords who maintain small private armies.

Comment: "We are coming with a mighty force to liberate your people" - GWB 2003

By Timur Moon
Tuesday 23 September 2003, 1:58 Makka Time, 22:58 GMT

Heightened technology sharing between Israel and India may soon see both countries transfer their nuclear capability to state-of-the-art attack submarines patrolling far offshore.

A clandestine programme to develop a new generation of potentially nuclear-capable hardware could see the first finished submarine models rolling off the production line within years, according to intelligence sources.

The programme to fast-track production of a new wave of submarines comes as the latest move to forge a new Indo-Israeli military and intelligence "axis".

[...] But Israel recently overtook Russia as the largest seller of weapons to India, with an annual trade of $2 billion, while India superseded Turkey as Israel's biggest client, accounting for almost half of Israel's total $4.2 billion military sales.

Nuclear capable

Intelligence sources suspect that an advanced submarine model Israel recently acquired from Germany is being fitted with a nuclear capability.

"The Israelis have a remarkable new submarine, and for what they claim is a conventional model, it is being kept unusually classified," said Rear Admiral Raja Menon, of the New Delhi based Institute of Defence Studies and Analysis.

Israeli submarines could plug India's perceived security gap
"I wouldn't put it past them to be seeking to fit the vessel with a capacity to fire nuclear-tipped cruise missiles. That would enable them to move their nuclear sites off land and into the sea, removing potential targets from their soil. That's a big advantage."

[...] How to build an apartheid wall

The wall is cutting through swathes of the West Bank
Meanwhile, Tel Aviv also offered to share its expertise on the construction of electronic border fencing to seal India off from nuclear rival Pakistan, despite international condemnation of the apartheid wall - Israel calls it a security fence - it is building through the occupied West Bank.

"The issue of building a fence with Israeli help is on the table, Chakrabarti confirmed."

[...] The strategic axis would also offer a counterbalance to the perceived threat of a China-Pakistan alliance, highlighted by the recent test flight of new Sino-Pak CF-1 fighter jets, said to rival US F16s.

Sami Moubayed

The new government of Mohamed Al-Otari indicates that when it comes to Syrian politics, the unexpected should be expected.

When Syrian President Bashar Al-Assad announced last month his decision to change the 19-month-old cabinet of Prime Minister Mohamed Mustafa Miro, speculation soared about the identity of the new premier and the content of his political agenda.

[...] When the cabinet was finally announced after much anxiety, it was a surprise how few changes it carried.

The reasons were apparent: Syria does not want to institute sweeping changes under pressure from the United States. It also does not want to appear as having weakened under US pressure, as Yasser Arafat appeared to have been when Washington forced him to appoint a reformist prime minister last May. Having portrayed itself as the vanguard of Arab nationalism, especially in the latest war on Iraq, the Syrian Government did not want to be perceived by the Arabs in general, or the Syrians in particular, as too weak to stand up to US demands.

Iran Will Not Give Up Uranium Enrichment for Peaceful Purposes: Kharrazi

NEW YORK - Foreign Minister Kamal Kharrazi said on Wednesday that Iran would not give up its uranium enrichment program, insisting it was purely for civilian purposes. [...]

Prodi rules out EU resignations

Prodi pledged to stamp out fraud

European Commission President Romano Prodi has said there is no need for any senior members of his team to resign over alleged fraud at the European Union's statistical agency, Eurostat. Mr Prodi was addressing a committee of European Parliament leaders at a closed-door hearing in Strasbourg.

"After careful thought and in full awareness of the issues, I consider there is no reason to ask any Commissioner to assume the political responsibility and resign," said Mr Prodi , according to the text of his speech, released to journalists.

Members of the European parliament (MEPs) are openly calling for the resignation of the commissioner in overall charge of Eurostat, Pedro Solbes.

But Mr Prodi stood firmly behind the economic and monetary affairs commissioner saying that "Mr Solbes has no cause for personal reproach".

Instead, according to the AFP news agency, he blamed former Eurostat chief Yves Franchet for the debacle, in which million of euros disappeared into fictitious contracts and secret bank accounts.

Brazil agrees to grow GM crops

John Vidal and Gareth Chetwynd in Sao Paulo
Friday September 26, 2003
The Guardian

Brazil, the last big country to resist GM crops, dashed the hopes of environmentalists yesterday and gave in to pressure from the US and its own big farmers to allow them to be grown for at least a year.

After a day of protests, Greenpeace Brazil, the Brazilian Green party and non-governmentel groups announced that they would seek to get the decision overturned in the courts.

The government was divided on the decision, which was suported by agriculture officials, who said they were anxious to keep abreast of the latest technological developments.

Opponents of GM foods were disappointed by the apparent u-turn by President Luiz Inacio Lula da Silva, whose Workers Party (PT) resisted GM crops when it was in opposition.

US producers have long complained that Brazil has had an unfair advantage because many of its farmers do not pay royalties for black-market GM soya.

The lifting of the planting ban was described by critics as a triumph for [Monsanto].

In Reversal, Brazil Will Permit a Gene-Modified Crop

By LARRY ROHTER
Published: September 26, 2003

IO DE JANEIRO, Sept. 26 — After several days of high-level waffling, Brazil's left-leaning government, a bastion of global opposition to genetically modified foodstuffs, has abandoned a campaign pledge and decided to allow Brazilian farmers to grow genetically modified soybeans.

[...] The Brazilian press has speculated that Mr. Dirceu engineered the timing of the announcement of the measure so that it would occur when his boss was out of the country and Mr. Alencar was serving as acting president, as provided by the Brazilian Constitution. That way, the vice president, who is not a member of the governing party, would bear the political onus of taking so controversial and unpopular a decision.

But Mr. Alencar surprised everyone by arguing that the measure "goes against existing Brazilian legislation," saying that more research was needed and then convoking an emergency cabinet meeting.

[...] In a statement issued Thursday, the Brazilian chapter of Greenpeace accused Mr. da Silva's government of betraying its principles, selling out to big business and "disrespecting a commitment made to the population" during last year's presidential campaign. The group vowed to challenge the decree in court and was joined in its criticisms by the national association of judges, which said the measure is "juridically absurd and flagrantly unconstitutional."

The government's about-face is also likely to provoke tensions in the hitherto warm relations between Mr. da Silva and his allies and admirers in the Green movement in Europe. His Workers' Party has been the main sponsor of the annual World Social Forum in the southern state of Rio Grande do Sul, which has emerged as a magnet for anti-globalization groups whose agenda includes strong opposition to genetically modified products.

French heatwave death toll rise to 14,800, elderly women main victims

TERRA.WIRE
PARIS (AFP) Sep 25, 2003

The French government admitted on Thursday that nearly 3,500 more people than originally thought had died in the record heatwave that overwhelmed the country's morgues and hospitals in August, bringing the toll to 14,802, with elderly women the main victims.

[...] Despite increasingly strident warnings from hospital doctors as bodies piled up, the government only implemented a countrywide emergency plan after the heatwave had all but passed.

France has been shocked by the soaring toll given by officials, who initially declined to give numbers but eventually put forward estimates of 3,000, then 5,000, then 10,000 before finally arriving at the total of 14,802 given on Thursday.

Global warming means Russian winter isn't what it used to be: expert

TERRA.WIRE
MOSCOW (AFP) Sep 24, 2003

Russia's top weather expert Wednesday confirmed what many Muscovites have felt in their bones for several years already: the Russian winter isn't what it used to be.

"It's become warmer in Moscow over the past 30 years," the head of the Russian Weather Centre Alexander Bedritsky said.

Three decades ago the mean winter air temperature in Moscow was minus 10 degrees Celsius (14 degrees Fahrenheit), but this has now risen to an average of minus eight degrees (18 degrees Fahrenheit), Bedritsky said, as quoted by the ITAR-TASS news agency.

Yes, we have no El Niño or La Niña today
Winter forecasts still up in the air
Environment Canada says all's normal

PETER GORRIE
FEATURE WRITER

In Toronto from 1951 to 1980, the average annual snowfall was 131 centimetres. From 1961 to 1990, the average dropped to 124 centimetres. The current average, covering 1971 to 2000, is just 115 centimetres.

From 1951 to 1991, the average January temperature was minus 6.7C. From 1971 to 2000, it rose to minus 6.3C. That change, Phillips says, "doesn't sound like much, but it adds up to a lot of warmth."

Heat (and debate) is on

By Richard Macey
September 27, 2003

Temperature records were set across NSW this week, the next three months are tipped to be warmer than average and, after the hottest European summer in five centuries, scientists there revealed the waters off Crete had climbed three degrees in a year.

At Observatory Hill yesterday the temperature peaked at 29 degrees - 10 degrees warmer than the forecast for today - and the first time since records began that Sydney's temperature has topped 27 degrees on five successive days in September.

The debate over global warming may also get hotter next week when Denmark's Bjorn Lomborg, the author of the controversial book The Skeptical Environmentalist, begins his Australian tour. [...]

Flooding in Tunisia leaves three dead

TERRA.WIRE
TUNIS (AFP) Sep 25, 2003

Three people died in flooding caused by torrential rain that beat down on the Tunisian capital and its suburbs, state news agency Tap said on Thursday.

The deluge on Wednesday paralysed the city and the surrounding neighbourhoods, causing blackouts and chaos on the roads and cutting telephone lines in a number of areas.

[...] The storm came just one week after Tunis and its surrounding region were hit by the heaviest rains in half a century. The subsequent floods claimed four lives and caused serious damage to housing, businesses and state-owned buildings.

Thirty homeless, one missing after torrential Italian rains

TERRA.WIRE
CARRARA, Italy (AFP) Sep 24, 2003

An elderly woman was swept away by floods and 30 were forced out of their homes after torrential rains battered the central Italian region of Tuscany, the national rescue service said on Wednesday.

[...] A total 257 millimetres (10 inches) of rain fell in the region on Tuesday alone.

Alpine tunnel closed due to pollution

TERRA.WIRE
LYON, France (AFP) Sep 26, 2003

The Mont Blanc road tunnel that links France and Italy under the Alps was closed late Thursday for an undetermined period due to pollution, according to France's traffic information service, the CRIC.

Twelve Russians exposed to radiation at nuclear dump

TERRA.WIRE
MOSCOW (AFP) Sep 24, 2003

Twelve people working at a Russian nuclear waste site have been exposed to higher-than-normal radiation levels, Russian authorities said on Wednesday.

People's sufferings compound with flood water receeding

CORRESPONDENT, RAJSHAHI

Sept 26: As the overall flood situation of Rajshahi district continues to improve, the flood hit people are struggling for survival in their inaundated homesteads with shortage of food and drinking water prevailing in the affected areas.

Hurricane Juan bypasses Bermuda, sets sights on southeast Canada

MIAMI (AP) — Juan strengthened into a hurricane Friday southeast of Bermuda but only kicked up rough surf and wind gusts to 30 mph as it passed east of the islands. Now, it seems to have its sights set on the Canadian Maritimes, and could plow into Nova Scotia, possibly as a hurricane, by Sunday.

Commercial whaling 'devastating' North Pacific

Modern commercial whaling had a devastating impact on the ecosystem of the North Pacific 50 years after it began, scientists revealed yesterday.

A chain reaction caused by killing too many whales has led to the collapse of seal, sea lion and sea otter populations, the researchers believe. [...]

2003/09/27 11:33 M 7.5 SOUTHWESTERN SIBERIA, RUSSIA Z= 18km 50.06N 87.73E

This information is provided by the USGS
National Earthquake Information Center.

These parameters are preliminary and subject to revision.

A magnitude 7.5 earthquake IN SOUTHWESTERN SIBERIA, RUSSIA has occurred at:
50.06N 87.73E Depth 18km Sat Sep 27 11:33:25 2003 UTC

Saturday 27 September 2003, 3:06 Makka Time, 0:06 GMT

Another tremor measuring 6.0 on the Richter scale has struck Japan, barely a day after several massive quakes jolted the country.

[...] The early morning quake brought to 27 the total number of tremors felt by people since Friday.

Search for missing after quake

From correspondents in Obihiro, Japan
September 27, 2003

POLICE resumed a search for two missing men today as repairs to damaged roads, habours and buildings proceeded on the northern Japanese island of Hokkaido following a massive earthquake. [...]

Japan and Russia Continue to Shake

2003/09/26 20:38:21 6.0 HOKKAIDO, JAPAN REGION
2003/09/26 06:26:57 5.9 HOKKAIDO, JAPAN REGION
2003/09/26 04:44:18 5.2 SAKHALIN, RUSSIA
2003/09/26 04:35:15 4.8 NORTH OF SVALBARD
2003/09/26 03:51:35 5.2 HOKKAIDO, JAPAN REGION
2003/09/26 03:29:05 5.1 HOKKAIDO, JAPAN REGION
2003/09/26 02:35:12 5.4 HOKKAIDO, JAPAN REGION
2003/09/26 00:13:29 5.6 TONGA REGION
2003/09/25 23:11:40 4.8 HOKKAIDO, JAPAN REGION
2003/09/25 22:40:35 5.3 SOUTHERN EAST PACIFIC RISE
2003/09/25 22:20:20 4.9 HOKKAIDO, JAPAN REGION
2003/09/25 21:07:59 7.4 HOKKAIDO, JAPAN REGION
2003/09/25 21:02:52 5.3 HOKKAIDO, JAPAN REGION
2003/09/25 20:57:13 5.7 HOKKAIDO, JAPAN REGION
2003/09/25 20:38:49 4.8 HOKKAIDO, JAPAN REGION
2003/09/25 20:25:11 5.0 HOKKAIDO, JAPAN REGION
2003/09/25 20:10:02 5.5 HOKKAIDO, JAPAN REGION
2003/09/25 20:05:25 5.3 HOKKAIDO, JAPAN REGION
2003/09/25 19:50:06 8.3 HOKKAIDO, JAPAN REGION

Earthquake jolts Northwest China

Beijing, Sept. 27. (PTI): A moderately strong earthquake measuring 4.9 on the Richter scale hit the Kirgiz autonomous prefecture of Kizilsu in the westernmost part of Xinjiang Uygur Autonomous Region today but there is no immediate report of any casualty. [...]

Hundreds sick after volcano erupts in Indonesia

www.chinaview.cn
2003-09-27 14:25:17

JAKARTA, Sept. 27 (Xinhuanet) -- At least 565 villagers living on the slopes of Mount Lewotobi in Indonesia's East Nusa Tenggara, have experienced respiratory problems and skin diseases following an Aug. 31 eruption of the volcano, the daily Jakarta Post reported on Saturday.

Diseases linked to the volcano had affected more than the 565 villagers, said the report quoting Marta Lolang, a nurse at the Hokeng Jaya clinic.

Many villages on the slopes of the volcano had been affected bysulfur and volcanic dust when it erupted on Aug. 31, said the nurse. [...]

Meteorite strike zone pinpointed in research

A grant for more extensive drilling could bolster extinction theory.

By Mike Penprase
News-Leader

Osceola — They never knew what hit them.

Denizens of the shallow sea covering much of Missouri more than 300 million years ago were slammed by a meteorite 1,200 feet across and moving five times faster than a bullet, leaving a geological puzzle to solve in what is now St. Clair and Hickory counties, Kevin Evans said Friday as he and more than 100 fellow geologists and students searched for signs of that mighty collision. [...]

Evans was serious about the implications of the research, bolstering extinction theories based on meteorite strikes and letting astronomers know what a strike from a small meteorite might do. [...]

Sep 27 2003

BRITISH - built satellites which can raise the alert about a disaster on Earth are being launched by rocket into space today.

Costing £4.5 million each, they are an early-warning system for such events as forest fires or earthquakes. They have been dubbed "International Rescue" satellites after the 60s TV show Thunderbirds.

Britain, Turkey and Nigeria have paid to send three up from Russia today - and along with others they will form the Disaster Monitoring Constellation.

Audrey Nice, of the University of Surrey spin-off firm which designed the satellites, said: "They have more uses than we thought.

Comment: Of course they are not looking for anything in particular, they just have a feeling that it might be a good time to keep a watch out for "disasters".

Neanderthal Hunters Rivalled Human Skills

NewScientist.com news service
23 September 03

Neanderthals were not driven from northern Europe by vastly superior human hunters, suggests an analysis of hunting remains.

Neanderthals inhabited southern France from 65,000 years before the present until roughly 40,000 to 35,000 years ago. Neanderthals disappeared from the region about the time the earliest anatomically modern humans, known as Cro-Magnon appeared.

Precisely why Neanderthals disappeared remains a puzzle. But the idea that early humans were much more intelligent, dexterous and socially sophisticated is being questioned by a growing body of archaeological evidence.

Grayson and Delpech found no difference in the prey caught and butchered by Neanderthals and Cro-Magnon after studying more than 7200 bones and teeth from large hoofed animals.

Humans more like poodles than mice

Last Updated Thu, 25 Sep 2003 13:52:52

WASHINGTON - We are genetically closer to poodles than lab mice, according to a study of the canine genome.

[...] Although dogs are genetically closer to humans than we are to mice, the rodent and humans are closer together on the tree of evolution, according to the draft sequences.

Geneticists say millions of year ago, all mammals shared a common ancestor. The canine results mean humans share the same lineage as the mouse on the evolutionary tree, but mice are evolving at a faster rate, Kirkness said.

Rat Joins List of Cloned Animals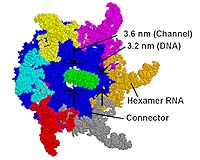 Rutgers To Create Ultra-Tiny Biological Nano-Motors
New Brunswick - Sep 24, 2003
A prototype of the "Viral Protein Nano Motor" is expected to be unveiled in 2007, with research and development funded by a four-year $1,050,017 grant from the National Science Foundation and its Nanoscale Science and Engineering program.

Three engineering departments at Rutgers, The State University of New Jersey – mechanical and aerospace, biomedical, and chemical and biochemical – are teaming up to create a prototype of an ultra-tiny motor small enough to be part of a system that could eventually travel patients' bloodstreams to help repair damaged cells, organs and DNA.
A prototype of the "Viral Protein Nano Motor" is expected to be unveiled in 2007, with research and development funded by a four-year $1,050,017 grant from the National Science Foundation and its Nanoscale Science and Engineering program.
'Alien' stars invade Milky Way

By Dr David Whitehouse
BBC News Online science editor
Friday, 26 September, 2003, 14:20 GMT
Thousands of stars stripped from a nearby dwarf galaxy are streaming through our own Milky Way, according to astronomers.

These "alien" stars could at times be close to our Sun, they say. The interlopers were spotted on a new survey of the entire sky. This allowed them to remove obscuring foreground objects and get a good look at what lies around our Milky Way.
Torn apart and devoured
Using data from the Two-Micron All Sky Survey (2Mass) - a study of the sky in infrared light - astronomers are showing that our Milky Way is devouring one of its neighbours.
The analysis is the first to map the full extent of the nearby Sagittarius galaxy, showing how this galaxy, which is 10,000 times smaller in mass than our own, is being stretched out - torn apart and devoured by our Milky Way. [...]
Secrets of the moon ready for revelation
By Richard Macey
A box of gadgetry little bigger than a television will be hurled into space this weekend on a mission to explain where the moon came from.
After studying rocks brought back by six manned Apollo missions and three unmanned Russian probes in the 1960s and '70s, scientists theorised the moon formed 4.5 billion years ago after a Mars-sized planet collided with Earth. Lighter rocks were thrown into orbit, forming the moon.
But Bernard Foing, the European Space Agency's project scientist, said it was still just a theory. [...]
10-year-old boy set alight in petrol attack

September 27, 2003

Newport, Wale: A 10-year-old boy was doused in petrol by youths and set alight, Welsh police said.
Gwent Police are hunting two youths believed to have been involved in the incident in Naindee, Newport, south Wales yesterday.
The fire brigade and the ambulance service were called to the scene after Lloyd Bailey was set alight just after noon Lloyd ran to a nearby garage where worker Ben Fry poured water over him.
Kazaa files copyright complaint against RIAA, others
By Grant Gross
IDG News Service MacCentral
The maker of the popular Kazaa peer-to-peer software has turned the tables on the Recording Industry Association of America (RIAA) and a number of entertainment companies by suing them for copyright infringement.
Earlier this week, Sharman Networks Ltd., the company that distributes the Kazaa Media Desktop software, accused the RIAA and several entertainment companies of violating its copyrights by downloading an unauthorized version of the Kazaa file-sharing software and using it to hunt down the IP (Internet Protocol) addresses of alleged music downloaders.[...]
Arrests begin as giant porn ring smashed
National Business Review, New Zealand
German police say they have smashed a child pornography ring that includes 26,000 subscribers in 166 countries, including Australia.
Reports in the British press say arrests have begun in the UK, with 7 of a suspected 22 members there in custody.
According to The Guardian, the National Crime Squad and the National Criminal Intelligence Service first received information on the suspects last December, and were sent further details a fortnight ago.
In searches and arrests executed as part of what the German police dubbed "Operation Marcy" over 500 homes were raided in the last few days.
In one state alone, German authorities seized 52 desktop computers, seven laptops, 1,473 CD-ROMs, computer hard drives and more than 200 videos, state police spokesman Frank Federau said on Antenna-Lower Saxony radio.
One man in Bavaria had 26,000 pornographic photos of children, according to CNN. [...]
Whisky boss 'amazed' by spy interest
Ananova.com
10:07 Saturday 27th September 2003
The boss of a tiny Scottish distillery says he is amazed to learn that US spies have been monitoring his whisky plant for weapons of mass destruction. [...]
"They said they had been monitoring our webcams because the process of making something very innocuous and pleasant is close to making weapons of mass destruction, apparently. We just think it is the funniest thing we have ever heard."
The US Government agency based at Fort Belvoir in Virginia, USA, is responsible for American national security.
An agency spokesman was reported as saying the distillery's webcams were of "no official interest".
Pigeon droppings cause roof collapse
Ananova.com
12:01 Friday 26th September 2003
The roof of a house in Chile has collapsed under the weight of accumulated pigeon droppings.
Ana María Bustos said the roof crashed down into her living room in Santiago because pigeons had been using it as a roost.
She said she ended up with around a year's worth of pigeon droppings on her floor. [...]
Man sues over "false imprisonment" in portable toilet

By the Associated Press
Published September 26, 2003
NORFOLK, Va. -- A sudden, irresistible urge. A portable toilet. A confrontation with an angry construction worker. Now, a federal lawsuit.
William Tremmel, 68, of Altoona, Pa., needed to go. Badly. So he dashed to the nearest portable toilet on the Virginia Beach boardwalk.
Problem was, it belonged to construction workers for Weeks Marine, a company hired by the city to replenish the beach. And those workers were fed up with outsiders using the company can.
They retaliated, Tremmel claims in a lawsuit filed last month, by driving a bulldozer or front-end loader to the toilet and blocking the doorway, pinning him "inside the rank tomb."
Tremmel is seeking $100,000 for the Aug. 19, 2001, incident.
Tremmel says he was locked inside for 25 minutes. He claims members of his family shouted at the worker, but the man left and returned with his foreman, who chastised Tremmel through the closed door and accused him of trespassing.
Tremmel says the "abduction and false imprisonment" caused him "humiliation, mortification, shame, vilification, injury to his feelings, mental suffering, insult and indignity."
---
Remember, we need your help to collect information on what is going on in your part of the world!
We also need help to keep the Signs of the Times online.
Obviously, there are a lot of folks out there who do NOT like what we are doing - our own special brand of news coverage - and they are working day and night to create almost insurmountable problems for us, designed to grind us down and render our plans to be able to increase our production (which include a weekly radio show that is currently in the implementation stage) impossible to bring to fruition. We are coming under increasing pressure from many directions all at once.
Our need for financial support has never been greater, including support for legal initiatives to halt the madness of several of the para-COINTELPRO activities currently launched against us. These operations are designed to create a platform to justify utilizing police state tactics so as to silence, and even ultimately, destroy us.
Please: We need your help.
The campaign of lies and disinformation would be frightening under normal circumstances; considering the present state of the world and the machinations of the "National Security State," it is terrifying.
Please - if you have been helped by our work -
won't you help us NOW?

---

Check out the Signs of the Times Archives

Send your comments and article suggestions to us

---
Fair Use Policy
Contact Webmaster at signs-of-the-times.org
Cassiopaean materials Copyright ©1994-2014 Arkadiusz Jadczyk and Laura Knight-Jadczyk. All rights reserved. "Cassiopaea, Cassiopaean, Cassiopaeans," is a registered trademark of Arkadiusz Jadczyk and Laura Knight-Jadczyk.
Letters addressed to Cassiopaea, Quantum Future School, Ark or Laura, become the property of Arkadiusz Jadczyk and Laura Knight-Jadczyk
Republication and re-dissemination of our copyrighted material in any manner is expressly prohibited without prior written consent.
.