At LAST! Laura's popular series on the Holy Grail is BACK! Click here to read
---
Israel pounds 'mutiny' pilots

JERUSALEM: Israel sharply criticised and grounded yesterday a group of air force pilots who refused to carry out missions against Palestinian militants in which civilians could be killed.
"The pilots' mutiny" was how Israel's largest newspaper, Yedioth Ahronoth, described their action as commentators speculated whether other soldiers might follow suit in opposing the way the military confronts a Palestinian uprising.
"Everyone has the right to voice their opinion, but it is unacceptable that a group of military men interfere in such an issue, an issue decided on by the political echelon after great deliberation," Prime Minister Ariel Sharon said.
The air force chief, Major-General Dan Halutz, said in a statement that those in the group still in active service would be grounded and given a chance to retract their statement or face dismissal from the air force
Comment: It should be noted that the pilots actual words were that they "refused to target innocent civilians". This is clear and unequivocal evidence that it is official Israeli policy is to attack and murder innocent civilians, the pilots being in the best position to know. It should also be noted that the official Israeli government response to this was that this action by the pilots represented a " cancer that needs to be cut out".
Therefore it should be FULLY AND CLEARLY UNDERSTOOD that, from the Israeli government's point of view, the killing of innocent civilians is fully acceptable and in fact forms a part of official policy.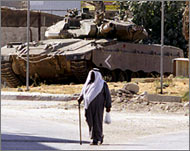 The Israelis regularly invade Jenin to kill resistance fighters and civilians
Israelis invade Jenin refugee camp
Friday 26 September 2003, 10:35 Makka Time, 7:35 GMT
The Israeli army has invaded the Palestinian town of Jenin and bombarded its refugee camp with heavy machine-gun fire.
Aljazeera's correspondent in Jenin said 15 military vehicles raided the town on Friday morning and imposed a curfew.
Eyewitnesses said Israeli forces launched sweeping raids on the outskirts of Jenin while Apache helicopters hovered over the area.
The raid comes a day after six Palestinians, including a three year old girl, were killed in a bloody day of Israeli violence in the occupied territories.
Check out this video of Israeli 'settlement' activity
Mossad Undercover Ops
Flashack!

The spies who pushed for war
Julian Borger reports on the shadow rightwing intelligence network set up in Washington to second-guess the CIA and deliver a justification for toppling Saddam Hussein by force
Thursday July 17, 2003
The Guardian
[...] According to former Bush officials, all defence and intelligence sources, senior administration figures created a shadow agency of Pentagon analysts staffed mainly by ideological amateurs to compete with the CIA and its military counterpart, the Defence Intelligence Agency.
The agency, called the Office of Special Plans (OSP), was set up by the defence secretary, Donald Rumsfeld, to second-guess CIA information and operated under the patronage of hardline conservatives in the top rungs of the administration, the Pentagon and at the White House, including Vice-President Dick Cheney.
The ideologically driven network functioned like a shadow government, much of it off the official payroll and beyond congressional oversight. But it proved powerful enough to prevail in a struggle with the State Department and the CIA by establishing a justification for war.
In fact, the OSP's activities were a complete mystery to the DIA and the Pentagon.
"The iceberg analogy is a good one," said a senior officer who left the Pentagon during the planning of the Iraq war. "No one from the military staff heard, saw or discussed anything with them."
The civilian agencies had the same impression of the OSP sleuths. "They were a pretty shadowy presence," Mr Thielmann said. "Normally when you compile an intelligence document, all the agencies get together to discuss it. The OSP was never present at any of the meetings I attended." [...]
Democratic congressman David Obey, who is investigating the OSP, said: "That office was charged with collecting, vetting and disseminating intelligence completely outside of the normal intelligence apparatus. In fact, it appears that information collected by this office was in some instances not even shared with established intelligence agencies and in numerous instances was passed on to the national security council and the president without having been vetted with anyone other than political appointees."
The OSP was an open and largely unfiltered conduit to the White House not only for the Iraqi opposition. It also forged close ties to a parallel, ad hoc intelligence operation inside Ariel Sharon's office in Israel specifically to bypass Mossad and provide the Bush administration with more alarmist reports on Saddam's Iraq than Mossad was prepared to authorise.
"None of the Israelis who came were cleared into the Pentagon through normal channels," said one source familiar with the visits. Instead, they were waved in on Mr Feith's authority without having to fill in the usual forms.
The exchange of information continued a long-standing relationship Mr Feith and other Washington neo-conservatives had with Israel's Likud party.
In 1996, he and Richard Perle - now an influential Pentagon figure - served as advisers to the then Likud leader, Binyamin Netanyahu. In a policy paper they wrote, entitled A Clean Break: A New Strategy for Securing the Realm, the two advisers said that Saddam would have to be destroyed, and Syria, Lebanon, Saudi Arabia, and Iran would have to be overthrown or destabilised, for Israel to be truly safe.
The Israeli influence was revealed most clearly by a story floated by unnamed senior US officials in the American press, suggesting the reason that no banned weapons had been found in Iraq was that they had been smuggled into Syria. Intelligence sources say that the story came from the office of the Israeli prime minister. [...]
Flashback!
Nine Israelis face deportation (Canada)
Spy agency suspects they may be foreign agents

By JOHN STEINBACHS and ANDREW SEYMOUR, Ottawa Sun

Nine Israeli nationals --- who CSIS suspects are possible foreign agents -- were arrested by Immigration and Ottawa police tactical officers last Friday, blocks from Parliament Hill. The nine have all been charged by Immigration for working in Canada illegally. All are in their 20s and were apparently selling art in Ottawa. The arrests follow similar takedowns of Israelis in Toronto and Calgary over the past few weeks. [...]

Flashback!
Suspected Israeli Spies Held by U.S.
Wednesday, December 12, 2001
By Carl Cameron
WASHINGTON - Some 60 Israelis, who federal investigators have said are part of a long-running effort to spy on American government officials, are among the hundreds of foreigners detained since the Sept. 11 terror attacks, Fox News has learned.
The Israelis, a handful of whom are described as active Israeli military or intelligence operatives, have been detained on immigration charges or under the new Patriot Anti-Terrorism Law. Federal investigators said some of them failed polygraph questions inquiring about alleged surveillance activities against and in the United States. There is no indication the Israelis were involved in the Sept. 11 attacks, but investigators suspect that they may have gathered intelligence about the attacks in advance and not shared it.
A highly placed investigator told Fox News there are "tie-ins," but when asked for details flatly refused to describe them. "Evidence linking these Israelis to 9-11 is classified, I cannot tell you about evidence that has been gathered. [...]
Numerous classified documents obtained by Fox News indicate that even prior to Sept. 11, as many as 140 other Israelis had been detained or arrested in a secretive and sprawling investigation into suspected espionage by Israelis in the United States. Investigators from numerous government agencies are part of a working group that has been compiling evidence in the case since the mid- 1990s.
These documents detail hundreds of incidents in cities and towns across the country that investigators say quote "may well be an organized intelligence-gathering activity." Investigators are focusing part of their efforts on Israelis who said they are art students from the University of Jerusalem or Bezalel Academy and repeatedly made contact with U.S. government personnel by saying they wanted to sell cheap art or handiwork.
Documents say they "targeted" and penetrated military bases, the Drug Enforcement Administration, the Federal Bureau of Investigations, dozens of government facilities and even secret offices and unlisted private homes of law enforcement and intelligence personnel. Another part of the investigation has resulted in the detention and arrest of dozens of Israelis working at kiosks in American malls, where they had been selling toys called "Puzzlecar" and "Zoomcopter."
Investigators suspected a front. Shortly after the New York Times and Washington Post reported the detentions of Israelis on immigration charges last month, the carts began vanishing. Why would Israelis spy in and on the United States? A General Accounting Office investigation referred to Israel as Country A and said, "According to a U.S. intelligence agency, the government of country A conducts the most aggressive espionage operation against the U.S. of any U.S. ally."
A Defense Intelligence report said Israel has a "voracious appetite for information." "The Israelis are motivated by strong survival instincts which dictate every facet of their political and economic policies" [...]
Flashback!
Mossad Exposed In Phony 'Palestinian Al Qaeda' Caper
By Michele Steinberg and Hussein Askary
Tuesday February 11, 2003
The United States government has been provided with concrete evidence that the Israeli Mossad and other Israeli intelligence services have been involved in a 13-month effort to "recruit" an Israeli-run, phony "al Qaeda cell" among Palestinians, so that Israel could achieve a frontline position in the U.S. war against terrorism and get a green light for a worldwide "revenge without borders" policy. The question: Does the United States have the moral fiber to investigate?
Evidence of the Israeli dirty tricks burst onto the public scene on December 6, when Col. Rashid Abu Shbak, head of the Palestinian Preventive Security Services in the Gaza Strip, held a press conference revealing the details of the alleged plot, as his agency had put the pieces together.
The revelations undermine the "big lie" that Prime Minister Ariel Sharon has used to justify new brutal attacks on Palestinian civilians in the Gaza Strip and other occupied areas. Sharon claimed on December 4 that Israeli intelligence had "hard evidence" of al Qaeda operations in the Gaza Strip. Now, the top Palestinian leadership has shown the United States and other nations how Israeli intelligence entities were creating that al Qaeda link! [...]
Diaa Rashwan
If the US is so sure that Al-Qa'eda mounted the 11 September attacks, why has no one so far been indicted?
The US version, then, turns Al-Qa'eda into a clone of a Cold War secret service, recruiting without moral vetting and acting without claiming its deeds, even when it mounts its biggest ever operation. This account contrasts sharply with all we know about the nature of Bin Laden and those close to him, and about the group they lead.
In the normal course of events, Bin Laden would have claimed responsibility for the attacks that would have been the crowning work of his life, the deadliest blow ever dealt to those whom he sees as the enemies of Islam. The idea that Bin Laden is not claiming the attacks for fear of US retaliation is ridiculous, since he doubtless foresaw the terrible reprisal which has since unfolded. Why should he have risked such vengeance, without the satisfaction of telling the world of his deeds? That he has made no attempt to claim the glory which they would confer should give us food for thought.
Comment: We strongly recommend reading this article. It debunks the idea that it was Al-Qa'eda behind the bombings
Palestinians under full closure, Quartet members disagree on Arafat role
26-09-2003
A full closure was imposed on the West Bank and Gaza Strip late Thursday, ahead of the Jewish New Year, which starts sundown Friday and lasts until Sunday evening.
Meanwhile, Secretary of State Colin Powell is looking for help from Europeans, Russia and the United Nations in dismissing Yasser Arafat as a failed Palestinian leader.
Arafat Says US Encourages Israeli 'Crimes'

Nazir Majally, Asharq Al-Awsat

GAZA CITY, 24 September 2003 — Yasser Arafat accused Washington of encouraging Israeli "crimes" against his people yesterday as US President George W. Bush said the Palestinian people's cause had been betrayed by their veteran leader.
"The (Israeli) occupiers and the settlers are making the mistake of denying the existence of our people," Arafat said in a telephone address to Palestinian deputies gathered in Gaza City.
"Because of the arrogance of the force which is blindly supported and followed by certain powers, they are committing crimes against our people, our towns, our villages our (refugee) camps and our infrastructure," he said in an implicit reference to the United States [...]
Palestinian scholar Edward Said dies
Thursday 25 September 2003, 19:24 Makka Time, 16:24 GMT
Palestinian intellectual Edward Said has died in New York aged 67 after a battle with leukaemia, a colleague at Columbia University said.
"I spoke to Mrs Edward Said and she told me he has passed away this morning at a New York hospital," said Hamid Dabashi, chairman of Columbia's Middle East and Asian Languages and Cultures Department.
26 September 2003

"The terrible conflicts that herd people under falsely unifying rubrics such as 'America', 'the West' or 'Islam' and invent collective identities for large numbers of individuals who are actually quite diverse, cannot remain as potent as they are, and must be opposed."
Sombre start to the year 5764

26/09/2003 - 13:42:24
Israelis were ushering in the Jewish New Year's holiday today with little expectation that the year 5764 will bring respite from the conflict with the Palestinians and a deepening economic crisis.
The two-day Rosh Hashanah holiday, which ends at sundown Sunday, was marked by heavy security, with thousands of officers deployed at synagogues, parks and intersections to try to prevent attacks by Palestinian militants.
Israel also clamped a tight closure on the West Bank and Gaza Strip, keeping about three million Palestinians out of Israel and preventing residents in most of the West Bank from leaving their communities.[...]
United States, Israel Mull Attack on Iranian Nuclear Power Plants
According to one Israeli intelligence officer, there's a race to see whether the United States or Israel will first bomb Iran's recently constructed nuclear facilities after reports that enriched uranium was found at one of the sites.
Exclusive to American Free Press
By Gordon Thomas
The Pentagon's forward planners and Israeli intelligence are targeting two Iranian nuclear facilities after reports surfaced that weapons-grade enriched uranium was found in one by UN inspectors. A UN report published this week says the country could acquire a nuclear bomb within two years.
Particles of weapons-grade enriched uranium were discovered at Natanz. Iran claims the particles were from "contaminated components" it bought on the black market in the 1980s when it was trying to set up its "peaceful nuclear program" but could not find a supplier in the West ready to help.
Both the CIA and MI6, who have now each made intelligence gathering on Iran a priority, discount Iran's claim of how it came to have sufficient enriched uranium to make an effective bomb.
Neo-conservatives around Secretary of Defense Donald Rumsfeld have not discounted a pre-emptive strike against the plants at Natanz and Arak. They are sited south of Tehran, in remote areas of central Iran. [...]
There is also a clear danger that Israel could act unilaterally and launch its own air strikes against Iran's nuclear plants. It has done so before—when it destroyed Iraq's Osiraq nuclear reactor outside Baghdad on June 7, 1981.
"We will not stand by and allow the Iranians to use the same cat-and-mouse games over their nuclear plants that Saddam used over many years," said a senior Israeli intelligence officer in Tel Aviv. "There is a need to take a touch line now. In two years time, it could be too late."
The prospect of military action came that much closer after Hashemi Rafsanjani, one of Iran's most influential clerics and the country's former president, called on Muslim states last December to use nuclear weapons against Israel.
Mossad analysts told Israel's prime minister, Ariel Sharon, that the appeal was directed not only at Pakistan, the one Muslim nation known to have nuclear weapons, but also to Iran's partner in the "axis of evil"—North Korea.
That possibility has led to the Pentagon forward planners continuing to prepare their own missile strikes against Iran's nuclear facilities.
As the Israeli intelligence officer said: "it could be a race who presses the button first—us or the Americans."

Eight Iraqis killed in mortar blast as US considers to send more troops to Iraq
26-09-2003,07 :06
A mortar blast in a market north of Baghdad, killed Thursday night eight civilians. The blast occurred about 9 p.m. Thursday at a market in Baqouba, about 50 kilometers north of Baghdad. Eight civilians died and another 18 were wounded, the US Army said, according to The AP.
In the north, meanwhile, eight US troops were injured when their convoy was ambushed with roadside bombs and small arms fire in Mosul. At least two Iraqi bystanders were also wounded.
Comment: "We are coming with a mighty force to liberate your people" G W Bush declaring war on the Iraqi people March 2003
Actor Willis' $1m Saddam bounty

Actor Bruce Willis has performed before US soldiers in Telafar, northern Iraq, and offered $1m (£603,000) to the man who captures Saddam Hussein.
"We're here to support you," the star told troops as he sang a set of blues songs with his band, the Accelerator.
"If you catch him, just give me four seconds with Saddam Hussein," he said.
"It's awesome," said commander Col Michael Linnington. "It's great for morale. "He's a macho actor. Soldiers identify with action movies and action actors. He's a guy's guy."
During an interview Willis said: "Peculiar thing back home is that the liberal media was trying to portray it as a bad war.
"But being over here just a couple of days, seeing how well our troops and the allied troops are being received here, (I) think the Iraqi people are happy we're here," the Hollywood star said.

"Children are being taken care of, starting being inoculated, starting being looked after. Wherever these guys go they get thumbs up. They no longer have to contend with the terrorist leader," Willis said.
But the star later admitted he had not met many Iraqis because he had been travelling the country by helicopter.
Comment: OK, let's get this straight. Willis has by his own admission met virtually NO Iraqis, yet he says the troops are being welcomed and Iraqi kids being looked after... The world is dominated by psychopathic contradictory double speak.
US soldier dies in north Iraq ambush

26/09/2003 - 10:16:32
An American soldier from the 173rd Airborne Brigade was killed and two others were wounded during an ambush in northern Iraq last night.
The incident occurred about 11 p.n. when a rocket-propelled grenade at their vehicle in the oil-producing city of Kirkuk, about 145 miles north of Baghdad.
The names of the victims were withheld until their families were informed
The death raised to 86 the number of US soldiers killed by hostile fire since May 1, when President George Bush declared an end to major combat in Iraq.
Two hundred Americans have died in Iraqi combat since the military operations were launched on March 20
Comment: "Bring 'em on!" Maybe Willis can sing for the families of the 200 soldiers who have died while handing out copies of "Die Hard"

Depleted uranium may stop kidneys "in days"

By Rob Edwards
New Scientist.com

Soldiers who inhale or swallow high levels of depleted uranium (DU) on the battlefield could suffer kidney failure within days, according to a new report from the one of the UK's premier scientific bodies, the Royal Society. There are also long term risks for children who play in heavily contaminated areas, it says.
The high density of DU helps shells pierce armour and about 270 tonnes of it have been fired during wars in the Gulf and the Balkans in the last decade. Arguments over the potential risks to human health and the environment have raged ever since.
The Royal Society published a report on the radiological hazards in 2001, which concluded that troops in a tank who survived being hit by a DU shell could double their risk of dying from lung cancer. Now the society's team of 11 experts has produced a second report on the chemical and long-term environmental risks.
It concludes that most soldiers would not take in enough DU to damage their kidneys. But it points out that those in hit tanks, or who spend time cleaning them up, could suffer heavy metal poisoning.
"Kidney uranium levels in some of these soldiers could be very high and would probably lead to kidney failure within a few days of exposure," the report warns. There is also a danger of damage to reproductive health, which has been observed in mice.

Contaminated ground

DU shells in the ground could contaminate the soil, food and water of communities that return to live on the battlefields, the report says. This may be enough to harm local children, particularly if they swallow soil.
But the report is dismissed by anti-DU campaigners who think that the risks are worse that the Royal Society thinks.
"This is an attempt to give a scientific imprimatur to the stance of the government, which is unacceptable," argues Malcolm Hooper, a medical chemist from the University of Sunderland who advises the British Gulf War veterans.
He says it is wrong to separate the chemical and radiological effects. He has been told that three out of the 3000 veterans so far assessed by the UK government's programme have kidney cancer. This is 12 times the rate amongst civilians and indicates that the radiation emitted by DU is causing more problems than its chemical toxicity.

Comment: For those that missed it, check out this Flash presentation of the effects of the tons of DU left in Iraq by the US.
Ayoon wa Azan (Iraq: How Not To Win A War)
Jihad Al Khazen
Al-Hayat 2003/09/25
I always go hard on Israel and its radical government, as well as on the American Jews who support it as to become associates in its crimes, but then again, I fear that what I say might encourage any feeling of anti-Semitism; so I remind the reader that most of the American Jews are moderate liberals and that the majority of Israel wants a peaceful solution.
Iraqis given constitution deadline
The United States is to set Iraq's Governing Council a six month deadline to come up with a constitution that would lead to elections and a new government next year.
US Secretary of State Colin Powell told the New York Times the deadline would be difficult but it was necessary to get the interim Iraqi leadership moving.
[...] Mr Powell added that granting authority to an unelected Iraqi Government would undermine its legitimacy in the eyes of the world and set it up for attack from Saddam Hussein loyalists.
Comment: Sure, the Governing Council has no legitimacy other than the firepower of the US military. But what legitimacy does the US military have? The same.
US wants Iraqi constitution in six months
Friday 26 September 2003, 8:57 Makka Time, 5:57 GMT
The United States has said it is prepared to set a six month deadline for an Iraqi constitution that would lead to elections and a new government next year.
The constitution would be written by the US-appointed governing council which critics accuse of being unrepresentative American lackeys.
Les Nations unies refusent d'aider George Bush en Irak
New York : de notre envoyé spécial Luc de Barochez
[26 septembre 2003]
The Figaro, French newspaper of the Right, has summed it up:
Neither money nor troops: at the end of a decisive week at the UN, US President Bush measures the failure of his attempt to return to the international organization. "The Iraqi nation needs our aid," he pleaded Tuesday in front of the General Assembly in New York.
Two days later, none of the 191 countries represented had responded with a concerete promise to his call for aid, be it in the form of financial contributions or an offer for troops. The UN even decided yesterday to remove a part of its personel in Iraq, undermining a bit more American efforts at normalisation. [our translation]
Bush Says 9-11 Changed View of Saddam
By TERENCE HUNT, AP White House Correspondent
Thu Sep 25,10:17 PM ET
WASHINGTON - President Bush said Thursday the terrorist attacks of Sept. 11, 2001, "changed my calculation" about the threat posed by Saddam Hussein after the administration — early that same year — had played down Iraq's alleged weapons of mass destruction.
"You know, for a long period of time, we thought oceans could protect us from danger," Bush said. "And we learned a tough lesson on September the 11th." [...]
Comment: Saddam was such a threat to America that US forces still have not found any weapons of mass destruction after 6 months of invasion and occupation. Furthermore, no evidence of any link between Saddam Hussein and September 11th has ever been presented by the Bush Reich or anyone else.
Iraq will be a cemetery for America
Arabtimes Online
September 25, 2003
BAGHDAD,(RTRS): A Muslim worshipper in Baghdad went to his imam to ask if he should agree to sell air conditioners to the US forces occupying Iraq. The imam said no. "I told him he should deal with them only in so far as it pleases God," said Sheikh Fadel Muhsin. "I said it was a sin to cooperate with them (the US occupiers) in harming Iraqis or in any way that helps consolidate their presence in our country."
As Iraq struggles to rebuild itself after the war, the role of Muslim clerics has been strengthening as they seek to fill the leadership vacuum left by the collapse of Saddam Hussein's government.
In a troubled community, people need guidance, and in a society where law and religion are intrinsically linked, clerics are well poised to fulfill that need. Iraqis have always visited clerics for advice, but their influence on a confused and leaderless public is growing to such an extent that they are increasingly also stepping into political and legal areas. [...]
Prosecutors Favor Dropping Moussaoui Case
By LARRY MARGASAK, Associated Press Writer
Fri Sep 26, 2:49 AM ET
ALEXANDRIA, Va. - Federal prosecutors urged a judge to dismiss charges against Zacarias Moussaoui, saying it was the quickest way to resolve a dispute over the terrorism defendant's right to question fellow al-Qaida witnesses.
A government motion agreed with Moussaoui's lawyers that dismissal was an appropriate punishment for the Bush administration's defiance of two court orders that granted Moussaoui the right to question three captives. [...]
Brinkema has concluded, in January and August orders, that the three enemy combatants could support Moussaoui's denial that he was a conspirator in the Sept. 11 attacks. The Justice Department has countered that any testimony by the prisoners would reveal classified information, and that it might eventually have to move the case to a military tribunal if it loses the appeal. [...]
U.S. Soldiers Returned from Iraq Spark Airport Scare
Thu Sep 25, 8:39 AM ET
PHILADELPHIA (Reuters) - Two U.S. soldiers returning from Iraq were taken into custody at Philadelphia International Airport after a baggage handler saw what looked like a small arsenal of weapons in their carry-on bags, authorities said on Thursday.
The weapons, which shut down an airport concourse security checkpoint and brought out bomb-sniffing police dogs on Wednesday night, turned out to be a set of souvenirs, including ornamental knives from Iraq and cigarette lighters made to resemble a hand grenade and a semi-automatic handgun, authorities said. [...]
U.S. Troops May Stay in Iraq Through 2004
By KEN GUGGENHEIM
The Associated Press
Thursday, September 25, 2003; 7:50 PM
WASHINGTON - Deputy Defense Secretary Paul Wolfowitz said Thursday that "significant forces" from the United States probably will remain in Iraq through the end of next year.
Pressed by House Democrats about whether the administration planned to withdraw U.S. troops right before the 2004 presidential election, Wolfowitz assured them that no decisions were being made on political grounds. [...]
Powell suggests Iraq constitution in six months, as UN cuts staff

AFP
Friday September 26, 5:48 PM

The United States intends to set a six month deadline for an Iraqi constitution that would lead to elections and a new government next year, Secretary of State Colin Powell told a US newspaper, as swelling violence prompted the UN to pull more staff out of Iraq.
"We would like to put a deadline on them," he said in an interview published in the New York Times Friday. "They've got six months. It'll be a difficult deadline to meet, but we've got to get them going."
He raised the possibility that the Iraqis themselves could set a timetable in the near future, adding that the US government has asked the Iraqi leaders to estimate how long it would take them to write a constitution and conduct elections.
"Now, if they take forever to give us the answer to that question, then we've got a problem," Powell said. "But I think they'll give us an answer fairly quickly." [...]
Comment: It appears the Bush Reich has taken the advice of Mr. Chirac.
Flashback:
Differences with Bush remain, says Chirac

UNITED NATIONS: France's President Jacques Chirac said he and US President George Bush had failed to overcome their differences on the future of Iraq during a meeting here on Tuesday. [...]

"We believe - and this is what I told President Bush - that today, the situation in Iraq is such that it is very difficult for Iraqis in general to accept a situation that, one way or another, is an occupation," he said.

"We have to change tack," Chirac said, urging a quicker handover of power to Iraqis. "It will take a month, six months, nine months. I can't tell you exactly how long, but we have to take a decision today."

He said Iraqis were frustrated by the situation and that the international community should demonstrate a "clear will through a strong political gesture - in other words, the transfer of sovereignty."

In his speech to the assembly, Bush said that outside nations should not try to accelerate the handover of power, which he said had to be reached in "orderly and democratic" fashion. [...]

"The president was very clear in stating again that the premature transfer of sovereignty, which has been the French proposal, is just not in the cards," the official said. "It would be the wrong thing for the Iraqis."
In French Deck, Bush Is King of Diamonds
AP
Thu Sep 25, 8:57 PM ET
PARIS - The ace of spades? Defense Secretary Donald Rumsfeld gets the honor in a new French deck of cards. President Bush (news - web sites) is the king of diamonds and Osama bin Laden (news - web sites) the joker. The game takes a jab at the famous deck of cards created for U.S. soldiers hunting down ousted Iraqi leader Saddam Hussein (news - web sites) and other leaders from the deposed regime.
"I found it completely indecent to present a manhunt as a game," said Thierry Meyssan, the man behind the French deck. "We thought this card game would allow us to ... explain why we consider the government of George Bush a threat to international security." [...]

The Moral Development of George W. Bush
By CAROL NORRIS
September 20, 2003
If George wasn't driving the world down the road to extinction with his wars, his environmentally disastrous choices and world alienating policies--"Look at me, ma, no hands" he says while sitting behind the wheel of our children's future--I'd think he was almost fascinating.
Fascinating the way one who is steeped in myriad psychological issues is.
I'm a psychotherapist. And, having never seen George in therapy, despite my open invitation, it would be unethical for me to make an official diagnosis of him. So, I won't. But, I can kick some thoughts around.
Remember Tom Hanks' movie, "Big," when the kid, by an accident of fate, finds himself turned into an adult, playing grown-up roles he is not developmentally ready for? This is George. I don't mean this maliciously or satirically; I really mean it. I think developmentally speaking George is a big kid. Lots of people are. The difference is they don't have the means to bomb human beings into "pink mist," obliterate the infrastructures of countries, and poison the world with coal and pesticides and carbon dioxide and depleted uranium and napalm, as they play grown up. [...]
And now KB Toys has come out with an Elite Force Naval Aviator Action Figure to immortalize George's "historic" day of pretend play. And with that, in a moment of unintentional, yet brilliant psychological mindedness, they have placed George, the pretend combat-ready naval aviator, exactly where he belongs--in the make believe world of the 10 and under set. [...]
Bush: Iran must not be allowed to have nuclear weapons
25-09-2003,20 :55
US President Bush said Thursday that talks with world leaders this week have produced wide agreement that Iran must not be allowed to have a nuclear weapons program.
OPEC likely to consider new output cut in December
www.chinaview.cn
2003-09-26 10:03:24
CARACAS, Sept. 25 (Xinhuanet) -- The Organization of Petroleum Exporting Countries (OPEC) would possibly consider a new cut in crude oil production at its extraordinary meeting in December, Venezuelan Energy and Mining Minister Rafael Ramirez said Thursday.
China launches 'instant' rocket
Wednesday 24 September 2003, 17:53 Makka Time, 14:53 GMT
China has successfully test-fired its first solid-fuel rocket capable of putting small satellites into space at short notice.
The launch of the four-stage Pioneer I rocket took place on 16 September at north China's Taiyuan Satellite Launch Centre, a spokesman for China Aerospace Science and Industry Corp (CASIC) told state media on Wednesday.
The event makes China the only third country capable of developing such rockets after the United States and Russia, he added.
[...] The announcement comes just weeks ahead of China's planned manned space mission, which is widely expected to take place next month, based on media reports.
UN to leave just a handful of foreign staff in Iraq

By David Usborne in New York
26 September 2003

The United Nations decided yesterday to withdraw almost all of its remaining international personnel from Iraq within 48 hours because of fears for their safety, undermining claims by the United States that coalition forces are making headway towards curbing the violence in the country.
Kofi Annan, the UN secretary general, had been agonising over the safety of his staff in Iraq since the explosion at the UN headquarters in Baghdad on 19 August which killed 22 people, including his own personal envoy, Sergio Vieira de Mello. A second car bomb exploded near the compound on Monday, killing a security guard.[...]
Comment: Mossad mission accomplished.

Blair govt is lying - Kelly family lawyer

Posted Thu, 25 Sep 2003
British government deceit over the suicide of government weapons expert David Kelly must be revealed, particularly the "hypocrisy" of Defence Secretary Geoff Hoon, a lawyer for Kelly's family told the inquiry into his death on Thursday.
Lawyer Jeremy Gompertz, summing up his argument on the final full day of the inquiry, launched a stinging attack on the government which he accused of a "cynical abuse of power".

Venezuela's Chavez Blasts U.S. Over 'Terrorist' Plot

Wed September 24, 2003

CARACAS, Venezuela (Reuters) - President Hugo Chavez said on Wednesday Venezuelan "terrorists" plotting to kill him were training in the United States, and he told the U.S. and Spanish governments to stop meddling in his country's affairs.
In a pugnacious speech to a meeting of women supporters in Caracas, the left-wing Venezuelan leader also criticized the United Nations as a "dialogue of the deaf" and said it was not worth speaking at the international body.
Chavez, who faces a possible referendum on his rule sought by political foes in Venezuela, the world's No. 5 oil exporter, had canceled a planned visit to the U.N. and the U.S. this week. He had cited security concerns.
He said on Wednesday that, while he had no conclusive proof, his government had received information of a possible assassination plot against him by Venezuelan opponents based in the United States, which is a major buyer of Venezuelan oil.
"Over there, in U.S. territory, people are conspiring against Venezuela, terrorists are being trained," Chavez said.
He gave no more details but said those involved had taken part in a failed coup against him last year.
"If they (the U.S. authorities) are really fighting terrorism as they say, they should act against these terrorists who are threatening Venezuela," Chavez said.
He angrily accused Spanish Prime Minister Jose Maria Aznar and the government of President Bush of interfering in Venezuela's internal affairs. He has attacked both the U.S. and Spanish leaders in the past.
"The Spanish empire was thrown out of here almost 200 years ago, Aznar," Chavez shouted, recalling how Venezuela had won independence from Spanish colonial rule.
"What happens in Venezuela has nothing to do with Mr Bush's government," he added. [...]
Comment: But Mr Chavez! The US only wants to bring you and the Venezuelan people the same benefits enjoyed by the Chileans under Pinochet. The CIA are just concerned about you all!
Lawmakers target 'insane' policy

By Audrey Hudson
THE WASHINGTON TIMES
Capitol Hill lawmakers are looking to overturn an "insane" decision by the Treasury Department, which allows banks to accept Mexican identification cards that federal law enforcement officials call a threat to national security.
The Treasury Department made its long-awaited decision on "matricula consular" cards last Thursday, just as the federal government was closing and lawmakers left town in anticipation of Hurricane Isabel.
Rep. Elton Gallegly, California Republican and author of legislation that would forbid the federal government from recognizing the foreign-issued cards, called the timing and the decision "just insane."
"It has the potential for causing great harm to this nation in several ways. It's not just the matricula, there are 20 other nations in the process of developing similar documents. If we didn't learn anything from September 11 then we never will," Mr. Gallegly said.
Lawmakers say the majority of cards are being issued to illegal aliens. "The Treasury Department is making it easier for illegal aliens, foreign criminals and prospective terrorists to obtain a false ID and remain in the U.S. where they are a danger to Americans," said Rep. Lamar Smith, Texas Republican.
The department proposed the regulation May 9 as part of the implementation of Section 326 of the Patriot Act. [...]
NATO Ukrainian marines stop drivers (Scotland)

An apology has been issued to civilians caught up in an incident involving armed soldiers taking part in a Nato exercise in south west Scotland. Motorists using a public road in Wigtownshire were forced to stop by Ukrainian marines acting with French soldiers.
The events took place during an amphibious landing exercise at Luce Bay on Saturday.
Two armed Ukrainian marines, involved in a mock hunt for terrorists, had forced a number of vehicles on a coastal road near Port William to pull over.
One driver, who had been unaware of the Nato exercise, had children in the car and said they were left deeply distressed by the incident.
Major John Pulman, a Nato exercise commander, confirmed that complaints had been made and immediate action had been taken. Major Pulman said all troops involved had been given clear instructions not to engage civilians at any time.
"I think in this case we had a situation where we had some troops that were unfamiliar with their surroundings and possibly became over zealous in their application of what they were required to do," he said.
"We subsequently followed up by speaking to the commanding officer of the unit concerned and reiterating those instructions that were in place."
He added that a full review of the incident was under way. Alex Fergusson, the MSP for Galloway and Upper Nithsdale, said he was deeply disturbed by the incident.
"This must have been a terrifying ordeal for some people who were simply enjoying a drive in the countryside, especially for the young children involved," said Mr Fergusson.
"I think it's unacceptable that this sort of thing should happen and I hope there are urgent investigations within the armed forces and the MoD and indeed Nato itself. "It is entirely unacceptable in any shape or form."
Comment: "Today Americans would be outraged if U.N. troops entered Los Angeles to restore order; tomorrow they will be grateful. This is especially true if they were told there was an outside threat from beyond, whether real or promulgated, that threatened our very existence. It is then that all peoples of the world will plead with world leaders to deliver them from this evil. The one thing every man fears is the unknown. When presented with this scenario, individual rights will be willingly relinquished for the guarantee of their well being granted to them by their world government." -- Henry Kissinger speaking at Evian, France, May 21, 1992 Bilderburgers meeting. Unbeknownst to Kissinger, his speech was taped by a Swiss delegate to the meeting.

BUSH'S STATE VISIT TO UK
PRESIDENT George W Bush is to make a full state visit to Britain after weeks of top-secret talks, The People can reveal.
But the American leader's trip is certain to infuriate anti-war protesters - and potentially inflict further damage on Tony Blair's popularity.
Anger over the invasion of Iraq is thought to be behind Labour's shock defeat in last week's Brent East by-election and the PM is already seen by many as Mr Bush's pet poodle.
News of the four-day visit in November will be formally announced on Tuesday by Buckingham Palace - where Mr Bush will stay with First Lady Laura.
The invitation is designed to reinforce our special relationship with America but any anti-war scenes will be embarrassing.
US secret service agents have already said the President must stay at Buckingham Palace rather than Windsor Castle following security blunders that allowed intruder Aaron Barschak to gatecrash Prince William's 21st birthday bash.
"Buckingham Palace can be policed more securely than Windsor," said a royal insider. "No one wants to take any risks with such a high-profile visit."
Protocol dictates that Mr and Mrs Bush stay in the sumptuous Belgian Suite, just as Vladimir Putin did in June.
Mr Bush is the first US president to make a full state visit since the Queen was crowned more than 50 years ago.
He will get a full ceremonial welcome, an honour not even granted to Ronald Reagan during his friendship with Margaret Thatcher as the Cold War raged. Mr Bush will address both Houses of Parliament and pay his respects at the tomb of the Unknown Soldier at Westminster.
He and Mrs Bush will also be treated to a state banquet at the Palace - with the Queen and Tony Blair invited to a return bash at the American ambassador's home in Regent's Park.
The President may also attend a Remembrance Sunday ceremony. Mr Bush last came to Britain in July 2001. Although he dined with the Queen it was not classed as a state visit.
Ahern condemns pre-emptive strikes in UN speech
Irish PM speaks at the UN in New York

25/09/2003 - 20:17:46
Taoiseach Bertie Ahern tonight condemned the principle of "pre-emptive" military strikes against potentially dangerous regimes.
He told the United Nations General Assembly in New York that the Government was "deeply concerned" by the doctrine.
Accusing some UN members of acting only in their own interests, he also called for a new Security Council resolution to help the people of Iraq regain sovereignty of their country.
He said: "Our most common failing, I would submit, is that we frequently overlook the fact that this organisation was created to serve not just our own nation, but all mankind.
"Too often, members seek to use this organisation to pursue their national interests. "We simply cannot afford to continue with this attitude."
Mr Ahern described the last two years as "a particularly sombre period in the history of mankind" and said it may have been avoided if the UN was better equipped to fulfil its role.
"I do not claim that it is possible to eradicate man's capacity for evil or to totally eliminate the tendency to seek to resolve disputes through violence," he said.
"But I do submit that a stronger, more resolute, more respected, more active, UN might have prevented some of the suffering of the past two years."
He said that the Government would be "deeply concerned" if the principle of pre-emptive strike was widely accepted.
Comment: 'Honorable' (if hypocritical) words from the Irish Taoiseach (Prime Minister), but he could have better served the Iraqi people if he had refused the US military access to Ireland's Shannon airport for refueling etc. earlier this year, as they made their way to Iraq on their bombing raids.
Former Soviet agent gets five years for genocide

26/09/2003 - 14:30:36
A former Soviet agent Nikolai Larionov was jailed for five years in Latvia today after he was convicted of 131 counts of genocide – more than 50 years after he helped deport families to Siberia at the behest of dictator Josef Stalin.
The 82-year-old maintained his innocence throughout the trial in Jelgava, near the capital, Riga, maintaining his superiors forced him to sign deportation orders during a wave of arrests in 1949.
"I sympathise with all of the more than 10,000 victims and their relatives, but I admit only that I performed a technical job and had no direct involvement in deportation of people," he said.
Prosecutors said Larionov was an integral part of the Soviet Latvian Ministry of Security- set up after the Red Army occupied the Baltic state in 1944. They said he was responsible for exiling as many as 500 people, often whole families [...]

Levi Strauss jeans US jobs blow

26/09/2003 - 06:08:58
Levi Strauss is to close its last manufacturing plants in the United States and Canada, axing nearly 2,000 jobs, the struggling jeans maker has confirmed.
Levi will close two sewing and finishing plants in San Antonio, Texas, by the end of the year and lay off 800 workers and shut its three remaining manufacturing plants in Canada that employ 1,180 people by March.
The company will contract with foreign manufacturing plants.
134,000 Lost Jobs in August 'Mass Layoffs'
By Kirstin Downey
Washington Post Staff Writer
Friday, September 26, 2003
More U.S. workers lost their jobs in large layoffs in August, the Bureau of Labor Statistics reported yesterday, another sign that employers are continuing to trim payrolls even as the economy strengthens.
The BLS tracks what it calls "mass layoffs," or firings of more than 50 workers in a single month by a single employer, by compiling reports on initial claims for unemployment benefits filed with state agencies. The numbers include temporary and permanent firings.
About 134,000 workers lost their jobs in 1,258 mass layoffs nationwide last month, up from the 128,103 employees who were fired in 1,248 such actions in August 2002, the bureau said.
US remains world No. 1 arms seller: report
www.chinaview.cn
2003-09-26 01:16:48
WASHINGTON, Sept. 25 (Xinhuanet) -- The United States maintained its dominance in the international arms market last year, accounting for 45.5 percent of global conventional weapons deals, according to a new Congressional report.
The total amount of the US arms sales in 2002 reached 13.3 billion dollars, up from 12.1 billion in 2001. Of that, 8.6 billion dollars were sold to developing nations, or about 48.6 percent of conventional arms deals concluded with developing countries last year, according to the report.
In GOP, Concern Over Iraq Price Tag
Some Doubt Need For $20.3 Billion For Rebuilding
By Jonathan Weisman and Juliet Eilperin
Washington Post Staff Writers
Friday, September 26, 2003; Page A01
Some Republican aides say the numbers may be more defensible than they sound because the budget is not quite real. They suggest the administration has inflated costs, in part to avoid having to come back next year for a new emergency spending bill, and in part so they can skim some of the money for classified military efforts.
18:00 25 September 03
Exclusive from New Scientist Print Edition.
Climate change may be veering out of control before we understand the consequences, say scientists studying the world's oceans. If carbon dioxide emissions keep rising, surface waters could become more acidic than they have been for 300 million years - except perhaps during global catastrophes.

Comment: "except perhaps during global catastrophes"... "Global catastrophes"? What "Global Catastrophes"? The ones no one wants to admit to, except maybe a long, long time ago.
Coincidence? We think not..
Strong earthquake rocks N. Japan; tsunami warning
Thursday, Sep 25, 2003
TOKYO (AP) - A strong quake with a preliminary magnitude of 7.8 rocked the northern Japan island of Hokkaido early Friday morning, knocking out power, derailing a train and touching off an industrial fire. Two people were reported injured.
The government warned local residents to avoid coastal areas due to the possibility of tsunami, or ocean waves caused by seismic activity.
[...] Japan's Meteorological agency warned that waves of up to one metre were expected to hit coastal areas. The quake, which hit just before dawn, was focused off Hokkaido's eastern shore.
Tsunami of up to 30 centimetres were observed in some coastal cities, NHK reported.
[...] A tsunami advisory was issued for Hawaii and a warning was issued for parts of Alaska.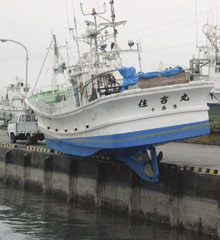 Third earth tremor strikes northern Japan

26.09.2003 09:00 UTC
A series of powerful earthquakes jolted Japan's northern island of Hokkaido early Friday morning, causing widespread damage and power outages as well as a fire near an oil storage facility. The meteorological agency said the three tremors struck within a couple of hours of each other. There were more than 400 injuries reported and one unconfirmed fatality. Police were warning people to avoid coastal areas because of a heightened tsunami tidal wave alert. All three tremors were of a strength that measured between 5.8 and 8 on the Richter Scale and capable of inflicting significant damage.
Injury Toll From Earthquake In North Japan Hits 236 -NHK
TOKYO (AP)--More than 230 people were injured, 41,000 forced to evacuate and 16,000 homes blacked out Friday when Japan's northern island of Hokkaido was rocked by the strongest earthquake to hit anywhere in the world this year.
The magnitude 8.0 quake hit just before dawn, cracking roads, capsizing fishing boats and causing the roof of a local airport to partially cave in. The temblor was followed by two strong aftershocks and several small tsunami waves.
Public broadcaster NHK reported that at least 236 people were hurt. Most of the injuries were caused by glass from shattered windows and falling objects in homes. Officials said at least two people suffered serious injury, but most of the other injuries reported initially were minor.
USGS Earthquake Hazards Web Site Report
2003/09/25 22:20:20 4.9 HOKKAIDO
2003/09/25 21:07:59 7.0 HOKKAIDO
2003/09/25 19:50:07 8.0 HOKKAIDO
Japan quake rattles Russia too
From correspondents in Vladivostok
September 26, 2003
AN earthquake measuring 4 on the Richter scale jolted Russia's Pacific island of Sakhalin this morning, although there were no casualties.
The epicentre of the quake was located in the Pacific ocean, southeast of Sakhalin, and north of the nearby Japanese island of Hokkaido.
The quake also rocked northern Japan, with a strength of 8 on the Richter scale, injuring around 120 people, the Japanese authorities said.
Russia's Pacific region of Kamchatka, located northeast of Sakhalin, has been placed on alert as the local office of the emergencies ministry warned it could be hit by a powerful tsunami caused by the quake, with waves possibly reaching four to 12 meters.
People living on the eastern coast of Kamchatka have started to evacuate their homes and move inland.
Tokyo stocks shaken by powerful earthquake
The Associated Press
TOKYO (September 25, 5:16 p.m. ADT) - Tokyo stocks plunged early Friday after powerful earthquakes rocked the northern Japan island of Hokkaido. The dollar was down against the Japanese yen.
18 die in Nepal landslides(XINHUA, KATHMANDU)
Sept. 26
At least 18 people died Wednesday afternoon in western Nepal due to the landslides triggered by heavy rainfall, a local radio reported Wednesday evening.
At least 11 persons died when their houses were swept away in the landslides in Gajul and Dhabang villages of Rolpa district, while seven others died in the landslides in Pyuthan district, all located in western Nepal, the Kantipur FM radio quoted a local reporter as saying. As many as 13 houses were swept away in Dhabang village whereas three houses were destroyed in Gajul village, the unnamed reporter said. Four persons are still missing in the landslides, he added.
Dead in the water

An insatiable demand for live fish in Hong Kong restaurants is leading to the devastation of coral reefs in the Philippines. Fred Pearce reports on the rise of 'cyanide fishing'

24 September 2003

Catching fish using cyanide is easy. All you do is crush a few tablets of sodium cyanide, mix them up with some water in a plastic bottle, go find your fish and squirt. With a little care, the mixture will stun the fish without killing it. Thousands of Philippine fishermen are doing it every day - and selling the live fish to the restaurants of Hong Kong and southern China. It is one of the most lucrative fish businesses on the planet, worth hundreds of millions of dollars a year.
Hong Kong gourmands alone eat 20,000 tons of live fish caught on the coral reefs of Southeast Asia each year. They say Philippine fish are the best and will pay up to £120 to pick a live coral trout or grouper from a tank and have it killed and cooked to order. The Philippine fisherman might get £12 of this, five to 10 times the price he'd get for a dead fish. But the environmental toll is horrendous.
The lingering cyanide in the water kills the coral and the algae on which the fish feed. Biologist Sam Mamauag of the International Marinelife Alliance in Manila estimates that every fish caught this way destroys a square meter of reef [...]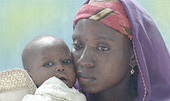 Nigerian Court Spares Mother From Stoning
Agence France Presse
KATSINA, Nigeria, 26 September 2003 — Nigerian single mother Amina Lawal was spared from a sentence of death by stoning yesterday when an Islamic court overturned her conviction for adultery in a case that has caused an international outcry over human rights in Nigeria.
Death penalties in Singapore have increased by 300 per cent in just a year. The news emerged yesterday during an interview of the Prime Minister Goh Chok Tong with the BBC. In a rare comment, Tong says up to 80 people have been executed in the first nine months of this year.
According to the government, 28 executions were carried out in 2002; 27 in 2001; and 21 in 2000. Human rights groups have long criticised Singapore's death penalty. The 2003 Amnesty International report sustains that the death penalty in Singapore can apply to a range of crimes including drug trafficking, murder and treason. Amnesty furthermore underlines that, with its 4,2 million inhabitants, Singapore is one of the few country's in the world with the highest rate of death penalties in respect to the population.
Group: Police used unnecessary force
Immigrant who was fatally shot pointed gun, officer says
By ERNESTO LONDOÑO / The Dallas Morning News
Thursday, September 25, 2003
A civil rights organization on Thursday denounced the fatal shooting of a Salvadoran immigrant in Irving earlier this month as the latest example of police using unnecessary force against minorities.
"The community is upset," said Koni Ramos Kaiwi, the North Texas district director of the League of United Latin American Citizens. "We want some answers."
Edwin Reyes, 25, was killed by Irving officers on Sept. 13.
An Irving police spokesman declined to discuss details of the case, saying the department is preparing to submit the conclusions of its investigation to a Dallas County grand jury, which is routine in police-involved shootings.
One of the issues is how many times Mr. Reyes was shot by the three officers. Ms. Kaiwi said he was hit more than 30 times. Police would not verify that information. The autopsy report is pending.
[...] Gloria Del Carmen-Arbaiza, 31, the victim's girlfriend, said Mr. Reyes was holding a cellphone, not a gun, when police shot him. However, one resident at the Silverado Apartment complex in the 1300 block of North Nursery Road, who lived across the hall from Mr. Reyes, said she had seen him holding a gun earlier that night.
St. Paul police, city sued in case of mentally ill man shot dead by cops
Herón Márquez Estrada
Star Tribune
Published September 26, 2003

The family of a mentally ill man who a year ago was shot to death by St. Paul police sued the department and city in federal court Thursday.
Ki Yang, 46, had a history of schizophrenia, his family said. He was shot to death Sept. 27, 2002, in his home after he ignored orders from officer Michael Tharalson to drop a BB gun that resembled a rifle and a sickle-like blade about 20 inches long.
Instead, he charged at Tharalson, who fired six shots as Yang kept advancing.
The family maintains that the officers and the department did not have sufficient training in how to deal with people with mental illness.
Two children found dead inside Plano home
September 25, 2003
PLANO, Texas- A woman was arrested at her home Thursday night after the bodies her two young daughters were found dead inside.
The woman's husband called police at about 6:20 p.m. after finding the couple's daughters, ages 3 and 6, dead on a bed.
According to police, the husband said when he came home, his wife told him the children had been injured.
Civil rights group sues to make entire execution public
UPDATED: Thursday, September 25, 2003
COLUMBUS -- The American Civil Liberties Union wants Ohio to make the state's entire execution process in death penalty cases public.
The ACLU's Ohio chapter says it's suing in federal court in Columbus today to force prison officials to show the entire execution, including the insertion of needles into offenders' arms.
Prison officials currently bring death row offenders into the death chamber with the I-V needles already in place.
ACLU Ohio Legal Director Raymond Vasvari (vass-VAR'-ee) says the state is trying to conceal and sanitize executions.
He says the execution is the end of a judicial process and should be a public proceeding that happens in front of witnesses.
Courts in California and Oregon have already ruled that the entire process must be public.
Week of: September 22, 2003
CUNY student activists say the school is using its campus security officers to harass protesters.
"CUNY has been using its peace officers as a political force against student demonstrators," McGuie charged. "Miguel Malo was arrested for exercising his Constitutional rights. We will prove that the charges against him are completely unfounded." McGuire is also representing Malo and six other students at four CUNY colleges in a federal civil rights lawsuit alleging that CUNY uses its peace officers to harass students.
School 'safe' again, but still reeling from shooting
Fatal school shootings

Published September 26, 2003
1996
Feb. 2 -- Moses Lake, Wash.: Two students and one teacher killed, one other wounded when 14-year-old Barry Loukaitis opened fire on his algebra class.
1997
Feb. 19 -- Bethel, Alaska: Principal and one student killed, two others wounded by Evan Ramsey, 16.
Oct. 1 -- Pearl, Miss.: Two students killed and seven wounded by Luke Woodham, 16, who was also accused of killing his mother. He and his friends were said to be outcasts who worshiped Satan.
Dec. 1 -- West Paducah, Ky.: Three students killed, five wounded by Michael Carneal, 14, as they participated in a prayer circle at Heath High School.
1998
March 24 -- Jonesboro, Ark.: Four students and one teacher killed, 10 others wounded outside as Westside Middle School was emptied during a false fire alarm. Mitchell Johnson, 13, and Andrew Golden, 11, shot at their classmates and teachers from the woods.
April 24 -- Edinboro, Pa.: One teacher, John Gillette, killed; two students wounded at a dance at James W. Parker Middle School. Andrew Wurst, 14, was charged.
May 19 -- Fayetteville, Tenn.: One student killed in the parking lot at Lincoln County High School three days before he was to graduate. The victim was dating the ex-girlfriend of his killer, 18-year-old honor student Jacob Davis.
May 21 -- Springfield, Ore.: Two students killed, 22 others wounded in the cafeteria at Thurston High School by 15-year-old Kip Kinkel. Kinkel had been arrested and released a day earlier for bringing a gun to school. His parents were later found dead at home.
1999
April 20 -- Littleton, Colo.: Fourteen students (including killers) and one teacher killed, 23 others wounded at Columbine High School in the nation's deadliest school shooting. Eric Harris, 18, and Dylan Klebold, 17, had plotted for a year to kill at least 500 and blow up their school. At the end of their hourlong rampage they turned their guns on themselves.
Nov. 19 -- Deming, N.M.: Victor Cordova Jr., 12, shot and killed Araceli Tena, 13, in the lobby of Deming Middle School.
2000
Feb. 29 -- Mount Morris Township, Mich.: Six-year-old Kayla Rolland shot dead at Buell Elementary School near Flint, Mich. The assailant was identified as a 6-year-old boy with a .32-caliber handgun.
March 10 -- Savannah, Ga.: Two students killed by Darrell Ingram, 19, while leaving a dance sponsored by Beach High School.
May 26 -- Lake Worth, Fla.: One teacher, Barry Grunow, shot and killed at Lake Worth Middle School by Nate Brazill, 13, with .25-caliber semiautomatic pistol on the last day of classes.
2001
Jan. 17 -- Baltimore, Md.: One student shot and killed in front of Lake Clifton Eastern High School.
March 5 -- Santee, Calif.: Two killed and 13 wounded by Charles Andrew Williams, 15, firing from a bathroom at Santana High School.
March 30 -- Gary, Ind.: One student killed by Donald R. Burt, Jr., a 17-year-old student who had been expelled from Lew Wallace High School.
Nov. 12 -- Caro, Mich.: Chris Buschbacher, 17, took two hostages at the Caro Learning Center before killing himself.
2002
Nov. 7 -- Liberty, Kan.: Jaswinder Singh, 41, shot his fourth-grade son Kawaldeep to death and wounded his wife Mandeep in the parking lot of St. James School, which his son attended.
2003
April 14 -- New Orleans, La.: One 15-year-old killed, and three students wounded at John McDonogh High School by gunfire from four teenagers (none was a student at the school). The motive was gang-related.
April 24 -- Red Lion, Pa.: James Sheets, 14, killed Principal Eugene Segro of Red Lion Area Junior High School before killing himself.
Sept. 13 -- Vicksburg, Miss.: Walter Jefferson, a 20-year-old student at Vicksburg High School, shot to death O'Dare Lee Earl Mims, 20, on school property.
Sept. 24 -- Cold Spring, Minn.: One student killed, another critically wounded at Rocori High School. Suspect is a 15-year-old freshman.
School violence in Minnesota
February 1993: A 13-year-old boy shot a 12-year-old girl at Sanford Middle School in Minneapolis. The girl's injuries were not life-threatening, and police never determined whether the shooting was intentional or accidental.
October 1994: Two St. Paul Harding High School students were shot and wounded just outside the building.
November 1995: A Minneapolis North High School wrestler was shot and wounded in school's parking lot.
September 1997: A student carrying a weapon ran into LeSueur-Henderson High School. He was pursued into a bathroom by a police officer, who was shot and slightly injured when he opened the stall where the student was hiding.
May 2000: A 16-year-old Benson High school student was charged with terroristic threats after he reportedly said he wanted to "do another Columbine" and "put Benson on the map" by killing other students and two teachers. Authorities say he never tried to carry out the plan.
October 2000: Two former students were shot and wounded outside a homecoming dance at Minneapolis North High School.
Police charge man over airport 'bomb threat'
Associated Press
08:22 Friday 26th September 2003
Police have charged a 33-year-old who rode a Harley Davidson into the terminal of a major Australian airport and allegedly threatened to blow it up.
Hundreds of people were evacuated from the terminal at Perth during the security alert yesterday and flight timetables were thrown into chaos. [...]
I Had Sex with an Alien!

BY MATTHEW FORNEY | RED FLAG LOGGING CAMP
Forget China's astronauts. The country's most famous intergalactic traveler lives in the last house on his lane at the edge of a Siberian forest. Meng Zhaoguo's odyssey began at the Red Flag logging camp in the Manchurian province of Heilongjiang, when he saw a metallic glint thrown off nearby Mount Phoenix. Thinking a helicopter had crashed, he set out to scavenge for scrap. The 36- year-old lumberjack stood gazing at the wreck from across a valley when "Foom! Something hit me square in the forehead and knocked me out."
[...] Several nights after his wallop on the head, Meng says he found himself floating above his bed. As his wife and daughter slept below, a 3-m-tall, six-fingered alien with braided fur on her legs straddled his waist. After 40 minutes of levitational copulation she departed through the wall, leaving Meng with a 5-cm mark on his thigh. A month later, he says, he was transported through the wall into a spaceship. Meng asked to see the woman with the braided fur. Impossible, they said. But they gave him hope. "In 60 years, on a distant planet," they said, "the son of a Chinese peasant will be born." Meng asked if he would ever see this child. He would. The aliens did not say where.
Aliens love to buzz the borough
A HOUSEWIFE from Wallasey claims that the area is a hotbed of UFO activity. Nikki Limb is the newly appointed Wirral representative of the Merseyside Anomalies Research Association (MARA), which was set up in 1996 to investigate and research UFOs and other strange incidents.
She says UFO sightings are extremely common in Wirral and many are regularly reported to her. She also claims to have seen UFOs herself.
[...] One of the strangest of MARA's incidents occurred on August 24, 1997, when they say a black sphere appeared to rise out of the river. The group claim that four witnesses in Wallasey saw something odd in the evening sky at about 7.30pm in the evening as they were sat in the garden with friends enjoying the clear weather.
One of the people noticed a black ball in the sky moving at high speed - apparently quicker than an aircraft. They watched this for about a minute and had enough time to get in the house to get binoculars. During the observation the object changed direction a number of times and also seemed also to change shape.
More mystery showers of unidentified muck
By LEANNE BELL AND NZPA
25 September 2003
Victims of unidentified offensive brown muck showering people, houses and cars are popping up all over the country.
Many are blaming aircraft sewage, but no one knows what the splatter is or where it is from.
Thursday, September 25, 2003
By MATTHEW RALPH
Staff Writer
MILLVILLE -- The large wasps that bore holes through a tree on Carmel Road most likely did not cause the 40-foot tree to fall, an agriculture agent at Rutgers Cooperative Extension of Cumberland County said Wednesday.
The wasps do not pose a health risk to humans, but are still capable of leaving a painful sting, he said.

Though he is waiting on confirmation from an entomologist that a sample brought into the extension office by Janet Hanson is in fact an ichneumon or parasitic wasp, Extension Department Head James Johnson said he believes the wasps appear to be members of the ichneumon.
"There are a thousand or more types of ichneumon wasps, so we brought the sample to an entomologist in order to identify specifically what type it is," Johnson said.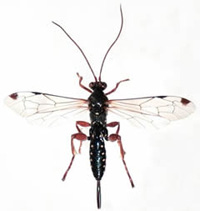 Ichneumon Wasps
Parasitic ichneumon wasps often have long sword-like ovipositors and very thin "waists". They lay their eggs in caterpillars and beetle larvae which will be the food for the developing wasp. Ichneumon wasps are commonly used as biocontrol agents. NB:There are more than 100 species of ichneumon wasps in New Zealand.
The native giant ichneumonid can be up to 100mm long and parasitises the large wood-boring elephant weevil.The sirex wood wasp can be up to 40mm long, and is commonly found around pine plantations. It bores into tree trunks to lay its eggs, and because the larvae damage the wood it is considered a timber pest.
To control the sirex wood wasp another giant species of ichneumon wasp — Megarhyssa nortoni, which parasitises sirex wood wasps larvae — was introduced to New Zealand. This ichneumon is similar in size and appearance to the native giant and has an ovipositor that is twice as long as the body.

Stressed motorists seek divine inspiration
Ananova.com
06:42 Friday 26th September 2003
A survey claims stressed-out motorists are looking to divine inspiration to help them beat road congestion.
Nearly three in four drivers admitted to saying the odd prayer while behind the wheel and 22% said they prayed on a regular basis, according to the RAC Foundation survey.
The most common selfish prayer was "get me out of this", while others implored the heavens to "please make sure the speed camera didn't have film". [...]
"Society has changed - with many people choosing to talk to whatever power they worship in ordinary places where they feel relaxed and uninhibited, like motor cars. For some the car has simply become the new church." [...]
"God can't fix speed camera film or traffic lights. But He can fix people, whether they are driving or whatever."
---
Remember, we need your help to collect information on what is going on in your part of the world!
We also need help to keep the Signs of the Times online.
Obviously, there are a lot of folks out there who do NOT like what we are doing - our own special brand of news coverage - and they are working day and night to create almost insurmountable problems for us, designed to grind us down and render our plans to be able to increase our production (which include a weekly radio show that is currently in the implementation stage) impossible to bring to fruition. We are coming under increasing pressure from many directions all at once.
Our need for financial support has never been greater, including support for legal initiatives to halt the madness of several of the para-COINTELPRO activities currently launched against us. These operations are designed to create a platform to justify utilizing police state tactics so as to silence, and even ultimately, destroy us.
Please: We need your help.
The campaign of lies and disinformation would be frightening under normal circumstances; considering the present state of the world and the machinations of the "National Security State," it is terrifying.
Please - if you have been helped by our work -
won't you help us NOW?

---

Check out the Signs of the Times Archives

Send your comments and article suggestions to us

---
Fair Use Policy
Contact Webmaster at signs-of-the-times.org
Cassiopaean materials Copyright ©1994-2014 Arkadiusz Jadczyk and Laura Knight-Jadczyk. All rights reserved. "Cassiopaea, Cassiopaean, Cassiopaeans," is a registered trademark of Arkadiusz Jadczyk and Laura Knight-Jadczyk.
Letters addressed to Cassiopaea, Quantum Future School, Ark or Laura, become the property of Arkadiusz Jadczyk and Laura Knight-Jadczyk
Republication and re-dissemination of our copyrighted material in any manner is expressly prohibited without prior written consent.
.