At LAST! Laura's popular series on the Holy Grail is BACK! Click here to read
---
United States says UN resolution on Iraq could take months to achieve
07:29 AM EDT Sep 25
TERENCE HUNT
NEW YORK (AP) - Facing resistance from allies, President George W. Bush slowed his search Wednesday for a United Nations resolution to encourage other countries to pledge money and peacekeeping troops for Iraq's reconstruction. The administration said it could take months to work out an agreement.
With U.S. casualties rising and pressure building to bring American soldiers home from Iraq, the uncertain diplomatic timetable could cause the Defence Department to call up more National Guard or Reserve forces.
[...] After more than a year of icy relations, Bush and Schroeder shared a hearty handshake and agreed to patch up differences from the Iraq war.
The reconciliation was played out before television cameras as the two leaders beamed, reached from their armchairs to shake hands and spoke warmly about U.S.-German relations. It was a contrast to Bush's meeting a day earlier with French President Jacques Chirac where reporters were not allowed and a U.S. official indicated there was no narrowing of differences on Iraq.
[...] Chirac, Schroeder and Russian President Vladimir Putin had their own joint meeting at the Waldorf-Astoria.
Chirac told reporters afterward: "There is not a shadow of a difference of view between the Germans and the French position. This is clear and irrefutable. We have also a very similar position with the Russians."
Our Next Savior? Grand Illusions About Wesley Clark
By WILLIAM BLUM
CounterPunch
In case anyone is still embracing any illusions that General Wesley Clark is likely the hero who can bring closer to fruition our belief and hope that Another World Is Possible, here are a few more items about this charming man. [...]
Clark was among 68 leaders charged with war crimes by a group of international-law professionals from Canada, the United Kingdom, Greece, and the American Association of Jurists. [...]
Amongst the charges filed were: "grave violations of international humanitarian law", including "wilful killing, wilfully causing great suffering and serious injury to body and health, employment of poisonous weapons and other weapons to cause unnecessary suffering, wanton destruction of cities, towns and villages, unlawful attacks on civilian objects, devastation not necessitated by military objectives, attacks on undefended buildings and dwellings, destruction and wilful damage done to institutions dedicated to religion, charity and education, the arts and sciences."
At one point in the bombing campaign it was reported that "[Clark] would rise out of his seat and slap the table. 'I've got to get the maximum violence out of this campaign -- now!'" (Washington Post, 21 September 1999)[...]
Remarks from a Reader on Wesley Clark
A reader writes that one of her relatives "is part of the alumni group at West Point who have an active e-mail exchange. Wesley Clarke graduated first in his class. The messages have been flying thick and fast between people who went to school with WC (??LOL) or who have worked for him over the years. The verdict is nearly unanimous that he would be a disaster for the country. He is a 'flake, a publicity hound, a camara hog' etc. The fact that the Clintons like him (the answer to Howard Dean? a reference I don't understand) brands him even worse.
"I don't know how much of this private sentiment will spill over into some sort of countermeasure by such group as West Point grads. The training to close ranks may be too strong. Still, it was interesting to hear. Something to watch for in the media in the next couple of months?"
Overcoming his church's bizarre reputation and his own criminal record, the Rev. Sun Myung Moon has cemented ties with the Bush administration -- and gained government funding for his closest disciples.
By John Gorenfeld
Sept. 24, 2003
Salon
Last December, at his three-day God and World Peace event, the Rev. Sun Myung Moon drew a notable slate of political figures, from Sen. Richard Lugar, R-Ind., to Rep. Danny Davis, D-Ill., and, perhaps most notably, James Towey, director of the White House Office of Faith-Based and Community Initiatives, who offered some respectful opening remarks to Moon's Unification Church faithful. Moon followed, and called for all religions to come together in support of the Bush plan for faith-based initiatives.
Coming from Moon that made perfect sense, because he already believes all religions will come together -- under him. "The separation between religion and politics," he has observed on many occasions, "is what Satan likes most."
His gospel: Jesus failed because he never attained worldly power. Moon will succeed, he says, by purifying our sex-corrupted culture, and that includes cleaning up gays ("dung-eating dogs," as he calls them) and American women ("a line of prostitutes").
Jews had better repent, too. (Moon claims that the Holocaust was payback for the crucifixion of Christ: "Through the principle of indemnity, Hitler killed 6 million Jews.") His solution is a world theocracy that will enforce proper sexual habits in order to bring about heaven on earth. [...]
Comment: Of course, George Bush has cult ties. Is anyone suprised? All followers of the Moon pledge allegience to the father land, South Korea.
Bush has spoken for at least 3 completely different Moonie front-groups, and on one of them, even calling Moon "...the man with the vision".

It cannot be underestimated, the enormous benefits that a former President of the U.S., such as Bush, provides a convicted felon like Sun Myung Moon, in giving legitimacy to his various organizations. Moon has paid George Bush's family well for their efforts on his behalf. In public speeches, Moon himself has taken credit for the elections of Ronald Reagan and George Bush and with his Washington Times newspaper, and his followers manpower for passing out brochures and voting scorecards, as well as likely financial support, it would appear that Moon certainly played a key role in helping these two men. It may be that Bush and Reagan saw it that way as well, because Moon was a V.I.P. guest at the first Reagan-Bush inauguration .[ George W. Bush In Rev. Moon's Pocket? ]
More than you probably wanted to know about how much impact Reverand Moon has in U.S. politics located here.
Calif. Recall Candidates Clash in Debate
By ERICA WERNER
The Associated Press
Wednesday, September 24, 2003
SACRAMENTO, Calif. - The most-anticipated debate of California's recall campaign quickly descended into a squabble of overlapping attacks Wednesday, forcing the moderator to tame personal comments by four of the five leading candidates seeking to replace Gov. Gray Davis.
Throughout the first half of the debate, moderator Stan Statham of the California Broadcasters Association had to coax the candidates to stay on subject. At one point, Statham said he was dizzy from the quick, loud and aggressive banter.
"Cruz, Arianna, Cruz, Arianna, Cruz, Arianna," Statham said as Bustamante and Huffington parried on the issue of business and taxes.
Meanwhile, Green Party candidate Peter Camejo stayed above the fray, saying, "I'm trying to be respectful to everyone here."
The stakes were high for the debate, which was carried live on national cable networks including CNN, MSNBC and Fox. One in five voters in a recent poll was undecided, and two-thirds said they would be swayed by the face-off, which could be the most-watched debate in California political history.
The debate ranged from questions on balancing the budget, whether the car tax should be repealed and what to do about health care. [...]
Huffington continuously targeted the Bush administration as the source of the state's problems, connecting Schwarzenegger to the president's policies.
The actor quickly shot back that she was in the wrong place.
"If you want to campaign against Bush, go to New Hampshire," Schwarzenegger said.
The tension between the two peaked when Schwarzenegger began to cut Huffington off and she replied, "This is the way you treat women, we know that. But not now."
Statham penalized Huffington and gave Schwarzenegger a chance to reply, providing another opening for one of his frequent movie references.
"I just realized that I have a perfect part for you in Terminator 4," he said to Huffington, as the audience laughed.
"Ladies and gentlemen, this is not Comedy Central," Statham said.
Comment: And the Signs staff sing: "Send in the clowns....where are the clowns....they're already here....."
Berlusconi vaunts Italy's secretaries
Italian Prime Minister Silvio Berlusconi has told US businessmen they should invest in Italy because it has "beautiful secretaries" and "fewer communists" than before.
Mr Berlusconi's latest controversial remarks came at a business function at the New York Stock Exchange.
Celebrity Worship Syndrome: Is America's Obsession With Stardom Becoming Unhealthy?
ABC News
By Keturah Gray
Is America's Obsession With Stardom Becoming Unhealthy?
Sept. 23 — Feeling a little let down now that Ben and Jen's wedding is on hold? Don't worry — you're not alone. [...]
"We as a society are becoming overly preoccupied with celebrities and the fantasy images it evokes," says James Houran, a psychologist with the Southern Illinois University School of Medicine. [...]
Congress defunds Pentagon's "big brother' program

WASHINGTON (AFP) Sep 25, 2003
A controversial Pentagon "big brother" program that called for monitoring computer databases containing data on millions of Americans for signs of terrorist activity has been hit with a "delete" key, a Democratic US lawmaker announced late Wednesday.
Senator Ron Wyden of Oregon said House and Senate negotiators hashing out details of the 2004 defense appropriations bill had decided to withhold all the funds from the Terrorism Information Awareness (TIA) program, all but guaranteeing its demise. [...]
"I've always said I believe that you can fight terrorism vigorously without cannibalizing civil liberties, and TIA did not meet that test," the senator said in a statement. "Time and time again, the Defense Department sought to cross the line on privacy and civil liberties in the name of fighting terrorism." [...]
More specifically, the Pentagon's TIA office was proposing to integrate databases that already track people's daily activities -- like bank records, online purchases and travel reservations, according to defense and congressional officials. [...]
Comment: This is an interesting way to get the American people to accept Big Brother. TIA effectively took the people's attention off of the fact that the government is already tracking their daily activities, and placed that attention onto the idea that these tracking activities needed to be integrated and coordinated. With the "death" of TIA (which has most likely been implemented anyway under a different acronym), Americans can go back to sleep and have pleasant dreams now that they have a "victory" over the oppression of their civil liberties.
Reliance on Microsoft Called Risk to U.S. Security
By Reed Stevenson
Wed Sep 24, 4:33 PM ET
SEATTLE (Reuters) - Computer security experts issued a joint report on Wednesday saying that the ubiquitous reach of Microsoft Corp.'s software on desktops worldwide has made computer networks a national security risk susceptible to "massive, cascading failures."
The report, unveiled at the Computer & Communications Industry Association's meeting of industry leaders and government officials in Washington, D.C., saying that Microsoft is now the number one target for malicious computer virus writers. The report's authors told CCIA -- which is funded by Microsoft rivals -- that the software's complexity has made it particularly vulnerable to attacks. [...]
Oil prices surge after surprise Opec cut

By Kevin Morrison in London
September 24 2003 21:06

Oil prices surged on Wednesday as Opec producers said they would cut oil production by 900,000 barrels a day from their current daily output of 25.4m barrels.
"Opec surprised 95 per cent of the people that follow the oil price," said one London-based oil analyst. The production cuts start from November 1. [...]
Analysts said that the production cut by the Organisation of Petroleum Exporting Countries at a meeting in Vienna followed the recent record imports in the US, and a notable increase in US crude inventories during the past month. [...]
Asian and European stock markets fell on Thursday as investors reacted to a surge in oil prices after Opec's surprise decision to cut output.
Report: Lenders miss most ID theft
By Bob Sullivan
MSNBC
Sept. 22 — ID theft has grown so far, so fast, because financial institutions and other lenders have missed it. A massive study of 200 million new credit card, checking account and cell phone accounts opened during 2001 — with participants like Citibank, Dell, Bank of America, and T-mobile — shows that 7 out of 8 identity thefts are mis-categorized as simple credit losses by lenders. [...]
Stock market traders show signs of zero intelligence
Call for parents to be licensed to have children
The Speaker of the South Australian Parliament, Peter Lewis, says people should be licensed to have children. [...]
Ocala 'Bomb Makers' Videotaped Public Explosions
Pair Filmed People's Reactions
September 25, 2003
Police in Ocala, Fla., arrested a 17-year-old and a 20-year-old man who allegedly traveled around the city videotaping themselves making and detonating homemade bombs, according to Local 6 News.

Authorities arrested Cody Stevens, 20, and the 17-year-old Tuesday night after about a week of making and exploding bombs around the city, Local 6 News reported [...]
2 boys shot at Minnesota high school, one dies; suspect in custody
07:29 AM EDT Sep 25
COLD SPRING, Minn. (AP) - A freshman opened fire at a high school Wednesday, killing one student and critically wounding a second, authorities said.
U.S. Court Blocks Anti-Telemarketing List
Wed Sep 24,12:10 PM ET
WASHINGTON (Reuters) - A federal court in Oklahoma has blocked the national "do not call" list that would allow consumers to stop most unwanted telephone sales calls, one week before it was due to take effect. [...]
MSN Family
About 40 percent of 9- and 10-year-old girls are trying to lose weight, according to a study in Pediatrics, the journal of the American Academy of Pediatrics. What frightens some researchers is that many of these girls aren't even overweight to begin with.
Concerns about body image are surfacing much earlier than in past generations, says Laurie Humphries, MD, director of the Eating Disorders Program at the University of Kentucky Chandler Medical Center in Lexington.
"By age 9," she says, "many young girls are starting to show preoccupation with shape and weight." [...]
New York Daily News
The homeless epidemic is back with a vengeance. [...]
"I never thought I'd be homeless," he said. "I was a stable person. I was working for 15 or 16 years. I had a BMW, credit cards, everything."
Now Martinez sleeps at the Bedford-Atlantic Men's Assessment Center in Brooklyn, a 350-bed shelter in a forbidding, Gothic-style armory. [...]
"We're seeing larger families, and that's a scary thing," [...]
"We've seen a lot of new faces," said director Sister Mary Maloney. "You can tell who are the people who have never been homeless before. ... They're very quiet, they're ashamed." [...]
"It's hell on Earth," [...]
A wary public says no to GM crops
By Robert Uhlig, Farming Correspondent
The Telegraph
An overwhelming majority of people do not want genetically modified crops to be commercially grown in Britain, according to a Government consultation published yesterday. [...]
Straw's hope for WMD discovery
UK Foreign Secretary Jack Straw says he remains hopeful that weapons of mass destruction will be found in Iraq despite a Bush administration source alleging that none have yet been uncovered.
The Anti-Defamation League of B'nai B'rith - Facts versus its smears and lies

by Gordon Thomas
The paragraph was short and based on information from NASA and the Israeli's Space Agency. It dealt with the role of Israeli astronaut, Ilon Ramon, one of the crew of the ill-fated Columbia shuttle.
This is what I wrote in that paragraph:
"Astronaut Ilon Ramon was conducting secret experiments on the Columbia to discover new ways to beat Saddam's threat to use biological and chemical weapons against Israel. For most of his 16 days on board the Columbia, he had been using cameras linked directly to the Israeli Space Agency to study desert dust and wind-drifts emanating from the deserts of Iraq."
In a splurge of rage, the New York based Anti-Defamation League of B'nai B'rith, through its "Anti-Semitism-International" – a newsletter rant on the Internet – accused me of being an "anti-Israel author", and one of those who used "the Space Shuttle Columbia disaster for their own purposes, anti-Semites, Holocaust deniers and Israel bashers… promoting warped conspiracy theories".
Abraham H Foreman, the Anti-Defamation League's National Director even managed to include me in his all-sweeping diatribe that "even in times of tragedy for the American people, the anti-Semites and hatemongers never let up".
There is much, much more, of this demented hysteria in Anti-Semitism-International.
In over 50 years of being a published writer, I have never met such a vicious smear. It's all the more incredible for when I first reported from Israel, since the Suez Crisis of 1956, I have been repeatedly praised for my balanced reporting about that country.
I co-authored the Academy Award multi-nominated " VOYAGE OF THE DAMNED", a saga of Jewish courage. I arranged for the Holocaust Museum in Washington DC to receive all the research material on this saga. I have lectured widely to Israeli congregations about the pernicious anti-Semitism now rife. I write for a UK newspaper, the Sunday Express, owned by a powerful Jew. I have a huge network of Jewish correspondents and contacts, many of them highly placed in Israel. Would all these good people continue to help me if they thought I was "anti-Israel" or anti-Semitic?
That is what makes outlandish, vicious and dangerous labelling by the League so serious, because if they can label me an anti-Semite, then who else can they damage at the whim of the likes of Mr Foreman? People who cannot reply to their ridiculous accusations. [...]
"The Arabs Are Coming! The Arabs Are Coming!"

Are they really?
Those who conspired to attack America on 9/11 wanted us to believe this. Many commentators, "experts," and "journalists" keep swearing that this is true.
I myself believed it and shouted at the fundamentalists in the local mosque: "Look what your kind has done!"
In every town in America, all Muslims cooperated with federal investigators in the biggest investigation in American history.
No Muslim terrorists were found.
We found out that fundamentalists are just conservative harmless people, who are afraid of even talking about terrorists, because "they" might come and punish them.
The Arabs are not coming. Just ask CNN and the Associated Press:
No Arabs were found on flight 11 that hit the north tower.
No Arabs were found on flight 175 that hit the south tower.
No Arabs were found on flight 77 that hit the Pentagon.
No Arabs were found on flight 93 that crashed.
Do we really want to read more fables about Al-Qaeda's plotting of 9/11? What Al-Qaeda? What Arabs?
To me, this is what counts most: Those who attacked America on 9/11 wanted Americans to hate Muslims and fear them because of their faith. But most Americans refused to do this, because it is unAmerican, backward and insane.
9/11 has failed to break America's spirit of religious freedom.
9/11 has failed
Comment: We disagree with the author. Most of the American population will do what they are told to do via government sponsored media programming. The government, for it's part, will do what the Jewish lobby tells it to do. Those who attacked the WTC have much more planned that just inciting hatred of Muslims. Unfortunately the repercussions of 9/11 will be built on and felt for a long time to come. 9/11 was the first piece in the process of complete enslavement of the American and global population. There will undoubtedly be more.
Halutz: Pilots refusing to serve in territories will face law
By Amos Harel , Haaretz Correspondent and Haaretz Service
Air Force Commander Dan Halutz on Thursday issued an order to ground nine pilots who signed a letter refusing to take part in operations in the territories. [...]
Altogether 27 reserve pilots signed the letter, details of which were published last week in Haaretz, but only nine of them still do active duty with the force. The signatories, who sent the letter to Air Force Commander Dan Halutz, described aerial activity in the territories as "illegal and immoral."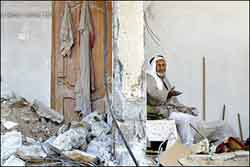 The signatories to the letter wrote they would refuse to take part in aerial attacks on populated Palestinian areas in the territories. "We, both veteran and active pilots, who have served and who still serve the state of Israel, are opposed to carrying out illegal and immoral orders to attack, of the type Israel carries out in the territories," the letter states. "We, for whom the IDF and the air force are an integral part of our being, refuse to continue to hit innocent civilians ... The continued occupation is critically harming the country's security" and moral fiber, it added.[...]
Former president and one-time air force commander Ezer Weizman attacked the group, saying they lacked "morality," that their act of publishing a letter was a "disgrace," and that they should "put their tail between their legs" and get out of the air force "as quickly as possible."
He likened the call to refuse orders to a "cancer" which had to be cut out "immediately, before it spreads." [...]
Comment: You will rarely hear in the U.S. media that there are Israelis who oppose their governments genocidal actions toward the Palestinians, and the abuse they receive when doing so. The above photo is of an elderly Palestinian sitting in the ruins of his home. The latest Israeli army raid destroyed 21 homes.
Palestine and Israel : Unkind History, Uncertain Future
By Ziad Asali
September22 , 2003
(The following presentation was made by Dr. Asali on September21 , 2003 at George Washington University in Washington , DC ).
For a conflict that has been described as intractable, insoluble and "centuries old", the most dramatic feature about the Palestine / Israel conflict is the near unanimous agreement about the contours of its final resolution.
The majority of the Palestinians, Israelis, Arabs, Jews, Americans, Europeans, and people all over the world as well as global institutions and bodies are in support of an outline that goes as follows:
1. A two-state solution, Palestine alongside Israel, with borders established on international legality defined by UN Resolution242 , with minor mutually agreed-upon adjustments.
2. A shared, open Jerusalem , with the Arab part serving as a capital for Palestine and the Jewish part serving as the capital of Israel .
3. End of occupation and settlements.
4. A fair and equitable solution of the refugee problem, based on international legality, with resettlements, compensation and redress of moral and psychological grievances.
5. End of conflict and a complete cessation of violence between Israel and all Arab States , including Palestine , with open borders and normalized relations for all.
6. A Marshall Plan to rebuild Palestine and provide an underpinning for a lasting peace.
No link with Israel until peace pact is signed - Mohammed
Dubai |WAM | 25-09-2003
Sheikh Mohammed said the meeting was important to Dubai. Picture: WAM
General Sheikh Mohammed bin Rashid Al Maktoum, Crown Prince of Dubai and UAE Minister of Defence, said the UAE will not establish any kind of link with Israel until there is peace in the Middle East.
"The UAE will never establish any relations with Israel as long as the agony of the Palestinian people continues," Sheikh Mohammed said. "We should not open doors to Israel because Palestinians are still suffering under Israeli occupation."
By: M. Shahid Alam
September23 ,2003
One day the Mulla walked into a teahouse. He was audibly muttering to himself, "I don't like the sun: it does little good. I love the moon."
The people in the teahouse asked him why? The Mulla answered, "Can't you see? The moon shines at night when it is dark, spreading its light for travelers, night workers and lovers. On the other hand, the sun shines during the day, when it is bright anyway."
Notes: The mind can play tricks, missing the obvious connections. Example: We were attacked on9 - 11because the Arabs hate our freedom and affluence. We have only been kind to them.
Israel invades the West Bank and Gaza on an almost daily basis
Four Palestinians killed in invasions
Thursday 25 September 2003, 14:16 Makka Time, 11:16 GMT
Four Palestinians and one Israeli soldier have been killed in a bloody morning of violence in the occupied territories.
Israeli forces invaded al-Bureij refugee camp in Gaza early on Thursday, killing two Palestinians including a Hamas member and injuring six others.
Afghan children kidnapped and sold says UN
Associated Press
10:18 Thursday 25th September 2003
Children as young as four are being abducted from Afghan villages and smuggled into neighbouring countries where they are sold.
The UN children's fund said authorities recently intercepted 50 children who were being trafficked in the region. [...]
Crime is rampant in Afghanistan following the overthrow of the hard-line Taliban regime by the US led coalition in 2001. [...]
Red Cross Warns Afghan Children Off Cluster Bombs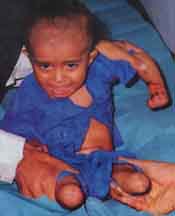 Think of this child the next time you fill your SUV.
Hazem Saghieh
Al-Hayat 2003/09/24
Nowadays, there is a widespread Arab sentiment that could be summed up as follows: Why doesn't America pack its things up and leave us alone?
[...] The only certain thing is that there is no way out without America and there is no way out with this America.
Westminster Notes (International Terror)
Sir Cyril Townsend Al-Hayat 2003/09/25
As the world marked the second anniversary of the atrocities of 11th September in America two separate but linked stories popped up in the British media. First, it was reported that British intelligence had warned that invading Iraq would increase the risk of a terrorist attack in Britain. Second, two British academics suggested that the campaign against international terror is now being lost.

Reuters CEO Calls for U.S. Report on Dead Cameraman

Thu September 25, 2003

LONDON (Reuters) - Reuters Chief Executive Tom Glocer has criticized the "haphazard" handling of a U.S. report into the killing of a Reuters cameraman in Iraq and urged Defense Secretary Donald Rumsfeld to hand it over.
Glocer told Rumsfeld in a letter released on Thursday that he was deeply dismayed that neither Reuters nor the family of its cameraman Mazen Dana had been properly informed of the conclusion of a military investigation into Dana's death. The letter was sent on Wednesday.
Dana, an award-winning Palestinian cameraman, was shot by a U.S. soldier on a tank as he filmed near Baghdad on August 17.
A U.S. military spokesman in Baghdad told other reporters on Monday that the inquiry had found troops respected their rules of engagement in the incident, but that Washington would not publish the full report.
Reuters found out about the report by subsequently questioning the spokesman, Lieutenant Colonel George Krivo.
"I ask you now to ensure that a full copy of the report is made available to Reuters and Mazen Dana's family," Glocer said.
"I am writing to you again in order to express my deep dismay that neither Reuters nor Mazen Dana's family were properly informed of further developments in this case," Glocer wrote.
Comment: Murdered by the US military along with 10,000 Iraqi men, women and children.
Calendar of US Military Dead during Iraqi War
(Includes 17 dead in Afghanistan during Iraqi war.)
Iraqi Governing Council member dies

MSNBC STAFF AND WIRE REPORTS
BAGHDAD, Iraq, Sept. 25 — Aquila al-Hashimi, one of three women on Iraq's American-picked Governing Council, died Thursday, five days after she was critically wounded in an assassination attempt, the U.S.-led Coalition Provisional Authority reported.
Earlier, an explosion at the NBC bureau in central Baghdad killed one man employed in the building and slightly injured one NBC employee. [...]
Bush's Latest UN Visit: More Misleading
The Nation
David Corn
Once more, George W. Bush has assaulted the truth in front of the United Nations. A year ago, he launched his push for war with a speech before the General Assembly that was filled with distortions to set the stage for the invasion to come. [...]
CIA plays down hopes of finding Saddam's WMD
By George Jones, Political Editor, and Alec Russell in Washington
The Telegraph
(Filed: 25/09/2003)
In its first public comments on the search for Iraqi weapons of mass destruction, the CIA conceded last night that a long-awaited report on the hunt would reach "no firm conclusions". [...]
No WMD in Iraq, source claims

BBC
Wednesday, 24 September, 2003, 19:48 GMT

No weapons of mass destruction have been found in Iraq by the group looking for them, according to a Bush administration source who has spoken to the BBC.
This will be the conclusion of the Iraq Survey Group's interim report, the source told the presenter of BBC television's Daily Politics show, Andrew Neil. [...]
US WMD report will be inconclusive
18:13, Sep 24 2003
WASHINGTON (Reuters) - An initial report from former U.N. weapons inspector David Kay, who has been leading the hunt for weapons of mass destruction in Iraq, will "reach no firm conclusions," a CIA spokesman says.
"Dr. Kay is still receiving information from the field. It will be just the first progress report, and we expect that it will reach no firm conclusions, nor will it rule anything in or out," CIA spokesman Bill Harlow said on Wednesday. [...]
Helsinki |Reuters | 25-09-2003
The security situation in Iraq remains so grim it is not yet clear if a panel investigating last month's attack on the UN headquarters there will even travel to Baghdad, the head of the panel said on Wednesday.
Son says Former Iraqi Defense Minister could play role in establishing post-war army
25-09-2003,09 :20
Former Iraqi Minister of Defence, Sultan Hashem Ahmad, who surrendered to US forces earlier this month, could play a role in forming a post-war army, a Jordanian daily reported Thursday, quoting his youngest son.
"My father has received guarantees that his name will be erased from the list of 55 wanted and he could be released after his interrogation," Al Arab Al Yawm quoted him as saying.
The son further told the paper that Ahmad, who gave himself in last week, has contacted his family twice since being taken into detention.
Asked if Ahmad could play a role in a new Iraqi army, he said, "I don't rule this out because my father enjoys a good reputation and has good relations with all the political groups".
Clerics flex muscles in postwar Iraq
Baghdad |Reuters | 25-09-2003
A worshipper in Baghdad went to his imam to ask if he should agree to sell air conditioners to the US forces occupying Iraq. The imam said no.
"I told him he should deal with them only in so far as it pleases God," said Sheikh Fadel Muhsin. "I said it was a sin to cooperate with them (the US occupiers) in harming Iraqis or in any way that helps consolidate their presence in our country."
Blast Kills One at Baghdad Hotel Where NBC Based
Thu September 25, 2003 12:54 AM ET
BAGHDAD (Reuters) - A bomb exploded on Thursday at a Baghdad hotel where U.S. television network NBC is based, killing a Somalian hotel worker and injuring two more people, hotel and NBC staff said.
They said the bomb was placed near the Aike Hotel's generator. The explosion was heard across central Baghdad on Thursday morning.
Body Bags Filled with GI Joe and Jane: No Homecoming Trumpets for the fallen?,
By Vincent L. Guarisco
Information Clearing House
Sep 23, 2003, 16:00
"Americans have been taught that their nation is civilized and humane. But, too often, U.S. actions have been uncivilized and inhumane."
~~Howard Zinn, historian and author
Did Uncle Sam always have such a cold, black heart? Or did Sammy's heartstrings lose their chromatic charm and warmth when the Bush cartel dipped it into an oozing barrel of Texas Tea imported from the Middle East?
Notice anything missing in the news media since all this war business started? Where is all the media attention for the more than 300 fallen military servicemen who have been killed in Iraq and shipped back home? I ask again -- has anyone heard the trumpets blaring or seen cameras clicking in patriotic fever as the body bags arrive and unload from military cargo planes?
While I'm on the subject -- has anyone seen any televised funerals or heard any interviews with relatives of the deceased who are not happy campers? Hardly anything? Hmmmm, go figure. I apologize for asking such disturbing questions, but duty calls in the wake of duplicity, and simply waving the flag is not enough, in fact it's not even close.
If we want to call ourselves true American patriots, it's our duty to "ask questions," and lots of them. When considering all the brave souls who have given their lives for country and cartel, perhaps asking questions and demanding honest answers will be the true battle cry of our times. [...]
I would also ask that each American who takes a pro-war position also take a pilgrimage to Arlington Cemetery in Virginia -- and, while they're at it -- visit the Vietnam Memorial in DC.
If anyone can do all that and still wrap himself in the American flag while shouting for war, then perhaps we really do have a valid enemy who threatens our safety. But as it stands right now, our own worst enemy is within.
More U.S. Reservists Might Go to Iraq

By ROBERT BURNS, AP Military Writer
September 25, 2003
WASHINGTON - The Pentagon is so squeezed for troops to send to Iraq that it may have to alert thousands more National Guard and Reserve members within several weeks for possible call-up.
That depends mainly on whether President Bush succeeds in the next few weeks in persuading Turkey, India, Pakistan or South Korea to form another multinational division for Iraq duty. Without that division, some mix of additional U.S. active-duty and reserve troops may be needed. [...]
Bush gets lowest-ever approval rating: poll
Brussels to give E200m to rebuild Iraq

By Judy Dempsey in Brussels and Edward Alden in Washington
September 24 2003 21:57

The European Commission is expected to commit only €200m to the rebuilding of Iraq, a tiny fraction of what the US needs and much smaller than the European Union contribution to the reconstruction of Afghanistan.

The small sum, which the commission is expected to pledge at next month's donors conference, illustrates the poor response to president to President George W. Bush's call for more international military and financial support. [...]
Foreign Minister says Tehran ready to cooperate if U.S. changes attitude
Iran would be willing to work with the U.S. on a range of issues, including its nuclear activities, if administration officials "change their approach and bring in a new environment for cooperation," a top Iranian official told The Washington Post.
Iranian Foreign Minister Kamal Kharazi said in an interview published on Thursday that his government was willing to sign an amendment to its nuclear proliferation agreement that would provide for unannounced inspections and enhanced safeguards.
The United States, for its part, would have to make it clear that signing the additional protocol would end the debate over Iran's nuclear intentions, Kharrazi added.
"We want to make sure the additional protocol would be enough and would solve the problem," Kharrazi told the Post.
Iran Denies Having Nuclear Weapons Technology
By Carol Giacomo
Wed Sep 24, 8:52 PM ET
NEW YORK (Reuters) - Iranian Foreign Minister Kamal Kharrazi on Wednesday denied that Iran has the technology to produce nuclear weapons and reaffirmed that Tehran would never abandon its nuclear programs.
"No, we do not have the technology to produce nuclear weapons. We have the technology to enrich uranium. This is a difference between having the technology to enrich uranium needed for power plant as fuel and the technology to actually make a bomb," he told a meeting on the fringes of the U.N. General Assembly. [...]
French President Jacques Chirac, in an interview with USA Today, said if Iran "agrees to all the necessary controls" he would back Tehran's development of a civilian nuclear program.
But if not, Chirac said he would support a U.S. push to take the issue to the U.N. Security Council where sanctions might be imposed. [...]
UN Inspectors Find More Enriched Uranium in Iran
Thu September 25, 2003 07:37 AM ET
VIENNA (Reuters) - The U.N. nuclear watchdog has found further traces of enriched uranium at a site in Iran, though this discovery could support Iran's explanation that the traces are due to contamination, diplomats told Reuters.
Speaking on condition of anonymity, the diplomats said the new traces of highly enriched uranium were found at the Kalaye Electric Co.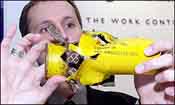 Earlier this year, U.N. inspectors found enriched uranium particles at Iran's uranium-enrichment plant at Natanz.
Comment: Iranians should start teaching their children what cluster bombs look like, and U.S. mothers should start preparing their sons and daughters how to suffer the torments of depleted uranium poisoning. The Bush Reich and Mossad is looking for reasons to start their campaign in Iran, and it appears that the majority of Americans don't care.
Syria denies reports of link to Guantanamo spy
Damascus says accusations 'illogical'
Compiled by Daily Star staff
Syria said Wednesday that reports linking it to a US airman charged with spying at the US Naval Base in Guantanamo Bay were "baseless and illogical."
[...] Syrian Information Minister Ahmed al-Hassan called the reports "baseless and illogical." He said he found it incredible anyone could believe intelligence screening for such a top-level post would not have filtered out possible spies.
"Would the CIA fail to find a translator that it trusts and had previously trained for a job of such a level of secrecy?" he said when asked by journalists about the news reports.
Police believe they have Lindh's killer
Associated Press
09:38 Thursday 25th September 2003
Swedish police say they have "probable grounds" to believe a man they have arrested is the killer of Foreign Minister Anna Lindh. [...]
China appreciates Russia's visa rejection to Dalai Lama
www.chinaview.cn
2003-09-25 18:46:49
BEIJING, Sept. 25 (Xinhuanet) -- The Chinese government appreciated the move taken by Russia to reject issuing a visa to the Dalai Lama, Chinese Foreign Ministry spokesman Kong Quan said here Thursday.
The Associated Press
Thursday, Sep. 25, 2003. Page 3
ORDZHONIKIDZEVSKAYA, Ingushetia -- Police have barred outsiders from a camp for Chechen refugees in Ingushetia, forbidding access to humanitarian workers and others in what some refugees see as part of an effort to forcefully relocate them to Chechnya ahead of the republic's Oct. 5 presidential vote.
A resident of the Bella tent camp near the village of Ordzhonikidzevskaya said Wednesday that police cut power and gas supplies to the camp two days earlier. The UN High Commissioner for Refugees expressed concern about the situation, saying supplies have been intermittent for the past week.
UN faces blizzard of bleak AIDS statistics
Reuters
UNITED NATIONS - Despite more money and a myriad of programs, most nations are unable, unwilling or too impoverished to provide treatment or prevention plans that could reverse the AIDS pandemic by 2015, U.N. officials said.
At an all-day conference, U.N. Secretary-General Kofi Annan said new reports from 103 government delivered a series of bleak statistics, showing action fell "far short of what is needed." [...]
Dr. Peter Piot, head of UNAIDS, which coordinates programs among U.N. agencies, told a news conference, said "there isn't a single A in the report card." [...]
Many AIDS orphans end up in African wars
Reuters
NAIROBI - The rising number of AIDS orphans in Africa is providing more and more child soldiers for Africa's many wars, a charity organization said on Tuesday.
According to Save the Children, by 2010, there will be 40 million orphans from AIDS and other diseases aged below 15 from the hardest-hit regions of sub-Sahara Africa.
"The more and more orphans there are, the more children we have in the armies. Where you have more children lacking family care, the more child soldiers you have," Douglas Webb, a spokesman with Save the Children said.
"Young people are voluntarily joining the army because it has food and a sense of protection and family." [...]
Man 'left to die' on Greek hospital trolley
By Danielle Gusmaroli, Evening Standard
24 September 2003
A mother who accuses medical staff of letting her son die in a Greek hospital today spoke of the last "terrifying" moments of his life.
Pam Cummings said 24-year-old Christopher Rochester was left unattended on a trolley in excruciating pain after falling from a hotel balcony.
His body was later flown home to Britain where it was revealed one of his kidneys had been removed. When his mother protested to Greek authorities, they sent a kidney from Rhodes that turned out not to be her son's.
His death at Rhodes Town Hospital three years ago sparked anger and was the subject of a parliamentary debate. Today three doctors and two nurses went on trial in Rhodes charged with manslaughter by neglect. The staff deny the charges. [...]
Over 130 aftershocks jolt Dominican Republic
www.chinaview.cn
2003-09-25 10:03:47
HAVANA, Sept. 24 (Xinhuanet) -- Over 130 aftershocks, mostly imperceptible, have been recorded in the Dominican Republic since an earthquake measuring 6.5 magnitude on the Richter scale was registered last Monday.
Landslide traps 12 people in northwest China province
Press Trust of India
Beijing, September 24, 2003
Twelve people were trapped in a landslide in Zizhou county of northwest China's Shaanxi province, a report said on Wednesday. [...]
Wednesday 24th September 2003
Volcanology officials conducted a helicopter overflight of Stromboli volcano on 23rd September. Small Strombolian activity was observed at summit crater A. The projectiles reached an elevation of 30m above the crater and a distance of 100m towards the north. Crater C on the Ginostra side of the mountain was emitting ash. The activity of monitoring COSPEC has measured 540 t/day SO2 emissions.
Impacts do not initiate volcanic eruptions: Eruptions close to the crater
Jay Melosh and Boris Ivanov
Many geologists have assumed that large meteorite impacts may cause volcanic eruptions. However, evidence for the actual occurrence of impact-caused volcanism is scarce, both on Earth and on the other planets, in spite of the common presence of impacts and volcanism. In this paper we show that the most commonly proposed mechanism for impact-caused volcanism, decompression melting, is ineffective even for impact craters as large as 350 km diameter into hot oceanic crust. We also show that the number of large volcanic eruptions on both Earth and Venus greatly exceeds the expected number of large impacts, again arguing that there is not causal connection between impacts and volcanic eruptions. The only case in which we find a possible connection is if a very large impact were to strike a volcanic center on the verge of eruption. However, the probability of this is very low-such an event may have occurred only once in Earth's history.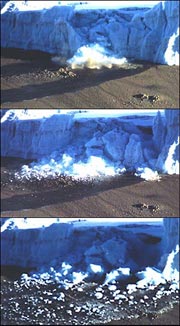 Mount Kilimanjaro's Glacier Is Crumbling
Andrea Minarcek
National Geographic Adventure
September 23, 2003

Last January, amateur adventurer Vince Keipper realized a long-time goal when he trekked to the top of Tanzania's Mount Kilimanjaro. But the view from Africa's 19,340-foot (5,895-meter) rooftop hardly compared to what he saw on the way up the mountain's Western Breach.
"The sound brought our group to a stop," Keipper recalled. "We turned around to see the ice mass collapse with a roar. A section of the glacier crumbled in the middle, and chunks of ice as big as rooms spilled out on the crater floor."
Keipper grabbed his camera just in time to capture a section of Kilimanjaro's massive Furtwängler Glacier spilling onto the same trail his group had ascended the very night before.
Keipper's photos speak for themselves, dramatic proof of a scientific near-certainty: Kilimanjaro's glaciers are disappearing. The ice fields Ernest Hemingway once described as "wide as all the world, great, high, and unbelievably white in the sun" have lost 82 percent of their ice since 1912—the year their full extent was first measured.
If current climatic conditions persist, the legendary glaciers, icing the peaks of Africa's highest summit for nearly 12,000 years, could be gone entirely by 2020.
Te Awamutu home latest to be hit by mystery substance
25.09.2003

A Te Awamutu home is the latest to be hit by a mystery airborne substance.
Hamilton roofer Peter Lowe discovered the brown substance splattered across the new roof he is working on when he turned up to work yesterday.
The Civil Aviation Authority yesterday ruled out aircraft sewage as the cause of a similar incident in Takapu Valley, near Wellington, last week.

Gamma rays may have devastated life on Earth
New Scientist
A devastating burst of gamma rays may have caused one of Earth's worst mass extinctions, 443 million years ago.
A team of astrophysicists and palaeontologists says the pattern of trilobite extinctions at that time resembles the expected effects of a nearby gamma-ray burst (GRB). Although other experts have greeted the idea with some scepticism, most agree that it deserves further investigation. [...]
Residents' problems have come partly from equipment at 2 plants, a 10-month study finds
Associated Press
September 20, 2003

KOKOMO, Ind. -- An acoustics consulting firm concluded two industrial fans appear to be among the sources of a mysterious hum that some Kokomo residents believe is to blame for their health and sleeping problems. [...]
"None of these people are crazy. Nothing is being made up," Cowan said. "Unfortunately, it's a complicated problem, dealing with uncharted territory in some areas." [...]
Dogs 'have sixth-sense for earthquakes'
Mystery flying muck strikes in Waikato
24 September 2003
By TRACEY COOPER
A Te Awamutu home is the latest to be hit by a mystery airborne substance.
Hamilton roofer Peter Lowe discovered the brown substance splattered across the new roof he is working on when he turned up to work yesterday.
"It looks human to me," he said, carefully avoiding touching the dried-out splatters.
Huge insects destroy 40 foot tree
Wednesday, September 24, 2003
By JACK HUMMEL
Bridgeton News
MILLVILLE -- What's 9 or 10 inches long with the wing span of a small bird and bores six to 10 holes in a straight line in a tree?
That's what Janet Hanson wants to know. [...]
World's First Alien Abductee Suffering Lung Cancer
PORTSMOUTH, N.H. (Wireless Flash) -- The world's first alien abductee just celebrated the 42nd anniversary of her abduction -- and it might be her last.
Friends of Betty Hill say the 84-year-old who currently lives in Portsmouth, New Hampshire, is suffering from lung cancer. [...]
UFO researcher contacted by Airdrie and area residents
Paul Wells, Echo Editor
Airdrie Echo — While far from being Alberta's version of Area 51, a Canadian UFO investigator and researcher says Airdrie and area has been a veritable hotspot for reported sightings of late.
Brian Wilke, director of HBCC UFO Research who has appeared on countless radio shows as a UFO expert, says he's received numerous calls on his toll-free UFO hotline reporting sightings of strange flying objects in the immediate area.
"We have started receiving a number of telephone calls and e-mails from (Airdrie) area residents reporting many strange lights and objects in the night skies," Wilke said. [...]
Washing machine courses for men
Ananova.com
10:27 Thursday 25th September 2003
A German psychologist is specialising in treating chickens and is helping them deal with problems ranging from gender issues to neurosis..
Barbara Luetzeler, from Bonn, is the country's only chicken psychologist. She says one of her cases involved a hen named Lucie who always wanted to be a cock.
"She was so dissatisfied she'd drive everybody out of her territory, even the cat," the 38-year-old told the Express newspaper.
Eventually, Lucie settled into her new role and even managed a crow - "Initially, it still sounded a little hoarse, but very proud," she said.
Luetzeler also diagnosed about 2000 chickens with "Autobahn Neurosis" after all of them simultaneously started wagging their heads for no apparent reason
It turned out they were disturbed by the loud noises of the nearby motorway and symptoms disappeared when their owner moved their enclosure to a more quiet spot.
---
Remember, we need your help to collect information on what is going on in your part of the world!
We also need help to keep the Signs of the Times online.
Obviously, there are a lot of folks out there who do NOT like what we are doing - our own special brand of news coverage - and they are working day and night to create almost insurmountable problems for us, designed to grind us down and render our plans to be able to increase our production (which include a weekly radio show that is currently in the implementation stage) impossible to bring to fruition. We are coming under increasing pressure from many directions all at once.
Our need for financial support has never been greater, including support for legal initiatives to halt the madness of several of the para-COINTELPRO activities currently launched against us. These operations are designed to create a platform to justify utilizing police state tactics so as to silence, and even ultimately, destroy us.
Please: We need your help.
The campaign of lies and disinformation would be frightening under normal circumstances; considering the present state of the world and the machinations of the "National Security State," it is terrifying.
Please - if you have been helped by our work -
won't you help us NOW?

---

Check out the Signs of the Times Archives

Send your comments and article suggestions to us

---
Fair Use Policy
Contact Webmaster at signs-of-the-times.org
Cassiopaean materials Copyright ©1994-2014 Arkadiusz Jadczyk and Laura Knight-Jadczyk. All rights reserved. "Cassiopaea, Cassiopaean, Cassiopaeans," is a registered trademark of Arkadiusz Jadczyk and Laura Knight-Jadczyk.
Letters addressed to Cassiopaea, Quantum Future School, Ark or Laura, become the property of Arkadiusz Jadczyk and Laura Knight-Jadczyk
Republication and re-dissemination of our copyrighted material in any manner is expressly prohibited without prior written consent.
.