At LAST! Laura's popular series on the Holy Grail is BACK! Click here to read
---
Arctic ice shelf breakup reported
Largest ice shelf in region was solid for 3,000 years
By Maggie Fox
WASHINGTON, Sept. 22 — The largest ice shelf in the Arctic, a solid feature for 3,000 years, has broken up, scientists in the United States and Canada said Monday. They said the Ward Hunt Ice Shelf, on the north coast of Ellesmere Island in Canada's Nunavut territory, broke into two main parts, themselves cut through with fissures. A freshwater lake drained into the sea, the researchers reported.
LARGE ICE ISLANDS also calved off from the shelf and some are large enough to be dangerous to shipping and to drilling platforms in the Beaufort Sea. [...]
Only 100 years ago the whole northern coast of Ellesmere Island, which is the northernmost land mass of North America, was edged by a continuous ice shelf. About 90 percent of it is now gone, Vincent's team wrote. [...]
Ice Shelf Break in Arctic Attributed to Climate Warming
Ice shelves are formed when a freshwater ice cap extends out to sea. In the Arctic, ice shelves are only located along the north coast of Ellesmere Island. The Ward Hunt Ice Shelf is the largest and most important of these shelves. Ice shelves consist of a combination of ice from glaciers and sea ice. Pieces break off the freshwater part of the shelf to form ice islands, the flat icebergs of the Arctic Ocean. A layer of sea ice then freezes to fill the open space left behind. As a result, an ice shelf is actually a patchwork of both sea ice and freshwater ice - a pattern that is actually visible from the air.
Breakup of Ice Shelf Signals Climate Change, Scientists Say
Largest Arctic Ice Shelf Breaks Up, Draining Freshwater Lake
American Geophysical Union
At Alert, a temperature increase of just one-tenth of a degree Celsius [one-fifth of a degree Fahrenheit] per decade has been observed since 1951. But during the period 1967 to the present, the temperature increase has been about four times that rate, about equal to that of Antarctica. The actual temperature on the ice shelf was measured in 2001 and 2002 and correlated with the Alert data, in order to project backwards the ice shelf temperature. This yielded an average July surface temperature of 1.3 degrees Celsius [34 degrees Fahrenheit] for the years 1967-2002, which is well above the zero degrees Celsius [32 degrees Fahrenheit] that is considered the critical threshold for ice shelf breakup in Antarctica, according to the researchers.
You can read the Preface and Introduction to EARTH'S CLIMATE AND ORBITAL ECCENTRICITY: THE MARINE ISOTOPE STAGE 11 QUESTION here
[...] Over at least a few 100 ky cycles, long cold glacials have alternated with short warm interglacials, perhaps in response to varying incoming solar radiation caused by the 100 ky eccentricity cycle in Earth's orbit. Because the current interglacial has already been about as long as the previous one, an expectation exists that another ice age might be imminent in the absence of human intervention. However, eccentricity also exhibits a 413 ky orbital varia-tion, so the interglacial centered at 400 ka known as ma-rine isotope stage (MIS) 11 is probably a better analogue for our current status than are any other recent intergla-cials. Indeed, the Earth orbital parameters characteristic of interglacial MIS 11 are repeated almost identically during the Holocene. Both interglacials correspond to times when the eccentricity of the Earth orbit was at its mini-mum so that the amplitude of the precessional cycle was damped. [...]
The melting is not something that just started:
The summer of 1998 was a season of high melt ( negative mass balance) on Melville Ice Cap. It appears as the highest melt in the record but that may be because the record does not include 1960 and 1962 which produced strong melt on other QEI ice caps. On Devon Ice Cap, 1998 the second highest negative mass balance (high melt) in the 1961-99 record.[GLACIER MASS BALANCE IN THE CANADIAN ARCTIC: PLACING THE SUMMER OF 1998 IN LONG TERM CONTEXT download pdf here]
CENTRAL ASIA: MELTING GLACIERS COULD AFFECT MILLIONS IN REGION
Antoine Blua
eurasianet.org
September 23, 2003
Glaciologists agree that warmer temperatures and below-average snowfalls are causing most of the Earth's 160,000 glaciers to shrink or disappear altogether. [...]
Reynald Delaloye is a research assistant at the Institute of Geography in Fribourg, Switzerland: "Except several exceptions, glaciers are withdrawing. This trend started approximately 150 years ago. But we observed in the past 15 to 20 years an acceleration of this withdrawal in many mountain ranges around the world."
In the Alps, the combination of warmer summers and drier winters, meaning less snow to feed the glaciers, is responsible for the glaciers disappearing. [...]
"If temperatures increase by another degree we may see a reduction of 20-25 percent of the glaciers' surface. If the warming reaches four or five degrees -- this is what is forecast for the coming century -- 80-90 percent of the glaciers' surface will disappear in the Alps," Delaloye says. [...]
Harrison says most glaciers in Kazakhstan -- like those in South America and Africa -- are expected to disappear completely over the next 20 years. Himalayan glaciers are also melting away at accelerated rates. [...]
The shrinking and anticipated disappearance of many of the world's glaciers has potentially catastrophic consequences for communities that rely on ice melt for water for irrigation, drinking, and hydroelectric and nuclear power stations. [...]
Kazakhstan's glaciers 'melting fast'
By Alex Kirby
BBC News Online environment correspondent
The political stability of a key central Asian state could be imperilled by climate change, researchers say.
Nepal facing glacier 'catastrophe'
This is a lake that should not exist. It is 6,000 metres above sea level, a kilometre long and 100 metres deep.
Twenty-five years ago it was a glacier. [...]
"Large glaciers around the world in both hemispheres have been retreating over the last 100 years." Chris Folland, Hadley Centre for Climate Research
Himalayan warming 'may trigger floods'
Scientists say more than 40 Himalayan lakes could soon overflow, imperilling tens of thousands of people.
They say the lakes are filling up because rising temperatures are melting the surrounding glaciers and snowfields that feed them. [...]
Earth hits '2,000-year warming peak'
Glacial Retreat: Scientists Say Glaciers Are Melting at Alarming Rate
Halifax climate team aims beam over city
Last Updated Mon, 22 Sep 2003 18:11:24
HALIFAX - Scientists are aiming a green beam of light over Halifax on Monday night. It's part of an experiment to better understand global climate change.
[...] "A lidar system works on the same principle as sonar," Duck said. Except (instead of) using a ping of sound, we use a laser light."
The prototype laser reflects off particles in the atmosphere. Researchers record the measurements on the ground using an astronomical telescope, which then sends the data back through fibre optic cables to a computer for analysis.
"We can take measurements that impact on the climate problem, air quality and ozone depletion," he said.
[...] The researchers say since Nova Scotia is under the flight corridor between North America and Europe, it's a good place to study the particles ejected by high-altitude aircraft.
The particles affect the properties of clouds, which are important for climate.
Deadly European Heat Wave May Repeat
By JOSEPH COLEMAN, Associated Press Writer
Tue Sep 23, 2:13 AM ET
PARIS - It sounds like a freak disaster: a blistering heat wave hits a country known for mild temperatures, killing thousands and prompting a breakdown in one of the world's best health systems.
But experts say the factors behind France's heat wave this summer are common in Europe and North America — and higher temperatures linked to global warming mean a similar disaster could easily happen again.
"We have to recognize that in the next years and decades, these episodes of heat waves will even be more frequent, sometimes even more severe," said Roberto Bertollini, an environmental health expert with the World Health Organization. [...]
Police chief announces "extreme weather" plan for Paris
TERRA.WIRE
PARIS (AFP) Sep 22, 2003
The police chief of Paris, Jean-Paul Proust, said Monday an "extreme weather" emergency plan would be prepared in the coming months to cope with natural catastrophes such as the summer heatwave that killed more than 11,000 people across France.
Proust told the city council that the section of the plan dealing with unusually cold weather would be operational in time for winter.
A round-the-clock civil safety operations room to watch and react to hazardous weather would be in place early 2004, the police chief said. [...]
Scientists See Antarctic Vortex as Drought Maker
By Michael Byrnes
Tue September 23, 2003 05:04 AM ET
SYDNEY (Reuters) - Australia may be facing a permanent drought because of an accelerating vortex of winds whipping around the Antarctic that threatens to disrupt rainfall, scientists said on Tuesday.
Spinning faster and tighter, the 100 mile an hour jetstream is pulling climate bands south and dragging rain from Australia into the Southern Ocean, they say.
They attribute the phenomenon to global warming and loss of the ozone layer over Antarctica. [...]
18 feared dead as rivers flood Nepal village
TERRA.WIRE
KATHMANDU (AFP) Sep 22, 2003
Eighteen people were feared dead after swollen rivers washed away a school and dumped piles of fish and sand on a village in western Nepal, officials said Monday.
The Jhimruk and Mandavi rivers flooded after days of rain and poured over Sunday on Syauliwang village in Pyuthan district, 240 kilometers (150 miles) west of Kathmandu. [...]
Nine dead in Negros Oriental flood
The Philippine Star
09/23/2003
Nine people have drowned in flash floods triggered by heavy rains in Negros Oriental, the Office of the Civil Defense said yesterday.
Floods submerged several villages in Santa Catalina town on Sunday after strong rains, leaving nine dead and one missing.
Relief operations were continuing and the casualty was not likely to rise.
Hurricane Marty moves over Mexico
From correspondents in Los Mochis, Mexico
September 23, 2003
HURRICANE Marty weakened slightly as it headed toward the Mexican mainland on yesterday after knocking out power, flooding streets and flattening trees on the southern Baja California peninsula. Two deaths were reported.
Forecasters said Marty was expected to maintain hurricane strength as it crossed the Gulf of California. [...]
September 23, 2003
A MAGNITUDE 4.1 earthquake struck the New Zealand capital Wellington today. [...]
India top court fines 10 states for environmental hole in school textbooks
TERRA.WIRE
NEW DELHI (AFP) Sep 22, 2003
India's Supreme Court on Monday slapped a token 15,000-rupee (319-dollar) fine on 10 states for failing to include environmental awareness in school textbooks.
The two-judge bench chastised the 10 states for not complying with national standards that schools teach children responsibility towards rivers, forests and mountains. [...]
US plans to attack seven Muslim states
Monday 22 September 2003, 23:08 Makka Time, 20:08 GMT
Aljazeera
Presidential hopeful General Wesley Clark says the White House devised a five-year plan after the 9/11 strikes to attack seven majority-Muslim countries.
A former commander of NATO's forces in Europe, Clark claims he met a senior military officer in Washington in November 2001 who told him the Bush administration was planning to attack Iraq first before taking action against Syria, Lebanon, Libya, Iran, Somalia and Sudan.
The general's allegations surface in a new book, The Clark Critique, excerpts from which appear in the latest edition of the US magazine Newsweek.
Clark says after the 11 September 2001 attacks, many Bush administration officials seemed determined to move against Iraq, invoking the idea of state sponsorship of terrorism, "even though there was no evidence of Iraqi sponsorship of 9/11 whatsoever". [...]
Comment: It is interesting that Clark presents this information in his new book, which has been released to coincide with his push towards the White House. He could have published or leaked the information to the American people almost two years ago, but instead it appears he may have chosen to keep it to himself until he could derive a political advantage from it.
Powell Calls U.S. 'Judeo-Christian,' Then Amends
Tuesday, September 23, 2003; 2:14 AM
UNITED NATIONS (Reuters) - Secretary of State Colin Powell called the United States a Judeo-Christian country on Monday but quickly amended that to "a country of many faiths."
The first amendment to the U.S. constitution prohibits the establishment of any state religion -- a provision usually interpreted as requiring strict separation of church and state, though Christian activists dispute that.
Powell made the remark in an interview with the Charlie Rose Show on public television while talking about Washington's vision of what kind of government Iraq should have. [...]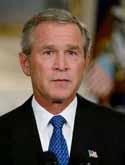 Bush 9/11 Admission Gets Little Play
Story Doesn't Make Many Front Pages
By Seth Porges
For months leading up this year's war on Iraq, the Bush administration implied that Saddam Hussein had a hand in the Sept. 11, 2001, attacks. The argument was well-received by Americans, and might have been the single leading factor behind public support for the U.S. invasion of Iraq. An oft-cited poll conducted by The Washington Post last month revealed that 69% of Americans continue to believe it likely that Hussein was personally involved in 9/11.
No real evidence to support this has emerged, however, leading some (including E&P , just last week) to declare that the media had failed in its duty to correct the public misperception. [...]
Of America's 12 highest-circulation daily papers, only the L.A. Times, Chicago Tribune, and Dallas Morning News ran anything about it on the front page. In The New York Times , the story was relegated to page 22. USA Today : page 16. The Houston Chronicle : page 3. The San Francisco Chronicle : page 14. The Washington Post : page 18. Newsday : page 41. The New York Daily News : page 14.
The New York Post and The Wall Street Journal didn't mention it at all.
Large papers outside of the top 12 that ran the news on Page One include The Boston Globe ,The Seattle Times , and the Seattle Post-Intelligencer .
The story was even more dramatic because Bush's remarks came on the heels of an assertion to the contrary made by Vice President Dick Cheney Sunday on NBC's "Meet the Press." When asked about the poll that shows Americans overwhelmingly believe Hussein was involved in 9/11, Cheney replied that he thinks "it's not surprising that people make that connection. ... If we're successful in Iraq then we will have struck a major blow right at the heart of the base, if you will, the geographic base of the terrorists who had us under assault now for many years, but most especially on 9/11."

Bush Lashes Back at Kennedy's Criticism
WASHINGTON - President Bush on Sunday described as "uncivil" Sen. Edward Kennedy's critical remarks of the administration's policies in Iraq.[...]
Comment: But, apparently it is civil to murder 10,000 civilians and poison them along with U.S. military with depleted uranium.
Ayoon wa Azan (Weapons Of Mass Deception)
Jihad Al Khazen
Al-Hayat 2003/09/22
I read the review of a book called Weapons of Mass Deception: The Uses Of Propaganda In Bush's War On Iraq, and I ordered it from the publisher, so I received it the day President Bush was admitting before American journalists that Saddam Hussein's regime had nothing to do with the 9/11 attacks.
The book is written by Sheldon Rampton and John Stauber; the cover shows a caricature in which George W. Bush seems to be a movie director. In the first picture, Osama bin Laden tells Saddam Hussein: "I will wait to overthrow your decadent regime until the Americans are defeated, you infidel." So Saddam replies in the second picture: "Great, and I won't send you and your followers to paradise quite yet." As for the third picture, George W. Bush is standing with a speaker saying: "Cut!! Guys, if you can't do better than that, the audience is never going to believe this script! From the top! And remember ... you're supposed to be buddies."
The book is thoroughly documented, and every word is accompanied by a reference of the person who said it, where it was published and how documents related to it can be obtained. I shall just mention a few things without getting into the details, because there's not much space in this column, though I hope that those who wish or can buy this book, either from the publisher Robinson in London or from the Guardian where I read the original review, or even from the Saqi bookshop.
I finished reading the book and returned to the visit of U.S. Secretary of State Colin Powell to Halabajah on September 16; so I picked the Washington Post story for a reason that will become clearer in the next paragraphs, and I read that Powell had asserted that the fact that Saddam Hussein's regime had killed almost 5,000 Kurds with chemical weapons in Halbajah in 1988 was enough justification to wage war against him. He also repeated an 'emotional defense' for war saying: "If you wish to see an example of the presence of weapons of mass destruction and their use, you should come to Halabjah today and see for yourselves…"
I shall briefly relate, once again, what was mentioned in the book without the references:
The Iraq-Iran war lasted from 1980 to 1988, killing almost one million people and bringing about a huge devastation. American officials viewed Iraq as a buffer against Shiite radicalism, protecting allies such as Kuwait, Saudi Arabia and Jordan, hence blocking the domino theory, as it happened in South-East Asia… Both administrations of Reagan and Bush Sr. allowed the sale to Iraq of equipment that would be useful at both military and civil levels, including toxic chemicals and deadly biological viruses such as Anthrax.
The American support continued even when former U.S. Secretary of State George Shultz received an offer made by Jonathan How, the analyst working in the Department, saying that Iraqi soldiers were using "almost on daily basis" chemical weapons against Iranians.
The truth of the matter is that the U.S. Department of State had expressed its concern regarding the situation on March 5, 1984, as it issued a statement saying that the U.S. strongly condemns the use of banned weapons everywhere.
However, it was nothing but talk, and the Washington Post itself said at that time that administration officials were less critical in their private discussions about Iraq, as they justified its use of chemical weapons with the violence of the Iranian enemy. The year was close to its end when America engaged diplomatic relations with Iraq for the first time since 1967. The Washington Post said that Iraq would be playing "a more useful regional role." As for the used weapons of mass destruction, the newspaper philosophized the matter by saying: "It is weird to focus on one certain violent means when all the ways of violence that people use against each other are studied."
In 1988, there was news about the Iraqi regime using a chemical weapon against its citizens in Halabajah. A number of Senate members, including Clairborne Bill, Al Gore and Jesse Helms, presented a draft project to ban genocide. The project was approved by unanimity, but the White House launched a campaign against it in the Congress with the assistance of allies, and managed to destroy it.
It is important to mention today a role that members in the Bush Jr. administration played in killing the draft project, as former ambassador Peter Galbraith who served in the Senate as an expert in the Iraqi affairs, remembers that "Secretary of State Colin Powell was one of those having led Reagan's campaign at that time, as to disregard or ignore the fact that Saddam Hussein was killing the Kurds with chemical weapons.
As for Dick Cheney, who was an eminent republican member of the Congress, and who is now the Vice President as well as the leader of the hawks in the Bush administration, he could have backed up the draft project, but he didn't. In the fall of 1989, nine months before Saddam Hussein invaded Kuwait, President Bush Sr. refused the objections that officials in three governmental administrations made, not to mention that he signed a highly confidential administrative order that tightened relations with Baghdad and paved the way before offering it a billion-dollar worth of new aides."
Had it been in my hands, I would have made every American voter read this book, and I would have translated it into Arabic and distributed it for free in every Arab country; maybe the Arab League can do that.
I closed the book and remembered Kurdish leader Mullah Mustafa Barzani's recommendation to his children as he was dying in the Georgetown University Hospital: don't trust Americans.
Comment: This is Western democracy at work.
These are your tax dollars at work.
This is your work.
The Occupation, At An Iraqi And Regional Level
Abdulwahab Badrakhan
Al-Hayat 2003/09/22
France and Germany failed to reach common grounds with the UK. Which means that there's no agreement between them and the U.S. The situation in Iraq is awaiting a new Security Council resolution, but the content of that resolution is still being deliberated. There is an American plan that serves as a basis for the discussions, but the only party that agreed to this plan is its British ally, which is always ready to nod approvingly.
Comment: This is Western democracy at work.
These are your tax dollars at work.
This is your work.

Bush unbending on Iraq
President George W Bush has provided an uncompromising defence of United States policies in Iraq, ahead of a major speech to the United Nations on Tuesday.
[...] Mr Bush told Fox News the US might not need to give the UN more authority in Iraq.
"I'm not so sure we have to, for starters," the president said.
"But secondly, I do think it would be helpful to get the United Nations in to help write a constitution. I mean, they're good at that.
"Or, perhaps when an election starts, they'll oversee the election. That would be deemed a larger role."
Mr Bush said he would tell the General Assembly he had no regrets about going to war.
"I will make it clear that I made the right decision and the others that joined us made the right decision," he said. "The world is a better place without Saddam Hussein."
[...] Mr Bush said he would tell the French president - whom he described as "a strong-willed soul" - that "America is a good nation".
"Hopefully he will over time understand more clearly why I had made the decisions I had made," he said.
Comment: Look at his condescending attitude to the UN about writing the constitution. Bush himself doesn't give a hoot about constitutions, be they written by the UN or even by the "Founding Fathers." He has made that clear. He doesn't care about elections, either, given he stole the last one through vote fraud on the part of his brother in Florida and a decision made by a stacked Supreme Court.
This is Western democracy at work.
These are your tax dollars at work.
This is your work.
Iraq wanted know-how, but did not store WMD: ex-UN inspector Ekeus

WASHINGTON (AFP) Sep 23, 2003
Former UN weapons inspector Rolf Ekeus said late Monday Iraq sought the ability to produce weapons of mass destruction, but had none in storage after it destroyed them following the 1991 Gulf War.
Ekeus, who was head of the UN Monitoring, Verification and Inspection Commission (UNMOVIC) from 1991 to 1997, told PBS television the US-led coalition in Iraq has been unable to find any chemical, biological or nuclear weapons since the war in April because there aren't any to find.
"My feeling is very clearly that the Iraqi policy long before the war was to build capabilities to produce weapons ... for the conflict situation, not to produce for storage and create a problem of storage management," he told interviewer Jim Lehrer. [...]
They are called 'The Searchers'. But what are they looking for?
The Independent
21 September 2003
Some 1,400 British and American experts are supposedly scouring Iraq to prove what Tony Blair and George Bush claimed before the war - that Saddam Hussein had weapons of mass destruction which posed an imminent threat to the world. But most of the Iraq Survey Group, the body created by the victorious coalition to replace the UN weapons inspectors, is not even in Iraq at the moment.
And only a small fraction of the ISG is actually assigned to looking for WMD. The site inspections group, known to colleagues as "the searchers", has 200 personnel, but that includes back-up staff, translators and drivers. Even the searchers do very little work on visiting suspect sites. "That was what the 75th Expeditionary Force were doing, and they don't need to replay that task," said a source in Baghdad. Another joked: "They have spent their time doing their laundry and napping." [...]
Search for WMD in Iraq Slows to Crawl
By SCHEHEREZADE FARAMARZI, Associated Press Writer
Tue Sep 23, 3:42 AM ET
MOSUL, Iraq - [...] "I was supposed to find weapons of mass destruction," said Shumaker, of Clarksville, Tenn. Instead, they made him an accountant, "because I was doing nothing." [...]
But for him, he said, it did not really matter what reason was given for going to war.
"I really don't jump into that. Somebody decided we must come in and take care of the business. Whether to get rid of WMD or the bad guy, it really doesn't matter," said Shumaker.
"I kinda decided when we first moved into Baghdad and saw the people cheering and the kids clapping — I think a lot of us decided — that whatever comes out of this operation, it would be a good thing," he said. [...]
Comment: The Iraqi people may have cheered and clapped when the US soldiers first arrived in a few photo op's for CNN, but certainly no one is applauding anymore. See the next article.
FAO Says Millions of Iraqis Desperately Hungry

Tue September 23, 2003 04:07 AM ET
ROME (Reuters) - Several million Iraqis remain desperately hungry despite a better cereals crop and the lifting of economic sanctions, U.N. food agencies said on Tuesday.
"While starvation has been averted, chronic malnutrition persists among several million vulnerable people," the U.N.'s Food and Agriculture Organization (FAO) said in a statement about a new report on Iraqi food supplies and nutrition.
"The situation of mothers and children in central and southern Iraq is of particular concern," Rome-based FAO said.
The agency said the hardest hit included some 100,000 refugees and 200,000 displaced people.
The report published by FAO and the World Food Program (WFP), the U.N. food aid agency, said nearly half of Iraq's 26.3 million people are estimated to be in need of humanitarian aid despite a better cereal harvest and the removal of sanctions. [...]
War, sanctions and drought have seriously eroded living standards in Iraq.
About 60 percent of the Iraqi population is unemployed and depends largely on public food rations. [...]
Abnormally High Number Of Lou Gehrig's Disease Cases Identified Among Gulf War Veterans
Science Daily
[...] ALS is a neurodegenerative disorder that attacks nerve cells in the brain and spinal cord, leading to muscle weakness in the arms and legs and difficulty speaking, swallowing and breathing, and eventually loss of all muscle function. [...]
Dr. Haley identified 17 Gulf War veterans – all under 45 – who were diagnosed with ALS by neurologists between 1991 and 1998. None of them have a family history of ALS or other neurodegenerative diseases, and all of the cases have progressed to advanced stages. Eleven have died of the disease. [...]
Iraq council 'to ban Arab networks'
The US-appointed Governing Council in Iraq has decided to ban two leading Arabic news channels from the country for allegedly inciting violence, according to reports.
Member Samir al-Sumaidy said the council had discussed "abuses by certain Arabic media, particularly al-Jazeera and al-Arabiya" and "tough and dissuasive measures" would be taken against them", French news agency AFP reported.
Comment: This is Western democracy at work.
These are your tax dollars at work.
This is your work.
Iran 'to cut nuclear co-operation'
Iran is to reduce its co-operation with the UN nuclear watchdog following a demand that it proves its nuclear aims are peaceful, according to an Iranian diplomat.
Ali Akbar Salehi, Iran's representative to the International Atomic Energy Agency (IAEA), on Monday said Iran had been showing "good will and transparency", by exceeding its obligations and allowing inspections at sites which didn't fall under the nuclear Non-Proliferation Treaty.
But following an IAEA resolution giving Iran until 31 October to disclose all its nuclear activities, Mr Salehi said it would now go by the book and not do anything beyond its existing commitments.
International Pressure Not to Lead to Signing the Additional Protocol: Analyst
TEHRAN (Mehr News agency) – A political analyst said here Monday that the IAEA does not have the right to restrict Iran's peaceful nuclear programs according to its bylaws.
Davoud Hermidas Bavand told the Mehr News Agency that every country is authorized to use nuclear technology for peaceful purposes, adding that this has not only been stated in international resolutions but also in IAEA bylaws.
"It is IAEA's duty to provide nuclear technology to non-atomic states," Bavand said.
[...] Bavand said that signing the additional protocol would not be the end of the problems. "If we had developed access to nuclear weapons, our quitting the NPT would not have been important because the framework of talks would have been different," he said.
Bavand added that Washington's objective is to forward Iran's nuclear case to the Security Council and given the position of the Western and industrial countries toward Iran, it would not have a good ending.
Iran's failure to comply with the UN deadline may pave the way to imposing international sanctions, argues Mustafa El-Labbad
Unlike Iraq under Saddam Hussein, Iran is not currently subject to international measures encroaching on its national sovereignty. The fact that Iraq was subject to international sanctions merely facilitated Washington's task of making a case for a military offensive against that country on the grounds that it was in breach of the sanctions. So far, this situation has not applied to Iran which under international law enjoys full sovereign rights over every inch of its territory and international recognition of its government. To place the Iranian nuclear programme under Security Council scrutiny, however, is to alter Iran's status from a fully autonomous state to a state subject to externally imposed disciplinary measures and conditions, which, in turn, threaten to drag the country into the whirlpool of mounting technical, security and political demands.
[...] Tehran has countered that the US, which spearheaded the IAEA resolution, has not signed the additional protocol. It has further argued that it is Israel's nuclear capabilities, not Iran's, that pose the major threat to regional peace and security. Such arguments are powerless because the international situation today is such that no state or group of states is permitted to challenge Washington's will. Furthermore, "right" and "law" are not synonymous in the current arena of international power politics.
[...] Iranians are further aware that the IAEA resolution has brought their country a step closer to Washington's objective to effect a regime change in Tehran as part of its ultimate designs for reshaping the regional geo-political map. The Security Council is not the only avenue Washington is pursuing towards the realisation of its goals. It is well-known that the Pentagon favours supporting and arming the Iranian opposition Mujahidin Khalq, and according to recent news reports, has already held secret talks with leaders of this organisation despite the fact that the State Department has included it on its list of terrorist organisations. Washington is also using the Internet in its campaign against Tehran. The San Diego-based company Anonymizer.com has been hired by the White House to breach Iranian censorship controls on Internet communications. The purpose is to bombard the Iranian public with a daily barrage of e-mail messages hostile to the regime in Tehran.
Comment: This is Western democracy at work.
These are your tax dollars at work.
This is your work.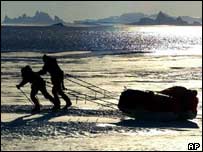 Antarctic setting for Mid-East peace bid
A group of Israelis and Palestinians aim to prove that the two communities can work together - by staging a joint expedition to Antarctica.
The project - called "Breaking The Ice" - will take the eight-member team from Patagonia in southern Chile to the top of an unnamed peak. [...]
Israeli troops continue West Bank rampage
By Khalid Amayrah in Hebron and Lawrence Smallman
Monday 22 September 2003, 11:36 Makka Time, 8:36 GMT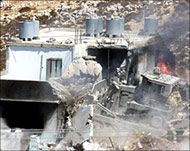 Israeli army driven bulldozer flattens Palestinian home
Israeli occupation troops destroyed a Palestinian home in Hebron after a resistance fighter forcibly took refuge in it.
Demolition followed immediately after residents were forced to evacuate the premises, leaving the Hamas resistance fighter by himself on Monday morning, Aljazeera.net can reveal.
Fifteen jeeps then surrounded the building and two tanks proceeded to pound it with rockets and shells.
Evicted residents said the fighter returned small arms fire for a short time.
His unidentified body was later recovered from under the rubble after a bulldozer was used to destroy the home.

Collective punishment
Comment: "Collective Punishment" is the Israeli strategy for dealing with the Palestinians. It says that if a member of a family is engaged in "terrorist" activity, that is, defending himself from Israeli aggression, then the Israelis may take bloody revenge on anyone or everyone from his family. In this case, it wasn't even a family member.
Please note that "collective punishment" is illegal according to international law. Not that something being illegal ever stopped the Zionist nazis.
The owner of the demolished home, Akram Shahin, is a teacher who told Aljazeera.net that he had no connections with the Israeli occupation resistance movement Hamas at all.
However, a military spokesman shrugged off any criticism and said: "The Hamas man would not come out of the house so we had to destroy it - it was the safest thing to do."
He added that Shahin could "sue the Ministry of Defence if he wants to be compensated."
Neighbours said soldiers did not even allow the family to remove belongings from their house before it was levelled, even when the fighter had been killed.

"They herded all family members out at gunpoint, then they started bombarding the home. They wouldn't allow them to remove anything from inside the house," said neighbour Anwar Qasrawi.
Pursue
Israel has turned down calls for a renewed ceasefire from Palestinian Authority officials, saying it will pursue members of Hamas.
It has stepped up demolition of Palestinian homes and multi-storey apartment buildings throughout the West Bank whenever a suspected resistance fighter is thought to have taken cover inside the structure.

Last week, the Israeli army demolished and levelled to the ground a seven-storey building in downtown Hebron after two resistance activists barricaded themselves on the rooftops.

Another seven-storey apartment building in Nablus was demolished, leaving two dozen families homeless.
Elsewhere in Nablus, a Palestinian teenager who was shot by Israeli troops last year died of his wound on Monday.
Sadi Mansur, who was already deaf and mute, was playing with a plastic gun during celebrations for the Muslim Eid al-Fitr holidays marking the end of the fasting month of Ramadan.
Also, Israeli soldiers arrested four members of the al-Aqsa Martyrs Brigades, the armed wing of Palestinian President Yasir Arafat's Fatah movement, said security sources.
And in the West Bank city of Jenin, occupation forces launched an invasion backed by tanks and demolished homes.
An Israeli helicopter fired air-to-ground missiles at a home, inflicting heavy damage.
Comment: This is Western democracy at work.
These are your tax dollars at work.
This is your work.
Hassan Nafaa* detects a qualitative shift in Washington's thinking on the Palestinian-Israeli conflict
Will the US intervene militarily between the Palestinians and Israelis? Will its forces "temporarily" occupy the West Bank and Gaza until a final settlement is reached and then withdraw?
[...] Some of those currently advocating such a step have been not only directly involved in formulating US policy on the Palestinian issue, but are closely connected to the Zionist lobby. One such, Martin Indyk, in an article appearing in Foreign Affairs of May - June 2003, proposed placing the Palestinian territories under a US trusteeship, mandated by the UN, until a final status settlement is reached.
Long one of the most active members of AIPAC, bastion of Zionist influence in the US, Indyk served as US ambassador to Israel from 1995 to 1997, when he was appointed assistant secretary of the State Department for Near Eastern Affairs. After serving another tour as ambassador to Israel from 2000 to 2001 he became director of the Saban Centre for Middle East Policy at the Brookings Institute, the prestigious Washington think-tank.
[...] Nor is it part of the proposal that international forces, even if purely American and under American command, will oversee the conduct of free and honest elections for a democratic Palestinian government, representing all shades of Palestinian opinion, with which Israel would then have to negotiate until a final status agreement is reached.
But we can hardly expect such impartiality from someone so completely biased in favour of Israel: Indyk, after all, has long promoted the interests and security of Israel, which granted him citizenship and allowed him to speak in his adopted nation's name during the Middle East negotiating process, above all other considerations, including the interests of the US.
The international force Indyk envisions being sent to Palestine is to be made up of US, British, Australian and Canadian forces placed under US command. This force will be deployed only in those parts of Palestinian territory labelled areas A and B in the Oslo accord, as well, perhaps, as a portion of area C. The total area of deployment will constitute between 50 and 60 per cent of the West Bank and most of Gaza. Indyk stresses from the outset that this is not a peace-keeping force.
Rather, it will consist of special combat units trained to fight terrorism and its primary mission will be to pursue and kill elements from Hamas and Palestinian Islamic Jihad (PIJ) and to dismantle the infrastructure of these organisations. In order to allay American anxieties over possible loss of life among US troops, he states that losses will be sustained by the other participating forces because US forces will only be in charge of securing and defending key control positions and, therefore, not engaged in intensive combat operations.
Nor does he forget to point out that some participation by Israeli forces -- to hunt down terrorist elements or to supply logistic aid and intelligence -- may be unavoidable; indeed, it may be desirable and welcome in order to ensure the success of certain operations. When the international force has completed the first phase of its mission -- eliminating Hamas and the PIJ -- it would then supervise the elections of a new Palestinian government and the reconstruction process and would then help translate Palestinian- Israeli agreements into practical, executable steps.
Comment: This is Western democracy at work.
These are your tax dollars at work.
This is your work.
UN may go on offensive against terror groups

23/09/2003
UN chief Kofi Annan has ordered a review of the world body's charter that may lead to it taking pre-emptive action against terror groups with weapons of mass destruction.
In a prepared speech to world leaders at the General Assembly in New York today, he said the Security Council might need to consider rewriting the rule book for the use of force.
The Secretary-General said he was establishing a "high-level panel of eminent personalities" to examine current challenges to peace and security and recommend ways the United Nations could reform its institutions.
"We have come to a fork in the road," Annan said. "This may be a moment no less decisive than 1945 itself, when the United Nations was founded."
The UN charter allows military action for the purpose of self defence.
"But until now it has been understood that when states go beyond that and decide to use force to deal with broader threats to international peace and security, they need the unique legitimacy provided by the United Nations," Annan said.
"Now some say this understanding is no longer tenable since an armed attack with weapons of mass destruction could be launched at any time.
"This logic represents a fundamental challenge to the principles, on which, however imperfectly, world peace and stability have rested for the last 58 years," Annan said.
"Its members may need to begin a discussion on the criteria for an early authorisation of coercive measures to address certain types of threats – for instance, terrorist groups armed with weapons of mass destruction," he said.
But Annan strongly opposed the Bush administration's policy of the pre-emptive use of force against perceived threats, warning that it challenged the system of collective security that has been the foundation of world peace and stability since the UN was founded.
Comment: Oh joy! Apparently the UN has seen the "logic" of the US war on terror and seems ready to drop the requirement for UN approval, effectively opening the way to a "free for all".
By Mary Joury
[...] On July 9, 1948, when the Israeli army entered Lydda in force, there was no Arab army there, the townspeople had no arms or weapons, and there was practically no resistance. Yet, in spite of this, the Israeli army acted with deliberate ruthless brutality. All males were rounded up and enclosed in a compound. A curfew was imposed for two days preventing the purchase of food necessities. On the morning of the third day, Ismail and his family watched from their windows as Israeli soldiers gunned down their neighbors' doors, and screaming, striking and shoving with their guns, drove the people out on the street.
Then it was the Shammout family's turn. Soldiers beat down their door shouting "Out! Out!" As the terrified family hastened to comply, they were body searched and all valuables removed. At the last moment before being evicted Ismail had quickly picked up a small photo album which was lying around and his prized British Palestine passport. An Israeli soldier tried snatching them from him, but Ismail stubbornly refused to let go. These two items were all that the Shammout family-- father, mother, four sons, and three daughters-- came away with from their ancestral home.
The townspeople were first herded into compounds. "There were tens of thousands of us, Ismail recalls. (Actually there were 25.00 people forcibly evacuated from Lydda that day). "There were old men and women, children, babies, pregnant women, sick people." At noon the Israeli soldiers, gun-prodding, striking, and kicking, with indiscriminate brutality, drove the people out of the compounds and marched them to the east, shouting: "yallah 'ala Abdallah", "Go, go to Abdallah" referring to king Abdallah I of Trans-Jordan.
It was Ramadan, the Muslim holy month of fasting, the July sun beat down relentlessly as the townspeople were marched over rough, dusty terrain towards the east, towards 'Abdallah. Surrounded by terrorizing Israeli soldiers they marched without food, without water; thirst became an agony. They marched in bewilderment and helplessness, parched with thirst, into exile, homelessness, to an unknown destination.
At one point, Ismail managed to slip into an orange grove, found an old rusty tin and filled it with water from an outdoor tap. As he was carrying the water to his family, an Israeli army jeep suddenly blocked his way and an Israeli soldier pointed a gun at his head and commanded "Drop it! Drop it!"
The Shammout family marched all that hot July day, until midnight when they reached the Arab village of Ni'lin, north of Ramallah, where the villagers welcomed them with a couple of loaves of Pita bread and water. "We were the lucky ones," says Ismail. "We were among the first to arrive. It took the others between two to three days to get to Ni'lin. Many collapsed on the way. Many did not make it." [...]
Comment: "We must expel Arabs and take their places.....and, if we have to use force - not to dispossess the Arabs of the Negev and Transjordan, but to guarantee our own right to settle in those places - then we have force at our disposal." - Ben-Gurion
Hard-liner Sharon takes over Israeli government
The Buzz
[...] In turbulent Middle East history, Mr. Sharon is Israel's General MacArthur. Forging a career that is more commando than politician, he has fought in every major armed conflict since the founding of Israel. He saw combat in Israel's 1948 war and also in the 1956 Arab-Israeli conflict, where he led a controversial forced march. [...]
Zionist army hires snipers from Russia
TEL AVIV: Israel's army has begun using Russian immigrant soldiers, veterans of fighting in Chechnya, as snipers to guard Jewish settlements in the Palestinian territories, Israeli security sources said yesterday.
The unit dubbed the "Immigrant Legion" was created recently by recruiting several dozen Russian-born men aged 40 and over who were too old to qualify for reserve duty but had volunteered to serve in semi-official security squads, the sources said.
An Israeli army spokesman played down the decision, saying the immigrants were informally absorbed into various reserve units, with sniping included among their operational roles.
Sources said the volunteers included veterans of the Russian army's fight against rebels in the Chechen region.
"These guys fought in Chechnya, but when they got to Israel they were considered too old for the draft," a security source said. "Eventually the military found their sharpshooter training - and their dedication - too good to ignore."
Snipers play a key role in Israel's ground forces operating in the West Bank and Gaza Strip, where Palestinian fighters are spearheading an uprising for independence.
France not anti-Semitic: Chirac
Tuesday, September 23, 2003 Posted: 0140 GMT
NEW YORK (Reuters) -- French President Jacques Chirac has told U.S. Jewish leaders the image of France as an anti-Semitic country was "wrong and dangerous" and that his government had taken action to combat violence against Jews.
"The president reaffirmed forcefully that France is not an anti-Semitic country, has never been so in its culture and will never be so," Chirac's spokeswoman, Catherine Colona, said.
While recognizing there had been attacks on synagogues and Jewish property, Chirac said the number of incidents had fallen to 72 in the first eight months of this year from 172 in the same period in 2002 under his "zero tolerance" policy. [...]
Flanked by leaders of the French Jewish community -- the largest in western Europe at 600,000 to 800,000 -- Chirac met with leaders of the World Jewish Congress, the American Jewish Committee, the B'nai B'rith Anti-Defamation League and the Conference of Presidents of Major Jewish Organizations.
Chirac also earlier said the friendship between France and the U.S. would prevail, despite recent differences, The Associated Press reports. [...]
FlashBack
French mayor brought to court for recommending the boycott of Israeli goods

Mar 18, 2003

On March 12, 2003, Mayor Jean-Claude Willem (French Communist Party) will appear in the high court in Lille following accusations of incitement to anti-Semitism on account of his campaign of protest against Israeli policies in the Palestinian territories.
The accusations were filed by representatives of the Jewish community in northern France.
Comment: Apparently the truth is anti-semitic.

U.S. Jews quiz Chirac Toast Italy's Berlusconi
NEW YORK, Sept. 22 - President Jacques Chirac told U.S. Jewish leaders on Monday that the image of France as an anti-Semitic country was ''wrong and dangerous'' and his government had taken action to combat violence against Jews ''The president reaffirmed forcefully that France is not an anti-Semitic country, has never been so in its culture and will never be so,'' Chirac's spokeswoman, Catherine Colona, said.
While recognizing there had been attacks on synagogues and Jewish property, Chirac said the number of incidents had fallen to 72 in the first eight months of this year from 172 in the same period in 2002 under his ''zero tolerance'' policy. Protection of places of worship had been boosted and recent legislation had increased penalties for racist, xenophobic or anti-Semitic attacks, he said.
Flanked by leaders of the French Jewish community -- the largest in western Europe at 600,000 to 800,000 -- Chirac met with leaders of the World Jewish Congress, the American Jewish Committee, the B'nai B'rith Anti-Defamation League and the Conference of Presidents of Major Jewish Organizations.
In contrast, another Jewish group, the Anti-Defamation League, set up to fight bigotry and anti-Semitism, is giving its Distinguished Statesman Award at a gala dinner to Italian Prime Minister Silvio Berlusconi. Berlusconi recently claimed Italian dictator Benito Mussolini ''did not murder anyone,'' a comment that caused an uproar in Italy, given that the wartime Italian fascist was responsible for the deaths of thousands of Jews. In July, Berlusconi, in a speech to the European Parliament in Strasbourg, likened a German legislator to a Nazi concentration camp guard. In both cases he apologized.
Abraham Foxman, national director of the Anti-Defamation League, said the award would go ahead as planned, calling Berlusconi a friend but a ''flawed friend.'' ADL spokeswoman Myrna Scheinbaum said Berlusconi was a friend of America and a strong supporter of Israel. She said he had apologized to the Italian Jewish community.
Not everyone agreed. Tullia Zevi, a former leader of Italy's Union of Jewish Communities, told Italian newspapers she had asked Foxman to rescind the award because of Berlusconi's calling fascism a ''mild dictatorship.'' ''Mussolini never killed anyone,'' Berlusconi was quoted as telling the British Spectator magazine. ''Mussolini used to send people on vacation in internal exile.'' Berlusconi has excused himself for any offense caused, adding that the interview had taken place after several glasses of champagne, although he is not known to drink alcohol.
Comment: Oh we get it now, Berlusconi is a GOOD guy. Luckily for him, he owns most of the media outlets in Italy and also happens to be the richest Italian around. The following story from the Guardian written in 2000 makes one wonder if the ADL really knows what Berlusconi is all about.
"Jewish groups are queasy at the alliance with the post-fascist National Alliance but more controversial is his alliance with Umberto Bossi's immigrant-bashing Northern League."

Chirac backs down from fighting Bush in U.N.
September 23, 2003 BY ANTON LA GUARDIA AND DAVID RENNIE NEW YORK --
Jacques Chirac caved in to American power Monday when he promised not to veto a U.S.-sponsored United Nations resolution on rebuilding Iraq, even if he disagreed with its contents.
Comment: This is more an exercise on the state of the media in the USA than the story itself. Note the tone of this piece of rubbish from the Chicago Sun-Times in the opening paragraph, presenting Jaques Chirac as weak and the USA as "powerful". A more blatant case of "manufacturing consent" and the strength of the good ol' USA, you'd be hard pressed to find elsewhere.
The French president, who was instrumental in preventing America and Britain from securing U.N. authorization for war, said the United States should quickly cede power in Iraq.
But he made clear that he was not ready for another bruising fight with President Bush. [..]
Comment: With the state of Iraq at the moment, one wonders who was bruised? Once again we're going to make the prediction of a commemorative video being made with US aircraft carriers tipping helicopters into the Persian Gulf (just like Vietnam) as they head back home. This whole piece of propaganda from the Hollinger (Conrad Black owned) Chicago Sun-Times can be read at the above link. We give it a five star rating for disinformation. Note the Hollinger group also owns the Jerusalem Post
Leaders Meet at U.N. Terrorism Conference

By DAFNA LINZER
Associated Press Writer
September 22, 2003, 7:50 PM EDT

NEW YORK -- Pakistani President Pervez Musharraf told an international conference on counterterrorism Monday that al-Qaida had become "a shadow of its past," but the situation in Iraq could stir more instability in the world.
"There is a growing sense among Muslims that Islam, as a religion, is being targeted and pilloried," he warned.
U.N. Secretary-General Kofi Annan opened the conference hours after the U.N. headquarters in Baghdad was attacked and said world leaders must deal with the roots of terrorism if they are to fight it more effectively. Like other world leaders, he emphasized that military campaigns were not the only way to fight terrorists.
Nearly 20 heads of state joined Annan, counterterrorism experts and several terror victims in New York to discuss the conference's agenda on the roots of terrorism.
Few spoke in optimistic terms, whether characterizing current cooperation on counterterrorism or projecting future threats. No one, with the exception of the U.S. representative, Sen. Richard Lugar, R-Ind., recognized the Iraq war as part of the global anti-terrorism campaign.
Russian Foreign Minister Igor Ivanov challenged what Moscow calls Western "double standards" on terrorism. Russia has often criticized Western countries for condemning Moscow's war in Chechnya, where both Russian forces and rebels have been accused of brutalizing civilians.
French President Jacques Chirac made a thinly veiled reference to the U.S. occupation of Iraq when he discussed ways in which terrorism can take on "the mask of justice and solidarity."
"When a country is under foreign occupation, it unjustly captures the struggle for freedom for its own ends. When a community feels ill-treated, terrorism claims to act in its name," Chirac said.
As he pledged France's continued cooperation in fighting global terrorism, Chirac proposed marking Sept. 11 as "World anti-terrorism day."
Besides Chirac and Musharraf, the leaders of Spain, Italy, Norway, Canada, Afghanistan, Portugal, Brazil and Indonesia were among those attending the conference. Israel and the Palestinians sent their foreign ministers.
President Bush and Secretary of State Colin Powell turned down invitations, leaving U.S. representation to Lugar, who was the only non-president or foreign minister to address the conference on behalf of a country.
Lugar, chairman of the Senate Foreign Relations Committee, concentrated on weapons of mass destruction in his presentation and the threat posed by terrorist organizations eager to get their hands on them.
"For the foreseeable future, the intelligence community will face an extensive threat from the intersection of terrorism and weapons of mass destruction," he said. "Addressing this situation will require an unwavering commitment."
The lower-level U.S. presence at the terrorism conference was a disappointment for organizers, though Norwegian Prime Minister Kjell Magne Bondevik, the conference chair, expressed gratitude that Lugar attended.
"Fighting terrorism should be about more than using your military and freezing finances," Bondevik said, alluding to the U.S. efforts.
"We delude ourselves if we think that military force alone can defeat terrorism," Annan said. "It may sometimes be necessary to use force to counter terrorist groups, but we need to do much more than that if terrorism is to be stopped."
Security at the conference was tight, and South African Foreign Minister Nkosazana Zuma left the gathering rather than be frisked by security guards.
"You don't treat a foreign minister this way," she told The Associated Press. Conference organizers apologized but said security was in the hands of the U.S. Secret Service.
The session, called "fighting terrorism for humanity," was the brainchild of Bondevik, the Norwegian prime minister, and Elie Wiesel, a Nobel Peace Prize winner and Holocaust survivor.
New US unmanned spy planes deployed against North Korea

SEOUL (AFP) Sep 23, 2003
US military authorities said Tuesday they had deployed new unmanned spy planes in South Korea as part of a 11-billion-dollar defense build-up plan against North Korea.
The 8th US army said in a statement it would test-fly its new "Shadow-200" unmanned surveillance planes from a military base near the border Friday. [...]
Iranian agent charged with journalist's murder
22/09/2003 - 19:32:56
An Iranian intelligence agent has been charged with the murder of a journalist who had dual Canadian-Iranian nationality. [...]
Kazemi, 54, died three weeks after being detained for taking photographs outside a Tehran prison during student-led protests.
After 77 hours of interrogation, she had been rushed to a hospital's intensive care unit, where she died 14 days later.
Statewide condemnation of scribe's murder
Tribune Reporters
Rohtak, September 19, 2003
The National Union of Journalists (NUJ) has condemned the gruesome killing of Kaithal-based journalist Parmanand Goyal and demanded a CBI inquiry into the incident.
In a condolence message to the bereaved family, through the Haryana Union of Journalists (HUJ) president, NUJ president Shyam Khosla criticised the rapid increase in the incidents of violence against scribes in Haryana and sought a detailed report of such incidents from the HUJ president.
He said it was a matter of concern of journalists that the atrocities against them had been growing unabated. [...]
Meanwhile, almost all sections of society have condemned the murder and described it as an attempt to curb the freedom of the Press. [...]
Student, shot by police, in critical condition
Thomas Clouse and Kevin Blocker
Spokesman Review
An armed 17-year-old Lewis and Clark High School student was shot multiple times by Spokane police SWAT team members Monday during a tense standoff in a classroom.
The student, who fired one round from the handgun into a wall before police arrived, was junior Sean Fitzpatrick, according to two students who know him and a Spokane police official who asked to remain anonymous. [...]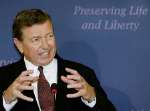 Ashcroft Limits Prosecutor Discretion
By CURT ANDERSON, Associated Press Writer
September 23, 2003
WASHINGTON - Attorney General John Ashcroft wants federal prosecutors to seek the severest charges and penalties more often. Experts say it won't be easy to achieve the uniformity he wants.
Ashcroft said in a memo Monday to all 94 U.S. attorneys' offices that plea bargains should only be pursued in limited, specific circumstances.
"In virtually all cases, prosecutors must bring the toughest charges available, yielding the toughest penalties under the sentencing guidelines," Ashcroft said in a speech Monday in Milwaukee.
The policy change is the latest example of Ashcroft's attempts to bring greater symmetry — critics say inflexibility — to the federal justice system. During the summer Ashcroft instructed U.S. attorneys to seek the death penalty whenever applicable, overruling some who would not, and to vigorously oppose sentences imposed by judges that are lighter than recommended by federal guidelines. [...]
Minnesota Man Arrested After Joke On September 11
A joke about setting off explosives in his semi leads to a complete shutdown of Interstate 29 near Salix, Iowa today.
Clark Leads But Has Dems in Despair
Saturday, Sept. 20, 2003
Former Gen. Wesley Clark has suddenly catapulted into the lead of the Democratic Party presidential sweepstakes, based largely on a wave of favorable media coverage of the Clinton protege.
But the former NATO commander's success has some Democratic Party insiders fearing privately that the political novice's disastrous performance in his first two days on the campaign trail will ultimately hurt the party.
Garnering 14 percent in the latest Newsweek survey, Clarks jumps ahead of former front-runner Howard Dean, who wins just 12 percent and ties with Sen. Joe Lieberman, also at 12 percent. Trailing Clark, Dean and Lieberman, Sen. John Kerry wins 10 percent support, with Rep. Dick Gephardt garnering 8 percent.
Still, Gen. Clark's rocky start – in his first 24 hours as a candidate he flip-flopped on whether he would have voted for the Iraq war and sometimes shouted for help from an aide when press questions got even mildly difficult – had at least one Democrat insider fearing the worst.
"I have read the accounts of the Clark interviews and my reaction is despair and anger," he told ABC News on background.
"Why did my party's best operatives think it would be a good idea to subject their neophyte candidate to the country's savviest reporters for over an hour? Why have my party's elders rallied around a candidate who is so shockingly uninformed about core issues and his own positions?"
In comments posted to ABCNews.com's "The Note" section, the unnamed Democratic operative continued:
"I am not a Dean supporter — but I am angry that our party's leaders have anointed an alternative to him who seems even more ignorant and unprepared — and that this supposed 'anti-war' candidate turns out to have been in favor of both the war resolution and Richard Nixon!!
"And let's not even talk about the Clintons. Today I am embarrassed to be a Democrat."
Jury Selection to Begin in Case of Decapitated Children
By Lynn Brezosky
BROWNSVILLE, Texas (AP) - Jury selection was set to begin Monday in the case of a man accused of stabbing, suffocating and decapitating three small children - two of them his own - with the help of his common-law wife. [...]
Student cuts off penis and tongue after drinking hallucinogenic tea
Ananova.com
10:45 Tuesday 23rd September 2003
A student cut off his own penis and his tongue after drinking an infusion of the latest drugs craze to sweep Germany.
The 18-year-old, only named as Andreas W, from Halle in Germany drank a tea made with the hallucinogenic angels' trumpet plants. [...]
Sudan's Luckless Children, Locked in Land of Nod
By MARC LACEY
New York Times
UI, Sudan — The children of Lui scoop their beans and mush from plates laid out on the dirt, using only their tiny fingers, often aware that something bad is about to happen.
Their necks begin to swing forward and back. "Nodding disease," as the malady has been called, takes hold. "I don't feel good when I eat," said Malesh Reuben, a skinny 12-year-old who has been nodding this way for five years.
About 300 children in and around this jungle village in southern Sudan have the mysterious ailment. It typically strikes during or just after a meal. The neurological disorder has left epidemiologists baffled. One of the few things understood about nodding is that it appears unique to southern Sudan. [...]
Militia chief on trial for child army atrocities
IAN MATHER IN FREETOWN

THEY were forced to murder their parents to inure them to killing, injected with drugs and then unleashed on to the battlefield with horrifying consequences.
Now the use of child soldiers in Sierra Leone's brutal civil war is to come back to haunt the militia leaders who masterminded the worst atrocities of the conflict that left 50,000 dead and countless maimed.
Chief Samuel Hinga Norman, the former leader of a pro-government militia, will be the first to be tried at a new international war crimes tribunal set up in the West African state. Norman, who is due to appear in court in January next year, will be charged with breaking international law by recruiting child fighters to the ranks of his pro-government militia group, the Civil Defence Force.
Thousands of child soldiers, some of them as young as nine, were dragooned into fighting in the eleven-year civil war that ended last year. Gruesome evidence will be put forward that many were turned into killing machines through drugs, alcohol, and torture.
"Civilians, including women and children who did not actively resist the RUF, were targeted by the Kamajors as collaborators, and were killed. Victims were often shot, hacked to death or burnt to death. Other practices included human sacrifices and cannibalism."
Some of the boy soldiers were given ranks, and at least one was described as "General".
According to official estimates, 5,400 children fought in Sierra Leone's civil war. However, a local group, Children Affected by War, puts the figure at closer to 10,000. One rebel group admitted in late 1999 that 30% of its combatants were children.
"They had cannabis and they were injected with hard drugs. It made them abandon all restraint so they were more efficient at killing, burning and raping. When women, even old women, were captured - the boys were made to rape them."
However,documents submitted to the court by Norman's lawyer, James Jenkins-Johnston, argue the use of child
Known sex offenders serve in military, records show

By Elliot Jaspin, Palm Beach Post-Cox News Service Staff Writer
Sunday, September 14, 2003
WASHINGTON -- Registered sex offenders are serving in the U.S. armed forces and some have been sent to the volatile Middle East, state law enforcement records show.
A Cox Newspapers survey of sex offender registries in five states turned up eight men listed as serving in the military. One was pictured on the Web site of the Texas registry in his Army uniform with the notation, "deployed to Kuwait."
Military officials acknowledged the presence of sex offenders and said screening procedures are being tightened to prevent such enlistments in the future.
Army officials said subsequent checks had found two more recruits with a history of sex crimes. They said the FBI fingerprint checks required of all recruits had failed to disclose their convictions.
The Army said it is not certain how many sex offenders are in its ranks. Responding to the Cox findings, the Army issued a statement saying that "preliminary inquiries" indicate the number is "relatively small." [...]
Child's head found in dam (South Africa )

20/09/2003

Johannesburg - An outing to an East Rand dam on Saturday turned into a nightmare when a visitor spotted a disembodied head in the water, Johannesburg police said.
Superintendent Andy Pieke said the visitor, who was having a picnic at the Spaarwaterdam near Duduza, called police at 16:25 to report the sighting.
When police arrived they found the head of a child aged about five years, floating in the water. While there was no sign of the body, it would appear the head had been scalped. [...]
The staying power of the old exploitative colonialist mentality rendered fresh ideas at the WTO meeting in Mexico irrelevant, writes Gamal Nkrumah
The World Trade Organisation (WTO) ministerial meeting in the Mexican resort city of Cancun collapsed in the face of fundamental differences between rich and poor nations. At long last, the poor took a stand against the Machiavellian machinations and threats of the rich and powerful nations. The poor countries simply refused to cave in to the demands or accept the bones thrown to them as sufficient compensation for historical injustices. There is little chance of the WTO evolving in the direction of a comprehensive dialogue between rich and poor nations unless the rich now act magnanimously.
Cancun was a crushing defeat for the United States and the European Union, and the ripple effects of the collapse of the WTO talks cannot be underestimated or downplayed. The developing countries in Africa, Asia and South America have had their say. The developing countries seized a golden opportunity to collectively air their grievances and vent their anger with the current international economic order. Cancun was a watershed meeting -- a decisive turning point in international relations.
[...] Despite the show of resistance at Cancun, some in the wealthy nations of the North firmly believe that the poor countries can still be cowed into submission and forced to compromise on key issues before Hong Kong.
[...] Ultimately, the so-called Singapore issues first proposed at the 1998 WTO meeting in Singapore proved to be the undoing of the Cancun talks. Poor countries were not prepared to be dictated to and be told the proper etiquette for treating foreign investors. Foreign investors, they were told, must be handled with kid gloves and treated like kings.
[...] "The culture of colonisation and exploitation is so deeply ingrained in the wealthy nations' attitude towards the poorer and undeveloped nations," he added. Graham, who saw a lot of "arm-twisting" at the meetings, has no expectations that wealthy countries will make concessions. "The utter insensitivity to the wishes of the poor; the capacity to squeeze and squeeze the poor and to ruthlessly exploit the poor will inevitably rebound on the rich," he said.
Morning Market Summary: The Cancun Doctrine
Author: Jim Sinclair
Monday, September 22, 2003
[...] The front page of the Economist will define this doctrine clearly, leaving no doubt what recently happened at the G7 gathering in Dubai regarding currency relationships with the Asian nations including Japan and China.
"If you are not with us you are against us," has now taken on a new dimension. No nation is going to set US economic, political or military priorities - especially any developing or Asian nation. There you have it. This is the new Cancun Doctrine.
The new Cancun Doctrine was an exercise by the US and Great Britain who persuaded the G-7 to issue strong statements demanding that Asian nations let their currencies float and cease buying US Treasury instruments because that is the mechanism of keeping their currency low relative to the dollar. Madness of course but that problem is nothing compared to the political imperative of November 2004.
[...] If Iran steps out of line one inch after June of next year there is a high probability that the "Coalition of the Hired" will move in to find the lost weapons of mass destruction,
Saddam Hussein, Bin Laden, Amelia Erhardt and Judge Crater we all know have taken up residency there to practice their devious ways. Let us not forget the need to emancipate the citizens of this country.

Earliest Modern Humans Found in Romanian Cave
By Maggie Fox, Health and Science Correspondent
WASHINGTON (Reuters) - The jawbone of a cave-man living in what is now Romania is the oldest fossil from an early modern human to be found in Europe, U.S. researchers said on Monday.
Primitive features such as heavy bone and tooth structure also support the controversial idea that Cro-Magnons and Neanderthals may have interbred, the researchers said. [...]
Alaska archeologists uncover ancient tool
Last Updated Mon, 22 Sep 2003 18:02:27
WHITEHORSE - The discovery of an ancient human artifact in southeast Asia could unlock secrets of life in the region about 1,200 years ago.
Archeologists found what appears to be an old wooden tool along the lower Chilkoot River near Haines, Alaska. They think it is a fish trap.
The area was a prime trading route between ancient peoples in what is now the Yukon and Alaska. Aboriginal people have used similar fish traps for centuries.
Carbon dating tests show the artifact is over 1,200 years old.
Archeologist Tom Prang from Alaska says it has been locked in ice all along and is still in good shape.
An international team of paleontologists has found a dinosaur fossil dating back more than 180 million years and believed to be one of the oldest ever discovered, the government said today.
The 9-metre long dinosaur, resembling a rhinoceros with a long neck and tail, was discovered in the High Atlas mountain village of Tazouda, Morocco's minister for Energy and Mines said.
Tibet monks find tourism new form of suppression
Research Shows Therapeutic Cloning Can Cure Parkinson's-like Disease In Mice
Memorial Sloan-Kettering Cancer Center
2003-09-22
New York, September 21, 2003 – New research from Memorial Sloan-Kettering Cancer Center (MSKCC), Cornell University, and The University of Connecticut describes a novel way of producing therapeutic nerve cells that can cure mice with Parkinson's-like disease. The work, which will be published in the October issue of Nature Biotechnology (available online September 21), provides the first evidence that cloned cells can cure disease in an animal model. [...]
By SUSAN EDELMAN
New York Post

September 21, 2003 -- Critics are questioning whether a pioneering brain-altering experiment being conducted by a young surgeon at New York-Presbyterian Hospital can halt Parkinson's disease.
Last week, Dr. Michael Kaplitt bore a hole through the skull of a 51-year-old Parkinson's patient and inserted virus particles carrying 3 billion synthetic genes deep into the man's brain. Kaplitt thinks the genes can stop the brain from causing Parkinson's symptoms like shaking, muscle tightness and wobbly walking.
It was the second of 12 planned surgeries at Presbyterian, the first time genes have been put into a live adult brain to change the way it works.
"I feel like an astronaut," said an elated Bruce Holland of Hempstead, L.I., on Friday, a day after his operation. "Instead of exploring outer space, I'm exploring the inner brain." [...]
Scientists press UN for worldwide ban on cloning of babies
By Roger Highfield, Science Editor
(Filed: 23/09/2003)
Scientists from around the world yesterday urged the United Nations to ban the cloning of babies.
Their statement, which was issued by 63 science academies representing more than 16,000 leading scientists, will be presented to the UN Ad Hoc Committee at an International Convention against the Reproductive Cloning of Human Beings in New York on Monday. [...]
Strange rats invade Kyrgyz region
Sep 20 2003 11:09AM
BISHKEK. Sept 20 (Interfax) - An unusual breed of rats is inflicting damage on Kyrgyzstan's Dzhalal-Abad region. [ See map]
The rats "are killing numerous farm birds, are damaging grape and corn crops, and have destroyed 14 hectares of grain in one of the districts. These rats can climb trees and are destroying apples, pears and other fruit. The rat invasion may also give rise to different epidemics," parliament member Dooronbek Sadyrbayev told Interfax.
The rats frequently attack people and young children are especially vulnerable.
Sanitary services are unable to deal with the situation. "The enormous amount of rats cannot be estimated," he said. The rats are not susceptible to typical poisons.
An Uzbek specialist bred the species by crossing an ordinary rat with a muskrat, he said.
The parliament members asked the government to resolve the problem.
Mysterious blast creates panic in Gujarat
TIMES NEWS NETWORK
MONDAY, SEPTEMBER 22, 2003 11:57:19 AM
AHMEDABAD: Panic gripped several areas in Ahmedabad other parts of the state on Monday morning as a mysterious blast was heard around 10.20 am.

Window panes and doors rattled while in certain areas multi-storeyed apartments shuddered and people thronged to the streets in panic.

Rumours of Mumbai-like bomb blasts went around in Ahmedabad, a city already on its edge because upcoming Navratris beginning on Thursday. Frantic calls to hospitals and the police control room yielded no explanation about the cause and the location of the blast.

There were however speculations that the blasts may have been triggered off by tectonic movements, on the lines of similar blasts which were heard in some parts of Jamnagar in western Gujarat last month. [...]
Comment: Having heard and felt sonic booms caused by planes we are wondering if this update to this story is true: Blast heard in Gujarat was 'sonic boom': air force.
Power failure shuts down Copenhagen

23/09/2003
Copenhagen, the Danish capital, ground to a halt today after a power failure struck the city and parts of neighbouring Sweden.
Traffic signals and lights in offices, shops and homes in went out as the city of 1.8 million lost electricity.
Power was also out in southern Sweden. Nearly two million Swedes did not have electricity in the country of nine million. The underground railway in the capital, Stockholm, shut down for 30 minutes.
Power officials said a main transmission line connecting Sweden and Denmark had broken down. Police did not suspect sabotage.
Children 'distressed' by TV news
BBC
Monday, 22 September, 2003, 12:51 GMT

Children find violence on TV news more disturbing than anything else on screen, a study has suggested.
Children could easily tell the whether violence was real or not - and showed "little lasting impact" from violence they knew was fictional, it said. [...]
But big stories, such as 11 September, war in Iraq and the killing of schoolgirls Holly Wells and Jessica Chapman, did get their attention. Those events made children feel "threatened" and "personally vulnerable", the report said.
"In turn, this can lead to genuine anxieties and changes in behaviour," the report said. [...]
And unlike adults, children did not need to see acts of violence - but were more concerned by the consequences - the study said. [...]
"Children in the sample saw a high level of violence in the news, whereas adults in the previous study considered there to be little violence," he said.
"The news was more violent for them than for adults because it was real and what was real might become real for them." [...]
It also said children had the impression that the world was more violent now than in their parents' day.
Hugging Mother draws half a million devotees
Associated Press
11:06 Tuesday 23rd September 2003
More than half a million people from across the world are expected to attend the 50th birthday party of a Hindu spiritual leader who spends 18 hours a day hugging people. [...]
At last count, more than 30 million people had been given one of Amritanandamayi's blessings. [...]
Smallpox Vaccine Has the Pox

BioShield Bill turns Pharmaceuticals Into BioWeapons Factories
Dr. Mercola's Comment:
The smallpox vaccine poses high risks and has been associated with a number of adverse affects. If this isn't reason enough of why it should be avoided, consider that it is very unlikely that the United States will be the target of a smallpox bioterrorism attack.
Further, it looks like all the anti-terrorism protection is unnecessary as the largest research project of its kind ever conducted shows 90 percent of those vaccinated with smallpox maintain a substantial level of immunity, even if the immunization was up to 75 years ago.
Rat Brain Damage After ONE Cell Phone Exposure

Protecting Our Health.org
9-19-3
Salford, LG, AE Brun, JL Eberhardt, L Malmgren and BRR Persson. 2003. Nerve cell damage in mammalian brain after exposure to microwaves from GSM mobile phones. Environmental Health Perspectives 111:881-883.

Salford et al. document serious neuronal damage in rat brains following exposure to microwave radiation from a cell phone, at levels comparable to what people would experience during normal use. Damage to nerve cells was observed in several places within the brain, including the cortex, hippocampus and basal ganglia. It was associated with evidence of leakage of proteins through the blood-brain barrier. The authors express concern that "after some decades of (often) daily use, a whole generation of [cell phone] users may suffer negative effects, perhaps as early as middle age."
Govt 'working hard' to find home for stranded sheep(Aus)
Australian Broadcating Corp
23 Sept 2003
Federal Government says it is working hard trying to find a buyer for the 53,000 sheep stranded aboard the Dutch trader Cormo Express in the Persian Gulf. [...]
Comment: You know things are being kept quiet down under when this is the headline story.
Blenheim family latest victims of dump from above
22 September 2003
A Blenheim family say they are also victims of an aircraft toilet holding tank accident after their car and driveway were hit from above by a smelly brown mess.
Karen Hartshorne and her teenage daughter Lydia had just pulled up their driveway last night when they were hit by what appeared to be a freak hail storm.
A series of large splatters pelted their car.
Their car and much of their driveway were be coated with a foul-smelling brown substance. [...]
---
Remember, we need your help to collect information on what is going on in your part of the world!
We also need help to keep the Signs of the Times online.
Obviously, there are a lot of folks out there who do NOT like what we are doing - our own special brand of news coverage - and they are working day and night to create almost insurmountable problems for us, designed to grind us down and render our plans to be able to increase our production (which include a weekly radio show that is currently in the implementation stage) impossible to bring to fruition. We are coming under increasing pressure from many directions all at once.
Our need for financial support has never been greater, including support for legal initiatives to halt the madness of several of the para-COINTELPRO activities currently launched against us. These operations are designed to create a platform to justify utilizing police state tactics so as to silence, and even ultimately, destroy us.
Please: We need your help.
The campaign of lies and disinformation would be frightening under normal circumstances; considering the present state of the world and the machinations of the "National Security State," it is terrifying.
Please - if you have been helped by our work -
won't you help us NOW?

---

Check out the Signs of the Times Archives

Send your comments and article suggestions to us

---
Fair Use Policy
Contact Webmaster at signs-of-the-times.org
Cassiopaean materials Copyright ©1994-2014 Arkadiusz Jadczyk and Laura Knight-Jadczyk. All rights reserved. "Cassiopaea, Cassiopaean, Cassiopaeans," is a registered trademark of Arkadiusz Jadczyk and Laura Knight-Jadczyk.
Letters addressed to Cassiopaea, Quantum Future School, Ark or Laura, become the property of Arkadiusz Jadczyk and Laura Knight-Jadczyk
Republication and re-dissemination of our copyrighted material in any manner is expressly prohibited without prior written consent.
.