At LAST! Laura's popular series on the Holy Grail is BACK! Click here to read
---
"Knowledge will forever govern ignorance, and a people who mean to be their own governors, must arm themselves with the power knowledge gives. A popular government without popular information, or the means of acquiring it, is but a prologue to a farce or a tragedy or perhaps both" - James Madison 4th President of the US
THE BIG LIE: WMDs WERE JUST A PRETEXT FOR PLANNED WAR ON IRAQ
John Pilger
Sep 22 2003
In Cairo, on February 24 2001, Powell said: "He (Saddam Hussein) has not developed any significant capability with respect to weapons of mass destruction. He is unable to project conventional power against his neighbours."
This is the very opposite of what Bush and Blair said in public.
Powell even boasted that it was the US policy of "containment" that had effectively disarmed the Iraqi dictator - again the very opposite of what Blair said time and again. On May 15 2001, Powell went further and said that Saddam Hussein had not been able to "build his military back up or to develop weapons of mass destruction" for "the last 10 years". America, he said, had been successful in keeping him "in a box".
[...] CONTRARY to Blair's denials at the time, the decision to attack Iraq was set in motion on September 17 2001, just six days after the attacks on New York and Washington.
On that day, Bush signed a top- secret directive, ordering the Pentagon to begin planning "military options" for an invasion of Iraq. In July 2002, Condoleezza Rice told another Bush official who had voiced doubts about invading Iraq: "A decision has been made. Don't waste your breath."
Comment: For those of you in the UK, a special report by John Pilger, Breaking The Silence: Truth And Lies In The War On Terror, will be shown tonight on ITV1 at 10.45 pm.
By Robert Fisk in Baghdad
The Independent
22 September 2003
Pietro Cardone is an elegant, discreet man, an Italian diplomat who hates polemics and who pleaded with me that his story should speak for itself.
It does. Three days ago, he held in his arms his dying Iraqi interpreter, shot through the heart by an American soldier. Mr Cardone, 69, works for the occupation authorities. So did his translator. So did the soldier who killed his translator. But here tragic irony must give way to a terrible narrative.
On the day after two more US soldiers were killed ­ and 13 wounded ­ by guerrilla mortar fire at the Abu Ghraib prison west of Baghdad, Mr Cardone's story might seem mundane, even prosaic. But it is a poignant Iraqi tragedy.
Saad Mohamed Sultan was 36 and had two children, aged three and five. Mr Cardone's wife, Mirella, who was travelling with her husband in the back of the car in which their interpreter died, says she can still hear the shot that killed him. "I came here on 15 May, sent by my Foreign Ministry at the request of the American government," Mr Cardone says. "They were looking for an adviser on culture. I have spent all my career in the Arab world. I speak the language. I understand the mentality." Indeed, Mr Cardone served in Egypt, Saudi Arabia, Lebanon, Syria and Morocco and was Italian ambassador in Yemen and the United Arab Emirates. But nothing could have prepared him for last Friday. He had set out for archaeological sites in north Iraq with a project that would provide guards and police to protect the ancient cities.
"I was driving in a Land Cruiser with a second car behind," he says. "Saad and my driver were in the front of my car, my wife and I in the back. At 1.45pm we approached two American Humvees, both driving in the same direction as us." Mr Cardone's hands shake as he approaches the convoy again in his memory, now sitting in the lobby of the Rashid Hotel in Baghdad.
"Our driver started to overtake the first Humvee. The young soldier at the back made a gesture as if to say, 'Don't overtake, go back'. Perhaps our driver was slow and this created a suspicion in the soldier. We were five metres from him ­ which was a bit close. The American soldier fired one shot from his machine-gun.
That shot came through the car and hit Saad in the heart and came out of the back of the poor guy and scratched my arm and exited through the roof of the car." Then the Americans drove on. They didn't stop, Mr Cardone says.
"Mirella had been talking to Saad when the shot came into the car. Our driver turned and shouted, 'My God, my God, why?" We pulled to the side of the road but the Americans had gone. He was a very young soldier who killed Saad. I guess he was 19 or 20. I was keeping Saad's head upright but there was a lot of blood. He was making noises, saying 'Ugh! Ugh!' But when we reached the hospital, the doctor examined him and just said, 'There is nothing to be done'. The bullet had broken his heart."
Mr Cardone left Saad at the hospital and returned to Baghdad in their second car. "This morning, his sister and brother came to see me," he says. "They were very dignified. I expressed my sorrow and assured them the Americans would carry out a thorough investigation and that they would receive compensation. I am confident the Americans will have an investigation because they take these things seriously." Ask Mr Cardone for his opinion of what happened and he remains a diplomat. "I think it has been a needless death, generated by a misinterpretation of behaviour." Iraqis might interpret events differently.
"I hate the phrase," Mrs Cardone says. "But I think they call these things 'friendly fire'."
Secret slaughter by night, lies and blind eyes by day
Robert Fisk
UK Idependent
[...] In Baghdad, up to 70 corpses - of Iraqis killed by gunfire - are brought to the mortuaries each day. In Najaf, for example, the cemetery authorities record the arrival of the bodies of up to 20 victims of violence a day. Some of the dead were killed in family feuds, in looting, or revenge killings. Others have been gunned down by US troops at checkpoints or in the increasingly vicious "raids" carried out by American forces in the suburbs of Baghdad and the Sunni cities to the north. Only last week, reporters covering the killing of the Fallujah policemen were astonished to see badly wounded children suddenly arriving at the hospital, all shot - according to their families - by an American tank which had opened up at a palm grove outside the town. As usual, the occupation authorities had "no information" on the incident.
But if you count the Najaf dead as typical of just two or three other major cities, and if you add on the daily Baghdad death toll and multiply by seven, almost 1,000 Iraqi civilians are being killed every week - and that may well be a conservative figure. Somewhere in the cavernous marble halls of proconsul Paul Bremer's palace on the Tigris, someone must be calculating these awful statistics. But of course, the Americans are not telling us. It's like listening to Iraq's American-run radio station. Death - unless it's on a spectacular scale like the Jordanian or UN or Najaf bombings - simply doesn't get on the air. Even the killing of American troops isn't reported for 24 hours. Driving the highways of Iraq, I've been reduced to listening to the only radio station with up-to-date news on the guerrilla war in Iraq: Iran's "Alam Radio", broadcasting in Arabic from Tehran.
It's as if the denizens of Mr Bremer's chandeliered chambers do not regard Iraq as a real country, a place of tragedy and despair whose "liberated" people increasingly blame their "liberators" for their misery. Even when US troops on a raid in Mansour six weeks ago ran amok and gunned down up to eight civilians - including a 14-year-old boy - the best the Americans could do was to say that they were "enquiring" into the incident. Not, as one US colonel quickly pointed out to us, that this meant a formal enquiry. Just a few questions here and there. And of course the killings were soon forgotten. [...]
Though light years from the atrocities of Saddam's security forces, the US military here is turning out to be as badly disciplined and brutal as the Israeli army in the West Bank and Gaza Strip. Its "recon-by-fire", its lethal raids into civilian homes, its shooting of demonstrators and children during fire-fights, its destruction of houses, its imprisonment of thousands of Iraqis without trial or contact with their families, its refusal to investigate killings, its harassment - and killing - of journalists, its constant refrain that it has "no information" about bloody incidents which it must know all too much about, are sounding like an echo-chamber of the Israeli army.[...]

Bush to Tell U.N. He Made 'Right Decision' on Iraq
By Randall Mikkelsen
Sunday, September 21, 2003; 7:57 PM
WASHINGTON (Reuters) - President Bush said on Sunday he would tell the United Nations he made the right decision to go to war in Iraq despite his failure to obtain Security Council backing for the conflict.
"I will make it clear that I made the right decision and that the others that joined us made the right decision. The world is a better place without Saddam Hussein," Bush said in an interview with Fox News's Brit Hume.
Fox released an advance transcript of interview excerpts on Sunday. The full interview is to be broadcast at 8 p.m EDT on Monday.
Bush, who is to address the U.N. General Assembly on Tuesday, said he did not consider it essential to grant the U.N. a larger political role in Iraq to obtain a new resolution backing a multinational occupation force. "I'm not so sure we have to, for starters," he said in the Oval office interview. [...]
Comment: It appears that Bush expects the world to give him everything he wants without the US having to make any sort of concessions. If the US and its allies actually made the "right decision," where are the WMDs? Where are the weapons programs and any evidence that Saddam planned on wreaking havoc in the world? It is America that has unleashed another nuclear hell on Iraq and its people, and the world has yet to hear any real justification from the Bush Reich. Next stop, Iran:
Iran shows off ballistic missiles sporting anti-Israeli, US slogans
AFP
Monday September 22, 4:34 PM
Iran put on show its new Shahab-3 ballistic missiles in a military parade, with the rockets sporting slogans including "We will crush America under our feet" and "Israel must be wiped off the map".
Seven of the missiles were seen being rolled past a podium of the Islamic republic's leaders on their mobile launchers, the climax of a show of strength held to commemorate the anniversary of the outbreak of the 1980-88 war with Iraq.
According to a commentary given over loud-speakers lining the parade route, the missiles have "a range of 1,700 kilometers" (1,060 miles) and "are capable of hitting the heart of the enemy", an AFP journalist at the scene said. [...]
Russia Hardens Stance Toward Iran
By Simon Saradzhyan and Caroline McGregor
Staff Writers
Prospects of Russian-Iranian nuclear cooperation dimmed over the weekend as President Vladimir Putin questioned Tehran's reluctance to agree to more comprehensive UN inspections and the nuclear power minister said a key nuclear agreement with Iran would not be signed any time soon.
Putin said he sees no good reason why Iran should not sign an additional protocol to the Nuclear Nonproliferation Treaty that would allow the UN's International Atomic Energy Agency to conduct thorough inspections of suspected nuclear sites without notice.
"If Iran is not striving to develop nuclear weapons, it has nothing to hide. I see no grounds for refusing to sign these additional protocols," Putin said Saturday at a meeting with U.S. reporters ahead of a summit with U.S. President George W. Bush at Camp David.
MM. Chirac et Bush réaffirment leur désaccord sur l'Irak
LE MONDE |
22.09.03 | 13h29
Comment: An article in Le Monde has this to say about Bush and Chirac:
Questioned on whether or not they had been right or wrong [on Iraq], the two protagonists of last winter's diplomatic war each gave revealing answers. "On a question that complex, it is always an error to think that we are right and the other is of course wrong. It is a serious error and you always pay the consequences," said the French President. Mr. Bush, was he right or wrong? "History will tell," he responded.

The American President estimates that "he took the right decision and that those who joined them also took the right decision." Anticipating the incredulity of the UN, Bush's advisors confided to the US press that the President may recognize his mistakes, but privately, in bilateral meetings, and he counts on blaming them on problems of post-war planning at the Pentagon.
What a psychopath. Incapable of ever admitting a mistake, Bush will use some slippery words behind closed doors.
The Independent
By Philip Thornton in Dubai and Andrew Gumbel
22 September 2003
Iraq was in effect put up for sale yesterday when the American-appointed administration announced it was opening up all sectors of the economy to foreign investors in a desperate attempt to deliver much-needed reconstruction against a daily backdrop of kidnappings, looting and violent death.
In an unexpected move unveiled at the meeting in Dubai of the Group of Seven rich nations, the Iraqi Governing Council announced sweeping reforms to allow total foreign ownership without the need for prior approval.
The initiative bore all the hallmarks of Washington's ascendant neoconservative lobby, complete with tax cuts and trade tariff rollbacks. It will apply to everything from industry to health and water, although not oil.
But it is still likely to feed concerns that Iraq is being turned into a golden opportunity for profiteering by multinational corporations relying on their political connections.[...]
Sept.11 mastermind says plot started in 1996, included 10 planes on 2 coasts
05:48 AM EDT Sep 22
JOHN SOLOMON
WASHINGTON (AP) - Khalid Shaikh Mohammed, mastermind of the Sept. 11 attacks, has told American interrogators that he first discussed the plot with Osama bin Laden in 1996 and that the original plan called for hijacking five commercial jets on each U.S. coast before it was modified several times, according to interrogation reports reviewed by The Associated Press.
Comment: This is the interrogation that was behind the book discussed below.
Ayoon wa Azan (Conspiracy Theories)
Jihad Al Khazen
Al-Hayat 2003/09/21
The second commemoration of the September 11 terrorist attacks in New York and Washington was an occasion for repeating many of the conspiracy theories we've already heard, for example, that the Mossad is involved in the terrorist attacks. But this accusation is predictable, given that some of us refuse to believe that Arabs and Muslims, just like them, could carry out such a terrible crime, and because accusing the Mossad suits us all.
I say: I wish that were true, because the Mossad has already committed every possible crime - but this is not one of them.
[...] The terrorist attacks of September 11 was the very event the neo-conservatives were waiting for.
[...] I was going over all this when I came across a column about Prince Ahmad bin Salman bin Abdulaziz, God rest his soul, in the context of a new book entitled "Why America slept," by Gerald Posner, another Sharonist Likudnik member of the same gang of neo-conservatives.
Zuheir Kseibati
Al-Hayat 2003/09/21
Bush succeeded in the destructive war through lying allegations, and hence pursued what the Baath party had excelled in, but he subsequently he fell in the trap of his very own lies, when he ended up buying into them. All that is left now for all those victims of the Baath regime and of the war is look for an Iraqi rescue rope.
Bush, Putin to discuss dispatch of Russian peacekeepers to Iraq
www.chinaview.cn
2003-09-22 16:30:31
MOSCOW, Sept. 22 (Xinhuanet) -- US President George W. Bush plans to discuss the possibility of sending Russian peacekeepers to Iraq during the upcoming summit with his Russian counterpart Vladimir Putin at the Camp David, US Ambassador to Russia Alexander Vershbow said on Monday.
Putin Says Won't Send Russian Troops to Iraq
Tehran Times
MOSCOW - Russian President Vladimir Putin, preparing for a summit with his U.S. counterpart, was quoted as saying on Saturday that Russian troops would not serve in any international force in Iraq.
"In a practical sense, there is no question of sending troops to Iraq, and we are not even considering this matter," he was quoted as saying by Russian news agencies.
Russia opposed the U.S.-led war in Iraq, but Moscow has softened its position recently and been open to U.S. proposals for an international force in Iraq under American leadership.
However, it insists U.S. political power should be diluted in favor of Iraqis and the United Nations.
Skynews
September 20, 2003

There are worries that large amounts of heroin could be heading for Britain after a bumper poppy harvest in Afghanistan.
Afghanistan is the world's biggest producer of opium, which is used to make heroin. There has been a massive resurgence in production since the end of the Taliban regime.
Sky's Keith Graves travelled to the village of Sor Khab in the Logar province, a two-hour drive from the Afghan capital Kabul, to see a drug-producing area.
Foreign journalists are not allowed into such areas during production, but local cameramen have filmed poppies being harvested.
He said that after a good year for farmers, between 3,000 - 4,000 tonnes of opium are available to be refined into heroin worth more than $1bn.
The crop provides more than 30% of the local economy, meaning it is no surprise that the authorities do nothing to stop production, he said.

US turning blind eye to heroin crops
Sor Khab is a three-day walk from Pakistan, from where the heroin reaches Asia and the rest of the world.
A local western drug enforcement agent said that the drug production in the country poses as big a problem to the world as terrorism.
Graves reports that Washington turns a blind eye rather than trying to halt production as local warlords, who govern areas, are helping with the search for terrorists. The season is now over and the next year's poppy crop will be planted in a couple of months.
Until then, marijuana is being grown in its place. Meanwhile, Sky News also showed how easy it is to buy heroin on the streets of London. An undercover reporter took around an hour to buy a small amount of heroin for £20.

Comment: As a result of the US invasion, bombing and subsequent massacre of approx. 5,000 civilians, Afghanistan is essentially exactly the same from a sociological point of view. Music is banned, women are forced to cover themselves, fundamentalist Islam still presides. Essentially only two differences have resulted: the people are living in a virtual war zone, and Afghanistan's previously banned opium production is back on line.
Now here is today's teaser question: Which of the above do you think was the main reason for the US invasion last year?
Just what has Mr Brown done with all our cash? (UK)
The Telegraph
(Filed: 22/09/2003)
The Government is taking an ever larger sum in taxes - but where is it going and is it being put to good use? Stephen Robinson introduces a five-day investigation into whether Britain's public services are benefiting from such largesse.
Comment: Well it's not being used for public services: Poll blow for Labour's big spenders
Public confidence in Tony Blair's ability to deliver public service improvements has slumped to a new low, with two out of three voters now convinced that the billions of pounds being spent by the Government will be wasted.
It seems that a large chunk of U.S. and U.K. tax dollars are being spent to blow up brown people and to spy on their own citizens. (No, eugenics never went away, and the filth of such ideology still pollutes the major players on the world scene today.) They are not even properly funding the soldiers who are doing the dirty work...
Family members of deployed reservists, guardsmen voice concerns
By DANA STRONGIN
The Kansas City Star
Lack of food, equipment and medical supplies. Delayed returns home. Inability to send and receive correspondence.
More than 100 friends and family members of deployed military personnel voiced these concerns Saturday.
Claps and tears broke out during the discussions by spouses and parents of reservists and National Guardsmen who went to VFW Post 2993 in Olathe to meet U.S. Rep. Dennis Moore, a Kansas Democrat.
Moore said he held the discussion so he could share the concerns with members of Congress next week.
Cindy Norris of Shawnee clutched a tissue as she described her decision to ignore news that might relate to her son's Army reserve duty in Iraq.
But, she said, she changed her mind and started to talk about her fears.
"I realized that my son couldn't afford my silence," she said.
Mystery pneumonia toll may be much higher
By Mark Benjamin
UPI Investigations Editor
WASHINGTON, Sept. 16 (UPI) -- Mysterious pneumonia-like illnesses and breathing problems appear to be striking U.S. troops in greater numbers than the military has identified in an investigation -- including more deaths, according to soldiers and their families.
Some of the soldiers were deployed to Iraq and died but are not part of the Pentagon's investigation. Others who got ill told United Press International they suffered a pneumonia-like illness after being given vaccines, particularly the anthrax shot. [...]
In UN address: Bush to ask for money, troops in Iraq
21-09-2003,04 :49
President Bush will challenge the United Nations with a call to action for money and forces in Iraq despite differences and a refusal by many countries to make major contributions.
Bush, addressing the General Assembly on Tuesday, will argue that the United Nations needs to meet its global responsibilities or risk being irrelevant, the AP reported.
Bush will make the case that a body such as the United Nations has to show it is "actually capable of acting, and really willing to act, and not just debating," said Condoleezza Rice, his national security adviser.
Soft Economy Aids Army Recruiting Effort
By ERIC SCHMITT
ORT KNOX, Ky., Sept. 16 — The slumping American economy has proved to be a boon to the Army's efforts to recruit the 100,000 enlisted soldiers it says it needs this year to fill its active-duty and reserve ranks, senior Army officials say, so far relieving concerns that the turmoil in Iraq could crimp new enlistments.
All the armed services say they will meet or exceed their recruiting goals for the fiscal year ending on Sept. 30. [...]
World markets come under pressure

22/09/2003
London's FTSE 100 Index took its slump over the last two sessions beyond 100 points today as markets around the world came under pressure.
Concern over the impact of the weak US dollar on earnings has been blamed for the fall, which caused the Footsie to ease 54.4 points to 4202.6 by mid-morning.
The drop comes after a 60 point fall on Friday as some of the heat starts to come out of the London market.
Elsewhere, the Nikkei in Tokyo fell more than 4% overnight, while traders are also expecting a heavy fall for markets in New York this afternoon.
Dollar could plumb new lows, say traders

By Jennifer Hughes in London
Financial Times
September 21 2003 21:25
The dollar could fall to fresh lows against the yen and weaken against other currencies, foreign exchange traders said on Sunday, after G7 countries called for more flexible exchange rates at the weekend. Japanese exporters would suffer from a stronger yen, which could choke off a nascent recovery in the economy.
The G7 communiqué emphasised the need for "more flexibility in exchange rates . . . to promote smooth and widespread adjustments in the international financial system, based on market mechanisms." [...]
"It will be open season on the dollar, particularly against the Asia-bloc," said Alex Schuman, strategist at Commonwealth Bank of Australia. He said the G7 communiqué represented a victory for John Snow, the US Treasury secretary, who has urged Asian countries to move away from managed exchange rates. [...]
IMF warns trade gap could bring down dollar
Charlotte Denny and Larry Elliott
Friday September 19, 2003
The Guardian
The International Monetary Fund yesterday warned that the colossal United States trade deficit was a noose around the neck of the economy, emphasising that the once mighty dollar could collapse at any moment.
Arguing that the world's big economies were already too dependent on the willingness of American consumers to live beyond their means, the IMF said the US could not continue to run a current account deficit of 5% of GDP.
The IMF's chief economist Kenneth Rogoff said that it was just a matter of time before the gap closed, tipping the dollar into a potentially steep fall.
"If we were looking at a poor developing country, the world gives them just enough rope to hang themselves. A country like the United States, they give them enough rope to tie the noose around their neck several times. But it does happen in the end," he said.
Comment: Are U.S. citizens being set up by the 'Patriot' Act? If the economy tanks, and more Americans become "disgruntled" (read terrorist) Ashcroft appears to be getting ready for them . . .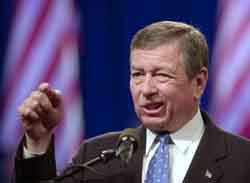 Patriot Act Useless, Says Ashcroft
Attorney General John Ashcroft just admitted that the Patriot Act's provisions allowing the feds to easily get our library and bookstore records is useless in the fight on terrorism.
Of course, he didn't put it just this way: Ashcroft revealed that the government has not ever used the controversial authority to get library and book store records. He made this revelation to show that the civil liberties community's complaints about the invasion of privacy are overblown. (And, of course, to demonstrate his own wise restraint.)
This of course misses the point: there are no imaginable circumstances under which library-peeping would be needed as part of the war on terror. And even in the unlikely event a prosecutor or criminal investigator in the future ever needs such records, he or she can get the records through the normal subpoena processes anyway.
Comment: Are we not surprised, Ashcroft is lying about accessing library records. He can make bold faced lies and not worry about getting caught. Apparently, the 'Patriot' Act does not include public 'servants' (To all real patriots that term has quickly become a slur meaning terrorists) In just the last couple of days we have published facts that the Fed accessed Ebay and JetBlue records:
Librarians dispute Justice's claim on use of Patriot Act

By Audrey Hudson
THE WASHINGTON TIMES

[...] The Library Research Center at the University of Illinois at Urbana-Champaign conducted a poll last year of more than 1,500 libraries. Sixty libraries said that federal agents had requested information on patrons under the Patriot Act, and nearly 15 percent of the librarians said they turned the information over without demanding a court order. [...]
By KENNETH LOVETT
ALBANY - Smoking even in the privacy of your own car could be banned under one of at least five state bills introduced in the past year to limit where a person can light up. [...]
Comment: Still think the U.S.A. is not a police state? Nothing like spending your tax dollars to persecute someone using a legal substance. The last line in this article: "'They're turning this into a dictatorship,' said upstate bar owner Brenda Perks. 'They're going right back to the Hitler days.'" Yep, and it seems there are plenty of people who have a huge apetite for fascism. In related news INDIANS VOWING TAX VENGEANCE.
Poland backs European defence if no duplication of NATO

WARSAW (AFP) Sep 21, 2003
Poland backs the principle of European defence provided it does not duplicate the structures of NATO, the Polish foreign ministry said Sunday.
"Poland supports the construction of a European defence identity, as it is basic to the European Union," a ministry spokesman told the Polish news agency PAP in a comment on the weekend Berlin summit between Chancellor Gerhard Schroeder of Germany, President Jacques Chirac of France and Prime Minister Tony Blair of Britain.
"Provided this construction takes place in agreement with the structures of NATO, provided it does not duplicate these structures and does not weaken the transatlantic security that Europe has built over more than 50 years, we will support it."
Poland is a member of NATO and is scheduled to join the European Union next year.
Schröder licks wounds after Bavarian drubbing
Deutsche Welle
22.09.2003 10:00 UTC
German Chancellor Gerhard Schröder and his Social Democrats are this morning licking their wounds following yesterday's bruising election defeat in Bavaria. The conservative Christian Social Union, led by former chancellor candidate Edmund Stoiber, won almost 61 percent of the vote and can now rule with a two-thirds majority, the only German state to do so. The Social Democrats only managed to win 19.6 percent of the vote, a post-war record low. The setback follows two other heavy defeats in the states of Hesse and Lower Saxony earlier this year.
Israeli team flies to Washington for talks on controversial security barrier
05:48 AM EDT Sep 22
MATTHEW ROSENBERG
JERUSALEM (AP) - A delegation headed by a top aide to Israel's prime minister began a visit to Washington on Sunday to present proposed routes for a hotly disputed security barrier between Israel and the West Bank.
Since it occupied the West Bank and Gaza in the 1967 war, Israel has built 150 settlements, where about 220,000 Jews live. Backers want to include as many settlements as possible on the "Israeli" side of the fence.
Comment: The article insists that the US is as firmly against the wall as the Palestinians. Ha! What a joke.
Israel advises US on Iraq security
Monday 22 September 2003, 4:25 Makka Time, 1:25 GMT
Seeking advice on how to police Iraq's hostile population, the US military has turned to its fellow occupier ... Israel.
The Jewish state's tactics in the Palestinian territories have been blasted by human rights groups and prompted dozens of UN resolutions against Israel which have been ignored.
Despite this, the US military, which lost three soldiers on Sunday in the latest attacks in an unstable Iraq, has shown interest in Israeli software that instructs soldiers on how to conduct themselves in the West Bank and Gaza, an Israeli military official has said.
Middle East faces water crisis
Sunday 21 September 2003, 17:08 Makka Time, 14:08 GMT
The water shortage problem is close to crisis levels in most countries of the Middle East and North Africa (MENA) region, a senior World Bank official has warned.
In a region where political tensions are already sky high, the warning is hugely significant.
Former UN Secretary General Boutros Boutros Ghali once predicted the following war in the Middle East would be "over the waters of the Nile, not politics".
Israel's Netanyahu cancels UAE visit
Sunday 21 September 2003, 20:35 Makka Time, 17:35 GMT
Many delegates to an annual IMF and World Bank conference are relieved that Israeli Finance Minister Benjamin Netanyahu called off a controversial visit to the Arab country.
[...] Netanyahu, a right-winger and prime minister from 1996 to 1999, is loathed across the Arab world for opposing Palestinian statehood.
Many leaders also blame him for bringing the Middle East peace process to its knees when he was prime minister.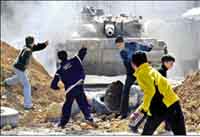 Arafat says seeks total ceasefire with Israel
Deutsche Welle
22.09.2003 10:00 UTC
Palestinian President Yasser Arafat expressed commitment to reaching a total ceasefire with Israel in talks with envoys of the "Quartet" of international peacemakers. Senior Palestinian negotiator Saeb Erekat said that Arafat, in talks on Sunday, cited conditions including the sending of international monitors to encourage both sides to implement a "road map" peace plan. Israel has rejected such a condition in the past. The U.S. is the dominant member of the Quartet but boycotts Arafat, accusing him of inciting violence, a charge that he denies.
Seven killed, 31 injured in three Chinese bomb attacks
AFP Photo
Monday September 22, 4:10 PM
At least seven people were killed and 31 injured after three separate bomb blasts rocked China over the weekend, including one at a Carrefour shopping center in central Wuhan city, state press reported Monday. [...]
French retailer Carrefour was the target of a string of bombings that occurred in three cities in late 2001, while the US-owned Kentucky Fried Chicken was earlier this year targeted in a series of bombings at Western fast food restaurants in Xian city, northern China's Shaanxi province. [...]
Two brothers charged with raping mother
The Associated Press
MARLOW, OK(AP) -- Stephens County prosecutors have filed charges against two brothers for allegedly raping their 68-year-old mother, who was found in a bug-infested, foul-smelling house earlier this week. [...]
By Harry Harris and Douglas Fischer
Oakland Tribune
OAKLAND -- Three-year-old Chazarus Hill's reward for correctly recognizing the number on the flashcards his father showed him was to not get hit, Oakland police said.
His punishment for wrong answers: a fist, a belt and whittled sticks. That combination proved deadly Saturday, shaken homicide investigators said. [...]
Family of four in Hong Kong found dead in suburban flat
HONG KONG (AP) - A family of four was found dead in their suburban home after the mother and father apparently gave their children overdoses of sleeping pills before committing suicide, police said Sunday.
Police suspect the couple fed the pills to their daughters, aged 8 and 9, before burning charcoal in the sealed bedroom to kill themselves, spokesman T.K. Ng said. Investigations were continuing. [...]
Earthquake Shakes Northern Pakistan
Sunday September 21, 2003 6:19 AM
ISLAMABAD, Pakistan (AP) - A moderate earthquake rattled northern Pakistan, but no casualties or damage were reported, an official said Sunday.
The magnitude 5.3 quake on late Saturday was felt in Peshawar, the capital of the North West Frontier Province...
Sino-American researchers cooperate in earthquake study
www.chinaview.cn
2003-09-21 10:21:55
URUMQI, Sept. 21 (Xinhuanet) -- Chinese and American researchers have been cooperating in studying the cause of frequent strong earthquakes in southwestern Xinjiang Uygur Autonomous Region.
The researchers hope to find ways to efficiently monitor and forecast future earthquakes in the region, said sources from Xinjiang Seismological Bureau.
Powerful earthquakes in Dominican Republic and Burma
Deutsche Welle
22.09.2003 10:00 UTC
An earthquake measuring 6.6 on the open-ended Richter scale struck early Monday just off the northern coast of the Dominican Republic, close to the border with Haiti. France's seismic observatory in Strasbourg said the quake was the most powerful the observatory had recorded in recent years in the region. There were no immediate reports of injuries or damage. The last significant quake there was recorded in 1996 and measured 5.2 on the Richter scale. And there's also been an earthquake in central Burma. Officials said no casulaties had been reported. The quake measured 6.7 on the Richter scale and was felt as far away as Bangkok and the Thai city of Chiang Mai.
Bush steps up fight against European safety testing
By Geoffrey Lean, Environment Editor
The Independent
21 September 2003
President George Bush is mounting an intensive campaign to force European countries to drop safety tests expected to save thousands of lives each year, internal US government documents seen by The Independent on Sunday reveal. Britain, which has been generally supportive, last week denounced the measures as "disastrously wrong".
The documents - which include diplomatic cables signed by the US Secretary of State, Colin Powell - show that the Bush administration has threatened Europe with trade sanctions if it goes ahead with the tests, which are designed to protect workers and the public from highly toxic chemicals. [...]
Extreme weather to blame for pollution in the Baltic
A report, jointly undertaken by the Helsinki Commission (HELCOM) and the European Commission, has found that extreme weather, coupled with an increase in man-made nutrients, was to blame for the dramatic loss of wildlife in the Western Baltic Sea last year.
The two organisations joined forces to investigate the exceptional oxygen depletion that had led to hundreds of dead fish being washed ashore along the east coast of Jutland, Denmark. They found that heavy rain and snow had led to greater run off of nutrients from agriculture, urban waste-water and waste-water from fisheries, into the sea. [...]
Floods, natural disasters kill nearly 2,000 in China in 2003: official

BEIJING (AFP) Sep 21, 2003
The torrential rains and flooding that have soaked China this year have been responsible for nearly 2,000 deaths nationwide since January, state media reported Sunday citing a senior official.
Vice Minister of Civil Affairs Yang Yanyin told a Beijing conference on rehabilitation work that floods, droughts, earthquakes and storms have caused more than 18 billion dollars in direct losses to the economy in addition to taking 1,911 lives, Xinhua reported. [...]
The Times of Zambia (Ndola)
Austin Kaluba
SOMETIME back in the 1950s an English comedian David Herman sang a satirical song lampooning the growing industrial activities in Europe, especially in Germany, that had led to pollution of air and water.
The artiste called on people travelling to Germany not to drink the water or breathe the air!
At that time the message conveyed in that song was not taken seriously and was considered to be funny. Now no one is laughing as environmental issues in Europe have become a major concern with erratic weather patterns, polluted water and polluted air. [...]
Chen says environmental protection a top priority
By Chiu Yu-tzu
Taipei Times

Environmental protection is a top priority if we do not want to cause irremediable damage on our way to pursue a society characterized by high technology, President Chen Shui-bian said yesterday. [...]
Scientists warn of new toxic toy danger
Fears that chemicals in household goods can damage immune system
By Rob Edwards , Environment Editor
The Sunday Herald

TOXIC chemicals in baby toys, nappies, clothes, shoes, food and plastics are endangering human health and damaging the environment, say Europe's top scientific advisers. [...]
Toxic Rocket Fuel Found in Milk Samples From Texas Supermarkets
Comment: But Wait! Don't be alarmed. "There are no valid and reliable methods to measure perchlorate in milk at the levels reported by Texas Tech. Further, even if these levels were found, they could not possibly harm human health." Scientist Calls Environmental Working Group Press Release 'Irresponsible and Alarmist' Yep, and fluoride is good for you.
Galileo plunges into Jupiter's atmosphere
Sep. 21, 2003. 09:53 PM
PASADENA, Calif. (AP) - NASA's aging Galileo spacecraft deliberately plunged into Jupiter's turbulent atmosphere today, bringing a fiery conclusion to a 14-year, $1.5 billion (U.S.) exploration of the solar system's largest planet and its moons.
The unmanned spacecraft, travelling at nearly 174,000 kilometres an hour, was torn apart and vapourized by the heat and friction of its fall through the clouds after it dove into the atmosphere at 2:57 p.m. EDT as planned. [...]
abc.net.au
Monday, September 22, 2003. 8:10am (AEST)
A man knocked unconscious by a tree branch during the weekend's storms in north-eastern Victoria has been rescued, reportedly, by a Morwell family's pet kangaroo.
The kangaroo kept banging on the door of the family's house in Tanjil South, then led it to the man lying unconscious about 150 metres away.
Authorities have allowed the family to care for the kangaroo since it was little, because it is blind in one eye and thinks it is a dog. [...]
---
Remember, we need your help to collect information on what is going on in your part of the world!
We also need help to keep the Signs of the Times online.
Obviously, there are a lot of folks out there who do NOT like what we are doing - our own special brand of news coverage - and they are working day and night to create almost insurmountable problems for us, designed to grind us down and render our plans to be able to increase our production (which include a weekly radio show that is currently in the implementation stage) impossible to bring to fruition. We are coming under increasing pressure from many directions all at once.
Our need for financial support has never been greater, including support for legal initiatives to halt the madness of several of the para-COINTELPRO activities currently launched against us. These operations are designed to create a platform to justify utilizing police state tactics so as to silence, and even ultimately, destroy us.
Please: We need your help.
The campaign of lies and disinformation would be frightening under normal circumstances; considering the present state of the world and the machinations of the "National Security State," it is terrifying.
Please - if you have been helped by our work -
won't you help us NOW?

---

Check out the Signs of the Times Archives

Send your comments and article suggestions to us

---
Fair Use Policy
Contact Webmaster at signs-of-the-times.org
Cassiopaean materials Copyright ©1994-2014 Arkadiusz Jadczyk and Laura Knight-Jadczyk. All rights reserved. "Cassiopaea, Cassiopaean, Cassiopaeans," is a registered trademark of Arkadiusz Jadczyk and Laura Knight-Jadczyk.
Letters addressed to Cassiopaea, Quantum Future School, Ark or Laura, become the property of Arkadiusz Jadczyk and Laura Knight-Jadczyk
Republication and re-dissemination of our copyrighted material in any manner is expressly prohibited without prior written consent.
.