New! - Letters from Readers
---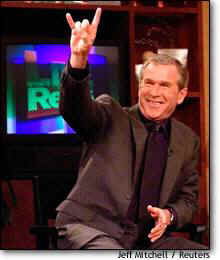 Bush's Worst Nightmare

Stephen K. Medvic, assistant professor of government at Franklin & Marshall College, is the co-editor of Shades of Gray: Perspectives on Campaign Ethics (Brookings Institution Press, 2002).
General Wesley Clark has finally announced his candidacy. Democratic rank-and-file know very little about Clark's positions, and today's press conference in Little Rock shed no new light on his policy stances. But most Democrats will, no doubt, quickly realize that he has one thing going for him that none of the other candidates have -- he's George Bush's worst nightmare. [...]
In next year's election, crucial swing voters will make up their minds based on a combination of vague impressions they have of the candidates and their senses of the issue agendas developed by both parties. In the end, Bush will have Karl Rove and about $200 million to make sure that security is foremost in the minds of the voters. Rove's team will do its best to create the impression that the Democratic nominee is soft on security. You might call it a process of Dukakisification -- and there is no candidate riper for being Dukakisified than Howard Dean.
Which candidate is least susceptible to such an attack? Gen. Wesley Clark. Indeed, it's difficult to even conceive of how the Bush team could use the security issue against the likes of a West Point grad, Vietnam veteran, four-star general, and former NATO Supreme Allied Commander. I imagine the first thing they'd do is mothball the footage taken when Bush played dress-up on the aircraft carrier. [...]
Oct 2 2000
Gen. Wesley Clark, commander of NATO during the bombing of Serbia. Except in the sense that all wars are civil, Clark did not fight in a civil war. Instead, he led an invading force of imperialist invaders in the cynical dismemberment of a sovereign nation so that the avaricious plutocrats who hold NATO's leash could feast on the corpse of its economy.
Like both Goering and Harris before him, when Clark's military campaign stagnated he turned in his impotent rage to slaughtering civilians. Warriors kill other warriors. Cowards kill women and children. This despicable coward shames every American. Think Herman Goering, but this time with smarter bombs and bigger allies. That's Wesley Clark, terrorist, coward, and war criminal. [...]
NOW THAT establishment favorite Edwards is fading in the Democratic primaries, there is increasing talk in similar circles of launching a campaign for General Wesley Clark, some of it so absurd that it compares Clark to Eisenhower.
But the Clark boosters better do a bit more homework. For example, this from a piece by Lowell Ponte
"[Clark] was named Commander of the 1st Cavalry Division, III Corps, at sweltering Fort Hood southwest of Waco, Texas. On a late winter day in 1993, Texas Governor Ann Richards suddenly called the base, later meeting with Clark's Number Two to discuss an urgent matter. Crazies at a Waco compound had killed Federal agents. If newly-sworn-in President Bill Clinton signed a waiver setting aside the Posse Comitatus Act, which generally prohibits the military from using its arms against American citizens within our borders, could Fort Hood supply tanks and other equipment?
"Clinton did. Wesley Clark's command at Fort Hood "lent" 17 pieces of armor and 15 active service personnel under his command to the Waco Branch Davidian operation. It is absolute fact that the military equipment used by the government at Waco came from Fort Hood and Clark's command.
"The only issue debated by experts is whether Clark was at Waco in person to help direct the assault against the church compound... More here
Counterpunch
Anyone seeking to understand the bloody fiasco of the Serbian war need hardly look further than the person of the beribboned Supreme Allied Commander, General Wesley K. Clark. Politicians and journalists are generally according him a respectful hearing as he discourses on the "schedule" for the destruction of Serbia, tellingly embracing phrases favored by military bureaucrats such as "systematic" and "methodical".
The reaction from former army subordinates is very different.

"The poster child for everything that is wrong with the GO (general officer) corps," exclaims one colonel, who has had occasion to observe Clark in action, citing, among other examples, his command of the 1st Cavalry Division at Fort Hood from 1992 to 1994.
While Clark's official Pentagon biography proclaims his triumph in "transitioning the Division into a rapidly deployable force" this officer describes the "1st Horse Division" as "easily the worst division I have ever seen in 25 years of doing this stuff."
Such strong reactions are common. A major in the 3rd Brigade of the 4th Infantry Division at Fort Carson, Colorado when Clark was in command there in the early 1980s described him as a man who "regards each and every one of his subordinates as a potential threat to his career".
While he regards his junior officers with watchful suspicion, he customarily accords the lower ranks little more than arrogant contempt. A veteran of Clark's tenure at Fort Hood recalls the general's "massive tantrum because the privates and sergeants and wives in the crowded (canteen) checkout lines didn't jump out of the way fast enough to let him through".
Clark's demeanor to those above is, of course, very different, a mode of behavior that has earned him rich dividends over the years. Thus, early in 1994, he was a candidate for promotion from two to three star general. Only one hurdle remained - a war game exercise known as the Battle Command Training Program in which Clark would have to maneuver his division against an opposing force. The commander of the opposing force, or "OPFOR" was known for the military skill with which he routinely demolished opponents.
But Clark's patrons on high were determined that no such humiliation should be visited on their favorite. Prior to the exercise therefore, strict orders came down that the battle should go Clark's way. Accordingly, the OPFOR was reduced in strength by half, thus enabling Clark, despite deploying tactics of signal ineptitude, to triumph. His third star came down a few weeks later.[...]
Wanted for War Crimes - Wesley Clark
Found guilty of nineteen separate crimes by the Members of the International War Crimes Tribunal including "Killing and Injuring a Defenseless Population throughout Yugoslavia" and "Using Depleted Uranium, Cluster Bombs and Other Prohibited Weapons" GUILTY!
During the war on Yugoslavia, Clark proposed bombing oil pipelines in Hungary, as well as Russian ships in the vicinity. During his stand- off between NATO and the Russian troops, Clark attempted to have British paratroopers storm the Pristina airport. He was ultimately responsible for the use of such outlawed weaponry as cluster bombs.
Clark was trained for his role at the US War College and began his killing career as an officer in Vietnam. As chief of the US Souther Command in Panama, he was in charge of US intervention in Latin America. [...]

US warns Franco German alliance is threatening Nato
The US has cautioned France and Germany against going ahead with plans for a European military headquarters separate from Nato. US ambassador to Nato Nicholas Burns said the Europeans would be better advised to focus on modernising their armed forces to deal with global terrorism threats rather than building a headquarters that he said could cost billions of dollars.
"The rules of the road are that Nato and the European Union are partners ... that the EU will not develop duplicative institutions," Burns said.
The United States and some European nations are uneasy about plans announced in April by the leaders of France, Germany, Belgium and Luxembourg to set up a European military planning centre outside Brussels to run military operations independent of Nato. Many saw it as a threat to Nato solidarity, which had been strained by differences between those four nations and the United States over the Iraq war.
The proposal also has failed to find support in other EU nations.

NATO Moves To Absorb Remaining Balkans Nations
Seeurope.net
September 15, 2003
-Defense Ministers of the countries-signatories of Adriatic Charter, Macedonia, Albania and Croatia, signed a joint statement in which "they confirm their joint espousal of facilitation for NATO integration through strengthening of the mutual cooperation in the Defense area...."
"The trilateral meeting of the Defense Ministers of Macedonia, Albania and Croatia is another progress, which will move the countries a step forward towards stabilization, maintaining security and integration to the Euro-Atlantic family," Macedonian Defense Minister Vlado Buckovski said on Friday's meeting with his counterparts from Albania and Croatia, Pandeli Majko and Zeljka Antunovic in Tirana.
Defense Ministers of the countries-signatories of Adriatic Charter, Macedonia, Albania and Croatia, signed a joint statement in which "they confirm their joint espousal of facilitation for NATO integration through strengthening of the mutual cooperation in the Defense area", MIA agency reported.
They underlined the US role in supporting their countries in reaching of the mutual goal for fully integration in the community of democratic Euro-Atlantic countries.[...]
National veto must go, says Prodi

By Ambrose Evans-Pritchard in Brussels
18/09/2003

The European Commission called yesterday for the abolition of the national veto in all constitutional matters.
The demand was in proposed changes to the draft European constitution unveiled yesterday by Romano Prodi, the commission's president, supposedly in the name of the entire body.
Dismissing the current text drafted by Valery Giscard d'Estaing, the former French president, as "unworkable" and "absurd", Mr Prodi said member states retained far too much power to block decisions. It would inevitably lead to gridlock once the European Union expanded to 25 next year.
Mr Prodi said the veto must be eliminated on all future changes to the constitution, saying it was unreasonable to let any one country block future amendments in perpetuity.
Instead, a quorum of five sixths of the EU states should be able to revise the constitution. This opens the way for almost limitless erosion of sovereignty even if Britain, Sweden, Denmark and Ireland were all united in adamant opposition.
The move provoked anger at the weekly meeting of the college of commissioners yesterday. Neil Kinnock, the commission's vice-president, refused to back the proposal on the grounds that it amounted to a revolutionary shift in constitutional procedure.
Comment: Is the real nature of the EU slowly being unveiled?...
Another Official Pre-9/11 Image of the WTC Being Targeted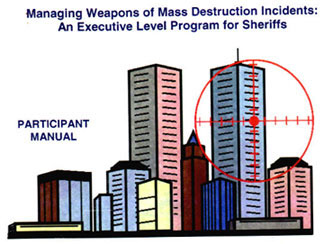 Comment: The above is an image from the cover of a manual "Managing Weapons of Mass Destruction Incidents: An Executive Level Program for Sheriffs." The manual was given to people who participated in the training program of the same name, which taught local law enforcement how to deal with terrorist attacks. Notice that the cover is imprinted with the seal of the US Justice Department (and the seal of the National Sheriffs' Association) The manual is stamped "version June 2000" - Draw your own conclusions...
"The world is governed by very different personages from what is imagined by those who are not behind the scenes." - Benjamin Disraeli, first Prime Minister of England.

Be forewarned! The following is a example of what gets published in the USA today as "thoughtful commentary."
Expel Arafat....To The Next World

By Irwin Graulich on 09/16/03

Was giving Adolf Hitler the boot from Germany an option to bring WWII to an end? What the heck is wrong with those idiotic Jews running the Israeli government? Expulsion of Arafat to become a world renowned traveler throughout France, England, China and America does not seem like the appropriate solution for terrorism.

You "expel" someone for shouting at a teacher or cheating on a test; not for murdering thousands of Jews. Perhaps Ariel Sharon should consider putting a dunce cap on good ol' Yasser and just making him sit in the corner. Expulsion as serious punishment for a terrorist mass murderer is absurd.
Comment: This piece of hate, had it been written by a Moslem, would be justification for locking him away under the Patriot Act. More frightening, though, is that the author is "a well known motivational speaker on morality, ethics, Judaism and politics." Hard to imagine the "morality and ethics" behind this piece. The morality of the psychopath. It comes from a site that bills itself as "furthering the conservative cause by providing daily opinion columns from a variety of political commentators." Yes, people like Daniel Pipes.
IAEA told to get tough with Israel
17 September 2003
The IAEA is accused of double-standards
Arab countries have urged the United Nations nuclear watchdog to get tough with Israel to let inspectors assess its nuclear programme in line with similar pressures on Iran.
Israel has not signed the nuclear Non-Proliferation Treaty (NPT) and has never officially admitted to having nuclear weapons. However, the Nuclear Threat Initiative, a US-based think-tank, estimates Israel has from 100 to 200 nuclear bombs.
The Arab League on Wednesday submitted a draft resolution to the International Atomic Energy Agency (IAEA) General Conference, an annual meeting of all 137 IAEA states, calling on Israel to sign the NPT and open up its nuclear programme to UN inspections.
[...] "I think in the Arab region, people do think that there is a double standard regarding the countries and how (their nuclear programmes) should be tackled," he said.
Referring to Friday's US-backed resolution giving Iran until 31 October to enable the IAEA to verify it has no weapons programme, Al-Riyami said the same should be done for Israel.
"The minimum is that Israel could sign the NPT," he concluded. "All the countries in the region have signed it."
OPEN LETTER OF INTERNATIONAL JEWISH OPPOSITION COMMITTEES AND INDIVIDUALS IN SOL
September 2003
On this occasion of the third year of the current Intifada we wish to address ourselves to the Palestinian People as members of the Jewish communities and as individuals from around the world.
We declare that Jewish people are not represented by the State of Israel.
Not even a majority of Jewish people have wanted to live in the Israeli State. Of those living in North America only 22 percent of American Jews today consider themselves to be Zionists. When asked about Israel ending its occupation of the West Bank and Gaza, a majority of American Jews, 58.5 percent, said they support an end to the occupation. The majority of Jewish-Americans, 82 percent, supported the idea of a Palestinian state.
[...] Together with the Palestinians, who refuse the rule of the State of Israel, we also refuse to allow the Zionist State to represent ourselves and the Jewish communities as a whole. In this way we will make our contribution to the alleviation of the horrendous conditions of Palestinian existence and to the liberation of the Palestinian Arab people from political Zionist apartheid. Both in our civil societies and inside the Jewish communities themselves, world-wide, we are active to make the Palestinian voice heard.
Together we will oppose the oppression of Palestinians that is carried out every minute at every check-point. We say; no more to lies, no more to occupation, no more to hatreds. In this way we shall build freedom with our solidarity. We think that the dream of the two people living in harmony is realisable. We will never lose the determination to make from the dream a day-to-day reality.
Report: Foreign Minister says Israel received ''messages'' from Assad
17-09-2003
Israel's Foreign Minister Silvan Shalom has told a Kuwaiti newspaper that Syrian President Bashar al-Assad and other senior Syrian officials, have sent many messages to Israel following the war in Iraq.
In an interview due to be published Thursday in the Kuwaiti Al-Rai Al-Am newspaper, Shalom said the messages have been delivered through Israeli and Arab businessmen.
According to the Minister, Israel has decided to wait before responding to the Syrian messages to "examine the seriousness of the Syrians to hold meetings with us (the Israelis) and to verify this is not an attempt to exploit Israel so as to ease U.S. pressures on Syria."
Comment: Notice in the above last sentence in which the minister clearly shows the nature of the US - Israel relationship.
Bad Fences Make Bad Neighbors – Part VII
Focus on Jerusalem
"Ariel Sharon keeps goats and sheep. He puts a fence around then and closes them in with a gate. He decides if they come in or go out. This is now what he is doing to us."
– Palestinian farmer from Sur Baher
Fact Sheet:
Israel 's "security" wall around Occupied East Jerusalem is another step in a long-term strategy of confiscating as much Palestinian land as possible, while simultaneously encouraging the Palestinian population to leave the area. Previous steps in this strategy have included the demolition of homes in East Jerusalem, the revocation of Jerusalem residency cards and receipt of significantly less municipal social services than Palestinians contribute as revenue. At the same time, Israel has increased the number of illegal Israeli colonies and Israeli Jewish settlers in East Jerusalem by providing settlers with favorable apartment purchase prices, subsidized mortgages and exemptions from municipal taxes for certain periods. As a result, East Jerusalem settlers comprise an estimated 75 -80% of the total increase in Israeli-defined Jerusalem 's Jewish population since1967 . [1]
Although justified as a "security" wall, the wall has little to do with security. If the wall were truly about security, the wall would have been built on Israel 's 1967 pre-occupation border (the "Green Line"). Like the wall surrounding the remainder of the Occupied West Bank, the wall surrounding Occupied East Jerusalem is not being built on the Green Line, but well within Occupied Palestinian Territory .
'I'm Ready to Die a Martyr' - Arafat
Nazir Majally
Asharq Al-Awsat

RAMALLAH, 18 September 2003 —Palestinian President Yasser Arafat said yesterday he would be ready to die a "martyr" and would use his machine gun to defend himself if Israeli troops tried to exile or assassinate him.
"I am a Palestinian soldier...I will use my gun to defend not only myself but also defend every Palestinian child, woman and man and to defend the Palestinian existence," Arafat said, as he pointed to a machine gun lying on the floor next to his chair in his battered West Bank office.
"Die a martyr? Yes, is there anyone in Palestine who does not dream of martyrdom," he said.
Arafat shrugged off a US veto of a UN resolution demanding that Israel not harm or expel him. But other Palestinian officials feared that Israel could see the US move as a license to kill Arafat.
Arafat offers new truce, says contacts underway with militants
By Amos Harel
Haaretz Correspondent and Haaretz Service
Palestinian Authority Chairman Yasser Arafat's men are surrounding his office with women and children as a human shield against an Israeli attempt to assassinate or deport him, Israeli security sources said Wednesday. [...]
A senior Israeli military source said a move against Arafat is "a matter of how, not if." The IDF also intends to continue the assassinations of senior Hamas members. [...]
Arafat said contacts are underway with all Palestinian factions over a cease-fire. "Even the Islamic Jihad said they are willing to respect a cease fire, and we are continuing our contacts with Hamas," he said. [...]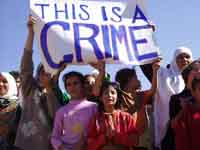 An outcome too terrible to imagine
By Yigal Bronner
Haaretz
The first lie is in the title. The so-called separation fence promises the worn-out and worried public that the Palestinians, and all the troubles that contact with them entails, will be tucked safely behind the fence. [...]
[...] One can hardly imagine the scope of humanitarian problems that these walls on the east side of the Jerusalem metropolitan area will create as they slash the region into an intricate system of unconnected compounds. But the promise of security that the fence carries with it turns the Israeli ear deaf to any humanitarian arguments. [...]
Comment:
The 1995 assassination of Israeli prime minister Yitzak Rabin by a zealous Orthodox student, Yigal Amir (whose yeshiva had military training as part of its curriculum), was an event of tragically profound importance to Jews; it brought into ominous focus a very real and very lethal expression of traditional talmudism, underscoring a widening gap between irreligious Jews and growing numbers who have revived religious fundamentalism based upon ancient talmudic intolerance, and who now celebrate -- thanks to the creation of the modern state of Israel -- the power to express the angry dreams of their ancestors.
Amir publicly professed his act of murder to be a religious deed (Rabin's willingness to surrender occupied land in peace talks with Arabs was understood to be traitorous to Jewish messianism). Even in America, four months before Rabin was assassinated, a Brooklyn rabbi, Abraham Hecht, publicly called for the death of any Israeli public official who ceded land to Arabs in peace agreements with them. [JEWISH WEEK, 3-27-98, p. 20 as quoted in The Jewish Tribal Review]
If Palestinian independence is threatened, we Are All Arafat
By Daoud Kuttab
For over two-and-a-half years, Israel has isolated Arafat in a kilometer square compound, and has crippled his regular security forces. Israeli soldiers have been roaming throughout the Palestinian territories, arresting, killing and destroying trees and houses and yet the attacks against Israelis have not stopped. A ten-foot high cement wall is being built way inside Palestinian territories. All this without bring any satisfactory results to Israelis. So, the Israeli logic goes, if they have not been able to stop the militants, Arafat should do it. And if Arafat refuses to do this dirty job, he must be punished. No attempt is even made to understand that it is the occupation, stupid.
Ariel Sharon and his militaristic government are not innocent. They have shown a clear disregard to every serious effort for peace. Even the latest peace offer, the road map to peace, coming from Israel 's American patrons has been conditionally accepted and has not been seriously enacted upon.
A pattern of Israeli attempts at sabotaging efforts at reaching quite has been clearly established. Israeli assassinations of Palestinian militants have repeatedly followed a publicly declared interest in a cessation of violence here or a unilaterally enforced hudna (truce) there.
Bush says no evidence that Saddam Hussein involved in Sept. 11 attacks
05:53 AM EDT Sep 18
TERENCE HUNT
WASHINGTON (AP) - President George W. Bush said Wednesday there was no evidence that deposed Iraqi president Saddam Hussein was involved in the terrorist attacks of Sept. 11, 2001 - disputing an impression that critics say the administration tried to foster to justify the war against Iraq.
"There's no question that Saddam Hussein had al-Qaida ties," the president said. But he also said: "We've had no evidence that Saddam Hussein was involved with September the 11th."
The president's comment was the administration's firmest assertion that there is no proven link between Saddam and Sept. 11. It came after Vice- President Dick Cheney on Sunday clouded the issue by saying, "It's not surprising people make that connection" between Saddam and the attacks.
17 September 2003
The United States has stepped up its rhetoric against Damascus, reiterating allegations that it is developing weapons of mass destruction.
US Undersecretary of State John Bolton told Congress on Tuesday that Washington must keep open the option of using "every tool" to dissuade Damascus.
Syria has repeatedly denied the accusations. Bolton claimed Damascus was "continuing to develop an offensive biological weapons capability".
The Undersecretary's comments went further than the CIA's claim that it was "highly probable" Damascus was developing an offensive biological weapons capability.
Comment: Where have we heard this before? A country is accused of having chemical weapons. The administration "sexes up" the accusations, going further than the intelligence agencies....
Stifling criticism of Israeli policies
George S. Hishmeh
| | 18-09-2003
The outrageous threat voiced by Israeli Deputy Prime Minister Ehud Olmert that the Israeli government is considering the assassination of Palestinan National Authority President Yasser Arafat, all words of the democratically elected Palestinian president, have shockingly fallen on deaf ears.
[...] All US Secretary of State Colin L. Powell had to say on American television last Sunday was that the US "does not support either the elimination of (Arafat) or the exile" of the beleaguered Palestinian leader as the government of Israeli Prime Minister Ariel Sharon has repeatedly threatened.
"I think you can anticipate that there would be rage throughout the Arab World, the Muslim World, and in many parts of the world." Just imagine for a moment the uproar, especially in the US, had any senior Palestinian official announced that the Palestinian government was planning the assassination of the Israeli prime minister, much as Israel has been for three years doing in its "targeted assassination" of militant Palestinian leaders.
Poll causes stir by finding Israelis are happy
Mitch Potter
Middle East Bureau, The Toronto Star
Sep. 18, 2003. 01:00 AM
JERUSALEM - Maybe it comes down to the maxim "hope springs eternal." Maybe misery really does love company. Or maybe, just maybe, somebody put something in the water.
Either way, Mideast anthropologists and sociologists are scrambling to make sense of a new poll in which Israelis declare themselves happy almost beyond belief.
Released earlier this month, the Israel Bureau of Statistics survey is causing a stir with its findings that a staggering 83 per cent of adult Israelis are satisfied with their lives. That figure surges to a giddy 89 per cent among the young, aged 20 to 24, while the happy meter dips slightly to 75 per cent among those aged 75 or older. Fifty-three per cent of adults feel optimistic and believe that in the coming years their lives will be better.
All logic dictates Israel should be the land that joy forgot, given the daily anxieties of a war that won't quit, replete with suicide bombs, army reserve duty and an economy in freefall. [...]
By Jackson Diehl | 18-09-2003
On one side of the imposing concrete barrier that now separates the Palestinian city of Qalqilyah from central Israel, smooth Palestinian lawyers conduct almost-daily tours for journalists, diplomats and European solidarity groups to show how "the wall" has cut through Palestinian homes, separated farmers from land and bottled up 80,000 people in a pocket that can be entered only through a single Israeli checkpoint.
On the other side, Israeli briefers point to the more modest, fence-style portions of their "security obstacle" and recount how, before its construction, snipers shot and killed Israelis on a nearby highway and suicide bombers passed through unchecked to Tel Aviv.
[...] Though Sharon says he supports two states, most of his Likud Party and his most likely successors as prime minister do not. Instead, they now press for a network of fences that will connect Jewish colonies to Israel on restricted "bypass" roadways while penning the Palestinian population into several cantons where it may enjoy self-government but not sovereignty.
Already, smooth new highways, from which most Palestinian traffic is banned, carry Israelis from Occupied Jerusalem and Tel Aviv to the colonies, bypassing Palestinian towns. The old roads, used by Palestinians, are choked with checkpoints and the chaos of backed-up traffic.
To travel the short distance from Ramallah to east Occupied Jerusalem, one must pass on foot through a border-like obstacle course of hostile sentries and document inspectors - and to do it twice, in two places.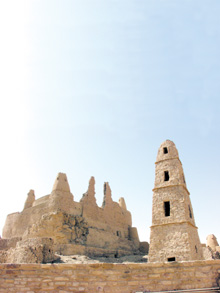 Al-Jouf — A Cradle of Arab Civilization
John R. Bradley & Roger Harrison

The uniquely shaped minaret of the Omar ibn Khattab mosque in Dumat Al-Jandal

SAKAKA — On a hillside a few kilometers behind the Aramco oil terminal outside Sakaka, the regional capital of the northern province of Al-Jouf, lies Saudi Arabia's equivalent of Stonehenge.
The cluster of sandstone stele, known as Al-Rajajil, have stood here for more than6 , 000years; but most now lean at random angles, all but a few in a pitiful state of decay. Many have fallen to the ground, reduced to rubble by the extremes of countless scorching summers and freezing winters.
Some of the stones are marked with early forms of script, and there are crude, comb-like patterns on others. All were brought here for a purpose, of course; but even after thousands of years, someone has yet to give a clear explanation of what that purpose might have been.
What is left of the pagan site has now been fenced off by the local Saudi archaeological society, ensuring that this modest but infinitely valuable field of stones will be preserved for many more generations to come.
In the middle of the field, as the sun slowly sets and ever-more extraordinary shadows are thrown around the mysterious rock formations, visitors inevitably end up as king: Why did those ancient people, employing what must have been the latest technology of their day, invest so much effort into cutting and erecting these monuments? Why did they drag them (perhaps for miles) to align them in a carefully choreographed formation, the significance of which still baffles even the world's most experienced archaeologists?
Saddam tells US to get out of Iraq, as Bush says no Baghdad-Sept 11 link
AFP
Thursday September 18, 1:58 PM

Ousted Iraqi president Saddam Hussein purportedly called on Iraqis to fight occupying US forces, whom he told to leave the country, as President George W. Bush said there was no proof tying Baghdad to the September 11 terror attacks in the United States.
"O mujahedeen, you must tighten the noose and increase your strikes against the enemies by demonstrating, writing on walls and demanding your rights ... and above all through armed struggle," said a voice claimed to be that of the former Iraqi president aired by the Dubai-based Al-Arabiya satellite channel. [...]
In Washington, Bush -- who had justified the US-led invasion by saying Baghdad had unconventional weapons and ties to Osama bin Laden's al-Qaeda network -- said the United States "had no evidence that Saddam Hussein was involved with September the 11th."
Bush however said there was "no question" of Saddam's links to al-Qaeda, and charged that the now-defunct Baathist regime aided a bin Laden ally who masterminded the slaying of a US aid worker in Jordan. [...]
U.S. Is Speeding Up Plan for Creating a New Iraqi Army
By THOM SHANKER
The New York Times
WASHINGTON, Sept. 17 — A senior official said today that the United States had stepped up the timetable for creating a new Iraqi army, with plans for 40,000 troops in the field by next year in a program that brings back and retrains midlevel officers from the old army to run boot camps for recruits.
Walter B. Slocombe, in charge of rebuilding Iraqi security institutions, said the new goal is 27 battalions organized in three divisions within 12 months, twice as fast as in initial plans. The projected total of 40,000 is less than one-10th of the former Iraqi armed forces. [...]
Saudis consider acquiring nuclear weapons
AFP
Thursday September 18, 2:10 PM
Saudi Arabia has embarked on a strategic review that includes considering whether to acquire nuclear weapons, a British newspaper reported. The left-wing Guardian daily said that the move came in response to political tensions in the Middle East. [...]
Until now, the assumption in Washington was that Saudi Arabia was content to remain under the US nuclear umbrella, according to the paper.
But the relationship between the Saudis and the US had steadily worsened since the September 11, 2001, terror attacks on New York and Washington.
The Guardian added that the Saudi authorities were unnerved by the possibility of Iran and Israel having nuclear weapons.
Oil pipe on fire in northern Iraq
www.chinaview.cn
2003-09-18 17:50:14
BAGHDAD, Sept. 18 (Xinhuanet) -- An oil pipeline linking northern Iraq and Turkey caught fire after an explosion early on Thursday,CNN reported.
The big fire was spotted near Baiji, a major refinery city 200km north of Baghdad, said the report.
The news channel cited local authority as saying that the cause of the blast was not clear yet, although it is suspected to be another act of sabotage.
Iraq's northern oil transfer system has been plagued with such acts that repeatedly delayed the reopening of oil export to Turkey in the aftermath of the Iraq war.
Comment: If anyone can come up with something more nauseating than this, please let us know.
Miami police on 'orange alert'
BY CHARLES SAVAGE
The Miami Herald
Wed, Sep. 17, 2003
Responding to unsubstantiated intelligence from North Africa about plans for a terrorist attack in Miami this week -- the second area-specific threat in the past couple of weeks -- police have boosted patrols to "orange alert" levels. [...]
He and Miami Mayor Manny Díaz, appearing together at Miami City Hall on Tuesday, emphasized that they are boosting patrols only as a precaution.
"The FBI does not believe this is credible and it should not be cause for panic or fear," Díaz said. "It's not the first or the last time this is going to happen in today's world." [...]
WTC investigators want to speak with 9/11 survivors
September 18, 2003
NEW YORK (CNN) -- A federal group investigating the collapse of the World Trade Center on September 11, 2001, announced Wednesday it is seeking information from individuals who were inside the Twin Towers that day, or who were in contact with friends and relatives in the buildings.
Within a month, investigators from the National Institute of Standards and Technology (NIST), an arm of the Commerce Department, plan to begin conducting hundreds of interviews either face-to-face, by phone, or through focus groups.
They hope to get firsthand accounts of what was happening inside the towers after they were hit by hijacked airliners.
"These are just a few of the myriad of tiny details that will help us piece together a mosaic that will help us answer the difficult questions of how the buildings failed, and what can be done to reduce future risks from fire or other building emergencies," said Jack Snell, the director of the NIST building and fire research laboratory. [...]
Ashcroft: FBI to Reveal Patriot Act Data
By CURT ANDERSON, Associated Press Writer
September 18, 2003
WASHINGTON - The anti-terror Patriot Act's highly contentious authority for the FBI to obtain records from libraries, bookstores and other businesses has never been used, Attorney General John Ashcroft says.
In a memo to FBI Director Robert Mueller obtained Wednesday by The Associated Press, Ashcroft said he decided to disclose the previously classified information to "counter the troubling amount of public distortion and misinformation" surrounding section 215 of the anti-terrorism law. [...]
"The number of times section 215 has been used to date is zero," the memo says. [...]
Laura Murphy, director of the ACLU's Washington office, said Ashcroft's declassification decision appeared to be mostly public relations aimed at tackling the fallout from those speeches.
"Is this the beginning of the Justice Department being more accountable, or is this just a bone to throw to the librarians?" Murphy said. "I think the American people can see through that." [...]
"The bottom line is not so much what may or may not have been done in the past, but what might be done in the future," said Sanders, I-Vt. [...]
Comment: And how many times have the other 157 sections been used? Perhaps the library concern is being used to divert the focus from the more important issues that the Patriot Act raises.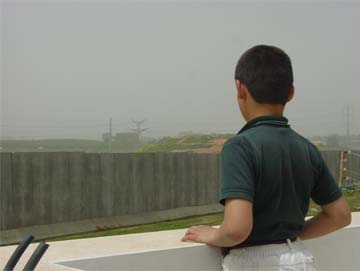 Terror laws are 'needless totalitarianism'
A terrorist attack on the UK is seen as a serious threat
BBC On-line
Planned new laws to deal with a large-scale terror attack in Britain smack of "needless totalitarianism", said the Conservatives.
Tory homeland defence spokesman Patrick Mercer was commenting on legislation which could allow the government to invoke a vast array of powers if Britain was attacked or was perceived to be at risk of a terrorist strike.
One Conservative peer on the cross-parliamentary committee looking at the Draft Civil Contingencies Bill suggested the plans could theoretically be used to turn Britain into a republic if a state of emergency was called. [...]
Billionaire raising $75 million to oust Bush
WorldNetDaily.com
September 18, 2003 1:00 a.m. Eastern
Billionaire George Soros is launching a grass-roots initiative that seeks to raise up to $75 million to prevent President George W. Bush from being re-elected.
The Hungarian-born philanthropist has committed an unprecedented $10 million of his own money to "Americans Coming Together," or ACT, which plans to mobilize voters in 17 states regarded as battlegrounds in the 2004 election, the National Post reported.
Soros, known as "the man who broke the Bank of England," says he wants to be known as the man who brought down the government of President Bush, according to the Canadian newspaper. [...]
Qaouq: Years of US pressure 'achieved nothing'
Samer Wehbe
Daily Star correspondent
Hizbullah's commander in the South described the US Wednesday as the greatest terrorist and most hated country in the world, and said the party had been, and was still, a permanent target of "hostile American policy" for over 20 years. Addressing an Italian delegation during its visit to the former Khiam detention center, Sheikh Nabil Qaouq said the US was targeting the party and attacking it, both politically and through the media, "but all this achieved nothing."
Musharraf given two more days to decide on LFO (Pakistan)
Islamabad |By Shahid Hussain, Correspondent | 18-09-2003
Pakistan's religious right threatened yesterday to disrupt parliament if the president refused to give up sweeping powers, portents of another showdown between the religious alliance and the pro-military government.[...]
China becoming new engine for world economy: Forbes
www.chinaview.cn
2003-09-18
SHANGHAI - The three-day 2003 Forbes Global CEO Conference came to an end in Shanghai Thursday, focusing global attention on China's new role in the world economy.
[...] "The great success of China's economy plays an important role in the global economy, becoming a model for the whole world," said Nobel economics prize winner Joseph Stiglitz, Professor of Economics of Columbia University.
Since 1995, Chinese enterprises' on the list of Fortune Magazine's top 500 companies had changed a lot. In 1995, only three Chinese companies were listed, compared with five in 1999, and 11 in 2003. Among the top 2,000 companies selected by magazine are 13 Chinese companies.
More overseas companies had also entered the Chinese market due to its great business opportunities. Statistics show that in Shanghai alone, 23,000 foreign companies had invested by the end of 2002, and 270 of the top 500 had entered Shanghai.
Thursday, September 18, 2003 Posted: 0758 GMT

NEW YORK (CNN) -- The chairman of the New York Stock Exchange has resigned following a public outcry over his $140 million pay package.
Richard Grasso, who has worked at the exchange for 36 years, quit after an emergency board meeting following mounting pressure from investors, regulators, politicians and Wall Street firms over the scale of his payout. [...]
In the wake of last year's corporate scandals and disputes over excessive executive pay, the details of Grasso's package infuriated business and political leaders, who were looking to the NYSE to take the lead.
"Dick Grasso's pay package is extraordinarily excessive, but the amount is just a symptom of the real problem," Sen. John Edwards, a presidential candidate, said in a statement before the resignation.
"The real problem is that the Board of the New York Stock Exchange has operated like a clubhouse, with no accountability to anybody except itself. [...]
Comment: The problem goes way beyond the NYSE. The entire economic and political systems in place in the U.S. seem to operate in the same manner - they make and break the rules as they see fit, and the burden is placed on the slumbering American people. See the next article for an example.
By Alexander Bolton
The Hill
September 17, 2003
House and Senate members, acting in defiance of President Bush, are on the verge of boosting the pay of federal civilian employees, as well as their own salaries and those of their staffs.
Key lawmakers in both chambers want to grant federal civilian employees a 4.5 percent raise, the same as Bush has requested for military employees.
However, in a stern letter sent last month to House Speaker J. Dennis Hastert (R-Ill.), Bush re-emphasized his desire to hold non-military employees, such as customs agents, FBI agents, and postal workers, to a 2 percent pay raise. [...]
IMF Says Global Economy Poised for Growth
By ANWAR FARUQI, Associated Press Writer
September 18, 2003
DUBAI, United Arab Emirates - The global economy appears poised for growth, but the advance will be uneven and the recent collapse of trade talks in Mexico could foretell a worrisome slowdown, the International Monetary Fund said Thursday. [...]
The United States is enjoying "the best recovery that money can buy," but the twin problems of a trade deficit and a mounting budget deficit will eventually cause problems, said Kenneth Rogoff, chief economist of the IMF. [...]
It said the United States was unlikely to be able to play as strong a leadership role in the global economy as it has traditionally.
The IMF said record trade imbalances and a large government deficit are an "important vulnerability," and risks to the U.S. economy arise from concerns of a "future housing bust" and volatility in the dollar's exchange rate. [...]
6.1 Quake hits Chile-Bolivia border region
Simultaneous earthquakes in Pacific could kill 28,000
Major earthquakes simultaneously hitting areas in the Pacific off central to western Japan could kill as many as 28,300 people, a government panel of experts studying quake disasters said Wednesday.
The panel of the Central Disaster Prevention Council proposed that 21 prefectures expected to be affected by the Nankai and Tonankai quakes with epicenters off shore between Shizuoka Prefecture and Shikoku Island be designated as areas for promoting quake disaster prevention measures.[...]

Heavy rains cause damage across Mexico
AP
12:49 AM EDT Thursday, Sep. 18, 2003

Mexico City — A heavy monsoon season got wetter Wednesday across much of Mexico, including the Pacific coast state Michoacan where residents navigated city streets by boat in the state capital of Morelia. [...]
Natural disasters have been declared because of heavy rain in 14 out of Mexico's 31 states by the Interior Department, which estimates rains have adversely affected the living conditions of 50,000 Mexicans.
Major volcano erupts in Russia's far east

VLADIVOSTOK, Russia (AFP) Sep 18, 2003
One of the world's most aggressive volcanoes has stepped up its eruptions in Russia's far eastern Kamchatka peninsula, local volcanologists said Thursday.
Volcanic bombs flew as far as seven kilometers (four miles) away from the irate Karymsky volcano, which had fired six-kilometer (20,000-foot) plumes of ash and debris into the air, local scientists said. [...]
Oil spill pollutes Finnish beaches

HELSINKI (AFP) Sep 18, 2003
An oil slick containing tens of cubic meters of oil has polluted some 1.5 kilometers (a mile) of shoreline near the popular holiday resort of Inkoo, officials said on Thursday.
The spill happened overnight nearby a coal-burning power plant, but local environmental officials told AFP that it was unlikely the oil came from the facility. [...]
Gunman shot dead at US college
BBC
Thursday, 18 September, 2003, 04:28 GMT

A man who took a class hostage at a college in the US state of Tennessee has been shot dead by police.
The gunman, 26-year-old Harold Kilpatrick, had left a suicide note saying he wanted "to kill some people and die today". Kilpatrick said he was a member of al-Qaeda and that he had spoken to Osama Bin Laden - claims dismissed by police. [...]
Sweden censures Oprah for bias
WorldNetDaily.com
September 17, 2003 5:00 p.m. Eastern
While Congress is debating revival of the Fairness Doctrine, the Swedish government is taking action against the Oprah Winfrey show because it allegedly did not give a fair and balanced presentation of the arguments about whether to go to war with Iraq.
Sweden's Broadcasting Commission told Reuters it is censuring the country's TV4 for airing a show that displayed bias favoring a U.S. military attack.
"Different views were expressed, but all longer remarks gave voice to the opinion that Saddam Hussein was a threat to the United States and should be the target of attack," the commission said. [...]
'Grand Theft Auto' makers sued over teenage killing
By Maxine Frith Social Affairs Correspondent
18 September 2003
[...] The court case could help to decide the debate over whether violent video and computer games cause aggression in children. Grand Theft Auto and its three sequels are designed in Britain and have topped the UK and US games charts, selling more than 20 million copies in the past five years. The player acts the role of a street thug with 40 different weapons. [...]
[...]"They said they got the idea from a video game called Grand Theft Auto and that they were bored, that they went out and began shooting." [...]
[...]Referring to The Manchurian Candidate , a 1962 film in which American soldiers are brainwashed into becoming fighting machines in the Korean war, Mr Thompson said: "We have got a nation of Manchurian Candidates who are training on these video games." Mr Thompson plans to call American defence ministry officials to give evidence on how they have employed video-game designers to help to train soldiers. [...]
Teens Attacked 3 Times at Camp
Two of the Mepham High School football players allegedly sexually assaulted by older teammates at a weeklong training camp were attacked three separate times during the trip, with one suffering injuries serious enough to require surgery, a source close to one victim said Monday. [...]
The three boys, junior varsity players at the Bellmore school, allegedly were sodomized with broomsticks, golf balls and pine cones, the source said. [...]
Bush's New Federal Math Leaves Kids Far Behind
by Sydney H. Schanberg
Village Voice
A Texas Hoax May Be the President's Waterloo
[...] Mostly, we've been watching the president's rhetoric spring leaks in Iraq and Afghanistan. So perhaps we haven't paid enough attention to how many holes have popped open in his domestic socks. Joblessness that was supposed to be stanched by the Bush tax cuts. Urban food kitchens overwhelmed by the demand from people who are working but underemployed and end up out of money three weeks into the month. A domestic Peace Corps program (AmeriCorps) that is praised publicly by the president as admirable volunteerism but is being starved of money by the White House and congressional Republicans.
But, still, you wouldn't think he would stiff children and their schooling. That's maybe the most disappointing thing this president has done here at home. [...]
Pastor caught at border with girl in trunk
canada.com

BELLINGHAM, Wash. (AP) - A 30-year-old Illinois youth pastor faces sex and pornography charges after customs agents found a 16-year-old girl in the trunk of his car as he tried to cross into Canada. [...]
Jail for claiming son killed on 9/11
From correspondents in New York
September 17, 2003
A MAN who lied about having a son who died in the World Trade Centre attack to get $US160,000 ($242,240) in charity funds was sentenced today to more than a decade in prison. [...]
Cops Raid Wrong Home, Taser Man
Sheriff's Deputies Break Down Wrong Door

OMAK, Wash. -- Okanogan County sheriff's deputies seeking a person on outstanding warrants broke down the door to the wrong home and then jolted a man with a Taser in front of his wife and child.
Sheriff Frank Rogers says the bottom line is officers messed up. [...]
LONDON:
British police have launched a murder inquiry after a baby girl's body was found entombed in a concrete block.
The six-month-old girl's remains were discovered last September by a workman clearing rubbish from a derelict garage in the northern town of Workington. The girl, who was given the name Lara by detectives, was revealed when he smashed the block apart to move it.
Police launched their murder inquiry yesterday after their earlier, softly-softly approach and calls for her parents to come forward proved fruitless. She is thought to have died around 1990.[...]
Attorney wants DUI case tossed due to stun gun use

Associated Press
Sept. 17, 2003

TUCSON - A Tucson attorney claims a Pima County sheriff's deputy crossed the line when he used an electronic stun gun to make a DUI suspect submit to having blood drawn for testing.
Attorney Michael Bloom wants extreme DUI charges against 35-year-old Brian Sewell dropped in the May 2003 case. The deputy allegedly used his 50,000-volt stun gun three times with five-second bursts on Sewell's neck.
Arizona law allows police to obtain a search warrant for drawing blood from DUI suspects when they refuse the procedure. The sheriff's deputy says he asked Sewell after each burst if he would cooperate, and Sewell told him he's have to use the Taser again.

Real monkeys won't work for peanuts
JAMES REYNOLDS ENVIRONMENT CORRESPONDENT

WHEN it comes to detecting if you've been swindled out of a fair deal, monkeys can be just as sharp as humans, scientists have discovered.
Monkeys can spot a bad trade when they see one, and they are just as likely "down tools" or express displeasure if they do. In a new study, brown capuchin monkeys trained to exchange a granite token for a cucumber treat often refused to swap if they witnessed another monkey get a better pay-off in the form of a grape.
Instead, they often threw away the token, refused to eat the piece of cucumber, or even gave it to the other capuchin after witnessing the trade, researchers at the National Primate Research Centre of Emory University, Atlanta, found.
Dr Sarah Brosnan, who led the team, said the results suggest man and monkey may have inherited a sense of fairness from an evolutionary ancestor.
"It is the first time a sense of fairness has been found in any non-human, at least to our knowledge," Dr Brosnan said. "This implies we evolved this way."
Comment: Seems like it's time for a new study to uncover what happened to the "sense of fairness" in modern day humans. Perhaps the entire US cabinet should be replaced by Capuchin monkeys, then we might get some 'fair play'...
Doctor: Hypnosis could have fueled Hitler's rise
By DANNY HEITMAN
Advocate staff writer
September 17, 2003

Dr. David Post, a forensic psychiatrist, has been asked to speak at conferences in the United States and Europe about his research into Adolf Hitler's early psychiatric treatment. Post believes that Hitler was hypnotized at the close of World War I as a treatment for hysteria, and that the hypnosis could have propelled the German dictator's political ambitions. [...]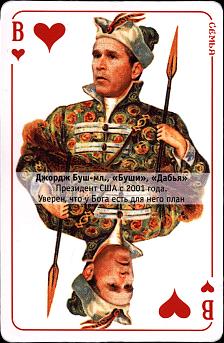 Political Lesson in the Cards
By Anna Dolgov
Special to The Moscow Times
A game of cards can now become a quick lesson of who's who in Washington with the release of a new deck that looks an awful lot like the United States' own deck of most-wanted Iraqi leaders.
[...] Among the cards are George W. Bush ("USA President since 2001, convinced that God has a plan for him"); Donald Evans ("commerce secretary, drank with Bush Jr. until July 6, 1986"); and Laura Bush ("the wife of Bush Jr., made husband quit drinking").
[...] The hearts are the "family" (which includes Bush's relatives and close friends), the diamonds are "moderates," the clubs are "careerists," and the spades are "neo-conservatives."
Man buys biscuit jar from brother he'd never met
---
Remember, we need your help to collect information on what is going on in your part of the world!
We also need help to keep the Signs of the Times online.
Obviously, there are a lot of folks out there who do NOT like what we are doing - our own special brand of news coverage - and they are working day and night to create almost insurmountable problems for us, designed to grind us down and render our plans to be able to increase our production (which include a weekly radio show that is currently in the implementation stage) impossible to bring to fruition. We are coming under increasing pressure from many directions all at once.
Our need for financial support has never been greater, including support for legal initiatives to halt the madness of several of the para-COINTELPRO activities currently launched against us. These operations are designed to create a platform to justify utilizing police state tactics so as to silence, and even ultimately, destroy us.
Please: We need your help.
The campaign of lies and disinformation would be frightening under normal circumstances; considering the present state of the world and the machinations of the "National Security State," it is terrifying.
Please - if you have been helped by our work -
won't you help us NOW?

---

Check out the Signs of the Times Archives

Send your comments and article suggestions to us

---
Fair Use Policy
Contact Webmaster at signs-of-the-times.org
Cassiopaean materials Copyright ©1994-2014 Arkadiusz Jadczyk and Laura Knight-Jadczyk. All rights reserved. "Cassiopaea, Cassiopaean, Cassiopaeans," is a registered trademark of Arkadiusz Jadczyk and Laura Knight-Jadczyk.
Letters addressed to Cassiopaea, Quantum Future School, Ark or Laura, become the property of Arkadiusz Jadczyk and Laura Knight-Jadczyk
Republication and re-dissemination of our copyrighted material in any manner is expressly prohibited without prior written consent.
.