New! - Letters from Readers
---
On Becoming a Seer:
A follow up to yesterday's Signs commentary
Once we begin to see what IS, then we can learn that what is happening around us is not personal, we can learn to see objectively.
A common theme that runs through the emails we receive here is the fact that many readers feel alone in what they are beginning to see. They notice that they may be the only ones in their work and/or home environments that have that uneasy feeling of encroaching darkness. That creeping fascism may have always been with us, but it has certainly blasted its way into the world scene with a whirl wind force made evident to all those who care.
Those who have the potential to see often have self doubt. They begin to think, "if I am the only one who feels this way, maybe I am the crazy one," or similar such thoughts. If there is a psychopath in their lives, they tend to blame themselves.
New age COINTELPRO has added all kinds of strange and bizarre baggage to the word "seer". It is often used for one who has visions or reality 'bleedthroughs'. Visions of this sort do us no good in attempting to conduct ourselves in the here and now. They are subjective interpretations impossible to verify objectively. They can even inhibit our functioning in this reality - the reality in which we reside, in which we belong.
Seeing who we are needs to be balanced with seeing objective reality "out there" otherwise it is merely navel gazing. We have all built grand and glorious subjective realities, assigned each thing and person some symbolic meaning, known only to us.
To many, the U.S.A. symbolizes freedom. This is a subjective interpretation. Ask the activists, who are demonstrating at the WTO conference in Cancun, what the U.S.A. symbolizes to them. Ask the Chilean population, on the 30th Anniversary of the overthrow of their popularly elected government, what the U.S.A. represents to them. Enough absorption of objective fact overthrows this subjective symbolism, for those who value truth and free will above all else.
Subjective realities or lies or illusions are held about ourselves, families, friends, politics and everything that commonly impacts our lives. Those who seek truth begin to destroy their own subjective realities by the very act of seeking. They are willing to give up narcissistic god-play for something greater. True Creativity. Creativity based on objectivity and not based on illusion. No one can give you this, they can only accompany you on the journey.
Everyone has their subjective realities destroyed at some point. Psychopaths like George Bush are mechanical agents of entropy or 'destroyers'. They may very well take us all to the brink, where we all have to face and see what this reality truly consists of, no matter how we have tried to hide from it.
In the process of seeking objective truth, subjective illusions must be given up. Only then can we begin to objectively see the action of psychopaths in our lives. We will gain the confidence to stand up for ourselves, perhaps timidly at first, but with the pursuit of knowledge comes a certain measure of confidence. We will know that what we see is what IS, and we can then begin to choose whether to act or not. We become responsible.
The Signs of the Times is dedicated to those lovers of truth, who are willing to begin to see.
You are not alone.
---
CNN practiced self-censorship says top war correspondent

CNN's top war correspondent, Christiane Amanpour, says that the press muzzled itself during the Iraq war. And, she says CNN "was intimidated" by the Bush administration and Fox News, which "put a climate of fear and self-censorship."
As criticism of the war and its aftermath intensifies, Amanpour joins a chorus of journalists and pundits who charge that the media largely toed the Bush administrationline in covering the war and, by doing so, failed to aggressively question the motives behind the invasion.
On last week's Topic A With Tina Brown on CNBC, Brown, the former Talk magazine editor, asked comedian Al Franken, former Pentagon spokeswoman Torie Clarke and Amanpour if "we in the media, as much as in the administration, drank the Kool-Aid when it came to the war."
Said Amanpour: "I think the press was muzzled, and I think the press self-muzzled. I'm sorry to say, but certainly television and, perhaps, to a certain extent, my station was intimidated by the administration and its foot soldiers at Fox News. And it did, in fact, put a climate of fear and self-censorship, in my view, in terms of the kind of broadcast work we did."
Brown then asked Amanpour if there was any story during the war that she couldn't report.
"It's not a question of couldn't do it, it's a question of tone," Amanpour said. "It's a question of being rigorous. It's really a question of really asking the questions. All of the entire body politic in my view, whether it's the administration, the intelligence, the journalists, whoever, did not ask enough questions, for instance, about weapons of mass destruction. I mean, it looks like this was disinformation at the highest levels."
Clarke called the disinformation charge "categorically untrue" and added, "In my experience, a little over two years at the Pentagon, I never saw them (the media) holding back. I saw them reporting the good, the bad and the in between."
Fox News spokeswoman Irena Briganti said of Amanpour's comments: "Given the choice, it's better to be viewed as a foot soldier for Bush than a spokeswoman for al-Qaeda."
CNN had no comment.
Comment: So CNN are not prepared to report on the report that they didnt report? Doesn't this prove that what she said is true??
Gulf Daily News
Mon 15 Sept.

Islamabad: Pakistan yesterday dismissed a US intelligence report claiming that Pakistan helped Al Qaeda members launch their operations in Afghanistan in the 1990s as "baseless".
This is a baseless report. The document itself says the information is raw. It does not seem to be founded on hard evidence," a senior foreign ministry official said.
The US intelligence documents made public in Washington claimed Pakistan helped Al Qaeda members launch their operations in Afghanistan in the 1990s and secretly ran a major training camp used by Osama bin Laden's terror network.[...]
Comment: We eagerly await the release of the report showing that, on the morning of Sept 11th 2001 Bob Graham - our esteemed chairman of the Senate Intelligence Committee - was having breakfast with General Mahmoud Ahmed, the chief of the ISI (Pakistani intelligence), who had previously ordered that $100,000 be wired to the bank account of Mohammed Atta, the alleged chief hijacker of the planes that hit the WTC. Until this report is released (don't hold your breath) you may read ours here.
Miscalculating Sept. 11's aftermath On 9/11
Bush was handed a historic opportunity. He blew it
By Fred Kaplan SLATE.COM
[...] Remember? The French newspaper Le Monde, never one for trans-Atlantic sentimentalism, proclaimed, "We are all Americans." The band outside Buckingham Palace played "The Star-Spangled Banner" during a changing of the guard, as thousands of Londoners tearfully waved American flags. Most significant, the European leaders of NATO, for the first time in the organization's history, invoked Article 5 of its charter, calling on its 19 member-nations to treat the attack on America as an attack on them all — a particularly moving gesture, as Article 5 had been intended to guarantee American retaliation against an attack on Europe. But the Bush administration brushed aside these supportive gestures — and that may loom as the greatest tragedy of Sept. 11, apart from the tolls taken by the attack itself. [...] here was a moment when the world viewed America with more empathy than it had in the past half-century.
An American leader could have taken advantage of that moment and reached out to the world, forged new alliances, strengthened old ones, and laid the foundations of a new, broad-based system of international security for the post-Cold War era — much as Harry Truman and George Marshall had done in the months and years following World War II. But George W. Bush, Dick Cheney, Donald Rumsfeld, and Condoleezza Rice did not take that path. [...] Bush's response was a shockingly terse: Thanks, but no thanks; we'll handle it by ourselves. Marc Grossman, the undersecretary of state for political affairs, later admitted to the Washington Times that the United States initially "blew off" the allies. Douglas Feith, the undersecretary of defense for policy, said that the United States, in the Times' words, "was so busy developing its [Afghanistan] war plans that it did not have time to focus on coordinating Europe's military role." [...]

As London's conservative Financial Times later put it, "A disdainful refusal even to respond to a genuine offer of support from close allies, at the time of America's most serious crisis in decades, spoke volumes about its attitude to the alliance." [...]

By the summer of 2003, it could fairly be said that most of the world hated the United States, or at least feared the current U.S. government. A particularly disturbing poll commissioned by the BBC revealed that the vast majority of Jordanians and Indonesians consider the United States more dangerous than al- Qaida. A majority in India, Russia, South Korea, and Brazil see us as more dangerous than Iran. [...] Two years ago, according to the Pew survey, three- quarters of Indonesians had a positive view of America; now, more than four- fifths have a negative view. In the summer of 2002, two-thirds of French and Germans viewed America favorably; now the share has dropped to less than half. [...]

Over the past couple of weeks, as the fighting persists in Baghdad, as the Taliban attempts a comeback in Afghanistan, as Saddam and Osama Bin Laden remain on the prowl — in short, as the light glows dimmer, the tunnel stretches longer, the budget piles higher, and the desert-swamp gets deeper — President Bush seems to have realized he took a wrong turn back at the 9/11 junction.
He has been persuaded to go back to the much-loathed United Nations, for assistance and legitimacy. In his televised speech Sunday night, he referred to the allied nations that had opposed the war as "our friends," a phrase he had not bestowed on them for a very long time. He has extended his hand a bit late in the game. Two years ago, even one year ago, Bush could have delivered such a speech with an air of strength and mutual confidence. Now it is seen, all too clearly, as a sign of desperation and therefore of dubious authenticity.

Comment: Of course! If others are involved, they might interfere with the cover-up and plans for world domination by a single Power - the US
Senate Won't Reveal Part of 9/11 Report

By KEN GUGGENHEIM
Associated Press Writer
WASHINGTON - Rejecting a request from other senators and the Saudi government, leaders of the Senate Intelligence Committee said they would not seek to declassify a secret section of a report dealing with foreign support for the Sept. 11 hijackers. [...]
U.S. Troops Nab Alleged Saddam Loyalists
By PATRICK QUINN, Associated Press Writer
September 15, 2003
TIKRIT, Iraq - U.S. troops kept up the pressure on the resistance fighters in Saddam Hussein's hometown of Tikrit on Monday with raids on houses and the arrest of five men suspected of helping to finance attacks against the American-led occupation force. [...]
Powell, in Baghdad, Suggests That Critics 'Hold Their Fire'
By Rajiv Chandrasekaran
Washington Post Foreign Service
Monday, September 15, 2003; Page A01
BAGHDAD, Sept. 14 -- Secretary of State Colin L. Powell said today that he was "deeply impressed" by the progress of the U.S.-led effort to reconstruct Iraq and guide the country toward self-rule despite continuing attacks on American forces and critical infrastructure. [...]
Although Powell spent the day in a high-security bubble and met only with Iraqis who had been vetted by the U.S. occupation authority, he expressed satisfaction with the pace of the American reconstruction effort, which has been criticized as too slow by many ordinary Iraqis.
"There's a vibrancy to this effort, a vibrancy I attribute to the winds of freedom blowing through this land," he said at a news conference with the top U.S. civil administrator here, L. Paul Bremer. [...]
Comment: By "winds of freedom," Powell no doubt meant dust contaminated by depleted uranium munitions. And the "vibrancy" would be due to the resulting glow of Iraqis and US troops alike.
CIA report: Al Qaida leadership 'reeling' from U.S. blows

SPECIAL TO WORLD TRIBUNE.COM
Monday, September 15, 2003
Al Qaida's leadership appears on the verge of collapse, the CIA said.
The report was disclosed by Deputy Defense Secretary Paul Wolfowitz in testimony on Sept. 9, to the Senate Armed Services Committee. Wolfowitz read portions of the report meant to review the state of Al Qaida and its potential for renewed attacks. [...]
"Even if the Al Qaida organization is defeated and its worldwide cells are left to fend for themselves, Bin Laden's call for attacks on the United States will continue to resonate among Muslim extremists," the report said.
"It takes only a handful of terrorists with little more than creativity, dedication, and luck to successfully cause mass casualties." [...]
Comment: So, we are meant to believe that Al Qaida's leadership is about to collapse because of the valiant efforts of the United States of Armageddon, and that this is viewed as success by the Bush gang. Yet we are then told that none of that actually matters, because it takes only a "handful" of terrorists with a toothpick, a piece of yarn, and a tin can to blow up half the world. The only "logical" solution then is to wipe out "Muslim extremists," a term that has a very loose definition as far as the likes of Wolfowitz, Rumsfeld, Ashcroft, and Bush are concerned.
Third Shooting Targets British Mission in Iran
By Christian Oliver
Mon September 15, 2003 03:31 AM ET
TEHRAN (Reuters) - A motorcycle passenger fired shots at the main gate of the residential compound of the British embassy in Iran, the third time the mission has been targeted this month, a British diplomat said Monday. [...]
Taliban threaten mutilation for Afghans

KABUL, (AFP) - Suspected Taliban have threatened to cut off the nose and ears of men who shave their beards or anyone caught listening to music in a district of southeast Afghanistan, a local governor said on Sunday.
"A group of Taliban have stopped vehicles on the highway to Khost and have warned passengers that if they shave their beards in the future or listen to music their ears and noses will be cut off," Paktia provincial governor Asadaullah Wafa told AFP by satellite phone.
Comment: "We are coming with a mighty force to liberate your people" - GWB adressing the people of any country about to be invaded by the US army and subsequently bombed back to stone age.
Israeli minister puts "moral" case for Arafat assassination
AFP
Monday September 15, 4:08 PM

Senior Israeli minister Ehud Olmert said the assassination of Palestinian leader Yasser Arafat would be considered to put a halt to the killing of innocent civilians.
"From a fundamental, moral point of view, I want to put this question to every man of conscience," Olmert, who is industry minister and number two in Ariel Sharon's government, told CNN late Sunday.
"How many more civilians must be killed ... before someone will come and say, 'Hey, let's stop the man who has been responsible for all of this?' [...]
"Arafat cannot continue to be a factor in the Middle East scene. His expulsion is an option, his liquidation is another option. It is also possible to confine him to prison-like conditions," Olmert told Israeli radio. [...]
Removing Arafat could spark Muslim rage: Powell
Sep. 14, 2003. 12:12 PM
WASHINGTON (AP) — Israel would incite rage not only among Arabs but also Muslims everywhere by exiling or executing Palestinian leader Yasser Arafat, Secretary of State Colin Powell said Sunday.
Powell, speaking from Baghdad during a visit to Iraq, also said that Israeli politicians are not helping the U.S.-sponsored peace process with such statements as vice prime minister Ehud Olmert's comment today that "killing (Arafat) is definitely one of the options" under consideration by Prime Minister Ariel Sharon's government. [...]
Palestinians Demand U.N. Protect Arafat
By EDITH M. LEDERER, Associated Press Writer
September 15, 2003
UNITED NATIONS - The Palestinians are urging the United Nations to demand that Israel ensures Yasser Arafat's safety and key Security Council members are pushing both parties to implement the peace plan known as the "road map."
The council scheduled an open meeting Monday on the situation in the Middle East amid mounting criticism of the Israel's security Cabinet's decision Thursday to "remove" Arafat in a manner and time to be decided. [...]
In the interim, the council issued a press statement expressing "the view that the removal of chairman Arafat would be unhelpful and should not be implemented." The statement, read by the council president, British Ambassador Emyr Jones Parry, reflected the consensus among the 15 council members. [...]
Israel budget battle hots up

Plans for further massive budget cuts in Israel to cope with the country's parlous economic situation are meeting resistance from within Prime Minister Ariel Sharon's cabinet.

The draft 2004 budget calls for 10bn shekels (£1.38bn; $2.22bn) in cuts, including a 3bn shekel reduction in the highly sensitive - and very expensive - allocation for defence and security.
Comment: Ok America, dig deep, Israel needs your tax dollars.

September 12, 2003

South Korean activists in Cancun have mourned the suicide of one of their own and demanded the World Trade Organisation end its five-day conference at the Mexican resort.
Clad in vests bearing the words "WTO kills," the anti-globalisation protesters paid a moving tribute to Lee Kyang Hae, 55, at the spot where he stabbed himself during a demonstration on Wednesday.
A Mexican indigenous farmer spread incense over photographs of Lee and wreaths were placed on the ground in his memory.
A South Korean protester wept as she spoke about Lee's life and his devotion to helping impoverished farmers. "Yesterday he slashed his chest, showing his strength against the WTO. Today he is dead," she said, her voice quivering with emotion. [...]
Comment: The concept of the martyr runs deep through out the religion and literature. Perhaps it is better to conserve our energy so we can live, learn, and teach another day, rather than martyring ourselves to a cause. It is much better to face destruction with creativity. Although one can certainly see how Lee lost hope. Also see World Trade Talks Collapse in Rich-Poor Rift. "World trade talks vital for the global economy collapsed in Mexico on Sunday after rich and poor states fought bitterly over farm reform and new rules to slash red tape and corruption..."
Rich nations 'renege on pledge to reform trade and help poor'

By Philip Thornton, Economics Correspondent, in Cancun
14 September 2003

Talks aimed at freeing world trade and lifting millions out of poverty looked set for failure last night after negotiators failed to bridge a gulf between rich and poor nations.
A draft agreement to be signed by 148 World Trade Organisation members shattered hopes that the European Union and US had given in to developing countries' demands on the aid they hand out to their farmers. [...]
Comment: And everyone still thinks that the reason millions starve in Africa and in other 'third world countries' because they are 'naturally' poor. There is NOTHING 'natural' about it.
The Guardian
A series of declassified US documents have revealed the extent of America's role in the Chilean coup, reports Jonathan Franklin
September 11 1973 was a day of terror and bloodshed in Chile. After months of rising tension, army troops stormed the presidential palace, leaving President Salvador Allende dead and thousands prisoners throughout this previously democratic nation.
Now, on the 30th anniversary of the coup, professors, journalists and citizen activists around the world are continuing to expose the full role of the US government in financing and promoting this bloody coup, which ushered in the 17-year military dictatorship headed by General Augusto Pinochet. [...]
Comment: Our Sept. 11 edition of the Signs page, "Two years later" covered this issue in some depth.
Book documents Kissinger's role in Chile
September 13, 2003
Thirty years after a military coup toppled Salvador Allende from the Chilean presidency, a new book details how Henry Kissinger stood at the crux of White House efforts to bring Mr Allende down and prop up his successor, General Augusto Pinochet. [...]
Federal Brief: Ashcroft Shouldn't Have to Testify About Violating Gag Order in Terrorism Case
By Bree Fowler
Associated Press Writer
Published: Sep 12, 2003 DETROIT (AP) - A lawyer for the government said Friday that U.S. Attorney General John Ashcroft should not be required to appear in federal court to explain why he violated a judge's gag order during a terrorism trial. [...]
Cheney Denied Delaying Tactic By Appeals Court

WASHINGTON - September 11 - In yet another victory for the American public's right to know, the D.C. Circuit Court of Appeals today denied the Bush Administration's latest effort to hide the workings of the secret Cheney Energy Task Force. The Appeals Court decision comes as the controversial energy bill, based on the Bush energy plan, is debated by a Congressional conference committee. [...]
The Bush Administration attempted to further delay releasing information about the secret meetings by asking for a rehearing of the appeal by the entire court. The Court of Appeals today denied their request by a 5-3 vote. [...]
Canberra dismisses Korean 'rhetoric'
By David Wroe
Canberra
September 15, 2003

The Howard Government has dismissed as more "inflammatory rhetoric" North Korea's claim that an Australian-led naval exercise was an act of "military provocation".
The volatile North Korean Government predicted that the simulated pursuit and boarding of a vessel carrying weapons of mass destruction at the weekend was a precursor to a US attack.
"This joint military exercise is a military operation that comes before the US military attack against us," North Korea was quoted as saying by South Korea's national Yonhap news agency.
"This is a military provocation." [...]
Japan warns that it will attack if North Korea aims missile

By David McNeill in Tokyo
15 September 2003

Japan's Defence Minister has stressed his country's right to strike North Korean missile sites if an attack is thought imminent.
In an exclusive interview, Shigeru Ishiba told The Independent: "The Japanese constitution permits my position. Attacking North Korea after a missile attack on Japan is too late. If North Korea orders its military to send a missile to attack Japan and the missile is raised to vertical in preparation for launch, then Japan will assume that an attack has begun and has the right to attack that particular missile launch site. What else can the missile be used for but to attack us?"
Intelligence officials estimate that North Korea has at least 100 Rodong ballistic missiles capable of striking Japan.
Mr Ishiba said: "The threat from North Korea, however, is not just aimed at Japan and the US, it's a problem for the whole world." He insisted his position was a defensive one. The tension was the fault of Pyongyang, he said, for "continuing to develop weapons in violation of their promises. We're just defending ourselves." [...]
Jail escape dinner-dance 'glorifies terrorism'

15/09/2003
Plans for a dinner and dance to celebrate an IRA mass escape from the Maze Prison 20 years ago were attacked today as "glorifying in acts of terrorism".
Up to 800 republicans and their families are due to gather at a Co Donegal hotel on Friday night to mark the biggest break-out in Irish and British prison history.
In September 1983, 38 IRA men shot their way out of the top security jail. While some were swiftly recaptured, 19 got clean away.
A three course meal, music and dancing will be on offer to those attending the re-union. Guests are expected to include some escapees still officially on the run and still wanted in Northern Ireland.

Typhoon Caused $1.3B Damage in S. Korea
By SOO-JEONG LEE, Associated Press Writer
September 15, 2003
SEOUL, South Korea - South Korea's worst-ever typhoon caused $1.3 billion in damage, battering the nation's main port and industrial southeastern coast and leaving 117 people dead or missing, the government said Monday. [...]
A government statement said the typhoon killed at least 91 people, while 26 others were missing and 8,938 were homeless. [...]
The typhoon damaged 774 roads, 27 bridges, and submerged 43,027 acres of farmland, the government said in a statement. A total of 465 vessels were destroyed or marooned. [...]
Isabel looks like it's aiming at the East Coast
By Jack Williams, USATODAY.com
9/14/2003 9:40 PM
Hurricane Isabel, and the weather systems steering it, are remaining on track to bring the storm to the USA's East Coast by Friday. [...]
Isabel seems mostly likely, as of Sunday afternoon, to come ashore between North Carolina and New Jersey, but it could hit farther north. (Related: Weather Channel maps, Hurricane Center bulletins
By Friday, Isabel seems most likely to be a Category 3, "major" hurricane with highest, sustained winds between 111 and 130 mph. [...]
Death toll in China flooding rises to 64 dead, 59 missing

BEIJING (AFP) Sep 15, 2003
The death toll from rampant flooding in northern China's Shaanxi province since late August has risen to 64 dead, 59 missing and some 600,000 relocated, state press said Monday.
The floods have inundated some 139,000 hectares (321,100 acres) of cropland in the Wei River valley and along its tributaries, causing some 5.93 billion yuan (717 million dollars) in damages, Xinhua news agency reported. [...]
Germany's heat wave may have claimed up to 7,000 lives: report

Wildfires abate in Portugal but temperatures remain high

LISBON (AFP) Sep 14, 2003
Deadly wildfires that have ravaged Portugal abated Sunday although some blazes were continuing and the scorching temperatures were set to remain high, the emergency services said.
So far 19 people have died -- including one on Friday -- in the string of blazes that has hit Portugal since July. [...]
Before the recent return of high temperatures, Portuguese forestry officials said wildfires had destroyed some 362,000 hectares (894,000 acres) of woodland and shrubland so far this year, most of it during the heatwave that swept Europe in the first half of August.
Provisonal estimates put the damage at close to one billion euros.
Quake shakes central Italy

15/09/2003
A moderate earthquake shook central Italy, causing panic among many residents but no injuries, the Civil Defence Department said today.
The five magnitude tremor struck at 11.45 pm last night about 19 miles south of Bologna and was felt throughout central Italy.
Many residents ran out of their homes during the quake, but no injuries have been reported.
Last October, Italy was struck by a 5.4 magnitude quake that killed 30 people, including 27 children in a school.
Indonesian earthquake felt in Phuket, Thailand
BANGKOK, Sept. 14 (Xinhuanet)
An earthquake in Indonesia Sunday morning shook houses 360 kilometers away in the resort island of Phuket, southern Thailand, according to the Thai News Agency.
The agency quoted Meteorological Department of Thailand as saying that the earthquake, measuring 5.0 on the Richter Scale, occurred shortly before 0400 a.m. Sunday. The epicenter was said to be in the north of the Indonesian island of Sumatra.
There were no reports of damage in Phuket, although the quake was felt in Muang district of Phuket province.

Sweden turns back on euro

The effects of Sweden's no vote will be felt throughout Europe.
Sweden has voted by a clear majority to reject the euro in a referendum overshadowed by the killing of Foreign Minister Anna Lindh.
The final result shows 56% voting against the euro, with only 42% in favour, on a high turnout of 81%.
The Swedish Prime Minister, Goran Persson - who had campaigned for a Yes vote - said the result was a clear victory for opponents of Swedish Euro-membership.
The BBC's James Coomarasamy, in Brussels, says one of Europe's most dynamic economies will now remain outside the euro zone for the foreseeable future, ensuring that the EU's flagship unifying economic project will continue to be a source of division.
Opponents of the euro in Britain and Denmark, the other two EU countries outside the euro zone, have already welcomed the result.
The outcome confounded some predictions that the Yes campaign would benefit from sympathy votes following Lindh's murder last week.
Swedish premier's job on line after Euro defeat

15/09/2003
Swedish Prime Minister Goeran Persson's future was on the line today after his humiliating defeat in the euro referendum.
The nation of nine million turned its back on the pro euro premier and more than 56% voted against adopting the EU's common currency.

Passenger 'gagged' on flight

PASSENGERS and an air marshal subdued and then duct-taped a man who was pacing the aisle and reading loudly from the Bible during a flight from Hawaii, police and witnesses said. No-one was injured, and the man was handed over to authorities after the plane landed at Los Angeles International Airport early today, said Sgt Carl Sansbury of the airport police.
Sansbury said he didn't know what prompted the outburst on the United Airlines flight from Honolulu.He said the FBI was investigating.The man, whose name was not immediately released, could be charged with interfering with a flight crew, a federal offence, Sansbury said.

Robocop spy-cam speaks for itself

By Andrew Johnson
14 September 2003

It is the snooper that speaks before anyone has the chance to step out of line.
A cross between Big Brother and Robocop, it barks orders at would-be vandals, graffiti artists and drug users.
British Transport Police and two local authorities are experimenting with revolutionary cameras which can spot when people are not where they should be.
The Flash Cam 530 takes its photographs with an intense flash that can read a car number plate in the pitch dark from 100 yards, and then issues a stern 15-second Robocop-style spoken instruction to leave the area.
Steve Galinsky, who started importing the cameras from America in May, said: "We have seven on trial across the country. Easington Council in County Durham is using them to stop fly-tipping. We've had no prosecutions so far, but no fly-tipping either."
British Transport Police has three cameras, two standing guard at Worcester's Shrub Hill station and one in Leamington Spa station, to stop graffiti vandals.
There is another at the memorial site to the victims of last year's rail crash in Potters Bar. Would-be vandals are told: "This is a dedicated memorial site. Please leave now. Your photograph has been taken and may be used to prosecute you."
In Camden, north London, drug addicts hear: "Please leave now if you have no business in this area. Your photograph has been taken and if you are conducting an illegal activity you will be prosecuted."
Mr Galinsky said Scotland Yard was in discussions over the cameras being installed throughout London. Westminster Council is considering a trial in central London.

Truck bomb 'kills three' in Russia
CNN
Monday, September 15, 2003 Posted: 1141 GMT
MOSCOW, Russia -- At least three people are reported killed and 17 injured after a truck filled with explosives blew up outside a government security building in the southern Russian region of Ingushetia.
Monday's blast broke all the glass at the office of the Federal Security Service, known by its Russian initials FSB, in the Ingush capital of Magas and rescue workers were sifting though wreckage for survivors. [...]
No group has yet claimed responsibility for the bomb, but the FSB had until recently been spearheading the federal campaign against rebels in neighboring Chechnya. [...]
Estonians OK EU Membership in Referendum
Two Britons kidnapped by Colombian rebels
By Margarita Martinez in Bogota
The Independent
15 September 2003
Two British tourists have been kidnapped by leftist rebels in north-eastern Colombia along with six other travellers, authorities said yesterday.
The Britons, four Israelis, a German and a Spaniard were kidnapped late on Friday in the Sierra Nevada mountains, about 460 miles north of the capital, Bogota. [...]
Inca wall pulled down to build hotel
Sun Sep 14,10:41 PM ET
LIMA, Peru (Reuters) - A Frenchman has torn down part of an ancient Inca wall to build a hotel in the Peruvian city of Cusco, capital of the Inca empire, that he ironically wanted to call "The Archeologist".
The El Comercio newspaper on Sunday said Joel Raymund was planning to slap up a concrete wall in place of the large, finely cut bricks that had been there since before the 16th century Spanish conquest.
Peruvian authorities have halted construction of the hotel. [...]
Hitler's Alpine retreat lures tourists
By David Crossland
Sun Sep 14,10:16 PM ET
OBERSALZBERG, Germany (Reuters) - Adolf Hitler once said he would prefer his Alpine home, the "Berghof", to go up in flames after his death rather than have tourists flock to see where he had breakfast.
He would have mixed feelings if he saw it today.
The Berghof, built on the Obersalzberg mountain facing a panorama of craggy peaks and green pastures, did indeed come to a fiery end in a British air raid in April 1945.
But well over 100,000 tourists visit the site near the German border with Austria each year, lured by a lasting fascination with Hitler, both in Germany and abroad. [...]
And Finally...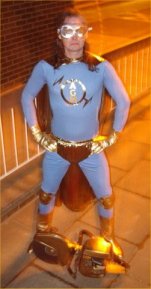 Angle Grinder Man releases clamped cars for free
Ananova.com
09:03 Monday 15th September 2003
A man dressed in a Superman-style costume is roaming the streets of London freeing wheel-clamped cars with an angle grinder.
The caped individual, who calls himself Angle Grinder Man is already said to have freed a dozen vehicles in the south east of the city. [...]
"I got so angry, I went to a hire shop, got an angle grinder and sawed the clamp off. People were standing around cheering me - it was fantastic. Before I returned the tool, I took a picture of myself with the wheel clamp and stuck it in my car window with a note saying, 'Don't clamp me - I have an extremely sensitive nature'". [...]
It's illegal to remove a clamp, but the crusader said he's the only one breaking the law. "I'm the one taking the risk. But I don't mind - it's a public service. And I like wearing the costume," he added. [...]

---
Remember, we need your help to collect information on what is going on in your part of the world!
We also need help to keep the Signs of the Times online.
Obviously, there are a lot of folks out there who do NOT like what we are doing - our own special brand of news coverage - and they are working day and night to create almost insurmountable problems for us, designed to grind us down and render our plans to be able to increase our production (which include a weekly radio show that is currently in the implementation stage) impossible to bring to fruition. We are coming under increasing pressure from many directions all at once.
Our need for financial support has never been greater, including support for legal initiatives to halt the madness of several of the para-COINTELPRO activities currently launched against us. These operations are designed to create a platform to justify utilizing police state tactics so as to silence, and even ultimately, destroy us.
Please: We need your help.
The campaign of lies and disinformation would be frightening under normal circumstances; considering the present state of the world and the machinations of the "National Security State," it is terrifying.
Please - if you have been helped by our work -
won't you help us NOW?

---

Check out the Signs of the Times Archives

Send your comments and article suggestions to us

---
Fair Use Policy
Contact Webmaster at signs-of-the-times.org
Cassiopaean materials Copyright ©1994-2014 Arkadiusz Jadczyk and Laura Knight-Jadczyk. All rights reserved. "Cassiopaea, Cassiopaean, Cassiopaeans," is a registered trademark of Arkadiusz Jadczyk and Laura Knight-Jadczyk.
Letters addressed to Cassiopaea, Quantum Future School, Ark or Laura, become the property of Arkadiusz Jadczyk and Laura Knight-Jadczyk
Republication and re-dissemination of our copyrighted material in any manner is expressly prohibited without prior written consent.
.