---
Not enough people who care
George Bush has murdered over 10,000 Iraqis. He has condemned United States serviceman and Iraqi civilians to a short life full of pain and sickness from depleted uranium radiation. Israel has threatened to murder Arafat, igniting the world in a fire that could very well consume us all.
The CIA, in the past, has overthrown TWENTY popularly elected, fully functioning democracies, done primarily in secret, with hardly a ripple in the mass murder media. Now the psychopaths have been able to drop the mask of sanity and wage their murderous rampages in the public view. How can they get away with it?
Because not enough people care.
Bush and his ilk are mere mechanical agents of entropy. Machines. Performing the natural function of the predator. Humanity has allowed these predators free reign, with little resistance.
We see our job here at Signs of the Times as an attempt to see what is, to see objective reality. We are learning to see this objective reality as we go, and everyday we deal with the related shocks, and every day we uncover a little bit more of the terror of the situation.
One of the most shocking aspects of our work has been to realise that most people do not seem to care.
We recently received several emails telling us how we don't deal enough with spiritual issues, asking where is the joy of discovery, telling us how our work is too dark or "bitter". Instead of simply finding a site more to their liking, (the internet is vast after all) these readers feel compelled to tell us off, to show us the error of our ways. They want us to change the direction of our work.
Is it because they do not care what is happening in their world?
We live in this world, obviously, because we belong here. If we did not belong here than we would be somewhere else. Pretty simple. Before we can even begin to be able to do, to take action, we have to see what is. The vast majority of people do not want to see what is. That is fine. We consider honoring free will to be of the highest importance. Even if most of humanity do not value the free will of the Iraqis to not be invaded, the free will of the U.S. serviceman to not be poisoned, and their own free will to not be manipulated by lies and propaganda.
We do not invest our time and energy in the Signs of the Times page for those who do not value free will. Who do not care about their fellow human beings. Who do not care about being manipulated by lies. Who do not care enough to give a lie what it asks for - the truth.
We do it for those who want to accompany us on a journey. Who want to share in the unveiling of objective reality, for we are learning right along with you. For the record, we have received more emails from supporters of the Signs page than we have from those who find it distasteful, and it helps. It shows that there are still, even if a minority, of human beings who care. We are all on the quest for something of real beauty - The Truth.
We can certainly understand the perspective of those who write us and want us to change direction. It is shocking and painful to see our reality for what it is - the domain of the predator. Not only the predator out there, but the predator within, from which none of us are immune. The predator whispers, 'everything will be okay, the earth is still here, 'twas ever so', war is hell,' etc. etc.
But the only way this site can continue, despite the attacks, is if there are enough people who care.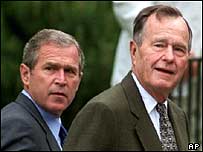 Ex-president backs war on terrorism

By Peter Biles
BBC world affairs correspondent

The former US President, George Bush Senior, says the war against terrorism must continue to be fought.
In an interview for Sunday morning's Breakfast With Frost programme on BBC One, Mr Bush says the United States and her allies are in this for "the long haul".
Two years after the 11 September attacks on New York and Washington, Mr Bush says America is in better shape - not only to avoid terrorism - but to withstand it.
However, the former president admits the war on terror can never be said to be over, and says this is now being seen inside Iraq.
Flashback
The Best Enemies Money Can Buy
Michael C. Ruppert
From The Wilderness
Oct. 9, 2001

From Hitler To Saddam Hussein to Osama bin Laden - Insider Connections and the Bush Family's Partnership with Killers of Americans
Brown Brothers, Harriman - BNL- and the Carlyle Group
Since the Sept. 11 attacks on the World Trade Center and the Pentagon, major media powerhouses and the increasingly influential alternative media alike have begun to focus attention on Bush family connections and a long history of arming and financing America's attackers in the months and years prior to the outbreak of war. Recent stories in the Wall Street Journal (Sept. 27 & 28, 2001), ABC News (Oct. 1, 2001), as well as a host of reports from so-called alternative news sources have begun to focus attention on the Bush family's profit-making role in creating and arming our enemies. [...]
Big Bush's Visit Fuels Talk of Big Deals
By Catherine Belton
Moscow Times
He may be retired from public life but George Bush seems to cause a stir every time he comes to Russia.
You name it and market players were buzzing Thursday about the real reasons behind the former American leader's visit -- an $18 billion play by U.S. oil giant ChevronTexaco for a blocking stake in the new Yukos-Sibneft combo? The launch of a $500 million private tie-up between Alfa Group and Pentagon-connected Carlyle Group? Divvying up the hydrocarbon resources of postwar Iraq?
Late Wednesday, before Bush Sr. had even left, traders in New York had already heard word that he was heading to Russia to help clear the way for the sale of a strategic stake in YukosSibneft to ChevronTexaco, which named one of its tankers after Condoleezza Rice, a former board member who is now his son's national security adviser. [...]
Comment: The man looks like he can barely walk yet he can't stop himself from making sleazy deals that involve murder and environmental destruction. The world knows what he is all about, but do most Americans?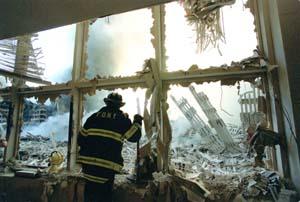 WHY DON'T WE HAVE ANSWERS TO THESE 9/11 QUESTIONS?
By WILLIAM BUNCH
The Philiadelphia News

Firefighter looks out window at Ground Zero. Photo, Jim MacMillan, Daily News NO EVENT IN recent history has been written about, talked about, or watched and rewatched as much as the terrorist attacks of Sept. 11, 2001 - two years ago today.
Not only was it the deadliest terrorist strike inside America, but the hijackings and attacks on New York City's World Trade Center and the Pentagon in Washington were also a seminal event for an information-soaked media age of Internet access and 24- hour news.
So, why after 730 days do we know so little about what really happened that day? [...]
Comment: Is it because not enough people have a taste for things that are true?
Killing Arafat is an option: Israel vice premier

14/09/2003 - 11:38:09
Israel's vice prime minister today said that killing Yasser Arafat is an option being considered following a decision to "remove" the Palestinian leader.
"Killing (Arafat) is definitely one of the options" open to the army after last week's decision by Israel's security Cabinet to "remove" him, vice premier Ehud Olmert told Israel Radio.
The statement echoed threats by other Israeli leaders who have said they are keeping options open as to whether the decision means Arafat will be expelled, further isolated at his West Bank compound or dealt with more harshly.
But Olmert, considered a likely future candidate for premier, is the closest official to Prime Minister Ariel Sharon so far to state that Arafat might be killed. [...]
Arafat Says Israelis Are Trying to End Palestinian Self-Rule
By JAMES BENNET
The New York Times
JERUSALEM, Sept. 13 - Yasir Arafat, the Palestinian leader, accused Israel today of seeking to destroy Palestinian self-rule with its intention, declared on Thursday, to "remove" him, but Israeli officials defended the policy as legitimate self-defense. [...]
But Raanan Gissin, the spokesman for Prime Minister Ariel Sharon, said, "Israel has the right, as do other countries, to use Article 51, the right of self-defense, to remove an obstacle to peace." Article 51 of the United Nations Charter gives member countries the right to defend themselves, individually or collectively, against armed attack.
Israel accuses Mr. Arafat of direct involvement in terrorism, which he denies. Some Israeli officials argued that Israel was doing what the United States had done in Iraq, though, one noted acidly, Saddam Hussein, unlike Mr. Arafat, "wasn't 7 miles, 10 miles away from their major population centers." [...]
Israel on agenda for UN nuclear watchdog meeting

VIENNA (AFP) Sep 14, 2003


Arab countries will almost certainly attack Israel for allegedly possessing nuclear weapons when the 136 nations of the UN's nuclear watchdog meet in Vienna Monday, diplomats said.
But the annual, week-long conference is not expected to make new decisions about either Israel or other thorny issues for the International Atomic Energy Agency (IAEA), such as the verification of the nuclear programs in Iran, Iraq and North Korea, spokesman Mark Gwozdecky told AFP. [...]
A Western diplomat close to the IAEA said Middle Eastern states have in the past used the conference as a forum to vent their frustration over Iran and Iraq being attacked for alleged nuclear capabilities while the IAEA does nothing against Israel, which is believed to have developed nuclear weapons and has not signed the nuclear Non-Proliferation Treaty.
The Iranian ambassador to the IAEA Ali Akbar Salehi expressed this bitterly when he reacted to the agency imposing a deadline on Iran by saying it was unfair that "among those who have pursued and produced nuclear weapons ... Israel gets away with murder." [...]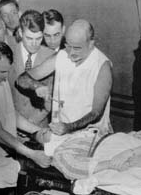 The History of Lobotomy
Renato M.E. Sabbatini, PhD
Brain & Mind Magazine, June 1997
[...] Freeman was very good in convincing the general press about the promises of the prefrontal lobotomy (as he called it now), and almost singlehandedly pushed it as a valid therapeutic procedure across the nation's insane asylums, hospitals and psychiatric clinics.
Lobotomy took America and some other countries by storm. They were performed in a wide scale in the 40s, because the mental asylums were brimming over with cases after the Second World War. Between 1939 and 1951, more than 18,000 lobotomies were performed in the United States, and tens of thousands more in other countries. It was widely abused as a method to control undesirable behavior, instead of being a last-resort therapeutic procedure for desperate cases. In Japan, the majority of the operated cases were children, many of whom had only problematic behavior or a bad performance at the school. Inmates in prisons for the insane were widely operated. Families trying to get rid of difficult relatives would submit them to lobotomy. Rebels and political opponents were treated as mentally deranged by authorities and operated. Amateur surgeons would often perform hundreds of lobotomies without even doing a systematic psychiatric evaluation.
In 1949, Dr. Antônio Egas Moniz was awarded the Nobel Prize for Medicine and Physiology, in recognition of his creation of the prefrontal leucotomy, This had the effect of making lobotomy a respectable procedure, and as a result, in the ensuing three years, more lobotomies were performed than in all previous years. [...]
Comment: Is there still any doubt that this is the predator's world? Nowadays there is no need to go through the messy procedure, we can just drug difficult family members.
US troops ignored pleas as they cut down Iraqi police

SUN 09.14.2003
Telegraph.co.uk

Anguished pleas failed to prevent American troops firing for more than an hour on a convoy of Iraqi police yesterday, according to survivors of the worst "friendly fire" incident since the end of the war.
The incident in Falluja, in the notorious "Sunni triangle", a hotbed of criminals and supporters of Saddam Hussein, began when police noticed a white BMW car, believed to belong to robbers who prey on traffic on the nearby highway, parked in the centre of town.
Comment: More than an hour?? And this is supposedly an accidental "friendly fire" incident??
A hail of bullets, a trail of dead, and a mystery the US is in no hurry to resolve

Robert Fisk
09/13/03: (The Independent)
A human brain lay beside the highway. It was scattered in the sand, blasted from its owner's head when the Americans ambushed their own Iraqi policemen.
A few inches away were a policeman's teeth, broken but clean dentures, the teeth of a young man. "I don't know if they are the teeth of my brother - I don't even know if my brother is alive or dead," Ahmed Mohamed shouted at me. "The Americans took the dead and the wounded away - they won't tell us anything."
Ahmed Mohamed was telling the truth. He is also, I should add, an Iraqi policeman working for the Americans.
United States forces in Iraq officially stated - incredibly - that they had "no information" about the killing of the 10 cops and the wounding of five others early yesterday morning. Unfortunately, the Americans are not telling the truth.
Soldiers of the 3rd Infantry Division fired thousands of bullets in the ambush, hundreds of them smashing into the wall of a building in the neighbouring Jordanian Hospital compound, setting several rooms on fire.
And if they really need "information", they have only to look at the 40mm grenade cartridges scattered in the sand near the brains and teeth.
On each is printed the coding "AMM LOT MA-92A170-024". This is a US code for grenades belt-fired from an American M-19 gun.
And out in Fallujah, where infuriated Iraqi civilians roamed the streets after morning prayers looking for US patrols to stone, it wasn't difficult to put the story together. The local American-trained and American-paid police chief, Qahtan Adnan Hamad - who confirmed that 10 died - described how, not long after midnight, gunmen in a BMW car had opened fire on the mayor's office in Fallujah.
Two squads of the American-trained and American-paid police force - from the local Fallujah constabulary established by US forces last month and the newly constituted Iraqi national police - set off in pursuit.
Since the Americans will not reveal the truth, let Ahmed Mohamed, whose 28-year-old brother, Walid, was one of the policemen who gave chase, tell his story.
"We have been told that the BMW opened fire on the mayor's office at 12.30am. The police chased them in two vehicles, a Nissan pick-up and a Honda car and they set off down the old Kandar road towards Baghdad.
"But the Americans were there in the darkness, outside the Jordanian Hospital, to ambush cars on the road. They let the BMW through, then fired at the police cars."
One of the policemen who was wounded in the second vehicle said the Americans suddenly appeared on the darkened road.
"When they shouted at us, we stopped immediately," he said. "We tried to tell them we were police. They just kept on shooting."
The latter is true. I found thousands of brass cartridge cases at the scene, piles of them like autumn leaves glimmering in the sun, along with the dark-green grenade cartridges. There were several hundred unfired bullets but - far more disturbing - was the evidence on the walls of a building at the Jordanian Hospital. At least 150 rounds had hit the breeze-block wall and two rooms had burnt out, the flames blackening the outside of the building.
Therein lies another mystery that the Americans were in no hurry to resolve. Several Iraqis said a Jordanian doctor in the hospital had been killed and five nurses wounded. Yet when I approached the hospital gate, I was confronted by three armed men who said they were Jordanian. To enter hospitals here now, you must obtain permission from the occupation authorities in Baghdad - which is rarely, if ever, forthcoming.
No one wants journalists prowling round dismal mortuaries in "liberated" Iraq. Who knows what they might find?
"The doctors have gone to prayer so you cannot come in," an unsmiling Jordanian gunman at the gate told me.
On the roof of the shattered hospital building, two armed and helmeted guards watched us. They looked to me very like Jordanian troops. And their hospital is opposite a US 3rd Infantry Division base. Are the Jordanians here for the Americans? Or are the Americans guarding the Jordanian Hospital? When I asked if the bodies of the dead policemen were here, the armed man at the gate shrugged his shoulders.
So what happened? Did the Americans shoot down their Iraqi policemen under the mistaken impression that they were "terrorists" - Saddamite or al-Qa'ida, depending on their faith in President George Bush - and then, once their bullets had smashed into the hospital, come under attack from the Jordanian guards on the roof?
In any other land, the Americans would surely have acknowledged some of the truth.
But all they would speak of yesterday were their own casualties. Two US soldiers were killed and seven wounded in a raid in the neighbouring town of Ramadi when the occupants of a house fired back at them.
It gave the impression, of course, that American lives were infinitely more valuable than Iraqi lives.
And had the brains and teeth beside the road outside Fallujah been American brains and teeth, of course, they would have been removed. There were other things beside the highway yesterday.
A torn, blood-stained fragment of an American-supplied Iraqi policeman's shirt, a primitive tourniquet and medical gauze and lots and lots of dried, blackened blood. The 3rd Infantry Division are tired, so the story goes here. They invaded Iraq in March and haven't been home since. Their morale is low. Or so they say in Fallujah and Baghdad.
But already the cancer of rumour is beginning to turn this massacre into something far more dangerous.
Here are the words of Ahmed, whose brother Sabah was a policeman caught in the ambush and taken away by the Americans - alive or dead, he doesn't know - and who turned up to examine the blood and cartridge cases yesterday. "The Americans were forced to leave Fallujah after much fighting following their killing of 16 demonstrators in April. They were forced to hire a Fallujah police force. But they wanted to return to Fallujah so they arranged the ambush. The BMW 'gunmen' were Americans who were supposed to show there was no security in Fallujah - so the Americans could return. Our police kept crying out: 'We are the police - we are the police'. And the Americans went on shooting." [...]
But why did the Americans kill so many of their own Iraqi policemen? Had they not heard the radio appeals of the dying men? Why - and here the story of the Jordanian Hospital guards and the policemen's relatives were the same - did the Americans go on shooting for an hour and a half? And why did the Americans say that they had "no information" about the slaughter 18 hours after they had gunned down 10 of the very men that President Bush needs most if he wishes to extricate his army from the Iraqi death trap?
Toronto Muslim clerics want apology from U.S.
CBC News Online
Last Updated Sat, 13 Sep 2003 22:50:42
TORONTO - Two Muslim clerics from Toronto want the United States to apologize for holding them in Florida on Thursday – the second anniversary of the Sept. 11 attacks on New York and Washington.
And the Muslim Canadian Congress (MCC) was so offended by the treatment of the two men that it is advising Muslims not to travel to the United States.
"You get a feeling that in the United States any Muslim is fair game," said Tarek Fatah, a founder of the MCC.
Ahmad Kutty and Abdul Hamid were flying to Orlando when they were arrested during a stopover in Fort Lauderdale on Thursday. The men were interrogated for 16 hours and kept in jail until Friday, when they returned to Toronto.
U.S. officials said the men were a security concern. Hamid said a FBI officer told him that his name "sounded similar to the names of some people on the list of suspects." [...]
U.S. Apology Doesn't Appease Angry Iraqis
By HAMZA HENDAWI, Associated Press Writer
September 14, 2003
FALLUJAH, Iraq - Angry mourners swarmed this central Iraqi city Saturday, firing into the air, attacking journalists and cursing the American occupation as they followed the flag-draped coffins of eight Iraqi police killed in a friendly fire incident involving U.S. troops.
The U.S. military apologized Saturday for the shooting that killed nine people — the eight Iraqis and a Jordanian guard — and badly damaged a hospital. U.S. troops only opened fire after they were attacked "by unknown forces," the military said. [...]
"We have had enough of the Americans killing us and then just saying 'Oh, sorry!'" said Salam Mohammed, 60, a Fallujah resident and a relative of some of the victims.
"We want the Americans to leave our country because they have brought us only death," said Taleb Hameed, a 30-year-old schoolteacher. "We are fed up with their apologies. We will continue our resistance." [...]
Powell Visits Baghdad for First Time
US soldier dies in Iraq attack
US and Britain isolated as Iraq angrily buries its dead
By Rupert Cornwell in Washington, Andy McSmith and Jo Dillon in London
14 September 2003
Bitter divisions re-emerged yesterday among the world's five most powerful countries about how soon America is prepared to return power to the Iraqi people.
The United States slapped down as unacceptable a French plan to end its occupation within a month, although Colin Powell, the US Secretary of State, talked down the differences after the Geneva meeting of the United Nation's big five. [...]
The failure of the occupying forces to bring law and order to the country and the ability of the Iraqi resistance to strike with near-impunity are also galvanising international opinion against America and Britain. [...]
America's hidden battlefield toll
New figures reveal the true number of GIs wounded in Iraq
Jason Burke in London and Paul Harris in New York
Sunday September 14, 2003
The Observer
The true scale of American casualties in Iraq is revealed today by new figures obtained by The Observer, which show that more than 6,000 American servicemen have been evacuated for medical reasons since the beginning of the war, including more than 1,500 American soldiers who have been wounded, many seriously.
The figures will shock many Americans, who believe that casualties in the war in Iraq have been relatively light. Recent polls show that support for President George Bush and his administration's policy in Iraq has been slipping.
Straw 'begged Blair' not to join Iraq war
Sun 14 Sep 2003
Brian Brady

Book claims he did not want Britain to enter war.

TONY Blair found himself embroiled in a fresh Iraq crisis last night after it was claimed Foreign Secretary Jack Straw made a desperate last-minute plea for him to call off the war.
Just days before the fighting started, Straw begged the Prime Minister not to send British troops into action, according to a new book on the affair.
The hugely damaging allegations emerged last night just hours after hundreds of Iraqis fired shots in the air and chanted "America is the enemy of God" following the burial of 10 Iraqi policemen killed accidentally by US troops. [...]
Poll shows mourning Swedes tipping to euro
Andrew Osborn in Stockholm
Sunday September 14, 2003
The Observer
An extraordinary outpouring of grief for Anna Lindh has caused traumatised Sweden to swing in favour of the euro, according to a poll yesterday, setting the stage for a nerve-jangling vote today.
In a dramatic move with potentially huge implications for the two other 'outs', Britain and Denmark, a Gallup poll gave the yes camp a one percentage point lead over the no camp for the first time since December last year.
Numbed with shock that their passionately pro-euro Foreign Minister could be stabbed in broad daylight, many Swedes appeared to be forgetting their scepticism towards the single currency. [...]
Comment: Emotional manipulation on a mass scale? Has someone been studying US government/media tactics?

by Thom Hartmann

Imagine a bomb that only kills Caucasians with red hair. Or short people. Or Arabs. Or Chinese.
Now imagine that this new bomb could be set off anywhere in the world, and that within a matter of days, weeks, or months it would kill every person on the planet who fits the bomb's profile, although the rest of us would be left standing. And the bomb could go off silently, without anybody realizing it had been released - or even where it was released - until its victims started dying in mass numbers.
Who would imagine such a thing?
Paul Wolfowitz, for one. William Kristol for another.
And, history shows, when the men who define U.S. military policy from the shadows set their sights on something, it's worthy of our attention.[...]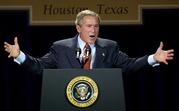 U.S. Seeks Expansion of Terror Subpoenas
By CURT ANDERSON
Associated Press Writer
WASHINGTON (AP) -- To aid the fight against terrorism, the Bush administration wants to add a subpoena power that does not require federal investigators to seek approval from a judge or grand jury. [...]
Wolfowitz Backs Off Claim of Al Qaeda-Baathist Plots to Kill Americans
Friday , September 12, 2003
WASHINGTON — The Pentagon's No. 2 official retreated Friday from his assertion that key lieutenants of Al Qaeda leader Usama bin Laden are plotting with Saddam Hussein loyalists to kill Americans in Iraq. [...]
Wolfowitz made his assertion Thursday after an ABC interviewer asked why the administration had put resources into the campaign in Iraq, which the interviewer said had nothing to do with the Sept. 11 attacks, while bin Laden was still at large. [...]
Wolfowitz argued long before the war against Iraq that Saddam had weapons of mass destruction, which he would sooner or later share with Al Qaeda or other terrorists bent on targeting America. No such weapons have been found. [...]
Comment: In this article Wolfy who is, "an architect of U.S. policy in Iraq" said Friday in an interview with The Associated Press that he had "misspoken." That's all, just a little slip. Nothing to see here. Move on. Will someone make them accountable for the muders this regime has committed, or do they just get to brush them off as little "misspeaks"?
Ashcroft Tries to Hide From Court Testimony

By The Associated Press
Sep 13, 2003

DETROIT - A lawyer for the government said Friday that U.S. Attorney General John Ashcroft should not be required to appear in federal court to explain why he violated a judge's gag order during a terrorism trial. Two weeks ago, U.S. District Judge Gerald Rosen ordered Ashcroft to respond to a motion filed by lawyers for three men who were convicted in June on various charges.
The lawyers said comments by Ashcroft in April during the trial - praising a government informant who testified against the men - had jeopardized their clients' right to a fair trial. Ashcroft said the informant had been "a critical tool" in efforts to combat terrorism.
The response filed Friday by U.S. Attorney Jeffrey Collins said Ashcroft did not willfully disobey the gag order, that his comments had not tainted the jury, and his actions were not sufficient to justify the "extraordinary step" of compelling him to testify in Detroit.
Collins also argued that Ashcroft did not praise the informant or vouch for his credibility as a witness, but instead used him as an example of how information from informants was being used in the war on terrorism.
Comment: Black is white, war is peace. A nice example of truth twisting. Ashcroft did not directly praise the defendant, he merely said he was a "a critical tool in efforts to combat terrorism." Which in the minds of the terrified American public amounts to high praise indeed
U.S. Faces Big Illegal Immigrant Problem
By LOLITA C. BALDOR
Associated Press Writer
September 13, 2003, 10:46 AM EDT
BOSTON -- The federal government is falling far short of its post-Sept. 11 goal of removing nearly 400,000 illegal immigrants from the United States over the following six years.
The $10 million approved in April for nine new federal enforcement teams has been released, but the positions have yet to be filled. No new money is proposed for the budget year that begins Oct. 1.
An internal immigration agency document estimated it will take 240 new teams over the next four years to round up foreigners who have ignored orders to leave the country.
"The numbers are growing at an alarming rate -- for every 10 final orders (of deportation) issued, we're removing six people," said Anthony Tangeman, director of the Bureau of Immigration and Customs Enforcement's detention and removal operations in Washington. "We don't have the capability to remove all the removable aliens. We're not going to get to where we need to go in my lifetime, or at least in my career as director of this program."
The 19 hijackers involved in the attacks of Sept. 11, 2001, traveled to the United States on valid visas; two were in the country illegally at the time of the attacks.
Democrats' dark horse will declare his hand this week
By Rupert Cornwell in Washington
The Independent
14 September 2003
The waiting is almost over. By the end of the week General Wesley Clark, former supreme commander of Nato, and potential dark horse of the Democratic presidential field, will reveal whether he will challenge President Bush for the White House in 2004.
For months now, the subject of Gen Clark's future has been one of the more intriguing sub-plots of American politics. Intense, telegenic and indisputably clever, the general, 58, has stalked TV studios, business conventions and the early primary states of Iowa and New Hampshire, making weighty speeches on America's future, but refusing to say even whether he was a Democrat or a Republican. [...]
Now the procrastination is about to end. Unless the collective political wisdom here is very much mistaken, the Arkansas-born former Rhodes scholar will throw his hat into the ring when he addresses the University of Iowa on Friday. Given America's propensity for electing soldiers, he has some reason to hope. [...]
China deploys 150,000 troops on NKorean border: report

HONG KONG (AFP) Sep 14, 2003
China has deployed up to 150,000 troops on its border with North Korea to deter Pyongyang's nuclear build-up and to stifle mounting violence from rogue North Korean soldiers, a report here said Sunday.
Hong Kong's Sunday Morning Post cited an unidentified security source in China as saying five divisions of Chinese People's Liberation Armytroops had been deployed in Yanbian Korean Autonomous Prefecture, bordering North Korea, since last month.
Large troop movements and new military barracks have also been seen in the border towns of Hanchun, Tumen, Kaishan, Sanhe and Baijing, while air force jets have frequently been seen flying over the capital Yanji, some 40 kilometres (25 miles) from the border, the report said. [...]
France accused as UN summit on Iraq stalls
By David Wastell, Diplomatic Correspondent
The Telegraph
(Filed: 14/09/2003)
Foreign ministers of the five permanent members of the United Nations Security Council failed to overcome differences on a timetable for handing over power in Iraq yesterday as France came under fire for making "unrealistic" demands. [...]
There was no sign, however, that France was backing down from its insistence that the coalition must hand over all powers to the interim Iraqi authority within a month - a deadline Britain and America regard as impossible. [...]
Comment: Of course it is impossible. Nobody really believed that the Bush Reich was planning to actually bring democracy to the Iraqi's, did they?
Dance of death on bloody Saturday
- Kuka Parray shot in third weekend hit
MUKHTAR AHMAD AND SEEMA GUHA
The Calcutta Telegraph
Srinagar/Delhi, Sept. 13: Kuka Parray, the father of the counter-insurgency movement in Kashmir, was killed in an audacious militant strike on the third blood-splattered Saturday in the state in a row. [...]
Bomb threats close Germany's No 3 airport

14/09/2003
Germany's third busiest airport was closed today after receiving several bomb threats, forcing some 64,000 holiday travellers to be re-routed, German authorities said.
Dusseldorf international airport received several calls to its switchboard threatening to blow up specific aircraft and the airport, said Wolfgang Heimann, a spokesman for the German border police, who are in charge of airport security. [...]

WTO draft document one-sided: India
PTI [ SUNDAY, SEPTEMBER 14, 2003 09:48:14 AM ]
CANCUN: India alongwith Brazil spearheaded the developing countries battle at the WTO on Sunday, attacking the draft document that was seen by them as one sided in favour of the EU and US and ignoring their interests.

Without mincing words, Commerce Minister Arun Jaitley expressed disappointment that the revised draft "arbitrarily disregarded views and concerns" of developing countries and warned that the text did not lend itself to any meaningful dialogue. [...]
'Snoopers' charter' unveiled (UK)
BBC

Government agencies will be able to access e-mail and phone data, under measures unveiled by ministers. [...]
In a separate development phone companies and internet service providers will be told by the government to keep records of phone calls and internet visits for a year. [...]
Journalist found dead in bay/Author of organized crime book bound with rope, chain
Yomiuri Shimbun
The body of a man who had written a book on Chinese organized crime groups in Shinjuku, Tokyo, was found floating Friday morning near a pier in Koto Ward, Tokyo, off Tokyo Bay.
Police identified the man as Satoru Someya, a 38-year-old freelance journalist from Toshima Ward, Tokyo.
Someya's body was wrapped with a chain attached to several weights, and his hands were bound with rope, the police said. He had suffered fractures to his skull and had eight stab wounds in his back. [...]

Journalist death threat claim
SATURDAY 13/09/2003
By:Press Association
Loyalist paramilitaries have threatened to kill a journalist with a nationalist newspaper based in north Belfast, it has been claimed.

According to Mairtin O' Muilleor, managing editor of the Andersonstown News, police visited the offices of the North Belfast News yesterday to warn the photographer that his life was under threat.
Mr O' Muilleor said it was the latest in a number of threats by the Ulster Defence Association in north Belfast aimed at stopping the paper's staff reporting on its activities. [...]
Mugabe closes down critical newspaper
Andrew Meldrum in Pretoria
Sunday September 14, 2003
The Observer
Zimbabwe faces intensified isolation by the international community, particularly the Commonwealth, after the Mugabe government closed the country's only independent daily newspaper.
Armed police stormed the offices and printing press of the Daily News, the country's largest circulation paper, late on Friday night to prevent it from publishing yesterday.
'We have been closed down. This is an unprecedented attack on press freedom,' said Francis Mdlongwa, the paper's editor-in-chief. 'We know that Zimbabwe is collapsing and that there's an attack on independent institutions but we never thought that they would go this far. This is totally unacceptable.' [...]
At least 1,000 flu cases misdiagnosed as Sars in Beijing
AFP
Sept 13, 8.31 pm

BEIJING -- More than 1,000 flu patients in the Chinese capital Beijing have been misdiagnosed as having Sars so far this year, state media reported on Saturday.
The reason is influenza looks very similar and may take up to two days to diagnose correctly, the China Daily reported, citing Mr Guo Yuanji, director of the Flu Centre under the Chinese Centre for Disease Control and Prevention. [...]
As many people as possible should get flu inoculations to prevent confusion if the virus reemerges, as many fear it will once the weather turns colder, he argued. [...]
Typhoon Maemi Leaves 110 Dead or Missing in S.Korea
Sun September 14, 2003 03:45 AM ET
By Judy Lee
SEOUL (Reuters) - South Korea's most powerful typhoon on record left at least 110 dead or missing, knocking down buildings, smashing ships and triggering floods that forced 25,000 from their homes. [...]
Television footage showed giant container cranes twisted into pretzel shapes, a row of shredded seaside shops, overturned cars floating down streets turned into rivers and buckled roads and bridges. [...]
Associated Press
09:19 Sunday 14th September 2003
Heavy rains have killed at least 28 people in India's largest state.
Officials said the rainfall in Uttar Pradesh caused houses to collapse and rivers to inundate thousands of villages.
Senior relief officer Mahesh Dwivedi said more than 2,700 villages have been affected and approximately 2.5 million people have been moved to safer areas. [...]
This year's unusually heavy monsoon rains have also battered India's neighbours. [...]
Sunday, September 14, 2003 Posted: 0942 GMT
(CNN) -- Hurricane Isabel swirled in the Atlantic on Saturday night, packing winds near 160 mph (256 kph) as it sidled up to the eastern Caribbean, the National Hurricane Center in Miami, Florida, said.
At 11 p.m. EDT, the center of the hurricane was about 350 miles (560 kilometers) north-northeast of San Juan, Puerto Rico. Isabel had grown somewhat, with hurricane-force winds extending about 90 miles (144 kilometers) outward from the eye, according to an earlier advisory.
Danube's record low level puts shipping companies in troubled water
ZAGREB (AFP) Sep 13, 2003
A severe drought which has hard hit large parts of Europe also caused dramatically low levels of the Danube river, making its navigation difficult and puting shipping companies in trouble.
The waters of the Danube, Europe's second longest river and a major commercial link between the continent and the Black Sea, have dropped to such a low level that virtually all riverine shipping companies have been forced to load ships and barges below their capacity. [...]
Frenchman gets jail term for starting forest fires
TERRA.WIRE
PERIGUEUX, France (AFP) Sep 12, 2003
A 44-year-old man was handed a one-year prison sentence on Friday for starting eight fires that destroyed woodlands in France's southwestern Dordogne region. [...]
From correspondents in Tulsa, Oklahoma
13sep03
A US teenager was kidnapped and tortured for six days of beating and chemical injections in a US hotel room by his former girlfriend and her vengeful husband, authorities said today. [...]
Suit claims prisoners tortured by officers
By STEVE BOUSQUET
St. Petersburg Times
TALLAHASSEE - A group of prison inmates filed suit Friday, accusing state correctional officers of "maliciously and sadistically" dousing them with pepper spray and tear gas while they sat in their locked cells. [...]
L.A. County safety officer arrested on molestation charges
Saturday, September 13, 2003
By The Associated Press
Deputies arrested a 27-year-old county safety police officer at his job Friday on a warrant alleging 25 felony counts of child molestation, officials said.
Carlos Fernando Salcedo, who works at the Harbor-UCLA Medical Center near Torrance, was arrested by deputies executing a warrant filed by the District Attorney's Office, said Sgt. Paul Patterson of the Los Angeles County Sheriff's Department. [...]
Eurosceptic hails Lindh murder
By Daniel Foggo
The Telegraph
(Filed: 14/09/2003)
A prominent British Eurosceptic has described the murder of the Swedish foreign minister Anna Lindh as the act of a "patriot" and called upon other anti-euro campaigners to be prepared to take similar action against government figures here.[...]
Comment: More and more psychopaths are loosing their fear of the dark and are streaming out in to the light of day.
Wounded billed for hospital food
By BILL ADAIR, Times Staff Writer
St. Petersburg Times

WASHINGTON - After a grenade exploded inside his Humvee in Iraq, Marine Staff Sgt. Bill Murwin was treated at a military hospital in Germany and spent four weeks at the National Naval Medical Center in Bethesda, Md. Part of his left foot was amputated.
His medical care was free, but the government billed him $243 for the food.
Then, just three days after he received his first bill for the hospital food in Germany, he got a stern letter saying the bill was overdue. It warned that his account would be referred to a collection agency.
Murwin, like thousands of other military personnel hospitalized every year, is expected to reimburse the government $8.10 per day for food. That's standard procedure because of a law Congress passed in 1981. But it has angered many military families over the years. [...]
God inspires futuristic drone designs
PTI [SUNDAY, SEPTEMBER 14, 2003 01:13:12 PM]
NEW DELHI: Nature seems to have finally caught up with the unparalled technological strides made by the US in the defence arena with its redoubtable air force now eyeing very ordinary birds and bees for designing futuristic unmanned air vehicles (UAVs). [...]
"The idea is to leverage off (living organisms) to see how much simpler we can make things and still do something militarily useful," he elaborated. [...]
Comment: Practically a psychopathic motto: learn from nature and twist it until it can be used for destruction.
Youths bash 200 chickens to death
UP to 200 chickens were bludgeoned to death with a golf club overnight at a poultry farm south of Brisbane. [...]
Barbie deemed a threat to morality by Saudi Arabia's religious police
By SARAH EL-DEEB
DUBAI, United Arab Emirates (AP) - Saudi Arabia's religious police have declared Barbie dolls a threat to morality, complaining that the revealing clothes of the "Jewish" toy - already banned in the kingdom - are offensive to Islam.
The Committee for the Propagation of Virtue and Prevention of Vice, as the religious police are officially known, lists the dolls on a section of its Web site devoted to items deemed offensive to the conservative Saudi interpretation of Islam. [...]
Shanghai 'sinking' from skyscrapers

By Rupert Wingfield-Hayes
BBC, Beijing
Saturday, 13 September, 2003, 11:32 GMT
China's largest city, Shanghai, is to slash construction of new high-rise buildings to try and stop the city from sinking under the weight of all the concrete and steel.

Parts of Shanghai are now sinking at a rate of one-and-a-half centimetres a year, largely as a result of a massive building boom there over the last 10 years. [...]
British Atlantis foun d on sea bed

DAILY MAIL
13sep03
LONDON – An archaeologist diving in the North Sea has stumbled on the remains of an ancient civilisation dubbed the British Atlantis.
Dr Penny Spikins of Newcastle University was on a diving training exercise near Tynemouth, Northumberland, when she saw signs of a lost civilisation on the sea bed. She found artefacts made of flint, including parts of arrow heads and blades as well as tools used for scraping hides.[...]
PREHISTORIC ARCHEOLOGICAL MONUMENT IN EXCAVATIONS IN SVERDLOVSK REGION
YEKATERINBURG, September 12, 2003.
(RIA Novosti- Ural) - An expedition of Yekaterinburg archeologists are carrying out excavations of an prehistoric archeological monument, said the regional research-and-excavation center for the protection of historical and cultural monuments.
Archeologists believe that this monument, over 30,000 years old and dating back to the Middle Paleolithic, is the oldest in the territory of the region. It was the site of prehistoric men, hunting the mammoth, wooly rhinoceros and reindeer. Among the finds are ivory and stone articles of everyday life, mammoth-tusk decorations and an ornamented fragment of reindeer horn.
By Geoffrey Lean, Environment Editor.
14 September 2003
Mobile phones and the new wireless technology could cause a "whole generation" of today's teenagers to go senile in the prime of their lives, new research suggests [...]
Texas Mulls How Biology Should Be Taught
By APRIL CASTRO
The Associated Press
Thursday, September 11, 2003
AUSTIN, Texas - Scientists, teachers and religious leaders are clashing over how the origin of humanity should be taught to Texas school children in biology textbooks.[...]
Mysterious crop circle appears near Kendal
By Andy Bloxham
A MYSTERIOUS crop circle has appeared in a South Lakeland wheat field reports Andy Bloxham.
The strange mark, a series of four concentric circles, has appeared in a 65-acre field at Old Hutton, near Kendal, leaving passers-by to wonder whether it is the work of pranksters or something more sinister. [...]
HUNDREDS of Australians may not know their brains are infested with a rare sharp-toothed parasite caught from eating undercooked river fish. [...]
Football Game Forfeited Because Of Confederate Flag
STRONGHURST, Ill. -- A Saturday football game between the Longwood campus of the Chicago International Charter School and Stronghurst Southern in Henderson County was forfeited because of a dispute over a Confederate flag. [...]

---
Remember, we need your help to collect information on what is going on in your part of the world!
We also need help to keep the Signs of the Times online.
Obviously, there are a lot of folks out there who do NOT like what we are doing - our own special brand of news coverage - and they are working day and night to create almost insurmountable problems for us, designed to grind us down and render our plans to be able to increase our production (which include a weekly radio show that is currently in the implementation stage) impossible to bring to fruition. We are coming under increasing pressure from many directions all at once.
Our need for financial support has never been greater, including support for legal initiatives to halt the madness of several of the para-COINTELPRO activities currently launched against us. These operations are designed to create a platform to justify utilizing police state tactics so as to silence, and even ultimately, destroy us.
Please: We need your help.
The campaign of lies and disinformation would be frightening under normal circumstances; considering the present state of the world and the machinations of the "National Security State," it is terrifying.
Please - if you have been helped by our work -
won't you help us NOW?

---

Check out the Signs of the Times Archives

Send your comments and article suggestions to us: sottSPAMNOT@cassiopaea.com
---
Fair Use Policy
Contact Webmaster at signs-of-the-times.org
Cassiopaean materials Copyright ©1994-2014 Arkadiusz Jadczyk and Laura Knight-Jadczyk. All rights reserved. "Cassiopaea, Cassiopaean, Cassiopaeans," is a registered trademark of Arkadiusz Jadczyk and Laura Knight-Jadczyk.
Letters addressed to Cassiopaea, Quantum Future School, Ark or Laura, become the property of Arkadiusz Jadczyk and Laura Knight-Jadczyk
Republication and re-dissemination of our copyrighted material in any manner is expressly prohibited without prior written consent.
.