---
Plot to assassinate Arafat feared
By Ala Mashharawi, Special to Gulf News
12-09-2003
(Ramallah) - Palestinians have thrown a tight security cordon around President Yasser Arafat fearing his assassination by unconventional means that could be construed as "a natural death", highly informed sources told Gulf News yesterday.
The new security steps include searching and close monitoring of all Arafat's visitors. The sources said that one speculated method of assassination could be the direction of poisonous rays towards Arafat's brain.
These rays can cause palpitations in the heart leading to a failure of brain resulting in gradual stop in breathing and ultimate death. [...]
"There are fears that the Mashal assassination attempt will be repeated on other leaders by a device emitting poisonous rays embedded in a video camera," the sources explained. [...]
Comment: As we pointed out in yesterday's Signs page, "The death of Arafat will open the gates of Hell and turn the Middle East into a bloodbath..."
Majority of Israelis want Arafat gone
Poll: 37% favor killing Palestinian leader, 23% support expulsion
Elite unit ready to snatch Arafat
WorldNetDaily.com
September 13, 2003 1:00 a.m. Eastern
An elite Israeli army unit has been on standby for two years, waiting for an order from political leaders to forcibly take Yasser Arafat to a foreign country.
The report by Israel Radio comes one day after Israel's security cabinet ordered the army to prepare a plan to "remove" the Palestinian leader, saying Arafat is an "absolute obstacle to the process of reconciliation between Israel and the Palestinians." [...]
Pressure mounts on Israel to pull back from Arafat expulsion
AFP
Saturday September 13, 10:20 AM

International pressure mounted on Israel to pull back from threats to expel Palestinian leader Yasser Arafat, with many countries warning that such a move would only heighten the Middle East conflict.
The United States, European Union and Russia all warned Israel against moving to put Arafat into a new exile from his West Bank base. [...]
Israel fumes as Arafat basks in international limelight
By Donald Macintyre in Ramallah
The Independent
13 September 2003
While Yasser Arafat staged his latest show for worldwide television at his Maqata headquarters in Ramallah yesterday, Israeli eyes were watching, unseen, from the eighth floor of an office block 400 yards away, across a rubble-strewn wasteland.
Just before 1.30pm - less than 24 hours after the Israeli Cabinet had vowed to "remove" him - the Palestinian Authority President walked down the steps outside his sandbagged, half-demolished office and slowly walked the 40 yards to Friday prayers in the compound's meeting room in a crush of aides, acolytes and, above all, camera crews. [...]
Israel shrugs off world outrage

Associated Press
3:24 AM EDT Saturday, Sep. 13, 2003
Jerusalem — Israeli leaders shrugged off condemnation of their decision to "remove" Palestinian President Yasser Arafat whenever they choose, saying Friday he should have been ousted long ago and the world has no right to judge a country facing constant suicide bombings. [...]
"In the early hours of this morning the phones rang from all over the world," Foreign Minister Silvan Shalom said.
"They're asking us to do nothing against Yasser Arafat. Has the world turned on its head?" [...]
U.N. Security Council warns Israel, Powell says US against removal of Arafat
12-09-2003
Albawaba.com
The UN Security Council's 15 member-nations warned Israel late on Friday against carrying out a decision to remove Yasser Arafat, setting a public meeting for Monday on the crisis in the region.
"Council members expressed the view that the removal of Mr. Arafat would be unhelpful and must not be implemented," said a statement read to reporters by Ambassador Emyr Jones Parry of Britain, the council president for September.
The Palestinians on Friday called on the U.N. Security Council to demand that Israel not expel Arafat and halt any threats to his safety.
The Security Council meeting came at the request of Angola, representing the Non-Aligned Movement of 116 mostly developing countries.
Secretary-General Kofi Annan has also urged Israel not to remove Arafat, calling it "dangerous and ounterproductive," said U.N. spokesman Fred Eckhard.
Earlier in the day, U.S. Secretary of State Colin Powell reiterated to Israel's Foreign Minister Silvan Shalom during a phone conversation that the U.S. is opposed to the implementation of a decision to expel Arafat.
Powell also called Palestinian Minister Nabil Sha'ath to inform him that the U.S. had made clear to Israel its opposition to expelling the Palestinian leader, media reports said.
White House spokesman Scott McClellan said that Powell and National Security Adviser Condoleezza Rice were in contact with Mideast officials in the region in hope of keeping the crisis from escalating further.
McClellan warned that expelling Arafat would "only serve to give him a broader stage."
Arabs urge UN action on Arafat
BBC
Friday, 12 September, 2003, 21:47 GMT

Arab and non-aligned nations have asked the United Nations Security Council to stop Israel from carrying out its threat to expel Palestinian leader Yasser Arafat. The Council met in emergency session - and described the Israeli decision as "unhelpful".
But it did not formally discuss a draft resolution circulated by Palestinian UN envoy Nasser al-Kidwa.
It will reconvene on Monday to hear a report from the UN envoy for the Middle East, Terje Roed-Larsen, followed by a debate open to all UN members. [...]
Erakat: Arafat would not survive expulsion attempt
Saturday, September 13, 2003 Posted: 0609 GMT

RAMALLAH, West Bank (CNN) -- Lead Palestinian negotiator Saeb Erakat on Friday said he believes Yasser Arafat would not survive any Israeli attempt to remove him from his compound in Ramallah where he is confined.
"I am sure, if they attempt this, the men will defend him, there will be a shootout and in the end they will end up killing him," Erakat told CNN in a phone interview.
Erakat, who had just returned from a meeting at Arafat's compound, said the Palestinian leader said "he will not accept to be deported and he will not accept to be arrested."
"I think it's very clear cut, it means that they will kill him, that's the end result," he said. [...]
Blackmailing And Diverting Attention
Ghassan Charbel
Al-Hayat 2003/09/13
Yasser Arafat has cards in his hand that make it impossible to ignore him and dangerous to eliminate him. For four decades, he has embodied the Palestinians' persistence in ending the occupation and building their state. The symbol here is more important than the president. The aura is more important than the prerogatives. Arafat's aura extends beyond the limits of the Authority he presides, the limits of the PLO executive committee he manages, and the limits of Fatah he leads, unchallenged.
Yasser Arafat holds another card that magnifies the aura of the leader of the revolution. He is a president elected by the Palestinian people. He enjoys the people's authorization through the elections, along with the authorization he obtained as leader of the Palestinian struggle. He has a third card, which is his ability to shake hands with his enemy and sign an agreement with him, if there is an opportunity to obtain the rights, or most of them, and build peace. One should not forget what happened exactly ten years ago on the White House lawn. Mahmoud Abbas wouldn't have signed with Peres had the handshake between Arafat and Rabin not been guaranteed.
For these reasons, Israel is confronted by Arafat's dilemma. He does not accept a fake peace Israel tries to impose. And Israel does not accept a reasonable peace he insists on. It has the power to undermine his authority as a president, but it cannot hinder his asset as the leader of the revolution, nor can it destroy his aura as a symbol. In ordinary days, the factions oppose him and many people don't hesitate to criticize him. But in difficult times, the Palestinians gather around him and the factions compete each other in his defense. As long as he is alive, he is a real problem for Israel. And if he falls as a martyr under the rubble of his headquarters, he would be a catastrophe for Israel and the region at large.
Let us suppose that one day we wake up to find out that Israel has expelled the elected president from his territory. What Palestinian Authority will remain? Who will be bold enough to assume the Authority? Expelling him would simply mean reverting to the situation to what it was before September 13, 1993. The return to full occupation, in all its meaning. What about the U.S., drowning in Iraq; what about its commitments and the "vision" of Bush?
Expelling Arafat wouldn't mean bringing about his end. No Arab country can ignore the fate of the expelled president. His jet, which never rested, will once again travel from capital to capital. He will once again knock on the doors of many capitals, which won't have any pretext for refusing to host him. It would be difficult for Jacques Chirac not to let him once again into the Elysée. Pope Jean-Paul II will find it impossible not to sympathize with the visitor and his cause.
Most probably, Sharon's government is aware of the dangers in killing the Palestinian leader, as well as those of expelling him. This might explain why it put on hold the decision until the 'right time' has come. It might have wanted to issue the decision in order to implicate Arafat's destiny in a very complicated game. The game starts with diverting international attention with a new issue. Instead of the world calling the Jewish state to stop killing, building the separation wall and implement its commitments according to the Roadmap, here it is calling it not to expel Arafat. Tomorrow, Israel might even collect from the U.S., Europe and other countries the price for abstaining to expel him or postponing the decision. Moreover, it might be trying to reign in Hamas, Jihad and Al-Aqsa Martyrs Brigade. Who will bear the responsibility for suicide attacks that could 'justify' Israel's expulsion of Arafat?
Israeli fire kills 80 year old Palestinian in Nablus
13-09-2003,07 :58
Israeli occupation troops, operating in Nablus' Old early Saturday, killed an elderly man who watched the fighting from a window, Palestinian witnesses said.
The Israeli army said a patrol searching for Palestinian fighters was fired on and fired back with rifles.
Witnesses saw 15 army jeeps enter the Old City in search of activist. In heavy gun-battles, the troops exchanged fire with the Palestinian fighters, witnesses said.
A resident of the city, Fathi Bolbol,80 , died from bullet wounds, said doctors at Rafidya Hospital. His son Bashar,35 , said, according to the AP, the elderly man was found dead on the floor next to his bed and that apparently he had gone to the window to see what was happening when he was struck by Israeli gunfire.
His room was riddled with bullets, his son said. (Albawaba.com)
The US's unqualified backing of Israel goes back a long way, but, writes Ahdaf Soueif*, 9/11 was the neo-cons' chance to take it one step further: full identification
America's support for Israel dates to the beginning of the Zionist project in the late 19th century and grew stronger throughout the 20th. From 1949 to the present, for every dollar the US spent on an African, it spent $250.65 on an Israeli, and for every dollar it spent on someone from the Western Hemisphere outside the US, it spent $214 on an Israeli. As Israel grows stronger the support becomes more solid. According to Stephen Zunes, chair of the Peace and Justice Studies Programme at San Francisco University, "99 per cent of all US aid to Israel took place after the 1967 War."
In the United Nations the US has used its veto against 34 resolutions related to the Arab/Israeli conflict.
US support for Israel has involved turning a blind eye not only to Israeli flouting of international law, but to Israeli anti- American activities such as: spying (Jonathan Jay Pollard 1985 and David Tenenbaum 1997), selling arms to China (1990 onwards), espionage against American companies (cited in the Wall Street Journal, 1992) and attacks on the dignity and the lives of American subjects as in the bombing of the USS Liberty in 1967, the beating by Israeli police of David Muirhead who was working on an American- financed project to restore the main street in Al-Khalil (Hebron) in 1997, the turning back of a US Congressional delegation from the Allenby Bridge in August 2002 and, in April, the Israeli army's shooting of peace activist Brian Avery in Jenin and its killing of Rachel Corrie in Rafah.
[...] Most of the US administration's and media's information on the Arabs is now derived from the Middle East Media Research Institute (MEMRI), co-founded by Meyrav Wurmser, director of the Centre for Middle East Policy at the Hudson Institute. According to the Guardian, MEMRI is connected with Israeli Army Intelligence and feeds the media and politicians with highly selective quotations from extreme Arab publications.
Pentagon official backtracks from claim linking al-Qaeda to Hussein

Associated Press
3:26 AM EDT Saturday, Sep. 13, 2003

Washington — The Pentagon's No. 2 official is backtracking from a public claim that associates of al-Qaeda leader Osama bin Laden are trying to link up with Saddam Hussein loyalists to attack Americans.
"We know it (Iraq) had a great deal to do with terrorism in general and with al-Qaeda in particular, and we know a great many of bin Laden's key lieutenants are now trying to organize in cooperation with old loyalists from the Saddam regime to attack in Iraq," Deputy Defence Secretary Paul Wolfowitz said Thursday on ABC's Good Morning America.
But Mr. Wolfowitz — a key architect of U.S. policy in Iraq — said Friday in an interview with The Associated Press that he had misspoken.
He said he was referring to only one man — Mr. bin Laden's supporter Abu Musab al-Zarqawi, one of the few names that Bush administration officials previously have cited to assert pre-war links between al-Qaeda and Iraq. [...]
Poll: U.S. worse off since 9-11
WorldNetDaily.com
September 13, 2003 1:00 a.m. Eastern
In a sharp reversal of sentiment, a plurality of Americans now believe the United States is worse off since the Sept. 11, 2001 terrorist attacks, according to a new survey.
On the second anniversary of the attacks on New York and the Pentagon, 47 percent of Americans say the United States has changed for the worse, according to pollster Scott Rasmussen.
Meanwhile, 38 percent say America is better off. [...]
In October 2001, 57 percent said America had changed for the better while just 23 percent said worse.
Nevertheless, the survey found 83 percent still believe the U.S. "is the greatest country on Earth," while just 10 percent disagree. [...]
US attacks France's Iraq proposals
BBC
Saturday, 13 September, 2003, 03:09 GMT

US Secretary of State Colin Powell has described as "totally unrealistic" a French proposal for the United States to transfer power in Iraq to a provisional government as early as next month. [...]
Several Security Council members - including France, Russia and Germany - are reluctant to approve any resolution that appears to give retrospective blessing to the Iraq war, which they opposed. [...]
Santa helping Uncle Sam in terror war
Reports detail how soldiers shell out own money for gear
WorldNetDaily.com
September 13, 2003 1:00 a.m. Eastern
Among the lessons learned from Operation Iraqi Freedom is that U.S. troops not only valiantly served their country, but they also dug into their own pockets to do so.
The Pentagon's draft report of the conflict details how soldiers spent their own money to get better field radios, extra ammunition carriers and commercial backpacks to replace undersized rucksacks, according to Scripps Howard News Service.
An internal Army report similarly documented the trend among ground troops in Afghanistan and Iraq.
"There were a lot of reports of that prior to the war, people would go out and buy their own gear," Patrick Garrett, a defense analyst with GlobalSecurity.org, told the news service. "The Army ran out of desert camo boots, and a lot of soldiers were being issued regular black combat boots. Soldiers decided that wasn't for them, so they paid for new boots with their own money." [...]
Comment: It appears that not only will U.S. soldiers have longer tours of duty and be paid less, but they also will have to partially equip themselves. The likes of Rumsfeld and Bush will rally the troops and talk about defending freedom, but it is clear that the lives of the men and women of the U.S. military are worthless to them. Certainly, George aWol Bush hasn't a clue what it means to serve his country, unless one is referring to serving the USA up on a platter with all the trimmings for himself and his fascist, elitist cronies.
Blair did not 'sex up' Iraq arms dossier, panel finds
GLENN FRANKEL
SPECIAL TO THE STAR
Sep. 12, 2003. 01:00 AM
LONDON—The British government's dossier on Iraq's weapons of mass destruction was potentially misleading in several key points, but a parliamentary committee has cleared Prime Minister Tony Blair's office of charges it purposely exaggerated intelligence claims to justify military action.
Yesterday's report by the House of Commons Intelligence and Security Committee said the dossier, published a year ago, was based on legitimate intelligence data.
"There was no political interference — the dossier was not sexed up," committee chair Ann Taylor told a news conference. But the report said the dossier's claim that Iraq could launch weapons of mass destruction within 45 minutes had been "unhelpful to an understanding of this issue."
The 45-minute claim — "an arresting detail," the report called it, that was repeated four times in the dossier — had referred only to "battlefield chemical and biological munitions and their movement on the battlefield, not to any other form of chemical or biological attack." This fact "should have been highlighted in the dossier," the report said. [...]
Jordan uncovers new "terror" cell: reports
AFP
Saturday September 13, 4:04 PM

Jordan has uncovered a "terror" cell led by members of Al Qaeda and the radical Islamist group Ansar al-Islam who had conspired to attack US and local targets, newspapers reported.
Military prosecutor Mahmoud Obeidat has laid charges against 13 Jordanians and two Iraqis, accusing them of "conspiracy to carry out terrorist attacks against US and Israeli targets across the world," the reports said. [...]
Iran Warns Nuke Deadline Could Backfire
By GEORGE JAHN, Associated Press Writer
September 13, 2003
VIENNA, Austria - Iran warned that an Oct. 31 deadline to prove its nuclear aims are peaceful could backfire, suggesting Tehran could become even more secretive instead of opening its program for outside perusal.
The International Atomic Energy Agency's board of governors voted Friday to approve a U.S.-backed resolution imposing the deadline on Tehran to clear up questions about its nuclear program.
Chief Iranian delegate Ali Akbar Salehi then walked out in protest. Iranian officials had repeatedly warned that imposing a deadline and insisting on other tough language in the resolution would aggravate nuclear tensions.
"We will have no choice but to have a deep review of our existing level and extent of engagement with the agency," Salehi said, suggesting that Tehran might reduce or even break off links — moves that would doom inspection attempts.
North Korea, another country that had come under scrutiny, made good on a threat to break tries with the U.N. nuclear agency last year. In November, it pulled out of the Nuclear Nonproliferation Treaty. [...]
Comment: Yes indeed, here we go again. We have heard arguments from America to the effect that if countries like Iraq and Iran have nothing to hide, they wouldn't reject inspections. It seems that none of the people making these statements are putting themselves into the shoes of Iraq's and Iran's governments or people. If a foreign power came along and declared that America is a country full of no good dirty terrorists who are planning to use WMDs to attack other countries, Americans would be outraged. They might even reject the international organizations through which those claims were being made.
The problem seems to be that America is the schoolyard bully. Iran, like Iraq before it, knows that it cannot avoid being beaten by the bully. There is no way to prove you don't possess something. And when the invading country, in this case the US, constantly modifies its justification for the invasion, there is no way for Iran to win. If Iran tells the truth, the country will be invaded. If they lie, it will be invaded.
Iran
12 September 2003
Reporters Without Borders denounced today what it called the illegal arrest of Behzad Zarinpour, assistant editor of the Iranian newspaper Asia and former editor of Abrar Eqtesadi (Economic News), at his home on 7 September by armed civilians who searched it. His family has not heard from him since.
"Iran remains a country where journalists have a hard time, with continuing arrests and imprisonment in solitary confinement in deplorable sanitary conditions," said the organisation's secretary-general, Robert MÈnard, calling on the authorities to tell the family at once where and why he was being held.
The bad detention conditions are leading to hunger-strikes by journalists held at Teheran's Evin prison. One of them, Mohsen Sazgara, whose trial began in secret on 6 September, has stopped eating and is refusing to take any medicine despite having serious heart problems. Another, Taghi Rahmani, also began a hunger-strike in protest against solitary confinement, which is commonly meted out to jailed journalists of the reformist press.
These prisoners are handled by the staff of Teheran prosecutor-general Said Mortazavi and the Guardians of the Revolution and are held in the wing where Canadian-Iranian journalist Zahra Kazemi was beaten and died in July.
Iran is the biggest prison for journalists in the Middle East, with 17 in jail.
Comment: It is time for the mass murder media to focus on the horrors of the Iranian regime, and neglect the horrors of the Bush Reich and the Blair lap dog. Yes, there are horrors in Iran, but do the people deserve to bombed back to the stone age?
Brace yourself for desensitizing of the people to the horrors that could soon be upon the people of Iran. We should not forget that the United States has the largest prison population in the world.
As an antidote to this campaign of desensitizing, we suggest viewing a few Iranian movies. Iranian film has been enjoying a resurgence the last few years, many of them playing in large cities in the U.S., Canada, and Europe.
A particular favorite and much beloved film the world over is The Children of Heaven. We recommend watching this film with the horrifying understanding in mind that children like these are soon to be blown to bits with cluster bombs, while some Americans wave their flags about the glory of it all. More than likely, it is in nearly every small town American Blockbuster Video. This video may very well become a mere artifact of this civilization as soon as the Bush Reich can get around to destroying it like Iraq and Afghanistan.
Asylum seeker goes on hunger strike
Desperate measures: Hamid Karimi has told friends he will not take food until his asylum claim is accepted
12:26pm Thursday 11th September 2003
By Leigh Collins
An Iranian asylum seeker living in Hendon has been on hunger strike for more than two weeks because he is tired of waiting to hear if he will be allowed to stay in the country.
Hamid Karimi, 41, came to England from the Islamic republic in May 1999 where he said he was repeatedly arrested for his pro-democracy and secularist political activities.
Mr Karimi, who lives in Mount Road, says he is suffering from depression, and that the wait to hear back from the Home Office has become intolerable.[...]
Shutdown of Nuclear Complex Deepens North Korean Mystery
By DOUGLAS JEHL
The New York Times
WASHINGTON, Sept. 12 — American intelligence agencies are puzzling over evidence that North Korea has halted operations at its nuclear complex in Yongbyon, according to senior United States officials.
The Yongbyon site is the only one in North Korea known to produce plutonium that can be used in nuclear weapons. The American officials said there was a debate among intelligence officials about whether the shutdown, which some described as fairly recent, reflects a technical problem, a goodwill gesture by the North, or a shift to another site.
The uncertainty underscores the lack of information about North Korea's nuclear weapons program. Much of the intelligence is based on monitoring krypton gas emissions, a byproduct of nuclear reprocessing. [...]
North Korean nuclear missiles could reach U.S., officials fear
GEORGE GEDDA
ASSOCIATED PRESS
Sep. 12, 2003. 01:00 AM
WASHINGTON — Officials in the George W. Bush administration have evidence that North Korea has been using Russian technology to develop a new intercontinental ballistic missile capable of reaching targets in the United States, an administration official said yesterday.
The official, asking not to be identified, estimated the potential range at 15,000 kilometres. The distance from the North Korean capital of Pyongyang to San Francisco is about 8,800 kilometres. In theory at least, the new missile could strike any target on U.S. soil, the official said. [...]
Report: Multiple causes for blackout
20 power plants tripped off line in 40 seconds
Saturday, September 13, 2003 Posted: 0745 GMT
WASHINGTON (AP) -- The nation's worst blackout may have resulted from a combination of power plant shutdowns, line failures and voltage problems that were building for several hours before the final crash, according to a sequence outlined Friday by a U.S.-Canadian task force. [...]
"What we see so far is that a voltage collapse caused plants and power lines to disconnect. But that doesn't answer why those things happened," Energy Secretary Spencer Abraham cautioned as the task force released a detailed timeline. [...]
Typhoon Maemi kills 33 in South Korea, 14 others missing

AFP
Saturday September 13, 3:10 PM

At least 33 people were killed and 14 others were missing after one of the strongest typhoons to hit South Korea in years swept through the country's southern provinces, emergency authorities said.
The victims either drowned, were crushed in landslides or died in other accidents as the typhoon lashed South Korea with heavy rains and winds which reached record speeds.
Some 2,000 people were evacuated in the southern province of Gyeongsang, the eastern province Gangweon and the southern island of Jeju, and some 1.34 million households in Gyeongsang lost power, emergency officials said.
Eleven giant cranes were toppled in the port city of Busan and a train was derailed by a landslide in the central province of North Chungcheong early on Saturday, injuring 28. [...]
Typhoon Maemi heads toward Korean peninsula after slamming Japan
TERRA.WIRE
TOKYO (AFP) Sep 12, 2003
Typhoon Maemi was headed toward the Korean peninsula after slamming into Japan's southern Okinawan islands, leaving in its wake one dead and 94 injured, authorities said Friday.
The typhoon, which local authorities called the worst to hit the southern Japanese islands in 30 years, was headed north northeast in the Sea of Japan (East Sea) at a speed of 35 kilometers (22 miles) per hour, the Meteorological Agency said. [...]
Still potent, Hurricane Isabel keeps tracking toward mainland
Posted on Fri, Sep. 12, 2003
By MARTIN MERZER
Hurricane Isabel, still a powerful Category 5 hurricane, maintained its westward heading toward the mainland this afternoon.
Forecasters said they could not yet predict where -- if anywhere -- it would make landfall, but they recommended that all residents of the U.S. East Coast check their hurricane supplies and update their response plans this weekend. [...]
As death toll passes 4,000, Italy makes plan to prevent repeat of tragedy
TERRA.WIRE
ROME (AFP) Sep 11, 2003
The blistering summer heatwave that gripped Europe this year killed more than 4,000 elderly people in Italy, the country's health minister revealed Thursday, outlining plans to prevent a repeat of the tragedy.
The figure was four times greater than estimates in the media in late August that put the number of heat-releated deaths at around 1,000.[...]
French minister admits breakdown in health care system during heat wave
TERRA.WIRE
PARIS (AFP) Sep 11, 2003
French Health Minister Jean-Francois Mattei admitted Thursday the government had failed to anticipate the severity of last month's heat wave and to respond quickly to stem the spiralling death toll.
"There was neither a true alert in the sense of an alarm being given nor was there any advance preparation," Mattei told a parliamentary committee looking into what happened during the heat wave, which killed more than 11,000 people. [...]
Protesters disrupt US briefing at WTO conference, slapped with ban
TERRA.WIRE
CANCUN, Mexico (AFP) Sep 12, 2003
Protesters disrupted a press briefing called by US officials at a World Trade Organization meeting here Thursday, prompting WTO authorities to ban non-governmental organizations from future news conferences.
Minutes after Deputy US Trade Representative Peter Allgeier began addressing reporters, Greenpeace Mexico representative Alejandro Calvillo stood up and delivered a brief statement on the negative effect of US genetically modified organisms (GMOs) on Mexican farmers -- to the extreme consternation of the US delegation.
"In Mexico we want to protect our corn, our fields, our livelihood from the transgenic contamination imposed by GMO corn from the United States," Calvillo said.
He then left the briefing without incident. But moments later several women stood up, carrying signs in English and Spanish with the message: "WTO kills farmers," prompting angry objections from some reporters who shouted "Get out."
The women sat down and the conference proceeded.[...]
Indigenous peoples demand control of protected areas: parks congress
TERRA.WIRE
DURBAN, South Africa (AFP) Sep 11, 2003
Indigenous peoples from across the world on Thursday demanded free access and control over the natural resources of their ancestral homes at a global environmental congress in South Africa.
Some 150 indigenous groups, including the Coica community in the Amazon in South America, the San people from Botswana's Kalahari game reserve and the Katu from a national park in Indonesia, are united by a caucus that is using the fifth World Parks Congress (WPC) as a platform to plead their case. [...]
Environment congress names new protected freshwater areas for Africa
TERRA.WIRE
DURBAN, South Africa (AFP) Sep 11, 2003
A substantial chunk of freshwater surfaces in drought-ridden Africa have been named as new protected areas, the WWF conservation group said Thursday.
"African governments are showing leadership in protecting freshwater habitats as a source of clean water to people and nature. It is especially important for water-scarce northern and southern Africa," WWF freshwater spokesman Jamie Eittock told AFP at the fifth World Parks Congress under way in South Africa. [...]
Global warming blamed as Australia's biggest city gets water curbs
TERRA.WIRE
SYDNEY (AFP) Sep 11, 2003
Residents of Australia's biggest city, Sydney, were ordered to stop sprinkling their lawns or hosing clean their cars Thursday under strict water curbs local officials blamed on global warming.
The premier of New South Wales state imposed the mandatory water restrictions on the city and its surrounding areas for the first time in nine years because of the country's worst drought on record and stubbornly rising domestic water use. [...]
Ozone hole is bigger than it has ever been
By Clive Cookson in Manchester
September 12 2003 19:45
The Antarctic ozone hole is bigger than it has ever been at this time of year, threatening populated regions of south America and New Zealand with harmful levels of ultraviolet radiation. [...]
Oil prices rise on storm fears
LONDON: Oil prices climbed in early trading here on Friday as traders kept a nervous watch on the path of Hurricane Isabel, which analysts warned could hit US oil facilities. [...]
Small earthquake rumbles northwest of Los Angeles
The Associated Press
SIMI VALLEY, Calif. -- A small aftershock of the 1994 Northridge earthquake rattled an area of Ventura County northwest of Los Angeles Friday evening.
The 5:59 p.m. temblor had a preliminary magnitude of 3.4 and was centered about five miles north-northwest of Simi Valley, said Joe Franck, a seismologist at California Institute of Technology in Pasadena.
The magnitude-6.7 Northridge quake on Jan. 17, 1994, caused extensive damage in the region.
Simi Valley is about 30 miles northwest of downtown Los Angeles.
Steps to meet earthquake challenge discussed
Speakers at a seminar yesterday stressed the need for post-disaster preparedness to tackle the aftermath of an earthquake hitting the most populated and unplanned capital city Dhaka.
They also called upon all concerned to come forward and work together in this regard. [...]
Sonic boom likely caused by meteor
WebPosted Sep 12 2003 09:07 AM PDT
NANAIMO, B.C. - The boom heard over Nanaimo earlier this week was likely a small meteor, says an astronomy professor at Malaspina University College.
Prof. Bill Weller says his analysis of the seismic data from Wednesday afternoon shows a meteor about the size of a toaster could have been responsible for the blast.
"It would have come in at quite a high rate of speed, much faster than the speed of sound, and of course it leaves a shockwave.
"It's the same thing that you hear behind an aircraft, the sonic boom, after the aircraft breaks the sound barrier," says Weller.
A Vancouver astronomer agrees. David Dodge of Vancouver's H.R. MacMillan Space Centre says the sonic boom is consistent with a fireball entering the atmosphere and exploding.
Dodge says cloudy skies would have prevented anyone from spotting the small space rock before it burned up.
Asteroid no match for Reliant Robin
By Clive Cookson
The thrust of a little Reliant Robin car engine would be enough to divert a giant asteroid from a cataclysmic impact with the earth, the British Association science festival at Salford University was told on Friday.
"One of the commonest public misconceptions regarding impact hazards is that nothing could be done to prevent a collision," said Matthew Genge, an asteroid researcher at Imperial College, London. The public response to asteroids varied from grim fatalism to borderline hysteria.
But surprisingly little force would be needed to deflect a 1km-wide asteroid safely from a collision course with earth. Although it would weigh 1bn tonnes, Mr Genge calculated that the force applied continuously by a single 850cc Reliant Robin for 75 days would be sufficient to change the asteroid's speed by the required 0.7 cm/sec. [...]
MIT researchers reassess asteroid hazards
Date Released: Friday, September 12, 2003
Massachusetts Institute of Technology
MONTEREY, Calif.-Of the approximately 1,000 near-Earth asteroids larger than 1 kilometer in diameter, one strikes the Earth on average once every 600,000 years, MIT Lincoln Laboratory researcher J. Scott Stuart reported today (Sept. 5) at the 35th annual meeting of the American Astronomical Society Division for Planetary Sciences.
By combining discovery statistics with new observations of the surfaces of near-Earth asteroids (NEAs), Stuart also determined that impacts similar to the Tunguska event-in which an asteroid destroyed more than 2,000 square kilometers of forest in a remote part of Siberia in 1908-are much less frequent than previously thought. Events of this magnitude occur, on average, once every 2,000 to 3,000 years. [...]
Even if impacts of large NEAs occur only once every 600,000 years, this does not mean that they occur at regularly spaced intervals. This figure comes from looking at time spans of millions of years. Likewise, events similar to the Tunguska impact are not evenly spaced. [...]
NASA Releases Near-Earth Object Search Report
Date Released: Friday, September 12, 2003
Jet Propulsion Laboratory
NASA has released a technical report on potential future search efforts for near-Earth objects after a year of analysis by scientists working on this issue. This Science Definition Team was chartered to study what should be done to find near-Earth objects less than 1 kilometer in size. While impacts by these smaller objects would not be expected to cause global devastation, impacts on land and the tsunamis resulting from ocean impacts could still cause massive regional damage and still pose a significant long-term hazard. [...]
By Kristine Krug, in Salford
When and how did the human mind evolve?
These are two of the big questions researchers from the UK universities of Liverpool and Southampton will tackle from October.
They will undertake a project called Lucy To Language: The Archaeology Of The Social Brain.
It is being funding to the tune of one million pounds by the British Academy, the largest single research grant the organisation has ever handed out.
The project will bring together archaeologists, evolutionary psychologists, social anthropologists, sociologists and linguists.
They will attempt to reconstruct the social lives of our ancestors - to work out precisely how they behaved using archaeological evidence of their bones and tools and making comparisons with modern humans and other primates. [...]
Scientists Probe Subtle Mysteries and Mechanics of the Human Mind
By ZHONGJIE CHEN
UC Berkeley researchers are trying to crack one of humanity's greatest unsolved mysteries - the mechanics of human cognition.
Neurologist Robert Knight is the director of UC Berkeley's Helen Wills Neuroscience Institute, comprised of a group of more than 40 scientists involved with all areas of brain research spanning the gamut from the genetic and cellular basis of development to human behavior.
Despite the recent technological breakthroughs in biophysics and engineering which have allowed scientists to explore the physiological function of the brain, little is known about how the brain actually produces behavior. [...]
news.com.au
From correspondents in Tulsa, Oklahoma
September 13, 2003
A US teenager was kidnapped and tortured for six days of beating and chemical injections in a US hotel room by his former girlfriend and her vengeful husband, authorities said today. [...]
Are out of body experiences real?
By Jeremy Lovell
Wed Sep 10,10:07 AM ET
MANCHESTER (Reuters) - Scientists probing the paranormal say they hope to set up a major experiment in Britain trying to find out once and for all whether the mind can step outside the body at the brink of death.
The proposed study would involve interviewing people who had survived cardiac arrest to see if they had had an out of body experience while on the operating table. [...]
Dalai Lama finds hope in 9/11 -Says war in Afghanistan may have been justified

By Julia Duin THE WASHINGTON TIMES
The 14th Dalai Lama told a packed audience at the National Cathedral yesterday that even the worst tragedies in life can be used for "spiritual growth." During an interfaith prayer service to honor those who died in the September 11 terrorist attacks, the Dalai Lama said there's no point getting demoralized over past events. "Use them for personal, spiritual growth and most of all, forgiveness,"
Surrounded by a bank of red, orange and yellow floral bouquets, the Dalai Lama said he had already noticed a change in American attitudes during the recent blackout that shut down large portions of the Northeast and Midwest for several days. New Yorkers especially, he said, "showed much more peace."
"People were behaving better," he said. Cautioning his listeners not to blame one religion for the September 11 events, he said "there are always mischievous people" in all religious traditions who wreak havoc. To truly change the world, one's religion must not be treated "like an ornament," he said, but instead be internalized.
The 25-minute message was proceeded by sonorous chants by Tibetan monks and the Dalai Lama himself alternated between Tibetan and English. The service, which was pegged as a "public teaching on generating compassion as an antidote to hatred," is part of a weeklong tour by the Dalai Lama throughout the United States.
On Wednesday, he met with President Bush and Secretary of State Colin L. Powell and delivered an address on Capitol Hill. In an interview with the Associated Press, he said it's too early to judge whether the Iraq war was warranted. But he says the U.S.-led war in Afghanistan may have been justified to win a larger peace.
Comment: Another 'great spiritual leader' exposed. The above comments are reprehensible. In the face of government sponsored terror that has the potential to galvanise people to awaken and see the truth of the situation, the DL advises 'forgiveness', or to put it another way, close your eyes to truth, lie down and accept your fate at the hands of the fascist US government.
New Yorkers are showing more 'peace' because their will has been broken. This is 'good' according to the DL.
It is appalling that that a supposed spiritual teacher is promoting this type of 'spirituality', but then it is hardly surprising.
And Finally...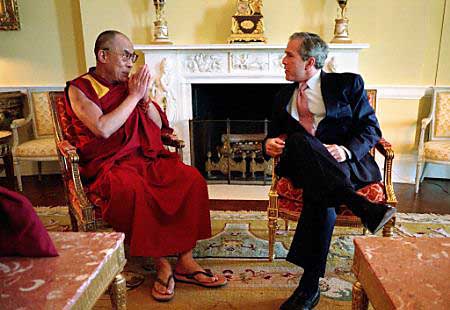 The conversation transcript:
Dalai Lama: "I pray to you oh Great White Buddha. Your perpetual preemptive war will bring peace to the world, perhaps some kind of liberation.Teach me how to make the people more 'peaceful' as you have done. What majick is it that you use so that the people believe anything you say?"
Lord Bush: "Well uh..gee, thanks Dolly. I AM pretty enlightened ain't I? You see, you just tell 'em "War is Peace" and they believe it! Oh yeah, and you gotta say stuff like "we got the Evil Ones on the run" too, but don't tell 'em bout my daddy's CIA business partner Osama okay? Y'see, he's on our team, if you know what I mean. It's a secret though, for 'National Security' [*wink*] heh, heh...
Say Dolly, I hear you like t'bet..whatcha think the odds of me getting back into this cushy pad next year?"
Dalai Lama: Well oh Great White Buddha, I think that if you can get your devotees to believe that war is peace then you can do whatever you want and hence you are odds on favorite."
Lord Bush:"Great! You are my kinda Lama. Hey, you think I could get me one of them red robes for my next ritual at the Bohemian Grove?"
---
Remember, we need your help to collect information on what is going on in your part of the world!
We also need help to keep the Signs of the Times online.
Obviously, there are a lot of folks out there who do NOT like what we are doing - our own special brand of news coverage - and they are working day and night to create almost insurmountable problems for us, designed to grind us down and render our plans to be able to increase our production (which include a weekly radio show that is currently in the implementation stage) impossible to bring to fruition. We are coming under increasing pressure from many directions all at once.
Our need for financial support has never been greater, including support for legal initiatives to halt the madness of several of the para-COINTELPRO activities currently launched against us. These operations are designed to create a platform to justify utilizing police state tactics so as to silence, and even ultimately, destroy us.
Please: We need your help.
The campaign of lies and disinformation would be frightening under normal circumstances; considering the present state of the world and the machinations of the "National Security State," it is terrifying.
Please - if you have been helped by our work -
won't you help us NOW?

---

Check out the Signs of the Times Archives

Send your comments and article suggestions to us.
---
Fair Use Policy
Contact Webmaster at signs-of-the-times.org
Cassiopaean materials Copyright ©1994-2014 Arkadiusz Jadczyk and Laura Knight-Jadczyk. All rights reserved. "Cassiopaea, Cassiopaean, Cassiopaeans," is a registered trademark of Arkadiusz Jadczyk and Laura Knight-Jadczyk.
Letters addressed to Cassiopaea, Quantum Future School, Ark or Laura, become the property of Arkadiusz Jadczyk and Laura Knight-Jadczyk
Republication and re-dissemination of our copyrighted material in any manner is expressly prohibited without prior written consent.
.