---
New! Cult-ivating Terror
---
U.S. Says Iran is in Breach of Nuclear Obligations
Tue September 9, 2003 07:32 AM ET
VIENNA (Reuters) - The United States said on Tuesday that Iran had clearly violated its U.N. nuclear safeguards obligations, but has agreed to give Tehran one last chance to come clean about the full extent of its nuclear program.
"The United States believes that the facts... would fully justify an immediate finding of non-compliance by Iran," U.S. Ambassador to the United Nations in Vienna, Kenneth Brill, said in a written text of a speech to the U.N. nuclear watchdog's governing board.
Brill was referring to Iran's U.N. Safeguards Agreement, a key part of the nuclear Non-Proliferation Treaty (NPT), which Iran signed in 1970.
However, Brill said Washington had consented to other board member states' desire "to give Iran a last chance to stop its evasions." The U.S. believes Tehran has a secret weapons program.
Comment: How familiar this all sounds! It is obvious now. Iran is doomed to the same fate as Iraq and Afghanistan. More U.S. military will be poisoned by depleted Uranium, more innocent civilians will be cluster bombed. More Americans will cheer on their Bushy while their children are shipped off to kill and to be killed.
IAEA chief calls on Iran to provide full nuclear details
www.chinaview.cn
2003-09-09 07:53
UNITED NATIONS, Sept. 8 (Xinhuanet) -- The United Nations atomic watchdog agency called on Iran on Monday to enhance its cooperation and provide a complete, accurate declaration of all its nuclear activities to clear up questions arising from its failure to disclose certain material and activities.
"Much urgent and essential work still remains before the agency can draw conclusions on the program," International Atomic Energy Agency (IAEA) Director-General Mohamed ElBaradei told the IAEA Board of Governors in Vienna of Iran's nuclear program, which Tehran says is for peaceful purposes of producing energy.
Comment: How to take people's attention away from the problems in Iraq: repeat the "successful" strategy the Bush Reich used when they got bogged down in Afghanistan, of course! Whip up the fear frenzy over a new enemy! This time, it is Iran. Notice how the sound bytes are exactly the same, giving Iran "one last chance" before calling in the troops.
And it doesn't matter if the rest of the world knows it is another scam. The Americans who go to the polls next year will be manipulated into only seeing more "terrorists in turbans". How long will it be before we hear that Iran was in cahoots with both Osama under-the-bed bin Laden and Saddam under the bed Hussein? Or that those EEEEVIL "Iraqi" terrorists who attacked the WTC were in the company of several Iranians?
If Bush, in last Sunday's speech, can continue to refer to weapons of mass destruction in Iraq, long after the rest of the world has seen through his lies (and even some of the American media has admitted that maybe they aren't there...), he is capable of telling even bigger ones as he feels the pressure of his maneuvering room shrinking.
One of the scariest bits of info that came through today was that Bush's approval rating is down lower than it was before September 11. And we know what happened last time...
Israel and the Occupied Territories
Surviving under siege: The impact of movement restrictions on the right to work
Amnesty International
[...] Even if all the blockades were lifted immediately and free movement allowed in the Occupied Territories it would take years for the Palestinian population to resume a normal life and to rebuild the economy which has been virtually destroyed by years of siege. Long term investments and efforts will be required to reverse the dramatic increase in poverty and unemployment levels of the last few years. These efforts will only be possible if Israel restores freedom of movement in the Occupied Territories.
Restrictions imposed by Israel on the movement of Palestinians within the Occupied Territories reached an unprecedented level in recent years. The effect has been to deprive Palestinians not only of their freedom of movement but of other basic human rights -in particular, their right to work and to provide a living for themselves and their families. [...]
Palestinians' new PM fears 'same Israeli obstacles'
By David Blair in Jerusalem
The Telegraph
The man nominated to be the next Palestinian prime minister placed himself on a collision course with Israel yesterday by demanding the political rehabilitation of Yasser Arafat.
Ahmed Qureia, 65, was reported to have accepted his nomination as prime minister "in principle"after meeting Mr Arafat, the Palestinian leader, in the West Bank city of Ramallah.
Nabil Abu Rdeinah, one of Mr Arafat's aides, said Mr Qureia had "no objection" to his appointment but expressed concern that he would face the same "Israeli obstacles" that weakened the hand of his predecessor, Mahmoud Abbas, and could not do the job without guarantees of support from Europe and America. [...]
Palestinian leader seeks world support
Ben Lynfield in Jerusalem
AHMAD Qureia, the Yasser Arafat loyalist chosen to become the new Palestinian prime minister, sought yesterday to line up international backing for his candidacy, despite warnings he would fare no better than his failed predecessor.
Mr Qureia, the speaker of the Palestinian legislative council and a leader in past peace moves with Israel, told reporters he would turn down the daunting post unless he wins support from the United States and the European Union.
"I want to see what kind of support I will receive from the Americans and the Europeans to change things on the ground for the Palestinians," he said. "I'm not ready for failure. I want to see whether peace is possible or not."
His nomination was approved on Sunday night, a day after the resignation of Mahmoud Abbas, after a bitter dispute with Mr Arafat over control of Palestinian security forces.
The EU was quick to back Mr Qureia yesterday. "He is a man who believes in peace with Israel and he has done a lot for that," a spokeswoman said. "Therefore, he will get all support from the EU." [...]
Palestinian boy killed in Israeli attack
Tuesday 09 September 2003, 9:09 Makka Time, 6:09 GMT
A 13-year-old Palestinian boy was killed and two people wounded in an Israeli army attack on the West Bank town of Hebron.
Israeli Army Says Al Qaeda Planned Suicide Attack
September 09, 2003 08:50 AM ET
HERZLIYA, Israel (Reuters) - Israel's army chief said on Tuesday the militant al Qaeda network had tried to recruit a Saudi Arabian pilot to carry out a suicide attack similar to the September 11 attacks on the United States.[...]
From a pariah, Israel is now India's bosom pal
TIMES NEWS NETWORK
NEW DELHI: There was a time, not long ago, when Benjamin Netanyahu cancelled a trip to India because New Delhi was not eager to host an Israeli prime minister.

Much earlier, when then defence minister Moshe Dayan came calling in the late seventies, the whole thing was kept under wraps; and when it did get leaked out, much after Dayan had returned home, there was a political storm in New Delhi.

And there were times when New Delhi was hesitant to issue visas even if Israeli teams sought to come to India to take part in international sporting events.

For a country that considered itself as the most vocal non-Muslim champion of the Palestinian cause, and where Palestinian hero Yasser Arafat came calling as often as he could, Israel had been a pariah until a decade ago.

But, when soldier-turned-politician Ariel Sharon arrives here as the first Israeli prime minister to set foot on Indian soil, he will be entering a nation that has dramatically altered its view of the Middle East and chosen as friend a country that is widely hated in the Middle East.

And Hindu-majority India - still home to the world's second largest Muslim population after Indonesia - is not hiding its glee although, as if almost as a last-minute sop, it hosted Palestine Foreign Minister Nabil Sha'sath just before Sharon. [...]
Comment: We have Pakistan and India who have been having border skirmishes for years (and near nuclear war), and for some reason the Indian government has decided to heat the situation up to a near boil. It was known that this visit would create a huge outcry with the large Muslim population of both countries, who now have to fear a coalition of Christians, Jews and Hindus. India has decided to toss a match on the powder keg. If you missed our analysis on the situation in India you can find it here.
Israel and India discuss arms deals
Tuesday 09 September 2003, 9:19 Makka Time, 6:19 GMT
Israeli Prime Minister Ariel Sharon has begun talks with his Indian hosts aimed at expanding military and political cooperation.
Sharon hailed India as "one of the most important countries in the world" before going into talks in New Delhi on Tuesday.
Indian Prime Minister Atal Behari Vajpayee was equally welcoming.
"We have old relations," Vajpayee told reporters. "A new shape is being given to these relations - it is a historic visit and I am confident it will bring the two countries closer."
Israel has become India's second largest weapons supplier although the two countries only established diplomatic relations 11 years ago.
Billion dollar deals:
Three Phalcon airborne warning and control systems to be mounted on Russian IL-76 aircraft. Total cost is estimated at $1.29 billion.
The Arrow anti-ballistic missile system, estimated at $2.5 billion.
Ten Barak anti-missile defence systems in addition to the seven already installed on Indian warships.
An unspecified number of unmanned aerial vehicles. About $142 million has been set aside to buy the drones.
A $105-million deal for electronic warfare systems for battleships, cleared by the Indian government last week. The navy earlier bought three fast patrol boats.
A $30-million deal for 3,400 Tavor assault rifles, 300 sniper rifles, night vision devices, concluded this year.
These will be given to about 3,000 soldiers of a new Special Forces group being trained by Israeli specialists to fight in disputed Kashmir.
Israel has provided avionics and weapons systems for 40 Russian Su-30 fighters that India bought in the mid-1990s. It is also involved in the upgrading of 125 MiG aircraft.
The two sides are also discussing upgrading the Indian air force's MiG-27 attack plane and British-made Jaguars and Sea Harriers.
India is also negotiating for high-tech fencing for military bases in Kashmir.
Comment: An in-depth article looking at India-US military relations. India has long been an important member of the Non-Aligned Movement, a group of countries who refused to be part of either the Soviet or American blocs during the Cold War. This switch to alignment with the US and Israel marks a significant shift.
As we have mentioned before, it looks as if the Christians, Jews, and Hindus are joining forces for a war on Islam.
The following comments come from a QFS member who has spent time living in India. They give some background to what is happening now.
The BJP/Shiv Sena ARE the dark side and always have been, especially since they came to "power" 10 years ago... Fifteen years ago a colleague from India described how a fascist movement was already taking shape in India (shortly before I went there). The ruling government now are fascists, plain and simple. An alliance with Israel and this government is NOT surprising at all. This government has been "in bed" with the U.S. (like the Enron example) all along. While, on the one hand they were spouting "swadeshi" (indigenous), on the other they were making deals with Bill Gates, et al and opening the economy (which had been closed off from the world, basically, since Partition in 1947) to all the exploitations from the multinationals. Very sad...

I knew I had to get out of there when diet soda and insurance came...

There most definitely is a bitter basis upon which this fascism is popular, however. The Partition of India was deliberately done for just this reason I think. Much like the "partition" of Palestine in fact. Both the same "model" at the same "time." This was a very bloody episode in what became the country of "India" in 1947. British colonialism was where this "idea" of a united subcontinent of India began. It was not "indigenous." And the false dichotomy of Hindu against Muslim really came to be at this time, "invented" once again by the "foreigners." The history of the Indian peoples was firmly one of tolerance. And that also is mixed in there and lingers on... It is a sort of paradox.

My in-laws were forced to leave their home and all their wealth in Karachi during Partition. They lived in a refugee camp in Ahmedabad, Gujarat for years until they could manage to move into a chawl (a building with separate rooms for different families, with one bathroom per floor). The family of 10 all lived in one room when my ex-husband was a boy. They were well-to-do when they had lived in Karachi. And the violence of the times left its mark as well. The bitterness remains strong for them, yet they would never be able to justify to themselves doing any real harm to a Muslim, either. Again, a paradox.

So, the government has had to and do have to tread a line because of internal resistance from those who really believe in the non-aligned movement, "swadeshi" and all that that implies. And there are many people who are organized there and protest against this fascist trend. They haven't totally forgotten the "Quit India" movement yet. So the government constantly "speaks out of both sides of its mouth" while continuing to do whatever they want to do.

And, there is no real historical basis of a "political government" at all as being an "entity" of prime allegiance for people there. It has been drummed into people's heads since Partition, but the primary unit is the family and then the "clan" or "community" of which they are a part. We used to laugh a few years ago there about how the Bill Gates types would ever be able to control software pirating in India. It truly seemed an impossible task. There simply is no regard for central "authority" unless physical force is used. Most people there don't pay the taxes they owe, even, and they don't have to usually! There seems to be a very strong resistance (or no basis) for the homogeneity of the West.

Yet, they are being "bought off" by the lure of wealth. And the minds of the children there have been shaped by cable TV the last 10 years (since the BJP came to power and the economy opened up). So there is a generation coming of age now which is more amenable to leaving behind the traditions of tolerance and diversity... We'll see...

I do think that there will be resistance to this move on the part of the BJP government to align with Israel. That is why they had to invite that Palestinian Authority person over first. There IS a firm history of support for the Palestinian cause. We'll see...
Sharon pays homage to Mahatma Gandhi
Onkar Singh in New Delhi | September 09, 2003 11:46 IST
Last Updated: September 09, 2003 14:01 IST
Israeli Prime Minister Ariel Sharon visited Rajghat on Tuesday morning and paid homage to the Father of the Nation, Mahatma Gandhi.
Rajnish Kumar, secretary, Rajghat Samadhi Committee, received Sharon and presented him a CD and a set of books on Gandhi.
"From Jerusalem, the city of peace, eternal capital of the Jewish people, I bring you a message of hope and peace," Sharon wrote in the visitors' book.
"Today Israel and India are embattled democracies, sharing values and the challenge of terrorism. United in our quest for life, liberty and peace our joint determination to fight for these values can inspire our hopes for a better future for our people."
Incidentally, the last VIP to sign this book was Palestinian Foreign Minister Nabeel Shaath, who came to Rajghat on August 28.
"Such a serene and simple place, a monument to a serene and a simple and great man, a friend of the Palestine People," Shaath had written.
Comment: This is one of the sickest headlines we have come across in a long time. The Butcher of Sabra and Chatila, Jenin, in fact, of the entire occupied territories, paying homage to Gandhi is worthy of George Orwell. Robert Fisk on the Butcher of Sabra.
Gandhi Quotes

I do not want my house to be walled in on all sides and my windows to be stuffed. I want the cultures of all the lands to be blown about my house as freely as possible. But I refuse to be blown off my feet by any. I refuse to live in other people's houses as an interloper, a beggar or a slave.

GANDHI ON NON-VIOLENT ACTION AND CIVIL DISOBEDIENCE
Civil disobedience becomes a sacred duty when the state has become lawless or corrupt. And a citizen who barters with such a state shares in its corruption and lawlessness...

Every citizen is responsible for every act of his government...

There is only one sovereign remedy, namely, non-violent non-cooperation. Whether we advertise the fact or not, the moment we cease to support the government it dies a nature death....

My method is conversion, not coercion, it is self-suffering, not the suffering of the tyrant....

I hope the real Swaraj (self-rule) will come not by the acquisition of authority by the few but by the acquisition by all of the courage to resist authority when abused.

In other words, Swaraj is to be attained by education the masses to a sense of their capacity to regulate ad control authority....

Civil disobedience is the assertion of a right which law should give but which it denies...

Civil disobedience presupposes willing obedience of our self-imposed rules, and without it civil disobedience would be cruel joke....

Civil disobedience means capacity for unlimited suffering without the intoxicating excitement of killing....

Disobedience to be civil has to be open and nonviolent....

Disobedience to be civil implies discipline, thought, care, attention...

Disobedience that is wholly civil should never provoke retaliation....

Non-cooperation and civil disobedience are different but [are] branches of the same tree call Satyagraha (truth-force)....

Coercion cannot but result in chaos in the end....

One who uses coercion is guilty of deliberate violence. Coercion is inhuman....

Non-cooperation with evil is as much a duty as cooperation with good...

Nonviolent action without the cooperation of the heart and the head cannot produce the intended result....

All through history the way of truth and love has always won. There have been tyrants and murderers, and for a time they can seem invincible, but in the end they always fall, always.

GANDHI ON ENDS AND MEANS
Violence breeds violence...Pure goals can never justify impure or violent action...They say the means are after all just means. I would say means are after all everything. As the means, so the end....If we take care of the means we are bound of reach the end sooner or later.

Religion and Morality
As soon as we lose the moral basis, we cease to be religious. There is no such thing as religion over-riding morality. Man, for instance, cannot be untruthful, cruel or incontinent and claim to have God on his side.
Grenade attack in Doda kills young girl

JAMMU, India (Reuters) - Suspected Muslim militants lobbed a grenade at a police station in Indian Kashmir on Tuesday, killing a nine-year-old girl and wounding nine people, police said.
The attack in the town of Doda was the latest in a wave of separatist violence in Muslim-majority Jammu and Kashmir state in the past few weeks that has cast a cloud over tentative peace moves between nuclear-armed India and Pakistan.
Doda lies about 170 km east of Jammu, the state's winter capital.
The Himalayan territory has been at the heart of decades of rivalry between India and Pakistan, which went to the brink of a fourth war in 2002.
Ties have improved, but mainly Hindu India has linked fresh talks on improving ties to an end to attacks by Muslim separatists in Kashmir. [...]
Jon Rappoport
No More Fake News
[...] MILITARY JETS FAIL TO SCRAMBLE should have been the page-one headline in a thousand newspapers from CA to NY. But it wasn't.
And how many pundits and analysts who took to the news shows after 9/11 said that this omitted piece of news was odd and curious and scandalous?
None.
How many times has the commission tasked with investigating 9/11 mentioned the absence of military jets?
Zero.
The only news stories about the jets claimed that the whole terrorist scenario unfolded too fast to allow military orders to be given.
A complete lie.
As I've written many times, most mainstream reporters are basically in a mind-controlled state. When they approach a hot story that obviously implies a plan or a conspiracy or a wanton intentional failure by the authorities -- and when that story brushes up against a major propaganda op by, say, the government---these reporters suddenly develop a blind spot. [...]
Comment: A good essay from Jon Rappoport, and a must see map from the memory hole - Hijacked 9/11 Flights and Military Bases - the flight paths are almost like "connect the dots." The dots being the military bases, "The flights went through some of the most heavily militarized parts on the country, yet nothing could be done to stop them?"
It is ridiculous that anyone still believes and defends the conspiracy theories shoved upon the world via the Bush Reich.
9/11 conspiracy theories gaining ground
Ralf Isermann
iAfrica
Conspiracy theories on the September 11 attacks are gaining ground in Germany two years on, with books claiming that the US government was behind the atrocities climbing bestseller lists.
Thanks to a handful of new "non-fiction" works in bookstores, wild accusations have gradually become part of public debate amid a sizeable minority in Germany, home to the so-called Hamburg cell that in 2001 produced three of the suicide hijackers.
Although each book has a different take on the events of that day, they share the premise that the government of US President George W. Bush planned the kamikaze jet attacks or allowed them to happen to advance a radical foreign policy agenda. [...]
Greenpeace obtains smoking-gun memo: White House/Exxon link
Tue 09 September 2003
UNITED STATES/Washington, DC
Did conservative elements in the White House provoke an Exxon front group to sue EPA to suppress a report on climate change? That's the question that two State Attorney Generals have asked US Attorney General John Ashcroft to investigate, after Greenpeace uncovered a routine email in a Freedom of Information Act request.
In the email, Myron Ebell of the Exxon-funded Competitive Enterprise Institute writes to Phil Cooney, a senior official at the White House Council for Environmental Quality. He describes his plans to discredit an EPA study on climate change through a lawsuit. He states the need to "drive a wedge between the President and those in the Administration who think that they are serving the president's interests by publishing this rubbish." He notes his group is considering a call for the then-head of the Environmental Protection Agency, Christine Todd Whitman, to resign, and openly suggests that she'd make an appropriate "fall gal" if the administration is serious about getting back into bed with conservatives opposing action on climate change.
His memo to the US government official begins "Thanks for calling and asking for our help." (You can view the entire memo here.)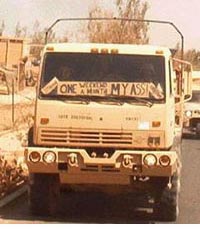 Report: U.S. Army Extends Tour of Reserves in Iraq
Tue Sep 9, 1:33 AM ET

WASHINGTON (Reuters) - The U.S. Army has ordered thousands of National Guard and Army Reserve forces in Iraq and nearby countries to extend their tours of duty to a year, The Washington Post reported Tuesday [...]
Five U.S. Soldiers Wounded in Iraq Attacks
September 09, 2003 08:55 AM ET BAGHDAD (Reuters) - Iraqi guerrillas wounded five U.S. soldiers on Tuesday in two attacks west of Baghdad, the U.S. military said.[...]
Navy coverup alleged on drug side effects
By Mark Benjamin and Dan Olmsted
United Press International
Published 9/8/2003 7:05 AM

SAN DIEGO, Sept. 8 (UPI) -- A Naval Reserve commander who volunteered for the Iraq war says the military doctored his medical file to eliminate all traces of an anti-malaria drug that he believes made him severely ill, suicidal and aggressive - and that he has the before-and-after evidence to prove it. [...]
Comment: The military sees U.S. troops as guinea pigs and not human beings. See our Cointelpro Timeline for more instances of such treasonous activity.
bringthemhomenow.org
Comment: Also our August 10 edition of the Signs page extensively covers the depleted uranium subject, and the crime against humanity that it is.
Powerful Chemical Warfare Agent Found In DC
A powerful chemical warfare agent has been found in a District neighborhood where experts have been searching for old World War One munitions.
Lewisite turned up on American University property in the 4600 block of Rockwood Parkway, Northwest. The Army Corps of Engineers found it in a sealed glass container, as part of their clean-up of the Spring Valley section of DC.
The lewisite was sent to a lab last week, where it was determined that it was a small amount - about one tablespoon of the total liquid in the jar.
According to the Centers for Disease Control and Prevention, lewisite was produced in 1918 for use in the first World War, but it was too late. The CDC says lewisite is a powerful irritant and blistering agent that immediately damages the skin, eyes and respiratory tract. [...]
Pentagon Initiates New Research into Prohibited Chemical Weapons
sunshineproject.org
Austin and Hamburg (9 September 2003) - Recently unearthed US government documents reveal new information on illicit US chemical weapons research. The US Marine Corps program on so-called "non-lethal" chemicals has inked new deals for prohibited weapons. The contracts include development of a new kind of rocket propelled grenade that began at the end of 2002, only weeks after the Moscow Theater disaster. Also last year, a senior US Army toxicologist investigated tacrine, a close cousin of several nerve gases, as a candidate "non-lethal" chemical weapons payload. [...]
The discovery that the Army is investigating close relatives of extremely lethal nerve gases as "non-lethal" weapons heightens concerns previously raised that the Army's "non-lethal" chemical weapons program is practically indistinguishable from one with a fully lethal intent. The Army's interest in tacrine should draw particular scrutiny from the Organization for the Prohibition of Chemical Weapons and governments who are members of the Chemical Weapons Convention. [...]
US accused of misspending billions
Monday 08 September 2003, 12:21 Makka Time, 9:21 GMT
Billions spent on US military occupation operations could pay for every man, woman and child to have free health care twice over, according to a 2004 Democratic presidential candidate.
Howard Dean said the spending of dollars earmarked for Iraq and Afghanistan - most of it for military operations rather than reconstruction - could accomplish much more beneficial projects in the United States.
The Bush Speech: Spinning a Fiasco
By DAVE LINDORFF
Counterpunch.org
Listening to President Bush's address last night, which--despite a single line of contrition - was clear proof that the Bush/Cheney/Rumsfeld strategy in Iraq has been a fiasco, I was stumped trying to locate a policy disaster of similar scale in recent American history with which to compare it.
Ramsey Clark, Former U.S. Attorney General, Responds to Bush's Television Address
By Ramsey Clark
09/09/03: Sunday night, September 7, President Bush told the American public and the world to expect more of the same from his administration. More crimes against peace and humanity, more deaths and destruction, more debts and poverty. He wants everyone to help.
President Bush has spent $79 billion attacking Afghanistan and Iraq and seeks $87 billion more for another year of violence. What he calls "one of the swiftest and most humane military campaigns in history" has taken more than 30,000 Iraqi lives, destroyed "tens of billions" in facilities essential to life, electricity, water supply, sewage disposal, according to Paul Bremer, and left the whole country destitute, in turmoil, growing violence and rage. Thousands perished in Afghanistan where the destruction remains unrepaired, the people disoriented and impoverished, the highway from Kabul to Kandahar is impassable and violence is mounting.
U.S. casualties in Iraq alone have reached 300 dead, 1200 with disabling injuries, and a total of 6000 returned to the United States in body bags, on stretchers, or sick in body or mind. U.S. soldiers are being killed at a growing rate, now 1 or 2 a day.
In the meantime, 2 1/2 million jobs have been lost in the U.S., 1.3 million families slid below the impossibly low poverty line of $17000 a year for a family of four. U.S. government deficits have erased a surplus of $590 billion and created a debt of $400 billion, a trillion dollar loss, with deficits of $400 billion plus expected for the next several years at least.
Not content with his crimes against peace, wars of aggression, crimes against humanity, assassination, summary execution, torture and illegal and secret detentions, President Bush boasted "...and we have captured or killed hundreds of Saddam loyalists and terrorists... seizing many caches of enemy weapons and massive amounts of ammunition. We have carried the fight to the enemy... the surest way to avoid attacks on our own people is to engage the enemy where he lives and plans."
That means more wars of aggression. More summary execution and assassinations. More arbitrary arrests, more illegal detentions and disappearances. Guantanamo is a symbol to the world of President Bush's contempt for human rights: torture, suicides, secret detention, military trials, an execution chamber waiting. Guantanamo should be returned to Cuba now -- a century late.
U.S. forces must be withdrawn from Iraq and Afghanistan. These must be our last foreign military interventions. U.S. companies must be barred from profiting from contracts for "rebuilding Iraq" which the U.S. destroyed. Ten percent of the U.S. military budget at the 2003 level should be paid into a U.N. fund for the next decade to compensate Iraq and Afghanistan for U.S. crimes against them, to be used as they choose.
We are virtually guaranteed more of the same unless President Bush is impeached for his high Crimes and Misdemeanors.
To take back the Constitution and save our country Vote to Impeach now. This vote is an unmistakable message from the American people. The world and the present Administration will understand this message. It means we do not accept the crimes President Bush has committed in our name and will not permit their repetition.
Sincerely,
Ramsey Clark
White House Says Iraq Funds Request Still Falls Short
By Warren Vieth and Esther Schrader
Times Staff Writers
8:01 PM PDT, September 8, 2003
WASHINGTON -- The White House acknowledged Monday that it substantially underestimated the cost of rebuilding Iraq, and that even the additional $87 billion it is seeking from a wary Congress will fall far short of what is needed for postwar reconstruction.
Administration officials said President Bush's emergency spending request -- which would push the U.S. deficit above the half-trillion-dollar mark for the first time -- still leaves a reconstruction funding gap of as much as $55 billion dollars.
Europe Hears Bush's Call for Help Without Scorn
By ELAINE SCIOLINO
The New York Times
PARIS, Sept. 8 — Perhaps because President Bush's words to the American people about Iraq on Sunday night were so sober, and because he sought the world's help, the world did not gloat. [...]
Elsewhere, there was despair that the Iraq war had brought more terror and instability to the Middle East. There was anger that Mr. Bush seemed to have no intention of relinquishing military and administrative control over the country, even as he called for help. [...]
Under the headline "Saving Private Bush," an editorial in the Tuesday edition of Le Figaro said: "Without broader international military, political and financial help, the Americans will not find the light at the end of the tunnel. For the first time, George W. Bush really needs to make new friends abroad."
By contrast, Eberhard Sandschneider, director of the German Institute for Foreign Affairs, called Mr. Bush's speech "a document of helplessness." He added: "You don't have a stable Iraq. You don't have support for the American presence. You don't have greater democracy in the region, progress on the road map, or a diminution of terrorism."
Paradoxically, he said that failure has trapped Europe into sharing the burden. "It can't be in our interest to have the major Western power in serious long-term difficulty in that part of the world," he said. "So we are doomed to cooperate with the United States." [...]
Dems Demand Details of Iraq Operations
By KEN GUGGENHEIM, Associated Press Writer
Tue Sep 9, 2:15 AM ET
WASHINGTON - Congressional Democrats' support for President Bush's $87 billion request comes with a price: They want him to spell out details of his overall Iraq strategy.
For months, many Democrats and some Republicans have complained that the Bush administration has offered few details about how it will rebuild Iraq, how much international support can be expected, how much American taxpayers will have to pay over the years and how long U.S. troops will be based there.
Sen. Ted Kennedy, D-Mass., said he will offer an amendment to the Iraq spending bill that would bar money for relief and reconstruction until Bush officially reports to Congress on his Iraq strategy.
"The president owes our troops and their families a plan before we give the administration a blank check," Kennedy said in a written statement. [...]
Comment: Didn't Bush also owe the troops and their families a plan before the invasion? Kennedy and other Bush critics better watch out, though, given the following article:

Rumsfeld: Criticism of Bush Strengthens U.S. Foes
By Tabassum Zakaria
Mon September 8, 2003
SHANNON, Ireland (Reuters) - Defense Secretary Donald Rumsfeld said on Monday opposition to the U.S. President was encouraging Washington's enemies and hindering his 'war against terrorism'.
Rumsfeld was speaking after a trip to Afghanistan and Iraq where he sought to highlight progress on reconstruction efforts and dampen criticism of the U.S. presence there and the almost daily casualties in a guerrilla campaign against occupation.
He said if Washington's enemies believed Bush might waver or his opponents prevail, that could increase support for their activities.
"They take heart in that and that leads to more money going into these activities or that leads to more recruits or that leads to more encouragement or that leads to more staying power," he told reporters traveling with him on his plane. [...]
Comment: Since we are all supposed to believe that the terrorists hate Americans because of their freedoms, no one should question Bush since that would be a dangerous display of freedom of speech. If the imaginary terrorists think that American freedoms are still going strong, they will attack again.
So, Rummy is saying that what America really needs to do is to give up all its freedoms, and then the terrorists will have no reason left to hate America.
In essence, the U.S. should give in to the terrorists according to Rumsfeld.
Of course, the real terrorists are the ones in Washington and Israel. But even if Americans can't see this, they should still be up in arms over Rummy's supremely irrational and illogical arguments. Yet they remain silent...
Blix says Iraq's weapons declaration may have been true
AFP
Tuesday September 9, 2:28 PM

Iraq may have been truthful when it told the UN Security Council in December that it did not have chemical, biological or nuclear weapons, a former chief UN weapons inspector said.
The declaration, submitted December 7 by the government of then-Iraqi president Saddam Hussein, was quickly dismissed as false and incomplete by the United States and Britain, which accused Baghdad of failing to disarm as required by Security Council Resolution 1441.
These charges were later used by Washington and London to justify the invasion of the country in late March.
But more than four months after US President George W. Bush declared victory in Iraq, former chief UN weapons inspector Hans Blix said facts presented by Iraq in the 12,000-page document may have been accurate. [...]
Blix said US and British experts had now been scouring Iraq for weapons of mass destruction for several months and had the opportunity to interrogate members of the Iraqi establishment in their custody.
"I cannot fail to notice that some of the things that they expected us to see that they have turned out not to be real weapons of mass destruction," said the former chief inspector. [...]
Through Eyes of Foreigners: The US Political Crisis
By ROBERT JENSEN
Counterpunch.org
Thanks to several exchange programs, every year I have the opportunity to speak with dozens of journalists and professors from around the world who tour the United States to "increase mutual understanding, " as the U.S. State Department's "International Visitor Program" puts it.
[...] In the past five years, I have met with people from every continent (except Antarctica).
My job in these meetings is to answer their questions about U.S. media and politics, but the exchanges are truly mutual; I learn a lot about their countries. The most important lesson I have learned from these visitors, however, is about the United States and the crisis in our political system.
Every person with whom I have talked in these exchanges -- and I mean literally every single one, whether from Europe, Africa, Latin America, Asia, or Australia -- has made the same two observations about U.S. society. They all were surprised to discover:
* how far to the right the political spectrum is skewed, and;
* how depoliticized the entire society is.
Most of these visitors follow U.S. politics and have watched the steady rightward shift, especially since the election of Ronald Reagan in 1980. But when they travel in the United States, they develop a better understanding of this country's increasingly reactionary politics. Few of these people are leftists themselves; they're simply struck by the narrowness of mainstream U.S. political dialogue.
A number of them have told me that there are especially surprised to see how right-leaning the mass media and universities are. When I tell them that there is a widely accepted assertion here -- repeated constantly by people on the right -- that journalism and the academy are hotbeds of liberalism and even radicalism, they laugh. At first they assume I am joking...
Comment: Americans have no idea how limited political debate is in their country. Unable to think for themselves, dumbed down by poor schooling and fifty years of television, they live in a dreamworld. Things are getting so bad, yet they still don't see it. This message from a member of the Quantum Future School sums it up:
It is very depressing reading the news, walking the streets even. It used to be that you see a homeless man or woman, now there are whole families with two or three kids on the subways. But there are even worse things happening in the world. At times I find myself looking for a corner so too many people don't see when the tears start to come as I find it difficult to not react in that way. I really do wonder if I'm nuts most of the time. On the other hand I force myself to find things I can enjoy that is somewhat constructive. I enjoy my classes and it seem that the instructors find ways to speak out against what is going on in this country. ...I think it's too late. Speaking out is not enough.

I think that many are just plain shocked at how quickly things are deteriorating. For those of us who sort of knew this was coming it is still shocking. How much worse is it for the average person who is just getting a glimpse? It is a feeling of utter hopelessness, a struggle to find a way to MOVE, DO while getting an increasingly better view of the horror of the situation. Of course there are many who love this because horror is food for them.
08 September 2003

With his six-year-old son enrolled in Californian state school, Andrew Gumbel finds its roots in a conformist education system ill at ease with dissent or critical thought
Sooner or later, anyone who lives abroad reaches a defining moment when the desire to understand and fit into the foreign culture hits a brick wall of absolute resistance. In my case, living in California, it came a few weeks ago at my son's elementary school open house. The first-grade classroom was transformed into a showcase of art projects, spelling bees and mini-science workshops on the life cycle of insects. So far, so good. But then the children of Room 63 started to sing, and my internal refusal mechanism went haywire. In unison, they launched into "America I Love You":
It's your land, it's my land,
A great do or die land,
And that's just why I sing:
America, I love you!
From all sorts of places,
They welcomed all the races
To settle on their shore.
They didn't care which one,
The poor or the rich one,
They still had room for more.
To give them protection
By popular election,
A set of laws they chose.
They're your laws and my laws,
For your cause and my cause.
That's why this country rose.
Granted, I'm not a big fan of patriotic sentiment in any context. But this got my goat in ways I just couldn't shake. First, there was the niggly matter of historical accuracy. [...]
On 19 March, the day the war with Iraq began, two experts in child psychology appeared on a highly regarded radio show in southern California to talk about the best way parents should explain world events to their impressionable offspring.
Betsy Brown Braun, a child development specialist, acknowledged the difficulty of justifying the morality of warfare to children forever being told to resolve their differences without resorting to violence. But her solution was simply to defer to the official line. Parents, she said, should explain that "we tried to talk to people in Iraq", but that this is "a dangerous situation that has to be stopped".
"Think what you will about President Bush," she went on, "it is our job to let our children know that President Bush's number one concern is that everyone who lives in this United States is safe, that we're not trying to hurt anybody, that we want to keep all the people in the world safe." [...]
UN to discuss striking a deal with Bush on Iraq
By Toby Harnden in Washington
The Telegraph
The drive towards a fresh United Nations resolution setting up international oversight of Iraq intensified yesterday after President George W Bush's televised address received a cautious welcome from previously sceptical nations. [...]
The declarative rather than conciliatory way in which Mr Bush announced his volte face on UN involvement was viewed at the UN headquarters in New York as a sop to his domestic audience and not something that would alienate diplomats. [...]
Comment: We should not forget that it was UN supported sanctions that nearly devestated Iraq before the U.S. decided to go in and finish the job of destroying the population. The UN may have already struck a deal with Bush, even though at times it appears to play the good cop role to the U.S. role of bad cop.
Thousands of US troops evacuated from Iraq for unexplained medical reasons
By James Conachy
9 September 2003
Citing the US military Central Command as its source, the Washington Post reported on September 2 that "more than 6,000 service members" had been medically evacuated from Iraq since the launch of the war. At the time, the number of combat wounded stood at 1,124. A further 301 personnel had been injured in non-combat incidents such as vehicle accidents. The figure of "more than 6,000" supplied to the Post therefore implies that over 4,500 US troops have required evacuation from Iraq for medical reasons other than combat or non-combat injuries. [...]
Saboteurs blow up pipeline in northern Iraq
AFP
September 9, 2003
Saboteurs yesterday set off an explosion at a local pipeline linking two oil fields in northern Iraq, a civil defence official reported.
Commander Saleh Mohammed called the blast, which erupted near the Taaza electric power plant 15 kilometres south of Kirkuk, an act of sabotage.
He said it hit a pipeline that connected the Janbur and Kirkuk oil fields and was part of the Northern Oil Company's network for the domestic market. [...]
Annan takes steps to bridge divide over Iraq
Last Updated Mon, 08 Sep 2003 22:18:49
WASHINGTON - UN Secretary General Kofi Annan has responded to an American call for more international support in Iraq.
[...] Annan has called a meeting of the five permanent members of the UN Security Council for this weekend in Geneva to work out how the United Nations can help stabilize Iraq.
The United States wants the UN to contribute peacekeeping troops and money to Iraq but faces strong opposition from France and Germany. The two European nations are demanding a speedy restoration of Iraq's sovereignty and a larger role for the UN.
Annan told reporters the UN is capable of playing a major political role, pointing to its experience in setting up post-war governments in Afghanistan, Kosovo and East Timor.
Annan says Iraqis must govern themselves soon. And, to accomplish this, the international community must first restore internal security and essential services.
Annan Calls for Major Changes at the United Nations
Washington Post
Annan, presenting an annual security report at a news conference, said U.N. members should look for "radical reform" in the the way the United Nations and other institutions work to cope with war, terrorism, poverty and human rights.
Secretary-General Kofi Annan said Monday the global security system had been shaken to its core by divisions on fundamental issues, especially over Iraq, and called for major changes at the United Nations. The report was released shortly before the second anniversary of the Sept. 11 attacks against the United States and three weeks after the Aug. 19 bombing of the U.N. compound in Iraq that killed 22 people and 100.
"I see that attack as a direct challenge to the vision of global solidarity and collective security rooted in the United Nations Charter," he wrote of the Aug. 19 bombing.
Saudis told to report missing sons
Authorities in Saudi Arabia have urged families to report any missing children for fear they might have be recruited by militant groups.
The Saudi Interior Ministry has placed an appeal in newspapers, along with a telephone number for relatives to inform security services of suspicious cases.
For two years, the U.S. has pursued the culprits behind the 9/11 atrocities with a vengeance that has shocked and awed ally and enemy alike. But even the devastating attacks on the Afghan and Iraqi regimes don't illustrate the true scope of the campaign, DOUG SAUNDERS reports. While everyone was preoccupied with the fireworks, Washington has quietly deployed thousands of agents in a secretive struggle that may last a lifetime
By DOUG SAUNDERS
Saturday, September 6, 2003 - Page F6
The Globe and Mail
[...] So American soldiers and spooks are moving out of Germany and into Africa -- the east now, and soon into the western Sahara and the northern Mediterranean coast as well. They are moving out of Japan and Korea and into Southeast Asia, which has the world's largest Muslim population and is believed to be the area at highest risk of al-Qaeda outbreaks. This fall, large numbers of U.S. soldiers are expected to land in the southern Philippines, whose Muslim terrorists are accused of having links to al-Qaeda.
And the soldiers are also manning bases created in such central Asian republics as Uzbekistan for the Afghan war, and on the Black Sea in Bulgaria and Romania for the Iraq conflict, but now expected to become permanent.
And even farther afield will be hundreds of new outposts that Gen. Jones refers to as "warm bases," "lily pads" and "virtual bases" -- temporary, stealthy or secret operations mounted with the help of local regimes.
This has led the United States into some highly unlikely allegiances, which may or may not be directly related to the immediate threat of Osama bin Laden's circle. For example, it is conducting stealth operations in South America -- in the "tri-border" jungle region between Brazil, Paraguay and Argentina, and on Venezuela's exotic Margarita Island, both of which are home to large populations of Saudi Arabian expatriates. It is not clear whether there are actual terrorists here, or simply people who have sent money to terrorists, or if accusations of terrorism are being used to support local conflicts and to attract U.S. aid.
[...] But Djibouti is typical of the strange new alliances the United States is willing to enter -- and of the abuses it is willing to tolerate in order to achieve its goals. This year, it wrote cheques for $31-million to the tiny country, making it one of the larger recipients of U.S. aid. The cheques go to the government of President Ismael Omar Guelleh, whose party won all the seats in January's general election. Opposition leader Daher Ahed Farah complained that his Democratic Renewal Party received 37 per cent of the vote but failed to win a seat. For his criticisms, he was arrested in March and thrown into Djibouti's notorious Gabode prison. Other opposition leaders are forced to live in exile in France.
The State Department officially says Djibouti's human-rights record has "serious problems," but the Bush administration seems to see this as a potential asset. Last week, Djibouti expelled 100,000 residents, or 15 per cent of its population, to neighbouring countries. One government official explained that these foreign-born residents are "a threat to the peace and security of the country . . . How do we know whether an individual is a terrorist biding his time to cause harm, or not?" The official denied reports that the United States had requested the expulsions.
The poor human-rights record has not hurt Mr. Guelleh's relations with his allies. In late January, shortly after the questionable election, he visited Washington and was personally fêted by President George W. Bush, National Security Adviser Condoleezza Rice and Secretary of Defence Donald Rumsfeld -- a level of access beyond the reach of leaders such as Prime Minister Jean Chrétien.
Comment: The US continues to support repressive regimes in its plan to bring freedom and democracy to the world. Nothing new here. Nothing new in the American sheeple's eating this up. "Protect us, George! Our freedom is worth the subjugation of the rest of the world!"
What is new is the wide deployment of US forces around the world, as if they are putting the pieces in place for something as yet indefinable, something of which we are only now beginning to make out the vaguest outline. But of one thing we can be certain: something wicked this way comes.
by Brendan O'Neill
Since his suicide in July 2003, Ministry of Defence scientist David Kelly has been adopted by some in the media and anti-war lobby as a 'good man' who was keen to 'raise questions about the nature of the war in Iraq' .
Left-wing writer John Pilger claims the 'heroic' Kelly was 'the antithesis of those [in government], who have shown themselves to be the agents of a dangerous, rampant foreign power'. If this is true, why does Kelly appear to have been a close acquaintance of Judith Miller of the New York Times - the most vitriolic pro-war journalist, whose shrill articles about Saddam and his WMD have recently become the subject of ridicule?
Shortly after Kelly's death, it emerged that his final email was to Miller. This is the one in which he referred to 'many dark actors playing games', words that Miller first quoted in an article for the NYT and which quickly spread around the world. The submission of Kelly's emails as evidence to the Hutton Inquiry this week reveals the rest of his message to Miller, in which he refers to her as 'Judy' and says 'Thanks for your support. I appreciate your friendship at this time'.
Hutton's evidence also shows that Kelly's email was in response to one sent by Miller, in which she asked Kelly how it went at the Foreign Affairs Committee where he gave evidence days before committing suicide. 'I heard from another member of your fan club that things went well for you', wrote Miller. 'Hope it's true, J.'
Why was Miller a member of Kelly's 'fan club'? Miller is one of the most arch pro-war journalists; she has published numerous articles for the NYT over the past two years claiming that Saddam was developing chemical, biological and nuclear weapons. For some of these reports, Miller appears to have relied on highly dubious sources.
Comment: Indeed. Kelly was no hero, implicated as he appears to be in the development of ethnic specific weapons. Miller, the PNAC member, would no doubt think this was a great idea.
Straw implicated in the naming of Kelly

By Kim Sengupta
09 September 2003
Jack Straw, the Foreign Secretary, was implicated for the first time yesterday in the naming of David Kelly in documents freshly released by the Hutton inquiry.
The documents also show Mr Straw playing a part in the "sexing up" of the September Iraq arms dossier, urging the strengthening of references to weapons of mass destruction and demanding a "killer paragraph". But it is the revelations about his department's role in the disclosure of Dr Kelly's identity which is potentially the most damaging for Mr Straw, who has so far been relatively untainted by the controversy surrounding the scientist's death. [...]
Global Eye -- Strange Attractors
By Chris Floyd
[...] Zubaydah, captured by the Americans last year, confirmed that Saudi royals began paying off bin Laden in 1991. Young Osama, victoriously returned from the CIA-backed jihad against the Soviets in Afghanistan, was feeling his fundamentalist oats, and wanted to take up arms against the demonic secularist Saddam, after the latter's invasion of Kuwait. But the Saudi royals preferred to bring in the hired muscle of their long-time business partner, George H.W. Bush. When Osama threw a fit over the presence of American "infidels" on holy ground, the royals told him he could go kill Americans if he wanted to -- as long as he kept his jihad hobby outside the confines of the kingdom. They bought his compliance with copious amounts of petrodollars -- most of them supplied, ironically enough, by the oil-addicted denizens of the United States.
Zubaydah, under torture (yes, we know, Americans never torture people -- and they don't launch unprovoked wars of aggression, either), gave up names, dates, even telephone numbers of al-Qaida's enablers in the Saudi royal family and Pakistani military. True, the wily terrorist operative might have been lying. But shortly after Zubaydah spilled these red-hot beans, all three Saudi princes he had named turned up dead -- within a single week, in June 2002. One died in a car crash, one reportedly had a heart attack, and the third wealthy prince somehow "died of thirst" in the Saudi desert.
The following week, the top Pakistani official fingered by Zubaydah was also killed, along with his family, when his airplane suddenly fell out of a clear blue sky. Of course, this could just be coincidence -- after all, planes fall, cars crash, hearts fail and multimillionaires die of thirst in the desert every day, right? Still, it looks as if Zub's canary-like warbling might have struck a nerve somewhere out there.
Naturally, the Bushists kept these insights into the origins of the Sept. 11 atrocity hidden from those perpetual patsies, the American people. They didn't want to embarrass their Saudi and Pakistani allies, who were now pouring money into the pockets of Bush's war-profiteering cronies in the arms trade. What's more, an open investigation into the true context of the attack would have distracted from the more important business at hand: slaughtering Iraqis for fun and profit.
And "slaughter" is the operative word. A recent in-depth, in-country body count -- carried out by the Iraqi Freedom Party, a pro-business, anti-Saddam Iraqi dissident group championed by American conservatives -- put the number of civilians killed by the Bush invasion at 37,000: the equivalent of 460,000 American deaths, as a percentage of total population. No doubt Bush's own fundamentalist followers will greet this news scripturally, "with tabrets, with joy, and with instruments of musick," chanting, "Osama hath slain his thousands, and Bush his tens of thousands!"
Letter From a Reader
We received the following from a reader. He makes a very interesting point about the bombing in Iraq that killed the Ayatollah Hakim.
Dear Editors,


have enjoyed searching your interesting web site for the past 5 hours, and reading the stuff like a spy novel. It is about 4:30 am and still I cannot pull myself away from the screen. Two questions have popped into mind, however. How come this material is still in the public domain, despite the fact that it is highly damaging to the status quo and their goons? How come you guys are still alive? Or are you dead and no one will actually read this email?

The second question is about what you think about Mossad being behind the bombing of the mosque in Iraq and the assassination of ayatollah Hakim?

I have read accounts on Muslim and Arab web sites that allege exactly that notion. It seems likely to me.

Being a Muslim myself, I see it as totally improbable that either sect of Islam can actually do such a violent action near a site that is probably the second holiest site after Mecca. Both sects revere Ali as a companion of the prophet and the second person accepting Islam, and actually the first male accepting Islam.

There is also a little item on antiwar.com that says Israelis actually visited Iraq and were given a tour by the American military personnel.

People who do not know Islam will easily believe the official view about rival shi'a or Saddam's men or OBL having committed this act. But both Saddam and Osama have disclaimed it and it is not possible that rival shi'a would do such a thing, since Ali is revered almost like Christ in Christianity among the Shi'a Muslims.

The two main sects may have had their differences and killed each other over that, but in one thing they speak with one voice: their admiration for Ali. Well it seems like I have spent 5-6 hours again on this computer instead of getting some sleep, but don't regret it.
Dreams of empire dance in their heads
By JEFFREY SIMPSON
From Tuesday's Globe and Mail
No weapons of mass destruction, the ostensible reason for invading Iraq, have been found. Terrorist groups are popping up in Iraq, brought there by the invasion itself, rather than any previous link to Saddam Hussein.
The U.S. occupation is going well in the Kurdish area of the north, but the Americans are bogged down elsewhere, especially in the Sunni triangle of central Iraq. More U.S. soldiers have been killed since President George W. Bush declared the war over, than were killed during the invasion.
Basic services still do not work, and Iraqis are blaming the occupiers.
Bombs have ripped apart the Jordanian embassy, a Shia mosque, the UN headquarters, pipelines and other vital infrastructure.
Now, belatedly, President Bush admits his administration needs more money for occupying Iraq, money from a budget his administration has already driven deep into the red. He even wants what the red-blooded neo-conservatives who dominate his administration detest: more help from the hated United Nations, including a Security Council resolution.
The question now for the rest of the world, including allies such as Canada, is whether their lot in life is to help clean up messes created by the zealots in the Bush administration.
New Passport Rules Are Put Off by U.S.
By PHILIP SHENON
The New York Times
WASHINGTON, Sept. 8 — The Bush administration has decided to postpone enforcement of new antiterrorism regulations that had threatened to block millions of Western Europeans and citizens of other developed nations from traveling to the United States unless they obtained new, computer-coded passports, senior administration officials said today.
They said the new passport rules, which were supposed to take effect on Oct. 1 and which were mandated by Congress as an antiterrorism measure, will not be enforced until October 2004. [...]
The 27 countries in the visa-waiver program face another daunting deadline in October 2004, when they will be required by the United States to issue passports with computer chips containing facial recognition data. [...]
Men accused of Saudi bombings tell of jail ordeal
Kirsty Scott
The Guardian
One of the Britons released last month from a Saudi jail has said he was tortured "beyond endurance" during his imprisonment.
Sandy Mitchell said he was chained, beaten and denied sleep until he confessed to a crime he did not commit.
Mr Mitchell, 44, from Kirkintilloch, was one of six men from the UK arrested three years ago after a series of bomb attacks in Riyadh that left one Briton dead and several other westerners injured.
The Saudi authorities claimed that the blasts were part of a feud between illegal alcohol smugglers and not the work of Saudi dissidents. [...]
EU governments can ban GM food
Associated Press
09:54 Tuesday 9th September 2003
The European Union high court has ruled member governments can temporarily ban genetically modified foods if they suspect they threaten health or the environment.
The ruling was made in a case which pitted biotech giant Monsanto against the Italian government.
The ruling is expected to mark yet another setback for biotech companies trying to sell their genetically modified products in Europe. [...]
By Farai Chideya, AlterNet
September 8, 2003
This July, on my birthday, I strolled through Portobello Road market in London. Along the curving thoroughfare, people sell all manner of things, from shiny silver flasks to long leather coats and fresh lychee nuts.
At one stall selling old maps, I fingered a map of Africa from the 1920s, with pale colors tinting huge colonial African states. Many of them had different names than they do today – an understandable phenomenon given the way these countries were hacked out of the populous continent with little regard for the needs of the occupants. Overlaid on each state or region the names of natural resources. Gold, copper, iron. Ivory and oil. Everything that modern society runs on could be found in Africa. It still can today.
So why is Africa so damned poor?
First, let me backtrack a bit. The current political debates over Africa have a sly tone of censure, as if the continent has brought all its misery upon itself. (And these fifty-plus countries are always just "Africa," as in "Survivor Africa" and "The President's Africa Trip.") I mean, for God's sakes, these Africans are a permanent fixture on the charity drives and late night infomercials, their children crusty-cheeked and covered in flies. Beggars can't be choosers and Africans, judging by their constant state of incivility in the news, don't even choose to get along.
It's against this backdrop that Africa's poverty takes on added significance. We believe that poor people, here and abroad, are sort of like the developmentally disabled. They just don't make smart decisions. A couple of years ago, the director of the United States Agency for International Development said Africans couldn't benefit from advanced drug therapy because they don't use clocks and "don't know what Western time is." As it turns out, in a study released this week, Africans do a better job of taking their AIDS medications on time than folks from the United States – 90 percent of Africans as opposed to 70 percent of Americans. Fancy that.
Why is the way that AIDS survivors take their medication a big international issue, anyway? Well, it's because the U.S. has steadfastly fought lowering the price of AIDS drugs to anything that an average citizen of an African country could pay. We have markets to protect. AIDS medications, patented by U.S. companies, cost an average of $10,000 per year. The per capita income of Uganda, hit hard by the virus, is $1200 per year.
Perhaps the rest of the world is afraid of Africa's judgment, afraid that after all these years of being silent, the citizens of the continent will stand and cry, "J'Accuse!" We Africans accuse you of murder, coercion, complicity in the death of our people, first by military force and now by withholding medication. Since free speech is quite often expensive, it isn't surprising that those with few funds remain silent. We Americans, however, in the richest country in the world, are not barred from speaking. We simply refuse. [...]
Ah, Africa! So rich, and yet so poor. If its resources were free – and its people as well – African nations could do anything. Anything!
Morocco bomb suspect is 'French spy'
Monday 08 September 2003, 14:23 GMT
Aljazeera.net
A French national on trial in Morocco for allegedly leading a Muslim group suspected of the May bombing attacks in Casablanca has told the court he worked for French intelligence.
Pierre Robert told the Rabat court that he infiltrated Muslim groups and carried out investigations on behalf of the French intelligence services, the DST. [...]
Toronto Jews Fight Jews For Jesus
Bill Gladstone Special to the Jewish Times
SEPTEMBER 08, 2003 Toronto
A battle for Jewish souls is being waged across Canada's largest city as Jewish activists here work to counter the effects of an aggressive missionary campaign launched by Jews for Jesus. The multimillion-dollar international Christian missionary group kicked off a three-week missionary campaign on Aug. 25, called Behold Your God, an intensive blitz targeting the city's 175,000 Jews.
The Jesus campaign, which will last through Sept. 14, involves newspaper ads, billboards, leaflets, a telemarketing-style phone campaign and door-to-door canvassing in Jewish neighborhoods.The missionaries also are distributing free copies of a video produced by their organization that focuses on Holocaust survivors who have converted to Christianity.Jewish groups have mobilized in response.
The Jewish countermissionary organization Jews for Judaism mounted a comprehensive campaign to defend against the missionaries. The group designated Saturday as a Stand Up for Judaism Shabbat, urging rabbis across southern Ontario to address the missionary problem from the pulpit[..]
Comment: Wasn't Jesus Jewish?
Canada, U.S. ambassadors say relations between two countries improving
05:25 AM EDT Sep 09
CHRIS MORRIS
GROTON, Conn. (CP) - Canada has "stepped up to the plate" in such international hotspots as Iraq and Afghanistan, thereby improving relations with the United States, Paul Cellucci, the U.S. ambassador to Canada, said Monday.
Cellucci and Michael Kergin, the Canadian ambassador to the United States, told the annual meeting of New England Governors and Eastern Canadian Premiers that relations between the two countries are now in good shape. Cellucci congratulated Canada for sending almost 2,000 troops to help secure the peace in Afghanistan.
"And Canada has stepped up to the plate with significant financial contributions to the rehabilitation of Iraq," the U.S. ambassador said.
The comments were new signs of a friendlier relationship between Canada and the United States following a rift that developed over Canada's stand on Iraq.
Bone, Organs Found Near Bush Maine Home
By Associated Press
September 7, 2003

KENNEBUNKPORT, Maine -- A woman walking along a beach about a mile from former President Bush's summer home Sunday found what appeared to be body parts on the shore, police said.
The state medical examiner will inspect the items, which include at least one bone and what appeared to be internal organs, said Stephen McCausland, spokesman for the state Public Safety Department. He said it wasn't immediately known if they were human.
McCausland said state police would not send investigators to the scene unless an examination shows the body parts are from a human. An examination was not expected before Monday.
The area where the parts were found -- a rocky stretch of shore known as Colony Beach -- is about a mile from the Bush compound, said Sgt. Chris Simeoni of the Kennebunkport police.

Zimbabwean arrested for sending fax

09/09/2003
A Zimbabwean man has been arrested for sending a fax to a friend in Britain that chronicled violence during local elections. Martin Mukaro, 35, appeared in a Harare court accused of breaching the state's Public Order and Security Act.
He was arrested in a Harare public phone shop as he attempted to fax a personal letter and a newspaper cutting of violence in the run-up to last month's elections.
The prosecution said Mukaro was standing next to a fax machine when a man who had been peeping at his personal documents, alerted the police about contents of the documents. Mukaro was sending the letter to Felix Mazava, a Zimbabwean living in London.
Comment: The Zimbabwean Patriot Act.
Will China Talk To the Dalai Lama?
By Gregory B. Craig
Tuesday, September 9, 2003; Page A23
The Dalai Lama visits Washington this week, and he may be bringing good news to a president sorely in need of it. For the first time in recent years, there is reason to hope that the Chinese are finally willing to consider new ways of resolving the protracted Tibetan problem. Envoys representing the Dalai Lama recently met with the Chinese leadership in Beijing and -- over a period of many days filled with many contacts and conversations -- discussed all the hot-button issues that have been so intractable for almost 50 years. The talks were candid and the tone was civil. Quietly and almost invisibly, a process of reconciliation may be underway.

For many years American presidents -- as well as other friends of Tibet -- have urged the Chinese government to begin a dialogue with the Dalai Lama. Perhaps the most dramatic and visible manifestation of this effort came during the joint press conference held in Beijing in June 1998 by Jiang Zemin, then president of China, and Bill Clinton. At the end of the press conference, the two presidents exchanged comments about Tibet. Clinton urged Jiang to meet with the Dalai Lama, saying, "I have spent time with the Dalai Lama. I believe him to be an honest man. I think you will like him." [..]
China to start selling dollar, euro bonds in October: source
First created :
09 September 2003 1329 hrs (SST) 0529 hrs (GMT)
China is expected to start marketing its long-awaited global bond, its first international issue since May 2001, from around mid-to-late October, banking sources said.The new issue is widely expected to consist of a 10-year US$1 billion dollar-denominated tranche and another five- or seven-year 500 million euro one.
Merrill Lynch, JPMorgan and Goldman Sachs have been selected as joint bookrunners to sell the dollar-denominated debt, while UBS, Deutsche Bank and BNP Paribas have been mandated to sell the euro portion of the offering.The Chinese government is expected to market the dollar tranche of the bond in the US, Europe, and Asia, the sources said.
China last sold a global bond in May 2001, raising US$1 billion through a 10-year tranche and 550 million euro through a five-year offering.With China's huge foreign reserves of around US$349.5 billion, it probably isn't seeking to raise funds but is tapping the international debt market to set a new, more liquid benchmark.[..]
Comment: China is always one to watch. The USA is occupied with its new Vietnam in Iraq (be prepared for the commemorative video of US defense personnel tipping helicopters off aircraft carriers as they depart). Europe is coming to terms with being a united entity.
The choice of a 2:1 ratio of US dollars vs Euros is a compromise of sorts, the Chinese Yuan is already pegged to the US dollar which has assisted Chinese exporters making Chinese goods cheaper as the greenback slides. The US$349.5 billion in foreign reserves is most likely an understatement. What ISN'T made in the People's Republic of China these days?
Snowtown killers face life in jail
By Simonne Reid
September 9, 2003
AUSTRALIA'S worst serial killers, John Justin Bunting and Robert Joe Wagner, last night began jail sentences expected to keep them behind bars until they die. Gruesome ... Two bodies were found in this backyard.
The evil pair, whose victims' dismembered bodies were found in disused barrels in a Snowtown bank vault, refused to stand as the Supreme Court jury declared its guilty verdict. [...]
Children found in 'filthy' car, police say; abuse charges filed
By Aubrey Hovey
Tribune Reporter
Two toddlers were taken into state custody after passers-by noticed them in the back seat of a parked car while their parents were in the front seat "passed out," according to a Metropolitan Court criminal complaint.
When police arrived at the car parked beside a ditch near the 2200 block of Bridge Boulevard Southwest on Thursday morning, they found a 3-year-old and a 1-year-old inside a "filthy" car, the complaint says. The children were "covered in nail polish" ...
Bill exempts disputed drilling process
Despite water-pollution fears, technique would not be regulated by feds

By Mike Soraghan
Denver Post Washington Bureau
WASHINGTON - Tucked inside an 800-page energy bill winding its way through Congress is a short section that would exempt from federal regulation a lucrative gas-drilling process perfected by the energy company Vice President Dick Cheney once ran.
The exemption, while it likely wouldn't benefit Cheney financially, is testament to the support that the oil and gas industry enjoys in the White House and the Republican-controlled Congress.
The process, widely used across Colorado and the rest of the West, injects diesel fuel, hydrochloric acid or other additives into the ground to help boost production.
Environmentalists say that could put drinking water at risk, and they want federal officials to have regulatory power to prevent problems and step in if water is contaminated. Alabama residents say the technique, called hydraulic fracturing, fouled drinking-water wells and unleashed a stench in homes. [...]
Comment: You know it is bad when main stream media reports say things like, "while it likely wouldn't benefit Cheney..". The man is using the White House for personal gain, everybody knows it, so why is this pawn with a cheap price tag still there? Because we all have become use to lies and the way of the psychopath and instead of making a committment and standing up for ourselves. We have rolled over.
Priest, Accused Of Nude Swimming With Kids, Takes Leave From Church
(WABI) A Roman Catholic priest in the western Maine town of Oquossoc accused of nude swimming, boating and hot-tubbing with minors at a Waterford summer camp in the 1980s has taken a leave of absence from his church. [...]
Ex-monk now helps victims sue church

By Deborah Hastings
AP National Writer
COSTA MESA, Calif. – He liked the job at first. His superiors liked him. He was 26, he was moving fast, and he was doing God's work.
But by the time he'd taken over his fourth parish in four years, he realized he wasn't doing God's work at all. He was doing the bidding of the Roman Catholic hierarchy. And those two things, in his mind, were not remotely the same.
As a Benedictine monk, Patrick Wall cleaned up and covered up the sins of priests – pastors who were quietly transferred when their sexual and financial trespasses threatened to ignite public scandal. [...]
Teen slashed by hidden razor blade in new shoe
A 14-year-old girl needed 15 stitches to her foot after someone hid a razor blade inside a new shoe she was trying on in Tamworth, in NSW's north west. [...]
W.Md. anti-fluoride lawsuit dismissed by federal judge
'I think we've moved on,' Allegany dentist says Also see

By Stephanie Desmon
Sun Staff
One of the most hotly debated political issues in Western Maryland, one that in the not-too-distant past has eclipsed taxes and crime and jobs, is fluoride -- and whether it should be added to the drinking water. [...]
McDonald's to recall apple pies laced with chemical
(Mainichi Shimbun, Japan, Sept. 8, 2003)
McDonald's Co., (Japan) Ltd. has vowed to recall apple pies from 15 prefectures after finding that they were laced with an unauthorized chemical, but most of the pies have apparently already been consumed.[...]
Man Jailed for Faulty Bomb-Sniffing Dogs

ALEXANDRIA, Va. - A dog trainer was sentenced to 6 1/2 years in prison Monday for providing defective bomb-sniffing dogs to the government after the Sept. 11 attacks and lying about their credentials. [...]
Secrecy masks Patriot Act's conduct
Amid rights debate, scope of law is cloaked
By Amy Goldstein
THE WASHINGTON POST
[...] IN SUBURBAN Boston, a state legislator was stunned to discover last spring that her bank had blocked a $300 wire transfer because she is married to a naturalized U.S. citizen named Nasir Khan.
And in Hillsboro, Ore., Police Chief Ron Louie has ordered his officers to refuse to assist any federal terrorism investigations that his department believes violate state law or constitutional rights.
As the second anniversary of the Sept. 11, 2001, attacks approaches, the Bush administration's war on terror has produced a secondary battle: fierce struggles in Congress, the courts and communities such as these over how the war on terror should be carried out. At the heart of this debate is the USA Patriot Act, the law signed by President Bush 45 days after the terror strikes that enhanced the executive branch's powers to conduct surveillance, search for money-laundering, share intelligence with criminal prosecutors and charge suspected terrorists with crimes.
Yet the paradox of this debate is that it is playing out in a near-total information vacuum: By its very terms, the Patriot Act hides information about how its most contentious aspects are used, allowing investigations to be authorized and conducted under greater secrecy. [...]
American picked to lead war on crime
By Philip Johnston and John Steele
The Telegraph

David Blunkett has appointed one of America's top officers to take charge of a key Home Office crime-cutting unit.
British police representatives last night accused the Home Secretary of being "fixated" with US-style policing .[...]
Florida Law Lets Pupils Forgo Senior Year

By JILL BARTON
Associated Press Writer
WEST PALM BEACH, Fla. - Of all the ways attempted to free up space in Florida's crowded classrooms, this one could be a dream come true for high schoolers in a hurry: a diploma without a senior year. [...]
Study reveals dark side of journalism
Published on Sep 9, 2003
Thai print media journalists are among the world's most susceptible to bribes, a global survey revealed yesterday.
In the first study of its kind, the print media of 66 countries were judged in terms of their resistance to taking bribes. Thailand was listed at joint 50th.
The results showed that bribery within the media was most likely to occur in China, Saudi Arabia, Vietnam, Bangladesh and Pakistan.
The countries whose media were seen as least susceptible to bribery were Finland, Denmark, New Zealand and Switzerland. Germany, Iceland and the United Kingdom tied for fifth place, with the United States ranked joint ninth.
Comment: American and British journalists don't need to be bribed so much. They know not to push stories too far so as not to risk their sorry jobs. Most are just a standard part of the operation against the American mind. Perhaps they fear the kind of treatment described below.
Journalists humiliated in presence of Jamali
Monday September 08, 2003 (1640 PST)
ISLAMABAD, September 09 (Online): Dozens of capital territory police personal on Monday right before of National assembly baton charged media men and used abusive language in presence of Prime Minister Mir Zafarullah Khan Jamali.
It is said that this brutal act of police occurred when Prime Minister arrived in middle of Anti Haudood Ordinance protest in front of the parliament house by the local NGOs.
The polices started their inhuman act when the photo journalists tried to take pictures of prime minister holding talks with representatives of NGO's, Sheela Zia and Naeem Mirza.
They continued their torture for almost ten minutes but Prime minister neither took notice of this situation nor ordered police to stop humiliating media men. [...]
Ecological disaster awaits Vembanad lake
By A. Harikumar
ALAPPUZHA SEPT. 8. The Vembanad backwater system, which is the largest of its kind on the west coast of India, may soon turn out to be an ecological disaster due to the largescale pollution of its waters, indiscriminate exploitation of its resources and human intervention in the form of reclamation of land and other encroachments. [...]
Climate change tops agenda of Pacific ministers
09/09/2003 09:28:47
ABC Radio Australia News
Environment ministers and representatives from Pacific Island countries will this week attend a special meeting in the Samoan capital, Apia.
The South Pacific Regional Environment Program meeting will examine issues of concern to the region, such as over fishing, logging and coral depletion. [...]
'Super El Nino' could turn Amazon into dustbowl
The Amazon river could dry up and its lush vegetation turn into a dustbowl within 50 years because of global warming, British scientists warned yesterday. [...]
Another quake jolts Portugal's mid-Atlantic Azores islands
LISBON, (AFP) - Portugal's mid-Atlantic Azores archipelago was jolted early on Monday for the third time in the past two days by an earthquake, authorities said. [...]
Hurricane Isabel Could Threaten Northern Caribbean

MIAMI (Reuters) - Hurricane Isabel strengthened on Monday in the Atlantic Ocean far from land, and forecasters urged residents of the northeastern Caribbean islands to watch its progress closely. [...]
Scientists Warn of Travel Danger to Antarctica
BBC
Two "citizen's juries" have said the moratorium on the use of genetically modified crops should continue.
The juries, made up of 30 members of the public, said the possible health and environmental impact of GM crops were still such a concern that commercial planting should not yet go ahead.
Their feelings were published in the People's Report on GM Crops, compiled after the "jurors" spent six weeks hearing expert evidence.[...]
Seeking a harvest for the world
Comment: The article is about the WTO meeting in Cancun. The WTO has already done so much damage to so-called "third world" countries and is another part of the plan to funnel resources into the hands of a few. It is interesting that 9/11 came along and put a stop to activists around the world uniting in a common cause to point out the crimes against humanity perpetrated by the WTO.
N.Korea Holds Birthday Parade, but No Missiles

By Martin Nesirky
SEOUL (Reuters) - North Korean leader Kim Jong-il took the salute Tuesday at a national day parade as the embattled communist state repeated threats to build up its nuclear deterrent.

Thousands of soldiers marched through Pyongyang's Kim Il-sung Square, but diplomats said there was no military hardware on display despite speculation that North Korea might showcase a new missile. [...]
Archaeologist: Ancient flood had profound impact

Roger H. Aylworth Staff Writer
September 08, 2003

A Chico archeologist is convinced he has found evidence of an ancient flood that would have made Noah nervous, and the archeologist believes this monstrous inundation of the landscape should forever change our image of what a Sacramento River flood could do.

Greg White, director of the Archeology Project at Chico State University, wasn't looking for evidence of an epic deluge when he found it. He was monitoring a trenching operation in Colusa.
"It was quite young archeologically," said White, explaining the artifacts seemed to come from sometime between 900 and 1200 AD. Immediately on top of the village remains were what White sees as indisputable evidence of an enormous flood.
He found a 3-to 4-foot-thick layer of coarse sand and clay immediately on top of the village artifacts, and then additional artifacts of almost exactly the same age were located on top of this layer.
White said there was nothing in the site to suggest the village was being abandoned prior to the laying down of the silt layer. I would guess the village was occupied right up to the flood," said White.
Based on carbon dating of artifacts, both below and above the silt layer, the flood hit about 980 AD. Flooding along the Sacramento River, particularly in the days before dams controlled parts of the flow, are hardly strange. But what got White's attention was the thickness of the silt layer deposited by the flood.
A heavy flood might leave a few inches of sand and clay on the riverbank, but this flood left feet of material in its wake.
"You have to have a highly energetic flow to carry that much coarse material out so far," he explained. He described the power of this flood as "extraordinary."
White said he has found evidence of this same flood deposit in several other areas around the valley, and believes it may have inundated functionally the entire valley.
The archeologist also said there is some evidence to suggest there were additional floods of this magnitude in about 400 AD, and a cluster between 3,500 and 4,000 years ago.[...]
"It does give us plenty of evidence that the valley has gone crazy more than once in the past and there seems to be some periodicity to it," he said. White also explained the potential for enormous floods, should have an important impact on " how we think about the river."

Zimbabwe to kill buffalo in 'bizarre' mass cull
Zimbabwe is culling thousands of buffalo to "contain" foot-and-mouth disease in a move that has sparked protests and been described as "futile and bizarre". Conservationists said the order was "stupid" and would kill off what was left of Zimbabwe's tourism sector, which has shrunk to 15 per cent of its former level since political disturbances began in 2000.
Salmon Joubert, a retired executive director of the Kruger National Park, which straddles Zimbabwe's borders with South Africa and Mozambique, said the decision "ranks as one of the most futile and bizarre moves that anyone can imagine".
US raises a generation of fat cats as obesity spreads to nation's pets

By Rupert Cornwell - UK Independent
09 September 2003

It is not only humans who suffer the scourge of excess weight in our consumption saturated Western world.[...]
Venus possibly habitable for billions of years

14:49 08 September 03
NewScientist.com news service
The hellish climate of Venus may have arisen far more recently than previously supposed, suggests new research. If so, pleasant Earth-like conditions probably persisted for two billion years after the planet's birth - plenty of time for life to have developed.[...]
UCLA Astronomers Detect Plasma At Black Hole
2003-09-08
UCLA astronomers report they have detected remarkably stormy conditions in the hot plasma being pulled into the monstrous black hole residing at the center of our Milky Way galaxy, 26,000 light years away. This detection of the hot plasma is the first in an infrared wavelength, where most of the disturbed plasma's energy is emitted, and was made using the 10-meter Keck II Telescope at the W.M. Keck Observatory in Hawaii.
Plasma is a hot, ionized, gas-like matter -- a fourth state of matter, distinct from solids, liquids and gases -- believed to make up more than 99 percent of the visible universe, including the stars, galaxies and the vast majority of the solar system. [...]
Deep Under the Sea, Boiling Founts of Life Itself
By WILLIAM J. BROAD
What started as a hunch is now illuminating the origins of life.
A few years back, Dr. Derek R. Lovley and colleagues at the University of Massachusetts found that a few kinds of bacteria used iron as a means of respiration (just as humans use oxygen to burn food) and that a surprising but common byproduct of this form of microbial breathing was magnetite, a hard black magnetic mineral.

The scientists wondered if hidden swarms of microbes might account for the vast deposits of magnetite that dot the earth and sea.
So they turned to one of the strangest, most ancient of environments: the deep sea's volcanic gashes, where mineral-rich waters hot enough to melt lead gush forth to nourish riots of life ranging from microbes to eight-foot-long tube worms. From the deep Pacific and other sites, the scientists obtained many samples of hot fluids.
To their surprise, they found that all the heat-loving microbes, known as hyperthermophiles, could breathe iron and make magnetite. Not only that, but one type broke the high-temperature record, thriving at an astonishing 250 degrees ó far above the boiling temperatures usually associated with sterilization. The alien organism was judged to be among the most primitive forms of life ever discovered. [...]
Researchers identify brain-healing protein
Tasmanian researchers may have unlocked the secret to helping a brain repair itself naturally after injury.
The neuro-repair group in the School of Medicine at the University of Tasmania has identified a type of protein in the brain with the ability to influence brain healing. [...]
By Robert Roy Britt
Senior Science Writer
If Mars is in your mental rearview mirror following its close approach in late August, you might want to glance out your front window on the way home tonight. The red planet is set for another center stage appearance, this time in a celestial tango with the Moon. [...]
Grandfather sued for downloading pop music
Associated Press
08:52 Tuesday 9th September 2003
A 71-year-old grandfather is among more than 250 Americans being sued by the music industry for downloading copyright music from the internet. [...]
The Recording Industry Association of America warned it ultimately may file thousands of cases.
Its first round was aimed at what it described as "major offenders" illegally distributing on average more than 1,000 copyrighted music files each.
One of the defendants, 71-year-old Durwood Pickle, said his teenage grandchildren used his computer during visits to his home. [...]
McDonald's armed robber attacked with trays
Japan celebrates having 20,000 100-year-olds
Ananova.com
10:26 Tuesday 9th September 2003
Japan is holding a national holiday to celebrate the elderly after announcing there are 20,000 people aged over 100 years old in the country.
The Government says it will present the 20,561 Japanese centenarians with a silver cup and letter from the president to highlight the record.
Included in the celebrations will be the world's oldest man and woman, 114-year-old Yukichi Chuganji and Kamato Hongo, who turns 116 next week. [...]
Ananova.com
10:37 Tuesday 9th September 2003
A woman in Germany has been driven out of her marital bed by a jealous pet monkey.
The 45-year-old woman, named only as Claudia S, said she could no longer sleep with her husband, Bernd, after their pet rhesus monkey, Buddy, threw her out.
Claudia said: "I had to move out of the way otherwise he would pull on my hair. I can't even get into the bed anymore as he gets jealous." [...]
---
Remember, we need your help to collect information on what is going on in your part of the world!
We also need help to keep the Signs of the Times online.
Obviously, there are a lot of folks out there who do NOT like what we are doing - our own special brand of news coverage - and they are working day and night to create almost insurmountable problems for us, designed to grind us down and render our plans to be able to increase our production (which include a weekly radio show that is currently in the implementation stage) impossible to bring to fruition. We are coming under increasing pressure from many directions all at once.
Our need for financial support has never been greater, including support for legal initiatives to halt the madness of several of the para-COINTELPRO activities currently launched against us. These operations are designed to create a platform to justify utilizing police state tactics so as to silence, and even ultimately, destroy us.
Please: We need your help.
The campaign of lies and disinformation would be frightening under normal circumstances; considering the present state of the world and the machinations of the "National Security State," it is terrifying.
Please - if you have been helped by our work -
won't you help us NOW?

---

Check out the Signs of the Times Archives

Send your comments and article suggestions to us.
---
Fair Use Policy
Contact Webmaster at signs-of-the-times.org
Cassiopaean materials Copyright ©1994-2014 Arkadiusz Jadczyk and Laura Knight-Jadczyk. All rights reserved. "Cassiopaea, Cassiopaean, Cassiopaeans," is a registered trademark of Arkadiusz Jadczyk and Laura Knight-Jadczyk.
Letters addressed to Cassiopaea, Quantum Future School, Ark or Laura, become the property of Arkadiusz Jadczyk and Laura Knight-Jadczyk
Republication and re-dissemination of our copyrighted material in any manner is expressly prohibited without prior written consent.
.