---
New! Cult-ivating Terror
---
Bush on warpath over UN's shock report on Iran A-bomb
By Con Coughlin
The Telegraph
(Filed: 07/09/2003)
America will tomorrow demand that the United Nations takes urgent action to prevent Iran acquiring the atom bomb as fears mount that Teheran is on course to develop a nuclear weapons capability within two years.
United States officials will make the demand at a special meeting of the International Atomic Energy Agency (IAEA) in Vienna that has been arranged to consider a 10-page report by Mohammed al-Baradei, the agency's director-general, into the state of Iran's nuclear programme. [...]
Mr al-Baradei writes in the report's conclusion that "there remain a number of important outstanding issues, particularly with regard to Iran's enrichment programme, that require urgent resolution".
US officials, however, are concerned that Mr al-Baradei, who this year argued in favour of UN inspectors being given more time to locate Saddam Hussein's weapons of mass destruction, will try to play down the significance of the recent discoveries made in Iran.
One American closely involved in monitoring Iran's nuclear programme said: "The big difference between Iraq and Iran is that the Iranians now have the ability to develop an atom bomb within two years. The time has come to force the Iranians to come clean about their real intentions." [...]
Comment: Also see U.S. fails to meet international deadline on destroying its own chemical weapons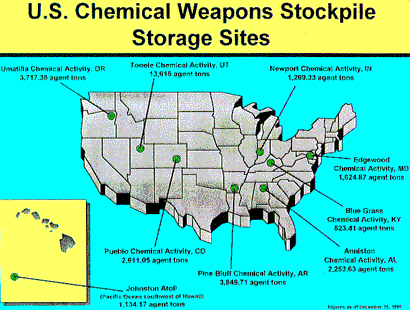 IAEA Facing New Challenge Over Israel's Nuclear Program
By Our Staff Writer
The International Atomic Energy Agency (IAEA) plans to discuss Israel's nuclear program for the first time in decades at its next major conference in Vienna. Diplomatic sources have said that the agency has placed the subject of Israel's nuclear capabilities and threats on the agenda of its General Conference and Regular Session, scheduled for September 15 to 19.
The proposal to discuss Israel's nuclear program came from the Arab League and some other Islamic states that assert that Israel has stockpiled up to 300 nuclear warheads. The league also claims that Israel now has the capability to produce hydrogen bombs.
The Arab League reportedly plans to distribute a study on Israel's nuclear programs to participants at the IAEA conference. The league will also demand that Israel sign the Nuclear Non-Proliferation Treaty (NPT).
Israel is not willing to sign up to the treaty, 43 years after establishing its Dimona nuclear plant in the southern section of occupied Palestine. It has even refused to allow the IAEA to inspect the Dimona plant and its other nuclear facilities.
The deteriorating Dimona plant is posing a serious environmental threat to the region. The plant should have been decommissioned years ago. The Arab world has repeatedly warned against the risks that the plutonium factory is posing to the region. The indifference of the international community, and particularly the United Nations, has given the Zionist regime a free hand to play a dangerous game in the region.
Therefore, the upcoming IAEA conference will be a touchstone to show the efficiency of the agency and its members, like the U.S., that have always supported Israel's nuclear weapons production program.
Certain countries pursuing peaceful nuclear energy programs are currently being pressured by the U.S., although it is actually the nuclear arsenal of the Zionist regime which is threatening the security of the Middle East region and the world. With international concern mounting, the eyes of the world are now fixed on the next IAEA conference.
Report: Iranian scientists secretly working on nuclear bomb
07-09-2003
Albawaba.com
Up to ninety scientists are working clandestinely on the construction of a nuclear bomb in the Islamic Republic of Iran under the supervision of the Defense Ministry, according to a German weekly report on Sunday.
Tagesspiegel am Sonntag, quoting intelligence sources, said Tehran had bought high-tension switches and high-speed cameras to conduct nuclear tests.
Last week, Iran's president reiterated his country is not seeking to make atomic weapons. "Tehran considers international concerns about nuclear issues as justified, but we give assurances that nuclear weapons have no place in Iran's defense policies," Khatami was quoted as saying.
Comment: This is convenient timing. Just as the US plans to go to the IAEA and raise a ruckus about Iran's nuclear capability, this article appears. Is this turning of our attention to Iran part of the same strategy used last year when the heroic struggle against terrorism in Afghanistan went off the rails and the Bush Reich started fanning the flames against Saddam and his weapons of mass destruction? A year later, same problem, so why not use the tried and tested method of flaming the flames against Iran. After all, we know they are guilty, they took over the US Embassy over twenty years ago. That was when the Republicans convinced the Iranians to hold the hostages until after the 1980 election so that Reagan would win....
NAM Rejects Submission of Iran's Nuclear Case to Security Council
Tehran Times
VIENNA -- Ambassadors from member countries of the Non-Aligned Movement (NAM) rejected here Friday the idea of submitting a report to the United Nations Security Council on Iran's nuclear programs.
A diplomatic source at the International Atomic Energy Agency (IAEA), talking to IRNA under the condition of anonymity, said the NAM member countries in a statement supported Iran's constructive cooperation with the IAEA.
"NAM ambassadors unanimously rejected issuing a resolution that Iran is not committed to the Non-Proliferation Treaty (NPT) and to refer Iran's case to the Security Council," the source said.
The statement called for continuation of cooperation and constructive talks between Iran and the agency to settle the issue in the framework of the IAEA's regulations.
Washington had circulated a draft resolution among members of the governing board of the International Atomic Energy Agency (IAEA) declaring Iran in "non-compliance" with UN nuclear obligations.[...]
Iran's foreign minister said in remarks published on Friday that he hoped the board would not be swayed by politics or U.S. pressure.
"We hope the Americans would not pressure the agency and its board of governors to adopt a political stance," Foreign Minister Kamal Kharrazi told Iran's Students' News Agency (ISNA).
Iran has said it is ready to start negotiations on signing the protocol but wants clarifications about some sovereignty issues, a caveat analysts say could lead to delays.
"By answering Iran's questions, it is possible to have the required consensus in Iran for joining the Additional Protocol," Kharrazi said. "The important questions for us are whether the problems and the suspicions of the parties would be removed after signing the protocol or whether there would be other pressures on Iran."
U.S. Tries to Take Iran's Nuclear Program Case to SC: EC Chairman
TEHRAN -- Chairman of the Expediency Council (EC) Akbar Hashemi Rafsanjani here on Saturday said that the U.S. and some European states, through vast propaganda against Iran, are trying to take the case of Iran's attempts to gain access to nuclear technology to the UN Security Council.
Addressing the inaugural session of the 12th Quran recitation competitions of the ground forces of the Islamic Revolution's Guards Corps (IRGC), he said 51 world countries, in a statement issued Friday, stressed Iran's right to make peaceful use of nuclear technology, IRNA reported.
World nations believe that the propaganda against Iran is satanic, hegemonistic and oppressive, he added.
Referring to Washington's wrong and defeated policies in Iraq, he said the U.S. invaded Iraq with the objective of dominating the Mideast region, making use of the Iraqi oil resources and imposing peace plan on Palestine. The current situation in Iraq is a swamp for the U.S. forces, he added.
Kharrazi Urges Clarifications on Additional Protocol Before Signature
TEHRAN -- Foreign Minister Kamal Kharrazi said here on Friday that Iran needs to know whether signing the additional protocol to the NPT would be enough for removing suspicions about its nuclear program or whether there will be even more pressure on Tehran for its nuclear activities.
Comment: In light of Iraq's experience, Kharrazi is naturally very concerned that complying and proividing information about Iran's nuclear arms (if any) will merely be used by the US to fabricate 'proof' of guilt in order to justify invasion and conquest.
Tehran Rejects Rumsfeld's Remarks
Tehran -- Iran here Saturday rejected recent remarks made by U.S. Defense Secretary Donald Rumsfeld that it allowed terrorists to enter the Iraqi territory via its borders.
Terming Rumsfeld's statements as "baseless", Foreign Ministry spokesman Hamid Reza Assefi stressed that expansion of terrorism stems from the U.S. performance and policies, IRNA reported.
Now, this is totally clear that Washington is trying to make excuses and to put the blame on others, he added. The U.S. has endangered the international relations and security by its wrong policies, Assefi said.
Bush hopes to win back Iraq support
Wire services
Sept. 7, 2003 12:00 AM
WASHINGTON - President Bush goes before the American public tonight to defend his handling of the ongoing war in Iraq, which threatens to spin out of control and wipe out the popularity he gained after the Sept. 11 terrorist attacks. [...]
Comment: A few quotes to remind us what we can all expect from the psychopathic puppet's mouth:
• "Right now, Iraq is expanding and improving facilities that were used for the production of biological weapons." -- President Bush, Sept. 12, 2002.
• "The Iraqi regime possesses and produces chemical and biological weapons. It is seeking nuclear weapons." -- Bush, Oct. 7, 2002.
• "We've also discovered through intelligence that Iraq has a growing fleet of manned and unmanned aerial vehicles that would be used to disperse chemical or biological weapons across broad areas. We're concerned that Iraq is exploring ways of using the UAVs for missions targeting the United States." -- Bush, Oct. 7, 2002.
• "The evidence indicates that Iraq is reconstituting its nuclear weapons program. Saddam Hussein has held numerous meetings with Iraqi nuclear scientists, a group he calls his 'nuclear mujahideen' -- his nuclear holy warriors. Satellite photographs reveal that Iraq is rebuilding facilities at sites that have been part of its nuclear program in the past."-- Bush, Oct. 7, 2002.

• "Our intelligence officials estimate that Saddam Hussein had the materials to produce as much as 500 tons of Sarin, mustard and VX nerve agent." -- Bush, Jan. 28, 2003.
• "Intelligence gathered by this and other governments leaves no doubt that the Iraq regime continues to possess and conceal some of the most lethal weapons ever devised."
-- Bush, March 17, 2003.
• "We'll find them. It'll be a matter of time to do so."
-- Bush, May 3, 2003.
• "We based our decisions on good, sound intelligence, and the...our people are going to find out the truth. And the truth will say that this intelligence was good intelligence. There's no doubt in my mind." -- Bush, July 17, 2003.
Bush seeks an exit strategy as war threatens his career
The President will make a dramatic U-turn on Iraq in a TV broadcast tonight to try to salvage his hopes of re-election amid Americans' growing hostility to the casualties and chaos.
Paul Harris in New York, Jason Burke and Gaby Hinsliff
Sunday September 7, 2003
The Observer
George Bush will attempt tonight to convince the American people that he has a workable 'exit strategy' to free his forces from the rapidly souring conflict in Iraq, as Britain prepares to send in thousands more troops to reinforce the faltering coalition effort. [...]
Bush says can't count on Iraqi oil revenues

WASHINGTON, Sept. 5
Despite prewar assurances by the White House, President George W. Bush acknowledged on Friday that the United States cannot count on Iraqi oil revenues in the short-term to cover the country's reconstruction needs.
Seven soldiers wounded in Iraq attacks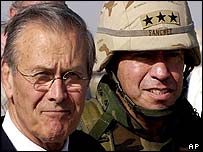 Rumsfeld hits back at Iraq critics

US Defence Secretary Donald Rumsfeld has delivered a defiantly upbeat message on Iraq, speaking of a "wonderful start" to reconstruction - despite attacks on the US-led forces.

Mr Rumsfeld acknowledged that the security situation needed to be improved, but said "a wonderful start has been made".[...]

Rumsfeld Lashes Out at Iraqi Critics
By MATT KELLEY, Associated Press Writer
Sat Sep 6, 3:35 PM ET
BAGHDAD, Iraq - Defense Secretary Donald H. Rumsfeld lashed out at Iraqi critics of the U.S.-led occupation Saturday, demanding that they give American forces more information about saboteurs and terrorists.
"Instead of pointing fingers at the security forces of the coalition, ... it's important for the Iraqi people to step up and provide information," Rumsfeld said at a news conference. [...]
Comment: Information about what? About the weapons of mass destruction that don't exist, or the imaginary terrorists that are supposedly buddies with Osama? Or maybe they should be giving information about the whereabouts of US soldiers that murder Iraqi civilians (see next story).
Most likely however is that Rumsfeld wants to know where Saddam is hiding out these days, probably because he misses him, after all, they are old pals
Farah tried to plead with the US troops but she w.as killed anyway

The Observer – London September 7, 2003
Farah Fadhil was only 18 when she was killed. An American soldier threw a grenade through the window of her apartment. Her death, early last Monday, was slow and agonising. Her legs had been shredded, her hands burnt and punctured by splinters of metal, suggesting that the bright high-school student had covered her face to shield it from the explosion.
She had been walking to the window to try to calm an escalating situation; to use her smattering of English to plead with the soldiers who were spraying her apartment building with bullets.
What is perhaps most shocking about their deaths is that the coalition troops who killed them did not even bother to record details of the raid with the coalition military press office. The killings were that unremarkable. [...]
But all that came to a sudden bloody end at 12.30am last Monday, when soldiers arrived outside the apartment block where Farah and her family lived. What happened in a few minutes, and in the chaos of the hours that followed, is written across its walls. The bullet marks that pock the walls are spread in arcs right across the front of the apartment house, so widely spaced in places that the only conclusion you can draw is that a line of men stood here and sprayed the building wildly.
I stood inside and looked to where the men must have been standing, towards the apartment houses the other way. I could not find impacts on the concrete paths or on the facing walls that would suggest that there was a two-way firefight here. Whatever happened here was one-sided, a wall of fire unleashed at a building packed with sleeping families. Further examination shows powder burns where door locks had been shot off and splintered wood where the doors had been kicked in. All the evidence was that this was a raid that - like so many before it - went horribly wrong.
This is what the residents, and local police, told us had happened. Inside the apartment with Farah were her mother and a brother, Haroon, 13. As the soldiers started smashing doors, they began to kick in Farah's door with no warning. Panicking, and thinking that thieves were breaking into the apartment, Haroon grabbed a gun owned by his father and fired some shots to scare them off. The soldiers outside responded by shooting up the building and throwing grenades into Farah's apartment. [...]
'I went to see if anyone needed my help next door. I went into three rooms, saw Farah lying in the kitchen near the window. She was injured and burnt, but still alive. I ran to get cotton wrapping and bandages to try and treat her. We didn't have enough and so tore up a head-cloth to try and stop the bleeding. The soldier shouted at me: "Where are the fedayeen ?" They told me to leave her because she was dead.' [...]
What is most curious about this story is that, when I called the US military press office in Baghdad, it said it could find no record of the raid or of the deaths.[...]
What happened at Mahmudiya would be disturbing enough if it was unique, but it is not. It is part of a pattern that points not to a deliberate policy but perhaps to something equally worrying, an institutional lack of care among many in the US military for whether civilians are killed in their operations...
Missiles Miss U.S. Plane in Baghdad
Sun September 7, 2003 04:43 AM ET
BAGHDAD (Reuters) - Unidentified assailants fired several missiles at a U.S. transport plane taking off from Baghdad but failed to hit it, a military spokeswoman said on Sunday.
"Multiple missiles were fired which missed the aircraft," the spokeswoman said. [...]
Baghdad airport has been closed to civilian traffic since the war due to security fears.
But the United Nations and other humanitarian organizations have been using it for charter flights in and out of Iraq.
Britain and US will back down over WMDs
By Andy McSmith, Raymond Whitaker and Geoffrey Lean
07 September 2003: (The Independent)
Britain and the US have combined to come up with entirely new explanations of why they went to war in Iraq as inspectors on the ground prepare to report that there are no weapons of mass destruction there.
The "current and serious" threat of Iraq's WMD was the reason Tony Blair gave for going to war, but last week the Prime Minister delivered a justification which did not mention the weapons at all. On the same day John Bolton, US Under-Secretary of State for arms control, said that whether Saddam Hussein's regime actually possessed WMD "isn't really the issue".
The 1,400-strong Iraq Survey Group, sent out in May to begin an intensive hunt for the elusive weapons, is expected to report this week that it has found no WMD hardware, nor even any sign of active programmes. The inspectors, headed by David Kay, a close associate of President George Bush, are likely to say the only evidence it has found is that the Iraqi government had retained a group of scientists who had the expertise to restart the weapons programme at any time.
Foreshadowing the report, Mr Bolton said the issue was not weapons, or actual programmes, but "the capability that Iraq sought to have ... WMD programmes". Saddam, he claimed, kept "a coterie" of scientists he was preserving for the day when he could build nuclear weapons unhindered by international constraints. "Whether he possessed them today or four years ago isn't really the issue," he said. "As long as that regime was in power, it was determined to get nuclear, chemical and biological weapons one way or another. Until that regime was removed from power, that threat remained - that was the purpose of the military action." [...]
Comment: Once again, the lies are revised. And once again, the American people are asleep at the wheel.
smh.com.au
September 6, 2003
Two years after September 11, the US is realising it doesn't have the troops or the money to continue alone with President Bush's doctrine of pre-emptive strikes. Now it wants the UN to help, writes Marian Wilkinson.
As US marines moved in their tanks to topple the giant statue of Saddam Hussein in Baghdad, a bitter power struggle was being fought in the corridors of the Pentagon. The US Secretary of Defence, Donald Rumsfeld, was about to axe his Secretary of the Army, Thomas E. White.
It was early April and Rumsfeld was in a triumphant mood. The stunning military victory in Iraq had vindicated Rumsfeld and his close advisers, who had argued strenuously for the removal of Saddam Hussein after the September 11 attacks. He and his deputy, Paul Wolfowitz, beat off opposition from the United Nations and the State Department and swung President Bush firmly behind the pre-emptive war.
But behind the scenes, Rumsfeld faced dissent within his own ranks. Both White and the Army Chief of Staff, General Eric Shinseki, were warning that the occupation of Iraq would be a massive and costly operation, that Rumsfeld had too few troops to secure the country and that he would put the military victory and the soldiers in jeopardy.
"I was fairly blunt on where I thought the situation on Iraq was headed," White told the Herald this week. "That was not a particularly popular viewpoint and it still isn't. Consequently, I have returned to the private sector."
White and Shinseki were confronting Rumsfeld with the limits of US power and their reality check was not welcome. [...]
US public thinks Saddam had role in 9/11
Sunday September 7, 2003
The Observer
Seven in 10 Americans continue to believe that Iraq's Saddam Hussein had a role in the 11 September 2001 attacks, even though the Bush administration and congressional investigators say they have no evidence of this.
Ashcroft cites use of Patriot Act against South Florida professor
Saturday, September 6, 2003
By VICKIE CHACHERE , Associated Press
Ashcroft appeared in Tampa as part of a monthlong tour of more than a dozen cities to counter growing criticism of the Patriot Act. His audience was about 200 law enforcement officers and assistant U.S. attorneys. [...]
A small group of about five protesters braved rains from approaching Tropical Storm Henri to dispute the attorney general's assertions, calling the Patriot Act a dangerous weakening of controls on law enforcement and a threat to civil liberties. [...]
Ashcroft's audience was expectedly receptive to the attorney general's message, although some of those in attendance said the daily application of the Patriot Act still has yet to be realized. [...]
Comment: Ashcroft's nearly incomprehensible Orwellian/NLP speak was reported here:
"Where a culture of law enforcement inhibition prevented communication and coordination, we have built a new spirit of justice," Ashcroft said. "We have constructed America's defense -the defense of life and liberty -upon a foundation of prevention, nurtured by cooperation, built on coordination and rooted in the constitutional liberties of this free nation."
How semantic propaganda works & and how to undo it
anxietyculture.com
Language can have "hypnotic" or "propagandistic" effects. But with the right knowledge we can resist. This article uses Bush and Blair quotes as examples of propagandistic language. [...]
When Tony Blair says: "The extreme views of many of the anti-war campaigners" ,most people probably fill in the gap by projecting their own interpretation of "extreme" onto their map of the campaigners. "Extreme", to most people, undoubtedly means lunacy and/or destructive tendencies. We resist this simply by asking: "How, exactly, does Blair define 'extreme'?"
Or, when Blair says: "The bombing is unfortunate, but it's necessary" , most people probably fill in the gap by projecting their own understanding of what "necessary" means. Alternatively, we can resist this "hypnotism" by asking: "According to whose criteria is it necessary? By what standard is it necessary?" We'd then be attempting to obtain a more accurate map of the territory, rather than "lazily" falling back on our preconceived maps.
(Many people naively think that by disliking or disagreeing with someone like Blair, they are immune to his propaganda. But effective propaganda already takes "disagreement" into account. Better to "deconstruct" than disagree.) [....]
Comment: See Big Lies, Small Lies, Brazen Lies for more information as to how the world has been duped by these psychopaths playing at politics.
Kempthorne creates a state Homeland Security bureau in Idaho
But knowledge of its existence isn't widespread
Idaho Statesman
Gov. Dirk Kempthorne has created a new Bureau of Homeland Security within state government, although only a few people know about it. [...]
Big Brother takes grip on America
The US's response to 11 September has been an unprecedented clampdown on the rights of its own citizens
Paul Harris in New York
Sunday September 7, 2003
The Observer
The message of the posters on the walls of Skokie library is plain: Big Brother is watching you. The signs, put up by librarian Caroline Anthony, warn of the radical new laws that have given the American government power to monitor the reading habits of its citizens without telling them.

Now the FBI can also secretly record what websites peope look at. And what books they buy. Or videos they hire. 'Libraries are all about freedom of knowledge and not having Big Brother watching you. We had to warn our users,' said Anthony.
She believed Skokie was particularly at risk. The Chicago suburb has a large population of immigrants, including many from countries such as Iraq and Iran. Two years after the terror attacks of 11 September, 2001, Anthony and many others think America is in the grip of a frightening extension of state power.
At the centre of it is the Patriot Act, rushed through in the wake of the attacks to give authorities the legal weapons they needed to fight the 'war on terror'. Instead, critics say, those weapons have also hit at America's own civil rights and freedoms.
The act allowed the FBI to pull records from libraries and bookstores, defined 'terrorism' to include direct action by protesters, widened the use of wire-tapping on phone calls and emails and paved the way for the mass internment without charge of several thousand foreign nationals. The most vulnerable are Arabs, Asians and Muslims. 'Essentially this is the most massive case of ethnic profiling since the internment of Japanese Americans during the Second World War,' said David Cole, a Georgetown University law professor and author of a forthcoming book on the subject, Enemy Aliens .
The government refuses to number the amount of foreign nationals it holds without charge. But even those released and deported are still victims. The shadow of being detained for suspicion of terrorism is not easily lifted. Certainly Akil Sachveda is suffering. He is now a part-time pump attendant in Toronto. He used to own a petrol station, a bar and a pool hall in New Jersey, until one day the FBI came looking for an ex-employee who was a Muslim. The man had left but they arrested Sachveda instead on suspicion of Islamic terrorism, despite the fact he is a Hindu. He was held for five months and given no access to a lawyer. Prison guards threatened his life. Eventually he was deported to Canada. He was never charged, but he had lost everything. 'It is so painful. It was terrifying, but you can't fight the government,' he said.
Sachveda now can't get a full-time job. His spell in prison puts off employers. 'You either don't get an interview or they let you go as soon as they find out. But I never did anything wrong.'
The extensions of state power go beyond round-ups and the Patriot Act. The FBI has secretly recruited campus police officers to monitor students and academics. The scheme was only uncovered after the interrogation of a Sri Lankan campus union organ iser at the University of Massachusetts.
Yaju Dharmarajah had applied to help with a state emergency co-ordination agency as part of plans to become an aid worker. But his Asian name and accent instead brought the local campus FBI officer to his house. 'They thought I wanted to video their work as part of a terrorist plot,' he said.
'I am lucky. I have a white American wife. If she was Sri Lankan like me, I wouldn't have said anything for fear they would deport us,' Dharmarajah said.
Others are also afraid. Last year Sister Virgine Lawinger, a 74-year-old Milwaukee nun, was travelling to an anti-war rally. But she was on a list of people considered too dangerous to fly and was stopped from boarding her plane. She believes her politics were to blame. 'People should not be naive. My experience just raised the stakes for me. It shows we have to be even more alert to protecting our democracy,' she said.
Jan Adams, a journalist on the anti-war San Francisco newspaper War Times , has also been stopped at airports, as has her colleague Rebecca Gordon.
New York lawyer Barbara Olshansky, who is involved in several anti-Patriot Act suits, is stopped almost every time she flies. She is frequently subjected to strip and full body searches. She now fears to leave the US, despite being an American citizen, out of concern she will not be allowed back. It has made her angry. 'It is becoming an awful witch-hunt. At first I didn't believe it, but now it is just horrifying to me,' she said.
But there is a growing movement to try to roll back the act. It is gathering support from across the political spectrum, including such notable Republicans as Idaho's Senator 'Butch' Otter, who has led an effort in Congress to curtail some of the act's powers.
Across America more than 150 cities and counties have passed local legislation 'opting out' of the Patriot Act. In Boise, Idaho, a Republican stronghold, a group calling itself the Boise Patriots is hoping to force the city council to add their city to the list. They are a diverse group, including anti-abortionists, women's rights groups, environmentalists and pro-gun lobbyists. 'If enough communities join this effort, we can roll this law right back,' said founder Gwen Sanchirico.
The movement has become so powerful that Attorney General John Ashcroft has embarked on a nationwide tour to promote the Patriot Act. But it is already too late for some. Sachveda is not adjusting well to his newfound poverty and exile from his adopted home. 'I lost everything. It would have been better if I had never come to America,' he said.
Advantages Of Internationalizing Terror
Salameh Nematt
Al-Hayat 2003/09/4
It is not true that the U.S. failed in its universal strategy to fight terrorism after September 2001. It began harvesting qualitative successes, the most important of which is transferring the battlefield to other regions of the world, away from American cities. American soil witnessed no terrorist attacks in the last two years, despite the threats of bin Laden. Moreover, American foreign interests were not harmed as much as the interests of countries that were subject to terrorist attacks and were forced to cooperate with the U.S. in its war on terror.
Except for the American forces that are facing an exhausting war launched by the terrorist groups gathered in Iraq along with the remnants of the toppled regime, the great majority of international terror victims is not American in each of Indonesia, Morocco, Saudi Arabia and Israel. Although some of those attacks targeted Americans. The Republican administration in Washington seems glad to transfer the confrontation with terror to other countries, which provided the cooperation of these governments in addition to decreasing American losses to the minimum possible.
In case the U.S. succeeds in training Iraqi security and military forces that would protect the infrastructure and preserve peace, it would diminish, to a great extent, the scope of losses the American forces are subject to currently within the gang wars, which unorganized forces are launching against them.
It was lately noticed that the big operations in Iraq, especially the car bomb near the Jordanian embassy, the bombing of the UN headquarters and the explosion that killed Ayatollah Mohamad Baqir Al Hakim and around 90 of his supporters, reflect the impotence of the planners of these operations to kill Americans, to a point where they focused on undermining the interests of the sides that cooperate with the American forces, which are considered as easy targets.
It seems that the U.S. is more successful in fighting terror than drugs. After more than 20 years of launching the American war on terror, the situation seems even worse than the scope of drug use in the U.S. In contrast, American efforts succeeded in keeping the terrorists and their victims out of the U.S. They became other countries' problem, which were forced to fight the terror that is threatening their stability, undermining their economy and affecting their internal political structure.
It is true that it is not yet time to judge the extent of the success of the international war on terror, led by the U.S., and if American soil is safe. However, "involving" the biggest number possible of countries in fighting it represents a qualitative success tat cannot be undermined.
It is obvious after the latest statements delivered by the American president and his top aids that there is an American strategy to link fighting terrorism to the efforts of rebuilding Iraq and establishing a democratic regime, as a first step toward a regional change that serves American interests. Targeting Al Hakim, the UN headquarters and the Jordanian embassy added credibility to the American pretensions that the target is to undermine reconstruction efforts in Iraq and the plans to democratize it and not to put an end to the occupation. This means that the terrorist attacks, starting with the September 2001 attacks, provided the U.S. with a rare opportunity to redraw the world order according to its interests, while Washington seems that it only wants to protect itself from international terror.
Journalists are killers too...!
Henk Ruyssenaars
[...] A question which needs an answer is however the following : are journalists killers too...? And the answer is an unequivocal YES. Journalists kill when keeping silent about crimes by their governments and others. Or help fabricate propaganda supporting wars.
They make killing possible when they obey orders to withhold information from the public or publish false material. They help killing when they use their job as a "cover" and cooperate with the CIA-Mossad or other intelligence agencies. [...]
Myanmar slams "irresponsible" United States after Suu Kyi revelation

Myanmar's junta slammed the United States as "irresponsible", a day after the Red Cross visited Aung San Suu Kyi and refuted Washington's claim that the detained opposition leader was on hunger strike.
Myanmar's government permitted the visit -- the first by the Red Cross since July 28 -- after repeated claims from the United States that she was refusing food amid increasing fears for the diminutive 58-year-old's health.
The United States dropped its bombshell claim a day after Prime Minister Khin Nyunt on August 30 announced a seven-point roadmap towards "free and fair" elections, under a constitution to be drafted by a national convention.
The allegation diverted world attention away from the policy announcement and back to the popular pro-democracy leader.
On Sunday the government issued a statement pledging to push on with the roadmap and slammed the "irresponsible and self-centred actions of the United States under the pretext of 'democracy'."
"Perhaps it is possible that the United States does not wish to see a peaceful and stable Myanmar owing to the own interest of the United States in Southeast Asia," said the government statement. [...]
Comment: The Bush Doctrine works! Every country is alert and waiting to be declared a rogue state, to justify invasion. If Bush says you are evil then obviously it must be true. They do "hate our freedoms" after all.
Ibrahim Nafie explores the history of Israeli hostility to the peaceful resolution of conflict
To remind readers, UN General Assembly Resolution 181 of 1948, establishing the state of Israel, allocated 53 per cent of Palestine to the Jewish state and 46 per cent to what was to become a Palestinian state. It also called for the internationalisation of the city of Jerusalem. In the 1948 War Israel occupied half of the territory that had been allocated to the Arabs, leaving them 22 per cent of historic Palestine. That 22 per cent, made up of the West Bank and Gaza, was occupied by Israel in June 1967.
The peace process inaugurated in Madrid in October 1991 essentially revolved around Israel's withdrawal from the half of the less than half of historic Palestine destined for a Palestinian state under the 1948 partition. Although the peace process produced many agreements, from Oslo through Wye River, they have remained largely unimplemented due to Israeli foot-dragging and its incessant, unchecked breaches of their provisions. Moreover, even as negotiations were in progress Israel, regardless of the political hue of its government, continued to gobble up portions of Palestinian territory through settlement expansion and other forms of acquisition.
Israel's actions on this track assume more ominous ramifications in the broader context of its regional ambitions. It is abundantly clear that the current Israeli leadership hopes to redraw the map of the Middle East and reshape regional identity in a manner that will enable Israel to become the dominant regional power.
Kill unarmed civilians then lie through your teeth: Ariel Sharon's been doing it for half a century.
Azmi Bishara examines the career of Israel's prime minister
In 1952-1953 Sharon was enrolled at the Hebrew University in Jerusalem, about to become a student when he was recalled into the army to head a reserve regiment in the area of Jerusalem. Shortly after his appointment he assembled his officers and told them that the village women from Qatana were, without realising it, crossing into Israel when they went to fetch water from the well. The boundary between the Israeli settlement Ma'aliya Hahmishah and Qatana was not clearly demarcated, "Eric" told them, and in order to "correct that mistake" they would lay an ambush. "Eric" also instructed his officers to keep the plan secret so that it would not come to the attention of Central Area Command or General Staff.
The scenario was carried out precisely as Eric planned. Four marksmen were put into position at night and shot and killed two out of four women making their way to the village well. The Jordanian artillery opened fire on the Israeli villages in the vicinity and the Israeli artillery retaliated. The incident drew to a close with the intervention of UN observers in charge of monitoring the ceasefire. Later, when explaining the incident to his superiors, "Eric" expounded on the difference between shooting targets from a stationary position and taking aim at them while in motion during combat.
Comment: The record shows that Sharon has practiced a brutal policy of murdering Palestinian civilians for fifty years.
Analysis: Farewell to the roadmap?
By Paul Reynolds
BBC News Online world affairs correspondent
The departure of the Palestinian Prime Minister, Mahmoud Abbas, would mean the rolling up of the Middle East roadmap for the foreseeable future.
It is already a document lying virtually unread on the table.
The Palestinians have failed to crack down on the militants as they are supposed to.
Comment: Headlines and articles like this make us ill. The entire blame for the "failure" of the roadmap is laid at the feet of the Palestinians. But a look at the chronology shows that it was the Israelis who broke the ceasefire by continuing their murder of Palestinian leaders. The Palestinian attacks always came in reataliation for israeli agression. Abbas went to Washington and had a meeting with Bush where Bush cried crocodile tears for the plight of the Palestinians but did nothing to help them.
A week later he entertained war criminal and butcher Sharon in Washington, whispering sweet nothings in his ear, joking together like two psychopaths. The Wall of Terror being built by the Israelis is continuing, cutting many Palestinians off from their property and livelihoods. A report we ran yesterday from Israel admitted that 80% of the Palestinian deaths at the hands of the Israel Defence Forces were civilians.
And yet the BBC, in all its self-righteous, former imperial pomposity, intones that "The Palestinians have failed to crack down on the militants as they are supposed to."
Bush's Second Term Swinging Between Two Terrors
Raghida Dergham
Al-Hayat 2003/09/5
One of the common denominators in the thinking of the radical hawks in the Bush administration, the radical Islamists and Arabs and the official radicalism ruling in Israel is the concept of victory and defeat.
In the past, victory had different dimensions that ranged between subjugating the defeated and rehabilitating him as partner. Today, victory takes a backseat to the priority of defeat, which explains the destructive dimension inside the minds of radicals in the triple arenas: American, Islamist-Arab and Israeli.
Priority is given to crushing the other, regardless of the cost to oneself. Priority is given to destroying the other's society and pride, no matter how much that would require of arrogance and hatred which also consume the depth of the self and society, as long as victory is viewed in terms of silencing those who oppose or even question the sick minds.
It is the gang of radicals, ideologues and narcissistic people, who took defeat to mean destruction until victory. This is exactly why this gang must be stopped.
Israel on high alert, Washington opposes Israeli bid to exile Arafat
07-09-2003,07 :24
Israeli security forces were on a heightened state of alert on Sunday morning, after Israel attempted to assassinate Hamas spiritual leader Sheikh Ahmed Yassin and other top leaders of the movement in the Gaza Strip on Saturday.
Following the strike, the Israeli security forces ordered a full closure of the West Bank and Gaza Strip, and Palestinians were not allowed to enter Israel.
A senior police official told Haaretz daily that in light of the failed attempt on Yassin's life, the question was not whether there would be an attack, but when and where.
[...] White House spokesman Scott McClellan noted in a statement Saturday: "The creation of the office of prime minister was a key turning point for the Palestinian Authority in the development of new institutions to serve all the people, not just a corrupt few tainted by terror."
Comment: Israeli military and intelligence forces appear to have as little concern for Israeli life as they have for Palestinian life. They know very well that the attempted assassination of the leaders of Hamas will provoke a response. But in the world of smoke and mirrors in the Middle East, it is often confusing to know who is who and who is on which side.
Hamas was given funds and support by Israel in the 80s when it started in order to encourage a counterweight to Arafat. One can ask the question today, how much influence does Israeli intelligence still have within Hamas? The curious fact that Israeli intelligence have photos and complete files on Palestinian "suicide bombers" and their families within minutes of the attacks is certainly troubling and should raise questions. Is the fact that it doesn't among the mainstream press due to ideological complicity or outright blackmail?
The police are on high alert for possible terrorist attacks in response to yesterday's IAF attack in Gaza; 37 warnings have been received. Former IDF Chief of Staff Dan Shomron explained why yesterday's attack was necessary. [...]
Former Mossad head MK Danny Yatom (Labor) says that if yesterday's attack against several members of the top leadership of Hamas had succeeded, "it would have had a major impact on Hamas' ability to perpetrate terrorism against Israel - not forever, but for a period of weeks or months." He said that Israel would be justified in going after Hamas leaders "even if they are in Jordan or wherever they are."
Comment: Once again, Israel makes bold statements that say they have declared war on the whole world.
Sharon: Hamas leaders 'marked for death'

07/09/2003
Hamas leaders are "marked for death" and Israel will hunt them relentlessly, Prime Minister Ariel Sharon was quoted as saying today
His warning came after Israel bungled an attempt to kill several top members of the Islamic militant group, including founder Sheik Ahmed Yassin.
Sharon himself reportedly gave the final go-ahead for an F-16 warplane to drop a the 550lb laser-guided bomb on a Gaza City apartment, where Israel says Yassin and other Hamas leaders and two top bomb-makers had assembled yesterday.
The newspaper quoted the prime minister as saying Israel would not let up in its campaign against Hamas leaders. "They are marked for death," Sharon said. "We won't give them a moment's rest. We will continue to hunt them because they have only one objective: the destruction of Israel."
Situation between Israel, Palestine worrying: China
PTI [ SUNDAY, SEPTEMBER 07, 2003 02:13:17 PM ]
BEIJING: Concerned over the worsening ties between Israel and Palestine, China on Sunday urged both sides to resume the peace process to ease the tense situation in the middle east. [...]
Abu-Mazen's Resignation is a Victory for Sharon
Arafat's Life is in Immediate Danger!
Gush Shalom
09/06/03:
From the beginning, Sharon intended to topple Abu-Mazen. It was obvious that President Bush's has taken a liking to this Palestinian leader, and this endangered Sharon's exclusive status in the White House. Therefore it was Sharon's aim to bring about the political elimination of Abu-Mazen in a way calculated to put the blame on Yasser Arafat.
Thus Sharon hoped to kill two birds with one stone: safeguard his exclusive influence on Bush and prepare the way for the elimination of Arafat.
Abu-Mazen's position has become impossible. He got nothing at all from Sharon and Bush, except the release of a bunch of Palestinian criminals and an increase of the number of Palestinians workers in Israel - as required by the Israeli conomy. Apart from that, not one of the "painful concessions" promised by Sharon has been delivered. On the contrary: the "targeted eliminations" have been accelerated, as well as the building of the Wall and the enlargement of the settlement.
President Bush has provided nothing but nice words. Apparently, after the photo opportunity on the shores of the Red Sea, he has lost interest.
There is an immediate danger that Sharon may exploit the new situation in order to kill Arafat, under the pretext that something happened to him during an operation to deport him abroad. The chief of Army Intelligence, General Amos ilad, has hinted as much on Israeli TV. [...]
Emergency EU talks over Abbas resignation
Ananova.com
11:59 Saturday 6th September 2003
Jack Straw and his European counterparts are holding emergency talks on the resignation of Palestinian Prime Minister Mahmoud Abbas.
Mr Abbas has tendered his resignation amid a power struggle with Yasser Arafat.
EU foreign ministers, who had gathered for an informal meeting on the shores of Lake Garda in Italy, were discussing the implications for the Middle East peace process.
The resignation is a serious blow to efforts by the United States, the EU, United Nations and Russia, who drew up the Middle East "road map" to peace. [...]
Jewish leader possible terror target(AUS)

By Rhys Haynes
September 7, 2003
PRESIDENT of the NSW Jewish Board of Deputies Stephen Rothman today said he personally could be a target of a terrorist attack.
The Jewish community in Australia was now rated as a category one terrorist target, the nation's highest possible security level.
Mr Rothman said Australian Security Intelligence Organisation (ASIO) had informed the 100,000-strong Jewish community that attacks against it had been planned.
Abdulwahab Badrakhan
Al-Hayat 2003/09/4
Isn't there anyone in this world, which is enjoying U.S. hegemony, who can stop this Israeli minister or at least shut his mouth? All the war criminal Shaul Mofaz talks about these days is evicting the Palestinian President. Even if Yasser Arafat weren't President, who gave this criminal the right to talk about expelling a person who's in his own land? He is playing, with extreme villainy, on the open confrontation between Arafat and Abbas, exploiting the U.S. confusion in Iraq and the U.S. President's nearing elections campaign, which the Iraqi situation is making all the more difficult.
Mofaz is adopting a method that has become an Israeli tradition, and which is characterized by repeatedly talking about the next target, so that the people get used to the idea, and when it does really happen, the reactions would be under control. This whole time, Sharon and his gang have insisted that Arafat was the problem, as if Israel were ready for peace, and that this man were the only thing standing in its way. Despite the widespread lie that Sharon and his gang have approved the Roadmap, they have managed to kill it and are now carrying out a plan to blame its destruction on the Palestinian President.
Comment: Arafat has become the symbol of the Palestinian people. As the article puts it:
"His house arrest represents the state of imprisonment which the Palestinian people are living in, after the Israelis turned Palestine into a huge detention camp. Arafat is not the Palestinian cause itself, but his fate has become very important to the future of his people. The Palestinians have reservations on his methods of managing the Authority, but this is different from the criticisms of the Israelis, who have linked their victory in setting their conditions for peace, while pursuing the occupation, with getting rid of him and his agenda."
Our study of psychopathy shows that the psychopath is obliged to broadcast his intentions. This appears to be what the Israelis are doing; it is a staple of their psychological warfare.

One Nation for Palestinians, Israelis?

By Conal Urquhart
Newsday
September 7, 2003

[...] The continuing, on-and-off expansion of Jewish settlements on the West Bank since the 1967 war, and the infrastructure that supports them, are further entangling the two populations, Palestinians say. In many areas, particularly abutting Jerusalem, it is no longer that clear where Israel ends and the West Bank begins. Israeli settlements have become so entrenched in the West Bank that, according to Diana Buttu, a Palestinian Authority legal adviser, the only practical option now facing Palestinians is to demand equality in a single state for Arabs and Jews.

"The only kind of Palestinian state that is on offer is one with no water resources, no international borders, no airspace, no army to defend itself, no access to Jerusalem, entirely dependent on Israel," Buttu said. "Who will agree to that?" [...]

Such a state is impossible for most Israelis, even liberal Jews, to accept. Yossi Alpher, a political commentator and former senior official in the Mossad, Israel's foreign intelligence service, said, "Anyone who believes in a one-state solution on the Israeli side has been marginalized by the violence of the last three years." For Palestinians to start seeking a single secular democratic state for both Arabs and Jews could be politically damaging for Israel, he said. [...]

Comment: See our articles The Fifth Column and Ethnic Specific Weapons to see what one faction of the Israeli government may see as the solution to the whole problem.

The Post-Modern President
Deception, Denial, and Relativism: what the Bush administration learned from the French.

By Joshua Micah Marshall
Washington Monthly

[...] George W. Bush has a forthright speaking style which convinces many people that he's telling the truth even when he's lying. But in under three years, Bush has told at least as many impressive untruths as each of his three predecessors. (See The Mendacity Index, p.27) His style of deception is also unique.

[...] Doctrinaire as they may be in the realm of policy, the president's advisors are the most hard-boiled sort of pragmatists when it comes to gaining and holding on to political power. And there's no way they planned to head into their reelection campaign with a half-trillion-dollar deficit looming over their heads and an unpredictable, bleeding guerrilla war in Iraq on their hands. At the level of tactics and execution, the administration's war on expertise has already yielded some very disappointing, indeed dangerous results. And if that gets you worried, just remember that the same folks are in charge of the grand strategy too.

Comment: Good overview of the Bush lies and how it is an integral part of their strategy. But notice the subtitle that goes out of its way to encourage French-bashing by associating Bush-think with deconstructionism. Geeeeeesh....

Global terror battle moves to Net

OLIVIA WARD
FEATURE WRITER
Sep. 7, 2003

In a drab University of Toronto basement, a group of students pore over their computer screens, flanked by two large flags: one, the American Stars and Stripes; the other, the Soviet hammer and sickle.

This is the pioneering Citizen Lab, a training ground for Internet "hactivists" who are the guerrillas of the new battle for freedom of communication against repressive regimes throughout the world.

There's an irony to the two flags: A couple of decades ago, the students would have been marshalling their efforts against Moscow's ham-fisted censorship. Now, in the aftermath of Sept.11, control over communication is not just an obsession of authoritarian states. Democratic countries are also casting an ever-wider net of electronic surveillance to trap would-be terrorists.

"I'm much more worried about what countries like the U.S. are doing than about terrorists," says Citizen Lab's director, Prof. Ronald Deibert, 38. "It's not just that they're infringing on personal rights. It's the effect that it has on the culture of a liberal democratic society.''

For Deibert and his dedicated group of students, the enemy is repression, whether exercised by authoritarian governments, or by democracies such as the United States and Canada.

[...] Those who use electronic networking to fight oppression and those who misuse it to plan murderous attacks come from radically different groups. But the paradoxical nature of the Internet has linked them, say analysts David Ronfeldt and John Arquilla of the U.S.-based Rand Corporation.

They are leading authorities on new forms of conflict, and they coined the term "netwar'' years before the Sept. 11 attacks.

Now, they say, it's more important than ever to understand how electronic and human networks have emerged as units that can wage war or peace in ways that were never before possible.

Groups like Al Qaeda, as well as anti-globalism protestors, soccer hooligans and human rights activists, can now come together across the world to plan actions that attract people the leaders have never met. And if the instigators of those plans are put out of action, the networks can carry on without them.

Theorists say networks are in some ways more powerful than states, because they can't be attacked and killed like enemy armies. Alarmed by their dangers, governments have set about trapping and neutralizing them by controlling and monitoring electronic communications.

"Sept. 11 had several effects,'' says Ronfeldt. "One is that what some analysts predicted came true — terrorists would take advantage of the new network organizations. Second, the attacks heartened other groups around the world. They wanted to be part of the trend, and shift from the kind of stand-alone conspiracies they had planned.''

And, he added, "the flip side is that counter-terrorism strategists were much more aware of the adage that it takes networks to fight networks."

Comment: We have seen in the last ten years how citizens can use the Internet to organize against the rulers. Actions like the protests against the World Trade Organization in Seattle, and subsequent internationally organized and coordinated demonstrations, have proven the power of such a tool. No wonder the fascists in Washington needed 9/11 to justify their crackdown on freedoms.

The folks at the Rand Corporation, the jolly justifiers of American Jihad against the world's peoples, have begun 'thinking' about 'networking'. Back in the eighties, networking meant going to chique clubs like Studio 54 in Manhattan every so often to exchange business cards under the supervision of former Yippie and then-Yuppie Jerry Rubin. That was when 'networking' was a means of taking advantage of your neighbor with his help. Now that it has become an effective political tool, it is being characterized as "dangerous", and soon, anyone engaged in "networking" will be labeled a terrorist.

5 September 2003

Thousands of homes were plunged into darkness after a power cut in north London. More than 2,800 people were affected by the blackout which struck parts of Muswell Hill just after 8.15 last night.

EDF Energy said electricity was restored in some areas after 10 minutes but others were affected for three hours as engineers battled to repair a fault in an underground cable.

The blackout comes a week after one of the biggest electrical failures in London.

Hungary sweats over US plans for Iraqi camp

The Sunday Herald
07 September 2003

As the United States gears up to ship 28,000 Iraqi police recruits to a former Soviet airbase, Gabriel Ronay finds their prospective Hungarian hosts are far from happy

The terrorist attack that ripped through Baghdad's police headquarters last week has wonderfully focused American minds. In a far-reaching move, Pentagon planners intend to train 28,000 Iraqi police recruits, and teach them the rudiments of democratic policing at an isolated Hungarian air base at Taszar, 125 miles south-west of the capital Budapest. But the bold US scheme, set to resolve the chaotic security situation in Iraq within 18 months, has run into difficulties in Hungary. Budapest is not playing ball. [...]

Indian, US special forces hold joint exercises in Himalayas

NEW DELHI (AFP) Sep 06, 2003

US and Indian special forces are holding joint exercises on high-altitude operations in Ladakh, a Himalayan region on the sensitive frontiers with Pakistan and China, officials said Saturday.

The two-week manoeuvres are focused on training for high-altitude operations, including "mountain safety, acclimitisation and medical aspects," a US embassy official said. [...]

Mass evacuation of London plan drawn up

Ananova.com
08:22 Sunday 7th September 2003

Plans have been drawn up by the Government for a mass evacuation of London in the event of a terrorist attack.

Leaked documents are said to detail how residents could be herded into "rest and reception areas" in the Home Counties in the event of an actual or imminent attack.

Under the heading "how it will be done", Londoners would be directed to safe areas on foot before being transferred to special camps outside the M25 by rail, Tube, buses and cars. [...]

Comment: Hooray! It's just like the Blitz all over again!

Blair scorns Iraq claim by Meacher

By Jo Dillon, Deputy Political Editor
The Independent
07 September 2003

Tony Blair yesterday "totally rejected" remarks by his former minister Michael Meacher blaming the Iraq war on the United States' desire for world domination. [...]

Mr Meacher yesterday stood by his remarks, saying he was no conspiracy theorist but simply "in favour of giving people the facts". [...]

Comment: You can hear BBC Today giving Meacher a rough time accusing him of being a conspiracy theorist here. (right sidebar under 8:45 am, requires Real Player). Apparently most everyone would be more comfortable if he just kept his mouth shut. Bush and Blair should be able to have there way with the world with no one stating a few facts that might bother them. Notice Blair couldn't be bothered with a logical refutation. Not that one is needed.

Tony Blair should resign over the death of weapons expert David Kelly, according to a new poll. A YouGov poll for The Mail on Sunday showed that the revelations thrown up by the Hutton Inquiry have damaged the Prime Minister, with 43% of voters believing he should quit, compared with 37% before the hearing opened.

Computer failure hits BA flights

Ananova.com
14:23 Saturday 6th September 2003

Hundreds of British Airways customers have had their flights cancelled or delayed after a world-wide computer failure.

Screens went blank at BA check-in desks across the globe as the company's computerised passenger and baggage handling system failed.

BA said a problem within the hub of their system, based near Heathrow, had led to a power outage for around two hours.

Engineers are now working on the problem, but what caused the trouble is still not known. [...]

U.S. Military Consumption

Ryan Schriner

Part of Iraq & Our Energy Future, by students of Geography 378 (International Environmental Problems & Policy) at the University of Wisconsin-Eau Claire, USA, Spring 2003.
Professor Zoltan Grossman

A report by a Canadian research institute states that the armed forces of the world are the single biggest polluters on the planet. Science for Peace Institute at the University of Toronto found that 10-30 percent of all global environmental degradation can be attributed to military activities. The world's military forces also use up enormous amounts of environmental and human resources while they use huge amounts of energy.

The Pentagon is the largest single consumer of petroleum in the the world. Some figures show that the U.S. military uses enough oil in one year to run all of the U.S. transit systems for the next 14-22 years. In less than one hour a U.S. F-16 fighter jet uses twice as much fuel as the average U.S. auto driver. One-quarter of the world's jet fuel is consumed by the world's military. And worldwide the military consumption of copper, nickel, aluminum and platinum exceeds that of the Free World.

The world's military establishments also use and control vast amounts of land. In the U.S. alone the sum of all land set aside for military use is equivalent in size to the state of Virginia. [...]

The report also says, "The environmental costs of militarism are compounded by the lost opportunities resulting from the annual diversion of almost $1 trillion in global resources for military purposes." [...]

Bush seeks to make tax cuts permanent

By Bill Sammon
THE WASHINGTON TIMES

KANSAS CITY, Mo. — President Bush yesterday called for making his tax cuts permanent for the first time since signing a major tax-cut package in May that was touted as temporary in order to keep the price tag low.

Critics saw the move as an attempt at yet another tax cut "costing more than $1 trillion over the next decade" at a time when Democratic presidential candidates are demanding that Mr. Bush repeal even his earlier, temporary cuts.

U.S.-Cuba relations take a plunge
Diplomat's criticisms of Castro over past year called harshest in years

By Letta Tayler
Newsday
Originally published September 7, 2003

HAVANA - Yankee capitalists hadn't courted Cuba this ardently since before the Communist revolution. Packing the opening day of a food vendors' fair here in October, U.S. participants were so eager to sell Cuba anything from chicken nuggets to chewing gum that they raced to shake hands with strongman Fidel Castro.

But a Cold War wind blew through the love fest when James Cason, the new top U.S. diplomat to Cuba, arrived at a party for the American business representatives that evening.

"I expect to see a lot more bull than I do beef" from any food deals with Cuba, Cason thundered in his first major speech here. "... Cuba is an international deadbeat, sort of a Freddie the Freeloader."

His comments were the opening salvo in the Bush administration's stepped-up battle against Castro's regime, which has plunged relations between Cuba and the United States to one of their lowest points in decades.

Plot to kill Fidel Castro unearthed

AP FRIDAY, SEPTEMBER 05, 2003

PANAMA CITY: Prosecutors showed a judge a briefcase full of explosives on Thursday and said four Cuban exiles intended to use it to blow up Fidel Castro.

Luis Posada Carriles, Gaspar Jimenez, Guillermo Novo and Pedro Remon were arrested after the Cuban president denounced a plot to kill him during an Ibero-American summit that was held in Panama's capital in November 2000.

Powell says US-China ties best since 1972

WASHINGTON, Sept. 5 (Xinhuanet) -- United States Secretary of State Colin Powell said on Friday that the US-China relations are the best in more than 30 years since former US president Richard Nixon paid his first visit to China in 1972.

China urges U.S. to gag Dalai Lama

From CNN Beijing Bureau Chief Jaime FlorCruz

LHASA, Tibet (CNN) -- The spiritual leader of Tibetan Buddhists, the Dalai Lama, has begun a three-week trip to the United States amid strong protests from China.

The visit kicks off in San Francisco Thursday, before he heads east and, more contentiously, to Washington.

Not only does Beijing object to the Dalai Lama's scheduled meetings with senior U.S. administration officials -- possibly including George W. Bush -- it has sought assurances the religious leader not be allowed to address political issues.

Chief among those issues is the secession of Tibet from Beijing's control.

UN Rep Calls for 15,000 Peacekeepers in Liberia

09.7.2003
UN

Convinced that peace in Liberia is the key to stability in all of West Africa, the top United Nations envoy for the country said today he will ask the Security Council to authorize 15,000 troops to restore order and make last month's ceasefire agreement between government and opposition forces work.


Strong earthquake jolts, unnerves Acehnese

Nani Farida,
The Jakarta Post, Banda Aceh, Aceh

A powerful earthquake struck the war-torn province of Aceh on Friday, prompting panicked residents to flee their homes and other buildings.

Tehran -- A tremor measuring 3.4 degrees on the open-ended Richter scale shook the city of Garmsar on Saturday, IRNA reported.

The seismological base of the Geophysics Institute affiliated to Tehran University said the tremor, epicentered in an area 110 kilometers from Semnan, occurred at 15:03 hours local time (10:33 GMT) Saturday.

There are no reports of any casualty or damage to property.

Iran is situated on some of the world's most active seismic faultlines and quakes of varying magnitudes are of usual occurrences.

Typhoon, flooding and landslides kill 86 people in China
NATURAL DISASTERS: The Weihe River is at its highest level ever and 20,000 people are on watch round the clock in case flood defenses fail

REUTERS
Friday, Sep 05, 2003

Floods, landslides and the strongest typhoon to hit in a quarter of a century have killed at least 86 people in China with many others still missing, residents and local officials said yesterday.

About 20,000 people were keeping vigil round the clock on the swollen Weihe River in case it breached flood defenses, a local official said. The Weihe, the Yellow River's biggest tributary, has already burst its banks in five places in the northwestern province of Shaanxi.

Resulting floods and landslips have killed 38 people and 34 were missing, he said. About 180,000 people have been evacuated to higher ground since the heavy rains began a week ago.

Are Shoppers Buying the Recovery Story?

By Toni Vorobyova
Sat September 6, 2003 10:18 AM ET

LONDON (Reuters) - Amid signs that the U.S. economy is well on its way out of the doldrums, the financial markets will look to U.S. consumers next week for proof that they're hitting the shops to fuel the recovery. [...]

In Asia, Japan's revised second quarter gross domestic product (GDP) figures on Wednesday were expected to furnish further proof that the economy is shaking off its troubles, with economists banking on an upward revision. [...]

In continental Europe, by contrast, second quarter economic growth was not expected to bring any cheer on Tuesday, showing instead that the euro zone's recovery is lagging behind. [...]

Ford accused of helping Nazis in new book

NEW YORK, Sept. 3 (UPI)

A new book has uncovered documents said to show Henry Ford was more involved in his German operations during World War II than the company has admitted.

The book, "The American Axis: Ford, Lindbergh and the Rise of the Third Reich," by Holocaust researcher Max Wallace was released Wednesday. [...]

France to compensate orphans of 'Nazi barbarity'

Associated Press
08:32 Sunday 7th September 2003

France will compensate thousands of people whose parents were victims of "Nazi barbarity" in the Second World War.

Those to receive payments will include relatives of those killed in massacres or for resisting the German occupation. [...]

Three sisters sue Los Angeles archdiocese

LOS ANGELES, California (AP) -- Three sisters now in their 30s and 40s are suing the Roman Catholic Archdiocese of Los Angeles, a parish and a priest who they said sexually abused them as children in the 1970s.

Jackie Dennis, Riva Kennedy and Wendy Kennedy said they took the case to civil court because of a U.S. Supreme Court ruling that overturned a state law that lifted the statute of limitations in criminal prosecution of old molestation cases.

At a news conference Thursday, the sisters said parish priest George Neville Rucker was molesting all of them at different times, sometimes in their own home while their mother was cooking dinner for the priest.

Wyeth Warns of Kid Suicide Risk With Drug

By LINDA A. JOHNSON
AP Business Writer
September 3, 2003, 6:11 PM EDT

TRENTON, N.J. -- Wyeth warned doctors that tests showed its antidepressant Effexor caused an increased risk of suicidal behavior in children.

In what is known as a "Dear Doctor" letter, Madison-based Wyeth is telling health professionals that clinical studies of the long-acting version, Effexor XR, found a higher incidence in children of "hostility and suicide-related adverse events, such as suicidal ideation and self-harm." No children in the tests committed suicide.

"You should be alert to signs of suicidal ideation in children and adolescent patients prescribed Effexor or Effexor XR (and) reassess the benefit-risk balance" for each patient, the Wyeth letter states.

The caution comes after U.S. and British regulators in June said no one under 18 should take GlaxoSmithKline's popular antidepressant Paxil because it could increase a child's risk of suicide attempts. Pediatric patients already taking Paxil were told to stop use gradually, under a doctor's supervision.

The U.S. Food and Drug Administration currently is investigating how newer antidepressants affect children. Even though Eli Lilly & Co's Prozac is the only antidepressant approved for treating children some doctors are prescribing other medicines for patients under 18. That's why the FDA has asked makers of antidepressants to submit data from any studies they have done on their safety and effectiveness in children.

Smallpox expert decries treatment of two scientists

D.A. Henderson believes FBI conduct will sour relations with US researchers

the-scientist.com
John D Miller

The scientist who led the Bush administration's first emergency response program against bioterrorism attacks is harshly critical of the government's treatment of two biowarfare disease researchers on whom the US Department of Justice has focused as possible criminals. Claiming that the FBI has "lost all perspective" in one case and is "out of control" in the other, internationally renowned professor Donald A. Henderson calls the agency's actions inappropriate in America's democracy.

Henderson said that he is limited in how much he could do to support the two scientists, Thomas C. Butler and Stephen J. Hatfill. "I'm not really in a position to go and directly confront the attorney general," he said.

But he predicted that the FBI's conduct in these two cases will sour its future dealings with all American scientists. "I think what the FBI will get from all this, I'm sure, is going to be a reaction on the part of anybody in the scientific community about being very reluctant to talk to the FBI on any number of issues."

Appointed in November 2001, a month after the first anthrax letter attacks, Henderson helped to reorganize the government's response to that crisis and developed a plan to deal with future attacks. [...]

In an interview Wednesday (September 3), Henderson said it was "unbelievable" that, according to colleagues who are familiar with the case, the FBI interrogated Thomas Butler for 10 hours overnight, and for several hours the following day, without a lawyer. "I can't believe that this is a procedure that would properly be followed by a law enforcement operation which is acting responsibly."

Butler, chief of the division of infectious diseases at Texas Tech University, was indicted earlier this year for illegally transporting plague bacteria from Tanzania into and within the United States and for lying to the FBI by claiming that 30 vials of the bacteria samples had been stolen, when in fact, the government alleges, he had destroyed them days earlier. On Wednesday, the Justice Department expanded the indictment to include embezzlement, tax evasion, and mail fraud, among other charges.

Butler, 62, has pleaded innocent to all charges and is scheduled to go to trial in November. One of his attorneys, professor Jonathan Turley of George Washington University, has called the charges dishonest, claiming that the FBI decided a few days after announcing its investigation that Butler was innocent. But they won't back down, he said, because the case was immediately publicized worldwide.

Turley added that after an unreasonably long and grueling interrogation session, Butler agreed to say he had destroyed the vials because the FBI agents promised him that his written admission would end the case and he could go free. FBI spokesman Bill Carter today refused to comment on that allegation or on any other aspect of Butler's ongoing case.

"[The FBI has] lost all perspective on this," Henderson said. "The question is, what did he really do? He did bring back specimens, plague specimens. This has been going on for a long time. There have been very few restrictions on importing of isolates from different parts of the world, and when people are working on obscure diseases, they certainly do transport them.

"I can tell you that certainly I carried a lot of smallpox around for a great many years while we had the smallpox [eradication] program. When I was in a country, we'd have isolates and scabs or other material. You know, you put them in a little tin container, a double-sealed container, and put it in your luggage. If there were regulations at the time, they were pretty minimal. There really wasn't the level of concern," Henderson said.

He also considers the agency's conduct toward Steven J. Hatfill to be unacceptable.[...]

Schools to Develop Bioterrorism Vaccines

By JULIE HALENAR
Associated Press Writer
September 5, 2003, 7:47 AM EDT

BALTIMORE -- The University of Maryland School of Medicine has been chosen to lead a multi-school effort to develop vaccines to protect against bioterrorism, the school announced Thursday.

The Middle Atlantic region will receive a five-year, $42 million grant from the National Institute of Allergy and Infectious Diseases. Besides creating vaccines to guard against anthrax, smallpox and West Nile virus, they will study antibodies that could produce short-term protection.

"The events of 9-11 and the anthrax attacks that followed made it clear that there are nefarious people out there," Dr. Myron M. Levine, who is the regional leader. "We have also come to realize that we are extremely vulnerable and to a great extent unprepared for biological attacks. It is critical for us to develop preventive vaccines to protect ourselves."

Scientific Journal Prints Retraction

By RANDOLPH E. SCHMID
Associated Press Writer
September 5, 2003, 6:07 PM EDT

WASHINGTON -- A prestigious scientific journal is retracting a study about the effects of the drug Ecstasy on the brain because the animals used in the research were given a different drug.

The researchers blamed the error on a labeling mix-up.

Previous studies had reported on the brain hazards of Ecstasy, and the researchers said the problems with their study did not call into question the earlier ones.

[...] She said the laboratory has developed a test for use in future studies to make sure it is using the actual drug that the research calls for.

Researchers to Hand Out SARS Test Kits

By Associated Press
September 5, 2003, 7:44 AM EDT

SINGAPORE -- Two Singapore labs said Friday they have jointly developed a simple-to-use 15-minute SARS test kit that could potentially help prevent the spread of the virus in poor and remote areas.

Officials from Genelabs Diagnostics and the government-funded Institute of Molecular and Cell Biology told a press conference that the test is 99 percent accurate in detecting SARS in patients who have been sick for 16 days or more.


Life may have origins on Mars, too
Scientist theorizes planet may be site of '2nd genesis,' resulting in unusual life-forms

By David Perlman
San Francisco Chronicle
September 7, 2003


MONTEREY, Calif. -- The planet Mars may well have been the scene of the solar system's "second genesis," where forms of life vastly different from Earth's emerged deep beneath the Martian surface billions of years ago, a leading space scientist has proposed.

Christopher McKay, of NASA Ames Research Center in Mountain View, said that life on early Mars might have been based on DNA, genes and proteins unlike anything found on Earth.

If true, it would signal that life should be possible throughout the solar system in forms hitherto inconceivable to Earth-bound scientists, McKay suggested. It would mark a true revolution in what has been largely an Earth-centered view of life's unique genes and forms, he said.

Telepathy gets academic in Sweden

STOCKHOLM, Sweden (Reuters)

Sweden's Lund University, one of the oldest seats of learning in Scandinavia, will take a leap into the unknown by appointing northern Europe's first professor of parapsychology, hypnology and clairvoyance.

[...] The first professor, to be appointed by Lund University Dean Goran Bexell, is expected to start work in 2004, faculty secretary Kerstin Johansson told Reuters.

Hypnology is the science of the phenomena of sleep and hypnosis.

Despite decades of experimental research and television performances by people such as spoonbending psychic Uri Geller, there is still no proof that gifts such as telepathy and the ability to see the future exist, mainstream scientists say.

"Verifying the existence of paranormal phenomena does not seem to be a promising field of science," said Sven Ove Hansson, professor of philosophy at the Royal Institute of Technology in Stockholm.

Utrecht University in the Netherlands and Scotland's Edinburgh University also have chairs in parapsychology.

Former cadet says she was raped in retaliation

Robert Gehrke
Associated Press

WASHINGTON - In a letter to a congressional panel investigating sexual assaults at the Air Force Academy, a former cadet paints a vivid portrait of the retaliation that can occur for reporting a crime there.

The academy graduate, whose name was not released, said she was ostracized by cadets and raped at the Air Force Preparatory School by two male cadets because she reported she had been raped. [...]

Officials: Kids Found Alone In Filthy Home

Mother Of 4 Faces Child Endangerment Charges

HOUSTON -- Police discovered a home in deplorable conditions and four children hungry, hot and scared after their mother left them in their southeast Houston home alone. [...]

Workers watch man drag body from apartment

Lila J. Mills
Plain Dealer Reporter

Maintenance workers at Carver Park Estates watched in disbelief yesterday morning as a tenant dragged a naked and bloodied body from an apartment and laid it in the grass.

The workers, standing just feet away, said the tenant looked at them, walked back into his apartment and returned seconds later with a mop. He cleaned up some blood left just outside his door, they said, then went inside again.

"He didn't care," worker Willie Chaney said. "He dragged the man outside in broad daylight." [...]

Tex. Veterinarian Accused of Killing Dog

FORT WORTH, Texas -- A veterinarian accused of using a mallet to kill a miniature dachshund that had entered his yard has been charged with felony animal cruelty. [...]

30 Cows Found In Barn Filled To Ceiling With Manure

WAUSAU, Wis. -- About 30 cows had to be removed from a barn that authorities said was filled nearly floor to ceiling with manure.

Marathon County sheriff's deputies and veterinarians spent Wednesday and Thursday at the site in the town of Holton.

The sheriff's department began removing cattle from the barn Wednesday, digging through the manure looking for animals that were dead or alive, Capt. Randy Hillman said.

One veterinarian found a steer on one end of the barn buried up to its head in cow manure, and it had to be euthanized, according to the sheriff department's report. [...]

Amsterdam's key stoned cops face drug cafe ban

Andrew Osborn
Saturday September 6, 2003
The Guardian

Being drunk on duty is one thing, but the Dutch government is concerned that too many of its police officers are getting stoned on and off duty and is to ban them from "coffee shops", or drug cafes. [...]

Man Working for Free, Loses Benefits

BUFFALO, N.Y. - John Bothe was unemployed with time to spare — so he paid a radio station about $1,000 for air time to showcase his talents as host of a Saturday sports show.

Now he's finding the price of that show may be much higher.

The state Labor Department determined that Bothe's unpaid radio gig qualified as work and disqualified him from receiving unemployment benefits.

Not only has the state put a halt on future benefits, it wants Bothe to return $605 he already collected. [...]

There's no denying that George Bush knows how to stage patriotic spectacles at sea, but the reality back on shore is not so technicolor pretty. Did you know that Top Gun Bush is poised to become the first President since Herbert Hoover to preside over job destruction rather than job creation? Thanks to Daniel Gross's article, recently posted on Slate, we also know that Bush's last tax cut, the largest cut in American history, has so far "cost" America 1.7 million jobs and counting. [...]

Student Allegedly Sprays Acid In Teen's Face

LENOIR, N.C. -- A 17-year-old student at Hibriten High School is charged Friday after he allegedly sprayed another student in the face with nitric acid in the school parking lot. [...]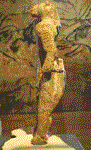 Lion man takes pride of place as oldest statue
30,000-year-old carving might be work of Neanderthals or modern humans.
Nature
REX DALTON
Intricate ivory carvings said to be the oldest known examples of figurative art have been uncovered in a cave in southwestern Germany. Researchers say that the finding could change our understanding of early man's imaginative endeavours. [...]
---
Remember, we need your help to collect information on what is going on in your part of the world!
We also need help to keep the Signs of the Times online.
Obviously, there are a lot of folks out there who do NOT like what we are doing - our own special brand of news coverage - and they are working day and night to create almost insurmountable problems for us, designed to grind us down and render our plans to be able to increase our production (which include a weekly radio show that is currently in the implementation stage) impossible to bring to fruition. We are coming under increasing pressure from many directions all at once.
Our need for financial support has never been greater, including support for legal initiatives to halt the madness of several of the para-COINTELPRO activities currently launched against us. These operations are designed to create a platform to justify utilizing police state tactics so as to silence, and even ultimately, destroy us.
Please: We need your help.
The campaign of lies and disinformation would be frightening under normal circumstances; considering the present state of the world and the machinations of the "National Security State," it is terrifying.
Please - if you have been helped by our work -
won't you help us NOW?

---

Check out the Signs of the Times Archives

Send your comments and article suggestions to us.
---
Fair Use Policy
Contact Webmaster at signs-of-the-times.org
Cassiopaean materials Copyright ©1994-2014 Arkadiusz Jadczyk and Laura Knight-Jadczyk. All rights reserved. "Cassiopaea, Cassiopaean, Cassiopaeans," is a registered trademark of Arkadiusz Jadczyk and Laura Knight-Jadczyk.
Letters addressed to Cassiopaea, Quantum Future School, Ark or Laura, become the property of Arkadiusz Jadczyk and Laura Knight-Jadczyk
Republication and re-dissemination of our copyrighted material in any manner is expressly prohibited without prior written consent.
.