---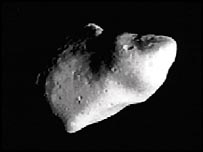 Asteroid warning for 2014

The British agency responsible for identifying potentially hazardous asteroids says US astronomers are warning of a possible collision in 2014.

The UK Government's Near Earth Object Centre says American astronomers have discovered a large, fast-approaching asteroid that could hit the Earth on 21 March, 2014. But they add the chances of it doing so are just one in 909,000. What is more, any risk of an impact is likely to decrease as further data is gathered, they say.
Credible threat
The BBC's science correspondent Christine McGourty says that, although the chances this asteroid will hit the Earth are slim, it is considered worth monitoring due to its sheer size and velocity.
The rock is said to measure approximately two thirds of a mile across - only one tenth of the size of the meteor thought to have wiped out the dinosaurs 65 million years ago. It is travelling at a speed of about 20 miles per second. "In theory such an asteroid could cause devastation across an entire continent," Christine McGourty says. It has been labelled "2003 QQ 47" and astronomers will be monitoring it closely for the next two months.
Comment: Interestingly, the above BBC article has just been 'updated' with the headline now reading: "Asteroid danger in 2014 downplayed." The rest of the article has been modified to highlight the "extremely unlikely" chances of it hitting earth. We wonder where the original story came from and why it was so suddenly changed...
This Europe: Temperamental French truffle cannot live with the summer heat
By John Lichfield in Paris
The Independent
02 September 2003
France faces a disastrous truffle harvest this winter - and for the next two winters - because the searing heat this summer has destroyed the breeding grounds of the temperamental and much-prized underground mushrooms.
Experts are predicting that few, if any, truffles will be found when the main collecting season begins in December, opening the floodgates to cheap but relatively tasteless truffles imported from China.
International Herald Tribune, 1953: Scores Die in U.S. Heat Wave
NEW YORK: America continued today [Sept. 1, 1953] in the grip of a heat wave extending from the Atlantic coastline westward to the Rocky Mountains. No relief was in sight. There have been scores of deaths. Hundreds of persons have been overcome by heat. As temperatures in many cities rose to over 100 degrees, thousands of workers in offices and factories were sent home. Forest fires were reported in the East. Many farmers saw their crops swept by flames. Many cities have had no rainfall for weeks.
Desertification: a global problem
BY MIREYA CASTAÑEDA
Granma International staff writer
The problem is a concrete one: over 25 million people are suffering directly from the effects of desertification and a third of the earth's surface — more than 4 billion hectares — is under threat.
Ricardo Alarcón, president of the Cuban Parliament, stressed that despite their ecological debts, the developed nations are doing very little to meet their responsibilities.
The subsistence of 1.2 billion inhabitants from 110 countries who depend on the soil is in danger.
With good reason we always think about Africa, but the problem is not just in the Third World. Data from the UN Convention Secretariat on combating desertification and drought indicate, for example, that over 30% of U.S. land is affected by degradation, and in Spain 31% is at risk. A quarter of Latin America and the Caribbean is desert and dry land.
It's a dramatic situation. According to estimates, by 2005 arable land will be reduced by two-thirds in Africa, one third in Asia, and one fifth in South America.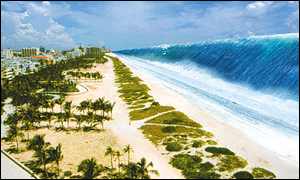 Mega-tsunami to devastate US coastline.

A tsunami wave higher than any in recorded history threatens to ravage the US coastline in the aftermath of a volcanic eruption in the Canary Islands, UK and US scientists will report today. Locations on both African and European Atlantic coastlines - including Britain - are also thought to be at risk.
The new research, a collaboration between Dr. Simon Day of the Benfield Greig Hazard Research Centre at UCL and Dr. Steven Ward of the University of California, reveals the extent and size of the mega-tsunami, the consequence of a giant landslide that may be triggered by a future eruption of the Cumbre Vieja volcano.
Previous research by Simon Day and colleagues predicted that a future eruption would be likely to cause a landslide on the western flank of Cumbre Vieja. A block of rock approximately twice the volume of the Isle of Man would break off, travelling into the sea at a speed of up to 350 kilometres per hour. The disintegration of the rock, this earlier study predicted, would produce a debris avalanche deposit extending 60 kilometres from the island. The energy released by the collapse would be equal to the electricity consumption of the entire United States in half a year.
The new model - which provides further insights into the consequences of the collapse - predicts that the landslide would create an exceptionally large tsunami with the capability to travel great distances and reaching speeds of up to 800 kilometres per hour. Immediately after Cumbre Vieja's collapse a dome of water 900 metres high and tens of kilometres wide will form only to collapse and rebound. As the landslide continues to move underwater a series of wave crests and troughs are produced which soon develop into a tsumani 'wave train' which fuels the waves progress. After only 10 minutes, the model predicts, the tsunami will have moved a distance of almost 250 kilometres.
The greatest effects are predicted to occur north, west and south of the Canaries. On the West Saharan shore waves are expected to reach heights of 100 metres from crest to trough and on the north coast of Brazil waves over 40 metres high are anticipated. Florida and the Caribbean, the final destinations in the North Atlantic to be affected by the tsunami, will have to brace themselves for receiving 50 metre high waves - higher than Nelson's column in London, some 8 to 9 hours after the landslide. Towards Europe waves heights will be smaller, but substantial tsunami waves will hit the Atlantic coasts of Britain, Spain Portugal and France.
Dr Day continued:
'The collapse will occur during some future eruption after days or weeks of precursory deformation and earthquakes. An effective earthquake monitoring system could provide advanced warning of a likely collapse and allow early emergency management organisations a valuable window of time in which to plan and respond.'

Typhoon Dujuan Sweeps Through Taiwan
Tuesday September 2, 2003 8:09 AM
By STEPHAN GRAUWELS
Associated Press Writer
TAIPEI, Taiwan (AP) - Typhoon Dujuan blacked out thousands of homes, uprooted trees and drenched Taiwan early Tuesday before churning toward Hong Kong and China's mainland. Two people died in the storm, and a college student was missing, officials said.
Packing winds of 96 mph, the storm lashed southern Taiwan during the night, leaving a trail of debris. In the beach resort town of Kenting, TVBS cable news showed streets covered with fallen trees, broken glass, twisted store signs and motor scooters knocked over by the powerful gusts. [...]
Storms Pummel Wide Swath of Eastern U.S.
By CHRIS HAVLIK, Associated Press Writer
September 2, 2003
Wet weather washed out Labor Day picnics and parades in the eastern half of the United States, hitting Indiana hardest, delaying the U.S. Open in New York and drenching Kansas, where a fifth death was attributed to flash floods.
A front stretched across the Ohio Valley and combined with moisture from the Gulf of Mexico to produce heavy rain from the Midwest to the Northeast Monday, the National Weather Service said. [...]
Modern Global Warming More Damaging Than In The Past
ANN ARBOR, Mich.---Global warming isn't what it used to be.
"Some people will tell you that the planet has warmed in the past and that species always managed to adapt, so there's no cause for alarm. Unfortunately that's not the case," said Johannes Foufopoulos, assistant professor at the University of Michigan School of Natural Resources and Environment. Foufopoulos says new research illustrates major differences between global warming today and past natural climate fluctuations as they relate to species extinctions.
Generally, each species requires specific habitat and climate conditions to survive. In the past when climate changed, populations of a species would die out on one edge of their habitat range and expand into newly available habitat at the other edge. This colonization process was crucial for the survival of species during the unstable climate of the last ice ages.
However this broad movement of species, which has prevented large-scale extinctions in the past, is not likely to operate effectively in the modern world, he said. [...]
EPA won't list carbon dioxide as air pollutant
MSNBC
Following its controversial Clean Air Act exemption for industry, the Environmental Protection Agency on Thursday rejected a petition that carbon dioxide — a gas that many scientists fear is warming the Earth — be categorized and regulated as an air pollutant. [...]
Tuesday 2nd September 2003
Residents are preparing to leave at least seven villages in Indonesia's remote Flores island after a volcano spewed ash over their homes and crops. Lewotobi volcano erupted on Sunday night and officials were preparing an evacuation on Monday. Many crops in the seven villages had been damaged by ash.
Indianapolis metro area hit by flooding
INDIANAPOLIS, Sept. 1 (UPI) -- A storm poured 10 inches of rain on the Indianapolis metropolitan area Monday, causing flooding and road closures.
[...] The total accumulation might break a 108-year-old record for rainfall in Indianapolis in a calendar day.
Villagers near Indonesian volcano ready to flee
01 Sep 2003 11:35:41 GMT
JAKARTA, Sept 1 (Reuters) - Residents are preparing to leave at least seven villages in Indonesia's remote Flores island after a volcano spewed hot ash over their homes and crops, media reported on Monday.[...]
Mahanadi drowns 3,800 Orissa villages, 14 dead
Express News Service

Bhubaneswar, September 1: The flood situation in Orissa remained grim today with Mahanadi and its branch rivers still flowing above danger mark at all the places. Situation has worsened in the downstream areas because of rainfall and passing of flood water through the breaches, branches and sub-branches of the river system. [...]
10 killed due to floods in Chhattisgarh
Tuesday, 02 September, 2003, 07:54
Raipur: Chhattisgarh government on Monday confirmed the death of ten people in the flood-affected 1,042 villages in six districts of the state since Thursday last even as the state government has sought immediate central assistance saying the initial estimated loss is Rs 205 crore.[...]
Earthquake jolts Akto in northwest China
2003-09-02 09:29
BEIJING, Sept. 2 (Xinhuanet) -- An earthquake measuring 5.9 on the Richter scale jolted Akto County in northwest China's Xinjiang Uygur Autonomous Region early Tuesday, according to the seismological authorities.[...]
Monday, September 1, 2003
By Kevin Dayton
KA'U, Hawai'i - Hurricane Jimena, moving steadily westward across the Pacific at 17 mph, was expected to pass 45 miles south of Ka'u early this morning. [...]
"I think we'll be OK," he said of the hurricane. "Usually they pass us by, but I think it's important that you be ready in case they don't."[...]
Dirty counterrevolutionary business
in Cuba exposed
Launch of El Camaján, a book about an unscrupulous master of double-dealing and fraud who is highly praised by U.S. governments and especially by the Cuban-American mafia
BY ALDO MADRUGA -
Granma daily staff writer
EL Camaján, a book by journalists Arleen Rodríguez Derivet and Lázaro Barredo Medina unmasking Cuban counterrevolutionary Elizardo Sánchez Santa-Cruz Pacheco, highly praised by the Cuban-American mafia, U.S. governments and European countries, has been launched at the International Press Center. The authors and many members of the Cuban and foreign press attended the event.
The work is a detailed and well-illustrated piece of research, written clearly and directly, containing irrefutable evidence of the hypocrisy and material and political ambition of the above-mentioned person, magnified by the empire's propaganda. To further his own interests he offered to collaborate with Cuban state security in 1997.
Who Controls the European Union and the United Nations?
Michael Lucas
Judging by the news coming from the United Nations and from the European Union, it is self-evident that these two world bodies are not independent at all or self sustaining or even self-governing, in spite of the propaganda that they are and, that they are growing more and more anti-USA and its ambition of word domination.
Needed: An Inquiry Into A Slaughter
Greater demagogues than Blair have said the same about history; Richard Nixon was one of them. In Washington during the Watergate scandal, the unsayable about Nixon was that he was a criminal. Credible research shows that up to 10,000 civilians were killed in the attack on Iraq , together with perhaps 30,000 Iraqi soldiers, many of them teenage conscripts. A slaughter.
These people were killed by weapons designed to reduce human beings to charcoal or to shred them. The British Army littered urban areas with cluster bombs, while the Americans did the same and in greater quantity, adding uranium-coated munitions, whose radiation poison is ingested with the desert dust.
Bomb Hits Iraqi Police; Mine Kills 2 U.S. Soldiers
September 02, 2003 05:58 AM ET
BAGHDAD (Reuters) - A car bomb ripped through a Baghdad police compound on Tuesday in a suspected attempt to assassinate the U.S.-appointed police chief, wounding at least 14 people, officials and witnesses said.
Dangerously high levels of radiation measured around Baghdad

Mon Sep 01 2003 15:05:42 ET
EXPRESS [LONDON]
SOLDIERS and civilians in Iraq face a health timebomb after dangerously high levels of radiation were measured around Baghdad. Levels between 1,000 and 1,900 times higher than normal were recorded at four sites around the Iraqi capital where depleted uranium (DU) munitions have been used across wide areas.
Experts estimate that Britain and the US used 1,100 to 2,200 tons of armour-piercing shells made of DU during attacks on Iraqi forces.
That figure eclipses the 375tons used in the 1991 Gulf War. Unlike that largely desert-based conflict, most of the rounds fired in March and April were in heavily residential areas. DU rounds are highly combustible and tiny particles of the radioactive material are left on the battleground.
If inhaled the material can attack the body causing cancers, chronic illness, long-term disabilities and genetic birth defects - none of which will be apparent for at least five years. [...]
What Was Mossad Doing In Najaf One Week Before The Bombing?
IRIB
During a ceremony to commemorate Ayatollah Muhammad Baqir al-Hakim, the head of the Supreme Council of the Islamic Revolution in Iraq, secretary of Iran's Supreme National Security Council Hojatol Islam Dr. Hasan Rowhani said that a number of people affiliated to the former regime and appointed by the American governor of Iraq are responsible for maintaining security in Najaf and these people must explain what was a Zionist group linked to Mossad doing in Najaf a week before this incident?
Mr Rowhani said that the USA and Britain are directly responsibility for this incident and they must be answerable to the world of Islam because in keeping with international norms, the occupiers are responsible for maintaining security in Iraq.
The secretary of Supreme National Security Council said that Americans must be aware that they have won themselves an everlasting hatred of Arab states, regional countries and Muslims.
Mr Rowhani stressed that the incident leading to the martyrdom of Ayatollah al-Hakim and tens of
worshippers on Friday was not the job of an amateur group but of a powerful government and America is directly responsible for it.
Egyptian Government Daily Al-Ahram: The US Is Behind The Najaf Bombing
MEMRI
"The holy city of Najaf, the site of the tomb of the Imam 'Ali, witnessed a horrible terrorist crime which claimed the lives of nearly 120 victims - and at the top of the list was Ayatollah Muhammad Baqir Al-Hakim, head of the Supreme Council of the Islamic Revolution in Iraq. Nearly 200 more were wounded. This [happened] when a car bomb, parked near the entrance to the tomb of the Imam 'Ali, went off as the worshipers were coming out.
"Although those responsible for this tragic event have not yet been apprehended, [we can say] that this is one of three incidents carried out in the same way - [the other two being] the bombing of the Jordanian Embassy in Baghdad and the bombing of the U.N. headquarters in the Iraqi capital - all carried out by exploding a car bomb. They were all aimed at parties that irked the occupation forces, such as Jordan, following the hospitality it gave Saddam's daughters, and the U.N., after a representative of its secretary-general announced in Iraq that the American occupation of Iraq humiliates and wounds the Iraqis. And, finally, [aimed] at Ayatollah Muhammad Baqir Al-Hakim, following the beginning of resistance operations in the Shiite regions, where the Supreme Council of the Islamic Revolution enjoys obvious influence.
"While some members of the so-called transitional Governing Council, such as Ahmad Chalabi, blamed some of those who belong to the former Iraqi regime [for the bombing], the popular demonstrations seen in the Iraqi streets following this criminal act were all in agreement that the occupation forces were responsible for this incident, as part of their effort to provoke conflict among the Shiites and between the Shiites and the Sunnis. This is a [policy] of 'divide and rule,' which occupation forces have used throughout history to rip apart the unity of peoples in countries under occupation.
"It is strange that the occupation forces, which are considered to have the most to gain from the incident, have as usual blamed Islamic terrorists. This is propaganda aimed at causing world-wide damage to Muslims, especially since no one denies that some of the Islamic extremists who carry out terrorist acts flourished under and were financed by some Western apparatuses during the war against the Soviet Union in Afghanistan. In other words, responsibility for this very act of terrorism is Western responsibility - and, more specifically, American.
Iraq: Who's Bombing Who?

News Analysis by J.J. Johnson

I've watched and made little comment on the past two weeks of tumult in Iraq, but have noticed a pattern. Until now, I have kept these thoughts to myself, for even the mere mention of what follows may get me labeled all kinds of 'anti everything' that's American. But before the next attack happens here, I'd like to lay out some speculation on why at least two major bombings in Iraq may not have been the work of Arab extremists.
We'll start with the truck bomb attack on the United Nations (U.N.) Headquarters at the Canal Hotel in Baghdad. Better yet, let's go back two days before, to the rhetoric we were all hearing on the talking head shows.
All of them (the American politicians) seemed to be in unison about the need for more international help to deal with the Iraq quagmire.
The next day, the United Nations holds a press conference at the Canal Hotel in Baghdad. Our Arab source, who is familiar with middle east history and events, told us that the UN mission had been there for years (including during the sanction/inspection regime), and even known as a safe haven for foreigners. No terrorist would ever have a reason to attack this location. Certainly an attack by al-Qeada or some other fundamentalist group would prompt the UN to take more drastic action, at least to defend themselves. It might even bring the UN closer to the U.S. position in Iraq.
And so, if we are to believe our own media and government's line:
"Terrorists linked to al-queda/ baathist remnants decided to send a suicide bomber with a truck packed with 1000 lbs. explosives at the UN mission, killing at least 23 people".
Take note: at the time of this attack, there was a UN press conference -- with American reporters somehow absent -- being seen in countries of our so-called 'allies'. What would Arab terrorists have to gain by this attack?
Before you say "they don't like Westerners in an Arab country and they are aiming for 'soft' targets", think again. Despite what we may have forgotten on this side of the world, American and the UN are not on friendly terms at this time, just as they weren't during the weeks leading up to the war.
If it were up to the UN, U.S. forces wouldn't even be there.
The answer: Arab terrorists had nothing to gain by attacking the UN mission. There were in fact, Muslim victims as well as Iraqi soldiers guarding the place. But there were increased calls for 'more UN involvement' after the attack by many here in the U.S. [...]
Bomb kills 2 U.S. soldiers in Baghdad
Tuesday, September 2, 2003 08:17 GMT

BAGHDAD, Iraq (CNN) -- Two U.S. military police officers have died and another was wounded after their Humvee hit a bomb along a highway in southern Baghdad, the Coalition Press Information Center said Tuesday.
The members of the 220th Military Police Brigade were traveling along a main supply route at 3:19 p.m. Monday when their vehicle hit an improvised explosive device. [...]
Also in Baghdad, police on Tuesday reported what they believe was an explosion in a garage at a police station or academy. According to police, there are casualties, but no deaths. U.S. forces have cordoned off the area. [...]
Copter Blamed For Dislodging Shiite Banner
Army Drops Denials About Event That Led to Violence
By Theola Labbé
Washington Post Staff Writer

BAGHDAD, Aug. 28 -- The commander of U.S. ground forces in Iraq said today that an American helicopter crew intentionally dislodged a Shiite Muslim banner from a tower in the capital's Sadr City district two weeks ago, an incident that sparked violent protests in which U.S. troops killed an Iraqi boy. [...]
'All-out war' on Hamas pledged
MITCH POTTER
MIDDLE EAST BUREAU
Sep. 2, 2003. 01:00 AM
JERUSALEM—Vowing "all-out war" on Hamas and other factions, Israel yesterday announced it would freeze diplomatic relations with the Palestinian leadership until it acts decisively to rein in militants.
The declaration came in a morning cabinet meeting as Israeli helicopter gunships readied to unleash their sixth targeted killing of Hamas activists in two weeks.
One militant was killed and 25 bystanders were injured in the afternoon missile attack on a car in congested Gaza City, bringing to 11 the number of Hamas members felled by the latest air campaign.
The violence comes amid renewed diplomatic efforts to unfurl the tattered "road map" peace plan, now little more than a dead scroll in the library of failed Mideast initiatives.
The Israeli cabinet reiterated there would be no progress on the U.S.-backed plan unless the Palestinian Authority takes action against militants.
Comments: The Israelis have been trying to provoke a civil war among the Palestinians, figuring that is the quickest way to kill them off: let them do it themselves. The feud between Abbas and Arafat is apparently raging, with the Israelis and Americans doing their best to split the Palestinian leadership by refusing to deal with Arafat. Sharon and his killers refused to deal with Arafat, imposing Abbas on the Palestinians. Then, they turned around and refused to make any concessions to Abbas to secure his position. They began attacking Hamas in order to undermine Abbas's position and to create the conditions for a Palestinian civil war.
If the Palestinians are not willing to kill each other in a civil war, then the Israelis have plans for ethnic specific weapons that will do the job.
That the "Roadmap" was scuttled because of Israeli aggression against the Palestinians doesn't make it into this article. That there may well be a plan in place to gather as many Jews as possible into the lands stolen from the Palestinians in order to finish the work started by Hitler doesn't make it into the mainstream news services either.
Israeli commission condemns treatment of Arabs
By PAUL ADAMS
From Tuesday's Globe and Mail
2:13 AM EDT Tuesday, Sep. 2, 2003

Sakhnin, Israel — For nearly three years, the people of Sakhnin have been waiting with a mixture of hope and skepticism for the results of an inquiry into the deaths of 13 Israeli Arabs shot dead by police during riots in October, 2000.
Monday, an Israeli judicial three-man panel headed by Justice Theodor Or delivered its verdict: that misconduct and excessive use of force by the Israeli police led to the deaths of the men, including the two killed during a clash in this northern Israeli village.
"It is important that it be pointed out in a completely unambiguous way that the use of live fire, including by snipers, is not a means of dispersing large crowds by police," the panel concluded.
Ehab Abu Saleh watched the live coverage of the Or report's release on Hebrew-language television in his family's living room Monday afternoon with rising anger. Mr. Abu Saleh's brother Walid, a 21-year-old electrical-engineering student, was killed by a police bullet during a demonstration at the edge of Sakhnin.
"I know damn well that the commission condemns the people who killed my brother, but what will come of it?" asked Mr. Abu Saleh, reflecting the widespread feeling among Arabs in Israel that the Jewish majority has become less and less concerned with their problems. [...]
Associated Press
8:05 PM EDT Monday, Sep. 1, 2003
Gaza City, Gaza Strip — Israel killed a Hamas militant Monday in its sixth missile strike in two weeks, while the Palestinian government renewed truce talks with the Islamic militants.
Defence Minister Shaul Mofaz promised a war "to the bitter end" against Hamas, and the Israeli Cabinet reiterated there would be no progress on the U.S.-backed peace plan unless the Palestinian Authority takes action against the militants.
Israel's army chief, Lt.-Gen. Moshe Yaalon also told the cabinet he was prepared to launch a ground invasion into the Gaza Strip if necessary, according to a statement. [...]
Israeli Strike Kills Palestinian Girl
By IBRAHIM BARZAK, Associated Press Writer
September 2, 2003
GAZA CITY, Gaza Strip - [...] In the Gaza Strip, an 11-year-old Palestinian girl, Sana Daour, died Tuesday of injuries she sustained last week in an Israeli missile strike, hospital officials said. The girl became the third victim of that attack, which also killed two other bystanders, but missed its target, a Hamas fugitive. [...]
Jerusalem, Sept. 2. (UNI): Fearing retaliation from Hamas following their vows to avenge the recent series of assassinations carried out by Israel on their activists, Israeli Shin Bet Security Services has ordered beefing up of security around a number of Israeli Government Ministers, Army Radio reported. [...]
Judges denounce Israeli police for deaths of 13 Arabs
By Inigo Gilmore in Jerusalem
(Filed: 02/09/2003)
A long-awaited judicial inquiry severely criticised Israel's security and political establishments yesterday for using excessive force against the Arab minority and badly underestimating the community's anger after decades of "prejudice and neglect". [...]
"It is important that it be pointed out in a completely non-ambiguous way that the use of live fire, including by snipers, is not a means of dispersing large crowds by police," the panel said. [...]
Omri Sharon quizzed over campaign sleaze
Aljazeera.net
Tuesday 02 September 2003, 0:23 Makka Time, 21:23 GMT
Israeli Prime Minister may also be questioned by police over political sleaze
Anti-fraud officers have grilled Ariel Sharon's son Omri for nine hours over a political party funding scandal.
Omri Sharon, a right-wing Likud party member of the Knesset, was held and questioned by officers at Bat Yam police station, according to Israeli radio reports.
He answered about 10% percent of their questions over illegal campaign financing allegations surrounding his father's successful 1999 election bid.
The Sharon family is being investigated for allegedly violating campaign finance laws, obtaining a $1.5 million loan from South African businessman Cyril Kern in 1999.
The money was said to have been used to pay back illegal party contributions in an attempt to cover their tracks.
Jewish peace winner attacks Israel
Aljazeera.net
Monday 01 September 2003, 23:34 Makka Time, 20:34 GMT
Jewish historian Reuven Moskovitz, who was awarded a prestigious peace prize, fired a broadside at Israel during his acceptance speech.
The outspoken award winner used the glittering occasion to launch an attack on Israel's policies which have caused misery for millions of Palestinians.
And he called on Europe to exert pressure on Ariel Sharon to stop the persecution of Palestinians.
"All Israel's governing politicians have transformed the lives of the Palestinian people into an intolerable hell with their sanctions and expulsions," he said at Monday's award ceremony.
Israeli planes breach Lebanese airspace
Sunday 31 August 2003, 16:55 Makka Time, 13:55 GMT
Lebanon's Hizb Allah resistance group has opened fire on Israeli warplanes violating the country's airspace.
Two Israeli planes broke the sound barrier over the southern towns of Hasbaya and Marjayoun on Sunday, according to police.
The resistance group confirmed in a statement that its anti-aircraft batteries opened fire on the planes.
The group has warned Israel against violating Lebanon's airspace, saying it breaches the country's sovereignty.
Brazil: New Report Shows Police Killings Rife Ten Years After Massacres
Amnesty International 28 August 2003

A new report today (28 August) by Amnesty International shows that Rio's poor communities continue to suffer extreme levels of violence, most notably at the hands of the police. In the first six months of 2003 alone, 621 civilians were killed by Rio's police. The report documents consistent evidence that ten years on from the massacres at Candelária and Vigário Geral, in 1993, little has changed. Statements made in public by elected officials even appear to support the killing of civilians, presenting the killings as an acceptable and necessary product of crime control.
Amnesty International UK Media Director Lesley Warner said:
"Ten years on from the brutal killings of sleeping children by military police in Candlaria and Vigario Geral, little has changed. Police brutality, 'justified' by wars against drug gangs, is rife.
"Hundreds of civilians each year get caught in the crossfire between armed drug gangs and over-zealous, under-trained police. Particularly worrying are reports that suggest continued, deliberate police executions."[..]
Comment: perhaps if the Brazilian Police tried the US Dept. for Housing and Development's "Homeless Management Information System" proposals, they'd be able to pinpoint with greater accuracy.
Tuesday 02 September 2003, 1:34 Makka Time, 22:34 GMT
Bush was supported by many Muslim voters in 2000. The tide is now turning.
Leaders of the US Muslim community hope to hurt President George W Bush at the polls next year by attacking his administration's treatment of Arab and Muslim Americans.
Passersby search shot teen's pockets
Victim was known as 'drug runner'
Moss Park slaying 37th homicide
JESSICA LEEDER
STAFF REPORTER
An 18-year-old man known in his downtown neighbourhood as a drug runner from Regent Park has been shot to death at close range in Moss Park. [Toronto]
[...] Kelly Hammer, a cook at the nearby Salvation Army men's hostel, said Malcolm was a "drug runner." .
"As soon as they shot him there were people over there going through his pockets," she said. "Things like that happen all the time in this neighbourhood. People call it crack central."
Nepal bans public meetings after Maoist attacks
AP[ TUESDAY, SEPTEMBER 02, 2003 12:55:49 PM ]
KATHMANDU: Maoist rebels attacked two police stations in southern Nepal early Tuesday, killing at least two policemen, while the government banned public assemblies in the capital, citing possible violence here by the rebels.
By Valeria Korchagina
Staff Writer
Underlining Russia's growing importance on the world oil market, the crown prince of Saudi Arabia arrived Monday for a three-day state visit, the first since 1932.
Crown Prince Abdullah Bin Abdul Aziz Al-Saud has come to promote closer cooperation between Saudi Arabia and Russia, the world's No. 1 and No. 2 crude oil exporters, and push Russia to side with OPEC in the struggle with consumer-countries, like the United States, over the price of oil.
Putin Promises Shell a Smooth Ride
President Vladimir Putin said Monday Russia should provide a favorable investment climate for Royal Dutch/Shell as the oil giant confronts hurdles in its oil project in western Siberia.
"We are determined to create and strengthen favorable conditions for your work here," Putin was quoted as saying during a meeting with Shell chairman Philip Watts.
[...] Shell became one of the biggest foreign investors in Russia when it got the green light this year for a $10 billion project on the remote eastern island of Sakhalin, where it will build the world's largest liquefied natural gas plant by 2006.
CNN, CNBC on Board for RBC-TV Launch
By Denis Maternovsky
Staff Writer
Some of RBC-TV's 500-strong staff in the Moscow newsroom, from which the $23 million venture will broadcast 24 hours a day.
RBC-TV, the country's first 24-hour business news channel, is set to go on air Sept. 2, after signing cooperation agreements with CNN International and CNBC Europe.
The channel is to be "equal to leading Western news and analytical TV channels and adapted for the Russian audience," the company said in a statement.
Berlusconi, Putin speak with Bush by phone after Russia's opening to international force in Iraq

September 01, 2003 Posted: 12:41 Moscow time (08:41 GMT)
PALAU - Russian President Vladimir Putin and Italian Premier Silvio Berlusconi consulted by phone with U.S. President George W. Bush Sunday, a day after Putin said Russia would welcome an international force in Iraq under U.S. command, Italian officials said.
Officials in Berlusconi's office said the call was made during the last part of Putin's three-day visit to Sardinia, where he was hosted by Berlusconi at the premier's seaside estate on the Costa Smeralda, but that they did not immediately know what was discussed in the conference call.
Putin told reporters Saturday that any decision on such a force must be made by the U.N. Security Council.
As U.S. troops in Iraq continue to suffer casualties, Washington has been trying to line up wider participation in efforts to combat violence but has faced opposition from countries which opposed the U.S.-led war.
Putin's comments after talks with Berlusconi, a staunch Bush ally, suggested that Russia would be open to join in such a force, but he stressed his country's demand for a stronger U.N. role in Iraq's immediate future.
Putin and Berlusconi had long stretches of talks as well as socializing since the Russian president flew to Sardinia on Friday.
Italian news reports said the pair went swimming off a small boat in the clear, emerald green waters of Sardinia's northeast coast, returned to shore to have a drink at a hotel, then had a final lunch before Putin was scheduled to leave later on Sunday
France blocks free trade

Editorial
International Herald Tribune
The French have a strong attachment to the ideal of the bucolic countryside, and a change in agricultural policy can be blown up into a threat to national identity.
Those attitudes are important because they make France the leading supporter of the European Union's costly protectionist agricultural policy, and the major opponent of any serious change. That intransigence hurts developing countries, where farmers often find themselves competing with the artificially low prices of subsidized European produce that gets dumped on the international market.
As members of the World Trade Organization meet this month in Cancún, Mexico, they'll be trying to overcome French protectionism that threatens to stall momentum toward expanding global trade.
[...] Europe's protectionism stems from the Continent's political determination to sustain agriculture even when it makes little economic sense. European farms are, on average, far smaller than those in the United States - the European Union has more than three times as many farms even though it has only about one-third as much cultivated farmland. The idea of bigger farms frightens the French, as does the idea of depopulated farming communities.
Comment: Typical American, neoliberal mindcandy. Everyone is viewed through the lens of the dollar, of money, of profits, of getting rich in spite of the nefarious effects it may have upon others. Travel through the French countryside and you will have direct experience of the benefits of the small farms, of a way of life that the French at trying to protect in the face of the neoliberal tyranny. And notice the crocodile tears that are shed by the editorialist for the poor third world countries that are supposedly hurt by French protectionism. The real threat to these countries comes from the agrobusiness and industrial farming so rampant in the US. Compare the food produced in France with the tasteless and nutritionless pseudo-food that comes from the US. Look at the problems of obesity and health in the US directly related to the poor food they consume.
But this is only part of the problem. Look at the importance given to meals in France, the importance of taking time out during the day to eat, to break bread with others. All of this creates a social fabric that is more cohesive than that in modern America. The new Nazis in power in the US don't like social cohesiveness, unless it comes under the cover of a fundamentalist Christian intolerance for everyone else.
Unfortunately, the American eat on the run ethos is more and more part of life in France's cities, but people are attempting to do something about it before it takes completely over.
And then tell us once more that the problem is that France wants "to sustain agriculture even when it makes little economic sense."
Silence over HIV/AIDS driving millions to their graves in Ethiopia

ADDIS ABABA (AFP) Aug 29, 2003
Ethiopia's conservative society is facing the crunch, as tradition has prevented raising of voices to warn the population against the deadly HIV/AIDS which is silently ravaging the country.
"The age-old tradition of male domination has crippled open discussion on the gravity of the HIV/AIDS epidemic, a situation compounded by unwarranted sexual practices within the rigidly conservative society," declared Taddese Aynalem, chairman of Dawn of Hope, an organisation for people with HIV/AIDS.
Taddese warned that many new cases are being reported daily, because Ethiopians have failed to change their sexual behavior.
"Although the situation in rural Ethiopia is still unknown, reports trickling in from the countryside are alarming and indicate that the country is losing its productive force in a silent but dramatic way, due to lack of awareness campaigns and poor medical structures," he said.
Ethiopia's National AIDS Secretariat also warned in a report released here that "the epidemic is already taking a heavy toll, killing more than 100 people daily and forcing grandmothers to take care of their grandchildren."
"Today, more than two million Ethiopians are believed to be living with HIV/AIDS, of which more than 50 percent are women and children," the report said. [...]
Being drunk in a pub may soon be illegal in Australia
Poverty 'robs a million of their childhood'
By Sarah Womack, Social Affairs Correspondent
The Telegraph
Almost one in 10 children in Britain is growing up in "severe and persistent" poverty, a charity claims today. A report by Save the Children says a million children are "missing out on their childhood" because of extreme deprivation. [...]
Lawyers group proposes reforms for United Nations

Reuters: Sunday, August 31, 2003. 3:13pm (AEST)

The International Association of Lawyers proposed on Saturday the United Nations' charter should be overhauled and that its headquarters should be moved from New York, in a call for reform after the Iraq crisis. Failure to reform could lead to a "total marginalisation of this body in the fight for peace and international security in the 21st century", the association's president, Antoine Akl, said in an address at its annual congress.

The Paris-based association, grouping almost two million lawyers from 110 countries, said it planned to submit its proposals to UN Secretary-General Kofi Annan in an effort to strengthen the United Nations. [..]

Comment: I wonder if the Rockefeller dynasty got some spare cash to start afresh? John D Rockefeller (pictured) donated $8.5 million dollars for the site back in 1947. The original documents are here.

John D Rockefeller in a happier moment
Smart passport to enhance security (Australia)
ABC- Australia Tuesday, September 2, 2003. 2:34pm (AEST)

The Federal Government's passports office says Australia is set to be one of the first countries in the world to introduce biometric recognition in its passports. An international standard has been developed under which an electronic image of the traveller's face will be encoded into the passport to be checked at customs points.
A range of new security measures will be introduced into passports in December. Passports division head Ian Kemish says he expects the biometric security to be the next step beyond those.
"All of the testing we've been doing, and all of the research and development is very, very encouraging," he said.
"We now have an international standard established, which is the adoption of facial recognition as the international biometric, and that has left us well placed to move to implementation."
Further changes this month mean official photo identification and at least two other separate items are required for applications, while people who have changed their names must produce a change of name certificate. Mr Kemish says from December, personal data in passports will be moved to a new page and sealed under a new tamper-proof laminate.
"The document we have at the moment is one of the most secure passports in the world - what we are talking about here is making it more secure," he said.
Comment: We told you so, waaaaay back in Signs of the Times #3
"From a reader in Australia: Well we just got the Australian 2002 [budget] speech from our treasurer Mr Costello. Domestic security, border protection and WOT [War on Terrorism] being the big selling points. Included was the statement:

"The Government is also investing in the development of leading edge technology that has the potential to significantly improve passport verification processes. If successfully developed, a biometric identifier could record individual features on a magnetic strip on passports and provide distinctive matching for that individual at airports and other points of entry. This will be funded by an increase in the Passport Fee."

Searches on the web indicate this has been in process since 1996. "

Meanwhile in Florida they've found biometric face recognition to be a DUD!
FLASHBACK! Tampa Scraps Face-Recognition System
Electronic Privacy Information Center (Aug 20)
The Tampa Police Department this week abandoned face-recognition technology after the Identix system failed to produce any positive identifications. The camera-based system scanned the faces of tourists, residents, and visitors in Ybor City and then compared the images with police mug shots. No arrests resulted. The Identix system is still in operation in Virginia Beach and Great Britain. Several studies have shown that face-recognition technology is ineffective and error-ridden. See EPIC's Face Recognition, Video Surveillance, and Observing Surveillance pages.
EPIC Alerts Public to Homeless Tracking System
Electronic Privacy Information Center (Aug 19)
Proposed guidelines (pdf) to create a homeless tracking database called "Homeless Management Information Systems" present serious risks to civil liberties. EPIC has released a new fact sheet (pdf) detailing the risks, and urging the public to send comments to the Department of Housing and Urban Development in opposition to HMIS. For more information, see the EPIC Poverty and Privacy Page.
Pope Pius XII denounced Hitler, trainee priest claims
By Peter Popham in Milan
The Independent
02 September 2003
Pope Pius XII, stigmatised as "Hitler's Pope" and the man whose actions hastened the Holocaust, described Hitler as "a fundamentally wicked person", according to documents published yesterday.
[...] Mr Gallagher, a student at St Louis University in America, said: "I wouldn't go so far as to say that these documents exonerate him. What I think these findings might help to dispel is the impression that this Pope was, as others have called him, Hitler's Pope." The Vatican is believed to be eager to improve Pius XII's image, prior to possible beatification.
The British historian John Cornwell, who wrote Hitler's Pope, said: "There is nothing new in these statements. I made it absolutely clear in my book that Pius XII detested Hitler and the Nazis, and I published similarly uncomplimentary remarks. The whole point of Hitler's Pope is not to say that he liked Hitler or supported him, but that he put the Vatican's interests before those of the German church."
Mr Cornwell added: "I don't know if Gallagher's article is part of a Vatican campaign, but this sort of thing is fairly typical of people who are trying to reinstate Pius XII in the affections of the Catholic Church, which is not an easy task."
Found this while flicking through a copy of Homes and Gardens from November 1938. Shows how not all corners of the UK were against the Fuhrer at that time. [...]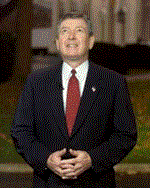 Patriot road show
PR move doesn't change text of the law
September 2, 2003
Attorney General John Ashcroft is mounting a vigorous and even poetic defense of the USA PATRIOT Act. He is barnstorming the nation and invoking the Gettysburg Address to praise the new anti-terrorism law. [...]
In carefully scripted appearances, Ashcroft has told Americans in Detroit, Boise and beyond that Americans' civil liberties are not imperiled by the USA PATRIOT Act. (That's an acronym for the Uniting and Strengthening America by Providing Appropriate Tools Required to Intercept and Obstruct Terrorism Act.)
As he tours, Ashcroft mentions a new Justice Department Web site wholly devoted to vigorously defending the law (www.lifeandliberty.gov). There, the department rebuts the "myths" about the act, such as the claim that section 215 allows the government to check out the library-reading habits of those who hold unpopular views, of those not credibly suspected of committing any crime.
Ashcroft's "Preserving Life and Liberty" site argues that the PATRIOT Act "specifically protects Americans' First Amendment rights, and the terrorism investigators have no interest in the library habits of ordinary Americans." There's no way to prove the latter statement, as all such investigations are secret. [...]
Bush Turns Blind Eye to Blackout Culprit
FirstEnergy's Executives Raised Thousands for Bush Campaign
By Tyson Slocum
Special to CorpWatch
August 21, 2003
An Ohio-based energy conglomerate has been identified as responsible for the massive power blackout that shut down much of the Midwest and Northeast -- but the Bush administration isn't taking notice. FirstEnergy's strong ties to the president may help explain why the company may be let off the hook for depriving millions of power during the blackout.
Top executives at FirstEnergy rank among the Bush campaign's top fundraisers. FirstEnergy President Anthony Alexander was a Bush Pioneer in 2000 - meaning he raised at least $100,000 - and then served on the Energy Department transition team. H. Peter Burg, the company's CEO and chairman of the board, hosted a June event that raised more than half a million dollars for Bush-Cheney '04[..]
Ashcroft decides against running for political office
By Kevin Johnson, USA TODAY
Posted 9/1/2003 10:29 PM
WASHINGTON — Attorney General John Ashcroft says he is ruling out any future campaign for elective office, but he indicates that he would like to continue serving the administration if President Bush is elected to a second term.

In an interview with USA TODAY, Ashcroft, who served as Missouri auditor in 1973 and later was elected state attorney general, governor and U.S. senator, said recently that elective politics have passed him by since his confirmation as the nation's top law enforcement official two years ago.
"I really can't imagine running another political campaign," said Ashcroft, 61. "I don't have that in mind. I'm getting older." [...]
By ZooT_aLLures

There are terrorists in this country. I know this to be fact. I am a terrorist.
I've never raised my hand in anger, never built a bomb, don't know anything about germ warfare, or for that matter any weapon of mass destruction, except that governments builds these things. I have no desire to injure another person, yet still I spread terror throughout the land.
What am I doing?
Quite simply, I'm typing and sharing my thoughts. This is my crime.[...]
08/28/03
Julie Carr Smyth
Plain Dealer Bureau

Columbus - The head of a company vying to sell voting machines in Ohio told Republicans in a recent fund-raising letter that he is "committed to helping Ohio deliver its electoral votes to the president next year."
The Aug. 14 letter from Walden O'Dell, chief executive of Diebold Inc. - who has become active in the re-election effort of President Bush - prompted Democrats this week to question the propriety of allowing O'Dell's company to calculate votes in the 2004 presidential election.
O'Dell attended a strategy pow-wow with wealthy Bush benefactors - known as Rangers and Pioneers - at the president's Crawford, Texas, ranch earlier this month. The next week, he penned invitations to a $1,000-a-plate fund-raiser to benefit the Ohio Republican Party's federal campaign fund - partially benefiting Bush - at his mansion in the Columbus suburb of Upper Arlington. [...]
U.S. workers' fears rise as jobs are lost and pay lags

Steven Greenhouse NYT
Tuesday, September 2, 2003
Even though the U.S. recession officially ended nearly two years ago, polls show that American workers are feeling stressed and shaky because the United States continues to register month after month of job losses and wages are rising more slowly than inflation.
One factor above all has fueled the insecurity: The country has lost 2.7 million jobs over the past three years. The recovery has been so weak since the recession ended in November 2001 that the nation's payrolls are down by one million jobs from the time economic growth resumed. The current economic expansion, in fact, is the worst on record in terms of job growth. The average length of unemployment, more than 19 weeks, spiked this summer to its highest level in two decades.
[...] "Even though the recession started in March 2001 and ended apparently in November 2001, here we are in August-September of 2003, and we have far fewer jobs than when we started this whole process," said Lawrence Mishel, president of the Economic Policy Institute. "That has never happened since the Great Depression."
Former Enron treasurer may cut deal
Plea bargain could create a 'bloodbath,' lawyer says
By MARY FLOOD
Houston Chronicle

Indicted ex-Enron Treasurer Ben Glisan Jr. is negotiating a plea bargain and cooperation agreement with federal prosecutors.
Glisan, one of the highest ranking Enron officials before he was fired for his involvement in a side-deal, is charged with two dozen counts of money laundering, fraud and conspiracy. His charges are part of a 109-count indictment against Glisan, former Enron Chief Financial Officer Andrew Fastow and former Enron executive Dan Boyle.
US labour pains: high job losses, low wage gains
New York Times
NEW YORK - Things were not so rosy for American workers on their Labour Day yesterday.
Even though a recession ended nearly two years ago, polls showed that American workers were feeling stressed and shaky because the nation continued to register month after month of job losses and weekly wages were rising more slowly than inflation. [...]
'Even though the recession ended apparently in November 2001, we have far fewer jobs than when we started this whole process,' said Mr Lawrence Mishel, president of the Economic Policy Institute.
'That has never happened since the Great Depression.'
322 Sick on Cruise Ship Steaming for NYC
By Associated Press
September 2, 2003, 5:37 AM EDT
NEW YORK -- More than 300 people aboard a North Atlantic cruise ship became sick with a Norwalk-type virus, causing the vessel to cut its voyage short and head for New York. [...]
The ship was bound for New York from Copenhagen, Denmark on a 16-day trip. It was expected to dock in New York Harbor early Tuesday, cutting its voyage short by two days. [...]
Give up booze or your Net access - you decide
By Tim Richardson
The Register
Posted: 02/09/2003 at 10:00 GMT
What would you give up to keep your Internet connection? According to a NOP survey on behalf of BT Yahoo! Broadband, six in ten people would give up their favourite choccy bar, half would give up booze and four in ten would be happy to toss away their mobile phone. Oh, and one in ten Net users would even be prepared to dump a boyfriend or girlfriend to stay online. Whatever next?

Tracking extraterrestrial life
Mono Lake -- Brine shrimp dart in the shallows along this weirdly tower-studded lakeshore, and clouds of alkali flies darken patches of the lake's salty surface. But Richard Hoover, a onetime solar physicist, collects only a few of those mundane creatures.
He is on the hunt for stranger prey.[...]

Hoover, 56, works at NASA's Astrobiology Institute at the Marshall Spaceflight Center in Huntsville, Ala., when he isn't hunting microbes virtually from pole to pole.
His fixation on extraterrestrial life generates more than mild skepticism from other scientists who strongly question his insistence that some of the most notable meteorites that have ever struck Earth contain fossil life forms from other planets. Many of those meteorites bear curious markings that resemble fossils under the microscope and have evoked much controversy, but Hoover sticks to his guns. [...]
Sad thoughts 'can make you ill'
06:44 Tuesday 2nd September 2003
Scientists say thinking negatively can make you ill.
Tests showed volunteers who focused most intensely on bad times in their lives suffered weakened immune systems.
They also displayed increased activity in an area of the brain associated with negative mental states, including depression. [...]
Souped-Up British Milk Van Sets Speed Record
Fri Aug 29, 7:07 AM ET
LONDON (Reuters) - A Welsh race-car driver claimed the first milk van speed record Thursday after zooming at 73 mph in a souped-up electric machine.
Electric milk vans, called "floats," are one of the quintessential features of British life, designed decades ago to run in silence, so the legend goes, to avoid waking slumbering citizens when the milkman drops off pints of milk at dawn.
The floats have not been known for their speed until Welsh Formula 3 racer Richard Rozhon got behind the wheel of his brand new Electron E150 on a track at the Bruntingthorpe Aerodrome in central England. [...]
Scientists investigate Arctic links to Europe
`Lost white race' in early accounts of explorers Icelandic team
matches saliva data to test theory
BOB WEBER
CANADIAN PRESS
Sep. 2, 2003. 01:00 AM
A finding that Inuit and Viking blood mixed a millennium ago would change our understanding of human mobility, Palsson adds. "We now know the Inuit were not stationary and passive, outside of history ... they were experimenting with travel routes and subsistence resources. And the same with the Norse.
"Archeology and biological anthropology are increasingly demonstrating that regions that people thought were barriers were really migration routes. And it may well be that we see the same results in the Arctic."
Adbusters: Leo Strauss [Flash presentation]
Kitty Clark From the September/October 2003 issue of Adbusters magazine.

Leo Strauss, a controversial University of Chicago philosophy professor who died in 1973, was little known outside of academic and think-tank circles until this year, but the influence of his ideas has long been felt.[..]
[..]Neoconservatism has more complex roots than just the ideas of Leo Strauss, but it's hard to ignore the uncanny similarities between Straussian thought and the decisions emanating from the Bush administration, where many of the neoconservatives in charge of foreign policy were taught by Strauss or his students. [..]

And finally...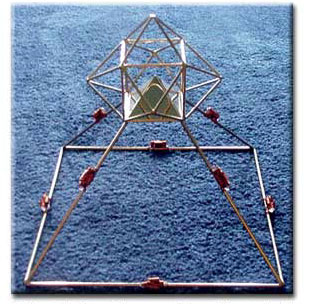 Direct from Buddhamaitreiya.org we bring you news of the rather pricey and extremely dubious Shambhala Pyramids Systems. The punter with only a few bucks to shell out can expect to experience partial soul therapy (™) with the "Solar Ascension Head Pyramid" at $270... middle class folk can try the Solar Orb Cross Crystal Resonator Ascension Head Pyramid (with 8 small Etheric Weavers )for $675.
And finally the cashed-up dudes with a money to burn and thus ensuring a one-way, fast-track, I'm-outta-here path to eternal bliss (™) can go for the Metatron Pyramid System with Orb (One 7 inch Etheric Weaver is added to each Tetrahedron Corner with the Name of one of the Archangels around the Throne of God placed on each Weaver!!!!!!!) for a mere $1,578.53
(We at Signs of the Times central are still working how they got the 53 cent figure).
On second thought we suggest going out and buying a few good books, giving the money to a homeless person or taking your significant other for a nice meal!
---
Remember, we need your help to collect information on what is going on in your part of the world!
We also need help to keep the Signs of the Times online.
Obviously, there are a lot of folks out there who do NOT like what we are doing - our own special brand of news coverage - and they are working day and night to create almost insurmountable problems for us, designed to grind us down and render our plans to be able to increase our production (which include a weekly radio show that is currently in the implementation stage) impossible to bring to fruition. We are coming under increasing pressure from many directions all at once.
Our need for financial support has never been greater, including support for legal initiatives to halt the madness of several of the para-COINTELPRO activities currently launched against us. These operations are designed to create a platform to justify utilizing police state tactics so as to silence, and even ultimately, destroy us.
Please: We need your help.
The campaign of lies and disinformation would be frightening under normal circumstances; considering the present state of the world and the machinations of the "National Security State," it is terrifying.
Please - if you have been helped by our work -
won't you help us NOW?

---

Check out the Signs of the Times Archives

Send your comments and article suggestions to us.
---
Fair Use Policy
Contact Webmaster at signs-of-the-times.org
Cassiopaean materials Copyright ©1994-2014 Arkadiusz Jadczyk and Laura Knight-Jadczyk. All rights reserved. "Cassiopaea, Cassiopaean, Cassiopaeans," is a registered trademark of Arkadiusz Jadczyk and Laura Knight-Jadczyk.
Letters addressed to Cassiopaea, Quantum Future School, Ark or Laura, become the property of Arkadiusz Jadczyk and Laura Knight-Jadczyk
Republication and re-dissemination of our copyrighted material in any manner is expressly prohibited without prior written consent.
.