---
Tropical Storm Should Hit Texas on Sun.
By PAM EASTON
Associated Press Writer
HOUSTON (AP) -- A tropical storm that formed in the Gulf of Mexico on Saturday was forecast to hit Texas' central coast Sunday, but meteorologists said they did not expect it to be severe.
At the same time, the year's first major hurricane, Hurricane Fabian, was gathering strength far out in the Atlantic but was still several days from landfall.[...]
Moderate Earthquake Hits Northern Japan
AP 08-30-03
TOKYO (AP)--A moderate, magnitude 5.2 earthquake shook northern Japan on Saturday, but there were no immediate reports of damage or injuries.
The quake hit at 7:06 p.m. about 37 miles underneath the seabed just off the coast of Japan's northernmost island of Hokkaido.
There was no danger of tsunami, powerful ocean waves caused by seismic activity, Japan's Meteorological Agency said. The quake was felt most strongly in the town of Urakawa in southern Hokkaido, about 500 miles northeast of Tokyo.
Japan is one of the world's most earthquake-prone countries. It sits atop four tectonic plates, slabs that move across the earth's surface.

Mild Earthquake Shakes Southeast Turkey
Posted on Sat, Aug. 30, 2003
Associated Press
ANKARA, Turkey - A mild earthquake with a preliminary magnitude of 4.1 struck southeastern Turkey on Saturday. There were no immediate reports of injuries or damage.
The Istanbul-based Kandilli Observatory said the quake struck at 5:27 a.m. and was centered in Malatya province. A second quake, measuring 3.3, followed at 5:56 a.m.
Malatya is some 400 miles southeast of Ankara, the capital.
Quakes are frequent in Turkey, which lies atop active fault lines. Two massive quakes killed some 18,000 people in 1999.
Central Asia's water worries in spotlight
Lake Sarez is situated in an active earthquake zone
Experts meeting in Central Asia are debating water issues amid controversy over the possibility of catastrophic flooding from a huge mountain lake located high in the Pamir mountains.
In early August, an expedition by civil defence experts and Russian mountaineers concluded that an earthquake in nearby Afghanistan could destroy the natural barrier which holds back Lake Sarez, in south-eastern Tajikistan.
Fears have been expressed that the resulting flood could surge down the Panj and Amu Darya rivers, devastating large areas of inhabited land and displacing hundreds of thousands of people.
Lake Sarez was itself created by a major earthquake in 1911. Its waters are held back by a natural barrier of rocks and boulders over 500m (1640ft) high.
Wildfire containment improves in Yellowstone National Park
YELLOWSTONE NATIONAL PARK, Wyoming
(AP) -- Federal firefighting crews were winding down their involvement in battling two wildfires in Yellowstone National Park on Saturday after days of cooler, damper weather.
The fires, which had burned about 23,500 acres, were 85 percent contained Saturday although full containment was not expected until mid-September, fire information officer Laura Navarrete said.
Just under 425 federal firefighters remained in the park, compared to more than 700 earlier in the week, and management of the fires was being turned over to local crews. "The firefighters are all pretty much leaving," Navarrete said.
Rains tame wildfire in Cameron Parish refuge
The Associated Press
8/30/2003, 1:59 p.m. CT
(AP) — Rains put out a wildfire sparked by lightning that burned about 600 acres in the Cameron Prairie National Wildlife Refuge in southwest Louisiana, federal officials said on Saturday.
The fire started on Friday and crews worked to contain the fire from advancing onto nearby private land in Cameron Parish, said Diane Borden-Billiot of the U.S. Fish and Wildlife Service.
The fire burned through the night before early Saturday morning rains tamed it, she said.
Last week, wildfires charred more than 3,100 acres of marsh in the Sabine National Wildlife Refuge, another refuge near the coast in Cameron.
Cranbrook fire evacuees long to go home after living in cramped hotel rooms

CAROL HARRINGTON
Canadian Press
Saturday, August 30, 2003
CRANBROOK, B.C. (CP) - Forced from their houses and lake cabins by a wildfire almost a week ago, many evacuees taking refuge in hotels in this southern B.C. city said Saturday they are desperate for the simple comforts of their homes.
"I want so badly to go back home," said Linda Botterill who since being evacuated from her Monroe Lake home Monday has been holed up in a small hotel room with her husband.
Sheriff's Office: some fire evacuees can return
August 29, 2003
SISTERS - Residents evacuated from portions of the Camp Sherman area because of wildfire will be allowed to return home this afternoon, if nearby fires don't suddenly flare up, the Jefferson County Sheriff's Office said Saturday.
The Camp Sherman area was evacuated on Aug. 21, and since then the nearby Booth and Bear Butte fires have grown to a combined 42,572 acres.
Harvest proposal causes debate
By Cecilia Parsons, The Porterville Recorder
Is it thinning or is it logging? A proposed change in the Sierra Nevada Forest Plan has sparked another debate between the timber industry and environmental groups with both blaming the U.S. Forest Service's management. The high cost of mechanized thinning in forests choked with small trees and brush and the limitations of control burns led to the proposal which has encouraged the timber industry and angered environmental groups.
"This is the forest service's attempt to deal with the fire problem," said Phil Aune of the California Forestry Association. He said the harvest can be done in an environmentally responsible manner.
Lightning fires resist containment
By Kim Santos, STAFF WRITER
A rash of lightning fires sparked earlier this week has nearly doubled in size burning 20,500 acres in Alameda, Stanislaus and Santa Clara counties by Friday night, fire officials said.
The Santa Clara Complex was 55 percent contained by Friday evening and has so far cost $3.5 million to fight, California Department of Forestry spokesman Bob Davis said.
Just over 2,300 firefighters from Marin, Napa, California State Parks, Department of Defense, CDF, Alameda County and Contra Costa County fire departments, as well as the Alameda County Sheriff's Department and National Guard, were on the line Friday.
As of 11 p.m. EDT [August 31] , Hurricane Fabian was centered at 17.7 north, 50.8 west; or about 710 miles east of the Lesser Antilles. It was moving toward the west-northwest at 13 mph, and this motion should continue over the next couple of days. Maximum sustained winds were up to 125 mph, still a Category 3 storm on the Saffir-Simpson scale. There can be additional strengthening over the next 24 hours. On its current track, the storm will pass to the north of the Leeward Islands early next week. If it were to reach the East Coast of the U.S., it would not be before next weekend.
Hurricane Fabian – the third hurricane of the Atlantic season – continued to strengthen Saturday. With maximum sustained winds of 80 mph Saturday morning, the storm was centered about 960 miles east of the Lesser Antilles.[...]
Torrential Rain Kills at Least 8 in Haiti
By MICHAEL NORTON
Associated Press Writer
ST. MARC, Haiti (AP)--Torrential rains burst river banks, sweeping away at least eight people and destroying dozens of flimsy riverside shacks in Haiti's west-coast city of St. Marc, officials said Saturday.
About 200 people of the city's 60,000 residents fled their homes and took refuge in government offices and a high school, said Gerald Joseph with Haiti's civil defense.
Seven people were missing and more than 200 homes were destroyed or damaged before the storm passed over the city, independent radio station KISKEYA reported.
Volcano erupts on Africa island (Comoros)
From correspondents in Moroni, the Comoros islands
30aug03
THE Karthala volcano on the Indian Ocean Comoros archipelago erupted Saturday, sending a stream of lava towards a nearby village where troops were heading to evacuate residents, witnesses said.
It was not known if there had been any casualties in the eruption.
The volcano, on the archipelago's largest island of Grande Comore, last saw a magma eruption in 1977, whan lava destroyed the village of Singani but without causing any deaths.
Local authorities had met this week to review security procedures in the event of an eruption, after vulcanologists registered intense seismic activity that suggested an imminent blast.
Karthala Volcano (Comoros)
Saturday 30th August 2003
The eruption of Karthala Volcano on Saturday may have not occurred. A report from the island said that fires lit by farmers may have created the mistake.
Piton de la Fournaise Volcano (Reunion)
Friday 29th August 2003
The charred body of a 22-year-old man who died while trying to get a photo of an erupting volcano on France's Indian Ocean island of Reunion was recovered today after a difficult high-altitude operation, police said. The student from the island's capital of Saint-Denis, was killed late yesterday after the cooled lava he was standing on crumbled away and he fell into a crack on the side of Piton de la Fournaise volcano. Firemen who extracted his body today said the Frenchman probably died of asphyxiation from the poisonous gases inside. His body was burnt beyond recognition within minutes by the 260-degree-Celsius temperature in the fissure. Authorities closed access to the volcano following the accident.
TRAVIS DUNN
Los Angeles and San Francisco are not the only west coast cities sitting on shaky real estate. North of these usual seismic suspects, lies Vancouver, British Columbia, which, according to a new study published in Nature, may be in greater danger of experiencing a massive earthquake than anyone had previously imagined.
The study, funded by the Earth Institute at Columbia University, shows that an offshore fault line is longer and closer to land than scientists had thought, and that the activity along this fault poses the possibility that a megaquake, greater than 9 on the Richter scale, could cause catastrophic damage on the Canadian mainland, according to Dr. Mladen Nedimovic, a seismologist Lamont-Doherty Earth Observatory (a partner of the Earth Institute).[...]
CARTOONS FROM THE AXIS OF EVIL!
This is a collection of Iranian cartoonists' views of America. All of these cartoons appeared recently in major newspapers in Iran. Ugly, racist, anti-semetic [sic] cartoons are typical, daily fare in the Middle East. Of course, that's a big reason why we don't see many cartoons from the Middle East and when we do, we find them alarming and disturbing.
Comment: Of course, to say that "Ugly, racist, anti-semetic [sic] cartoons are typical, daily fare in the Middle East" is not "ugly, racist or anti-semitic", right?
Between the so-called anti-semitic cartoons from the Evil Axis and the cartoons that justify the rape and pillage of foreign countries from Bush apologists in the US, we'll take the Iranian cartoons any day. Compare the following:
Here is an American apologist cartoon.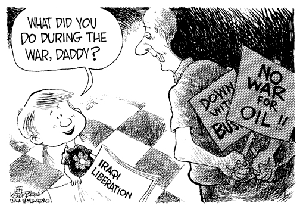 The next is something that passes for humour and political commentary from an American cartoonist. Look at the caricature of the Arab. If an Israeli or Jew were portrayed this way, would we be given a warning that it was "anti-semitic"?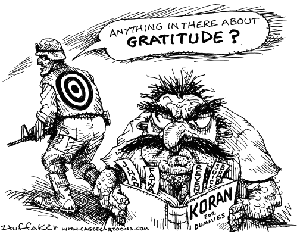 Now that we see what is "acceptable" in political cartooning from the Yanks, let's look at the ones they don't like.
Here is one of what must be the "anti-Semitic" and "anti-American cartoons from Iran: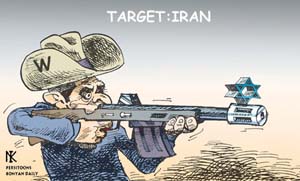 Keep in mind the bellicose statements from the Bush Reich about Iran and Syria. Seems like a pretty accurate assessement to us.
And some choice political commentary from France: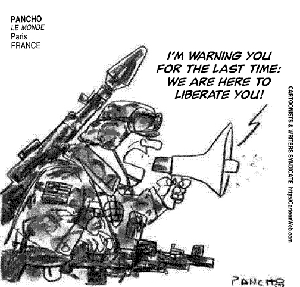 We'll let you take a look at the site and see the various cartoons from Americans making fun of the French because of their stand against the war.
Kidnapped senator calls for rescue
Last Updated: Sunday, 31 August, 2003, 05:15 GMT 06:15 UK
A former Colombian presidential candidate held hostage by rebels for more than a year and a half has appealed to the government to rescue her.
Ingrid Betancourt delivered her message in a videotape which was broadcast by Colombian television.
It is the first indication in more than a year that Ms Betancourt is still alive.
She was last seen in a previous video released in July 2002.
The guerrillas, from the Revolutionary Armed Forces of Colombia (FARC), want a number of rebel prisoners released in exchange for Ms Betancourt.
There is no clue as to when the tape was made, although in it Ms Betancourt refers to an incident on 5 May 2003.
In the videotape, Ms Betancourt said Colombian President Alvaro Uribe should order a rescue mission.
"A rescue, yes, definitely, but not just any rescue.
"It's important that it be the president who directly makes this decision. I believe it is not a military decision, but a political one," she said.
Khatami: Iran Has No Nuclear Ambitions; EU Envoy Urges Tehran to Account for Enriched Uranium
By Ali Akbar Dareini Associated Press Writer
Published: Aug 30, 2003
TEHRAN, Iran (AP) - Iran's president said his country is not seeking to make atomic weapons, but he insisted Saturday it has a right to acquire nuclear technology for peaceful purposes.
Comment: Basic Effects of Nuclear Weapons
Nuclear explosions produce both immediate and delayed destructive effects. Blast, thermal radiation, prompt ionizing radiation are produced and cause significant destruction within seconds or minutes of a nuclear detonation. The delayed effects, such as radioactive fallout and other possible environmental effects, inflict damage over an extended period ranging from hours to years.

Most damage comes from the explosive blast. The shock wave of air radiates outward, producing sudden changes in air pressure that can crush objects, and high winds that can knock objects down. In general, large buildings are destroyed by the change in air pressure, while people and objects such as trees and utility poles are destroyed by the wind.

[...]An explosion that is farther above the Earth's surface than the radius of the fireball does not dig a crater and produces negligible immediate fallout. For the most part, a nuclear blast kills people by indirect means rather than by direct pressure.

Approximately 35 percent of the energy from a nuclear explosion is an intense burst of thermal radiation, i.e., heat.[...]

Skin burns result from higher intensities of light, and therefore take place closer to the point of explosion. First-degree, second-degree and third-degree burns can occur at distances of five miles away from the blast or more. Third-degree burns over 24 percent of the body, or second-degree burns over 30 percent of the body, will result in serious shock, and will probably prove fatal unless prompt, specialized medical care is available. The entire United States has facilities to treat 1,000 or 2,000 severe burn cases. A single nuclear weapon could produce more than 10,000.

For large nuclear weapons, the range of intense direct radiation is less than the range of lethal blast and thermal radiation effects. However, in the case of smaller weapons, direct radiation may be the lethal effect with the greatest range. Direct radiation did substantial damage to the residents of Hiroshima and Nagasaki. Human response to ionizing radiation is subject to great scientific uncertainty and intense controversy. It seems likely that even small doses of radiation do some harm.

[...]The radioactive particles that rise only a short distance (those in the "stem" of the familiar mushroom cloud) will fall back to earth within a matter of minutes, landing close to the center of the explosion. Such particles are unlikely to cause many deaths, because they will fall in areas where most people have already been killed.
Quoting from the AP article: "Iran's president said his country is not seeking to make atomic weapons, but he insisted Saturday it has a right to acquire nuclear technology for peaceful purposes." Do those peaceful intentions include defending themselves from aggressive countries with nuclear armaments, like North Korea has reasoned?
N. Korea Reverts to Stirring Nuke Tension
By SANG-HUN CHOE
Associated Press Writer
Choe reports North Korea is sending mixed signals after the six-nation summit. (Audio)
BEIJING (AP) -- It took less than a day for North Korea to break one of the modest agreements it had reached with the United States and four other nations during talks on its nuclear program: a promise not to say anything to aggravate the 10-month-old nuclear standoff.[...]
Nine Killed in Russian Sub Disaster
VOA News
30 Aug 2003, 22:06 UTC
Nine Russian servicemen died Saturday when a decommissioned nuclear-powered submarine sank in the Barents Sea while being towed to a shipyard to be dismantled.
Officials on Saturday said only one of the 10 crew members was rescued. Two bodies have been recovered.[...]
N. Korea threatens to increase nuclear force
Last Updated Sat, 30 Aug 2003 23:39:35
BEIJING - North Korea, a country that frequently uses threats as a diplomatic bargaining tool, said Saturday it saw no option but to increase its nuclear force and it would not hold further disarmament talks.
The comments, coming at the end of a six-country meeting on its nuclear program, contradicted impressions that the talks had gone well. Just hours earlier, U.S. Assistant Secretary of State James Kelly said the talks had been productive.
But "this round of talks was nothing more than empty talks," a North Korean spokesman told reporters leaving Beijing after six countries – the United States, North and South Korea, Russia, China and Japan – met to see if there were terms on which North Korea would end its nuclear program.
And the country's Foreign Ministry said the talks left it with the conclusion that "there is no other option for us but to further increase out nuclear deterrent force," exactly the opposite of the U.S. aim.
The U.S. wants "the complete, verifiable and irreversible elimination" of North Korea's nuclear weapons program before it makes concessions, but North Korea says it needs security and U.S. aid guarantees before it agrees.
The spokesman said there was no use in additional talks, and "we have come to conclude that the United States has no intention for a policy switchover and it plots to disarm our country through sinister schemes."
Comment: North Korea is throwing its weight around as if it were one of the "Big Boys". By doing so, it is showing the hypocrisy of the US, Russia, China, and the other "acceptable" nuclear powers because the North Koreans aren't saying or doing anything that the "acceptable" nuclear powers haven't said or done themselves. This shows that it is not the act or threat per se that is the problem, it is who acts.
Imagine that the rest of the world told the US that it wanted the US to destroy its nuclear stockpiles. Isn't this a legitimate demand given that the US is the only country ever to have dropped the Bomb on another people? And in conditions where the war was close to ending? And where the Japanese had been making overtures for a negotiated settlement for several months prior to the August 1945 bombings of Hiroshima and Nagasaki?
About 1,000 Slave Workers Freed in Brazil, Report Says
The Associated Press
Published: Aug 30, 2003
RIO DE JANEIRO, Brazil (AP) - Federal police and government inspectors in the past two weeks freed about 1,000 slave workers from two farms in northeastern Brazil, media reports said Saturday.[...]
Hundreds hurt in stone-pelting festival
By Sanjay Narad in Bhopal
Saturday, 30 August , 2003, 23:41
A centuries-old annual tradition of stoning has left a bloody trail yet again, with over 200 people sustaining injuries, four of them seriously, during the fair that is organised in memory of a lover couple near Pandura in Chhindwara district of Madhya Pradesh.
Men from the Pandhurna and Sawargaon villages, located on opposite banks of the river Jam in Chhindwara district pelt each other with stones during the festival known as Gotmar observed on Friday. Several youths from Maharashtra also participated in the event. [...]
At the end of the day, most of the 5,000 participants go to the temple of goddess Chandi, who, they believe, blesses them and makes their wounds heal quickly. They apply sacred ash on their wounds and later visit a temple of Lord Krishna and his consort Radha, so constructed that the first rays of the rising sun fall on the feet of the divinities' image throughout the year.
White cult unwraps river bank under gov't threat of force
FUKUI -- The all-white Panawave cult removed white fabric that they had used to cover a long-stretch of a river embankment near their Fukui headquarters to protect themselves from "electromagnetic wave attacks," authorities confirmed Sunday.
The Fukui Prefectural Government, which manages the river, had ordered the cult late last month to remove the cloth illegally draping the embankment by the end of August, warning that they would forcibly take them off on Sept. 1.
Panawave members apparently removed the fabric overnight Saturday.
However, they put up dozens of 50-centimeter by 80-centimeter reflectors around their headquarters in the city's Gotaishi district. [...]
The cult was reluctant to comply with the local government order but changed their attitude after their headquarters was raided by police over the death of a Fukuoka Prefecture academic in the compound earlier this month.
No one could underestimate the pain suffered by the Peruvian people during the 20-year-long guerrilla war with Maoist rebels that ended three years ago.
But it turns out the death toll was close to 70,000 - more than twice as high as previous official estimates.
That was the grim news Thursday contained in the long-awaited report from the Truth Commission the government set up to document and make public what is known about the war with Shining Path and Tupac Amaru guerrillas. [...]
The violence erupted in May 1980 when the Shining Path, a Maoist-inspired rebel movement that tolerated no opposition, began terrorizing peasants to force them into supporting its drive to overthrow the government. [...]
Case of 19 terrorists unravelling
By MARINA JIMENEZ, COLIN FREEZE and VICTORIA BURNETT
From Saturday's Globe and Mail
2:04 AM EDT Saturday, Aug. 30, 2003
Toronto and Islamabad — Anwar-ur-Rehman Mohammed is a pharmacist who left his wife and children behind in southern India to live in a tiny, cluttered basement apartment in Markham in the hopes of obtaining a prestigious commercial pilot's licence.
Instead, he wasted $50,000, did not graduate and despairs of getting a licence after the attacks of Sept. 11, 2001.
Saif Ulla Khan is a 42-year-old refugee claimant from Faisalabad, Pakistan, who was picked up by police because he shared an apartment with his brother, a suspect in an immigration raid. He was found hiding in a pile of laundry, and complained that authorities had mistaken him for his brother.
Muhammed Naeem, 34, is a physician from Islamabad who hoped to practise medicine in Canada. His decision to register for computer courses at the Ottawa Business School, a defunct institution that sold phony registration letters, drew the suspicion of authorities investigating the school.
These men and 16 others are at the centre of Canada's most sensational — and most controversial — terrorism case in recent years.
After they were jailed on the grounds that they could pose a risk to Canada's national security, the case made headlines around the world as the news media quoted a government official's now infamous words: "I guess the easiest way of putting it is there is a suggestion they might, in fact, perhaps be a sleeper cell for Al-Qaeda." [...]
However, the case of the terrorists among us began to unravel almost as soon as the detention reviews began, with the RCMP and Citizenship and Immigration Canada distancing themselves from the idea that the men posed a clear threat to security. [...]
Blair plans new 'Ministry of Truth' for the post-spin era
By Andy McSmith and Jo Dillon
The Independent
31 August 2003
A new "Department of Truth" headed by a top-ranking civil servant is to be set up in Whitehall after the departure of Tony Blair's leading spin-doctor, Alastair Campbell.
The decision to appoint a new Permanent Secretary in charge of the entire government communications network will be part of an effort to end damaging publicity about the role of politically appointed "spin-doctors".
But one rumour causing grim amusement in Whitehall is that the brain behind the strategy is Peter Mandelson, the former Labour Party communications director who is credited with being the first of the new wave of spin-doctors when he worked for the party in the 1980s. [...]
Explosives found in main railway station
Associated Press
10:26 Saturday 30th August 2003
Police on a routine patrol of New Delhi's main railway station have found an abandoned bag packed with explosives
The bag contained 150 sticks of explosives weighing about 47 pounds and was lying unclaimed on the railway platform.
The platform was cordoned off and a bomb disposal team called in.
"These were dangerous explosives and had the potential to cause extensive damage," Neeraj Kumar, a top police official, said on Star Television.
New Delhi has been on high alert since twin bomb blasts in Bombay, the country's financial hub, killed 52 people and injured 150 people on Monday.
How 6 million People Were killed in CIA secret wars against third world countries
US role in Salvador's brutal war
JOHN STOCKWELL Describes CIA's Naziistic Torture Chambers
[...] What this is is a technique of destabilization.
In covert action, you call it destabilization. You have a target: a government that you don't like. You pick a country you're going to go after. The reasons are quite whimsical. We go after a country for a while, and if it doesn't work, sometimes we wind up big friends with them. They pick a government. They target them. They send the CIA in with its resources and its activists: hiring people, hiring agents to tear apart the social and economic fabric of the country.
[It's] a technique for putting pressure on the government, hoping they can make the government come to the US's terms, or that the government will collapse altogether and they can engineer a coup d'etat, and have the thing wind up with their own choice of people in power.
Now ripping apart the economic and social fabric is fairly textbookish. What we're talking about is going in and deliberately creating conditions where the farmer can't get his produce to market; where children can't go to school; where women are terrified, inside their homes as well as outside; where government administered programs grind to a complete halt; where the hospitals are treating wounded people, instead of sick people; where international capital is scared away and the country goes bankrupt. [...]
FBI Scientist Probed On Oklahoma City Blast Investigation
The FBI internal affairs office is investigating their crime lab's chief of scientific analysis about his conduct in the Oklahoma City bombing case, according to people familiar with the investigation.
The Associated Press reported last spring that a transcript of a Justice Department interview showed that FBI scientific analysis unit chief Steven Burmeister initially had alleged in 1995 that his lab colleagues performed shoddy work in Timothy McVeigh's case, but then retracted several statements before appearing as a prosecution witness at the trial.
AP also reported that lawyers for some FBI lab employees sent a letter to Attorney General John Ashcroft in 2001, just days before McVeigh was executed for the April 1995 bombing, alleging Burmeister may have been pressured to give false testimony in the case.
No action was taken and the allegation was never divulged to McVeigh's lawyers. It surfaced this spring during the trial of McVeigh conspirator Terry Nichols. [...]

Pennsylvania pizza-delivery man says he was forced to rob bank, blows up
04:13 AM EDT Aug 31
ERIE, Pa. (AP) - A pizza-delivery man told police he had been forced to rob a bank and asked authorities to help him minutes before a bomb strapped to his chest exploded and killed him.
On Saturday, U.S. government agents and police in northwestern Pennsylvania were trying to solve the bizarre case of 46-year-old Brian Douglas Wells, who left to deliver a pizza to a mysterious address in a remote area about an hour before he turned up at the bank with a bomb strapped to his body.
No one else was hurt in Thursday's explosion, which happened in front of law-enforcement officers as they waited for a bomb squad to arrive.
WJET-TV of Erie captured audio and video from Wells as he sat handcuffed in front of a state police cruiser.
"Why is nobody trying to come get this thing off me?" he asked.
A state police spokesman confirmed Thursday night Wells had made a number of statements, including that he had been forced to rob the bank.
The tape shows Wells telling authorities someone had started a timer on his bomb under his T-shirt and there was little time left.
"It's going to go off," Wells said.
"I'm not lying."
N.Y. Regrades Standardized Math Test That Most High-Schoolers Had Failed
By Michael Gormley Associated Press Writer
Published: Aug 30, 2003
ALBANY, N.Y. (AP) - State officials have regraded a standardized math test that most New York high-schoolers failed this year, transforming failing marks into passing ones for thousands of students.
Rather than rescoring all the math Regents exams, the state Department of Education released tables Friday to regrade the tests to more closely match the 2002 test results. For example, a ninth- or 10th-grader who received a 47 percent or 48 percent score in June now has a passing grade of 65. [...]
Pa. Anti-Smoking Law Blocks Smoking Bans
By MIKE CRISSEY
Associated Press Writer
PITTSBURGH (AP) _ A budding movement to ban smoking in more than 8,000 restaurants and bars in and around Pittsburgh has been snuffed out by, of all things, an anti-smoking law.
County health officials who had been considering the ban discovered that a state law restricting smoking blocks an outright ban. In fact, the state law has been used to stamp out smoking bans in a half dozen communities. [...]
SUSAN KIM
CABARRUS COUNTY, N.C. (August 27, 2003) — The disaster might be invisible in Cabarrus County, N.C., but the sense of despair is palpable.
Pillowtex Corp., a textile company, declared bankruptcy July 30, displacing 4,800 people in North Carolina's largest-ever layoff. In the week after Pillowtex's closing 42.5 percent of workers were behind in rent or mortgage payments. And 10.6 percent had already been evicted, according to a study conducted by Research and Training Specialists. [...]
"Many people were laid off six to 12 weeks before the plant closed," explained Betty Jean Prewitt of Christian Cooperative Ministries (CCM), a North Carolina faith-based nonprofit that is working with government agencies and local churches to help Pillowtex workers. CCM operates a food pantry as well as a variety of other programs designed to help meet people's emergency needs. [...]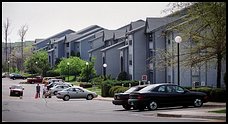 Suburbia USA: Fat of the Land?
Report Links Sprawl, Weight Gain
By Rob Stein
Washington Post


Suburban sprawl appears to be contributing to the nation's obesity epidemic, making people less likely to walk and more likely to be overweight, researchers reported yesterday.
In the first comprehensive examination of whether suburbs spreading across the U.S. landscape are affecting Americans' health, the researchers studied more than 200,000 people in 448 counties, producing the first concrete evidence supporting suspicions that sprawl is aggravating the nation's growing weight crisis. [...]
Suburban Sprawl Blamed For Drought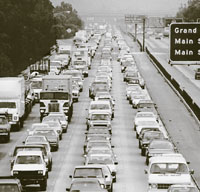 Suburban sprawl spawns concern
Suburban sprawl has increased the risks of respiratory and cardiovascular diseases, traffic accidents and obesity, experts say.
Comment: Articles regularly pop up discussing the concerns over suburban sprawl, and it is one of the favorite topics of "green" activists. The failure to understand the official culture of the U.S. has allowed the psychopath to gain dominance in every aspect of our lives. The psychopath has an inability to understand future consequences regarding their present actions, and instead focus on predatory activities with immediate gain. The continual compromising and " making nice" from those who are not psychopaths has allowed them to destroy what was once America the beautiful and degrade it into a violent parking lot.
Video games affirm violence among kids: study
The more elementary school students play video games, the more likely they are to get irritated and want to hit others, a study by university researchers has discovered. [...]
Two years later, the world has changed in ways big and small after Sept. 11
JERRY SCHWARTZ
04:17 AM EDT Aug 31
NEW YORK (AP) - Yellow is still yellow, orange is still orange, red still red.
But these colours now have other, ominous meanings - just as a cloudless blue sky, once an uncomplicated pleasure, now suggests to many in New York and Washington a morning two years ago when a clear sky gave way to an unimaginable horror.
In so very many ways, the world has changed since Sept. 11, 2001.
There are obvious, dreadful differences: There are gaps in creation where the more than 3,000 victims of the attacks once lived and breathed, and thousands of others have died in Afghanistan and Iraq.
But the changes are not all so momentous.
Comment: Yes, things have changed, and the ruthless men behind the attacks of 9/11 sit safe and comfortable in their offices. Americans are still so shell-shocked from the "attack" and its aftermath, the growing tryanny of the Bush Reich, that they don't even ask themselves the simple question of who actually benefited from the attacks onthe WTC. It certainly wasn't the "Arabs". For more, see our articles on the American Coup d'état.
By Bev Conover
Online Journal Editor & Publisher
August 26, 2003 — How long before the whole mountain we call the United States of America comes down? As a nation, we've been sliding down that "slippery slope" for decades, grasping at a twig here, a rock there to slow our journey to oblivion.
All the rights and ideals embodied in our constitution — the glue that has held us together as Americans — are being rapidly stripped away by a criminal gang that has finally succeeded in seizing power and is bent on holding on to it at all costs.
To our criminal rulers not only are our constitutional rights legal fictions, but they have stood the constitution on its head to grant themselves powers denied them by the framers. So much for their nonsensical palaver about being strict constructionists.
Whether the presidential election of 2000 was the first to be stolen we'll never know, but we do know it was the first stolen election to receive the blessing of the US Supreme Court. In any other country — those lesser nations all that must be brought under the heel of the American Empire, one way or another — what happened in 2000 would be called a bloodless coup d'état.
Of course, it took 30–40 years of mucking with the educational system to dumb Americans down — then decrying the state of public education while touting private and parochial schools where much of so-called learning is by rote — so the clucks wouldn't notice that fascism was about to replace freedom. Shoot, one F-word is as good as another, right? [...]
Also going unnoticed while Americans were being kept in a perpetual state of fear was that Bush's evil twin, Ariel Sharon, and his fascist loonies were turning the Occupied Territories into rubble — mini-Afghanistans — as the US corporate media hammered away at the "evil" Palestinian suicide-bombers who were blowing up "innocent" Israelis. [...]
Schools chief: Parents have raised worst generation yet
By Julie Henry, Education Correspondent
The Telegraph
31/08/2003
Children are starting school less well prepared than ever because parents are failing to raise their youngsters properly, according to the Government's Chief Inspector of Schools.
In an interview with The Telegraph, David Bell, the head of Ofsted, said that too many children were receiving a "disrupted and dishevelled" upbringing. As a result the verbal and behavioural skills of the nation's five-year-olds were at an all-time low, causing severe difficulties for schools.
Mr Bell said that one of the key causes was the failure of parents to impose proper discipline at home, which led to poor behaviour in class.
Another serious concern was the tendency to sit children in front of the television, rather than talking and playing with them. [...]
US says CO2 is not a pollutant
By Andrew Gumbel in Los Angeles
The Independent
31 August 2003
The Bush administration has decreed that carbon dioxide from industrial emissions - the main cause of global warming - is not a pollutant.
The decision by the Environmental Protection Agency - announced with minimal fanfare on the eve of the Labor Day weekend - reverses the stance taken under President Clinton and allows industry to increase emissions with impunity. [...]
Happy Labor Day -- Now, Get a Job! (A letter from Michael Moore)
Friday, August 29, 2003
Greetings Friends,
[...] Bush is on pace to raise almost $200 million in time for the Republican primaries where his only competition will be his own dismal record. In Minnesota this past Tuesday, Bush raised $1.4 million by giving a 24-minute speech. That's about $60,000 for each minute of "work." By contrast, the weekly salary of the average American worker is a staggering $616.
As Ron Eibensteiner, chairman of the Minnesota Republican Party, left the event in St. Paul, he was met by hundreds of demonstrators. Being the dignified, freedom-loving, compassionate conservative we all wish we could be, Eibensteiner leaned over a police barricade toward the protestors and yelled, "GET A JOB!"
It was a positive, uplifting message to America. The Minnesota Republican Party isn't going to do anything to turn the economy around, and Bush hasn't done anything in almost three years in office. The best any of them can do is yell at people.
Ayoon wa Azan (United States Trade Representative)
Jihad Al Khazen
Al-Hayat
2003/08/29
I started taking interest in the [United States Trade Representative (USTR)] following the collapse of the Soviet Union in the late 1980s. I noticed that the representatives of the office visiting recently independent countries in Central Asia, the population of which was mainly Muslim, would impose the condition of dealing and trading with Israel to receive American aids. Since these countries were coming out of decades of poverty in the Soviet experience, they implemented what the USTR's representatives asked, the majority of which are American Jews supporting Israel.
Later on, I was drawn to the fact that 13 men and women had consecutively occupied the position of trade representative, and that the last three or four of them were American Jews. This is not an accusation but a strange coincidence, since American Jews make up around 2% of the population. Appointing one of them makes it 1/50. Appointing three of them, consecutively, makes it a coincidence of choosing 1/125,000. Appointing four makes it more than 1/6,000,000, which refutes coincidence.
Michael Kantor was the trade representative between 1993 and 1996. Succeeded by Charlene Barshefsky between 1997 and 2000. Then came Zoellick. Each of them is a committed Zionist, without, however, necessarily being a neo-conservative. This is why I chose to leave the USTR for another day.
Still, I can say, through my follow-up on the USTR's work that it promotes Israel and imposes on the poor countries to deal with it as a condition to benefit from relations with the United States. I have recently fallen upon an example of this in an unexpected source; it was a Mexican magazine, which said that during Zoellick's tenure, fruits and vegetables were not allowed to cross the U.S. borders from Mexico, although they were not banned before. At the same time, the Jewish magazine for Los Angeles mentioned that America had started importing the same sorts of fruits and vegetables from Israel. Moreover, the Mexican magazine said that the Office of the USTR had planned to replace their imports from Mexico with those from Israel. I leave the reader to judge between the two parties. The [Mexican] magazine says that Zoellick used the 9/11 terrorism two years ago to help Israel at Mexico's expense. Zoellick replied that fruits and vegetables imported from Mexico could be polluted or poisoned by terrorists.
An Interview with Douglas Valentine
By ADAM ENGEL
[...] The CIA goes into a country and develops covert operations for the first couple of years. Once the country is "softened up" by assassinations, rebellions, guerrilla warfare, economic warfare etc., then the war becomes overt. That is, the military is sent in with masses of uniformed personnel and heavy equipment.
"In addition to the sanctions which would devastate any country, for the last ten years the CIA and Mossad have been recruiting officers in the Iraqi military," said Valentine. [...]
U.S. and the Iraqis Discuss Creating Big Militia Force
By DEXTER FILKINS
The New York Times
BAGHDAD, Iraq, Aug. 30 — Stung by Friday's deadly car bombing, American and Iraqi officials said today that they were discussing the possibility of forming a large Iraqi paramilitary force to help improve security in the country.
Iraqis involved in the talks said the force could consist of thousands of Iraqis already screened by the various political parties for prior affiliations with Saddam Hussein's government. Iraqi officials said such a militia could ultimately take control of Iraqi cities from American soldiers.
Some Iraqi leaders said a force of several thousand men, most of them with military experience, could be ready in little more than a month.
"The situation has changed, and there is a new receptiveness to the idea," said Mudhar Shahkawt, a prominent Iraqi exile who took part in the discussions today. "This force could move inside the cities and allow coalition forces to withdraw to places outside."
American officials acknowledged that discussions were under way, but declined to talk about them in detail. [...]
Unless The White House Abandons Its Fantasies, Civil War Will Consume The Iraqi Nation
Robert Fisk
08/30/03
In Iraq, they go for the jugular: two weeks ago, the UN's top man, yesterday one of the most influential Shia Muslim clerics. As they used to say in the Lebanese war, if enough people want you dead, you'll die.
So who wanted Ayatollah Mohamed Bakr al-Hakim dead? Or, more to the point, who would not care if he died? [...]
Iraqi police arrest 19 over Najaf bombing
08:56 Sunday 31st August 2003
Police have arrested 19 men in connection with the Najaf mosque bombing.
The revelation came as thousands of mourners lined the streets for the funeral of one of the victims - leading Shiite Muslim cleric Ayatollah Mohammed Baqir al-Hakim.
Police said all of the 19 suspects have links with al-Qaida.
Two Iraqis and two Saudis were detained shortly after Friday's bombing and then gave information leading to the arrest of the 15 others.
They include two Kuwaitis and six Palestinians with Jordanian passports. The remainder are Iraqis and Saudis, said police.
Hospital officials said 85 people died, including leading Shiite Muslim cleric Ayatollah Mohammed Baqir al-Hakim. Earlier counts had put the toll higher, but were reduced after some deaths were found to have been reported twice.
U.S. and Iraqis Talk of Forming a Large Militia
By DEXTER FILKINS
BAGHDAD, Iraq, Aug. 30 — Stung by Friday's deadly car bombing, American and Iraqi officials said today that they were discussing the possibility of forming a large Iraqi paramilitary force to help improve security in the country.
Iraqis involved in the talks said the force could consist of thousands of Iraqis already screened by the various political parties for prior affiliations with Saddam Hussein's government. Iraqi officials said such a militia could ultimately take control of Iraqi cities from American soldiers. [...]
Bombing at Iraqi Shrine Appears Carefully Planned
By Anthony Shadid and Daniel Williams
Washington Post Foreign Service
Sunday, August 31, 2003
NAJAF, Iraq, Aug. 30 -- Investigators suspect the devastating bomb that tore through a crowded street along Iraq's most sacred Shiite Muslim shrine, killing a prominent religious leader and scores of others, was packed in a car parked for as long as 24 hours along a curbside and probably detonated by remote control, a senior U.S. official said today. [...]
Revealed: How Kelly article set out case for war in Iraq
Kamal Ahmed, political editor
Sunday August 31, 2003
The Observer
A remarkable article by Dr David Kelly, published for the first time today, reveals the government scientist's true views ahead of the war on Iraq and his expert assessment of the threat posed by Saddam Hussein.
In a development which could have a major influence on the Hutton inquiry, Kelly said that, although the threat was 'modest', he believed military action was the only way to 'conclusively disarm' the country.
He also argued that there was evidence Saddam still had chemical and biological weapons and regime change, the policy of the United States, was the only way to stop the Iraqi dictator.
The article was written for a major report on Iraq being compiled a few weeks before the war. Kelly had agreed to write it anonymously, but the piece was never published.
NBK's consortium to run Iraq's Trade Bank
menareport.com
The National Bank of Kuwait (NBK) has been selected within a consortium of more than a dozen international banks led by JP Morgan to run the newly created Trade Bank of Iraq to finance imports and exports.
The Trade Bank of Iraq will initially work with the government, but is expected to expand to handle private-sector projects as well. Operating the Trade Bank of Iraq will give banks access to the financial system of Iraq, the world's second-largest holder of oil reserves, where foreign banks have not operated since1950 's and 1960's.
Other members of the winning consortium that includes 13 banks from 14countries are Australia and New Zealand Banking Group, Standard Chartered, Bank of Tokyo-Mitsubishi, Bank Millennium, Royal Bank of Canada, Credit Lyonnais, and others.
NBK, the only Arab bank in the winning consortium, was founded in 1952as the first indigenous bank and the first joint stock company in Kuwait and the Gulf Region. It is by far the largest financial institution in Kuwait with an effective market dominance in the commercial banking market. It enjoys a capital base of $1. 8billion and assets of $17. 6billion.
After more than five weeks of intensive and thorough investigations carried out by hundreds of our party's cadre, which included all villages, towns, cities and some of the desert areas etc. affected by the aggression (with exception of the Kurdish area), and also by interviewing hundreds of undertakers, hospitals officials and ordinary people in these places, the figure of civilians killed since the beginning of the invasion came to 37,137. This figure does not include militia, para-military or Saddam's Fiday'een.
Ghassan Charbel
Al-Hayat
2003/08/30
Three corpses are enough to ponder about, and have deep fears for Iraq. Fear for its present and future. Fear for its unity. Fear that the collapse of Saddam Hussein's regime will not put an end to its suffering, and instead will mark the beginning of new sufferings. The first body, that of Adbelmajid Al Khoei in Najaf, the day Baghdad fell. The second, that of Kofi Annan's representative Sergio Vieira De Mello, pulled out from the remains of the UN headquarters in Baghdad. The third one is that of Ayatollah Mohamad Baqr Al Hakim, head of the Supreme Council for the Islamic Revolution, after Friday's prayer and in front of Imam Ali's tomb.
[...] Another very dangerous issue in this vacuum is that Iraq could be turned into a scene where several wars are waged, some originating from beyond the borders. There is a major difference between an Iraqi who shoots at an occupation force, and a volunteer who is looking for a place to clash with the Americans.
Iraq's situation today raises great fear for the country's future. There is no unanimity supporting the resistance, which operations are mainly centered in the "Sunni Triangle." The tension within the Shiite leadership warns that the worst has yet to happen. Relations between the Iraqi sectors of the society are marked by fear, doubts and ambushes. The absence of a minimum level of consensus on the future of the Iraqi system concerns everybody. In parallel, the U.S. confusion heightens the void and facilitates the process of turning Iraq into a battlefield where the fighting goes on in it and for it.
Worrying is the Iraqi scene, for it warns of many bodies in many wars.
By William O. Beeman, Pacific News Service
August 29, 2003
The assassination of Ayatollah Mohammad Baqir al-Hakim in Najaf on August 28 is the opening volley in the coming Iraqi Civil War. The United States will reap the whirlwind.

One of the most consistent and ominous prewar warnings to the Bush administration by Middle East experts was that removal of Saddam Hussein without the most careful political and social engineering would result in the breaking apart of Iraq into warring factions that would battle each other for decades.

The hawks in the White House would not listen. They were so wedded to the fantasy scenario that the removal of Saddam in an act of "creative destruction" would result in the automatic emergence of democracy. They brushed aside all warnings.
Comment: We beg to differ. Given the US' long history of sewing death and destruction around the world, it is much more likely that they were well aware of this eventuality and forged ahead anyway. Why should they care, right? Not only that, it is very possible that it was actually US agents that carried out this assassination, divide and conquer, remember?
No Saudis Crossing Into Iraq, Asserts Naif
Staff Writer

JEDDAH, 31August 2003 — Saudi Arabia yesterday denied as "baseless" allegations that militants were infiltrating Iraq across its border to fight US forces.
"These allegations are absolutely baseless and we have no information about any Saudi crossing from our borders into Iraq," Interior Minister Prince Naif told Al-Hayat daily.
"If any Saudis have indeed entered Iraq, they didn't do so from the Kingdom's borders. They might have entered via a third country," he said.
Supreme Council for Islamic Revolution in Iraq accuses Saddam Hussein of masterminding assassination of Hakim
The Supreme Council for the Islamic Revolution in Iraq accused the toppled Iraqi president, Saddam Hussein, of being behind the assassination of its head Ayatollah - Mohammad Baqir al Hakim.
Prominent leader of the council, Hamed al Bayati, reiterated to Al Bawaba via telephone from his London office that Saddam and his loyalists were behind the assassination of their leader, where a bomb-laden car exploded during Friday prayers outside Imam Ali's mosque in the Iraqi city of Najjaf. The attack is reported to have killed up to 120 people including Ayatollah Mohammad Baqir al Hakim - one of the Shiite Muslims most important clerics - and injured more than 200 others.
"The first beneficiaries from this act are those who do not want a stable Iraq. They are the same people who destroyed Iraq previously…they are Saddam and his gang of loyalists," said Bayati, who ruled out the possibility that the Shiite leader Muqtada al Sader and his faction, or any other Shiite groups were behind the assassination.
Helicopter missile strike kills two Hamas members
Associated Press
16:09 Saturday 30th August 2003
An Israeli helicopter has fired four missiles at a van, killing two members of the militant Hamas group in the Gaza Strip. [...]
It is the fifth Israeli missile strike on a Hamas target in 10 days. Two F-16 fighter jets gave cover to three Apache helicopters during the strike, Palestinian security sources said. [...]
A Failed Israeli Society Collapses While Its Leaders Remain Silent
By AVRAHAM BURG
Avraham Burg was speaker of Israel's Knesset from 1999 to 2003 and is a former chairman of the Jewish Agency for Israel. He is currently a Labor Party Knesset member. This essay is adapted by the author from an article that appeared in Yediot Aharonot.
The Zionist revolution has always rested on two pillars: a just path and an ethical leadership. Neither of these is operative any longer. The Israeli nation today rests on a scaffolding of corruption, and on foundations of oppression and injustice. As such, the end of the Zionist enterprise is already on our doorstep. There is a real chance that ours will be the last Zionist generation. There may yet be a Jewish state here, but it will be a different sort, strange and ugly.
"First of All - the Wall must Fall!"
By: Uri Avnery
August30 ,2003
There is, of course, an important distinction between the German and the Israeli wall. East Germany had a border fixed by international agreement (between the Soviet Union and the Western allies at the end of World War II). The wall was built entirely on this line. Its path was self-evident. But here there is no agreement, no border, no self-evident path. Everything is determined by anonymous planners.
It is easy to imagine them sitting in their air-conditioned offices, a map spread out before them. A very special map, because it shows only Jewish settlements and bypass roads. The Palestinian towns and villages do not appear on it at all. As if the ethnic cleansing, that so many in Israel (and in the Sharon government) are longing for, had already happened.
That is what's so special about this Wall: it is inhuman. The planners have completely ignored the existence of (non-Jewish) human beings. They took into account hills and valleys, settlements and bypass roads. But they totally ignored the Palestinian neighborhoods and villages, their inhabitants and their fields. As if they did not exist.
And so the Wall stands between children and their school, between students and their university, between patients and their doctor, between parents and their children, between villages and their wells, between peasants and their fields. Like a big armored bulldozer that crashes into a village and crushes and destroys everything in its path without faltering, the Wall cuts thousands of the thin threads that constitute the fabric of people's daily lives, as if they weren't there.
For the planners, these lives simply do not exist. The country is empty of non-Jews. At the beginning of the21 st century they act in accordance to the Zionist slogan that was current at the end of the19 th : "A land without a people for a people without a land".
The crisis between Palestinian president, Yasser Arafat and Prime Minister Mahmoud Abbas was made public in the Gaza Strip on Saturday, with dozens of armed men loyal to Arafat turning out in a show of force against the appointment of an official to replace one of his staunch supporters.
Hassan Nafaa
Any talk about an "independent Palestinian state", although theoretically encouraged, is bound to remain ineffective unless it is linked to a clear US vision concerning the borders and legal configuration of such a state. The quarrel between Israel and the Palestinians is not about the existence of a Palestinian state, but the borders and powers that state would have.
The Palestinians want a true state within known and recognised borders, with geographical continuity and the powers international law accords to states. They want a state with East Jerusalem as its capital and the 1967 lines as its borders.
Sharon, meanwhile, wants to create a Palestinian state covering only 42 per cent of the 1967 areas and is geographically fragmented, surrounded by settlements in every direction. And he wants Israel to control the crossing points, borders, airspace, and even its water resources. As far as Sharon is concerned, the primary function of such a state would be to protect Israel's security. Having said that, the only way of gauging the change -- if any -- in the US position would be to ascertain where the US stands on the powers and borders of a future Palestinian state. In particular, is the US position closer to the Israeli or Palestinian one? Again, the creation of the Palestinian state is not in dispute, not even inside Israel.
US sponsors Anonymiser - if you live in Iran

By Kevin Poulsen, SecurityFocus
Posted: 29/08/2003

A pact between the U.S. government and the electronic privacy company Anonymizer, Inc. is making the Internet a safer place for controversial websites and subversive opinions -- if you're Iranian.
This month Anonymizer began providing Iranians with free access to a Web proxy service designed to circumvent their government's online censorship efforts. In May, government ministers issued a blacklist of 15,000 forbidden "immoral" websites that ISPs in the country must block -- reportedly a mix of adult sites and political news and information outlets. An estimated two million Iranians have Internet access.
Among the banned sites are the website for the U.S.-funded Voice of America broadcast service, and the site for Radio Farda, another U.S. station that beams Iranian youth a mix of pop music and westernized news. Both stations are run by the International Broadcasting Bureau (IBB), the U.S. government's overseas news and propaganda arm.
Comment: Hey Iranians! Feeling left out? Bored of the same old humdrum? Jealous of those lucky Iraqis getting all the 'American Freedom'? Don't worry! There's more than enough to go around! Yes! You too can have US death and destruction in your streets! Sign up now for your free introductory package to "American Freedom 2003!" delivered to your homes by the CIA - aka "terroristes sans frontiers"

The Loneliness Of Noam Chomsky
By Arundhati Roy
The Hindu
8-30-03
After the September 11, 2001, terrorist strikes in New York and Washington, the mainstream media's blatant performance as the U.S. government's mouthpiece, its display of vengeful patriotism, its willingness to publish Pentagon press handouts as news, and its explicit censorship of dissenting opinion became the butt of some pretty black humour in the rest of the world.
Then the New York Stock Exchange crashed, bankrupt airline companies appealed to the government for financial bailouts, and there was talk of circumventing patent laws in order to manufacture generic drugs to fight the anthrax scare (much more important, and urgent of course, than the production of generics to fight AIDS in Africa). Suddenly, it began to seem as though the twin myths of Free Speech and the Free Market might come crashing down alongside the Twin Towers of the World Trade Center.
But of course that never happened. The myths live on.
The Terminator and Prop 187
Schwarzenegger and Cuban Migration
By SAUL LANDAU
Counterpunch.org
Even Arnold Schwarzenegger loves immigrants. "I'm one myself," he reminds California voters. But in 1994 The Terminator supported California's immigrant bashing Proposition 187, which the courts voided in 1999. The measure aimed to "prevent illegal aliens from receiving benefits or public services in the State of California." It would also have stopped non-documented aliens from receiving access to public education and medical care.
A Mexican American friend told me she had watched a Spanish language reporter ask Arnold in early August if his vote for Prop 187 would hurt his electoral chances. She recalls his reply as: You Latins make great music. Keep making great music and leave the politics to me.
Music industry claims MP3s are traceable

NewScientist.com news service

Recording industry lawyers have claimed that detailed analysis of the data in MP3 music files can prove the files were downloaded illegally from an online file-sharing network. [...]
Childhood mental health linked to birth date
NewScientist.com news service
The youngest children in a school year group have a higher risk of developing mental health problems than the oldest children, according to a new study. [...]
By Charles W. Petit
Science & Society 9/8/03
More than 60 years ago, G. H. Hardy, an English mathematician besotted with abstraction, wrote, "'Imaginary' universes are so much more beautiful than this stupidly constructed 'real' one." Were Hardy around today, he'd find plenty of company. From astronomers peering out into space to particle physicists inspecting atomic innards, the more scientists study the universe, the more preposterous, random, and, yes, ugly it becomes.
But hold it. How can the universe be thought ugly? This realm of wheeling galaxies whose stars explode gloriously to seed space with the building blocks of life? A cosmos that bore at least one planet on which mortals find joy in sunsets? Mathematically minded scholars admire such things, too. But for generations they have expected to discover a few simple, elegant rules from which the cosmos's workings spring.
Today, that search is going to extreme lengths, as scientists posit hidden realms, such as extra dimensions or parallel subuniverses, that could help make sense of our apparently random cosmos. They're also planning giant experiments that may turn up hints of these shadow universes. "Some wonderful discoveries are out there, and we are building machines to do this very soon," exults Maria Spiropulu, a young experimental physicist at the University of Chicago's Enrico Fermi Institute. [...]
One of the newest, most daring hypotheses is that the explanation lies somewhere weird, near yet far: in extra dimensions. As in the land of Narnia in writer C. S. Lewis's novel The Lion, the Witch and the Wardrobe, behind obscure passages in this rambling mansion we call a universe may be hidden wings that make the house beautiful. "There may be a whole new universe of large, higher dimensions beyond the ones we can see and every bit as big and rich," says Joseph Lykken of the University of Chicago and the Fermi National Accelerator Laboratory.
Earlier this year, at a meeting of the American Association for the Advancement of Science, Spiropulu organized a session for Lykken and other, mostly young physicists to discuss such extra dimensions and how to find them. Sean Carroll, also of the University of Chicago, is fond of calling the universe preposterous. He explained the appeal of extra dimensions, saying, "One way to tackle a tough problem is to spread it out." [...]
Comment: Although this article only reports on extra dimensions as they relate to String Theory, it is interesting that higher dimensions are even being seriously discussed. The C's had the following to say about String Theory in the August 22, 1998 session:
Q: (A) Physicists today and for the past 5 or 10 years have been trying to build a theory of everything which is built on the idea of strings - that everything is composed of oscillating strings - they call it SuperString Theory. Is the idea of strings any good?
A: No.
Holiday Drivers See Record-High Gas Rates
By JUSTIN POPE, Associated Press Writer
Sat Aug 30, 8:09 AM ET
Many American drivers got a nasty surprise as they took off for the Labor Day holiday: record high gas prices in many areas of the country that averaged nearly $1.75 per gallon, up 15 cents in the last two weeks. [...]
Cyclist to stand trial for 'falling off bike'
Associated Press
14:38 Saturday 30th August 2003
An 11-year-old boy in Greece is to stand trial after falling off his bike during a race.
The boy on the eastern Aegean Sea island of Chios has been ordered to stand trial on October 13 for allegedly violating eight articles of the penal code and one traffic violation for falling off his bicycle during an annual race.
The boy - identified only by his first name as Manolis - was taking part in last year's Chios bicycle race when he suddenly fell off his bike. He was not injured in the accident, nor did he cause any injuries to other riders taking part in the race, according to reports.
The island's prosecutor said the boy fell because he was "not driving carefully and with constant rapt attention" and ordered him to appear in juvenile court.
UFO sighting excites alien hunters
August 30, 2003 18:57
UFO investigators are targeting Suffolk in their quest to find alien life. [...]
A strange yellow D-shaped object was spotted overhead by a man in his garden at Freston.
He watched in wonder as the UFO changed shape before it altered course and flew off at around 11pm on August 5. [...]
---
Remember, we need your help to collect information on what is going on in your part of the world!
We also need help to keep the Signs of the Times online.
Obviously, there are a lot of folks out there who do NOT like what we are doing - our own special brand of news coverage - and they are working day and night to create almost insurmountable problems for us, designed to grind us down and render our plans to be able to increase our production (which include a weekly radio show that is currently in the implementation stage) impossible to bring to fruition. We are coming under increasing pressure from many directions all at once.
Our need for financial support has never been greater, including support for legal initiatives to halt the madness of several of the para-COINTELPRO activities currently launched against us. These operations are designed to create a platform to justify utilizing police state tactics so as to silence, and even ultimately, destroy us.
Please: We need your help.
The campaign of lies and disinformation would be frightening under normal circumstances; considering the present state of the world and the machinations of the "National Security State," it is terrifying.
Please - if you have been helped by our work -
won't you help us NOW?

---

Check out the Signs of the Times Archives

Send your comments and article suggestions to us.
---
Fair Use Policy
Contact Webmaster at signs-of-the-times.org
Cassiopaean materials Copyright ©1994-2014 Arkadiusz Jadczyk and Laura Knight-Jadczyk. All rights reserved. "Cassiopaea, Cassiopaean, Cassiopaeans," is a registered trademark of Arkadiusz Jadczyk and Laura Knight-Jadczyk.
Letters addressed to Cassiopaea, Quantum Future School, Ark or Laura, become the property of Arkadiusz Jadczyk and Laura Knight-Jadczyk
Republication and re-dissemination of our copyrighted material in any manner is expressly prohibited without prior written consent.
.