---

Remember, we need your help to collect information on what is going on in your part of the world!
We also need help to keep the Signs of the Times online.
Obviously, there are a lot of folks out there who do NOT like what we are doing - our own special brand of news coverage - and they are working day and night to create almost insurmountable problems for us, designed to grind us down and render our plans to be able to increase our production (which include a weekly radio show that is currently in the implementation stage) impossible to bring to fruition. We are coming under increasing pressure from many directions all at once.
Our need for financial support has never been greater, including support for legal initiatives to halt the madness of several of the para-COINTELPRO activities currently launched against us. These operations are designed to create a platform to justify utilizing police state tactics so as to silence, and even ultimately, destroy us.
Please: we need your help.
The campaign of lies and disinformation would be frightening under normal circumstances; considering the present state of the world and the machinations of the "National Security State," it is terrifying.
Please - if you have been helped by our work -
won't you help us NOW?

---
Microsoft working with the feds; Virus attacks may be terrorism
WORLD TRIBUNE.COM
Microsoft is cooperating with federal authorities after concluding that the assault on its operating systems may be a terrorist attack.
Evidence gathered by Microsoft, the FBI, and the Secret Service on the worldwide attacks made against computers running the Windows operating system fits the profile of "terrorist activity."
Industry sources citing Microsoft officials told World Tribune.com that recent attacks against from the "Blaster" worm and its variants, coupled with an email virus called "SoBig-F" show signs of a coordinated attack by an entity wanting to disrupt world commerce. Microsoft is cooperating with both the FBI and the Secret Service and will report their findings in the next few days. [...]
Last Updated Fri, 22 Aug 2003 18:41:58
NEW YORK - The Sobig computer worm that had the potential to infiltrate millions of e-mail inboxes around the world was extinct on Friday, reported France's TFI news outlet.
TFI said that PC virus experts believed that approximately 20 servers in South Korea, Canada and the U.S. may have been affected by the worm and that by Friday afternoon 19 of them had been neutralized.
Global hunt to kill off internet virus
By Robert Uhlig, Technology Correspondent
(Filed: 23/08/2003)
High-tech security investigators and police were involved in a global race against time last night to find 20 home computers harbouring a program that threatened to cripple the internet.
Experts discovered only in the early hours yesterday that the Sobig.F virus, thought to have infected tens of millions of PCs in the past week , contained an alarming secret.
Hidden in it was an instruction to make contact at 8pm (BST) with 20 home computers that could be anywhere in the world, all with high-speed broadband connections and each hosting an unidentified program. [...]
Most companies never admit that they have been infected by a virus, but known victims include the American navy [...]
Comment: So we are supposed to believe, that in one of America's many alphabet agencies there is no code cracker smart enough to figure out how to disable this thing. Now we have reports that write up this global search with all the air of a bad adventure novel. This virus may well be used as another one of those excuses that government control over the internet is necessary for our protection.
19 held over Canadian terrorism fear
By Marcus Warren in New York
(Filed: 23/08/2003)
Canadian police have arrested 19 Pakistanis on the grounds that they threatened national security, one of them by learning to fly over a nuclear power station. [...]
Six Groups Said to Be Monitored in U.S. for Possible Qaeda Links
By DON VAN NATTA Jr.
The New York Times
LONDON, Aug. 22 — American law enforcement officials are monitoring the activities of at least six groups in the United States they suspect are linked to Al Qaeda, senior government officials in the United States and Europe said this week.
Most of the individuals whose movements and communications are being closely tracked are believed to be sympathizers of Osama bin Laden who may be engaged in low-level support activities for the Qaeda terror network, like raising money, relaying messages and recruiting new members, American and European officials said. The officials insisted that no evidence had emerged that any of the suspects were preparing an attack or posed any imminent threat.
American officials have limited their actions so far to intensive surveillance of the suspects, who they say are spread across 40 states, in order to gather more information about their plans and organization, the officials said. The decision to continue the surveillance, rather than to detain some suspects, reflects a strategic shift by United States government investigators. They said they had concluded that at this stage it was more valuable to try to learn more about the groups' activities and possible plans through extended observation. [...]
In Europe, intelligence and law enforcement officials are taking a similar approach to that of the Americans. European intelligence officials have said there is evidence that the network of Qaeda supporters still has a significant presence in Europe. [...]
Why aren't we shocked?

PARANOIA IN THE PHILIPPINES: Did the Philippine government bomb its own people to attract U.S. military might? Was the CIA involved? And why was there so little media coverage?
By NAOMI KLEIN
Wednesday, August 20, 2003 - Page A13

What does it take to become a major news story in the summer of Arnold and Kobe, Ben and Jen?
A lot, as a group of young Filipino soldiers discovered recently. On July 27, 300 soldiers rigged a giant Manila shopping mall with C-4 explosives, accused one of Washington's closest allies of blowing up its own buildings to attract U.S. military dollars -- and still barely managed to make the international news.
That's our loss, because in the wake of the Marriott Hotel bombing in Jakarta, and newly leaked intelligence reports claiming that the Sept. 11 attacks were hatched in Manila, it looks like Southeast Asia is about to become the next major front in Washington's war on terror. The Philippines and Indonesia may have missed the cut for the "Axis of Evil," but the two countries do offer Washington something Iran and North Korea do not: U.S.-friendly governments willing to help the Pentagon secure an easy win.
Both Philippine President Gloria Macapagal Arroyo and Indonesian President Megawati Sukarnoputri have embraced President George W. Bush's crusade as the perfect cover for their brutal cleansing of separatist movements from resource-rich regions -- Mindanao in the Philippines, Aceh in Indonesia.[...]
In the six months since, while all eyes have been on Iraq, there has been a spike in terrorist bombings in Mindanao. Now, postmutiny, the question is: Who did it? The government blames the Moro Islamic Liberation Front (MILF). The mutinous soldiers point the finger back at the military and the government, claiming that by inflating the terrorist threat, they are rebuilding the justification for more U.S. aid and intervention. [...]
These suspicions stem from a bizarre incident on May 16, 2002, in Davao. Michael Meiring, a U.S. citizen, allegedly detonated explosives in his hotel room, injuring himself badly. While recovering in the hospital, Mr. Meiring was whisked away by two men, who witnesses say identified themselves as FBI agents, and flown to the United States. Local officials have demanded that Mr. Meiring return to face charges, to little effect. BusinessWorld, a leading Philippine newspaper, has published articles openly accusing Mr. Meiring of being a CIA agent involved in covert operations "to justify the stationing of American troops and bases in Mindanao."
Yet the Meiring affair has never been reported in the U.S. press. And the mutinous soldiers' incredible allegations were no more than a one-day story. Maybe it just seemed too outlandish: an out-of-control government fanning the flames of terrorism to pump up its military budget, hold onto power and violate civil liberties.
Why would Americans be interested in something like that?
by Gail Sheehy
New York Observer
08/21/03
In mid-June, F.B.I. director Robert Mueller III and several senior agents in the bureau received a group of about 20 visitors in a briefing room of the J. Edgar Hoover Building in Washington, D.C. The director himself narrated a PowerPoint presentation that summarized the numbers of agents and leads and evidence he and his people had collected in the 18-month course of their ongoing investigation of Penttbom, the clever neologism the bureau had invented to reduce the sites of devastation on 9/11 to one word: Pent for Pentagon, Pen for Pennsylvania, tt for the Twin Towers and bom for the four planes that the government had been forewarned could be used as weapons—even bombs—but chose to ignore.
After the formal meeting, senior agents in the room faced a grilling by Kristen Breitweiser, a 9/11 widow whose cohorts are three other widowed moms from New Jersey.
"I don't understand, with all the warnings about the possibilities of Al Qaeda using planes as weapons, and the Phoenix Memo from one of your own agents warning that Osama bin Laden was sending operatives to this country for flight-school training, why didn't you check out flight schools before Sept. 11?"
"Do you know how many flight schools there are in the U.S.? Thousands," a senior agent protested. "We couldn't have investigated them all and found these few guys."
"Wait, you just told me there were too many flight schools and that prohibited you from investigating them before 9/11," Kristen persisted. "How is it that a few hours after the attacks, the nation is brought to its knees, and miraculously F.B.I. agents showed up at Embry-Riddle flight school in Florida where some of the terrorists trained?"
"We got lucky," was the reply.
Kristen then asked the agent how the F.B.I. had known exactly which A.T.M. in Portland, Me., would yield a videotape of Mohammed Atta, the leader of the attacks. The agent got some facts confused, then changed his story. When Kristen wouldn't be pacified by evasive answers, the senior agent parried, "What are you getting at?"
"I think you had open investigations before Sept. 11 on some of the people responsible for the terrorist attacks," she said.
"We did not," the agent said unequivocally.
A month later, on the morning of July 24, before the scathing Congressional report on intelligence failures was released, Kristen and the three other moms from New Jersey with whom she'd been in league sat impassively at a briefing by staff director Eleanor Hill: In fact, they learned, the F.B.I. had open investigations on 14 individuals who had contact with the hijackers while they were in the United States. The flush of pride in their own research passed quickly. This was just another confirmation that the federal government continued to obscure the facts about its handling of suspected terrorists leading up to the Sept. 11 attacks.
So afraid is the Bush administration of what could be revealed by inquiries into its failures to protect Americans from terrorist attack, it is unabashedly using Kremlin tactics to muzzle members of Congress and thwart the current federal commission investigating the failures of Sept. 11. But there is at least one force that the administration cannot scare off or shut up. They call themselves "Just Four Moms from New Jersey," or simply "the girls." [...]
"I can't look at these timelines anymore," Lorie confessed to Kristen. "When you pull it apart, it just doesn't reconcile with the official storyline." She hunched down in her husband's swivel chair and began to tremble, thinking, There's no way this could be. Somebody is not telling us the whole story. [...]
NPR Newscaster: Israel Had Advance Knowledge of September 11 Attacks
TEHRAN -- An American National Public Radio (NPR) newscaster has said that Israel had advance knowledge of the deadly September 11 attacks on the World Trade Center in New York, but refused to inform U.S. officials.
According to a news dispatch from New York, NPR newscaster Andy Martin said extensive investigations have convinced him that Israel definitely had advance knowledge of attacks on New York and Washington but did not inform the Bush Administration in order to safeguard the interests of radical Zionists.
The radio newscaster also said another reason for Israel not informing the U.S officials of the imminent attacks was to prevent the exposure of its vast spy network in the United States. Martin stressed that the Israeli spies were very well informed of the hijackings and tapped the telephone conversations of the hijackers, but they decided not to warn U.S. officials so that after the attacks, the Zionist regime would have a pretext for escalating its devastative attacks on the Palestinian areas.
What lends added credit to Martin's remarks is that at the time of the attacks on the World Trade Center's twin towers, no Zionist agent was present in the buildings. Furthermore, the local office of the Central Intelligence Agency (CIA) in the World Trade Center had also been evacuated, as was revealed later. This clearly smacks of collaboration and involvement of the CIA and Israeli intelligence service Mossad with regard to the September 11 incidents.
It is also worth mentioning that three of the five cameramen who filmed the collision of the hijacked planes into the twin towers had links to the Israeli Mossad. Besides, right after the destruction of the twin towers, the U.S. security forces seized a truck loaded with explosives near the Brooklyn Bridge and arrested some Israeli agents who intended to set off the explosives in order to blow up the bridge.
Last but not least, Israeli prime minister Ariel Sharon canceled a visit to Washington on the eve of the attacks with no explanations, and on the morning when New York and Washington were attacked, Israel launched its military offensives on some Palestinian towns like Tulkarm, Jenin and Ramallah in the West Bank.
All this indicates that the September 11 incidents were a CIA- and Mossad-masterminded plot to tarnish the image of Muslims and, especially, prepare the ground for more extensive Israeli offensives on the Palestinian territories.
Obituary backs 'removal of Bush'
Woman 'thought he was a liar'
By Lee Sensenbrenner
August 21, 2003
When Sally Baron's family wrote her obituary, they described a northern Wisconsin woman who raised six children and took care of her husband after he was crushed in a mining accident.
She had moved to Stoughton seven years ago to be closer to her children and was 71 when she died Monday after struggling to recuperate from heart surgery. Her family had come to the question of what might be a fitting tribute to her.
"My uncle asked if there was a cause," her youngest son, Pete Baron, said.
Almost in unison, what her children decided to include in the obituary was this: "Memorials in her honor can be made to any organization working for the removal of President Bush."
"She thought he was a liar," Baron's daughter, Maureen Bettilyon, said. "I think his personality, just standing there with that smirk on his face, and acting like he's this holy Christian, that's what really got her."
Intelligence officer pins Iraq weapons 'lies' to PM's office (Australia)
By Tom Allard, Foreign Affairs Writer
August 23, 2003
The Federal Government lied and fabricated evidence about Iraq's weapons and terrorist links to justify going to war, a former top intelligence analyst said yesterday.
Andrew Wilkie, a former senior analyst in the Office of National Assessments (ONA), said the Government had deceived the public before the Iraq war, exaggerating the threat posed by Saddam Hussein by ignoring vital qualifications placed on intelligence about his arms programs.
And he said the deception took place in the office of the Prime Minister, John Howard.
Mr Wilkie, who quit the ONA in protest on the eve of the war, was appearing on the first day of hearings of the parliamentary committee examining prewar intelligence on weapons of mass destruction and how it was used by the Government.
The former chief United Nations weapons inspector Richard Butler also appeared, giving more comfort to the leaders of the "coalition of the willing" by talking about Saddam's "addiction" to such weapons and agreeing it was possible he could have deployed them in 45 minutes.
But it was Mr Wilkie's evidence about the intelligence on Iraq that enlivened proceedings.
"It was sexed up," he said. "Sometimes the exaggeration was so great it was clear dishonesty."
The Government had "deliberately skewed the truth by taking the ambiguity out of the issue. Key intelligence assessment qualifications like 'probably', 'could' and 'uncorroborated evidence suggests' were frequently dropped", Mr Wilkie said.
In particular, the public was misled when the Government linked the war in Iraq to the "war on terrorism" and al-Qaeda, talked about Iraq's efforts to restart its nuclear program and spoke of "massive" weapons programs.[..]
By Aviv Lavie
Haaretz.com
Detainees are blindfolded and kept in blackened cells, never told where they are, brutally interrogated and allowed no visitors of any kind. Dubbed 'the Israeli Guantanamo,' it's no wonder facility 1391 officially does not exist.[...]
What really surrounds Camp 1391, more than physical protection, is an entrenched wall of silence. Since the 1980s, when the facility was moved from a more southerly location to its present site, the Israeli authorities have made every effort to keep its very existence secret.
And even now that its existence has been revealed, the state refuses to answer the many questions of the world and of the Israeli public: Where is the facility? Who is being held there, why, and for how long? Were they tried before being locked up in Camp 1391, or are they awaiting trial? What are their conditions of incarceration? In every other lockup in Israel the answers to these and many other questions are open and amenable to external, legal, public and international review.[....]
As far as is known, the 1391 site is the only detention facility whose detainees don't know where they are. If they ask, the warders may answer, "on the moon," or "in outer space," or "outside the borders of Israel." It is also the only detention facility that the state prevents the International Red Cross from visiting. Nor, as far as can be ascertained, have Knesset members ever visited the place, and many of the politicians who have been asked about it in the past few weeks said they had never heard of it - including some who have held senior positions in the government ...
Professor compares treatment of Native Americans to Israeli settlement of Palestinian lands
Cal State San Bernardino professor James V. Fenelon, along with scholar Matthew T. Bowles, recently presented a paper outlining similarities in the white settlement of the American West to modern Israeli settlement in Palestinian lands.
By the Daily Facts
Both scholars contend that what has happened in recent years, as the conflict between Palestinian groups and Israel has escalated in spite of peace efforts, is that Palestinian society has been painted with the broad-brush label of terrorist, both by government officials and the media.
For example, an armed Palestinian who is trying to defend his home from destruction by Israeli soldiers is now labeled a terrorist, Fenelon said.
The result is that the conflict is presented as civilized settlers trying to bring law and order to the terrorist culture, which in turn results in a skewed perspective of the issue for the general public and justification for the dominant group's continuing actions, both men said.
Israel threatens big military offensive
By Harvey Morris in Jerusalem
August 22 2003 18:05

Israel is prepared to mount a big military offensive against Palestinian militants unless the Palestinian Authority seizes a final opportunity to bring them under control, a senior military official said on Friday.

"If in a few days we think it is completely hopeless, we will take much more serious action," the official said. [...]
Palestinians Put Ball in U.S. Court Over 'Road Map'
By Wafa Amr
Fri Aug 22, 7:06 PM ET
RAMALLAH, West Bank (Reuters) - The Palestinian Authority said it would crack down on militants only if Israel halted military action in Palestinian areas, brushing aside U.S. demands and putting the onus on Washington to save a peace plan.
After cabinet talks with Palestinian President Yasser Arafat on Friday, the Authority called for the United States to send monitors to help get the peace "road map" back on track after a cease-fire was smashed by a new spiral of violence.
"We hold the U.S. government responsible for developments in the coming hours," cabinet minister Yasser Abed Rabbo said after the meeting in the Israeli-occupied city of Ramallah. [...]
Brian Whitaker
Friday August 22, 2003
The Guardian
June
27 Israel and Palestinians agree disengagement deal in Gaza
29 Israeli troops begin Gaza pullback. Hamas, Islamic Jihad and Arafat's Fatah faction, including al-Aqsa Martyrs, declare truce
July
2 Israel withdraws from Bethlehem. US announces $30m (£18.8m) aid for West Bank and Gaza
3 Israeli troops shoot dead a militant and block traffic on Gaza's main road, angering Palestinians
Comment: Etc. etc. etc.
Friday, 22 August, 2003, 19:34 GMT 20:34 UK
The United States is freezing the assets of leading members of the militant Palestinian organisation Hamas.
George Bush said the action against six Hamas officials was taken in response to Tuesday's suicide bombing that killed 20 people on a Jerusalem bus...
"By claiming responsibility for the despicable act of terror on 19 August, Hamas has reaffirmed that it is a terrorist organisation committed to violence against Israelis and to undermining progress towards peace between Israel and the Palestinian people," Mr Bush said.
Largest demolition in years: Israel destroys entire commercial market in one day
Press Release, PENGON/Anti-Apartheid Wall Campaign, 21 August 2003
(21 August 2003, Nazlat 'Isa, Occupied West Bank. PENGON/Anti-Apartheid Wall Campaign)
Over 100 shops and 5 homes demolished in Nazlat 'isa for the building of the wall.
Marking the single largest demolition of buildings in years, the entire commercial area of Nazlat 'Isa was today raised to the ground as some 15 bulldozers, accompanied by large numbers of military and border police, entered the community at 5:00 AM and destroyed over 100 shops and 5 homes. The market, which was previously targeted in January of this year with the destruction of 82 or close to one half of its shops, has been the commercial center for the entire region.
The bulldozers began the demolitions early in the morning and continued unabated until the late hours of the night.
The commercial area, just east of the Green Line in the Occupied West Bank, has been leveled for the building of an "isolation barrier"--an extension or offshoot of the Wall--that will entrap the community and the surrounding areas between it and the Wall to ensure complete isolation. Commercial areas along the Green Line have been consistently targeted with the building of the Wall in what assures that communities trapped between the Wall and the Green Line (the Wall in this case is located 2 km inside the West Bank) will have no infrastructure for survival.
The Case of Mordechai Vannunu Preeminent Hero of the Nuclear Age
by MARK GAFFNEY
Each day we move closer to a Mideast war that could involve the use of horrible weapons, even nukes. In this darkest hour since the 1962 Cuban missile crisis, the shining example of one man's courage has never been more relevant to the cause of peace. That man is Mordechai Vanunu, former Israeli nuclear technician, and may well be the longest serving prisoner of conscience anywhere in the world. Daniel Ellsberg recently referred to him as "the preeminent hero of the nuclear age."
In September 1986, Mordechai Vanunu was illegally abducted by agents of the Mossad for revealing to the world press information that confirmed the existence of Israel's often-denied plutonium separation plant. The plant is buried eighty feet below ground in the Negev desert, and had long escaped detection. Since the 1960s it has been used to recover plutonium from spent fuel rods from the Dimona nuclear reactor, located nearby. The plant continues to be an integral part of Israel's ongoing nuclear weapons program. Israel is believed to possess at least 200 nukes.
Then Prime Minister Shimon Peres ordered Vanunu' s abduction to silence the whistleblower, and to bring him to trial for allegedly jeopardizing the securi ty of the state of Israel. But Vanunu's real "crime" was speaking the truth. And for that he was made to suffer a fate worse than death: eleven years and five months in solitary confinement.
Isolation in a tiny cell is a well known form of torture, and one that can cause deep emotional scars and mental impairment. During this period Vanunu was subjected to constant harassments and humiliations: an obvious attempt by the Mossad to "break" his will, or drive him over the edge. Amnesty International described the conditions of his ordeal as "cruel, inhuman, and degrading."
Yet, the prisoner held firm as a rock. Nor has Vanunu since wavered from the position of principle he articulated in the very beginning: that the only sane path is full disclosure and abolition of nuclear weapons. From his prison cell Mordechai wrote: "It is a dangerous illusion to believe they [nuclear weapons] can be defensive....Only peace between states can promise security."
The world gained another glimpse of Vanunu's character in 1998, shortly after his removal from solitary and his placement in the general prison population. At that time he was queried by Israeli officials about whether he would agree to remain silent on the nuclear issue, implying an offer of conditional release. But Vanunu refused. He insisted on his right to speak freely. And he made it plain that being muzzled on the nuclear issue was non-negotiable: not an option for his release. Vanunu is currently starting the seventeenth year of his eighteen year sentence.
One of the causes for which Vanunu risked his life, full disclosure of Israel's nuclear policies, was briefly realized in February 1999, when a debate of the nuclear issue occurred on the floor of the Israeli Knesset. The event was short-lived. After shouting and recriminations, several Arab members of the Knesset who had sparked the debate were expelled from the chamber. The stormy circumstances showed the extent of denial that remains to be overcome. But it was a victory, nonetheless, for those who favor nuclear abolition.
Over the years the case of Mordechai Vanunu has come to symbolize the intractable problem of state secrecy that continues to stymie all efforts toward world nuclear disarmament. This is why Vanunu has been nominated for the Nobel Peace Prize every year since 1987. Though his name is a household word in Europe, Australia, and throughout much of the rest of the world, here in America Vanunu remains almost unknown. The US press ignores his case because it is an embarrassment to Israel and to the US government.
Yet, spotlighting Vanunu for his courage and his witness would have salutary effects. It would increase public awareness of the folly of President Bush's current Mideast policies. The problem is Bush's double standard: one standard for the US and Israel, another for everyone else. This explains why almost nobody (outside the US) trusts the president when he says he wants to roll back weapons of mass destruction from the Mideast. They correctly understand that Bush is not serious. If he were he would also be pressuring Israel to open its nuclear sites to IAEA inspectors. Israel remains the only state in the region with nuclear weapons.
Bush appoints anti-Muslim to peace role
Suzanne Goldenberg in Washington
Saturday August 23, 2003
The Guardian
A Middle East expert who has written dismissively of diplomacy and holds views to the right of the Israeli prime minister, Ariel Sharon, was yesterday named to the board of the US Institute of Peace.
The largely honorary appointment of Daniel Pipes, a gift of President George Bush, has outraged Democratic senators, American Muslims and Arabs, liberal Jews and a large portion of the academic community, who say his opinions are not conducive to peace.
The manner of Mr Pipe's appointment is likely to deepen the sting. Mr Bush exploited the summer recess to avoid a congressional vote on his selection. But as a recess appointment, Mr Pipes will serve less than 18 months rather than the normal four years...
As a frequent commentator, he has warned that America's Muslims are the enemy within and called for unrestricted racial profiling and monitoring of Muslims in the military.
From his own thinktank in Philadelphia, he has also clashed with fellow scholars, who say his Campus Watch website has initiated a witch-hunt against those he views as critics of Israel or lacking in patriotic zeal.
Within the community of Middle East scholars, he is regarded as extreme. He opposes the "road map" for the Middle East, as he opposed the Oslo peace accords, and objected to efforts to reform the Palestinian Authority.
Comment: Bush appointed a person who is opposed the "road map" the Middle East, calls for racial-profiling, and monitoring of people based on religious and genetic heritage. So Bush's own opinions are clear -- by their fruits you shall know them: He doesn't care about a "road map" to peace, he's religiously biased, racial, believes in genetic superiority, and doesn't care about liberty, freedom, or justice. Why is this man allowed to remain President of the United States? Does this speak loudly about the American people themselves?
U.N. Iraq Blast Probed for 'Inside Job'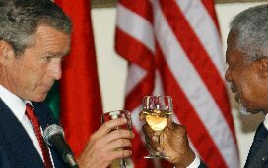 U.S. Investigators Suspect Blast at U.N.'s Iraq HQ May Be 'Inside Job,' American Official Says
The Associated Press
BAGHDAD, Iraq Aug. 22

U.S. investigators suspect the bombing of the U.N. headquarters in Baghdad was an inside job and are questioning Iraqi employees and guards, many of whom were linked to Saddam Hussein's security service, a top American official said Friday.
Bernard Kerik, the former New York police commissioner who is working to re-establish an Iraqi police force, said the placement of the truck bomb and the timing of Tuesday's attack had raised suspicions.

The truck was as close as it could have been to the office of Sergio Vieira de Mello, the top United Nations envoy and one of 23 people killed in the blast. The bomb went off as a high-level official meeting was in progress in the office.
"Would the security guards have access to that information? Would the people who work in that building for any other reason have access to it? How were the schedules distributed? They're very basic parts of an investigation, and they're non-accusatory," Kerik told The Associated Press.
Saying that the United States would "stay the course" in Iraq, President Bush blamed the continuing violence on foreigners.
"There is a foreign element moving into Iraq," Bush said, calling them "al-Qaida type fighters" who hate freedom. [...]
Comment: So now we have "al-Qaida type fighters", who hate freedom". Apart from the staggering simple-mindedness of this statement, we wonder what type of freedom is it that they hate? Perhaps it is the "American type freedom" that has been bestowed on the Afghan and Iraqi, if so, who could blame them? But then again there is much evidence to suggest that al-Qaida is nothing more than a cover for the continued US "war on terror".
Nothing new of course, rather it is standard operating procedure: fabrication of "problem" in order to implement "solution". Bush gives more than a little clue that the SOP is in action in this case when he states dogmatically, "There is a foreign element moving into Iraq, 'al-Qaida type fighters' who hate freedom".
The CIA are certainly a "foreign element" and they have been engaged in terrorist activities the world over for many years. From the point of view of an Afghan or Iraqi, the results of their activities certainly suggest that the CIA "hates freedom".
It's official - Saddam was not an imminent threat
Hutton's remit was narrow - yet he has exposed the truth about the Iraq war
Clare Short
Saturday August 23, 2003
The Guardian
After eight days of the Hutton inquiry and enormous quantities of media coverage, it is worth pausing to try to take stock. Many of us have said that, deliberately or otherwise, Alastair Campbell's decision to go to war with the BBC had the potential to distract attention from the most important questions arising from the Iraq crisis - whether the nation was deceived on the road to war, and where responsibility lies for the continuing chaos and loss of life in Iraq.

Lord Hutton has been charged with inquiring into the narrower question of the circumstances that led to the death of Dr David Kelly and will report on this very important question. But his inquiry is revealing important information that casts light on the bigger question of how we got to war. [...]
If there was no imminent threat, then Dr Blix could have been given the time he required. He may well have succeeded in ending all Iraq's WMD programmes - just as he succeeded in dismantling 60-plus ballistic missiles. Then sanctions could have been lifted and a concentrated effort made to help the people of Iraq end the dictatorship of Saddam Hussein - just as we did with Milosevic in Serbia.
Or if Blix had failed, we would have been in the position President Chirac described on March 10, when the issue would have come back to the security council. And in Chirac's view, this would have meant UN authorisation of military action.
The tragedy of all this is that if we had followed Jonathan Powell's conclusion, and the UK had used its friendship with the US to keep the world united on a UN route, then, even if it had come to war, a united international community under a UN mandate would almost certainly have made a better job of supporting Iraq's reconstruction.[...]
Following the terrible bombing of the UN headquarters in Baghdad, there is a danger that those who favour chaos in Iraq will make further gains, at great cost to the people of Iraq and coalition forces. The answer remains a stronger UN mandate and internationalisation of the reconstruction effort. The worry is that the US will not have the humility to ask for help, and the chaos and suffering will continue.
In the meantime, Lord Hutton will draw his conclusions about the tragic death of Dr Kelly. My own tentative conclusion is that Downing Street thought they could use him in their battle with the BBC, and that the power of the state was misused in a battle to protect the political interests of the government.
Clare Short resigned as international development secretary in May
US troops may stay in Iraq indefinitely
By Peter Spiegel in Washington
August 21 2003 23:57

The US commander in charge of all forces in Iraq said on Thursday American troops might not be brought home once international peacekeepers are deployed to the war-torn country, a reversal that means 150,000 US soldiers may stay in Iraq indefinitely.

General John Abizaid, the new head of US central command, said foreign troops and indigenous Iraqi forces would gradually take over internal security duties from American soldiers, but added US troops would then be redeployed for a "more aggressive posture on external duties", such as securing borders.
"It depends on the security situation," Gen Abizaid said of the role of foreign peacekeepers. "It doesn't necessarily mean that additional foreign troops would cause a corresponding drawdown of American forces." [...]
France steps up calls for Iraqi self-government
Associated Press
13:23 Friday 22nd August 2003
France is urging the United States and Britain to quickly put power back in the hands of the Iraqi people to bring stability to the country.
In a harsh criticism of the occupation of Iraq, French foreign minister Dominique de Villepin warned that the US has increasingly fallen into "a logic of confrontation".
He said the occupying powers could either continue to "act with a certain ambiguity that does not tackle the situation on the ground", or "reinforce the authority of the Iraqi Governing Council".
"Iraqi sovereignty must be recognised, so that Iraqis can feel they are truly in command, and take their destiny into their own hands," de Villepin said in a radio interview. "That is the starting point for everything."
France led global opposition to the US-lead invasion of Iraq, and has refused to contribute troops to help bring security to the country without a clear United Nations mandate.
Troops wounded in action not listed among casualties
By Dawn House
The Salt Lake Tribune
They are called WIAs for wounded in action, but their numbers are not listed under casualty postings from the U.S. Central Command or the Pentagon. Reporters must specifically ask for those tallies.
So far, 1,007 U.S. military personnel have been wounded since March 19 when U.S. troops crossed the border into Iraq, said Lt. Ryan Fitzgerald from Central Command. That number compares with 467 "nonmortal wounds" in the 1991 Gulf War, according to the Department of Veterans Affairs.
"I know of no other war in which WIAs have not been listed among the casualties," said Robert Voyles, director of the Fort Douglas Museum. "I have no idea why this conflict would be any different."
Fitzgerald said WIA numbers are not publicized because the military has no way of determining the severity of the wounds.
The Longer We Stay, the Deeper They Will Hate Us
The Darkening Tunnel
By RON JACOBS
CounterPunch.org
August 22, 2003
What kind of idiots do they take us for? They lied to get us into their war (and about the consequences) and now they expect us to believe that a few hundred thousand more of our boys and girls in uniform sweating in the desert sun with their fingers on the trigger of their automatic weapons will get the results the Pentagon wants? For those of you who dont know the routine: this is what the Pentagon always says. The war on Vietnam was started with only a few thousand GIs.
Then, when the Vietnamese resistance refused to roll over and die--choosing instead to attack US and other foreign troops at will--we were told that more troops were needed to accomplish Washington's goal. Unless that goal was the slaughter and wounding of millions and the destruction of their country (which it may have been), no stated goal was ever accomplished. The war on Korea was started under similar circumstances. It ended with no borders changing and millions of people dead and wounded. Hell, they didn't even sign a peace treaty in that one.
Either, Or. And Responsibilities
Hazem Saghieh
Al-Hayat 2003/08/21
American success in Iraq means solving the living and service problems. Releasing the economic process. Ending the violence that threatens the American peace. Moving into the democratic transformation of the country along with a time plan for the American withdrawal.
This exposes and infuriates Arabs outside Iraq.
American failure in Iraq means failure in solving any of the problems, big or small, political or economic. The incapability to stop military operations against the Americans, which increases their losses and leads to their withdrawal.
This exposes the American impotence and relieves those worried about Washington's superfluous vitality.
Taking this equation into consideration, a twofold question should be posed: how could the Arab situation, in case of an American success, not collapse? And how could Iraq, in case of an American failure, not collapse?
Ayoon wa Azan (U.S. Is Paying The Price Of Its Lies)
Jihad Al Khazen
Al-Hayat 2003/08/22
The U.S. is now paying in Iraq the price for the lies it made up to justify the war, and which it still maintains despite the plethora of evidence being discovered day after day, before and after the war, to the effect that there are no weapons of mass destruction in Iraq, and there is certainly no nuclear program.
How many American soldiers have died in Iraq since President Bush announced the end of military operations on May 1st? I think there are more than 60 Americans and 12 British who were killed, in addition to others killed by car accidents, committed suicide, or drowned. As for the Iraqis, the number of dead people remains unknown, but it has definitely reached more than 2,000, as almost 25 Iraqis a day have been dying since the "end" of the war.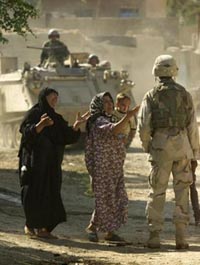 We're losing the war in Afghanistan, too

21.08.2003 [06:40]
A human rights worker reports from the other front in the U.S. war on terror, where warlords rule supreme, music is once again banned, journalists hide from gunmen, and even the streets of Kabul are filled with fear.
Aug. 21, 2003 | KABUL, Afghanistan
If the Winter Olympics are ever held in Kabul, the bucolic district of Paghman, just to the city's west, will be an important site for events. Tucked into the mountains just above the city, with its scenic vistas and orchards, Paghman is the perfect base site for downhill skiing, bobsledding or luge. With the snowcapped peaks above it and the picturesque city below, it couldn't be a better backdrop for televised winter sports.
Yet the Olympics aren't coming anytime soon; Kabul isn't ready quite yet. Much of the city is still in ruins, destroyed during the civil fighting here 10 years ago, and the civilian population today is still plagued by attacks from rogue troops and police, the mujahedin veterans who, with the backing and support of the United States, swept back into the city when the Taliban collapsed. Extortion, corruption and poverty are everywhere.
Paghman is a particularly bad area. I interviewed several families there last month and earlier this year, and like the people in U.S.-occupied Iraq, they described lives of constant physical threat and deprivation. Many families reported regular robberies by army and police troops there -- soldiers under the command of Paghman's local leader -- as well as rapes, kidnapping and ransom schemes by local military commanders.
Sayyaf is, basically, the political kingpin of Islamic fundamentalism in Afghanistan.[...]
Sayyaf has tried to put his fundamentalism into practice through his commanders and troops. Once, last year, after arriving late to a meeting with some international legal experts, he apologized by stating that he had been instructing "his commanders" in Sharia, or Islamic law. And obviously the troops have taken his teachings to heart.
Sayyaf's men in Paghman have broken up weddings at which music is being played, and beaten up villagers for listening to music on cassette players. Paghman villagers told me a few months ago of how the governor of Paghman, a protégé of Sayyaf's, beat up some old men at a wedding in late 2002, insulting each of them in turn for listening to music:
"He made them stand in a line, and he walked down the line, looking at each in the face. He would look at them, like he was deciding, and then he would start slapping them in the face. And as he slapped them, he would say things like, 'Be ashamed of your acts! Look at your beard! At your age, how old you are! You should be ashamed!' It had been the first time there was music in Paghman in a long time. There was no music when the Taliban was in power."
Comment: Essentially Afghanis can thank the US government for the fact that their country is in ruins. Westerners can thank the US for reinstating Afghanistan as the biggest producer of heroin in the world. The CIA can also thank the US government for the billions of dollars from the Afghan heroin production that will be funneled into their black OP's coffers, enabling them to create many more Afghanistans and Iraqs around the world.
By Kim Zetter
Wired News
Brian Robertson was just months away from graduation at Moore High School in Moore, Oklahoma, last year when he found the beginnings of what he thought was a short story on a school computer. He copied the file to another computer, added some paragraphs to the initial text and then promptly got arrested.
Robertson, who was 18 when he wrote the story, was charged with a felony count of planning to cause serious bodily harm or death. The story he wrote, titled " Evacuation Orders ," (PDF) described preparations for an armed invasion of his school that included directions to unnamed fellow commandos to kill the senior class principal and then plant plastic explosives around the campus.
After searching Robertson's car and his parents' home, authorities found no weapons, traces of explosive material or any other evidence that the teen was planning to attack his school.
But authorities said the story Robertson wrote was sufficient to charge him under an Oklahoma state statute , which was passed in the wake of school shootings across the country in the last few years. [...]
Ashcroft Speech Interrupted by Protester
Thu Aug 21, 3:35 PM ET
DETROIT (Reuters) - A room packed with police officers failed to shield Attorney General John Ashcroft on Thursday from a protester who accused him of lying about the Sept. 11 attacks on America and Washington's declared war on terror. [...]
He was about midway through a 25-minute speech, at an event closed to the public but attended by more than 150 top policemen from across Michigan, when a self-described follower of perennial presidential campaigner Lyndon LaRouche interrupted him.
"Mr. Ashcroft, I'm with Lyndon LaRouche. We would like to know which of your terrorists are going to be used for a new 9/11, you and (Vice President) Dick Cheney," said the heckler, who got into the room in a downtown Detroit convention center by posing as a TV reporter.
"Tell them how you lie to the American people," he added.
Ashcroft and more than one red-faced police officer were visibly angered by the outburst from the man, who then left the convention center unescorted and joined dozens of anti-government demonstrators outside.
Luther King's 'dream' still divides the US 40 years on

23/08/2003

Only 10 minutes from the Lincoln Memorial in Washington where Martin Luther King made his "I have a dream" speech it is clear how distant is "the table of brotherhood", writes David Rennie in Washington

As oratory, Martin Luther King's "I have a Dream" speech, delivered on the steps of the Lincoln Memorial in Washington 40 years ago, is enshrined in American history.
A careful mixture of outrage and idealism, of protest and patriotism, it struck a perfect note. Blacks were inspired by his vision of a colour-blind America in which "the sons of slaves and the sons of former slave owners will be able to sit down together at the table of brotherhood". Whites were reassured to be invited to the table.
Yet as prophecy, the speech has fallen short of the mark. Legal segregation crumbled a year afterwards, largely due to Dr King, but four decades on America remains starkly divided by race.
Only 10 minutes from the Lincoln Memorial it is clear how far away is the table of brotherhood. To the north lies the white enclave of Georgetown - a Hampstead on the Potomac, where leafy streets are lined with million-pound houses. To the south-east lies Anacostia, a black district of housing estates, fast-food restaurants, shops with steel-barred windows and - by some measures - the highest murder rate in America.
America's capital boasts the highest percentage of post-graduate degree holders in the country. Most are white. and born elsewhere. More than a third of adults in the city are functionally illiterate. Most of them are black.
Christopher Shea, writing in the Boston Globe (August 17, 2003):
[...] Until now, though, one piece of conventional wisdom has gone unchallenged: that the Nazis disliked Christianity. The standard view has been that while Hitler and his deputies may have feigned respect for religion during their ascent to power, they essentially believed, with Nietzsche, in the "death of God." They were as anti-Christian as the Soviets, but with a pagan twist: Some of them hoped to turn mutant versions of dormant Germanic and Norse legends into a state religion. In the place of the cross, think Wagner and Wotan, swords and horned helmets.
Richard Steigmann-Gall, an assistant professor of history at Kent State in Ohio, thinks otherwise. In his new book, The Holy Reich (Cambridge), he argues that many Nazis and their followers were sincere Christian believers. Nazism was the opposite of atheistic: It was a "singularly horrific attempt to preserve God against secular society." Indeed, "the battles waged against Germany's enemies constituted a war in the name of Christianity."
The modern tendency to paint Hitler and his allies as anti-Christian "kooks," he explains in an interview, is just another way to put an artificial distance between them and us and thereby to avoid the toughest questions about our own susceptibility to evil. [...]
'Meat is murder' militants target California's new taste for foie gras
By Andrew Gumbel in Los Angeles
23 August 2003
Not long ago, only a few food connoisseurs and Francophiles in the United States had any notion what foie gras was. Now it is becoming downright dangerous to handle the stuff.
Laurent Manrique, a top-flight San Francisco chef famous for his foie gras appetiser trolley, had his house spray-painted, his car splashed with acid and his garage door sealed shut with glue earlier this month, presumably by animal rights activists, although they did not leave a calling card. [...]
Mr Manrique has been particularly spooked by the attacks, especially after the people who vandalised his house left a videotape of him and his family at home. An accompanying note warned that they were watching his every move. [...]
Mr Jaubert said his adversaries were picking the wrong target. The Californian duck farm, operating under the name Sonoma Foie Gras, was free-range. Animals spent almost all their lives outside, he said, except for the final period of grain-feeding in air-conditioned buildings. "This is extremely good treatment, certainly compared to the way the big chicken producers behave with their animals," he said.
Mr Manrique, who comes from Gascony, the heart of duck country in south-west France, has been an ambassador for foie gras for years. "Force-feeding is really the wrong word," he told a group of cooking students in San Francisco a couple of years ago. "The geese see the food we offer them and run after us. They say, 'Give me more'."
Such remarks may not sit well with the "meat is murder" crowd, but science is beginning to show that he may not be entirely wrong. An article in the journal British Poultry Science in 2001 found "no significant indication that force-feeding is perceived as an acute or chronic stress by male mule ducks".
Comment: The actions of these animal rights activists are, in a word, preposterous. Here are a group of Americans harassing and threatening these restaurant owners for the brutal treatment of ducks, when the American government is presently engaged in the oppression and murder of innocent human beings around the world. And let's not forget the Bush Reich's support of the Israeli push for the extermination of the Palestinian people. Why aren't these activists threatening Bush or Rumsfeld or Ashcroft?
Jaubert and Manrique are being spied on, their establishments are being vandalized, and their families threatened over DUCKS. The simple fact of the matter is that animals raised for human consumption are rarely treated "humanely."
While we certainly don't endorse the torture of any animal, animal rights activists are declaring through their actions (or lack thereof) that it is okay to abduct and psychologically and physically torture human beings as is done at Guantanamo, but for crying out loud, don't hurt the poor little ducks!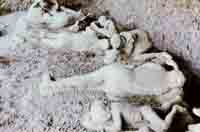 The 79 AD Eruption of Vesuvius
Vesuvius entered the history of volcanology with the eruption of 79 AD, described by Pliny the Younger. The eruption destroyed Pompeii, Herculaneum, Oplonti and Stabiae and caused the death of Pliny the Elder among many other people.
Before the eruption of 79, earthquakes occurred for some time, but were disregarded by local inhabitants because of their familiarity with the phenomenon. Seneca reports that an earthquake occurred on 5 February of 62 (according to Tacitus) or 63 AD. [...]
Dio Cassius (150-235 AD) also reports some precursors of the eruption. He tells that for several days before the eruptions there were earthquakes and subterranean rumblings and giants were seen wandering on the earth (giants are a common feature associated with earthquakes and volcanic eruptions; Scandone, 1987).
Volcano Monitoring at Yellowstone National Park
[...] The earliest account of Yellowstone's earthquakes was given by Ferdinand Hayden (1872, 1873) based upon his late 19th century, pioneering field expeditions into Yellowstone. Hayden recognized that Yellowstone was the center of a giant volcanic system and remarked on the occurrence of numerous earthquakes that he and his colleagues felt [...]
So persistent were earthquake tremors at Yellowstone Lake that Hayden named this camp "Earthquake Camp", an aptly named site as Yellowstone Lake has persisted as one of the most notable areas of earthquake swarms in the entire Yellowstone region. [...]
Sleeping Giants: Keep One Eye Open
May 20, 2002
[W]hen a volcano grows four inches in four years, there's cause for alarm. Something is happening underground — and that something might just signal the events leading up to an explosive volcanic eruption. [...]
Aftershocks still rumble in Te Anau
August 23, 2003

The New Zealand South Island town of Te Anau continues to be rocked by aftershocks from Friday's big earthquake.
The quake, which measured 7.1 on the Richter scale, was centred 70km west of Te Anau, at a depth of 20km...
The quake was followed by a 6.2 shake at 2.12am, and GNS duty seismologist Warwick Smith told NZPA that aftershocks had been recorded throughout the night. Many of them would have been strong enough for people to feel, he said.
"We've had one event of magnitude 5.0 and about five others above 4.5 throughout the night. This is totally expected, and will continue for a few days. Probably all of those would have been felt in Te Anau, maybe the biggest one as far away as Queenstown."
Posted by HVO at 9:50 AM on Aug 22, 2003
Volcano Watch
Last week, Maurice Sako and Kevan Kamibayashi, physical science technicians from the Hawaiian Volcano Observatory, spent three cold nights high on Mauna Loa's southwest rift zone. Their objective was not to see a bright red Mars or the brilliant trails of Perseids -- although they did see both -- but rather to install two electronic borehole tiltmeters...
As most Hawaii residents are well aware, Mauna Loa began to reawaken in May 2002. The gradual swelling has continued for more than a year. Last week's installation of the two tiltmeters is part of a long-term plan for better monitoring of Mauna Loa, a plan that has been accelerated significantly in the wake of Mauna Loa's stirrings...
Eruptive activity at the Pu`u `O`o vent of Kilauea Volcano continued unabated during the past week...
Two earthquakes were felt in the Kapoho-`Opihikao area on the evening of August 18.
Pacman of the Antarctic - goodbye ozone
By Andrew Darby
August 22, 2003

Email to a friend It's beautiful, but dangerous - this cloud puts on a stunning light show over the Antarctic but it is a grim warning that this year's hole in the ozone layer could be the biggest yet.
The stratospheric cloud is an ozone-eater, spotted recently by Australian scientists at Mawson station. Chemical reactions in such clouds convert normally inert man-made chlorofluorocarbons (CFCs) into ozone destroyers. [...]
The biggest hole recorded was in 2000, when it was about 27 million square kilometres, but last year it had shrunk to about 20 million square kilometres.
Yesterday, however, NASA measurements showed that the hole was rapidly widening and now stood at more than 10 million square kilometres. It usually peaks in late September.
Boiling seas linked to mass extinction

Methane belches may have catastrophic consequences.

22 August 2003
TOM CLARKE

Exploding ocean methane could have had the force of 100 million megatons of TNT.
A massive methane explosion frothing out of the world's oceans 250 million years ago caused the Earth's worst mass extinction, claims a US geologist. [...]
Just one disturbance - a small meteorite impact or even a fast moving mammal - could then have brought the gas-saturated water closer to the surface. Here it would have bubbled out of solution under the reduced pressure. Thereafter the process would have been unstoppable: a huge overturning of the water layers would have released a vast belch of methane.
The oceans could easily have contained enough methane to explode with a force about 10,000 times greater than the world's entire nuclear-weapons stockpile, Ryskin argues. "There would be mortality on a massive scale," he says.
Storms cause travel disruption in northern Spain
MADRID (AFP) Aug 22, 2003
Heavy rainstorms cut road and rail routes in parts of northeastern Spain, officials said Friday.
The bad weather, which began late on Thursday, affected mainly the northeastern province of Zaragoza, where several roads and railway lines remained cut early on Friday.
Train services on the main line between Madrid and Barcelona via the city of Zaragoza had to be deviated through Valencia...
Twenty-Thousand More Evacuated in Western Canada
By Allan Dowd
August 23, 2003
KELOWNA, British Columbia (Reuters) - Emergency officials ordered an additional 20,000 people to evacuate their homes in Kelowna, British Columbia, on Friday as a wildfire moved closer to the prosperous vacation city.
The additional evacuation meant that 30,000 people, or nearly one-third of Kelowna's population, had been ordered from their homes, said Bruce Smith, a local emergency operations official.
Massive flames could be seen near the western Canadian city, as the 42,000-acre (17,000-hectare) fire raged, casting an eerie orange glow into the sky. [...]
New forest fires break out near French Riviera
LA GARDE-FREINET, France (AFP) Aug 22, 2003
Some 900 firefighters were on Friday battling brush fires in hills above France's Mediterranean coast, in a region already ravaged by massive blazes in July.
Three fires broke out almost simultaneously late on Thursday in the Maures hills, between the towns of La Garde-Freinet and Vibaudan, in uplands northwest of the resort town of Saint-Tropez, rescue services said.
Forest fires destroyed at least 330,000 hectares in Portugal, new record
LISBON (AFP) Aug 22, 2003
Wildfires have destroyed more than 330,000 hectares (815,000 acres) of forest in Portugal since the start of the year, a record figure, according to updated numbers released on Friday by Portuguese forestry officials.
Some 336,000 hectares of forest and scrubland have been burned, according to a provisional estimate, the forest service said in a statement.
France announces aid for farmers after drought costing up to four billion euros
PARIS (AFP) Aug 22, 2003
The French government, already struggling to cope with the aftermath of a heatwave that may have killed 10,000 people, on Friday said it would give emergency aid to farmers hit by a drought that has caused losses of up to four billion euros.
Agriculture Minister Herve Gaymard said the state would provide "around 500 million euros" (550 million dollars) to help cope with the drought, which he told reporters had caused "more than a billion euros" in damage...
Although the drought was in place before the killer heatwave that roasted France the first half of August, the persistent temperatures around 40 degrees Celsius (104 degrees Fahrenheit) during the hot spell greatly worsened the situation for farmers.
Crops wilted, millions of poultry died and livestock farmers had to use forage intended for winter to feed their animals...
Wine, too, was expected to become more expensive, though many makers were predicting a vintage of exceptional quality because, even though the grapes were producing less juice for pressing, the taste was more intense.
Floods displace more than 7,000 people in northeast Ethiopia
ADDIS ABABA (AFP) Aug 22, 2003
At least 7,000 people have been displaced and hundreds of domestic animals swept away by floods caused by four days of heavy rains in northeast Ethiopia, officials in the region said on Friday.
"Torrential rains since August 19 have caused the Awash river to overflow its banks, sweeping away hundreds of animals and destroying large numbers of properties in Gewanie area of northeast Ethiopia," local leader Hussein Ibrahim said.
CDC: 715 people infected with West Nile
Posted 8/21/2003 6:35 PM
Updated 8/21/2003 10:00 PM
ATLANTA (AP) — West Nile virus continues to plague the central Plains, with nearly 80% of the nation's
cases occurring in four states, federal officials said in their weekly update Thursday.
The Centers for Disease Control and Prevention said the virus killed three people in the past week, bringing the nationwide death toll to 14.
Twenty-nine states have reported a total of 715 infections, with Colorado maintaining the unwanted lead with 263 cases. South Dakota had 117, Nebraska 99 and Texas 70, according to CDC's count.
Six in Colorado have died from the mosquito-borne virus.
West Nile hitting zoo animals, Air Force mascots
08-22-03 10:20 EDT
DENVER (AP) - The West Nile virus has killed four animals at the Denver zoo and infected four of the falcons used as mascots at the Air Force Academy. [...]
Comment: Coincidence? We think not.
Western Indian state says Pepsi spiked with pesticides
BOMBAY (AFP) Aug 22, 2003
India's Maharashtra state said Friday that it found pesticides in cola made locally by US soft drinks giant Pepsi, sparking a new controversy the day after parliament exonerated the company of such wrongdoing.
The state's Food and Drug Administration (FDA) had been conducting tests on samples of Pepsi and Coca Cola after charges earlier this month that carbonated beverages made locally were laced with lethal doses of pesticide, commissioner Uttam Khobargade said.
"We conducted tests on samples from various plants of these two companies located in Maharashtra and found presence of pesticides in one sample of Pepsi," he told AFP...
The government said tests of the 12 soft drinks named in the study by the Centre for Science and Environment showed all were "well within the safety limits" of India. But it conceded that the beverages were not up to higher standards imposed in the European Union.
The Indian not-for-profit group stunned the 500 million dollar-a-year cola industry with an August 5 report that 12 Coke and Pepsi brands sold in the country contained a "deadly cocktail of pesticide residues."
It said the same soft drinks sold in the United States contained no pesticides and accused the two companies of not purifying their source water in India.
India sets up parliamentary committee to probe pesticides in soft drinks
NEW DELHI (AFP) Aug 22, 2003
India's parliament Friday set up a 15-member committee to look further into allegations that soft drinks sold in India by US giants Pepsi and Coca-Cola contain dangerous levels of pesticide.
U.S. Launching New-Look Military Strike Force

By Tony Perry, Times Staff Writer
August 22, 2003
SAN DIEGO — In another sign of what military officials call the "transformation" of the U.S. military, seven Navy ships are set to depart today for the western Pacific carrying 2,200 combat Marines, more than 100 Tomahawk missiles and a squadron of helicopters and vertical-lift Harrier attack planes.
While the U.S. routinely deploys task forces of troops, missiles and planes around the globe, what is being called Expeditionary Strike Group One combines ships, troops and weaponry in a way that breaks with recent Navy and Marine Corps tradition. More such groups are planned for both the Pacific and Atlantic fleets.
Defense Secretary Donald H. Rumsfeld has made transformation a top priority, with the goal of deploying U.S. forces closer to potential international hot spots with sufficient flexibility, firepower and troop strength to intimidate potential enemies or defeat them in combat. [...]
U.S. Drivers Pumping Gasoline at Near-Record Prices
By Bernie Woodall
Fri August 22, 2003 04:13 PM ET
NEW YORK (Reuters) - U.S. motorists could soon be paying the most they've ever paid for gasoline as pipeline and refinery disruptions squeeze the nation's supply in the midst of the summer driving season, experts said on Thursday.
Long lines clogged gas stations in the Phoenix, Arizona area this week after a pipeline break cut shipments from Texas. And in the Midwest drivers faced a steep rise in pump prices as refineries in Ohio and Michigan struggled to restart after last week's blackout. [...]
The price hikes come at a time when a record number of travelers are preparing to hit the roads for the upcoming Labor Day holiday, said AAA, the nation's largest motorist and travel group. [...]
IBM lays off 15,000, HP 1300

By Andrew Orlowski in San Francisco
Posted: 21/08/2003 at 10:38 GMT

[..] IBM has shed 15,000 jobs in the past quarter: 1400 from the microelectronics division and a staggering "14,213 Global Services personnel" in response to "the recent decline in corporate spending on technology-related services". To balance the books, IBM also bunged its recent acquisition, PwC, by almost $400 million.
In an SEC filing posted last week, IBM maintained that demand was strong. So strong, it had to conduct a private pogrom in its own services division. Clearly, something doesn't add up - even by IBM's own admission.
Perhaps an email from a soon-to-be redundant HP employee to The Register sheds some light on the situation. HP announced earnings this week that fell below expectations and added that it would make 1,300 "unexpected" human sacrifices to cover the shortfall. In contrast to previous "sheddings" of fluff in the "labor market", the middle class now feels the pain.
"Sorry but I'm due in early Sunday to train my replacement in Bangalore," the (almost) ex-HPer explained. "It's because of the time difference."

Hidden beneath the already hard-to-find news of job cuts is a massive transfer of IT resources to India and China. While only a few years ago we were promised a "Long Boom" of infinite prosperity, by "gurus" such as Wired executive Kevin Kelly, it now appears that every tech job can be cut or outsourced with impunity. Kelly is never happier, by his own admission, than when he's lying down in Pacifica dreaming of insects.
Comment: Bush and the economy: a match made in hell...
Court Orders Valdez Award Reviewed
Sat August 23, 2003 06:33 AM ET
By David Brinkerhoff
NEW YORK (Reuters) - A U.S. appeals court has ordered a federal judge in Alaska to review the $4 billion punitive damages awarded from the 1989 Exxon Valdez oil tanker spill, lawyers and oil company officials say.
The U.S. Ninth Circuit Court of Appeals, based in San Francisco, has asked U.S. District Court Judge H. Russel Holland in Anchorage to look at the case again in light of a recent U.S. Supreme Court ruling. In that case, Campbell v State Farm case, punitive damages were limited.
The original punitive damages award against tanker operator ExxonMobil XOM.N , was $5 billion, but that was reduced to $4 billion last year. Exxon spokesman Tom Cirigliano told Reuters on Friday the oil company will argue that under the guidelines of the State Farm case, damages should be less than $40 million.
The company has said it paid out $300 million voluntarily to more than 11,000 Alaskans and businesses affected by the 11-million gallon spill from the Valdez -- the worst from a tanker in U.S. waters. It spread oil to more than 1,000 miles of coastline, killed thousands of sea mammals and birds and caused what government scientists say are lingering damages to a variety of marine species.
Dave Oesting, the lead plaintiff attorney in Anchorage, said the order to Judge Holland was a two-sentence directive merely asking his court to review the original ruling in light of the Supreme Court ruling.
"They're (Exxon) taking it totally out of context," he told Reuters. "They (the court) make no judgment about amount."
Oesting said he believed the $4 billion figure will hold up after the review.[..]
Clean Air Rules to Be Relaxed
EPA Will Ease Power Plants' Requirements

By Eric Pianin
Washington Post Staff Writer
Saturday, August 23, 2003; Page A01
The Bush administration has decided to allow thousands of the nation's dirtiest coal-fired power plants and refineries to upgrade their facilities without installing costly anti-pollution equipment, as they now must do.
Acting Environmental Protection Agency Administrator Marianne L. Horinko said yesterday that she will sign the new regulation next week, and that the measure will take effect this fall. The decision marks an important, cost-saving victory for the utility industry, which has vigorously lobbied the administration for the past 21/2 years to relax the Clean Air Act enforcement program.
That program, known as New Source Review, generated dozens of state and federal lawsuits against 51 aging power plants during the Clinton administration, and forced some of them to agree to install hundreds of millions of dollars of pollution-control equipment.
Bush's pollution charter: Republican supporting energy firms set to escape controls on emissions
Julian Borger in Washington
Saturday August 23, 2003
The Guardian
The Bush administration plans to open a huge loophole in America's air pollution laws, allowing an estimated 17,000 outdated power stations and factories to increase their carbon emissions with impunity...
The rules could represent the biggest defeat for American environmentalists since the Bush administration abandoned the Kyoto Treaty on global warming two years ago. But the energy industry welcomed them, saying they were essential for maintaining coal-fired power stations.
The regulations are being challenged by 13 states including New York. If adopted, they would represent a multi-million dollar victory for energy corporations, most of whom are significant Republican contributors, and who were consulted in the drafting of the administration's energy plan by vice-president Dick Cheney in 2001.
The US accounts for a quarter of the world's carbon emissions, 10% more than all of western Europe combined. Environmentalists fear that, by relaxing its controls even further, America could undermine attempts to persuade other countries to stick to the targets laid out by Kyoto.
16 dead in Brazilian satellite rocket explosion

AFP
Saturday August 23, 7:15 AM

A Brazilian space rocket exploded at a remote base, a few days before its launch, killing at least 16 people, the country's defense minister said.
The rocket was due to take two satellites into space next Monday from the Alcantara Space Center in the northeastern state of Maranhao. [...]
U.S. Expects Informal Direct Talks With North Korea
By PHILIP SHENON
WASHINGTON, Aug. 22 — The Bush administration will not offer any specific economic or diplomatic rewards to North Korea to abandon its nuclear arms program but will not stop other countries from making such offers, administration officials said today as they prepared for a new round of talks with North Korea.
Bush Moves To Consolidate Blackout Probe
By H. Josef Hebert
8-20-03
WASHINGTON (AP) -- The Bush administration on Tuesday moved to consolidate the investigation into the nation's worst power blackout, saying that an industry watchdog group would forgo its independent probe and work with a U.S.-Canadian task force.

Energy Secretary Spencer Abraham, a co-chair of the task force, would not speculate on what might have caused the blackout that cascaded across a vast region from Michigan to New York City last Thursday...

"It's important that we withhold judgment before all the facts are in," said Abraham.

Abraham said it was felt that there needed to be "one ultimate finding" by a single investigation.

He said that the NERC "has agreed to work with the task force and forgo its own investigation of the incident."

Abraham said, "We applaud ... what they have done so far" but it was felt "the public would not want two or three entities producing their versions of what happened."
Comment: So let's get this straight. Everyone is going to cooperate on this because they want to get the cover story right, with no contradictions. Let's explain away the anomalies: the dead car batteries, the sonic booms, etc. The evidence seems to indicate this was something more than a simple electrical failure.
Berlusconi cancels Schroeder date
The Italian Prime Minister, Silvio Berlusconi, has pulled out of an evening at the opera with German Chancellor Gerhard Schroeder.
The Verona date had been planned partly as a gesture of reconciliation, following an earlier row when Mr Berlusconi compared a German member of the European parliament to a Nazi.
Mother jailed for putting baby in hot oven
Associated Press
19:26 Friday 22nd August 2003
A US woman who put her baby daughter in a hot oven has been jailed for 25 years after pleading guilty to attempted murder.
The child survived after her father heard her screams and rushed into the kitchen, but she suffered third-degree burns over 70% of her body. [...]
Undertakers barred from hospital for fighting over customers

23/08/2003 - 09:54:42
Sales reps from four undertakers have set up banners outside a Madrid-area hospital to protest being ejected because of loud arguments while competing for customers.
The spat goes back to May, when the hospital said it had had enough of the shouting matches it said the funeral parlour representatives staged in corridors as they vied for business. [...]
No Ethics? No Experience? No Problem - The Tawdry Tale of WorldCom's Sweetheart Deal in Iraq

08/21/03
NEW YORK--WorldCom Inc., recently and hilariously accused of rerouting phone calls to avoid paying connection fees to other phone companies (who was running the joint, frat dudes?), ranks with Enron in the annals of modern corporate debauchery. After an $11 billion accounting scandal sunk the infamous telecommunications conglomerate into bankruptcy, the U.S. General Services Administration banned federal agencies from doing business with WorldCom.
So how is a proscribed "company that has demonstrated a flagrant lack of ethics"--the words belong to Senator Susan Collins (R-ME), chairperson of the Senate's Governmental Affairs Committee--poised to land a $900 million Pentagon contract to build a cell phone system for occupied Iraq?
"I was curious about it, because the last time I looked, MCI has never built out a wireless network," comments Len Lauer of Sprint.
Indeed, WorldCom's MCI division never figured out how to build a cell network in the U.S., and ultimately gave up trying. But who needs experience when you have tasty political connections? Before 2000 WorldCom donated equally to Democrats and Republicans in order to land cell service contracts with U.S. occupation armies in Haiti, Kosovo and Afghanistan. Now it's leveraging a $45 million deal with the Coalition Provisional Authority (CPA) into a Halliburtonesque sweetheart contract to build the first national mobile phone network in Iraq, where more than 2 million new customers are expected to sign up right away.
The Pentagon's rush to protect WorldCom from a scrappy Bahraini-based competitor, Batelco, which has built cell networks in the Middle East, has exposed yet another unholy alliance between corporate America and the Bush Administration. Demonstrating the brand of lightening-quick entrepreneurship traditionally treasured by free-market-loving Americans, Batelco raced into Iraq after the U.S. invasion and installed cell towers throughout Baghdad. With half of land lines out of service and Saddam's 1990 plan to build cell towers stymied by U.N. trade sanctions, Baghdadis welcomed the new service.
But the CPA shut down Batelco and threatened to confiscate its $5 million of equipment. Now the CPA is now prohibiting companies more than 10 percent owned by foreign governments from bidding on civilian cell business in U.S.-occupied Iraq. That eliminates Batelco and most other Middle East-based telecommunications companies and, according to analyst Lars Godell of Forrester Research in Amsterdam, leaves MCI with "a head start."
Ordinary Iraqis, meanwhile, are back in the pre-Alexander Graham Bell era.
Companies like Vodafone, T-Mobile and NTT DoCoMo of Japan all have more experience of "setting up green field operations in developing countries [than MCI]," says Godell. He adds that the Bush Administration's decision not to seek competitive bids "confirms the worst suspicions" of European cellular companies. Fortunately for them, being American means never having to say you're sorry.
[...] But sleazy back-room deals with Halliburton and MCI-WorldCom belie America's supposed faith in the transparency of free markets and their relationship to spreading democracy. They do more damage to our tattered relationship with the people of Iraq than any suicide bomb. And they prove beyond a reasonable doubt that George W. Bush's commitment to fight corporate fraud is just another lie.
Comment: There is also the report that the US military bombed just about every communications network station in Iraq, far exceeding the requirement for military objectives. This naturally ensures that Worldcom or any other US company that is handed the deal of repairing the destruction will reap maximum profits.
US returns Pak money it paid for F-16 purchase
PTI[ SATURDAY, AUGUST 23, 2003 01:35:35 PM ]
DUBAI: The US has returned the money Pakistan had paid for the purchase of F-16 fighter planes after the American Congress refused to endorse the deal.
This was disclosed by Pakistani Prime Minister Mir Zafarullah Khan Jamali in an interview to Saudi Arabic daily Okaz published on Saturday. Jamali is currently in Saudi Arabia for talks with top officials.
The US rejected Pakistan's request to provide F-16 planes after which the Pakistan Air force approached Belgium to buy two squadrons of used F-16 planes, according to reports in the Pakistani media recently.
Belgium had bought the planes from the US and the contract stipulated that it could resell them only with the approval of the US.
Meanwhile, the US has decided to give six C-130 military cargo planes to Pakistan as part of a defence assistance committed under the $3-billion aid granted by President George W Bush during his Camp David meeting with President Pervez Musharraf.
Mysteries of the universe

Are there multiple universes? And should I care?
Aug. 20 — One morning last April, the New York Times op-ed page ran a piece by the Australian physicist Paul Davies warning readers not to be so gullible as to believe there could be more than one universe. The next month, Scientific American published a long article by the physicist Max Tegmark asserting that, to the contrary, parallel universes almost certainly do exist. Around the same time, bookstores received Are Universes Thicker Than Blackberries? , wherein Martin Gardner dismisses theories of multiple universes as "frivolous fantasies." If you had seen all this, you may well have asked yourself: Is this really a matter on which I need to form an opinion? [...]
Mars Liquid Water Elusive, But Present
By Robert Roy Britt
Senior Science Writer

Traces of a mineral -- indicative of water -- have been found all over Mars' surface, suggesting liquid water does or did exist on the red planet. But the low quantities of the mineral mean it's unlikely Mars ever had oceans or large lakes, a new study concludes. [...]
Early Settlement Site in Pa. Debated
ALLISON SCHLESINGER
Associated Press
AVELLA, Pa. -Evidence that humans inhabited western Pennsylvania some 16,000 years ago - thousands of years earlier than most scholars believe - is still dividing archaeologists, 30 years after blade tools and materials to make beads were found in a rock shelter. [...]
Comment: See Forbidden Archeology: The Hidden History of the Human Race, by Michael A. Cremo and Richard L. Thompson to understand how debates like these stop dead any sort of real understanding of humanities pre-historic past.
From the book description:
"Over the centuries, researchers have found bones and artifacts proving that humans like us have existed for millions of years. Mainstream science, however, has supppressed these facts. Prejudices based on current scientific theory act as a "knowledge filter," giving us a picture of prehistory that is largely incorrect. "
When Paranormal Investigators turn bad
Comment: The article is about murderous psychopaths pretending to be UFO and Bigfoot investigators. Are they just predators finding a convenient front for their activities, or are they being used by COINTELPRO to poison the search for truth behind these phenomena?
For a paranormal investigator, he's so normal
Boom! Mystery solved Noises in sky just Lockheed flight tests
By DAVE HIRSCHMAN
The Atlanta Journal-Constitution
The mystery of the twin booms that have startled people from Chattanooga to Huntsville since June has been solved.
The culprits are new F/A-22 Raptor fighters and chase planes making supersonic test flights over the region. So far 17 of the futuristic jets have been built at Lockheed Martin's plant in Marietta, and all must show they can break the sound barrier before being handed over to the Air Force.
The only problem is that no one let folks in the flight path know the sonic booms were coming. When residents asked the military about the alarming noises, every branch denied having any planes in the area.
"Each boom sounds like an explosion," said Jess Hornsby, 61, of Signal Mountain, Tenn., a Chattanooga suburb. He estimates he's heard 10 in the last three months. "There's no rumbling like thunder. It's a loud crack that really rattles the windows. People here have been wondering what in the world was going on."
Hornsby, a self-described aviation buff, said he looked up the first time he heard the booms and saw two white contrails streaking overhead. Each F/A-22 is shadowed by an F-16 chase plane.
U.S. Rep. Zach Wamp (R-Tenn.) said the first time he heard the twin booms, he thought a coal mine had exploded.
"I thought I was going to have a heart attack," Wamp said. "It was such a high impact."
Greg Caires, a spokesman at the Marietta plant, said the planes typically fly about 40,000 feet on a route that takes them from Crossville, Tenn., to Scottsboro, Ala. The planes cover the 110-mile route in about four minutes.
The flights follow an existing FAA-approved "supersonic corridor," so rules that prohibit breaking the sound barrier over the continental United States don't apply.
Lockheed says it tries to minimize disruptions by avoiding Sunday flights and keeping the planes high. Caires says security rules prohibit the company from telling residents in advance when supersonic flights will take place.
Caires and Randy Neville, an F/A-22 test pilot and University of Tennessee grad, traveled to Chattanooga and Huntsville last week to let residents know what the planes have been doing in the skies overhead -- and to expect more booms in the future. Lockheed is accelerating F/A-22 production and plans to build more than 300 of the fighters.
Once residents learned the planes were on their side, Caires said, Lockheed got a warm reception.
"People are very supportive and think the supersonic flights are really cool," Caires said. "I tell them to look to the southwest next time they hear the booms -- but they better look fast, because the planes won't be there long."
Comment: For information on the new Raptor F/A 22 check the link here. For a "tail-less" version check the Jane's article below. It seems the USAF has indicated they are not interested in these.
Raptor could hatch a delta bomber
By Bill Sweetman
Lockheed Martin has briefed the USAF on a radically modified version of the F-22 Raptor fighter with a delta wing, longer body and greater range and payload.
A company-funded study of the so-called FB-22 will continue throughout this year.
The FB-22, as its designation suggests, is clearly a bomber. Operations over Afghanistan have driven home the fact that bases close to many potential targets may never be open to US combat aircraft. Apart from extreme-range operations by F-15Es, USAF fighters have been relatively little used in that theater, and much of the burden has been carried by B-52s and B-1s. [.... more available via subscription]
Fox Loses Bid to Stop Sale of Franken Book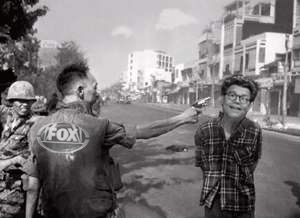 ---

Check out the Signs of the Times Archives

Send your comments and article suggestions to us.
---
Fair Use Policy
Contact Webmaster at signs-of-the-times.org
Cassiopaean materials Copyright ©1994-2014 Arkadiusz Jadczyk and Laura Knight-Jadczyk. All rights reserved. "Cassiopaea, Cassiopaean, Cassiopaeans," is a registered trademark of Arkadiusz Jadczyk and Laura Knight-Jadczyk.
Letters addressed to Cassiopaea, Quantum Future School, Ark or Laura, become the property of Arkadiusz Jadczyk and Laura Knight-Jadczyk
Republication and re-dissemination of our copyrighted material in any manner is expressly prohibited without prior written consent.
.