---

Remember, we need your help to collect information on what is going on in your part of the world!


---
GQ MAG DEPICTS PRESIDENT BUSH AS 'JESUS' IN CONTROVERSIAL PHOTO SPREAD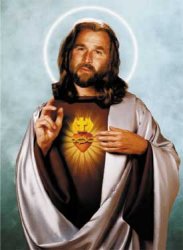 Many Bodies Still Buried in Devastated UN Iraq HQ
August 20, 2003 06:29 AM ET
BAGHDAD (Reuters) - Many more bodies are believed to be buried in the rubble of the devastated U.N. headquarters in Baghdad after it was hit by a truck bomb that killed at least 20 people, Iraq's Governing Council said on Wednesday.[...]

Bush Condemns Iraq Bombing and Vows U.S. Will Persevere
By RICHARD W. STEVENSON
New York Times
CRAWFORD, Tex., Aug. 19 — President Bush denounced the bombing in Baghdad today as the work of "enemies of the civilized world," and vowed that the United States would not be deterred from confronting terrorism and bringing stability to Iraq.
After cutting short a round of golf this morning after news of the bombing, Mr. Bush made a statement from the Marine Corps helicopter hangar on his ranch here in which he reiterated his position that Iraq was "on an irreversible course" toward self-government and peace. [...]
Experts Suggest Outsiders in Iraq Blast
By D'ARCY DORAN, Associated Press Writer
Tue Aug 19,10:15 PM ET
BAGHDAD, Iraq - The devastating bombing of U.N. headquarters here Tuesday is the latest in a series of recent attacks that may be the work of foreign terrorists bent on wrecking efforts to rebuild the country, some experts say.
There are a variety of groups believed to be operating in Iraq, including supporters of the ousted dictator Saddam Hussein, and no one can know for certain who was involved in attacking the U.N. hotel.
But the nature and targets of the recent attacks, which hurt Iraqis and humanitarian workers, don't seem to fit with the ideology of nationalist Iraqi resistance groups who seem more focused on attacking U.S. forces.
United Nations workers "are now and have been working to help the Iraqi people," said political risk analyst Linda Jamison of the Center for Strategic and International Studies. "These terrorists don't want anything but a body count."
Most of those killed in the suicide truck bombing at the U.N.'s Baghdad headquarters were Iraqis and U.N. officials, including the chief U.N. official in Iraq, Sergio Vieira de Mello. [...]
Bombers used 'enormous amount of explosives'
By Andrew Buncombe
20 August 2003
The attack yesterday was the latest in a series on US and other Western targets that have seen the resistance forces modify their methods and take increasing risks.
Whether the explosion was caused by a suicide bomber or a device detonated by remote control was not clear, but, either way, it underlined the way in which resistance forces are prepared to risk all as they step up their attacks, not just against the occupation forces of America and Britain but on softer, symbolic targets.
Bernard Kerik, the former New York City police commissioner rebuilding the Iraqi police force, said the evidence suggested a suicide attack. "There was an enormous amount of explosives in what we believe to be a large truck," he said. Asked whether al-Qa'ida was responsible, he said: "We don't have that kind of evidence yet." [...]
White House Alters Webpages About Iraq Combat
Four U.S. Soldiers Wounded by Makeshift Bomb in Iraq

TIKRIT, Iraq (Reuters) - Four U.S. soldiers were wounded on Wednesday when a makeshift bomb was detonated near their convoy in northern Iraq, a U.S. Army spokesman said. [...]
Ex-Iraqi vice president in U.S. custody
8/19/2003 6:19 PM

BAGHDAD (AP) — Taha Yassin Ramadan, a former Iraqi vice president known as "Saddam's knuckles" for his ruthlessness against regime enemies, was captured by Kurdish fighters Tuesday in the northern Iraqi city of Mosul and turned over to U.S. forces.

Ramadan, who was reportedly disguised in peasant clothing when he was caught, once was considered Iraq's second-most powerful man, but his influence declined in the later years of Saddam Hussein's regime. He was No. 20 on the U.S. list of most-wanted former regime figures. [...]
Ex-Prisoners Allege Rights Abuses by U.S. Military
By Tania Branigan
Washington Post Staff Writer
Tuesday, August 19, 2003
Prisoners released from the military camps at Guantanamo Bay in Cuba and Bagram air base in Afghanistan have said in a series of interviews with Amnesty International that they were subjected to human rights abuses.

The accounts, which provide some of the most detailed information so far on alleged violations, include claims that people were forcibly injected, denied sleep and forced to stand or kneel for hours in painful positions. These charges are included in a new report from the human rights organization, which is reviewing 23 months of U.S. actions in the war on terror. [...]
Senator says more troops needed
MARGARET NEIGHBOUR
Wed 20 Aug 2003
THE leading Republican Senator John McCain said yesterday that the United States needed additional troops in Iraq to deal with increasingly more sophisticated attacks against US forces and strategic targets.
Mr McCain, a member of the armed services committee, said from Baghdad - where he met the US civilian governor, Paul Bremer, and US generals - that troops had a tough time ahead and needed help.
"I don't think any of us - including them [US troops] - anticipated the amount and sophistication of these attacks," the Arizona senator said.
"I think they may need more people, both in the military overall and perhaps here on the ground. That's one of the things, I think, we will be looking at." [...]
Suicide Blast Kills 18 on Jerusalem Bus
Posted on Tue, Aug. 19, 2003
LARA SUKHTIAN
Associated Press
JERUSALEM - A suicide bomber blew himself up Tuesday on a bus packed with Jewish worshippers returning from the Western Wall, killing at least 18 people, including five children.
Hamas and Islamic Jihad both claimed responsibility for the blast, one of the deadliest Palestinian attacks in the past three years.
More than 100 people were also injured, 40 of them children, hospital officials said.
The attack marked perhaps the most serious blow yet to the U.S.-backed "road map" peace plan, which was unveiled three months ago. It shattered a truce called by militants on June 29 that had been fraying in recent weeks with less deadly attacks.[...]
Britain joins in condemning Jerusalem attack
Abbas Cuts Ties With Militants After Suicide Bombing
VOA News
19 Aug 2003, 23:08 UTC

Palestinian officials say Prime Minister Mahmoud Abbas has broken off contacts with the militant groups Hamas and Islamic Jihad after they claimed responsibility for Tuesday's suicide bombing that killed 20 people in Jerusalem.
Mr. Abbas was holding talks with the militants when the attacker blew up a crowded bus. Officials from Hamas and Islamic Jihad say the blast does not mean an end to the cease-fire announced by militant groups in late June.
Meanwhile, Israeli radio reports Israel is planning to cordon off the West Bank and Gaza Strip in response to the attack. Israel also froze all contacts with the Palestinian Authority and called off the expected security handover of two Palestinian towns, Qalqilyah and Jericho.
The White House condemned the attack as a vicious act and called on the Palestinian Authority to dismantle terrorist organizations. Mr. Abbas also denounced the blast. [...]
Pressure builds on Abu Mazen to fight terror
By Said Ghazali
20 August 2003
At the moment the suicide bomber blew himself up in Jerusalem last night the Palestinian Prime Minister, Abu Mazen, was in a meeting with leaders of Islamic Jihad and Hamas attempting to reinforce the fragile ceasefire.
Islamic Jihad claimed responsibility for the attack in a phone call to al-Manar TV. Hamas also claimed responsibility. The attack was in response to the killing of the Islamic Jihad leader in Hebron last week and "the crimes of the Zionist occupation", in the words of Abdel Aziz al-Rantisi, a Hamas spokesman. Both militant organisations named the bomber as Raid Misk, from Hebron.
Israel is now certain to step up pressure on Abu Mazen "to dismantle the terror organisations". The Palestinian Prime Minister cannot win. If he yields to Israeli pressure, he will be seen as an Israeli agent and lose his political credibility with the Palestinian people.
If he does not, the ceasefire will collapse and, eventually, so will the road-map.
Abu Mazen insists on achieving the ceasefire without using violence against Hamas and Islamic Jihad, but he needs full co-operation from the Israeli side. "This operation is the most serious threat to the ceasefire,'' said the Fatah leader, Hatem Abdel Qader.
Iran warns Israel on nuclear reactors
Iran, building its first nuclear reactor and planning a second, warned Israel Monday against attacking the nuclear installations as it did an Iraqi facility in 1981.
Hamid Reza Asefi, the Foreign Ministry spokesman, told reporters Monday that he hoped Israel, which has warned against Iran's alleged nuclear weapons program, would not resort to such an "adventure."
"At any rate, the Zionist regime proved to be adventurous in the past and doesn't abide by any principles. In case it will commit such a mistake, it will pay dearly," he said. [...]
Sharon faces new corruption inquiry
Chris McGreal in Jerusalem
Wednesday August 20, 2003
The Guardian
Israel's attorney general has launched an investigation into accusations that Ariel Sharon abused his power to ensure that childhood friends were awarded unusually high compensation for land expropriated by the state.[...]
Iran Will Never Compromise on Its Principles: Leader
TEHRAN - The Leader of the Islamic Revolution, Ayatollah Seyed Ali Khamenei, said here on Monday in a meeting with Iranian ambassadors, "The Islamic Republic of Iran will never compromise on its principles, which are the basis of our national honor." Emphasizing that the representatives of Iran abroad need to take the initiative by relying on talent, perseverance, and careful planning, the Leader said, "Our national honor has no price." [...]
S.Korea warns against hopes of nuclear crisis solution at six-way talks
[...] The nuclear crisis erupted when the United States accused Pyongyang of reneging on a 1994 bilateral nuclear accord by setting up a clandestine program based on enriched uranium.
North Korea, which says it needs its own nuclear deterrent against the United States, expelled UN nuclear inspectors and withdrew from the treaty.
It has since claimed to have reprocessed 8,000 spent fuel rods for weapons-grade plutonium at its nuclear plant at Yongbyon [...]
Washington, WMD and UN sanctions
[...] Maybe all this makes sense to Bush and his band of evil cohorts, but it really is indicative of that group placing the international system in a potential danger that it has riot witnessed since Adolf Hilter stalked the world. And Nazi Germany did not even come close to possessing the number and kind of WMD that the US has. And Washington is making merry precisely be-cause it knows that the rest of the world is either cowed down or does not know exactly how to present a credible front against the menace.[...]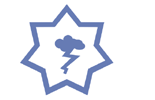 Storms bring flooding to Vegas
Wednesday, August 20, 2003 03:51 GMT
LAS VEGAS, Nevada (AP) -- Powerful thunderstorms caused flash flooding Tuesday in Las Vegas, knocking out power, closing roads and trapping some motorists atop their cars.
The torrential downpour dumped 3 inches of rain in 90 minutes, bringing severe flooding mostly to the city's northwest section. Casinos along the Las Vegas strip saw only light rainfall.
"There was so much water, we couldn't see the sidewalks," said Ann Friary, owner of Northshore Learning Tree, a day care center. [...]
Non-stop rains, floods hit Metro
By Nikko Dizon And Jerry Botial
The Philippine Star 08/20/2003
Heavy rains that started Monday night and continued all day yesterday again left portions of Metro Manila submerged in floodwater.
Metropolitan Manila Development Authority (MMDA) deputy chairman and head of the flood control program, Cesar Lacuna, said the worst hit yesterday was the perennially flooded Dimasalang area in Manila.
Floods reached knee-deep in Maceda and Sampaloc, Lacuna said.[...]
Out-of-control wildfire sears Kelowna outskirts

Tuesday, August 19, 2003
David Wylie
Sterling News Service

KELOWNA -- A shift in wind direction could lead a large, out-of-control wildfire burning six kilometres southwest of Kelowna to seriously threaten the city.
"This is serious," said Dave Hall, an information officer with the Ministry of Forests. "We're doing everything we can to discourage the fire from moving [toward Kelowna]."
A lightning strike Aug. 15 ignited the 1,100-hectare blaze on Okanagan Mountain in Okanagan Lake Provincial Park. Heavy winds spread the flames quickly, despite prolonged efforts by water bombers and helicopters. [...]
Mountain wild fires rage on in southern Bosnia
BANJA LUKA, Bosnia-Hercegovina (AFP) Aug 19, 2003
Forest fires continued to ravage southern Bosnia on Tuesday, where over 6,000 hectares (15,000 acres) of brush and forest have been destroyed since June, local authorities said.
Firefighters near the southern town of Bileca struggled for the seventh consecutive day to contain a fire there that has so far destroyed over 2,700 hectares.
The fires are often in mountainous areas where access is difficult, further complicating the firefighters' task.
Police on Tuesday said they had arrested someone on suspicion of starting fires near the southern town of Trebinje, where some 2,350 hectares of brush and forest have been destroyed by fire in recent weeks.
Wednesday 20th August 2003
The explosive activity at North-east crater at Mt Etna volcano was short-lived. Volcanologists visited the summit area on 16th August and didn't see any explosive activity, or any recent lava around the crater. Renewed activity may occur in the near future. [...]
Flipping out over global warming
O N SEVERAL days last week, it was hotter in London than in Cairo. France has just declared a national emergency because of the extreme heat.
But the winemakers of Germany are ecstatic about this year's vintage, and Asian manufacturers of compact air- conditioning systems are having a boom year for European sales.
That's how most people see climate change: a gradual warming-up that will hurt some people and benefit others. The people of Tuvalu and quite a lot of the Netherlands will be severely inconvenienced as rising sea levels cover their homes, but they will either move or learn to breathe underwater. So no rush, no panic, and don't take any measures that might hurt economic growth.
But anyone who has been paying attention to the evidence coming out of the Greenland ice cores for the past 20 years should know that the real threat is not gradual warming.
It is that the warming will trigger an abrupt and rapid cooling of the global climate, with catastrophic consequences for existing human populations.
And the Europeans would be hit first and worst, for the mechanism that would cause this shift is the disappearance of the Gulf Stream.
People talk about the "last ice age" as if it were over, but it's not. The current cycle of global glaciation began around three million years ago, when the land that is now Panama rose above sea level, closing the old ocean channel between North and South America and forcing a major reorganisation of ocean currents.
Since then, ice sheets have covered around 30 per cent of the land surface of the planet most of the time, although this has been regularly interrupted by major melt-offs called "inter-glacials" when the ice coverage drops to about 10 per cent.
During the past million years these warm, wet episodes have come along about every 100,000 years. The present inter-glacial began about 15,000 years ago, and nobody knows for sure how long it will last.
We do know, however, that the previous inter-glacial began about 130,000 BC, and lasted for 13,000 years - so we could already be in overtime on this one. The good news is that we don't automatically slide back into maximum glaciation.
What happened in 113,000 BC was that the global climate flipped into a cool, dry, windy phase that was much less pleasant than our current balmy conditions: average temperature at least 5C (9F) lower than the present, and massive droughts all over the place. It took a further push - probably massive volcanic eruptions in Indonesia around 70,000 BC - to start the ice sheets growing again.
The bad news is that even the "cool, dry, windy" phase of the global climate would wreck human civilisation. The whole enterprise of civilisation that has allowed the human population to grow from perhaps 10 million to more than 6000 million has occurred within the warm, wet climatic bubble of the past 10,000 years.
At least half the lands that now support agriculture would revert to tundra or semi-desert if we flipped back to the cool, dry and windy climate, and billions would die in the chaos of war and starvation that would follow.
Now for the worse news.
When the flip happens, it isn't gradual at all. The Greenland ice cores, a quarter-million- year record of annual snowfall that also tells us about average temperature, precipitation and even wind speed, contain an alarming message.
When the climate mode shifts, global temperatures crash in 10 years or less - and stay down for centuries or millennia. And the very worst news is that the sudden flip into cool-and-dry is caused by gradual global WARMING.
The key to the whole cycle seems to be the Gulf Stream, which normally delivers huge amounts of warmth to the northern North Atlantic and western Europe (which would otherwise have the climate of Labrador). But ocean currents are basically conveyor belts for moving salt around the world's oceans. If the warm water of the Gulf Stream, made even more dense and saline by evaporation on its long journey north, does not sink to the bottom and flow back south when it reaches the Greenland-Iceland-Norway gap, then the whole conveyor belt shuts down.
What stops the salty water from sinking? Dilution by too much fresh water on the surface, coming either from increased rainfall over the North Atlantic or from glacial melting and sudden outflows of fresh water from the Greenland fjords.
What might cause these events? A rise in temperature in the region - and while average global temperature has only risen about 1C in the past century, the rise in the Arctic region has been several times greater.
The evidence in the Greenland ice cores is clear: the abrupt, high-speed flips in global climate known as Dansgaard-Oeschger events have happened many dozens of times.
Maybe if we have a couple of more centuries of warm-and- wet conditions, we will learn enough about the fine detail of global climate to postpone the next flip indefinitely. But if it goes over the edge now, it's a calamity for everybody.
Europeans, whose agriculture could no longer feed even a tenth of their current population, would be hit hardest of all, though nobody would get away with less than a 50 per cent loss.
So why didn't this prospect get more media attention during the recent unprecedented heat wave in Europe? Maybe all the science journalists were on vacation.
Israeli Firm Has Chilling Plan for London Subway
Tue Aug 19,10:43 AM ET
JERUSALEM (Reuters) - An Israeli company has proposed cooling down sweltering London Underground platforms by placing snow-making machines above ground.
IDE Technologies Ltd, which develops desalination plants, said on Monday it had submitted the plan as part of a contest announced by London Mayor Ken Livingstone last month inviting proposals to help commuters beat the heat. [...]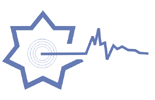 Strong quake rocks southern Iran
TEHRAN: An earthquake measuring a strong 5.5 on the Richter scale rocked southeastern Iran early Monday, state news agency IRNA reported. "We have dispatched a number of rescue teams, although the area is not heavily populated, and so far no live casualties were reported, but I cannot deny any material damages," interior ministry official Ali Hag bin said. [...]
Minor quake rattles Mount Whitney area
Associated Press
LONE PINE, Calif. - A minor earthquake rattled the area around Mount Whitney on Tuesday.
The estimated magnitude-3.5 earthquake hit at 3:02 p.m., eight miles south of the summit of Mount Whitney.[...]
Quake Killed 16, Injured 584 in SW China
As of 1:00 pm Wednesday, the earthquake in Dayao County of Yunnan Province, southwest China, had killed 16 and injured 584, the Ministry of Civil Affairs said.
Of those injured in the earthquake, 104 were seriously wounded, the ministry said, and the lives and livelihoods of 1.25 million people had been affected.[...]
ALGIERS:A man who said his life was wrecked by an earthquake attempted to hijack an Air Algerie jet yesterday, threatening the crew with what he claimed was a grenade before surrendering to security services.
The55 -year-old man from Boumerdes, a town devastated by the May21 temblor, "said he had lost everything in the quake and no longer wanted to live in Algeria," said fellow passenger Djamel Mohamedi.
The quake killed about2 , 300people and left tens of thousands homeless.[...]
Bear and cub breach security at Russian nuclear site
US sells six C-130 Hercules planes to Pakistan

ISLAMABAD (AFP) Aug 19, 2003
The United States finalised the long-awaited sale of six C-130 Hercules planes to Pakistan Tuesday, the largest military sale to its key war-on-terror ally since lifting sanctions almost two years ago.
US envoy to Pakistan Nancy Powell announced the 75 million-dollar sale of six Lockheed Martin C-130 Hercules aircraft in a meeting with Pakistani air force chief Air Chief Marshal Kaleem Saadat, the US embassy said in a statement.
"The purchase (by Pakistan) not only improves the defense capability of Pakistan, it also enhances its ability to conduct humanitarian relief missions throughout the region," the statement on its website said.
The sale, funded by a US government grant, increases Pakistan's fleet of military transport planes to 16, a Pakistani air force spokesman said, noting negotiations for the sale had been underway for several months. [...]
Is The Air Force The Enemy Of Space?
by Publius Rex
Los Angeles - Aug 20, 2003
In the Profile section of the July 14, 2003 issue of Space News was the very telling interview with Gen. John P. Jumper ("Space As A Means -- Not An End In Itself.")
No wonder our spaceflight prospects are as poor as they are what with Blue-Suits like him running everything. I can't believe this man had the gall to say that his pro-space critics "should worry more about winning wars and less about protecting 'pet' projects." [...]
First game-playing DNA computer revealed
Gunman, Woman Dead in Ohio Plant Shooting
Tue Aug 19, 3:55 PM ET
By M.R. KROPKO
Associated Press Writer
ANDOVER, Ohio - An employee armed with four handguns opened fire at an auto supplies plant Tuesday, killing a woman and wounding two others before he was killed, authorities said. [...]
Man Shoots Six at His Surprise Party
Mon Aug 18, 8:43 AM ET

OSLO (Reuters) - A Norwegian accidentally shot and wounded six of his friends at a surprise party to celebrate his 40th birthday, police said on Sunday.

The man found out about the party in a forest cabin in south Norway beforehand and hid behind trees nearby with a shotgun as about 30 guests turned up on Saturday night, hoping to turn the surprise on his friends.
He blasted off one round in the air, meaning it as a joke to shock the partygoers. But when he came out from his hiding place, he tripped and the gun went off again, badly hurting one woman in the legs and slightly injuring five others.
"Seven people were taken to hospital in Fredrikstad including the man who shot. He wasn't physically hurt but in deep shock," a police spokesman said.
The party was canceled.
Driver Accidentally Shoots Self, Dies
POSTED: 10:05 p.m. EDT August 19, 2003
CLOVIS, N.M. -- Police said a Clovis man bled to death after accidentally shooting himself in an apparent attempt to ward off potential attackers.
Officer suspended after shooting 'accident'
By Local London Reporter
A police firearms officer has been suspended from armed duties after "accidentally" shooting a man in the arm. [...]
Attorney to appeal sentence for Clark Co. deputy's son
August 18, 2003
[...] In January, Matthew Randall pleaded guilty for accidentally shooting his 10-year old sister with his father's service pistol.
The judge sentenced the 14-year old to four years in a juvenile prison, saying he's at moderate to high risk to hurt someone else, unless he is supervised 24 hours a day. [...]
Ax murderer asks judge for life
By Rene Stutzman
Sentinel Staff Writer
SANFORD -- Convicted ax murderer John Buzia on Monday asked a judge to spare his life, saying he's sorry he bludgeoned a 71-year-old Oviedo man to death but can't explain why he did it.
The victim was Charles Kersch, a wealthy retiree who hired Buzia, 43, to do carpentry and handy work on his home and rental properties.
"Charles Kersch was my friend," Buzia said Monday during a presentencing hearing. "For me to take this man's life, your honor, it's just beyond comprehension to me." [...]
$300,000 payout for psychotic killer
By Louise Milligan
August 20, 2003
A MAN acquitted of murder because he was psychotic has won a $300,000 payout after suing a hospital for negligently releasing him into the community.
In an unprecedented judgment, NSW Supreme Court judge Michael Adams yesterday awarded Kevin Presland the money for distress and economic loss suffered on remand. [...]
Doctor Arrested for Selling Patients as Wives
Tue Aug 19,10:52 AM ET
BEIJING (Reuters) - Chinese police arrested the director of a psychiatric hospital for drugging female patients and selling them off as wives, a police official said Tuesday.
Dr Wang Chaoying, head of a mental hospital in Huazhou in southern Guangdong, had made more than 20 transactions since 1998 in which he sold patients as wives for "thousands of yuan," the government-owned Qianlong news Web site reported at www.qianlong.com.
"He was arrested for selling women. The case is still under investigation," Ruan Rongzhi, a police officer in Huazhou, told Reuters by telephone when asked about the report. He declined to give details.
Qianlong said the women had been forced to take medicine before they were sold in order to keep the buyers from realizing they were mental patients.
Some of the men later demanded refunds, it said.
China has 70 million bachelors unable to find wives. Men outnumber women as a result of a one-child policy which led to many fetuses of girls, traditionally discriminated against, being aborted.
SARS-Like Virus Puzzles Canadian Researchers
VANCOUVER, British Columbia (Reuters) - A World Health Organization researcher met on Tuesday with Canadian health officials who are puzzled by a new virus that looks like it is linked to SARS but does not act like the deadly illness. [...]
EPIC: Homeless Tracking System Invasive
The Department of Housing and Urban Development has proposed guidelines for Homeless Management Information Systems (HMIS) that are extremely privacy invasive. The system would require communities to collect unique identifiers and health information from everyone who seeks care. This information would be stored for at least seven years, and law enforcement access to the database is broad. [...]
New Lego series: "World City" featuring "Surveillance Truck" and "Surveillance Van"
Ridge: Blackout Was 'Initial Test' for Homeland Security System
[...] "Clearly we still have additional work to do, but it demonstrated again the notion that the federal government has to partner with the states in order to maximize our ability to prevent a crisis or respond to a crisis," Ridge said. [...]
China Readies Super ID Card, a Worry to Some
By DAVID W. CHEN EIJING
New York Times
[S]tarting next year, they will face something new and breathtaking in scale: an electronic card that will store that vital information for all 960 million eligible citizens on chips that the authorities anywhere can access. [...]
Priest silenced for 'unacceptable' sermon
The Toronto Star
Aug. 19, 2003. 01:00 AM
ST. JOHN'S, Nfld. — A Roman Catholic priest who called the church's stance on same-sex marriage hypocritical has been told to keep his opinions out of the pulpit.
Archbishop Brendan O'Brien, head of the St. John's diocese, issued a statement yesterday calling Rev. Paul Lundrigan's sermon "totally unacceptable for a pastor."
It is a pastor's responsibility to present the teachings of the Catholic church, O'Brien said in an interview. [...]
Bites from mystery spider kills one, sends 11 to hospital in Romania
BUCHAREST (AFP) Aug 19, 2003
One man died and 11 people were sent to hospital after they were bitten by an unidentified type of spider that cropped up on the Romanian seabord during Europe's recent heat wave, a local hospital spokesman said Tuesday. [...]
Teen Dies After Prized Fish Stuck in Throat
Tue Aug 19,10:51 AM ET
PHNOM PENH (Reuters) - A Cambodian teenager died of suffocation after a fish he caught jumped out of his hands and lodged in his throat, newspapers reported on Tuesday. [...]
Burglar Finds Bacon Head, Calls Police
Tue Aug 19,10:53 AM ET
LONDON (Reuters) - A British burglar who stumbled on a work of art that he mistook for a human head in a pickle jar was so spooked that he summoned the police to a house he had robbed.
Conceptual artist Richard Morrison had made the head from bacon wrapped around a wire frame floating in a jar of formaldehyde.
After the burglar phoned, police bashed down Morrison's door to raid his house, near Liverpool in northern England. Morrison returned home to find that his house had been broken into twice, once by the burglar and once by the police. [...]
'Dirty Harry' worm cleaning up cyberspace virus
06:42 Wednesday 20th August 2003
An internet "worm" has emerged which is designed to cure rather than crash computers.
The worm - a type of virus - has already been dubbed the "Dirty Harry" of the internet.
Experts say the Nachi worm appears to be designed to combat damage caused by another virus which infected an estimated 300,000 computers worldwide last week.
The Blaster worm spread across the internet using a security hole in Microsoft's Windows software.
According to anti-virus company Sophos, the Nachi worm uses the same hole to download on to computers which do not already have a "patch" designed to fix the problem.
Once inside the computer the Nachi worm looks for the Blaster and, if found, tries to remove it and
automatically download the patch from Microsoft. [...]
Mars in 2003: Which Side Is Visible?
Aug 19 2003
By Alison Dayani, Evening Mail

An unusually high number of UFO sightings have been reported across the Midlands due to the hot weather, say a group of alien spotters.
Cigar-shaped ships, beaming lights in the sky and a Tinkerbell-like being have all been reported to UFO society Contact since June.
Michael Soper, Contact's Midlands spokesman, said there had been 30 clear sightings of UFOs in the Birmingham area which could be put down to the temperatures. [...]
Archaeologists might have found Donner camp

Frank X. Mullen Jr.
RENO GAZETTE-JOURNAL

Archaeologists using ground-penetrating radar might have pinpointed the site of the lower camp of the Donner Party about 30 miles west of Reno and might have found the evidence of cannibalism that has eluded researchers for 150 years.
Artifacts dug up two weeks ago still are being examined, scientists said, but archaeologists located what might be a campfire pit in the area of Alder Creek near Truckee. They also found a bone fragment of a large mammal that bears the butcher marks of an ax. [...]
Forest felled, work to start on 'wisdom of nature' Aichi expo
Whale-like mass found in Arctic

Dublin, Aug 19 - A huge mysterious mass about the size of a whale has been found by scientists lurking in the depths of one of the Ireland's deepest lakes, a National Parks and Wildlife Service (NPWS) spokesman said on Monday. [...]
Blonde jokes to be made illegal in Bosnia
Ananova
Blonde jokes are set to be made illegal in Bosnia under new laws that will enable women to sue people who make jokes about their hair colour. The gender equality law, due to come into effect within the next two months, will make it an offence to tell jokes about women based on their hair colour.
Savima Terzic, director of the International Group for Human Rights, told Bosnian daily newspaper Nezavisne Novine: "The new law on gender equality would enable blonde women to sue anyone who tells jokes that offend them, even if those jokes were just based on the colour of their hair." Blonde jokes are said to be massively popular in Bosnia.
---

Check out the Signs of the Times Archives

Send your comments and article suggestions to us.
---
Fair Use Policy
Contact Webmaster at signs-of-the-times.org
Cassiopaean materials Copyright ©1994-2014 Arkadiusz Jadczyk and Laura Knight-Jadczyk. All rights reserved. "Cassiopaea, Cassiopaean, Cassiopaeans," is a registered trademark of Arkadiusz Jadczyk and Laura Knight-Jadczyk.
Letters addressed to Cassiopaea, Quantum Future School, Ark or Laura, become the property of Arkadiusz Jadczyk and Laura Knight-Jadczyk
Republication and re-dissemination of our copyrighted material in any manner is expressly prohibited without prior written consent.
.