---

Remember, we need your help to collect information on what is going on in your part of the world!


---
Richard Norton-Taylor and Nicholas Watt
Tuesday August 19, 2003
The Guardian
One of the prime minister's closest advisers issued a private warning that it would be wrong for Tony Blair to claim Iraq's banned weapons programme showed Saddam Hussein presented an "imminent threat" to the west or even his Arab neighbours.
In a message that goes to the heart of the government's case for war, the Downing Street chief of staff, Jonathan Powell, raised serious doubts about the nature of September's Downing Street dossier on Iraq's banned weapons.
"We will need to make it clear in launching the document that we do not claim that we have evidence that he is an imminent threat," Mr Powell wrote on September 17, a week before the document was finally published.
His remarks urging caution contrasted with the chilling language used by Mr Blair in a passionate speech in the Commons as he launched the dossier a week later.
He described Iraq's prog-ramme for weapons of mass destruction as "active, detailed, and growing ... It is up and running now".
The fact the three closest men to the prime minister knew of this information strongly suggests Mr Blair would have been aware.
The e-mails, the rewritten dossier and how No 10 made its case for war
By Kim Sengupta and Nigel Morris
19 August 2003
The extent to which Downing Street sought to convince a doubting British public of the need to go to war in Iraq was exposed before the Hutton inquiry yesterday.
Hitherto unpublished official papers disclosed at the inquiry showed grave doubts at the highest level of government about its own case for supporting the invasion of Iraq.
Jonathan Powell, Tony Blair's chief of staff, admitted a week before the publication of the Iraq weapons dossier that it did "nothing to demonstrate a threat, let alone an imminent threat from Saddam", the inquiry was told yesterday. [...]
Adding indifference to injury

At least 20,000 civilians were injured in the Iraq war: Why are the occupiers ignoring their suffering and their needs?

August 7th 2003
Extraction of media-reported civilian injuries from the Iraq Body Count database and archive of war reports provides evidence of at least 20,000 civilian injuries on top of the maximum reported 7798 deaths. 8,000 of these injuries were in the Baghdad area alone, suggesting that the full, countrywide picture, as with deaths, is yet to emerge.
US troops 'crazy' in killing of cameraman
Jamie Wilson in Baghdad
The Guardian
Journalists who were with a Reuters news cameraman shot dead by US troops while filming outside a Baghdad prison yesterday accused the soldiers of behaving in a "crazy" and negligent fashion.
They claimed the Americans had spotted the Reuters crew outside the jail half an hour before Mazen Dana was killed and must have realised he was not a guerrilla carrying a rocket-propelled grenade launcher. [...]
Stephan Breitner, of France 2 television, added: "We were all there for at least half an hour. They knew we were journalists. After they shot Mazen, they aimed their guns at us. I don't think it was an accident. They are very tense. They are crazy." [...]
Witnesses: Killing of cameraman by US troops in Iraq - ''not accident''
18-08-2003,13 :40
Foreign journalists in Iraq Monday accused American soldiers of negligence in the shooting death of a Reuters cameraman, saying it was clear the victim was a newsman when soldiers on two tanks opened fire.
Mazen Dana, a Reuters cameraman was shot dead Sunday while working near a U.S.-run prison on the outskirts of Baghdad that earlier was hit by a mortar attack, the AP said.
Dana, 41 , was filming outside Abu Ghraib prison in western Baghdad when he was shot, Reuters added. A U.S. military official said Dana was shot by US troops.
Witnesses said Dana was dressed in civilian clothes. "We were all there, for at least half an hour. They knew we were journalists. After they shot Mazen, they aimed their guns at us. I don't think it was accident. They are very tense. They are crazy," said Stephan Breitner of France 2 television.
Comment: Mazen Dana was not only a Reuters cameraman, he was also Palestinian. The other journalists on the scene all said that this was not an accident.
Blast Rips Through UN Headquarters in Baghdad
August 19, 2003 09:40 AM ET
BAGHDAD (Reuters) - A car bomb explosion tore through the United Nations headquarters in Baghdad on Tuesday, destroying part of the building, and witnesses said at least three people were killed and dozens wounded. [...]
U.S. Soldier Killed in Baghdad Blast
By TAREK AL-ISSAWI, Associated Press Writer
Mon Aug 18, 9:59 PM ET
BAGHDAD, Iraq - An American soldier was killed by an explosive device in Baghdad Monday as the top U.S. civilian administrator said that attacks by saboteurs on Iraq's decrepit infrastructure and oil industry have cost the economy billions of dollars. [...]
Saudis in Iraq ' preparing for a holy war'
By Mark Huband in London
08/18/03: (Financial Times) Increasing numbers of Saudi Arabian Islamists are crossing the border into Iraq in preparation for a jihad, or holy war, against US and UK forces, security and Islamist sources have warned.
A senior western counter-terrorism official on Monday said the presence of foreign fighters in Iraq was "extremely worrying". [...]
Sabotage Costing Iraq Billions, Bremer Says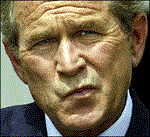 Idiot or Liar? Either Way, Bush Is Unfit for Office
John V. Whitbeck • Special to Arab News

JEDDAH, 19 August 2003 — On July 25, President George W. Bush made a truly staggering statement to the press after a meeting with UN Secretary-General Kofi Annan:
"The fundamental question is, did Saddam Hussein have a weapons program? And the answer is, absolutely. And we gave him a chance to allow inspectors in, and he wouldn't let them in. And therefore, after a reasonable request, we decided to remove him from power, along with other nations, so as to make sure he was not a threat to the United States and our friends and allies in the region."
This statement is worth reading carefully. The president of the United States has stated, in a public forum, that he invaded Iraq because Saddam Hussein would not allow weapons inspectors back into his country.
So far as I am aware, this statement has not been the subject of any serious critical analysis in the mainstream American media.
I will therefore provide my own brief analysis. [...]
American voters have two choices: Bush or Bush-lite
To win in 2004, Democrats must confront the hard right
Hugo Young in Vermont
Tuesday August 19, 2003
The Guardian

[...] What's going on in America as the 2004 election begins is unnervingly the opposite. It's one of the more extraordinary spectacles a political scientist, or journalist, let alone a professional politician, could encounter. George Bush is running his campaign from the same fringe position as the one he has adopted for his presidency.
This is a hard-right administration offering virtually no concessions to the soothing niceties that might make it more electorally attractive to voters who are not Republicans. Its tax policy is grotesquely loaded against the masses and in favour of the rich. Its bias on the environment unfailingly comes out on the side of the big commercial interests. It is daily tearing up tracts of policy and practice that protected the basic rights of people snared in the justice system. It is the hardest right administration since Herbert Hoover's from a very different era. And, which is the point, delights in being so. There is no apology or cover-up.
But even that isn't the most striking thing about the set-up as it now stands. For this we have to turn to the Democrats. Unlike Bush, many Democrats are sticking to the conventional wisdom. They grope for some kind of centre ground. But so far has the territory shifted, thanks to the Republicans' shameless stakeout on the hard right, that their quest continues to drain their party of most of its meaning and any of its capacity to inspire. [...]
For one thing, many Democrats seem to have forgotten that they did win the election last time. For four years it has been idle to challenge the Florida vote and the bizarre workings of the electoral college, but now is the time to recall that in 2000 half a million more Americans voted for Al Gore's progressive version of the future than Bush's more conservative one.
UNSEAL THE PRESIDENTIAL PAPERS
[...] WHAT HAPPENED: On Nov. 1, 2001, President Bush issued an executive order that gave himself -- as well as former presidents -- the right to veto requests to any presidential records. This order openly violated the Presidential Records Act passed by Congress in 1978. It ignited a firestorm of protest from historians and journalists and makes the papers of Presidents Reagan, Bush and Clinton inaccessible to public scrutiny. [...]
Inside Bohemian Grove: US Elites Celebrate Patriarchy, Racism and Class Privilege
By PETER PHILLIPS
CounterPunch
San Francisco Bohemian Club members and guests from around the world recently completed two weeks of celebration, self entertainment and partying at their private 2,700 acre redwood retreat on the Russian River in Sonoma County, California. Described as the "Greatest Men's Party on Earth," the members of the Club and international elites have been gathering in their redwoods for over 100 years. [...]
The Bohemian Grove summer gathering brings together the top business elite of California along with hundreds of men from leadership positions in government, education, business, military, and the arts from throughout the United States and the world. Foremost among attendees are former Republican presidents, numerous current and past U.S. cabinet members; military generals, famous actors; members of national policy councils, and CEOs and directors of hundreds of the largest corporations in the world. It is safe to say that the Bohemian Grove is one of the few locations in the world where such a large high level gathering of elites occurs without press coverage or public scrutiny. [...]
On June 4, 1994 a presentation at the Grove from a University of California Berkeley professor stressed that, elites are important and must set the values for society that are translated into "standards of authority," and that elites cannot allow the "unqualified masses" to carry out policy. The speech was given an enthusiastic standing ovation by the over 1,000 men present and seemed to represent the feelings of many club members. [...]
Comment: This bizarre idea that an elite should lead the masses for the poor slobs own good has been with us for a long time. What are the fruits for such a logical fallacy?
Look around. We have war, poverty, starvation, homelessness, jails stressed to capacity, etc. They probably interpret these horrors as proof that an elite is necessary, and that they are just the man for the job. Never mind that they are usually culpable in such atrocities, and their wealth is often directly tied to maintaining the status quo, or worse, directly profiting from tragedy and mayhem.
The elites run off to their mutual admiration society while the world burns around them, and them along with it. They exhibit a complete inability to project themselves in the future they are helping to create.
This idea of an elite has often tainted those who are seekers with a self-perceived spiritual bent rather than a materialistic agenda. Boris Mouravieff fell under the spell of the concept of a global elite who would lead the masses out of the quagmire, which is made rather evident when he strayed from just transcribing the tradition he rediscovered and decided to throw in his own interpretations. He seemed to think that an elite could save the world.
The only way someone could espouse such silliness is if they perceive themselves as part of the elite. Not exactly a display of humility.
Our work is to understand what it is, to SEE, but not to anticipate what should be. How can anyone declare themselves grand enough to know what is good for all of humanity?
Beware of VICTORY Act, Privacy Group Warns
(CNSNews.com) - A consumer watchdog group is sounding an alarm over legislation that hasn't even been introduced yet.
The National Consumer Coalition's Privacy Group recently read a draft copy of the VICTORY Act, which "has some chilling implications for consumer privacy," the group said.
VICTORY stands for Vital Interdiction of Criminal Terrorist Organizations Act of 2003.
Attorney General John Ashcroft plans to promote both the VICTORY Act and the USA PATRIOT Act on his ten-day, 20-stop tour of America, which begins on Tuesday, Aug. 19.
According to the NCC's Privacy Group, the VICTORY legislation is "a grab-bag of enhanced police-state powers." [...]
Court: Fake checkpoints OK in search for motorists' illegal drugs

Sunday, August 17, 2003
DENVER, Colorado (AP) -- Colorado police can set up fake checkpoints in hopes of sniffing out illegal drugs, an appeals court ruled in a case where camouflage-clad officers spied on fans during a bluegrass festival in 2000.
Thursday's ruling, which reversed an earlier finding, was based on a federal appeals court decision last year in a similar case in Oklahoma.
Police at the Telluride festival had posted signs along the road saying, "Narcotics checkpoint, one mile ahead" and "Narcotics canine ahead." Officers wearing camouflage hid on a hill and watched for any people who turned around or appeared to toss drugs out of their windows after seeing the signs.
'Stakeknife' loses bid to quash spy claim
Ted Oliver
Tuesday August 19, 2003
The Guardian
A Belfast man lost his legal bid yesterday to force the government to deny that he was a spy for the British army.
Freddie Scappaticci, 59, was named earlier this year as the agent known as Stakeknife ,said to have been the most important mole ever placed within the highest reaches of the Provisional IRA.
Mr Scappaticci claimed that his life had been placed in danger by the allegations, which he had publicly denied, and sought a judicial review to make the Northern Ireland security minister, Jane Kennedy, confirm that he had not been a British agent.
She had consistently refused to make any statement, saying that the government did not comment on intelligence matters, including the naming of agents. [...]
Intelligence sources claimed he had been a leading member of the IRA's "nutting squad", responsible for interrogating and often executing suspected informers for around 20 years.
It was claimed that he had been recruited by the secretive force research unit in 1978 and passed high-grade information for almost two decades.
It was also alleged that he had been responsible for around 50 killings and that some of those murders had been allowed to be carried out with the prior knowledge and approval of his army handlers.
30% of black men in US will go to jail
Gary Younge in New York
Tuesday August 19, 2003
The Guardian
Black men born in the United States in 2001 will have a one in three chance of going to prison during their lifetime if current trends continue, according to a report by the US justice department.
More than 5.6 million Americans are either in prison or have served time there - and that number will continue to rise, the report shows.
By the end of 2001 one in every 37 Americans had some experience of prison, compared with one in 53 in 1974. Continuing at that rate, the proportion will increase to one in every 15 of those born in 2001.
In 2001 a sixth of African-American men were current or former prisoners, compared with one in 13 Latinos and one in 38 whites. The incarceration of women remains lower than of men but has increased at twice the rate since 1980 and shows similar racial disparities.
"Prison had become the social policy of choice for low income people of colour," says Marc Mauer, assistant director of the Sentencing Project, a group which promotes reduced reliance on imprisonment. "Nobody's stated it that way but we have inner-city areas starved of investment but no shortage of funds to build and fill prisons."
Bureau of Justice Statistics

Prison Statistics Summary findings
On December 31, 2002,
-- 2,033,331 prisoners were held in Federal or State prisons or in local jails -- the total increased 3.7% from yearend 2001.
There were an estimated 476 prison inmates per 100,000 U.S. residents -- up from 411 at yearend 1995.
The number of women under the jurisdiction of State or Federal prison authorities increased 4.9% from December 31, 2001 to December 31, 2002, reaching 97,491. The number of men rose 2.4%, totaling 1,343,164 at yearend 2002.

At yearend 2002 there were 3,437 sentenced black male prisoners per 100,000 black males in the United States, compared to 1,176 sentenced Hispanic male inmates per 100,000 Hispanic males and 450 white male inmates per 100,000 white males
New anti-money laundering law blocks thousands of Israeli bank accounts
August19 ,2003
Thousands of Israeli bank accounts were blocked yesterday as a consequence of the nation's new anti-money laundering law, which came into effect Monday, August18 ,2003 . Some20,000 corporate bank accounts have been affected, reported Haaretz.
Due to the concern that the state of Israel has become a base for widespread money laundering, the government established the Prohibition on Money Laundering Law in 2000 . The law imposes identification, record retaining and reporting obligations on providers of financial services. Monetary sanctions are imposed for failure to comply with these criteria.
Israel insists to reopen Temple Mount to Jews
19-08-2003
Israel's Internal Security Minister Tzachi Hanegbi restated Tuesday his intention to reopen the Temple Mount, Islam's third holiest site, to Jewish visitors by the end of the week, Israel Radio reported.
Jerusalem police have been preparing for renewed visits of Jews to the Temple Mount, following Hanegbi's statement last week that the Temple Mount would open "to Jews, tourists and non-Muslim pilgrims next week, even if there is no agreement with the Waqf (Muslim religious Trust)."
For his part, Adnan Al Husseini, manager of the Waqf, had said the minister's statement was "an unnecessary provocation" and denied there was any agreement between the Waqf and the Israeli police about letting "Christian or Jewish" tourists onto the plaza.
"The waqf is the only authority on the Mount, and it will ultimately decide who can enter and who can leave," he made clear. (Albawaba.com)
Chamber of Deputies repeals laws pardoning repressors
Havana. August 14, 2003
BUENOS AIRES.— After 17 years of calls for justice in relation to the crimes perpetrated during the last military dictatorship (1976-1983), Argentines are today celebrating the vote in favor of repealing the laws of Due Obedience and Final Point.
In a tense and prolonged session resulting in an unanimous vote, the Chamber of Deputies last night declared the annulment of the laws of pardon that benefited hundreds of soldiers and police agents responsible for the murder and disappearances of 30,000 people in the 1970s and '80s.
Next week the deputies' sanction goes before the Senate, which must ratify or revoke it. If the Senate endorses the repeal, this would represent a firm step in bringing to trial the authors of crimes against humanity, currently protected under those rulings.
S Korea fires on N Korean boat
South Korean warships have fired warning shots at a North Korean vessel in the Yellow Sea.
According to Seoul's Joint Chiefs of Staff, the 10-tonne North Korean boat crossed into South Korean waters this afternoon.
A fleet of South Korean patrol boats fired five warning shots and the vessel quickly retreated.
It is the 15th maritime border violation this year and comes at a particularly sensitive time.
Later in the month the two Koreas, along with the United States, Japan, China and Russia, will meet to discuss Pyongyang's nuclear weapons program. [...]
Four death sentences handed down in Casablanca blast trial

Tuesday August 19, 12:29 PM

A Casablanca criminal court handed down death sentences on four of 87 defendants being tried for the May 16 suicide bombings in Morocco's economic hub. [...]
Prison sentences ranging from 10 months to life were handed to the rest of the accused, all suspected members of the Islamic extremist Salafia Jihadia movement who have been on trial since July 21, accused of "acts of sabotage and murder, undermining internal state security, and criminal association."
The death sentences were given to three would-be suicide bombers who decided not to go ahead at the last moment, on the evening of the attacks. They were Mohamed El Omari, a 23-year-old night watchman, Rachid Jalil, a 27-year-old welder, and Yassine Lahnech, a 22-year-old travelling salesman. [...]
Muslim Charity Leader Gets 11 Years
By MIKE ROBINSON, Associated Press Writer
Mon Aug 18, 9:54 PM ET
CHICAGO - A Muslim charity leader linked by prosecutors to Osama bin Laden was sentenced Monday to more than 11 years in federal prison for defrauding donors by diverting money intended for refugees to Islamic military groups. [...]
Arnaout (pronounced ARE-not) pleaded guilty to a racketeering charge, admitting that he diverted thousands of dollars from his Benevolence International Foundation to pay for boots, tents, uniforms and other supplies to military groups in Bosnia and Chechnya. [...]
Defense attorney Joseph Duffy said Arnaout helped military groups in Bosnia to get access to widows and orphans in areas under military control.
"This man has spent his life helping people in need," Duffy said. [...]
Taliban strike back with deadly assaults
By Phil Reeves, Asia Correspondent
19 August 2003
The Taliban have hit back in Afghanistan with two assaults involving hundreds of anti-government fighters, officials said. At least 25 people were killed in the attacks on two police stations within hours of each other in the south-east.
The violence pushed the nationwide death toll of the past week towards three figures, 20 months after forces led by the United States threw out the Taliban government in response to the 11 September terrorist attacks on America.
Comment: Threw out the Taliban and replaced them with the equally brutual "northern alliance" who were willing to comply with US plans to restart and take control of the country's opium production.
YOUNG WOMAN SENTENCED TO 90 LASHES
Peace/Justice, Brief
The decision of the Supreme Federal Court in the United Arab Emirates to reject an appeal presented by a 15-year-old girl sentenced to 90 lashes for committing adultery, arose wide disdain among 'foreign residents'. The sad news, reported by the 'Gulf News Daily' paper, is however surrounded by mystery, given that neither the girl's name nor nationality are known, though the paper refers that she is a foreigner and once her sentence is carried out she will be expelled. While in regard to the man, with whom she allegedly engaged in an "illicit relation", the paper mentioned a sentence issued also against him, without however providing details.
Pick-up truck provides clue in hunt for sniper
By Andrew Buncombe in Washington
19 August 2003
Police in West Virginia believe they may be dealing with a serial killer after three people died in shootings that echoed last year's sniper killings in the Washington area.
Officers were increasing patrols and making door-to-door inquiries yesterday after the three apparently random attacks. Police, who are being assisted by detectives from the Washington sniper case, said that in each of the killings the gunman used a small-calibre weapon fired at close range to the head or neck.
Their efforts concentrated on tracing a black pick-up truck with gold trim, which was spotted near the scene of one of the shootings. They were all in or near the state capital, Charleston. The only other description that police have been able to offer is that the killer may be a "large white male". [...]
Bomb rips through home of the brother of Afghan president; no injuries
04:50 AM EDT Aug 19
KANDAHAR, Afghanistan (AP) - A bomb ripped through the home of the brother of President Hamid Karzai on Tuesday, causing no injuries but sending clouds of black smoke billowing from the sprawling compound in southern Afghanistan.
Police said the bomb went off inside Ahmed Wali Karzai's house, but so far no one has taken responsibility. Kandahar is the traditional home of Karzai as well as the spiritual headquarters of the former Taliban regime ousted in the 2001 U.S.-led coalition war on terror. The area around the younger Karzai's home has been cordoned off.
There was no immediate comment from the Afghan president, who was the target of an assassination attempt in southern Kandahar on Sept. 5, 2002. In that attempt, the president escaped injury and his assailant was killed by U.S. military bodyguards.
The police have so far not said who was behind the bombing but the authorities previously blamed a resurgent Taliban and their allies for attacks in the south and east of Afghanistan...
Attacks by anti-government insurgents have become increasingly bold and deadly with hundreds of rebels reportedly attacking police stations in eastern Afghanistan in recent days. Several policemen have been killed and others have been captured.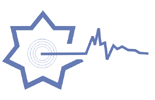 M4.7 quake jolts Tokyo, vicinity
Tuesday, August 19, 2003 at 07:28 JST

TOKYO — An earthquake registering an estimated magnitude of 4.7 on the Richter scale hit the Kanto region, including Tokyo, on Monday evening, the Japan Meteorological Agency said.
There were no immediate reports of casualties or damage from the 6:59 p.m. quake. No tsunami warning was issued. (Kyodo News)
Beijing, Aug. 18. (PTI): A strong earthquake measuring 5.7 on the Richter scale jolted southwest China's Tibet today, but there is no report of any casualty or damage.
The quake occurred at 17:03 hrs (14:33 hrs IST) in an area between Medog, Bomi and Nyingchi counties (29.6 degrees latitude north and 95.6 degrees longitude east) in eastern Tibet.
The epicentre of the quake was in a mountainous area 4,000 meters above sea level, according to the bureau.
The latest quake comes two days after a 5.9 magnitude quake struck north China's inner Mongolia, killing three people and injuring over 1,000.
Earthquake rattles area southeast of Nikolski
ANCHORAGE (AP) A moderate earthquake shook the area southeast of Nikolski on Sunday night.
The quake struck at 8:42 p.m. and had a preliminary magnitude of 5.1, according to the Alaska Tsunami Warning Center.
Earthquake detected near Newark last week
1:45 p.m., Aug. 18, 2003--A small earthquake occurred near Newark at 5:46 p.m. Wednesday, Aug. 13, according to the Delaware Geological Survey (DGS) at the University of Delaware. The earthquake, recorded approximately two miles northeast of Newark, had a magnitude of about 1.7, the DGS said.
It is the first to occur in Delaware since four small earthquakes were recorded in the Wilmington area in 1998. A quake of magnitude 2.5 to 3 is the smallest generally felt by people. [...]
Earthquake hits southern Japan
Tuesday, August 19, 2003
Tokyo (AP) : A moderate earthquake shook southern Japan today, but there were no immediate reports of damage or injuries.
The temblor, with a preliminary magnitude of 5, struck at 04:27 GMT (09:57 IST). There was no danger of powerful ocean waves caused by seismic activity, the local metrological agency said.
The quake was centered 10 kilometers underground off the shores of Amami-Oshima, an island about 1,375 kilometers southwest of Tokyo.
It was felt most strongly in the northern part of Amami-Oshima, in the prefecture of Kagoshima. Japan is one of the world's most earthquake-prone countries. It sits atop four tectonic plates – slabs that move across the earth's surface.
Antarctic evidence to help global warming predictions
[...] Kiwi scientists are leading a $27 million, 10-year research project at Antarctica to figure out how global warming will affect global sea levels in the next century. [...]
Global warming theories may be blown out of the water at Fallen Leaf Lake
By Gregory Crofton
Tahoe Daily Tribune
[...] Kleppe is betting the perfectly preserved trees deep in the lake hold key historical climate information about the Sierra Nevada. He theorizes that carbon dating and the study of tree rings will indicate periods of extreme dry weather that arrived in 400-year cycles.
"I think we're sneaking up on it," said Kleppe, with a glint in his eye and a keen grasp of science, nature and ecological systems. "I think the trees out here might hold a secret."
If dry periods come in cycles, then maybe it's not the Industrial Age or the aerosol can that caused global warming. Maybe it's the sun, Kleppe said. [...]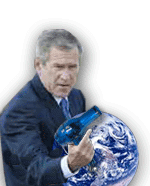 A test case for Bush

NYT
Monday, August 18, 2003
President George W. Bush is barnstorming the United States these days trying to burnish his meager environmental credentials. Mostly he's just talking.
There is, however, one urgent matter that he could do something about while winning points in the process. The $8 billion plan to restore Florida's threatened Everglades is at a critical point. Decisions taken in the next few weeks may determine whether it lives up to its promise of reviving the South Florida ecosystem or whether it becomes just another water supply project for Florida's booming cities and suburbs. Bush's personal intervention could keep the project from veering off course. It might also send a useful warning to his brother Jeb, whose commitment to restoration has wavered since his re-election as Florida's governor.
Comment: "Natural gas is hemispheric. I like to call it hemispheric in nature because it is a product that we can find in our neighborhoods."—Austin, Texas, Dec. 20, 2000
A year ago Bush was starting his barnstorming for war against Iraq. Is he ready to declare a war on the environment? Or a war For the environment? It would likely amount to the same thing. In an article in the Courier Internationale, they point out the way science is being turned into a political tool in the US. Only scientific evidence that matches the political goals of the Bush Reich is permitted to be published and is used to back up their arguments. This is, of course, a travesty of science. But given the Commander in Belief gets his marching orders directly from God himself, we aren't too surprised. Science also shows that the earth is a year or two older than the Biblical timeline promoted as "science" by the minions of the fundamentalist god.
"First, we would not accept a treaty that would not have been ratified, nor a treaty that I thought made sense for the country." —George W. Bush, on the Kyoto accord, April 24, 2001
France's health minister admits up to 5,000 could have died in heat wave as he defends response
JAMEY KEATEN, Associated Press Writer
Monday, August 18, 2003
PARIS (AP) --
A senior French health official resigned Monday after the health minister acknowledged that as many as 5,000 people might have died in a blistering heat wave.
Lucien Abenhaim, director general of health, sent a letter to Health Minister Jean-Francois Mattei saying he would resign because of intense criticism leveled at the government over its handling of the heat wave earlier this month. Mattei accepted the resignation.
Abenhaim suggested that the criticism faced by the government was unfair.
"We faced a heat wave catastrophe the likes of which had not been seen for more than 100 years," he said on France-Info radio. "But clearly in our country we tend a bit to look for scapegoats, which is totally unacceptable."
The departure was likely to step up pressure on Mattei, who has also faced calls to resign. Earlier Monday, Mattei acknowledged that it is "plausible" that up to 5,000 people could have died during the heat wave but said a final toll would not be known for weeks.
WWII wrecks emerge from Danube in Croatia due to drought

ZAGREB (AFP) Aug 18, 2003
The wrecks of a German tank, two military jeeps and a truck dating from World War II emerged from the Danube in eastern Croatia as the result of a severe drought that has caused record low water levels, the HINA news agency reported Monday.
The wrecks dating from a 1943 battle between the Germans, the Soviet Red Army and Yugoslav partisan forces were found at the place of the wartime pontoon bridge in Batina, near the eastern town of Osijek, it added.
The site is being secured by police as it is suspected to contain explosive devices left from the war.
Remains of some 1,300 soldiers, mostly Russians, are buried in a memorial cemetery nearby.
In Croatia, suffering through its worst drought in 50 years, the water level of the Danube has fallen 45 centimeters (about 18 inches) below the average level.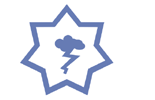 Two killed as France lashed by storms

GRENOBLE, France (AFP) Aug 18, 2003
The weather continued to challenge France's emergency services Monday as brief but brutal storms lashed the south and east, days after a gruelling heatwave.
At least two people were killed in the Alps -- a man who drowned when his small boat capsized on a lake and a 37-year-old motorcyclist who was struck by a falling tree -- and some railway lines disrupted for several hours, officials said. [...]
Sequoia Crushes SUV In National Park
KTVU
4:46 p.m. PDT August 18, 2003
SEQUOIA NATIONAL PARK, Calif. -- A 200-foot-tall giant sequoia tree fell along Sequoia National Park's main road, crushing a vehicle into a several-foot high pile of crumpled metal, park officials said Monday.
The tree, believed to be approximately 1,000 years old, fell Sunday at about 5:15 p.m. along the Generals Highway several miles east of the Giant Forest Museum, said park spokeswoman Alexandra Picavet.
No one was injured but the Jeep Grand Cherokee was destroyed, Picavet said. [...]
By Helen Briggs
BBC News Online science reporter
Humans could be living on the Moon within 20 years, says a leading lunar scientist.
According to Bernard Foing of the European Space Agency, the technology will soon exist to set up an outpost for visiting astronauts.
However, political will is needed to inspire the public to support the initiative.
"We believe that technologically it's possible," the project scientist on Europe's first Moon mission, Smart-1, told BBC News Online.
"But it will depend in the end on the political will to go and establish a human base for preparing for colonisation of the Moon or to be used as a refuge for the human species."
Comment: Curious comment, isn't it? Wonder why the human species would be needing a "refuge" on the moon...
OHSU researchers publish final results of groundbreaking smallpox vaccination study
Study results show smallpox death toll may be lower than expected in the event of an outbreak and one vaccination may be as effective as many
PORTLAND, Ore.– Final results of a smallpox vaccine study conducted by researchers at Oregon Health & Science University show America's preparedness for a smallpox outbreak may be greater than initially thought. The research shows 90 percent of those vaccinated 25 to 75 years ago maintain a substantial level of immunity. In addition, researchers concluded that in the long term, repeated vaccinations do not result in a higher level of disease protection. The research project is the largest of its kind ever conducted. The study is printed in the September edition of Nature Medicine. [...]
Super Mosquito in Mecklenburg County
August 17, 2003

(Charlotte-AP) State health officials say a new type of mosquito that's more likely to carry and transmit West Nile virus has been found in two North Carolina counties. The Asian bush mosquito has been found in traps in Mecklenburg and Cabarrus counties, and state health officials say it's likely to move east. [...]
US rise in Alzheimer's 'may ruin health care'
By Jeremy Laurance, Health Editor
19 August 2003
A cataclysmic warning that the US health system could be overwhelmed by the growth in the number of elderly Americans suffering from Alzheimer's disease was made by researchers yesterday. [...]
Sheldon Goldberg, president of the Alzheimer's Association, which funded the study, said: "If left unchecked it is no exaggeration to say that Alzheimer's disease will destroy the healthcare system and bankrupt Medicare and Medicaid." [...]
Alzheimer's will triple by 2050: scientists
Last Updated Mon, 18 Aug 2003 13:39:52
CHICAGO - The number of older Americans with Alzheimer's disease could triple by 2050 unless new treatments are found, neurologists say.
Scientists at the Rush-Presbyterian-St. Luke's Medical Center in Chicago say their projection shows how big the problem of Alzheimer's will be as the population ages.
The neurologists project that 13.2 million older people in the U.S. will have the disease by the middle of the century, compared to 4.5 million today.
Comment: We have posted links to several scientific studies that show that learning and thinking are the best preventative for Alzheimer's disease. It seems obvious that it is very dangerous to our health when we believe we have it all figured out, and stop learning.
Slow transfer of oil from tanker grounded off Pakistani coast
KARACHI (AFP) Aug 18, 2003
Pakistani authorities trying to contain a massive oil spill off the Arabian Sea city of Karachi have managed to salvage one-sixth of the oil still contained in a grounded tanker, they said Monday.
Al Qaida claims responsibility for blackout
SPECIAL TO WORLD TRIBUNE.COM
Monday, August 18, 2003
Al Qaida's Abu Hafs Brigades has claimed responsibility for the blackout last week in the Northeast and Midwest United States. A communiqué by the Abu Hafs Brigades made reference to Operation Quick Lightning in the Land of the Tyrant of this Generation."
It was published as "the third communiqué by the "Brigades."
In the first, they accepted responsibility for the downing of an airplane in Kenya. The second accepted responsibility for the Jakarta bombing of the Marriott hotel on August 5, 2003.
The new communiqué says that in compliance with the orders of Osama bin Laden to strike at the American economy, the Brigades struck two important electricity supply targets on the East coast, according to the Middle East Media Research Institute. The Brigades say that they cannot reveal how they did it, because they will probably have to use the same method again soon. The communiqué also claimed that the operation was meant as a present for the Iraqi people.
"The communiqué ended with: 'we tell the Muslims that this is not the awaited strike, but it is called the war of skirmishes (to drain the enemy), and that the American snakes are enormous and need to be consumed and weakened to be destroyed. We tell the people of Afghanistan and Kashmir that the gift of Sheikh Osama bin Laden is on its way to the White House; then the gift of Al Aqsa, and do we know what is the gift of Al Aqsa, where and when? The answer is what you are seeing!'
Comment: Apparently "al-Qaeda" have now also claimed responsibility for what they termed the "holy pretzel attack" on George Bush. Osama revealed that a member of his loyal martyrs brigade, cleverly disguised as a pretzel, was smuggled into the oval office last year where he unleashed his holy jihad against "the great American snake leader Bush".
NOAA POSTS IMAGES ONLINE OF NORTHEAST BLACKOUT
FCC Chairman Warns of More Regulation

By DAVID HO
The Associated Press
Monday, August 18, 2003; 12:55 PM
ASPEN, Colo. - Federal Communications Commission Chairman Michael Powell said Monday the threat of terrorism and the "despicable activity" of some companies has led to a shift toward more regulation that could harm innovation and the economy.
"I do see a mood swing in Washington. I see a mood swing in the country," Powell said at the Aspen Summit, a technology and telecommunications summit held by the Progress and Freedom Foundation, a Washington think tank.
Powell said he worries about the rising belief that regulations do a better job than free markets because "the telecommunications sector and the high-tech sector are at a point in history where they can ill afford to be lined up with that kind of thinking."
He also said industry bears much of the blame. The litany of corporate fraud cases has undermined the public's trust and generated support for more regulations.
"The despicable activity engaged in by Enron and MCI and Adelphia - and the list is long - violates the trust of their employees, violates the trust of the market, violates the trust of consumers and people cry out to be protected," he said. Powell said the government must respond, but should avoid going too far.
Powell also said again that despite recent criticism, he won't quit his job.
"I'm going to stick around. Absolutely," he said.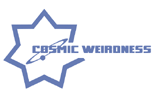 UFOs blamed for outage in 1965
Siri Agrell
National Post
[...] The blackout 38 years ago was similar to last week's outage in many ways. The "Great Northeast Blackout" of 1965 began at 5:16 p.m., near the end of a normal workday. The power grid broke up four seconds after the initial disturbance. New York, Ontario, most of New England and parts of New Jersey and Pennsylvania went black within five minutes, leaving 30 million people without electricity for as long as 13 hours.
In his 1979 book, UFO Canada, Yurko Bondarchuk writes some believers went so far as to accuse then-prime minister Lester B. Pearson for covering up alien involvement in the 1965 blackout.
"To shift attention from the UFO explanation, the 'broken relay' story was invented," Mr. Bondarchuk quotes U.S. ufologist Donald Keyhoe as saying. "Since this could be construed as blaming Canada, the prime minister must have been convinced it was best for both countries not to disclose the true situation." [...]
Gov't May Play Bigger Post-Blackout Role
By BRAD FOSS, AP Business Writer
Mon Aug 18, 7:43 PM ET
WASHINGTON - The companies that deliver electricity have had little incentive to make the kinds of capital improvements that might have helped contain last week's blackout. For that to change, experts say, utilities will need to be allowed to charge more for power.
And that could mean greater government intervention in the market. [...]
NYC Economy Loses $1 Billion in Blackout
Reuters
Monday, August 18, 2003; 4:28 PM
NEW YORK (Reuters) - The 29-hour blackout that hit New York City on Thursday cost its economy about $1.05 billion or $36 million per hour, city officials said on Monday.
The power outage kept about $800 million of economic activity from taking place and destroyed $250 million of perishable goods in the Big Apple, according to New York City Comptroller William Thompson.
"That does not include lost tax revenues or overtime pay," said Michael Egbert, assistant press secretary for Thompson. [...]
Baby beaten on Sydney street released from hospital
Associated Press
08:01 Tuesday 19th August 2003
A five-week-old baby who suffered a fractured skull when a gang of youths beat up her father has been released from a Sydney hospital.
Elizabeth Nunes has been the focal point of a national debate about gang violence in Australian cities since the brutal attack last Thursday.
Residents say violent gang-related crime is on the increase, while police and crime statisticians say figures show it is actually falling. [...]
Man given toilet duty for urinating on prisoners
Associated Press
08:07 Tuesday 19th August 2003
A US prison guard has been ordered to scrub toilets for 15 days after he urinated onto inmates playing basketball. [...]
Hastings, 23, was also given two years of probation and 150 hours of community service after being convicted of four counts of assault. [...]
Both guards resigned. Greene County also paid a total of $100,000 to the four inmates.
Escaped prisoner got a job driving a prison bus
14:46 Monday 18th August 2003
An escaped prisoner has been recaptured in Brazil after he got a job - driving a prison bus.
Leandro Luis Sao Pedro escaped Valparaiso prison in Sao Paulo after he failed to return from an authorised day out.
He then got a job driving a mini bus which takes friends and relatives to visit prisoners at another Sao Paulo prison, but was arrested after a routine inspection, reports Folha de Sao Paulo.
A police spokesperson said: "How dumb can you be? You escape prison and then get a job where you drive inside another prison every week?
"He was bound to be recaptured, but he's so unlucky he was caught on his first day at his new job."
Quebec man drove for an hour with body of dead man stuck in windshield
Last Updated Mon, 18 Aug 2003 23:21:38
MONTREAL - Quebec police say a drunk driver hit a group of three men and then continued driving for an hour with the body of an 18-year-old man stuck in the windshield of his car.
Comment: This is perhaps the third story like this we have carried in the last few months. Hit and run driver drives off with a body o the windshield. One lady went home and parked the car in her garage, if I remember correctly, with the body on the hood. She went off to bed.
Strange....
Spanish mugger asked victims to spit at him
Associated Press
08:10 Tuesday 19th August 2003
Police in Barcelona say they've arrested a serial mugger who would target women, express remorse and then ask them to spit at him. [...]
Hard porn and violence on military intranet
Military information technology leaders are considering punitive measures after finding shocking examples of violence and hard pornography on Defense Norway's internal computer network, FISBasis, the magazine Defense Forum reports.
FISBasis has 22,000 users, and is a closed network cleared for information classified as confidential for matters of national security. It now appears that there are no safety checks about what can be loaded up to the network from within, though all activity is logged.
The scandal peaked when IT management made the shock discovery of a 10-second black-and-white video clip of a Chechen soldier having his throat cut and his head partially removed from his body, while his screams are clearly audible. [...]
FAA Clears Global Hawk For Routine Operation In US National Airspace
SpaceDaily.com
San Diego - Aug 18, 2003
The Federal Aviation Administration (FAA) has granted a national Certificate of Authorization (COA) to the U.S. Air Force to routinely fly the Northrop Grumman-produced RQ-4 Global Hawk aerial reconnaissance system in national airspace. The certificate is the first national COA granted for an unmanned air vehicle (UAV) system.
The high altitude, long endurance Global Hawk currently flies in restricted airspace during take-off and landing before quickly ascending to altitudes high above commercial air traffic. The COA paves the way for it to support homeland defense missions in national airspace. [...]
Rebuilt Enola Gay Unveiled in Washington
By Sue Pleming
Mon August 18, 2003 02:12 PM ET
WASHINGTON (Reuters) - It carried the most destructive weapon of World War II and now the Enola Gay, the aircraft that dropped an atomic bomb on Hiroshima, Japan, is going on display at the Smithsonian's Air and Space Museum.
The reassembled B-29 Superfortress was unveiled to the media on Monday in a hangar near Dulles International Airport at the museum's new annex which opens on Dec. 15.
"This airplane is a part of our history and it is a part of who we are," said Dik Daso, curator of the aeronautics division of the museum.
"First Atomic Bomb, Hiroshima, Aug. 6, 1945," are written on the side of the shiny aircraft, with its transparent cockpit nose and defensive machine guns strutting out of the tail.
The Enola Gay unleashed an atomic bomb nicknamed "Little Boy," on the Japanese port city of Hiroshima, killing more than 140,000 people and leaving tens of thousands disfigured and suffering from lingering radiation illness. [...]
The current text for the Enola Gay exhibit does not include casualty figures from Hiroshima or show any photographs of the devastation the bomb caused.
Daso told Reuters that death toll estimates varied widely and the exhibition space did not lend itself to a complicated display including details of the human cost.
"Our role is to provide, artifact and restore it (the Enola Gay) as best we can and allow people to come to see it and let it speak to them. They can come up with what it means to them. I don't need to tell them," said Daso. [...]
Comment: This exhibit is a fitting representation of America. Show them something big and shiny, a symbol of American military might, and they will become teary-eyed as thoughts of the brave men who defeated the Japanese and the Nazis wash over them. Some will even start humming "God Bless America."
But as for the truth: well, we just won't talk about that.
The display cannot be complicated by pesky little facts like the number of Japanese killed or disfigured by the bomb. America doesn't want to be bothered by ethical questions about killing people. Even the curator's reference to the "human cost" is nauseating. It effectively equates those people who perished with stacks of greenbacks, thereby dehumanizing them. Whatever We the People can do to intellectually and emotionally distance themselves from the true horror of the world they are recreating, they will do it. They must do it, for it is apparently too painful and too difficult to do otherwise.
Tiny tech to help big soldiers
By Ian Hardy
BBC ClickOnline
Nanotechnology, the science of manufacturing tiny mechanisms and robots not much bigger than molecules, could soon become a big part of national security in the US. [...]
By the end of this decade, the Objective Force Warrior may be a common sight on the battlefield. Ultra lightweight body armour protects the soldier and the suit is fitted with a wireless computer, video camera and communications devices. [...]
A people at peace with their soldiers at war
By Stewart Nusbaumer
Tuesday, August 19, 2003
I spent most of the summer traveling throughout the United States, looking for an America that was no longer on my television, an America replaced by some ugly, selfish alien nation. Instead of throwing lamps at the screen all summer, I packed a bag and hopped on a plane to California. I figured it would be cheaper to take an extended research trip than replace a few dozen lamps and TVs in my apartment. And I just might learn something. [...]
But the world has certainly changed; America is at war in Iraq. And yet, in California and South Dakota and Michigan and Florida and New York I discovered Americans are not talking about this changed world. Not talking about our dying troops, not talking about an enveloping quagmire sucking our nation into another disaster. Not talking about the war.
But let's remember, President Bush asked Americans not to sacrifice for this war, and they certainly haven't. They aren't even talking about the war. [...]
"If forgetting is the start of all wars," so said Korean War veteran Woody Powell at the Veterans For Peace convention, "then remembering is the start of ending war." But how do you remember when America loves to forget? Does America remember Vietnam? Do Americans remember the horrible cost of war?
So the barbecue sauce of the good life covers the bloody fiasco at our doorstep, a horror waiting to walk straight into a newly devastated heart of America. I see it in the mirror of the past, but America is looking straight ahead, straight into the abyss. [...]
Religion: As researchers study how spiritual experiences happen inside the brain, theologians question the point.
By Jeremy Licht
Sun Staff
[...] But is it also a gift of human brain biology? Mario Beauregard, a University of Montreal neuroscientist, wants to find out exactly what's going on during this most intimate of religious experiences.
To do this, he'll use functional magnetic resonance imaging, positron emission tomography and multichannel electroencephalograms. He hopes to peek inside the minds of nuns as they try to achieve their union with God. "With this knowledge, I think it could be possible to assist people to have some kind of spiritual experience," he says. [...]
Comment: Seeking "god" via biochemistry does not sound like a particularly fruitful endeavor. What do you have after you come down from such a high, but a big bunch of nothing. Certainly not a greater capacity for thought or creativity.
Wilkie circle not a hoax: researcher

Silas Polkinghorne
Saskatchewan News Network
Monday, August 18, 2003

SASKATOON -- A Saskatoon research assistant with the Canadian Crop Circle Research Network says it's highly unlikely a recent crop formation near Wilkie was a hoax.
"I don't know how somebody would have made this," said Beata Van Berkom shortly after returning from the site to collect soil and plant samples and take measurements.
"If a person did this, they've got too much time on their hands, 'cause it would take forever, even if you decided to do it with a board and rope," she said. "It's not going to happen."
But Const. Dean Flaman of Wilkie RCMP said someone has admitted to making the crop circles as a prank between neighbours. [...]
Human Bones Beneath Ben Franklin House
By Jennifer Viegas
Discovery News
Renovation of Benjamin Franklin's London home has revealed everything from a basement pit containing over 1,200 human bones, to the windows where Franklin would sit naked facing the street, according to the Friends of Benjamin Franklin House, the London nonprofit that is readying the house for public tours. [...]
Radioactive nests of Hanford wasps are science fact

By John Stang
Herald staff writer
Just think of what of the wasp larvae of H Reactor could grow up to be.
Maybe something out of a Japanese monster flick.
But Bechtel Hanford is tackling the radioactive mud dauber wasps nests of Hanford's H Reactor complex, while trying to entice the insects to use nonradioactive mud for their homes.
Bechtel first discovered this menace June 26.
The company is tearing down the long-abandoned Cold War plutonium-production reactor's contaminated buildings prior to sealing up the main core chamber. [...]
---

Check out the Signs of the Times Archives

Send your comments and article suggestions to us.
---
Fair Use Policy
Contact Webmaster at signs-of-the-times.org
Cassiopaean materials Copyright ©1994-2014 Arkadiusz Jadczyk and Laura Knight-Jadczyk. All rights reserved. "Cassiopaea, Cassiopaean, Cassiopaeans," is a registered trademark of Arkadiusz Jadczyk and Laura Knight-Jadczyk.
Letters addressed to Cassiopaea, Quantum Future School, Ark or Laura, become the property of Arkadiusz Jadczyk and Laura Knight-Jadczyk
Republication and re-dissemination of our copyrighted material in any manner is expressly prohibited without prior written consent.
.