---

Remember, we need your help to collect information on what is going on in your part of the world!


---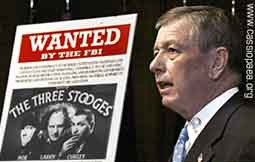 Ashcroft's Campaign to Shore Up the Patriot Act
By Michael Isikoff and Daniel Klaidman
NEWSWEEK


Aug. 25 issue ' Attorney General John Ashcroft this week will launch a cross-country barnstorming tour designed to shore up support for the USA Patriot Act'the controversial measure passed after 9/11 giving the Justice Department broad new powers to combat terrorism.

OVER THE NEXT three weeks, Ashcroft plans to swoop into 18 cities, give speeches, meet local officials and grant select press interviews touting department successes using the law. In a conference call and e-mails last week, sources tell NEWSWEEK, the country's 94 U.S. attorneys were instructed to help gin up support by convening "community meetings," writing op-ed articles in local newspapers and ensuring that uniformed cops are seated in bleachers behind the A.G. during his visits.[...]
Why? Ashcroft and his top aides are worried that a grassroots campaign to roll back the Patriot Act is gaining momentum. More than 140 local governments'including three states'have passed resolutions condemning the act as an infringement of civil liberties. [...]
Ashcroft aides insist that if they could just get their message out, they are confident they will prevail'and tout recent poll numbers showing 55 percent of the public still backs the act. After you get past the interest groups, says one Ashcroft aide, "the rest of the country is saying, 'Just keep us safe'."
Comment: All they have to do is to start blaming those who value freedom as those who are preventing everyone from being safe. It sounds like Ashcroft's puppet masters consider that is an easy task once they send this "concerned for your safety" fundamentalist on a whirl wind trip around the U.S., spouting his public relations spiel with the fervor of a Pentecostal preacher hyped up by the vision of a glorious Armageddon. They can engineer another terrorist threat and then no more freedoms and no one is able to speak up for fear of reprisals.
Iraqi Commander Swears He Saw USAF Fly Saddam Out of Baghdad

Bill Dash - Far Shores
Film will soon be made public of an Iraqi Army officer describing how he saw a US Air Force transport fly Saddam Hussein out of Baghdad. The explosive eyewitness testimony was shot by independent filmmaker Patrick Dillon, who recently returned from a risky one-man odyssey in Iraq.
In the film, the officer, who told Dillon that he commanded a special combat unit during the battle for Baghdad airport and whose identity is temporarily being withheld, explains in detail how he watched as the Iraqi dictator and members of his inner circle were evacuated from Iraq's capital by what he emphatically insists were United States Air Force cargo planes.

Dillon says his film lends major support to what many have believed for years: that Saddam was little more than an american tool, a stage-managed "evildoer", just one in a long line of useful villains bought and paid for by the United States in order to better manipulate international politics and commerce.
Based on what he saw during his travels, Dillon told me he's convinced the war and its sweeping devastation of the Iraqi nation is in reality a mind boggling charade.[...]. As an example, Dillon pointed to how US air strikes systematically obliterated every last Iraqi telecommunications facility from one end of the country to the other, a measure he maintains vastly exceeded all practical military necessity.
Then, without even the pretense of a competitive bid, Washington gifted WorldCom, the near bankrupt US telecom giant responsible for the greatest fraud in financial history, with a huge multi-billion dollar contract to build Iraq a new nationwide state-of-the-art telephone system.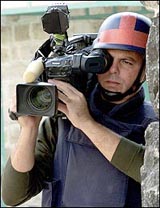 Iraq's day of insanity

By Ben O Driscoll
A TV Cameraman was shot dead by jittery US troops yesterday — capping 24 hours of mayhem in Iraq. Dad-of-four Mazen Dana, 43, of the respected Reuters news agency, was killed outside a jail where a mortar attack had earlier left six prisoners dead and 59 wounded.

Witnesses said the award-winning Palestinian journalist was shot by soldiers on a US tank. His last footage outside the Baghdad jail showed a tank approaching before several shots rang out and his camera fell to the ground. The veteran had survived being shot three times filming in his homeland. [...]

Pipeline sabotage deprives 300,000 people in Baghdad of water
BAGHDAD (AFP) Aug 17, 2003

Jamie Wilson in Baghdad
Monday August 18, 2003
The Guardian
First they tried to bomb him, then they tried the offer of a reward. They even released images of what he might look like with no hair.

But now the US army would appear to be getting desperate with its latest ploy to catch Saddam Hussein: pictures of the elusive dictator as Hollywood sex goddess.
In a scheme likely to raise as many laughs among Iraq's hardline Islamic clerics as Salman Rushdie's The Satanic Verses, troops of the 4th Infantry brigade in Tikrit are planning to put up pictures around the town of Saddam's face superimposed on the bodies of a busty Veronica Lake, a slinky Zsa Zsa Gabor, a grooving Elvis and British-born rocker Billy Idol.
The aim, apparently, is to so enrage Saddam's followers that they will draw themselves out.
Comment: That'll be Don Rumsfeld's sharp, strategic, military mind at work again.
British soldiers save baby abandoned in Iraqi house
Ananova.com
07:29 Monday 18th August 2003
Two British soldiers patrolling the streets of Basra have been praised by their commanding officers after they saved the life of a newborn Iraqi girl.
After cornering five terror suspects in a house in the city, the young squaddies, along with two of their colleagues, began to search the premises.
Within minutes they discovered a dusty 3ft-long padlocked metal box containing a cache of deadly weapons.
Lying among the rocket-propelled grenade launchers, AK47s and ammunition, wrapped up in a blanket, was "Rose" - barely two days old and abandoned by her mother.
She was no longer breathing, but Private Damien Kenny and Private Jonathan Hunt gave her mouth-to-mouth resuscitation. She began breathing after a few minutes.
"We were expecting to find weapons hidden in the box. We couldn't believe it when we saw it was a baby girl and we had to try something," said Pte Kenny, 18, from Wigan.
Their commanding officer, Major Paul Davies, said that without the intervention of his men the baby would surely have died.
Comment: Quite a touching story, if it's true. It must be said however that BECAUSE of the intervention of the invasion forces in Iraq, literally hundreds of babies HAVE died.
Danish soldier killed in Iraq; US Military says repairs to Iraq oil pipeline may take one month
17-08-2003,10 :56
The soldier was the first Dane to be killed in Iraq since Denmark sent a contingent of some 400 soldiers this summer to join the stabilisation force in Basra.
Two Iraqis were killed in Saturday's shooting, one was injured and six were arrested...
Meanwhile, repairs to Iraq's key oil export pipeline to Turkey, cut by saboteurs, may take as long as a month, the United States army said Sunday.
Sabotage stretches coalition in Iraq
By Harry de Quetteville in Baghdad
18/08/2003
Coalition troops in Iraq suffered the first non-British or American casualty at the weekend when a Danish soldier was killed during a country-wide outbreak of sabotage attacks which cut power, oil and water supplies.
The Danish soldier, named as L/Cpl Preben Pedersen, 34, was killed on Saturday night when his patrol tried to arrest a group of looters near the southern city of Basra.

He died during a confrontation with a gang which was stripping electricity pylons of cables, but a Danish spokesman said later that he may have been killed by friendly fire. Two Iraqis were killed in the exchange and six arrested. [...]

Intelligence officer's 'unease' at Straw's Iraq claims
By Paul Waugh, Deputy Political Editor
18 August 2003
A senior intelligence officer who wanted to inform Parliament of his concerns about the Government's Iraq dossier was told by his superior at the Ministry of Defence not to take the matter further, Hutton inquiry documents show.
An explosive letter, revealed in full as Downing Street officials prepare to give evidence to Lord Hutton's inquiry this week, makes it clear that the officer, whose name has not been revealed, felt "very uneasy" about claims made to MPs by Jack Straw, the Foreign Secretary. Mr Straw said that the intelligence community had no complaints about the dossier but the intelligence officer had formally registered his concerns last September. [...]
Researchers on Terror Warn Another Sept 11 Likely
By Matthew Jones
Sun August 17, 2003 07:25 PM ET
LONDON (Reuters) - The United States is highly likely to face another attack similar to September 11 within the next 12 months, a London-based research organization said on Sunday.
"America is the number one target for many terrorist groups," said Guy Dunn, author of a report by the World Markets Research Center (WMRC) assessing the risk of terror attacks in 186 countries around the globe.
"Networks of militant Islamist groups are less extensive in the U.S. than they are in Western Europe, but U.S.-led military action in Afghanistan and Iraq has exacerbated anti-U.S. sentiment," Dunn told Reuters. [...]
Alleged Qaeda Tape Urges Muslims to Fight U.S.
Posted By: billym
Sunday, 17 August 2003
Is Israel committing fake "al Qaeda" attacks?

PA uncovers Israelis posing as Al-Qaeda agents A story by Sophie Claudet recounts the arrest of 3 men used by Israel to create a fake "al Quaida" cell. Michael Rivero wonders if perhaps the whole of al Quaida is not actually a completely fictitious creation of the Mossad, the Cia, and other secret organizations.
Gaza security chief announces arrest of three Palestinians used by Israeli intelligence as al-Qaeda operatives.
Is the whole of Al Quaida just a phoney creation of the West? Are the secret agencies of the U.S. and Israel just making the whole thing up?
"A senior Palestinian security official claimed Saturday his services had uncovered an Israeli plot to create a mock Al-Qaeda cell in the Gaza Strip, while an Israeli official dismissed the charge as "absurd".
"Gaza head of preventive security Rashid Abu Shbak told journalists at a press conference that Israeli agents, posing as operatives of Osama bin Laden's terrorist group, recruited Palestinians in the Gaza Strip.
"Over the past nine months, we've been investigating eight cases in which Israeli intelligence posing as Al-Qaeda operatives recruited Palestinians in the Gaza Strip," said Abu Shbak, referring to a series of e-mails and phone call conversations.
"He added that three Palestinians had been detained.
"Abu Shbak's revelations came two days after Israeli Prime Minister Ariel Sharon charged Al-Qaeda militants were operating in the Gaza Strip and in Lebanon, raising fears of an intensification of Israeli military operations."
"Al-Qaeda doesn't recruit so easily and openly," Abu Shbak said.
"The security chief said his services had traced back to Israel cellphone calls and e-mails in which Palestinians were asked to join Al-Qaeda."
Stash of missile parts found outside Moscow: report

MOSCOW (AFP) Aug 17, 2003
Russian police have discovered a stash of some 110 air-to-surface missile parts, including warheads, hidden outside Moscow, police told the Interfax news agency Sunday. [...]
The discovery follows last week's arrest of a British national who allegedly bought a surface-to-air missile in Russia with the intent of supplying it to US undercover agents posing as terrorists. [...]
A Russian surface-to-air missile was used by unknown assailants in November when they tried to shoot down an Israeli charter flight taking off from Mombasa, Kenya.
Israel Claims 'Lost Property' In Arab Countries

Jews seek 'compensation'

GAZA CITY, August 17 (IslamOnline.net & News Agencies)
In a bid seen as trying to get a bigger slice of the grand Iraqi cake, Israel has drawn up a file on Jewish property and money allegedly left by Jewish immigrants in Arab countries, particularly Iraq.
The Israeli justice ministry spokesman said that the government would ask Jews in Israel and all over the world within the few coming days to present information on their purported belongings in Iraq, the Palestinian Information Center (PIC) said Saturday, August 16. [...]
Sharon Builds Wall to Keep Peace Out
Hassan Tahsin

In Israel they call it "the wall" — a more comfortable and acceptable terminology to describe the system of fortresses that are being erected on Palestinian land in the West Bank. In the West they call it "the fence", which inadequately describes the edifices it is made up of. Eight-meter high cement fences, metal walls with electronic sensors, four-meter deep trenches on either side, sandy pathways to hide any tracks, no man's land, areas limited to military patrols and observation towers with shots being fired in a 200 meter radius — all these are components of what is being innocuously termed "the wall". These facts were published in Ha'aretz newspaper by Ameer Haas.
These fortresses will encircle the Palestinian state and divide it into three separate entities not including Jerusalem (which Israel is working at ridding of all non-Jews). The fortresses have already begun to divide thousands of people in villages and towns along the wall from their neighbors. Thousands of Palestinians have lost their land and source of income and all the money they had invested in agricultural projects. The World Bank estimates that by the time the wall is completed roughly 95,000 to 200,000 Palestinians will have been disadvantaged by it. Meanwhile in Israel they complain about the slow pace of construction.
With this wall, Sharon aims to change many of the variables there and work toward expanding Israel rather than guaranteeing Israel's security.
The reality is that the Israeli leadership no matter what party it may belong to will never agree to a Palestinian state. In addition to being a direct threat to Israel's existence (from the Jewish point of view) a Palestinian state would also end all Jewish/Zionist hopes for a Greater Israel from the Euphrates to the Nile.
The dividing wall — which the American administration only hesitantly objected to for fear of angering Sharon — will achieve many of the objectives that serve Israel: First of all it will take away a portion of Palestinian land, some for land to be occupied by the wall itself and some that is annexed where the wall pushes into Palestinian territory which its rightful owners will not be allowed to access.
Secondly the wall will restrict the movement of Palestinians and therefore dangerously restrict their economic activity. The state of siege as well as poverty and various pressures on Palestinians will drive a great many of them to leave Palestine, thus indirectly aiding the Israeli policy of emptying the land.
Finally the dividing wall will break up the Palestinian land in a way that makes it impossible for the Palestinian Authority to control. This will make Israel's point that the Palestinians cannot govern themselves and they must remain under Israeli occupation and mandate.
The American administration promised the Palestinian Prime Minister Abu Mazen that it would pressure Israel to stop building the wall, but at the same time it announced its complete understanding of Israel's security concerns, which are driving it to insist on building the wall.
It is Washington's new approach to dealing with the Arabs to hope that they can be assuaged with diplomatic rhetoric rather than action. In a gesture that expressed the degree of the US administration's sympathy for Israel, Bush Jr. gave Sharon a souvenir — a map of the state of Israel made in 1678 and including all the regional states as well as old Assyria and Babylonia. In other words, it was a Greater Israel from the Nile to the Euphrates in accordance with present-day Zionist delusions, Zionist Protocols and the Torah and the Bible.
Bush is flirting with Sharon while Abu Mazen has to make do with some diplomatic words which will take the peace process nowhere near the creation of a Palestinian state by 2005 which Bush had promised him.
West Bank withdrawals postponed as joint security meeting fails
Monday August 18, 5:51 AM

A planned withdrawal of Israeli troops from two West Bank cities was postponed as talks between Israeli and Palestinian security officials over the transfer of security responsibility broke down, a Palestinian official said.
Elias Zananieri, spokesman for Palestinian security chief Mohammed Dahlan, told AFP that talks to rubberstamp an Israeli pullback from Jericho and Qalqilya failed after Israel refused to dismantle a checkpoint outside of Qalqilya. [...]
Explosion in Tel Aviv; withdrawal from West Bank towns delayed

In Tel Aviv, one person has been killed and several people have been hurt in an explosion in a restaurant. The cause of the explosion was apparently a bomb, but police say criminals were behind the act and not terrorists. This comes after Israeli and Palestinian officials failed to reach an agreement on an Israeli troop withdrawal planned for Monday.
The West Bank towns of Jericho and Qalquilya were to be placed under Palestinian control, but the two sides couldn't finalise the timeframe and other details. The talks are scheduled to continue. Israeli officials said on Sunday the Palestinian Authority had boosted efforts to rein in militants, laying the groundwork for further Israeli army pull-backs, including handovers of Ramallah und Tulkarem in coming weeks.
Comment: Another timely "Palestinian attack" that again, amazingly, seems to further Sharon's stated agenda of the destruction of any chance of a Palestinian state. So following the logic through to the next step...we come to the idea that...It's those crazy Palestinian TERRORISTS!!...right?....

'Torture in Israel has again become routine'

By Moshe Reinfeld
Monday, August 18, 2003

A report released yesterday by the Public Committee Against Torture claims that the use of torture in the interrogation of Palestinian suspects has increased significantly over the past two years.
Hundreds of Palestinians were subject to Shin Bet security service interrogations defined
as torture, inhumane or humiliating during each of the first six months of the year, compared to dozens in September 2001, the human rights group said. [...]
The rights group accuses the Shin Bet of using a variety of violent interrogation methods,
including hitting, slapping and kicking suspects; stepping on handcuffs; forcing the suspect to bend in a painful position; and shaking suspects.
Other illegal measures taken against suspects include sleep deprivation, threats and humiliation, exposure to extreme cold or heat and isolation in inhumane confinement. [...]
Following US, Jewish criticism: UAE closes Arab League's prime think tank
18-08-2003,09 :45
The UAE is closing down a think-tank that Israel and Jewish bodies accused of promoting anti-Americanism and "anti-Semitism."...
The think-tank was established with the aim of promoting Arab unity and has hosted such speakers as former US vice-president Al Gore and former US secretary of state James Baker.
The Zayed Center was hailed in recent years for its commitment to the environment and awarded cash prizes to renowned international figures, including former US president Carter.
However, the center also published claims that 9/11 attacks was a US plot, hosted a Saudi professor who alleged Jews used human blood to prepare "holiday pastries"; whose executive director said that "The truth is that the Jews are the enemies of all nations" and which released a press statement that declared "The Zionists are the ones who killed the Jews of Europe."
In the past, Mostafa Muhamed, the center's acting deputy director, has said it was neither anti-Semitic nor anti-American, but ready to listen to "any kind of views." (Albawaba.com)
Comment: Any rational discussion of the Jewish religion, the Jewish people, and the Jewish state has been made impossible. It is "off bounds" due to threats, violence, and a Gestapo-like mentality from organizations such as the ADL. In such an environment, the possibility of 9/11 being a US plot, a theory we think fits with the evidence, both explicit and circumstantial, can be equated with notions of blood being used in pastries.
Catholic breaks with Polish-Jewish dialogue group

New York (PMN)
On May 5, 2003, Bozenna Urbanowicz Gilbride delivered her resignation to the National Polish American-Jewish American Council (NPAJAC), of which she had been a member for about seven years. She stated, "I can no longer serve as a member of an organization that excludes five million people as victims of the Holocaust."
On March 18, 2003, Urbanowicz Gilbride received a letter from the above Council stating: "That definition [of the Holocaust], in its specificity, recognizes the reality of the differences between the treatment of Jews and non-Jews under the Nazi occupation of Poland." It adds, "This definition is a critical and central part of the belief system of the Jewish community and the Council has always and still does accept it." [...]

Urbanowicz Gilbride says, "The body of my presentation was dismissed as if my saying that I am a Catholic Holocaust survivor, everything I said is invalid."
'Reagan let Zia get nukes on the sly'
IANS [MONDAY, AUGUST 18, 2003 02:32:35 PM ]
ISLAMABAD: Former Pakistani president Zia-ul Haq had extracted a promise from then US president Ronald Reagan "to look the other way" when it came to Islamabad's nuclear programme which was then on the verge of producing a weapon, a book recently published claims.
In return, Islamabad would throw its full weight behind the CIA in the war against the Soviet occupiers of Afghanistan, the book, Charlie Wilson's War, claims...
Charlie Wilson, the author of the book, is a former Congressman who is said to have played a major role in the CIA operations in Afghanistan during the Soviet occupation of the country...
The CIA, which had managed to penetrate Pakistan's nuclear programme in 1985 and was reporting on it regularly, indicated at the Solarz hearings that if funding to Pakistan was cut, "Zia might present a bill to the US for helping the CIA in Afghanistan running into several billion dollars a year."
Wilson maintains in the book that it was clear to the US administration that "without Zia running Pakistan by martial law, there could be no Afghan war".
Comment: This was the period when the pieces for 9/11 were being set into place. The CIA was financing the Afghan fundamentalists, including Osama bin Laden, in order to weaken the Soviet Union. More about how the Pakistani connection turned out can be seen in the article Mahmoud Ahmad and The Secret Cult.
Westerners Were the Bombers: Kingdom
Mohammed Alkhereiji
Arab News Staff

JEDDAH, 18 August 2003 — Saudi Arabia has proof that seven Westerners released earlier this month were in fact guilty of a wave of bombings in the Kingdom but were pardoned in an effort to smooth relations with Britain, a Saudi official said yesterday. The statement contradicts reports in the British media about the newly freed prisoners.
Adel Al-Jubeir, foreign affairs adviser to Crown Prince Abdullah, said Saudi Arabia reaffirmed that the men — five Britons, a Canadian and a Belgian — had indeed carried out the bombings, which resulted in the death of one person and the wounding of several others.
"What happened is there was a series of explosions that were perpetrated by rival gangs who were involved in smuggling alcohol. We have the evidence, we have the proof and we stand by it," Al-Jubeir told BBC radio.
Saudis deny that freed Britons were tortured in custody
Monday August 18, 1:10 PM

A group of Britons freed August 8 by Saudi Arabia were not tortured while in captivity as friends and relatives have claimed, an adviser to Saudi Crown Prince Abdullah bin Abdul Aziz told BBC radio.
The allegations of torture came after the five Britons and a Canadian with dual nationality were released and returned home after having been convicted of organizing bomb attacks in Saudi Arabia.
"We deny that," adviser Adel al-Jubeir said, adding, "Let them be examined by medical doctors and we'll see."
Freed Briton James Lee's fiancee Gillian Barton told BBC radio on August 11: "He has actually said that until the day he was released... he was tortured from beginning to end, whether that be mental or physical." [...]
Abdulwahab Badrakhan
Al-Hayat 2003/08/18
The Americans want the Arabs to participate in the reconstruction of Iraq, but they plan on rebuilding an Iraq that is in a discord with its Arab environment. How is this possible? By means of pressure and extortion, and by using the occupation to practice terrorism on all the Arabs, especially Iraq's neighbors.
It isn't very clear why Washington expected a different stand from the Arab League, which met recently in Cairo. It's impossible that someone made a promise to the Americans, and then failed them deliberately, just as it's impossible for the Arabs to adopt a position that represents a clear challenge to the Americans. Probably Washington's expectations were based on the notion that the Arabs should have learned from the lessons of the invasion and the occupation of Iraq, the most important lesson being that what the Americans say or do must be approved and blessed.

Europe Suffering Values Crisis, Pope Says
Sun Aug 17, 9:55 AM ET
CASTEL GANDOLFO, Italy - Pope John Paul II said Sunday that Europe is suffering a crisis in values and expressed hope that the addition of 10 more countries to the European Union next year would be an occasion for the continent's renewal.
The pontiff in recent weeks has decried what he calls a movement away in Europe from its Christian roots.
Comment: See "christian roots" below...
Secret Vatican paper ordered abuse cover-up

'Systematic campaign to protect priests'
LUCY BANNERMAN
A SECRET Vatican paper which threatened to excommunicate bishops around the world if they did not cover up cases of sexual abuse has been published in Britain and the United States.
Lawyers acting for alleged victims of abuse say the document proves the existence of a systematic campaign by the Vatican to hush up sexual abuse in order to protect Catholic priests.
The Roman Catholic Church in Scotland said yesterday the 1962 confidential Vatican instruction should be "put in historical context".
While the existence of the document has been confirmed as genuine by the church in England and Wales, the church in Scotland was unable yesterday to say if Scottish bishops had received the 69-page Latin document bearing the seal of Pope John XXIII.
It is understood the document was sent to every bishop worldwide with orders to keep it under lock and key.
The document focuses primarily on priests accused of propositioning congregants during confession, the rite in which the faithful tell priests of their sins. But it also instructs bishops to treat cases of the "worst crime", defined as obscene acts with young people of either sex or animals, "in the most secretive way". [...]

The big one is coming (Earthquake News)
By Amiram Barkat
The earthquake of January 18, 749, is thought to be one of the strongest ever to hit the Middle East. Till recently, researchers knew about the quake only from historical sources. A Coptic priest from Alexandria reported that support beams in houses in Egypt had shifted; a Syrian priest wrote that a village in the region of Mount Tavor had moved a distance of four miles; while other sources spoke of huge tidal waves in the Mediterranean Sea, of Damascus shaking for a few days, and of smaller cities and towns being swallowed up in the earth.
The most detailed descriptions came from Jerusalem, where thousands were reported dead, where palaces and churches collapsed, and where the Al-Aqsa Mosque suffered serious damage. [...]
Today, geologists can calculate the amount of energy built up in the earth as a result of the movement of the plates. When one knows how much energy has already been released in earthquakes that occured in the past, it is possible to work out how much energy is likely to be released in the future.
The fault line found in Tiberias has taught the researchers that the earthquake of 749 would have measured 7-7.5 on the Richter Scale. During that quake, a segment of earth measuring hundreds of kilometers - from Tiberias in the north to Jericho in the south - moved northward an average distance of 1.5 meters at once.
And what about the future? Every few hundreds years, the stretch of land between Jericho and Tiberias suffered strong earthquakes, until the last one, in 1033.
"Almost a thousand years have passed since 1033; that's a long time," says Marco. "Therefore, we estimate that there is a high likelihood that at some time in the future in this region, particularly in the area of the Beit She'an Valley, there will be an especially strong earthquake."
Death toll rises to three in northern Chinese earthquake
ASSOCIATED PRESS
BEIJING, Aug. 17 The death toll from a moderate earthquake that shook northern China over the weekend rose to three, while the number of injured climbed to 1,000, the government said Monday. [...]
Victim of Max Factor rapist awarded £12m
By Hugh Davies in Los Angeles

The behaviour of Andrew Luster, the Max Factor heir, was so "perverse and despicable" as he drugged and raped women while gleefully narrating his exploits before a video camera, that a judge has awarded his first victim civil damages of $19 million
Judge Frederick Bysshe said at Ventura, California, that his harshness in dealing with the former millionaire playboy was a warning to others thinking of using the "date-rape" drug, gamma hydroxybutyrate, or GHB .

He said that Luster's narration at the beginning of the tape, while the woman was lying unconscious behind him on a bed, revealed "a man exulting in the helplessness of his victim, a man totally lacking in a moral compass". [...]
The woman testified that she was unable to remove the images from her mind, and remained under therapy for depression and anxiety. She explained that her plight had been made worse when part of the tape was obtained by a CBS news crew and played on national television. [...]
Comment: Perhaps Luster is not the only psychopath here, but also the CBS news crew. It's a fine media we have who will show this terrible violence toward an innocent woman without a thought regarding the damaging effect this would have, but refuse to show the violence toward innocent Iraqi children.
'The Devil Lives Next Door'

By Jon Jeter
THE WASHINGTON POST
Buenos Aires - The devil liked to dance.
Every now and again, according to news reports, someone would spot him in a nightclub or a bar and begin to jeer. In no time at all, an entire mob would join in, chanting "murderer, murderer" until Alfredo Astiz had no choice but to flee.
Perhaps no Argentine is as reviled by his countrymen as Astiz, the blond, blue-eyed navy captain who was implicated in the kidnapping and murder of women, children and nuns during Argentina's "dirty war," the seven-year purge of an estimated 9,000 to 30,000 suspected dissidents by a junta that seized power in 1976.
News reports and information provided by human rights activists fill out the portrait of Astiz as someone unapologetic for what happened during the dirty war.
In a magazine interview six years ago, Astiz said, "I regret nothing." He said the military did what it had to do to save the country from communists, and that he was "the man best prepared technically to kill politicians and journalists." [...]
Comment: Who decided who was a "communist"? Obviously a convenient way to get rid of anyone the state did not want around, and there were plenty of psychopaths around to tap for such dirty deeds. They usually come cheap.
Military leader condemns Iraq war game
Julia Day
General Sir Michael Rose, one of Britain's most respected and highest ranking soldiers, has condemned a computer game that features graphic video footage captured by US troops during the Iraq war.
The former head of UN peacekeeping in Bosnia and SAS commander said the inclusion of real-life footage in a "gung-ho game" was morally questionable.
The game, Kuma War, is to be launched next year by an American company, Kuma Reality Games, and will enable players to recreate real missions, such as the raid that killed Saddam Hussein's sons, Uday and Qusay.
Sir Michael said the idea of a game using footage shot by real soldiers in a conflict situation was "bizarre" and threw up complicated moral questions. [...]
Kidney Trade Makes Victims of Pakistan's Rural Poor
By Simon Denyer
Sun August 17, 2003 09:41 PM ET
MATEELA, Pakistan (Reuters) - Liaqat Ali ignored the advice of his wife and his family. The only way he saw to repay a debt of 104,000 rupees ($1,800) was to sell his own kidney. [...]
Pakistan is fast becoming the new "mecca" for the trade in live kidneys, banned in many parts of the world including neighboring India.
Rich Pakistanis, as well as foreigners from Saudi Arabia, the Gulf and Britain, are flocking to private hospitals to buy a new lease of life from someone else's kidney. Hundreds of transplant operations take place every year.
But the industry is making victims of Pakistan's rural poor, trapped in a vicious circle of debt in the country's feudal system of agriculture. [...]

US public faces bill for power upgrade
By Neil Buckley in New York and Demetri Sevastopulo in Washington
August 17 2003 20:10

US consumers were warned on Sunday they would bear the brunt of the cost of updating the nation's power grid - put by some observers at up to $50bn - following the biggest power failure ever to hit North America. [...]
Spencer Abraham, US energy secretary, said utility companies would pay some of the cost of improving the system, but much of it would have to be passed on to consumers. "The rate-payer will bear the cost," he told CBS television. [...]
Phoenix Gasoline Stations Running Short

By BETH DEFALCO
Associated Press Writer
August 18, 2003, 12:22 AM EDT
PHOENIX -- Gasoline here has been treated like liquid gold in the week and a half since a rupture forced the sole pipeline to the city to shut down.
Motorists drove on fumes from gas station to gas station Sunday night, searching for one that still had fuel. The stations still open had drivers lined up for hours waiting for their chance to pump -- and pay an increasingly high price for the privilege.
"I've been losing money for the last week," cab driver Dominick Santandrea said, complaining about prices in the $1.90-a-gallon range Sunday. "If this keeps up, the cab rates will go up." [...]
Third man in Palm Beach County confirmed with malaria
[...] These cases mark the first time since 1996 that a case of malaria was thought to be contracted in South Florida. Investigators were also trying to find the source of the latest infections. [...]
Brave new world where windows can talk
Convictions: John Hatfield on all-consuming advertising
Advertising is addicted to the frisson of giving offence. Courting opprobrium with a controversial marketing campaign has become so normalised that we hardly notice it. And that's really depressing.[...]
[...] John Lewis Group is proud to announce new whispering windows in its storefronts. Based on US naval technology, messages and music can be transmitted through plate-glass windows to passers-by on the street.
We are moving ever closer to the nightmare envisaged by Ray Bradbury half a century ago in his classic novel Fahrenheit 451. In one memorable scene the hero, Montag, stumbles from a subway train, unable to form a thought against the incessant jingle for Denham's Dentifrice pounding in his ears from the train's radio system. His is a world enslaved by a media which cannot be turned off.
A world of 200' billboards and wall-sized TV screens showing inter active soap operas where the populace have miniature headsets plugged into their ears 24 hours a day providing a relentless stream of info-tainment, advertising and music.
But hey, whispering windows and talking posters are nothing to worry about. They're just the next stage in creating our consumer utopia. No need to take offence.
French government battles criticism for massive heatwave death toll
PARIS (AFP) Aug 17, 2003
The French government rejected blame Sunday for an estimated 3,000 deaths that occurred during a record-breaking heatwave, faulting the abandonment of the mostly elderly victims rather than the state health system or lack of leadership.
"Obviously, I own up to my share of responsibility in this tragedy, but I reject any notion that the public authorities did not work properly," Prime Minister Jean-Pierre Raffarin told the Journal du Dimanche newspaper.
After killer heatwave, France hit by violent storms
PARIS (AFP) Aug 17, 2003
Just two days after seeing off a heatwave that killed up to 3,000 people, France's emergency services were back on call Sunday, this time to deal with violent storms that ripped up trees, cut power lines and left one person dead.
Southern regions were the first hit on Sunday by the severe storms that were expected to move on up through the country, as the French braced for another assault from the weather, in the form of rain, hail and violent winds
Storms disrupt trains in Spain
BARCELONA, Spain (AFP) Aug 17, 2003
Violent storms and torrential rain disrupted train traffic between Barcelona and Valencia on Spain's east coast Sunday.
Railway officials said trains carrying about 800 passengers were immobilized for up to several hours in Castellon and other provinces because of power outages caused by the storm.
Crop failure blamed on excess rain in Maritimes (Canada)
Last Updated Sun, 17 Aug 2003 23:57:07
HALIFAX - Thick smog and endless rain continued to cover most of Atlantic Canada on Sunday, bringing added worry to farmers faced with rotting crops.
Especially hard hit has been Nova Scotia's Annapolis Valley where veteran farmers have seen 120 millimetres of rain fall in the past 10 days.
The excess water has turned crops such as green beans to mush, wilted carrots and potatoes and halted the harvest of peat moss. After six years of scorching hot weather, the deluge of rain caught many farmers unprepared.
Uranium mine danger lasts for centuries
By BRETT FRENCH
Gazette Outdoor Writer
High levels of radioactivity found at abandoned uranium mines in the Pryor Mountains has prompted the Custer National Forest to close one area and the Bureau of Land Management to consider closures at other nearby sites. [...]

DNA Could Be Basis for Power Computing
By PAUL ELIAS
AP Biotechnology Writer
August 17, 2003
SAN FRANCISCO -- It almost sounds too fantastic to be true, but a growing amount of research supports the idea that DNA, the basic building block of life, could also be the basis of a staggeringly powerful new generation of computers.

Europe sets sights on its first Moon trip
By David Derbyshire, Science Correspondent
August 18, 2003
A tiny spacecraft powered by a revolutionary "sunlight engine" will begin Europe's first mission to the Moon next month. The unmanned Smart-1 craft will make the 16-month journey using an ion engine - a device that converts light into thrust.
In addition to testing the new propulsion unit, the European Space Agency (ESA) craft will search for ice below the lunar surface and try to shed light on the origins of the Moon. [...]

World's richest treasure ship, with a cargo worth £100m, found in Atlantic
By Danielle Demetriou
18 August 2003
For nearly 138 years, The Republic has lain undetected in the icy depths of the Atlantic, defying treasure seekers and marine archaeologists alike.
But the mystery surrounding the location of the 19th-century steamer, which sank without a trace while carrying 200,000 gold coins, has finally been solved.[...]
And Finally...
Row over sweets turns sour as French village endures bread strike
By Alex Duval Smith in Paris
18 August 2003
No dough in Stéphane Pelas's bakery will ever rise as much as his fury at the Leconte family next door. Not so much as a brioche has emerged from the ovens of Sivry-sur-Meuse's only boulangerie since last Monday, when M. Pelas went on an indefinite strike...
---

Check out the Signs of the Times Archives

Send your comments and article suggestions to us.
---
Fair Use Policy
Contact Webmaster at signs-of-the-times.org
Cassiopaean materials Copyright ©1994-2014 Arkadiusz Jadczyk and Laura Knight-Jadczyk. All rights reserved. "Cassiopaea, Cassiopaean, Cassiopaeans," is a registered trademark of Arkadiusz Jadczyk and Laura Knight-Jadczyk.
Letters addressed to Cassiopaea, Quantum Future School, Ark or Laura, become the property of Arkadiusz Jadczyk and Laura Knight-Jadczyk
Republication and re-dissemination of our copyrighted material in any manner is expressly prohibited without prior written consent.
.