---
Remember, we need your help to collect information on what is going on in your part of the world!
Read Dear Readers to find out more.
---
"The signs of the times herald a new age. It is close at hand. Will it be better, will it be even more dreadful than the present one? The precipice is within inches of the summit. Every one of us contributes in a certain measure to the course events takes. Let us be conscious of our responsibility." T. Illion, In Secret Tibet, p. 189
---
Argentina Meteorite Impact Site May Have Been Found
Diario 'Los Andes' - Mendoza
By Teresita Sancho
Corresponsalia Sur
Translation © 2003 Scott Corrales, Institute of Hispanic Ufology (IHU)

The area where the meteor which frightened residents in southern Mendoza last Friday morning has been logged. The place was determined through the account of a rancher on the banks of the Diamante River, who described in detail the direction of the possible impact site of at least one of the sizeable chunks of rock.

"A brightness with a reddish blue light almost left us blind. It was followed by a very loud report and the earth shook. In the early morning we saw lots of smoke which lingered until lunchtime," said the famer, a privileged witness to the phenomenon. "It wasn't far from the house. Some leagues, maybe two days' on horseback," he added, when asked about the distance. This description agrees with the one given by some fishermen at the Agua del Toro dam.

The explanation--particularly the reference regarding the smoke, which no one had mentioned as of yet--gave Hector Correas, the head of Civil Defense, the possibility to determine the impact site: "It would be in the southern part of Cerro El Diamante, facing the Picasa Mine, some 100 km south in a straight line from the city of San Rafael," explained the official, noting that this is a rough, mountainous area where several private ranches can be found. [...]
Ardebil, Aug 6, IRNA -- An earthquake measuring 3.4 degrees on the open-ended Richter scale shook this northwestern province Wednesday
noon.

The seismological base of the Geophysics Institute affiliated to Tehran University said the tremor occurred at 12:10 hours local time (07:40 GMT).
There were no reports of any casualty or damage.
Quake jolts lower North Island

Aug 04, 2003
Rangitikei residents were woken just before midnight by an earthquake measuring 5.4 on the Richter scale. [...]
It is the biggest in a spate of small quakes in the past few days, mostly in the middle of New Zealand. [...]
Ahmedabad, Aug.5.(PTI): An earthquake measuring 4.9 on the Richter scale today jolted several parts of Gujarat, including Kutch which was the worst hit by the calamity over two years ago and Ahmedabad, triggering panic among the people but there were no immediate reports of loss of life or property. [...]
Landslides follow quake in Rangamati
Monirul Alam, Rangamati
Rains in Rangamati in the last three days triggered landslides in Aimachhori, Bhusanchhara and Harina unions in quake affected Borkol upazila. [...]
Underwater active volcano discovered
LONDON, Aug. 6 (UPI) -- British scientists have discovered a "smoking" volcano 3,500 yards below the surface of the Indian Ocean. [...]
Volcano rescuers try to save Czechs
BBC
Wednesday, 6 August, 2003, 11:39 GMT

Russian rescuers are scaling a volcano in Russia's far east, to rescue a party of Czech climbers trapped amid deteriorating conditions and fears of an eruption. [...]
Half of Montana Forest Fire Contained
Wed Aug 6, 7:49 PM ET
WEST GLACIER, Mont. - The forest fire that closed much of Glacier National Park was 50 percent contained Wednesday as crews kept up their counterattacks on the blaze. [...]
Washington's largest fire, about four miles from the Canadian border, had charred 77,000 acres since starting June 29 and was 60 percent contained, officials said. [...]
Large fires also were active Wednesday in Arizona, California, Colorado, Idaho and Wyoming, the National Interagency Fire Center said. So far this year, wildfires have blackened nearly 1.9 million acres, compared to 4.6 million at this same time last year, the center reported.
Hundreds report burning meteor
ABC News On Line
Thursday, August 7, 2003
Astronomers say it is unlikely the remnants of a blazing meteor seen by hundreds of people last night have landed on earth.
The Perth Observatory was flooded with hundreds of phone calls from residents in the Goldfields, wheatbelt, and Great Southern when the meteor appeared about 6:20pm AWST yesterday.
Astronomer Peter Birch says they reported a bright light with a long tail lasting between five and 10 seconds. [...]
Weekly Volcanic Activity Report
European Heatwave Could Last until September
"PA"
11:03am (UK)
European's deadly heatwave, blamed for deaths, drying rivers and scorching wildfires, could last until September, weathermen said today.
Experts from Italy's state-funded CNR research centre said the heatwave was among the five worst in the last 150 years and would likely last until next month.
Intense monsoon activity in Africa south of the Sahara has contributed Europe's merciless summer.
European Heat Wave Kills at Least 37
By FRANCES D'EMILIO
Associated Press Writer
ROME (AP)--Roadways buckled under the scorching sun in Germany, water levels on the Danube and other rivers dropped and wildfires forced tourists and residents to flee Wednesday as record-breaking heat, blamed for at least 37 deaths, tormented Europe. [...]
European vineyards expecting a classic vintage
Associated Press
16:00 Wednesday 6th August 2003
European vintners say the heatwave sweeping the continent could help produce the finest wines since 1947. [...]
Galactic dust storm enters Solar System

17:20 05 August 03
NewScientist.com news service

The Sun's shifting magnetic field is set to focus a decade-long storm of galactic dust grains towards the inner Solar System, including Earth.
The effect this will have on our planet - if any - is unknown. But some researchers have speculated that sustained periods of cosmic dust bombardment might be related to ice ages and even mass extinctions.
During the last decade, the magnetic field of the Sun acted like a shield, deflecting the electrically charged galactic dust away from the Solar System. However, the Sun's regular cycle of activity peaked in 2001.
As expected, its magnetic field then flipped over, so that south became north and vice-versa. In this configuration, rather than deflecting the galactic dust, the magnetic field should actually channel the dust inwards.
February 22, 1997
A: Climate is being influenced by three factors, and soon a fourth.
Q: (L) All right, I'll take the bait; give me the three factors, and also the fourth!. A: 1) Wave approach. 2) Chlorofluorocarbon increase in atmosphere, thus affecting ozone layer. 3) Change in the planet's axis rotation orientation. 4) Artificial tampering by 3rd and 4th density STS forces in a number of different ways. [...]
Q: (L) All right, were those given in the order in which they are occurring? The fourth being the one that's coming later?
A: Maybe, but remember this: a change in the speed of the rotation may not be reported while it is imperceptible except by instrumentation. Equator is slightly "wider" than the polar zones. But, this discrepancy is decreasing slowly currently. One change to occur in 21st Century is sudden glacial rebound, over Eurasia first, then North America. Ice ages develop much, much, much faster than thought.
A Reader Comments
Responding to your article in regards to the global warming subject on yesterday's signs page: In the article the Professor speaks of global warming being "man made!" I beg to differ considering the overwhelming evidence that "global warming" is being caused by events taking place within our solar system. Man has the capacity to harm our Planet, i.e., our present state of affairs however his ego is far out of balance to think he can do much else.
If you direct your attention to the Sun you may see for yourself! And, we may have Planet X, if there is such an entity, also allegedly causing havoc within our solar system.
We may be in for quite a ride depending upon one's perspective.
Comment: There is no Planet X. This is disinformation. However, it is very possible that our sun has a companion star that can influence events in the solar system and on earth when it is close. We think that its last approach was about 350 years ago during the period known as the Maunder Minimum, a period when the Sun's activity remained reduced for seventy years.
This approach of the companion star may well have set in motion a seris of events that continue to unfold today. For more on this, see the article Independence Day.
Ashcroft tour to plug terror bill
WASHINGTON - Attorney General John Ashcroft is hitting the road to rally support for the Victory Act, which would further expand his powers to go after Al Qaeda and narcoterrorists, the Daily News has learned.
Ashcroft will starting pushing the Vital Interdiction of Criminal Terrorist Organizations Act later this month in a 10-day, 20-state Victory tour that includes a stop in New York. [...]
Military Equipment and "Pneumonia"
By STAN GOFF
Counterpunch.org
August 5, 2003
To understand the official military response to the mysterious "pneumonia" breaking out among American troops in Iraq, we have to understand that troops are equipment.
To the unremitting vexation of Donald Rumsfeld and his "network-centric" techno-groupies, troops are articles of equipment whose preparation and maintenance prove troublesome. They have to be coaxed into "service" with Army-of-One-style Madison Avenue pitches and educational bribes, enculturated to discipline and punctuality, taught how to perform their various functions, then kept in the job through a system of economic and psychological rewards. Troops are the only part of the "tables of organization and equipment" (TO&E is the military's term to describe its units, not mine) that have to be indoctrinated.
There are a couple of troublesome aspects to this for the politicians who control the military. First, troops are not equipment. Second, indoctrination narratives are perishable as circumstances change. [...]
Wolfowitz: Iraq Was Not Involved In 9-11 Terrorist Attacks, No Ties To Al-Qaeda
By Jason Leopold
08/06/03: (Information Clearing House) Deputy Secretary of Defense Paul Wolfowitz, one of the main architects for the war in Iraq, admitted for the first time that Iraq had nothing to do with the September 11 terrorist attacks, contradicting public statements made by senior White House and Pentagon officials whose attempt to link Saddam Hussein and the terrorist organization al-Qaeda was cited by the Bush administration as one of the main reasons for launching a preemptive strike in March against Iraq.
In an interview with conservative radio personality Laura Ingraham, Wolfowitz was asked when he first came to believe that Iraq was behind the 9-11 terrorist attacks.
"I'm not sure even now that I would say Iraq had something to do with it,"Wolfowitz said in the interview...
Millions of barrels of oil go into U.S. strategic reserves as domestic supplies wane
Associated Press
WASHINGTON (AP) — Despite precariously low oil supplies, the government has been pumping millions of barrels into its emergency reserve, which some critics charge has contributed to a surge in crude prices and kept gasoline costs high.[...]
Comment: Reserving all this oil for some devious purpose? Perhaps they know something we don't.
Even On The Run, Hussein Has Iraqis Under His 'Spell'
By James Hider
Special to The Christian Science Monitor
BAGHDAD - As U.S. forces rolled into Baghdad, Saddam Hussein, the Ace of Spades in the U.S. Army's deck of cards of wanted Iraqis, did a spectacular vanishing act. Many Iraqis believe their former leader, a lifelong dabbler in the occult, will never be found by coalition troops scouring the country. His trick, they say, is a magic stone that protects him from harm. [...]
By Steve Chapman
CHICAGO - [...] Last fall, in a classified assessment of Iraq, the CIA said the only thing that might induce Mr. Hussein to give weapons to terrorists was an American invasion. But month after month, unconstrained by mere facts, the president trumpeted a danger that his own intelligence officials dismissed
Maybe the claim was just premature. Today, American troops in Iraq are fighting stalwarts of the old regime as well as foreign insurgents that, according to our top general there, probably include al-Qaida. Meanwhile, if the missing weapons exist, there is no telling who has them or how they may be used.
A deadly alliance between Mr. Hussein and bin Laden was once only a nightmare. Mr. Bush has done his best to make it come true.
The Massacre of Rashdiya

E.A.Khammas Occupation Watch Center July 28th, 2003
"I will never forget that night. I have seen how people were savagely slaughtered. I have seen three wars, but nothing like this," said Dr.Mahmood Khdeir Yasin Al-Mishhadani, an Iraqi surgeon. He was on duty at the military hospital of Hammad Shihab, a few kilometers to the north of Baghdad, near a village called Rashdiya, on the night of Sunday, April 6 to Monday, April 7, 2003, during the final days of the war.
"The American bombing of the district of Rashdiya began at 3 p.m. They used cluster bombs. It continued until 9 p.m. During these hours casualties began to be carried to the hospital in civilian cars and pickups because there were no ambulances in this district. We received a great number of casualties, all of them women and children. I did not see one single injured man in this incident. The injuries were very severe, like all four limbs cut off or fatalities or very severe injuries in the chest or the abdomen. After 9 o'clock, when the bombing was lighter, we were able to send our ambulances to bring the casualties. [...]
"I will never forget a young mother who was embracing two of her children. One of them was already dead. His head was completely torn, and his brains were covering her chest. The other was injured in his leg. We tried to take the children from her hands, to treat the injured one, but she refused to let them go. She was hysterical, not responding to anybody or anything.
"The whole situation was very bad, I will never forget. I have been a doctor for a long time; I have seen thousands of injury cases, very difficult ones indeed. But what happened that night was some thing completely different. It was genocide against civilians, unarmed people who were unable to defend themselves. Innocent people in their houses and wearing their pajamas. Most of them were refugees from Baghdad, who'd run away from the heavy bombing in the city. They came to this village to hide from death, which they met here.
Q: How do you see the American forces now?
"Armies wage wars, this only natural. But the impression I've got about the American army in the image I've seen, is that these people do not know the meaning of mercy or humane feelings. They came with a gall; they wanted to take out this gall even on the bodies of all the Iraqis. When they crushed the bodies of 250 children and women just for a suspicion that there might be Iraqi forces in the area, that gave me the impression of how inhuman they are."
Freedom of Speech, American Style
by E.A.Khammas, Occupation Watch Center
July 28th, 2003

American authorities recently closed Al-Mustaqilla (the independent), one of the newly published Iraqi newspapers.
At 3 p.m. on Monday July 21, 2003, American tanks closed the entire area surrounding the street on which the newspaper's small building is located. Many American soldiers accompanied by Iraqi policemen jumped over garden fences and roofs from neighboring houses. They broke the wooden (inner) door and dashed into the building, which also functions as a publishing house for advertisements and as a distribution center. They turned everything upside down, confiscated the newspaper's safe (with 1.5 millions ID in it), the computers and the important personal documents of the chairman, Mr. Abdul-Sattar Alshalan. They arrested Mr. Alshalan, who is currently imprisoned at an unknown location.
Fortunately the employees had already left by the time the raid began. There was only one girl who is responsible for administration and accounting. She was clever enough to hide in the attic where she remained for four hours in 50-degree centigrade heat. Too afraid to leave, she stayed there long after the American soldiers had departed.
The editor-in-chief Mr. Dhari Al-Doleimi, who is also a lawyer, says he does not know the official reason as to why the newspaper was closed: "The soldiers had no written orders. There was no previous notification, no warning, nothing at all—[that] is illegal. They should have talked to us democratically first, so that we can explain our position and clarify any misunderstanding. The way they behaved was brutal."
Defense Department funding brain-machine work
BY GARETH COOK
The Boston Globe
[...]What most people don't know is that the Department of Defense is already funding a research program with far creepier implications.
The $24 million enterprise called Brain Machine Interfaces is developing technology that promises to directly read thoughts from a living brain -- and even instill thoughts as well.
The research, some of which is being done at the Massachusetts Institute of Technology, is already surprisingly advanced. Monkeys in a laboratory can control the movement of a robotic arm using only their thoughts. And last year scientists in New York announced they could control the skittering motions of a rat by implanting electrodes in its brain, steering it around the lab floor as if it were a radio-controlled toy car.
It does not take much imagination to see in this the makings of a "Matrix"-like cyberpunk dystopia: chips that impose false memories, machines that scan for wayward thoughts, cognitively augmented government security forces that impose a ruthless order on a recalcitrant population.
It is one thing to propose a tasteless market for gambling on terrorism. It is quite another to set some of the nation's top neuroscientists to work on mind control. [...]
By Lance Broughton
YellowTimes.org Columnist (New Zealand)
Sunday, August 03, 2003 @ 12:53:03 CDT
Upon contemplating my bellybutton and the United State's value to the world, I am inevitably forced to concede that both are redundant. My bellybutton served its purpose by supplying me with nourishment while I was in the womb but upon my birth it shriveled up and died. Its sole function now is to gather lint and provide somewhere interesting to hide my little finger. The United States was an original dream of intelligent men for a free society but has now been overshadowed and degenerated by the greed for money and influence.
To examine the U.S. today is to admit that human nature is spinning out of control and creating worldwide havoc. The assumption that the almighty greenback will buy everything is a fallacy. Sure, it will buy most things and many people, but at the end of the day, it doesn't buy truth, honesty and loyalty. Only decency and commonsense will do that. The view that bribery, corruption and military invasion will win the day has no lasting precedent. All arrogant empires have collapsed from internal division and massive debt. Those in power are overthrown when the inescapable failure of political arrogance causes the will of the people to regain its rightful place. [...]
Grandmother set for jail over war tax protest
11:54 Wednesday 6th August 2003
A grandmother says she is prepared to go to jail for refusing to pay her taxes in protest of the war on Iraq.
Former English teacher Brenda Broughton, 78, has been given 28 days by a county court judge to pay just over £300 she withheld as she believes it was used for an immoral war. [...]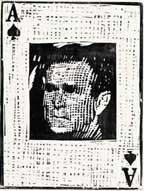 Ebay bans Dawson artist's controversial 'cards'

WebPosted Aug 5 2003 09:05 AM CDT
WHITEHORSE - A Yukon artist has been censored by eBay for making fun of the Bush administration. In John Steins' most-wanted deck, U.S. President George Bush is the trump card

Dawson City artist John Steins has been ordered off the popular auction Web site for mocking Bush and other U.S. leaders in a series of hand-painted drawings. Steins' art project is a parody of the "most wanted" deck of playing cards issued in the Iraqi war.
"George Bush is the ace of spades and (U.S. Defense Secretary Donald) Rumsfeld is the queen of spades and so far down the line," Steins says.

"I think an artist has to use their talent to make a statement that they really believe in, though it might be really unpopular."
Ebay apparently banned the cards after receiving complaints from pro-Bush Americans. Steins says he's also gotten plenty of angry emails from people who back U.S. foreign policy in Iraq.
Comment: If this isn't "proof" that the psychopathic view predominates in our society, then I'm a monkey's uncle...(which, of course, is also possible)
[G]rand repository for the gravy train of strained English that defines America's Mangler-in-Chief. [...]
This site aims to offer the most complete collection of George "Dubya" Bush quotes available anywhere on the Internet.
Comment:
"Every nation in every region now has a decision to make. Either you are with us, or you are with the terrorists." - George Bush, as quoted in the Progressive, September 21, 2001
"But the LORD said to Moses, 'Whoever has sinned against me, him will I blot out of my book'" - Exodus 32:33
"He who is not with me is against me..." - Mathew 12:30
Protesters Arrested In Anti-Bush Rally Sue
By HOLLY HICKMAN
The Associated Press
MIAMI -- Three protesters arrested at a 2002 rally attended by President Bush sued the U.S. Secret Service and others Wednesday, arguing that their First Amendment rights were violated when they were arrested for refusing to picket inside specified zones. [...]
"These free speech cages are an anathema to a free society," Redner said. [...]
No US Military Trial for Citizens Held in Guantanamo: Yemen
Agence France Presse
SANAA, 7 August 2003 — Yemen yesterday expressed its rejection of the planned trial by a US military commission of nationals held in the US base of Guantanamo Bay in Cuba as suspected Taleban and Al-Qaeda prisoners from the Afghan war. [...]
US negotiate over British Guantanamo prisoners
American legal chiefs will fly to London next week for further talks over the fate of British terror suspects held at Guantanamo Bay.
Solicitor General Lord Goldsmith, who is leading the negotiations, said that all options remain open over how they would be tried. [...]
Texas senator comfortable with state of Guantanamo Bay prisoners
Posted on Tue, Aug. 05, 2003
BY TODD J. GILLMAN
The Dallas Morning News
WASHINGTON - (KRT) - Fresh from a tour of Guantanamo Bay, where he watched the interrogation of terror suspects, Texas Sen. John Cornyn said Tuesday he was impressed by conditions and comfortable with the secret detentions at the prison camp.
Amnesty International has condemned the detentions as a "human rights scandal" because the detainees have not been charged and are held incommunicado.
"It was very sobering to realize that we have some of the most evil and determined terrorists - whether it's in recruiting, or financing or organizing or executing terrorist acts - collected in that one place," Cornyn said. "But I was very reassured that we are headed down the correct path in order to get the information we need to make our country safer."
Cornyn, who is on the Senate Armed Services Committee, spent roughly five hours Monday at the U.S. base in Cuba. He said he requested the visit so he could see detainees' treatment firsthand. He found no reason for concern, he said. [...]
Comment: A U.S. Senator, who just happens to be from Texas and on the Senate Armed Services Committee, says that there are no human rights violations in Guantanamo... Who in their right mind would believe a single word that comes out of this man's mouth?
Alabama Guard Unit Deploys To Cuba
By Pat Peterson
News 5
Aug 6, 2003
[...] 130 members of the 217th Military Police Company in Prattville are en route to the United States military base in Guantanamo Bay, Cuba to guard Al-Quaida prisoners. [...]
The unit's members are primarily law enforcement officers, serving as full-time state troopers and police officers.
National Guard Unit Heads For Cuba
WARREN, R.I. -- Some members of the Rhode Island National Guard left for Cuba Wednesday.
Soldiers from the 169th Military Police Company left from the Warren armory. They will be posted at the prison at Guantanamo Bay, where prisoners are being kept in the war on terror.
The soldiers will stay in Cuba for one year.
Marine admits tampering with parachute
CAMP LEJEUNE, N.C. (AP) — A Marine charged with cutting the lines of parachutes that were to be used in a training jump pleaded guilty Wednesday to assault and reckless endangerment. [...]
Myths surrounding the bombings of Hiroshima and Nagasaki.
Timothy J. Freeman
The essay Remembering Hiroshima & Nagasaki by David Krieger touched me deeply on this morning. I've always felt some connection with what happened on this day in 1945. I've always felt some sense of responsibility and sadness regarding this day. At least I think I've always felt this since I was about six years old when I first learned of what happened on that day twelve years exactly before my birth. I guess being born on the sixth of August has always marked my life with this somber sense of seriousness of purpose. I think it is perhaps what turned me into a philosopher. I think I've always just had to try to understand why, why it is we live in a world where such terrible things happen, why it is we live in a world that will forever be marked by the tragedy of that day and the fear of nuclear catastrophe to come.
After that initial childhood horrifying revelation many birthdays passed with maybe only a fleeting thought of Hiroshima. Like the vast majority of Americans I had been persuaded of the tragic necessity of the bombing. It didn't really lessen the horror, or the need to try and understand why, but it did enable me to celebrate birthdays perhaps a little bit more like other folks. But for the last decade or so my birthday has always been tinged with sadness as I've come to understand how unnecessary was Hiroshima and then, of course, Nagasaki. But on this day, my forty-sixth birthday, after all that has transpired in this past year, and after reading in Mr. Krieger's essay that even General Eishenhower at the time thought the bombing of Hiroshima unnecessary, I am simply overwhelmed by the most profound unutterable sadness.
In his essay, Krieger writes of the myths that have grown up around the bombings of Hiroshima and Nagasaki. Underlying these myths, he finds "a more general myth that US leaders can be expected to do what is right and moral. To conclude that our leaders did the wrong thing by acting immorally at Hiroshima and Nagasaki, slaughtering civilian populations, flies in the face of this widespread understanding of who we are as a people." I cannot help but note how painfully relevant this demythologizing of America is today. [...]
US sees atom bomb as God, Hiroshima mayor says
AFP: Thursday, Aug 07, 2003
Hiroshima's mayor lashed out at the US' nuclear weapons policy yesterday during ceremonies marking the 58th anniversary of the city's atomic bombing, which caused the deaths of over 230,000 people. [...]
U.S. Marks Hiroshima Anniversary By Holding Top Secret Summit to Discuss Expanding Nation's Nuclear Arsenal
'Secret' nuclear meeting revealed
ABC News Online
Arms control groups say the development of mini nuclear weapons will be discussed tomorrow at a top level meeting in the United States.
The conference is taking place at the Strategic Air Command Headquarters at an air base near the city of Omaha in Nebraska.
The BBC reports the meeting was supposed to take place in secret.
The US Defence Department has now acknowledged that the meeting in Nebraska involves 150 people, including officials, technicians and scientists.
Arms control groups are convinced they will discuss the new generation of nuclear weapons.
It is already clear, through testimonies to Congress and elsewhere, what direction many experts want the defence establishment to take.
They want to move towards the development of small, low-yield weapons, or 'mini nukes'.
They would be designed to burrow themselves deep underground before exploding.
That is in tune with President Bush's doctrine that the US should be capable of carrying out controlled pre-emptive strikes on hidden weapons of mass destruction.
Jordan's Iraq embassy attacked

At least eight people have been killed in a large explosion at the Jordanian embassy in Baghdad.
Some of those killed were reportedly embassy staff and guards. Others are thought to have been in cars parked close to the embassy. The Jordanian Information Minister Nabil al-Sharif called the attack - in which the bomb appears to have been concealed inside a truck - a "cowardly terrorist" act.
In a separate incident, the US military said two American soldiers had been killed in a firefight in the al-Rashid district of Baghdad late on Wednesday. The explosion reduced the front of the embassy to rubble and shrapnel was found as far as 1,000 metres from the scene. Human remains were visible in a compound close to the embassy.

A Reader Comments:
I remember that in the lead up to Gulf War II fuel prices here in Australia had been creeping up from 80 cents a litre (a fifth of a gallon, roughly) to a frightening $1.10 with rumours of it going even higher.

I also remember driving down the freeway to work and hearing the news that the shock and awe campaign had begun -- then just a few hundred metres further on I cam across the first petrol station and saw that the price had already dropped 5c. The same story for subsequent stations I passed.

Without getting into the issue of the purported delay that should naturally occur -- i.e. that if the fuel companies drop their prices it should take 4-5 weeks for the benefits to trickle down to lowly commuters.

The fact that it happened overnight struck me as a cynical PR exercise designed to blind people to the facts and get them to accept the attack through an appeal to their hip-pocket nerve.

If bombing Iraq brings the price of fuel back 5c then send in the clowns!

Yesterday this point was raised when ABC Radio interviewed Curtis White about his book "The Middle Mind: Why Americans Don't Think For Themselves".

He talked about what he termed the New Censorship. The era in which we live is unprecedented in terms of information overload. It's also a time where the information we receive is regularly 'managed' and shaped by political spin doctors, marketing or corporate gurus. Yet nobody would consider themselves unsophisticated in their ability to weed out the media spin we consume.
Nevertheless, does there come a time when we no longer spot the spin, the exaggerations, the big white fibs? Or are some of us happy to go along with whatever we're told or sold? Curtis White believes that Americans are certainly not fooled, but nor do they seem to care about the implications of things remaining as they are.
Bali bomber sentenced to death

One of the chief suspects accused of involvement in last year's Bali bombing has been found guilty and sentenced to death.

Amrozi bin Nurhasyim was accused of conspiring, planning and carrying out an act of terrorism, which killed more than 200 people. He smiled when the guilty verdict was read out and turned around to the courtroom and gave the thumbs-up sign when the judge handed down the death sentence.
Comment: See this site for another perspective on the Bali bomb.
Marriott Attack Recorded on Security Camera - Report
By Dean Yates
Wed Aug 6,10:19 PM ET
JAKARTA (Reuters) - A deadly car bomb attack on a U.S.-run luxury hotel in Jakarta was recorded on a security camera that showed the vehicle pause in the driveway, and police said they believed they had identified the suicide bomber.
Tuesday's attack, two days before the first Bali bomb trial verdict and after a spate of global terror warnings, killed at least 10 people and wounded 150. Initial suspicions have focused on the shadowy Jemaah Islamiah militant Muslim group. [...]
In an unprecedented move, a self-proclaimed JI operative has claimed responsibility for the Marriott blast, Singapore's Straits Times reported Wednesday. [...]
Terror alert raised as police link Jakarta and Bali blasts
By Kathy Marks in Sydney
The Independent
07 August 2003
Indonesian police have linked Tuesday's car bombing at a Jakarta hotel with the attack last year on two Bali nightclubs. And the Australian government warned yesterday that further terrorist strikes were likely.
Police said traces of two high-yield military explosives used in Bali were found near the Marriott Hotel in central Jakarta, where a powerful explosion killed 10 people and injured nearly 150. Indonesia's national police chief, General Da'i Bachtiar, said that, as in Bali, the bombers had tried to erase serial numbers on the vehicle's engine and chassis.
Australia said it had received new intelligence hours after the car bomb suggesting there could be more terrorist attacks in the coming days. "We have particular concerns at the moment about central Jakarta, but also other places in Indonesia," said the Foreign Minister, Alexander Downer. The Indonesian government promised a security clampdown at high-profile targets. [...]
US FAKING TERROR IN PHILIPPINES?
Filipino media can't keep up with American spook sightings. [...]
Russians see international terrorists, US equally as nuclear threat: poll

MOSCOW (AFP) Aug 06, 2003
Russians are equally divided as to who, between international terrorists and the United States, is the most likely to resort to using nuclear weapons, according to a survey published Wednesday on the 58th anniversary of Hiroshima.
Thirty-two percent of respondents saw international terrorists as a nuclear threat, with the same number seeing the United States in the same light, with just seven percent seeing North Korea as a nuclear threat, the ROMIR Monitoring institute said. [...]
China flexes military muscle in anti-terror exercises

BEIJING (AFP) Aug 07, 2003
China vowed to stamp out separatism and extremism Thursday as it flexed its military muscle in its largest ever joint anti-terrorism operations.
Members of the Shanghai Cooperation Organisation (SCO) that groups China and five former Soviet republics in Central Asia began joint military exercises in Kazakhstan Wednesday aimed at averting terrorist strikes from land and air.
The drill is also seen as China's bid to counterbalance the growing US military presence in the strategic and resource-rich Central Asia region. [...]
Effort to set recall vote on Venezuela president stalls
By Frances Robles
Knight Ridder, 8/7/2003
ARACAS, Venezuela -- The 64 boxes, in 4-foot stacks, are packed with the signatures of nearly 4 million Venezuelans who want a recall referendum on President Hugo Chavez.
But they sit in storage, waiting for the end of a political stalemate blocking any prospect that Venezuelans will vote soon on their president and resolve a crisis that has polarized and all but paralyzed their nation for 16 months.
The National Assembly cannot agree on the fifth and final member of the elections council that would supervise the vote. Political leaders can't agree on whether those signatures are even valid. And Chavez, predictably, doesn't think the vote should take place at all.
''It seems there will be a referendum soon. Yes, in the United States there will be a referendum soon,'' Chavez said in a speech last week, poking fun at the drive to recall California Governor Gray Davis. ''Didn't you see the news?''
Venezuela has been mired in crisis as an alliance of business, oil, media, and other largely middle-class interests pushes to oust Chavez, a leftist firebrand accused of abusing power through his control of government institutions, such as the courts.
Comment: The situation in Venezuela shows that the CIA has not stopped its dirty tricks and subsersive work. They have been applying steady pressure for several years to bring down the Chavez government, including last year's failed coup attempt. Good coverage can be found at Greg Palast's web site.
No more cola for Indian MPs

The Indian Parliament is to stop selling Pepsi and Coca-Cola products in the canteen following reports that the drinks contain too much toxic pesticide and insecticide.
The government has also asked the Food Processing Ministry to provide a detailed report into the allegations made by a non-governmental organisation (NGO).
Both cola giants deny the allegations, and say that the products they make and sell in India match European and American standards. [...]
Comment: Ok , but what are the European and US standards...It may seem a little paranoid to think that conspiracy theory extends to Coca Cola attempting to poison people, but the question we must ask ourselves is this: If poisoning people were deemed advantageous to the powers that be, what is there to stop them doing just that? And if there is nothing to stop them, how would they go about it and which company would they choose to do it? The best known and most popular drink brand in the world perhaps?
The point is, governments have been loading the civilian water supply (not to mention toothpaste) with flouride for decades. This is a chemical which, as a result of Nazi experimentation, was deemed to have the effect of " keeping people docile and inhibiting questioning of authority" and guess what? America is one of the only countries in the world that openly flouridates the civilian water supply! See here for more details.
Another take on AIDS:
A Reader comments:
On yesterday's Sign of the Times page is a story under the title 'Priceless Aids Research Stolen' about a scientist attending the recent AIDS conference in South Africa who had his laptop stolen. Apparently his laptop contained all his research into an AIDS vaccine.
I was surprised at the words of the commentators below the story which show:
1) Disrespect for the efforts of the South African government to resist the incredible pressure of the pharmaceutical industry to distribute the drug Nevirapine to pregnant women. This drug causes death from organ failure. There's your Kissinger agenda in action. see, for example here and here.

Among their "activities": in 2000, the South African government commissioned an AIDS panel consisting of scientists who believe the HIV=AIDS story (the faithful, bought and paid for) and scientists who don't believe (the heretics, who lose funding for exposing the complete lack of hard science behind the story). Their report can be found here

2) The belief that AIDS is a disease, and as such, that it has a cure, a vaccine. Let's explore this idea a little.
First of all, AIDS is a syndrome, not a disease. It means that your immune system is shot, for whatever reason. We are supposed to believe that AIDS is a disease with a physical cause - HIV. There is no direct evidence for this, none whatever. It's all done by inference (mirrors).

The test for AIDS is an HIV antibody test, all of which are notoriously unreliable. A positive result (HIV positive) means that the HIV antibody has been found in your system.
With any other disease, say, influenza A, the discovery of the antibody would be good news. It would mean that the body has encountered the disease and dealt with it successfully. No need for that flu shot. With HIV, the discovery of the antibody is bad news. It means that you are going to get sick and die a horrible death unless you take a cocktail of expensive, neurotoxic drugs. But we can't let a logical fallacy stand in the way of multi-billions of dollars in drug company profits, can we?
So what is an AIDS vaccine supposed to do? Deliver, or help the body to create, antibodies against HIV? But wouldn't the presence of antibodies mean a diagnosis of AIDS? It will be interesting to see how they handle this marketing problem.
Anyway, there is a lot of good research on this topic. See, for example here and here.
Joshua Micah Marshall
(August 6th, 2003 -- 3:29 PM EDT)
Remember Mahdi Obeidi? He's the Iraqi nuclear scientist who made headlines back in June when he turned over parts of a gas centrifuge for uranium enrichment and blueprints related to Iraq's pre-1991 nuclear weapons program. The parts of course were buried under a rosebush in his backyard.
More recently, Obeidi made more embarrassing headlines when the Associated Press revealed that he has consistently told CIA investigators that those much-discussed aluminum tubes had nothing to do with nuclear weapons development.
The AP reported that Obeidi was in Kuwait. But it turns out there's a bit more to the story. Given that Obeidi was so quick to come clean about the history of Iraq's nuclear weapons program and Saddam's plans to reconstitute the program once sanctions were lifted, you might think that we were helping him restart his life in the US, Iraq or perhaps some other Arab country.
Well, not exactly.
It turns out he's being held against his will in Kuwait apparently because he won't 'come clean' about the aluminum tubes, an on-going Iraqi nuclear weapons program and significant chemical and biological weapons stocks.
Obeidi is not in prison. He's in a residential setting with his family, under US government supervision, well-fed and so forth.
But he can't leave. He can't go back to Iraq -- for obvious reasons. He's only in Kuwait through a US agreement with the Kuwaiti government. He can't go anywhere else since he doesn't have a passport. American friends provided him with a satellite phone. But his CIA handlers have frowned on his using it.
The deal he made, or thought he'd made with the US, was that he would be given asylum and allowed along with his family to come to the United States. He has a job lined up in the US and even, believe it or not, a book contract (that's globalization for ya). But though he had a good-faith understanding with the CIA that he'd be allowed to come to the United States, he failed to secure a formal agreement.
That turned out to be a mistake. For two months they've been holding out on him, apparently because the answers he's giving them aren't the ones they want to hear.
Indo-Pak peace talks likely after September
TIMES NEWS NETWORK
THURSDAY, AUGUST 07, 2003 11:40:50 AM

NEW DELHI: Pakistan may soon suggest two or three dates to India for early resumption of peace talks, which foreign diplomats expect to be held after the UN General Assembly session in September.
Agreeing to the Indian doctrine of a step-by-step approach, which suggests foreign secretary level talks, "Pakistan may suggest, shortly, two or three dates to India for a round of Indo-Pakistan foreign secretaries" dialogue a diplomat following developments in South Asia told The News.
Diplomats in Brussels, however, indicate a sharp difference of perception on priorities of issues to be discussed in the official level dialogue ranging from foreign secretaries' talks to a possible Indo-Pak summit.
Khatami: Iran opposes WMD

Iran's President Mohammad Khatami said on Wednesday that in line with the Islamic teachings his country opposes proliferation of nuclear arms and has never had such a program.
Speaking in a meeting with Iran's Supreme Leader Ayatollah Seyed Ali Khamenei, Khatami said, "In presence of the Supreme Leader and top political and military officials of the country, I declare that the Islamic Republic of Iran opposes weapons of mass destruction (WMD) and that any allegation against Iranian nuclear program is unfounded and lie." (Albawaba.com)
Britain losing new Afghan opium war
Patrick Wintour
The Guardian
British-led plans to destroy Afghan opium poppy farming, responsible for 90% of the UK's heroin supply, have made little progress so far, UN figures will show next month. [...]
From Symbol Of Popular Culture to Politician

By Sharon Waxman
Washington Post Staff Writer
Thursday, August 7, 2003; Page A04

LOS ANGELES, Aug. 6 -- For two decades, Arnold Schwarzenegger has been a pop culture symbol of Hollywood machismo and one of the most powerful forces on the entertainment landscape, an international star who has tirelessly traveled around the country and the rest of the world to promote his blockbuster movies and reinforce his image as an action hero.
The Austrian-born actor and bodybuilder first came to public attention as the subject of the 1976 documentary "Pumping Iron." [...]
He has long identified himself as one of the rare Republicans in Hollywood, despite his marriage to Maria Shriver, a television journalist and a member of the prominent Democratic Kennedy clan. He has no political experience, and his political views are largely unknown. But his decision to run for governor will surprise many in Hollywood, where it was widely believed that stories about the star's alleged sexual indiscretions would help tip the balance against a candidacy.

Comment: This is the man who recently visited Iraq, pumping the troops to further massacres with the words: "In the movies, I played the terminator, but YOU GUYS are the REAL TERMINATORS". Thanks Arnold, you'll make a wonderful governor. Is it a coincidence that many probable psychopaths seem to be accused of "sexual indiscretions"?
Please someone tell us it ain't so!!!
Huffington heads the election gunslingers in farcical race for California's hot seat
By Andrew Gumbel in Los Angeles
07 August 2003
If California were a cow town in the Old West, this would be the moment when hostile posses, gathering from all directions, would finger their weapons and nervously wait for the signal to pounce.
Imagine the unpopular, ineffectual sheriff - in this case, Governor Gray Davis - holed up in his mansion, abandoned by almost all his townsfolk, pondering his future. And then imagine the bizarre collection of gunslingers vying to run him out of town and take his job - a cast of characters that may yet include a wheelchair-bound pornographer, a dodgy car alarm salesman, a sharp-tongued Greek-American society hostess, her Texas millionaire ex-husband and an Austrian-born action movie star. [...]
Comment: California seems to be an economic and political circus. With a nonexistent budget and a list of potential governors that includes Arnie, Larry Flint, and an adult film star, the next article is no big surprise...
Golden State loses its allure for Americans
By Andrew Buncombe in Washington
07 August 2003
The lure of California, the supposedly easy-going state that has drawn people for generations, appears to be wearing thin. Figures show that, for the first time, more Americans are leaving the Golden State than arriving. [...]
From December 3, 1994 Session:
A: [...] Enough personal dilly dallys. Long message to follow. Pause: Ukraine explosion; chemical or nuclear.
Hawaii crash; aviation, possibly involving military. More California seismic activity after 1st of year: San Diego, San Bernardino, North Bakersfield, Barstow: all are fracture points. Hollister, Palo Alto, Imperial, Ukiah, Eureka, Point Mendocino, Monterrey, Offshore San Luis Obispo, Capistrano, Carmel: these are all stress points of fracture in sequence. "Time" is indefinite. Expect gradual destruction of California economy as people begin mass exodus.
Giant Gas Projects Set to Trigger New Investments
Staff Writer
Arabnews.com

JEDDAH, 7 August 2003 — Saudi Arabia expects new investments worth SR75 billion ($20 billion) in 10 giant gas projects within the next six years, according to Petroleum and Mineral Resources Minister Ali Al-Naimi. [...]
Israel Frees More Than 330 Palestinian Prisoners
By Wafa Amr
Wed Aug 6, 4:02 PM ET
BETUNIA, West Bank (Reuters) - Israel released more than 330 Palestinian prisoners Wednesday in what it called a gesture to bolster a U.S.-backed peace "road map." Palestinian officials dismissed the move as a sham. [...]
Bush threatens to withhold loans if Israel continues security wall
By Andrew Buncombe in Washington and Eric Silver in Jerusalem
06 August 2003
The Bush administration is threatening to withhold billions of dollars in loan guarantees from Israel if the government of Ariel Sharon continues to build its "security fence" in the West Bank.
Up to $9bn (£5.6bn) could be withheld from loan guarantees intended for housing and commercial projects. The funds were approved earlier this year by Congress but are awaiting presidential approval.
In what would be the first open confrontation between the US administrationand Mr Sharon, the National Security Adviser, Condoleezza Rice, is poised to tell Israel that the money will be suspended. [...]
Estimated 300 Children Died In The U.S. From Shaken Baby Syndrome Last Year
University Of North Carolina At Chapel Hill
2003-08-06
CHAPEL HILL -- If the rest of the country reflected what happened in North Carolina recently, an estimated 1,300 U.S. children experienced severe or fatal head trauma from child abuse during the past year, a new study concludes. Of those, 1,200 were in the first year of their lives. Infant boys born to younger, unmarried mothers faced a significantly higher likelihood of suffering serious or fatal head injuries from abuse than infant girls or children under age 2 with older, married mothers, the University of North Carolina at Chapel Hill study showed. Infants born to non-white mothers or who were first born also faced a higher risk of such injuries, scientists found. [...]
Scientists create first cloned horse
18:02 Wednesday 6th August 2003
[...] DNA tests have confirmed that Prometea, who was born in Italy on May 28, is genetically identical to her surrogate mother. [...]
The blob in the lagoon
Unidentified mass grows behind Little Egg Harbor Twp. homes
By ANDREW JOHNSON
Staff Writer
August 6, 2003
LITTLE EGG HARBOR TOWNSHIP - There's a "gelatinous," "ocra-green" "biological mass" that's the size of a small car in the lagoon behind Robert Masterson's house.
"I've never seen anything like it," state Department of Environmental Protection emergency response official Robert J. Schrader told Masterson on Tuesday.
"It's a pretty good Scooby mystery," Schrader said. [...]
Man killed by rampaging wild elephant in Vietnam

HANOI (AFP) Aug 07, 2003
A man was killed in central Vietnam by a rampaging wild elephant after venturing outside at night to investigate strange noises near his house, state media said Thursday. [...]
Three days earlier, three elephants went on the rampage in the province's Que Son district, seriously injuring a forest ranger.
Each year in Vietnam people are killed by wild elephants desperately seeking food and water as their traditional habitats are encroached upon by logging and unchecked development. [...]
EULESS, Texas, Aug. 5 (UPI) -- An 11-year-old Euless, Texas, boy who lied to his father was punished by having his tongue burned with a fireplace lighter and being repeatedly slapped, police said Tuesday.
Border Patrol agent kills woman then himself
Associated Press
Wednesday, August 6, 2003
EL PASO, Texas — A U.S. Border Patrol agent fatally shot a woman Wednesday morning and then killed himself at a home on El Paso's west side, police said. [...]
Two-headed moose fetus shocks Native community, baffles biologists
By Doug O'Harra
Anchorage Daily News
[...] The foot-long moose-to-be had two heads and four legs emerging from the same small body, said Jim Simon, who oversees a traditional foods assessment program for the Tanana Chiefs Conference in Fairbanks. It has been frozen pending a detailed biological study that will include X-rays, a dissection and tissue testing. [...]
Comment: The article includes a photo of the fetus.
Arsenic's fatal legacy grows worldwide
New Scientist
The growing trend around the world to drink water from underground sources is causing a global epidemic of arsenic poisoning. Tens of thousands of people have developed skin lesions, cancers and other symptoms, and many have died. Hundreds of millions are now thought to be at serious risk. [...]
School Board member tells Slay he is cursed with a curse
By MATTHEW FRANCK
Post-Dispatch
St. Louis School Board member Rochell Moore fired off a cryptic letter Tuesday to Mayor Francis Slay, saying he is "cursed with a curse" of biblical proportions for interfering with the city school district. [...]
The letter consists almost entirely of a passage in Deuteronomy in which Moses spells out the calamities that would attend the Israelites if they strayed from God. [...]
Jurors reject Davis defense

By MARTI GOODLAD HELINE
Tribune Staff Writer

SOUTH BEND -- A man who blamed a two-headed demon for causing him to kidnap a college student who was beaten and repeatedly raped over two days was found guilty Tuesday night of seven felony charges. [...]
Iceland resumes whaling 'for science'
Gillette man lights self on fire to ward away officers
Associated Press
GILLETTE, WY— A 27-year-old man was arrested after allegedly striking and threatening a woman and then lighting himself on fire to keep police away, authorities said. [...]
Crop Circle Connector Reports on 6 Formations for August
Radio station lays claim to farmer's crop circles
Station retracts claim of making crop circles
The Associated Press

HOWELL TOWNSHIP, Mich. (AP) -- A radio station on Wednesday retracted its earlier claim of responsibility for three crop circles that appeared in a farmer's wheat field.
The circles appeared last month on the farm of Michael Esper in Livingston County's Howell Township, near Howell and about 50 miles northwest of Detroit. [...]
Discovery of ancient site stuns experts
MICHAEL HOWIE
PREHISTORIC remains hailed by experts as one of Scotland's most significant archaeological finds in 50 years have been unearthed in the path of a major road development.
Scores of pots, tools and ceremonial items dating back 7000 years have been unearthed where work is being carried out to create a dual-carriageway between Haddington and Dunbar.
Ancient burial sites and neolithic settlements have also been uncovered.
The discovery has stunned experts who say it is one of the biggest and most important finds in recent years.
Archaeologists have yet to analyse the many items uncovered along the 11-mile stretch but are already predicting it will tell them much about early civilisation in the Lothians region.
They say the sheer volume of material confirms the existence of thriving communities which survived on the fertile farmland of East Lothian for thousands of years. [...]
And finally...
Sexy weather girls 'should be banned'
A Romanian minister has called for sexy weather girls to be banned from TV after one predicted light showers when it was pouring with rain outside.
Agriculture Minister and head of the Romanian Meteorological and Hydrological Institute Ilie Sarbu told the Libertatea daily: "I want girls with miniskirts and big cleavages out of TV weather shows.
"The Meteorological Institute has a £30 million investment to deliver exact forecasts. And yet one day I came to my office when it was pouring with rain and a girl with her breasts half-naked was saying on TV that we might have some light rain in the afternoon.
"There are some girls who keep showing up on the TV screens and say nothing but stupid things."
---

Check out the Signs of the Times Archives

Send your comments and article suggestions to us.
---
Fair Use Policy
Contact Webmaster at signs-of-the-times.org
Cassiopaean materials Copyright ©1994-2014 Arkadiusz Jadczyk and Laura Knight-Jadczyk. All rights reserved. "Cassiopaea, Cassiopaean, Cassiopaeans," is a registered trademark of Arkadiusz Jadczyk and Laura Knight-Jadczyk.
Letters addressed to Cassiopaea, Quantum Future School, Ark or Laura, become the property of Arkadiusz Jadczyk and Laura Knight-Jadczyk
Republication and re-dissemination of our copyrighted material in any manner is expressly prohibited without prior written consent.
.