---
Remember, we need your help to collect information on what is going on in your part of the world!
Read Dear Readers to find out more.
---
"The signs of the times herald a new age. It is close at hand. Will it be better, will it be even more dreadful than the present one? The precipice is within inches of the summit. Every one of us contributes in a certain measure to the course events takes. Let us be conscious of our responsibility." T. Illion, In Secret Tibet, p. 189
Evidence for meteor in early mass extinction found
It's the stuff of science fiction movies. Bruce Willis, by a mighty effort, saving the world from extinction by a huge meteor.
But Bruce Willis won't do it, and in our current state of readiness, neither will anyone else. That is why LSU geophysicist Brooks Ellwood is plumbing the geologic record, trying to correlate known mass extinctions to meteor strikes.
"When we think about the human race and life in general, what do we worry about? We worry about nuclear holocaust and major glaciation. Then we worry about the giant chunks of rock that fly past Earth all the time," Ellwood said.
"We can't see them till they're here, we can't stop one, so the question is, how often do they hit the Earth and cause major mass extinctions? Are extinctions often caused by impacts? If so, we want to be sure we are prepared." [...]
Worrying about the next big splash
[...] My question arises out of an incident that took place on March 8, 2002, when an asteroid the size of a Boeing 747 passenger jet slipped past all of the sky watchers, flew within 280,000 miles of planet Earth - just beyond where the moon hangs out - and was finally discovered a day later. Of even greater concern is the fact that three more days passed before the rest of the world was notified of the event.
With that amount of miles between Earth and asteroid 2002 EM7, most people would not consider that a close call, but in terms of the vastness of space, it was like getting brushed back by a Randy Johnson fastball. [...]
"Until we detect all the big ones and can predict their orbits," said Eric Asphaug, an associate professor of earth sciences, "we could be struck without warning. With the ongoing search campaigns, we'll probably be able to sound the "all clear" by 2030 for 90 percent of the impacts that could trigger a global catastrophe."
I don't know about anyone else, but I'm not particularly comforted by this information, for even when we reach 90 percent efficiency 27 years from now, what about the other 10 percent? What's really scary about all this is the fact that asteroid 1950 DA was discovered in 1950, studied for 17 days and then was lost for 50 years. It was rediscovered on New Year's Eve 2001. I wonder how many more sneaky asteroids there are out there?
Impact lethality and risks in today's world: Lessons for interpreting Earth history

Clark R. Chapman
Southwest Research Institute
Abstract: There is a modern-day hazard, threatening the existence of civilization, from impacts of comets and asteroids larger than about 1.5 km diameter. The average annual world fatality rate is similar to that due to significant accidents (for instance, airliner crashes) and natural disasters (e.g. floods), although impact events are much rarer and the deaths per impact event are much greater. (Smaller, more frequent impacts can cause regional catastrophes from tsunamis of unprecedented scale at intervals similar to the duration of recorded human history.)
As the telescopic Spaceguard Survey census of Near Earth Asteroids advances, numerical simulations of the dynamical and collisional evolution of asteroids and comets has also become robust, defining unambiguously past rates of Earth impact of larger, more dangerous cosmic bodies. What are very tiny risks for impacts during a human lifetime become certainties on geological timescales. Widely reported errors in predictions of possible impacts during the next century have no bearing on the certainty that enormous impacts have happened in the past.
The magnitudes and qualitative features of environmental consequences of impacts of objects of various sizes are increasingly well understood. Prime attributes of impacts, not duplicated by any other natural processes, are: (a) extreme suddenness, providing little opportunity for escape and no chance for adaptation, (b) globally pervasive, and (c) unlimited potential (for K/T-boundary-scale impacts and larger) for overwhelming destruction of the life-sustaining characteristics of the fragile ecosphere, notwithstanding the rather puny evidence for impacts in the geological record.
A civilization-ending impact would be an environmental and human catastrophe of wholly unprecedented proportions. K/T-scale impacts, of which there must have been at least several during the Phanerozoic (past 0.5 Gyr), are 1,000 times still more destructive. No other plausible, known natural (or man-made) processes can approach such catastrophic potential. The largest impacts must have caused mass extinctions in the fossil record; other natural processes could not have done so. Perspectives concerning both (a) the potential modern-day destructive potential of impacts and (b) conceivable, almost miraculous refugia in our own world provide a new gestalt for thinking about past cataclysms. [...]
The Volcano That May Destroy Mankind
By Zaynab El-Fatah
Approaching Lake Toba in North Sumatra, one could be forgiven for thinking that the beauty of the lake was heavenly, without thinking of how it was formed. [...]
In Britain, a scientist has predicted that another volcanic super- eruption the size of Toba could pose twice as much of a threat to civilization as a collision with an asteroid or a comet. [...]
Update on the Dieng Volcano (Indonesia)
Tuesday 5th August 2003
Initial reports of eruptions at Dieng have not been verified. Small ejections of mud from Dieng's Sileri crater noted on 20 & 24 July, rising 25-50m. Since then, mud spatterings rising 1m. No significant increase in crater temperatures or anamolous seismicity appear to have occurred with these events. [...]
Researchers study effects of Hawaiian volcanoes on health
VOLCANO, Hawaii (AP)
Hawaii's active volcanoes spew out 6,000 times the daily amount of poisonous sulfur dioxide required to qualify as a major industrial source of pollution, and health officials say the venting toxic gas and ash could be linked to health problems. [...]
M5.0 quake jolts Ibaraki Prefecture
Tuesday, August 5, 2003 at 09:00 JST
Japan Today
TOKYO - An earthquake registering magnitude 5.0 on the Richter scale hit Ibaraki Prefecture on Monday evening and was felt in Tokyo, the Japan Meteorological Agency said.
There were no immediate reports of injuries or damage from the 8:57 p.m. quake. No tsunami warning was issued. [...]
Two Decades of Global Tsunamis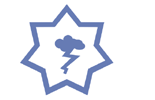 Season's highest temperatures marked in many parts of Japan
TOKYO — A Pacific anticyclone on Monday brought the highest temperatures this summer to many parts of Japan, with the mercury reaching 38.2 C in Isesaki, Gunma Prefecture, the Japan Meteorological Agency said. [...]
Britain bakes, Europe burns. Is this proof of global warming?

By Michael McCarthy, Environment Editor
05 August 2003

If it isn't proof of global warming at last, it certainly looks like it. As much of Europe burns like a furnace and rivers run dry across the continent, Britain is bracing itself for its own record temperature.
Sometime tomorrow, in southern England or the Midlands, the mercury in the thermometer may pass 37.1C, which became the national record when registered in Cheltenham on 3 August 1990. That centigrade peak translates as 98.8 Fahrenheit, so the remarkable figure for Britain of 99 or even 100F- is on the cards.
"We reckon there's a 20 per cent chance it will happen, but in any case it's going to get very very close," said Andy Yeatman of the Met Office.
A record would be hugely significant - a three-figure Fahrenheit temperature for the UK would be breaking psychological as well as new meteorological ground as it would give many people for the first time the perception that global warning is a real, not a theoretical phenomenon - and that it is happening to them. [...]
Comment:

July 4, 1998:
A: All areas experience accelerating "freak weather patterns."
Q: (L) Okay, all of these freaky weather patterns and bizarre things going on the planet, how does it relate to the comet cluster and the brown star? Is it related?
A: Human experiential cycle intersects.
Q: (L) Any specific physical manifestation of either this brown star or this comet cluster or this realm border, that is related to these events on the planet?
A: Approach of wave stimulates precursor activity which in turn causes effects which in turn stimulates further "heating up" of activity...
Q: (L) I thought it was curious that you used the term 'birth of the spike.' Is there something or someone that was born at that particular time?
A: No. Spike is as on a graph...
Q: (L) Okay, is there anyway we could graph this ourselves, and if so, what types of events would we include to create the background data?
A: "El Nino, La Nina," etc...
Q: (L) Is this El Nino thing connected to sunspot cycles?
A: No.
Q: (L) It has its own cycle. I don't think it has been tracked for long enough to get...
A: Global warming, a part of the human experiential cycle.
Q: (L) I read where Edgar Cayce said that a slight increase in global temperature would make hurricanes something like 5 times stronger... given a baseline temperature. Does this mean we are going to have stronger and more frequent hurricanes?
A: Yes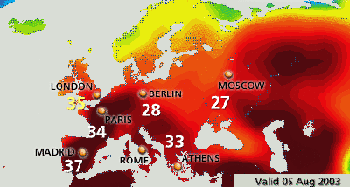 Flashback: North Pole melts away: Gulls circle overhead as Arctic ice cap gives way to lake a mile across
The Ottawa Citizen
August 20, 2000
Jonathan Leake
The North Pole is melting for the first time in 55 million years. Researchers have found that the icecap at the top of the world has turned into a mile-wide patch of open ocean. [...]
Portugal fires destroy vast area
BBC
Tuesday, 5 August, 2003, 01:49 GMT

Forest fires are continuing to burn across Portugal, despite the efforts of thousands of firefighters to contain the flames.
Nine people have died, and more than 53,000 hectares of land have been destroyed so far in the fires, some of which have been burning for more than a week. [...]
Drought Reveals German WW2 Warship in River
PRAHOVO, Serbia and Montenegro (Reuters)
Europe's worst drought in years has pushed the mighty river Danube to its lowest level in more than a century, revealing German warships sunk to slow advancing Soviet forces in World War II.
50-year recovery for French forest
By CNN's Charles Froggatt
Monday, August 4, 2003 13:06 GMT
FREIBURG, Germany -- Forest land around the French Riviera could take more than 50 years to recover after fires incinerated 8,000 hectares of the Var region, conservationists warn. [...]
Central Quebec hit by heavy storm
VICTORIAVILLE, Que. (CP)
Flooding caused by heavy rain destroyed several small bridges and swept away six homes as several families were rescued by helicopter in rural central Quebec Monday evening.
At least seven bridges were destroyed by the rushing waters of the Nicolet River, Quebec provincial police spokeswoman Chantal MacKels said early Tuesday. "The actual river is so high that it's going over the barriers and into the street," she said. Five summer cottages and one year-round residence were swept away in Chesterville and Tingwick. A police SWAT team used a helicopter to rescue six stranded families in Chesterville floodwaters isolated them in their homes.
A total of about 60 people were evacuated.
Bourbon blaze sets creek aflame
Monday, Aug. 4, 2003 8:35 PM EDT

Bardstown, Ky. — Fire engulfed a seven-storey bourbon warehouse Monday, sending alcohol-fuelled flames more than 30 metres in the air.
The wood-frame Jim Beam warehouse collapsed about two hours after the fire was reported at 3 p.m. and continued burning. The company said the warehouse held about 19,000 barrels of bourbon, or less than 2 per cent of its bourbon inventory. [...]
Tuesday, August 5, 2003
WASHINGTON (AP)
Raindrops fell on Alabama. And fell, and fell, and fell.
Mobile and Birmingham had record three-month rainfall totals in the May-July period, more than doubling their normal rain, the National Weather Service reported Monday.
Georgia and Mississippi shared in the unusual wetness, with communities in those states recording May-July periods that were among their dampest. [...]
The North Pole is melting for the first time in 55 million years. Researchers have found that the icecap at the top of the world has turned into a mile-wide patch of open ocean. [...]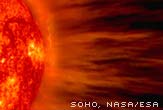 Sunscreen 'increases cancer risk'
BBC
Wearing sunscreen makes people stay in the sun too long - and could release cancer-causing substances into the body, according to specialists. [...]
[A] British biochemist has suggested that the cocktail of chemicals involved in sunscreens could be converted into "free radical" molecules, which could cause cell damage and lead to cancer. [...]
Images of forged Nigerien documents
[...] The French of the documents sounds as if it comes right out of a Babelfish translation. [....]
GAO Statement: "Diffuse Security Threats: Information on U.S. Domestic Anthrax Attacks"
thememoryhole.org
[...]The dire warning on the cover of the publication warns that public release of its contents "could be detrimental to the government" and that after it has been read, it should be destroyed. How very cloak and dagger. And how interesting that the GAO allowed the report to be published in its entirety, with absolutely no redactions. If the knowledge contained herein could collapse the government and must be detroyed, then why the heck has it been deemed fit for public consumption now? [...]
Israel stalls plan to return more cities to Palestinians
BY SORAYA SARHADDI NELSON AND CLIFF CHURGIN
Knight Ridder News Service
HAR GILO, West Bank -Israeli officials on Monday halted plans to return control of more West Bank cities to the Palestinians after Palestinian security forces failed to prevent a shooting attack late Sunday that injured four Israelis outside a Jewish settlement in the West Bank. [...]
Comment: More shooting attacks just before Palestinians were to benefit from Israeli promises. And it appears that Israel is using "terrorist" threats the same way the U.S. does . . .to scare the people into submission . . .
Warnings Again: Rockets Liable To Threaten Tel Aviv And Jerusalem
Yet again, warnings are being sounded against a "peace now" policy - warnings that have come true more than once in the recent past. "The threat of Kassam rockets on Yesha communities and on central Israel will be a genuine threat." So said an IDF Intelligence Branch officer appearing before the Knesset Foreign Affairs and Defense Committee today. He said that Kassam rockets are being manufactured in large numbers in the Shechem area, with the help of Hizbullah elements.[...]
"Instead of the terrorist infrastructures being destroyed," Shteinitz said today, "as the Road map demands, we're seeing the exact opposite. The terrorists are getting stronger, and in a matter of months, we are liable to see Kassam rockets in Yesha as well, and what we saw in the north - that in exchange for relative quiet, we received a rocket threat along the entire north - is liable to repeat itself, except this time against Jerusalem, Tel Aviv, and the entire central plain. This is just not an acceptable price to pay, even for a short period of quiet." [...]
Hidden facts brought out in open
By Najla Al Rostamani
Of all American presidents, George W. Bush is the most pro-Israeli ever.[...]
It should not come as a surprise, says Hirst, that Bush, among all American presidents, is so far the one who has lent his unconditional support for Israel. This is illustrated by the fact that senior and influential positions within his administration are occupied by a pro-Israel group - the "neo-conservatives" - this, coupled with the fact that the president is accessible and under the influence of the "friends of Israel".
The influence of both groups is not limited to the White House but extends also to the legislative branch - the Congress. Israel is beyond criticism, according to these groups. "In the face of this display of domestic political power, the President's resolve crumbled entirely."
In fact, Washington became "the all-important, metropolitan source of strength without which Israel could never, in the face of Palestinian and Arab hostility, have sustained and developed its strength at home".
And although the Jewish population in the U.S. is only slightly over two per cent of the total population, they exert great influence on the politics of the country. The "father of Israel", David Ben Gurion, is the first to look on this group as gathering strength and power, hence influencing policies within the U.S. so that it is in Israel's favour. [...]
FRENCH JEWISH LEADER TO IGNORANT AMERICAN LOUDMOUTHS: "FERMEZ VOTRE BOUCHE, SVP"
MSNBC

"American Jewish groups should mind their own business and stop casting doubts on the ability of French Jewish leaders to be forceful and efficient advocates for Jews and for Israel." You got a problem with that? Talk it over with Roger Cukierman, the senior leader of the French Jewish community.
Want more? "[H]e added efforts by American Jews to influence French politics have a potentially damaging effect, since many in France, as elsewhere in Europe, are already suspicious of an American Jewish lobby that they believe is influencing a deeply unpopular American foreign policy."[...]
The Psychopath's Bible

For the Extreme Individual

Christopher S. Hyatt, Ph.D.
with Dr. Jack Willis & Nicholas Tharcher

In the most of the world, psychopaths have gotten a bad rap. That, of course, is quite understandable since almost all of the world's religious and social philosophies have little use for the individual except as a tool to be placed in service to their notion of something else: 'God,' or the 'collective,' or the 'higher good' or some other equally undefinable term. Only rarely, such as in Zen; in Ayn Rand's philosophy of Objectivism; in some aspects of Tibetan Buddhism and Hinduism; and in some schools of Existentialism, is the individual considered primal. Here, finally, is a book which celebrates, encourages and educates the best part of ourselves --- The Psychopath.

About the authors:
Christopher S. Hyatt, Ph.D. was trained in both psycho-physiology and clinical psychology and practiced as a psychotherapist for many years. He has published many articles in peer-reviewed, professional journals. Today he is known as the world-famous author of a wide variety of books on psychology, sex, tantra, tarot, self-transformation and Western magic.
Dr. Jack Willis has advanced degrees in biochemistry, psychology and chiropractic medicine. He has been a practicing psychotherapist for over 30 years and a computer programmer for over 40 years. He is also a limited-government libertarian, a fallen soul bound for perdition and, most importantly, a person who thinks with his own mind, not the collective idiocy of the masses. He thinks the job of living is living, not self-sacrifice. He holds that: "Those who engage in self-sacrifice deserve to be sacrificed; man is the measure of all things (take that you ecology-freaks); unhappiness is an accident; and productivity, creativity, and pleasure are the metaphysical essentials of life."
Comment: And you all thought we were joking...
Poverty strikes harder than 30 years ago
Cath Hart
Queensland News
POVERTY was now worse than it was 30 years ago, a Senate inquiry was told yesterday. And having a job was no longer a safeguard, because more and more jobs paid less than $300 a week...
FDA Removes Warning From Fake Fat
Associated Press
Snacks made with the fake fat olestra no longer will have to bear the unappetizing label that warned they might cause cramps and diarrhea. [...]
Ultimately, the FDA received about 20,000 reports of gastrointestinal complaints among olestra eaters. But olestra maker Procter & Gamble argued that the fake fat was safe and the complaints coincidence -- after all, the company said, stomach upset and diarrhea are very common. [...]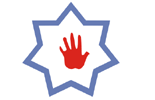 Corruption Scandal Shakes Brooklyn's Court System
[...]"We haven't seen anything as severe as what's coming out of Brooklyn," said Bert Brandenberg, spokesman for Washington D.C.-based Justice at Stake. [...]
Former FBI agent admits stealing $1.5M BOSTON
Aug. 4 (UPI) -- A former New Hampshire FBI agent pleaded guilty Monday in federal court in Boston to one count of mail fraud in a scheme to steal $1.5 million. [...]

The Pentagon has some explaining to do

By KAREN KWIATKOWSKI
After eight years of Bill Clinton, many military officers breathed a sigh of relief when George W. Bush was named president. I was in that plurality. At one time, I would have believed the administration's accusations of anti-Americanism against anyone who questioned the integrity and good faith of President Bush, Vice President Cheney or Defense Secretary Donald Rumsfeld.
However, while working from May 2002 through February 2003 in the office of the Under Secretary of Defense for Policy, Near East South Asia and Special Plans (USDP/NESA and SP) in the Pentagon, I observed the environment in which decisions about post-war Iraq were made. [...]
I am now retired. Shortly before my retirement I was allowed to return to my primary office of assignment, having served in NESA as a desk officer backfill for 10 months. The transfer was something I had sought, but my wish was granted only after I made a particular comment to my superior, in response to my reading of a February Secretary of State cable answering a long list of questions from a Middle Eastern country regarding U.S. planning for the aftermath in Iraq.
The answers had been heavily crafted by the Pentagon, and to me, they were remarkably inadequate, given the late stage of the game. I suggested to my boss that if this was as good as it got, some folks on the Pentagon's E-ring may be sitting beside Saddam Hussein in the war crimes tribunals.
Scientists gagged by government
Last Updated Mon, 04 Aug 2003 14:12:04
ST. JOHN'S - Environmentalists are worried that the federal government is trying to keep its scientists from talking after a marine biologist was censured for speaking out over illegal dumping by ships.
CBC News obtained an Environment Canada e-mail saying Tony Lock, an expert in marine pollution with the Canadian Wildlife Service, had been relieved of his duties and told not to talk to the media.
U.S. businesses cut payrolls again
Last Updated Fri, 01 Aug 2003 19:21:39
WASHINGTON - The unemployment picture south of the border remained gloomy in July as businesses cut staff for a sixth straight month and hundreds of thousands of people gave up looking for work.
Tex. Paper Seeks to Unseal Enron Hearing
HOUSTON (AP
The Houston Chronicle is asking a federal judge to unseal the transcript of a closed hearing last week in the criminal case of former Enron Corp. finance chief Andrew Fastow.
Fastow, two other former Enron executives charged in a 109-count indictment, and their attorneys were called to a July 28 status hearing in their case in the chambers of U.S. District Judge Kenneth Hoyt.
Neither the judge nor the attorneys indicated the proceeding would be closed and the hearing was noted on Hoyt's docket of public hearings for that day. A court reporter attended the private hearing and produced a transcript that was sealed.
Hoyt issued no rulings or orders after the private hearing and none of the attorneys would comment on what had been discussed.
The Chronicle has asked for a hearing to argue in favor of unsealing the transcript so the discussions become part of the public record in Fastow's case. Hoyt has yet to respond to the request.
Fastow faces nearly 100 counts of fraud, insider trading, money laundering, conspiracy and obstruction of justice for allegedly creating and running schemes and partnerships to make Enron appear financially healthy while pocketing millions for himself, his family and select friends.
Also charged in the case is former Enron treasurer Ben Glisan Jr. and former vice president of finance Dan Boyle for their alleged roles. Fastow is the highest-level former Enron executive to face criminal charges over the energy company's stunning 2001 collapse.
Austin's growth lost steam suddenly
IRS records show Data on taxpayers track how tech bust put the brakes on migration into the city in 2001
By Bill Bishop
American-statesman staff
Monday, August 4, 2003
It wasn't your imagination. Austin's growth slowed that fast.
Austin gained two-thirds of a billion dollars in family incomes from people moving into the region in 2000. One year later, according to federal tax records, the gusher of money into Austin slowed to a dribble. Austin gained just $35 million in income through migration in 2001.
[...] When will Austin recover? "I actually worry a little bit about Austin," Hicks said. "It has splendid assets, but it's not a big enough business center to regenerate itself. Dallas will be somewhat in that same boat. We have a much bigger tech sector, but much of it was brought in. What's missing is a full set of resources to spontaneously generate the next set of industries."
Comment: Dell, one of the world's largest computer manufacturers, is based in Austin -- the former tech boom town now gone bust. If you call for tech support on a Dell computer, the call is routed to a tech support center India where labor is much cheaper.
This is a common trend for American globalists, to move their resource acquisitions to areas where cheap labor can be exploited for higher profits, at the expense of the American citizens who are suffering rising unemployment rates and a recession thanks to the Bush Reich.
The story also points out how the US government (namely the IRS) uses it's databases to track the movements of people, which in their eyes amount to little more than human resources akin to cattle.
Growing tension between PA, Israel over issue of prisoners: Sharon-Abbas meeting cancelled
05-08-2003, 05:15

Palestinian Prime Minister Mahmoud Abbas' office late Monday announced that the meeting with Israel's Prime Minister Ariel Sharon had been cancelled, due to what it regarded as limited good-will gestures from Israel towards the Palestinians, especially concerning the release of Palestinian prisoners.
Panel proposes plan to subsidize vaccines
By The Hartford Courant and The Associated Press

WASHINGTON — In a plan to make sure Americans receive proper immunizations, a panel of experts said yesterday the government should require all insurance plans to cover vaccinations and should provide vouchers to uninsured people for the recommended shots.
The proposals are designed to fill financing gaps in the immunization program, which the panel warned is in danger of becoming "outmoded and overburdened."
Israeli firm wins public telephone contract in Iraq
Business August 04, 2003

Iridium Satellite Israel is supplying Iraq with public telephones worth four to five million dollars. The global satellite voice and data communication provider was authorized last month by the office of the Coalition Provisional Authority (CPA) to sell its mobile satellite communications services, subscriber terminals, and related equipment in Iraq.
According to CEO of Iridium Satellite Israel Ami Schneider, the order was placed by a Jordanian company, reported Globes. The company also plans to market several thousands of mobile telephones in Iraq.
No 10 apologises for 'Walter Mitty' slur against dead weapons expert
By James Lyons, Political Correspondent, PA News
05 August 2003
The Prime Minister's official spokesman Tom Kelly apologised today for describing the dead Iraqi weapons expert Dr David Kelly as a "Walter Mitty character."
Tony Blair faced calls to sack him over the briefing about events leading up to Dr Kelly's apparent suicide.
Mr Kelly denied trying to discredit the former weapons inspector but admitted the briefing was a "mistake".
Western media turns Saddam sons killing into one big festival

albawaba.com
July 29, 2003
In line with Muslim tradition, the bodies of the brothers ought to have been washed, shrouded and buried without delay. However, the US authorities apparently had no respect for Islam law in the way they handled and displayed the bodies. Such inhumane acts are scandalous and controversial on religious grounds, as Muslim tradition requires corpses to be buried as quickly as possible.
[...] The United States' offensive manner in which it treated the brothers' bodies, clearly emphasizes, yet again, the US's double-standard policy. Clearly, the Western media followed this method by serving as a valuable channel to expose this unprecedented course of action. Such lack of respect to Islam is intolerable and will likely continue to promote distrust among its followers towards Western behavior and hamper relations between both worlds. (Albawaba.com)
History Repeats Itself

Tamim Al-Barghouti - The Daily Star, Beirut, July 23 2003

America, like Napoleon, takes colonialism to absurd lengths
When Napoleon first came to Cairo, he first tried the American trick to make an invasion look like a liberation. In a pamphlet distributed in Alexandria one day before the city fell into the hand of French troops, Napoleon's translators introduced the expression "al-Umma al-Misriyya" (the Egyptian community or nation) for the first time to the Arabic language. Napoleon claimed to be liberating the Egyptians from the Mamlouks, who were foreigners; he was a savior rather than an invader.
Of course, to the people of Cairo, the Mamlouks and the Ottomans were no foreigners; Islam, not nationalism, was the basis of political identity. "Al-Umma al-Islamiyya" (the Islamic community, sometimes translated as the Islamic nation) was the only Umma around, especially when it came to dealing with Europe.
Napoleon was quick in understanding that his invention did not work, so he swiftly changed his discourse. In order to avoid the inevitable comparison between his campaign and the Crusades, he kept asserting that he himself was not a Christian and that he had attacked the Pope's seat in Rome. In his meeting with the notables of Cairo and the sheikhs of Al-Azhar University in July 1798 he claimed to be a Muslim himself. [...]
It did not take the Egyptians long to respond to this nonsense. After a couple of months, Cairo was burning under the feet of the French. [...]
The British colonial discourses after World War I were no different. They claimed to save the peoples of the Middle East from despotic Turkish rulers, whom they, i.e. the British, decided were foreign to the region. The scheme did not work then either, and a lot of blood had to be spilled in Egypt, Palestine and Iraq just to get the message through: "We hate you and we want you out of our lands."
Nevertheless, clumsy and useless as these French and British measures were, the American policies in Iraq are much worse. Attacking Iraqi civilians had started 10 years before the invasion. The mass killing of Iraqis by the invisible weapon of mass destruction called the embargo could not have left kind feelings in the hearts of Iraqis. Then, right after the invasion, more killing of civilians, searching of homes, unveiling of women and humiliation took place.
When Napoleon declared that he was the Mahdi he was not massacring the people of Cairo yet; the massacre came later on. The Americans, on the other hand, have been in the massacre business for more than a decade, and now they are making this Napoleonic claim of being the saviors of the country, thus adding an enormous historical humiliation to an even greater historical injury. [...]
America's occupation of Iraq is not only a return to the age of classical colonialism. It is much worse than that. It is something much lower, something more vulgar, more brutish, more humiliating and therefore much more dangerous; dangerous to Arabs, to Muslims, to humanity at large, and of course to America.
Cyber War Against Mubarak & Son??

albawaba.com
July 27, 2003
Have you received an e-mail lately from a group called the "Free Egyptians"? This group has been spreading out their ideas and philosophies by use of e-mails and websites, in an apparent attempt to block Mubarak from positioning his son, Gamal, as the next President of Egypt.
[...] So, who possibly may be behind the Free Egyptians messages?
It may be one of Egypt's neighboring countries or perhaps even the Israeli secret service, Mossad, which, in order to serve the national interests of its country, has decided to aid or even create the Egyptian group, in order to avoid Gamal's rise to power.
Comment: Mossad is very active in disinformation. For more on this, read Mossad and Moving Companies.
CIA: Latest al-Qaida Tape Probably Real

By TED BRIDIS
Associated Press Writer
August 4, 2003

WASHINGTON -- An audiotape from Osama bin Laden's top deputy warning that the United States will pay dearly if it harms detainees at Guantanamo Bay is probably authentic, a CIA official said Monday.
Comment: See here

Makow - Sensational Memos Lift The Lid On News Control

Frightening Revelations

By Henry Makow, PhD 8-3-3
"It seems that guerrilla warfare is a real thing. Too much looting, assaulting Iraqi women, too much Muslim-bashing. No discipline in the US forces and the commanders have a hard time in controlling their men. Protestors are to be shown to be "die-hard Baathist supporters of the evil Saddam" and show pictures of a "commando" camp with pictures of Saddam and anti-US slogans." (June 12)

Since April, The Barnes Review News web site has posted memos like this from an executive at a major TV network to selected News Division staff.

If they are authentic, these memos represent the most important revelation of government deception since the Pentagon Papers, and suggest the "news" is little more than mass psychological control. There are shocking references to cover-ups of government domestic terrorism, SARS, Mad Cow, and events in Iraq, Afghanistan, Korea, Iran and much more [...]

Ignorant Citizens Destroying Freedom
By Chuck Baldwin
Information Clearing House
August 5, 2003
Thomas Jefferson is quoted as saying, "Ignorant and free has never been and never will be." He is right, of course. Furthermore, this simple proverb may best explain the cause of America's rush to moral and political destruction.
Under our form of government, an informed and educated electorate is essential. There can be no lasting freedom without it. All of our public and private institutions derive their shape and sustenance from people. Every single one of them.
People sit on court juries and staff government bureaucracies. They become our sheriffs, lawyers, and judges. They write our newspapers and magazines and man our television talk shows and news desks. They teach in our schools and in our Sunday Schools.
In America, "we the people" are the government; we are the authority! Nothing happens in this country except that "we the people" promote it, finance it, or at least, allow it to happen.
It's time then that "we the people" started taking responsibility for the mess we have made of our country! It's time to stop blaming the Democrats or the Republicans or anyone else in Washington D.C. Our nation is exactly where the people have taken it.
Furthermore, the nation is exactly where the people want it to be. I'll say it again, the nation is exactly where the people want it to be. If it wasn't, the people would do something to change it. That they don't proves they are content with life as it is. [...]
Comment: America - Who is Responsible?
Powell says reports of his departure are premature
Tuesday August 5, 6:54 AM

US Secretary of State Colin Powell denied that he had told the White House he does not intend to stay on if President George W. Bush wins a second term next year, and said reports that he planned to leave were based entirely on "gossip."
"It's nonsense," Powell said of a report in the Washington Post that said his deputy, Richard Armitage, had recently told national security advisor Condoleezza Rice that he and Powell would be stepping down even if Bush is reelected in 2004.
"I don't know what they are talking about," he said. "I serve at the pleasure of the president. The president and I have not discussed anything other than my continuing to do my job for him." [...]
Iraqis Get the News but Often Don't Believe It
By RICHARD A. OPPEL Jr.
The New York Times
BAGHDAD, Iraq, Aug 4
The Iraqi economy is flat on its back. But here on Karada Out, the bustling boulevard just across the Tigris River from Saddam Hussein's palaces, business is booming.
Specifically, the information business. In a two-mile stretch of this thoroughfare, 53 shops are selling satellite television receivers. Close to 100 stores have television sets on display on the sidewalks, where multicolored boxes from Korean manufacturers are stacked high.
At one store, Abdullah Salama, a 35-year-old manager, watched on a recent day as eight workers unloaded 3,000 satellite dishes from an orange tractor-trailer. The load should take only a few weeks to sell, Mr. Salama said. "Some people want to see entertainment programming," he said, "but basically they want to see the news."
The boom is taking place despite the on-again-off-again electricity situation in many places. Iraqis say they are mainly watching the Arabic language networks like Al Jazeera, though they have mixed opinions about whether they like what they see.
More than 100 newspapers are being published. By early afternoon it is impossible to find a copy of what by many accounts is the most credible daily paper in Baghdad: Azzaman, circulation 75,000, published by a former Saddam Hussein aide who escaped in 1992. Internet cafes also dot the street. Baghdadis now freely surf the Internet and send e-mail without a government official pacing behind them.
Abbas Darwish, 63, a shop owner who sells newspapers, said, "Iraqis are very thirsty to learn what is happening outside of Iraq."
The nascent Iraqi media offers evidence that a free market can thrive here. Yet it has also left Iraqis in Baghdad and in other cities overwhelmed by the choices and struggling to figure out which news sources are believable.
One outlet that does not appear to have won over most Iraqis is the occupying powers' own Iraqi Media Network, a $5 million-a-month effort. [...]
Israeli Prisoner List Disappoints Palestinians
Mon Aug 4, 5:37 PM ET
By Jeffrey Heller
JERUSALEM (Reuters)
Israel on Monday published a list of 342 Palestinian prisoners it plans to free on Wednesday to bolster a U.S.-backed peace plan and reformist Palestinian Prime Minister Mahmoud Abbas, but Palestinians cried foul.
Palestinian officials noted that 31 men were to complete their sentences this month anyway, and that Israeli officials said earlier 540 would be freed. Palestinians want a general release of all 6,000 of their brethren in Israeli jails. [...]
U.S. May Reduce Aid to Get Israel to Halt Barrier
By STEVEN R. WEISMAN
The New York Times
WASHINGTON, Aug. 4 — The Bush administration, looking for ways to press Israel to halt construction of a barrier separating its citizens from Palestinian areas, is considering a reduction in loan guarantees for Israel that were approved by Congress this spring, administration officials said today.
Any such punitive step by the United States toward Israel would mark a change in President Bush's longstanding efforts to avoid any kind of confrontation with the government of Prime Minister Ariel Sharon. [...]
Japan Report Warns of North Korea Threat
By KENJI HALL, Associated Press Writer
Mon Aug 4,10:41 PM ET
TOKYO - Citing a threat by North Korea, a government report Tuesday urged improving the country's missile systems and bolstering ties with the U.S. military.
The study also suggested beefed up participation in U.N. peacekeeping missions, counter terrorism activities and the curbing of weapons of mass destruction. [...]
Tuesday, August 5, 2003 07:10 GMT

JAKARTA, Indonesia (CNN) -- A large explosion at the Marriott hotel in central Jakarta has left an unknown number of fatalities and several people injured, police say. [...]
Iran Closes in on Building Nuke Bomb - Report
Mon August 4, 2003 06:28 PM ET
LOS ANGELES (Reuters) - Iran appears to be in the late stages of building a nuclear bomb and has sought help from scientists in Russia, China, North Korea and Pakistan, the Los Angeles Times reported on Monday.
Citing its own three-month investigation into Iran's clandestine nuclear capacity, the Times said it had strong evidence Iran's commercial program masked a plan to become the world's next nuclear power and it was "much closer to producing a bomb than Iraq ever was." [...]
Vatican says GM food is a blessing
Richard Owen, The Times
August 05, 2003
THE Vatican has stunned opponents of genetically modified foods by declaring they hold the answer to world starvation and malnutrition.
Until Sunday's statement the Vatican had been neutral in the European Union-US confrontation over GM food.
Archbishop Renato Martino, head of the Pontifical Council for Justice and Peace, said the Vatican was preparing an official report on biotechnology, to be published next month, which would come down in favour of genetic modification. The document will coincide with a debate on GM by EU farm ministers. [...]
Comment: If the Vatican says it, then I'm convinced...I'll never touch the stuff.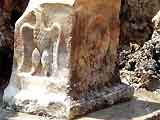 Archaeologists find temple dedicated to Zeus
Associated Press
DION, Greece — Archaeologists working on a river bed near the mythological home of the ancient gods uncovered remains of the first temple known to be dedicated to the "supreme" Zeus, the team leader said.
The 2,400-year-old headless marble statue was found along with 14 columns depicting eagles, one of the symbols of the chief deity of ancient Greece, archaeologist Dimitris Pantermalis said Friday.
The find is significant because it offers a sense of how Zeus was represented during an important period of transition in ancient worship. Experts believe the Hypsistos — or "supreme" — Zeus emerged as a more dominant figure as Greeks moved away from the many gods and cults that included dozens of variations of Zeus.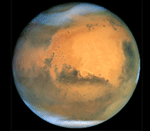 Mars hotspots may be best hunting ground for life
Reuters News Service Aug. 3, 2003
SYDNEY - Giant ice towers formed by steaming volcanic vents may be the best place to look for life on Mars, rather than gullies that some speculate may have been gouged by running water, an Australian geologist said on Monday.
Nick Hoffman of the University of Melbourne said the latest images taken by the Mars Odyssey orbiter had revealed curious hotspots in the Hellas Basin that could be similar to ice towers in Antarctica, where microbial lifeforms live on chemical energy.
"(Life) is a remote possibility," Hoffman told Reuters.
"I don't personally believe that that is a credible possibility, but nonetheless, if you are going to find life on Mars, this is probably the place it will be." [...]
Bringing down the Hubble NASA's decision will consider many factors
By Leonard David SPACE.COM
Aug. 4 - NASA's upcoming verdict about the Hubble Space Telescope's (HST) future is an unprecedented decision - one that entails money, politics, orbital mechanics, and risk-avoidance ripple effects stemming from the Columbia space shuttle catastrophe.
AT PRESENT, 2010 is the desired retirement date for Hubble operations. But what to do with the school bus-sized mega-star of the heavens is up for grabs. The answer may foretell when, and if, NASA can pull itself out of low Earth orbit and think bigger thoughts. [...]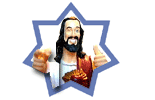 Greenville Church Burns the Bible August 3, 2003
GREENVILLE -- A church in Greenville thinks the Harry Potter books are part of an evil cult, so church leaders decided to have an old-fashioned book burning, but children's books were not the only things that went into the fire.
"They have changed it the key points in the Bible," said Bishop Tom Turner Sr. of Jesus Non-Denominational Church in Greenville.
"The majority of it's probably the same, but it takes just a little bit to mislead people."
So the Book of Mormon, versions of the Bible, even the Catholic Rosary, all went up in flames.
Church leaders say any Bible besides the King James version that they use, are distractions. [...]
Stress Leads Kids To Unhealthy Diets
Stressed-out 11-year-olds eat more unhealthful food than their less-anxious classmates and consume fewer nutritious meals and snacks, according to British researchers. A study of 4,320 schoolchildren found that they tended to slip into generally unhealthful dietary practices as their lives grew more stressful. [...]
A diagram of the Crop Circle formation
in Hensal Ontario has been posted at CCCRN. Someone has posted seeing a Cigar-shaped object north of Hensall. Which does not mean we can jump to any conclusions that the two are related.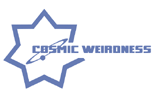 Walter Cronkite's UFO Encounter
Written By: Bill Knell
[...]Cronkite mentioned that he and the other reporters had been warned that photography of the missile test and any audio transmissions or recordings by the press were forbidden. They would have to give a written account of the event. Just as the test was ready to proceed, everyone was writing as fast as they could. As Air Force Security personnel walked around the perimeter of the test area with guard dogs and the news reporters watched, the missile was fired-up and about to be released. Just then, a large disc-type UFO appeared on the scene. [...]
Barbara Gengler
A SELF-MADE US millionaire who believes all technology came from aliens has backed a start-up he claims will transform users' internet experience "by turning it into a breathtaking three-dimensional environment that mirrors the natural world".
[...]
Trip to Earth Core: Myth or Reality?
Pravda
A New Zealand planetary scientist David Stevenson caused turmoil in the geological society as he offered to probe not the space but the core of the planet. [...]
Dowser solves riddle of underground water
Dowser Derrick Phillpot searches for underground streams in Northampton
Northhampton Today
A PENSIONER from Northampton says he has solved the mystery of a series of bizarre floods in a row of town homes... by sensing the energy rising from underground streams.
Derrick Phillpot, aged 83, says he used a map and a pendulum to trace a watercourse that has been leaking into houses in Argyle Street, St James.
Householders have been baffled by the puddles forming in their basements despite one of the hottest summers in the last decade.
But Mr Phillpot says the streams can be blocked or diverted by visiting the house and dowsing there. [...]
"I have dowsed my own back garden and found five underground streams and a stone circle. There are also 14 burials from the time of the plague." [...]
Houston man accused of running over girlfriend in parking lot
ASSOCIATED PRESS
Monday, August 4, 2003
HOUSTON — A Houston man ran over his girlfriend with her own car Monday in a parking lot after beating her and possibly stabbing her, Harris County sheriff's officers said.
Romelle Watts, 27, faces a murder charge after confessing to killing his girlfriend, Ruby Clemons, 22, culminating a fight they had outside a Wal-Mart store early Monday, Lt. Danny Billingsley said. [...]
"He said that she was on the ground and crawling when he ran over her," Billingsley said. "I don't know at what point she was dead."
Police: Man flees with daughter after shooting estranged wife
ASSOCIATED PRESS
Monday, August 4, 2003

BRIDGEPORT, Texas — Police on Monday were looking for a 36-year-old man who they say shot and killed his estranged wife outside the local nursing home where she worked and then fled with his daughter. [...]
Hill Country witch accuses pastor of harassment
By T.A. Badger Associated Press
A self-proclaimed witch in the eastern Hill Country is accusing a Christian pastor of leading a harassment campaign aimed at ruining her business and driving her out of the region. [...]
Germany to crack down on smokers
By Ruth Elkins, in Berlin
The Independent
05 August 2003
The German government wants to introduce tough American-style anti-smoking laws after years of "smoke wherever you want'' policies in bars and restaurants.
Restaurants would have to set up non-smoking areas and there could be a ban on smoking in schools, hospitals and government property. The plans, which are in their early stages, are designed to protect Germans from the risks of passive smoking. [...]
German Finds Explosive Surprise in Old Sofa
Mon Aug 4,11:01 AM ET
BERLIN (Reuters)
A German man bought a second-hand sofa only to discover it was stuffed with three pounds of dynamite, police said on Friday. [...]
Bangladeshis Reject Smelly Currency
Mon Aug 4,10:56 AM ET
DHAKA (Reuters)
Bangladesh's currency notes have become so dirty that even fishmongers reckon they stink too much to use. [...]

---
Check out the Signs of the Times Archives
Send your comments and article suggestions to us.
---
Fair Use Policy
Contact Webmaster at signs-of-the-times.org
Cassiopaean materials Copyright ©1994-2014 Arkadiusz Jadczyk and Laura Knight-Jadczyk. All rights reserved. "Cassiopaea, Cassiopaean, Cassiopaeans," is a registered trademark of Arkadiusz Jadczyk and Laura Knight-Jadczyk.
Letters addressed to Cassiopaea, Quantum Future School, Ark or Laura, become the property of Arkadiusz Jadczyk and Laura Knight-Jadczyk
Republication and re-dissemination of our copyrighted material in any manner is expressly prohibited without prior written consent.
.