---
Remember, we need your help to collect information on what is going on in your part of the world!
Read Dear Readers to find out more.
---
"Almost all people are hypnotics. The proper authority saw to it that the proper belief should be induced, and the people believed properly."
– Charles H. Fort
Zawahiri Warns U.S. Over Guantanamo Prisoners

Sunday, August 03 2003
"'The crusaders will pay dearly for any harm that comes to the prisoners it is holding,' the voice warned, according to the tape aired by Dubai-based television Al-Arabiya .."

DUBAI - A voice believed to be that of al-Qaeda number two Ayman al-Zawahiri vowed to take revenge if any prisoners held at the U.S. military base at Guantanamo Bay, Cuba were sentenced to death, in a tape recording broadcast Sunday, August 3 by an Arab Satellite Channel.
"America has announced that it is going to start putting Muslim prisoners on trial in military courts which could impose the death penalty. The crusaders will pay dearly for any harm that comes to the prisoners it is holding," the voice warned, according to the tape aired by Dubai-based television Al-Arabiya.. [...]
Comment: So there we have it, al-Qaeda, a wholly owned US government institution, has threatened the US government with violence if the US kills members of the wholly owned US government institution...Ya gotta love this democracy business...

Ridge Says U.S. Preparing for New Terror Attacks
By Lori Santos
Reuters August 3, 2003
The director of U.S. homeland security said on Sunday he was grateful the United States had not been hit again by terrorists but officials were preparing for other possible attacks.
"I feel every day that we operate toward the notion that there will be one," Secretary of Homeland Security Tom Ridge told NBC's "Meet the Press."
"I think we have to. And I don't think that the horizon that we look at should be anything other than accepting the reality that we are a target," Ridge said.
The former governor of Pennsylvania made his comment in regards to an audio tape purportedly from a top al Qaeda official warning the United States on Sunday it would pay a high price if it harmed detainees at a U.S. base in Cuba, saying the "real battle" had not yet begun.
"Once again they have underestimated the resolve of this country and our capacity to deal with these kind of challenges," Ridge responded. And asked if he was surprised another attack had not yet occurred, he said he was "grateful."
"There are probably a lot of reasons for it. But I'm grateful and every single day that we work to thwart or prevent a terrorist attack and reduce our vulnerability makes it tougher and tougher for them to assault us," he said.[...]
The United States has blamed al Qaeda for the Sept. 11, 2001, suicide hijacked airplane attacks that killed about 3,000 people.
Comment: Yes indeed, they blamed al Qaeda, in spite of the the fact that all of the evidence points to the fact that the US administration knew about the attacks beforehand and that it was likely carried out by Mossad. Ya gotta love this democracy stuff!
Gadhafi: Terror War Has Helped al-Qaida
Libyan Leader Moammar Gadhafi Says U.S.-Led War on Terror Has Strengthened al-Qaida
[...]"As long as America (is) approaching (the war on terror) in such a method ... together with the Israelis ... the more they do that, the more they create an environment or atmosphere for the development of al-Qaida," Gadhafi said, according to a transcript received by The Associated Press office in Egypt. [...]
Gadhafi described al-Qaida terrorists as "crazy and insensible people" who have committed attacks on America, Egypt, Nigeria, Sudan, Saudi Arabia and other countries. "So all these countries are fighting one common enemy," he said. [...]
Is The United States "A Terrorist Magnet"?
By: M. Shahid Alam
This theory of "a terrorist magnet" is disconcertingly heretical. Although no one seems to have noticed, it undermines two key arguments the Bush administration has used, both ex ante and ex post, to sell the war on terrorism. First, the war on terrorism has been based on the premise that the terrorist attacks by Arab extremists are an ontological phenomenon. It is in the nature of the attackers, a nature instilled by their societies and in particular by their religion, to attack America.
They fear America's virtues: its freedom, prosperity, and the rights it grants to women. The terrorist attacks are motivated by the ontological rage of an inferior and flawed civilization – Islam – against the superior, dynamic, Christian civilization of the West. It is a thesis that has been advanced assiduously by Jewish and Christian Zionists. And it is this thesis that President Bush embraced when he declared war against the attackers of 9-11.
The theory General Sanchez offers contradicts this. It substitutes a Newtonian explanation for the ontological postulate favored by the Bush administration and much of the American media. The Iraqi resistance is not rooted in Iraqi nature, or in Sunni Iraqi nature, or Baa'thi Sunni Iraqi nature. The Iraqis have not sneaked into the United States to attack American troops. As the Iraqis see it, the American troops are being attacked because they are in the wrong place (Iraq), doing the wrong thing (illegally occupying Iraq), for the wrong reasons (capturing Iraqi oil and deepening Israeli hegemony over the Arabs).
[...] So, if ordinary young Americans are dying today in Iraq – and many more recover from war wounds – that is not because the administration, the neoconservative ideologues, and the media could not have foreseen this. They did, but chose to ignore these concerns. In their calculus, the lives of a few ordinary Americans were expendable, compared to the great prizes before them. Arab oil had to be secured; and the Arab world had to be made safe for Israeli hegemony.
All the President's Lies, Part II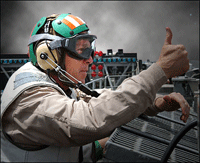 How George W. Bush Won the 2004 Presidential Election
Israel rejects permanent truce, demands disarming of Palestinian militants

06:34 AM EDT Aug 04
STEVE WEIZMAN
Israel has urged the Palestinians to dismantle groups that have carried out attacks killing hundreds of Israelis - as stipulated in the peace plan - but the Palestinian Authority has argued that full confrontation with militants would trigger civil war. Since the main Palestinian militant groups declared a temporary ceasefire June 29, violence has dropped dramatically. Palestinian Foreign Minister Nabil Shaath said he proposed ways to make the truce permanent in talks with his Israeli counterpart, Silvan Shalom.
Shaath said he told Shalom that further Israeli withdrawals from West Bank towns and other steps to allow Palestinians freedom of movement could make it possible for the Palestinian government to negotiate a permanent ceasefire with the militants.
"Their reaction was that they were insistent that this is not enough, and they were insistent on the Palestinians dismantling the militant infrastructure," Shaath said.
A senior Israeli official, speaking on condition of anonymity, confirmed that Shaath and Shalom discussed a permanent ceasefire, though the official said the Palestinians made an outright offer of a permanent truce. He said Shalom rejected the idea.
by Hans Lebrecht
What would one say, if any country in the world would outlaw that married spouses and their offspring of originally different native countries, of different national or religious background may settle down together on its territory and to live a normal family life together? Violation of human rights, or simple inhuman legislation, may-be aiming "to keep clean the integrity of the national character of the country in question", or simply racism…? The reader may choose whatever he finds fit.
Such legislation was passed into law last Thursday (July 31) by a majority vote of 53 against 25 in the Knesset, the Israeli Parliament, just before dispersing for the summer recess. In fact, the matter is about an amended addition to one article of the 1953 citizenship law, which has anyway some ingredients of racist character. For example, the fact that according to this 1953 law, any Jewish person, born by a Jewish mother, or having been converted to Jewish religion by an orthodox Rabbinical procedure, by entering the State of Israel and declaring his intention to settle down there, is bestowed from the very first moment of his entering the country with full Israeli citizenship, with all duties and rights involved (including voting rights at elections).
On the other side, a so-defined "Non-Jew" can receive at the best a temporary or in some circumstance a permanent residency in the Jewish State. If he or she is of indigenous Palestinian Arab origin, even born in the land prior to the establishment of the State of Israel during the Turkish or British rule, or born already in Israel, he (she) is entitled to apply for Israeli citizenship at the age of between 18 and 23 only. Usually, if the secret services are not interfering, the citizenship is granted.
This is the original law. Now, one article of it was amended by the Knesset government majority to rule that a married couple, one of it being a Palestinian from the occupied territories (in official Israeli lingo "Judea, Samaria and Gaza"), the Israeli citizen marriage partner may remain residing in Israel, but his or her spouse cannot live together with him or her in Israel. Even already such married couples, with or without children, have from now on to live either separated, or move to the occupied Palestinian areas.
The wall, which Sharon is desperate to complete, represents one of the most insidious measures undertaken by Israel as it usurps yet more Palestinian land from the ever-shrinking patch of post-partition Palestinian territory. The wall will extend for more than 1,000 kilometers. The Green Line marking the 1967 borders was no longer than 360 kilometers, which confirms Israel's plan to incorporate Palestinian towns and villages beyond the Green Line. These are the areas in which Israel has implanted large numbers of settlements which it has no intention of dismantling.
Security Fence Goes Further Than Apartheid
Munir Chafic
Al-Hayat 2003/08/4
The official reason given for this wall is to ensure "security" against attacks inside Israel, including inside settlements. But this is only one of the major reasons why this wall is being built. Other reasons include taking hold of the Western water basin that lies just below the villages it separated. The water motive, in the Israeli strategy, is just as important as stealing land and evicting the Palestinian inhabitants. This has always been a key element in Israel's strategy and tactical military operations, including the colonies in the past and the settlements today.
This is why Israel's apartheid-like racial discrimination does not constitute the core element of the Zionist strategy. The Zionist racism is not restricted to apartheid as in segregation; instead, it involves stripping the Palestinians from their land and evicting them outside the country, if possible. It is a discrimination of stealing land with all that lies under and above it, including built cities and villages once all the original residents have been evicted, as it happened in 1948/49 in accordance with the strategy of the Jewish agency and the Haganah.
Consequently, the comparison between the apartheid system in South Africa and Namibia releases the Zionist discrimination from its most horrifying aspects. But the latter is qualitatively different from apartheid in the realm of discrimination itself. Nothing is worse than Zionist racism except the racism of the White Americans, who stole the land and evicted the inhabitants, whereas Zionist racism contributed to stealing the land and confiscating towns and properties, but differed in that it resorted to forced eviction instead of mass extermination - naturally accompanied by a limited number of massacres (compared to the American case), and aimed at "racial" cleansing through deportation, instead of extermination.
Sharon Places Road Block on the Road Map
Hassan Tahsin

Sharon has overstepped the bounds and refused all American advice that would allow the peace process to succeed and the road map to be implemented. Palestinian Prime Minister Mahmoud Abbas' visit to Europe, which will follow his visit to Washington, will be aimed at demanding that EU nations confront Israel's obstinacy. Sharon insists on building a security wall dividing Israel from occupied Palestine and refuses to release Palestinian prisoners.
In the meantime, Bush has demanded that Sharon deal with the consequences of his action without backing up this advice with any concrete American plan for implementing the road map. The Palestinians' request that the Americans set out a time frame for the road map to which both Palestinians and Israelis would be committed was met with "no comment" by the Bush administration.
Thus the peace process is once again held up by a new Israeli-imposed obstacle — the dividing wall.
Ayoon wa Azan (Sharon Defies Bush, Powell And Rice)
Jihad Al Khazen
Al-Hayat 2003/08/2
The U.S. and Israel do admit that the truce has remarkably improved the security situation, but they also insist on dismantling the infrastructure of "terrorism," which means striking Hamas and the Islamic Jihad, which would lead to a Palestinian civil war that no Palestinian party would want to participate in or be held responsible for.
[...] How can a murderer like Sharon, who is accused of corruption along with his two sons, and is wanted worldwide for war crimes, defy the U.S.?
Congressman Tom DeLay, head of the Republican majority, provided me with the answer when I read the details of a lecture he gave at the Knesset, and which comprised all that is racist, decadent and hostile in U.S. policy.
Maher Othman
Al-Hayat 2003/08/1
U.S. President George Bush offered his friend, "the man of peace," Ariel Sharon a map for "Eretz Israel," a plan that was drawn in 1678 that comprised the countries of the region, even Babylon and Assyria. He probably doesn't know that this map doesn't match any historical reality, even if Eretz Israel was mentioned in these legendary borders in some old religious text.
There is no use to argue with President Bush, who doesn't even know his mother tongue, breaks its rules and derives words no one has heard of before him, about the insensitivity of presenting such a gift to the Prime Minister of a hostile nation, which has carried out in the core of the Arab world acts of terrorism, murder, slaughter, destruction of villages and farms and eviction of people from their homes. It seems that the President has very basic notions about the Middle East and Israel, convictions nurtured by many Likud supporters in his administration, especially the closest to him, such as his Middle East advisor at the National Security Agency, Elliot Abrams.
The truth is that Bush's insensitivity in making this gift of Eretz Israel to Sharon translates his lack of knowledge in the history of our region for over 3,000 years. This gesture totally contradicts the Roadmap, which main part calls for the establishment of a Palestinian state on the Palestinian territories occupied by Israel in 1967, as well as for freezing the construction of settlements on Palestinian territories.
Palestinians Get Thirstier Under Israeli Clampdown
Sun August 3, 2003
By Mark Heinrich
AL-DHAHRIYEH (Reuters)
The Khabirat family postpones having a bath as they await the next water tanker to replenish their well in parched Palestinian territory under Israeli blockade.
The tanker driver has to sneak a hose through a tunnel under a highway reserved for Israeli traffic to access his well on the other side, then take long detours on atrocious back roads to reach homes like the Khabirats'.
Palestinians, especially in the arid southern West Bank, ration and improvise to offset water shortages aggravated by Israel's closure of their area, imposed after suicide bombings.[...]
Hamas urges militants to ready for confrontation

By Reuters GAZA

Palestinian militant group Hamas on Monday voiced impatience with what it called Israeli violations of terms it set for a three-month ceasefire and called on all militant groups to be ready for confrontation with Israel.
"Our patience regarding the Zionists' breaches (of the truce) will not last long," the statement said. "Our maintaining the ceasefire does not mean that we will allow those terrorists and killers to commit attacks against our people." [...]
Comment: Good 'ol Hamas, Sharon always could rely on them to further his agenda...
Report: Syria aiming VX missiles at Israel
WorldNetDaily.com
August 1, 2003 8:50 p.m. ET
Syria is aiming at least 100 long-range ballistic missiles equipped with VX – the most lethal nerve gas – at central Israel, according to a senior Israeli defense source.
Damascus now has achieved its goal of balancing Israel's nuclear advantage, said the source, quoted by Jane's Foreign Report this week.
U.S. and Israeli intelligence sources have said they believe Syria hid evidence of Saddam Hussein's deployment of weapons of mass destruction among its own arsenal of unconventional weapons. [...]
Israel to Start to Free Prisoners Wednesday, Radio Reports
Sun August 3, 2003 04:28 PM ET
JERUSALEM (Reuters)
Israel will start freeing on Wednesday the first batch of 443 Palestinian prisoners approved for release as a goodwill gesture to help a U.S.-backed "road map" to peace take root, Israel Radio reported. [...]
Selective accountability

The Syria Accountability Act under debate in Washington is a model of American bullying tactics, writes Imad Fawzi Shuebi from Damascus
The complexity of relations between Damascus and Washington has climbed another notch as Congress debates the notion and substance of the Syria Accountability Act. If enacted, the bill would impose strict sanctions on Syria until it ends its troop presence in Lebanon.
The Americans perceive their relations with Syria as a "clash of wills" on several levels. At the regional level, Syria rejects the notion of a great power meddling in the affairs of the region. Syria subscribes to the principle that the advancement of mutual interests should be pursued through peaceful interaction and the respect for national sovereignty, which is a defining aspect of a country's past and future. Syria has endured numerous sacrifices on behalf of these principles and it is not prepared under any circumstances to betray this legacy.
At the international level, the Americans seek a unipolar order in which they have the exclusive right to veto. Towards this end, they are busily undermining the structure of international law built since the end of World War II. Accordingly, Washington seeks to establish a worldwide monopoly on violence as the global policeman, judge and executioner. A cardinal rule of American foreign policy is to promote agreements on the basis of realpolitik, rather than established rights, while reordering the universe to follow the laws of market forces. Under globalisation, the world is shaped by the will of the American people who themselves have no mystical attachment or historical ties to their land, a people whose very history is rootless, modern and extemporaneous.
A leading South Korean businessman has died in an apparent suicide after becoming embroiled in a scandal involving alleged secret payments to North Korea's leadership.
[...] Mr Chung, along with other senior members of Hyundai, had been in the spotlight following allegations that North Korea was bribed to attend the historic North-South summit in June 2000.
Hyundai said that the $400m it gave to North Korea was in payment for the company's monopoly rights to tourism and other projects in the impoverished communist state.
But an independent investigation found that $100m was transferred on behalf of the South Korean Government, to help ensure the historic meeting took place.
Mr Chung could have faced a jail term if found guilty.
Powell's Exit Strategy
Won't serve in a 2nd term, sources say

By Glenn Kessler
THE WASHINGTON POST
August 4, 2003
Washington - Secretary of State Colin Powell and his deputy, Richard Armitage, have signaled to the White House that they intend to step down even if President George W. Bush is re-elected, setting the stage for a substantial reshaping of the administration's national security team, which has remained unchanged through the Sept. 11, 2001 terrorist attacks, two wars and numerous other crises.
Armitage recently told national security adviser Condoleezza Rice that he and Powell will leave on Jan. 21, 2005, the day after the next presidential inauguration, sources familiar with the conversation said. Powell has indicated to associates that a commitment made to his wife is a key factor in his desire to limit his tenure to one presidential term.
Rice and Deputy Defense Secretary Paul Wolfowitz are the leading candidates to replace Powell, according to sources inside and outside the administration.
Insurgents fire rockets at US base in Afghanistan
AP MONDAY, AUGUST 04, 2003

KABUL: Insurgents fired a volley of rockets at a US base in southeastern Afghanistan, prompting coalition forces to return fire with artillery, a US military spokesman said on Monday.
No damage or casualties were reported during the exchange on Sunday near the base in Orgun, a small town in Paktika province, Col. Rodney Davis said from coalition headquarters at Bagram Air Base, north of the capital.
Report: Chevron Eyes 25% of Yukos
By Valeria Korchagina
Staff Writer
U.S. oil giant ChevronTexaco is in talks to buy a 25 percent stake in Yukos for ?4 billion ($6 billion), Britain's Sunday Times reported.
The report came as the Prosecutor General's Office opened a new investigation into the activities of the embattled oil company, its senior managers and subsidiaries. The investigation -- the eighth in the past month -- is into Yukos' purchase of a 19.85 percent stake in Yeniseineftegaz, the license holder of the Vankor oil fields in western Siberia.
The Sunday Times, citing ChevronTexaco sources, said the U.S. major's offer of up to $6 billion for the stake was prompted "by the possibility that Yukos' plan to merge with Sibneft ... was looking shaky."
No 10 dismisses Kelly as a 'Walter Mitty'
By Paul Waugh, Deputy Political Editor
04 August 2003
Downing Street will seek to defend itself over the death of David Kelly by portraying the scientist as a Walter Mitty character who exaggerated his role in the Government's intelligence case against Iraq.
Coming shortly before Dr Kelly's funeral on Wednesday, the description of one of Britain's most respected weapons experts as a fantasist is certain to spark fury among friends and former colleagues.
But, in what appears to be a change of tactics by the Government, a senior Whitehall source told The Independent that Dr Kelly had misled the Ministry of Defence and the BBC journalist Andrew Gilligan over claims that a dossier used to justify war against Saddam Hussein had been "sexed up".
Comment: There is one word for these people - bastards, and we should get used to it, we have a bunch of narcissistic, psycopathic liars leading us down the road to destruction.
UK may back new UN move on Iraq
By James Blitz, Political Editor
August 3 2003
The UK government is for the first time talking openly about backing a new United Nations security council resolution on Iraq with the aim of giving India, Pakistan, Turkey and other states the domestic political cover they need to contribute to a multinational force.
As the US and UK look at ways of sharing the military burden of post-war Iraq, a top government officials has said preliminary negotiations over such a resolution could begin at the UN within a few weeks.
In an interview with the Financial Times, John Sawers, the Foreign Office's political director, said : "We are exploring among ourselves - and we are exploring with the Americans - what the pros and cons [of a new UN resolution] might be."

Monrovia awaits peace troops

President Taylor has been promising to hand over power since 4 June, when a United Nations court in Sierra Leone announced it had indicted him on war crimes charges.

He now says he will leave office on 11 August, but has not said if he plans to go to Nigeria, as previously indicated.

The United Nations special envoy to Liberia has warned that if he delays for too long he could lose the chance of escaping into exile.

"He's been provided a safe haven in Nigeria, but I'm afraid if he plays around too long that he may very well lose that opportunity as well," Jacques Klein said in a BBC interview.

"He's a psychopathic killer so we don't know when he's going to resign or what he's going to do," Mr Klein told the World This Weekend programme.

The rebels have said they will not give up their positions until Mr Taylor - himself a former warlord - leaves the country.
A QFS member comments: While listening to the BBC this evening, the top story featured parts of an interview with UN special envoy to Liberia, Jacques Klein, who while describing soon to be ousted Liberian President Charles Tayor, called him a "psychopath and a liar". The exact quote didn't show up in the story above , but I did find it interesting that he would use the word "psychopath" when describing this fellow.
Not that he isn't a psychopath, because it sounds very much like he may be, but that he would be labeled as such by a prominent member of the United Nations. It made me wonder if it was possibly due to the work of this group in studying psychopathy that has somehow made this word acceptable or in vogue somehow, that it is beginning to emerge into the public arena.
U.S Goes Two Days With No Combat Deaths
By STEVEN R. HURST, Associated Press Writer
August 3, 2003
BAGHDAD, Iraq - For a second straight day, the U.S. military reported no fatal attacks Sunday on American soldiers in Iraq. In a series of raids, troops detained two dozen people they said were participating in the violent resistance to the U.S. occupation, including a "targeted leader." [...]
Comment: Assuming that the Bush Reich is not lying about the absence of fatal attacks against US troops (unlikely, see article below), one has to wonder if this isn't simply the calm before the storm.
The unreported cost of war: at least 827 American wounded
Julian Borger, Washington
Monday August 4, 2003
The Guardian
US military casualties from the occupation of Iraq have been more than twice the number most Americans have been led to believe because of an extraordinarily high number of accidents, suicides and other non-combat deaths in the ranks that have gone largely unreported in the media.

Since May 1, when President George Bush declared the end of major combat operations, 52 American soldiers have been killed by hostile fire, according to Pentagon figures quoted in almost all the war coverage. But the total number of US deaths from all causes is much higher: 112.
The other unreported cost of the war for the US is the number of American wounded, 827 since Operation Iraqi Freedom began.
Unofficial figures are in the thousands. About half have been injured since the president's triumphant appearance on board the aircraft carrier USS Lincoln at the beginning of May. Many of the wounded have lost limbs.
The figures are politically sensitive. The number of American combat deaths since the start of the war is 166 - 19 more than the death toll in the first Gulf war.
The passing of that benchmark last month erased the perception, popular at the time Baghdad fell, that the US had scored an easy victory.
According to a Gallup poll, 63% of Americans still think Iraq was worth going to war over, but a quarter want the troops out now, and another third want a withdrawal if the casualty figures continue to mount.
In fact, the total death toll this time is 248 - including accidents and suicides - and as the number of non-combat deaths and serious injuries becomes more widely known, the erosion of public confidence is likely to continue, posing a threat to Mr Bush's prospects of re-election, which at the beginning of May had seemed a foregone conclusion. [...]
Ashcroft: Al Qaeda threat is very real
Sunday, August 3, 2003 19:16 GMT

WASHINGTON (CNN) -- Attorney General John Ashcroft warned Sunday of the "very real potential" of new terrorist attacks against United States targets.
But he also said more than 100 al Qaeda activities around the world had been disrupted by the war on terrorism. [...]
Comment: Ashcroft doesn't say it is "highly probable" that a terrorist attack will occur. He doesn't even say that one is just "likely" to occur. No, Johnny states quite emphatically that there is a very real potential for an attack. There's also a very real potential of pigs flying, but it is not very probable that we'll see Porky gliding around any time soon. In any case, his statement has no doubt struck fear into the hearts of Americans once again.
Why Saudi Arabia is outraged

By Hooman Peimani
A week after the release of a 900-page United States congressional report regarding the September 11, 2001, terrorist attacks, President George W Bush rejected on Wednesday a request from Saudi Arabia to declassify part of it that allegedly links the Saudi government to the terrorist act. The refusal has outraged that government, because it stands publicly accused of terrorism while the evidence for the claim remains unavailable, and therefore, unverifiable. Apart from Riyadh being unable to clear its name, the refusal sets a precedent for unsubstantiated accusations to be leveled against the Saudi government, possibly to serve certain political purposes under the pretext of fighting terrorism.
Comment: "They wouldn't would they? Our government? No! never! It just can't be true! Well, I know they have their faults and they are not all angels, but that's just too much...I mean you are saying that they are lying to us...I'm sorry I just don't buy this conspiracy theory stuff..."
Ten questioned over 'terror camp' discovery
Ananova.com
20:33 Sunday 3rd August 2003
Ten men are being questioned by police in the Irish Republic after the discovery of a suspected terrorist training camp. [...]
Comment: "Terror camps" "terrorists" "terror attacks." These are oft-used words in our current climate of "war without end". The events of 9/11 have been a boon for beleaguered, scandal ridden, psychopath-run governments around the world.
Now any group or individual attempting to obstruct or even disagree with their carefully crafted plans, can simply be labeled "terrorist" and immediately the scorn of world opinion comes down upon them justifying ever more extreme and brutal actions to stamp out the "terrorist threat". Heck, according to Ashcroft even " disgruntled individuals " are just terrorists in waiting.
So, no "disgruntling" then, just sit up, smile, and take your medicine, your government knows what's good for you...
This is the way the killing fields end
By Pepe Escobar
Illegal bombing by the United States, followed by the Khmer Rouge regime and the deaths of millions of Cambodians - it all ended with the decrepit alleged grave of Pol Pot in the middle of nowhere, and a baby democracy run by a former Khmer Rouge official. But wait, the Cambodian story is not over yet: there's a plan for a major new golf course, once the landmines are cleared. [...]
Cadavers pile up amid economic crisis
Angus Shaw
Associated Press

HARARE, Zimbabwe - Zimbabwe's economic disaster is horrifyingly evident in the morgue at Harare Central Hospital, packed to more than three times capacity with dead relatives can't afford to bury. [...]
Taylor Aide Accuses U.S. of Backing Liberia Rebels
allAfrica.com
[...]What is going on in Liberia "is not a matter of bad governance," said Passawe, "but a policy of 'regime change' in the form of a proxy war." [...]
[...]Passawe said he understood U.S. "reluctance" to commit troops, but added that arguments from some in the Bush administration that Liberia was not significant enough to justify intervention did not ring true. After six years of what he called "obstruction" via embargoes and expressions of concern for regional stability, "is the U.S. at the last minute to tell us that [it] has no strategic interests here?" [...]
Lawsuits know no boundaries in U.S.
ADAM LIPTAK
NEW YORK TIMES
Aug. 3, 2003. 01:00 AM
A federal judge in Washington, D.C., orders Iraq to pay nearly $1 billion to American soldiers captured and tortured in the first Gulf War.
A Scottish woman offended by a Holocaust memorial that would disturb human remains at a Nazi death camp in Poland sues in New York to stop construction.
The president of Venezuela is sued in Miami by relatives of people killed in an anti-government protest in Caracas. [...]
Gore Vidal Delivers Chilling Predictions of Despotism: A Wry Scourge On The Attack

By Arthur Jones
08/03/03: (National Catholic Reporter)
In December 2000, Gore Vidal, termed America's master essayist by The Washington Post, told "irregularly elected" President-elect George W. Bush to "rein in the warlords who were seeking $30 billion a year over and above the 51 percent of the budget that now already goes for war."

Two-and-a-half years later -- after Sept. 11, Afghanistan and Osama bin Laden's disappearance, Iraq and Saddam Hussein's vanishing act -- Vidal summarized what the Bush "warlords" have achieved in occupying Iraq: "Chaos."

"Chaos," Vidal told NCR by fax, "until we either come to our senses and leave -- not likely any time soon -- or complete the neocon plan so boldly stated by their youthful 'warriors,' by annexing as much of the Mideast oil states as possible."

Vidal seems at least farseeing, if not prophetic, in his assessment of more than a month ago, as the United States finds the footing in Iraq increasingly unsteady and dangerous. [...]

Up to now, said Vidal, while the Bush administration's "down payment" for Iraqi oil "has been cheap -- the Bill of Rights," the cost has not been light "for the people -- there or here." The U.S. cost has been to its civil liberties. Vidal said, "USA Patriot Acts 1 and 2, the second leaked but not yet sent to Congress, neatly folds the republic. What next?" he asked rhetorically, "Franklin predicted despotism." [...]

Kobe Bryant wins male athlete honor at Teen Choice Awards
Associated Press
UNIVERSAL CITY, Calif. - In a rare public appearance since he was accused of rape, basketball star Kobe Bryant and his wife Vanessa attended the 2003 Teen Choice Awards, where he was picked as the favorite male athlete.
Accepting the award, he said, "An injustice anywhere is an injustice everywhere," paraphrasing Dr. Martin Luther King Jr., Entertainment Tonight Online reported. [...]
The 24-year-old basketball star has said he had sex with a 19-year-old employee at a Colorado resort June 30 but denies he committed sexual assault. He's free on $25,000 bond. [...]
Comment: Kobe is under investigation for alleged rape. He said the sex was concentual. But, even if he didn't rape the young woman, he sure didn't mind cheating on his wife, and somehow, teens in America still think he's the perfect male sports star role model. This is surely another sign of the times. "Psycopaths R us"

No Traces Of Spectacular Argentina Meteorite
Diario 'Los Andes' - Mendoza Province, Argentina
Despite the fact that an extensive region from San Rafael to Malargue was combed by air -- reaching the border with Neuqun province--no traces were found of the meteorite which plunged to Earth in the early hours of Friday morning in southern Mendoza.
The failed mission nonwithstanding, the head of the Instituto Coprnico, Jaime Garc,a--a renown scientist and astronomre--claims having no doubt that something fell from space: "If we didn't find it today, will continue looking in other areas we didn't survey," he said. [...]
Small earthquake shakes Northern California
Aug. 03, 2003
Associated Press
SANTA ROSA, Calif. - A small earthquake shook a rural area north of the San Francisco Bay area Sunday morning.
The quake, which struck shortly after 5 a.m., caused no damage or injuries, authorities said. Centered about 25 miles north of Santa Rosa, the quake had a preliminary magnitude of 4.2, according to the U.S. Geological Survey.
Strong earthquake rocks southern Iran
An earthquake measuring a strong 5.5 on the Richter scale has rocked south-eastern Iran, state news agency IRNA reports.
The authorities had yet to establish if there was any major damage or casualties, IRNA said.
Moderate earthquake shakes Taiwan
Taipei, Aug 3 (DPA) An earthquake measuring 5.5 on the Richter scale jolted east Taiwan today, but there was no immediate report of injuries or damage.
The New Nation
Bangladesh's Independent News Source
A TEAM of US earthquake specialists about a year ago issued a warning that Bangladesh and its neighbouring countries could be rocked by major earthquakes in the near future. The prophecy has not been fulfilled yet but the reasons for it is being witnessed in the on-going recurrent shaking off the earth in the Chittagong Hill Tracts area of the country which has created panic there and deep countrywide concern and apprehension of a major earthquake hitting the country any moment. [...]
Taiwan Issues Alerts for Tropical Storm Morakot
Sat August 2, 2003
TAIPEI (Reuters)
Taiwan issued warnings against flooding and landslides Sunday as tropical storm Morakot headed toward the island's south from seas off the Philippines' northwest coast. [...]

More evacuations from B.C. forest fires
Sun, 03 Aug 2003 16:55:12
BARIERRE, B.C.
Forest fires have forced nearly 10,000 people to leave their homes in British Columbia, where the premier has extended a state of emergency to the entire province.
About 5,000 more people in the community of Armstrong in the Okanagan Valley have been ordered to evacuate at short notice, making it the largest community threatened by the fires. [...]
Rain offers Alberta firefighters little relief
Bushfires could have been stopped

[...] FIRES that ripped through Canberra on January 18 could have been contained within the first 24 hours if they had been fought correctly, an inquiry found today.
He said fires of this kind had never before caused such damage to the region and no house had been lost to bushfire in suburban Canberra since 1952. [...]
Comment: These fires just happened to destroy, "almost a century of Australian astronomy history." Although, The Australian National University plans to rebuild the fire-ravaged Mount Stromlo Observatory.
Associated Press
18:30 Sunday 3rd August 2003
Police have cut speed limits in Paris because of ozone pollution. [...]
Meteo France, the national weather service, has forecast no respite in the coming days from a heatwave that has struck France for most of the last month. [...]
Comment: Meanwhile in America, auto dealers are still selling SUVs in droves and luring in buyers with zero percent down, zero percent financing, and zero percent cares about the global environment.
6 die in Portugal forest fires
Sunday, August 3, 2003 15:44 GMT
LISBON, Portugal (Reuters)
Three more people have died in a wave of forest fires in central Portugal, bringing to six the number killed in the past week in the country's worst spate of blazes for two decades, officials said on Sunday. [...]
Spanish heatwave death toll climbs to seven
Associated Press
17:15 Sunday 3rd August 2003
The death toll from a heatwave in southwestern Spain has risen to at least seven. Officials warn that temperatures hovering around 42 degrees Celsius threaten to intensify raging forest fires. [...]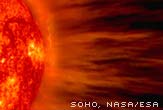 Fiddling while Rome melts
The global-warming catastrophe is upon us. The 10 warmest years on record have all occurred since 1990. Every glacier in Glacier National Park may be gone within 30 years.
The government of Tuvalu is making plans to permanently evacuate the island, which will be wiped off the map by rising sea levels.
Even the staid World Meteorological Organization has released a warning that extreme weather events are intensifying. There is a strong consensus among the scientific community, including the Intergovernmental Panel on Climate Change, that human activities are significantly affecting our climate.
The Bush administration's response to this crisis? Replace global-warming data in Environmental Protection Agency reports with propaganda from the American Petroleum Institute. Announce a 10-year plan to study the "uncertainty" related to climate change.
President Bush is fiddling while Rome melts.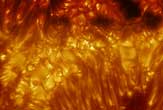 Hot as Jamaica . . . and it will hit 100F this week
By Susannah Osborne
The heatwave that baked the country over the weekend could last for most of this month and even into September, with temperatures of up to 100F (37C) this week, the Met Office said yesterday.
Britain was as hot as many holiday destinations in France, Spain and Portugal. Bournemouth's highest temperature, 84F (29C), matched that in Jamaica. [...]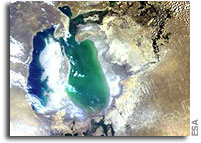 Portrait of a doomed sea
Earth's youngest desert is shown in this July MERIS satellite image of the Aral Sea in Central Asia. Once the fourth largest lake in the world, over the last 40 years the Aral Sea has evaporated back to half its original surface area and a quarter its initial volume, leaving a 40,000 square kilometre zone of dry white-coloured salt terrain now called the Aralkum Desert. [...]
Devastating drought in China leaves 8.6 million short of water

BEIJING (AFP) Aug 03, 2003
A devastating drought gripping large parts of China has left 8.6 million people short of drinking water and laid waste to millions of hectares (acres) of arable land, state media said Sunday.
Across the country record high temperatures of 40 degrees Celsius and above have been recorded, including in Shanghai.
China's industrial and commercial centre is sweltering in its longest period of sustained hot weather for more than 50 years, the Xinhua news agency said. [...]
Librarians chafe under federal Patriot Act restrictions
BOULDER, Colorado (AP)
To Priscilla Hudson, public libraries are society's great equalizer, a place where anyone can go to learn regardless of their economic, social or political background.
So she doesn't much like Big Brother peering over their shoulder. [...]
Michael Brooke

Conservation is now big business, consuming millions of rands every year. But can those who contribute the money be sure it is delivering benefits? [...]
White Pride Fest failed to attract many racists this year

By NANCY J. SULOK
Tribune Columnist
Richard Loy and his Merry Band of Klan got short-sheeted this weekend. [...]
Power from blood could lead to 'human batteries'
A device that produces electricity from blood could be used to turn people into "human batteries".
Researchers in Japan are developing a method of drawing power from blood glucose, mimicking the way the body generates energy from food. [...]
Comment: No word if they stole their ideas from The Matrix.
Comment: With a Real Audio of a Fox 5 investigation.
Hold on, the cheap ink's coming

BY ZAY N. SMITH SUN-TIMES COLUMNIST
[...] Walk over to your home inkjet printer and take out one of the ink cartridges.
Behold it.
A sultan never beheld such treasure.
"Pound for pound, forget gold, forget diamonds. There is nothing more valuable on Earth than an inkjet cartridge."[...]
Comment: Read how psychopathic business practices work.
Sydney cabbies fear 8-year-olds
Children as young as eight are preying on Sydney's taxi drivers, hunting in packs and stealing cash in a series of around 40 attacks in the past three months.
The Sunday Telegraph reported that at least three loosely constructed gangs, whose ages range from eight to 16, had carried out the assaults over the past three months. [...]
AIDS comeback spurs change in strategy
Sunday, August 3, 2003 12:07 GMT
ATLANTA, Georgia (AP)
Americans became complacent about safe sex. Revolutionary new drugs allowed HIV-infected people to live longer. A new generation of gay men entered their 20s without the memory of the early days of AIDS devastation.
Health officials saw the signs and warned that AIDS -- after declining for a decade -- could make a comeback in this country. Last week, new figures showed the predictions were right -- AIDS diagnoses increased for the first time in 10 years. [...]
Outrage at new block on Aids drug
Andrew Meldrum in Pretoria
Monday August 4, 2003
The Guardian
South Africa's first national Aids conference opened yesterday with an attack on the government for its decision to restrict the use of a key drug.

A minister was heckled by taunts of "shame on you" as medical experts and Aids activists voiced outrage at indications from the authorities that they may limit the use of nevirapine, an anti-retroviral drug credited with saving the lives of thousands of infants born to HIV-infected mothers.
"I really am left breathless by the decision _ to question the validity of the scientific results around nevirapine," said the conference chairman, Jerry Coovadia.
South Africa has more people living with HIV than any other country in the world, with almost 5 million people out of a population of 44 million infected with the virus.
Comment: In the words of the obviously deluded Lewis Armstrong "And I think to myself, what a wonderful world"
Gas cylinder blast kills 17 in India
SURAT (AP/AFP)

Three buildings in western India collapsed when a cooking gas cylinder exploded Sunday, killing at least 17 people and injuring 43 others, police said. [...]
Bloodthirsty or a classic? Gibson's film of Christ's last days alarms Jewish groups
Star claims Holy Ghost helped him make film but threatens legal action after academics criticise script of The Passion
Gary Younge in New York
Monday August 4, 2003
The Guardian
On the face of it Mel Gibson's new film, The Passion, appears to be little more than a work of celluloid self-indulgence by a Hollywood veteran. Portraying the final 12 hours of the life of Jesus Christ, it has no distributor, features no stars and the dialogue is in Latin and Aramaic. It is not even certain whether the final product will have subtitles.

Yet the film, co-directed by Gibson, who has spent $25m (£15.6m) of his own money on the project, has already attracted lavish praise from evangelicals and stern criticism from Jewish and Catholic scholars, with one academic warning that it could provoke within the US "one of the great crisis in Christian-Jewish relations".
The star has claimed the "Holy Ghost was working through me on this film, and I was just directing traffic. I hope the film has the power to evangelise".
Cashing in on aliens

HOOPER, Colo. (AP)
Judy Messoline got tired of waking up with strangers, if not aliens, in her yard.
So four years ago she asked the Saguache County commissioners to allow her to build a UFO watchtower and campground. Then she could make some money on people who were already using her land to camp as they tried to spot aliens.
The San Luis Valley has long been considered a fertile ground for such searches, especially after claims of alien abductions, UFO landings and a wave of cattle mutilations. [...]
Iron Lady a sad shadow of herself
PTI SUNDAY, AUGUST 03, 2003

LONDON: Margaret Thatcher, the Iron Lady who transformed Britain during her 11 years tenure as prime minister, is today a sad shadow of her former self.
Thirteen years after she was evicted from Downing Street, Lady Thatcher is a lonely, forgetful and almost friendless figure on the edge of senility, a TV documentary on her life indicated.
Comment: The only thing thatcher did, like most other leaders of the "free world" was satisfy her own narcissistic pyschopathic cravings, at the expense of the British people.

And Finally...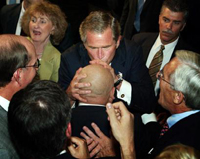 To the shock and dismay of those near him, in a rare photograph George W Bush is seen getting his daily dose of "US congressman brain", a substance not yet proven to exist but which is reported to be behind Bush's famed quick wit and sharp intellect.
---
Check out the Signs of the Times Archives
Send your comments and article suggestions to us.
---
Fair Use Policy
Contact Webmaster at signs-of-the-times.org
Cassiopaean materials Copyright ©1994-2014 Arkadiusz Jadczyk and Laura Knight-Jadczyk. All rights reserved. "Cassiopaea, Cassiopaean, Cassiopaeans," is a registered trademark of Arkadiusz Jadczyk and Laura Knight-Jadczyk.
Letters addressed to Cassiopaea, Quantum Future School, Ark or Laura, become the property of Arkadiusz Jadczyk and Laura Knight-Jadczyk
Republication and re-dissemination of our copyrighted material in any manner is expressly prohibited without prior written consent.
.